I honestly cannot believe that having alfresco brunch on the Palm is a thing that I do now. I've come a long way from sitting on the steps of my local youth club with a bottle of cider, eh? Fun times. Expat life in Dubai really opens up a world of opportunities!
Anyway, when I lived in Dubai (I've since returned to UK), Tom and I stayed at the Movenpick Ibn Battuta Hotel the first time he came to visit me. The best thing about being guests at this Arabian themed hotel is that you get free access to Oceania Beach Club on the Palm. Pool access on the Palm can be pricey, so we made full use of our free pass and also enjoyed a boozy outdoor brunch at West 14th Restaurant.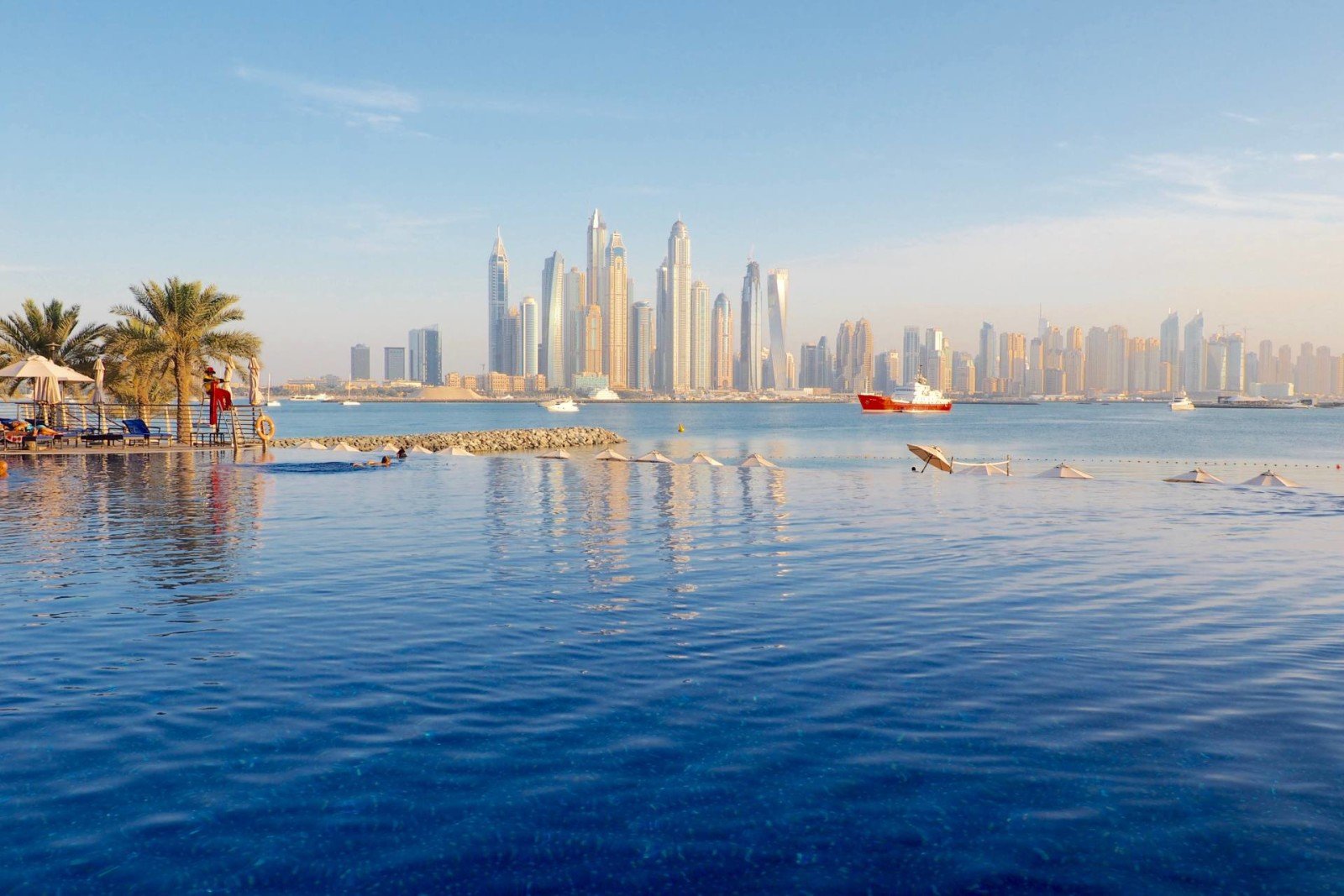 Brunch on the Palm in Dubai
The Palm Jumeirah is one of the world's most flashy postcodes. An artificial archipelago that epitomises Dubai's love of the ridiculous, the Palm looks like a date palm tree from above and is made up of a 2 km long sand 'trunk' and 16 'branches' (fronds) plus a crescent-shaped breakwater, which extend out into the shimmering Arabian Gulf. It fancies itself as the eighth wonder of the world and is best viewed by helicopter, but until I score a tour, you'll have to Google Image it.
Originally, three of these man-made paradise island groups were supposed to be established, but the Palm is the only one that's so far come to fruition thanks to the 2008 financial crisis. 'The World', a collection of tiny islands in the shape of a world map, was probably the most ambitious failed project, but you can still do sailing tours around the islands, which to me is just the ultimate in luxury tourism.
The Palm is home to fancy pants hotels like Atlantis The Palm (read my brunch review), residential villas with a $3.5 million price tag, and stylish resorts.
Another startling realisation: this is the kinda stuff I can see from my back garden.
About Oceana Residence
Oceana is one of the gated residential addresses on the trunk of the Palm, with an infinity pool, a restaurant and an exclusive beach.
Sorry, but who let us in?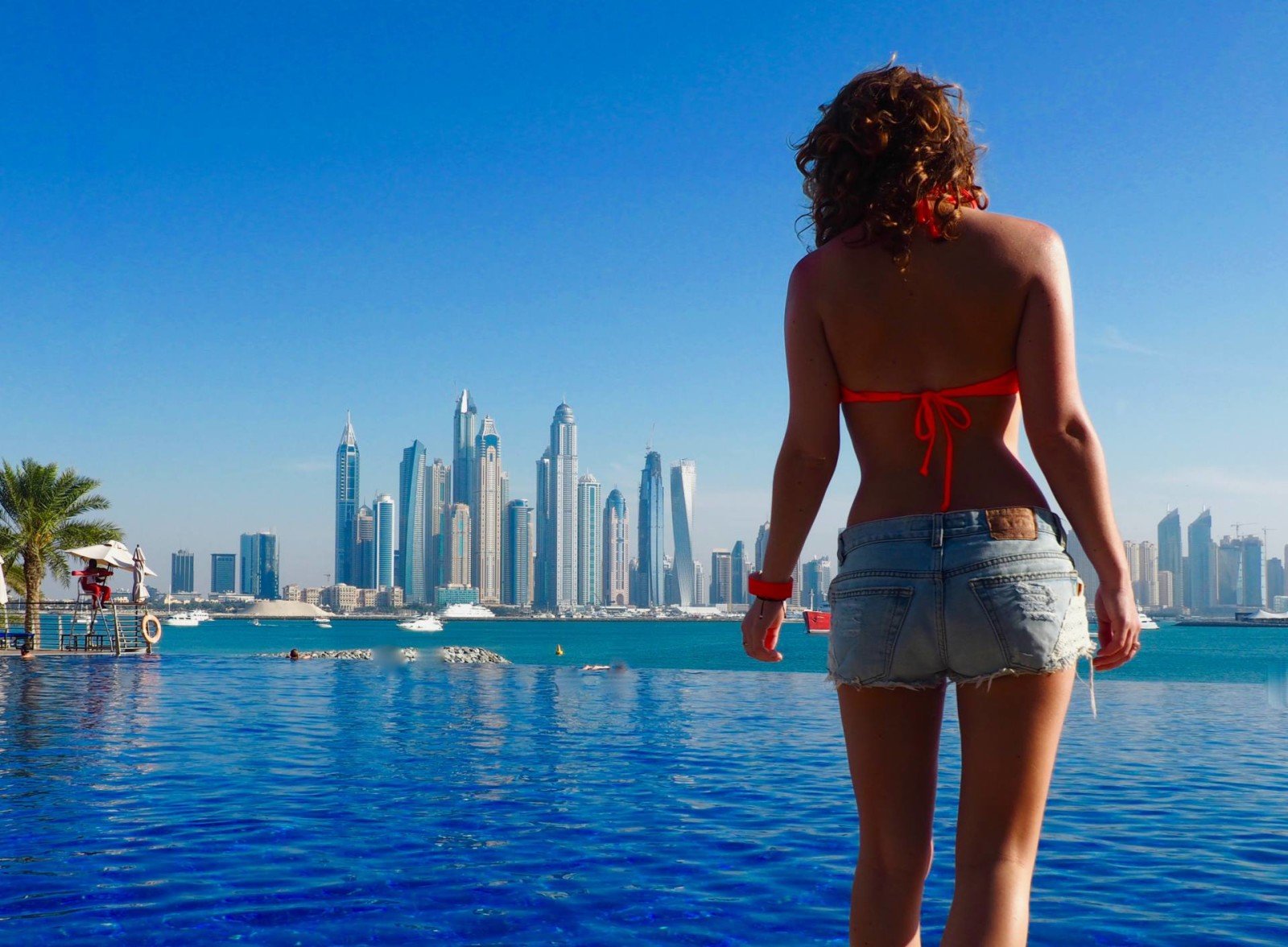 We spent our time lounging at the pool and googling how much it would cost to rent one of the shiny apartments towering over us. If you're in the market for a 3 bedroom sea view apartment in Dubai and fancy yourself a bit of a Jumeirah Jane, the rent at Oceana will set you back around GBP 55,000. That's 350 quid per square foot, per year.
Hold my poodle while I get my credit card.
Getting access to Oceana's pool
Believe it or not, this is the first infinity pool I've ever swam in! So yes, we did those token poses.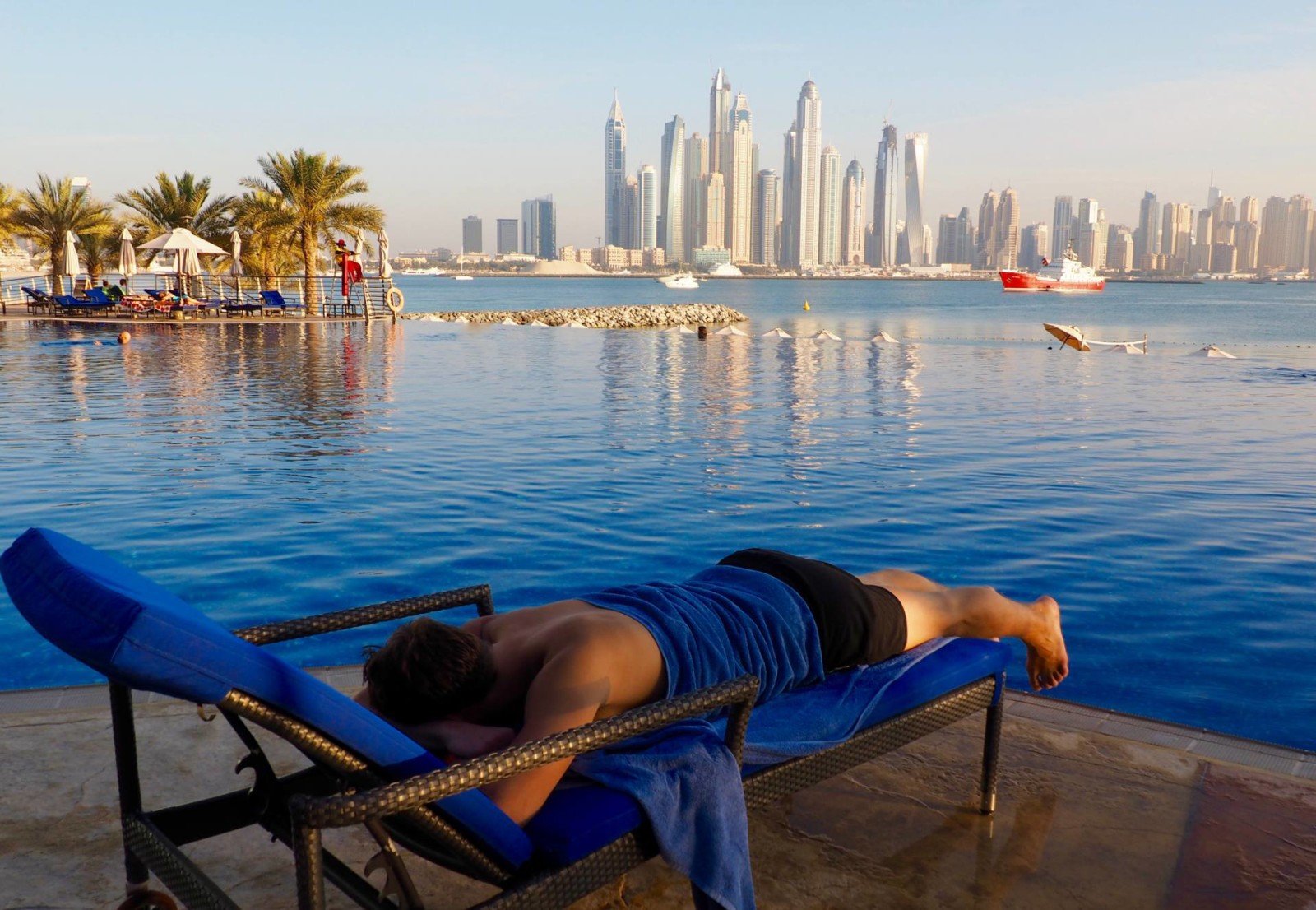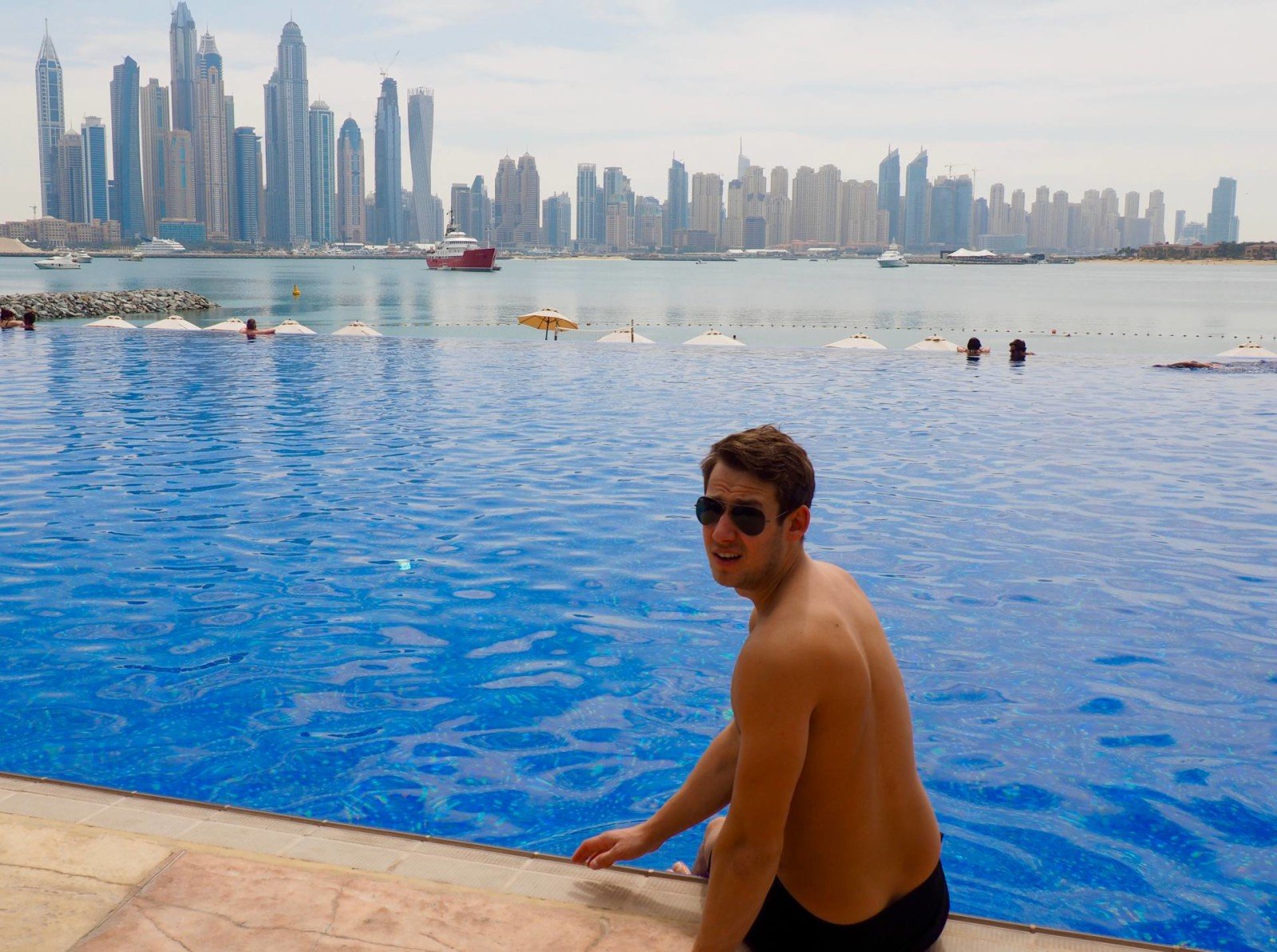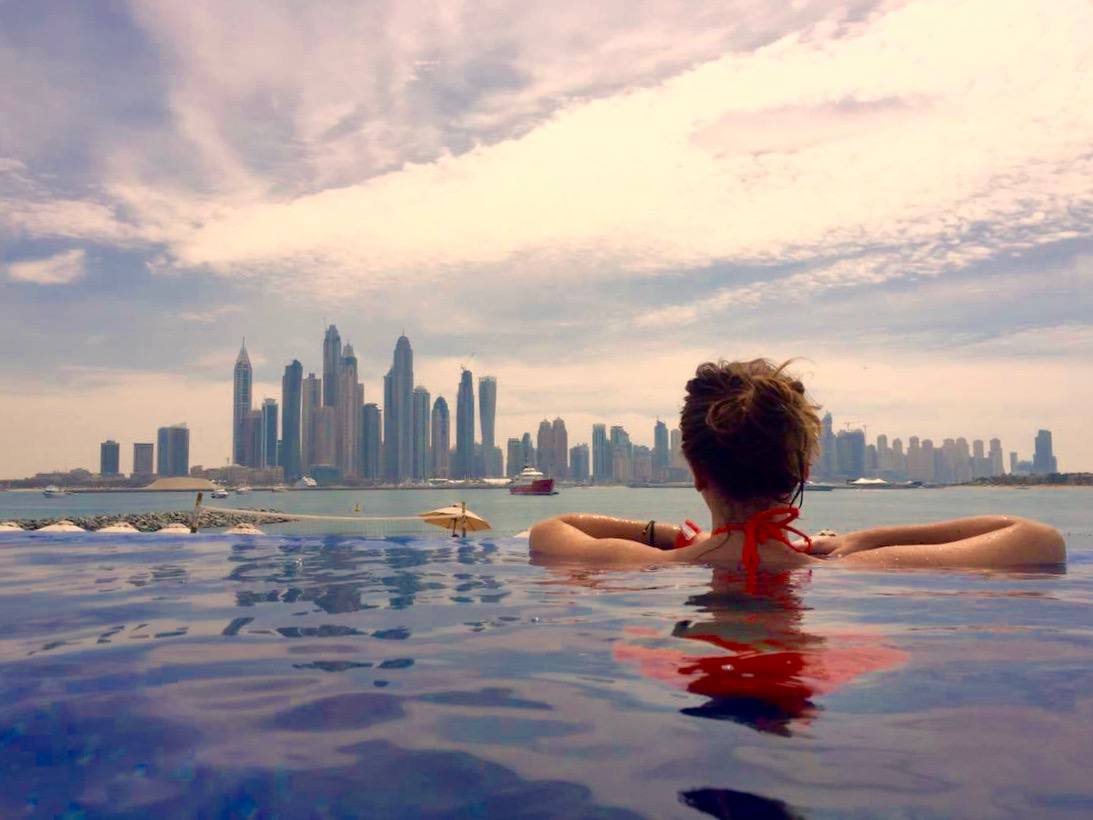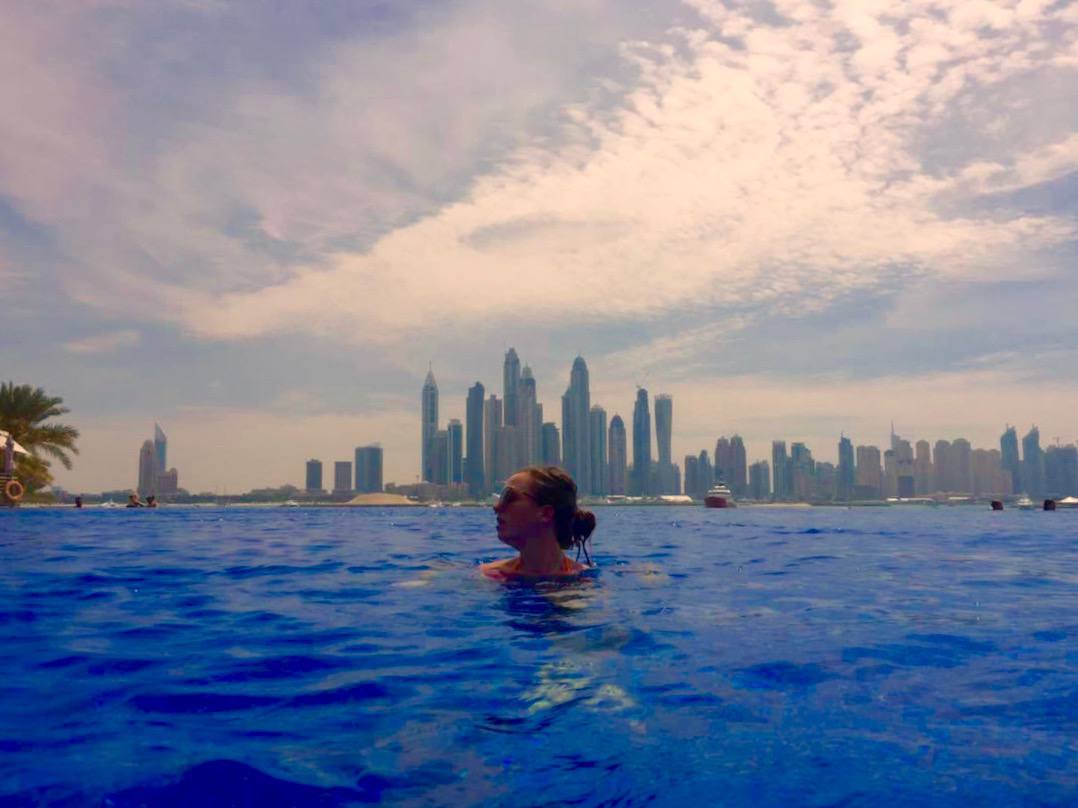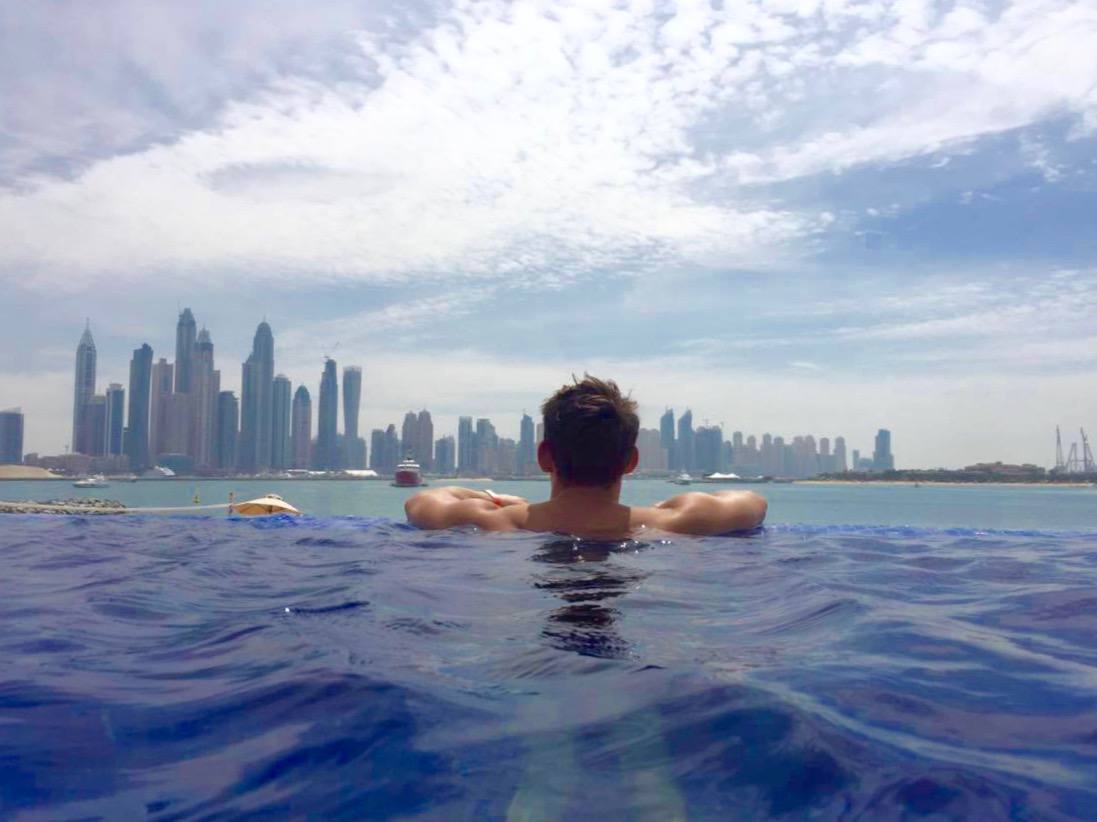 Everyone around us had a good laugh at my expense when I tried to take a picture of Tom and panicked, thinking I couldn't touch the bottom. I did this cute flailing thing for about ten seconds, my eyes wide as I yelled at him to take the camera off me, I was going under. Then I realized I could touch the bottom – just about.
There's always one person shattering the peace, isn't there?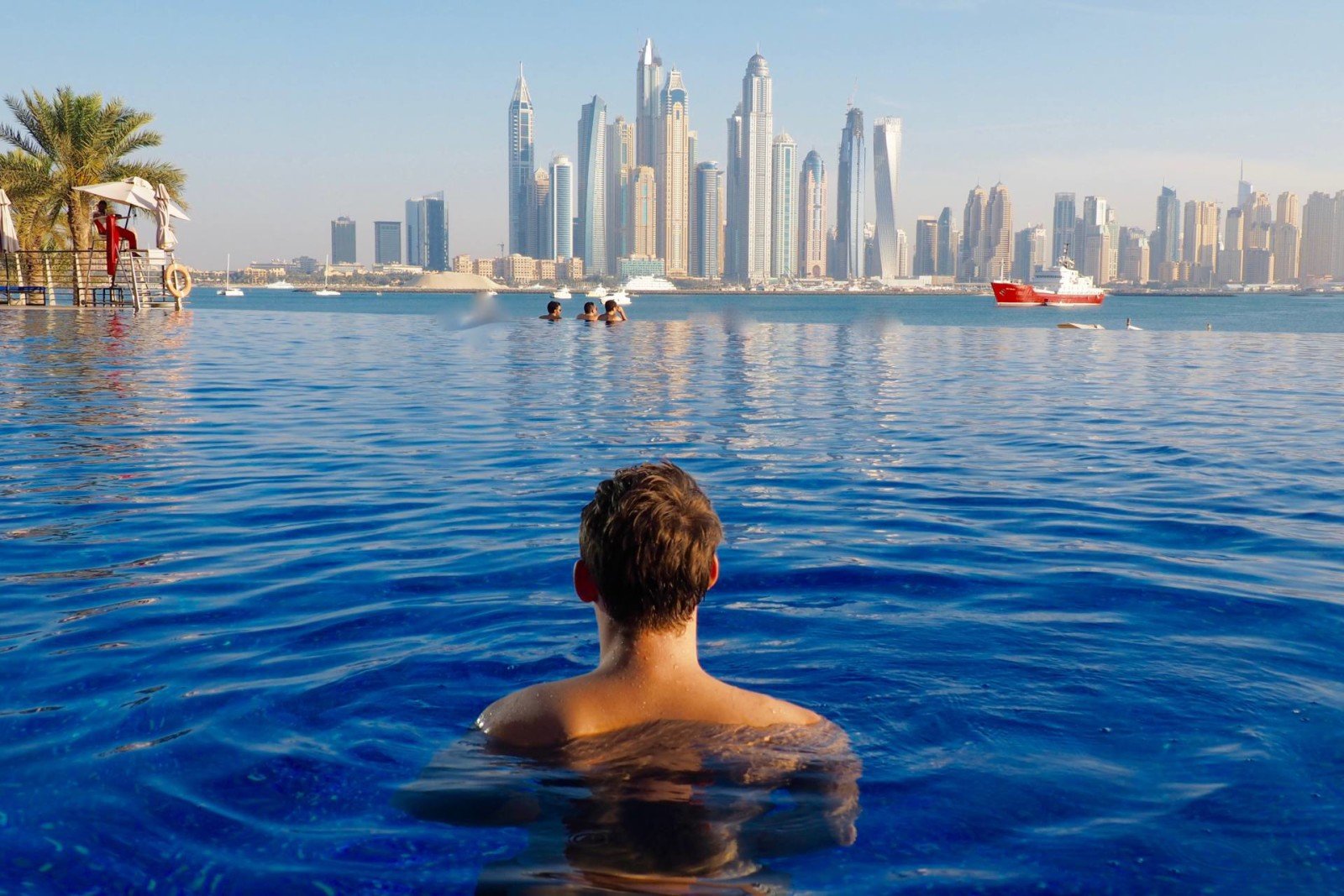 Oceana Beach
The beach at Oceana is much, much quieter than the heaving stretch of sand that is JBR Public Beach, where I spend every weekend. It's definitely worth splurging on a more exclusive beach in Dubai because the public spaces get horribly crowded at weekends.
Trust me, you don't want to be lying with your bum out in a teeny weeny bikini when some locals decide to take a stroll on the sand. I've been there, and it's awkward.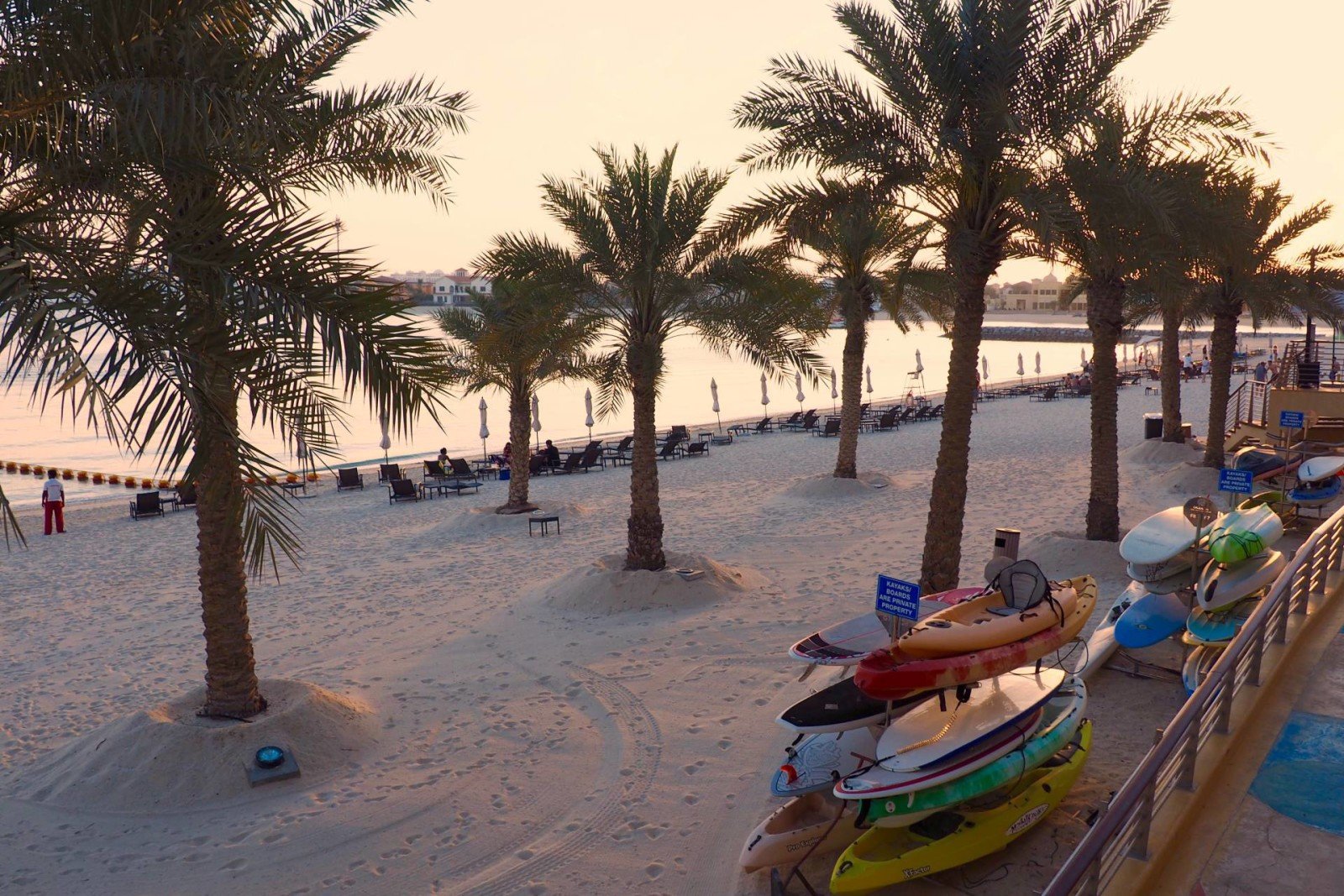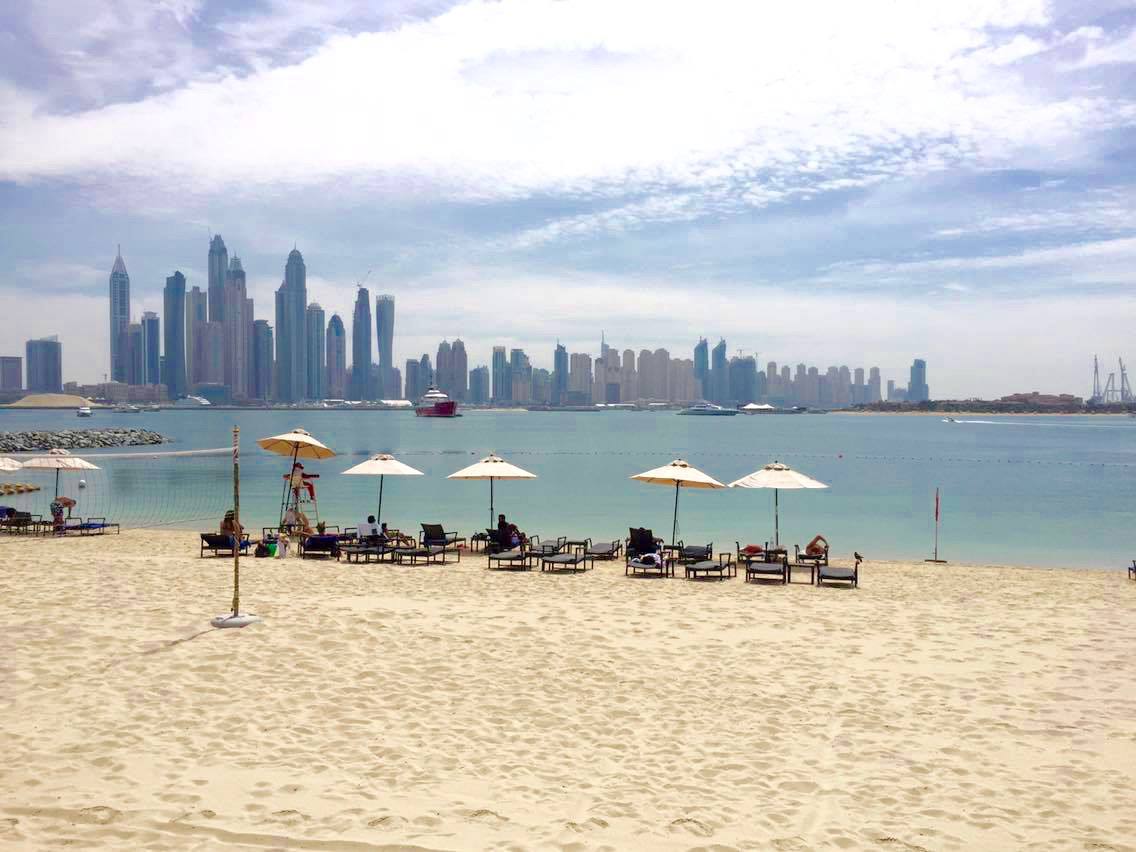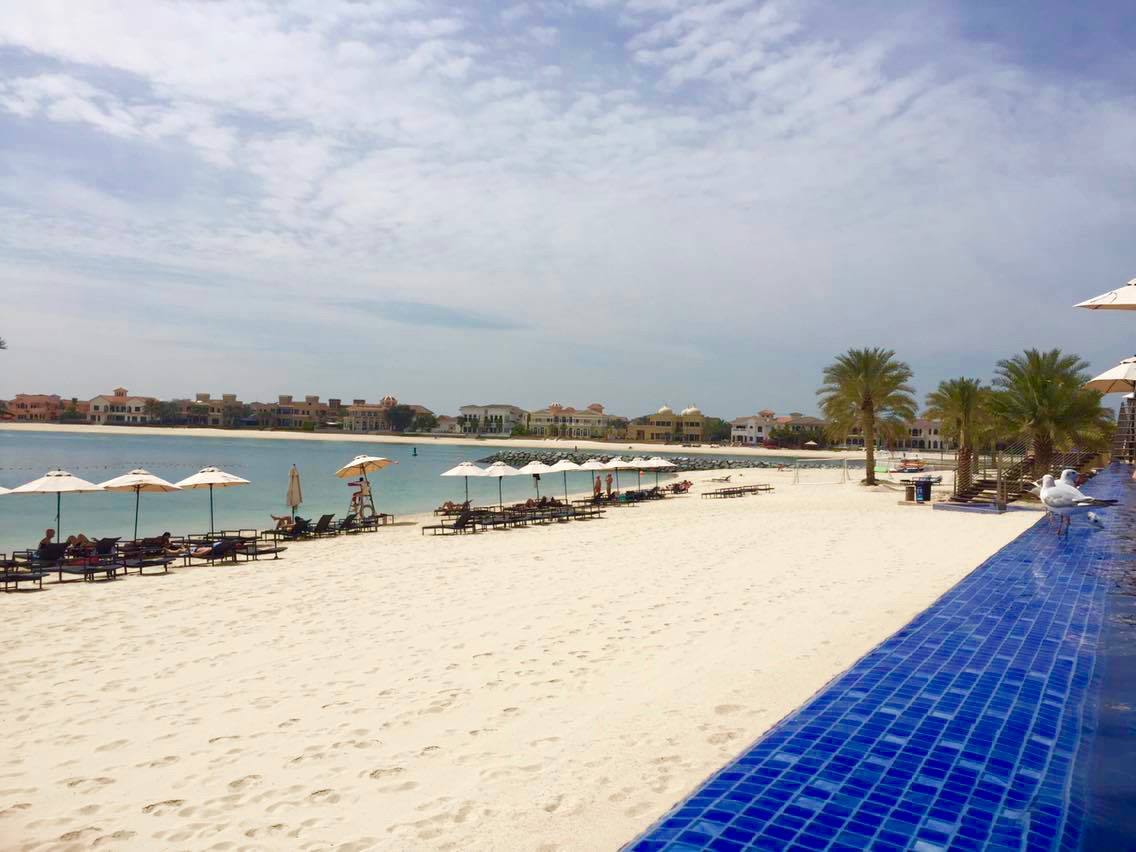 The views of New Dubai's glittering skyline were just magnificent.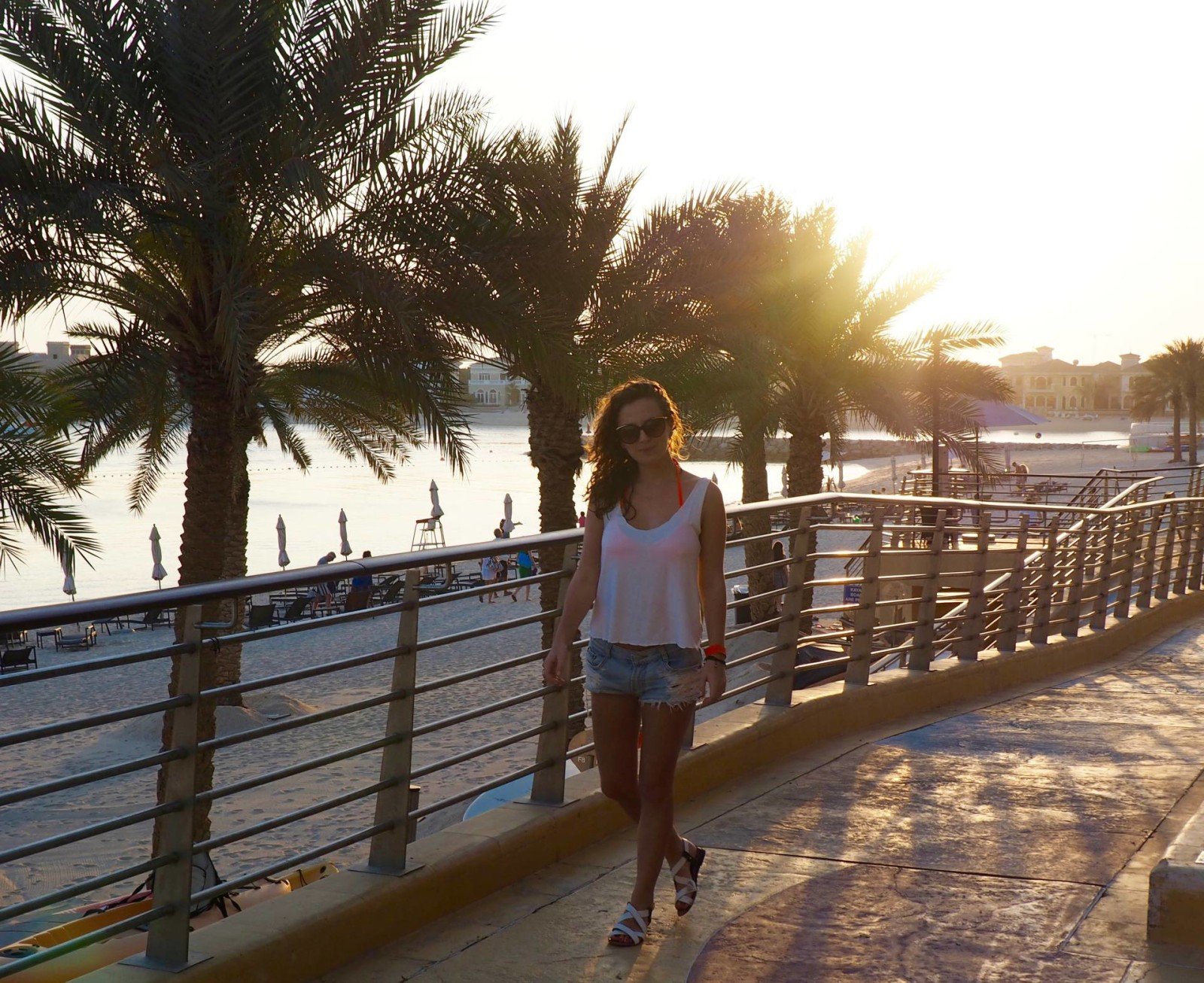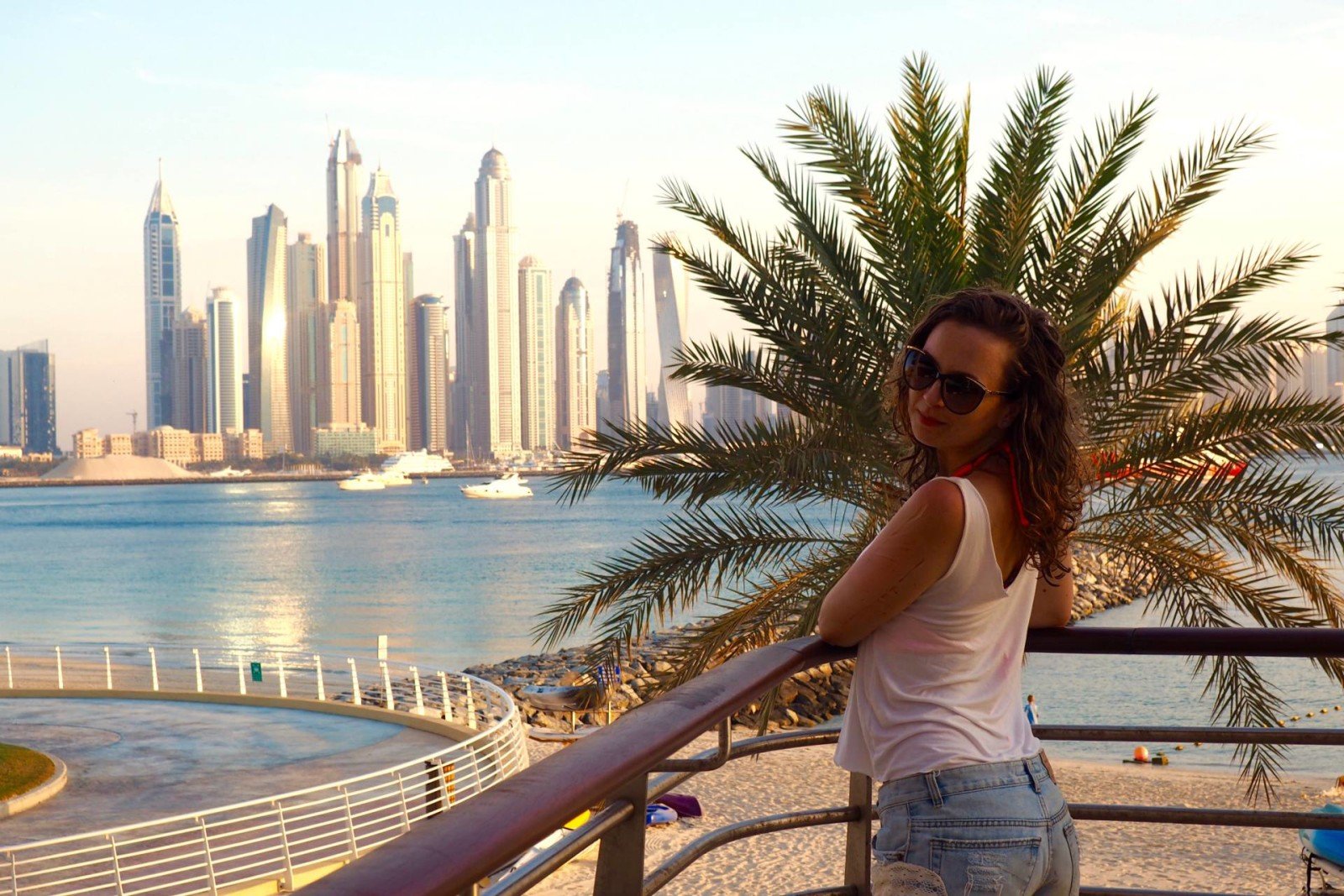 Our review of BBQ Brunch at West 14th Steakhouse
There is a poolside restaurant at Oceana called West 14th. It's a New York style steakhouse in the sun and this was where we ate brunch.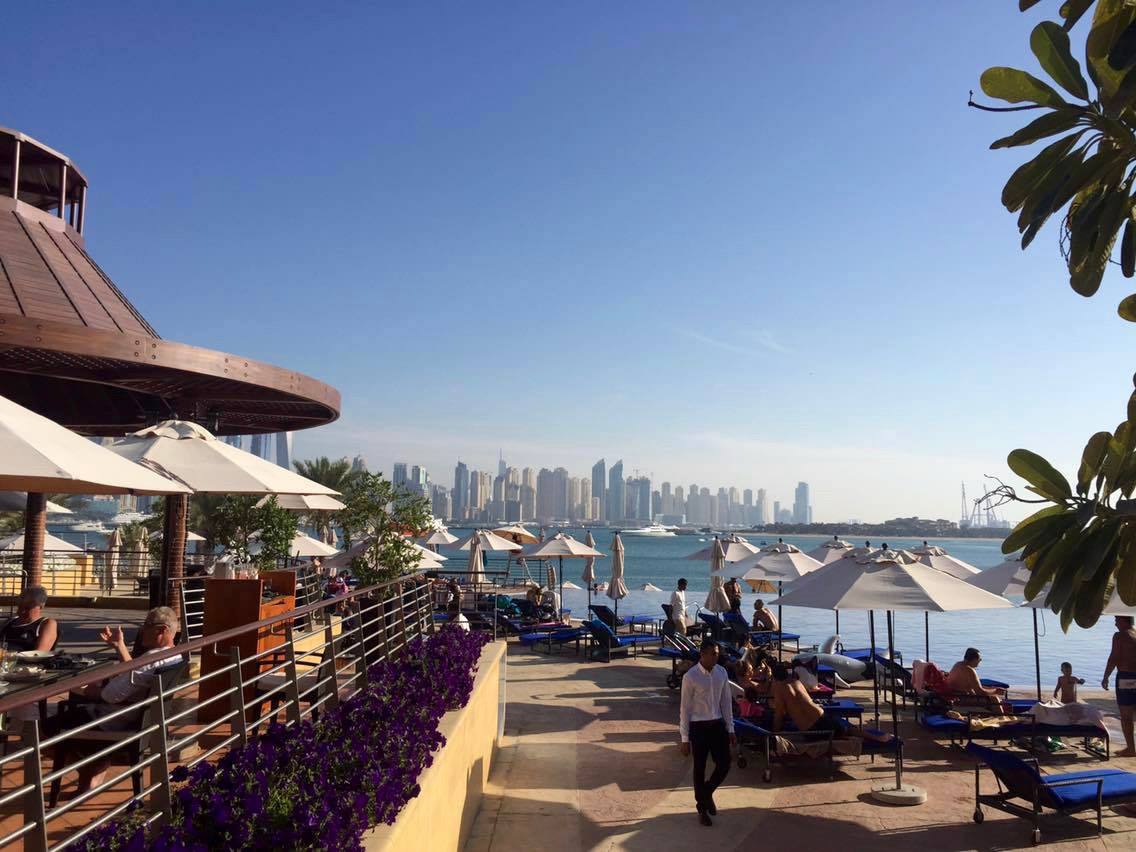 We hadn't planned to eat at Oceana Beach Club but the moment the BBQ was lit, I knew I couldn't pass it up. West 14th's BBQ weekend brunch starts at 260 AED and you can pay (a lot) extra for unlimited wine and beer. Which we did, obviously.
We bagged ourselves a table in the sun on the beach-side terrace and got to work on the buffet.
The choice of food was nowhere near as extensive as the Latitude Brunch at Jumeirah Beach Hotel, but it was nice to have a more select buffet to choose from. I get really overwhelmed when there's too much food and don't want to miss out on anything so I end up with a plate full of mismatched foods.
Mac and cheese on a bed of smoked salmon with a side of sushi rolls and a Peking duck chaser? Not as amazing as it sounds.
Tom, being a big strong man, went straight for the meat but I tucked in to the starter table. The focus was on seafood. Prawns, octopus with a tangy vinaigrette, plus fresh salads, crudites with hummus.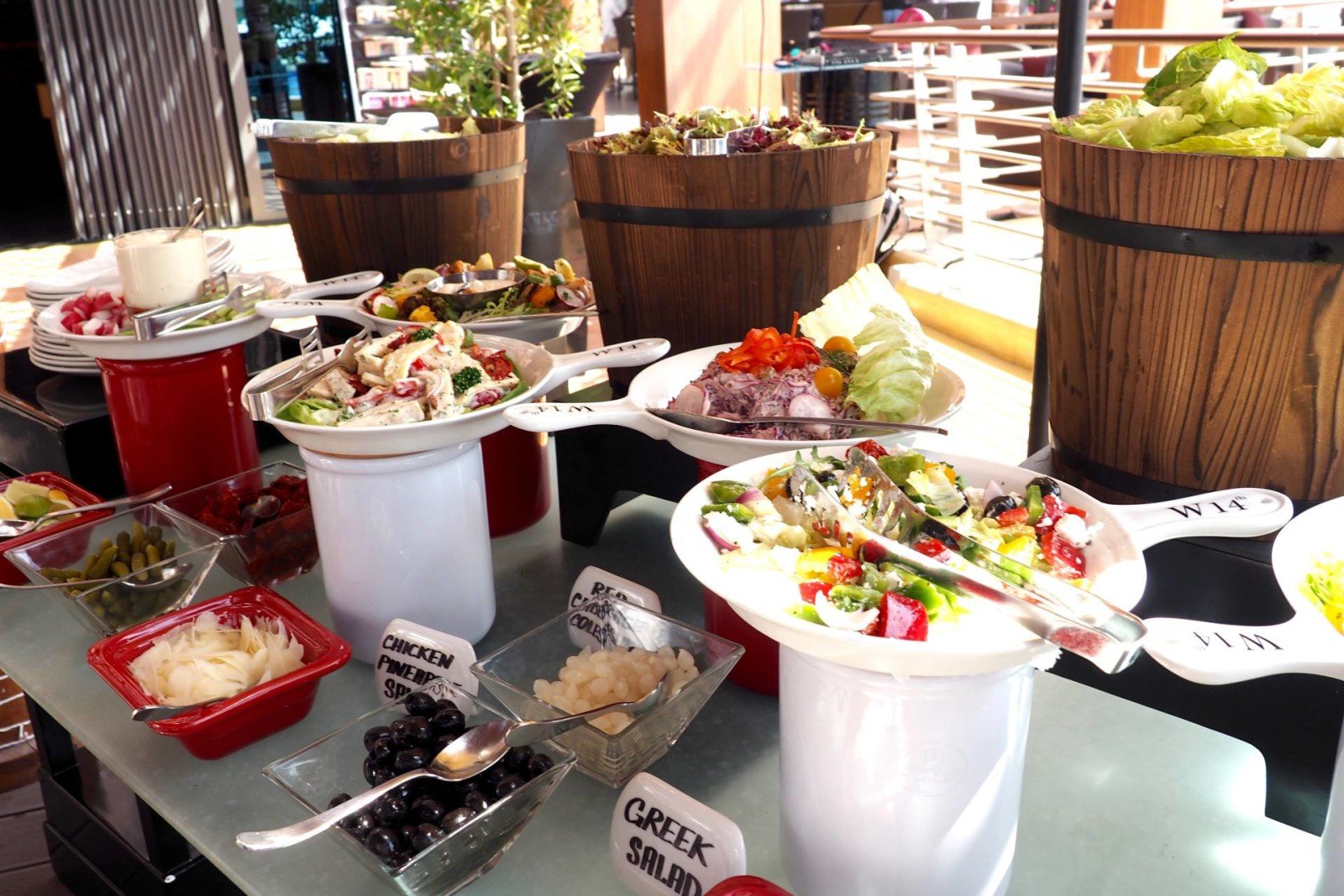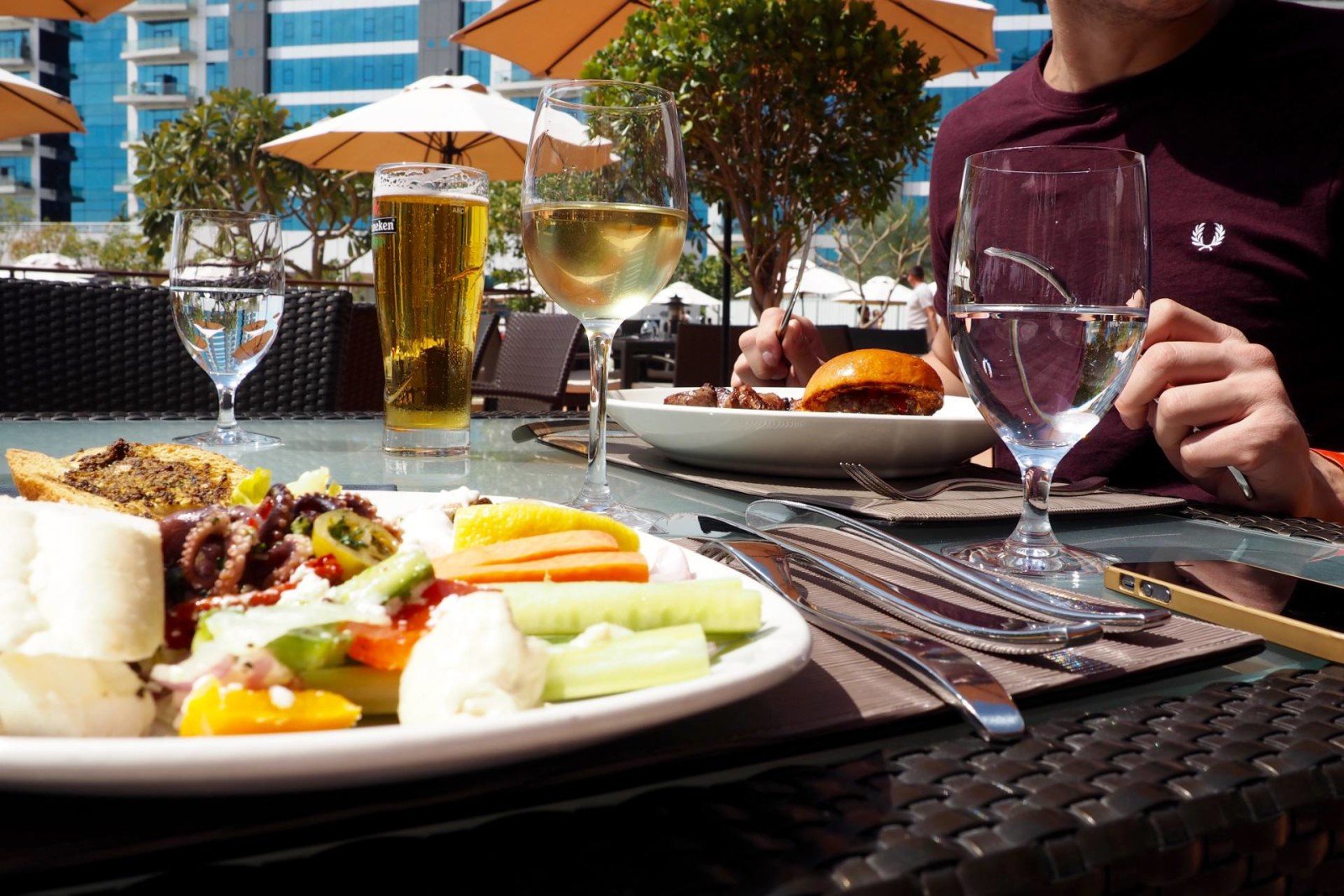 I made a start on the bottomless alcohol with a glass of crisp white wine. We had three hours to plow through as much booze as we could.
Well, there was no challenge implied, but what's the point of bottomless brunch if you don't get your money's worth?
Have you ever drank two bottles of white wine in the scorching midday sun? I have.
Next, on to the meats. Tom had what he claimed was one of the best burgers of his life. It was cooked to order and he created some sort of pulled pork and cheese concoction. I later found out that West 14th gets its steaks from a butcher in Nebraska, so that explains the quality and the hearty, bloody slabs of deliciousness sizzling away on the grill.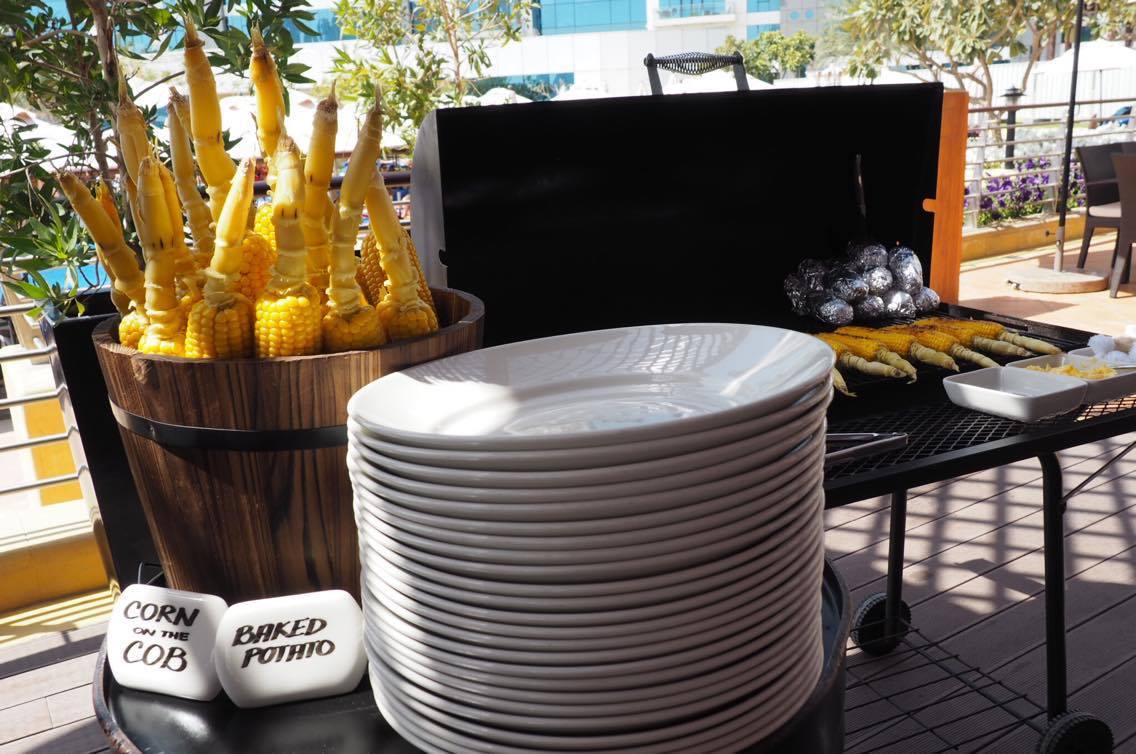 There were plenty of different cuts of steak on offer, plus lamb chops, chicken skewers and kofta kebabs. By this point I was focusing on the booze so I stopped paying attention to the food – until dessert.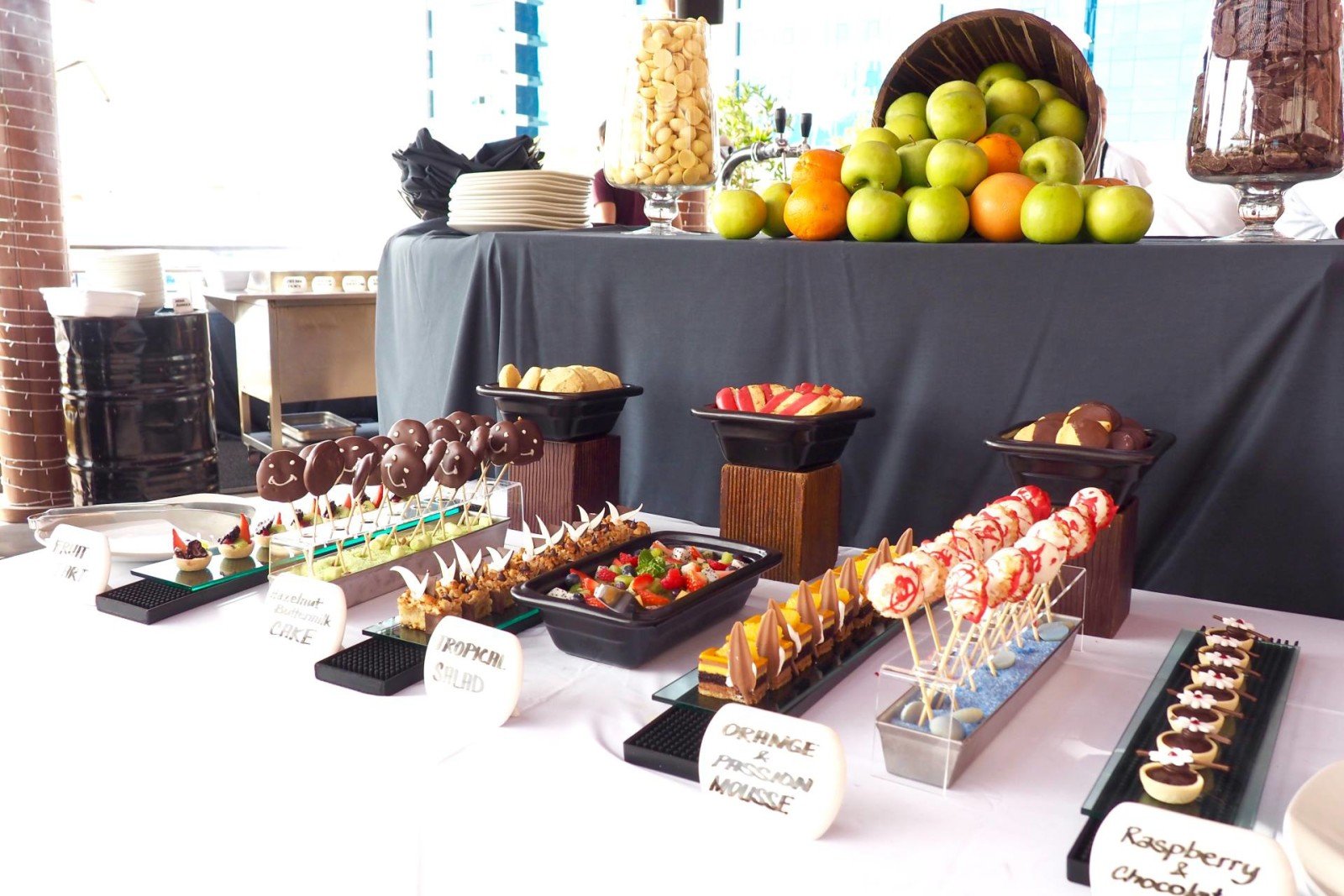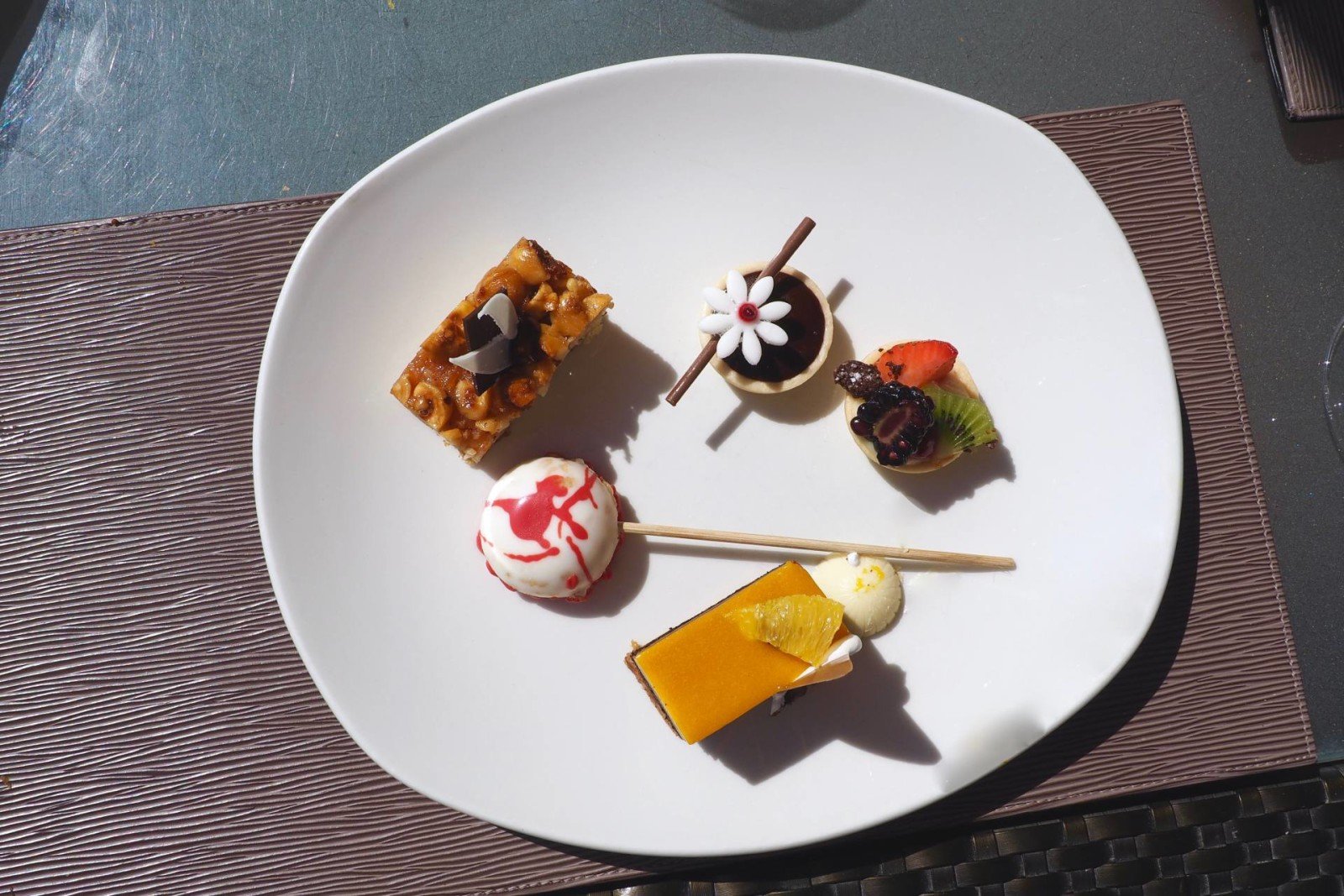 I've always had a sweet tooth and I loved the selection of little desserts at West 14th's BBQ brunch. The chocolate orange slice, dainty fruit tart and chewy rice crispy lollipop were some of my favourites. There was also fruit salad, though why anyone would choose that over chocolatey treats is beyond me.
Sunset on the palm
Full to the brim, we watched the sun set over Dubai's skyline in a happy, drunken daze then packed up our things and stumbled into a taxi back to the Marina.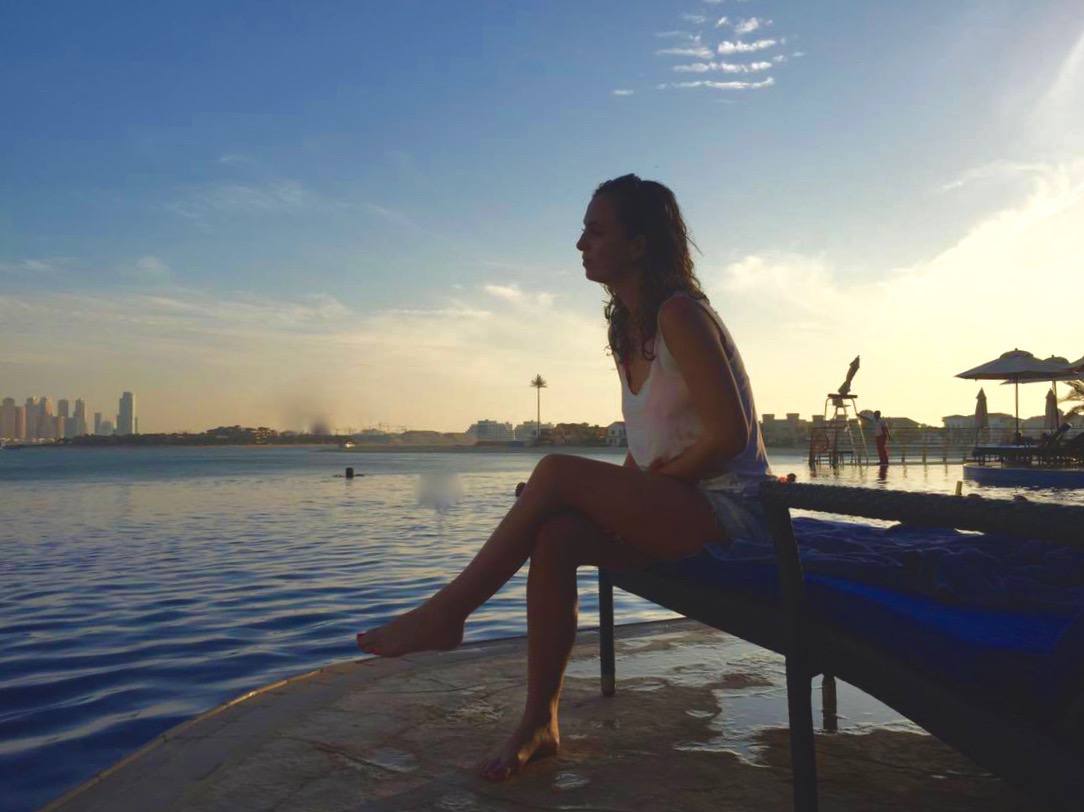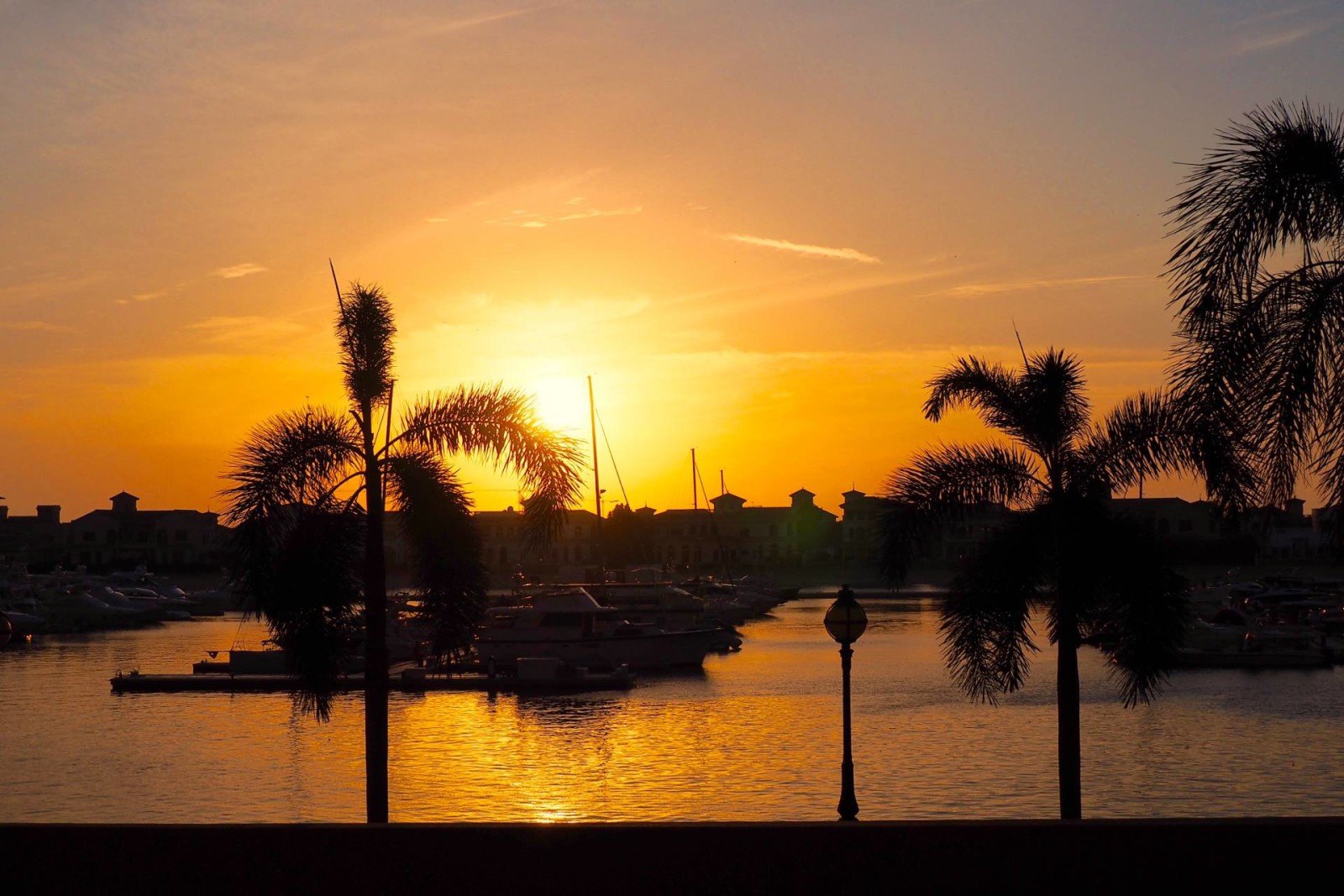 The thing about Dubai 's excessive brunch scene is that you're often in bed with a bloated belly and almost-hangover by ten pm on a Friday. Whatever, it's so worth it.
Our next treat during Tom's stay was a desert safari. If you're planning your own trip to Dubai, check out my five day Dubai itinerary and if you want to do more research, I recommend Lonely Planet's guide book. You can compare flight prices to Dubai on Skyscanner.
Book hotels in Dubai on booking.com
Sign up for email alerts using the box on the right so you get new posts straight to your inbox, and join me on Facebook, Twitter and Instagram for more insights into expat life in Dubai. It's not always this glam, honest!
Pin this post