Brunch at Saffron, Atlantis The Palm: Dubai's best party brunch?
Attending a boozy brunch at Atlantis The Palm is a veritable rite of passage for Dubai's party-going expats. With its iconic architecture and prime location crowning the outer prong of the Palm Jumeirah, Atlantis is one of the most Instagrammed hotels in the world. If you can't afford a night in one of its luxury hotel suites, brunch at Saffron restaurant is a good way to get your glimpse of the resort and see how the ballers live. It's one of the more expensive brunches, at AED 535 per person for the house beverage package, but I was sick of people exclaiming, "What? You haven't done Saffron yet?!"
It was time to experience it for myself.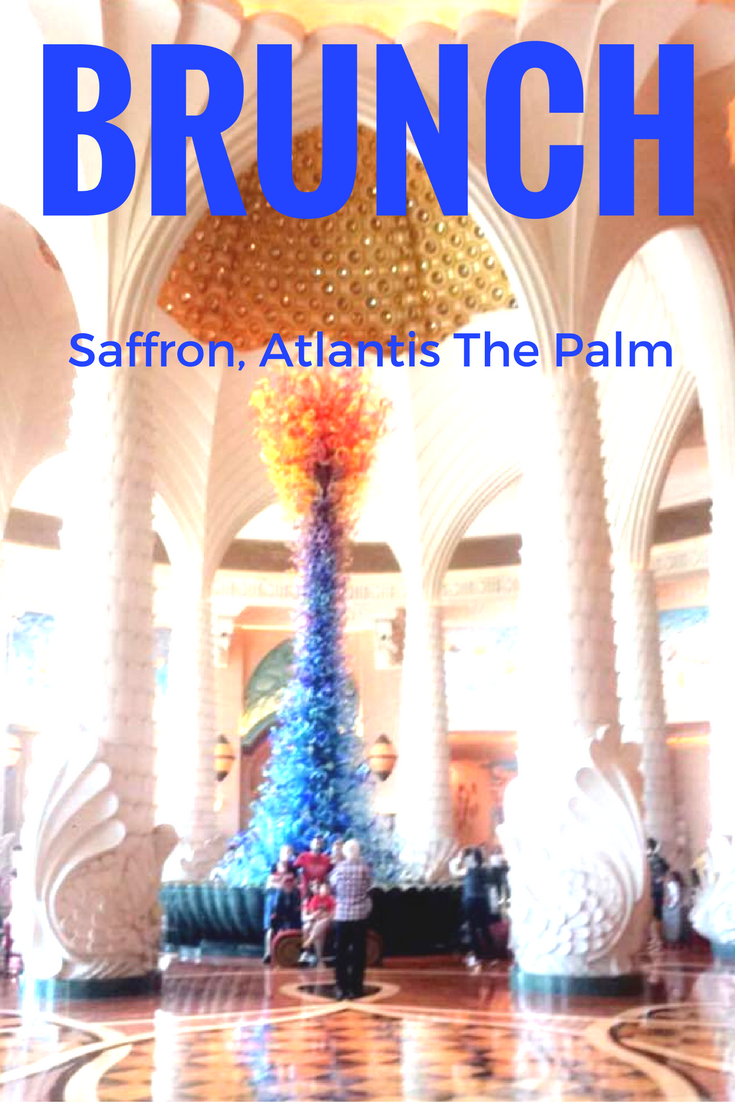 Often hailed as the Best Party Brunch in Dubai by the likes of Time Out, Saffron is notorious among Dubai expats. Let's just say we were warned that we wouldn't leave sober. I went with the girls from my expat meet-up group, Dubai Social Ladies.
Our taxi driver didn't know where he was going (how can a Dubai taxi driver not know how to get to Atlantis? Unfortunately, you'll only understand why if you live here), so we were treated to a stroll – okay, a stumble in our heels, through the other wing of Atlantis to get to the restaurant. We passed entire walls made from glass, behind which the resort's aquarium swarmed with marine life. The hotel lobby is also super impressive.
Maybe one day I'll get to check in eh?
I wore my chunky wedges with a white dress from Misguided which I later found out I'd put on wrong and THAT'S why there was a serious nip slip risk all day. How embarrassing! Some girls just aren't meant to be tamed I guess.
On a side note: do you know how hard it is to find boob tape in Dubai? We had a week-long tit-tape hunt supported by a frantic group chat, then had to take it in turns to run to the bathroom at Saffron to apply.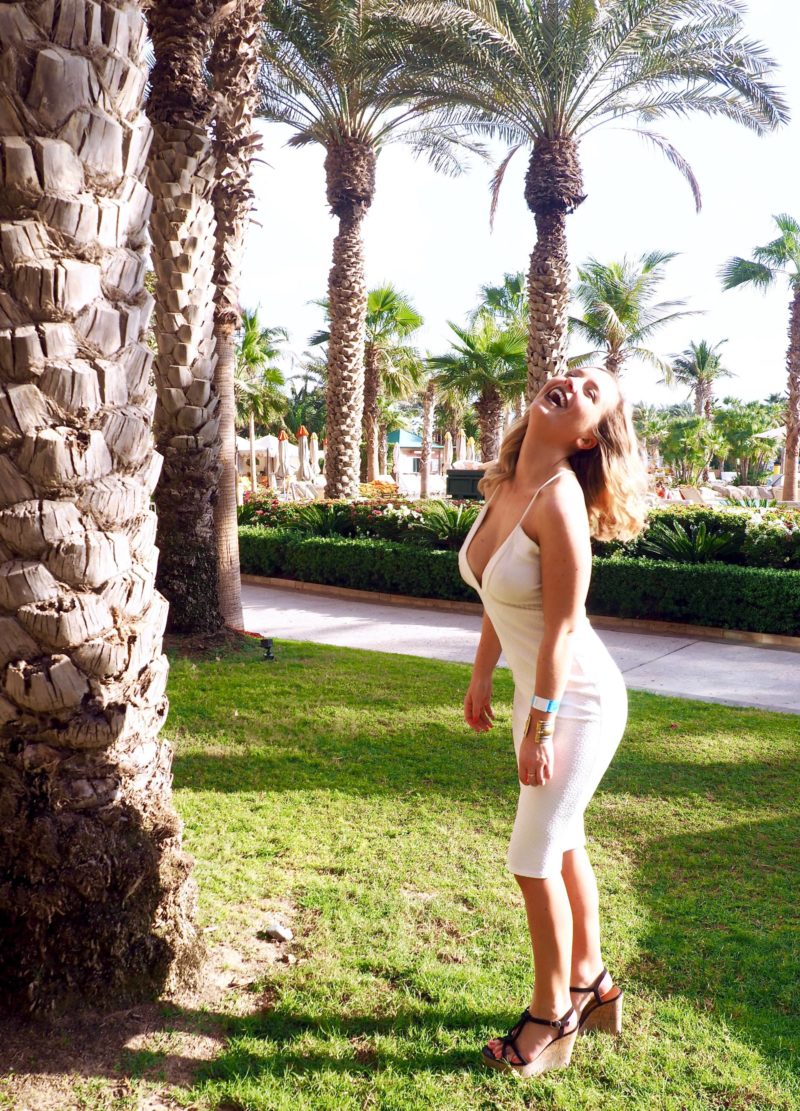 Atmosphere
The layout is a bit messy and the huge restaurant was packed when we arrived, but the resident DJ gets the party going and everyone is up and down, teetering between the buffet and their tables. It's an international crowd but there are a lot of Brits, so you know you're in for a proper session!
This is definitely a brunch to do if you're in a large group.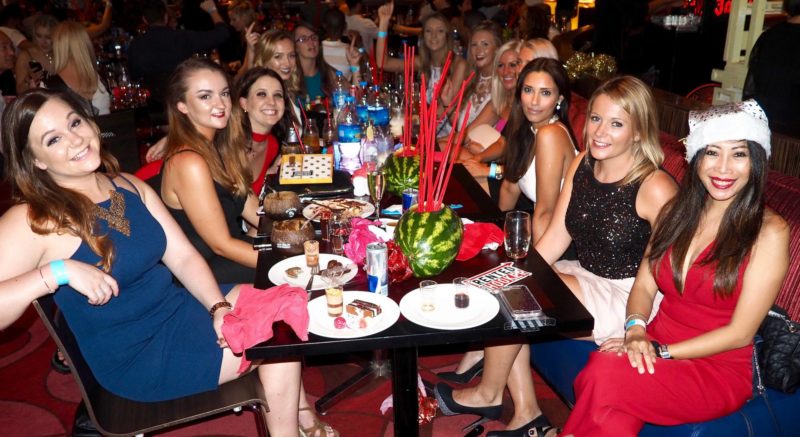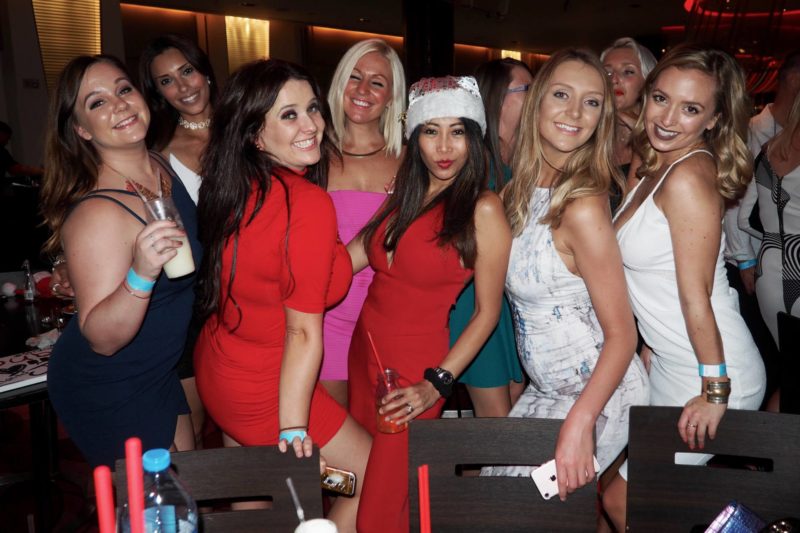 The food
There are 220 different dishes on offer at Saffron's brunch, though I actually feel like I've been more overwhelmed by the choice at other brunches, for example at Jumeirah Beach Hotel and at Brasserie 2.0 in Le Royal Meridien. The seafood station was the highlight, with masses of lobster, sushi and more. I even tried my first oyster. Maybe I'm doing it wrong, but I don't really see the point of them?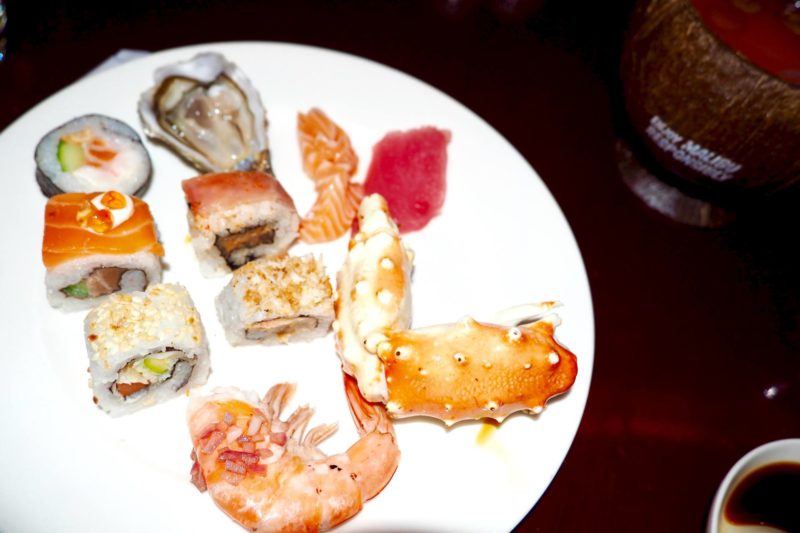 There was a good selection of aromatic Indian curries, soups and appetisers (Saffron is an international restaurant with a focus on South-East Asian flavours) as well as fish n' chips in little paper parcels, British roast and more – all served at live cooking stations.
After a kind of forgettable main, the dessert station redeemed Saffron for us food-wise. It's the closest thing I've experienced to being in Willie Wonka's Chocolate Factory, so that was a dream come true right there. A chocolate fountain you could dive in to took pride of place – the biggest I've seen so far (and unfortunately for my belly, I've seen plenty of them at Dubai brunches).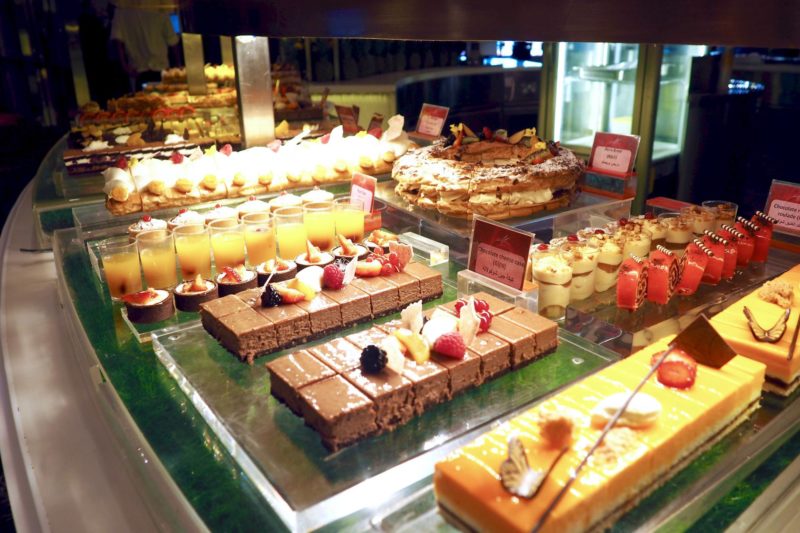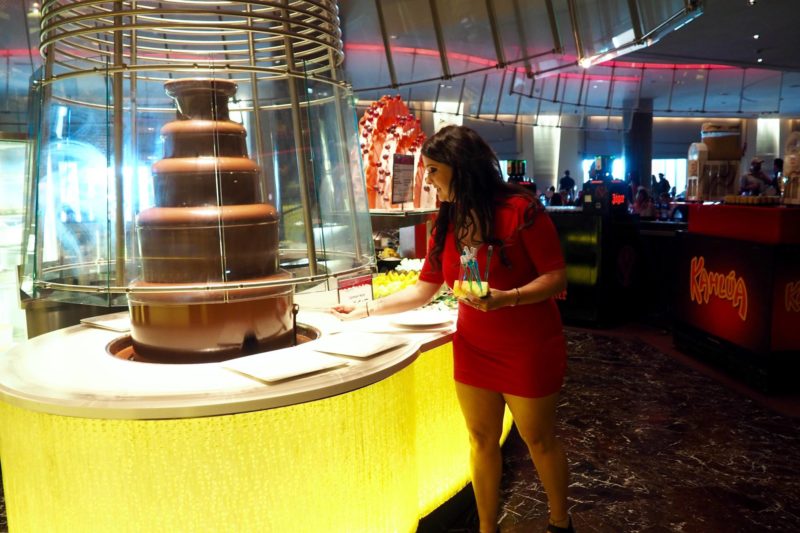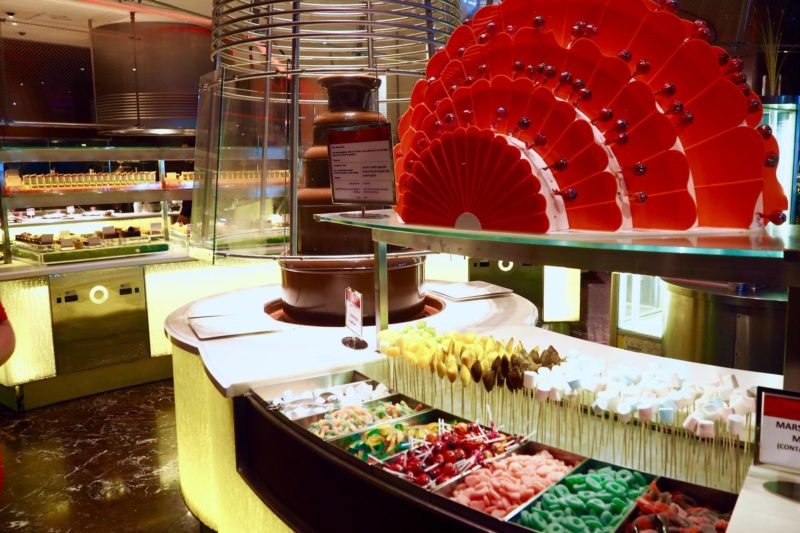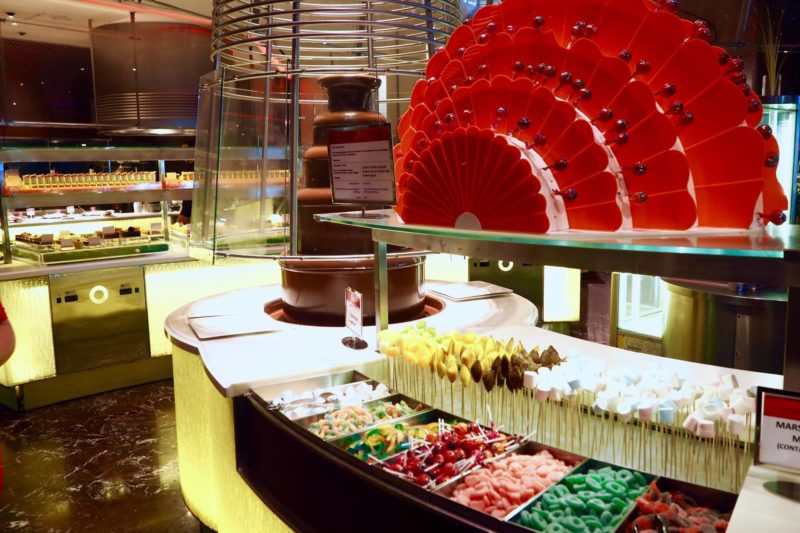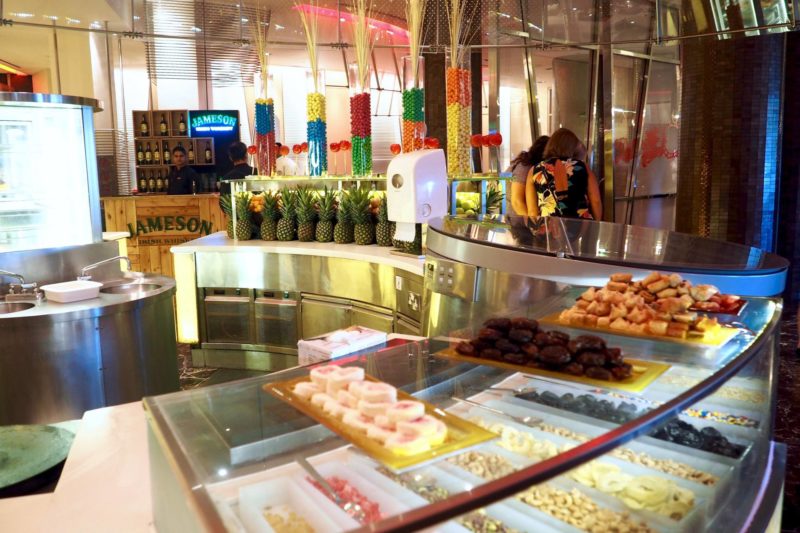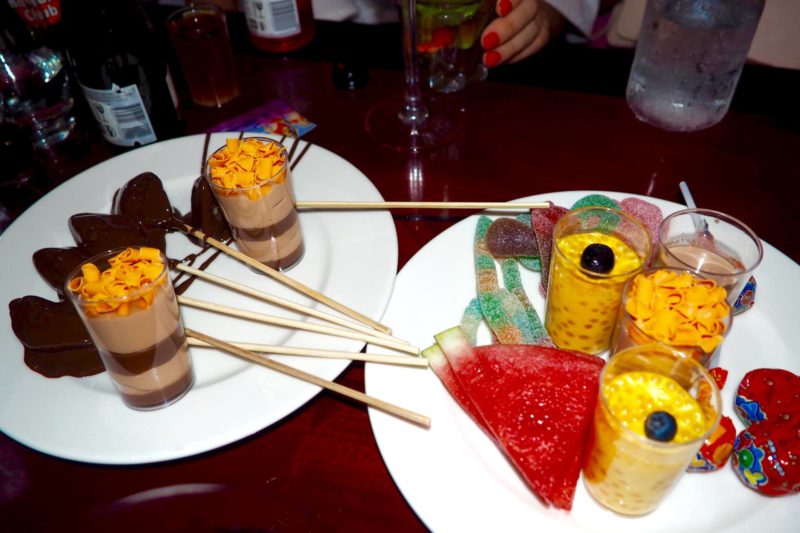 The booze
It's immediately obvious when you arrive at Saffron that it's all about the alcohol, and that was fine with us. The drinks stations equal the food stations in number (at least that's how it felt), and after our welcome glasses of fizz we collectively dove in to a concoction served in a hollowed-out watermelon.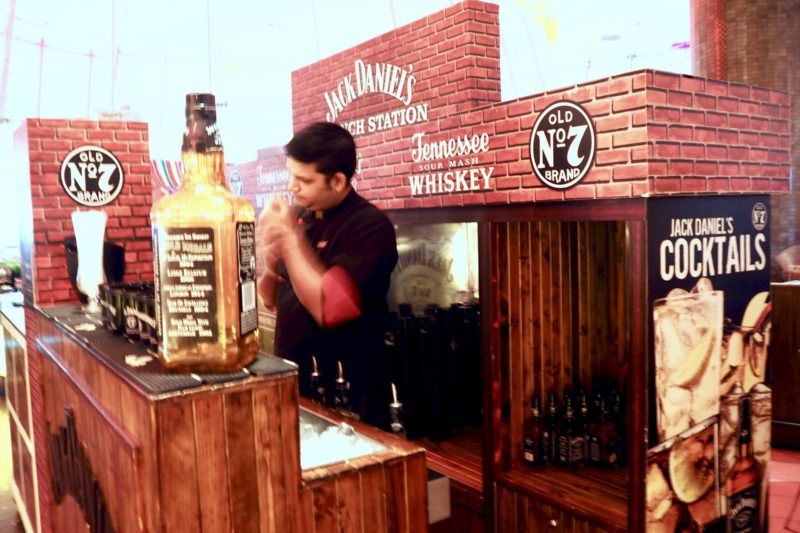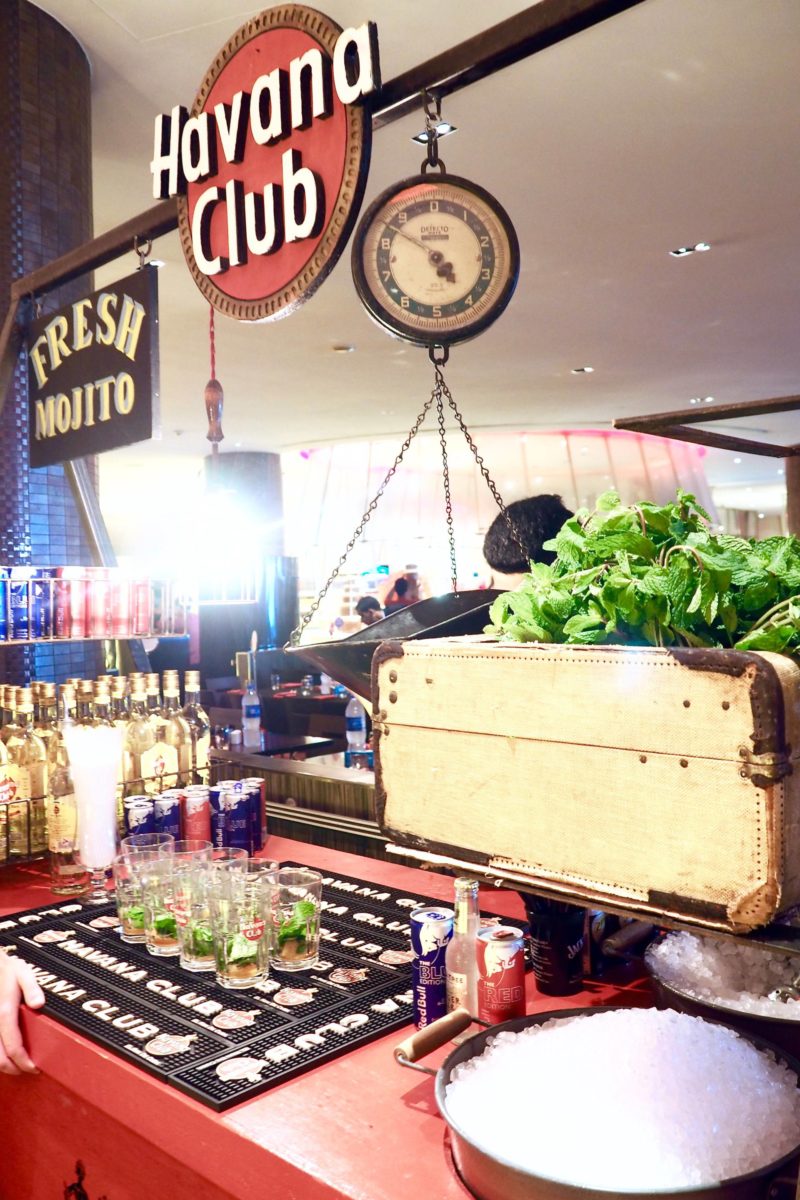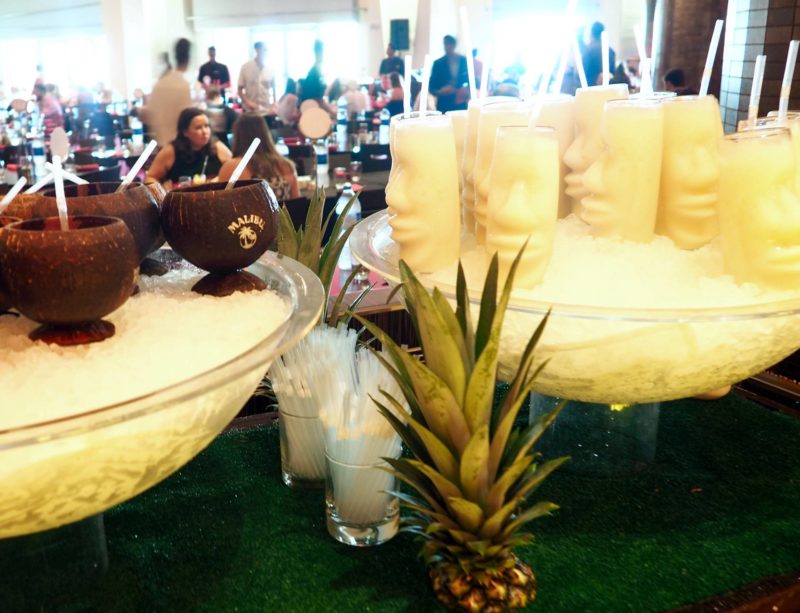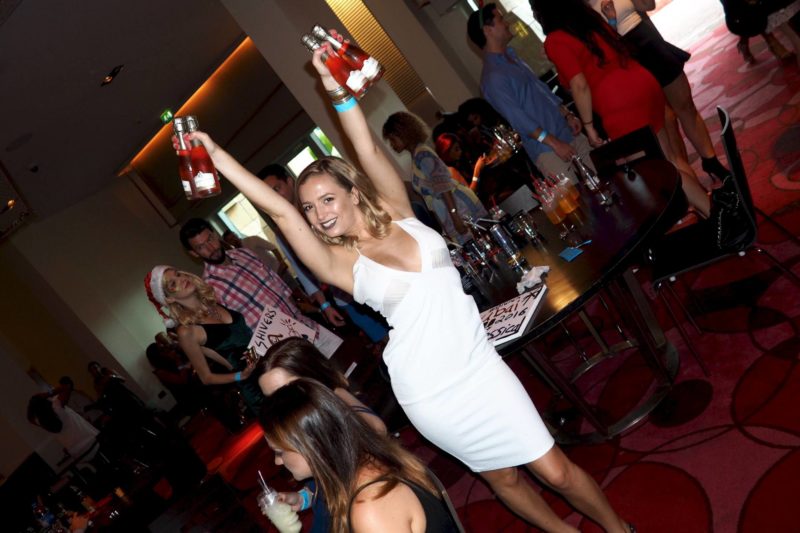 There's a Jack Daniels bar, a Mojito bar (where I spent a good portion of my day), a bar for Malibu cocktails served in wooden coconuts, a Pina Colada bar, cider stations, and even a station serving delicious frozen Kahlua shots if you feel like a little digestif – or just need to sober up.
There was also a Jager station which I did my best to stay away from, and shots being served in test tubes stuck in pineapple wedges. It's self-service for most of the drinks, including the rum slushes – or 'Frozen daiquiris' if we're being fancy. While I'm not keen on spending my meal away from the table, self-service works at Saffron because you don't want to have to wait to be served. God forbid you don't have a drink for ten seconds.
A little worse for wear, we headed to the afterparty at a different bar in Atlantis after this and things descended in to mayhem.
All in all, I wouldn't do brunch at Saffron again because I've been to far better (and cheaper) brunches, but I'm glad I had the experience! Maybe for my next brunch my dress will contain me.
You can follow While I'm Young on Facebook, Instagram and Twitter for more tales from Dubai and beyond.