Ibn Battuta Movenpick Hotel review and a look inside the Ibn Battuta Mall, Dubai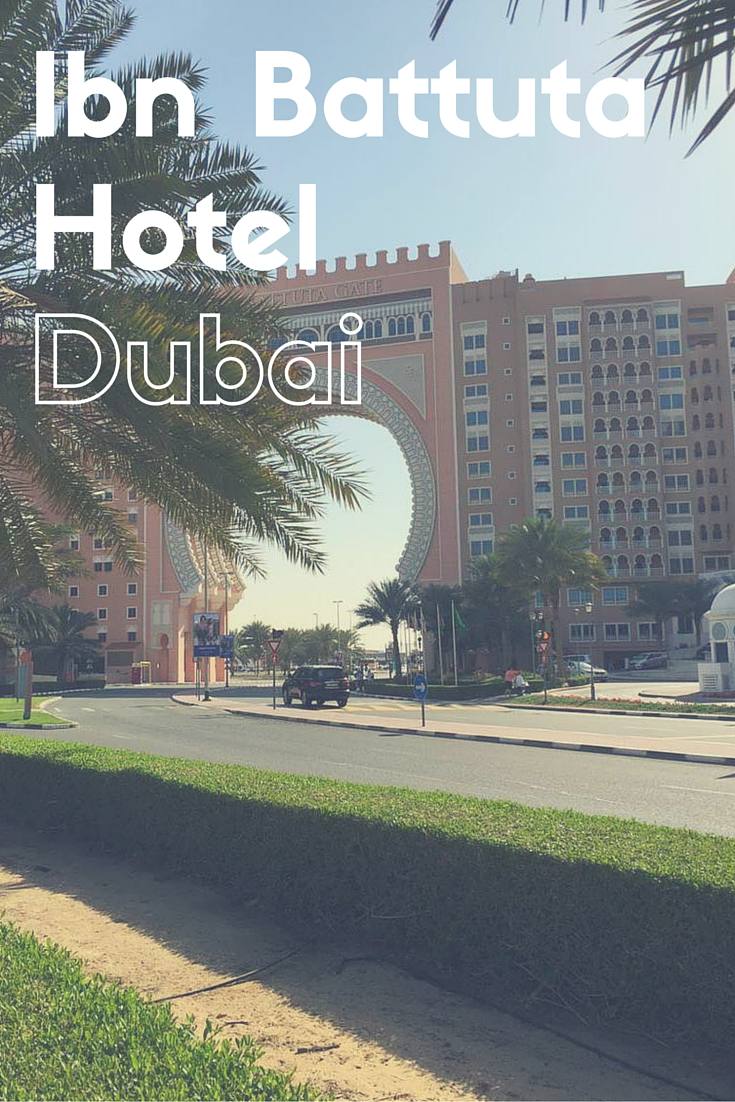 Homesick in the desert
Dubai and I are not friends right now. It's okay though. I've been here six weeks; we were due a fall out at some point. I'd had this niggling feeling that my transition into UAE expat life had been going a little too smoothly, so I knew reality was going to kick in at one point. Call me a pessimist, but it was all just going a bit too well. Where were the tears? The second thoughts? The panicked moments of complete disorientation?
Then my laptop broke, I cried in public TWICE in one day, developed an allergic reaction to Dubai's constant air conditioning, got a new neighbour who snores really loud, realised I know like two people here and that I hate the cheap bedding I bought… Dubai, we might have a few issues here.
First world problems or what? Someone show me some pictures of starving kids or something.
I'm basically on a comedown from a really great weekend. Tom came to visit, and he couldn't have come at a better time.
Don't roll your eyes, but in the fortnight or so before my visitor arrived, I was starting to take living in Dubai for granted. I no longer pause to take photos every two minutes, I've stopped being surprised when a camel ambles past me on the beach, and I've even found myself barging along the marina like Stormin' Norman, forgetting to look up at the skyline. Having a visitor to show around definitely reinvigorated my sense of excitement!
We spent the weekend eating too much at The Cheesecake Factory and rolling around in the sand on a sunset desert safari (post coming soon), but our Big Treat was a stay at the Mövenpick Ibn Battuta Gate Hotel. It was a bit of a last minute decision, because I was feeling under pressure to plan the perfect weekend and decided that a romantic hotel stay was the simplest option. I mean, the poor lad was flying from England for just a few days together – we may as well do something special.
I booked our room using an app called HotelTonight, which is scarily simple to use. Like, I'm in danger of just slipping and accidentally booking myself a night at the St Regis next time Dubai annoys me…
I've stayed in a few super luxurious hotels recently and always get a little thrill out of it, but a five star hotel in Dubai, worldwide capital of decadence and extremity? I was excited!
Ibn Battuta Movenpick Hotel Review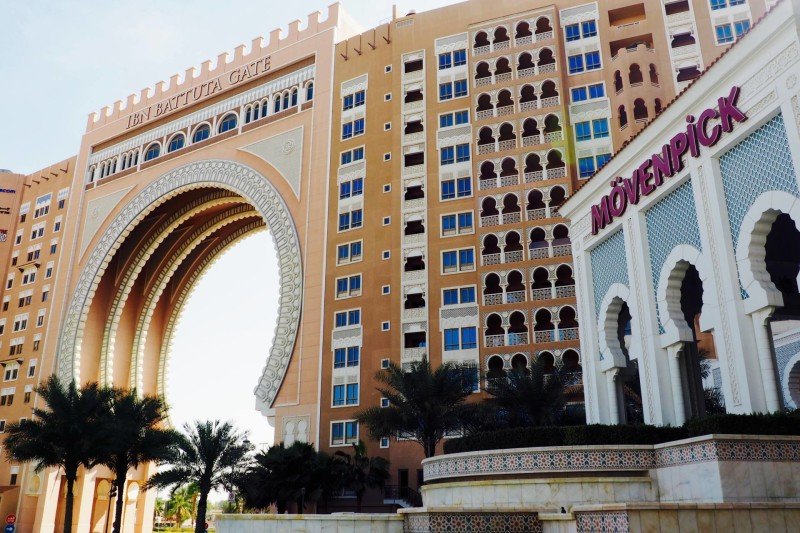 Past the crowded Marina, Ibn Battuta is a little out of the way which was ideal for our reunion, because we didn't really care about being in the thick of it. The hotel is close to the metro station though, and that connects you with all of Dubai's sights.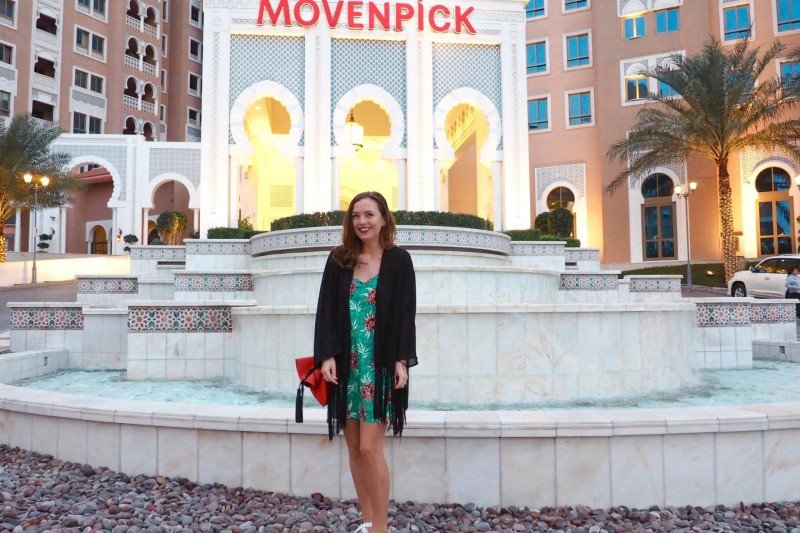 The impressive archway and themed decor are inspired by the 14th Century travels of Arab explorer Ibn Battuta. He's a big deal in Muslim culture because he went off to do a 'Hajj' (pilgrimage to Mecca) when he was 21 years old and then just kept going for another 24 years. Sounds ideal, right?
Somehow, the splendid entrance didn't quite prepare me for the beauty inside the Ibn Battuta Hotel. I felt like I'd walked into a grand palace! The air was fragrant with fresh bouquets, which were being rearranged by pristine staff as we walked in. Us being us, we'd left Tom's passport at the apartment and had to go back and get it, but aside from that, the check-in process was seamless and the receptionist was super friendly, managing to make us forget all about the passport fiasco.
The magnificent hall is bookended by murals depicting the Ibn Battuta's namesake. A total of 88 lanterns hang from the high ceiling, which gives the building an overall feeling of elegance. That and the marble floors, stone pillars and life-size camel replicas…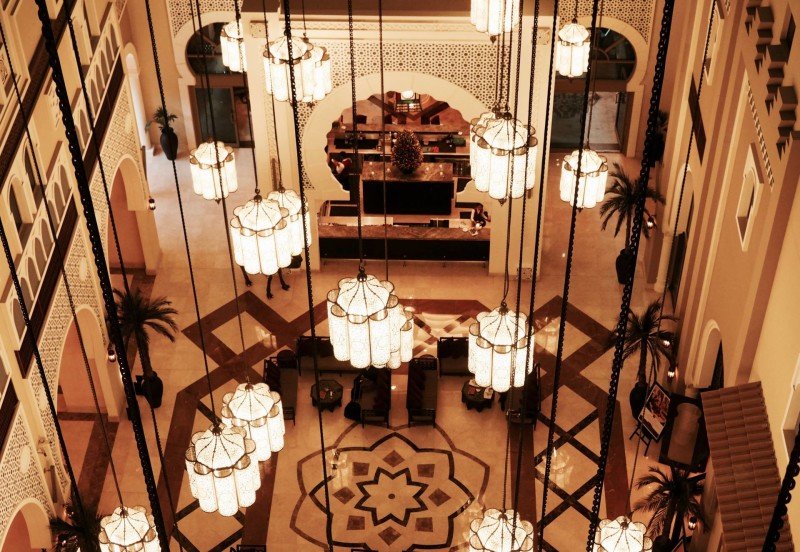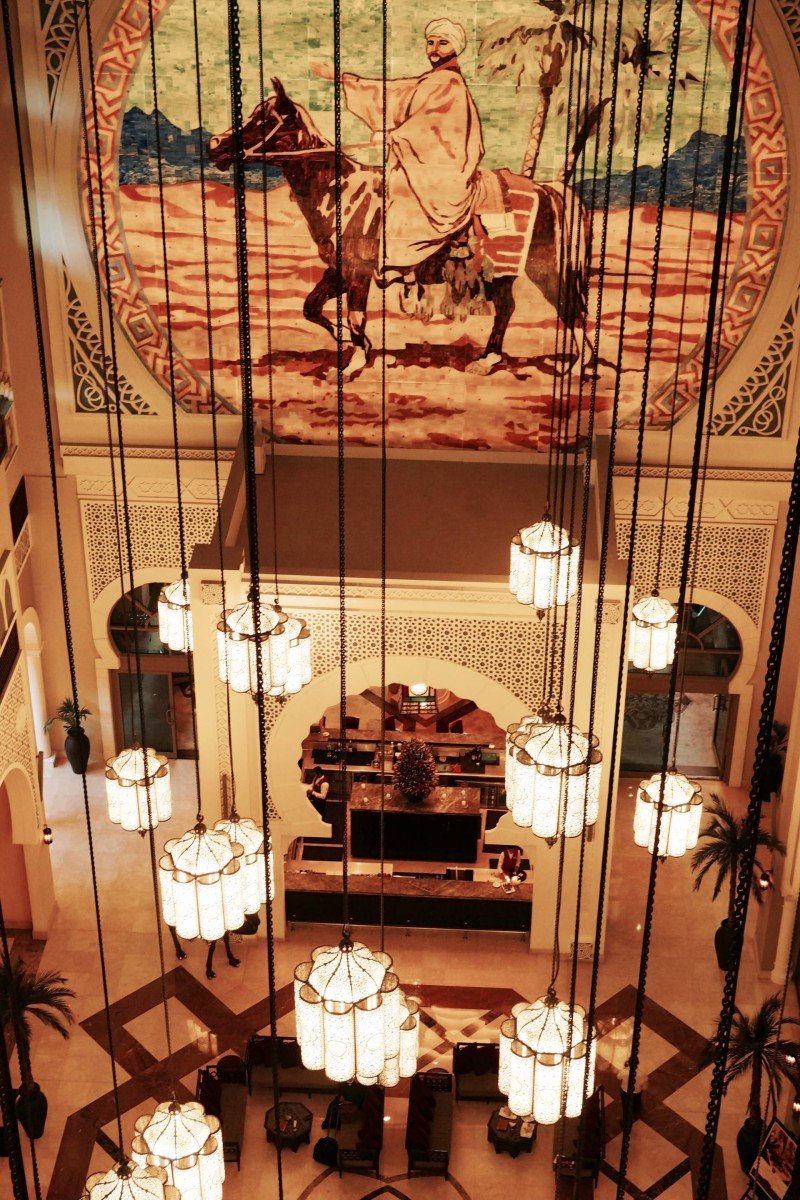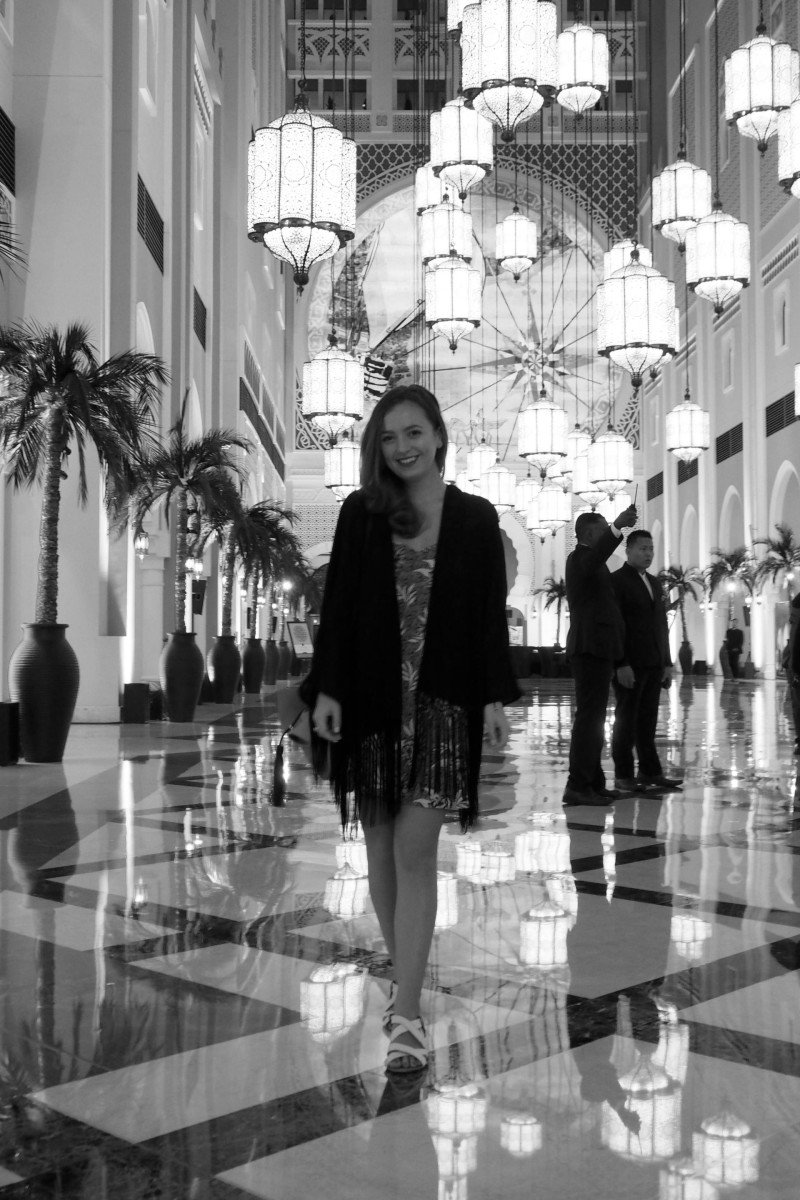 The room at Ibn Battuta Hotel
Each floor of the hotel is themed around one of the destinations Ibn Battuta travelled to: Andalucía, China, Egypt, India, Morocco, Persia, Russia and Zanzibar. We were on the sixth floor, which takes decor inspiration from Siam. A cute coincidence for us, because we went to Thailand together as pals and now we love each other and all that. It's like they knew! If you want to see us in all our Chang-drunk, gangly young glory you can read this post about me passing out in the jungle and Tom diving into a fire at the Full Moon Party. We've come a long way, right?
Anyway, back to the ever so much more civilised present.
We had our very own little entrance lobby which felt very fancy and as we entered the room, dramatic music was playing on the 40 inch TV.
There were two bathrooms facing each other – one with one of those posh waterfall showers and the other with a bathtub. My favourite feature was the sliding panel separating the bath and bedroom – perfect for putting on shows!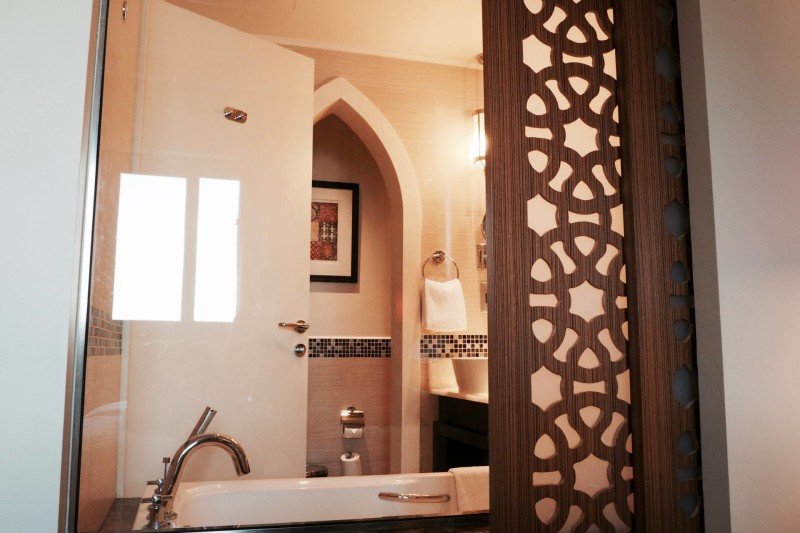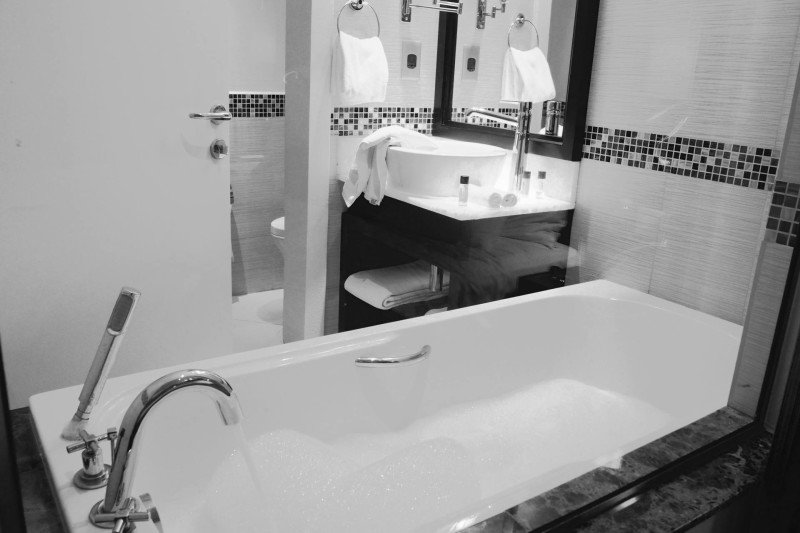 There were also some really nice quality drinking glasses, which made our sneaky bottle of bourbon at bath time feel all the more indulgent.
The pool
Before I moved to Dubai, I thought rooftop pools only existed on Taylor Swift's Instagram and in the movies. Now, I'm like oh there's a rooftop pool? Cool. But does it get the sun?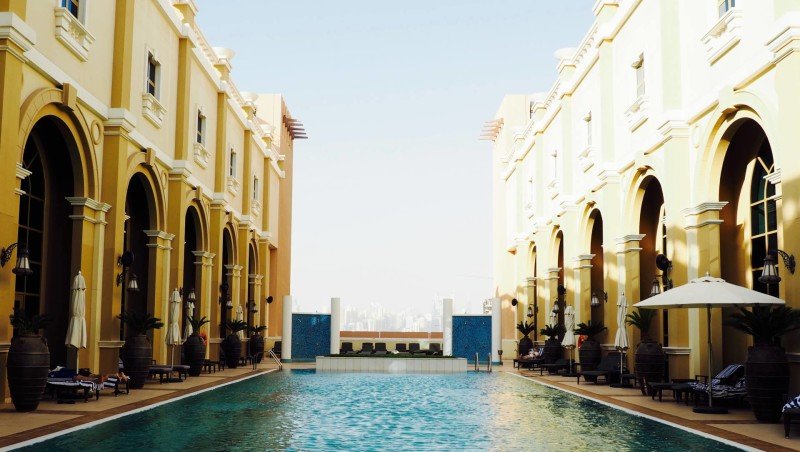 Okay, so there was no chance of getting a tan at the Ibn Battuta Hotel pool when we rocked up late in the day – but it's still a relaxing place to swim some lengths. I did three or four and figured that was enough exercise for one day. The pool is heated, which was actually totally necessary because there was a slight breeze in the air. Sorry if you're reading this from chilly England!
I wonder how many blog readers I'm gonna lose by pretending to be a big lad because I live in Dubai now?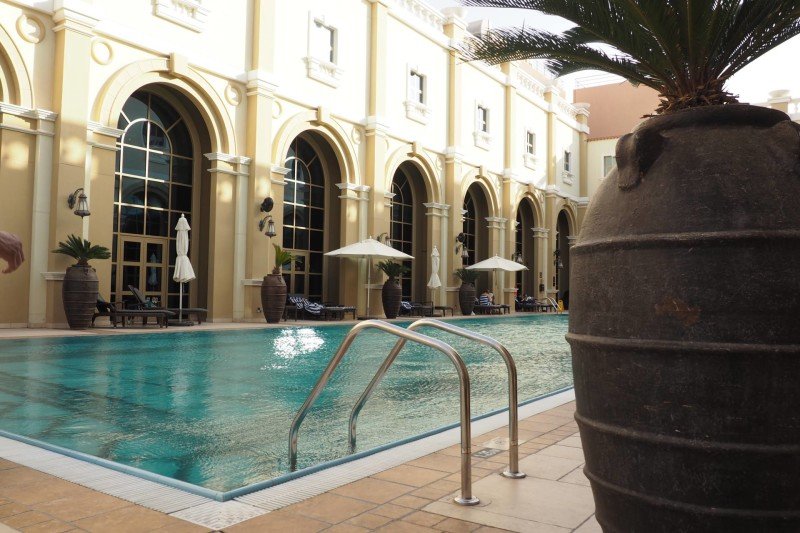 The eight restaurants and bars at Mӧvenpick Hotel Ibn Battuta Gate Dubai are centred around Al Bahou (the Grand Hall) and serve gastronomy with Asian, Indian, Italian and Moroccan flavours. We didn't eat there though, and instead popped across the road to the Ibn Battuta shopping mall to see whether it sized up to Dubai's other shopping outlets.
Ibn Battuta Mall
The shopping mall at Ibn Battuta Gate is worth a visit if you're in Dubai for a prolonged length of time. It's almost the antidote to the ridiculously OTT Dubai Mall. I say almost – look at the ceiling in the Persia Court.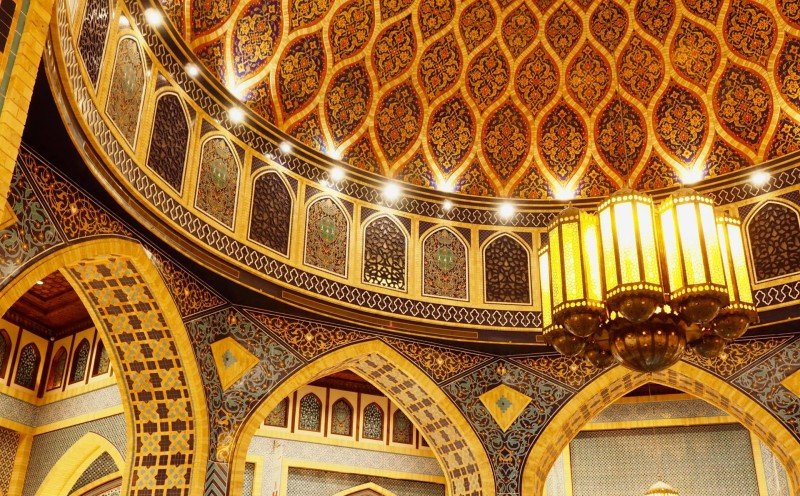 This mall is a little different from others because its sprawling labyrinth is split into sections, which are decorated to reflect the various countries Ibn Battuta visited on his travels.
They really love this guy.
Wander into the China court and you'll be faced with a giant red Chinese junk boat, surrounded by larger than life dragon medallions, white marble columns reminiscent of the gates of historic Chinese cities, and a ceiling emblazoned with motifs symbolizing happiness and prosperity. The Taj Mahal is a clear influence in the design of the India Court and the centrepiece, a huge elephant clock comes alive every hour on the hour.
Walk through ancient history in the Egypt Court and wonder if you've accidentally stumbled outdoors when you come to the Tunisia Court – the artificial buildings and blue sky will confuse even the most focused shoppers.
We left through the Andalusia Court feeling like we'd been on a globetrotting adventure ourselves. Dubai, you crazy.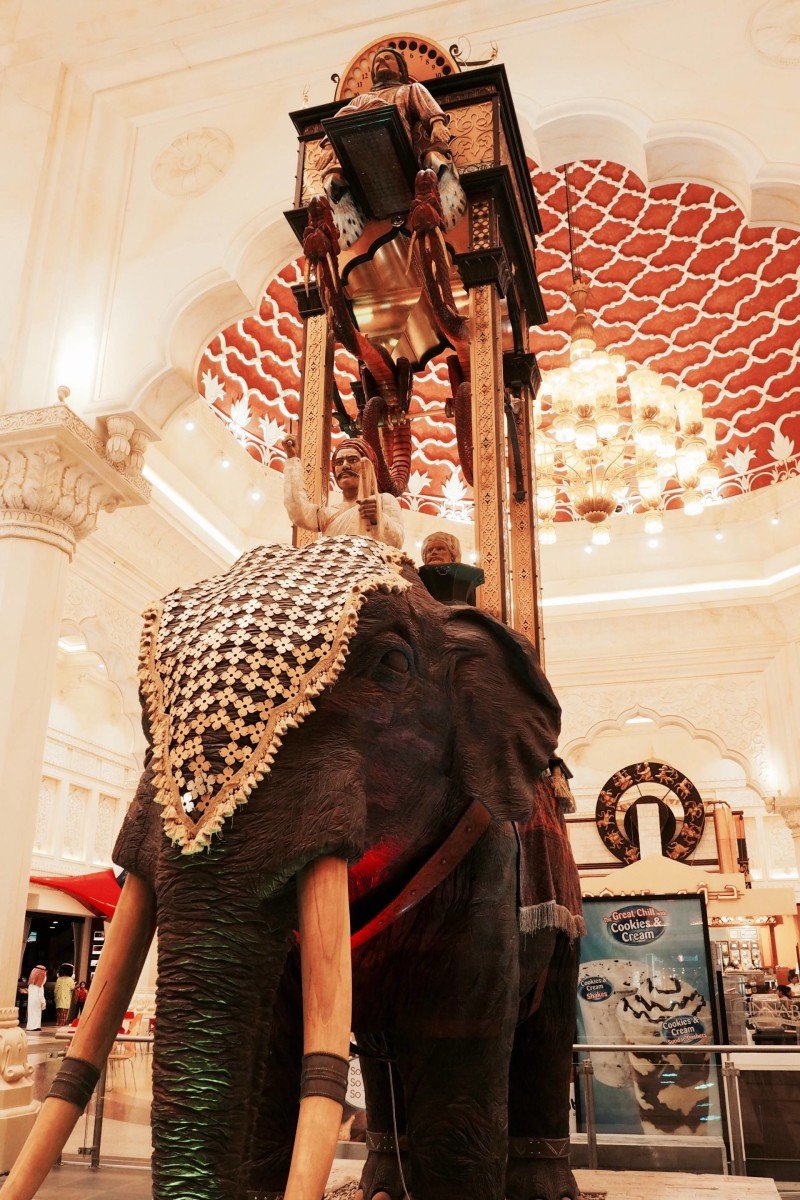 Our stay at the Ibn Battuta Movenpick was just what we needed. I wouldn't recommend staying here if you're only in Dubai for a few days or need to be close to the airport, but if you have time to venture away from Dubai's main tourist sights, it's a lovely place to get away from it all.
The best bit about staying at the Ibn Battuta was that guests are provided with a shuttle bus and free access to Oceana Beach Club on the Palm. I'll be sharing our day there very soon, so to make sure you don't miss that post or the one about our day out in the desert, subscribe to my blog using the box on the right.
Did you know about Ibn Battuta, one of the most famous Muslim travellers? I certainly didn't until I checked into the hotel he inspired! Leave me a comment if you have any questions 🙂
If you haven't already, you can follow my Dubai adventures on Facebook, Twitter, Instagram, Pinterest and Snapchat (username dannielle-lily). Such a social media savvy gal, me!