You can't visit Dubai and not go to the desert.
A desert safari had been on my to-do list since I moved to Dubai, but, like all the other (expensive) tourist attractions, it had been delayed until I had visitors. When Tom came for a few days, I gleefully booked. An excuse!
A Dubai desert safari at sunset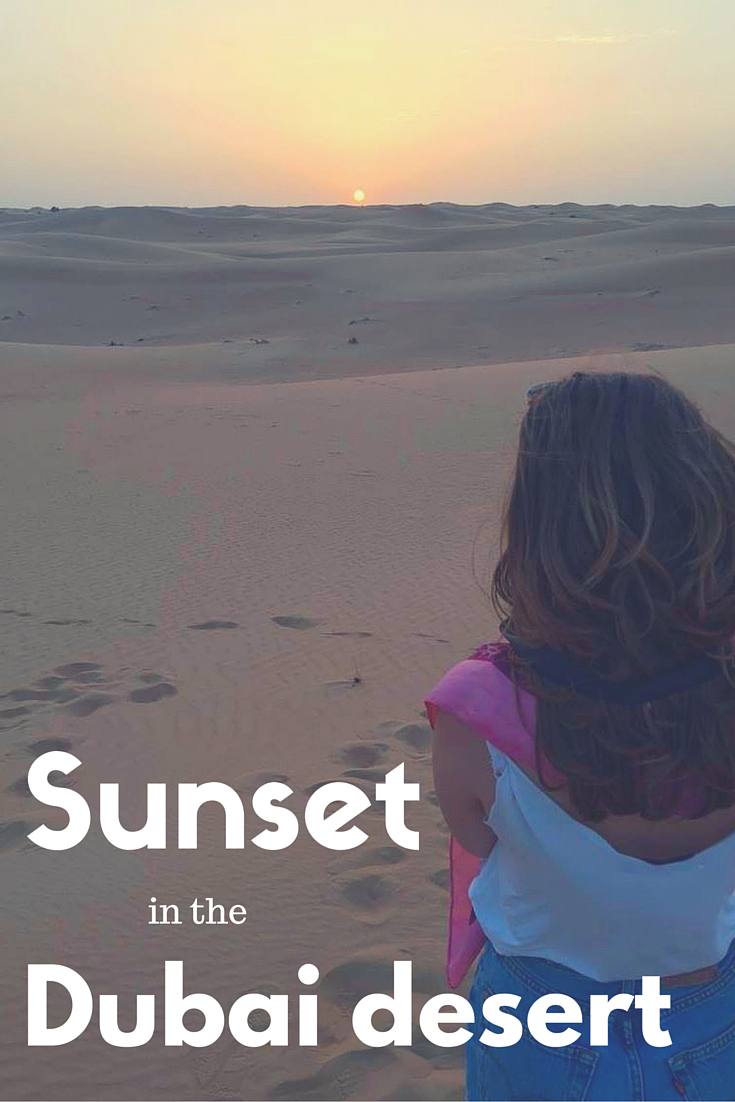 How we chose our Dubai desert safari tour company
My excitement faded a little when I read the mostly negative reviews about the countless different desert tour companies. They all took tourists on pretty much the same trip, but organisation was apparently atrocious. Arab time, and all that.
After consulting some established Dubai expats, I decided to go with Arabian Adventures. They're the priciest, but also the most reliable and their reputation won me over. When you're only going to do something once, you might as well do it properly. I wasn't about to take risks with cowboys in the desert.
Included in the Sundowner tour is:
Hotel pick-up and drop off
Falcon show
Dune bashing in a 4×4
Camel rides
Plenty of photo opps
Dinner with all inclusive drinks and shisha
Evening entertainment
We were picked up at the hotel we'd checked in to for Tom's visit, Ibn Battuta. We had chosen the semi-private tour in a 4×4, so we had to stop at other hotels to collect our new pals. A nice opportunity to ogle the resorts I could never afford to stay at!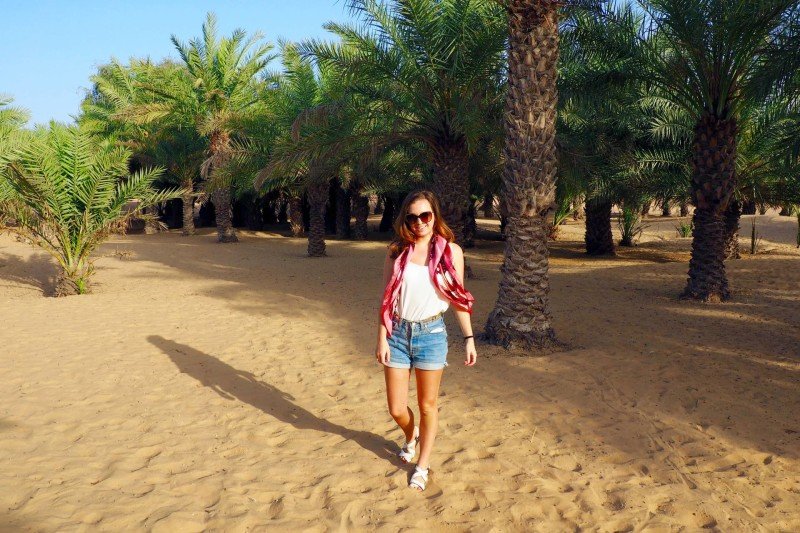 We drove out to the Dubai Desert Conservation Reserve and within 50 minutes we found ourselves a world away from the high rises and gleaming white yachts in the Marina. Rippling burnt ochre sand dunes flanked our vehicle and the last glimpses of that impressive skyline faded away. We drove past elegant gazelle, who grazed in small groups and looked at us curiously through wide eyes.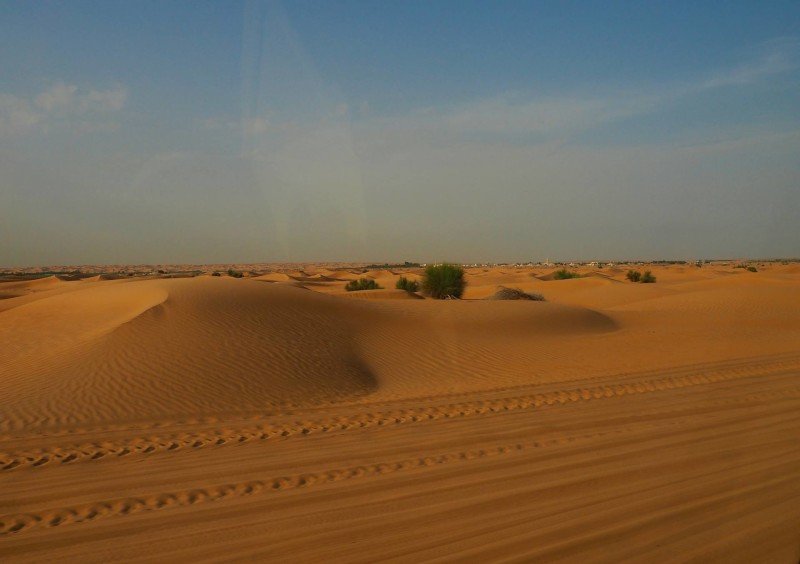 A real Arabian Adventure: Our Sundowner Dune Dinner Safari
I knew I wanted to see the desert at sunset so a 'sundowner' tour was the ideal choice for us. I say 'us' – Tom didn't really have a choice. It wasn't until he arrived in Dubai and I was all AREN'T YOU EXCITED TO GO TO THE DESERT that he told me what he'd been trying to tell me for weeks: that he'd already been to the Dubai desert as a kid. Clearly, I need to work on my listening skills. When I get a new adventure into my head I tend to ignore anything that will pee on my parade.
We were off to a Bedouin style camp to immerse ourselves in the ancient heritage that once shaped life in this sandpit in which I've found myself. 'Bedouin' translates as 'nomad' or 'wanderer'. A bit like me then – but with less hangovers and iced lattes. If you've ever read The Alchemist, you'll have an insight into how the Arabic nomadic community lived. Desert dwellers who wandered the plains, these tribes are the purest example of Arab culture.
Falcons are scary
The first stop was just on the fringes of civilisation, so we could watch a falcon show. An Australian lady explained how the Bedouin people used falcons to hunt for food, which was obviously scarce in the desert's sprawling, sparse terrain.
We all oohed and ahhed as the creature soared over our heads.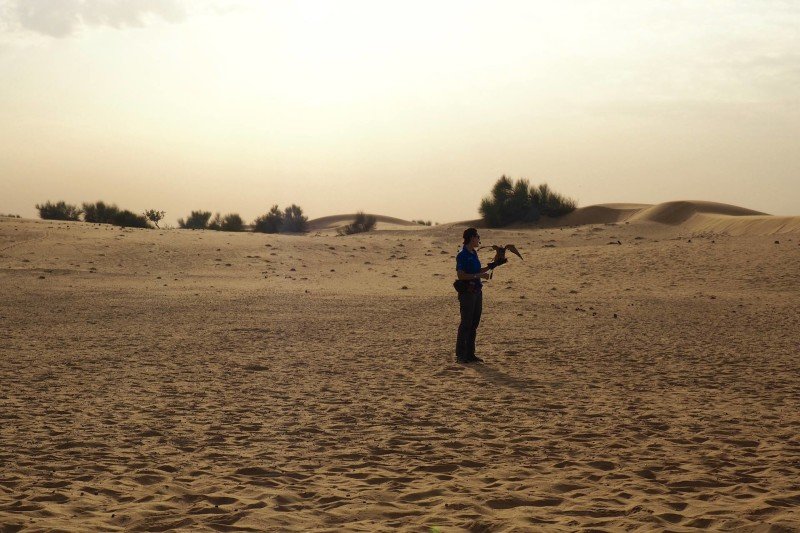 Suitably impressed with the bird show and feeling lucky we didn't have to rely on angry birds to catch us our dinner, we piled back into the 4×4. Our driver jumped out to let some air out of the tyres then we joined a convoy of duplicate vehicles. Then the fun began!
Dune bashing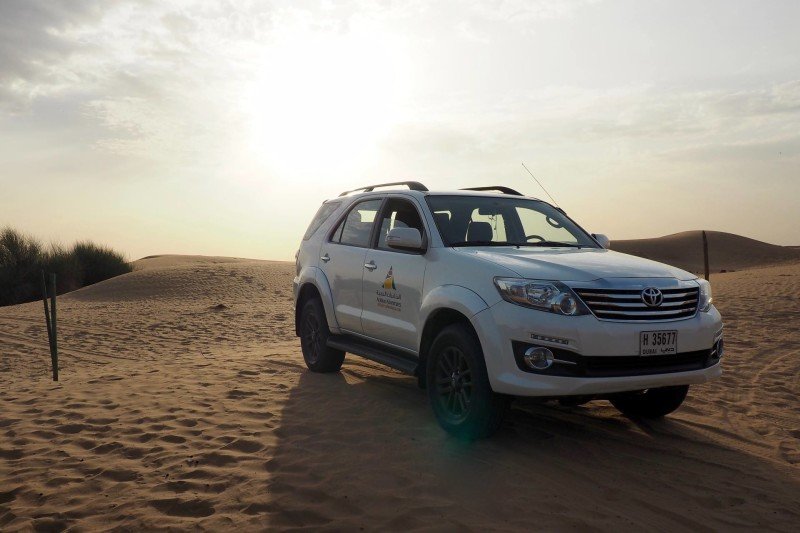 Soon, we were in the real, wild desert and the ride began to get more and more rambunctious. I rushed to put my camera away after clattering it off the window for the third time. I guess I underestimated just how bumpy the ride would be.
Driving over the sand dunes was like riding a rollercoaster and my stomach did backflips the whole time as I giggled my head off. Unfortunately, the older couple in the car with us didn't enjoy it so much. The lady threw up into a bag the entire time we were bashing over the dunes. I felt so sorry for her!
It was only when we stopped and got out to watch the other 4x4s hurtling over the sand dunes that I realised just how skilled the drivers are.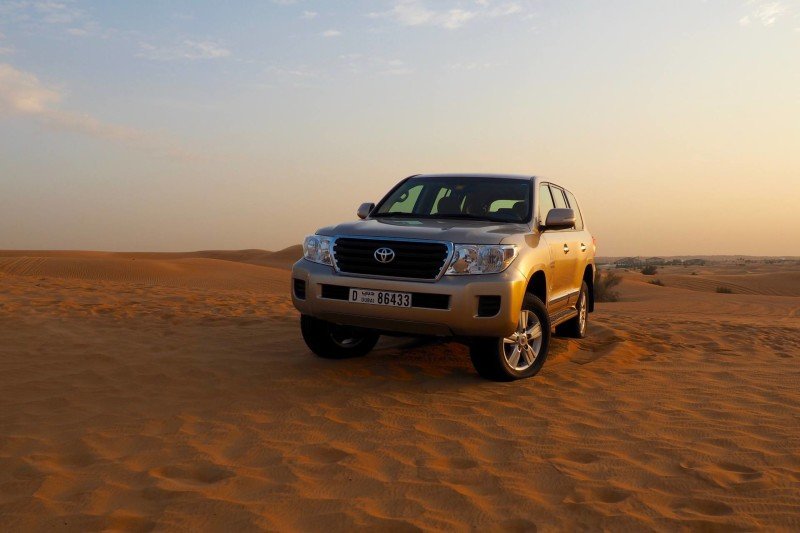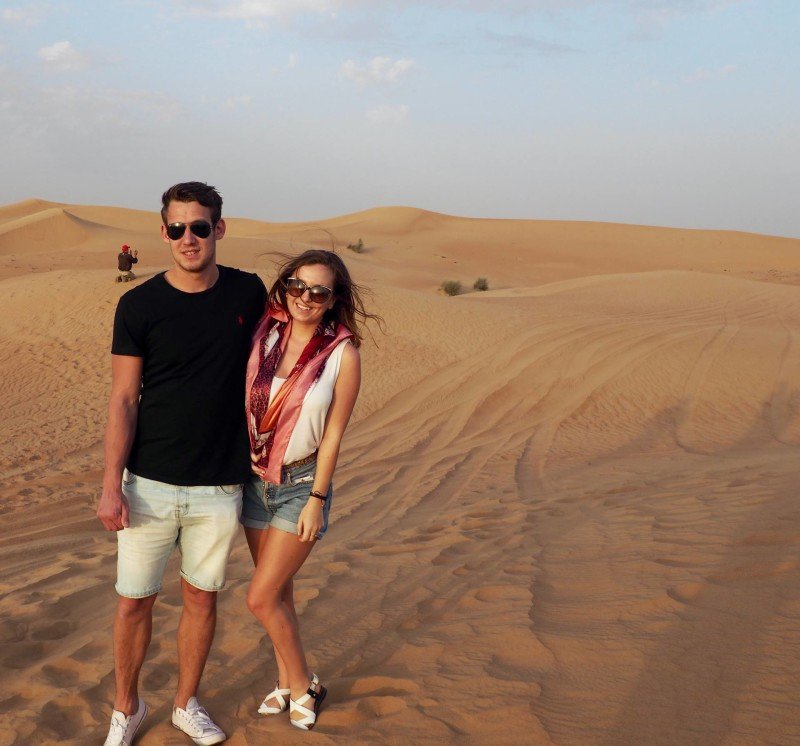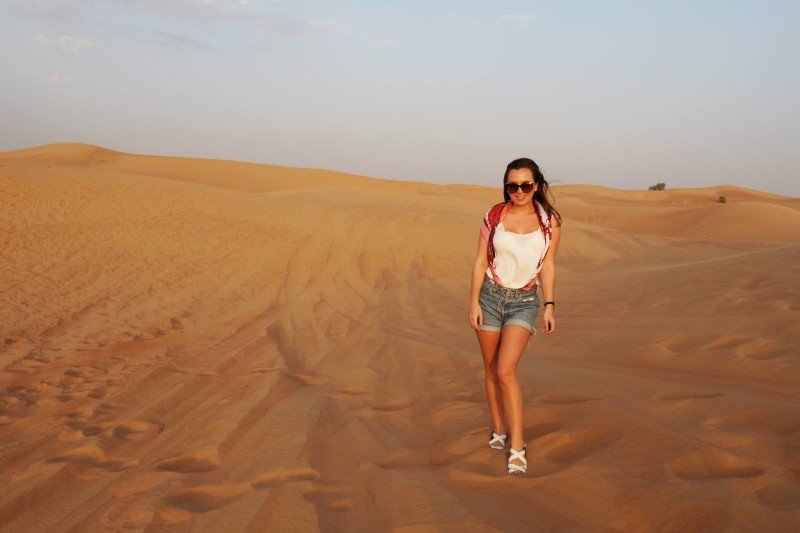 The vast, barren slopes of the Middle East's desert are just mind blowing and it's difficult to get your head around the fact that people somehow managed to survive here, living in tents made from camel hair and sustaining themselves on camel milk.
Sunset in the desert
We reached a peak and got out to watch the sun disappear into the horizon beyond the smooth, sculpted dunes. It's amazing how quickly the golden light of day in the desert turns to night. We were soon in complete darkness and an eerie stillness hung in the sticky night air.
I've done enough tours now to be wary about feeling like you're on a school trip (Halong Bay being a prime example of a stunning natural gem being ruined by tourism), but although there were other tourists around, our desert safari didn't feel overly forced or make us feel like cattle. We had the entire desert!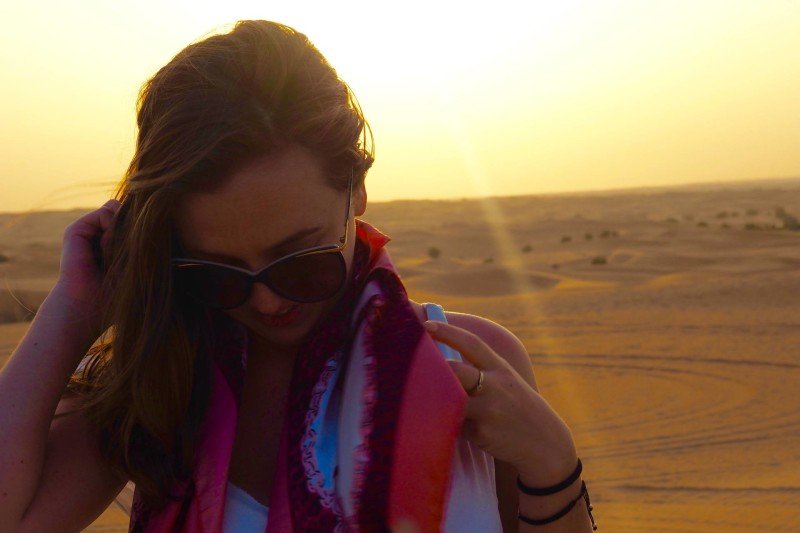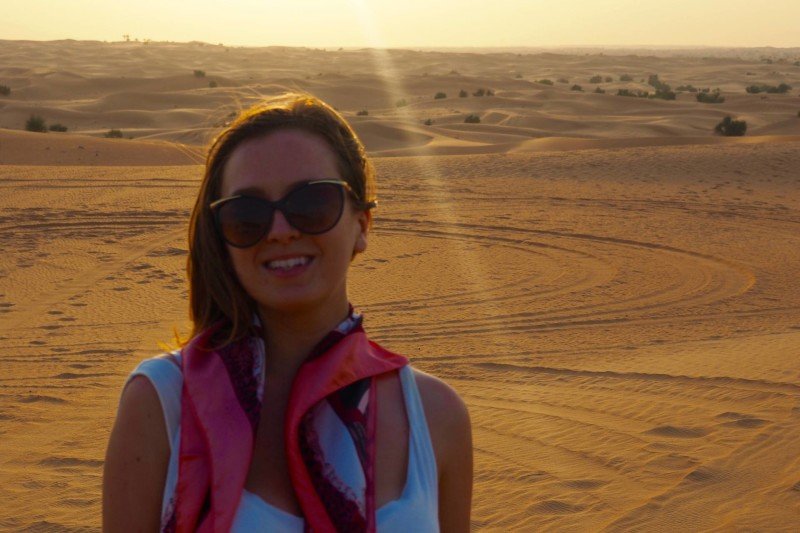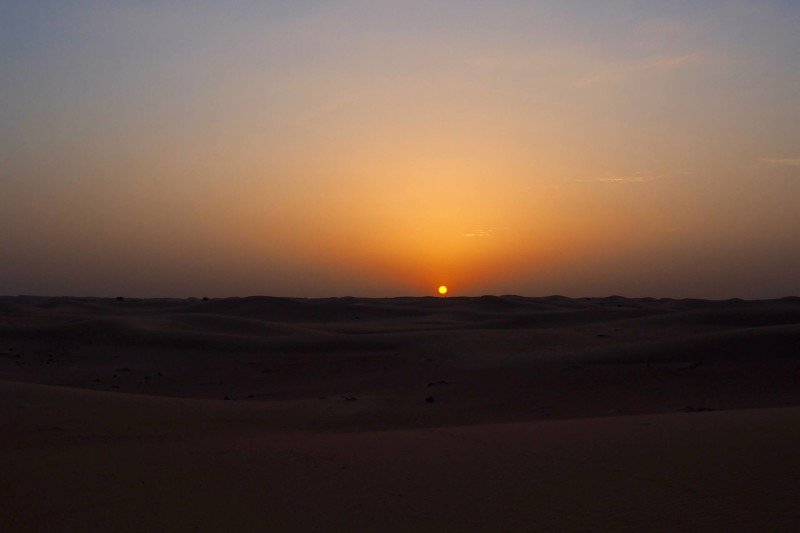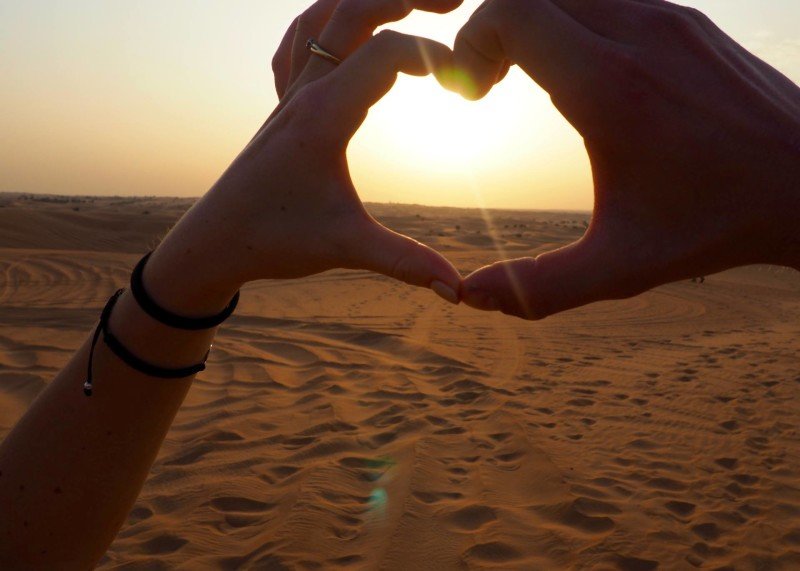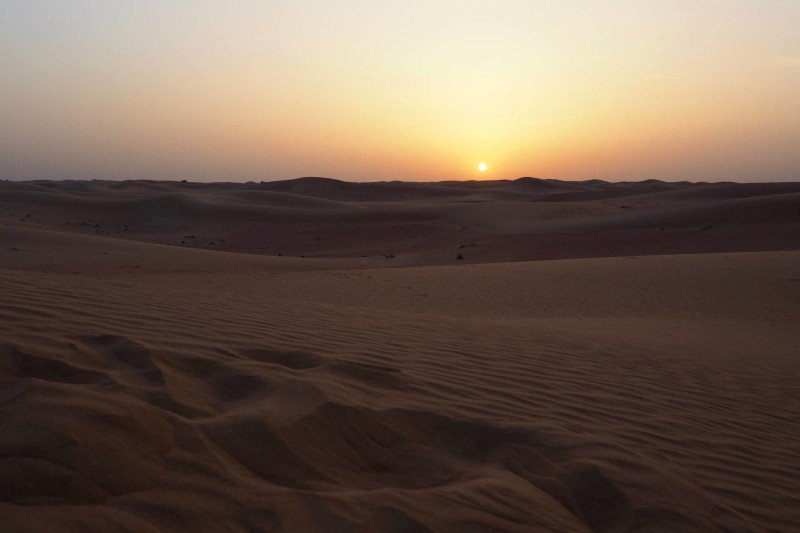 Dinner at a Bedouin camp
In the darkness, we jumped back into the car and made our way to the Bedouin camp. I'm not much of an adrenalin junkie and this was the part I'd been waiting for – the chance to see a traditional part of Dubai, our oasis in the desert!
Since moving here, I've done my best to discover Dubai's soul and after exploring the gold and spice souks of Deira, I'm convinced that there's more to the Emirate than record breaking feats of architecture and policemen driving Lambos. The desert safari is another must-do if you like to look a destination in its eye.
A lot of effort had gone in to focusing on the cultural aspects of the desert at the Bedouin camp. We were offered Arabic coffee as soon as we arrived. I don't know why I said yes to it. I tried it when I went up the Burj Khalifa when I came to Dubai for 24 hours for my initial job interview and hated it then.
Still do.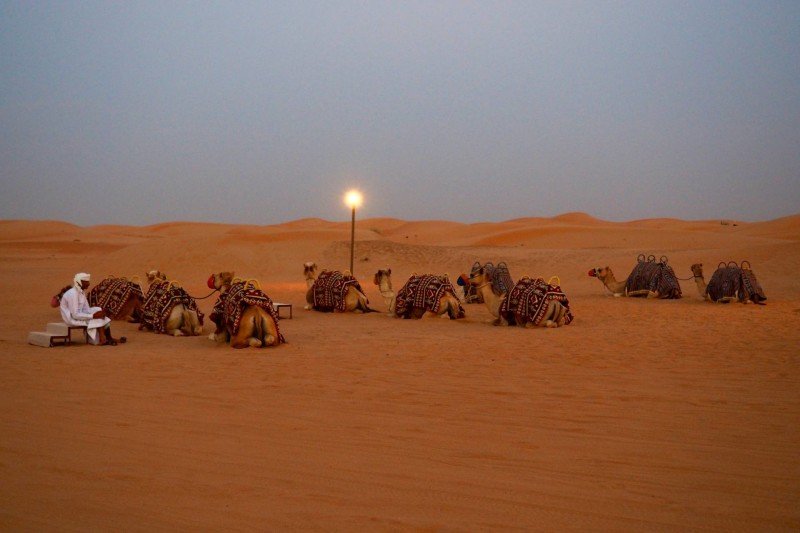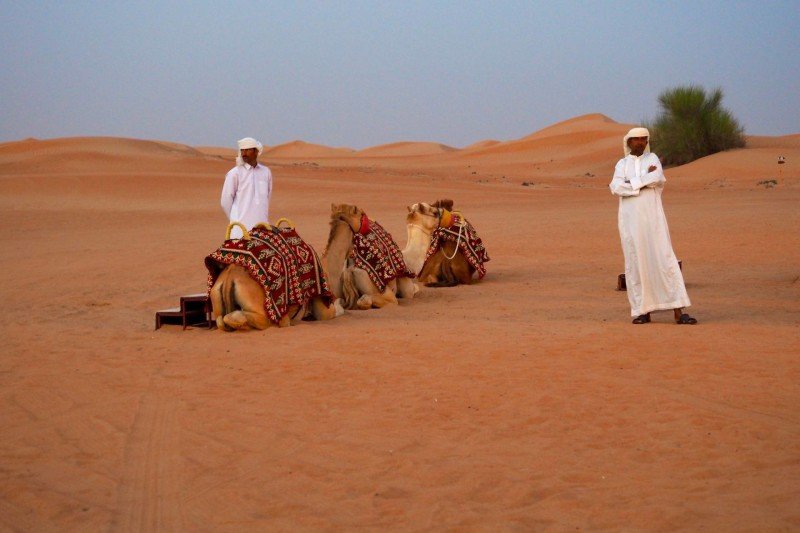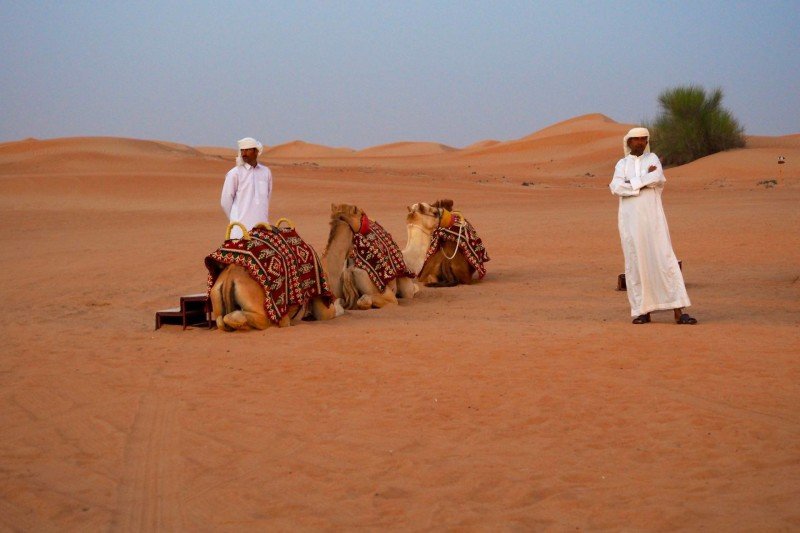 Riding a camel
The sand boarding looked a bit lacklustre so we headed straight for the camels. I kind of want to taste camel while I'm living here but I can't get the idea that the meat would be hideously dry and sandy. I mean, obviously it wouldn't be sandy. Has anyone tasted it?
Have you ever tried to mount a camel? Serious test of your core strength! I had visions of myself toppling forward and falling at the camel's front feet when the creature rose to from its sitting position. Thankfully, I managed to stay on top – camels smell pretty gross.
Pretty made up with this amazing selfie.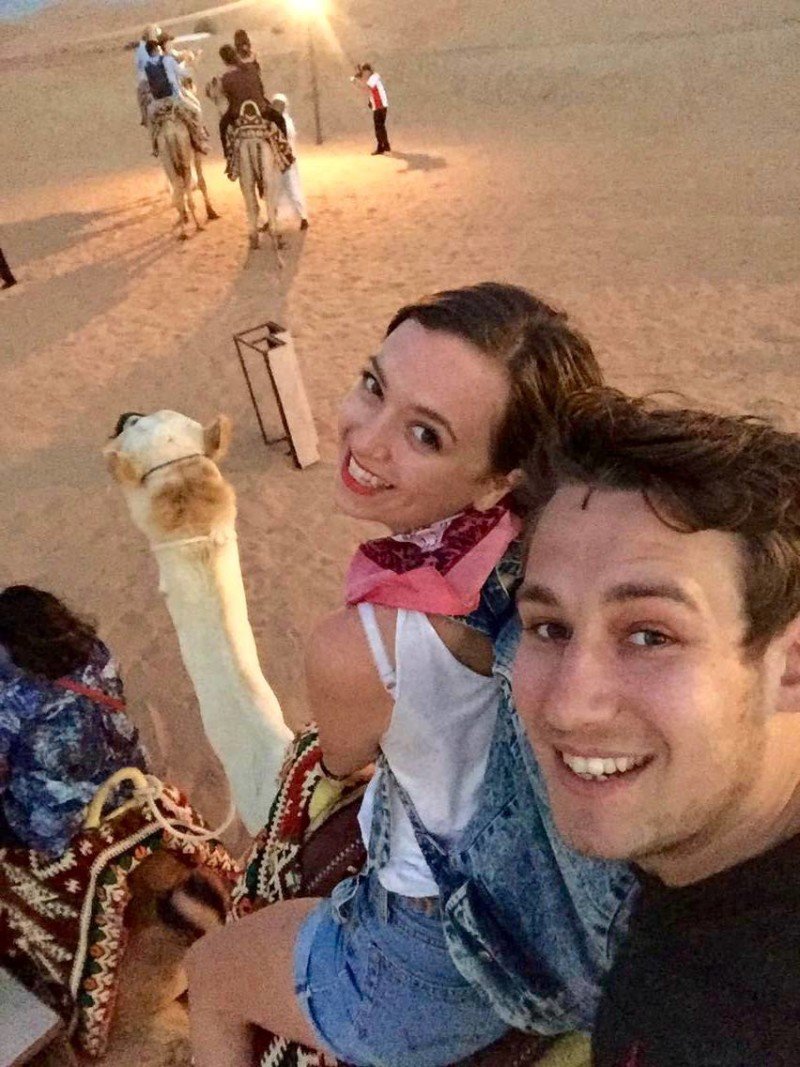 We then got a quick picture with the falcon. Here's Tom – my picture is terrible because I look terrified. After seeing this one's legs act as pincers, I didn't fancy my chances.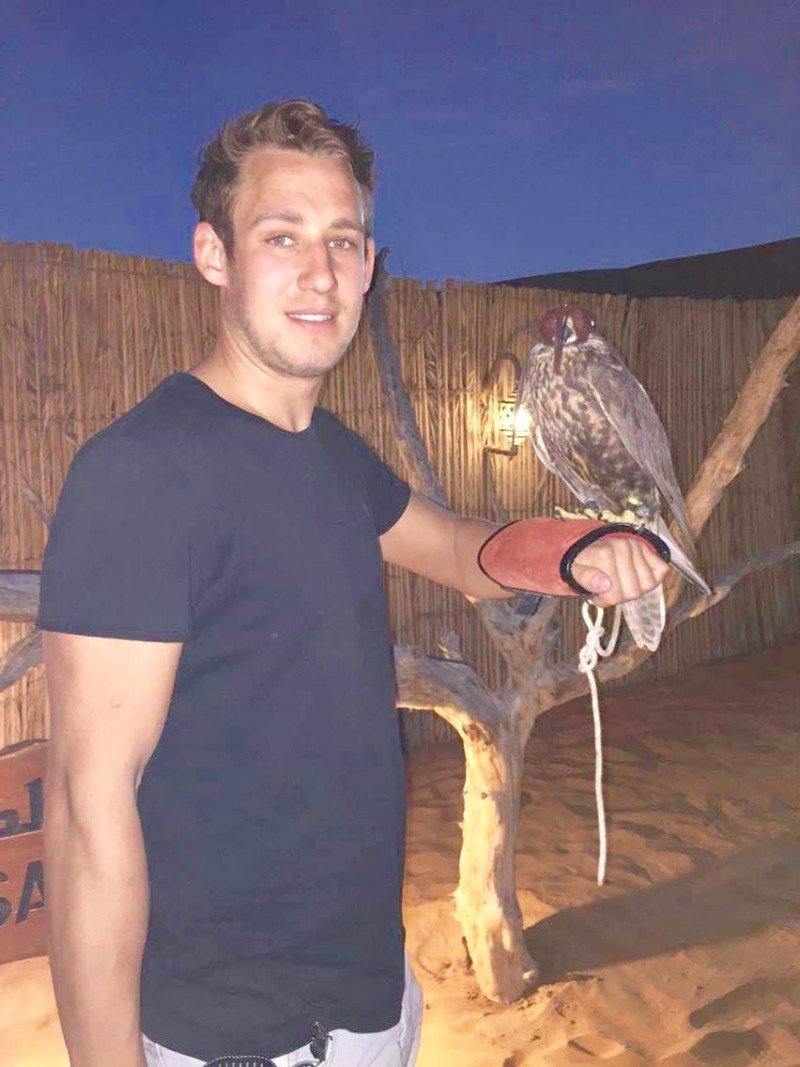 There was the opportunity to dress up in UAE national dress, which would be fun for pictures. I actually sent my family a picture of myself in an abaya (the UAE national dress for females) to freak them out.
I would have loved to get a henna decoration but didn't think it would be appropriate for the office so I gave that part of the Bedouin camp a miss. It would be a lovely souvenir of your trip though!
The camp is contained in tents with Arabic carpets and cushions scattered for your comfort. I imagined the real Bedouin communities and wandered what the people talked about while they reclined on these seats, maybe smoking a shisha after a long day of herding with the tribe.
I've just pictured Taylor Swift, Gigi and the rest of their 'squad' dressed up as shepherds.
Dinner, shisha and dancing in the desert
We helped ourselves to beer and wine, then piled bowls high with Arabic mezze. There were samosas, Arabic bread with some sort of cheese filling, falafel and salad. There was definitely no shortage of food and it was very relaxed – everyone just helped themselves.
As we finished eating, light flooded the centre of the camp and a woman in a beautiful yellow outfit took the stage. We were treated to a belly dance show involving a big sword and lots of swirling.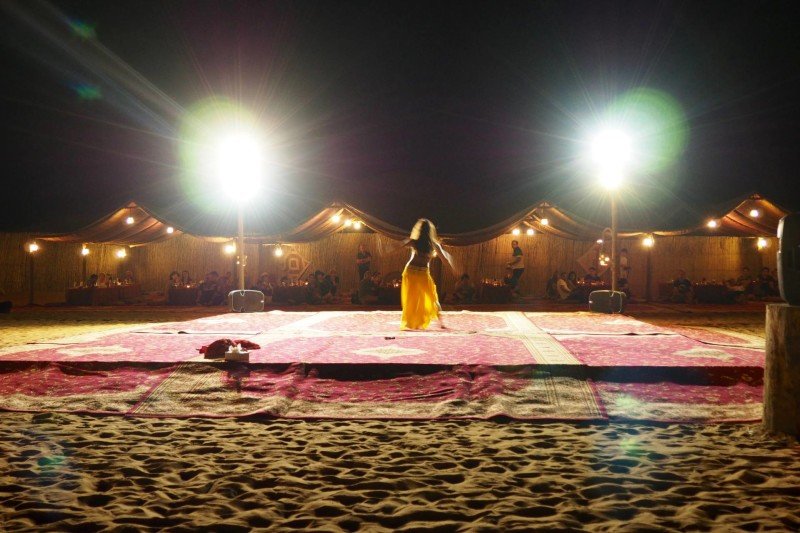 To be honest, the most entertaining thing about the show was the tiny little girl who took it upon herself to dance along on the sand. All attention was on her!
The evening entertainment doesn't happen during Ramadan so make sure you factor that into your trip if you're a big belly dance fan. Is that a thing? Are there avid belly dance fans out there? I dunno.
After the show, we moved over to the smoking area and sucked on shisha pipes while we finished our beers. The lights suddenly went out and I panicked a bit, thinking there had been a power cut. Visions of my lifeless, parched body being found in this wasteland three days later flashed through my mind but then we were told this was stargazing time, so I chilled out, lay back and did what I was told.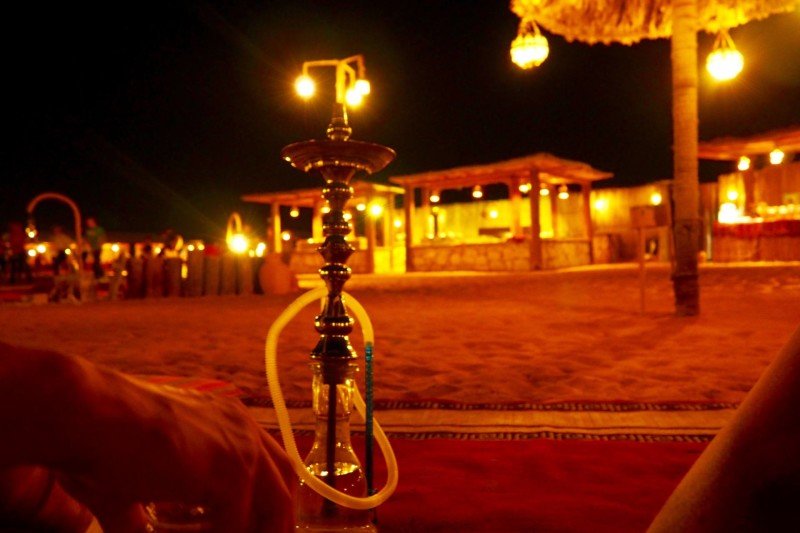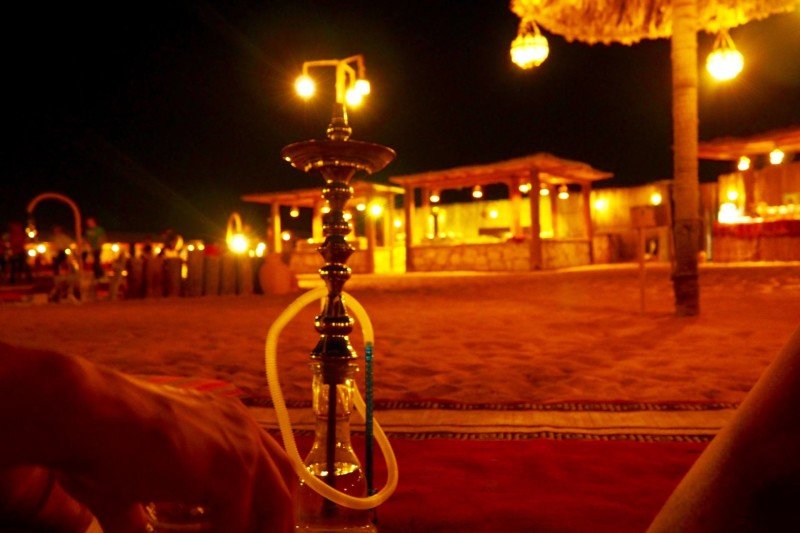 The sunset desert safari was a truly magical experience that offered something for everyone: exhilarating sand dune bashing, an insight into Arab culture and the rare opportunity to unwind with shisha in the setting it was originally intended.
The first part of our Arabian Adventure was all about speed and the thrill of the ride, a little like life back in 'New Dubai', but when the sun slipped away, so did that part of Dubai life. This is one tourist attraction that actually captures the essence of the Middle East, and I recommend anyone visiting Dubai ventures into its sandy pastures.
I almost feel like I'm exhausting everything Dubai has to offer too quickly in my haste to make this move abroad worthwhile! I may have managed to experience most of Dubai's little pockets of authenticity but it doesn't seem like I'll ever run out of brunch spots, beaches or beautiful Dubai hotels to share with you.
As always, leave me a comment or get in touch on Instagram, Facebook or Twitter if you have questions about expat life in Dubai. I'm also always open to suggestions for things to do and places to go! 
All photographs were taken on my Olympus Pen E-PL7.