I've always wanted to holiday in Jamaica, but until recently it was one of those extravagant dreams that I never really believed was attainable. Happily for me, I got my chance at the end of last year, and I jetted off to the land of Bob Marley, Red Stripe and sunshine for New Year 2018. The journey from England was long, but any tension melted away as soon as I was told, in a thick Jamaican accent on the bus to our hotel, "Welcome to Jamaica. We're five hours behind the UK, with no intention of catching up." Yeah mon! (That saying was everywhere!)
We stayed at ClubHotel Riu Ocho Rios, a sprawling, whitewashed all-inclusive resort on Mammee Bay that's crowned with palm trees and surrounded by lush woodlands.
A review of Clubhotel Riu Ocho Rios, Jamaica
Tom and I stayed at a RIU hotel in Sri Lanka last year and loved it, so we had high expectations of the Ocho Rios Riu hotel. While the Sri Lankan resort was brand new, the Jamaican resort had a brilliant atmosphere and I put that down to the attitude of the staff. Jamaican people have such a wonderful attitude to life, and I found it infectious.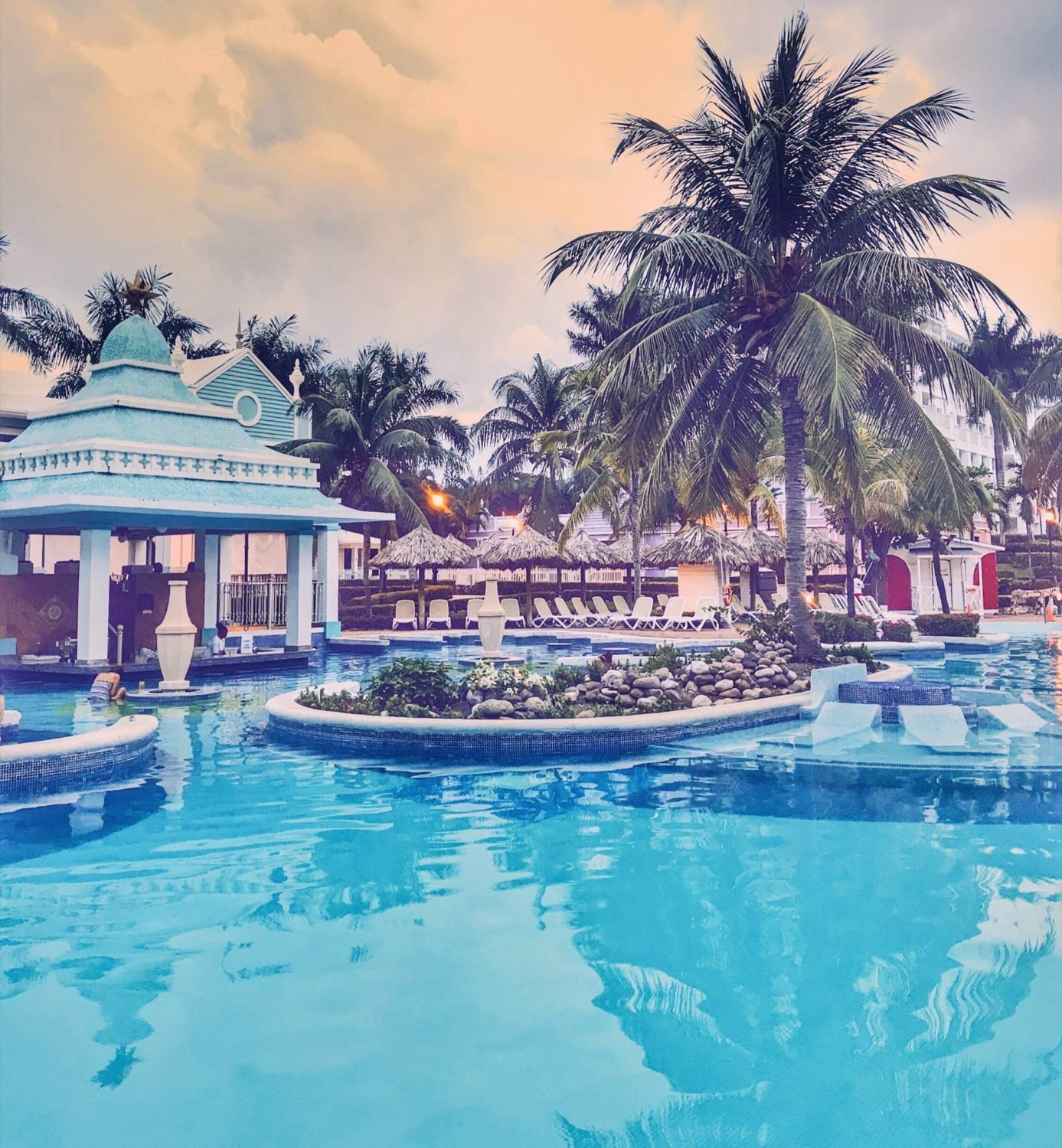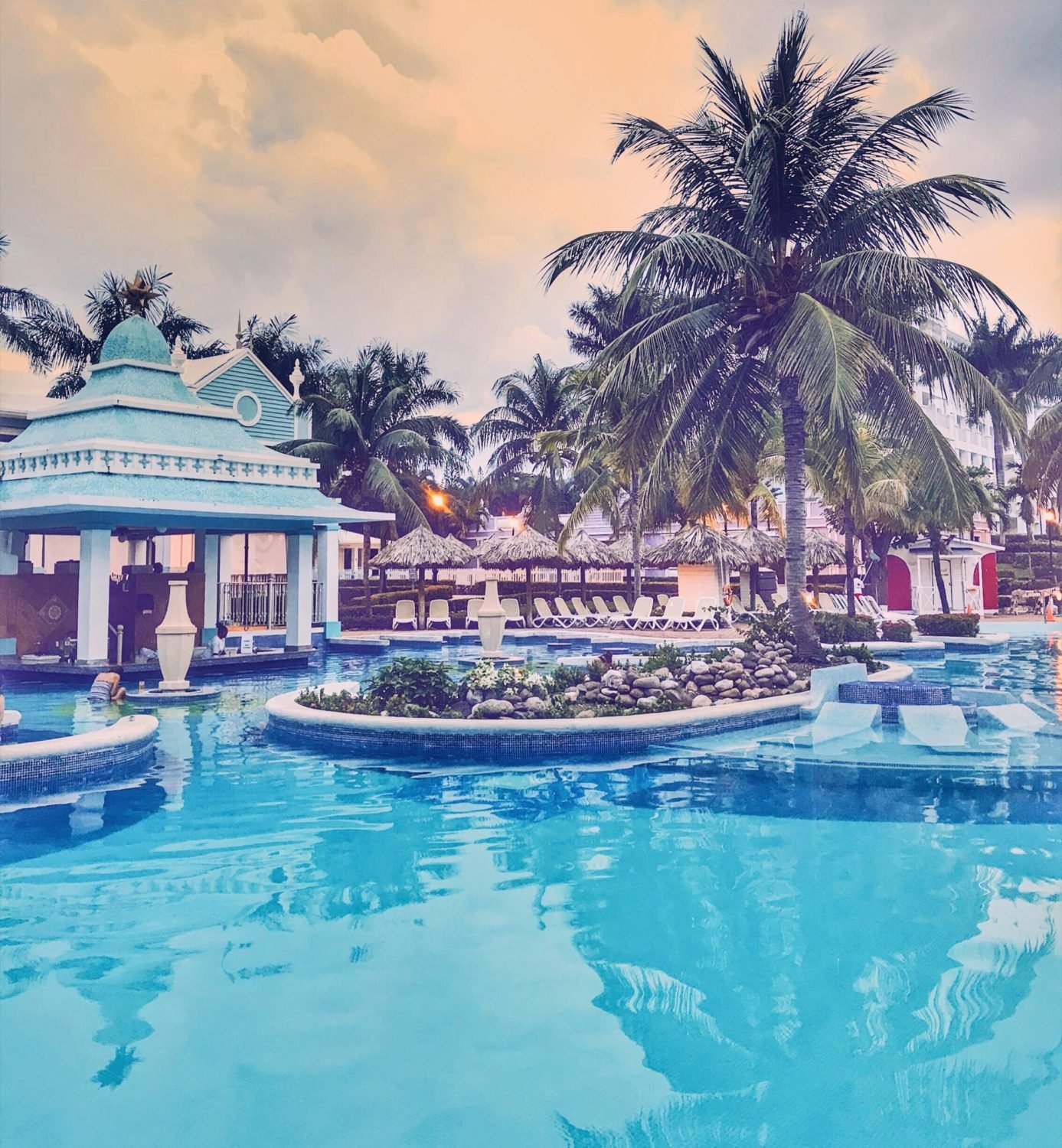 Some of my favourite things about the Riu were the optics in our room (all free!), the night-time entertainment (the traditional dance show in particular was fantastic) and the cocktail menus. Cocktails can be a bit disappointing in some all-inclusive resorts, but the Riu had a fabulous martini bar, plus lots of Jamaican-themed cocktails like the appropriately named 'Bob Marley'.
Food at Rui's Ocho Rios Hotel
The food was some of the best I've had at an all-inclusive hotel, thanks to live cooking stations serving delicacies like lobster and fresh pasta, plus the huge offering of Jamaican favourites like ackee and salt fish, festivals, bammies, callaloo and curried goat. All were delicious! The Riu might be a chain hotel, but they've definitely embraced local flavours in the Caribbean. There's also a more than ample international food selection, and the Italian restaurant is open most of the day, closing at 2am (ideal for those midnight munchies after a few Red Stripes).
We ate at the speciality restaurants a few times, and couldn't decide whether we preferred the steak restaurant (Mammee Bay) or the Mandalay. Fortunately, we could eat in both as many times as we pleased – but the buffet was so good that we didn't mind if the queues were too long in the more formal restaurants.
I'm strongly against skipping breakfast and the buffet at Riu Ocho Rios was worth waking up for: American pancakes with crispy bacon, fresh smoothies and piles of fruit, cheese, fresh omelettes and more.
One thing that really stood out, which is mentioned in every review of Riu's Ocho Rios hotel that you'll ever read, is the jerk chicken hut on the beach. The mouthwatering smell starts wafting over to the pool around noon and people start queuing not long after. The smoky chicken is served with rice and peas, and best eaten with your fingers on a sun lounger.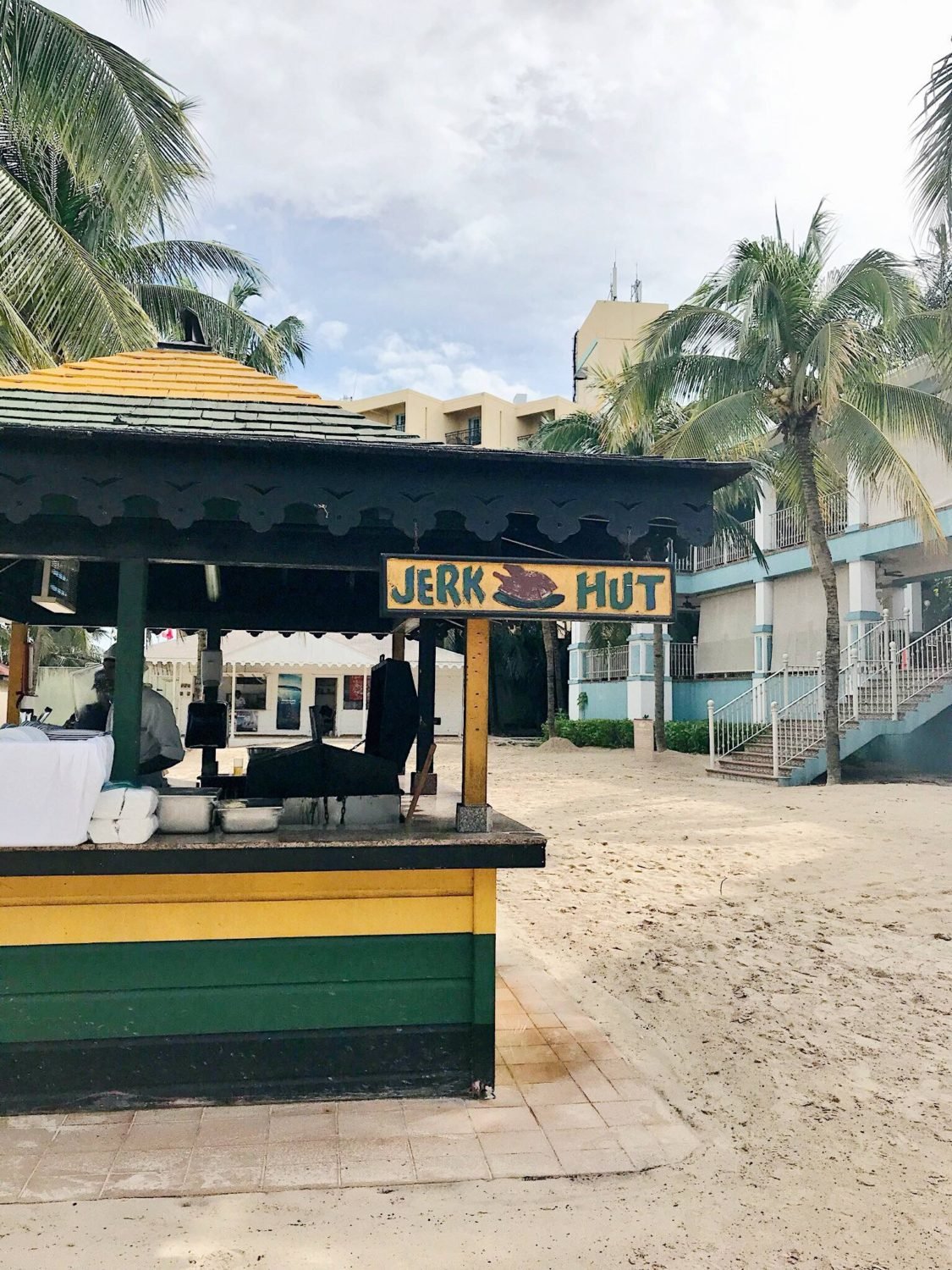 Rooms at the Riu
I didn't actually take any pictures of our room because we arrived late at night and our clothes were strewn all over the place for the rest of our holiday. Sorry! If you've stayed at an older Riu hotel before, you'll know what to expect: dark wood in the chain's typical Spanish style with slightly garish soft furnishings. Our maid kept the room spotless and we loved how huge the bed was.
Hotel grounds and facilities
The grounds of the Riu Ocho Rios hotel are beautiful, they're really well-kept and the buildings' all-white facades look very majestic, facing the Caribbean sea.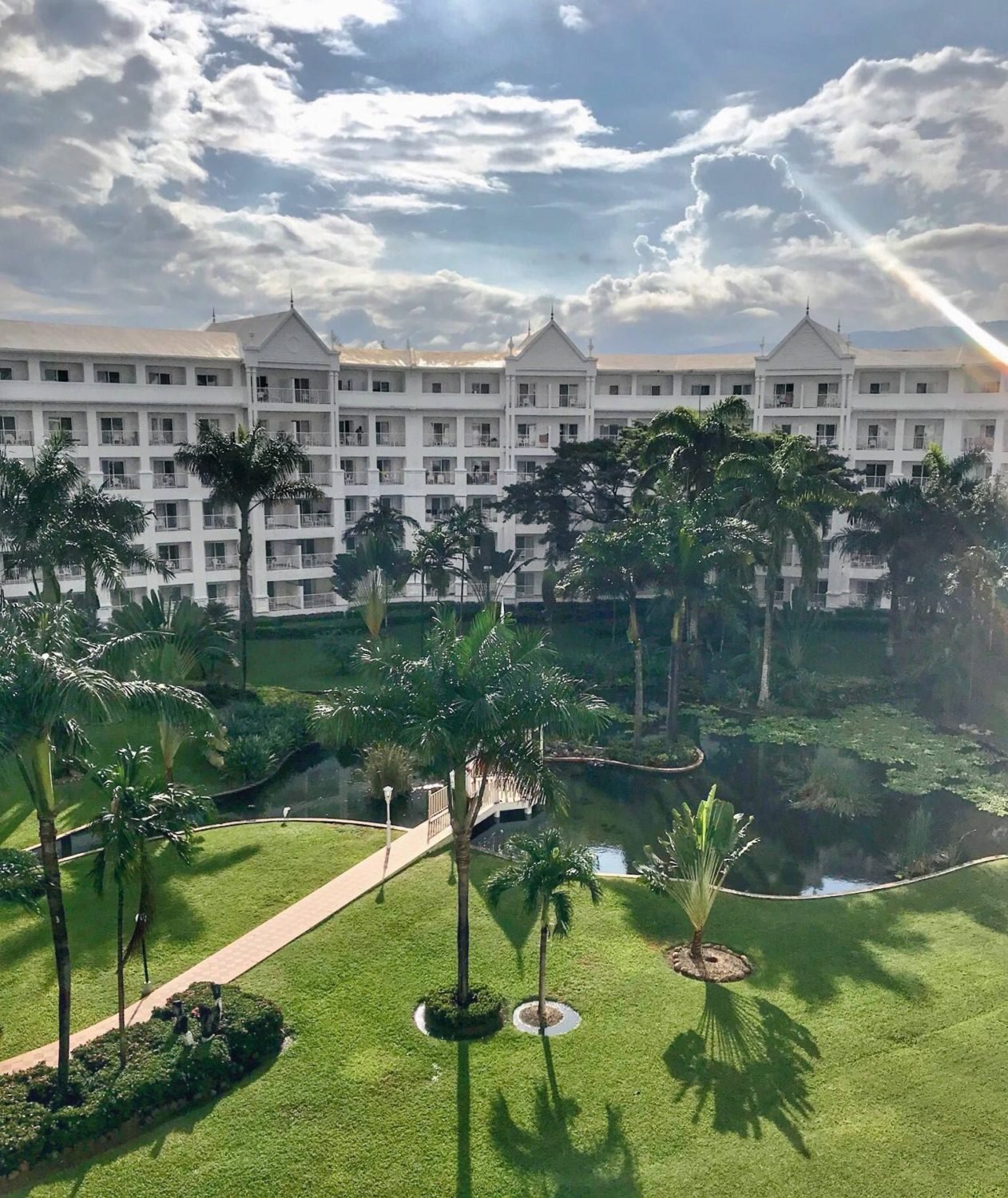 This is our view from the fourth floor. The blue building you can see peeking out of the palm trees is one of the lunchtime restaurants.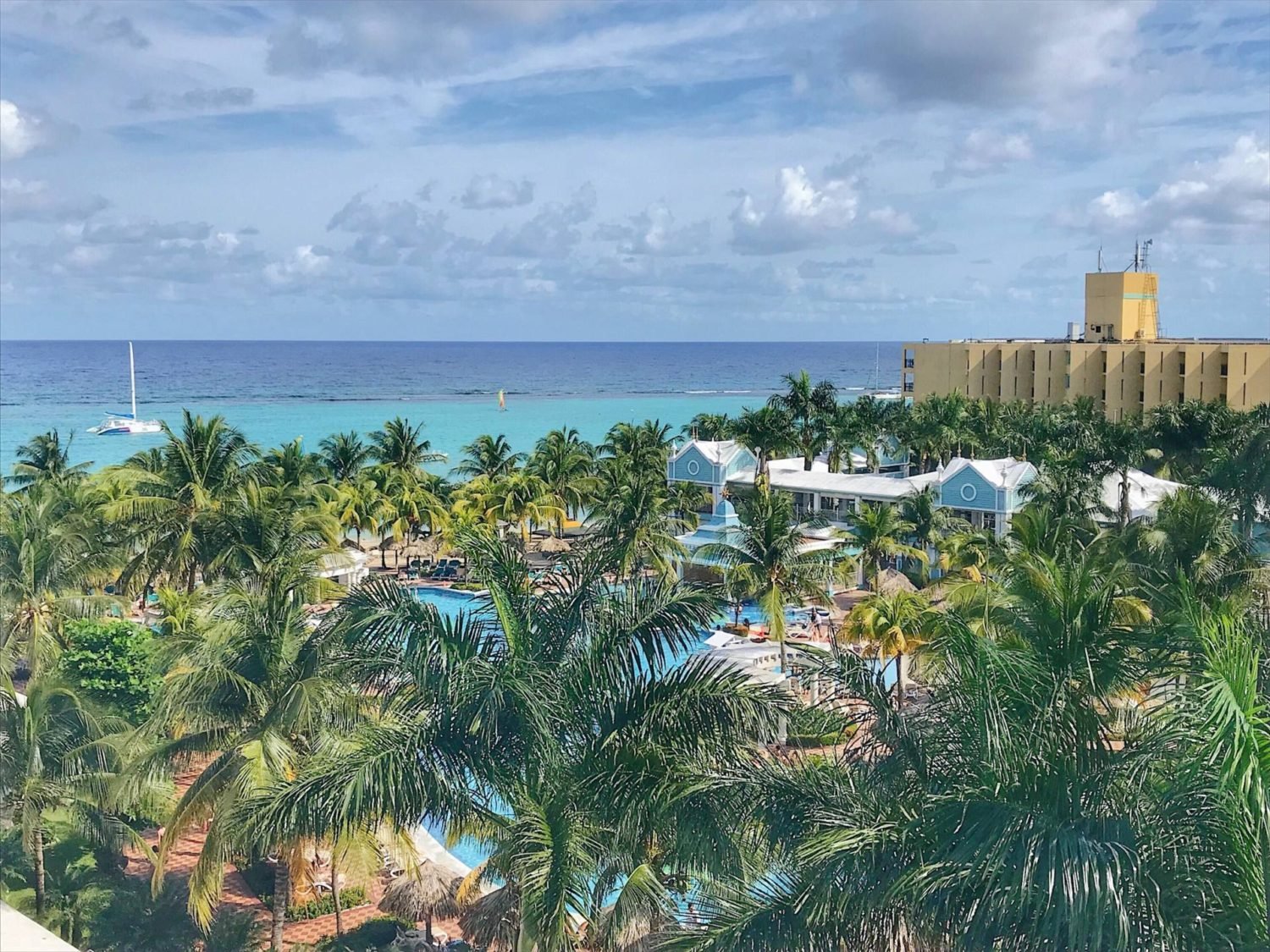 All rooms have at least a partial sea view from what I could gather, and the back of the hotel looks out over masses of green foliage.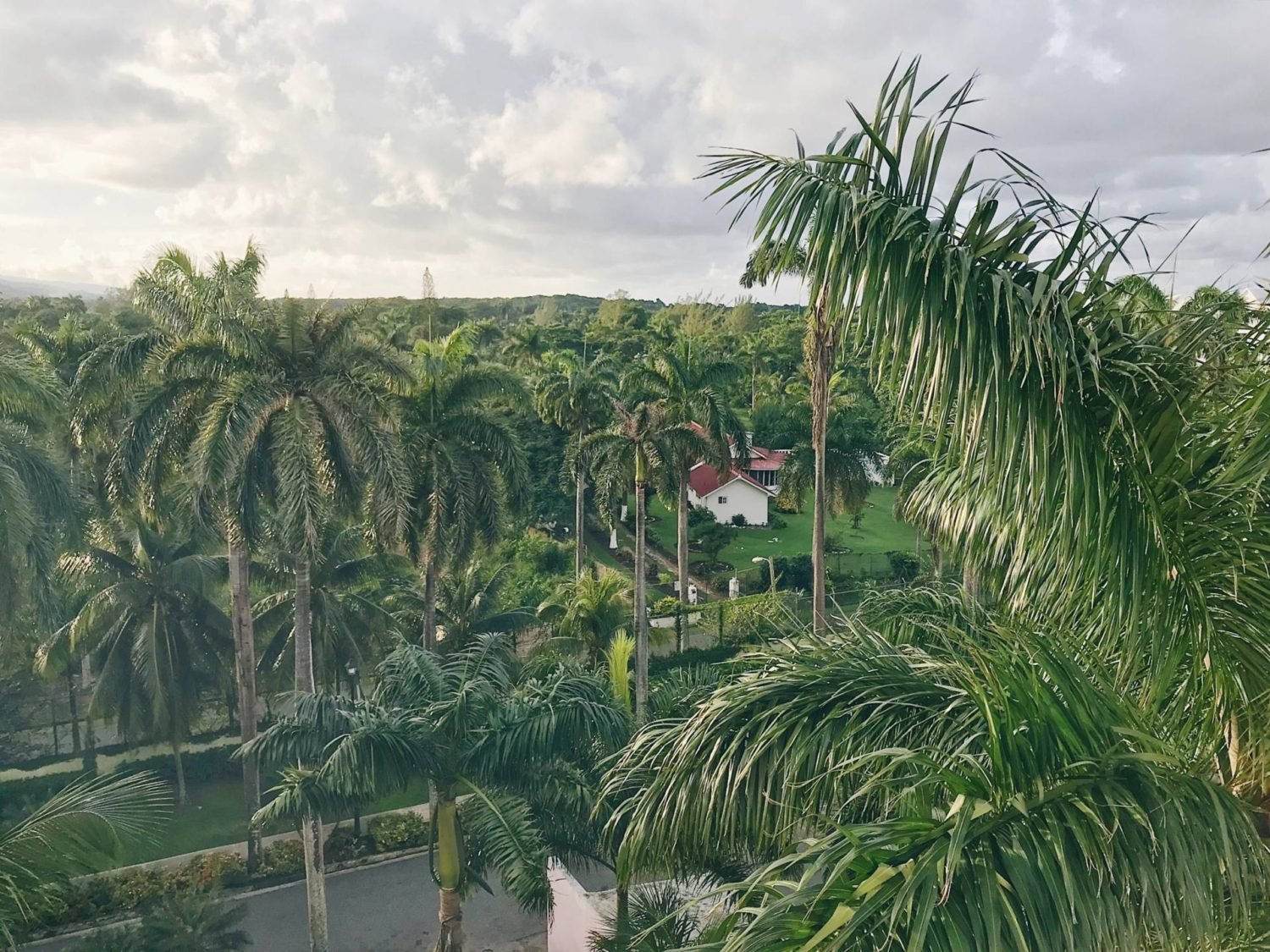 We witnessed quite a few weddings taking place at the hotel during our two week stay.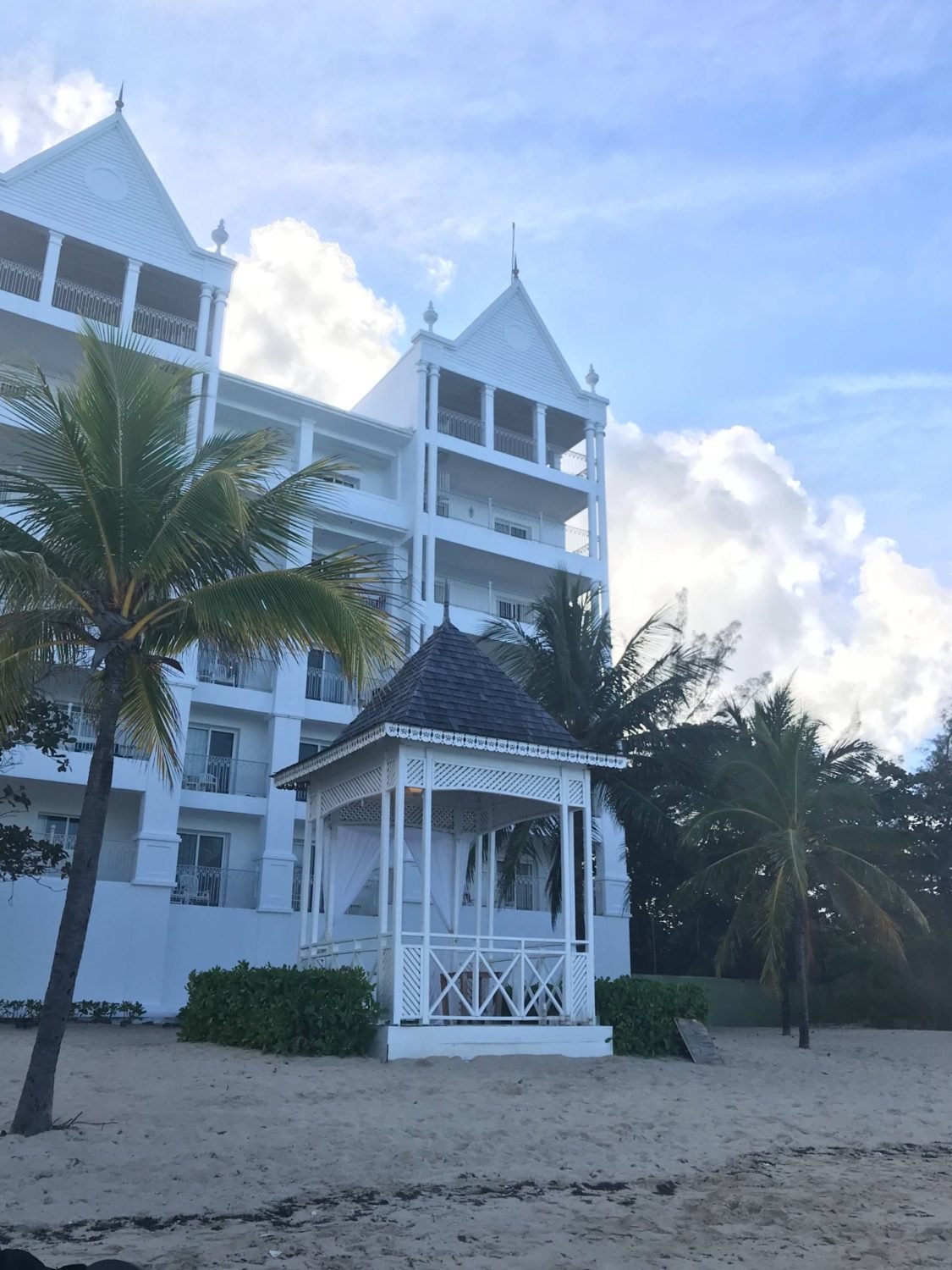 There are two huge main pools, so even when the hotel was at full capacity there were plenty of sun loungers and it never felt crowded. The swim-up bars are the perfect place for a late afternoon sundowner.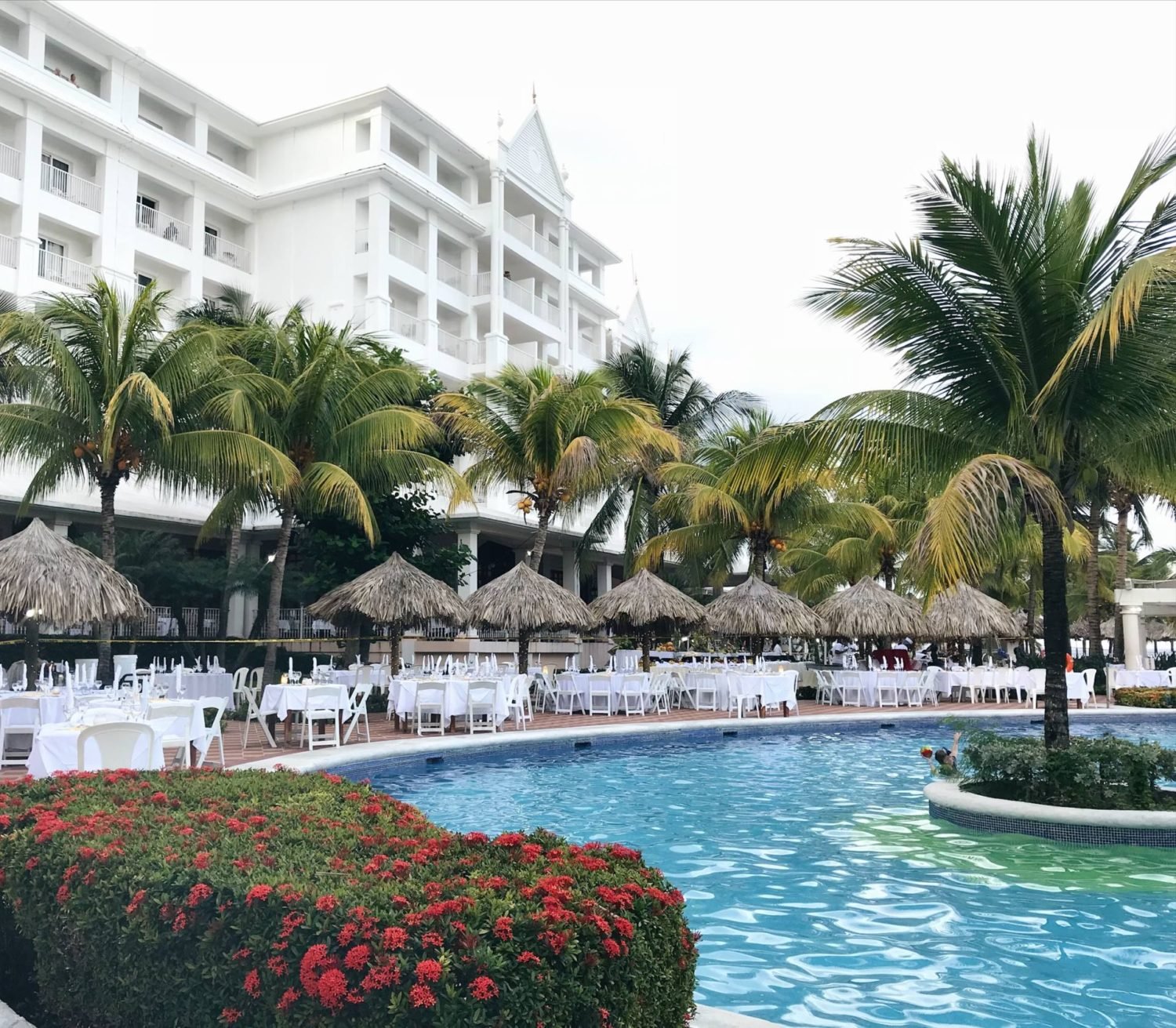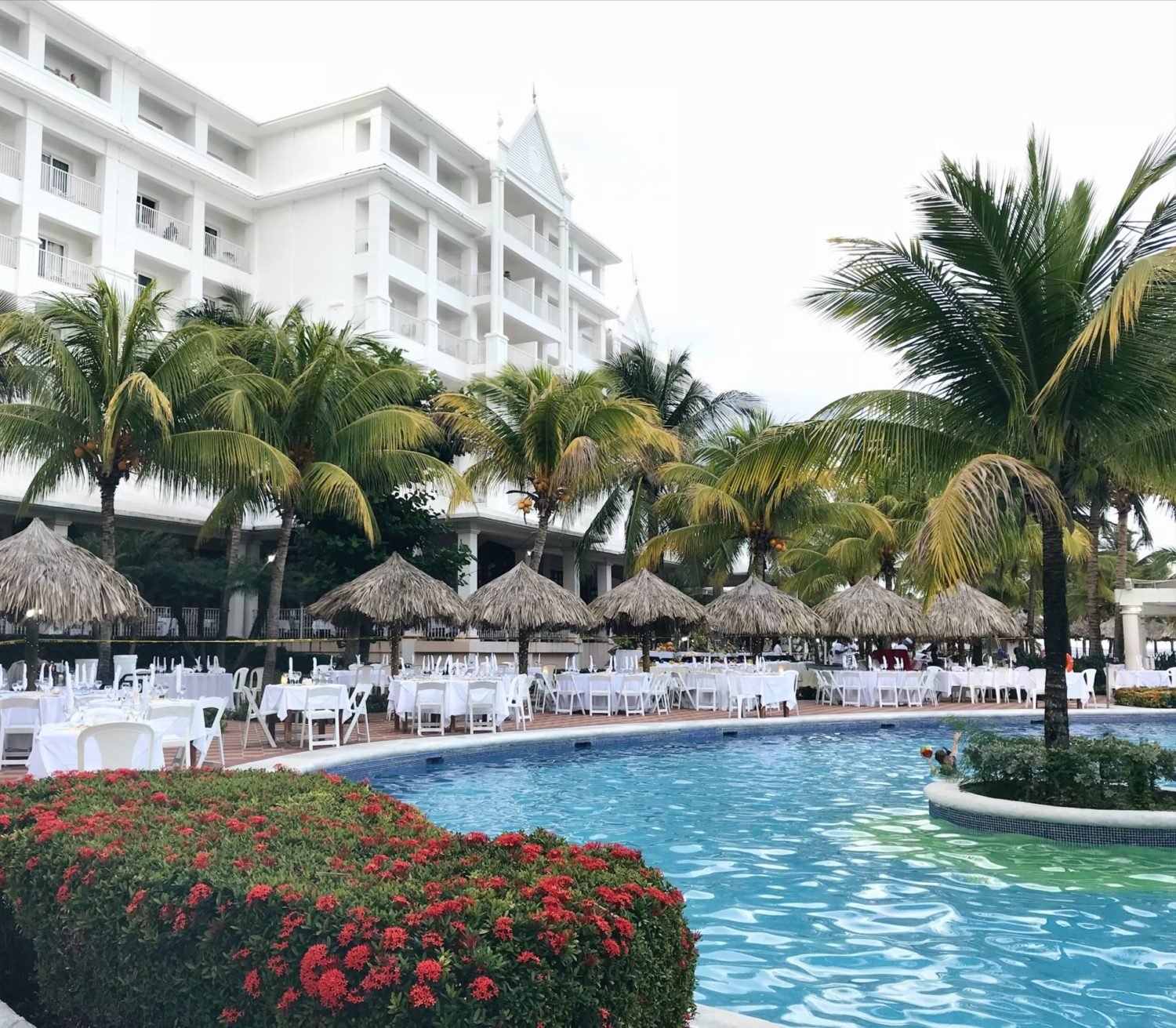 The beach isn't exactly one of those postcard perfect, pristine and empty beaches you might conjure up in your mind when you think of the Caribbean, but it's still pleasant to walk along, and the hotel has beach volleyball.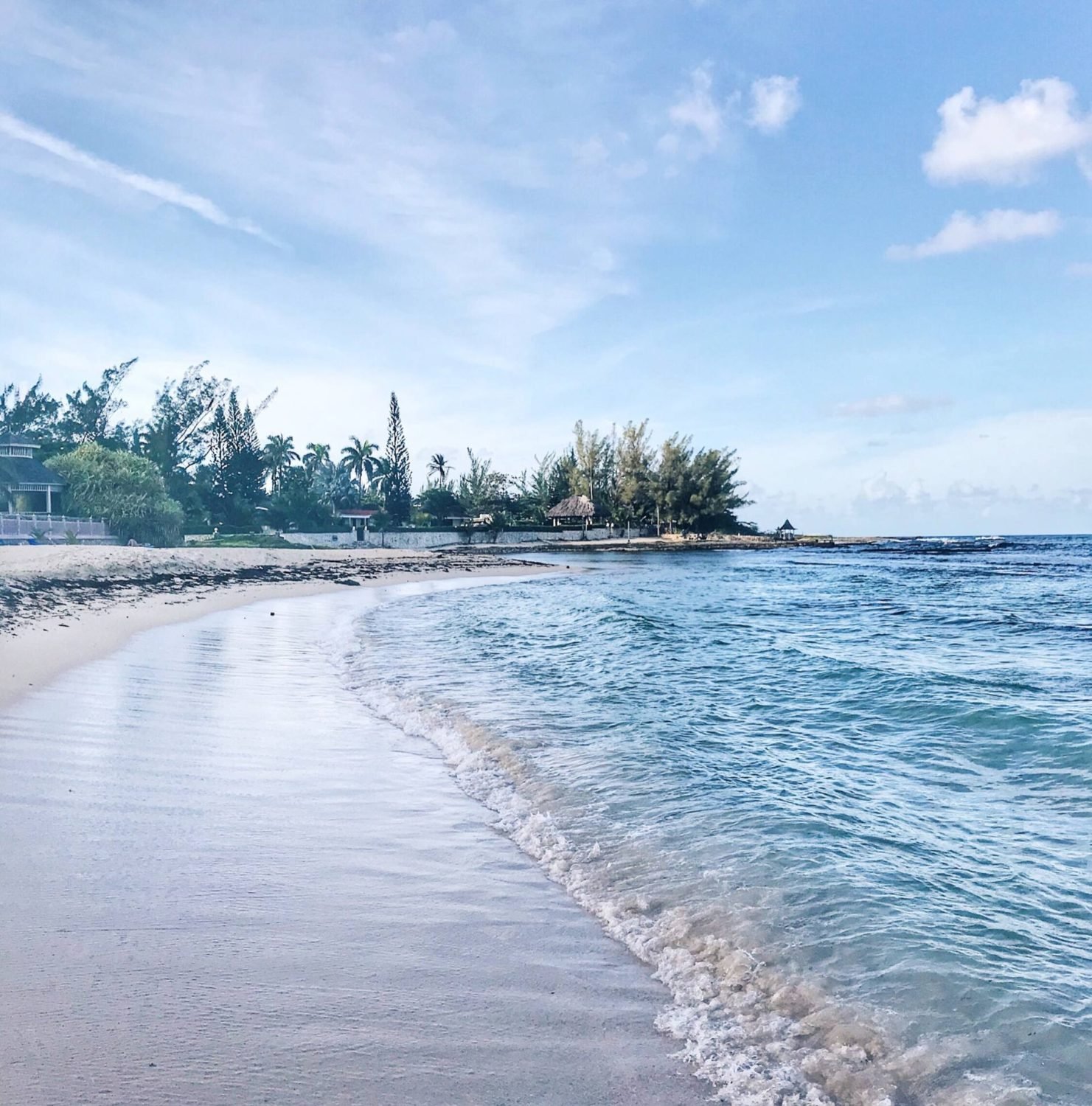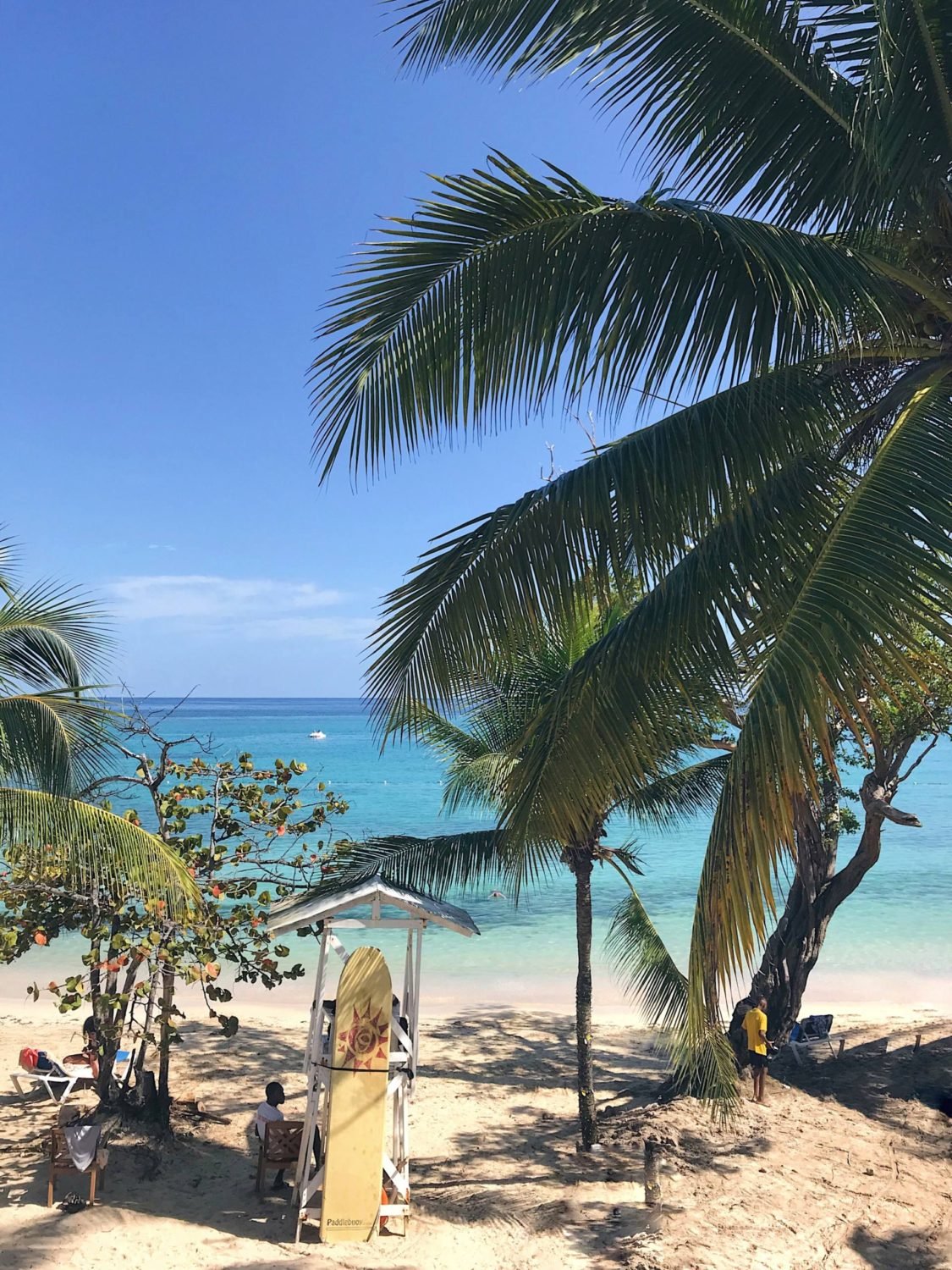 The Rui Ocho Rios also has a spa in a picturesque lilac building (kicking myself for not getting a picture of it), and a gym which my boyfriend went to for about 25 minutes one day! I've never been to the gym on holiday and never intend to 🙂
Entertainment at Riu Ocho Rios
Most of the evening entertainment took place near the main bar. We watched a Michael Jackson show, a traditional dance show and a 'Mr Riu' competition which was hilarious. I'm not usually a fan of hotel entertainment but the team at the Riu are real professionals, I was very impressed.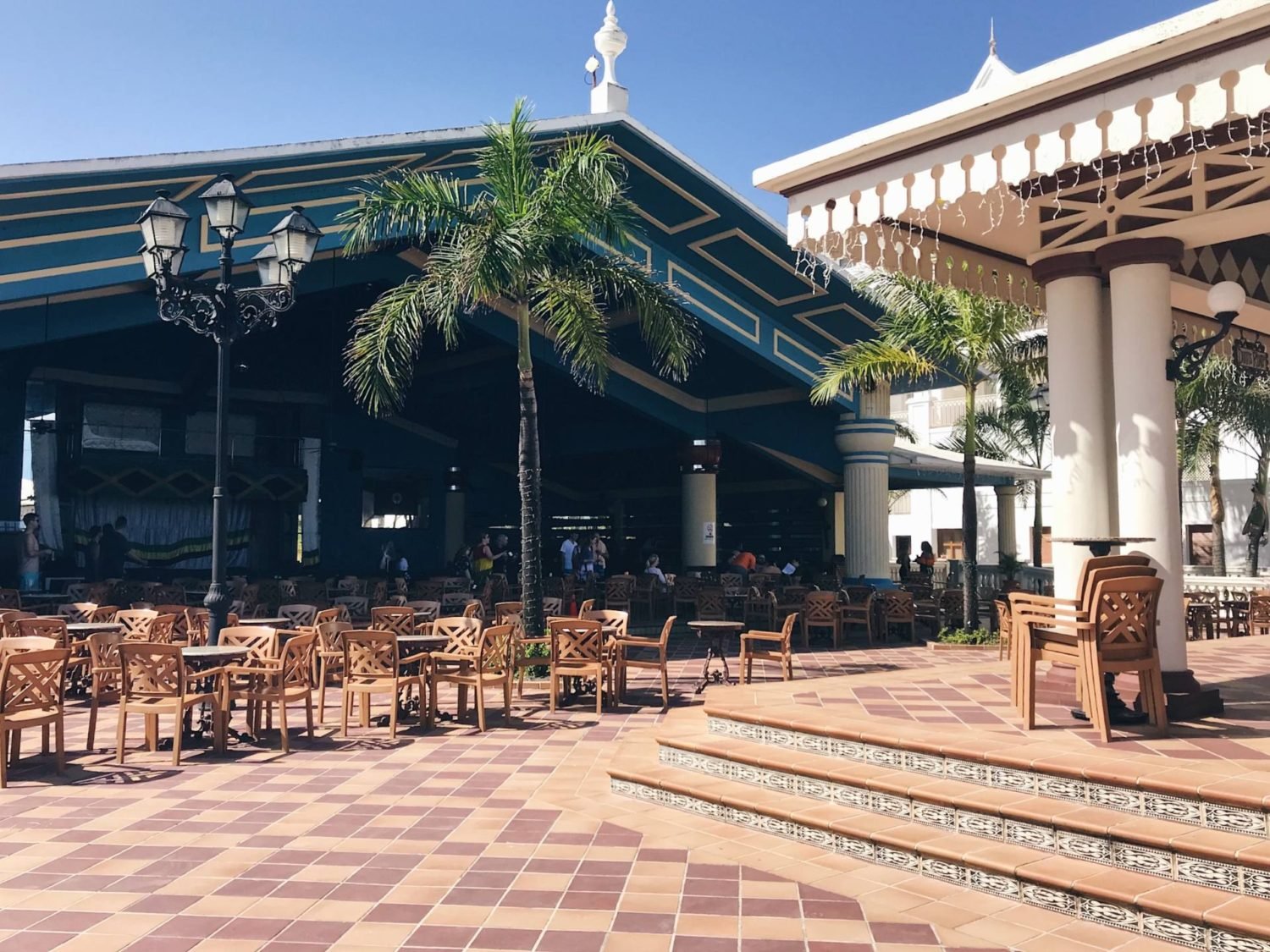 On certain nights, makeshift bars were set up serving the night's special cocktails. My drinks of choice were mango daiquiris and raspberry martinis.
There's also a Pacha nightclub onsite, but we must be getting old and boring because we didn't bother sampling its delights. The men in our group spent a lot of time at the sports bar, and we all piled in there one day for a card game when the rain was blowing in to the lobbies and restaurants.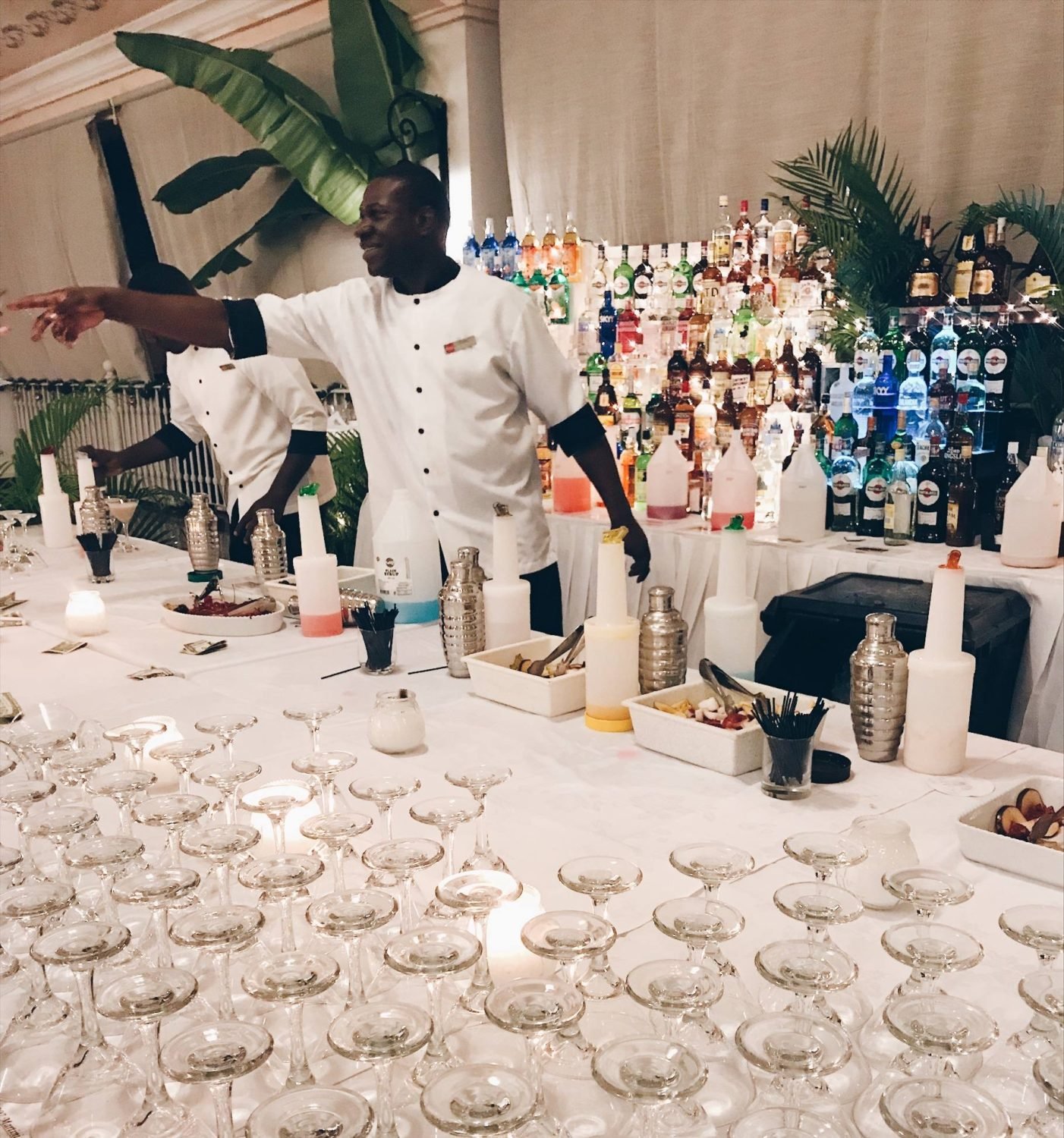 We celebrated New Years Eve at the Riu Ocho Rios and there was a special gala dinner. The elaborate food displays were so impressive (the seafood and fruit stations in particular were super artistic, and that's coming from a girl who has eaten from many a lavish brunch buffet in Dubai).
That night there was a white party on the beach. These white parties actually happen at the Riu in Ocho Rios quite often, and we were pleased to find there was another on our last night. The MC really gets the crowd going. Ladies, watch out for the fire dancers!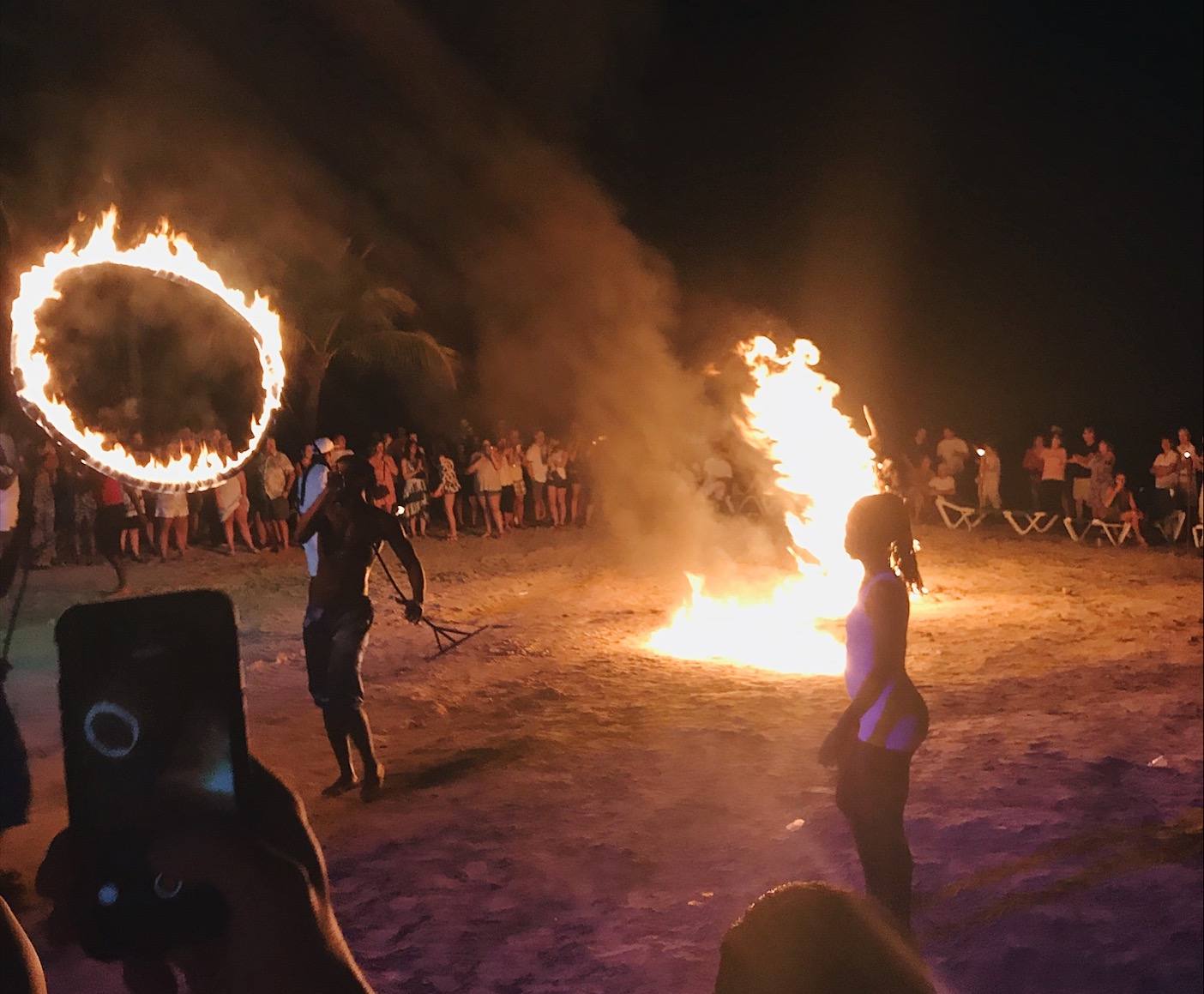 Around the hotel
As far as exploring outside of the resort goes, your best bet is to hire a driver (hit me up if you want the number of a fantastic, super funny one!) There isn't much that's within walking distance around the Riu Ocho Rios hotel but there is a beach bar you can walk to (it's pricey but nice for a change), or a local bar called Dry Dock, but you have to walk along the highway to get there.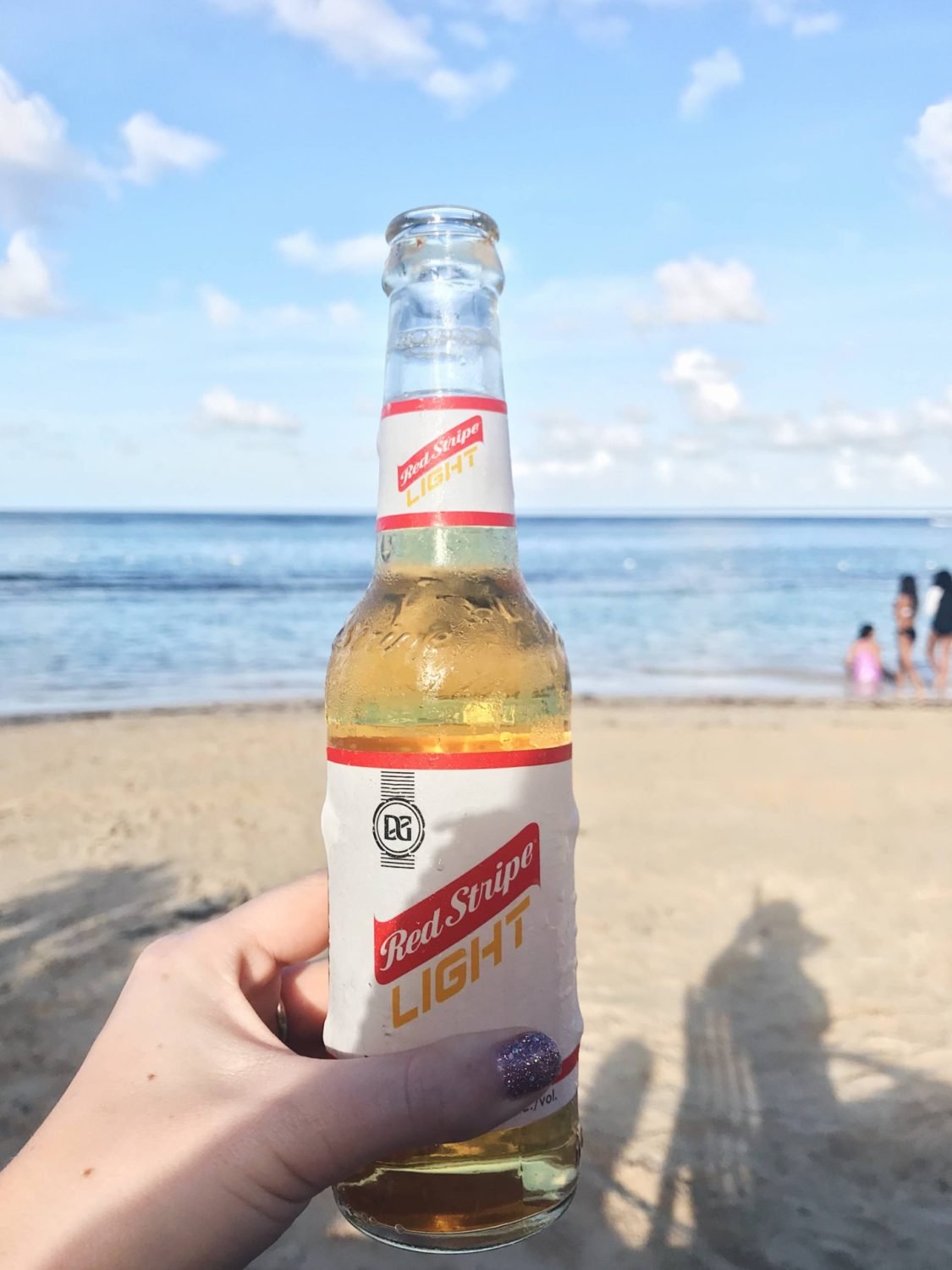 Jamaica's famous jerk chicken joint, Scotchies, is also within walking distance. To get into Ocho Rios town, it takes about 20 minutes in the car, and Dunn's River, Dolphin Cove (I do not endorse that place) and Mystic Mountain are even closer.
If you're thinking about booking a holiday in Jamaica and are undecided about which resort hotel to stay at, I definitely recommend the Riu Ocho Rios. I was travelling with people who had previously stayed at the Sensatori in Negril and they said that though the Sensatori was fancier, they'd be more likely to return to the Riu.
Not booked yet? Search flight prices on Skyscanner now
Search for more hotels in Jamaica on booking.com, Trivago and Expedia
We had a few days of non-stop rain which was a shame but we didn't let it ruin our holiday, and used the bad weather as a motivator to get off our bums and explore Jamaica. I'll post a new article soon about everything there is to see and do, so watch out for that. Make sure you're following me on Facebook, Instagram and Twitter to see all of my travel updates and find out about new articles on While I'm Young!
Sign up to my newsletter for new posts, travel updates and style buys – hitting your inbox every Tuesday.
Pin this for later