Newly opened on the rugged shores of Ahungalla beach, Hotel RIU is one of Sri Lanka's first five star all-inclusive accommodation options. It's also the first of the Spanish hotel chain's resorts to open in Asia. Tom and I stayed for nine nights in September, when the hotel was brand spanking new and still finding its feet – though you'd never have guessed.
A review of Hotel RIU Sri Lanka
We arrived late at night after a two hour transfer from Colombo Airport feeling a little worse for wear (those inflight GnTs have a lot to answer for). Happily, we received a warm welcome from the reception staff in the stylish lobby reception, sipped our welcome drinks and immediately switched to holiday mode.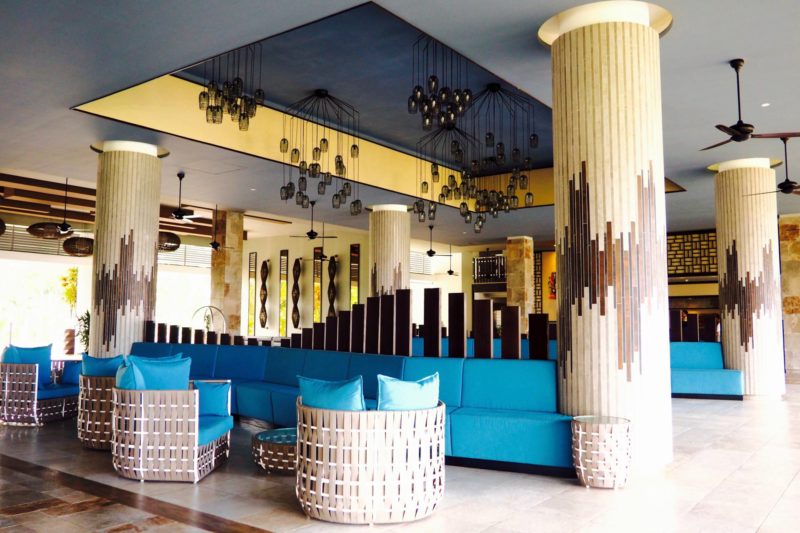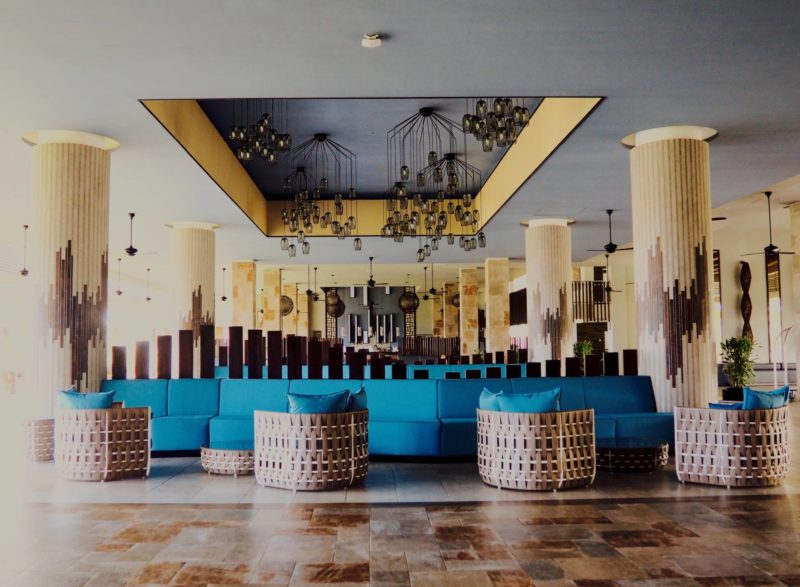 During our time in Ahungalla the roar of the tempestuous sea was everywhere, and the weather in the south west was just perfect. September is still low season in Sri Lanka and because of that and the newness of the RIU hotel, we enjoyed having the place almost to ourselves for the first few days.
Swimming in the sea was off limits because of the time of year, but the hotel had more than enough to keep us entertained.
What are the room like at Hotel RIU Sri Lanka?
Our suite was unbelievable. When the porter took us in, we spent a good ten minutes running around like big kids, marvelling at how luxurious it was.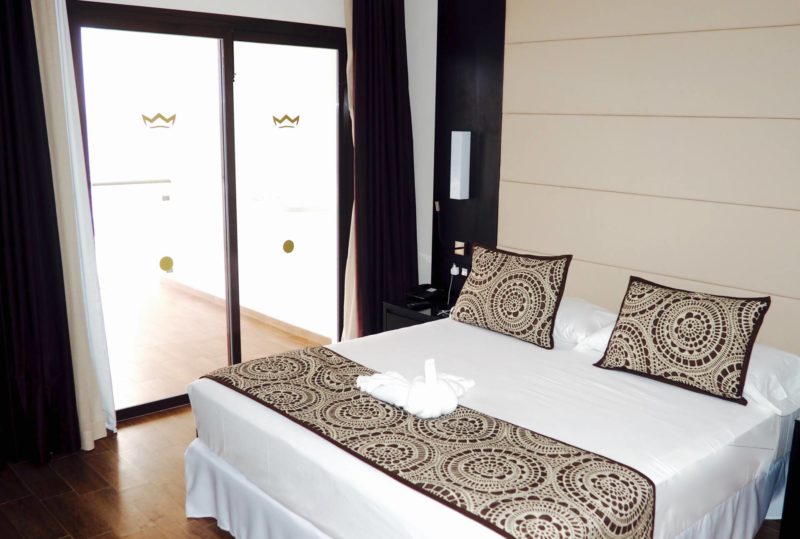 A huge flatscreen TV stood at the foot of the vast, comfy bed (much to Tom's joy) and behind that, a sitting area, where a bottle of bubbly was waiting for us (which definitely put the joy in me).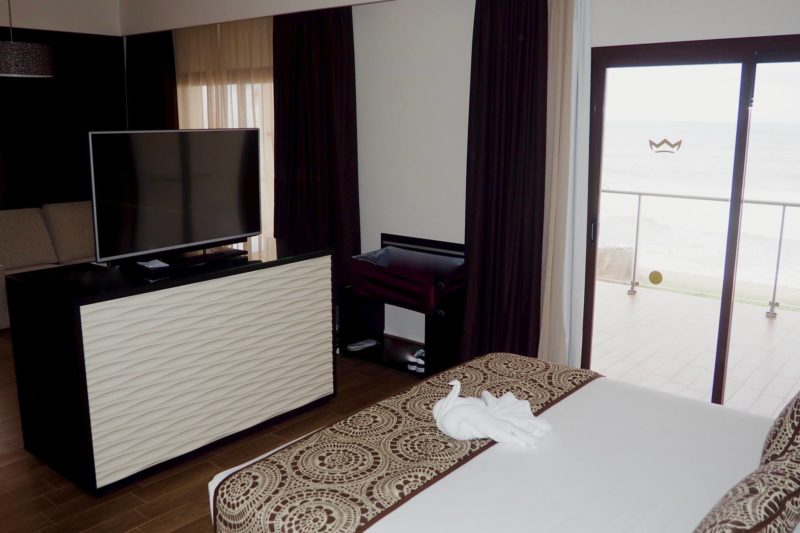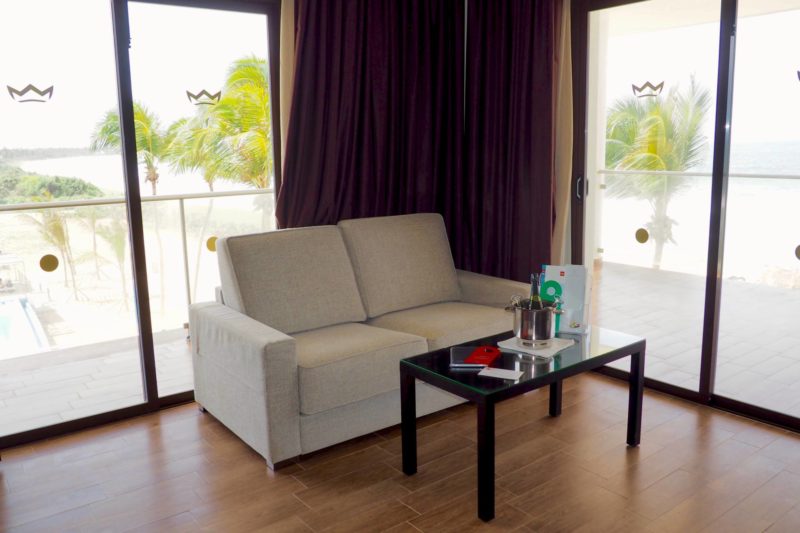 Our booking had mentioned a sea view but nothing could prepare me for waking up to the sounds of the ocean crashing on to the shore just a stone's throw away. Watching the sun slither into the horizon and paint the sky with lurid hues of pink and purple from our bed every evening was the ultimate way to unwind before it was time to get ready for dinner.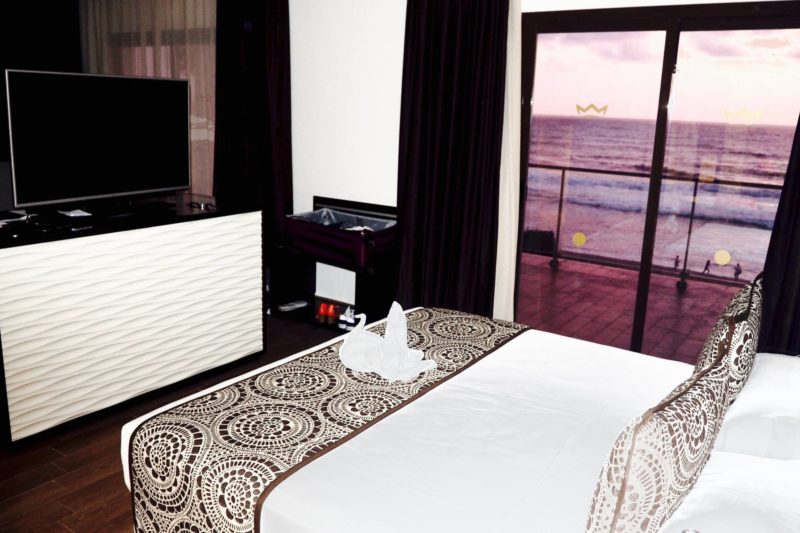 Our room was spotless at all times and on Tom's birthday we came back from a day at the pool to see special decorations waiting for us. The staff really do go above and beyond to make sure you feel totally looked after.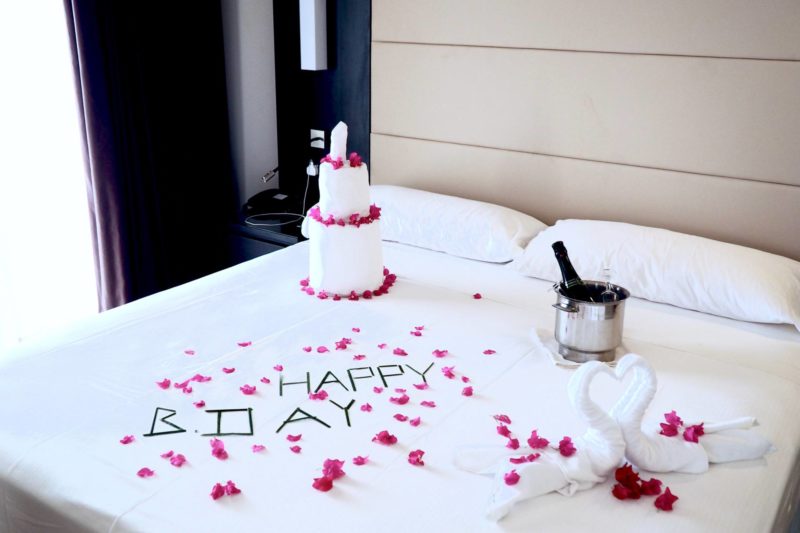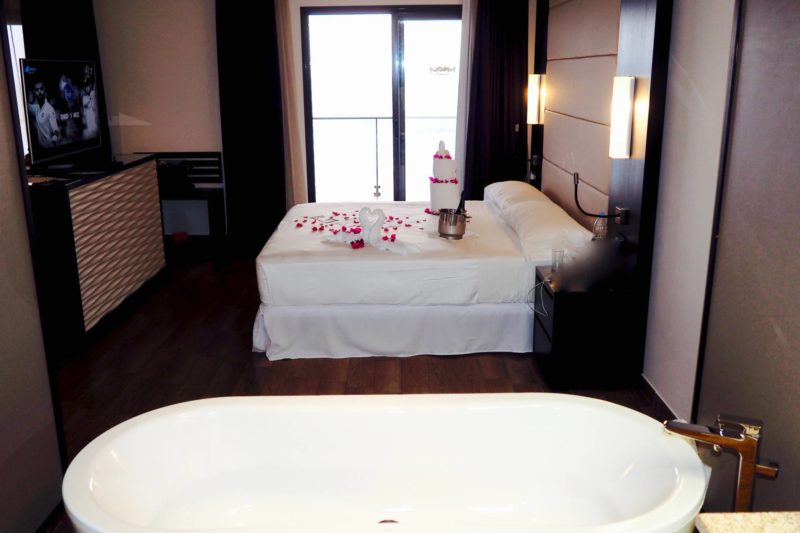 I loved the huge bathtub in the centre of the suite and the his n' hers sinks made it easy to get ready in the evenings.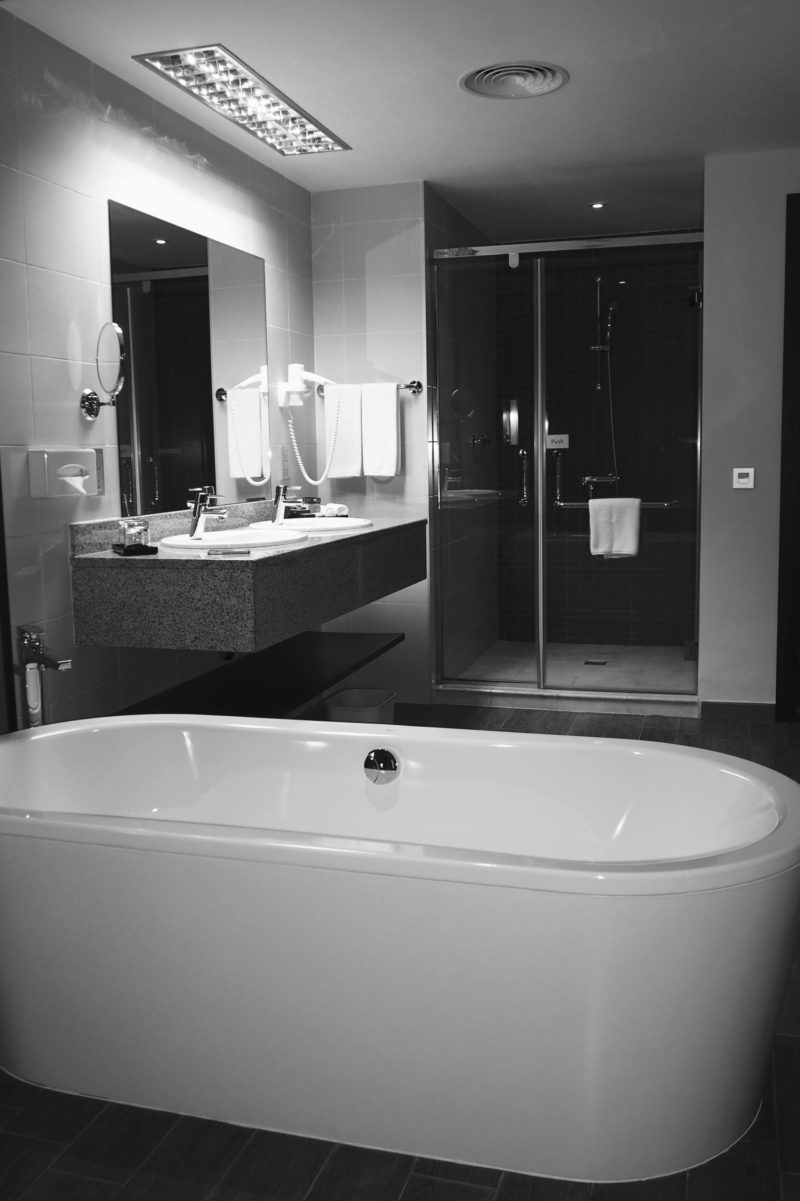 I'd never been on a holiday where I honestly wouldn't have minded spending whole nights in our room until our holiday at the RIU. This was partly because of the fluffy bathrobes and bubbles but mainly because of our ridiculously large terrace! It wrapped around our room, meaning we had a full view of not only the beach but also the hotel itself.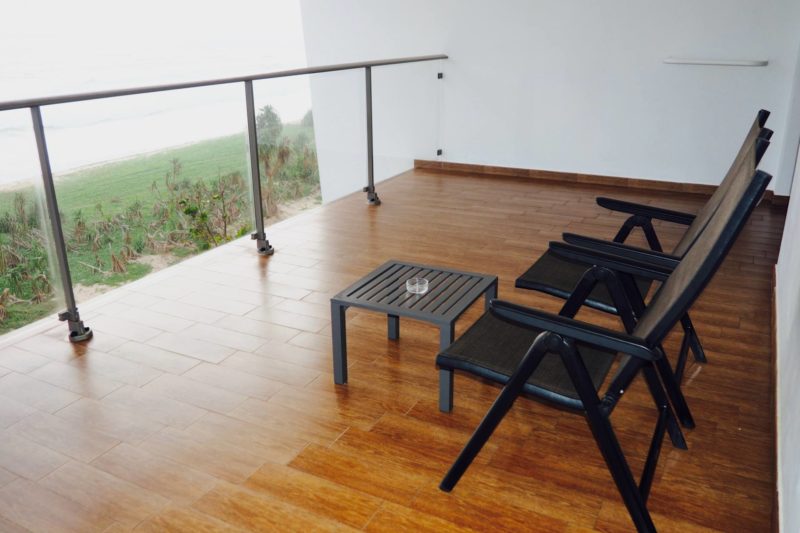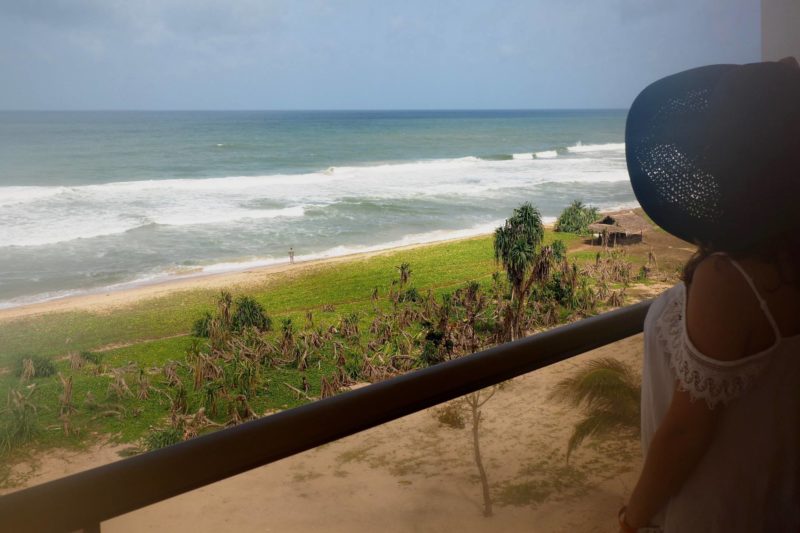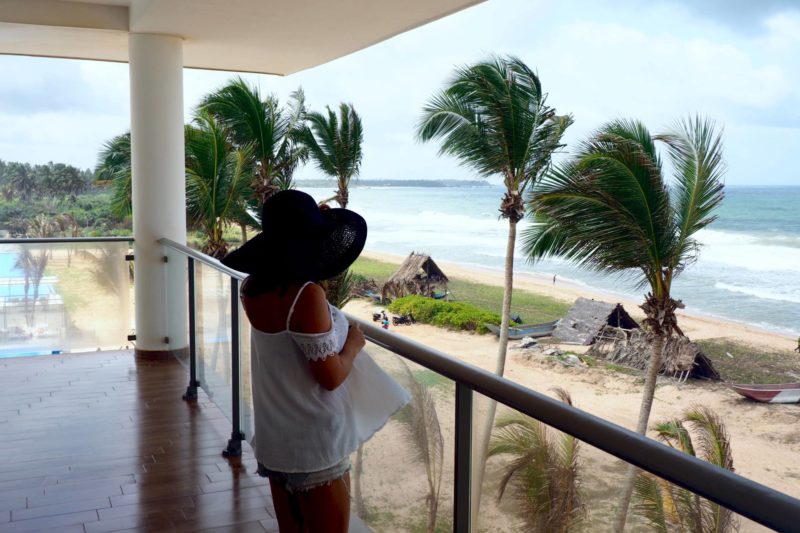 I mean, would you want to leave this view behind?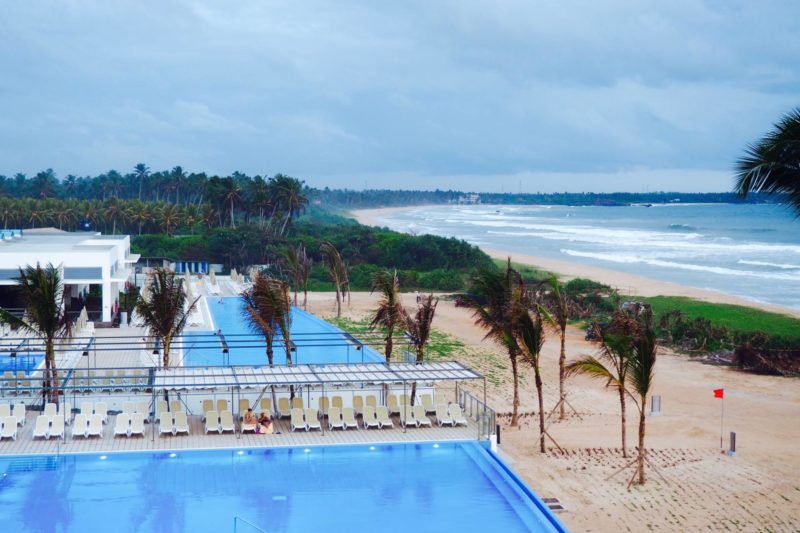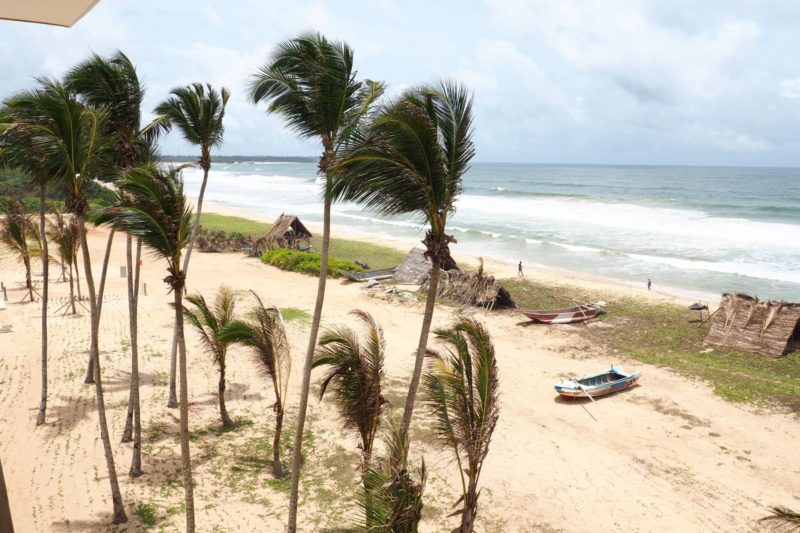 The hotel's decor embraces its location tastefully. Sri Lankan art adorns the walls; with vibrant prints depicting local spices, tea plantations and the area's famous masks reminding you what lies outside of the resort.
Staff at Hotel RIU Sri Lanka
The almost entirely local staff at Hotel RIU Sri Lanka were wonderfully accommodating. Every single person we passed, whether it was a chambermaid or the hotel manager, greeted us with a broad smile and asked how we were enjoying our stay. It's easy to feel you're inconveniencing staff when a hotel is relatively empty, but that couldn't be further from our experience at RIU Sri Lanka.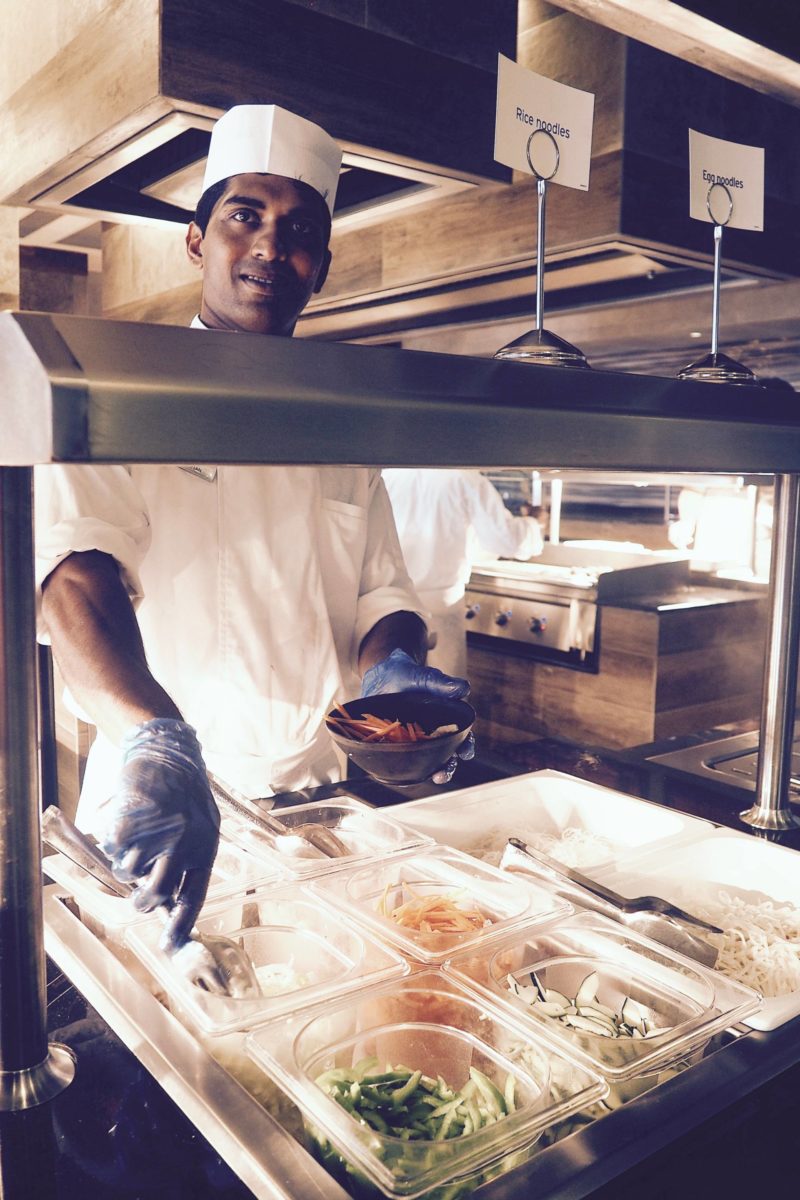 Bars
The bar and restaurant staff were ever so polite and professional. I was pleased to find that the house spirits included imported drinks like Tanqueray and Morgans Spiced, which are often excluded from the all-inclusive deals in other resorts. They serve all the classic cocktails and I have a feeling they'll be adding more to the menu – we loved the 'Dilshan Special', one of the barmen's own creations.
We spent most of our time at the swim-up bar, Flamingos but at night we'd sit in the lobby bar, munching peanuts and toasting to our amazing choice of hotel smugly.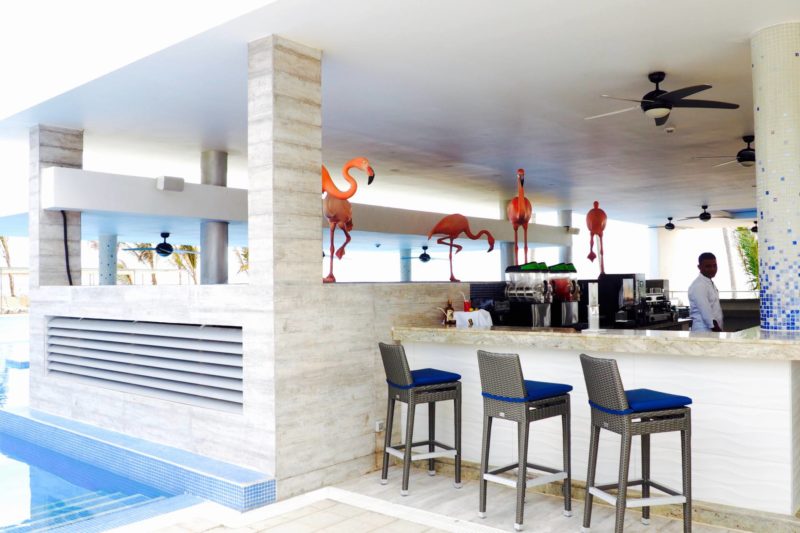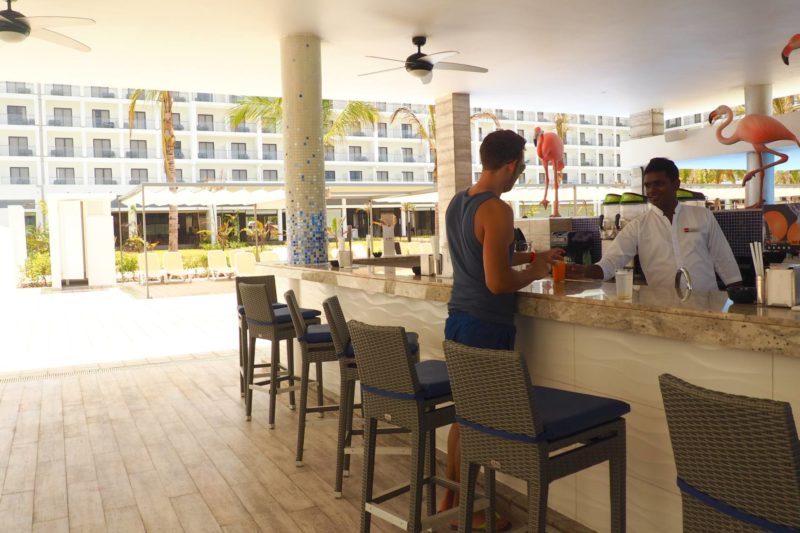 Entertainment
The entertainment team are great fun, always available for activities but never pestering if you'd rather laze on the pool loungers. There are organised games of French bowls, beach volleyball, pool volleyball, bingo and even local board games (surprisingly difficult but fun) throughout the day. This was great because it kept Tom, who can't sit still, occupied while I topped up my tan.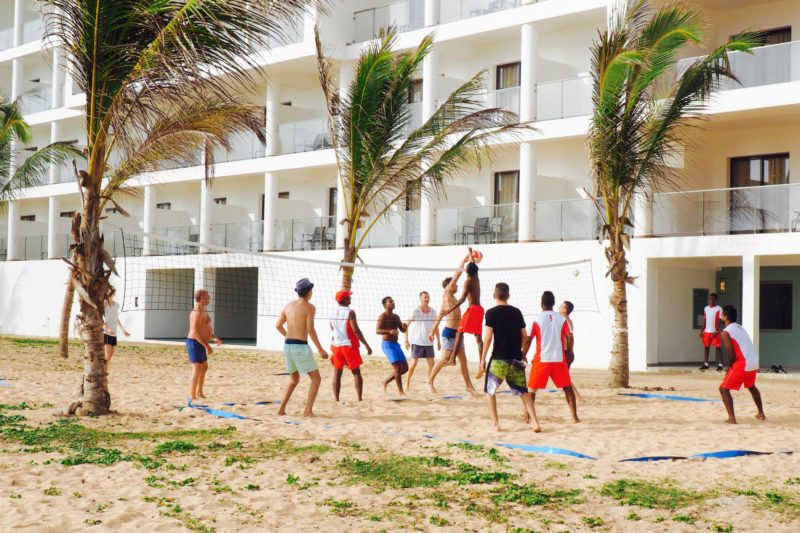 The nighttime entertainment takes place in the stage area, where there are enough seats to accommodate all 500 rooms. We saw traditional Sri Lankan dance and a gravelly voiced singer who was basically the Asian Rod Stewart.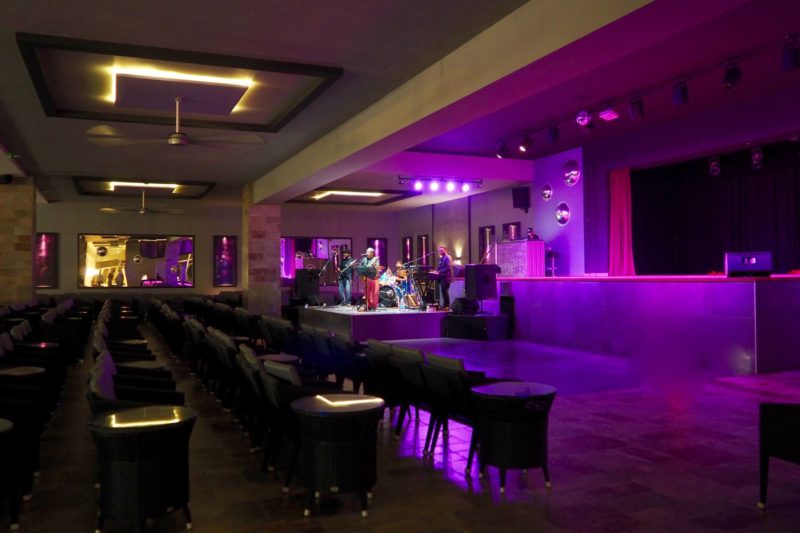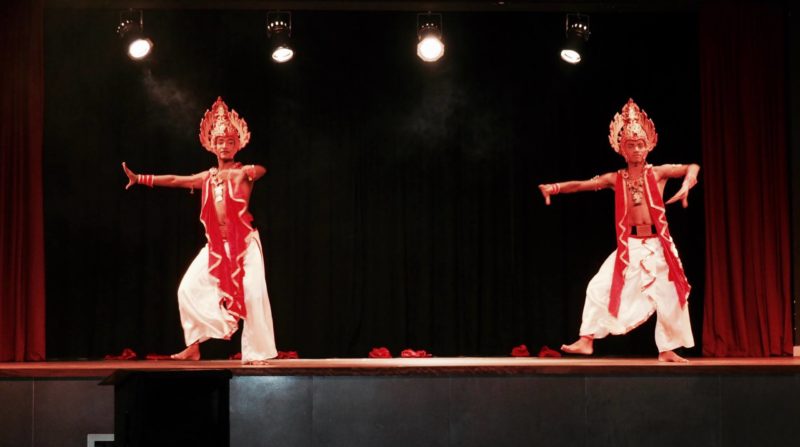 The RIU Hotel also has a Pacha nightclub for those nights when you just don't want to go to bed.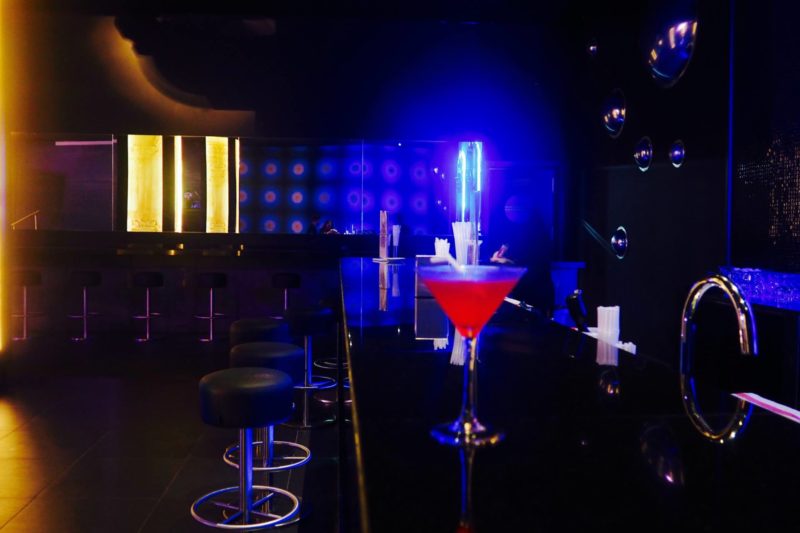 Facilities
Though we stuck to our swim-up bar stools, the Hotel RIU Sri Lanka actually has three more pools – an endlessly long infinity pool, a smaller (but still huge) pool with a volleyball net and a kids' pool.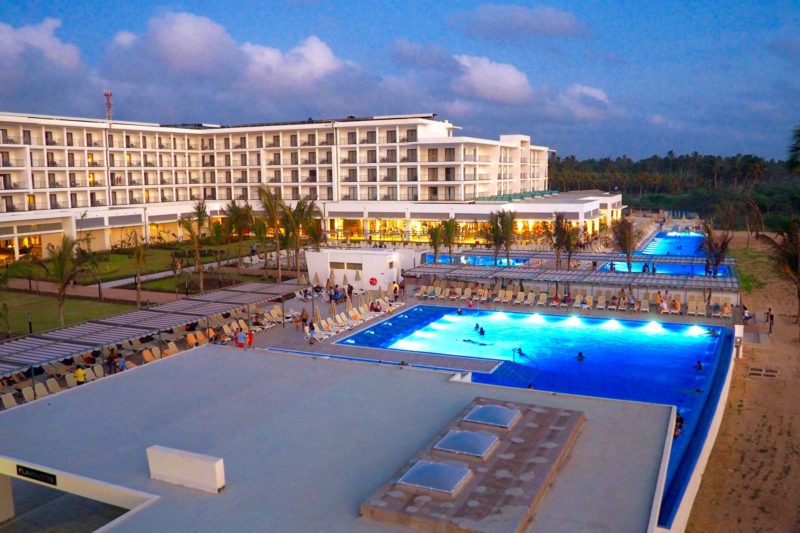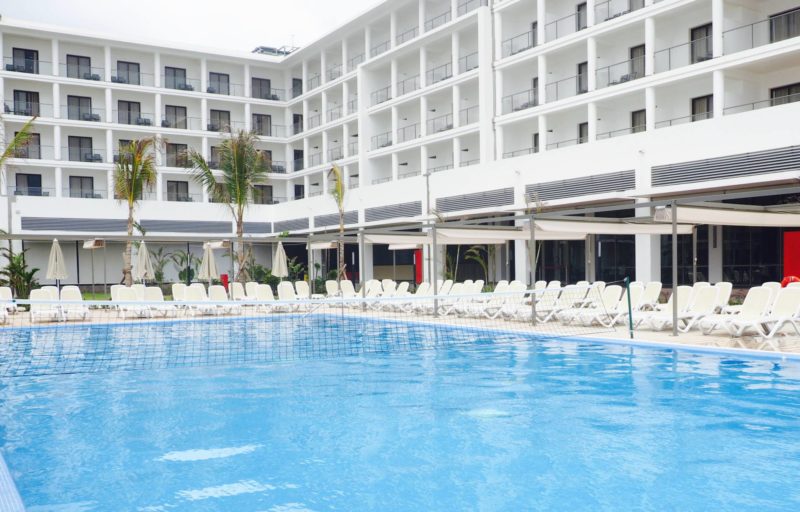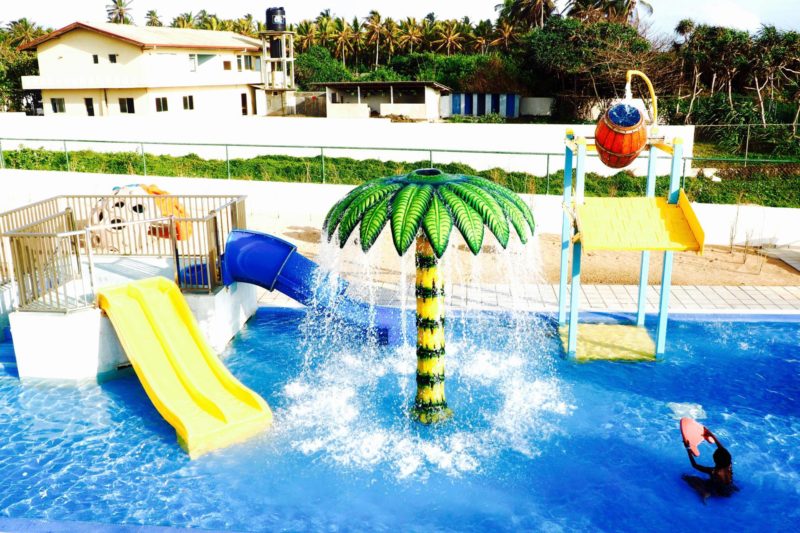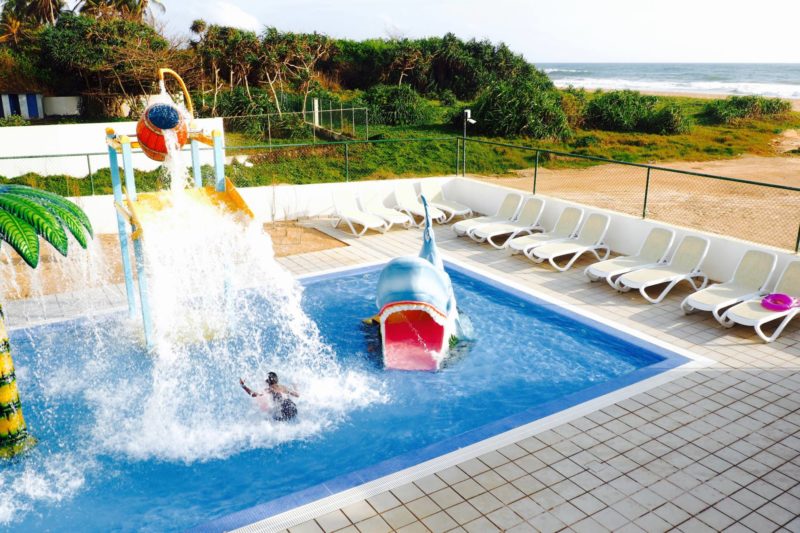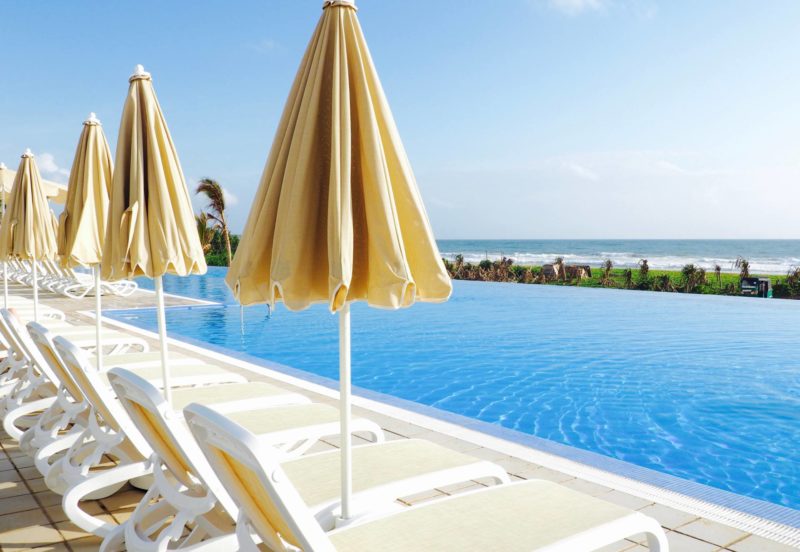 Both the swim-up bar area and the long infinity pool have loungers built in, meaning you can let the water lap around you while you sunbathe. On our first day we both fell asleep on a double in-pool lounger! Nothing to do with the pina coladas…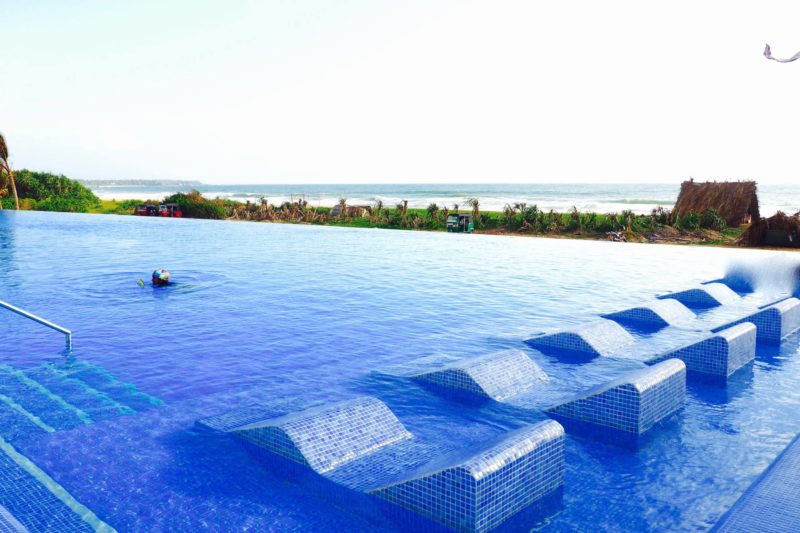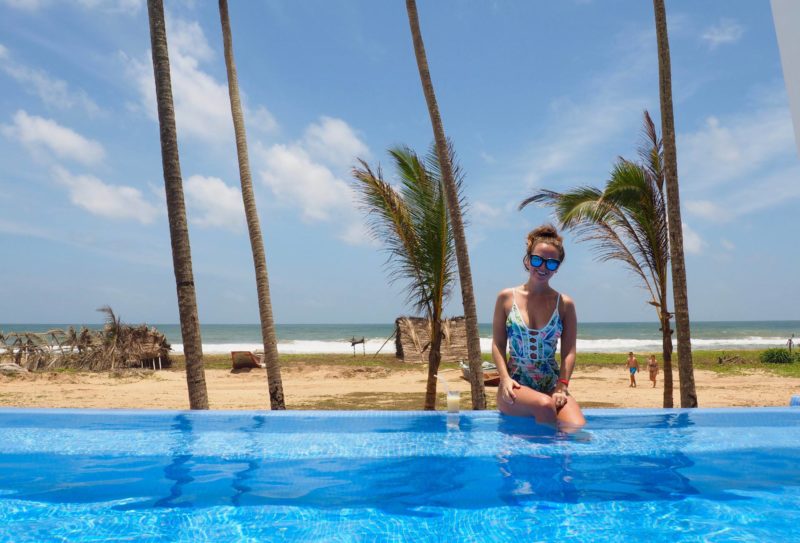 There are also sunken tables which everyone crowded round at the weekend when the hotel got busier, making friends and clinking glasses.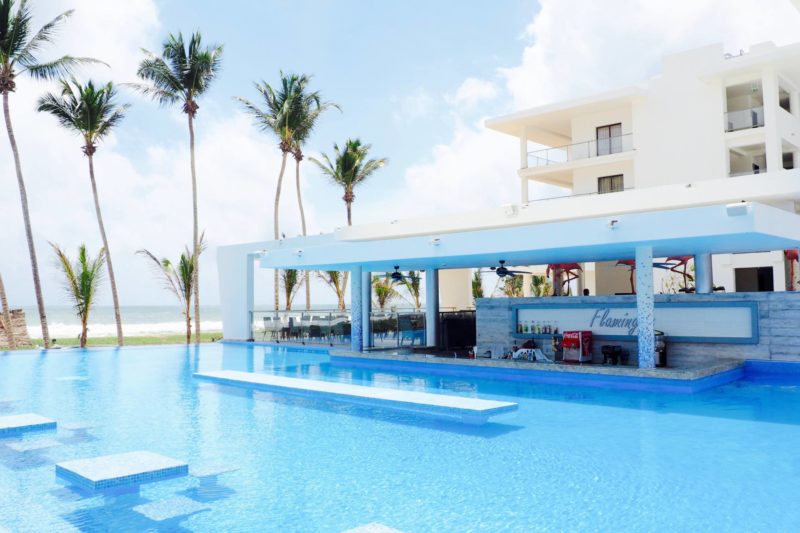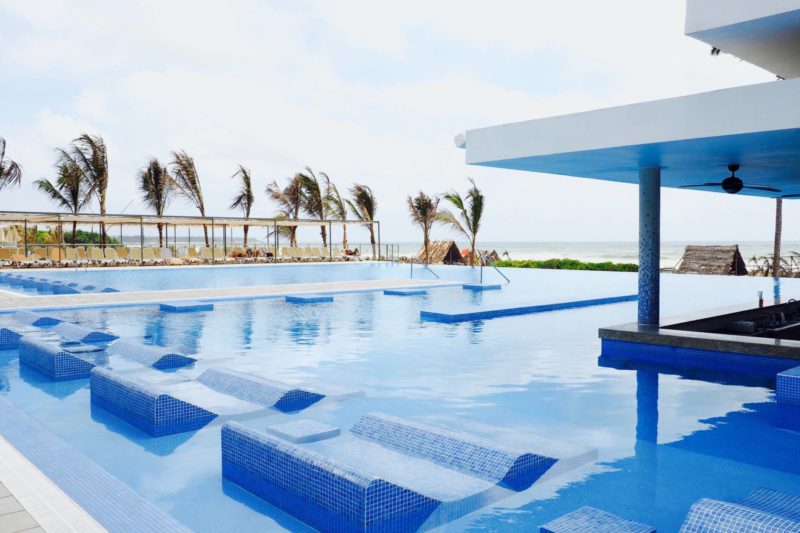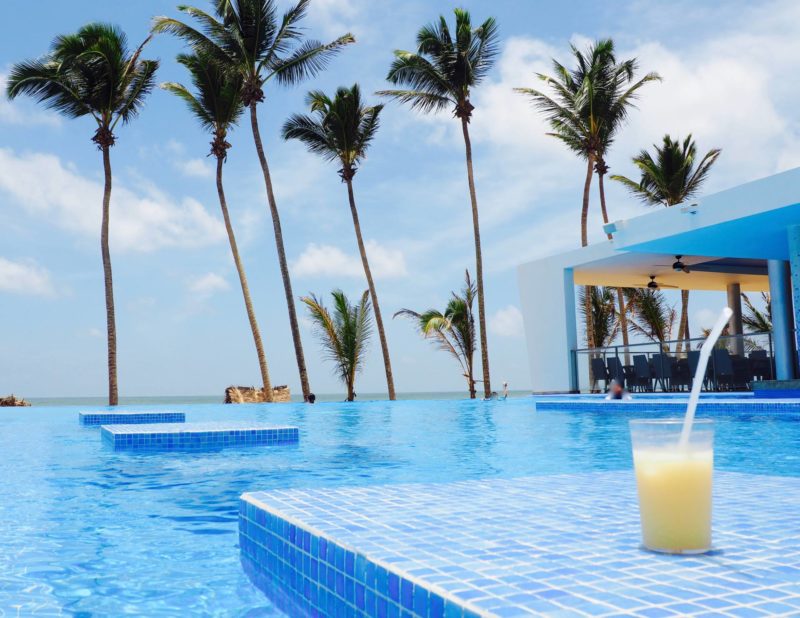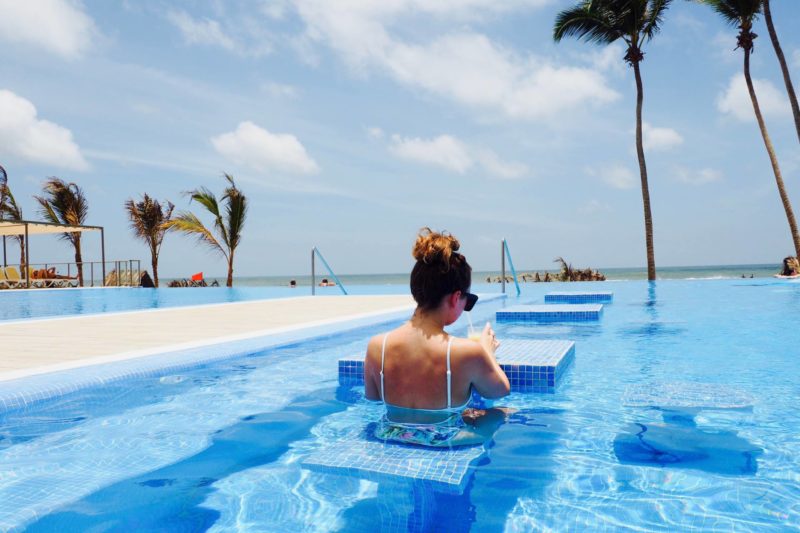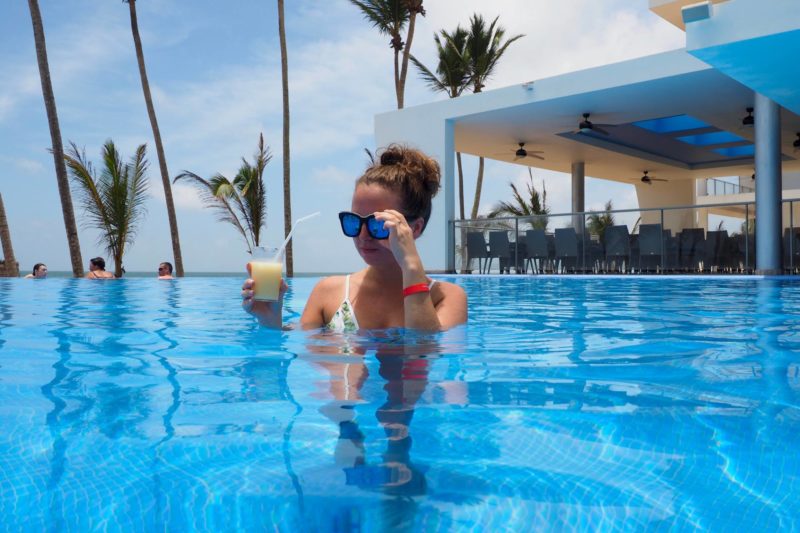 Every afternoon we'd lounge at the pool or on our terrace as the sun went down, just waiting to see what shades it would paint the sky with for us that night.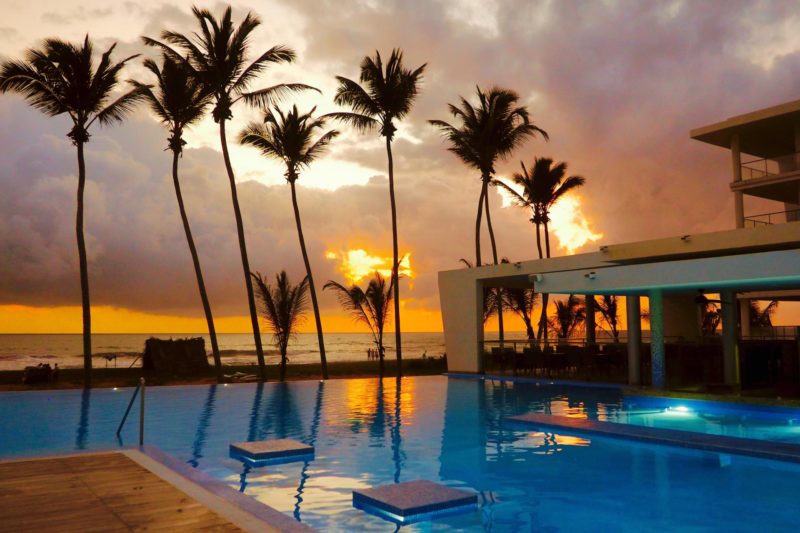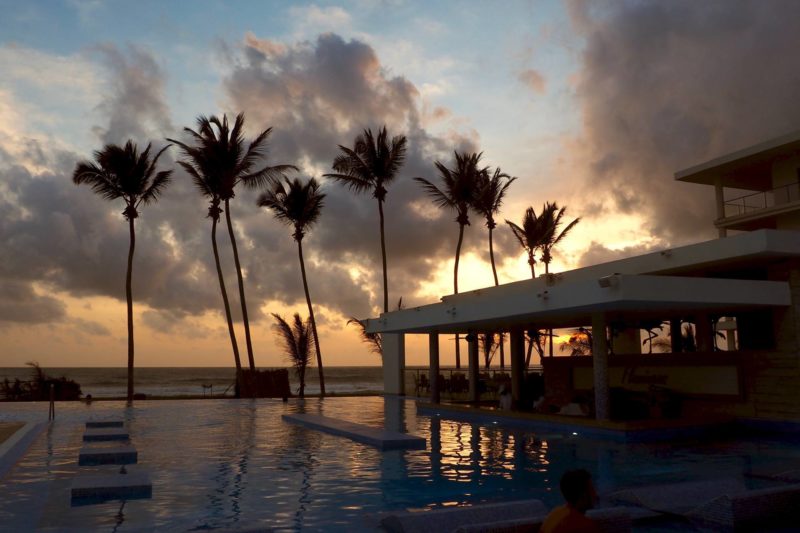 Gardens
There are no tiring walks between rooms to the restaurant because the resort is well designed to be compact without being crowded, so those who struggle with getting around shouldn't face problems.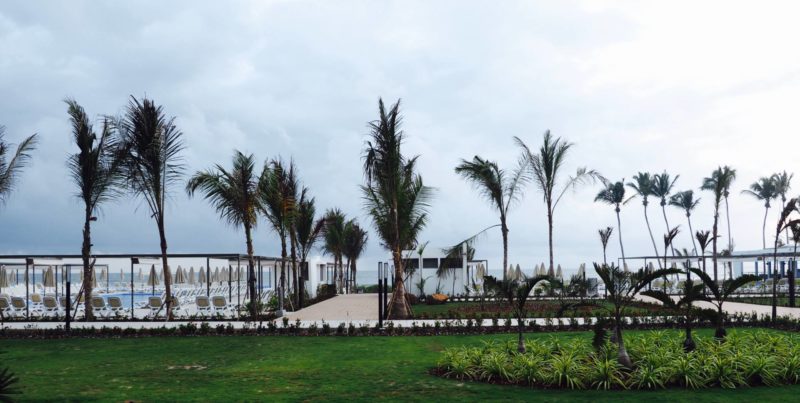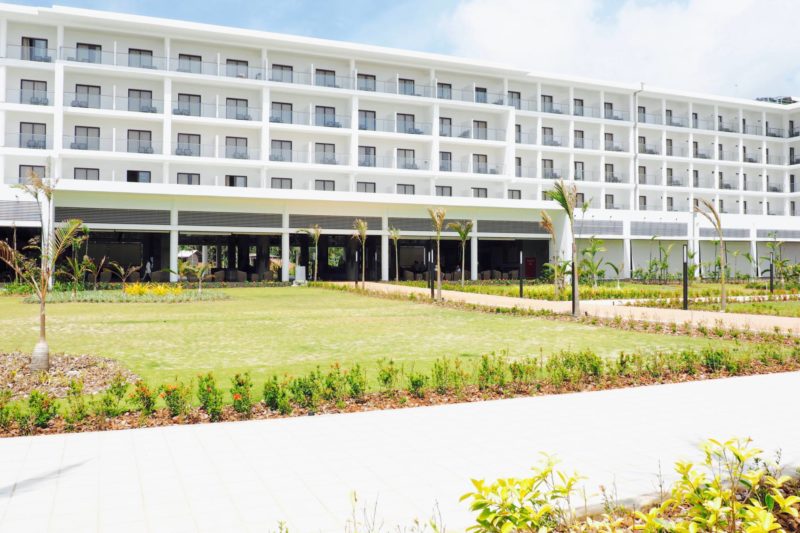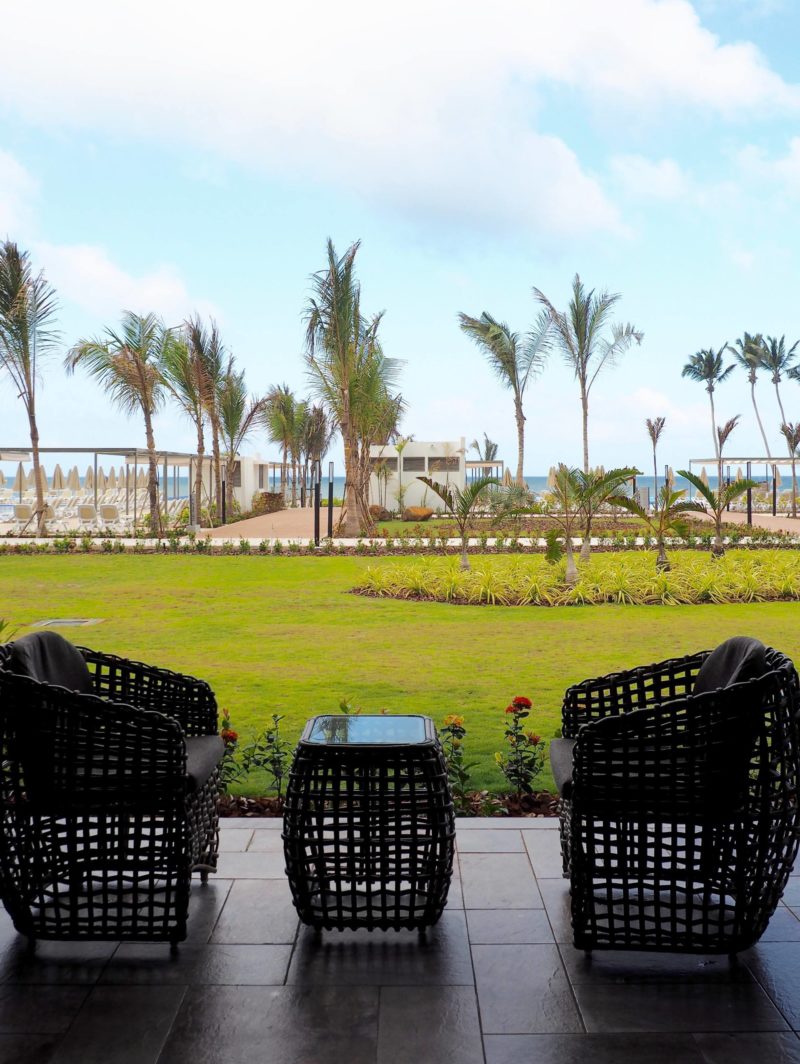 Beach
The beach hasn't been privatised yet so it's still decidedly rugged and unspoiled, which I loved. A few locals milled around selling scarves and tuk tuk rides which made it easy to go out and see more of Ahungalla.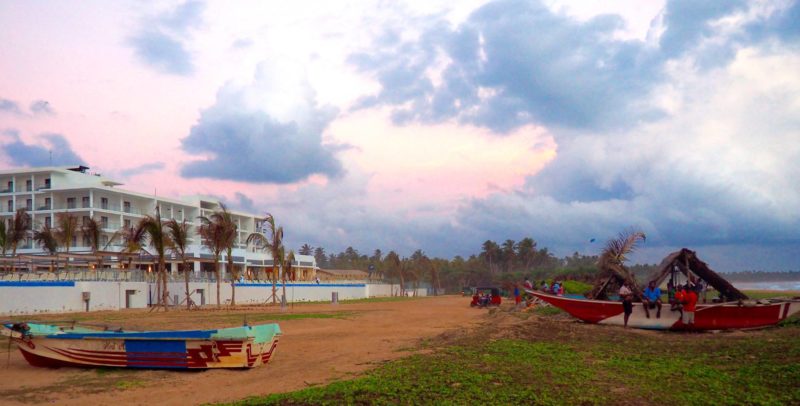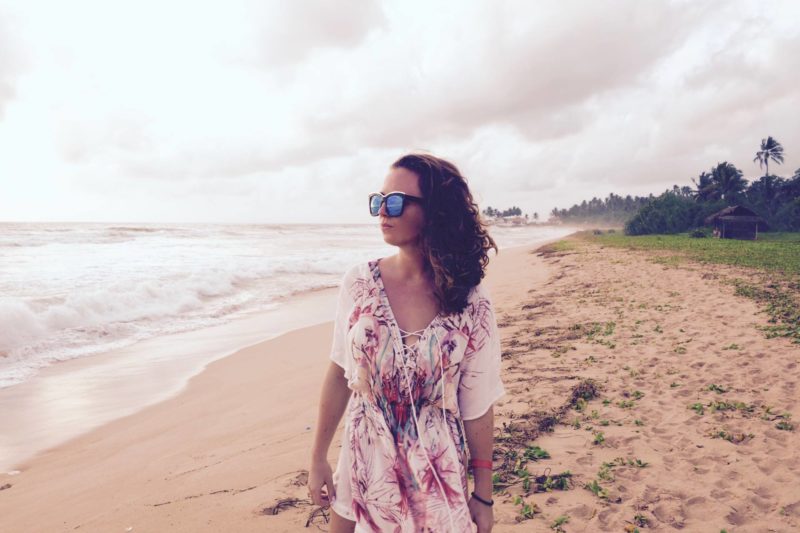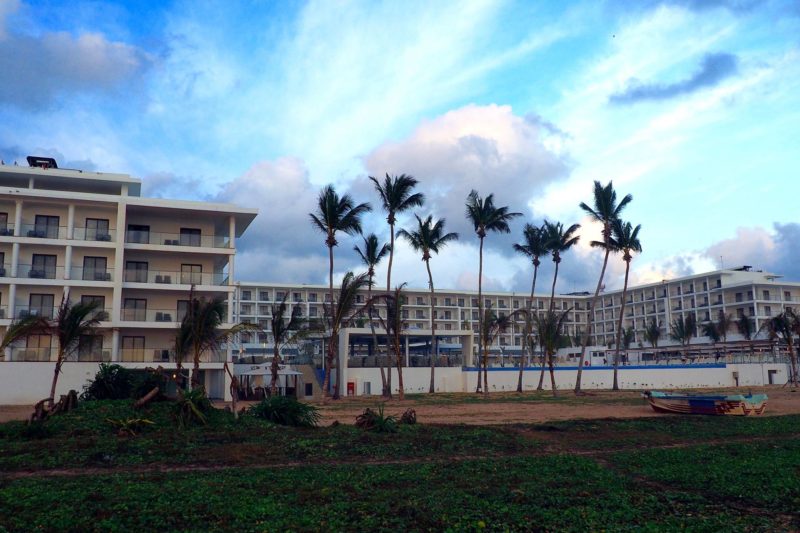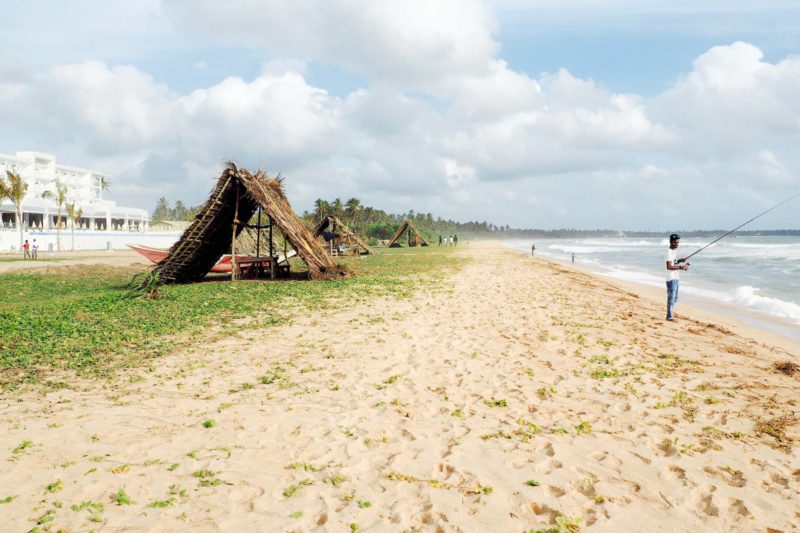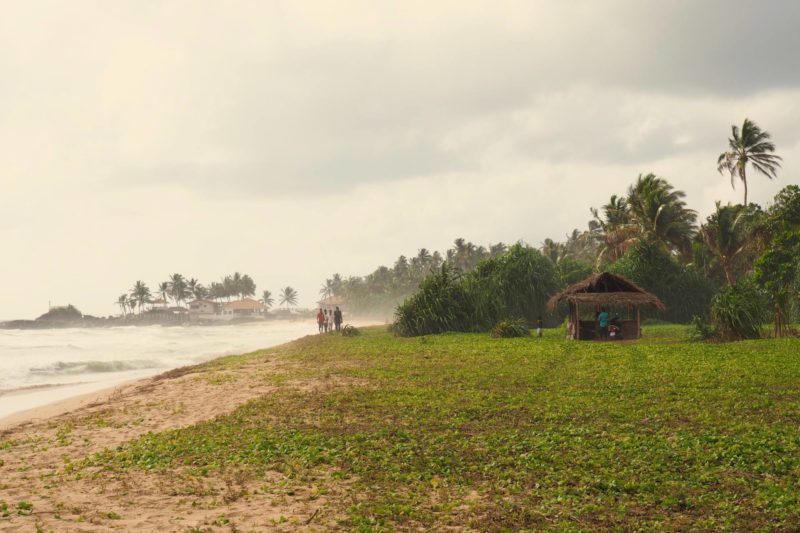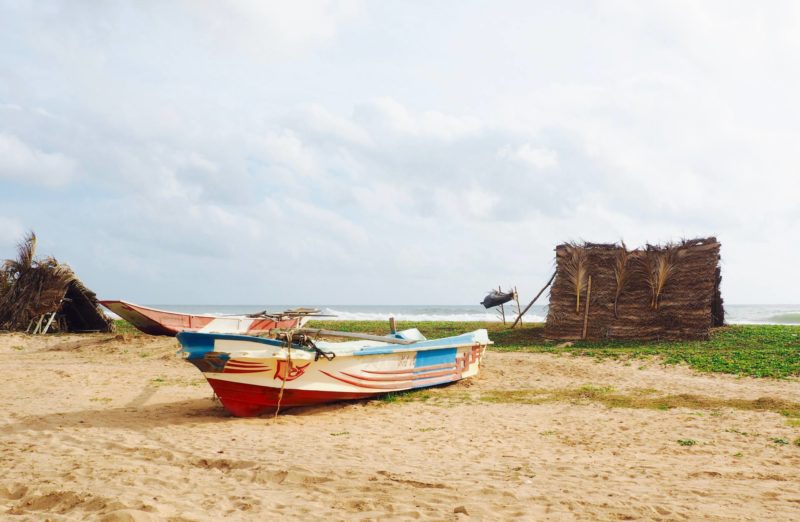 And well, just look at these evening skies. Did I mention I'm in love with Sri Lankan sunsets?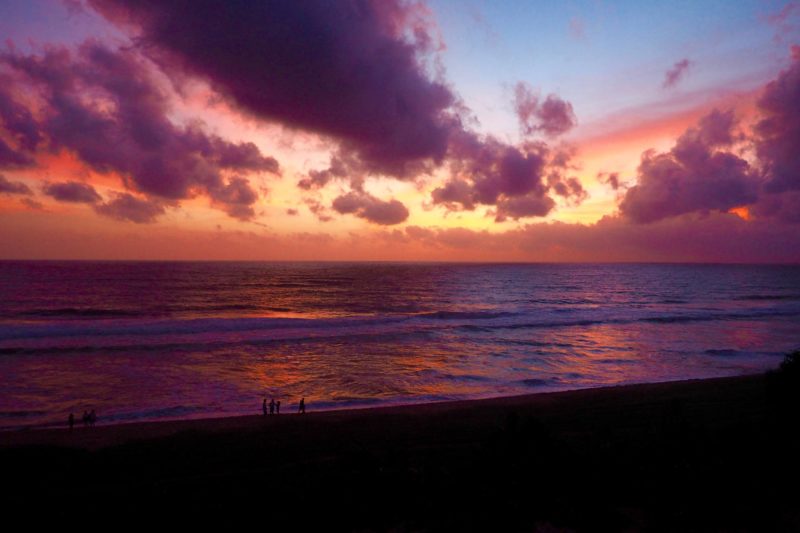 Food and drink
The gastronomy at Hotel RIU Sri Lanka really impressed me and exceeded my expectations of an all-inclusive resort. It says a lot that after nine nights, I still wasn't bored of the food.
Breakfast is worth getting up for: fresh fruit, juices, an assortment of sweet and savoury pastries, fry-up staples and eggs any way are all served with smiles.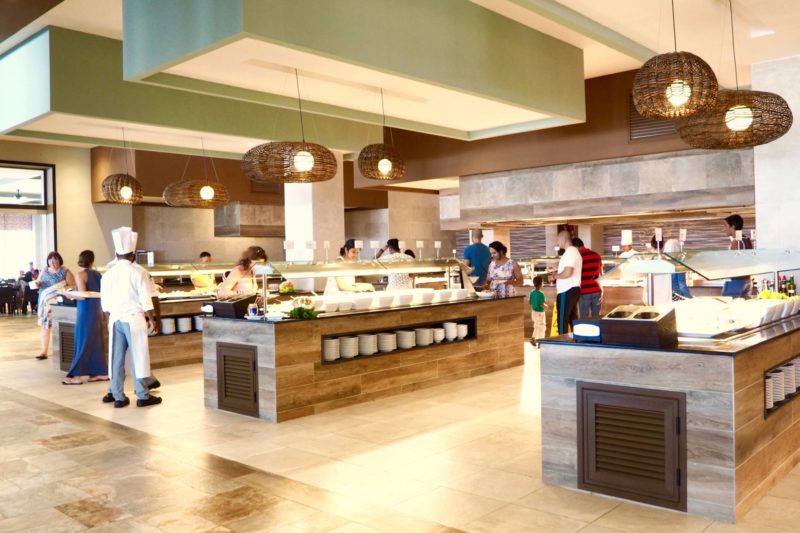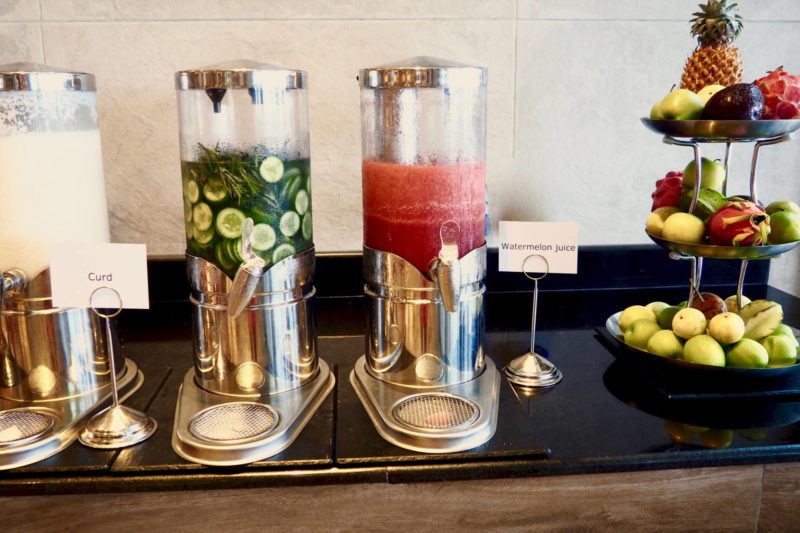 Both the lunchtime and nightly buffet offer a vast range of international flavours, ranging from fragrant Sri Lankan curries to Chinese dim sum and across the continents to pizzas, pastas or British fish n' chips. It was great to sample some real local cuisine as well as more familiar flavours, and the food never runs out.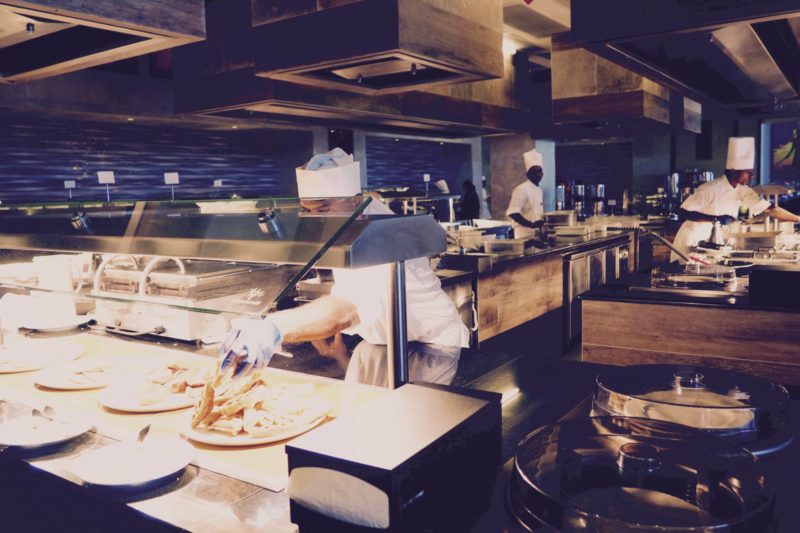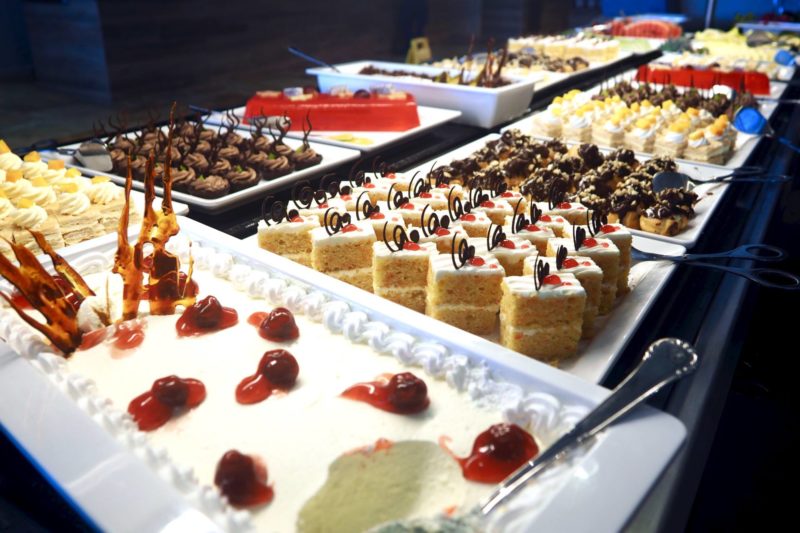 There was always a selection of hot and cold starters, and the desserts are just too tempting. Everything is made fresh at the serving stations, meaning you can see the pot your Spanish paella or roast lamb was cooked in. Best of all, nothing tastes mass produced! My favourite dishes were the made-to-order Vietnamese pho, the Sri Lankan devilled seafood and the roast duck.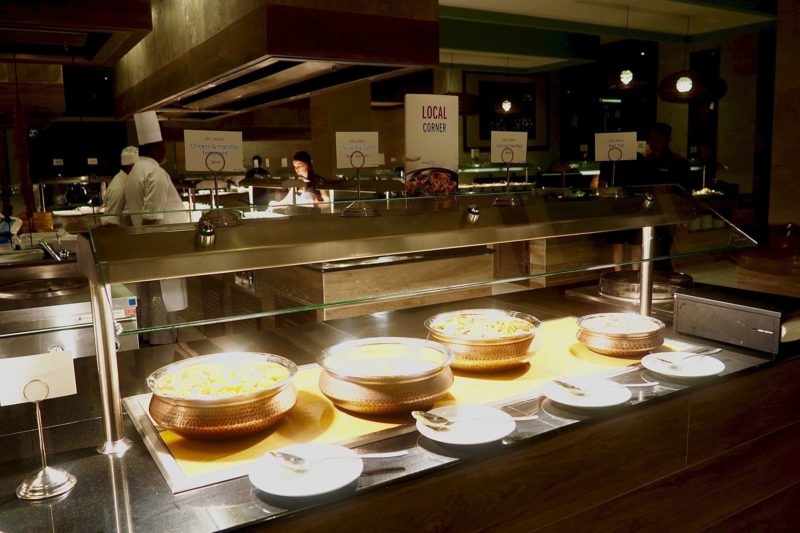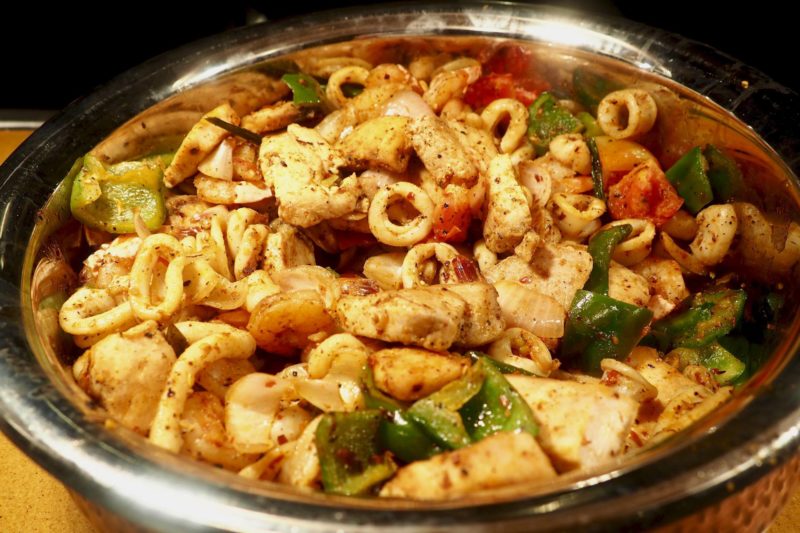 Kids (and big kids) will love the chocolate fountain and ice cream station.
In addition to the buffet, there are three restaurants which require reservation when it's busy: Italian, Asian (Kaori) and the Grill, 'Saute'.
At the Italian restaurant, 'La Forcetta', you help yourself to antipasti starters, pizza and pasta then you're served your choice of main meal from the menu. We had the seafood cassoulet and stuffed chicken.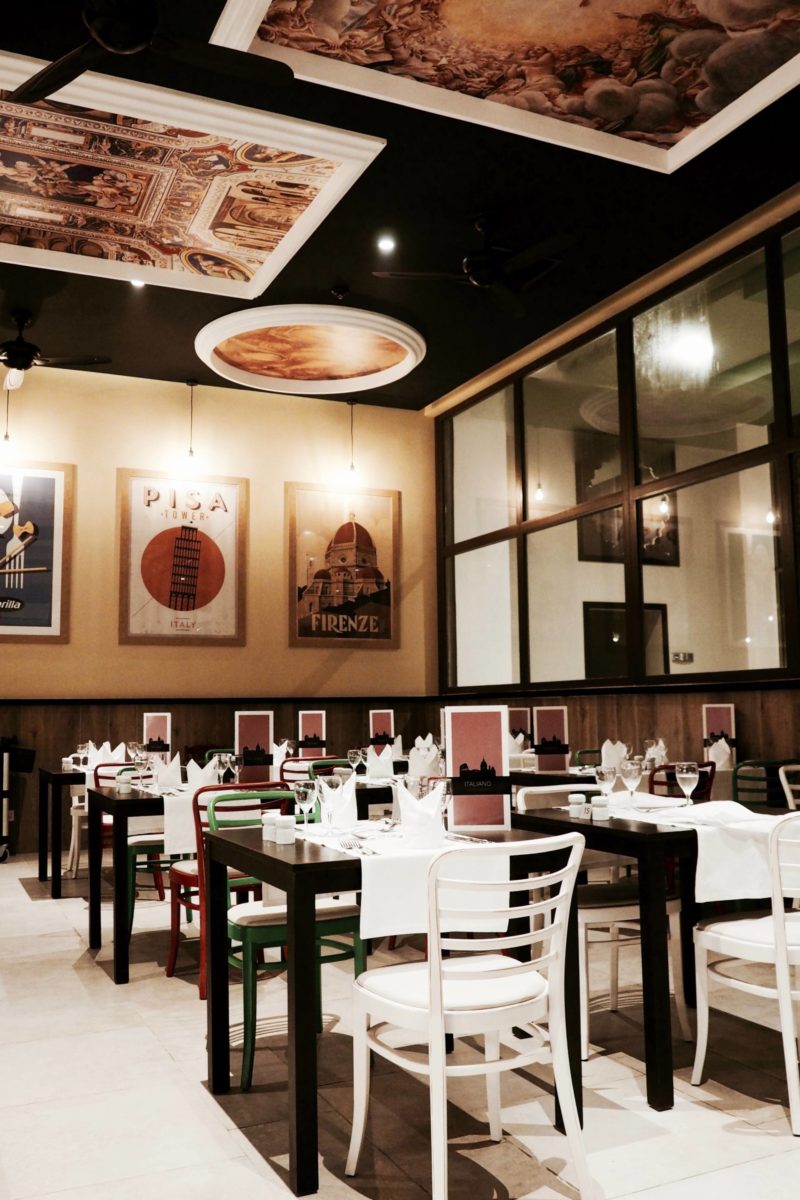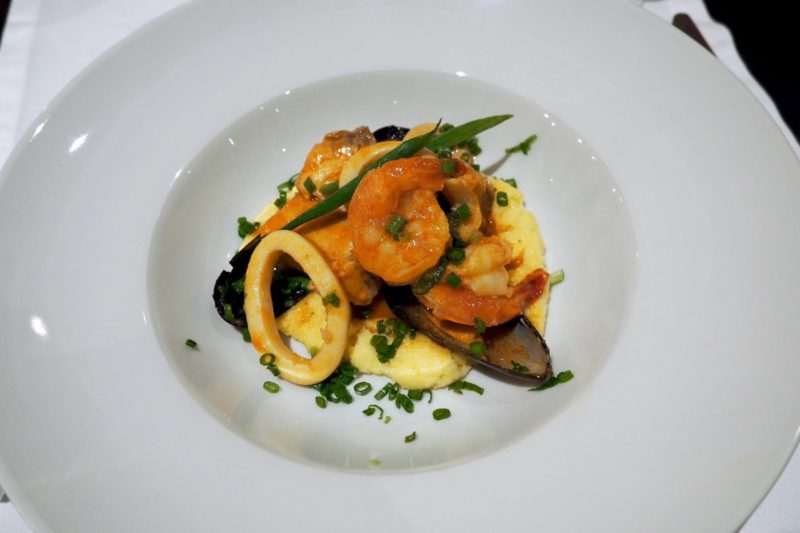 While the buffet restaurants are more than satisfactory, I definitely appreciated having an a la carte meal on a few evenings. The steakhouse was a standout for us.
Spa 
We indulged in 50 minute 'Relaxation' massages on our last day at the hotel's Renova Spa, and boarded our flight back to Dubai with soothed souls but heavy hearts. I honestly didn't want to leave and although I was nervous about staying in a newly opened hotel (even travel bloggers stalk TripAdvisor before a trip!), all of my fears were calmed the moment we checked in.
Things to know
There's free Wi-Fi in the grounds of the hotel but you pay extra to access it in your room. Not a bad thing while you're on holiday, as I learned last year after my digital detox in Cuba!
No alcohol is served during full moon 'Poya Day'. This applies across Sri Lanka.
I hope this review helps anyone booking their own holiday at Hotel RIU Sri Lanka! I promise you won't be disappointed.
If you're planning a holiday in this part of Sri Lanka, you might like to read my post about things to see and do around Ahungalla

Get my Sri Lankan holiday look
---
Check prices and availability at RIU Ahungalla Sri Lanka
---
All photographs were taken on my Olympus Pen E-PL7.
Follow me on Facebook, Instagram and Twitter. You can also subscribe to my newsletter to make sure you never miss a post.
I was a guest of RIU but opinions are my own.