Bucharest isn't the first place most people would consider for a European city break, and the locals know it. That's why a bunch of Romanians got together recently and invited around 100 of the world's top travel content creators to #ExperienceBucharest and find out why everyone needs to add Romania's capital city to their travel bucket lists.
I was one of the chosen travel bloggers and I arrived with basically no expectations – I mean, do you know much about Bucharest? Over four nights, its charm was slowly revealed and I kinda fell in love with the city. I was also super impressed that all of the organisers of #ExperienceBucharest were volunteers. This was a not-for-profit endeavour to promote Bucharest as more than just a transit city, and the passion driving the project was obvious in everything from the rooftop drinks to the plethora of tours we could choose to participate in.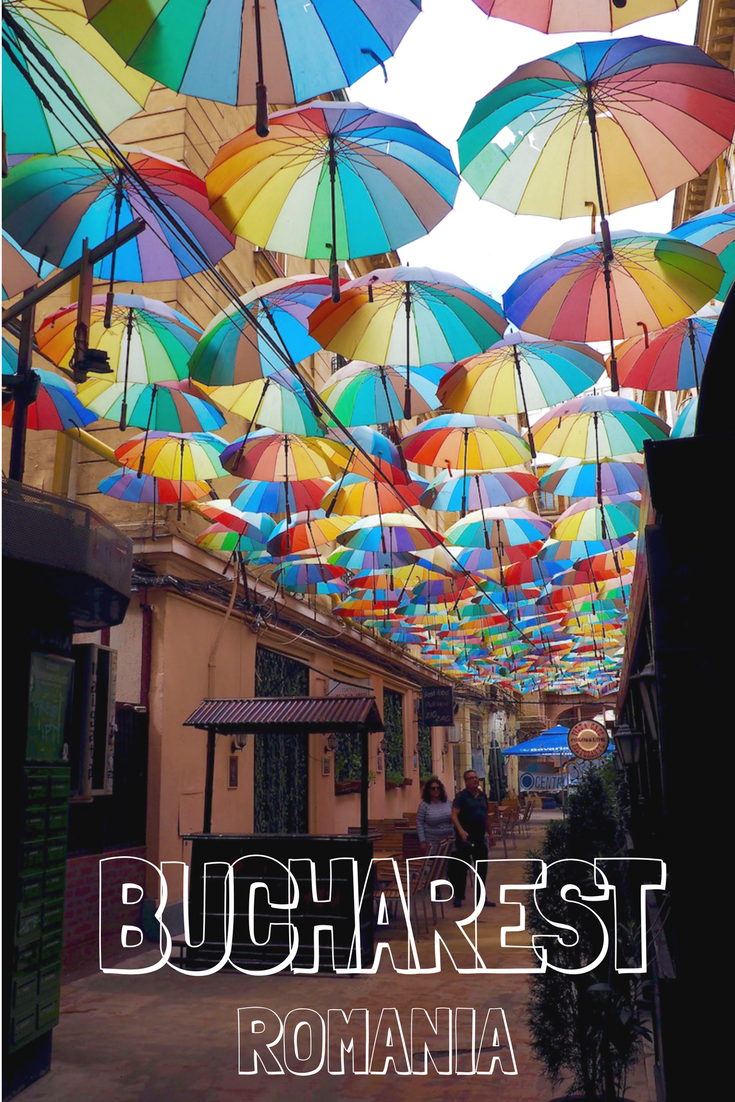 We danced in the streets, partied all night, every night (oops) and were fuelled by lots of delicious Romanian food. I learned that Bucharest can hold its weight among the more popular European capitals and that there's plenty to see and do in the so-called Paris of the East.
Why you should consider a city break in Bucharest
It's a city with intriguing architecture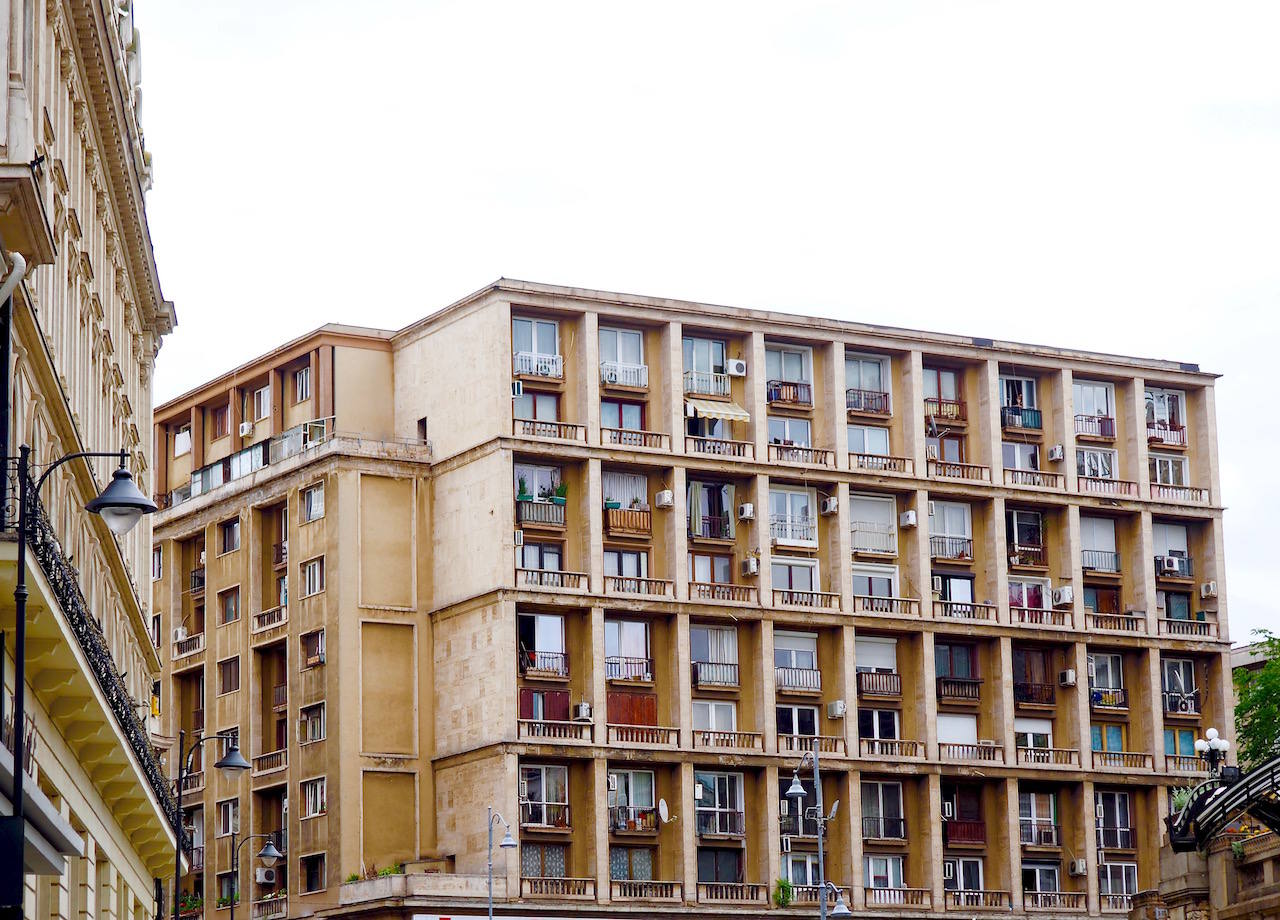 In Bucharest, Communist-era uniform apartment blocks sit adjacent to opulent historic buildings. They're all a bit rough around the edges, but that's what makes for a beautiful surprise at every turn. You'll find 'New Romanian' buildings with rooftops straight from the Turkish Empire nestled next to eerie Communist buildings. On one tour, I learned that if the Communists couldn't destroy the places of worship, they'd literally dig them up from the foundations and move them elsewhere, or build their own structures around them to hide them from sight. Undoubtedly, Bucharest's tumultuous history has left its mark on the city's streets.
Check out this photo essay of Bucharest's most beautiful buildings
Love getting off the beaten path? Explore Bucharest's haunting abandoned buildings 
For a capital, it's pretty slow-paced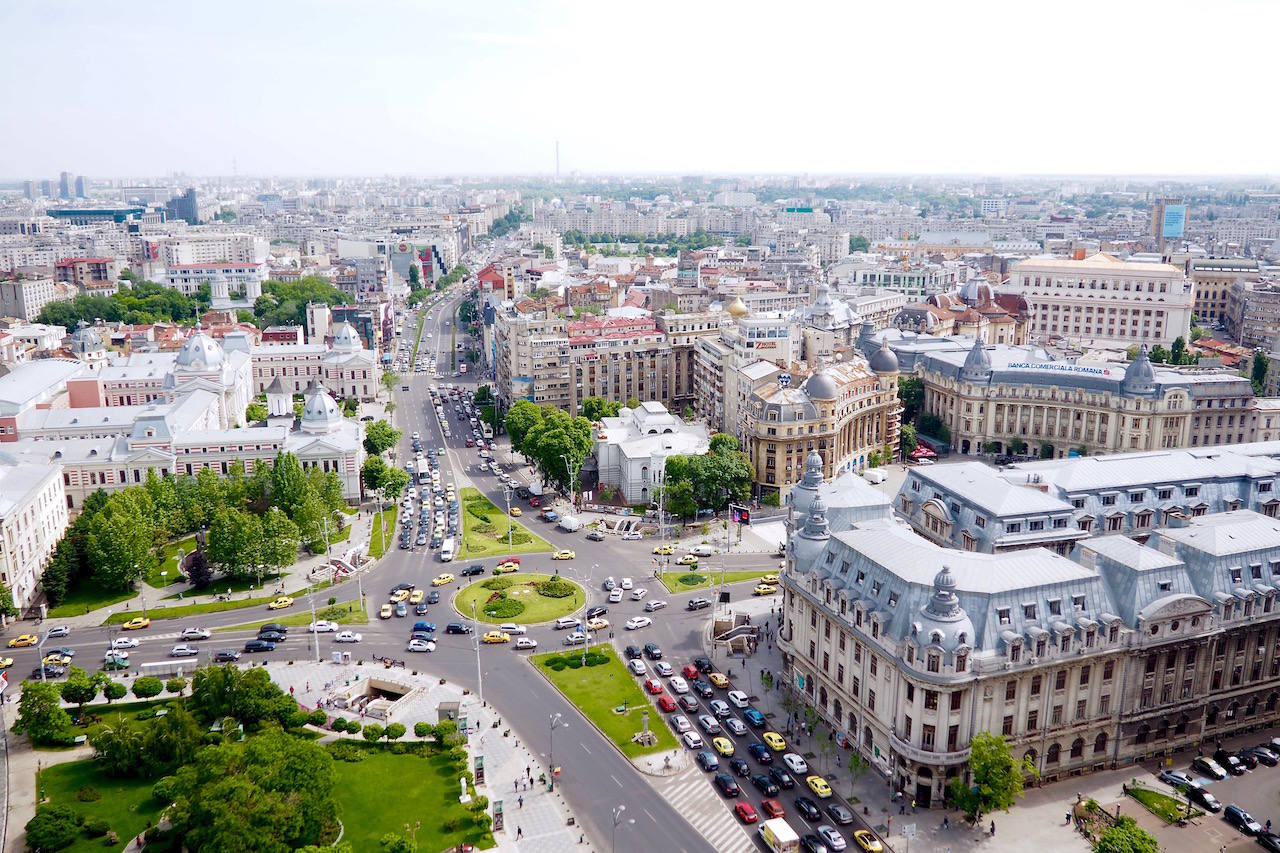 Okay, so there's a lot of traffic and a serious lack of urban planning in some parts of Bucharest, but the ample green spaces and ease of walking at any time of day make this city perfect for a European break. There are barely any crowds, meaning you can go about your day as you please. If you're the kind of person who can't handle slow-walkers and finds London stressful, you'll love Bucharest's refreshing pace. It's also safe – I walked home twice at night alone (sorry mum) and didn't feel at all threatened.
It's a must for street art enthusiasts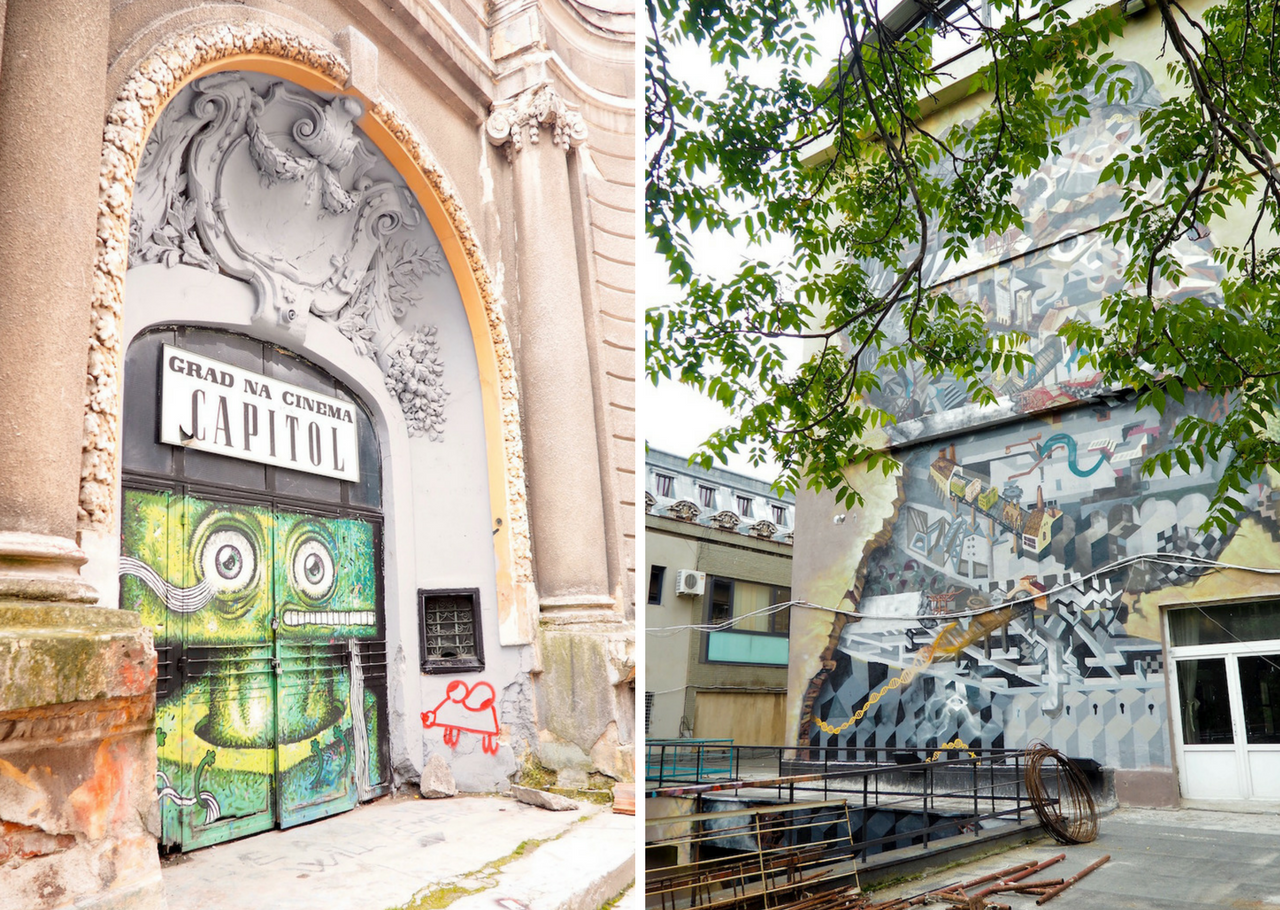 Even the mindless graffiti that adorns every building holds a certain allure in Bucharest. There's an intriguing piece by local street artist Pisica Pătrată on the facade of an abandoned building. And the city has commissioned murals by local artists, like this one outside a University building.
I'll be sharing my pictures from a fascinating tour of Bucharest's abandoned buildings soon!
Romanian food is delicious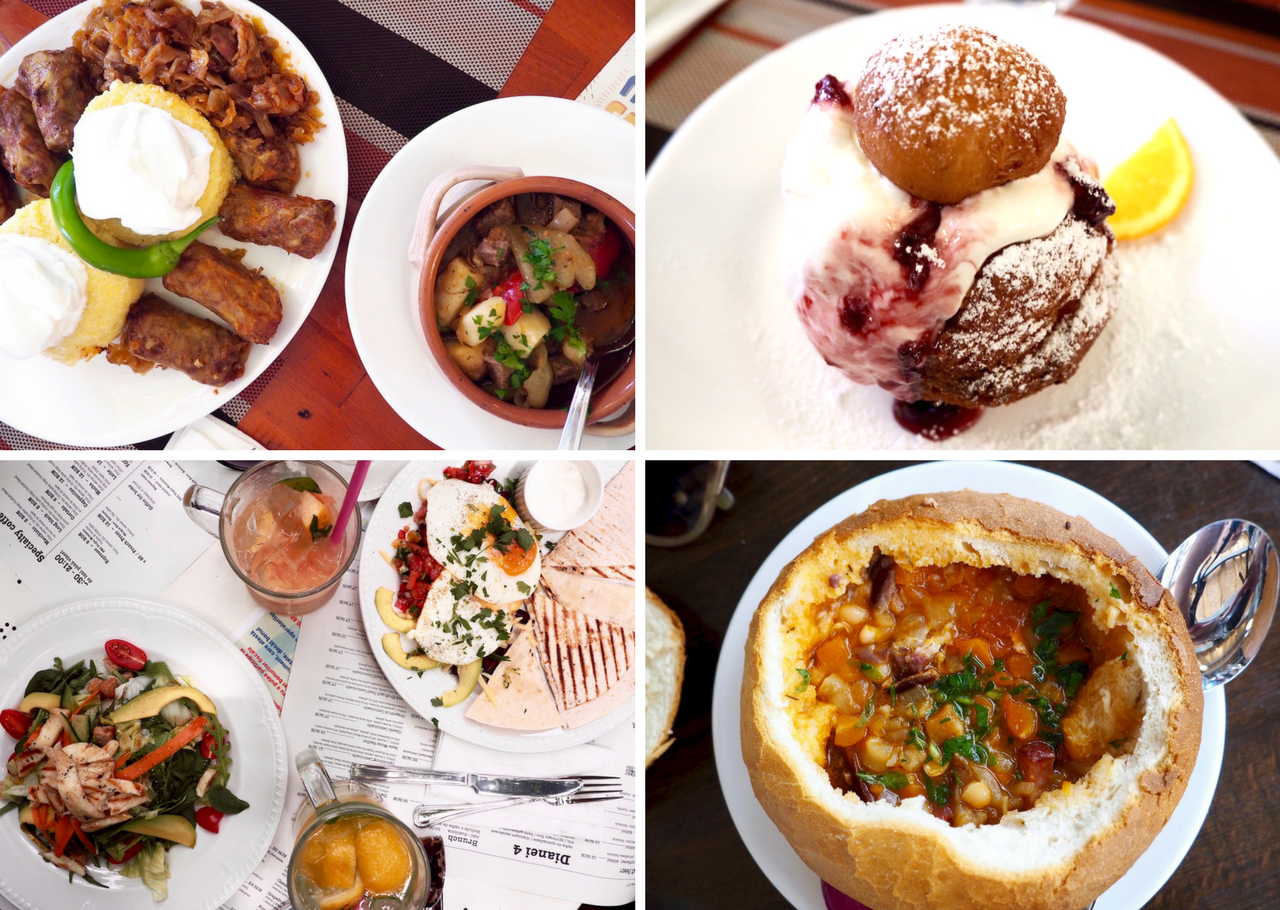 Some of my favourite restaurants in Bucharest include La Mama Lipscani, Hanu' Berarilor and Diane 4, all of whom kindly fed us during #ExperienceBucharest.
We survived on beef goulash, Papanasi (a doughnut-like dessert), Mititei (ground meats mixed with spices and packed into a sausage shape), Sarmale (cabbage rolls), Ciorba de fasole cu cola (a hearty pork and bean soup) and lots of polenta – all washed down with fine local wine. And for breakfast, eat like the locals and grab a pastry to go.
There's beauty in the most unexpected places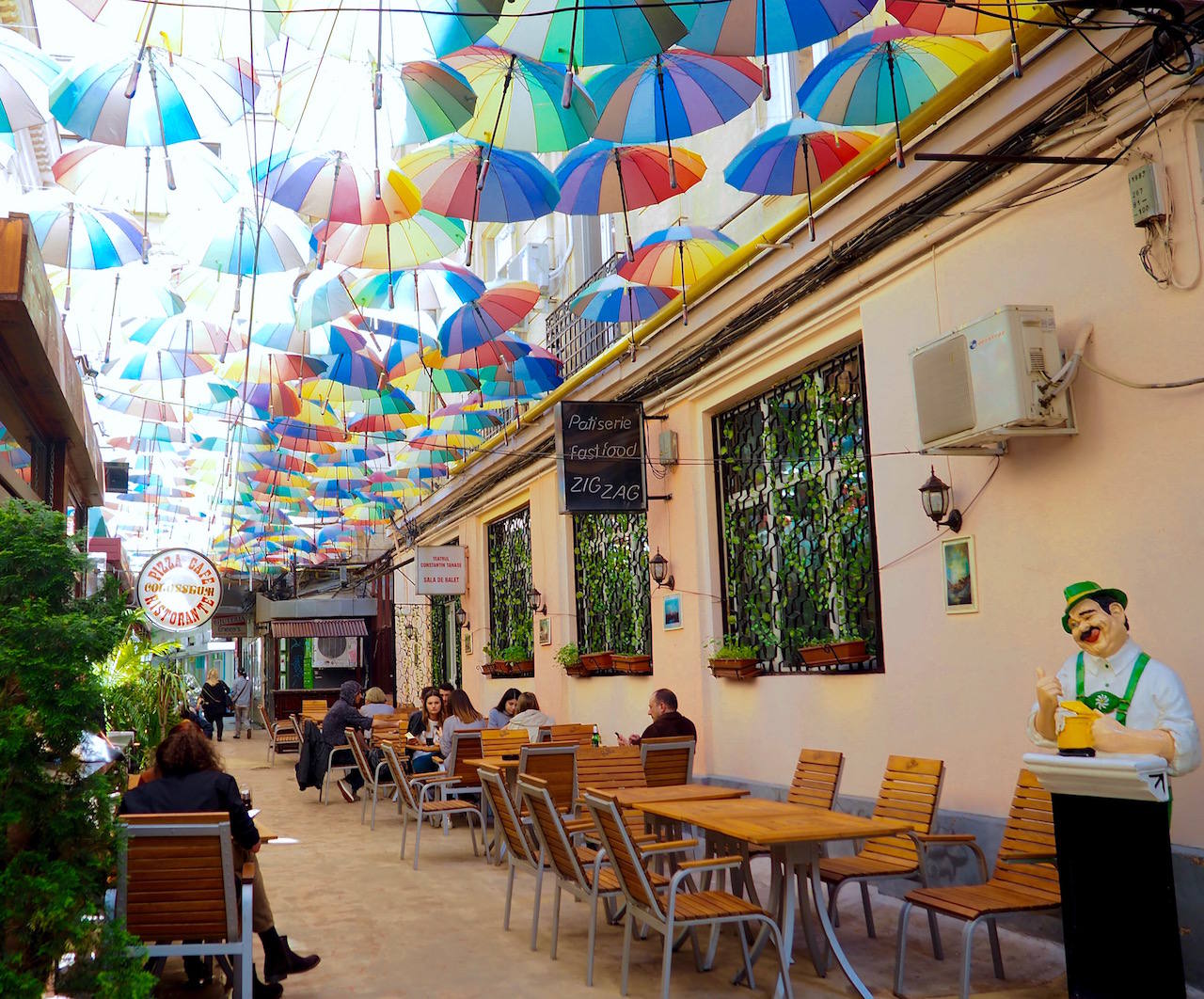 On the surface, Bucharest is no oil painting. But sidle down an alleyway, look up instead of down and you'll find the most unexpected but wonderful photo opportunities. I think every single person on the #ExperienceBucharest trip took a picture in this alleyway!
It's cheap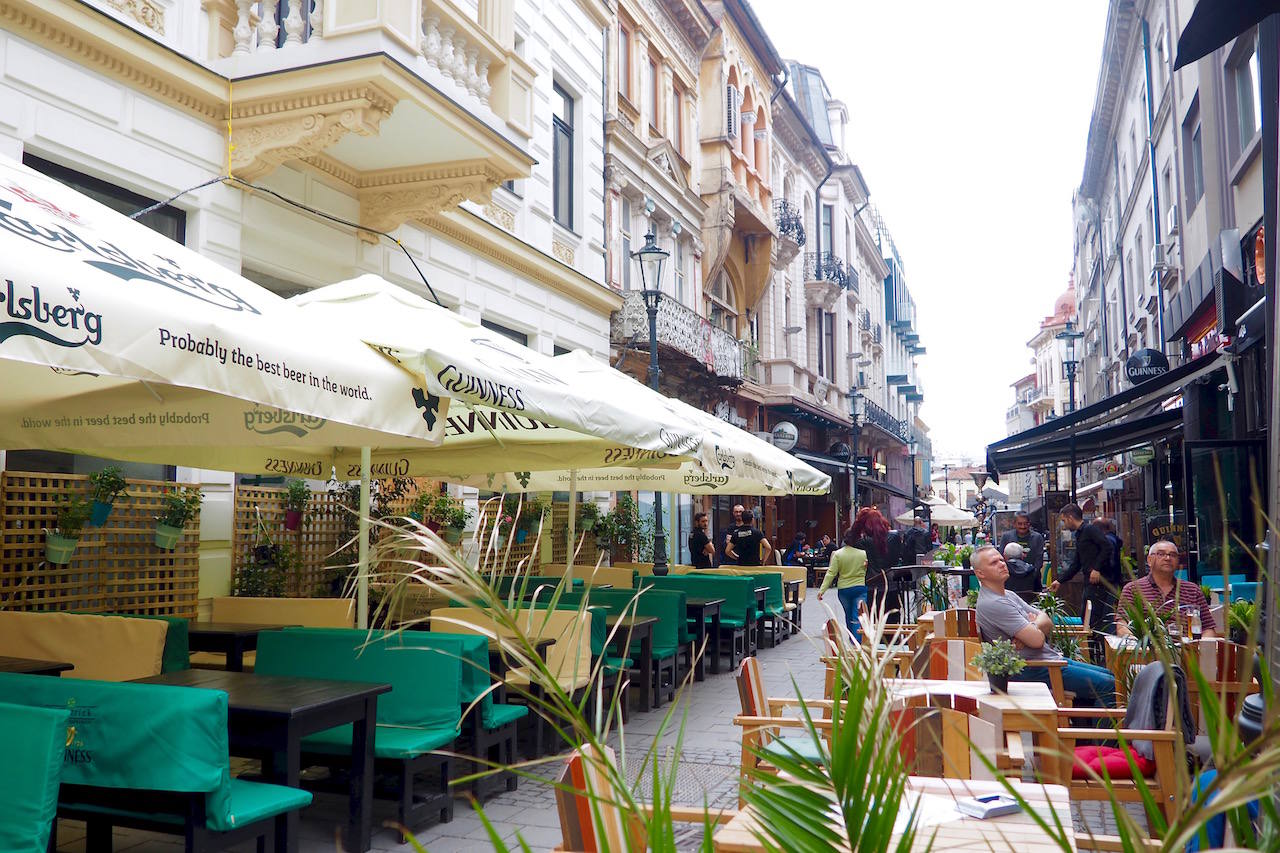 If you're planning a European city break on a budget, Bucharest is your best bet. A 15 minute taxi ride cost me 10 Lei (under £2), and a local beer is about 6 Lei. When you compare that to what you could pay in other European countries, Bucharest starts to look really attractive.
There's history everywhere you look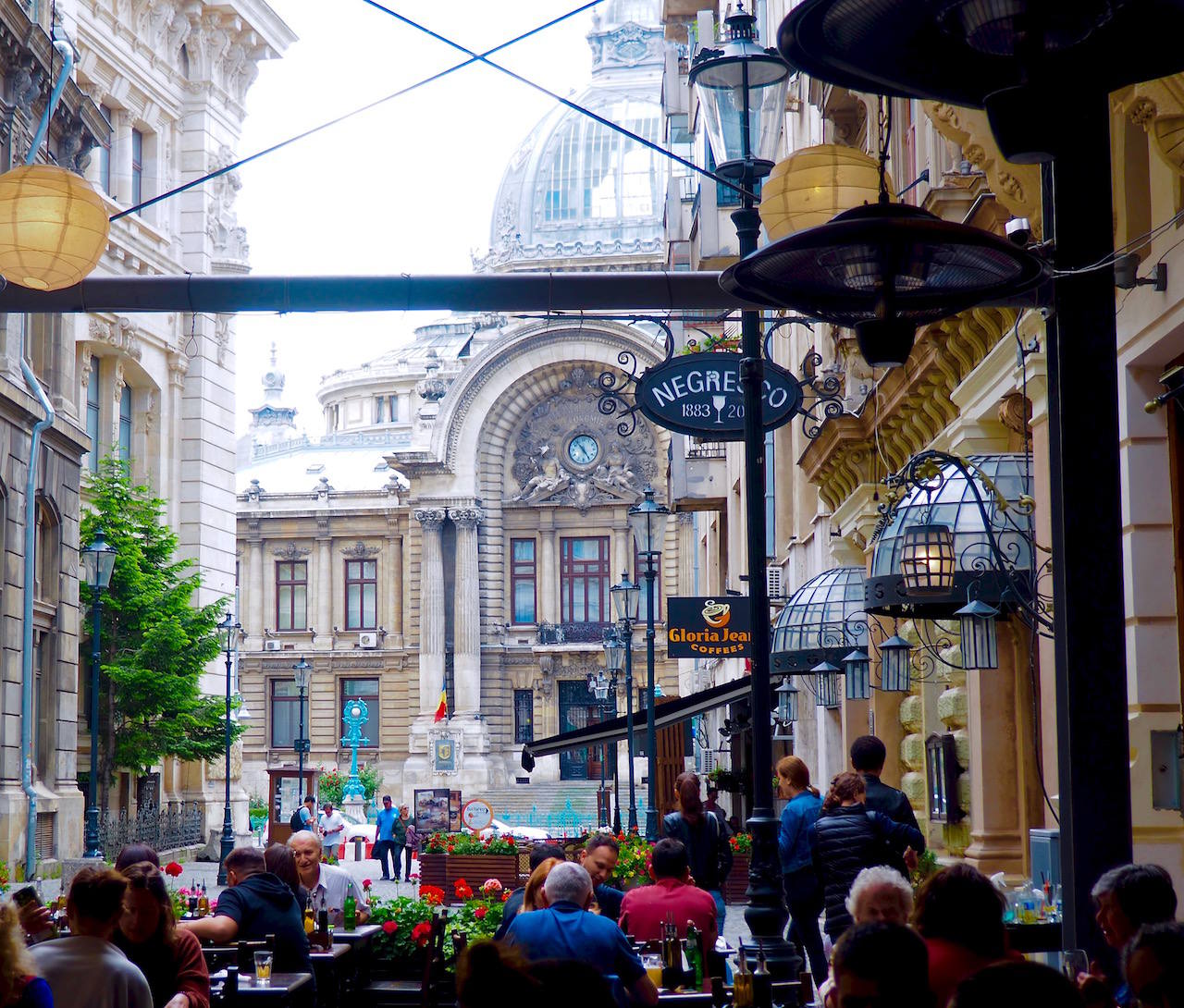 I sat down at an outdoor table at Caru' cu Bere, a restaurant on Stavropoleos Street in the Lipscani district of Bucharest and looked up from my menu to see this beautiful, grand old building. This is The CEC Palace, which was built as a new headquarters for Romania's oldest bank.
The bar and restaurant I was eating in was opened in 1879 and its Neo-Gothic style ground floor is decorated with stained glass, mosaics and carved panelings. Surrounded by the old world in a city that looks forward – how very European!
The nightlife is unique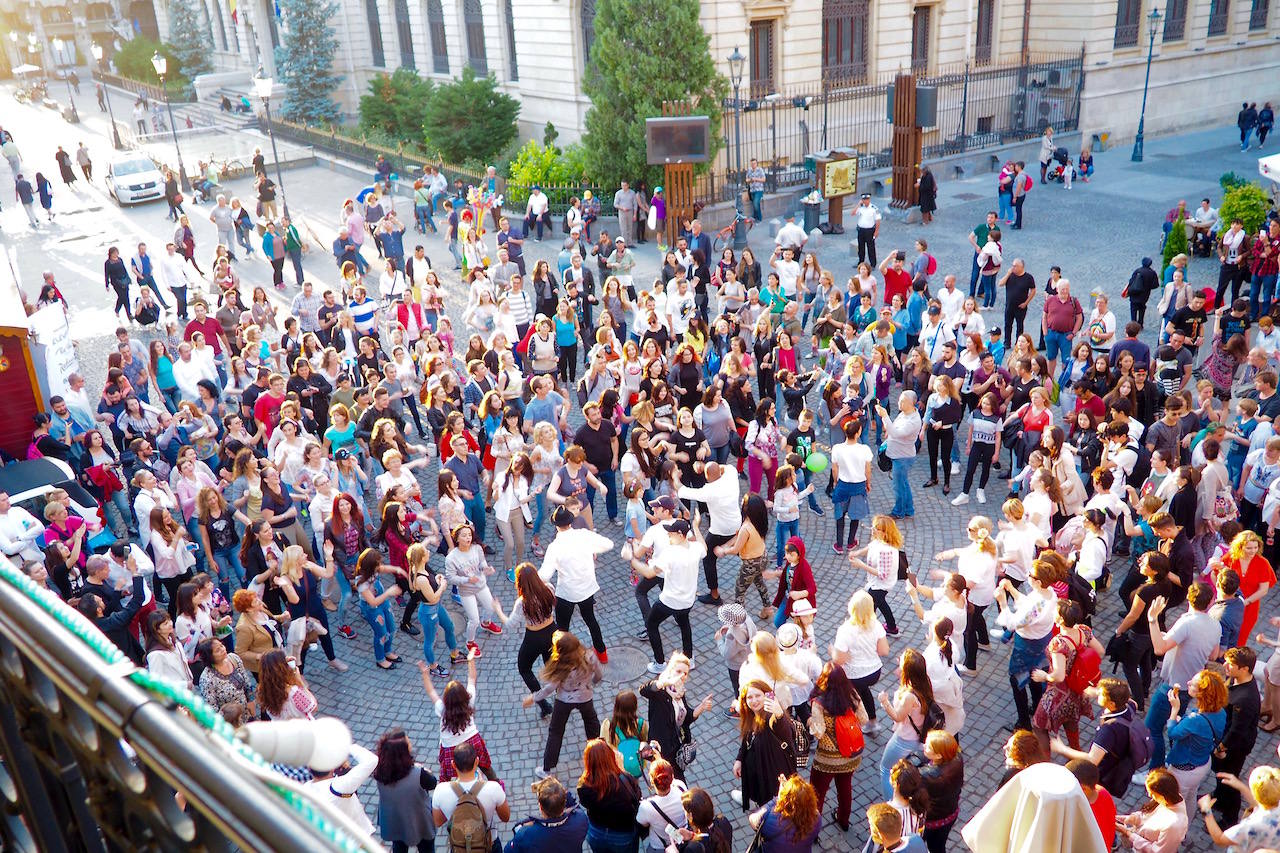 One thing that kept striking me during my trip was that Bucharest would be ideal for a stag do (or bachelors' party, if you're from the US). We partied a lot during our trip. Most nights began at a hostel or sky bar, carried on to a 'shoteria' and ended at a club, such as Expirat, Kulturhaus Bukarest and Player Club Bucharest. If none of those appeal, I have it on good authority from a local that hipsters will love Alt Shift.
My favourite part of Bucharest's nightlife scene was the dance party that took place in the streets while I was there. This is a place where locals of all ages congregate to throw shapes – what's better than that?
It has one of the world's most beautiful bookshops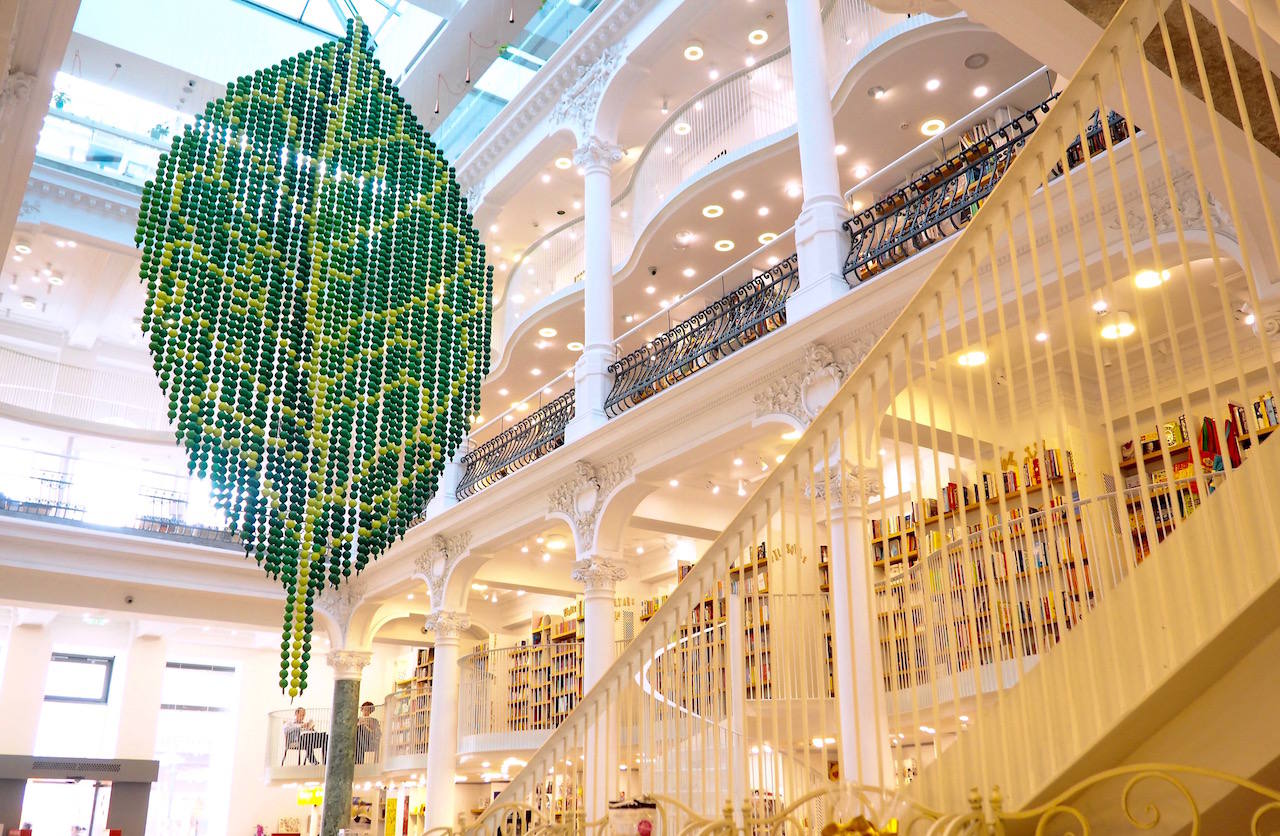 Bookworms who visit Bucharest can lose themselves at Cărturești Carusel. The store recently opened in a restored building and its design was created by Square One. Its all-white shelves hold about 10,000 books and you can buy all kinds of quirky gifts. There's a bistro on the 6th floor, and it's the perfect place to spend a sunny afternoon reading.
Where to stay in Bucharest
I was hosted by Intercontinental, which is where I took that aerial shot you saw at the beginning of this article. It's in a great location, the breakfast buffet is fabulous (that's coming from a girl who judges a hotel based almost solely on its breakfast pastries) and the rooms are comfortable, if a bit dated.
If you're on a budget, I recommend either Pura Vida or Podstel. Both are funky, laid-back hostels that hosted parties for us during #ExperienceBucharest. Pure Vida has an unreal sky bar and is near all the best bars. Podstel is a bit outside the city centre, but it's worth going even for a smoothie because it's one of those places that epitomise everything a hostel should be.
I could go on forever about why you should visit Bucharest, so just go and experience it for yourself. Form your own opinions, ignore the bad press and let me know how your trip went! Did you know Bucharest had all of this to offer? Would you go after reading this? Tell me in the comments!
Inspired? Search cheap flights to Bucharest on Skyscanner.
All photographs were taken on my Olympus Pen E-PL7.
Please follow While I'm Young on Facebook, Instagram and Twitter from more travel guides and stories. You can also subscribe to make sure you never miss a post.