Already 'done' Brussels and keen to explore more of Belgium? Here's why Leuven should be the next Belgian city you visit.
Just fifteen minutes from Brussels by train, Leuven is worth visiting if you want to see another side of Belgium. The university city offers travellers who are tired of the beaten Euro-trip trail a more relaxed pace, with plenty to see and do – from brewery tours, drinking at the so-called longest bar in Europe and umm… other, non-alcohol related activities. One week after my weekend in Ghent, another lovable city in the Flanders province of Belgium, I headed to Leuven to discover what makes the city stand out.
Here's my guide to the best things to see and do in Leuven, and some things I found intriguing about the destination.
Unique things to do in Leuven, Belgium

You can relive your student days (or give the lifestyle a try for the first time)
On arrival in Leuven, you'll notice something missing. Umm, where are all the oldies?
The city is filled with bright young things because it's home to Belgium's best-ranked university. And the student population owns Leuven. In fact, 1 in 3 of Leuven's population are students! This gives the city a unique ambience, with a chilled-out vibe by day and a party vibe by night. The university campus itself sprawls across the city, with lecture halls and student accommodation dotted all over the place.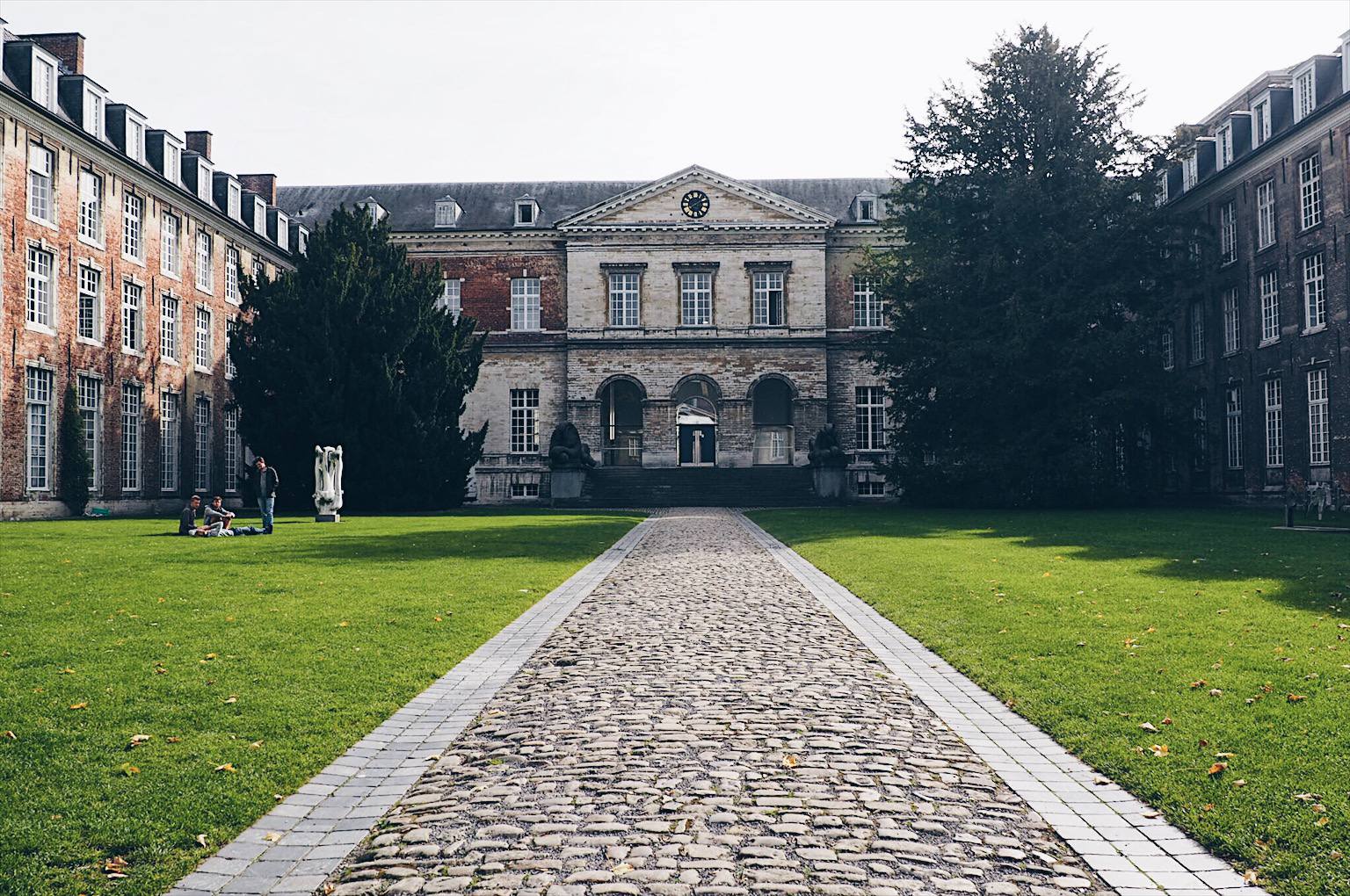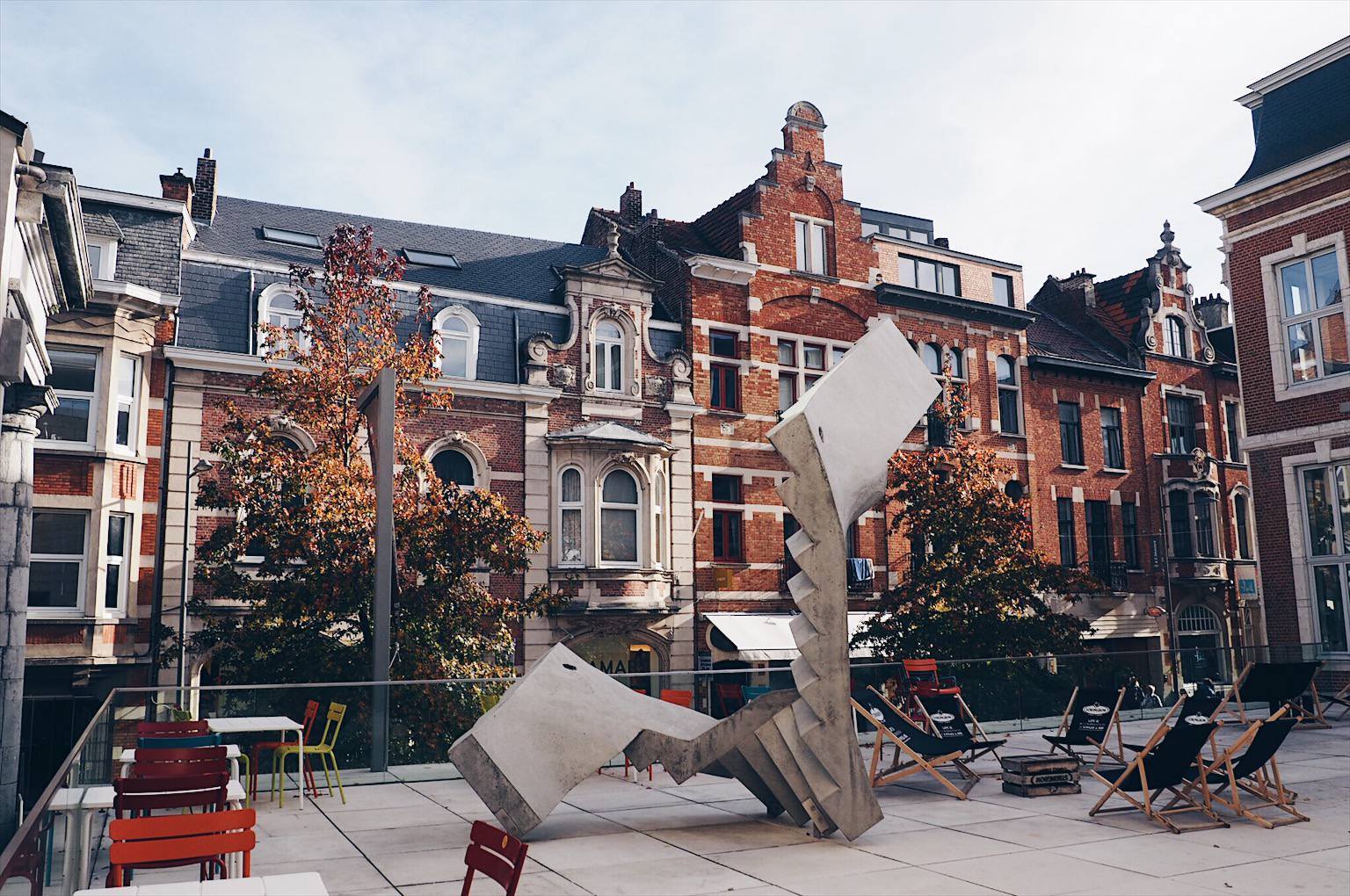 The spirt of Leuven's student population is personified by a funny little statue called Fons Sapientiae, who stands near the Grote Markt. The sculpture depicts a scholar trying to study the formula for happiness while pouring alcohol into his brain – said to represent Leuven's student body's struggle to get the balance right between studying and partying!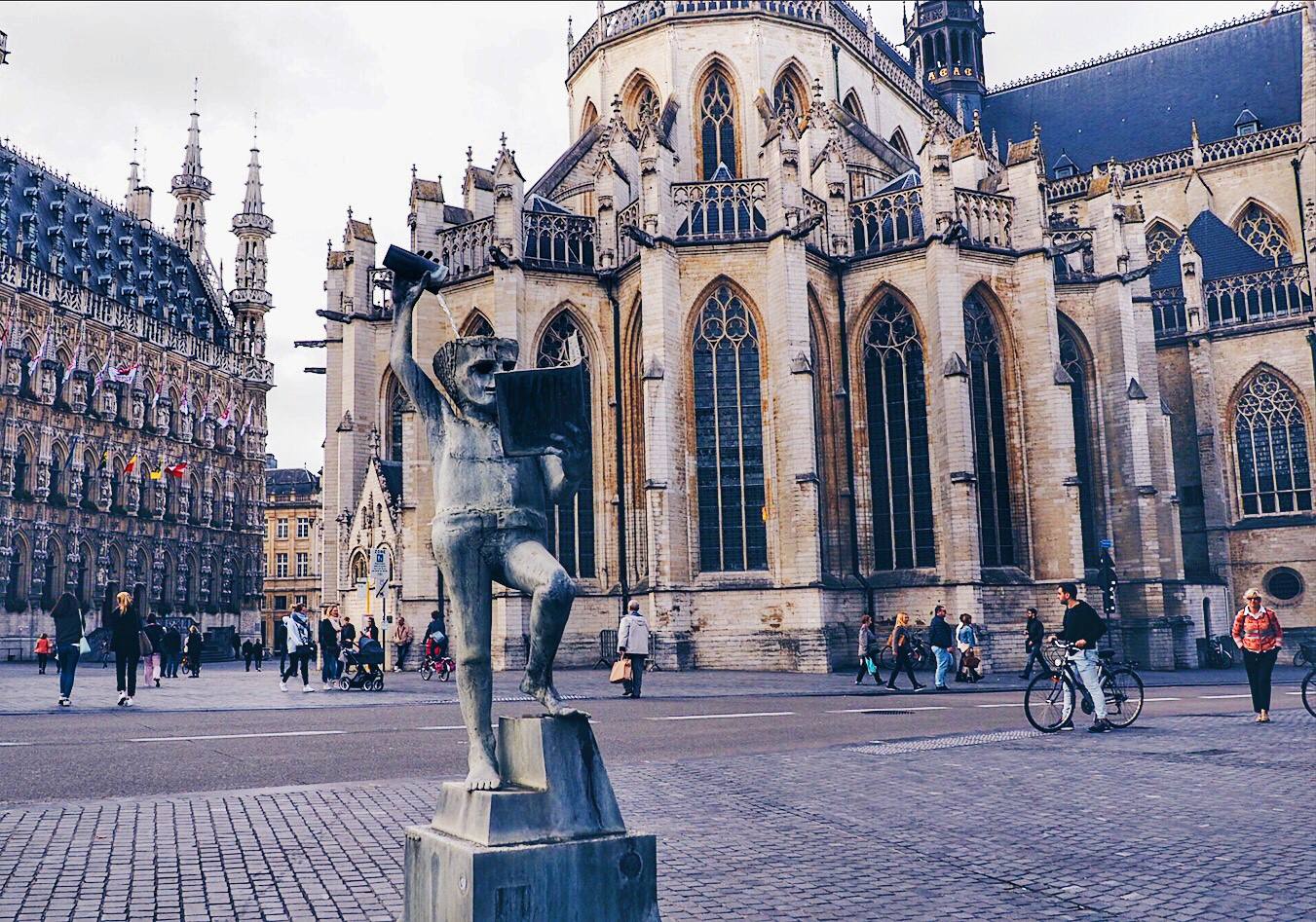 Mingle with locals at the market
The Friday Market is really the only way to see local life in Leuven at work. Stalls selling everything from raw fish to flowers and clothes sprawl across the cobblestones and Leuven's older generations come out to do their weekly shop while the students are still sleeping.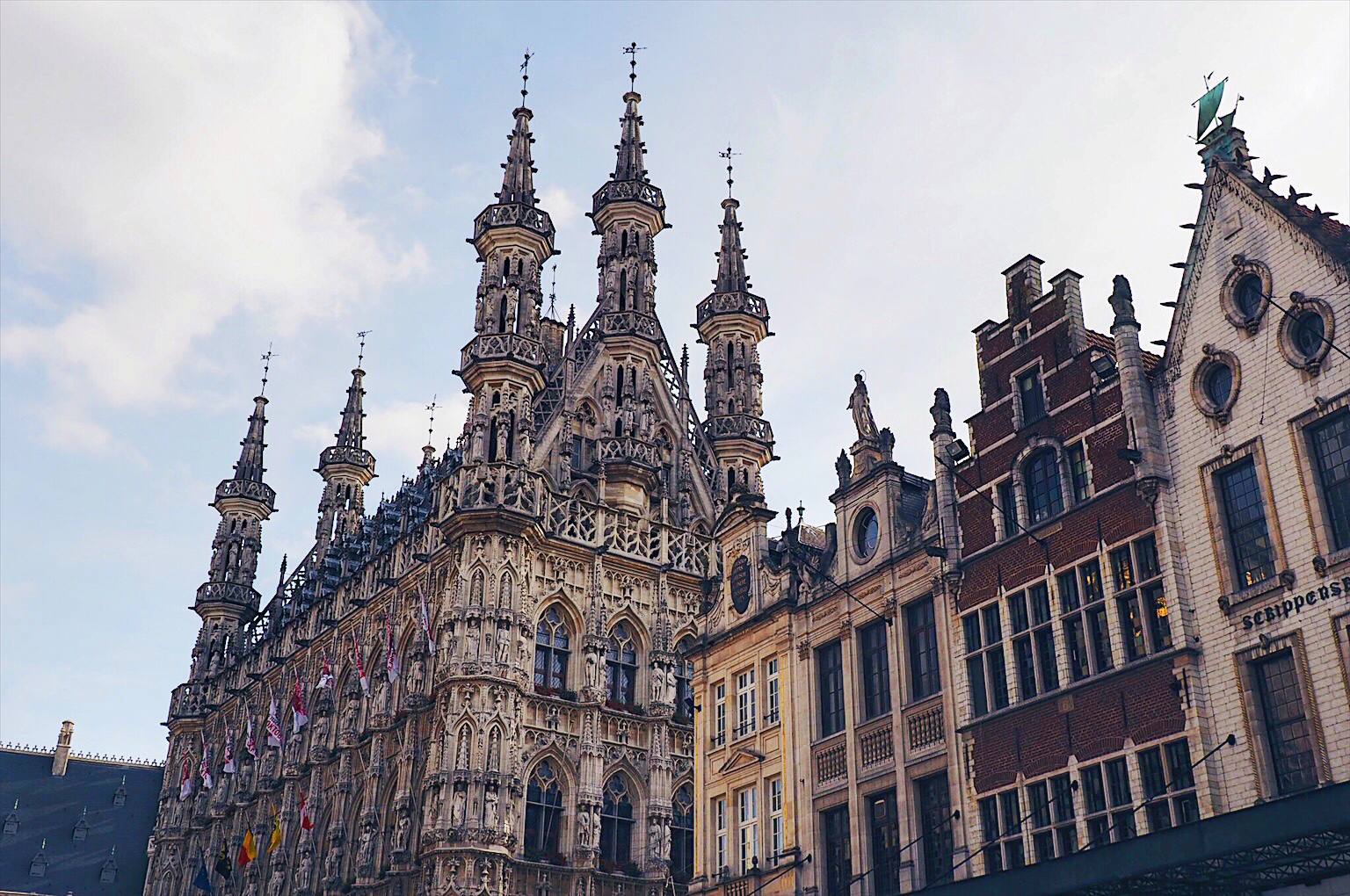 Drink beer in the place it's produced
One big beer brand is synonymous with Leuven: Stella Artois. But the beer scene in Leuven doesn't begin and end at the Stella factory.
In search of alternative beer producers in Leuven, I visited a family-run farm brewery on the outskirts of the city to sample some lesser-known craft beers. Hof Den Dormaal may be small, but it exports beers all over the world. My favourites were a chocolatey-cherry beer and 'The Politician' – named so because it's promising in the mouth but leaves a bitter aftertaste.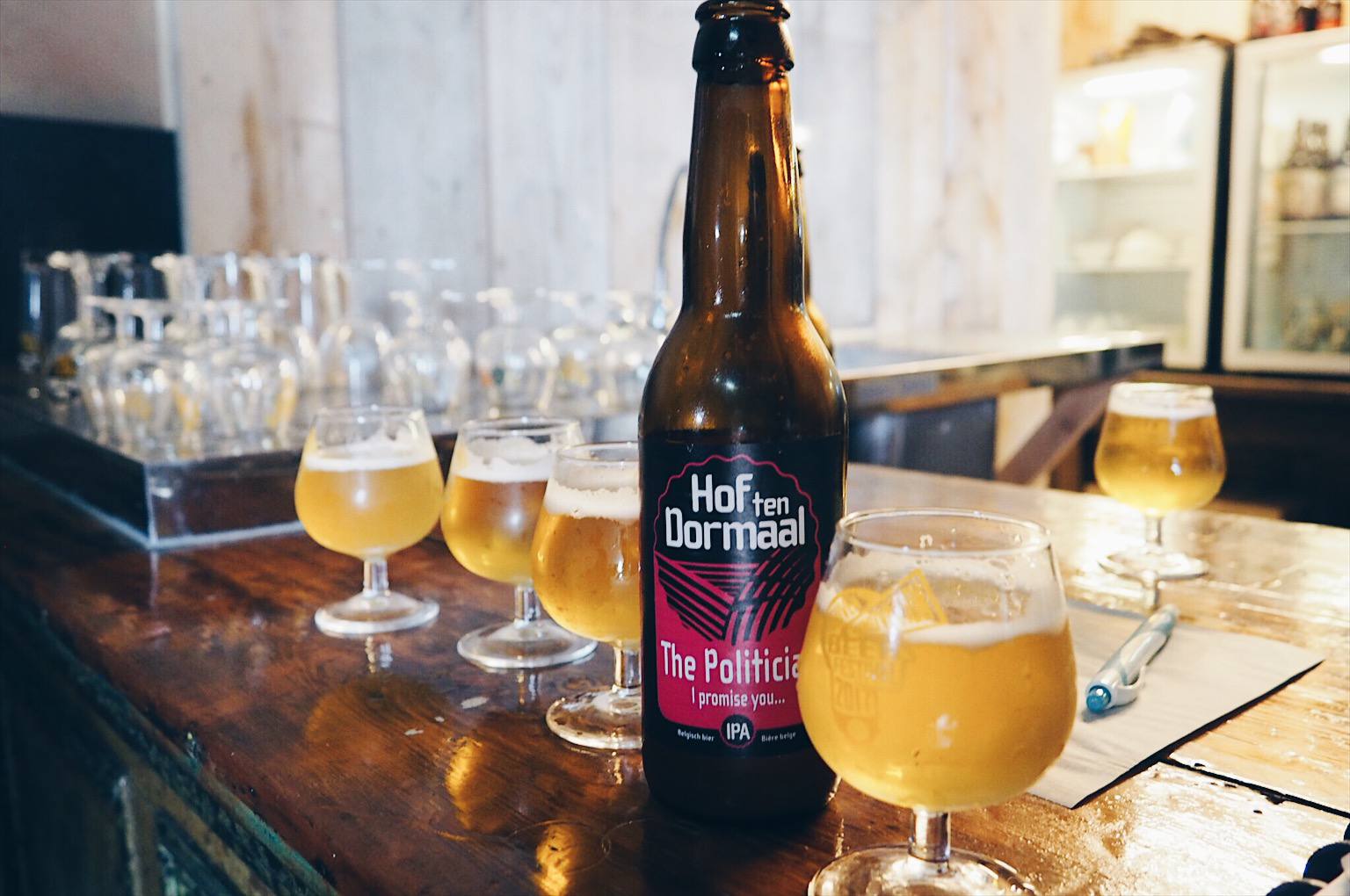 In the city itself, you can refresh with a pint at Domus Brauhus, a tiny brewery with a pipe pumping the beer straight into the taps in its adjoining bar.
It's also worth visiting the oldest pub in Lueven, In Den Engel, which is located in the Grote Markt.
Tackle the longest bar in the world
Continuing the beer theme (what else did you expect from me?), no visit to Leuven is complete without a crawl of the 'longest bar in the world', which is actually a stretch of different bars, all of which have outdoor seating on the Old Market.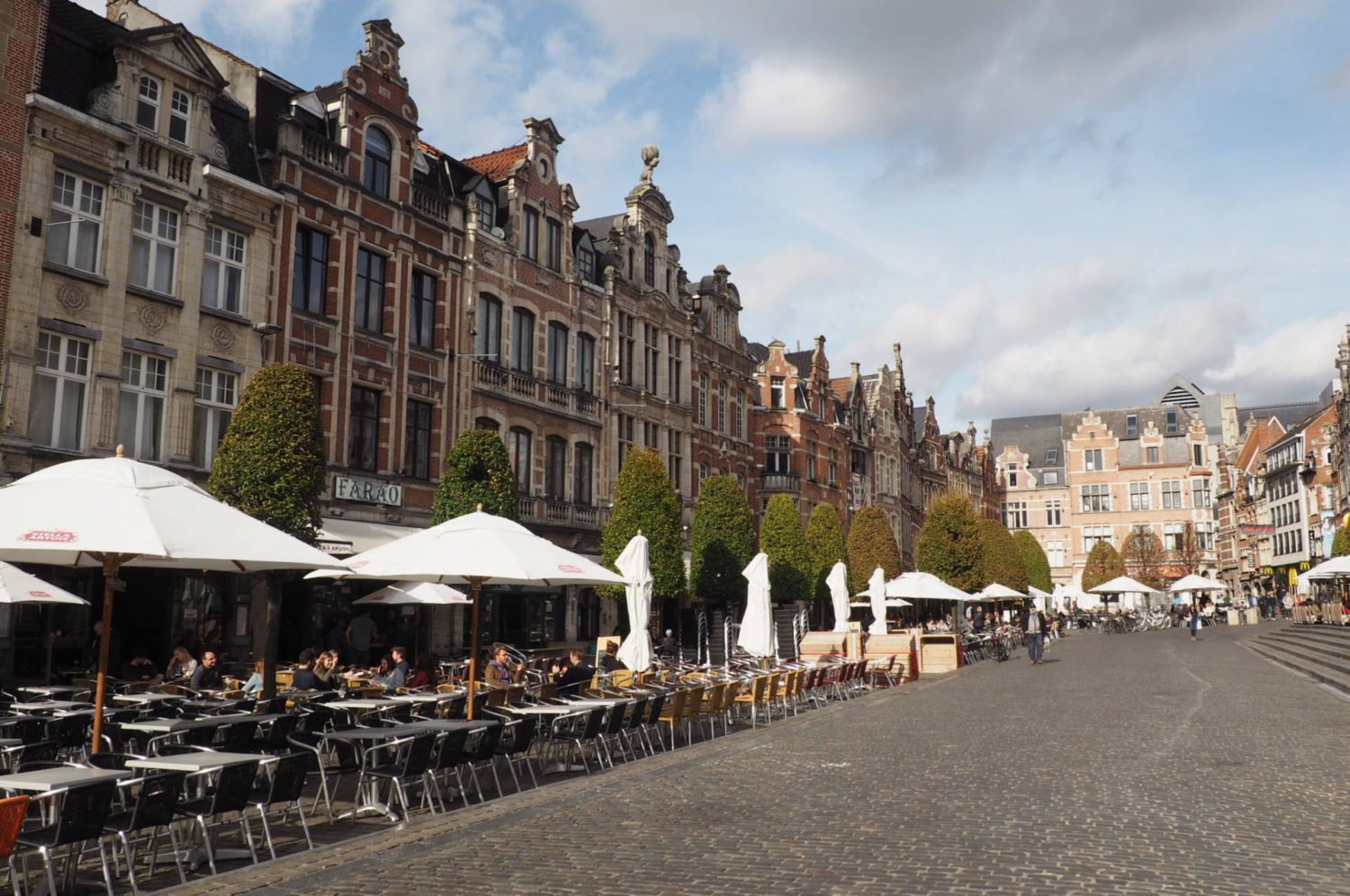 See if you can find one of the few bars that stick to a tradition that makes Leuven unique: a large beer is the same price as a small beer! No contest, really.
Taste some inventive chocolate
For the tastiest chocolates in Leuven, head straight to Bittersweet. This chocolatier sells unusual flavours like white chocolate and passion fruit and earl grey tea. The scent that wafts from this little shop on the road leading to the train station is enough to drive any chocoholic to salivation.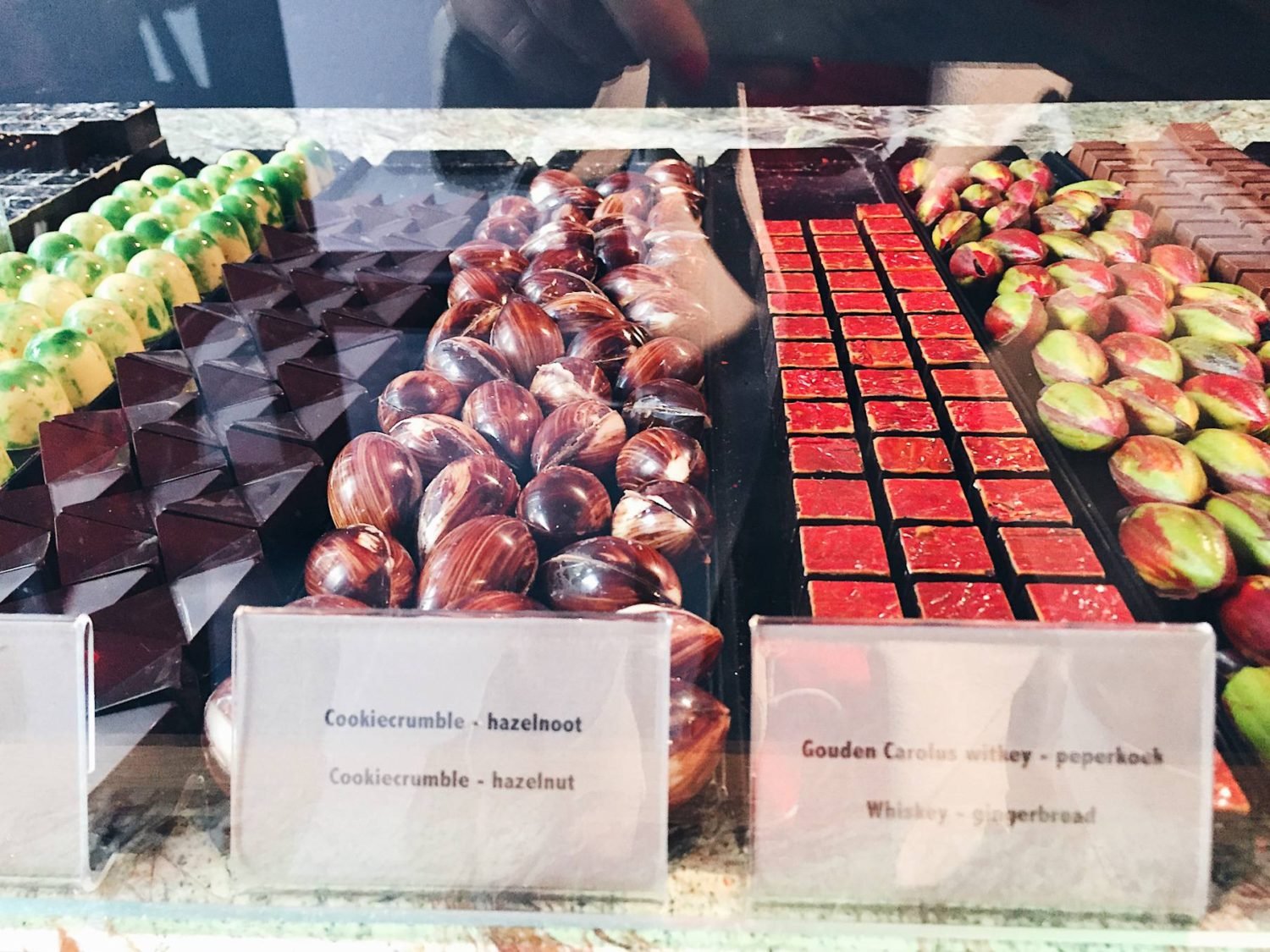 Walk in the footsteps of some seriously independent ladies
Quick history lesson: back in the 13th century, there was a surplus of unmarried or widowed women in Lueven thanks to the era's bloody state of affairs. Rather than remarry or join a convent, these women took steps to protect their personal property (which they would otherwise have to sign over to a husband or to the convent), by moving in to the Groot Begijnhof of Leuven.
The village-like site of the Begijnhof is now owned by Leuven's university, which uses its almost 100 houses as a campus extension. Walking around the cobbled streets is one of the things you absolutely must do when you visit Leuven.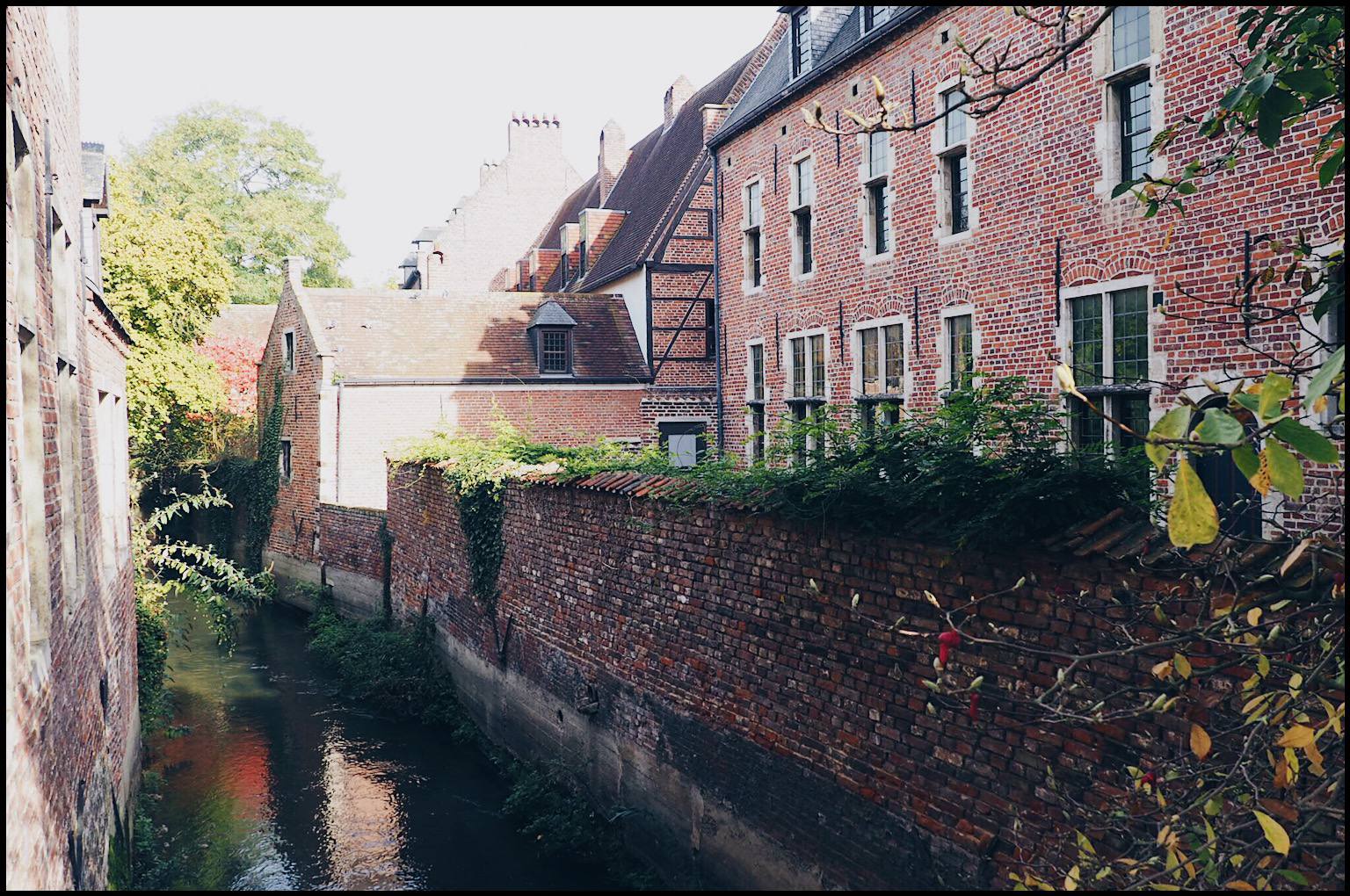 The story of Fiere Margriet is another example of female heroines in Leuven's history. In the early 1200s, Margriet worked in a bar and a gang of robbers attempted to rape her. She protected herself so fiercely, and was subsequently the central figure in a few legendary 'miracles', that she's now hailed as the patron saint of barmaids in Leuven, has her own statue and a pub named after her. (The pub is definitely worth checking out – look out for the creepy stuffed foxes in the window.)
Search for street art
It took me a little while to spot any street art in Leuven, but when I did find the odd piece, I was wowed.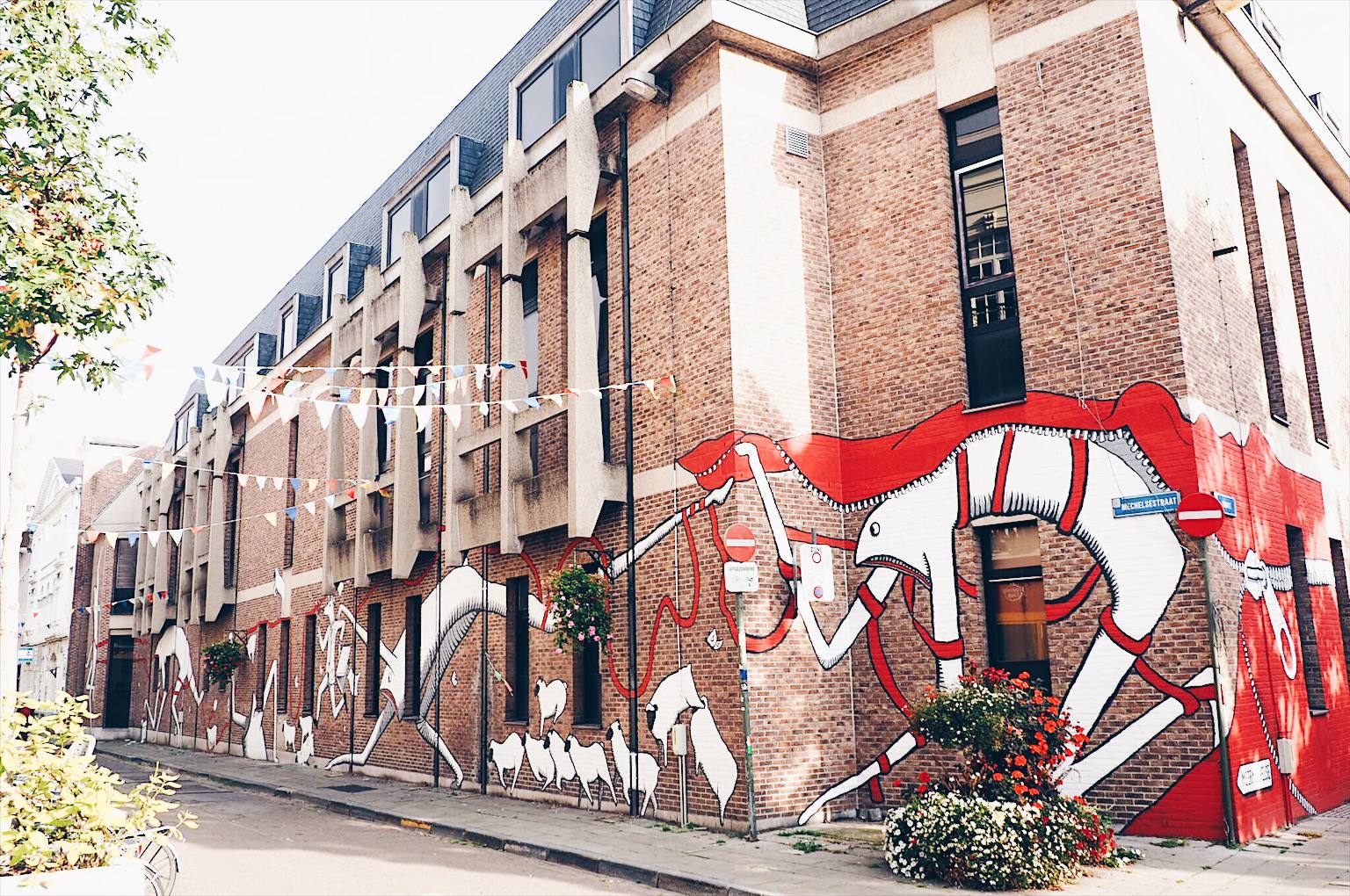 Spot recycled architecture
Much of Leuven's original architecture was destroyed in WW2, but the city rebuilt most buildings in the traditional style so as not to lose their heritage.
Leuven's town hall is perhaps the most recognisable landmark. Standing opposite St Peter's Church in the Grote Markt, its ornate facade is positively dripping in symbolism thanks to a rather sneaky American architect.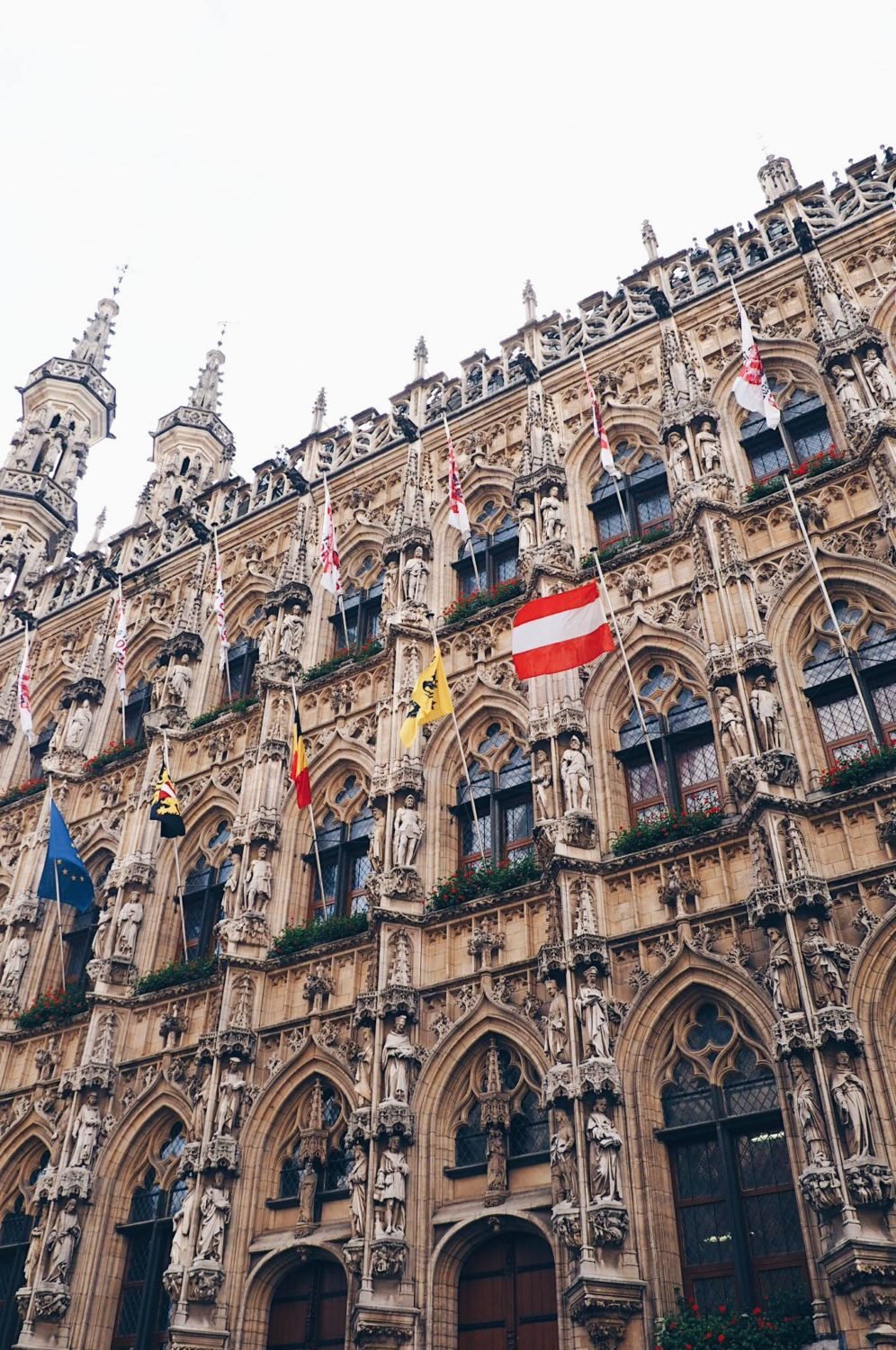 The University library, or Universiteitsbibliotheek, is a tourist attraction in itself. The original building was burned down, and in 1940 during the second world war, the library burned again. The current building's facade gleams at sunset in the Ladeuzeplein, Leuven's largest city square.
You can also climb to the top of the library's tower, learning about the building's past with the help of an audio guide. Though only five floors up, the tower offers an excellent view of Leuven.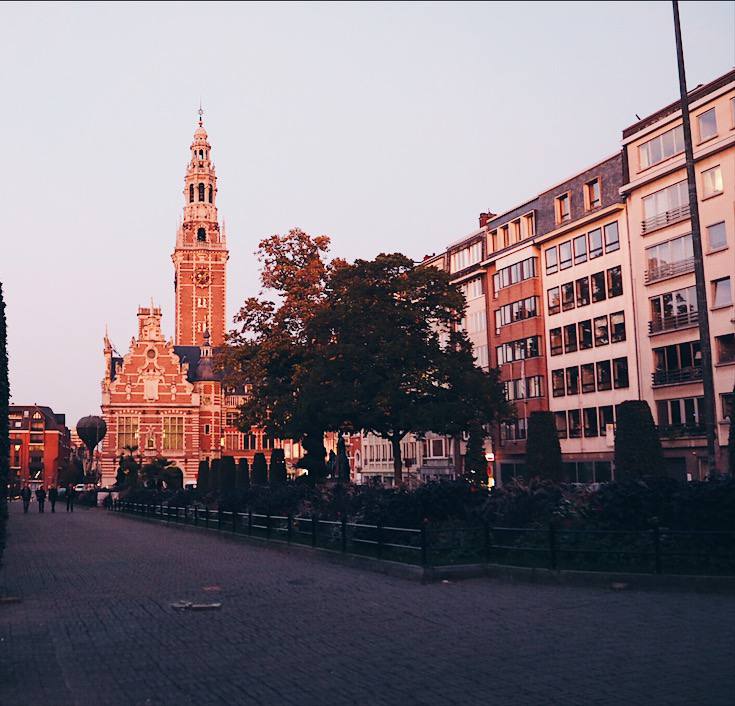 Even the university headquarters in Leuven had another life once upon a time, as a drapers' merchants.
Do some boutique shopping
Leuven has most of the big chain stores on Bondgenotenlaan and Diestsestraat, but some of the best places to shop in the city are hidden away in Mechelsestraat & Vismarkt and The Parijsstraat. Just ambling along these picturesque streets can mean you'll stumble upon a hidden shopping haven.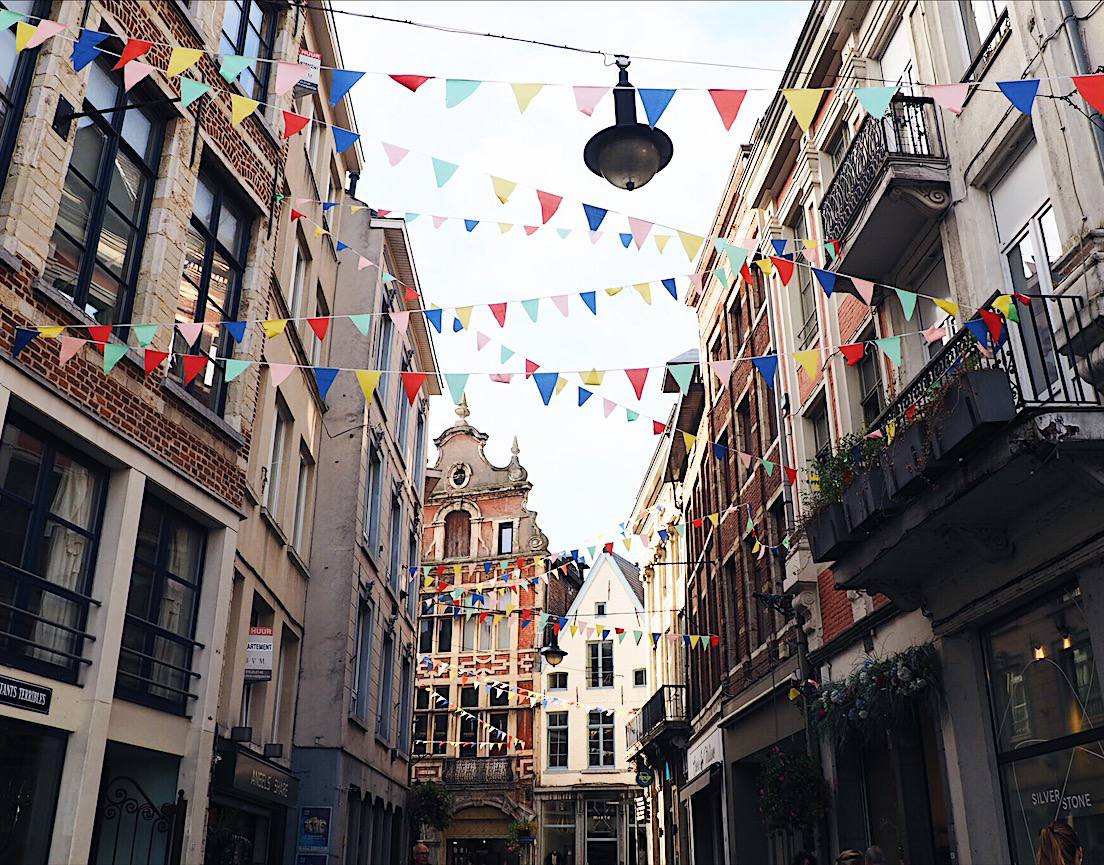 Eat out
For a quick bite on the go, check out 'haute' Wurst. You guessed it, that translates to posh hotdogs! This joint is run by Belgium's answer to Jamie Oliver, who teamed up with a local butcher to open this hipster eatery. Try the Chilli Dog!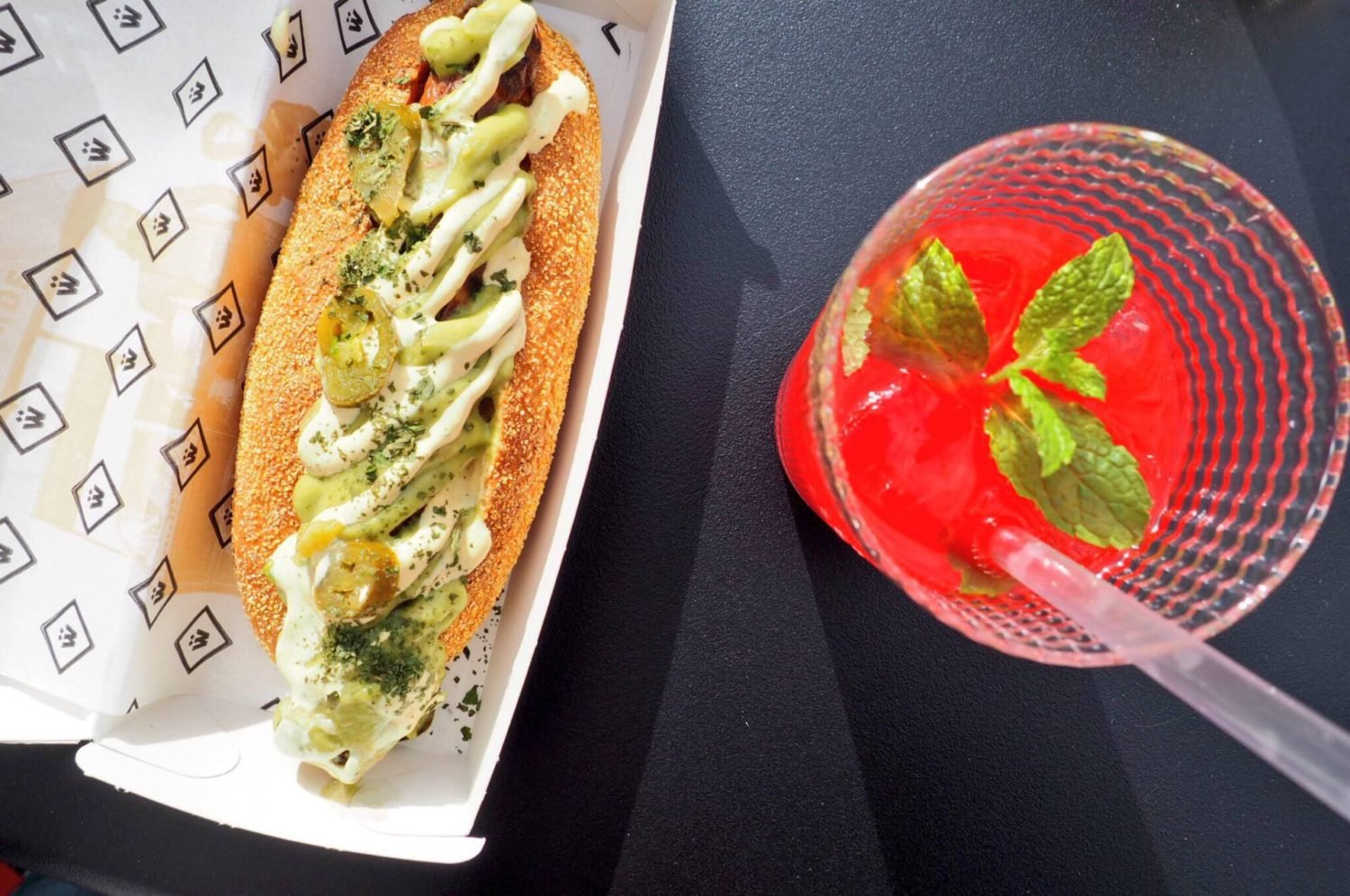 It might be considered sacrilegious to eat another country's cuisine in your destination, but Italian food is never a bad idea. Barraca has the only wood-fired pizza oven in all of Leuven, making it one of the most popular restaurants in town. The menu embraces a sharing concept, with creative tapas-style 'social bites' such as truffle-infused croque monsieur and 'chrochette' – smoked pulled pork croquettes.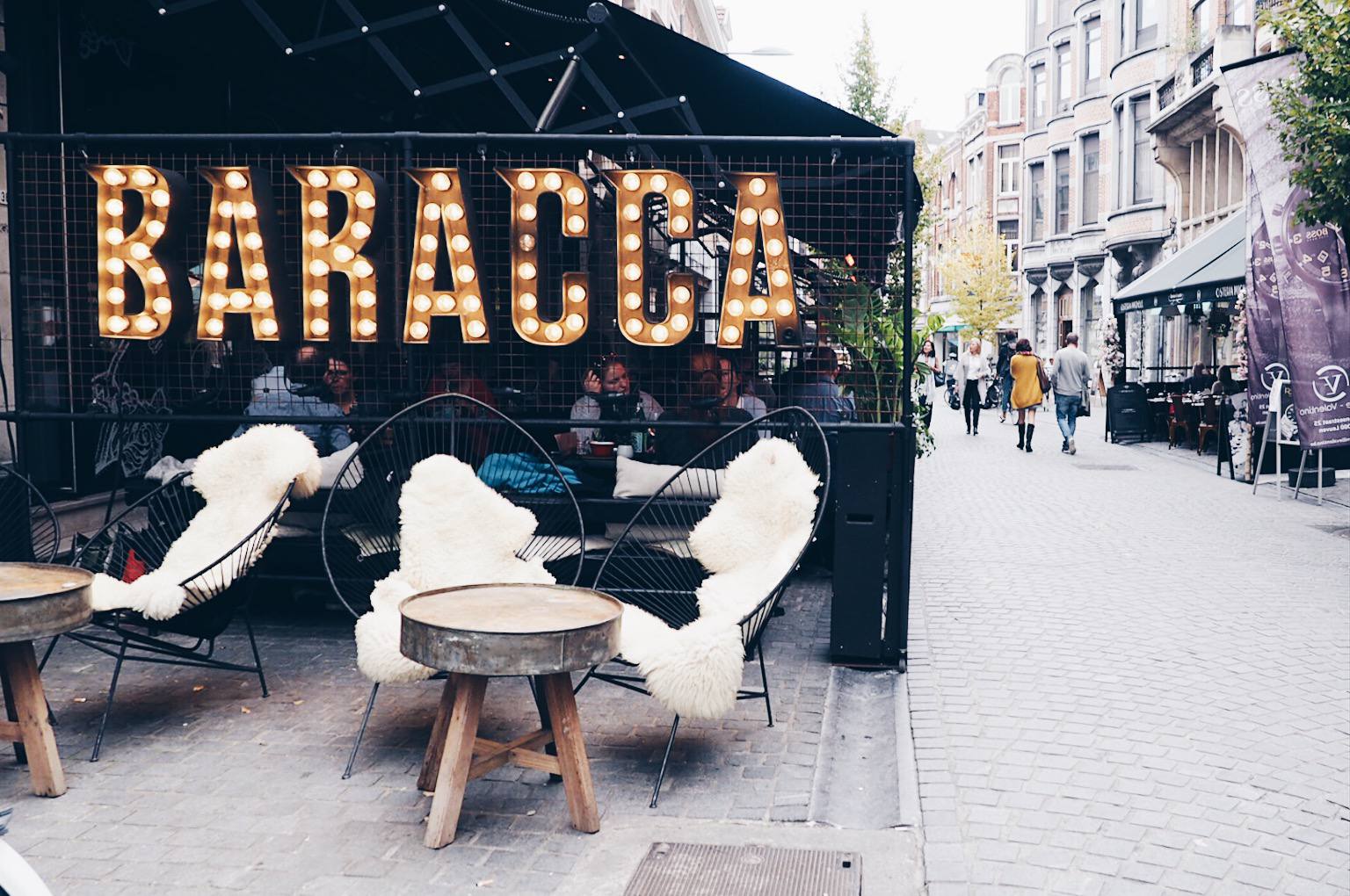 For romantic dining or special occasions, you should book a table at Gainsbourg. The ambient restaurant serves slow-smoked or quick-fired meats – the sharing starters were delicious!
Getting to Leuven
I flew to Brussels from Newcastle Airport with BMI Regional. From Brussels Airport, it takes just 15 minutes on the train to Leuven.
Where to stay in Leuven
We stayed at the trendy Penta Hotel which is ideally located in the city centre. The rooms are spacious and comfortable, there's a hip bar on the ground floor and the breakfast buffet has a great continental selection.
Search prices and availability for all accommodation options in Leuven
Love the look of Leuven? While you're in Flanders, I highly recommend you spend a day or two in Ghent, another city in the province.
What appeals to you most about Leuven? Are there other destinations in Belgium you can recommend for future trips? I'd love to hear about them in the comments!
I was hosted by Visit Flanders on a press trip. All photographs were taken on my Olympus Pen E-PL7.
Pin this