If you're travelling in Belgium or looking for a cool city-break alternative to Brussels, why not check out Ghent, the capital of the East Flanders province? Two days is enough to get to see the best of Ghent, but your stay there will no doubt stick in your mind for a long time. I was in Ghent for two days and that was all it took to fall a little bit in love with the city's architecture, ambience and penchant for sweet treats.
It's a city that has an illumination plan to keep everyone safe and to cast its architecture in the best light. It's a university town where the student population congregates along the waters' edge in the evenings. It's a place where everyone cycles – in fact, I hardly saw any cars in the city centre during my weekend in Ghent. It's this slower pace that makes Ghent so appealing (particularly if you've come from heaving Brussels). Ghent is surprisingly un-touristy, despite having a plethora of tourist attractions, but that's what makes its atmosphere so relaxing.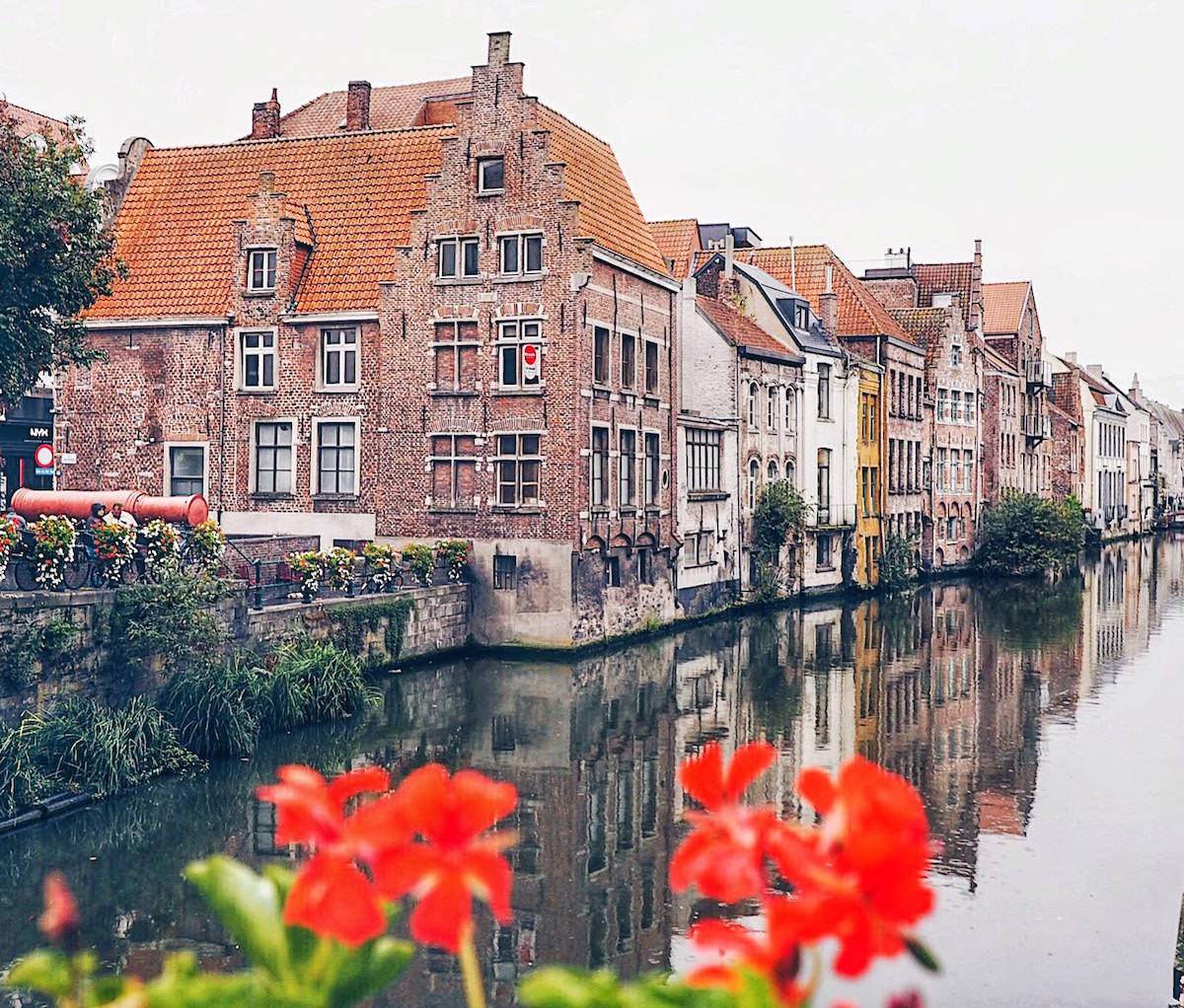 I highly recommend getting the Ghent City Card if you're going to be in Ghent for two or three days, because it gives you entry to all of Ghent's top attractions. It costs 30 Euros for 48 hours, or 35 Euros for 72 hours. You can even use it to hire a bike!
Here's my itinerary for two days in Ghent, in case you want to copy my trip or need some inspiration for things to do in Ghent!
What to do if you have two days in Ghent
First day in Ghent: the must-dos in the city centre
The historical city centre, or 'Kuip' as the locals call it, is best viewed from the water – Ghent sits at the meeting point of two rivers: the Leie and the Scheidt. The buildings lining the waterways have gingerbread house-like facades, but the fairytale vibe in the city doesn't stop there in the 'Medieval Manhattan' of Europe. Here's how to see the best of Ghent's city centre in your first 24 hours.
Take a boat ride
Price without city card: 7 Euros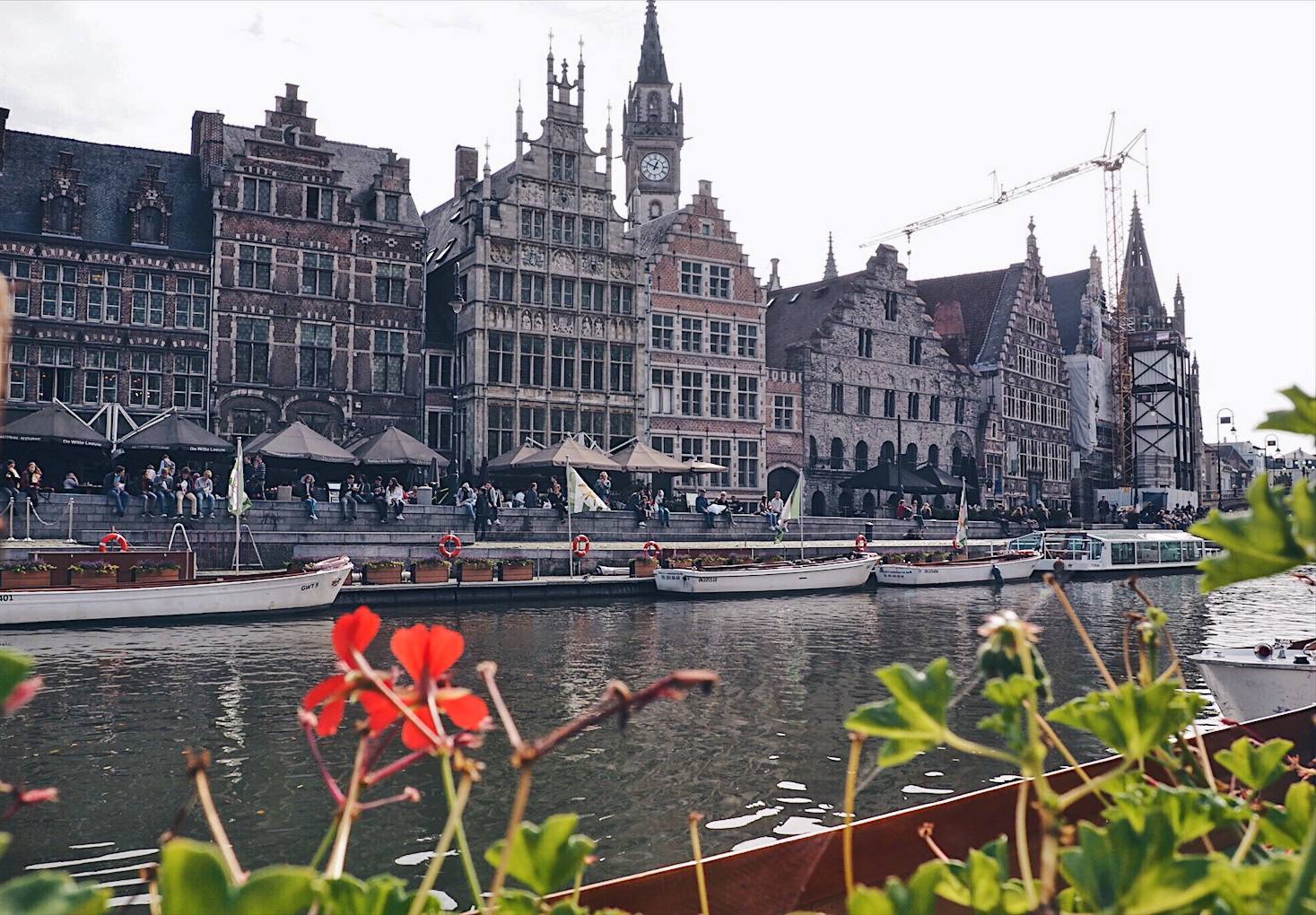 A leisurely boat ride along the Leie is a great introduction to the city. These tours are free with your Ghent City Card or 7 Euros without, and they let you see a section of the city from the water. Your tour guide will give you interesting facts along the way.
Cross St Michaels Bridge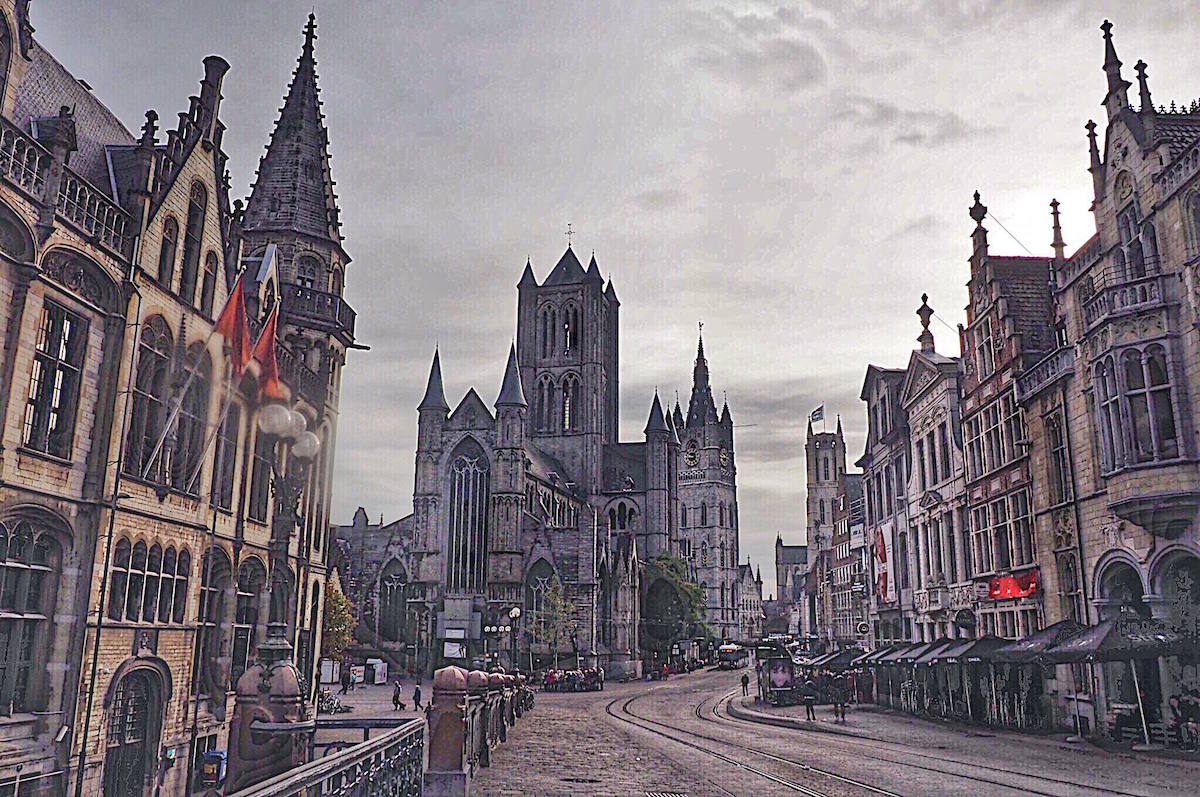 Once back on dry land, make your way onto St Michael's Bridge. From this vantage point, you can behold a breathtaking cityscape. You'll see a row of towers, all of which are only a few minutes' walk ahead of you. This is the perfect place to take pictures in Ghent.
See if you can pick out the Graslei and Korenlei with the renovated Old Fish Market and the Castle of the Counts in the distance, St Michael's Church, the back of 'Het Pand'.
Soar to the top of the Belfry tower
Price without city card: 8 Euros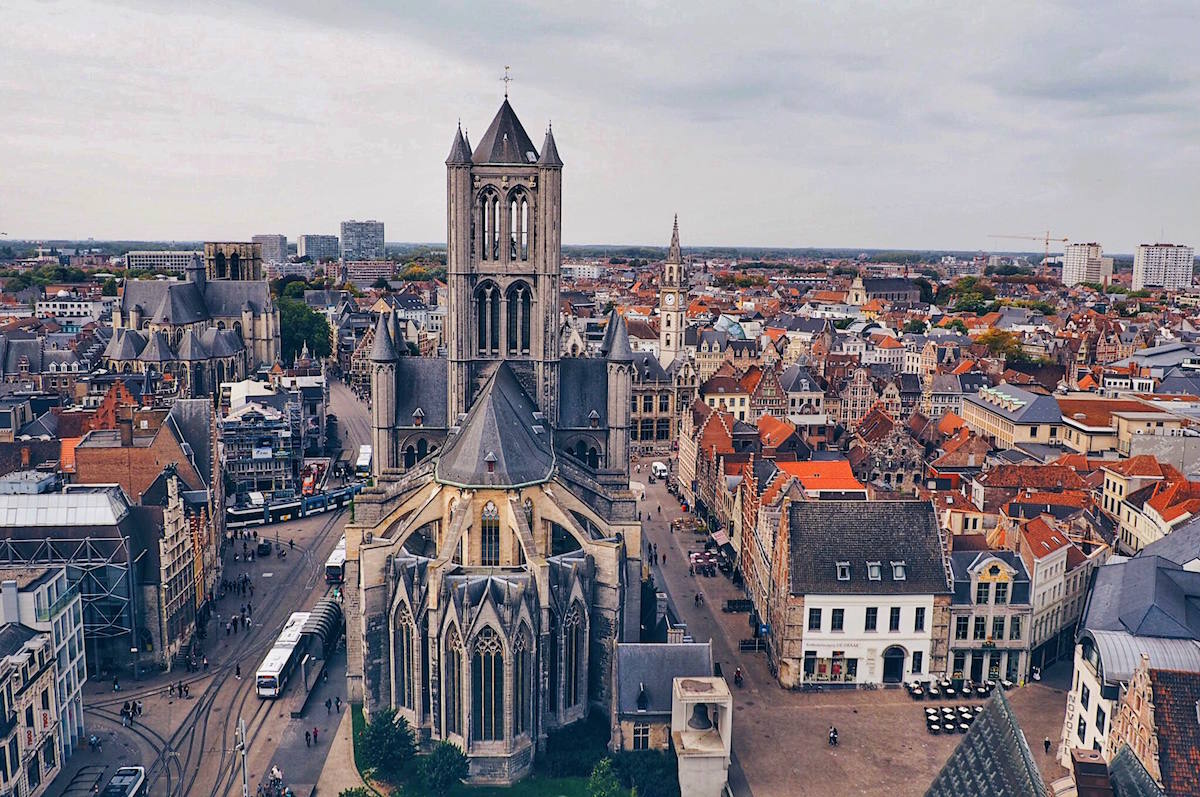 At 91 metres tall, the Belfry is the crowning glory in the middle of the famous three-tower row you'll have seen from St Michael's Bridge, together with the Saint Bavo's Cathedral and the Saint Nicholas' Church. Inside the gothic building, you can watch a video about bell-making and then take in panoramic views of Ghent. The Belfry is an important attraction in Ghent because it symbolises the city's independence.
See the Adoration of the Mystic Lamb Painting in St Bavos
Price without city card: 4 Euros
Painted in 1432 by Ghent's Van Eyck brothers, this famous altarpiece is one of Ghent's most famous tourist attractions. I have to admit it was a bit lost on me, but there's no denying that it's a good painting and the restoration work and tale of the stolen panel is interesting.
St Bavos itself is a beautiful cathedral, so spend some time gazing at the interior in awe.
If you have the city card, you'll still need to pay 1 Euro for the audio guide.
Swing around the City Pavillion
This masterpiece of architecture is open to the public and has a 'grand cafe' and a park hidden beneath, but the best bit for me is that swings are suspended from the ceiling!
Grab a bite in the Vrijdagmarkt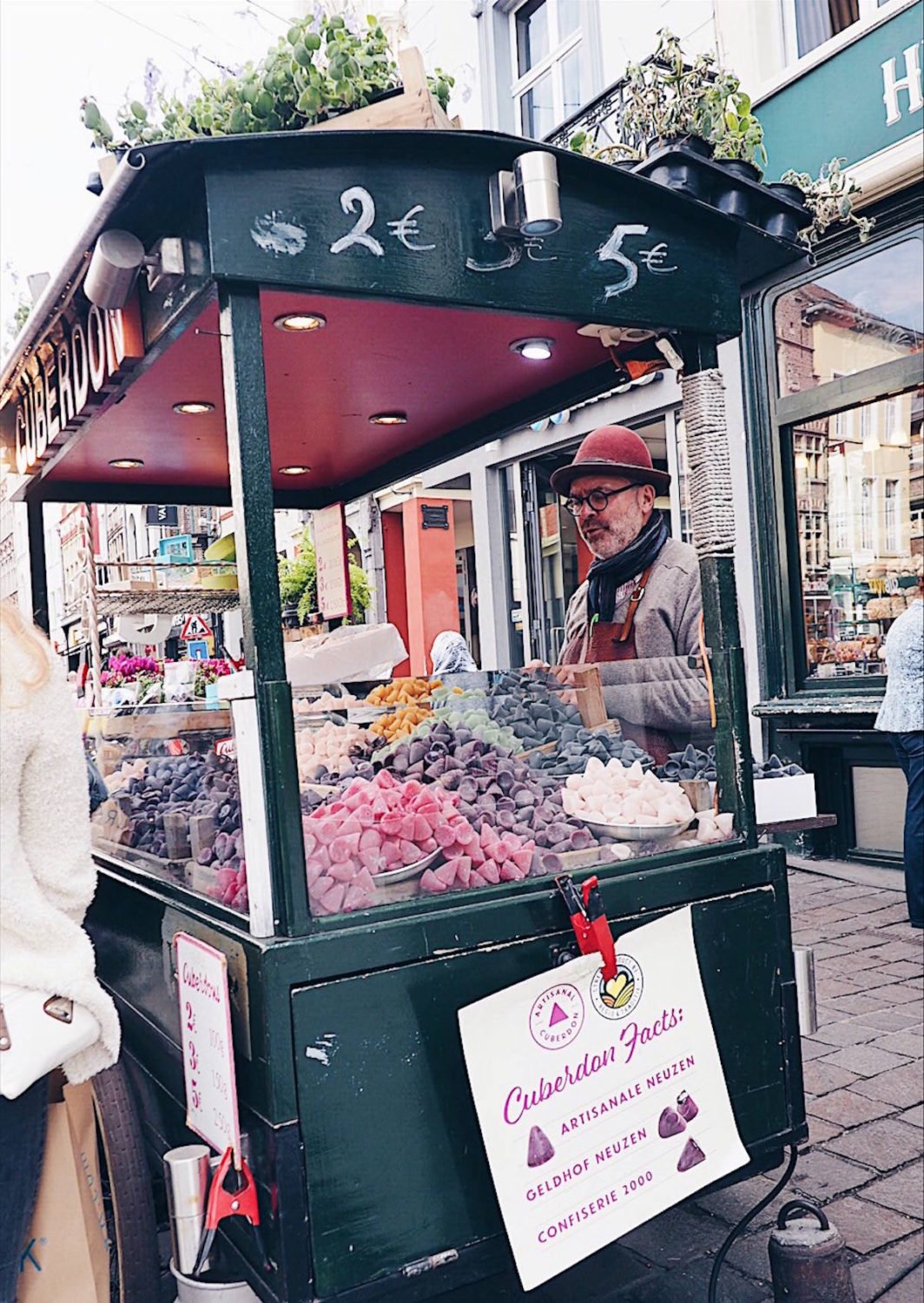 Surrounded by beautiful 18th Century buildings and once used for executions, this market square is abuzz with activity most days. Check out Tavern Dulle Griet, a legendary café serving more than 250 Belgian beers where you give your shoe as a deposit for a pint! Jozef's Frietkoten is the place to pick up what are hailed as the best Belgian frites in Ghent, and this little food cart is hidden away in the Vrijdagmarkt.
You can also pick up 'Cuberdons' or 'red noses' from a cart here. This is a typical Ghent sweet and makes a lovely souvenir.
Make sure you peek in to Groot Vleeshuis, the former Great Butchers' Hall, to see all the meat hanging from the ceiling, like it did in the olden days!
Explore the Gravensteen
Price without City Card: 10 Euros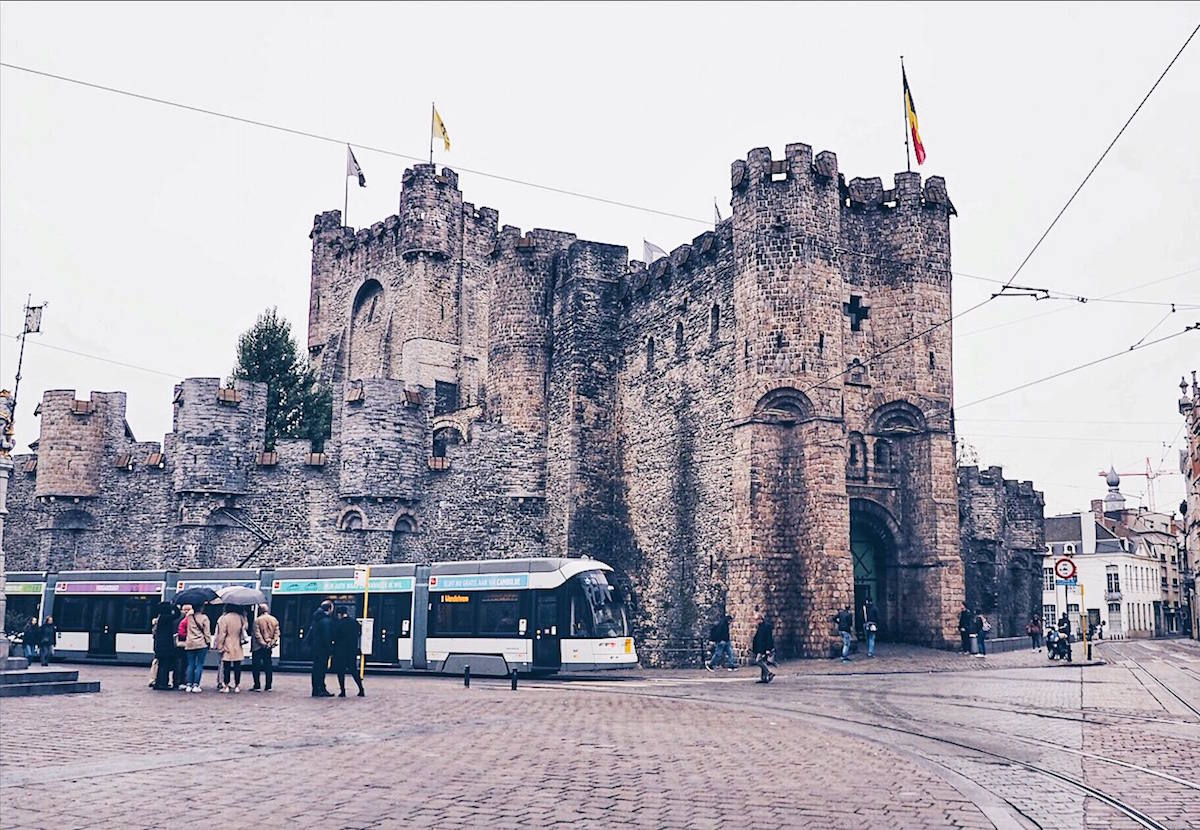 The Castle of the Counts dates back to the Middle Ages and a lot of torture went on here – and local residents feel that the castle symbolises the abuse of power. More recently, students gathered in the castle to protest rising beer prices.
The view from the top is magnificent!
Go for an evening stroll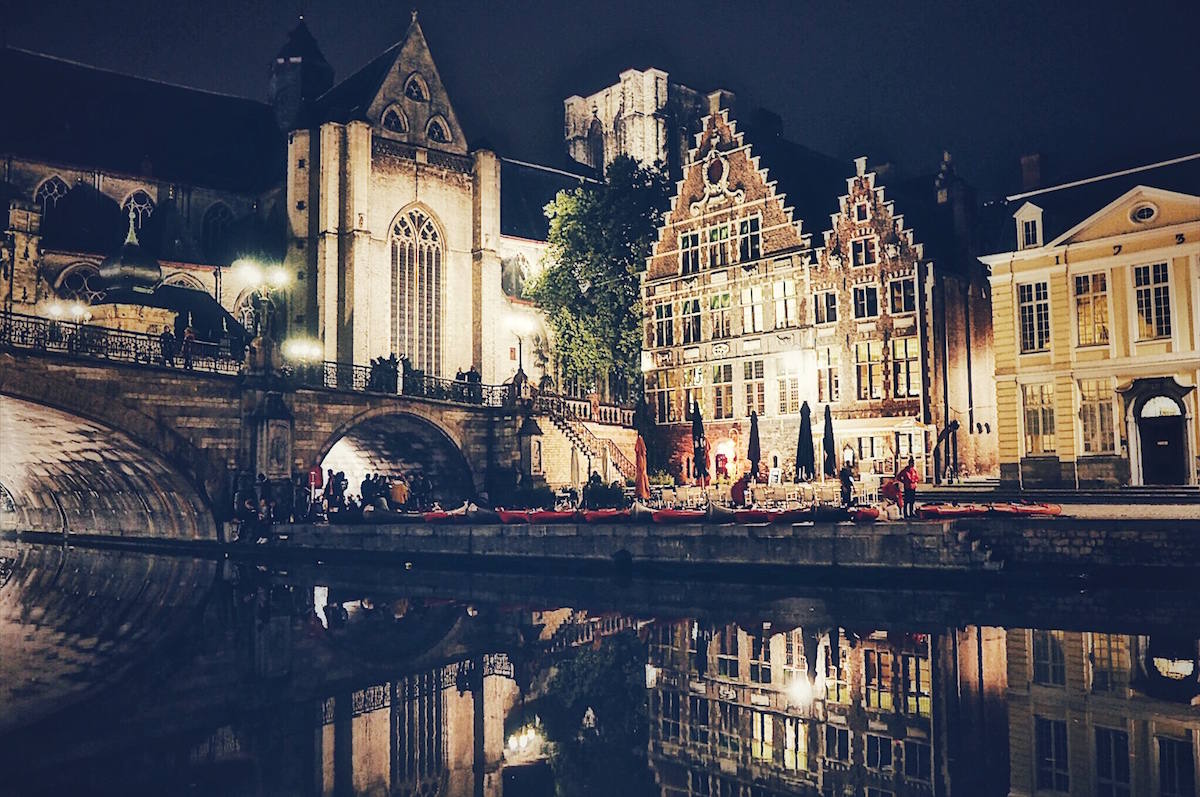 Ghent is equally impressive at nighttime, when you can see the city's clever illumination plan come to light.
Day two in Ghent
Indulge in a Belgian waffle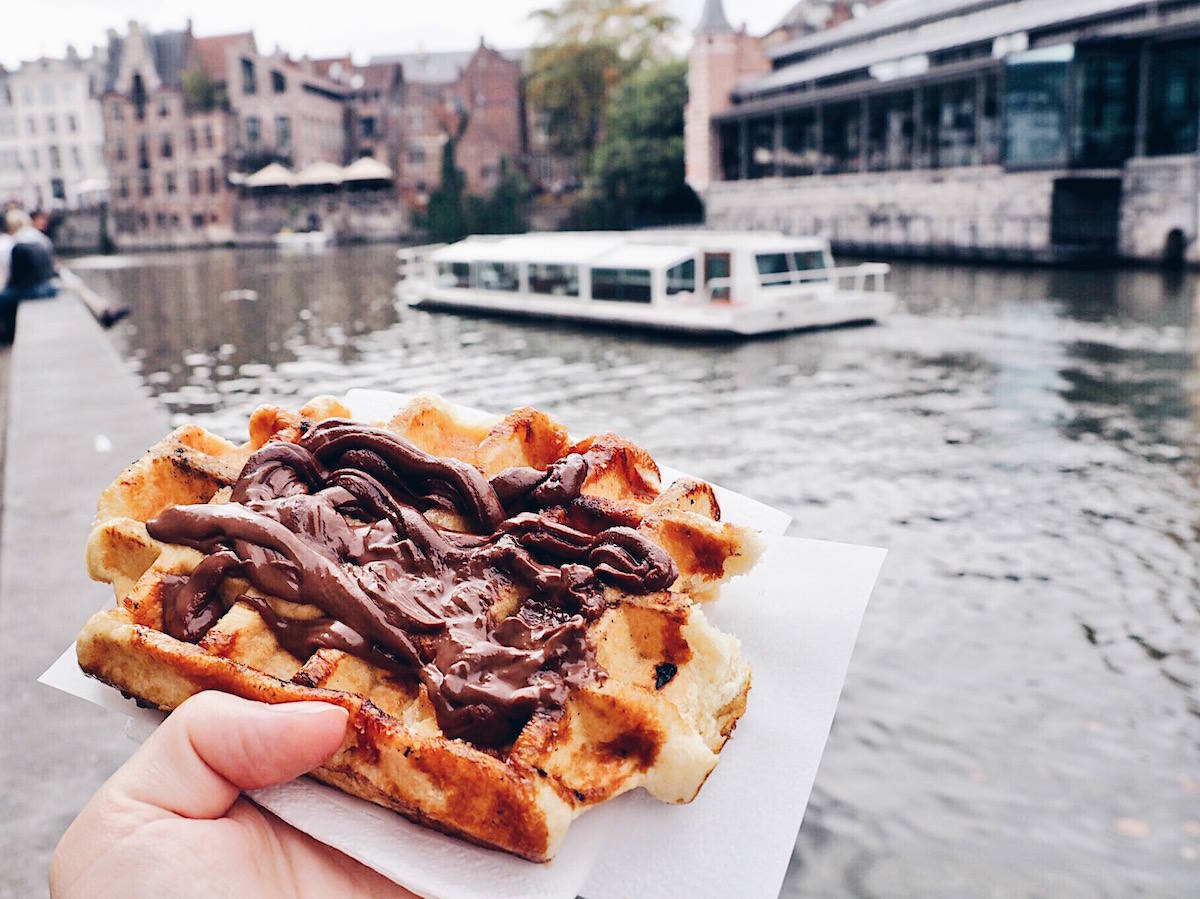 It's widely rumoured that Ghent's best waffles are served at Etablissement Max. It wasn't open when I was hungry, so I got my first ever Belgian waffle from a food cart in the Vrijdagmarkt. I've actually never really liked waffles, until that day. Belgium just does them better!
Get lost in Patershol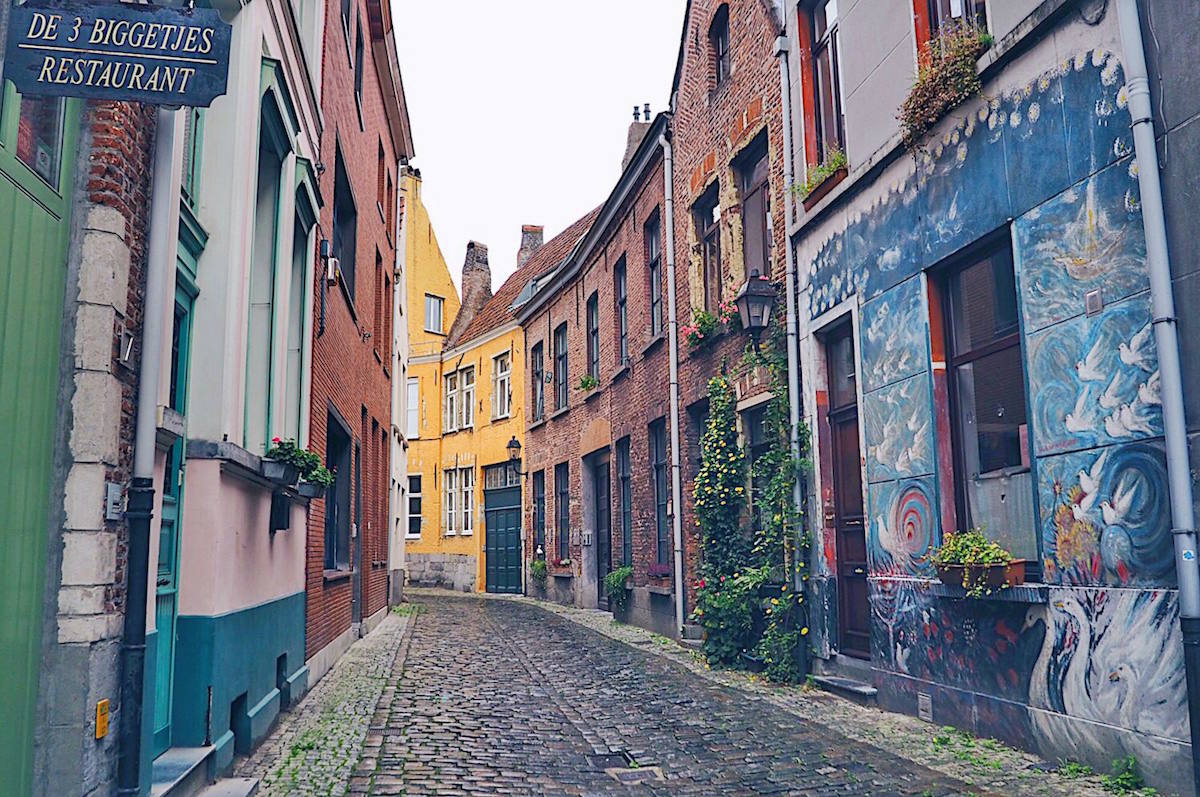 Close to the castle in Ghent, this picturesque cluster of cobbled streets was once considered a dodgy neighbourhood. Now, it's one of the coolest places to hang out, filled with hidden restaurants and bars favoured by in-the-know students.
Discover Ghent's street art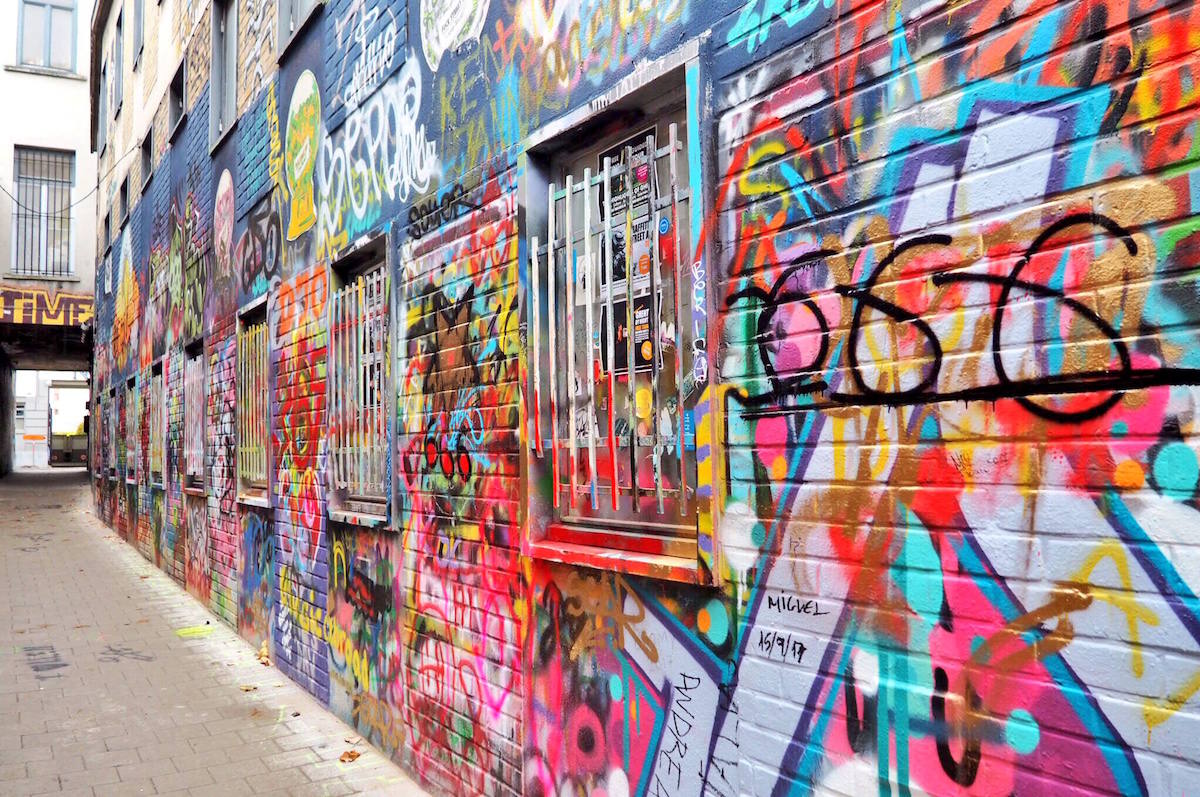 Ghent's answer to Hosier Lane is Werregarenstraat, though everybody just calls it Graffiti Street. The locals were worried that their beautiful historic buildings would be defaced with graffiti but they still wanted to let street art flourish in Ghent, so they dedicated this alleyway to it. It was supposed to be a temporary project but it's been the city's sketchbook since 1995.
Go shopping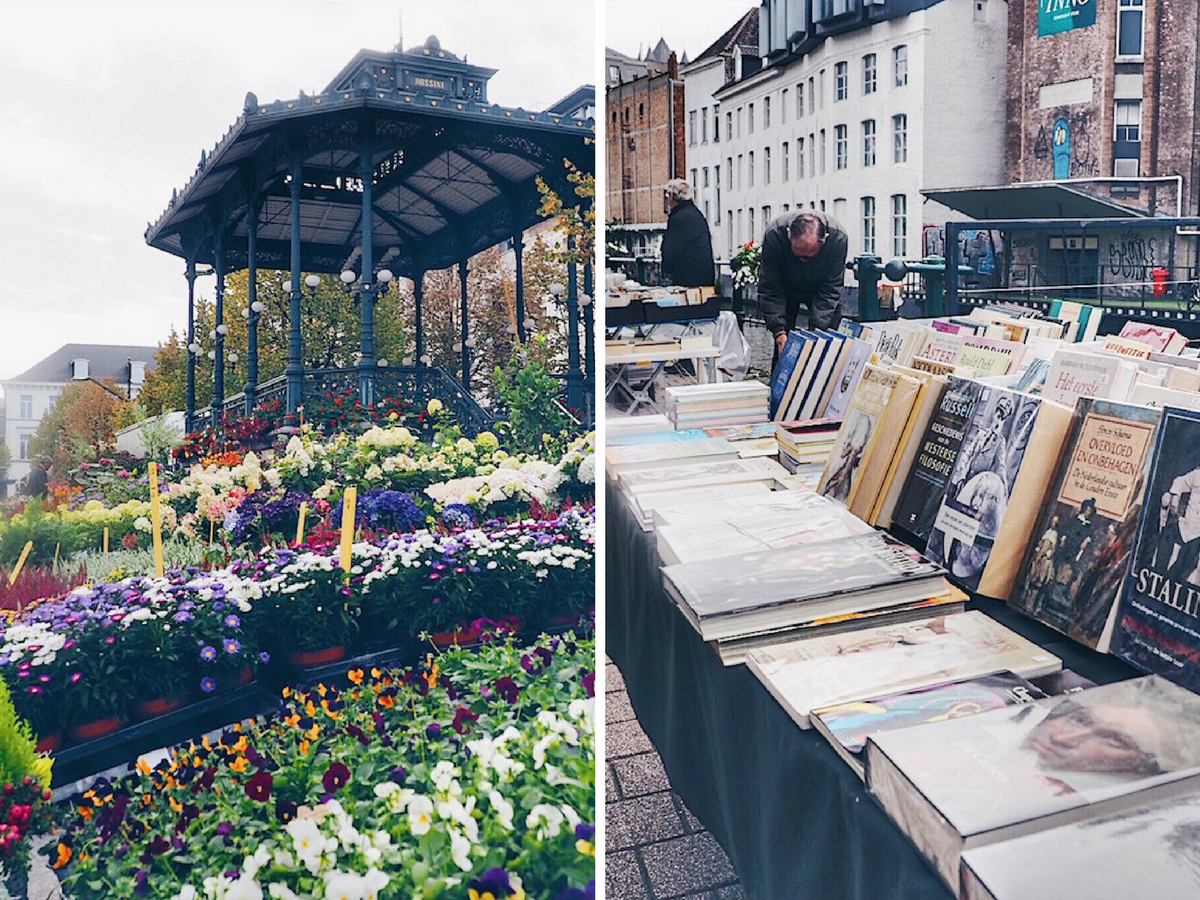 I was surprised to find that Ghent is a bit of a shopaholic's paradise, with street upon street of high street and high-end shops to spend your Euros.
If you're in Ghent on a Sunday, you should definitely check out the city's various markets. There's a different market somewhere in Ghent every day of the week, but on Sundays there are no less than six to choose from. My favourites were the flower market at Kouter and the book market, which sprawls along the water's edge.
Get cultured at Ghent's museums
Spend some time in the Arts Quarter (Kunstenkwartier), where you can visit the Museum of Contemporary Art (S.M.A.K), the Museum of Fine Arts (MSK) and the International Convention Centre of Ghent (ICC). There's also the Ghent City Museum (STAM) which is housed in a 13th century hospital.
Other things to do if you have more time to explore Ghent
Shop for mustard at the famous Tierenteyn-Verlent Mustard Shop, where the mustard is doled out from a wooden barrel
Step into the past at Temmermans Confectionary shop
Taste Roomer Elderflower liqueur at Roomer distillery
Do a beer tasting at a female-run brewery, Gruut Brewery
… or enjoy a gin at 'Dreupelkot, which has over 200 types of the stuff
Eat 'waterzool', a Belgian stew made with fish or chicken
Load up on chocolate at Yuzu, which is widely accepted as the best place to buy chocolate in Ghent
Sip a real Belgian hot chocolate on the riverbank
Where to eat in Ghent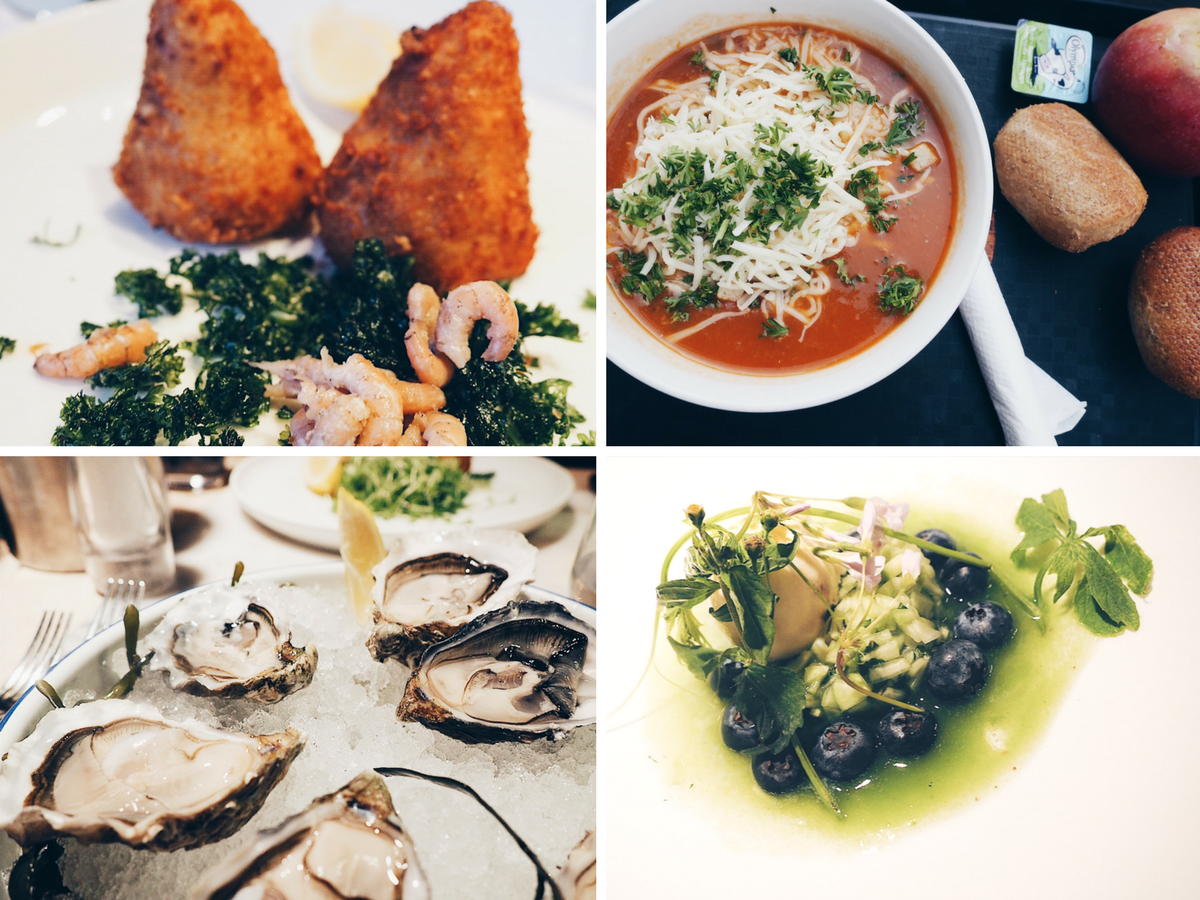 High-end
We ate dinner at Belga Queen on the waterfront, and enjoyed a delicious cocktail or two. Despite looking ancient from the outside, the interiors are superbly chic.
Pakhuis is a fabulous restaurant for special occasions. We had brilliant oysters and pots of mussels there.
Budget
If you're looking for budget places to eat in Ghent, check out SoupLounge. It's also worth delving in to the newly-built Krookcafe. Ok, it's a library – but the food is great!
Getting to Ghent
I flew to Brussels from Newcastle with BMI Regional, then hopped on a train from Brussels Airport to Gent-Sint-Pieters. The journey took around an hour and a half. I then took the number 1 tram to the historic centre of Ghent.
Search flight prices to Brussels
Book a day tour to Ghent from Brussels 
Where to stay in Ghent
I was hosted by Hotel De Flandre during my weekend in Ghent, and this hotel is absolutely perfectly located just off the riverbank in the historical city centre – just a stone's throw from all of Ghent's main sights. In fact, I saw at least three of them on the 5 minute walk from the tram to the hotel!
Search all accommodation prices and availability in Ghent
During my short city break in Ghent I learned that the city is just as charming behind its picture-book facades as it is in those buildings' reflections on the waterways. I highly recommend you spend a few days in Ghent if you ever get the chance!
I'm heading to another part of Belgium soon, Leuven, so hit me up if you've been and let me know if I've missed any Ghent hidden gems out of this guide!
Please follow While I'm Young on Facebook, Instagram and Twitter from more updates from the UK and beyond. You can also subscribe to my weekly newsletter to make sure you never miss a post.
All photographs were taken on my Olympus Pen E-PL7.
I was a guest of Visit Flanders but all love for Ghent is my own!
Pin this