While I'd love to answer every single email and private message I receive about living in Dubai, I just don't have the time! Instead, I've compiled all of the most frequently asked questions I've been asked about visiting or moving to Dubai in a handy page. I'll eventually publish my complete guide to Dubai so if there's anything you'd like me to cover or add to this list of questions and answers, please just leave a comment.
FYI, no I can't be your personal Dubai tour guide / trip planner / hostess with the most-ess.
I really can't keep replying to odd men who send me unsolicited emails asking for friendship, maybe more. I feel like that's the kind of thing that gets people kidnapped…
Dubai FAQs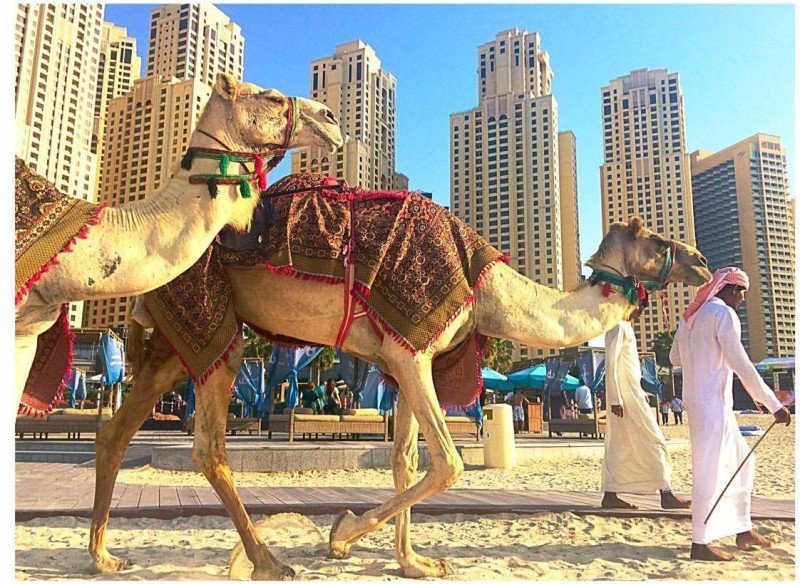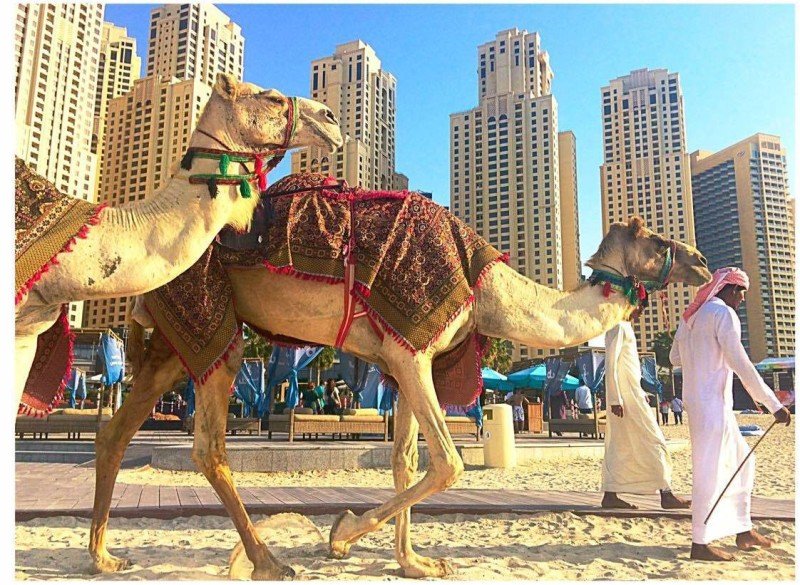 Do I have to cover up?
To be completely honest, not really. Dubai is very lenient compared to other Muslim countries (looking at you Saudi). I often see women walking around the Marina in tank tops and tiny shorts. Obviously I don't  recommend this because at the end of the day, you don't want to offend anyone. Just use your common sense! Some areas are extremely western however you'll want to carry something to cover your shoulders wherever you go. The A/C in the malls and metro gets COLD and these are the two places I've actually witnessed women being told to cover themselves. It's always best to respect the culture you're visiting but you'll be surprised how relaxed it is here.
2. What's the best way to get around?
When you arrive at Dubai airport you can either catch the Metro or grab a taxi to your hotel. The metro is clean and safe however it only runs the length of Sheikh Zayed Road and doesn't run at night.
Taxis are also safe and relatively inexpensive. I'd advise showing the driver a screenshot of your destination and checking they actually know where it is because they can be surprisingly clueless about Dubai's geography. Memorise nearby landmarks if necessary!
A taxi from the airport to the Marina area shouldn't cost less than 100 AED (approximately £18.00) and that's probably the longest drive you'd take. Taxis are beige with coloured roofs. Don't get in a VIP car!
3. I'm a woman visiting Dubai alone. Will I be safe?
Yes – but I'd stay away from booze. Sadly, no woman is ever 100% safe when she's drunk anywhere alone.
You can read about my first solo female trip to Dubai for more insight.
4. Can you recommend a good tour company for the desert safari?
I went with Arabian Adventures because they're widely known as being the most reliable desert tour company in Dubai. They're owned by Emirates Group.
You can read about my Dubai desert safari trip if you're unsure.
5. Can you recommend a good hotel?
Your Dubai accommodation will largely depend on your budget. One good thing is that because Dubai is super fancy and glam, even the most basic hotels will probably have marble floors and a chandelier in the lobby.
If you're on a very tight budget and don't mind being further away from the extravagant parts of town, you can stay in a cheap(ish) but not quite nasty hotel in Bur Dubai or Deira like Citymax Hotel.
If you're looking for something mid-range and want to be between Downtown and Marina, try Grand Belle Vue Hotel in Barsha Heights (formerly known as Tecom).
Aaaand for the ballers among you, there are SO many luxury hotels to choose from. Most of these are located on the Palm, the most recognisable being Atlantis. Fairmont The Palm and Sofitel are two more you might want to consider.
If you don't want to stay on the Palm, Jumeirah Beach Hotel is a popular choice and The Madinat is also beautiful and just so happens to be my favourite place in Dubai.
If you're checking in to the 'seven star' Burj Al Arab, you can disregard all of my warnings and invite me over to hang out. I need to see the inside of that place!
6. Can you help me get a job in Dubai?
No. I'm not a HR person and I've got my own life to lead. Sorry.
7. How did you meet people when you first moved to Dubai?
I posted in a 'Brits in Dubai' Facebook group and was overwhelmed by all the lovely women who did in fact want to meet up for wine. I went on a few 'blind' friend dates and have met some wonderful friends. This was such an important part of adjusting to Dubai life for me that I've now formed my own group for expat women called Dubai Social Ladies (I know, imaginative name). Feel free to send a member request if you're looking to meet women and you don't have a willy.
8. Where's the best area to live in Dubai?
This is only my personal experience but the Marina / JBR area has been great. It's in the modern part of town, it's near the beach and has plenty of amenities – some weekends I never venture downtown!
However where you live as a new expat will obviously depend on your budget and where you'll be working. I have friends who live in villas in Springs, apartments in Business Bay and in Sports City – they're all happy where they are.
9. Isn't it like, really expensive to live in Dubai?
Yes and no. Rent rivals London but you're probably going to get paid a whole lot more than you would wherever you are now so it balances out. Your lifestyle will dictate how expensive your life is in Dubai. Dining and drinking are my major costs aside from rent, but ladies nights with free-flowing champagne really ease matters. Taxis are my other cost because I don't drive. Groceries are kinda pricey but you soon suss out where to shop for the cheapest food.
10. So… no alcohol?
Pfft. I party more here than I did in UK. Between bottomless brunches and the infamous ladies nights, it can be hard to detox here, especially when you first arrive and you're all BUT IT'S FREE. ALCOHOL. Who cares if I have work in the morning?
You'll need an alcohol license but it's easy to get one through your employer. You can't buy bottles of booze in any shops, only in hotel bars. Also, some religious holidays are 'dry'. I tend to travel then….
11. How easy is it to get a visa?
The paperwork involved with a move to Dubai can be overwhelming but luckily my employer sorted everything out for me. All I had to do was show up in the right place for x-rays and blood tests and fingerprinting, try not to sit in the men's section and offend everyone (guilty) and track down my birth certificate.
I know a lot of people who don't actually have work visas because their jobs aren't as solid as mine, and they have to do constant visa runs
Want to learn more about life in Dubai and find the best brunches, restaurants and bars? Visit my Dubai life section.
I hope this answers some of your most pressing questions about moving to, or visiting, Dubai! Please feel free to leave a comment if there's something else you're wondering about and I'll do my best to update this page with an answer.
You can also gain insights into Dubai life by following While I'm Young and Skinny on Facebook, Twitter and Instagram. My snapchat is dannielle-lily. Once again, NO I CAN'T BE YOUR TOUR GUIDE.