Last week I was invited to review a 15 course degustation menu at Carnival by Tresind in DIFC and nothing could prepare me for the winning combination of theatrics, stunning presentation and exquisite flavours this trendy eatery served up.
That's right, 15 courses.
Carnival by Tresind presents a post-modern take on traditional Indian cuisine. They're retelling the country's narrative with food that sheds Indian food's homely image and hurtles into the modern day, and the ambitious menu isn't out of place amid Dubai's glamourous food scene.
They call it a gastronomical journey and that's exactly what it was. We arrived with all the excitement and anticipation of a pair of thrill seekers at the airport  and as the meal unfolded, we sank further in to our seats with fuller and fuller bellies and our minds well and truly blown. And isn't that the very essence of a journey? You set off eager for experiences and return world-weary, satisfied yet desperate to share your tale and relive the fun.
Shall we dive in?
The first dish to arrive was 'Sita Phal', a sweet and sour pumpkin 'dabble' that reminded me of the BBQ buns I had at the world's cheapest Michelin starred restaurant in Hong Kong. Impressed already, we were eager for more.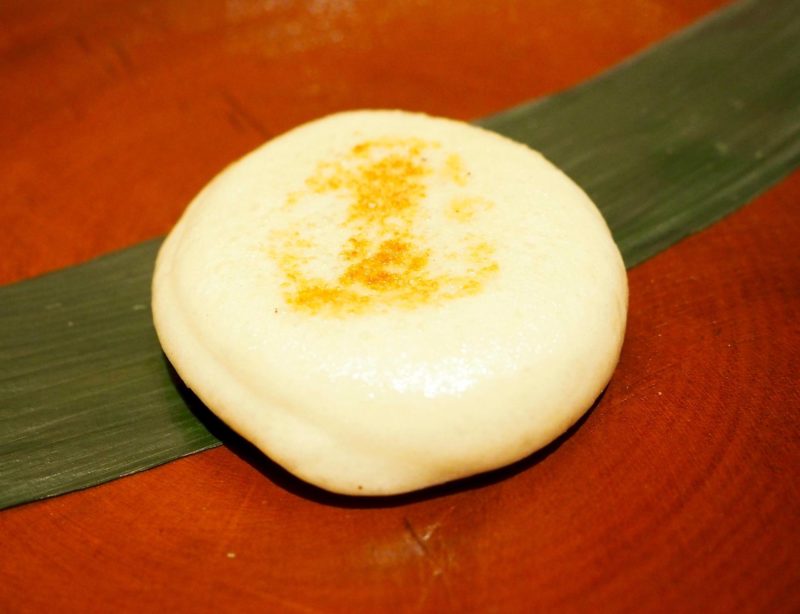 Next, 'Makhani Pal', a cocoa butter hive with avocado and lime puree which looks and tastes like savoury ice cream. This was the first of a series of dishes that confused and delighted the palate. Every morsel put us through a confusing yet pleasant stream of thoughts: Oh! Not what I was expecting…. Do I like it? Yes, yes I do.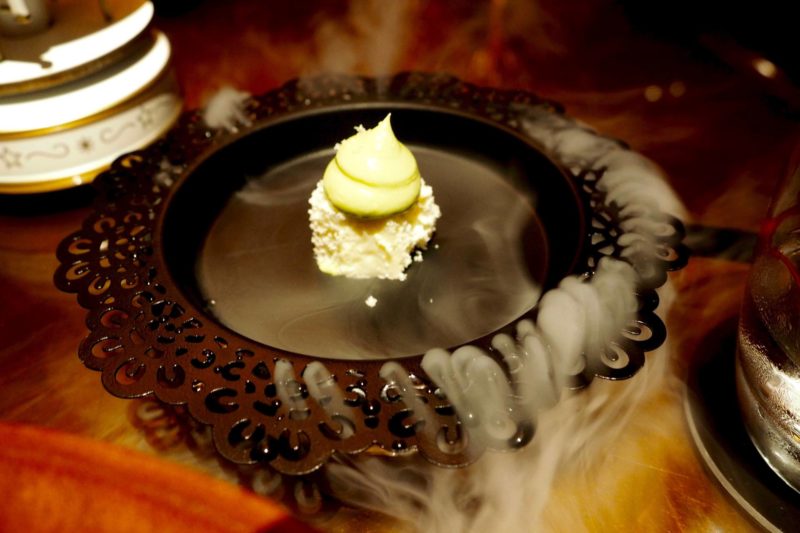 The next dish was curiously served in the manner of a cappuccino. 'Dal Phulka' was a yellow lentil soup with a phulka cookie, fresh truffle ghee and cumin cocoa. The soup was legitimate food for the soul and the presentation made us giggle.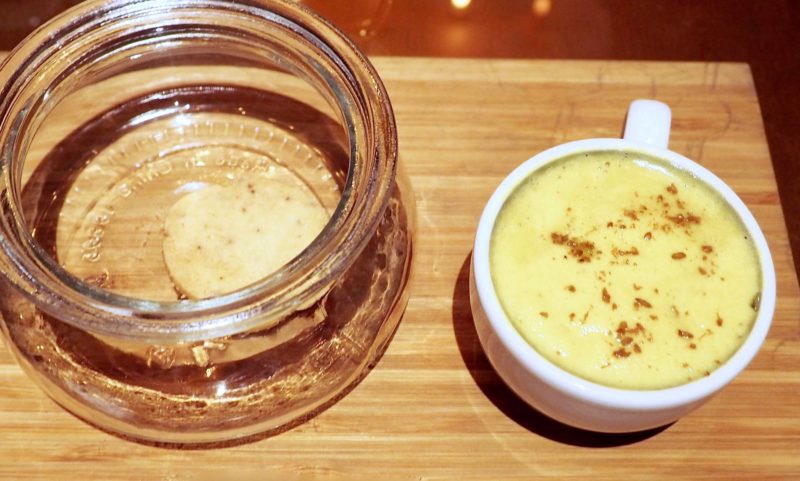 'Life is short, eat dessert first' was jalebi chaat, yoghurt mousse, potato and chickpea. The frothy mousse and crisp garnish combined pleasantly in our mouths.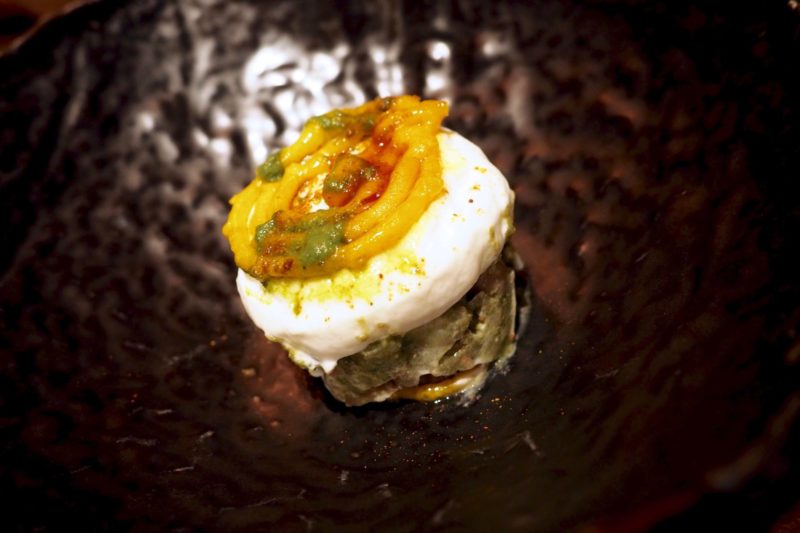 We were then served a series of meat dishes in quick succession – mainly because we were gobbling them up like animals. My favourite was Pullinji – south Indian ginger prawns crisped with a palm sugar caramel and garnished with curry leaf crisp;  and 'Thai Tanic' – Thai chicken burjee with soft buns. The waiter described it as 'scrambled chicken' and that's what it looked like, but the delicate balance of fragrant Thai flavours deserves a more exotic name.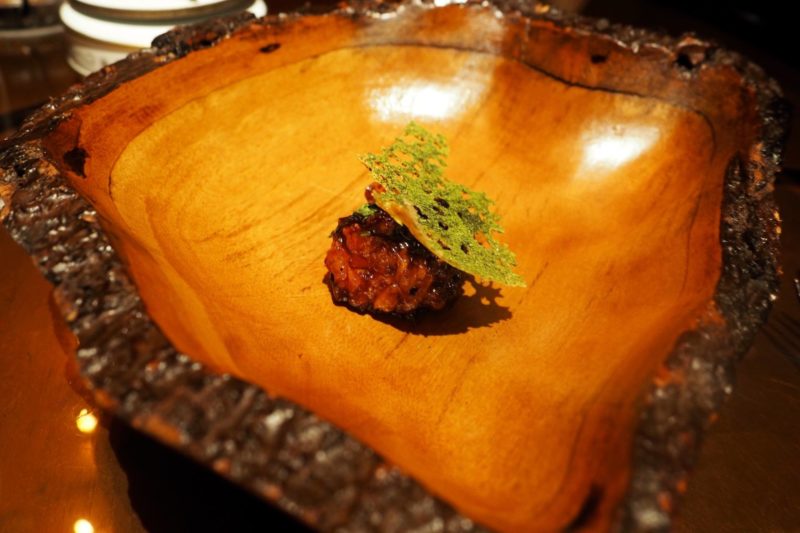 This was followed by lamb (kind of forgettable) and melt-in-the-mouth 'Utterly Butterly' beef with, oddly, what looked and tasted like a pizza finger. Perhaps the least adventurous dishes in our culinary extravaganza, they fell short of our expectations but only because the rest was so exceptional.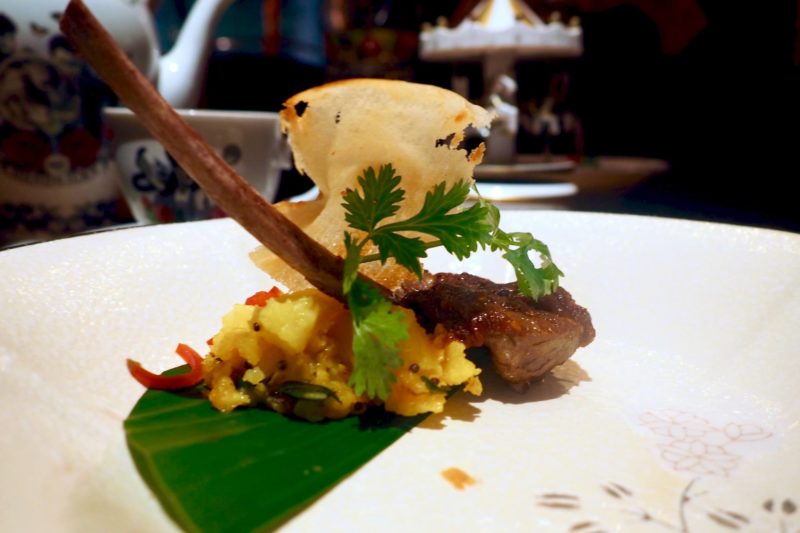 Next, a waiter set up his station at our table and deftly whipped us up a couple of 'Vada Pav', a classic veggie street snack favoured by Mumbai's mill workers. It was the least sophisticated of the dishes but still wonderfully authentic when eaten with our hands, Indian-style.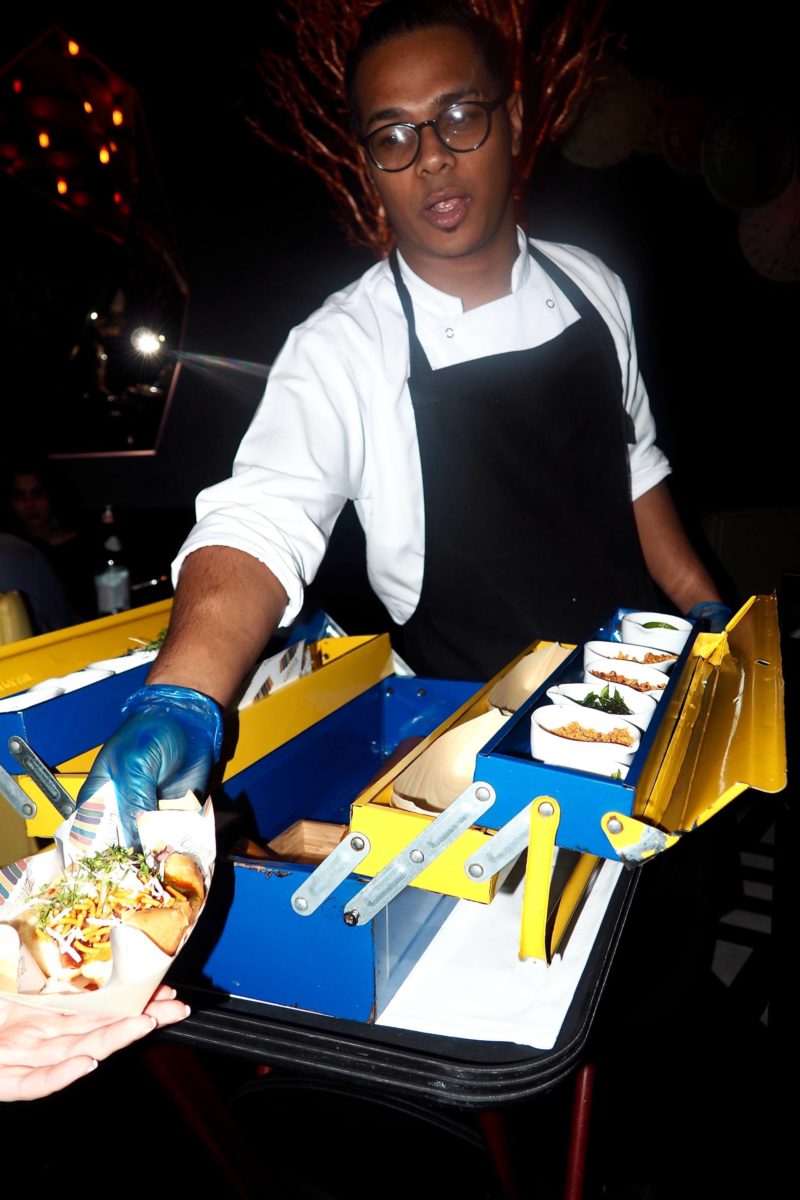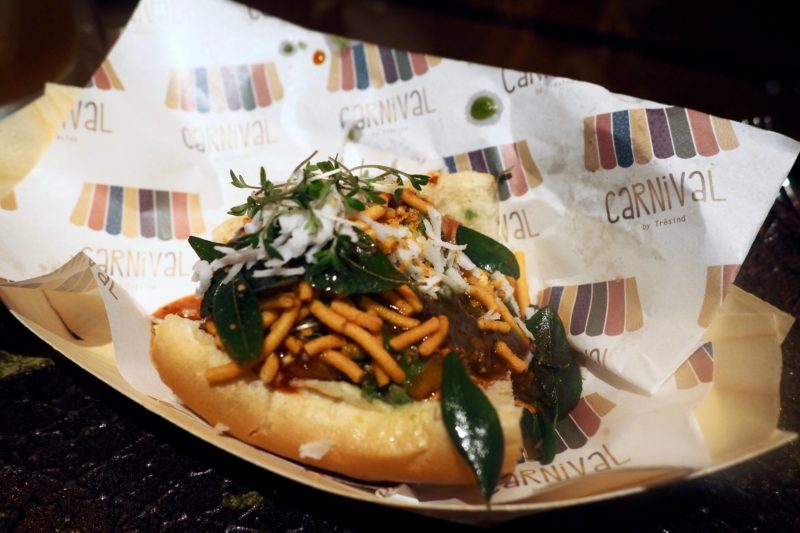 The palate cleanser, 'Malai Baraf', was a small portion of milky lychee granite flavoured with raspberry rose water and it was a welcome refresher before our mains.
Main courses at Carnival by Tresind
Our stomachs were already satisfied and we looked at each other in horror when the main course arrived, but quickly regained our appetites when the aromas reached our snouts. 'Mutton dressed as lamb' was so tender that it left the bone clean and 'Carta Farta' – steamed sea bass served in the baf with a malabar style bouillabaisse, was equally delectable. This was served with my favourite Indian staple, fermented dough bread.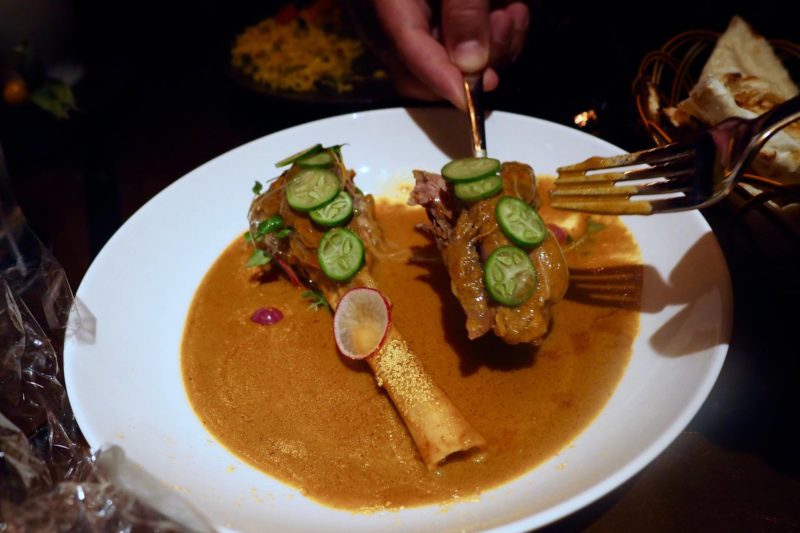 Desserts
And now, the grand finale (kind of anyway – little did we know that a series of small surprises would follow).
When it was time for dessert, our table was covered in a white plastic sheet. At this stage, all expectations had been blown wide open and we sat back and waited for the suspense to be lifted. A waiter expertly chucked all sorts of delicious things on to the sheet before us: caramelised peanuts, cookie crumple, peanut butter cream, dehydrates strawberry crisp and white chocolate. Next, liquid nitrogen was poured before he smashed a white chocolate bomb onto the table. Out exploded ice cream, chocolate sauce and more unspeakably calorific ingredients. A few finished drizzles and he was done.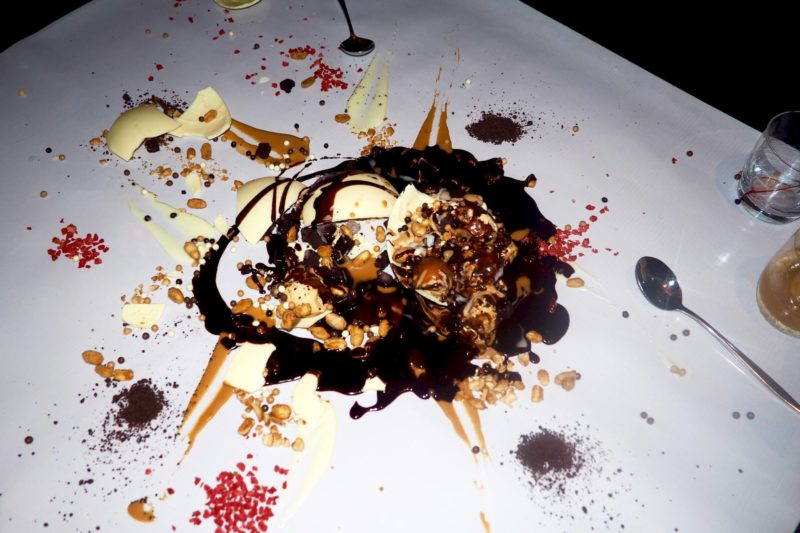 The two of us gave it our best shot, but it could easily have satisfied five or six people. This is most definitely a dessert to order with a group of friends.
Another stand-out element to the meal was our final round: glittering macarons and miracle berry served with a lemon half. After coating our tongues with the dried pink berry, we were able to bite enthusiastically into the lemon without wincing. The miracle of this berry is that it tricks your taste buds in to thinking sour stuff is sweet!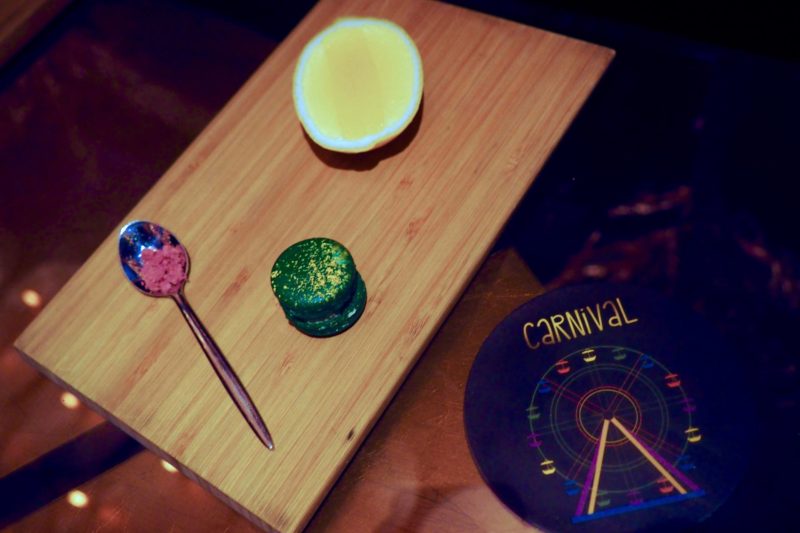 Cocktails
We were helped along our journey by a couple of highly creative cocktails (I should know – I spent years behind a bar before I took my rightful place on the other side), all served with bells and whistles. The bartender just asked what our preferred poison was and came back with these show-stoppers: the sign of a place that knows mixology.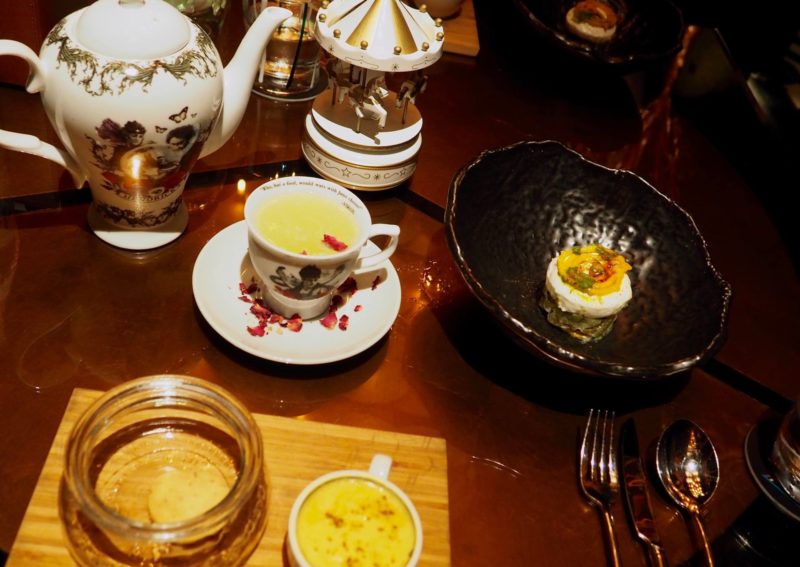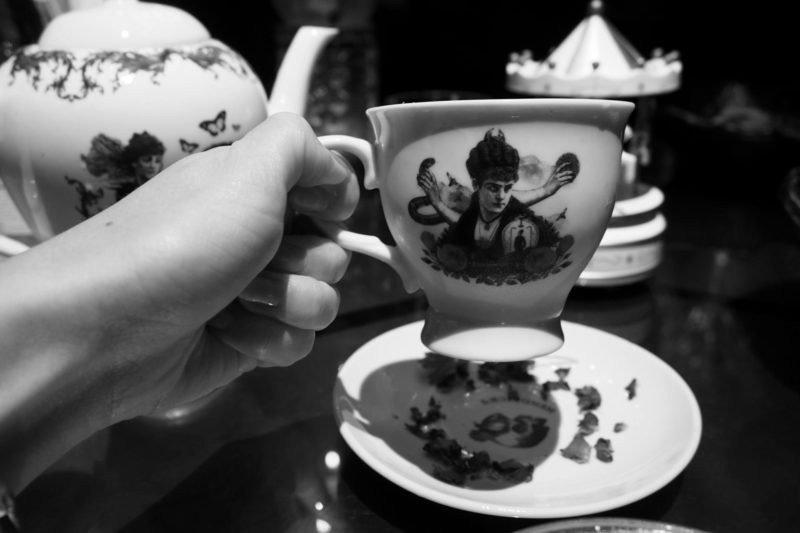 Should you try Carnival by Tresind?
The menu at Carnival by Tresind successfully executes a refreshing twist on India's favourite dishes. The food somehow manages to be comforting and feel home-grown, yet experimental and surprising. The balance of flavours, presentation and crazy elements of showmanship make this restaurant a place to write home about – whichever corner of the globe you've come to Dubai from.
You don't have to go the whole hog with the degustation menu!
Give my Facebook page a like for more Dubai restaurant and brunch reviews plus adventures around the globe and follow While I'm Young on Twitter and Instagram.