Marrakech has been on my wish list of travel destinations ever since it started getting some serious attention from Instagrammers (I know, I hate me too), and recently I was lucky enough to visit Marrakech for a short trip. I went in search of pretty riads, red city walls and luxurious textiles, but found so much more.
Despite soaring to the top of the world's bucket list in recent years, Marrakech has retained so much of its own character. I expected its medina to be jam-packed with tourists and emitting a faint whiff of inauthenticity, but instead I found myself rubbing shoulders mainly with locals. I expected the hassle from vendors to be almost unbearable, but the reality was completely manageable. And I expected to be slightly disappointed because I'd built Marrakech up so much in my head that it couldn't possible be that good – but happily, I wasn't let down at all. Here, I've created a four day Marrakech itinerary to help you have the best possible trip.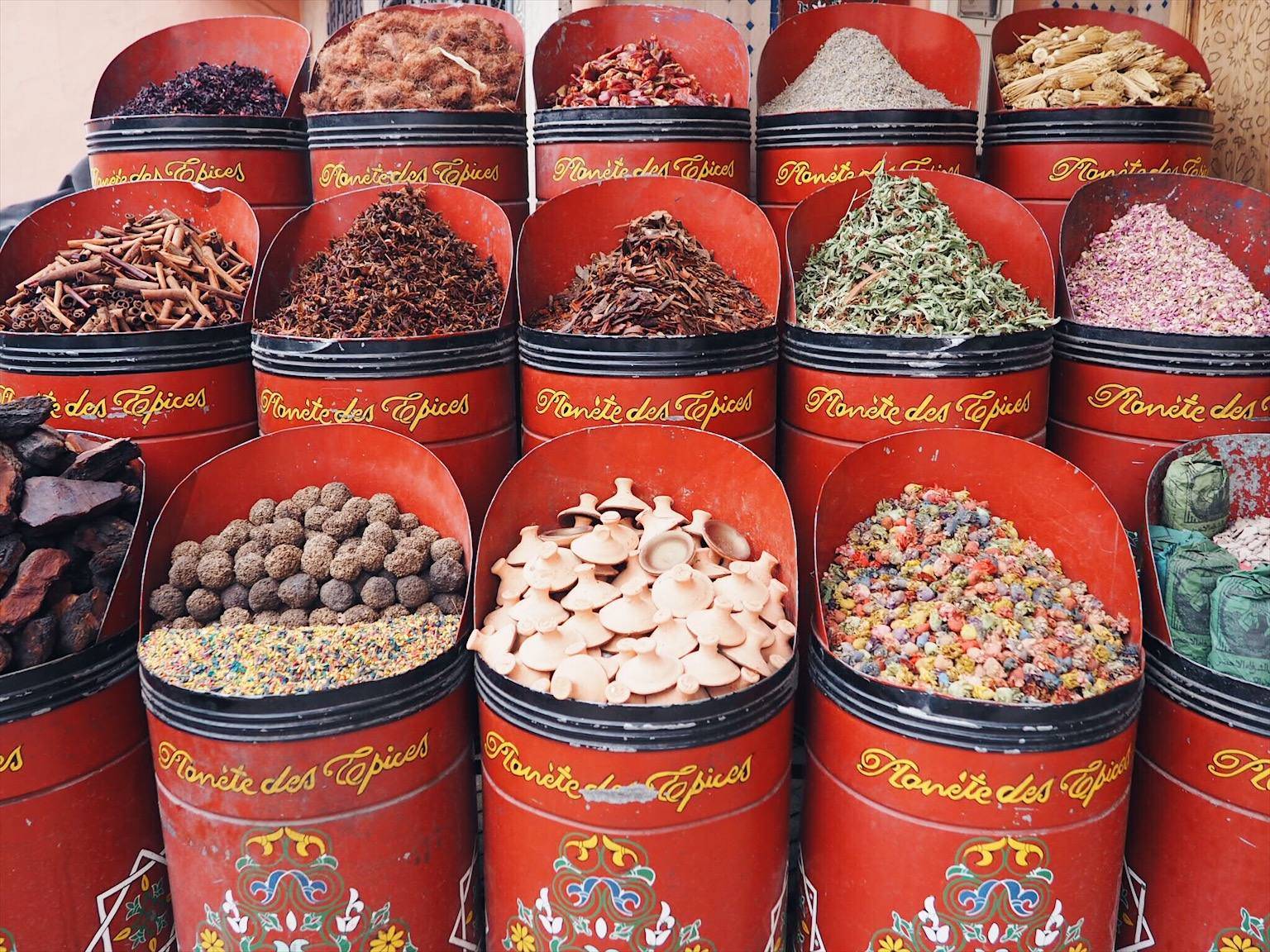 Having spent a week in Marrakech working and exploring, I've put together the ultimate four day Marrakech itinerary for visitors, with a day-by-day plan that will make sure you fit in all the top things to do in Marrakech, plus as many tips as I could gather during my time there. Hope it helps you plan your holiday in Marrakech!
What to do if you have four days Marrakech, Morocco
Three or four days is enough time to see most of Marrakech's highlights, but I wholeheartedly recommend taking more time if possible. Just like New York City, this is one of those destinations whose best and most intriguing traits are found on the ground: just strolling through its streets at different times of the day and night to see what you can find. But if you don't have the time to take it slow? Here's how to make the best possible use of four days in Marrakech.
Day 1 in Marrakech: Souks and gardens
Start the morning the Moroccan way: with a mint tea or continental breakfast at one of the pavement cafes near Djemaa el-Fna (the main square). Do some people watching, get a feel for Marrakech's vibe and gather yourself as you prepare to throw yourself into its vortex.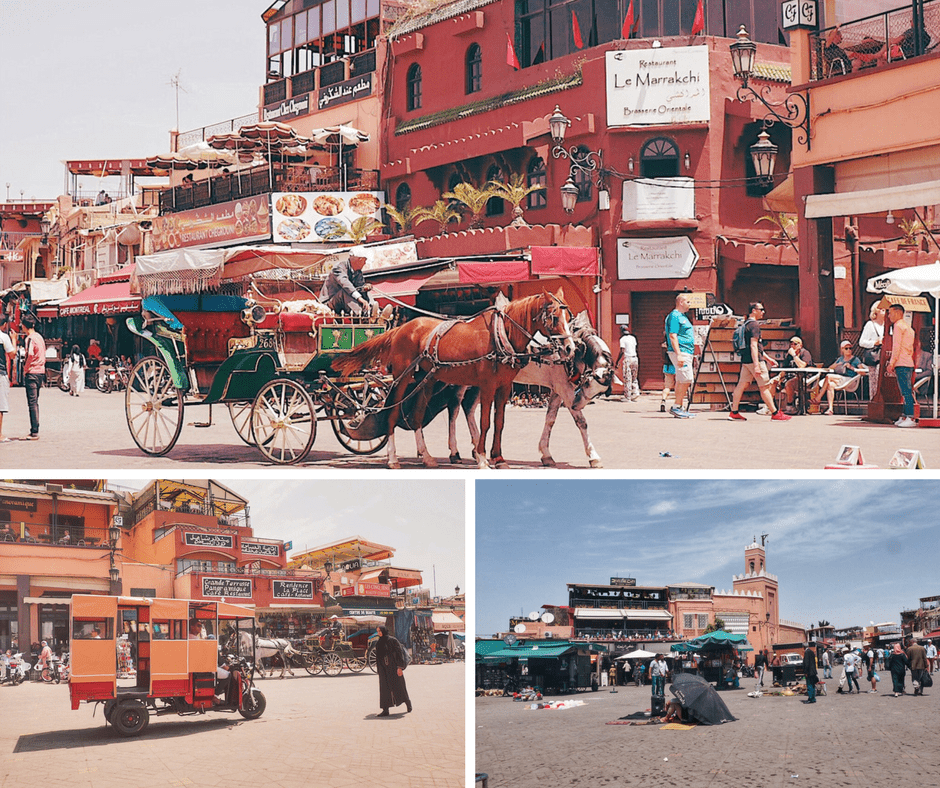 You may as well jump straight into the heart of Marrakech with a morning visit to the medina's treasure trove of souks. If you go early in the day, the hustle and bustle is less overwhelming and there are less crowds (and hassle). Follow rue Semarine or rue Mouassine into the markets' heart – the latter path is less hectic.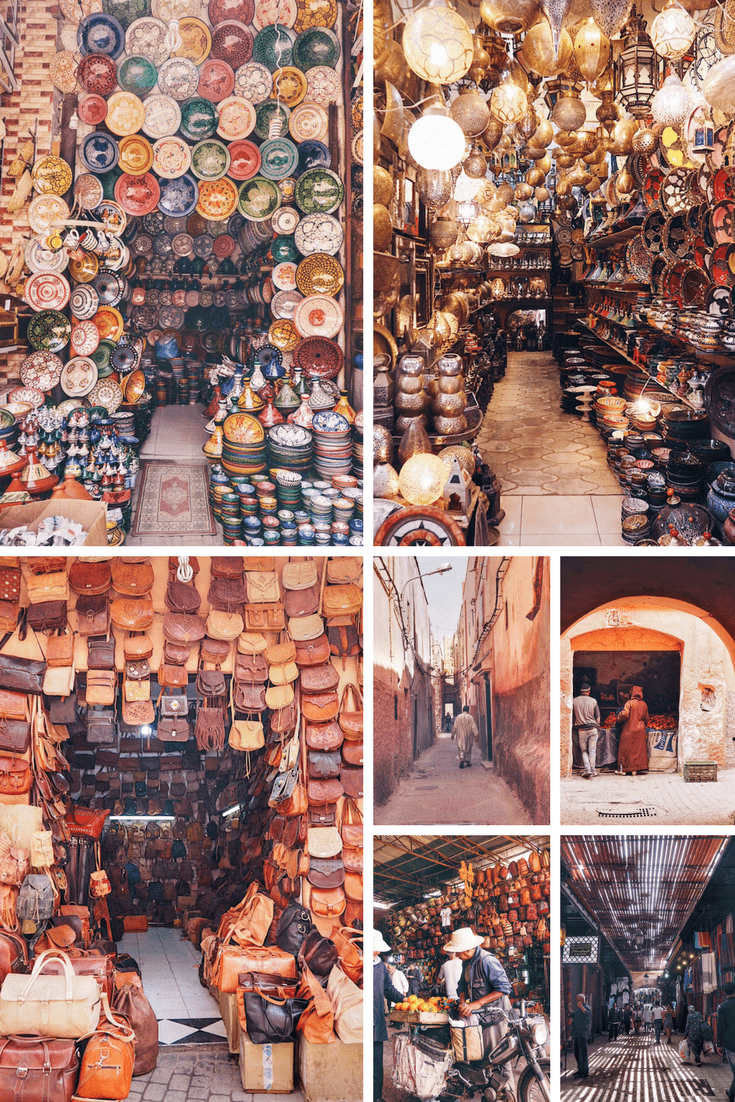 You'll pass live chickens clucking away next to their mid-slaughter mates, piles upon pile of jewel-toned textiles, colourful ceramics in every pattern you can dream of, bucketfuls of heady spices and cubicles dripping in trinkets and charms. The Marrakech souks are a journey into the city's past and you can't go without spending some time getting lost in the medina's fibrous labyrinth.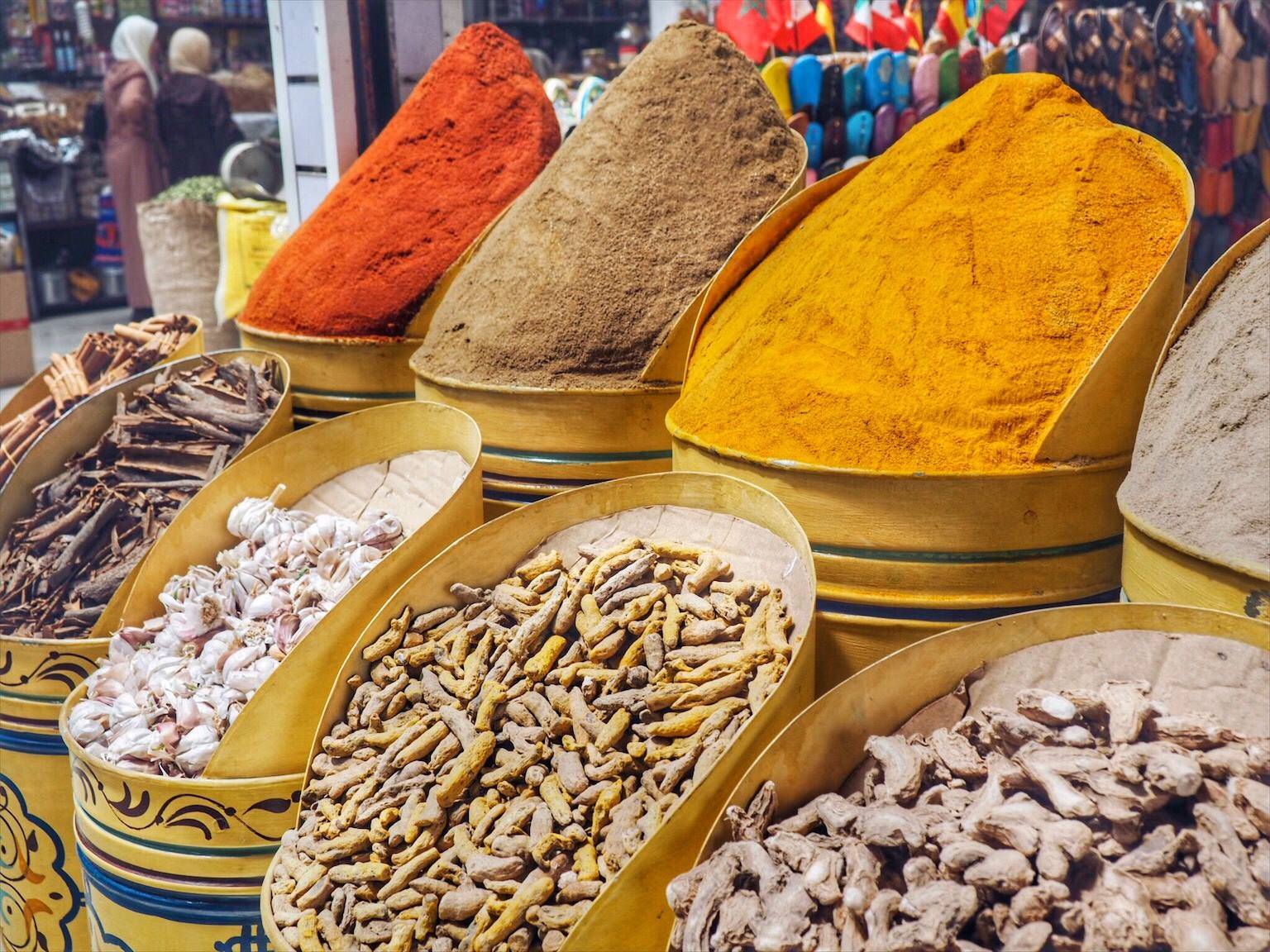 Marrakech is the only place I've ever bothered to shop on my travels, because it feels like a cultural activity. My advice, if you're after bargains, is to use the first morning as a taster session and dive back in towards the end of your trip in the evening, when you've got a better idea of what's on offer (and the vendors are a bit more eager to close a sale).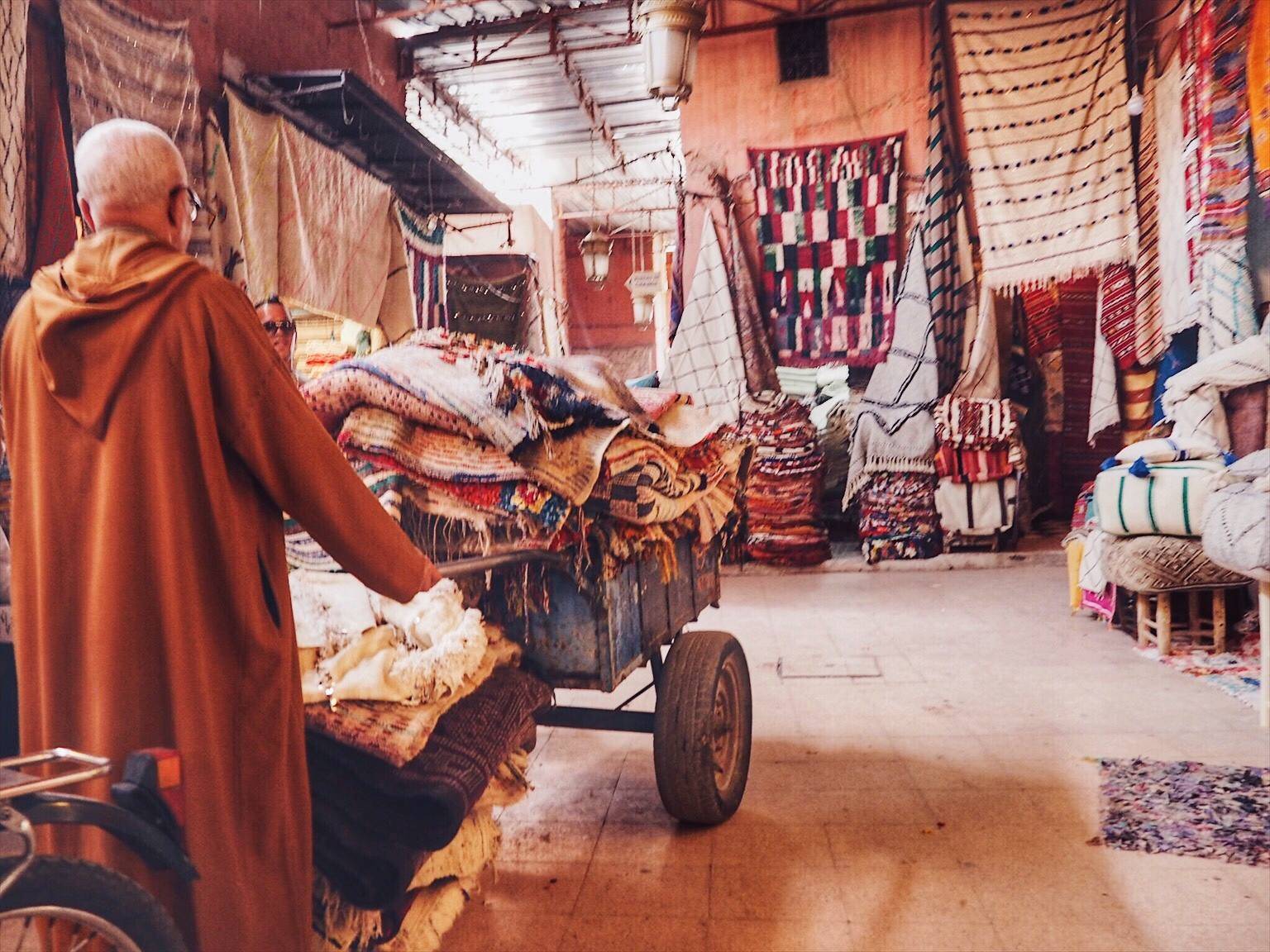 If you can find your way there from the clutches of the maze, get lunch at Bazaar Cafe, Atay Cafe or go all-out and order a camel burger at Cafe Clock.
It's not hard to spot the minaret of Koutoubia Mosque, the most famous in the city. Non-Muslims can't enter but the grand building serves as an orientation point that will help you get around the city – and its exterior is beautiful to look at. The name is based on the Arabic word koutoubiyyin, which means 'bookseller', because once upon a time, the area around the mosque was filled with booksellers. It's not the biggest mosque you'll ever see, but it's the biggest in Marrakech – and a rule stating that no nearby building may be taller than a palm tree keeps it looking stately in the red city's skyline.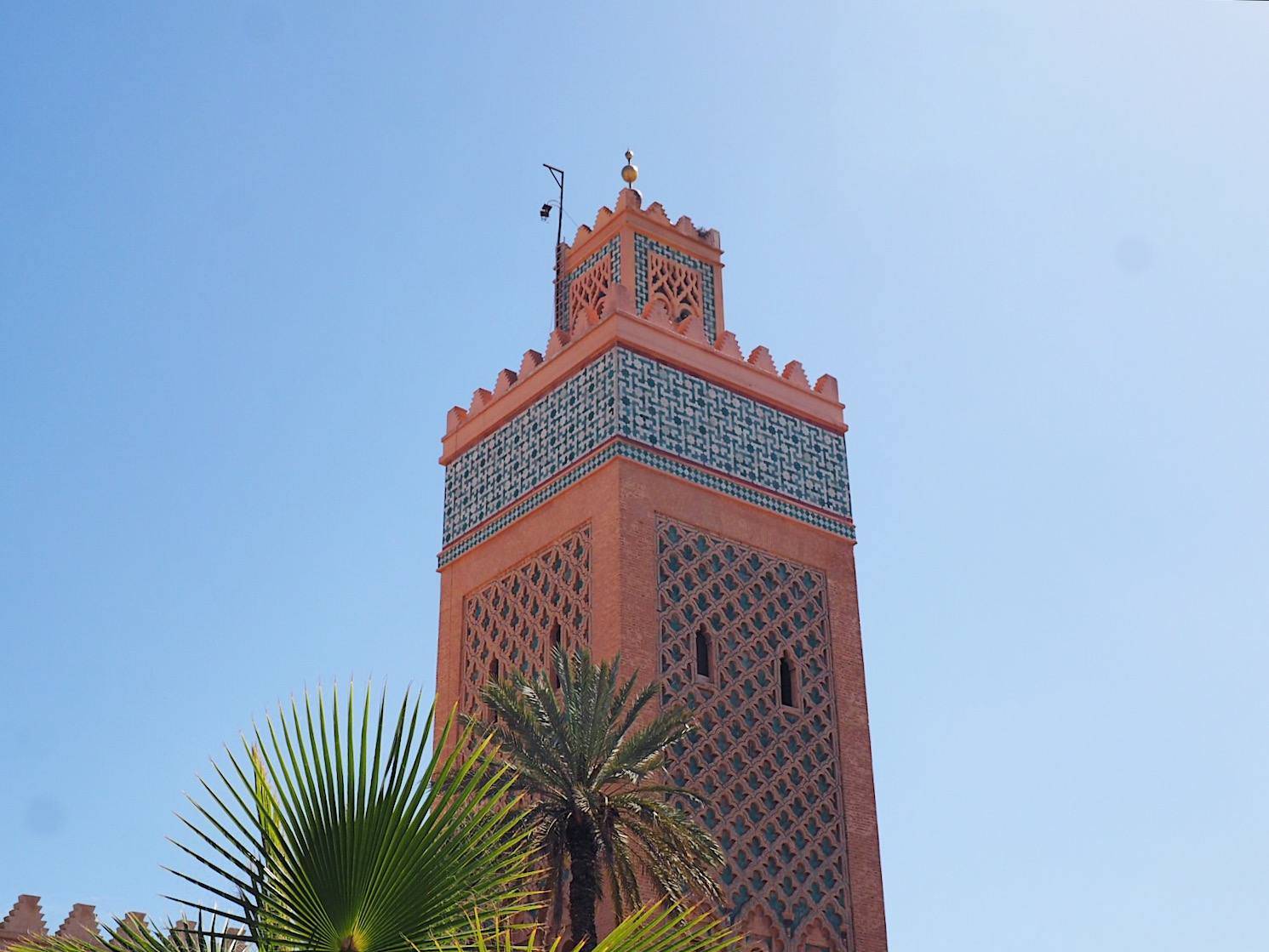 As the sun sets on your first night in Marrakech, head back to the main square. Night time is when it really comes to life, with snake charmers, shoe shiners and berber musicians all contributing to the carnival-like atmosphere. Steer clear of the monkeys on chains though, obviously.
For dinner, Nomads is the instagrammers' favoured rooftop restaurant – but we preferred their sister restaurant, Cafe Des Epices. The view is great but the portions are small – you might need to go elsewhere for dessert! I recommend one of the French crêperies.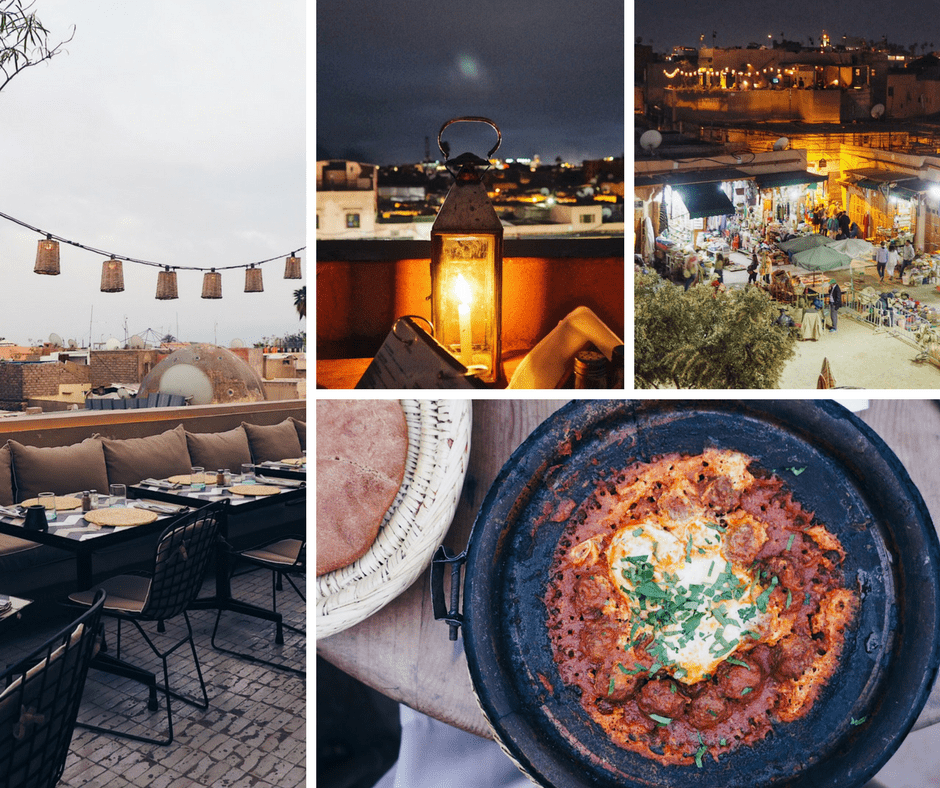 Day 2 in Marrakech: Culture and history
On your second day in Marrakech, enjoy breakfast at Gastro MK at Maison MK.
You should now have a good idea of the city's pace – and you'll possibly want a little respite from it. Head towards the Kasbah Mosque, which dates back to 1100, and find your way into the tranquil, opulent Saadian Tombs of Sultan Ahmed Al Mansour Ed Dahbi.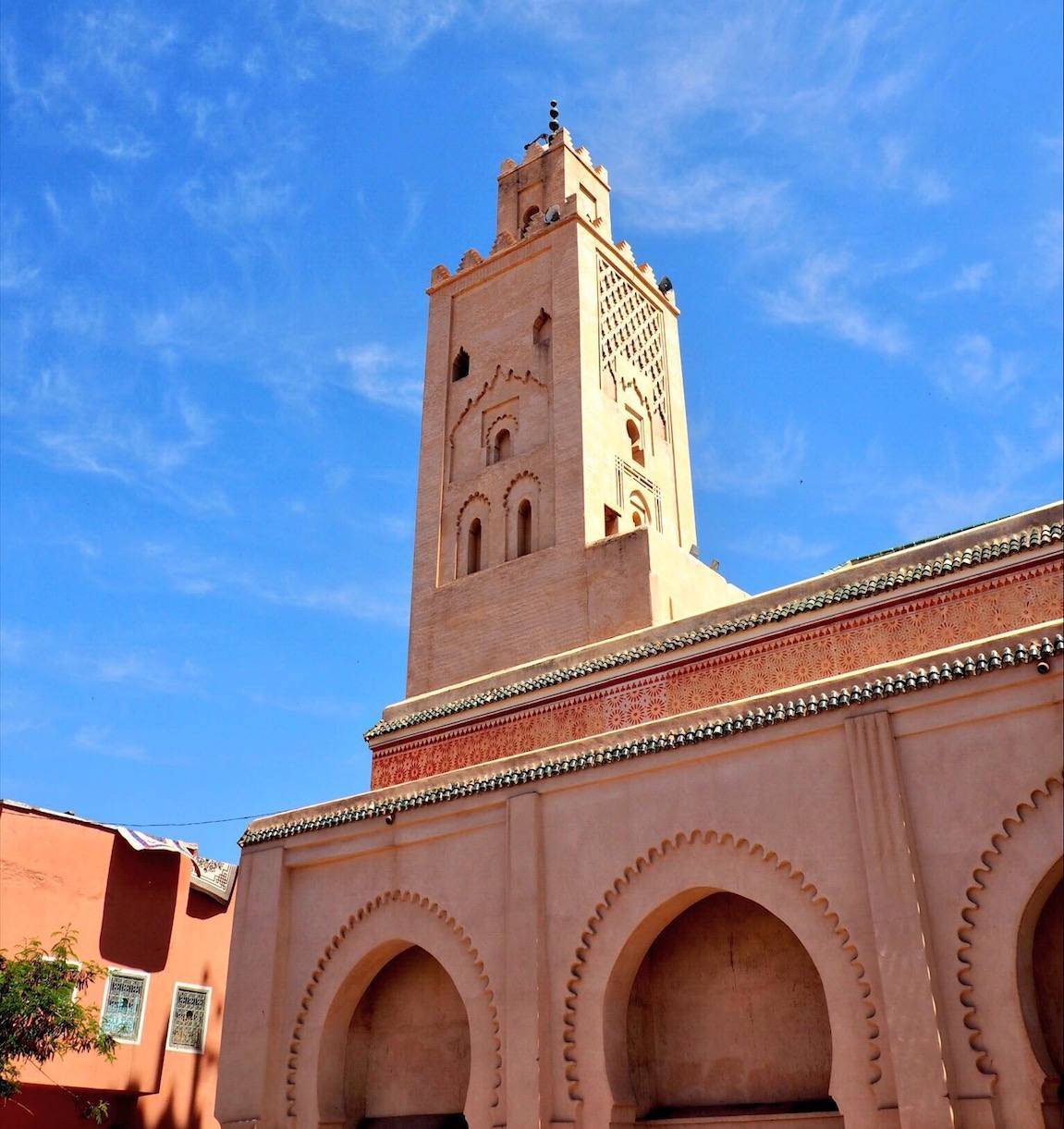 These tombs actually lay hidden behind thick walls for years and were rediscovered in 1917 thanks to aerial photography. They're made from carved Italian marble and pure gold, so they're an impressive sight.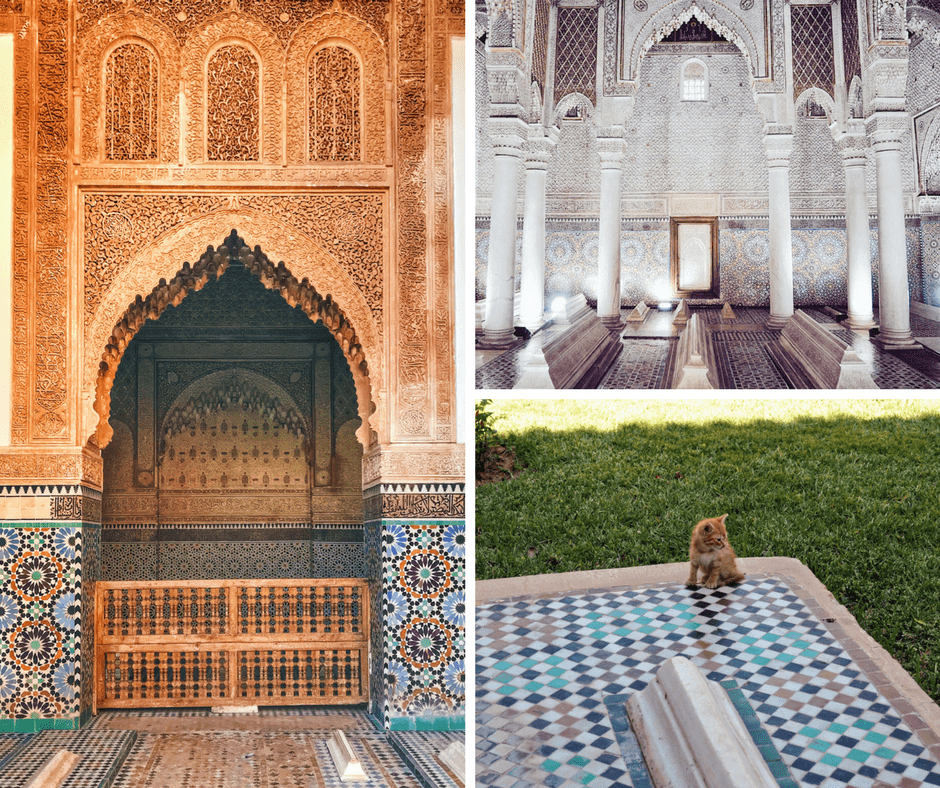 Cat lovers will find feline friends all over Marrakech, but there was a particularly cute kitten at the tombs posing for tourists!
From there, head to Bahia Palace. Its name means 'brilliance' in Arabic and it certainly is a sight to behold, with courtyards filled with fragrant plants, gleaming mosaics and carved columns. The blue and yellow grand courtyard is particularly impressive. At only 10 MAD for entry, this is so worth visiting, even if just for some interior inspo for your future home.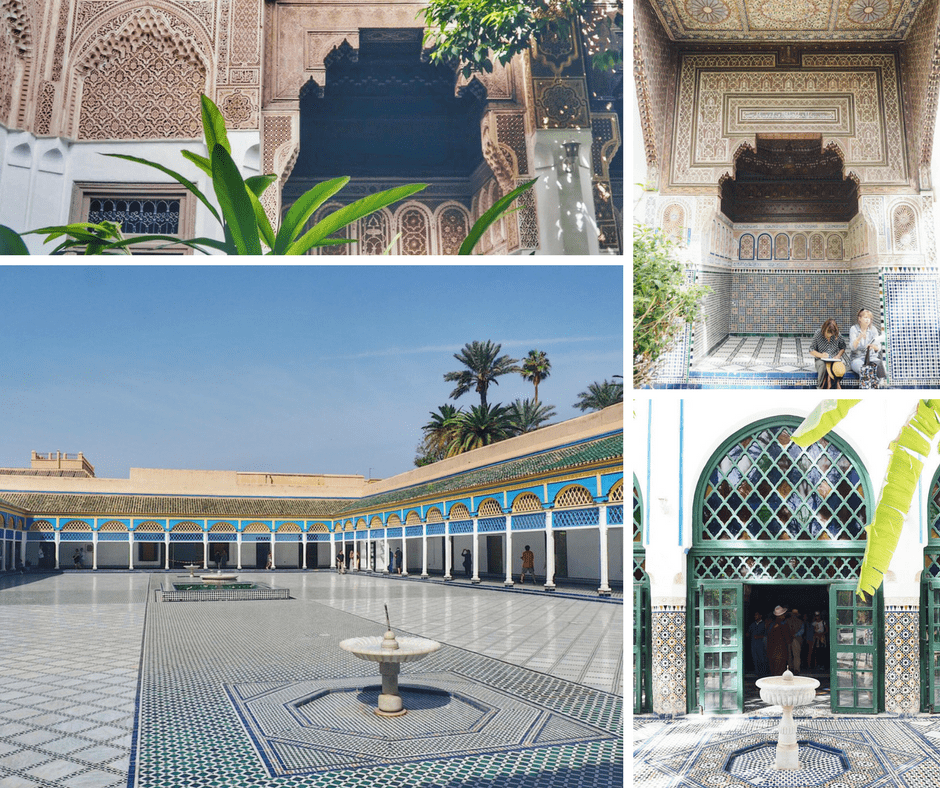 Head back towards the Saadian Tombs for lunch at Kasbah Cafe. Their rooftop terrace gives you a perfect vantage point and place to shelter from the midday sun.
This would be the time to see Ben Youssef Madrasa, an old Islamic college. It's one of the most picturesque attractions in Marrakech – but I wouldn't know, because it was closed for refurbishment during my Marrakech trip.
If you still haven't had your culture fill, pay a visit to Musée de Marrakech. This museum doesn't have any English descriptions so most of the artefacts are still a mystery to me, but the Mnebhi Palace itself is jaw-dropping. The 50 MAD entry fee is worth paying for this alone! I stood near the door to take it all in and every single person who entered let out an awed exclamation as they got their first glimpse of its beauty.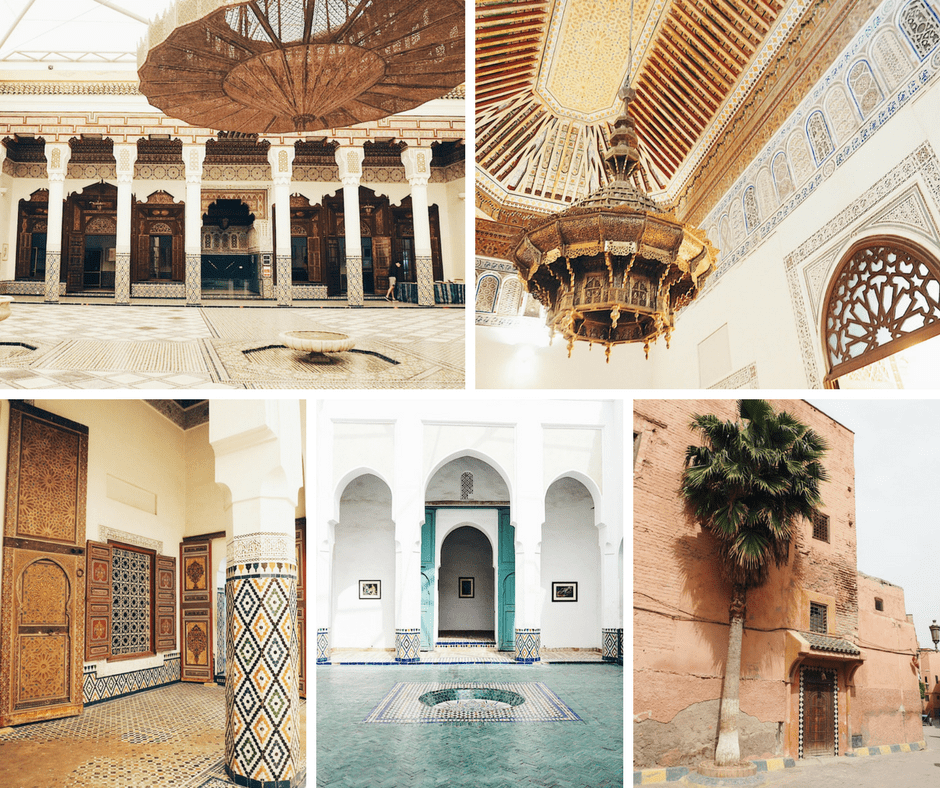 Next, walk for three minutes towards La Maison de la Photographie. It's only small but this photography museum's collection offers some insight into Marrakech's past from 1870 to 1960. Plus, the building is beautiful and there's a lovely little rooftop cafe.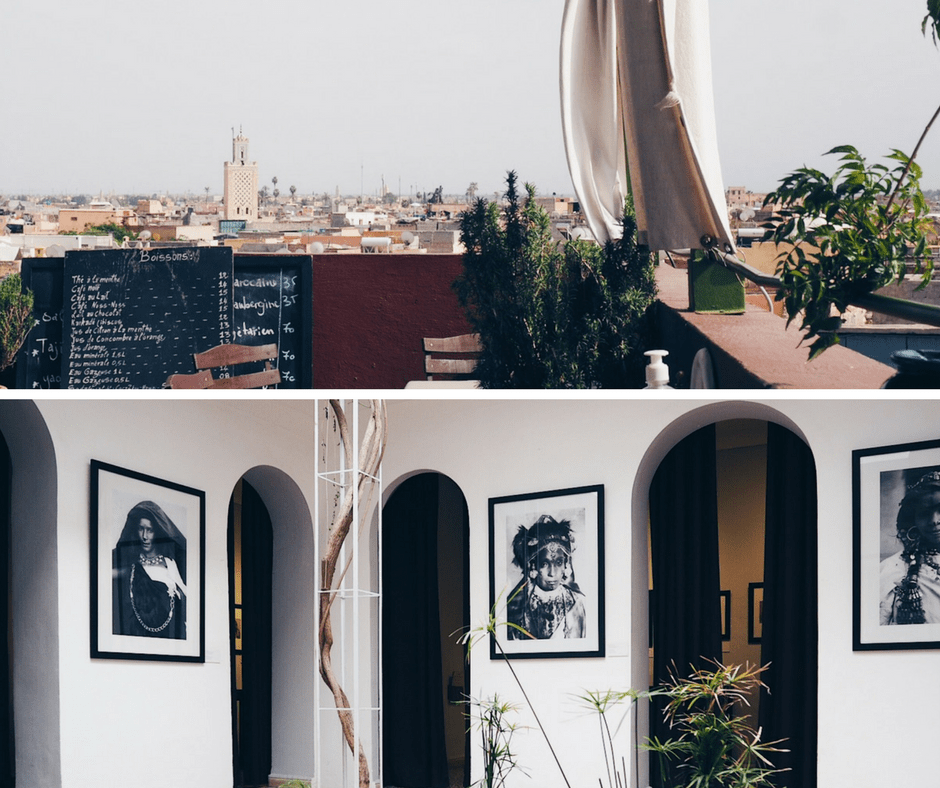 My itinerary for the second day  in Marrakech is packed but completely do-able, I promise! You can obviously stretch it out over two days if you have more time.
Day 3 in Marrakech: the scents of the city
They stink and are generally unpleasant, but Marrakech's tanneries are still an interesting sight to see. Go in the morning, when work is in full swing and the smell of animal hides isn't quite so pungent. Keep walking away from the main action from Bab Debbagh and let your nostrils lead you.
A word of warning about the tanneries: you will be targeted by scammers, but don't let online reviews put you off, if it's something you're keen to see. The tanneries are about a ten minute walk from the House of Photography, and I just pointedly ignored every single person who approached me. When one man tried to take charge and lead me into a tannery, I immediately walked back out because I knew he'd later try to get money from me for his 'guide services'. You don't need to pay anyone: just walk in, take a look and get out. Apparently some of the shopkeepers will let you onto their terraces for an aerial view if you buy something, but I didn't try this.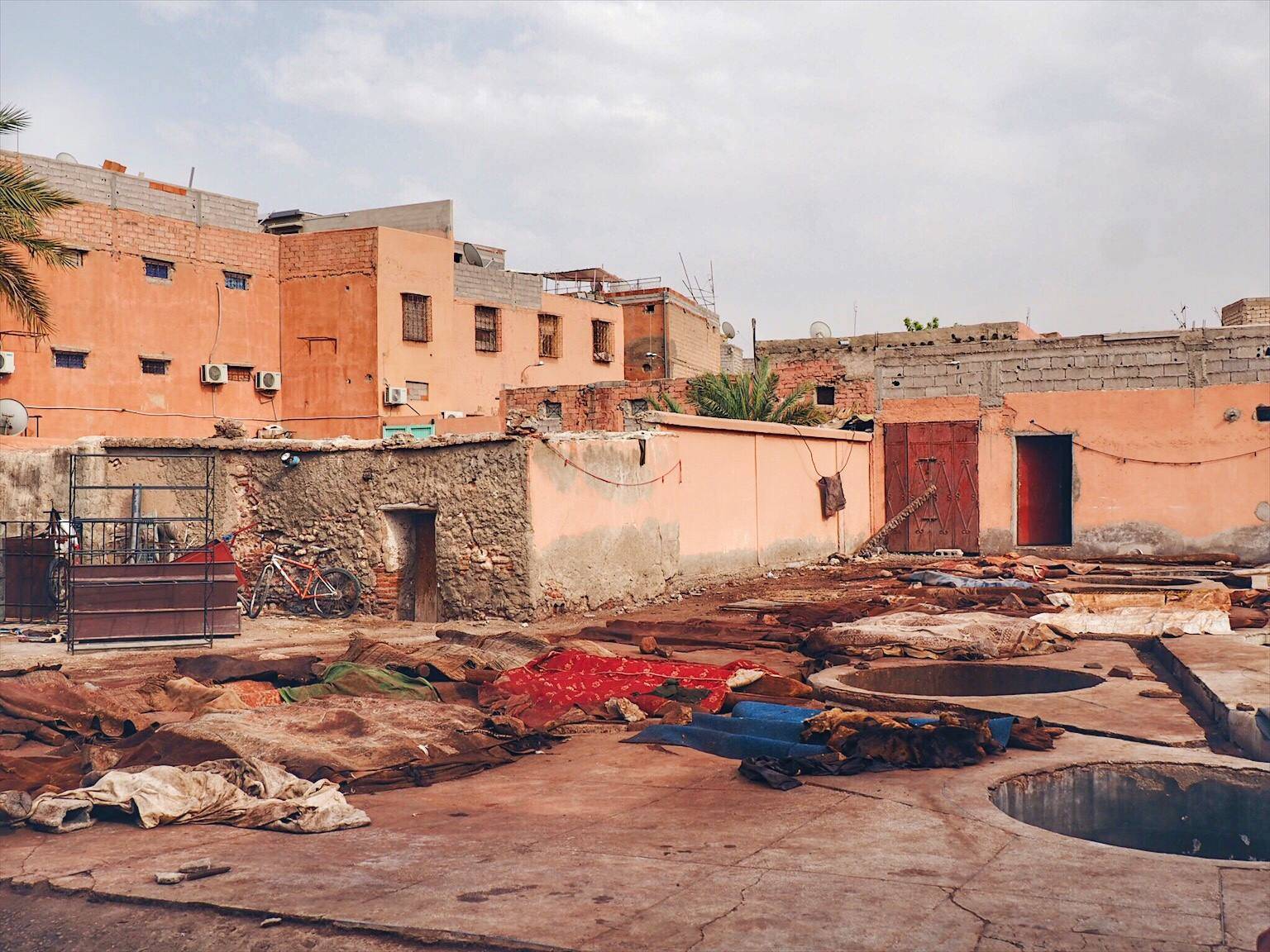 You won't want to hang around the tanneries long, trust me. Refresh with a freshly squeezed orange juice from one of the many stalls in Djemaa el-Fna – it should cost no more than 4MAD.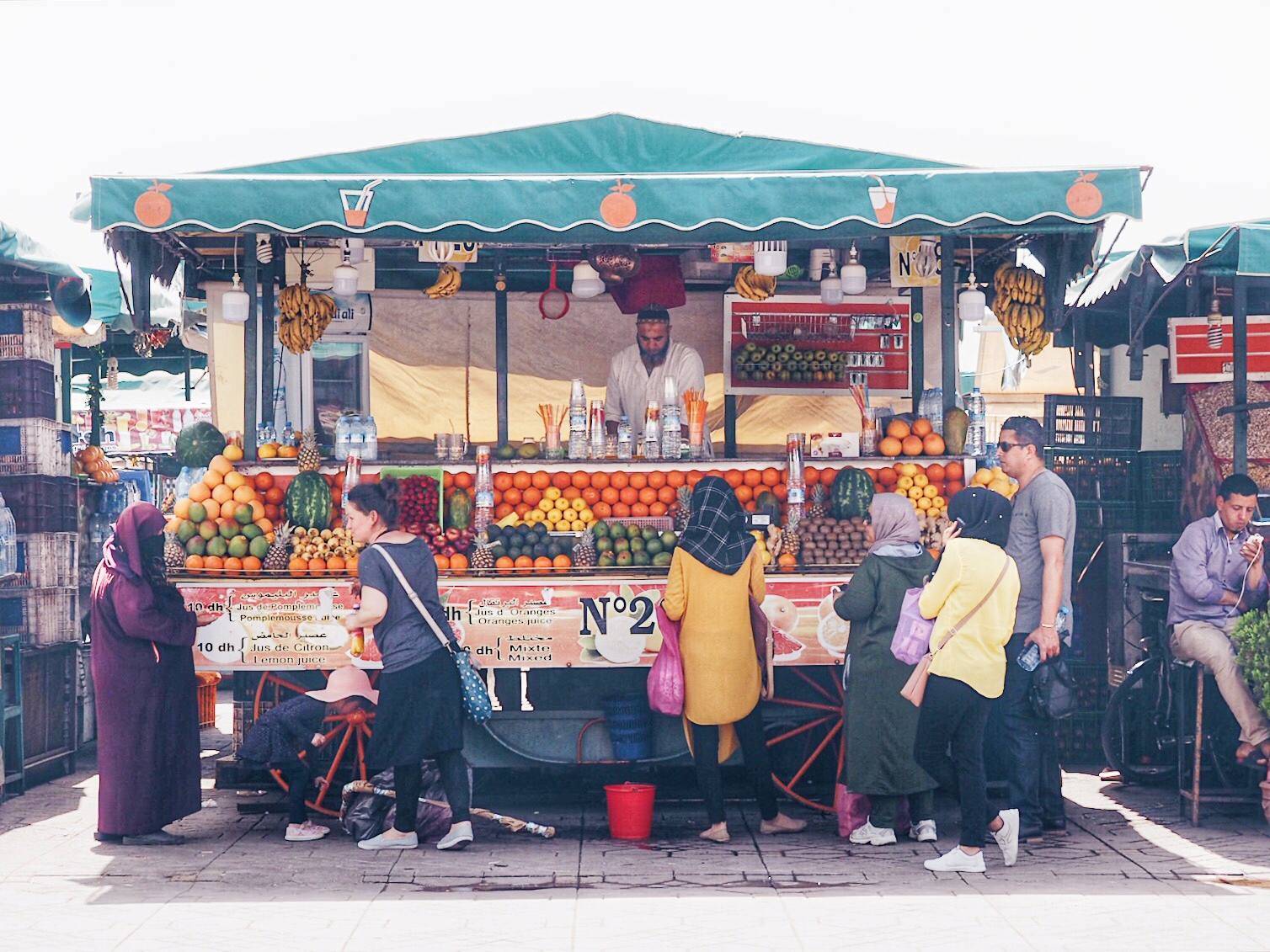 As the afternoon heat rises, pay a visit to Jardin Majorelle, fashion designer Yves Saint Laurent's gift to the city.
It costs 70 MAD (or 100 if you want to see the museum too). Expect to queue and know that you won't have the place to yourself – but these art deco gardens are a tranquil oasis with lotus-filled ponds shrouded in greenery and a striking museum taking pride of place.
It took 40 years to paint these gardens and the electric blue building they hide is a striking contrast to Marrakech's usual dusty pinks, while the abundance of cacti are a nod to the desert around you. There's a museum here, but I didn't pay the extra cash to enter.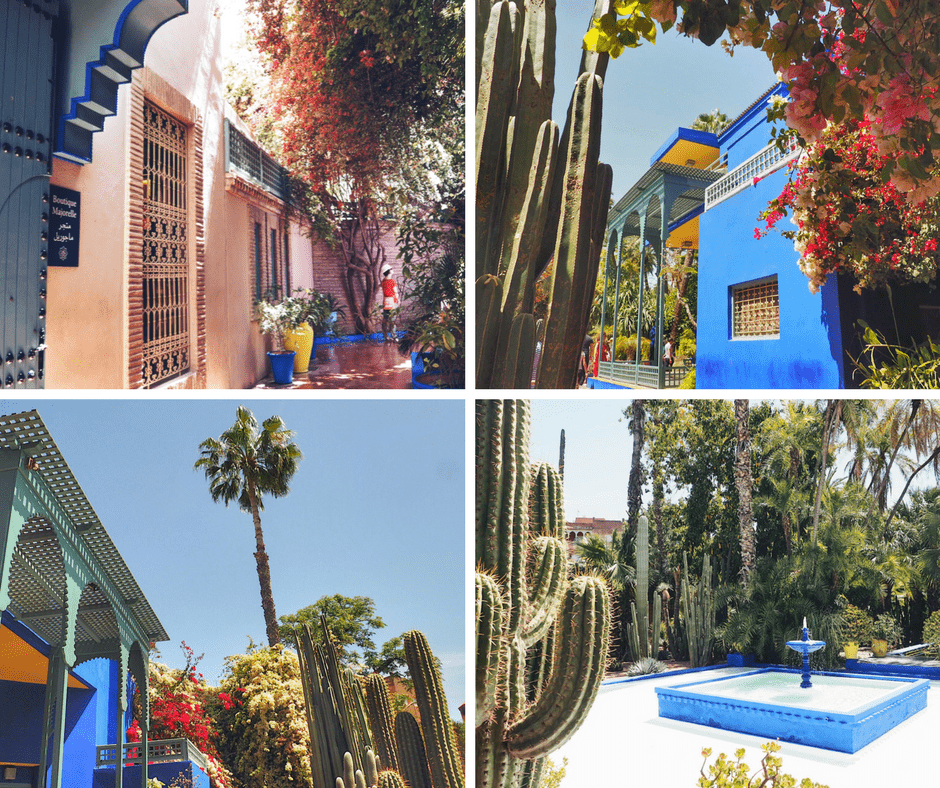 Day four in Marrakech: Treat yourself
Hardy travellers stuff out of the way, now it's time to indulge in some pampering – the Moroccan way. If you're staying in a riad, I highly recommend just spending some time relaxing in its courtyard. Most riads don't let you in unless you're a guest, but we managed to wangle our way into El Fenn for a cup of tea. We also accidentally fell into Dar Marjana, which was magical.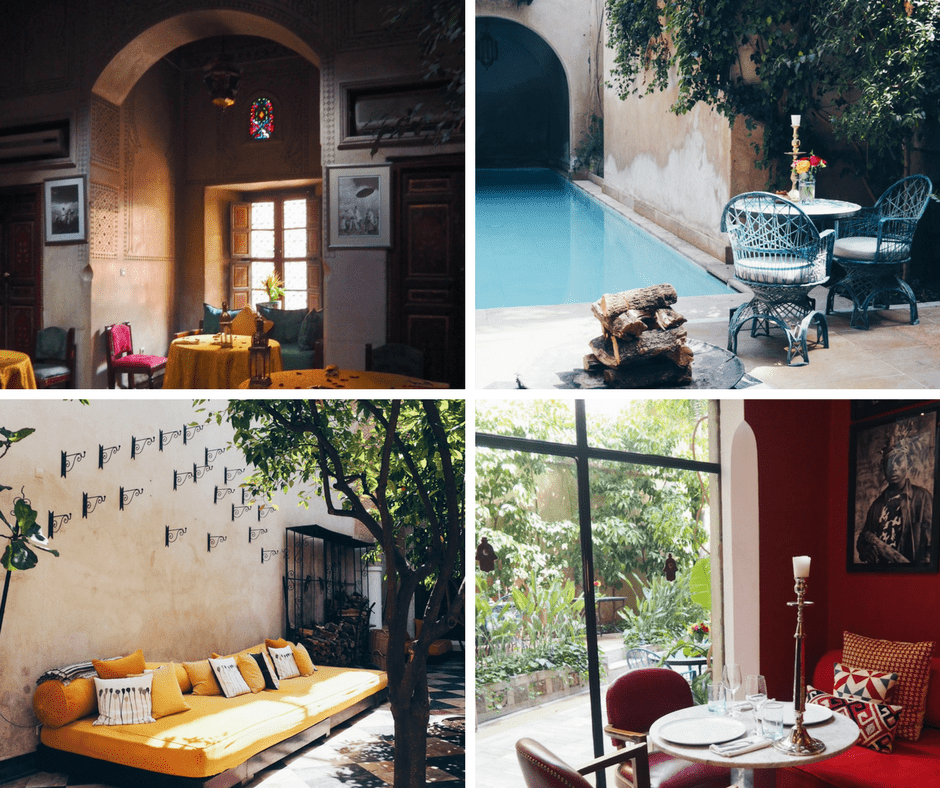 I didn't actually get to do this, but visiting a hammam is one of the most relaxing – and cultural – experiences you can have in Marrakech. The most popular hammams are  Les Bains de Marrakech, Heritage Spa, and the super-local hidden gem Kennaria Hammam – so local in fact, it doesn't even have a website.
Feeling fancy? La Mamounia is the luxury must-see in Marrakech. If you can't afford to stay there but still want to experience it, try booking in for a meal – or fork out for a spa day pass, which costs 500MAD per person. Apparently they're funny about people taking pictures there, so I didn't bother – but like, how do the Instagram Girls do it?
Alternatively, take a Moroccan cookery class to learn all about the country's cuisine. Some of the classes include a guided visit to the souks to pick up the spices you'll be using, so this is a full-circle Moroccan experience.
If you're looking to take a tour in Morocco, try Ready Morocco Tours. They operate private tours, day trips and desert adventures in Morocco, including an Atlas Mountains and 3 valleys tour, a ten day Casablanca desert tour and a three day desert trip from Morocco to Fes.
If you have more time in Morocco, I highly recommend spending a day in Essaouira, which is just three hours from Marrakech. Read my guide to one day in Essaouira to help you plan your day trip.
What to eat and drink in Marrakech
Moroccan food is delicious. Be sure to sample all of the local delicacies: bubbling kefta tagines served with freshly baked bread, cous cous, salty olives, and French pastries from the many boulangeries. And of course, you can't go to Marrakech without sipping mint tea everywhere you go. They use a lot of sugar – be warned.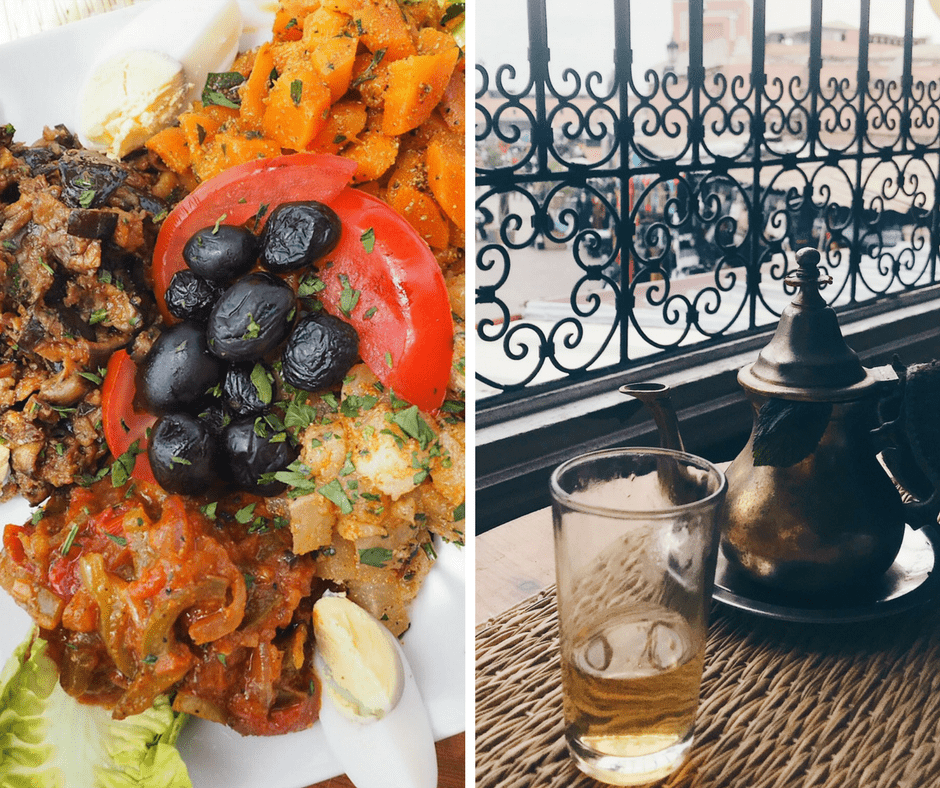 ---
Average prices in Marrakech
The cost of food and drink in Marrakech varies depending on which part of the city you're in. In Gueliz, I got a continental breakfast with freshly squeezed orange juice and a hot drink for 25MAD. I paid more than that amount for an orange juice alone at a rooftop terrace near Djemaa el-Fna square. However you can pick up a delicious orange juice from a cart in the square for 4MAD. Basically, you pay for comfort and location! In a typical restaurant in Marrakech, a tagine costs around 75MAD.
Bottled water costs around 5MAD for a 1.5litre bottle. I didn't drink the tap water in Marrakech, but brushed my teeth with it and had zero issues.
---
Where to stay in Marrakech
Obviously, the best type of accommodation in Marrakech is a traditional riad. I feel I should put a disclaimer here: because I was in Marrakech for work, I actually stayed in the modern part of the city. I'd 100% stay in a riad when I go back to Marrakech though!
Some of the most popular (Instagram-worthy) riads in Marrakech are Le Riad Yasmin, Riad BE, El Fenn, Riad Jardin Secret and La Sultana. Basically, when I post from one of these riads, you'll know I've made it in life.
If you want luxury accommodation in Marrakech, there's no place for it other than La Mamounia.
On a budget? You can still find cheap but traditional rids in Marrakech. Riad Tizwa has double rooms starting from £45 per night, Dar Attajmil starts at £65 and Riad Berbère starts at £60.
Search all Marrakech accommodation 
---
You'll need travel insurance for visiting Morocco. I recommend using World Nomads.
I hope you found this four day Marrakech guide useful! I definitely want to go back to Morocco one day in the near future and stay in a riad. I left with an excellent impression of the city and felt much safer as a solo female traveller than I actually expected. I'll publish a post with all my female safety tips for Marrakech soon. In the meantime, please follow While I'm Young on Facebook, Instagram and Twitter from more updates from the UK and beyond. You can also subscribe to my newsletter to make sure you never miss a post.
Pin this