They say that one of the best ways to experience a culture is by taste and there's plenty of weird food around the world waiting to confuse your tastebuds. On my travels, I've had the opportunity to try national dishes that are way tastier than my own Manx staple of chips, cheese and gravy; though some foods I've encountered have took a strong stomach to keep down.

What's the weirdest thing you've ever eaten abroad?
From the delicious to the disgusting, this is a list of some of the weirdest foods I've tried while travelling
1. 'Glutinous dough balls' in Kota Kinabalu, Borneo
The name really should have put me off but I had eaten too many fried bananas in Borneo and wanted a sweet treat that was a bit different. I was at a market surrounded by gleaming wet fish and unknown morsels when I picked these off a menu. They were certainly glutinous – they tasted like doughnuts fried in lard and were seriously stodgy. I probably put on a stone after one bite. 2/10
2. Durian fruit chocolate in Kota Kinabalu, Borneo
The fresh fruit is actually banned in hotel rooms because it smells so bad, and I had done well to avoid Durian fruit while I was in Asia. One day I dodged into a chocolate shop to take advantage of the air-con while I was walking through a market in KK and the salesman gave me a chocolate to try. The fruit was sneakily hidden inside, and I had to spit it out as soon as the taste of durian struck me. The memory has never fully gone away. 1/10
3. Currywurst in Berlin
I'm sorry Germany, but I just don't get your cuisine. My friend and I spent two days in Berlin and drunkenly bought Currywurst from a vendor after leaving a club. Rubbery sausage topped with ketchup and curry powder – really not an ideal drunk food. 3/10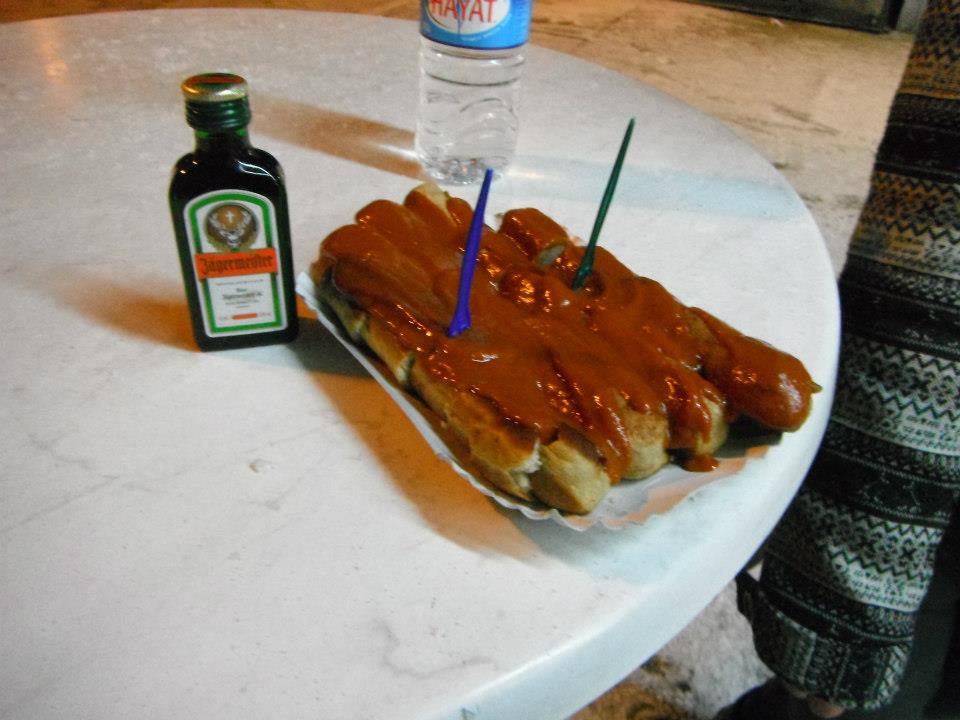 4. The world's worst tomato soup in Nha Trang, Vietnam
I had a serious craving for familiarity in Nha Trang and all I wanted was Heinz tomato soup. I thought I was in luck when I found tomato soup on the menu at an empty cafe near my hostel. I was quickly disappointed when the old lady running the place brought out what looked and tasted like week old leftover mashed potato mixed with lukewarm water and ketchup. That's what I get for ordering Western food in South East Asia, I guess. 3/10
5. Kangaroo and crocodile in Siem Reap, Cambodia
The night before I explored the ancient temples of Angkor Wat, I ate a traditional Khmer BBQ, where we cooked unusual meats at the table then drank the broth like soup. Kangaroo has a game-y taste and crocodile is a bit like chicken. Isn't funny that we describe every unusual meat as 'like chicken'? 10/10
6. Shark in Koh Samui
After a long journey from Melbourne to Bangkok to Koh Samui, I had my first bottle of Chang and someone at the table ordered shark. Also like chicken, but fishier. And definitely not a responsible meal choice. 6/10
7. Ostrich in Chiang Mai
I loved every minute of Chiang Mai. Most of the time, I ate street food but one night we went to a really fancy outdoor restaurant and splashed out. I remember being amazed when I saw a waiter 'coating' the wine glass. My ostrich was served in a flavoursome jus – just delicious. 10/10
8. Haggis supper in Scotland
I don't actually think this one is weird because I'm half Scottish and lived in Edinburgh for four years, but many people balk at the mention of haggis because it's kind of gross when you think about what it's made from. That being said;, a piping hot, typical Scottish supper of battered haggis and chips doused in the country's beautiful 'chippy sauce' is the perfect hangover cure. Obviously it has to be washed down with a can of Irn Bru. 8/10
9. A whole boiled egg, fried, in Lombok
I still can't get my head around this. When I did a three day hike up a mountain in Lombok and skirted an active volcano, the porters would cook tons of food for us three times a day. It was quite physically challenging and we needed all the energy we could get, so there were mountains of rice. On two of the evenings, I found a whole boiled egg in my bowl of carbs – except it had that crispy yellow coating that's usually found in fried egg. Did they deep fry a whole boiled egg? I'm more concerned about how those poor guys managed to carry so many eggs up a mountain when I could barely carry myself. 4/10
1o. Raw sugar cane in Holguin, Cuba.
On my recent holiday in Cuba, we visited a farm in Holguin and the farmer kindly showed us around his plantations, plucking things from the greenery and deftly slicing them for us to taste. I wasn't even sure how to eat the sugar cane he chopped and handed to me, and settled for sort of gnawing on it. 5/10
Let me know whether you've eaten any weird foods on your travels and don't forget to follow me on twitter. You can also like my facebook page.