If Angkor Wat is on your Cambodia itinerary, it's likely you will be using Siem Reap as a landing pad for your trip to the UNESCO Heritage site, and there are a few different ways you can get from Siem Reap to the Angkor temples. On our first day in the area, we hired a guide to trail around after us as we explored Angkor Thom and The Bayon, but on our second day we hired bikes to see Angkor Wat for ourselves.
Exploring the ancient temples of Angkor Wat by bike
Getting to Angkor Wat
We rented bikes for $2 near our hostel in Siem Reap and set off unaccompanied. It was the first time that I had rode a bike since I was about eight years old. Weaving jerkily through a mess of wagons, trucks and motos was a stressful start to our 5.5 km journey from the streets of Siem Reap; but we soon left the town behind for the long, smooth stretch of open road that took us to the religious site.
A bus load of Cambodian schoolgirls in polo shirts pulled up next to us in traffic and they all pointed and laughed at our huge white cleavages. Clearly they weren't used to Western female figures.
Parking our bikes opposite the majestic Angkor Wat and dodging the aggressive vendors peddling water and ice cream, we approached the magnificent site. Amid the gaggle of sweaty tourists, a young couple dressed in lilac silk stood out. I guess they were Cambodian royalty because they were flanked by security and shaded from the glaring sun by umbrellas.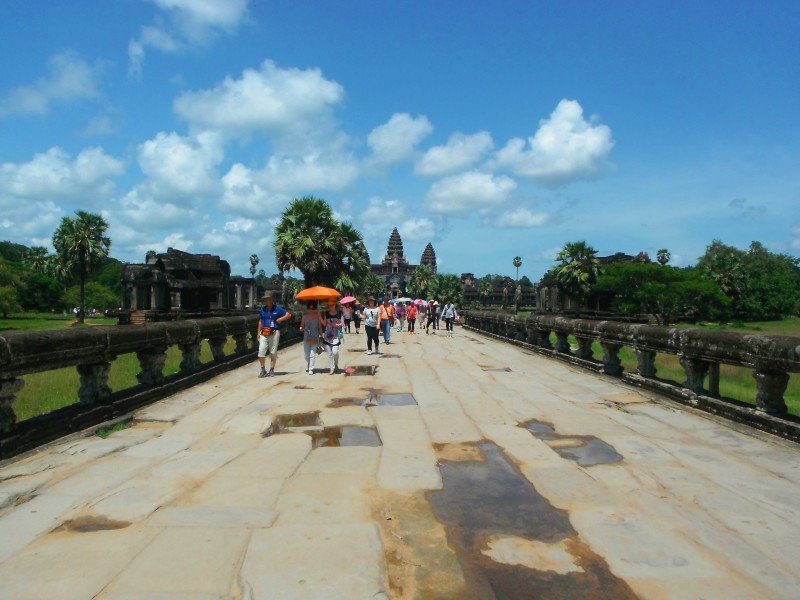 We weren't quite so elegant.
Why should the Angkor Wat temples be on your bucket list?
The stone structures that shape Angkor Wat contrast vividly with the blue sky and lush Cambodian greenery to present an iconic image that attracts backpackers from all over the world. The formations are all that remains of the Khmer Empire, which encompassed much of South-east Asia between the 9th and 14th Centuries and played a formative role in the political and cultural development of the region.
Angkor is a major site in Cambodian national history exemplifying cultural, religious and symbolic values, as well as containing high architectural, archaeological and artistic significance. A breathtaking display of both artistic creativity and spiritual devotion, Ankor Wat should be on every traveller's Bucket List – somewhere between getting a Diana pic at the Taj Mahal and taking shrooms in Thailand.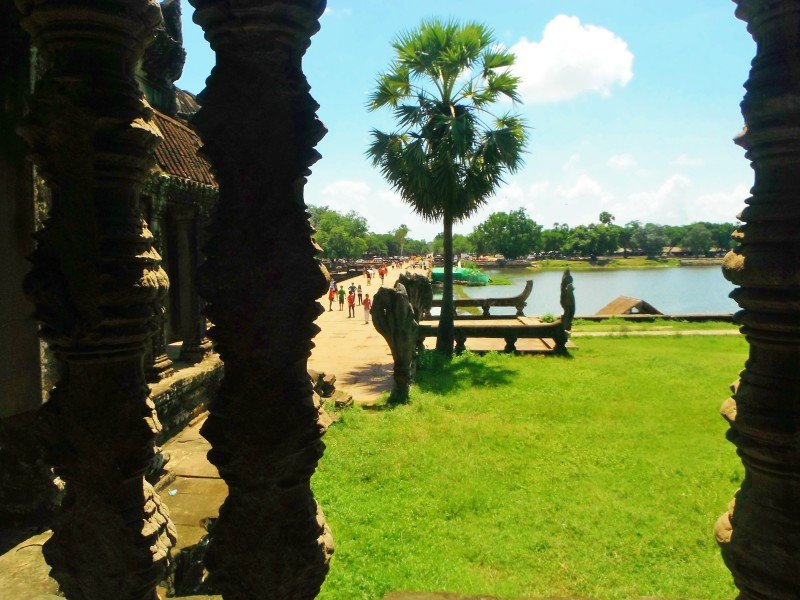 Angkor is one of the most important archaeological sites in South-East Asia and it has thus been preserved as much as possible without compromising its authenticity. Angkor Archaeological Park is spread over 400 square kilometers and exemplifies two basic themes in Khmer temple architecture: the temple-mountain and the later 'galleried temple', in a representation of Mount Meru, the home of the gods. The central quincunx of towers symbolises the five peaks of the mountain, and the walls and moat the surrounding mountain ranges and ocean.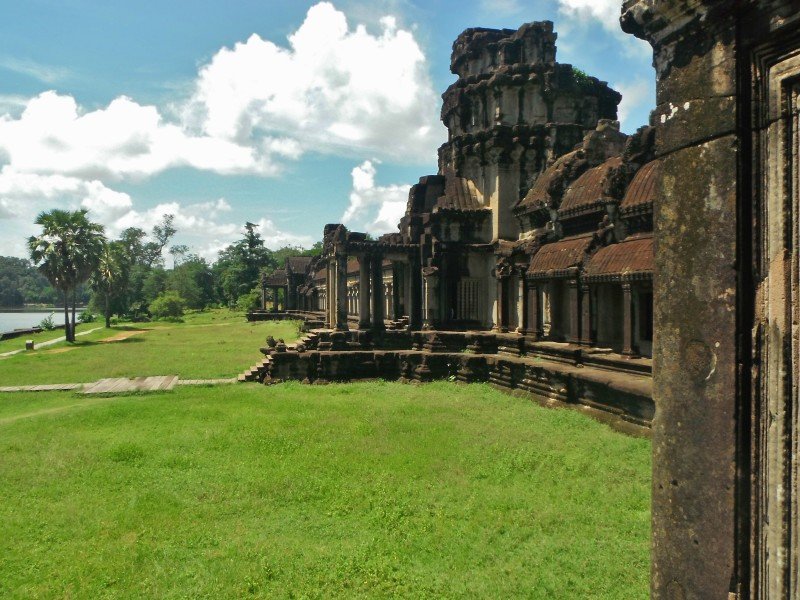 Wanderers will love the fact that visitors to the Cambodian temples are free to roam around the grounds and essentially discover Angkor Wat for themselves.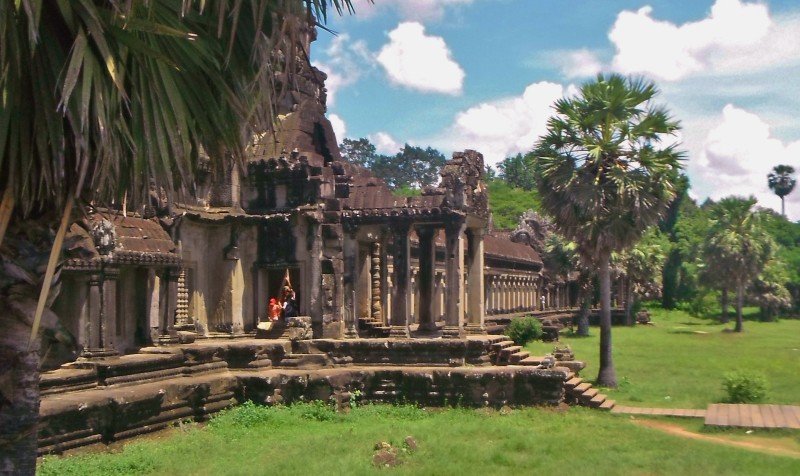 It's not uncommon to be confronted with a wash of bright colours when you turn a corner inside the galleries. Within many of the structures are statues that locals have dressed and tourists will bump into people touting incense who will tie a thread bracelet around your wrist for a few Riel. Rip off? Nah. It's all part of the experience. Burning incense creates a heady scent that permeates the already stifling air and makes you feel almost spiritual.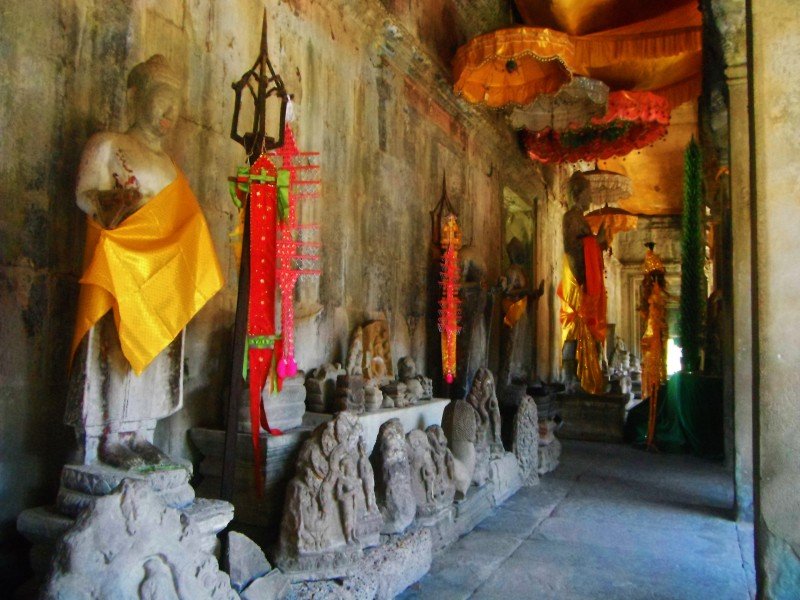 I was surprised at how devoid Angkor Wat is of red tape, even though officials are taking steps to conserve the historic site. You can even scamper up the stones to get a different view – although be warned that some of the climbs are seriously steep!
Some of the stone carvings at Angkor Wat are very similar to those we saw the day before at The Bayon.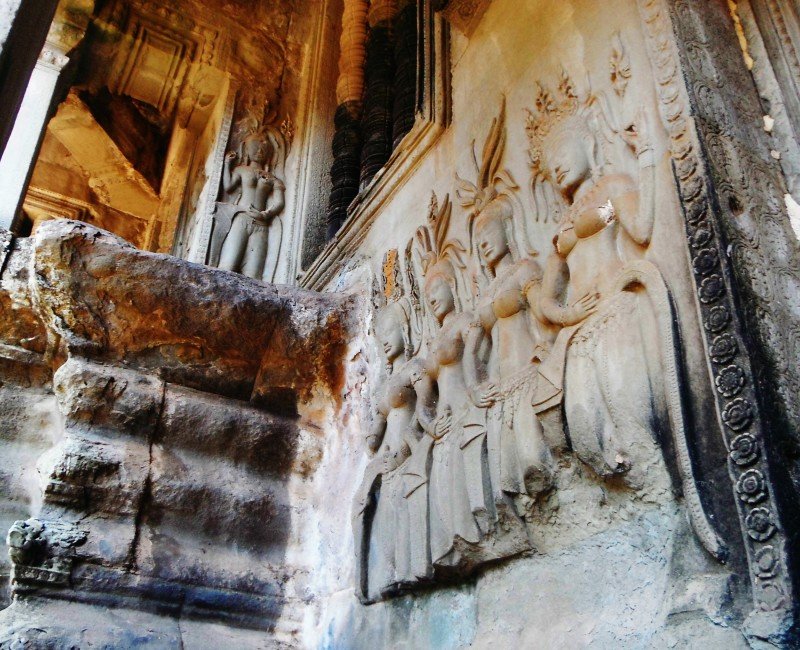 Shame about the bins.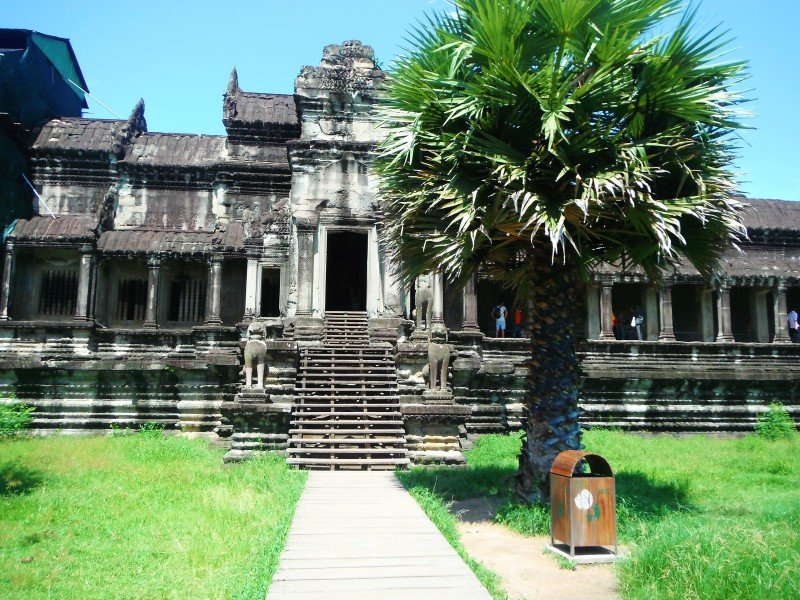 In addition to the other animals that grazed on the grass, wild monkeys tormented tourists around Angkor Wat, and we were careful not to get too close. I didn't feel like getting a Rabies shot in Cambodia.
This image doesn't even begin to capture Angkor Wat's size. The architecture and layout of the successive capitals bear witness to a high level of social order and ranking within the Khmer Empire.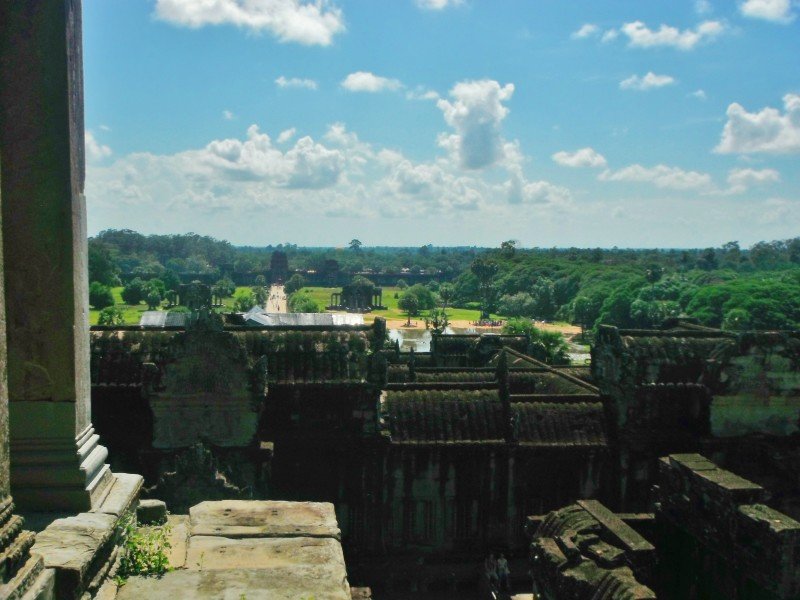 Using the toilets at Angkor Wat was an experience in itself. It was the first squat toilet we had encountered since that Doctors surgery at the Full Moon Party when Tom got third degree burns during fire limbo. While we queued, we spied on some young monks hanging out their orange robes to dry in the sun.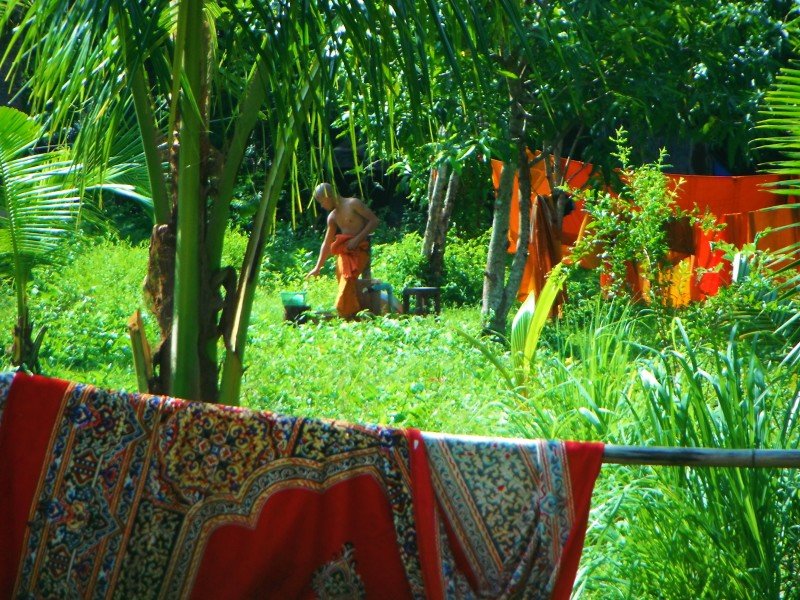 Just think – for centuries Angkor Wat was the beating heart of the Khmer Kingdom. One can only attempt to envision what life was like around Angkor Wat when it was first constructed, and visiting the temples made me wish I had a time machine.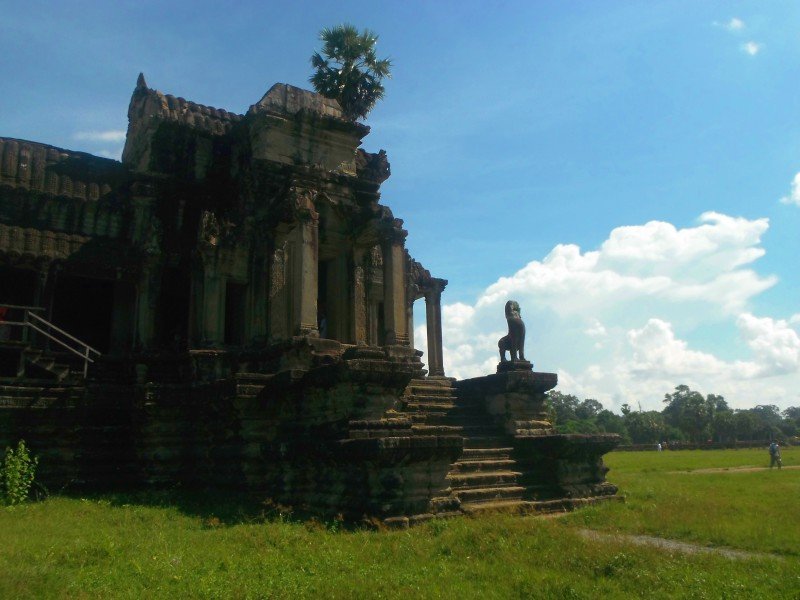 The guide books say that the best time to visit the immense Angkor Wat is at sunrise, but if you're fond of losing your shoes after a night of partying with other backpackers (like me), the afternoon is still a great time to see the temples.
Find accommodation for your Angkor Wat experience
Plan your Cambodia adventure with the Lonely Planet guide 
Don't forget to like While I'm Young on Facebook for your daily dose of wanderlust. You might also like to follow me on twitter and Instagram. Share this if you loved it!