Have you ever built a place up in your head so much that you're nervous about actually going, because the reality could never live up to what you've conjured in your imagination?
That was Italy for me, but I just got back from a weekend in Rome and I have to tell you: la dolce vita doesn't disappoint. Two days in Italy's capital is just enough time to leave you desperate for another taste of Rome's delicious food and romantic atmosphere.
Before you go: check out booking.com's top Rome hotels.
A two day itinerary for Rome, Italy (and Vatican City!)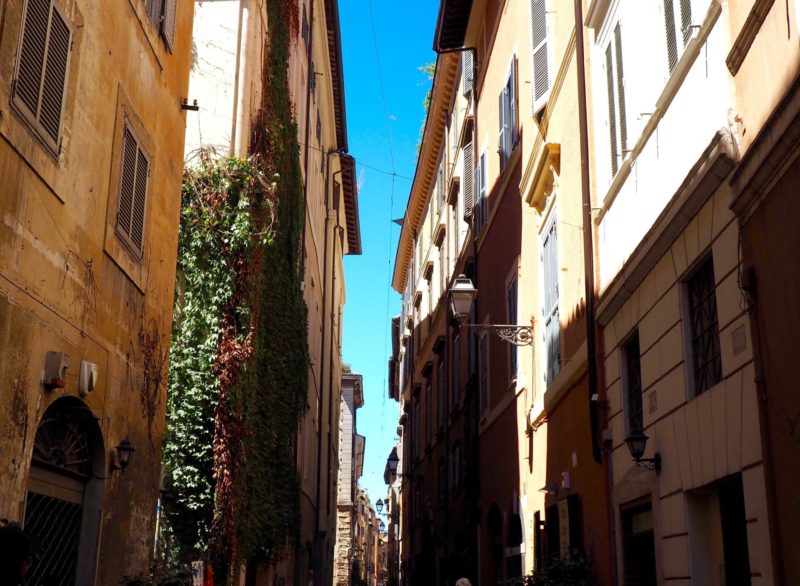 Rome was everything I imagined and more. The peeling ochre facades of buildings with powder blue shutters line cobbled streets, where vespas wind through crowds of chic women and hunched widows with true Roman noses. Every turn reveals more trattorias with red and white checked tablecloths serving hearty but simple dishes, their names scrawled on chalk boards to make passersby's mouths water. Taxi drivers jump out and open the door for you when you reach your destination and olive-skinned police man stand to attention at every turn. Oh, the men in Rome. I'm basically in love with every Italian policeman under the age of 40. I spent two days walking around Rome channelling the heart-eyed emoji.
Here's my full guide to two days in Rome. Let me know what you think!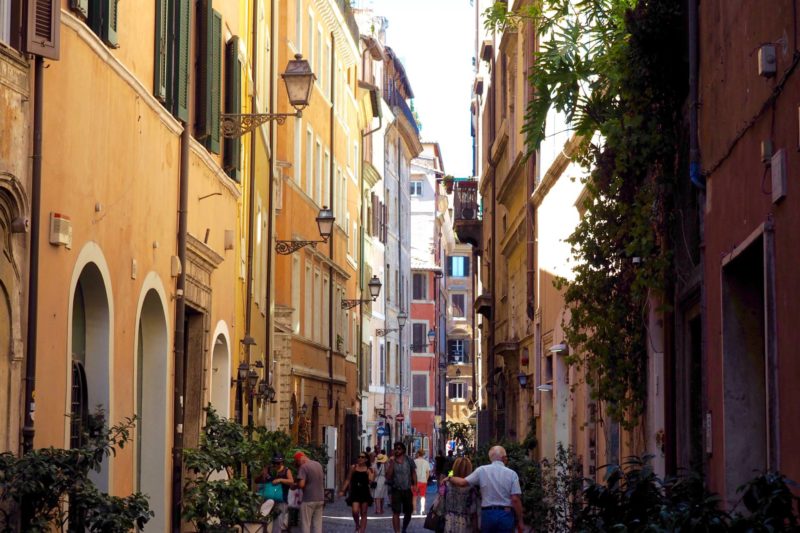 Day 1 in Rome
When day breaks, grab a cornetto and an espresso from one of the many coffee bars: Caffe Sant'Eustachio or Caffe Cafe are firm favourites among locals. You won't find a Starbucks here, and that's definitely a good thing. Consume standing (you'll be charged more for a table). This is how the Italians do breakfast.
Walks of Italy's 'Rome in a day' tour
Time is of the essence when you're on a weekend break, but it's easy to see Rome's main attractions in two days if you plan ahead and pack your walking shoes. I took a Rome in a day tour with Walks of Italy, who have an excellent reputation, in order to maximise my sightseeing time.
Our local tour guide, Francesca, had an impressive amount of knowledge about her city and could reel off dates, names and other information about Rome's many ancient buildings. We met at 8.30am at the main entrance to the Colosseum, donned our handy ear pieces so we could hear what Francesca was saying without being stuck to her side, and set off to explore Rome.
If you're not in to being on your feet all day, you can buy Big Bus Tour tickets online before you go.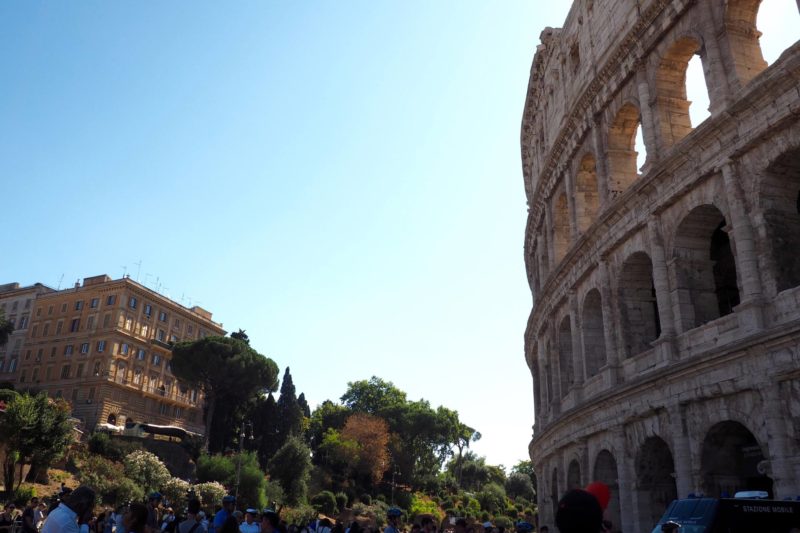 First stop was The Colosseum, an iconic symbol of ancient Rome. Once upon a time locals poured in through all 76 arches, but today only two are used. Our small tour group skipped the queues and entered via the gladiator's entrance. I could almost sense the anticipation the fighters must have felt as they stepped out to face 50,000 spectators.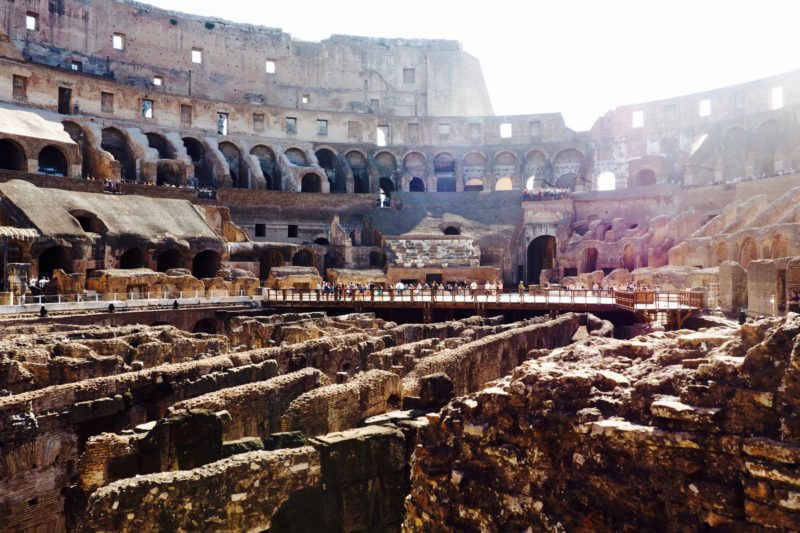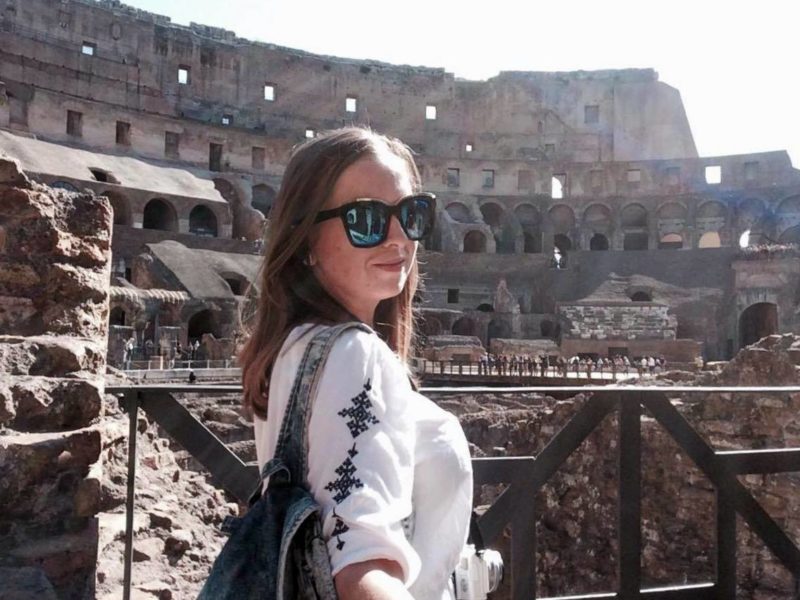 Mornings at the magnificent amphitheatre were for animal fights, lunchtimes dedicated to capital punishment, and gladiators fought in the afternoon. The depths of the Colosseum are filled with stone tunnels, which were used to build agitation in animals before their performance. Gruesome stuff.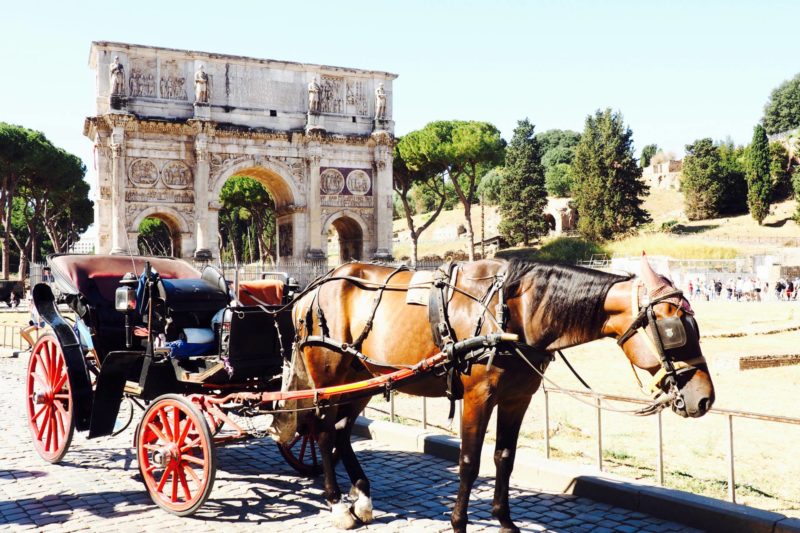 The walking tour continued around Rome's ancient historic centre to see the Roman forum.
Here, Rome's past is so visible that it's too easy to envision the era that made the city such an attraction for archeologists. Replace the hoards of camera-toting tourists with burly men in togas, and the crumbling formations spring to life.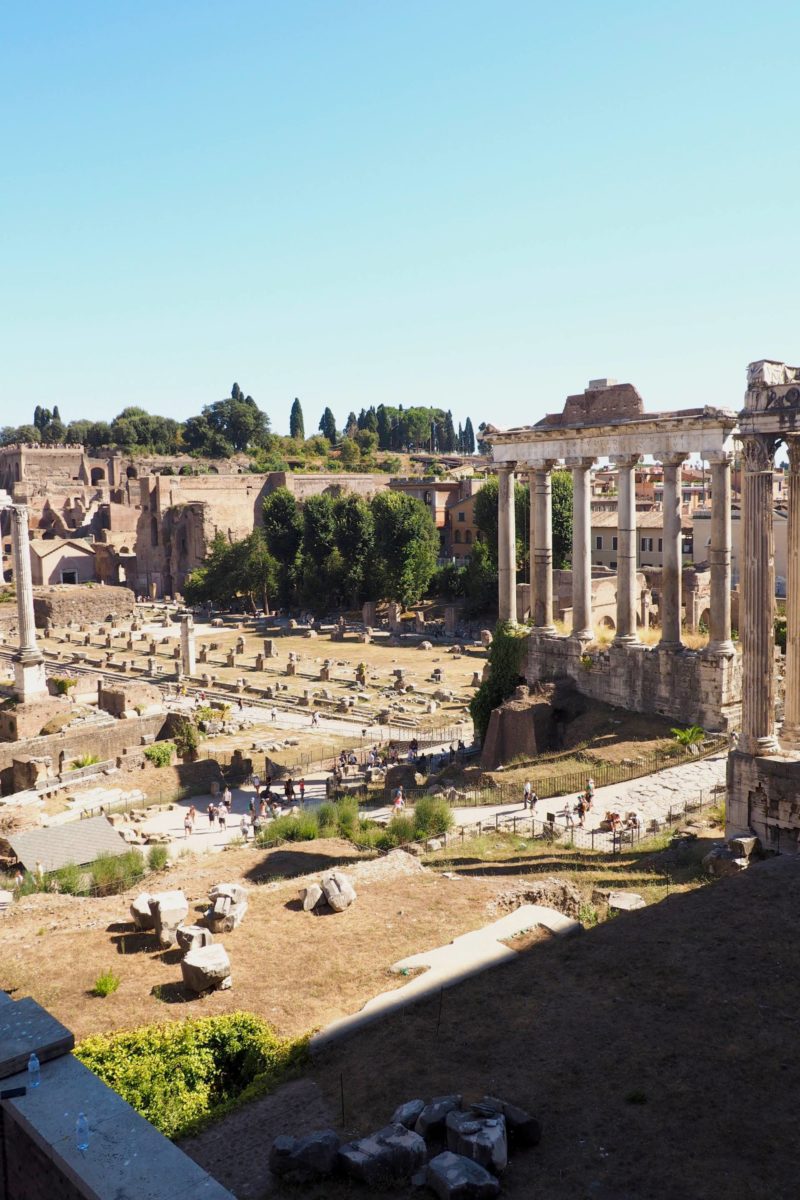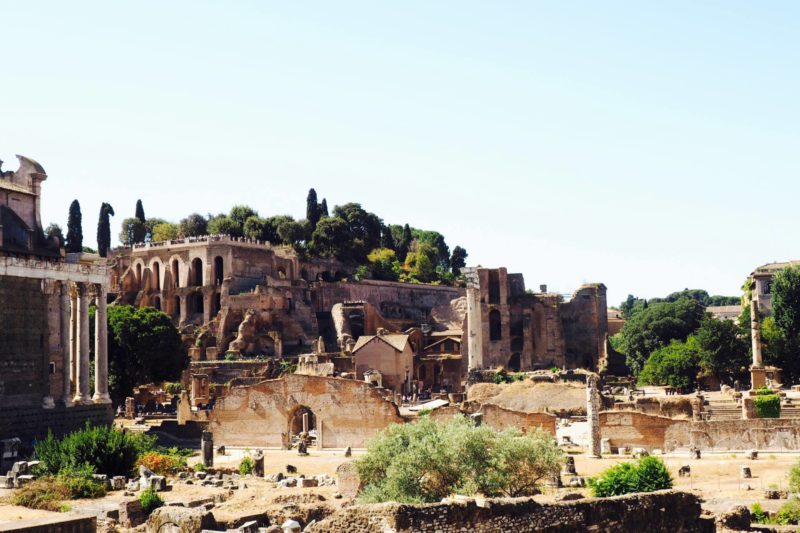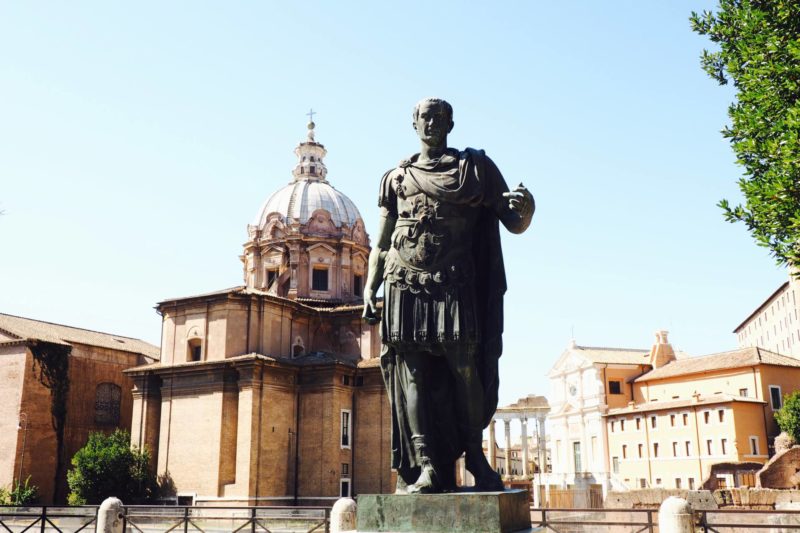 Although actually, the only women who wore togas back in the day were prostitutes!
From there, we walked past Altare della Patria, a massive white wedding cake of a formation built in honour of Victor Emmanuel, the first king of a unified Italy.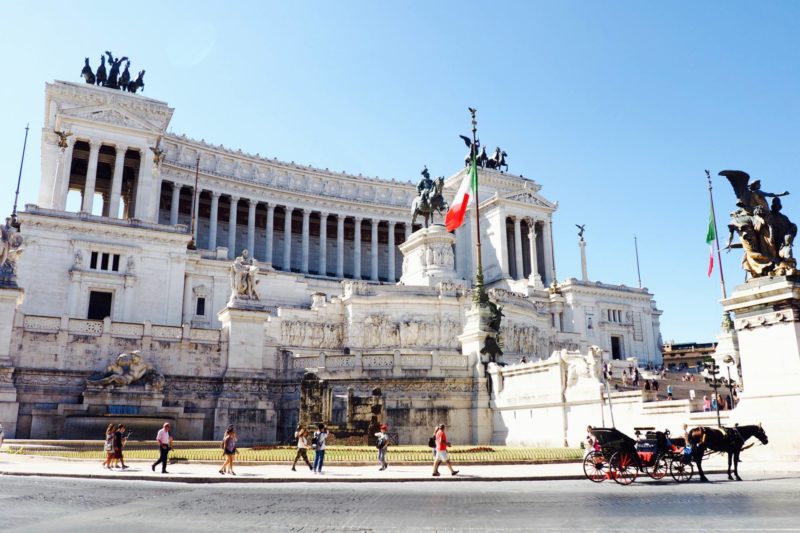 The Pantheon was next, and we gazed up at the open spherical roof in awe.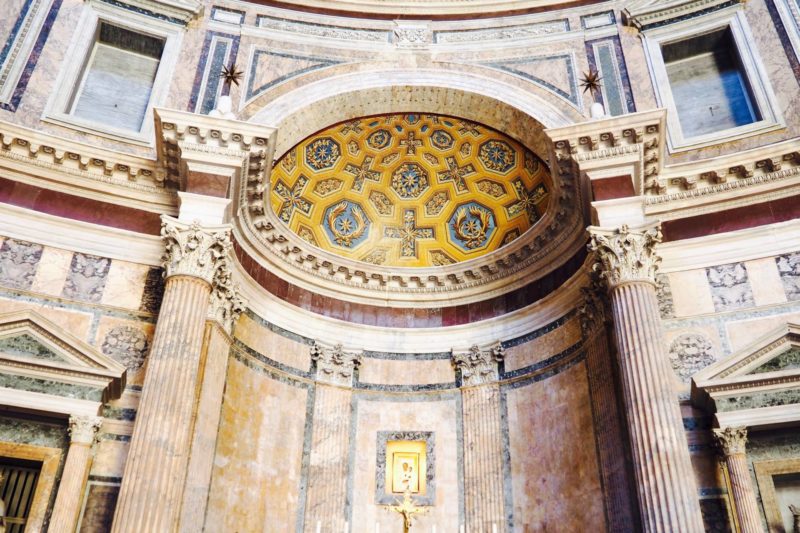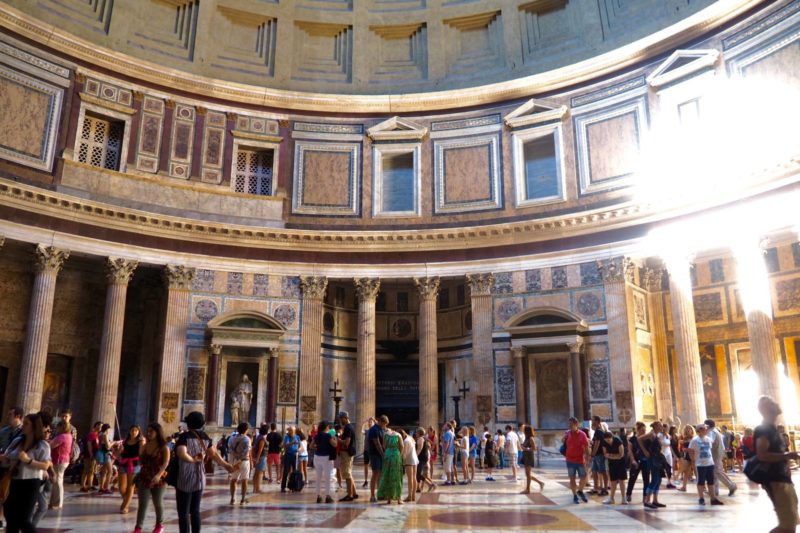 We walked through quaint streets to discover more baroque architecture. Piazza Navona was my favourite spot. There, you'll see the church of Sant' Agnese by Borromini. The Fountain of Four Rivers or Fontana dei Quattro Fiumi in the middle of the square has an interesting story, as our guide related. It was built ten years later than the church by Borromini's rival, Bernini, and the statue is designed to look like it's recoiling from his fellow architect's design in horror.
What a joker, eh?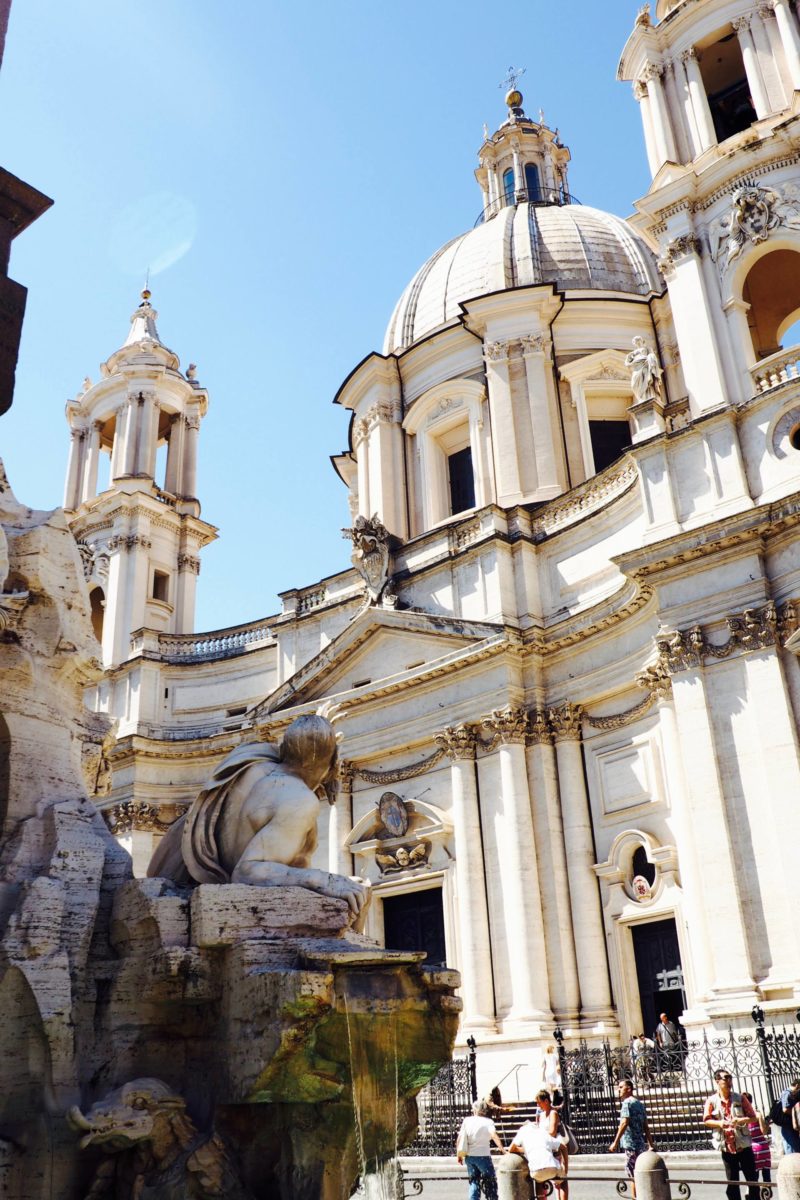 A gelato stop is included in the price of the Rome in a Day Tour, and there are 150 flavours to choose from at Della Palma Gelato di Roma. I went for chocolate profiterole and Bueno. Other gelaterias of note (trust me, I tried as many as possible) are Giolitti and Gelateria San Crispino.
Well, when in Rome…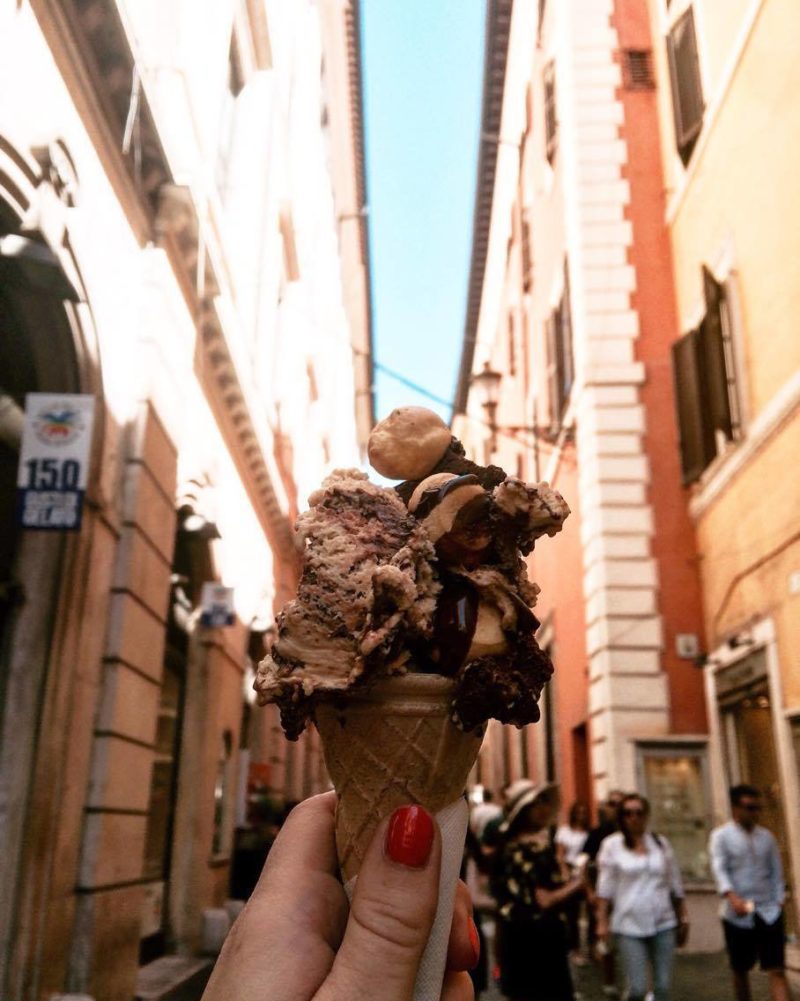 The view I'd been waiting for was the exquisite Trevi Fountain, where Fellini's lovers cavorted in 'La Dolce Vita'. There are 280 fountains around Rome, but the Trevi Fountain is the most famous. Every night, around 3,000 Euros are swept from the fountain. Be sure to toss your own coin in and make a wish – legend has it, that secures your return trip to Rome.
It's a popular spot for proposals, and aside from the crowds, I can see why.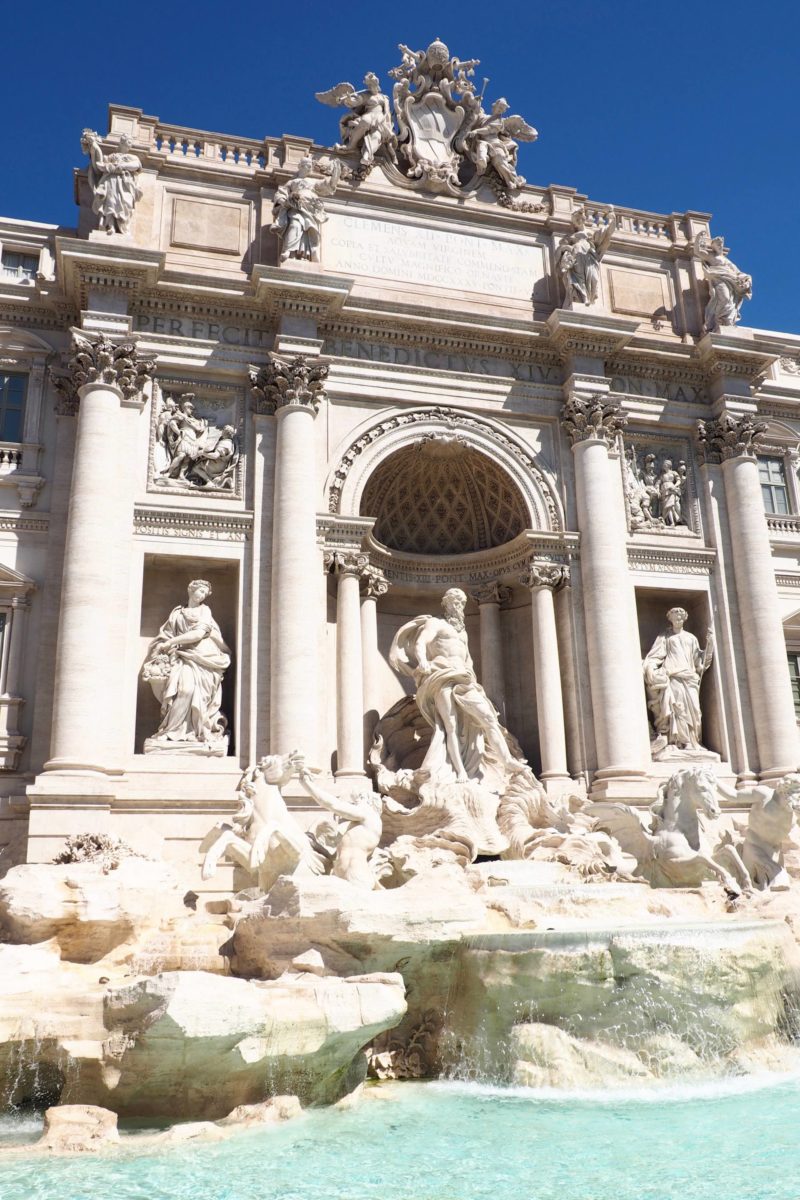 All of this exploring meant I had worked up an appetite, so I stopped at a pizzeria for rustic thin and crispy pizza with salty parma ham, mushrooms and olives, washed down with an ice cold glass of Peroni. Of course.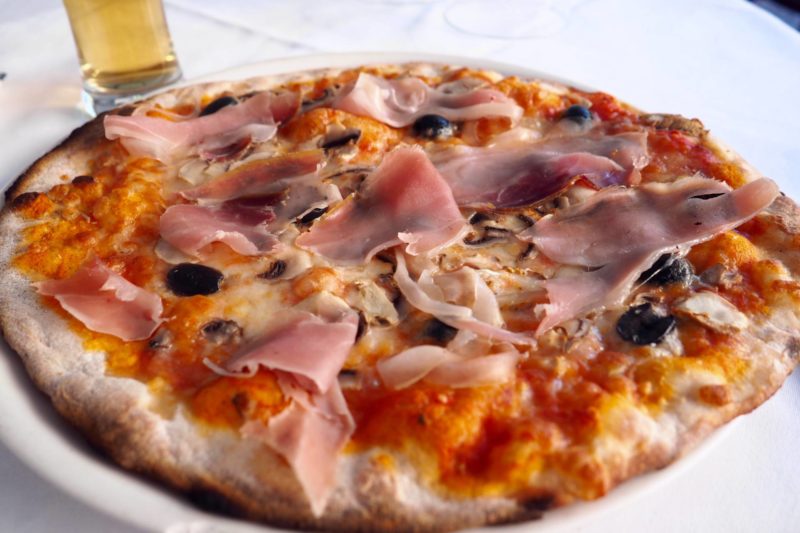 Visiting Vatican City
Next, a private transfer from the historic centre across the river to Vatican City, where we spent three hours taking in the vast collection of art in the museums.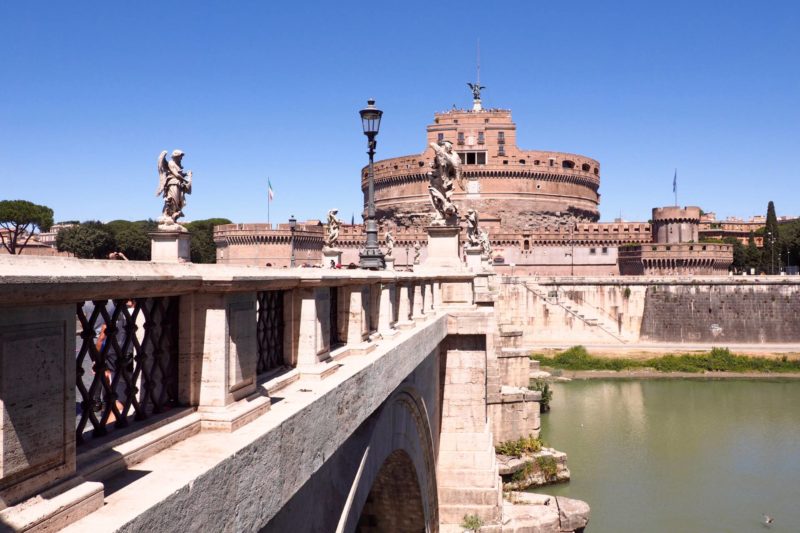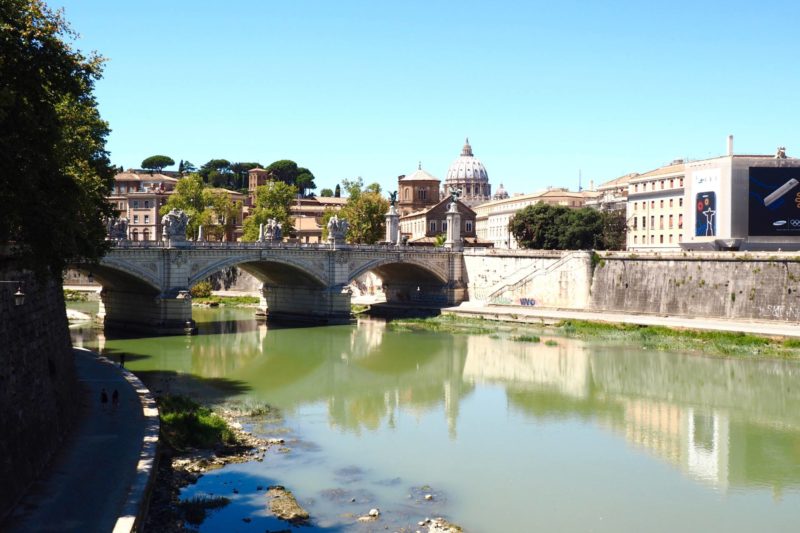 One reason to visit Rome if you're keen on ticking countries off your bucket list is that you can actually 'do' two countries in one day. Vatican City is the world's smallest state, with a population of around 800, just nestled in the middle of beautiful Rome.
The queues are enough to put the keenest tourist off, but tour groups skip them – another reason to plan ahead. Inside the museums, Francesca took us through some of the elaborate neoclassical paintings, the Raphael Rooms, ancient sculpture galleries and the stunning Hellenistic 'Laocoön'. The artworks were all full of people throwing themselves around in distress and my favourite thing was to spot the one sarcastic guy in every corner who can't handle his mates' drama. Or is that just me?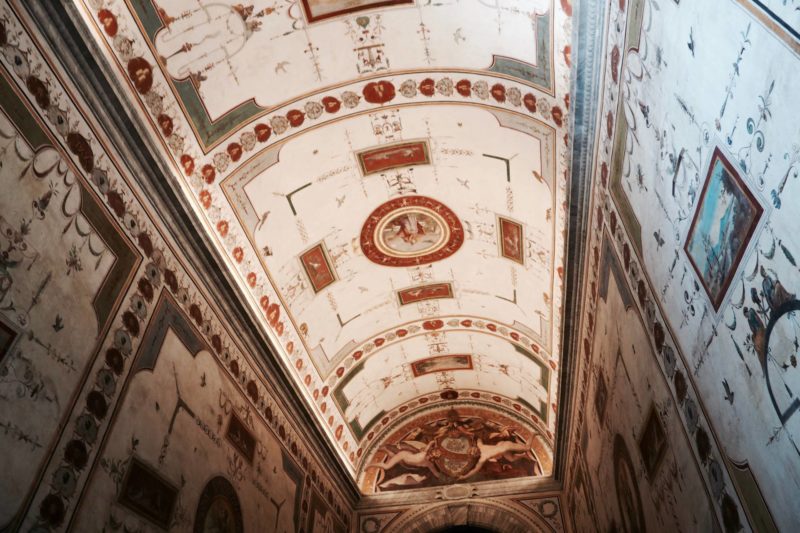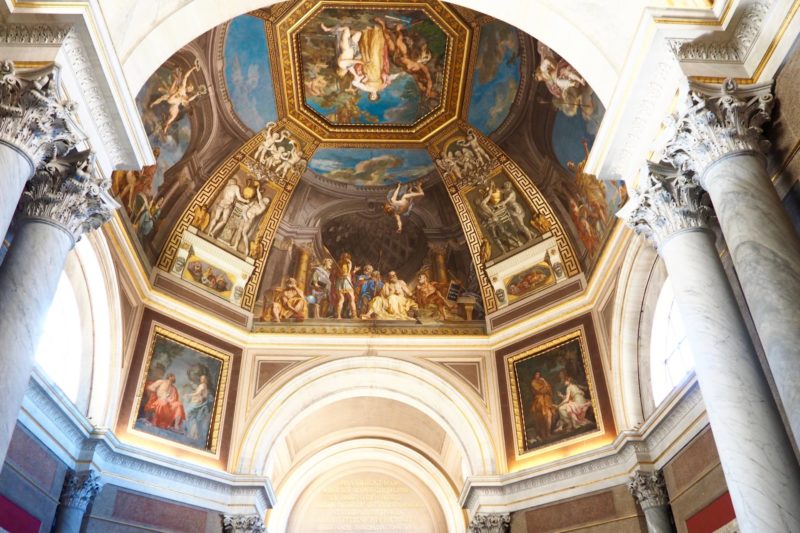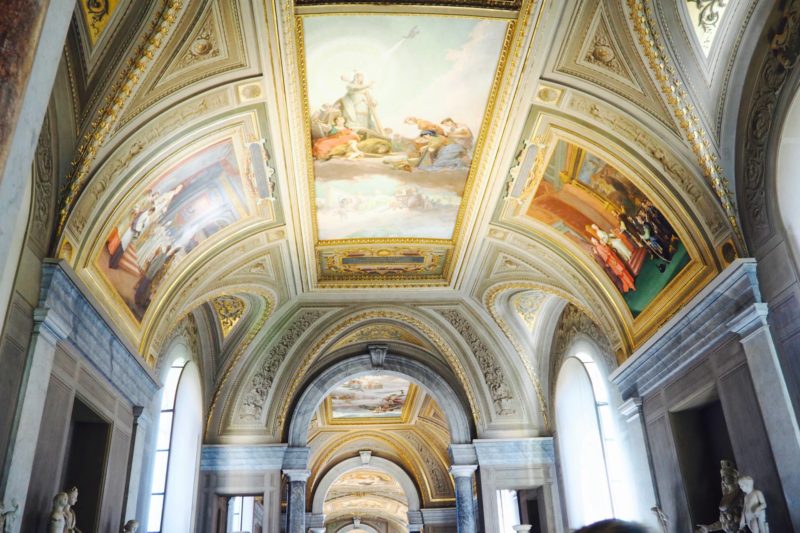 There are nine miles of art on display at the Vatican museums so it's beneficial to have a guide or a plan to hit the highlights, especially if you're trying to make the most of a short trip to Rome. Lining each side of the long, narrow museums are huge windows which spill sunlight in to the halls. I couldn't resist sneaking out to a balcony for a glimpse of Rome from above!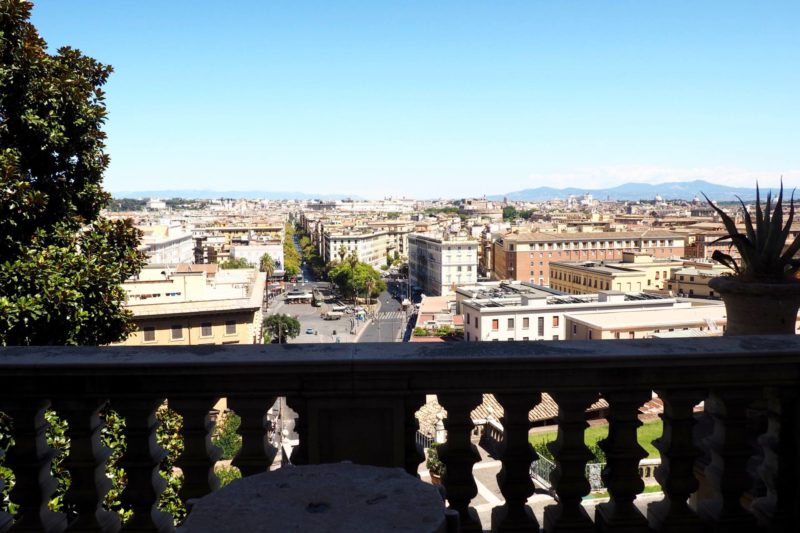 Our Vatican experience ended with the crowning glory: Michelangelo's frescos in the Sistine Chapel. Cameras are banned, as is talking, so no pics sorry! I also peeked in to St. Peter's Basilica.
Outside, I caught the changing of the guards (pretty boys), before waving goodbye to my tour group.
Aperitivo hour
As the sun begins to set on your first day in Rome, it's time to experience a real Italian Aperitivo hour. Most of the bars around Rome serve tasty snacks to accompany your sundowner. Try Antico Caffe della Pace, or La Bottega del Cafe in Monti. I quickly learned there's only one proper order: an Aperol Spritz.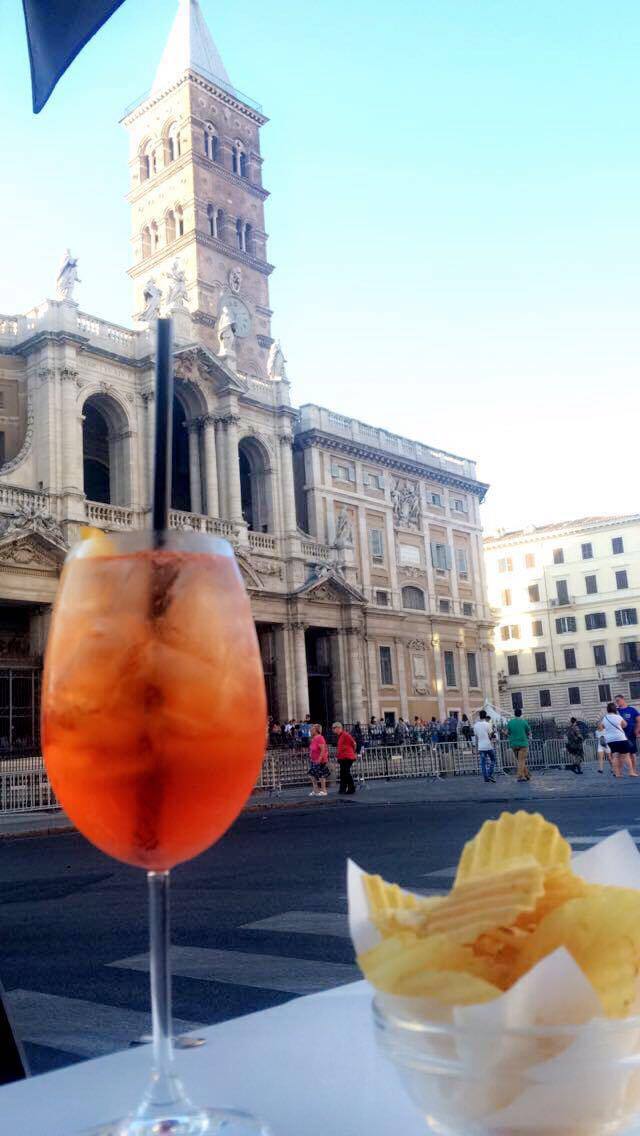 Where to eat in Rome
In the evening, you could roll your sleeves up and take one of Walks of Italy's pasta making classes, or drop in to an authentic Italian eatery.
I was spoiled for choice and figured it was time to call in a Rome expert so I met an old uni friend who had been living in Rome (lucky). She took me to La Tavernelle on Via Panisperna, where we both devoured comforting mounds of Cacio y Pepe served in bowls made from cheese! Life goals attained.
Did you know that the Ancient Romans used to force themselves to puke during meals so they could fit more in? I'm not going to lie, I can totally see why.
It may have been a long day, but I wasn't going to turn down joining the crowds of all ages in the streets. Groups of tourists and locals alike congregate at the various fountains like teenagers, and the revelry continues to the small hours. I didn't last that long – two cities in one day catches up on even the most determined travel bloggers.
Day 2 in Rome
After waking late, I headed to breakfast at Caffe Bianco, and took my time over a saccottino al cioccolato. In Italian, a sacco is a sack, so this translated to "little sack with chocolate". A chocolate croissant to you and me!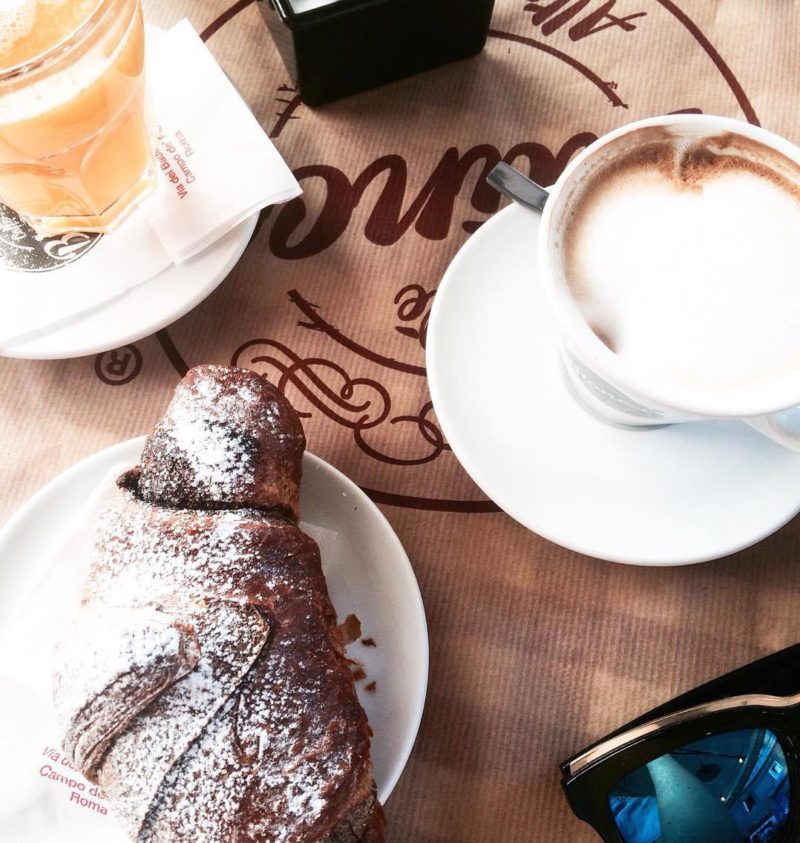 Getting lost in Cento Storico
My first day in Rome had been dedicated to squeezing in as many of the main attractions as possible, so I spent the second day soaking up Rome's true essence.
The three main roads leading to Piazza del Popolo from Piazza Venezia and the Colosseum feed off into some of Rome's most picturesque streets. The baroque art, earthy leather shops selling handmade bags and vintage boutiques spilling their wares onto the street will keep you occupied for hours. I certainly lost track of time!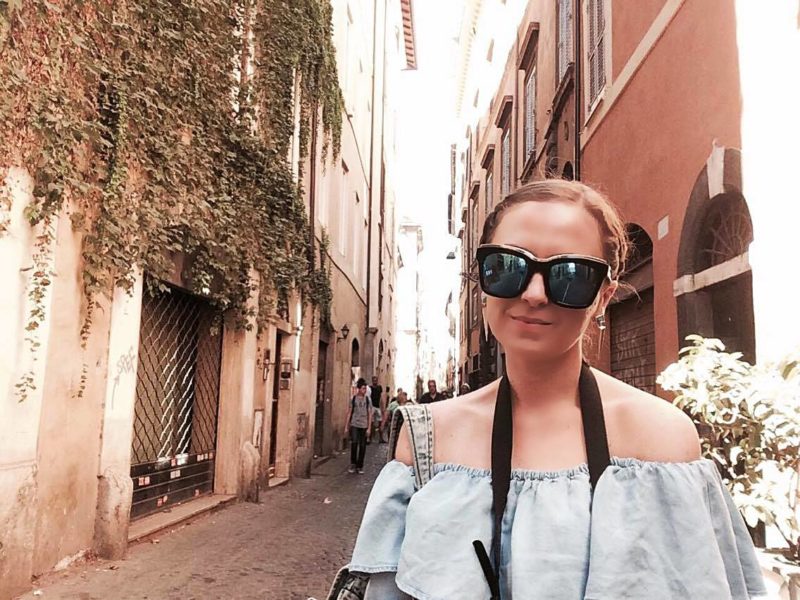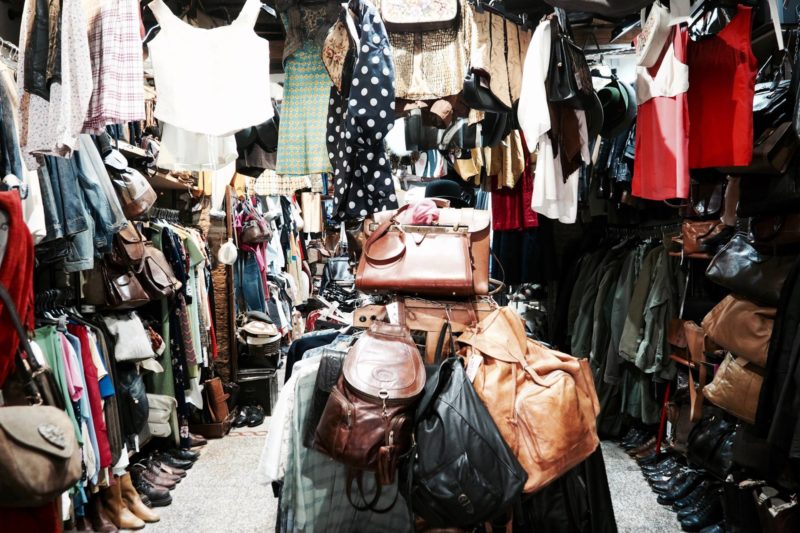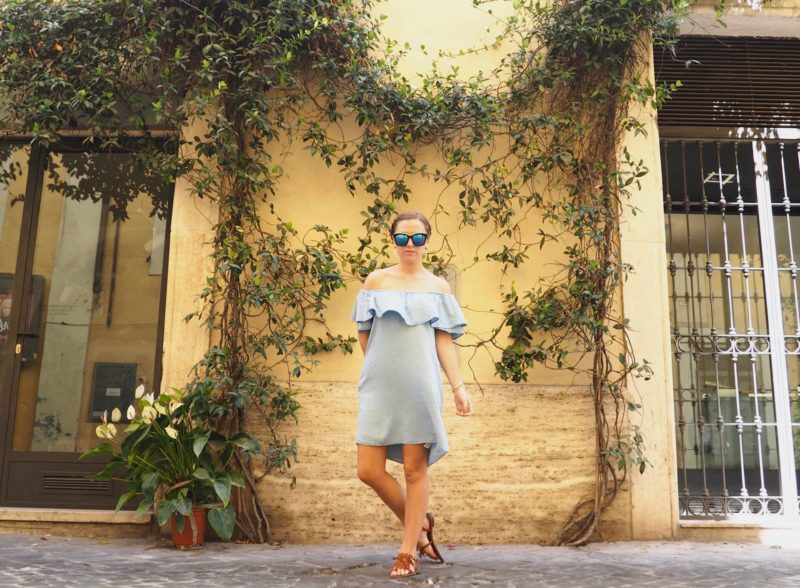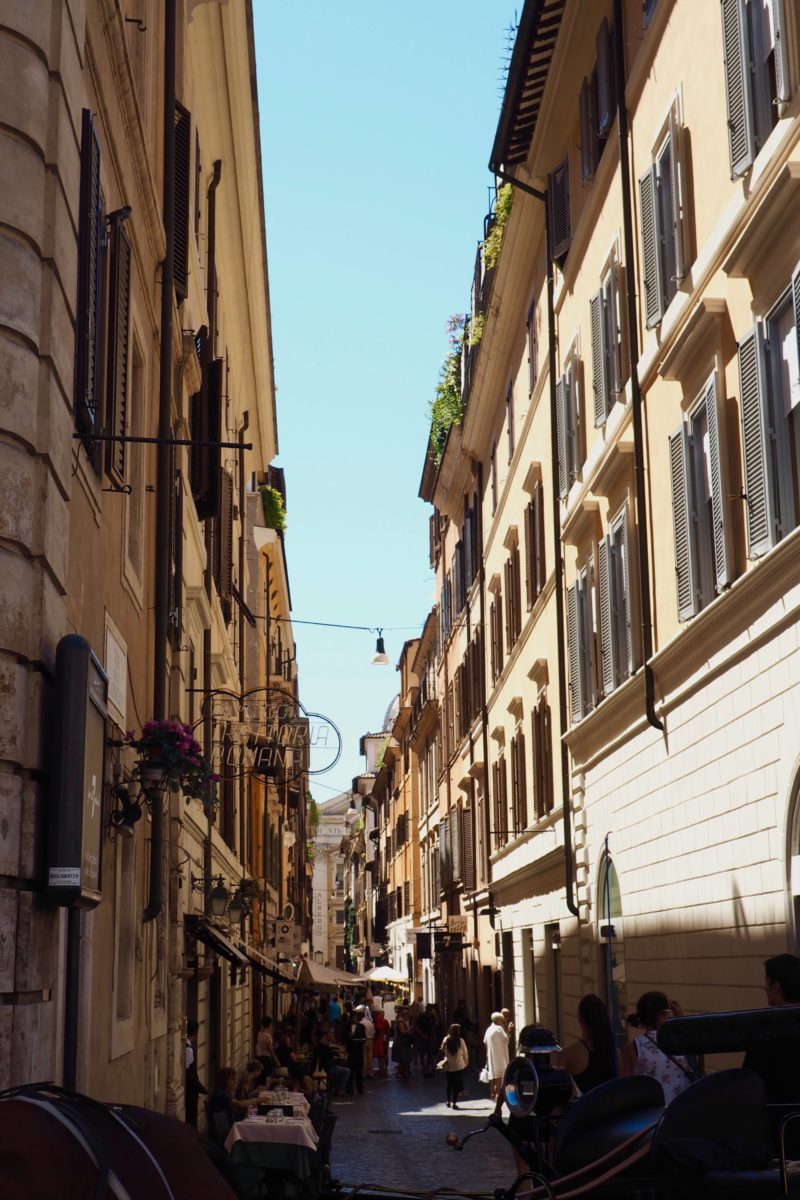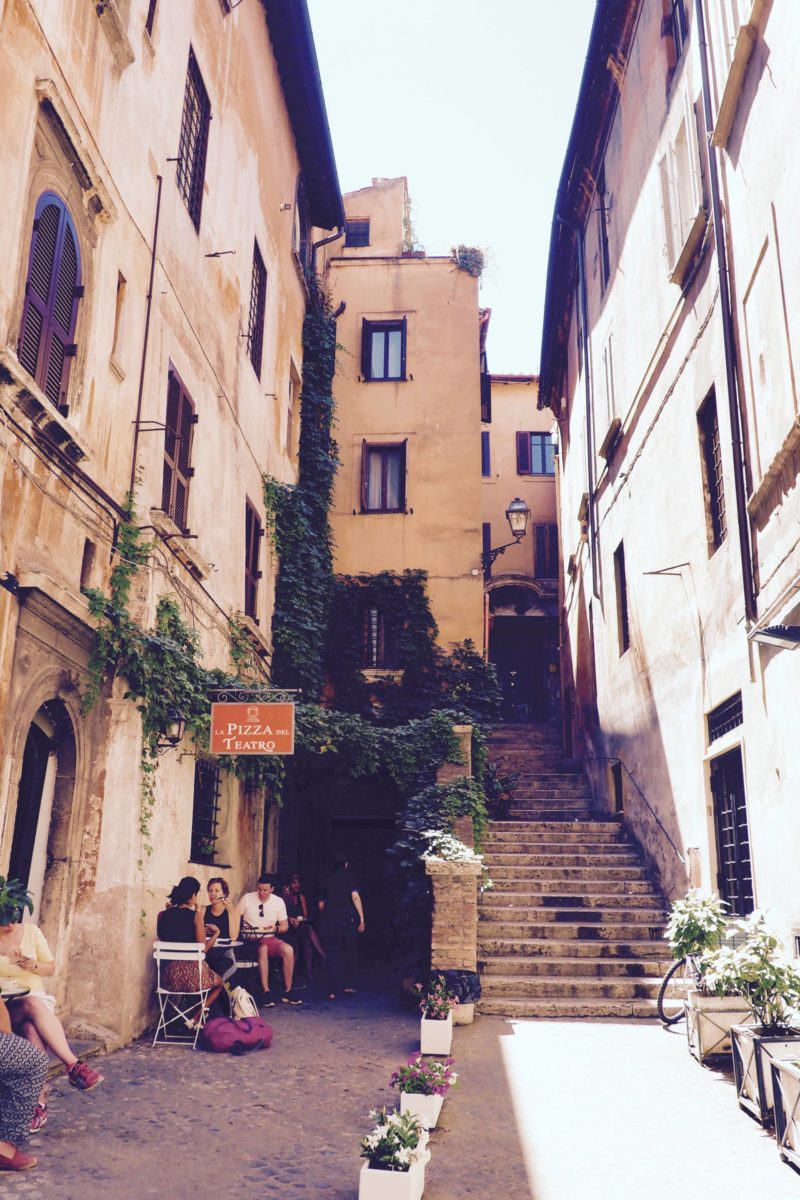 It was soon time for a coffee break, and I was looking forward to sampling more Italian coffee. I ordered a short, sweet 'Caffe freddo' to cool off.
The Spanish Steps were under restoration during my visit but the Keats-Shelley memorial and Bernini's Fountain at the foot of the steps were still beautiful.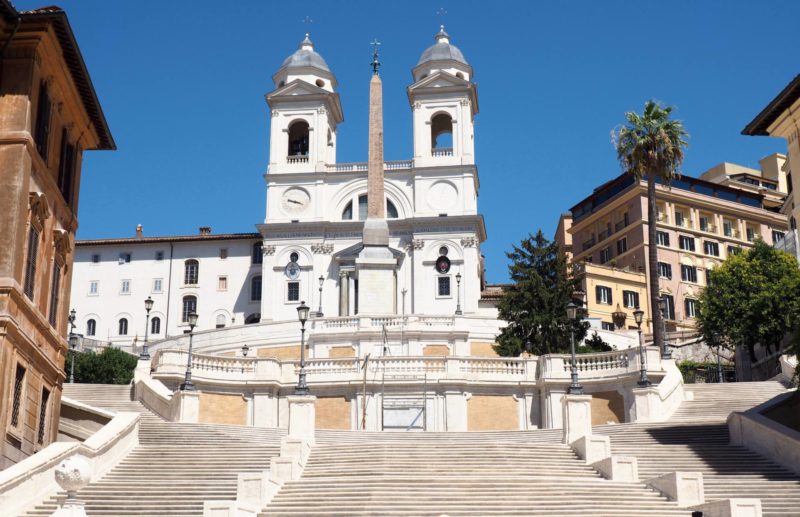 Dinner and nightlife in Trastevere
After freshening up at my hotel I took the H bus from Termini to Trastevere, the bohemian nightlife area for young and old across the Tiber river. My hotel owner had recommended I eat at Augusto so I settled down for a huge serving of perfectly al dente rigatoni in a tomato and pork sauce and a fishbowl sized glass of good red wine.
Afterwards, I indulged in a quintessential Italian pastime. 'Fare una passeggiata' means to go for an evening walk, and Trastevere's narrow streets beg to be wandered. Via della Lungaretta is lined with bars, restaurants and boutiques. Ivy tumbles down from windows and pavement seating creates a buzz in the night air. I joined the swaying crowd for a melty-voiced busker performance at the fountain, browsed the stalls for jewellery and called in at Long Island Night Cafe for a nightcap: Amaretto Sour.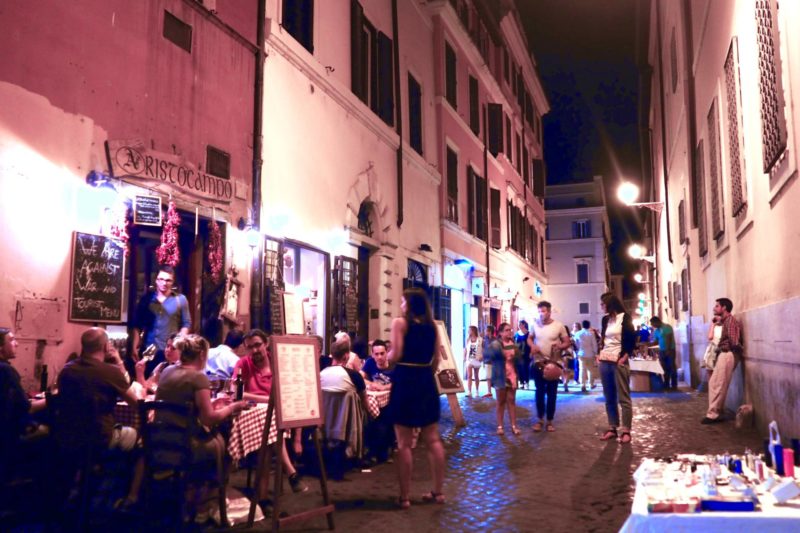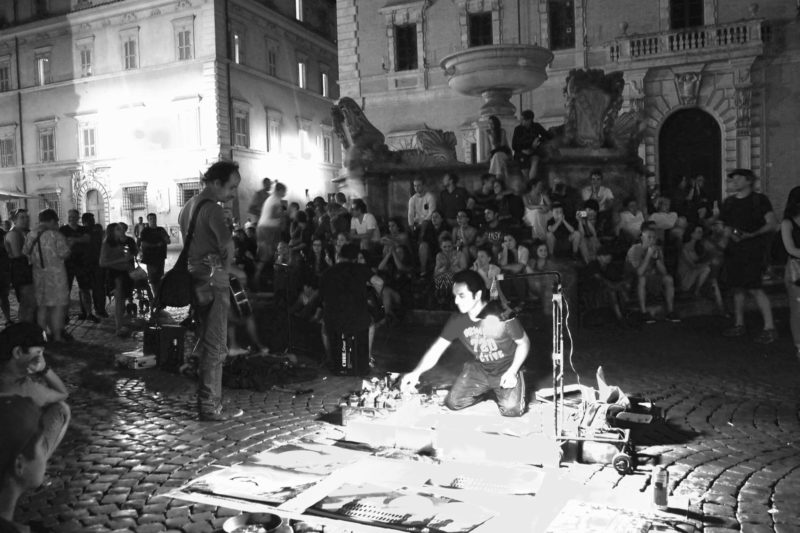 Traditionally, Roman husbands would kiss their wives at the end of each day. But it wasn't for romantic reasons. It was to check she hadn't been necking wine all day!
Rome is definitely a city whose inhabitants take the time to enjoy their life (and of course, their food). I left with a deeper understanding of why it's known as the Eternal City and a niggling need to return.
Where to stay in Rome
I stayed at a wonderful hotel near Termini, and enjoyed a 'hotel room at a hostel price'. You can read my full review of The Blue Hostel Rome for more information and book your stay here. There are a number of backpackers hostels and luxury hotels around Rome, it just depends on your needs and budget.
More Rome travel tips
Taxis are expensive so take some time to suss out the public transport system before you go.
Never order a caffe latte after breakfast time and if you do order one, don't drop the 'caffe', or you'll be served a glass of milk.
The Leonardo Express Shuttle from Fiumicino airport gets you to Termini station in 30 minutes.
Only buy gelato at shops displaying a sign that says 'Artiginale' – that means it's made fresh at the store.
You'll need to dress modestly to enter the Sistine Chapel. Bring something to cover your shoulders and leave your hot pants at home.
Rome isn't a coastal city so seafood isn't a speciality. Instead, order creamy pasta dishes or try a Roman favourite: oxtail stew, or 'Coda alla Vaccinara'.
Planning your own trip to Rome, 'Caput Mundi' (Capital of the world)? Lonely Planet's Rome Guides cover everything you need to know.
If you enjoyed this post, give it a share, pin it for later and follow While I'm Young and Skinny on Facebook, Twitter and Instagram. There are more adventures to come!
What I wore