When I was invited back to Carnival by Tresind to sample their new season menu, I didn't have to be asked twice. My last meal at this DIFC restaurant gave me something to talk about for weeks afterwards, and I knew a second visit would fuel awkward silences and forced chit chat in the lifts for the foreseeable future.
I might not have made it to India on my travels yet, but our meal at Carnival by Tresind took us on a culinary tour of the country, dish by dish.
A review of the second season menu at Carnival by Tresind
While the debut menu from Carnival announced itself as a postmodern take on Indian cuisine, the new season's list of dishes is a lot more traditional, with intriguing plates hailing from suburban neighbourhoods and hole-in-the-wall eateries across India. The chef has taken India's most popular street food, spruced it up a bit and served it to Dubai's fine dining darlings with a flourish.
But don't be fooled by the home-grown menu; there's still an exciting element of performance to this eating experience. With a bubble-blowing reception (yes, really) and meals constructed at your table, a meal at Carnival isn't like any regular restaurant visit. Come with an appetite, unbutton your pants (it's totally necessary) and enjoy the show.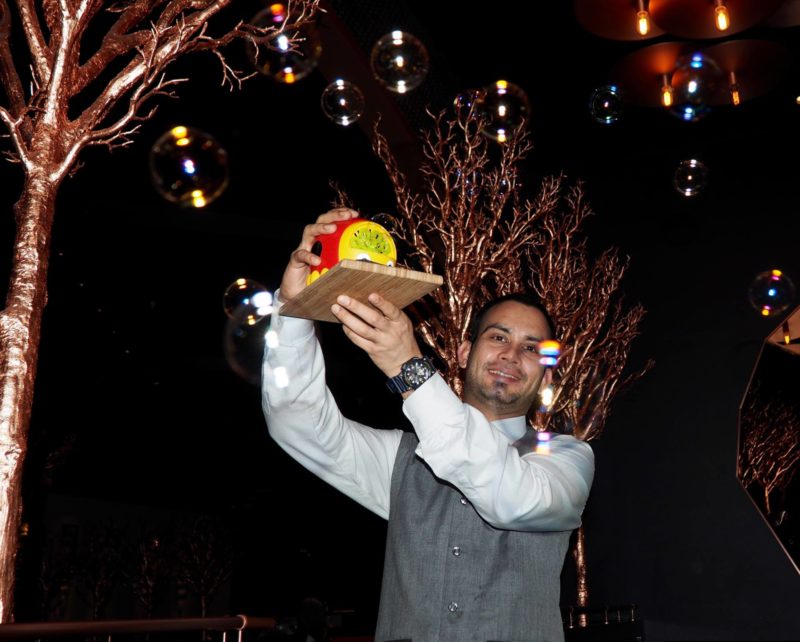 The lovely waiting staff explained each dish's origin or the chef's source of inspiration as they served us plate after plate. Images of a lone culinary traveller wandering around India in search of the most authentic and visionary food experiences were conjured as the meal unwound, and we found ourselves speculating wildly about the mind behind the menu.
The second season menu feels a little more considered than the original. While the premier tasting menu was at times an overwhelming attack on the senses (granted, in a good way), this meal played out in a slightly more predictive fashion, with clearly defined courses. Then again, perhaps we were just more prepared on our second visit.
Carnival cocktails
First, the drinks. We let the bartender mix his own choices, only telling the staff which spirits we preferred. I had a gin and cucumber concoction, served in the same kitsch teapot and Dickensian teacup as last time, while my dinner date Jody had a sharp Campari mix. The real delights though, were the Boiling Skull and Ghost Rider cocktails.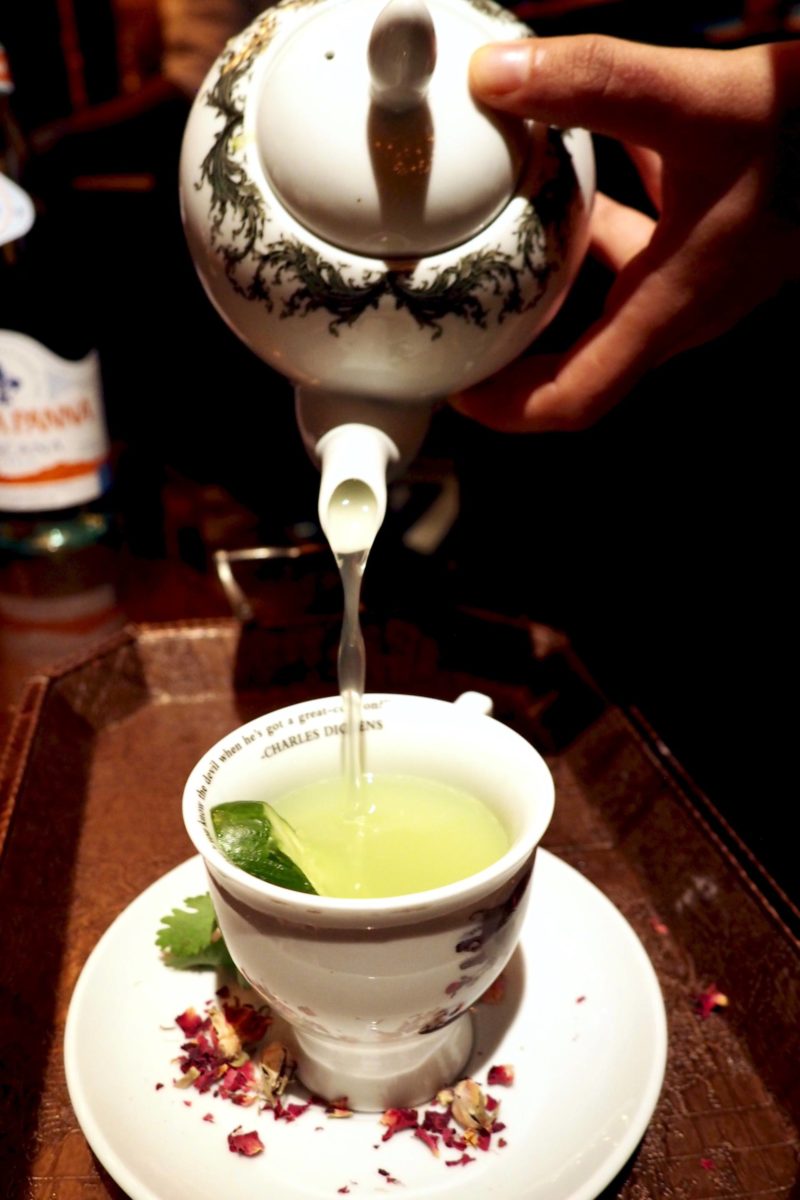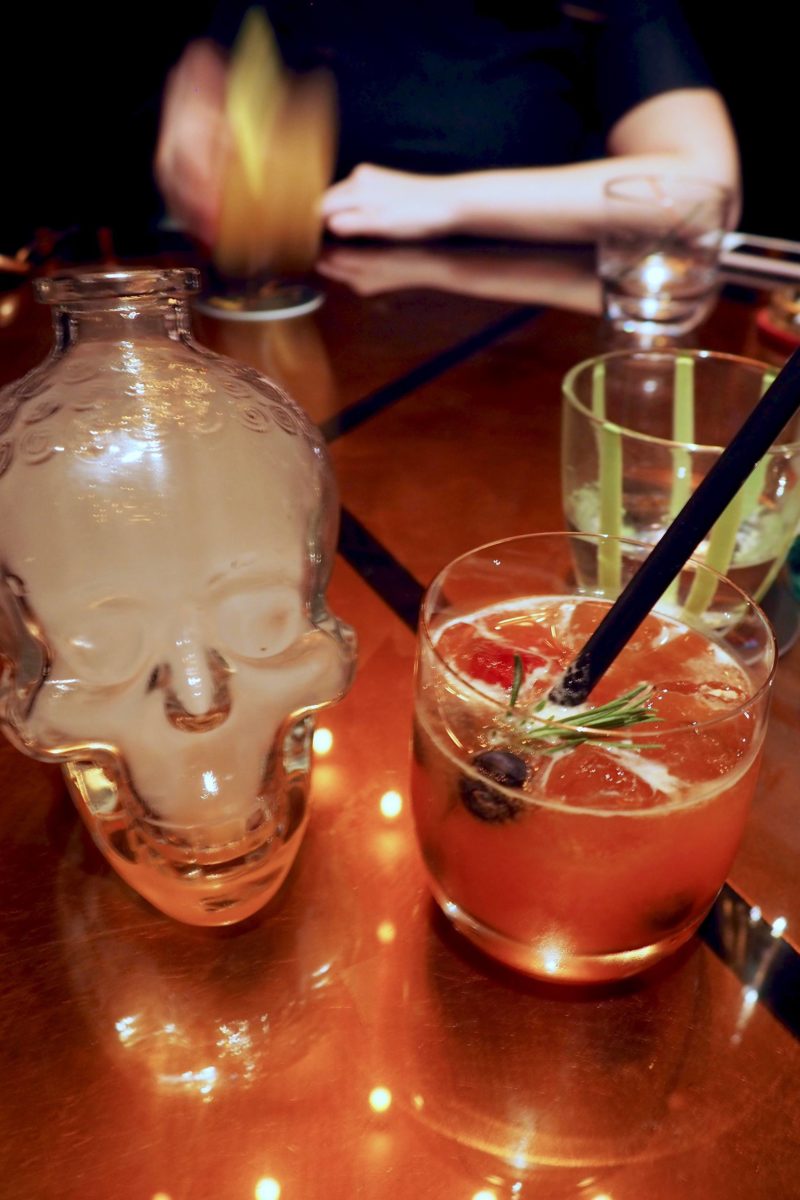 They may look scary, but they were all delicious.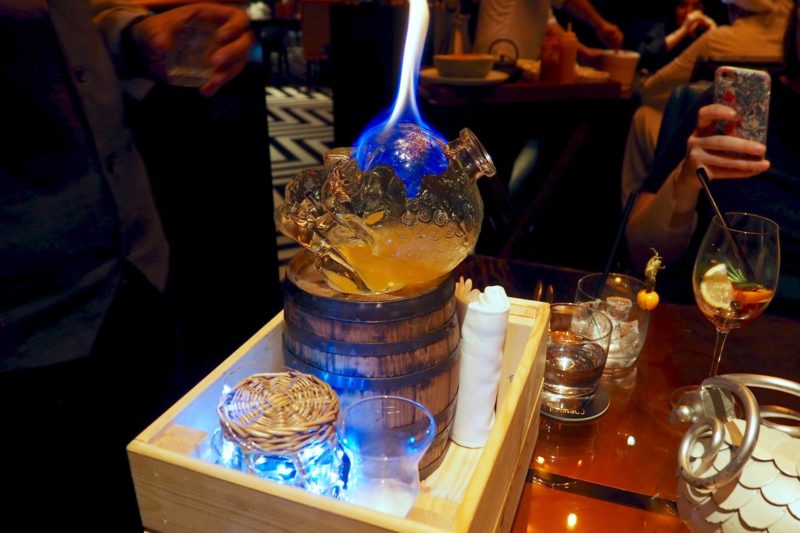 Like last time, we decided on the carnivore menu, but I'd be interested to sample the vegetarian options.
Carnival's second season tasting menu
First up, a pleasing palm-sized Bombay Chutney Sandwich with air-puffed Pink Puri and a shot of spiced pomegranate syrup, or Pani. The first course is presented, in typical Carnival fashion, on a life-size replica hand.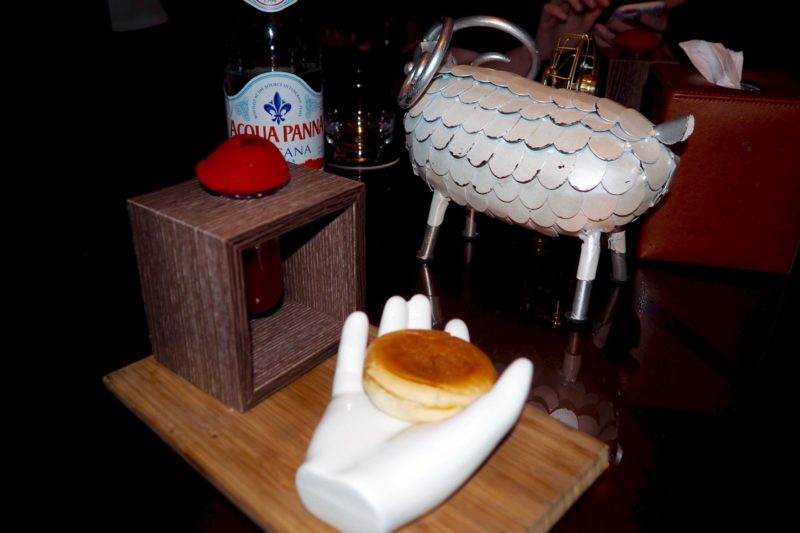 The dry ice was wheeled to our table for the next fish, Dahi Vada. Light frozen yogurt was layered over dumplings and sprinkled with spices then topped with jewel-like pomegranate seeds. The taste was wonderfully refreshing, and the cooling yoghurt lined our stomach for the spices to come.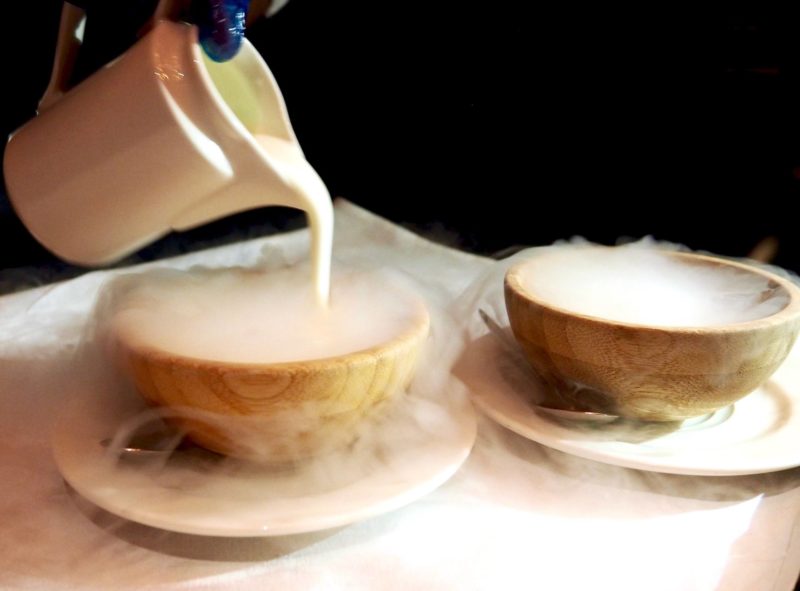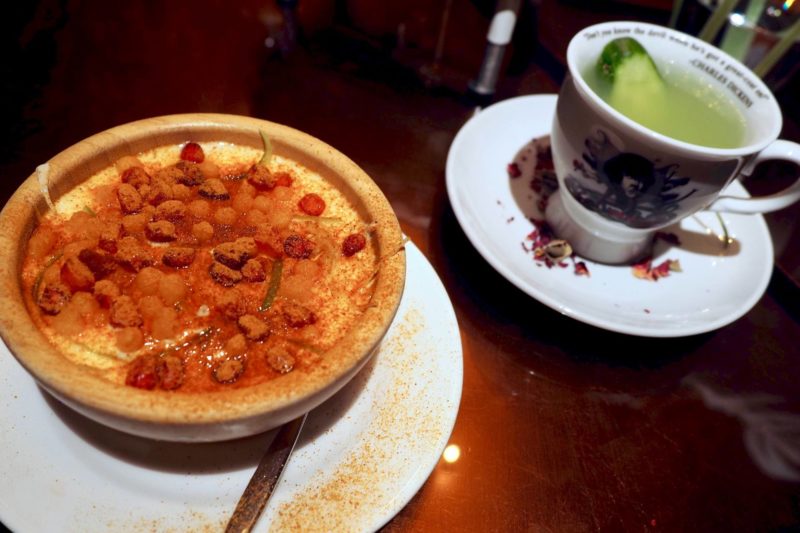 The meat based appetisers commenced with Into The Wild, an aptly named dish of Wagyu beef and prawns cooked on a slab of Himalayan rock salt, slightly licked with chilli oil for added flavour.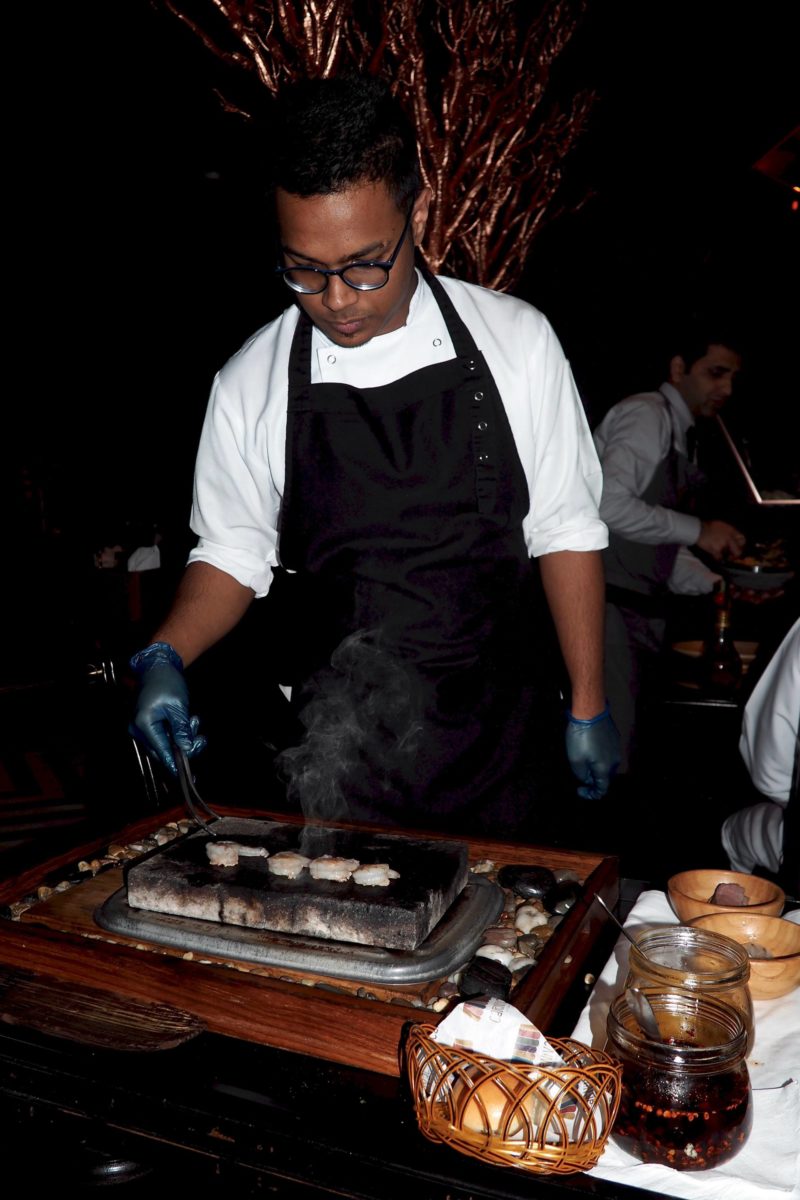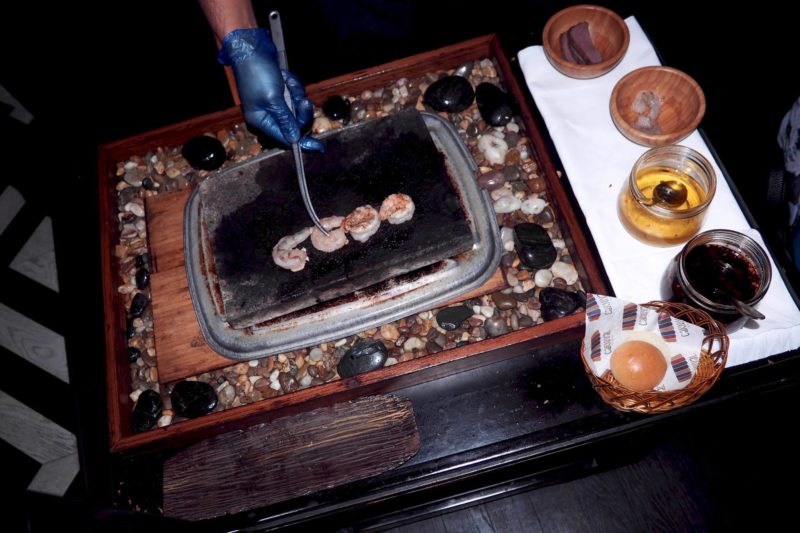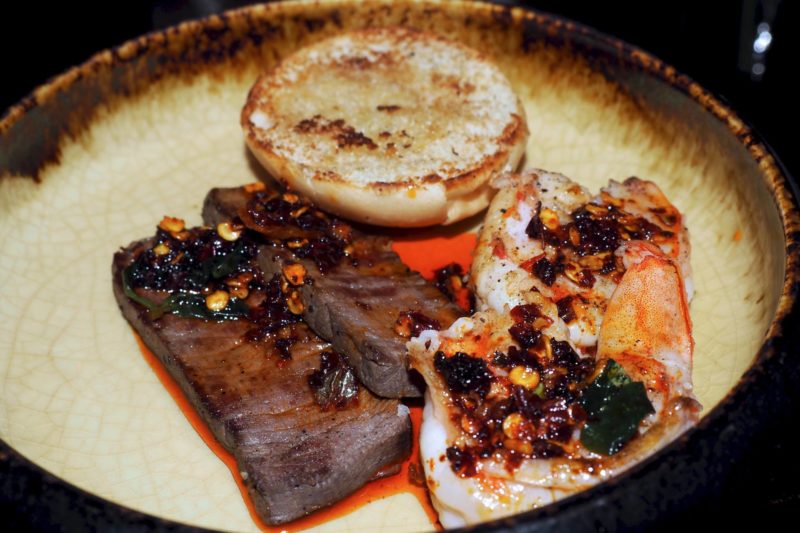 The name of the next dish, Dragon Chicken, made sense as soon as the blow torch came out. These sweet and sour chicken strips encased in wai wai noodles were a little tough on the outside, but perfect once we broke through the noodles. This dish stood out because of the Chinese flavours, a surprising but pleasant interruption to the Indian spices.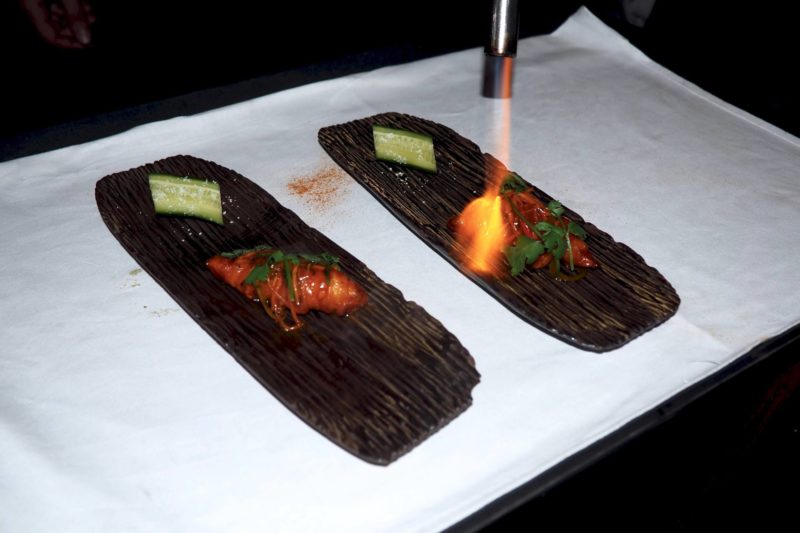 Wenger's may sound like strange name for a course in a DIFC restaurant, but our waiter explained that the chef had borrowed this recipe from the owners of a small kebab shop in New Dehli. I've never matched minced beef kebab with boiled egg salad before, but it totally worked. It also looked stunning on the plate, proving that you don't always need smoke, fire and elaborate glassware to wow.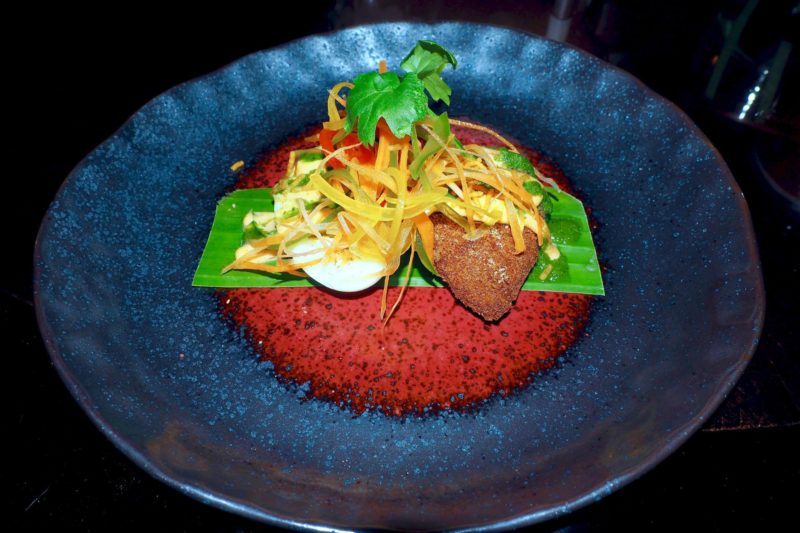 If I had to choose one course that I could have skipped, it would probably be the Hunters Meat: slivers of sesame beef served with ginger root, pickled root vegetables and a rich broth, accompanied by poppadum. The flavours were good and I briefly considered slipping the granite serving dish into my handbag, but it just didn't blow me away like other dishes.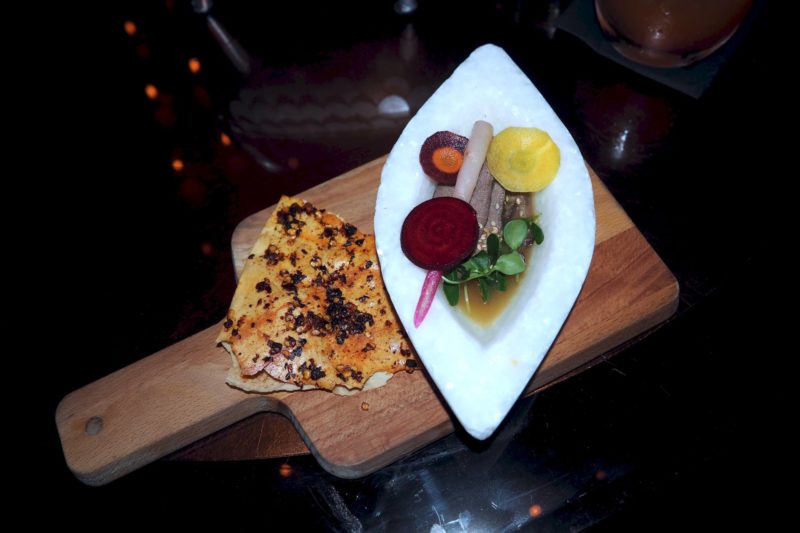 It was time for a palate cleanser before the main event: Strawberry Murabba. They really like dry ice at this restaurant, and that's more than okay with me.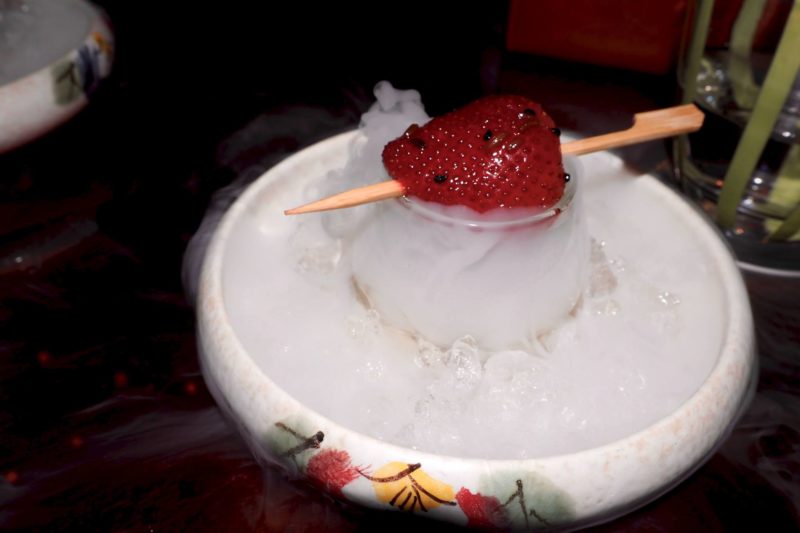 By this point in the evening, people were replying to our Snapchat stories, "Where are you?? Take me there!"
Carnival is most definitely the place to bring someone you want to impress.
The main dishes came in a family-sized picnic basket, and soon covered our entire table.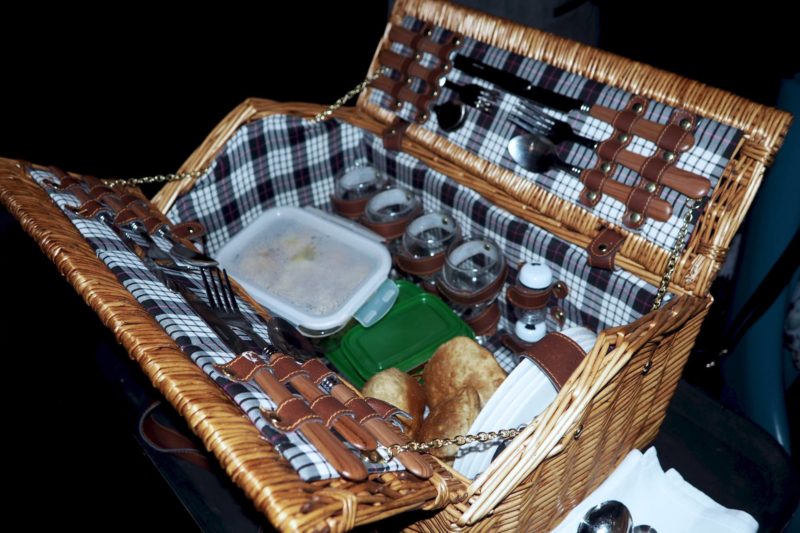 The vividly hued condiments were presented on a silver platter, and each main dish had an accompanying bread. Inside the picnic basket, we had tupperware containers filled with warm roasted potatoes with cumin, and lentils.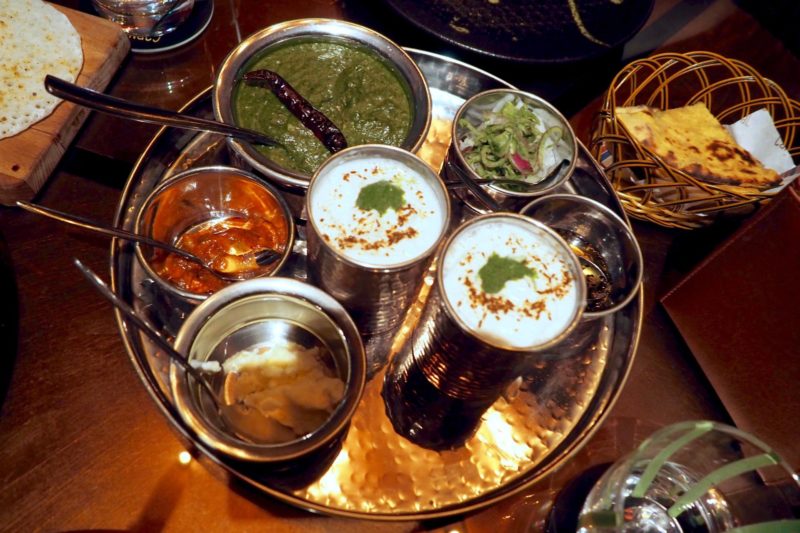 The heady aromas from the steaming hot, Goan-style Jingha La- La (or shrimp curry) were almost intoxicating, and the rich sauce was mopped up with fermented bread. This dish might be a bit overpowering for some, but it well and truly takes you to the Indian coast.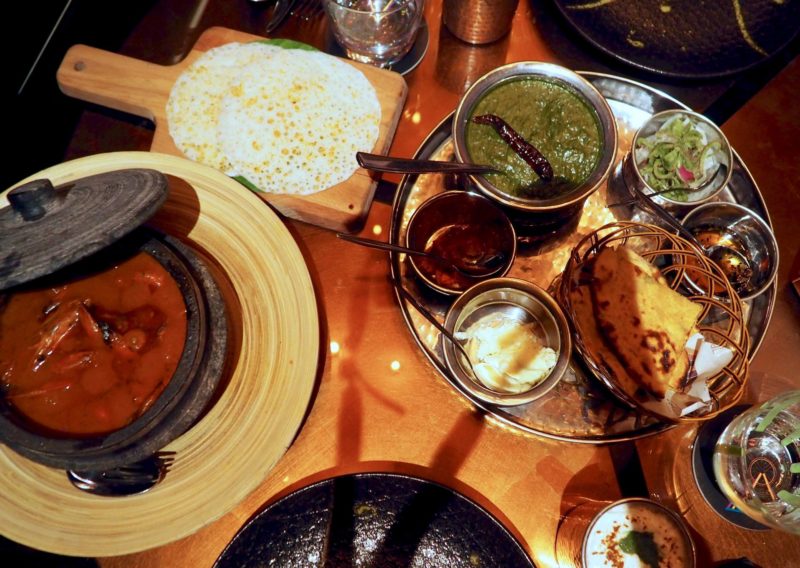 The Home Style Chicken Curry with Butter Naan went down very well.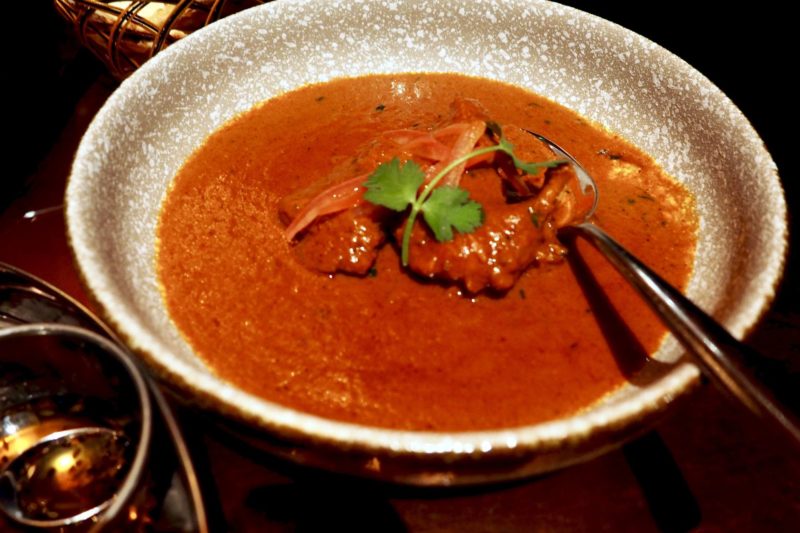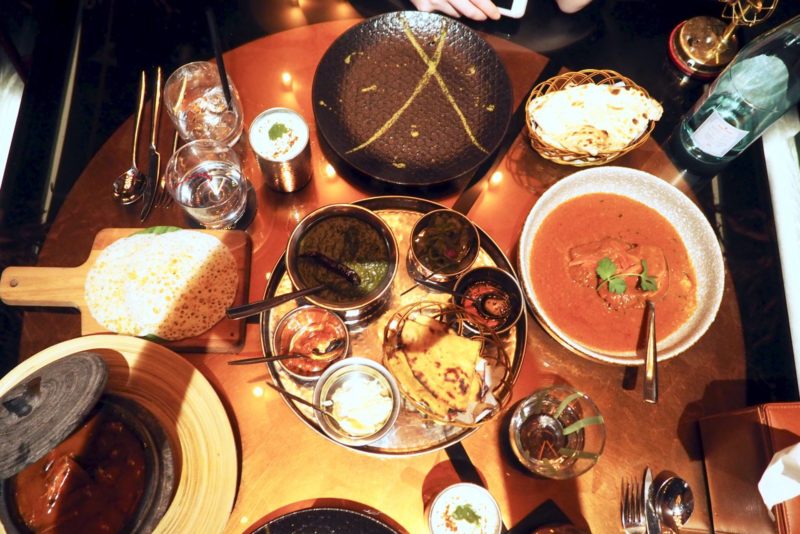 By the time dessert rolled around, we had just enough room for something light, so the fruity frozen custard (again, churned at our table) spiked with marmalade and served in half an iced watermelon was ideal. However, this happened to be accompanied by a warm-from-the-oven (quite literally, because it was taken from a miniature oven that ten year old me would have cut my Barbies' hair for in front of us) Milk and Cookies creation. The indulgent baked dessert was topped with cinnamon ice cream to balance the sweetness, and it was to die for.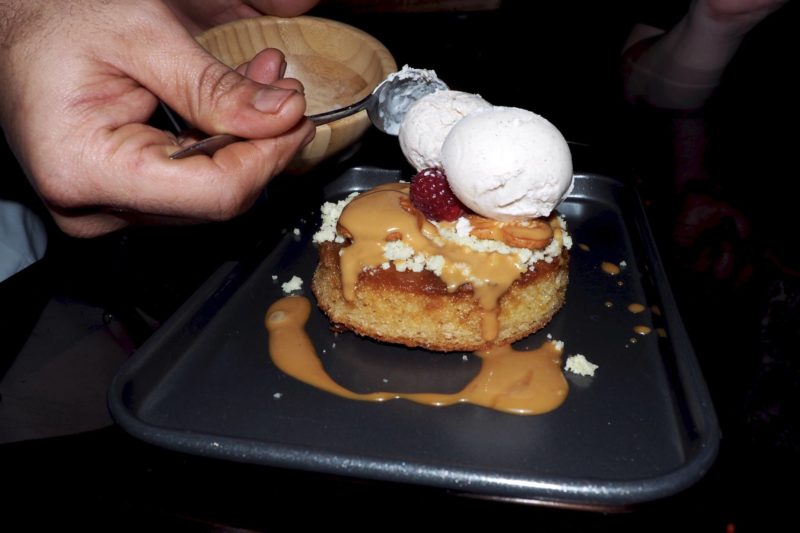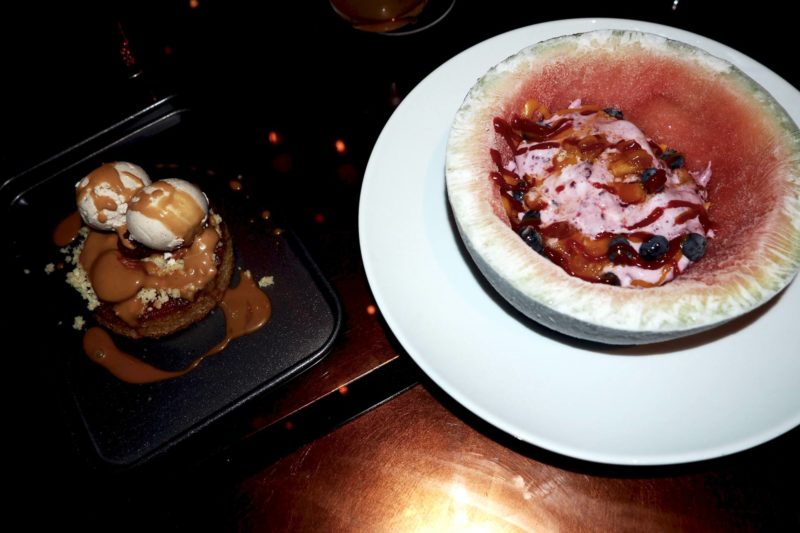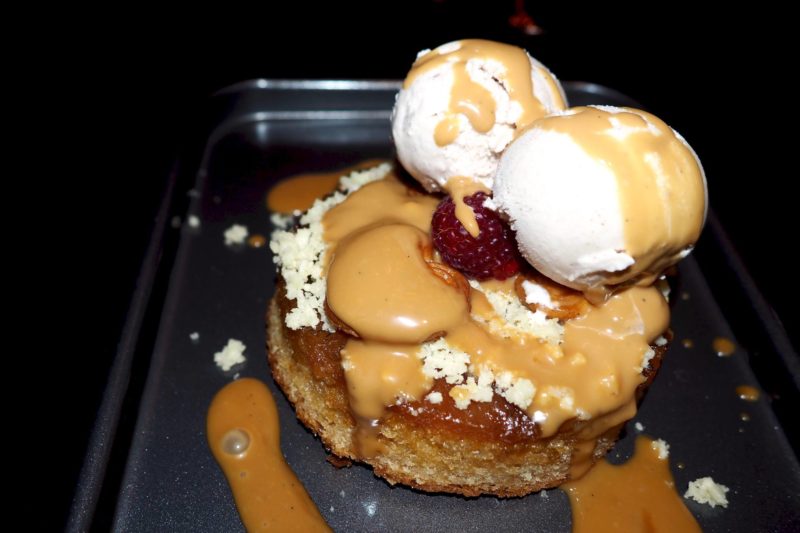 The final surprise could have been mistaken for a festive ornament. This crisp sesame sugar crisp is a famous snack in Northern India.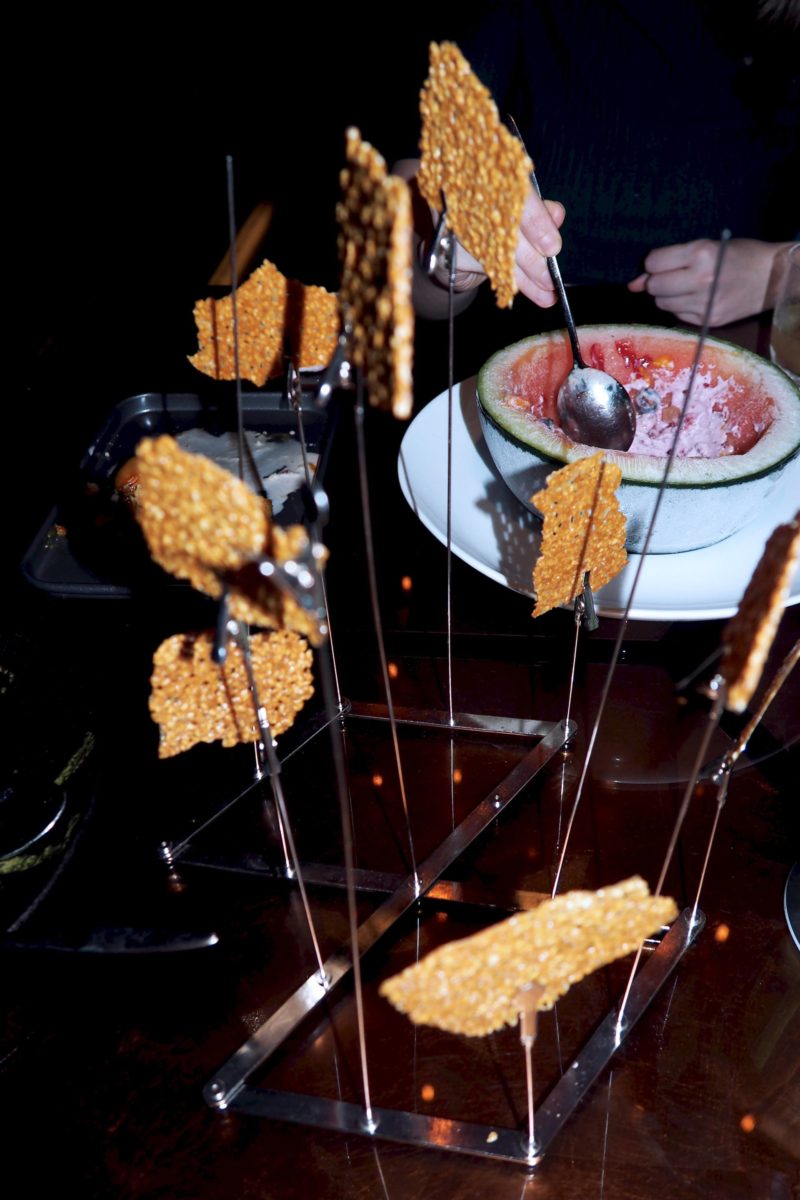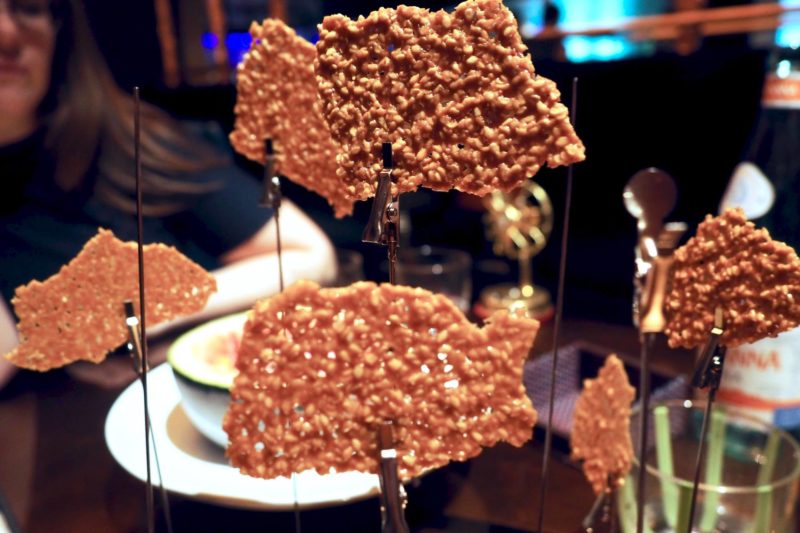 Once again, we stumbled out of Carnival and into the (almost) cool Dubai night feeling like we had literally journeyed around India sampling each region's most prized local flavours. The restaurant seems to have found its feet on Dubai's dining scene and everything was executed with the kind of confidence that only comes during a winning streak, which I'm glad to have witnessed.
The restaurant got the Sheikh's seal approval just after my first visit (do you think he read my review and said to his entourage, right lads, let's go for a curry tonight?) and season two's menu gets two thumbs up from me.
But we definitely needed these digestive pills that came with dessert.
If you enjoyed this post, please check out more articles in my Dubai life section.
You can follow While I'm Young on Facebook, Instagram and Twitter.