Hong Kong isn't the first destination that springs to mind for a budget city break, but it is possible to find luxury for less in this buzzing but expensive metropolis. I'm a big believer in living a champagne lifestyle on Lambrini pockets, so I welcomed the challenge when Travelex asked me to fake fancy in Hong Kong for two days. 
I dedicated the first day to seeing all Hong Kong Island has to offer and spent day two across the water in Kowloon. I've split the itinerary into two posts because delayed gratification is sometimes worth it. Here's my guide on things to do on Hong Kong Island on the cheap.
Things to see and do on Hong Kong Island on a budget


Clusters of high-rise buildings with designer label shops on the ground floors are grouped near the harbour, while the steep streets towards Victoria Peak reveals a glimpse of old Hong Kong. Narrow double-decker trams snake through the main streets, a nod to the historic British influence.
First, window shopping for high-end labels in the Central area on Hong Kong Island. I was obviously on a budget but it doesn't cost anything to look, right?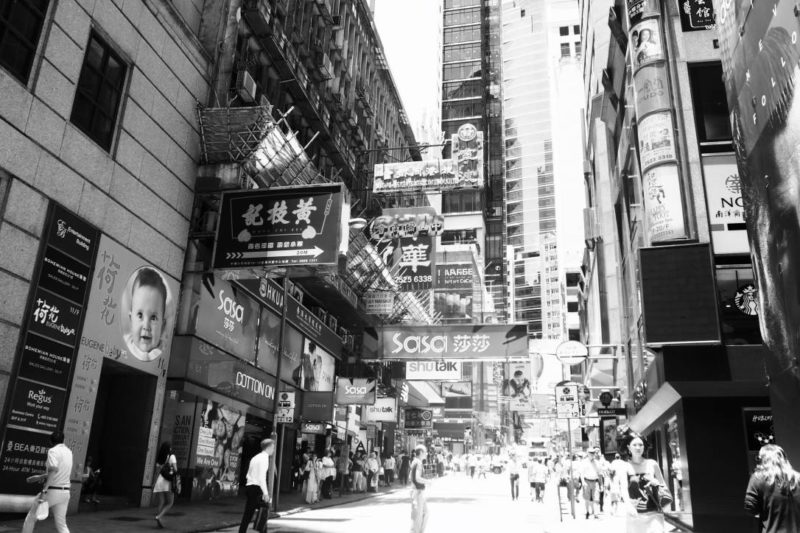 The world's longest covered escalator cuts through the Mid-levels and chic SoHo. It goes on for 800 metres! From 6 am to 10 am it runs downhill, carrying residents to their jobs and errands down in Central. At 10:30 am it changes direction for the rest of the day, bringing tourists and commuters up to the restaurants, shops and residences in the hills.
I quickly realised that just walking around Hong Kong Island can keep you entertained for hours. I always feel that an amble around the city is the best way to experience the essence of a destination.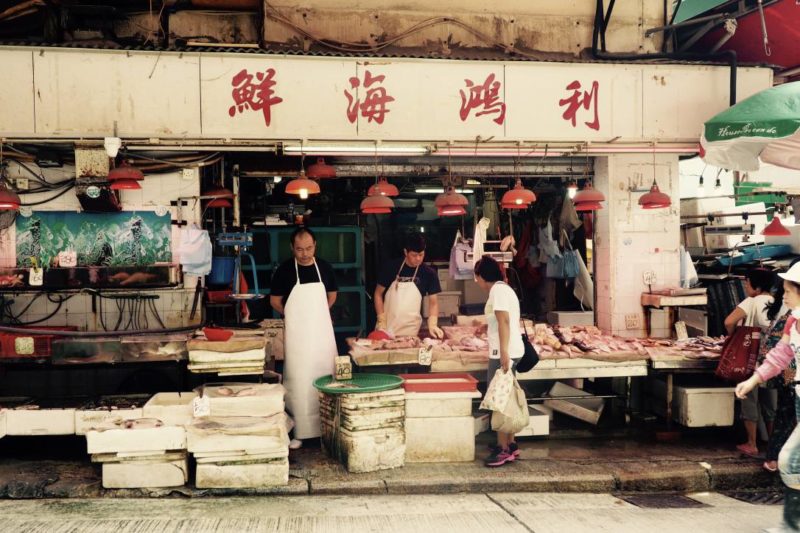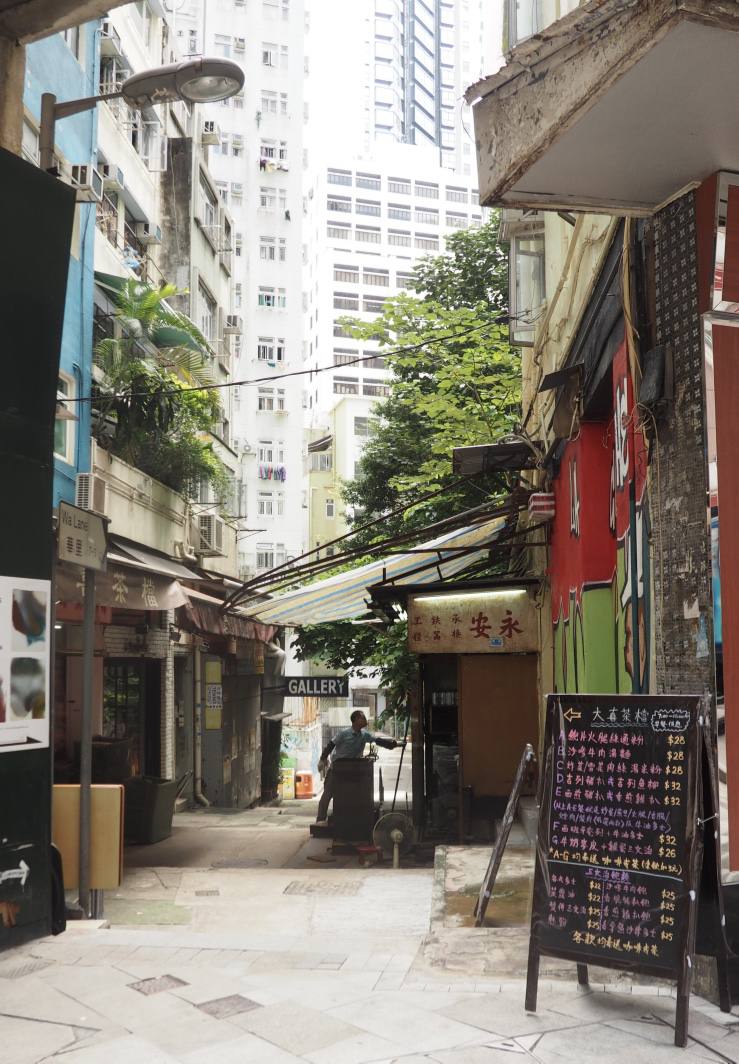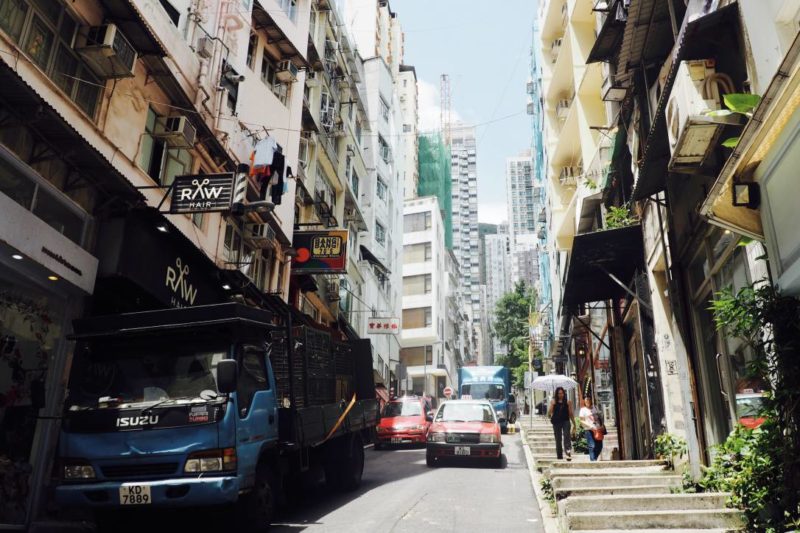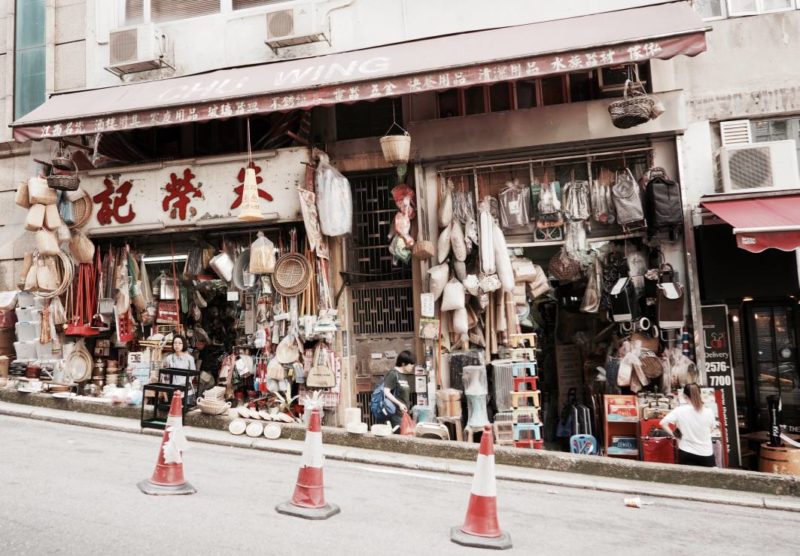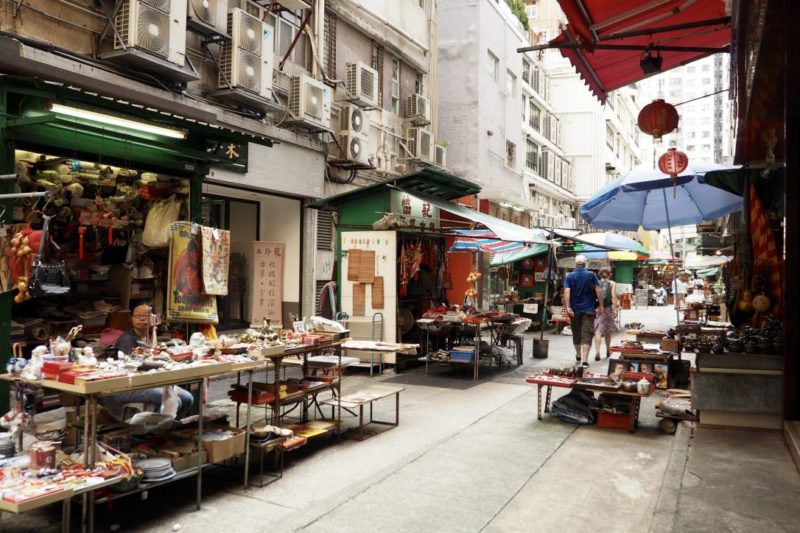 I even spotted some decent street art!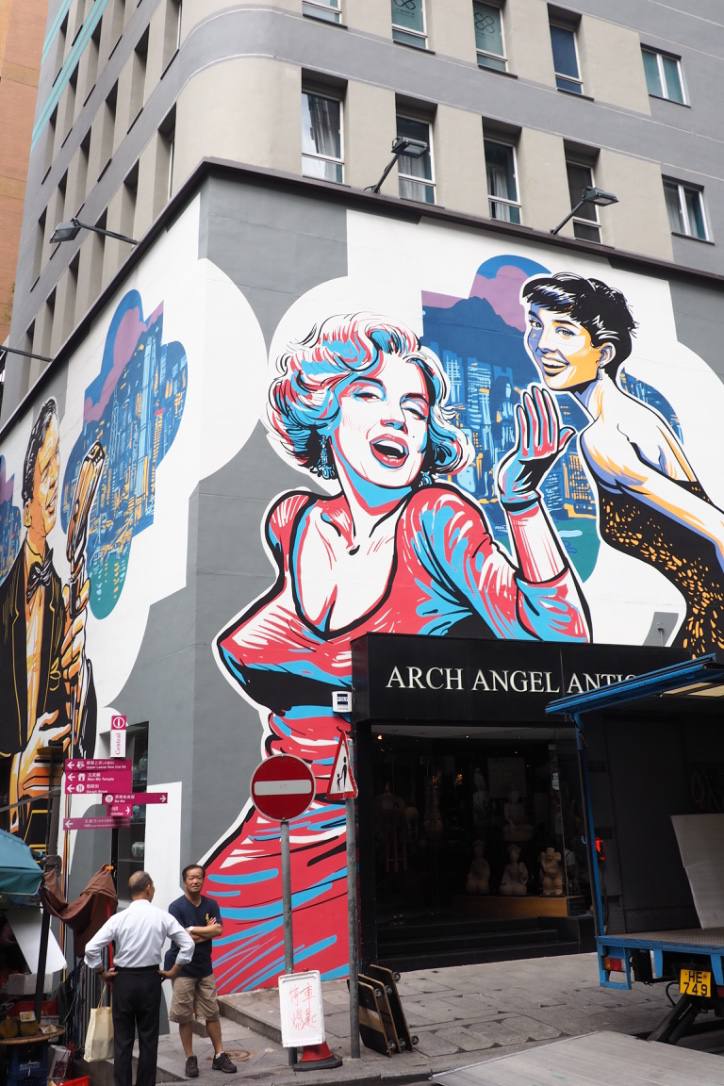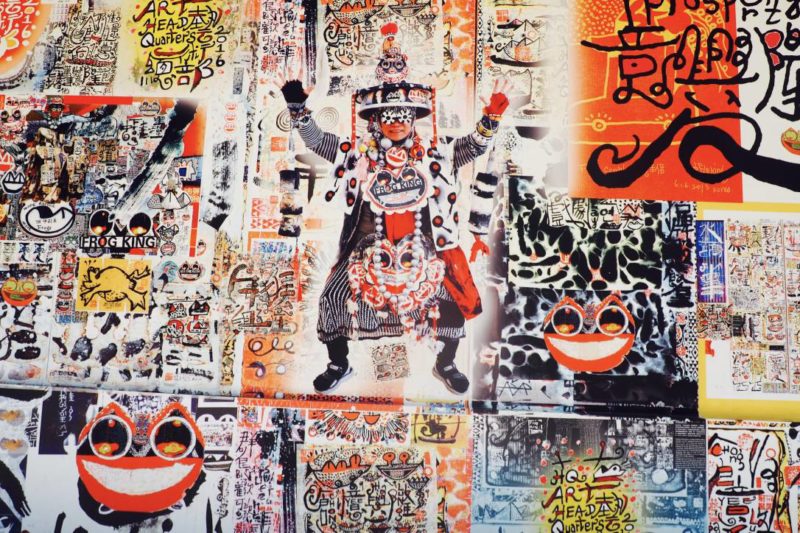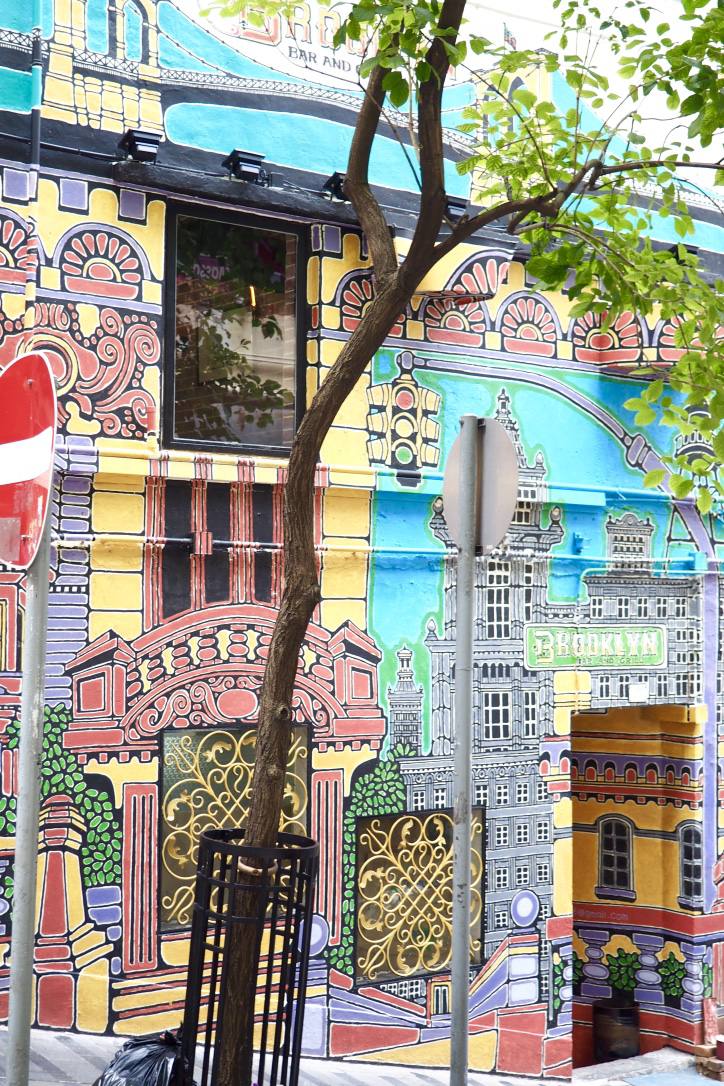 PMQ
I took a break from the balmy heat by cooling off in the free art galleries in PMQ. This is the former Police Married Quarters which are now Hong Kong's art and culture hub.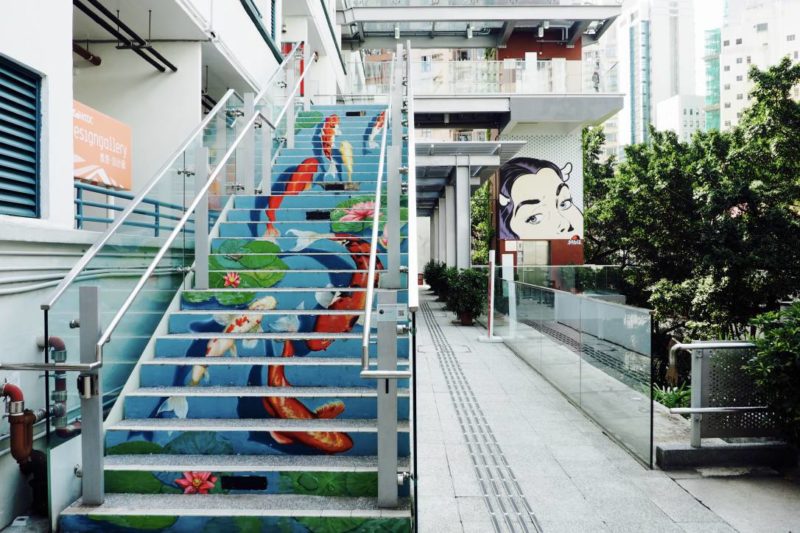 Where to enjoy a cheap lunch on Hong Kong Island
It wasn't hard to find tiny, blink-and-you'll-miss-them eateries around PMQ. A local guided me towards Ding Dim, an odd little dim sum place spread across two shops. I walked into the nicer looking one and the waitress made me sit in the other one, next to the serving hatch, then served me the most delicious dumplings I've ever tasted for just 32 HKD. I washed them down with a cold glass of Tsingtao, Chinese beer, which cost 30 HKD.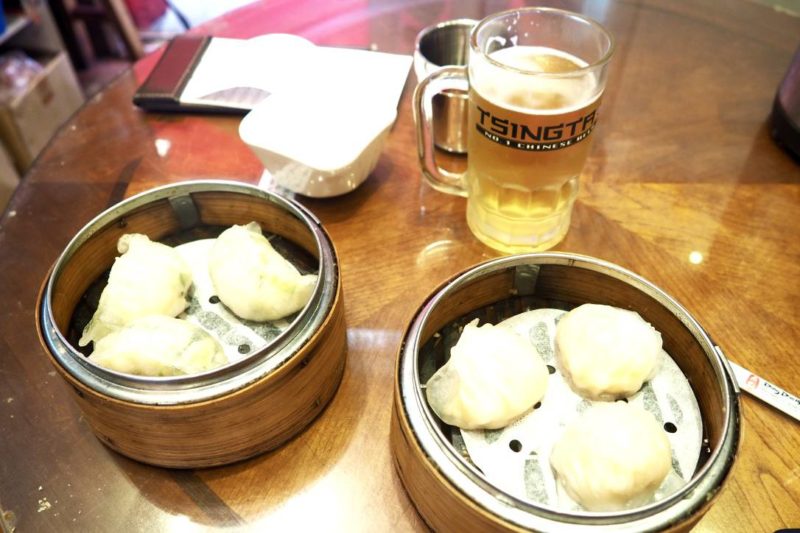 Man Mo Temple
The oldest temple on Hong Kong Island is hidden on Hollywood Road itself, amid intriguing antique shops and edgy coffee houses – a juxtaposition that encapsulates Hong Kong's complex personality.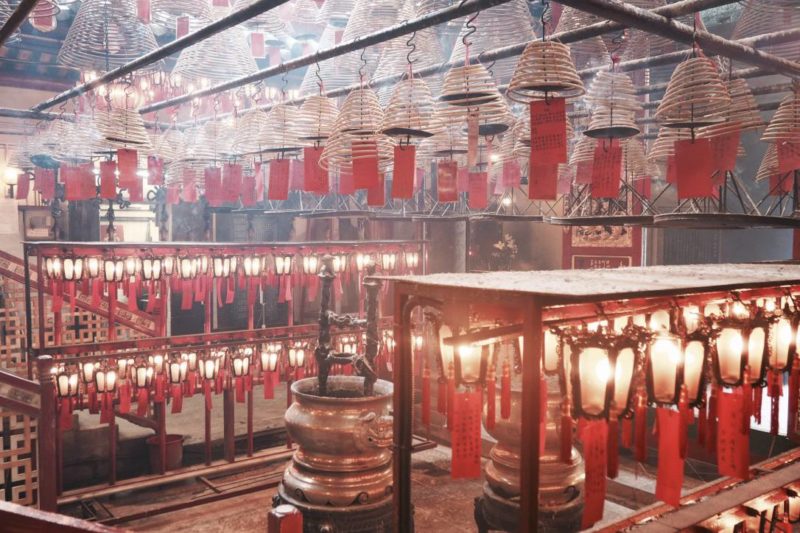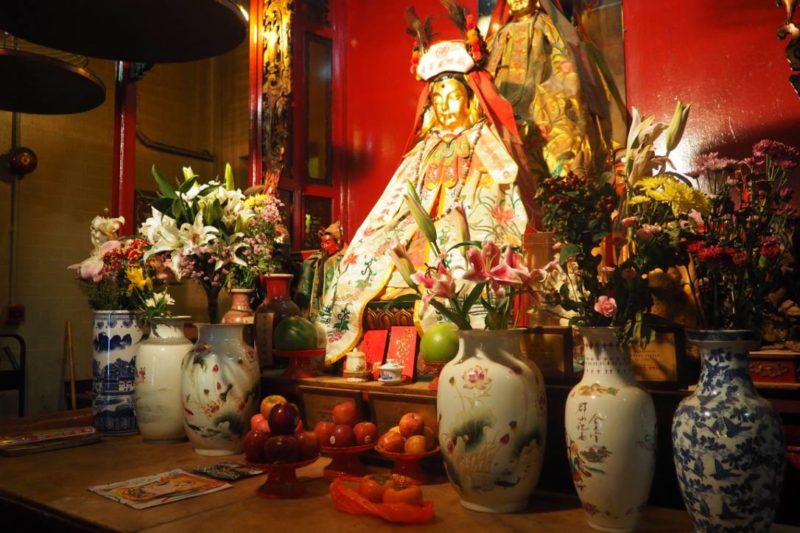 It was built in 1847 and dedicated to the God of Literature and God of War. You'll know you're close because it'll assault your nostrils from halfway down the street. Heady incense emanates from coils  suspended from the ceiling.
Cat Street
Meandering around flea-market-like Cat Street uncovers plenty of curious alleyways to get lost in. This was probably my favourite place in Hong Kong, with bamboo scaffolding supporting crumbling buildings and locals going about their daily lives.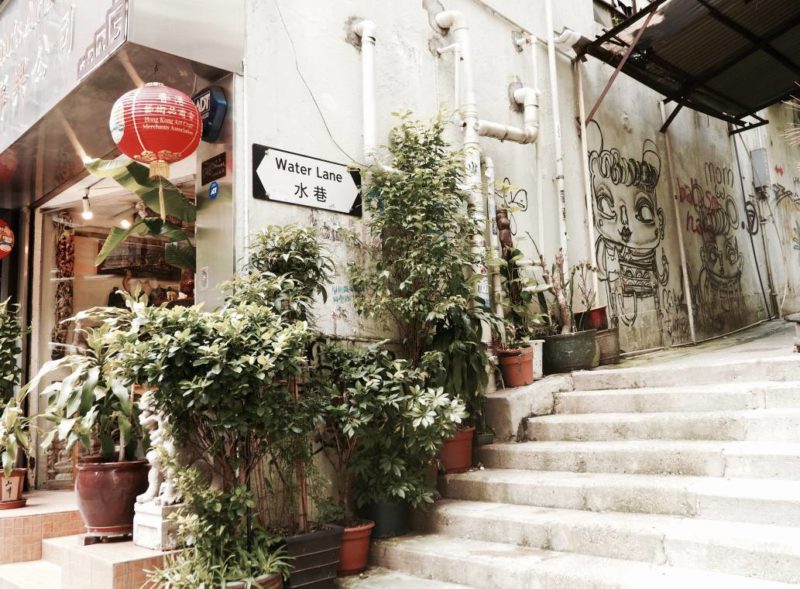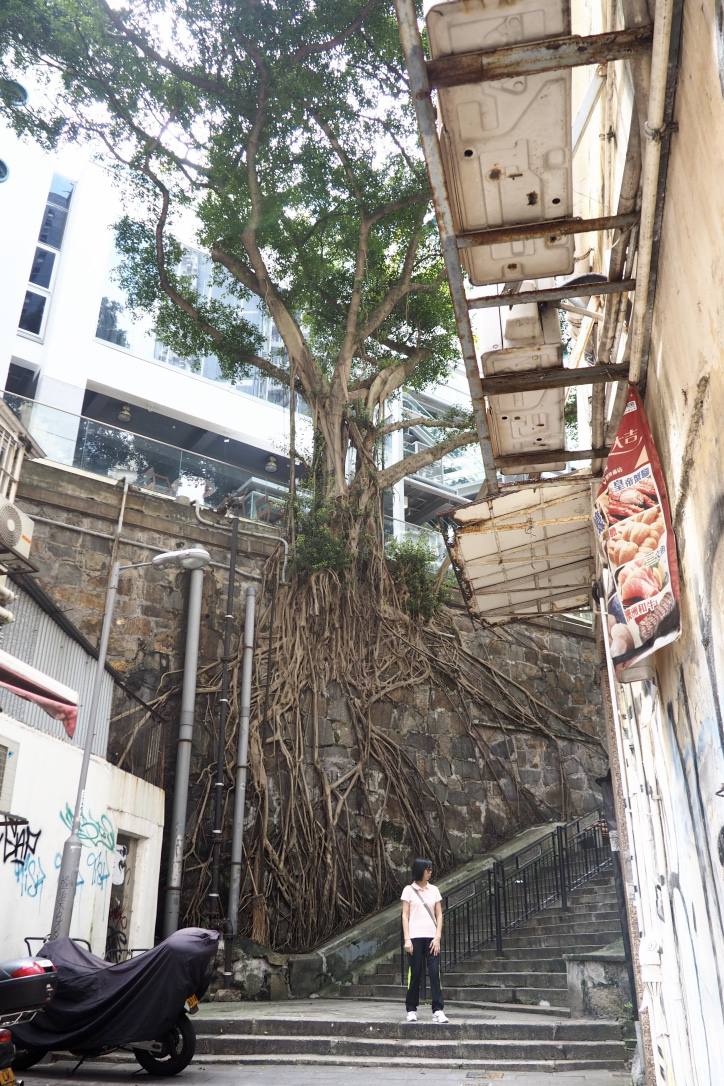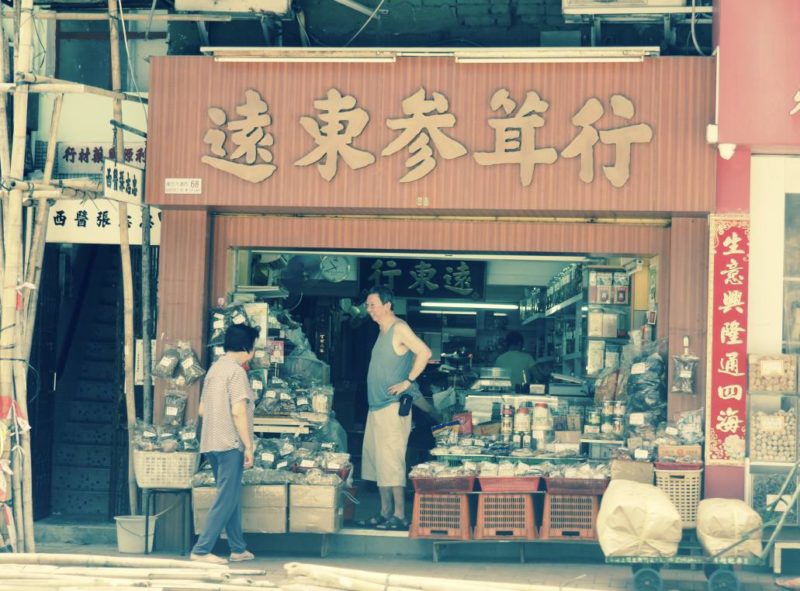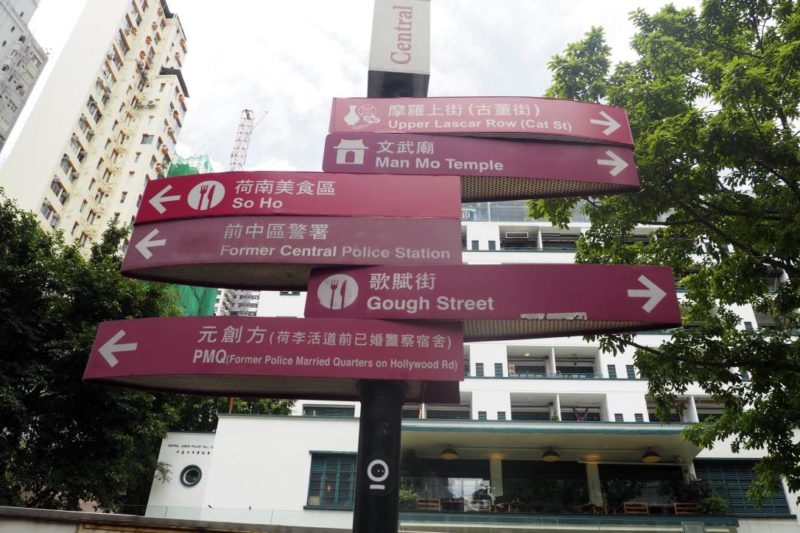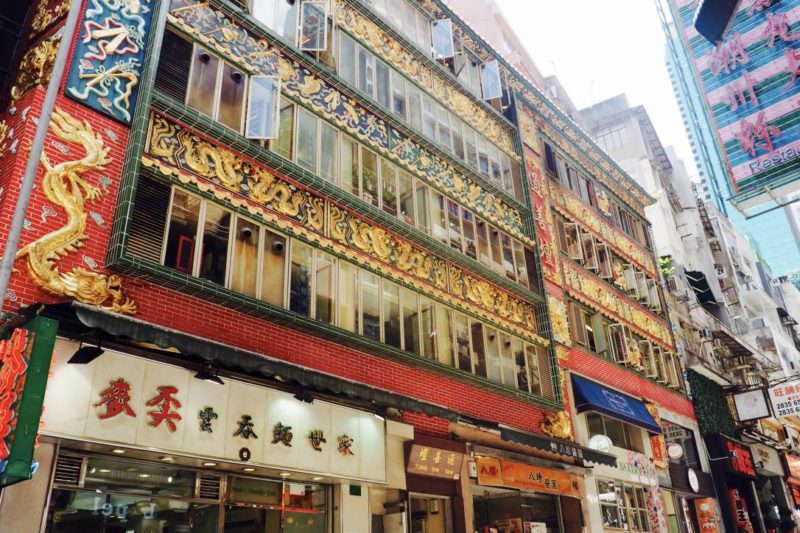 The higgledy-piggledy streets in Hong Kong Island kept me occupied for ages, because I never knew what I was going to find when I turned the next corner; posey craft beer or wine bars, an old cobbler crafting away in a booth smaller than a phonebox, Vera Wang's flagship bridal store…
Hong Kong Island is certainly a mishmash of everything the destination has to offer.
Botanical Gardens
It was getting sweaty so I sought some shade in the Botanical Gardens, which is also a Zoo with orang-utans!
Victoria Peak
At 552 meters, Victoria Peak casts its shadow over Hong Kong Island. Tai Ping Shan is the chinese name for Victorian Peak and the meaning of this is "mountain of great peace".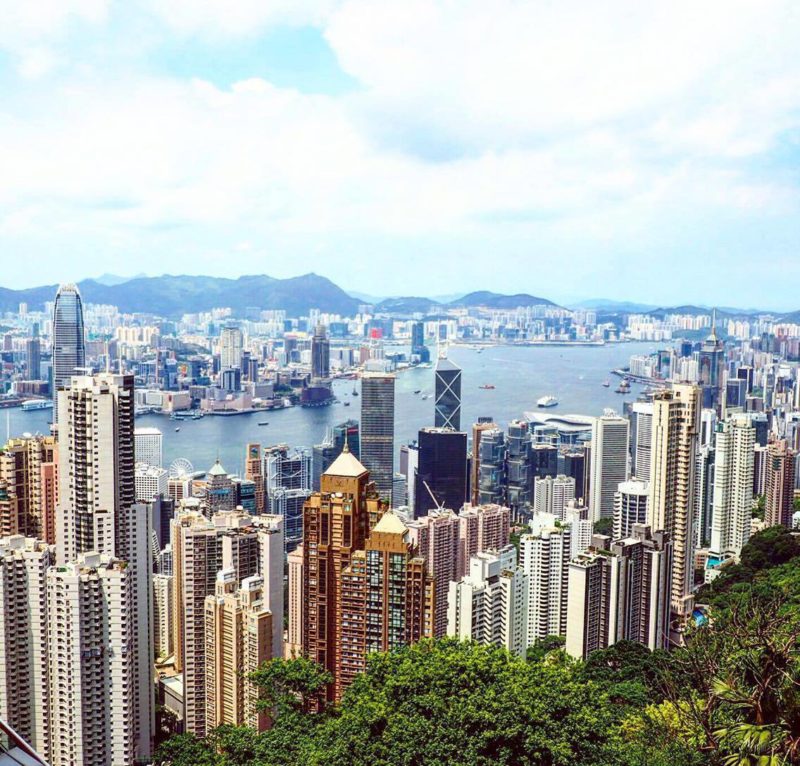 I took the Peak Funicular up and – get this – was only charged a child's fare, at 40 HKD. Do I look 10 years old to you?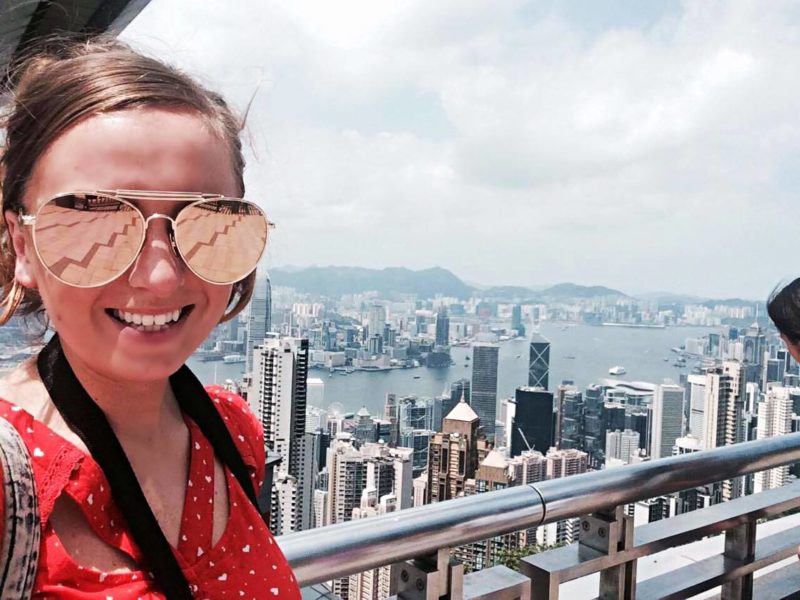 I swerved the pricey pass to the top viewing deck. The view is pretty much the same from the free viewing platform on the 3rd floor, and you can still enjoy sweeping vistas of Hong Kong from this vantage point. There's also a mall and a pretty decent view from the coffee shop!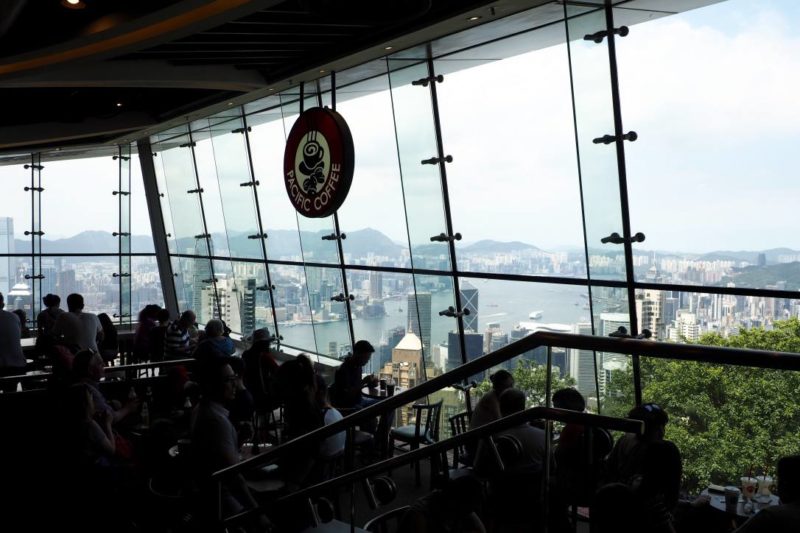 Aqualuna sunset cruise
Back in the thick of the city, I indulged in my first 'treat experience'; a sunset cruise on a junk boat. As the last of the day's rays bathed Victoria Harbour in pink and red hues, I sipped my complimentary drink smugly. The Aqualuna cruise was so much more relaxing than crossing on the ferry, and at just 195 HKD, it made for an affordable luxury treat.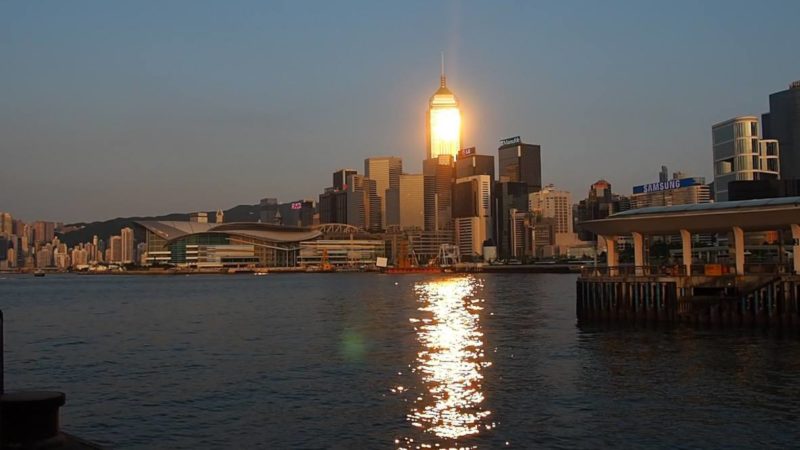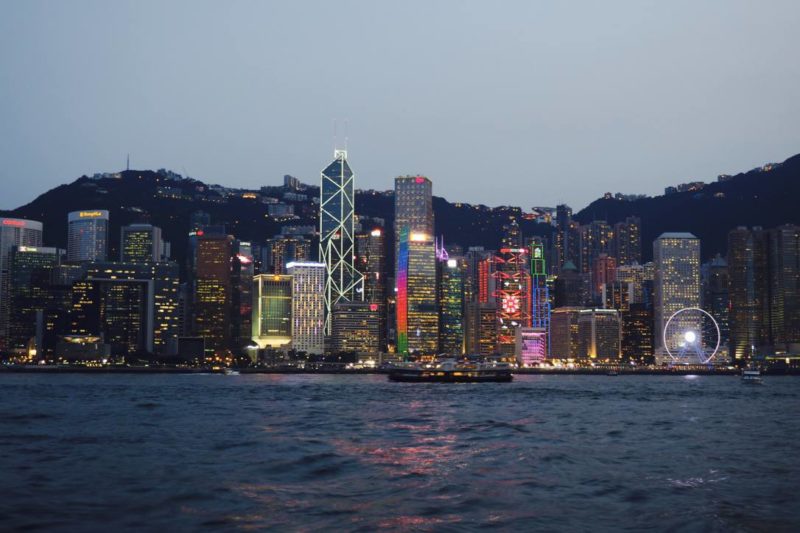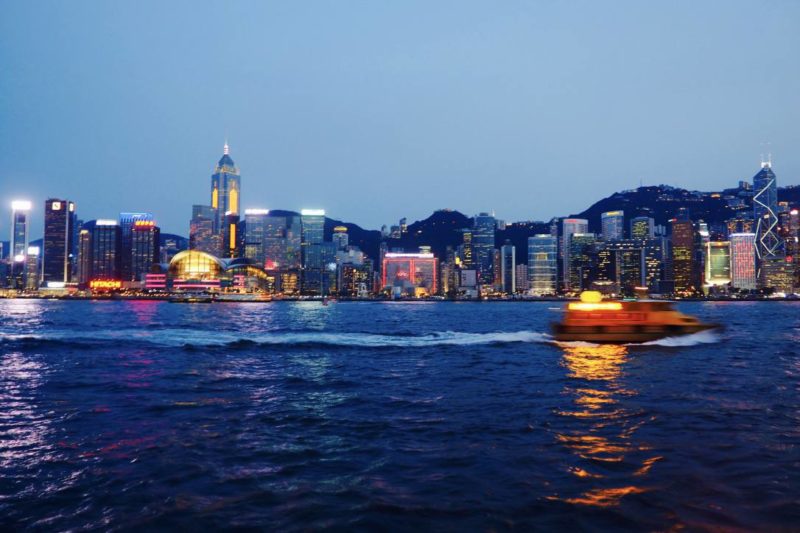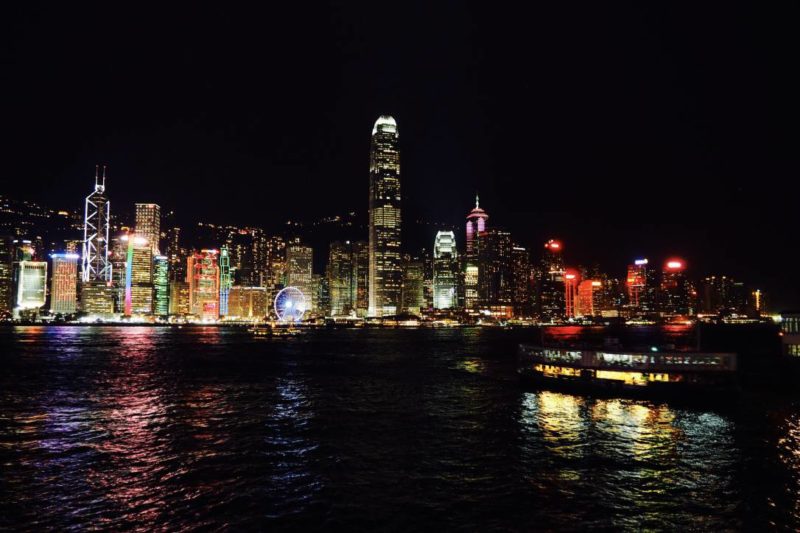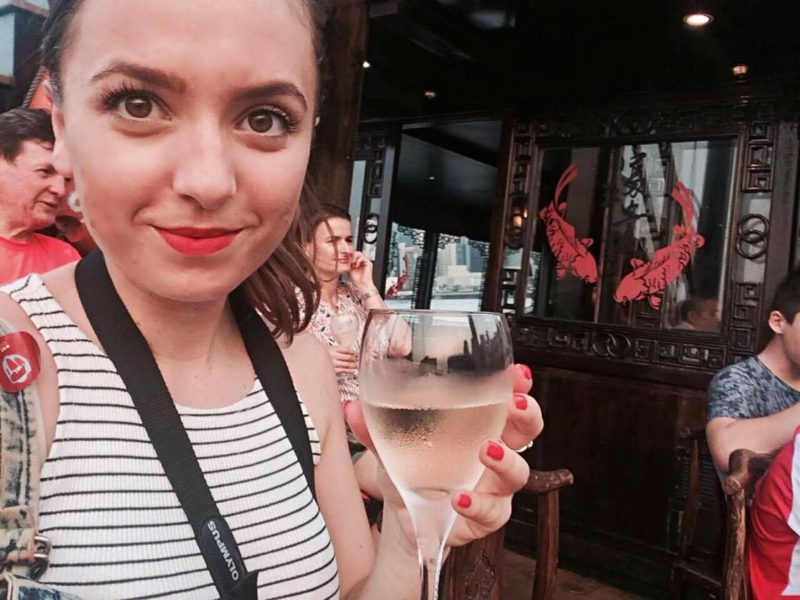 It actually cost me 200 HKD because my 5 HKD change coin rolled into the water as I struggled to stop my wine from spilling. Priorities.
Symphony of Lights
The bargain memories didn't stop there – I alighted the boat on the other side of the harbour and grabbed a spot on Tsim Tsa Shui Promenade in time for the world renowned Symphony of Lights. It's a dazzling laser show across Victoria Harbour and it takes place every night, meaning tourists in Hong Kong can enjoy world class entertainment – completely free of charge.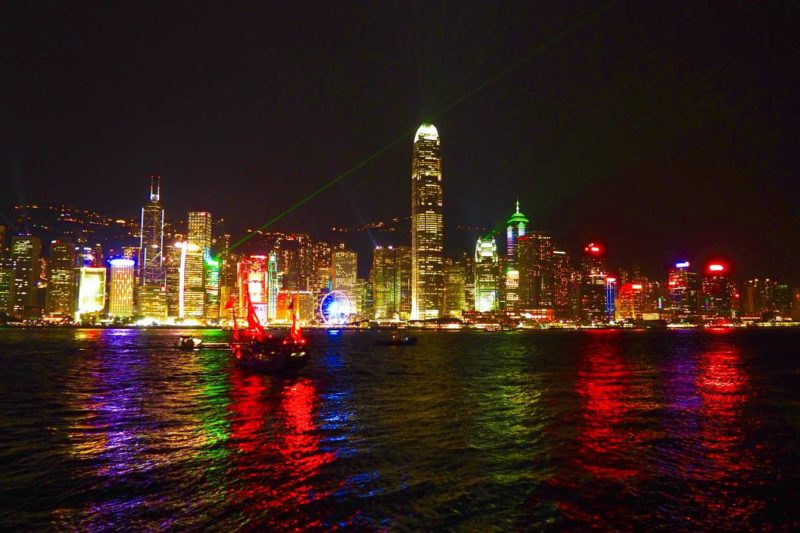 To be honest, the lasers are a little underwhelming. Hong Kong Island's glittering skyline put them to shame!
Lan Kwai Fong
I took the MTR back to Hong Kong Island and wound my way back to the hotel via Lan Kwai Fong, the buzzing nightlife area sprawling across the mid-levels. It reminded me of a more chic version of Thailand's island bars, and for the first time on my solo weekend break, I wished I had company.
I ate dinner at dodgy place with 'Roast Children' on the menu. I hope they meant chicken…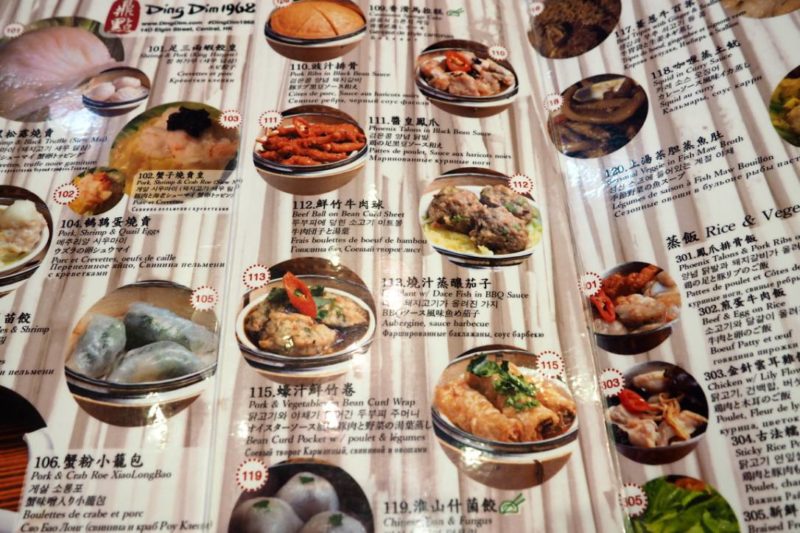 Another option was Phoenix Talons. Mmm.
Getting around Hong Kong
I took the airport express train from Hong Kong Airport to Central Station on HK Island then jumped in a taxi to my hotel. The MTR is incredibly easy to use and travelling between Kowloon and Central on HK Island cost 10.50 HKD each way. Alternatively, you can buy tickets for Big Bus Tours online before you arrive if you're short on time or would rather  have someone else navigate for you.
Where to stay on Hong Kong Island
Accommodation is the aspect of travel that can rack up your overdraft. I booked a mid-range hotel on Hong Kong Island, and enjoyed creature comforts like a hairdryer in the room and nobody snoring in the hostel bunk next to me, without the hefty price tag attached to hotels like The Peninsula – although how amazing would it be to stay there one day?! The best thing about Hotel Butterfly on Hollywood was that every movie-themed room comes with a smart phone for guests to use, meaning I saved on data roaming and never get lost during my stay. I'm not sure I want to go back to winging it with WiFi after this little luxury! I'm ruined.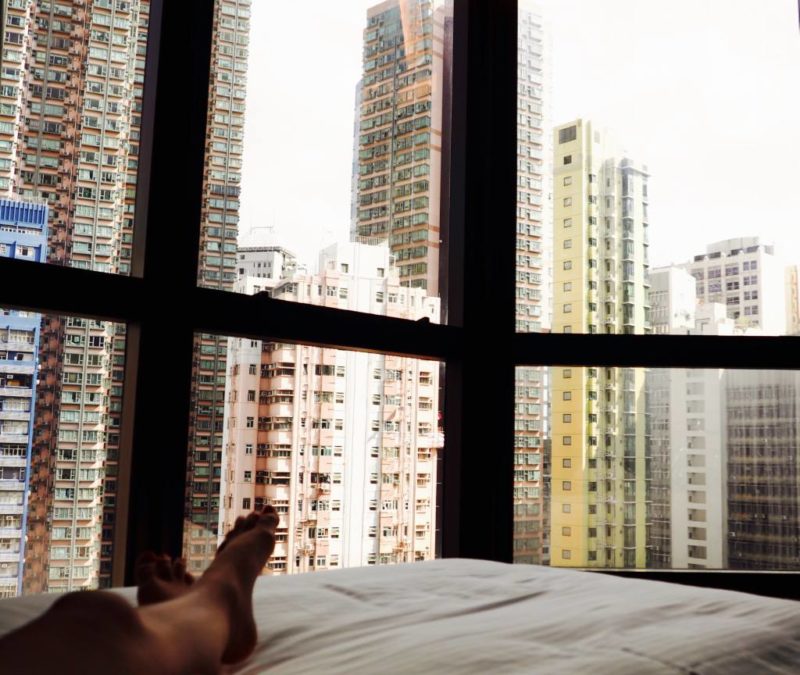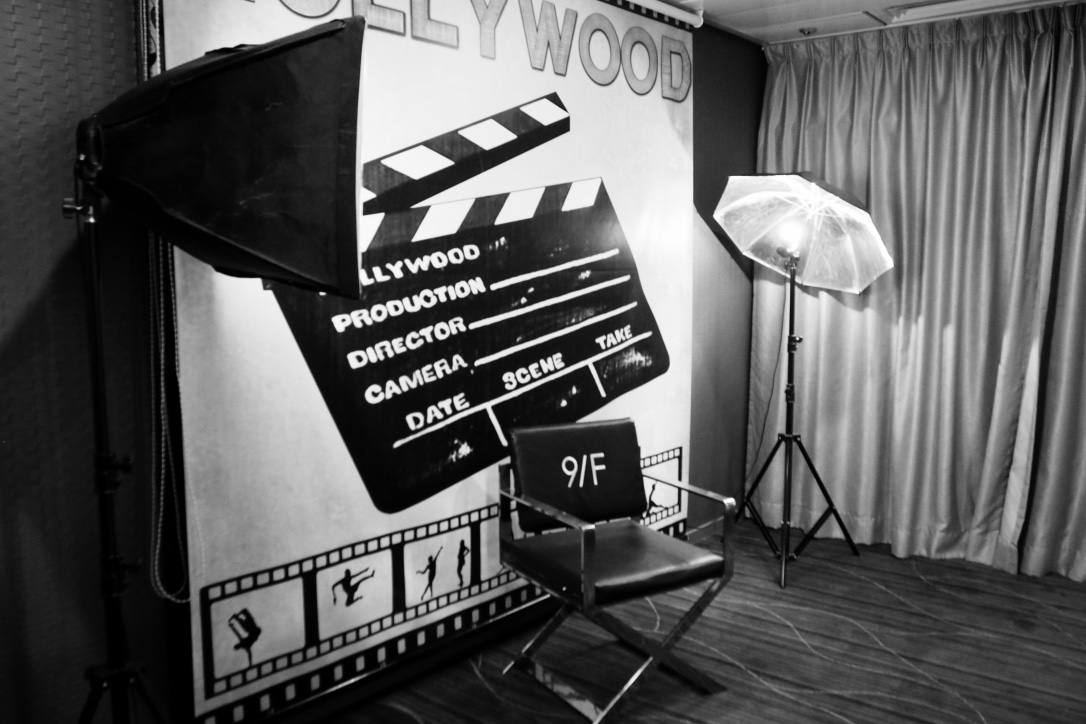 There were butterflies on my pillow and an honest to God director's chair set up in the lobby. I've never stayed in a themed hotel before and though I'm not sure how butterflies relate to the Hollywood theme, it definitely made sleeping there feel special. The lobby smells good, so that's another bonus.
Buy tickets to attractions in Hong Kong (including Disneyland!) on Viator
I was surprised at how much I'd managed to see of Hong Kong Island on my first day, and thrilled to find that a trip to Hong Kong really doesn't have to cost massive amounts. I'd got a bird's eye view of the city, ate some ridiculously good food, and even enjoyed a sunset cruise – and I'd hardly spent anything!
Watch my Hong Kong travel video
On day two I explored Kowloon on the other side of the harbour, and there I visited the world's cheapest Michelin starred dim sum restaurant, shopped Hong Kong's heaving markets, and walked the length of Nathan Road, Hong Kong's main artery.
Have you been to Hong Kong Island? Did I miss anything? Let me know if you're planning a weekend in Hong Kong and have questions, and as always you can follow me on Facebook, Twitter and Instagram to keep up with the adventures from Dubai and beyond.