I'll admit it: I was nervous about spending Ramadan in Dubai. Life here has so far been a flurry of activity; ladies night and brunches interspersed with evenings on the beach, enjoying the last rays of the day with a smoothie in my hand. So what would I do when all of my favourite things (eating and drinking in public, namely) were banned during sunlight hours, in keeping with the laws of the holy month?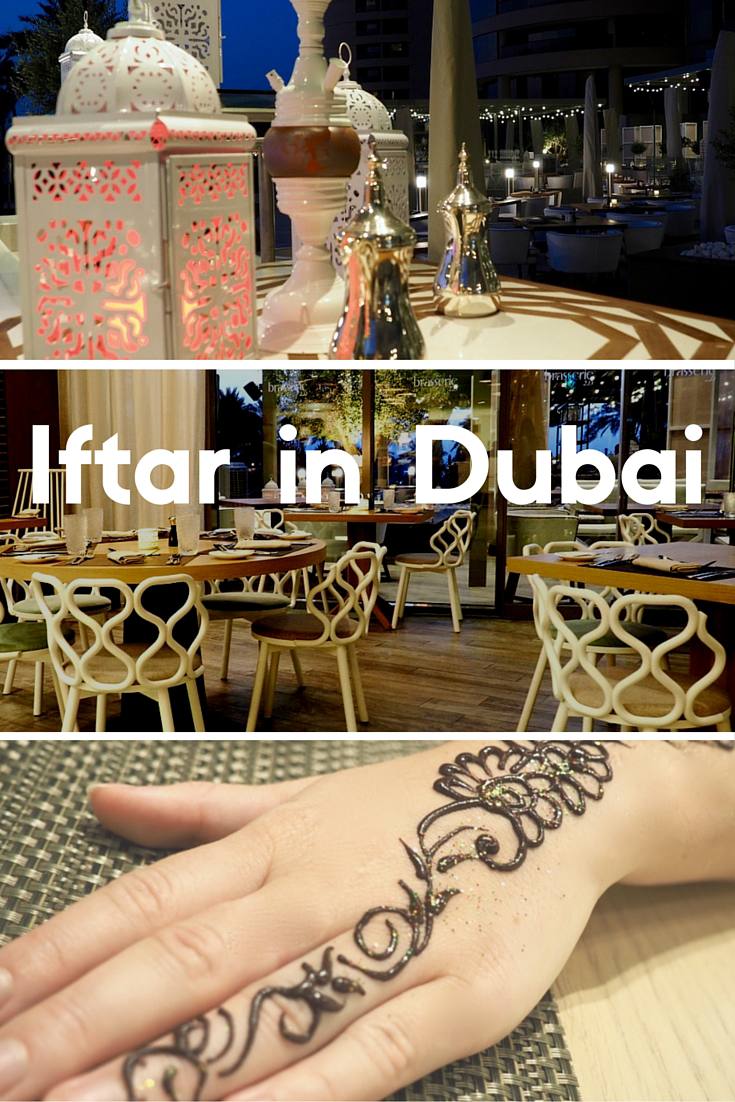 Ramadan has commenced and while it's a bit of an enforced detox, it's also a wonderful time to experience life in Dubai. It's not all about denying yourself things – Muslims dedicate this month to giving to charity and practicing patience. A peaceful vibe has settled across the UAE (well, except for on the roads – Sheikh Zayed is still crazy) and while raucous brunches have been put on hold, Iftar buffets have filled the social calendar in their place.
Iftar is the meal eaten when people break their fast after sundown. The time varies each day, and it's an opportunity for families and friends to come together and enjoy delicious food after a testing day. There's also a meal before sunrise called Suhūr, but I don't do mornings so I thought I'd share my first Iftar experience with you instead.
Brasserie 2.0 at Le Royal Meridien: Iftar review
Le Royal Meridien Beach Resort and Spa is a luxury hotel that epitomises that glam Dubai lifestyle. It's situated right next to where I live at JBR The Walk, and while holidaymakers visit for a beach break, locals and expats go to play. There are eleven restaurants to choose from, all serving delectable food in swish settings.
Brasserie 2.0 has a garden party vibe going on, with contemporary white and green decor both inside and out. I've been wanting to check out their mammoth brunches for a while, but there's still plenty of time for that. During Ramadan, alcohol isn't served out of respect for Muslim guests, but there is a large selection of fresh juices and other Arabic drinks such as vividly hued tamarind juice, laban (buttermilk) and ayran (a yogurt drink), among other exotic concoctions.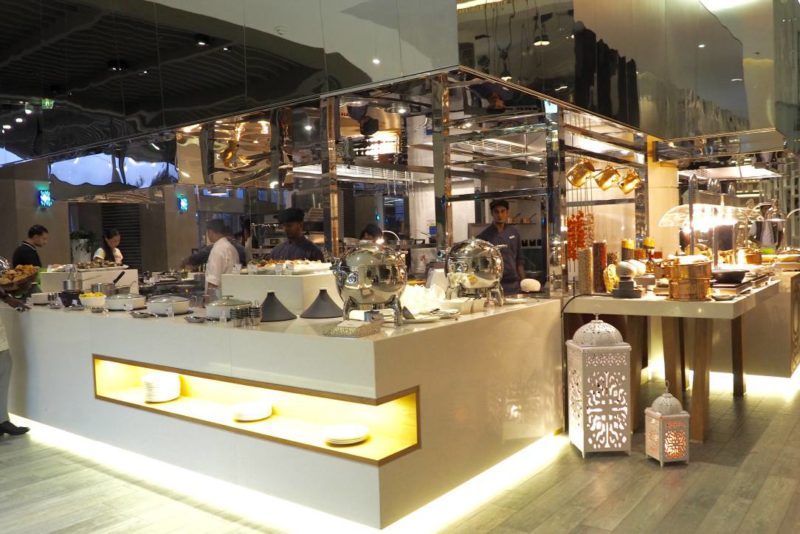 Iftar at Brasserie 2.0 is a splendid affair, with ten live cooking stations to satisfy all of your cravings. There's a heady mix of cuisines from around the globe, and I used my first Iftar as an opportunity to taste some traditional Arabic food.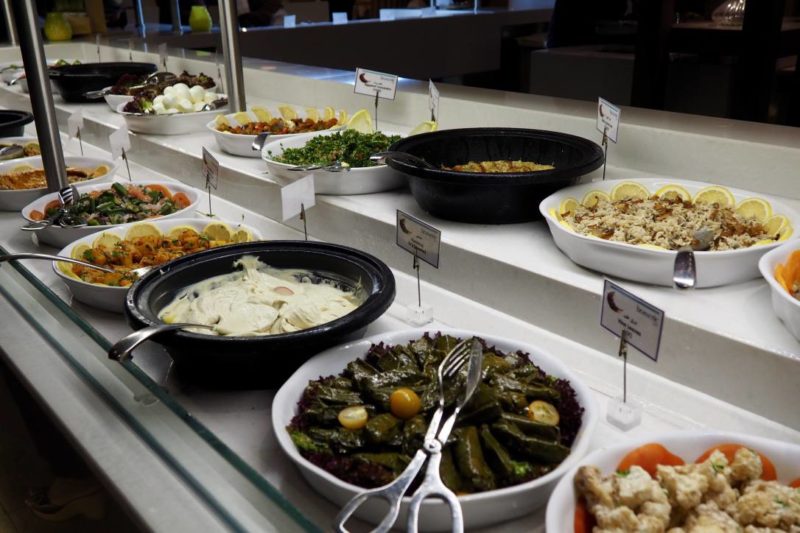 I loved that our table was laid with dates that glistened like jewels, dried fruit and Arabic bread. These are the foods traditionally eaten to begin the Iftar and break a long day of fasting.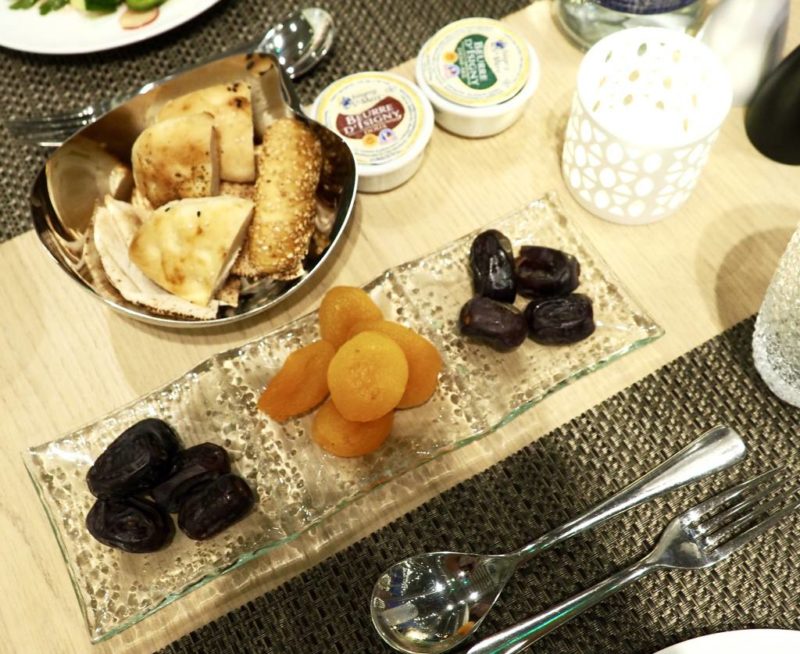 As well as a sumptuous sushi station, various salad bars, soups and other starters, there was a selection of Arabic savouries. I helped myself to both hot and cold mezze: stuffed vine leaves, haloumi spring rolls (my new favourite thing), the customary huge vat of hummus with tahini, babba ghannouj, labaneh, eggplant salad, makanek (mini spiced lamb sausages) and kibbeh (oval shaped meat balls). I tried them all!
There was no shortage of dips and aromatic spices to add extra flavour to your meal.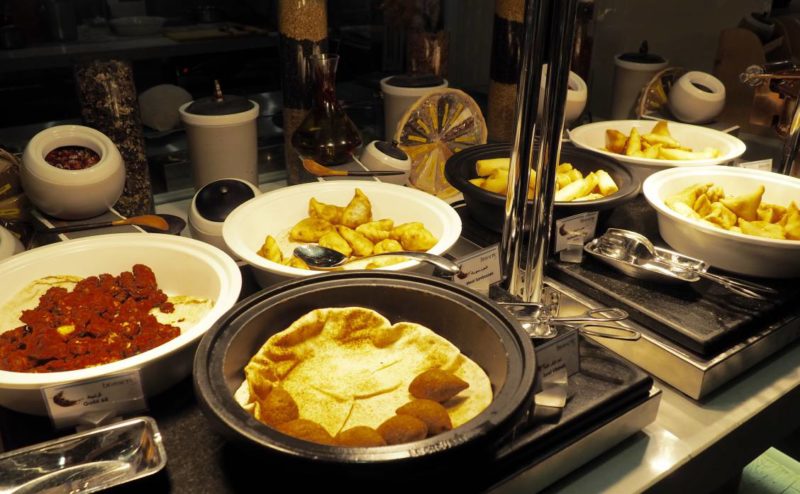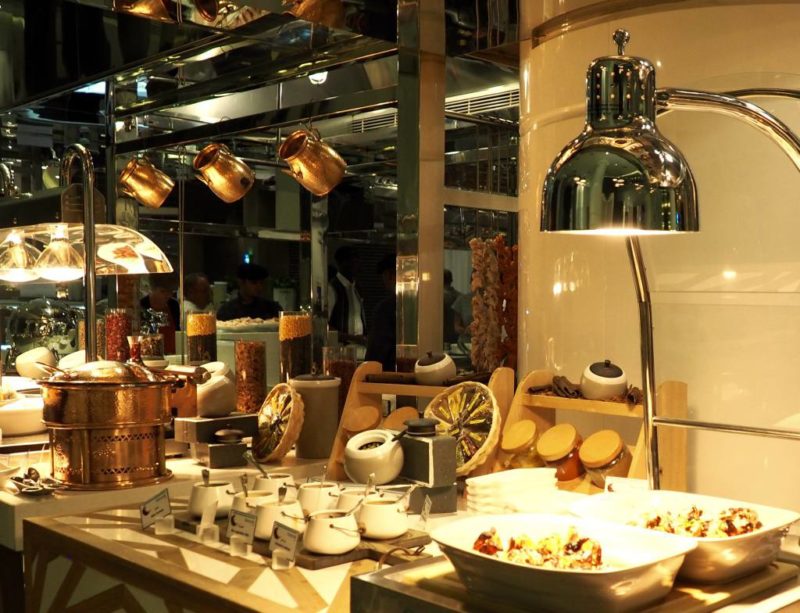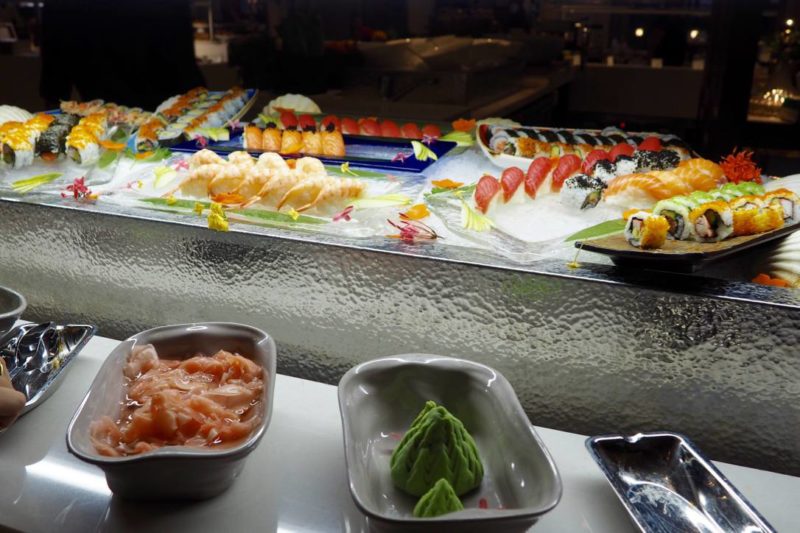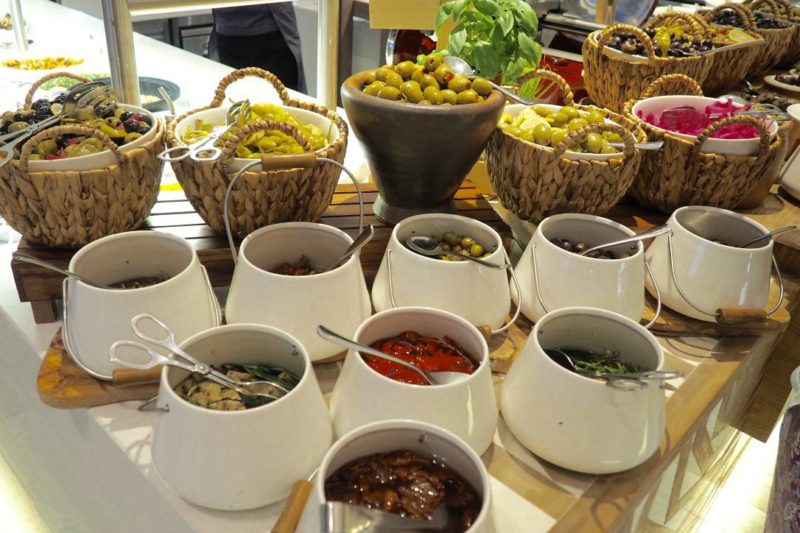 The 'Olive Market' station was a definite win! I've only just acquired a taste for olives (my friend told me you have to force yourself to eat seven of them in a row to change your mind) and I feel this means I'm a fully fledged grown up now. Maybe soon I'll start ironing things.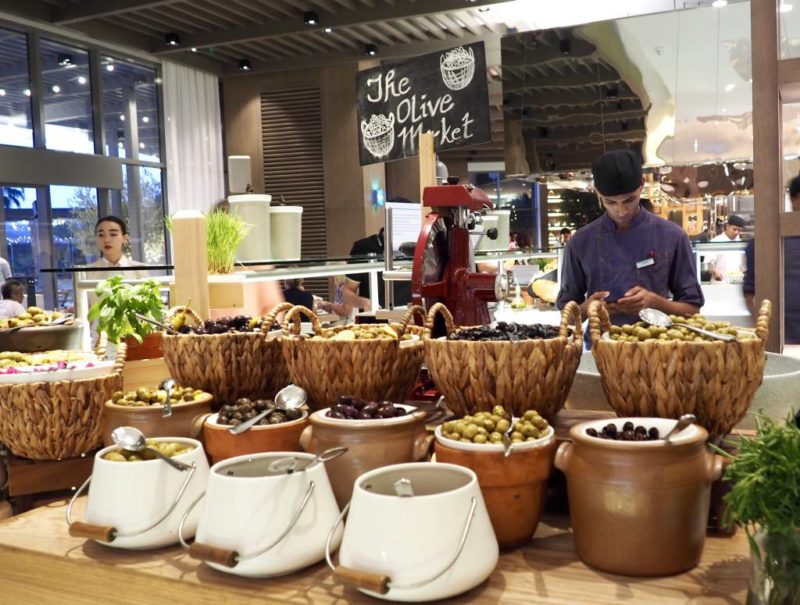 Iftar is definitely one of those meals where you have to take your time, try everything but don't get overwhelmed with the immense variety and different cuisines. We just took a little of what we fancied, then  rose and walked around the stations choosing what we'd try next.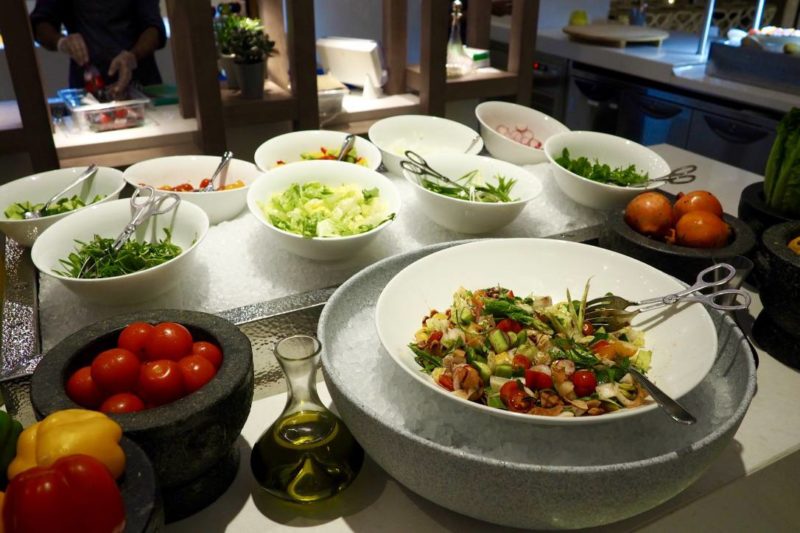 All of the food was big on flavour – no stale buffet here, and there was even a kids' station with a wood-fired pizza oven, which would also accommodate fussy eaters. I was drawn to the fragrant Indian curries, and had to go back for second helpings of the spicy chicken tikka masala. The teriyaki beef was also delicious.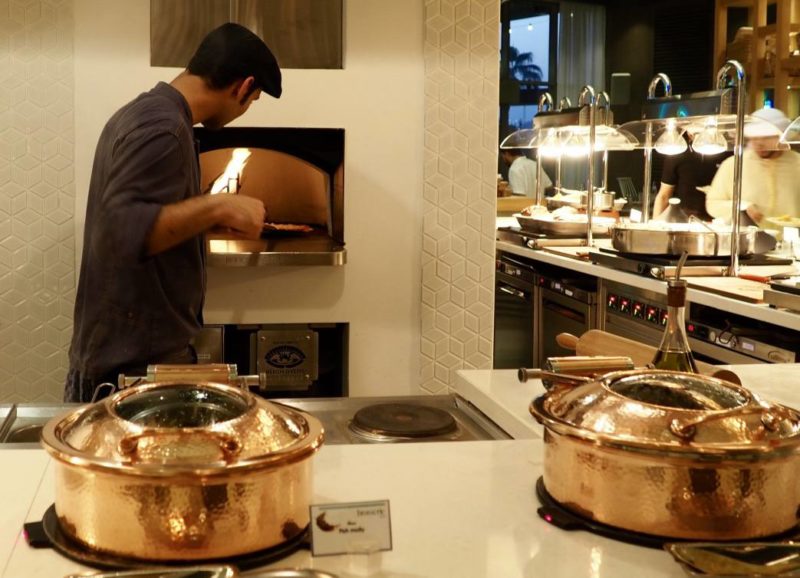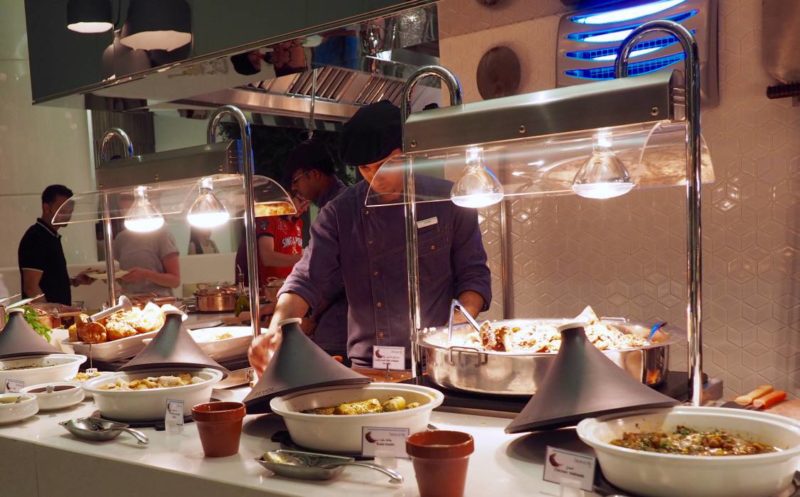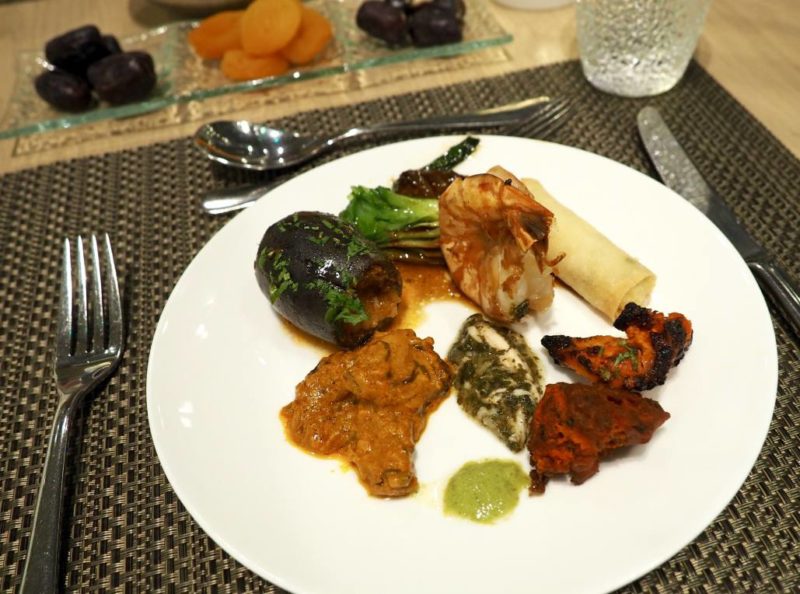 You can select your meats, fish or vegetables, tell the super friendly chefs how you'd like them cooked, then watch as your dinner is prepared in front of you. Outside, the most delicious smells radiate from the grill, and you don't have to stand and wait in the stifling heat – the lovely staff will bring your chosen meat, fish or shawarma wrap to your table when it's ready.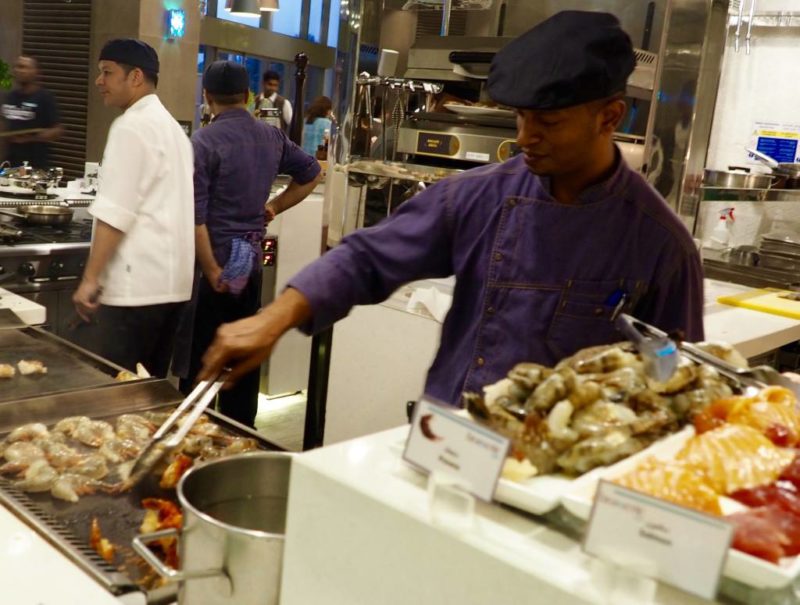 I had the largest, juiciest prawns I've ever eaten, plucked straight from the smoking griddle, and couldn't resist a small piece of melt-in-the-mouth steak. It all went a bit surf n' turf from there and the prawn thermidor was one of the most memorable dishes. It's hideously rich, in a good way.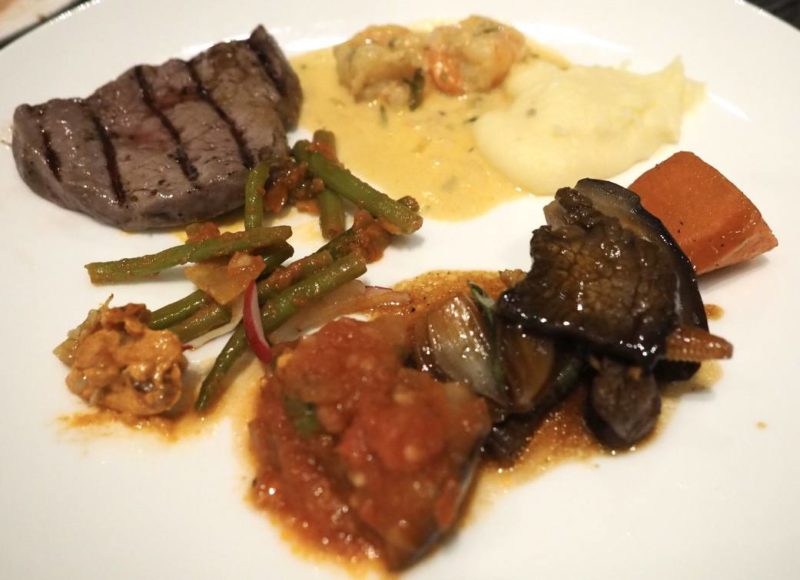 I always judge a buffet by it's dessert station, and Brasserie 2.0's sweet treats didn't disappoint. The hot chocolate and raspberry cake was a talking point, and we also helped ourselves to Arabic favourites like kunafa, baklava and Umm Ali. I've been wanting to try Umm Ali since I moved to Dubai and I have to say, it's a lot like a typical British bread and butter pudding!
A zingy scoop of lemon sorbet was the ultimate palate cleanser between bites, and there were of course more dates and sugared nuts.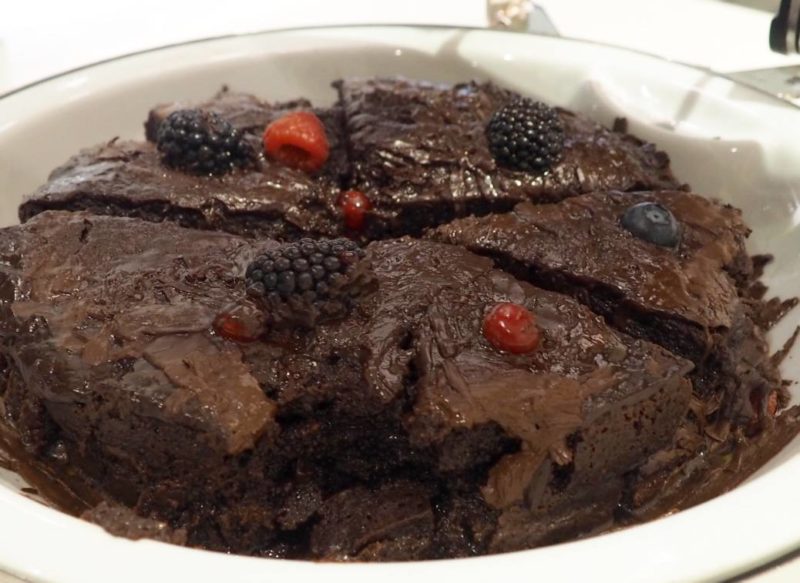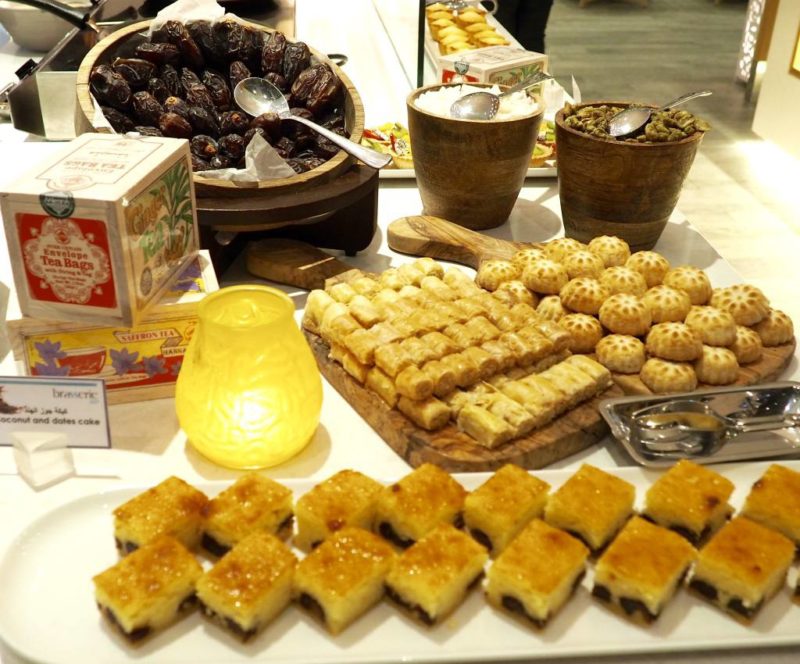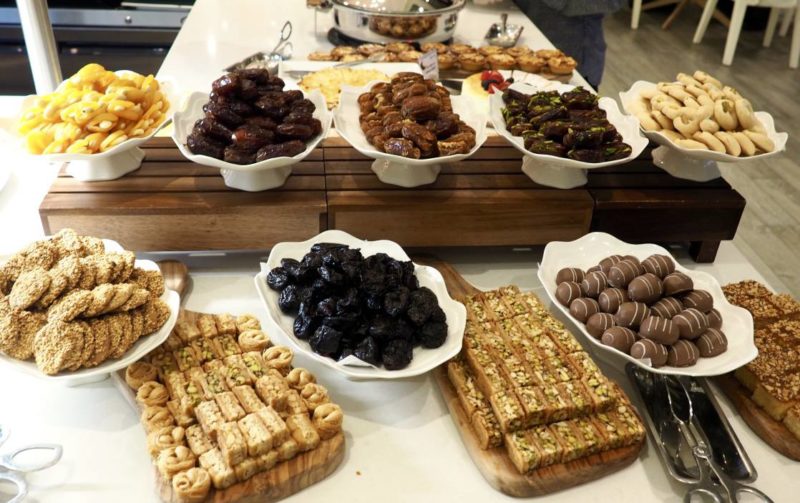 Ten year old me would be deliriously happy if she knew how heavily chocolate fountains were going to feature in my adult life.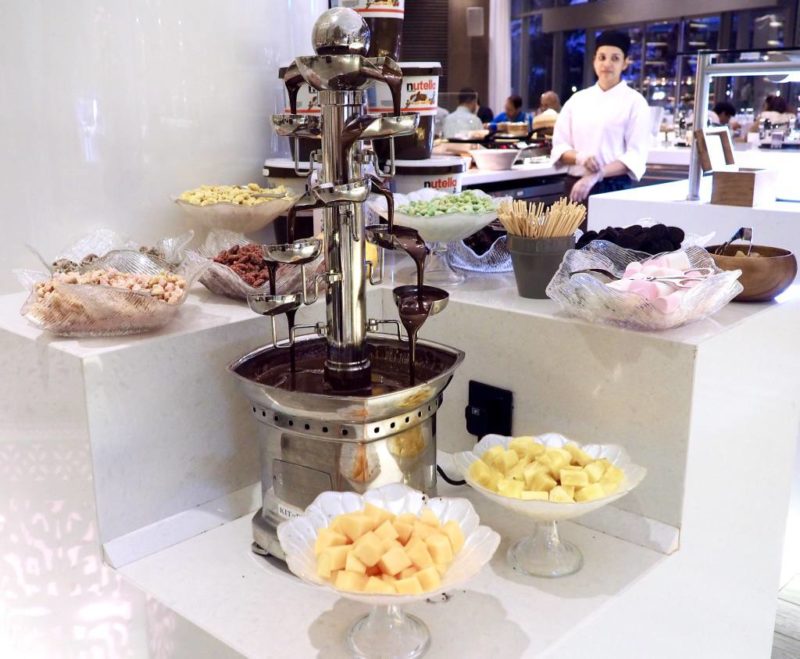 And then there was the cheese table, a thing of dreams – literally.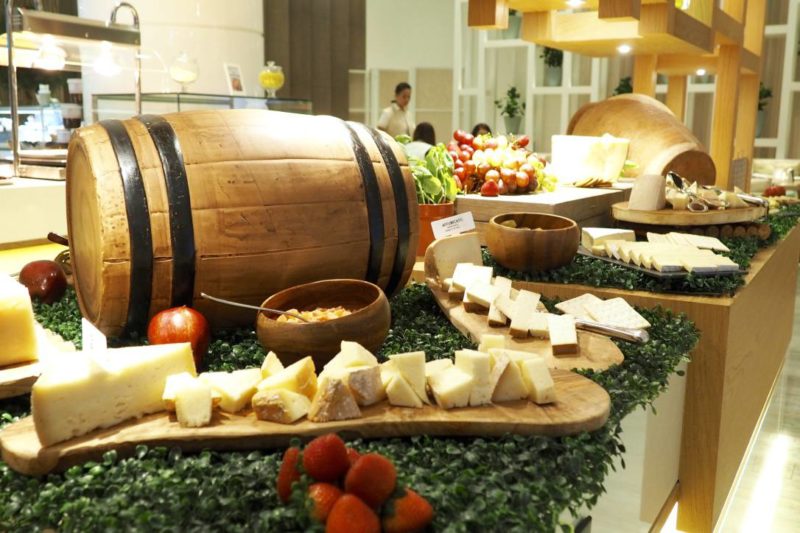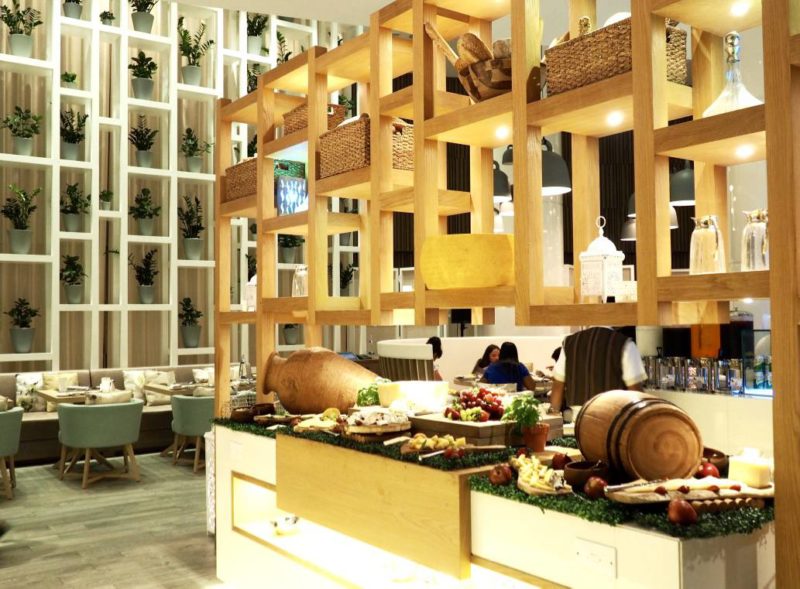 The staff at Brasserie 2.0 are kitted out in special Iftar outfits and it really gives the evening an authentic feel. There's even a lady giving guests henna! I'd never had it done before but figured my first Iftar was the perfect time to get some body art. What do you think?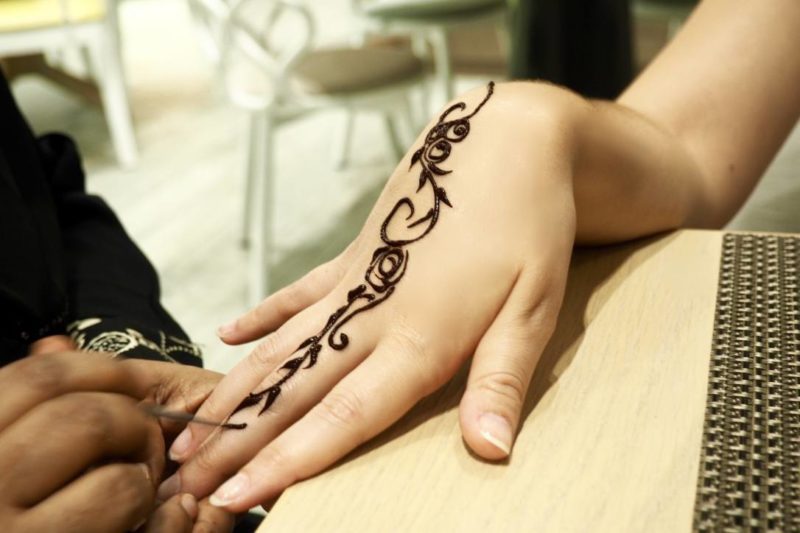 We finished our meal with Moroccan tea. It should really have been Arabic coffee, but it's just too strong for me!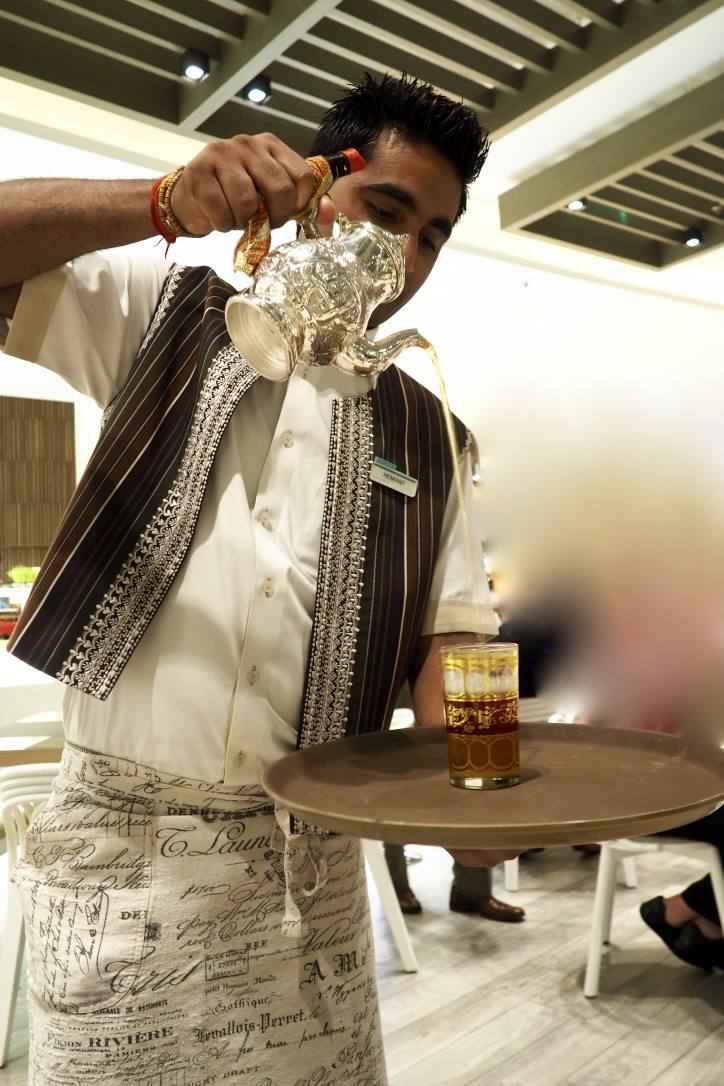 After our meal, we took a stroll around the hotel, which is being renovated at the moment (though you'd never know). Latitude 25 bar is seriously sophisticated, with custom-made pool tables and plenty of lounge areas to relax with friends. I've also found my new blogging spot in the zen-like lobby, where the chief barista will have his work cut out keeping me caffeinated.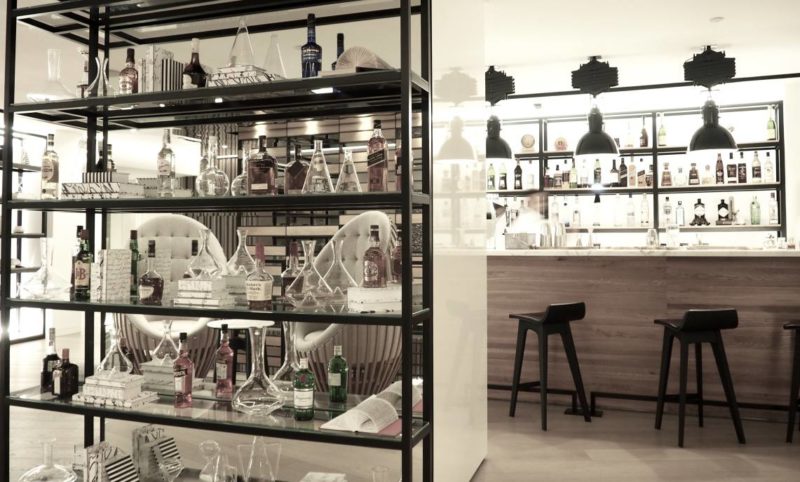 Whether it's your first Iftar or just your latest, I can highly recommend spending an evening at Brasserie 2.0 during Ramadan. I wasn't sure what to expect, but the relaxed atmosphere, super friendly staff, authentic extras and mix of Arabic and international cuisine made it a perfect first Iftar for me.
I might just have to go back to Le Royal Meridien for sundowners at that pool…
Have you ever sampled an Iftar or spent time in a Muslim country during Ramadan? Let me know in the comments! Don't forget you can follow my Dubai adventures and my travels around the globe on Instagram, Facebook and Twitter. Ciao for now, habibis. (I'm so Dubai right now.)