Visiting rooftop bars has become one of the most popular thing to do in a big city, and being a typical cliche twenty-something, I'm definitely partial to a few cocktails with a view. When I was in Hungary last year, I made sure to fit a trip to a sky bar in to my three day Budapest itinerary. It rained as soon as we got our drinks, but that just made it more magical.
In Dubai at least, the sun is guaranteed to shine on your oh-so-sophisticated tipples on the terrace.
Five rooftop bars to try in Dubai
Dubai is famous for having the biggest and best of a lot of things, perhaps the most famous being the world's tallest building. While the Burj Khalifa lacks a rooftop terrace (imagine how the bevs would hit you at 828 meters above sea level), there are a lot of other equally swish spots to enjoy the warm breeze and the impressive Dubai skyline with your sundowner.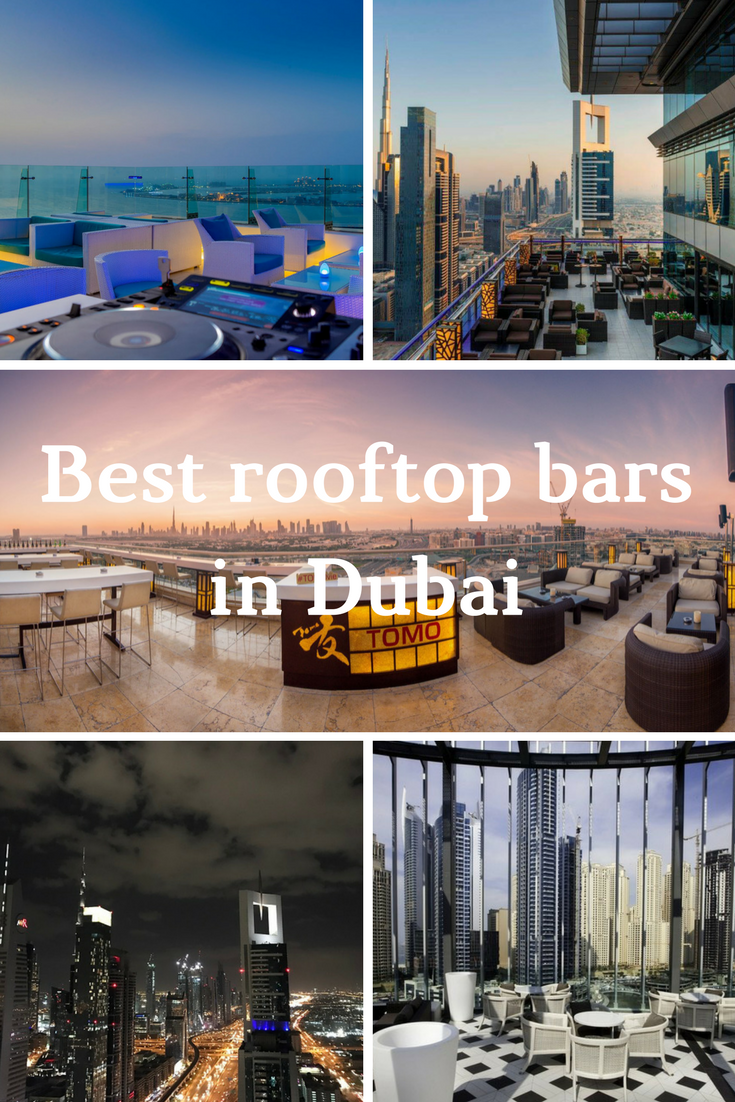 I asked the people behind The Rooftop Guide to help me choose the five best rooftop terraces in Dubai, because believe it or not, I can't actually flit from skyscraper to skyscraper like a tipsy, high-heeled Spiderman every night of the week.
Here are their pick of the five must-dos.
The Address Dubai Marina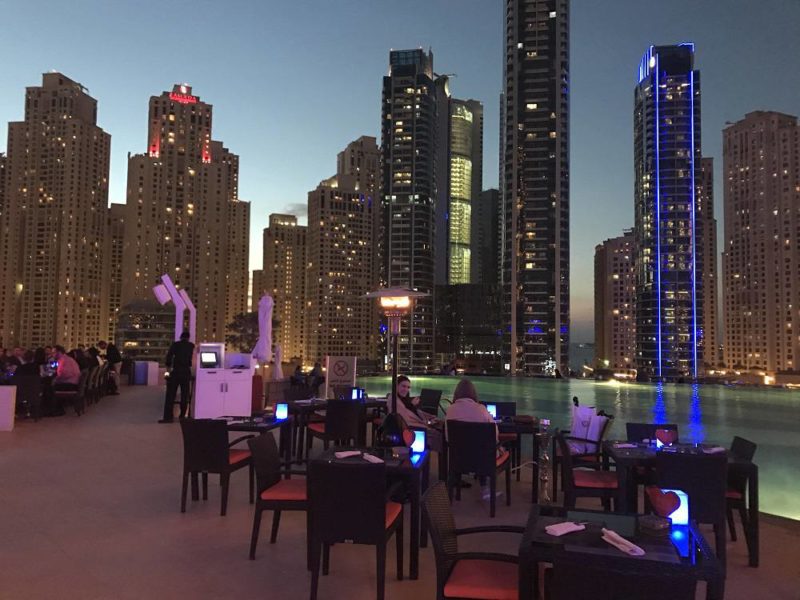 Up on the 4th floor of The Address Hotel you'll find a large terrace with a rooftop bar/restaurant called Shades. It's also home to one of Dubai's biggest and most luxurious rooftop pools. Even though you're only on the 4th floor, you get a really cool view over the skyscrapers and Dubai Marina. The terrace has a nice vibe, the drinks are great and so is the food. Make sure to check out the BBQ plate, it's amazing.
Learn more about The Address Dubai Marina
Level 43 Sky Lounge at Four Points Hotel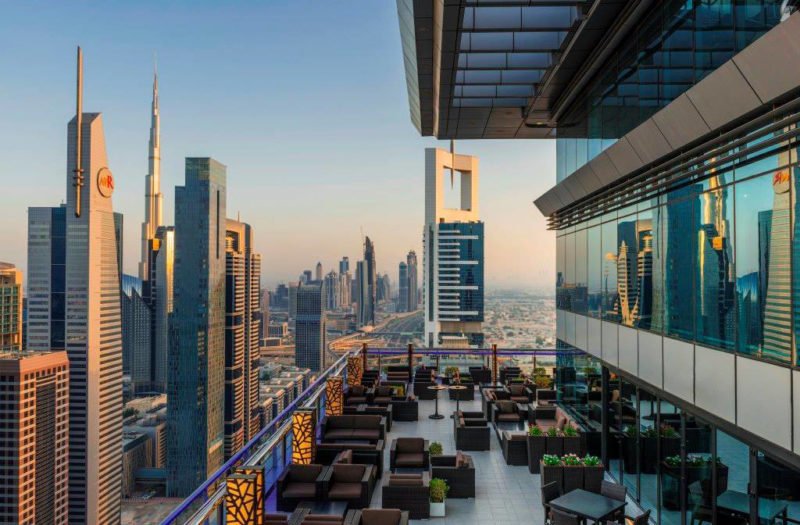 This is the go-to place for some absolutely jaw-dropping views of Dubai's most iconic landmarks. In one direction you can watch the sun set into the ocean and in another you get a breath taking, close up skyline view of downtown Dubai with Burj Khalifa as a mighty center point. Fantastic views aside, Level 43 also offers a chic terrace with comfy lounge furniture, a rooftop bar serving tasty and refreshing cocktails and a DJ keeping the vibe going into the night.
Learn more about Four Points Hotel
Tomo Restaurant at Raffles Dubai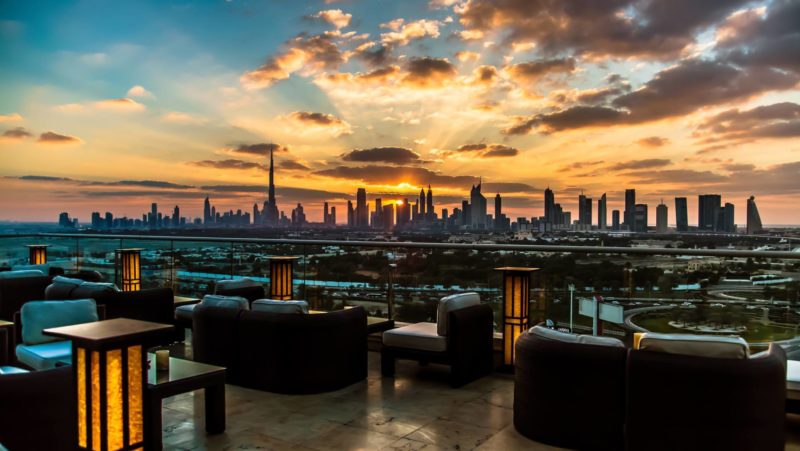 The Japanese restaurant Tomo is located in the old part of Dubai, high up on the pyramid shaped Raffles Hotel. Here, you get a stunning view of the iconic Dubai skyline from a new perspective.  It's particularly impressive at nighttime, when the city is lit up and showing off. The terrace is stylish and beautifully decorated. The rooftop bar offers great drinks; try the signature cocktail and make sure to go hungry, as this is some of the best Asian cuisine in Dubai. The service is also top notch.
Learn more about Raffles Hotel
Pure Skylounge at Hilton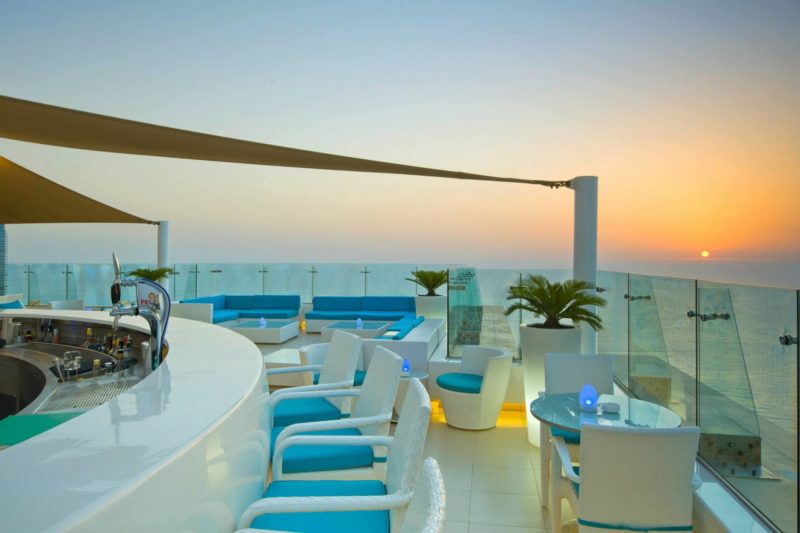 At Pure rooftop bar you might possibly get the very best sunset view in all of Dubai,  over the ocean and Palm Island. Up here you'll actually find two terraces, a larger one for restaurant guests and a smaller one which is more of a lounge hangout. On Fridays they serve a really good sunset brunch, but it's a great place to visit any time for a tempting cocktail list and atmosphere. I actually brought my Dad here when he visited.
Atelier M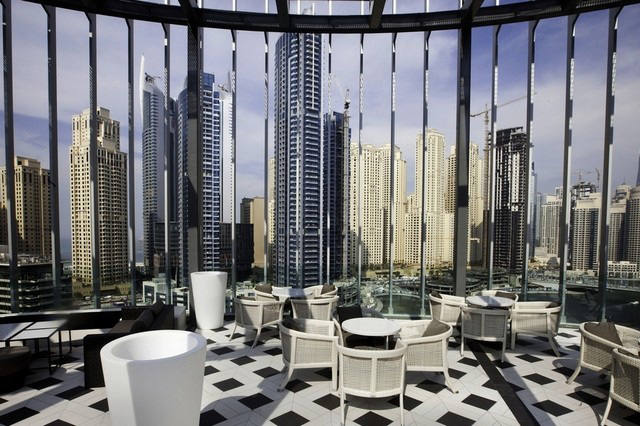 You'll find this sophisticated restaurant on the top level of one of my favourite haunts in Dubai Marina, Pier 7. Gazing out at the skyscrapers and luxurious yachts can give you goosebumps, because it's a reminder of the glitz and glamour you're constantly surrounded by in Dubai. Try to get here for a Friday Sunset Brunch for drinks, food and a great party into the late hours. Just make sure to book it in advance, because Atelier M is favoured by Dubai's socialites looking to party.
Images in this post were provided by The Rooftop Guide. The website was founded in 2015 by Hans Ebenman and Rikard Fredricson. Today it is the biggest and most popular guide to the world's best rooftop bars. Every month The Rooftop Guide travel around the world to new cities, where they explore the best rooftops.
Do you enjoy visiting rooftop bars on your travels? Leave a comment and make sure you pin this post for later if you're planning a visit to Dubai.
If you have any to add, I'd love for you to leave your recommendations in the comments!
You can also follow While I'm Young on Facebook, Instagram and Twitter. If you liked this post you can check out the other articles in my Dubai section.