I have always wanted to go to Budapest.
The Hungarian capital, with its cheap drinks and spindly little balconies adorning intricately carved buildings, has been on my Bucket List since I sat down with a map and planned my European road trip years ago. I've still never taken that road trip. Instead, the reality of building a career in my twenties means I tend to focus on luxury weekend breaks. I've found this allows me to enjoy the best of both worlds. I've retired my backpack and embraced grown-up travel and now I don't know any other way.
Three months in to Dubai life, it was time to make use of the travel perks that come with working for an airline. I jumped on a standby flight one Friday morning and met my boyfriend (now fiancé) in Budapest for a few days of European adventures. There was a lot of eating, drinking and walking. Here's our three/four day Budapest itinerary.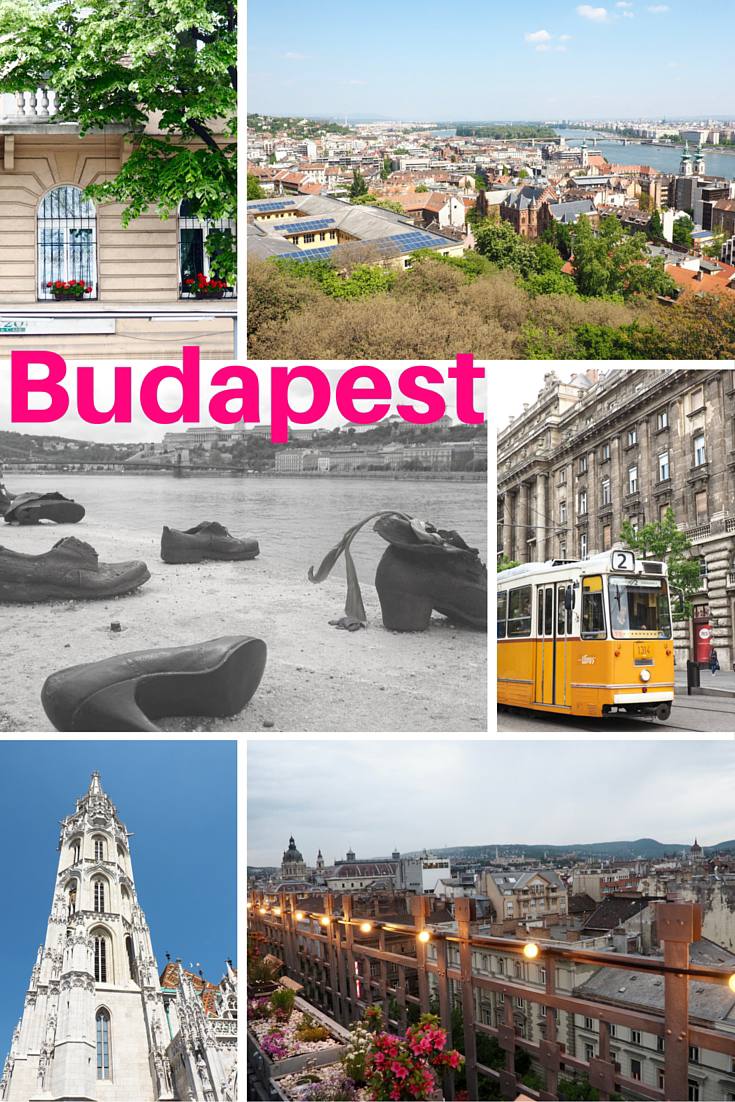 Public transport & the Budapest Card
To kick off my three days in Budapest, I picked up my official Budapest Card. They're ideal for people visiting Budapest for the first (or even third) time, and you can select cards for either one day (£19.91), two days (£29.87), all the way up to five days (£57.93) depending on the length of your stay in Budapest. These cards get you free or discounted entry to 60 museums and more than 100 restaurants, tours and other big Budapest attractions, and they can be delivered to your hotel at no extra cost.
I found the Budapest Card especially useful because you also get unlimited free rides on public transport. With my card in hand, I hopped on to a 200E bus at the airport, then changed on to a train at Kőbánya-Kispest station. A short ride took me to Ferenciek Tere station, and our hotel was just steps away. Public transport makes me anxious sometimes (not because I'm a snob, I'm just useless), but this was simple – though the old school train carriage was a far cry from the clinical-like Dubai metro! Of course, you can always book a private transfer from the airport to your hotel, which works out quite reasonable if there are a group of you.
Where to stay in Budapest
I found the most perfect hotel! It was ideally located and had a cute balcony. You can read my full review of Buddha-Bar Hotel Budapest, if you're thinking of replicating our weekend break. Oh, and it used to be a palace, so there's that added layer of thrill. You can book this hotel on Booking.com, and check it out on TripAdvisor if my review doesn't sway you.
Other highly recommended five-star hotels in Budapest include Kempinski Hotel Corvinas Budapest, New York Palace, Corinthia, Aria Hotel or Four Seasons.
If you're looking for something more mid-range but still stylish, there's The Aquincum Hotel Budapest, Danubius Hotel Gellért, Callas House, art'otel budapest or Hotel Clark Budapest.
Our three/four day itinerary for Budapest
I'm calling this a three/four day Budapest itinerary because I arrived at lunchtime on a Friday and left at lunchtime on a Monday. There was still plenty of time for sightseeing on the days I travelled, so though we stayed at Buddha-Bar Hotel for three nights and were away for four days, we actually had a full three days of activities in Budapest. I think we got a good balance between cultural stuff and just unwinding over a bottle of Dreher!
Day 1 in Budapest: A stroll along the Danube
After freshening up and jumping on the hotel bed for a bit (what?), I headed out to do some exploring sans boyfriend. Don't you just love venturing out into a new city for the first time with no preconceptions and no route planned? Our hotel was right next to Elisabeth Bridge, but I walked along the River Danube to The Széchenyi Chain Bridge, the first permanent bridge to link the two sides of Budapest.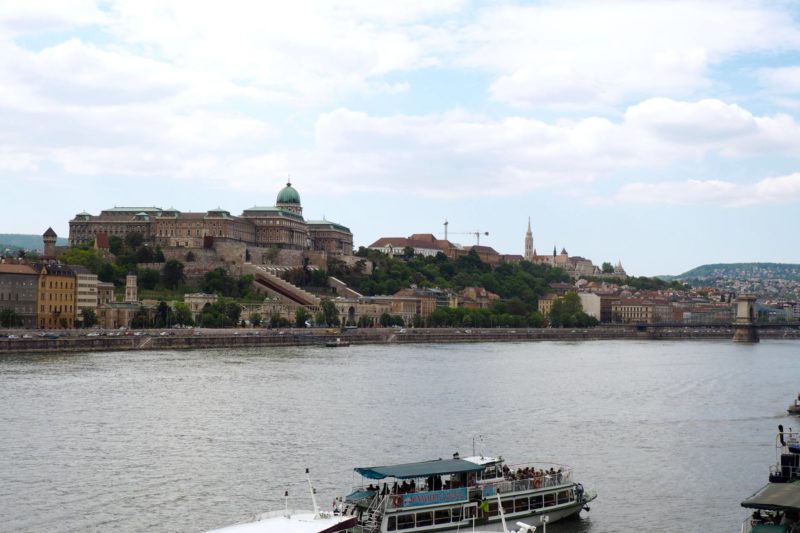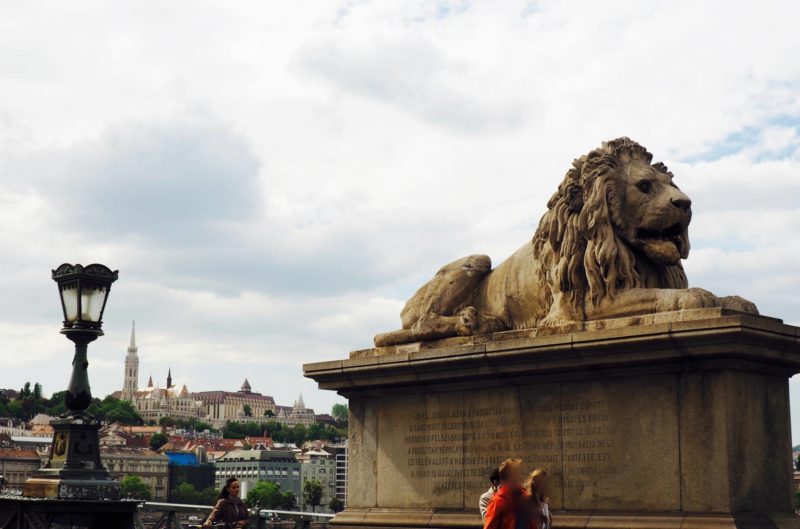 You can do a one-hour cruise along the Danube with a cocktail included for just £8.15. Or, turn it into a party with a cruise that offers pizza and unlimited beer. I know which one I'd go for…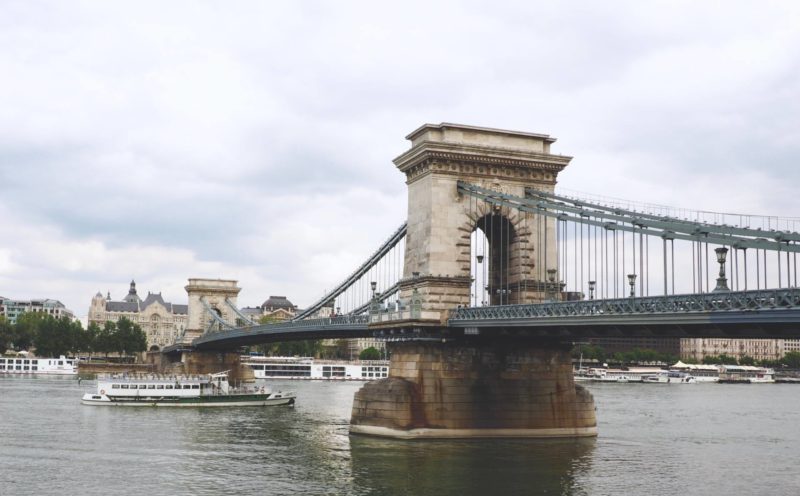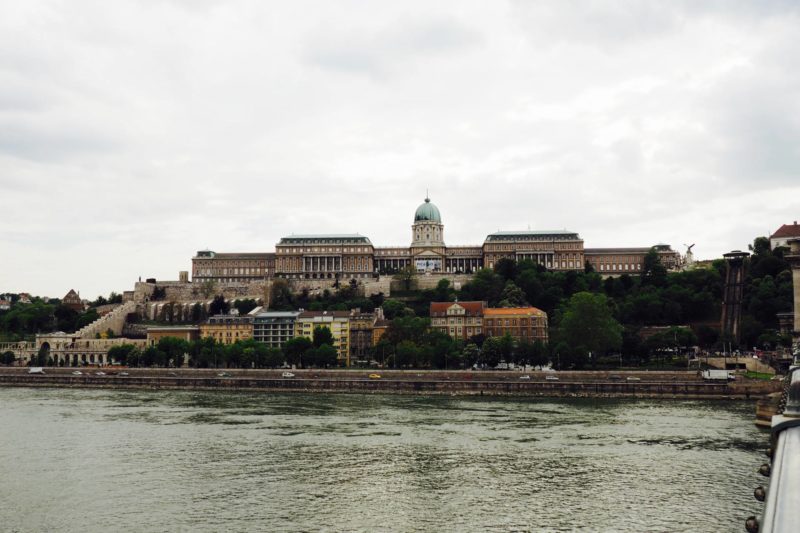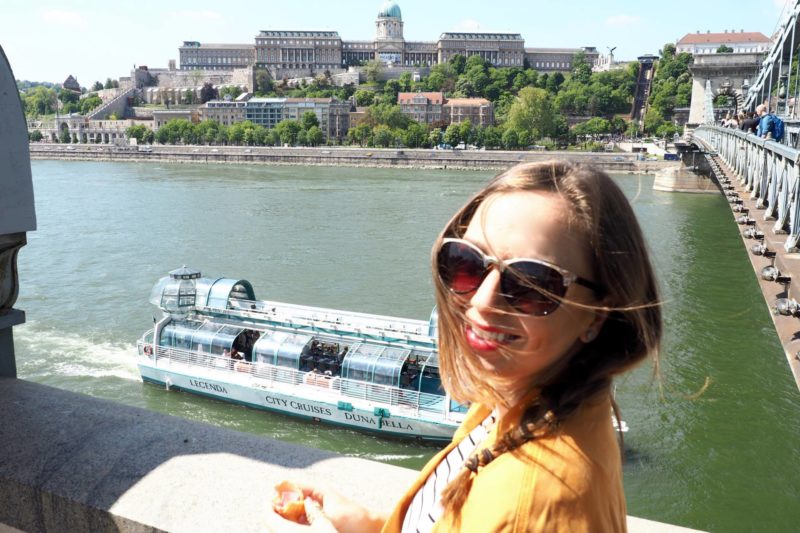 Old school streetcars passed frequently.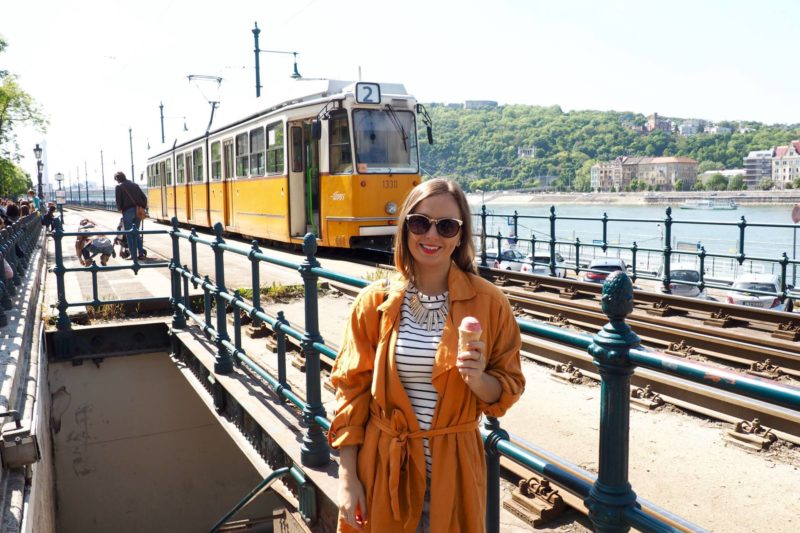 A stroll across the Danube over to the Buda side of the city took me to the foot of the Castle Hill Funicular, which opened in 1870. Towering 170 metres over the river, the cobbled streets of Buda's Old Town and the 13th century Royal Palace nestle proudly atop Castle Hill.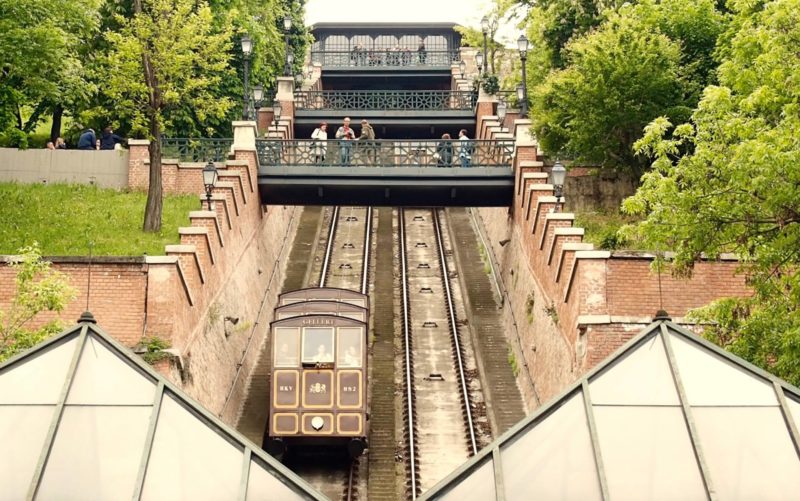 I continued along the riverbank until I was opposite the Hungarian Parliament building. Viewed from across the water, the impressive sugar-white facade is even better in real life than the pictures. It's the largest building in Hungary and one of Europe's oldest legislative buildings, with over half a million precious stones embedded in the Gothic Revival design.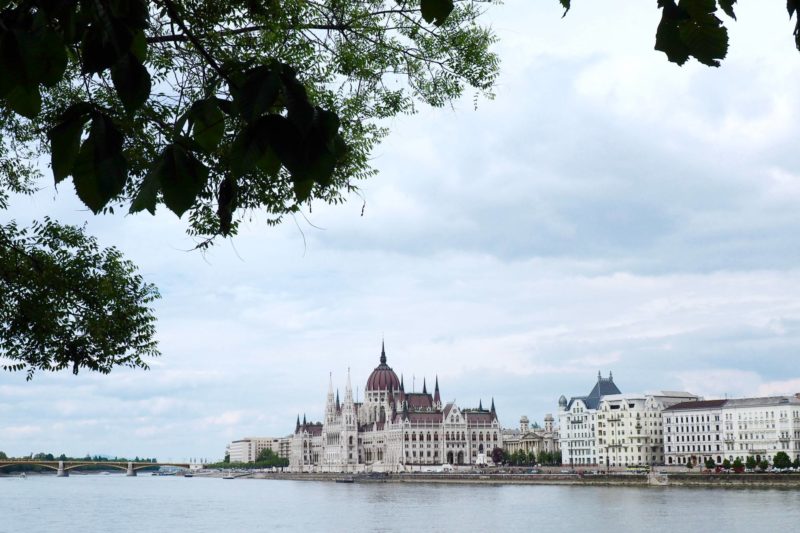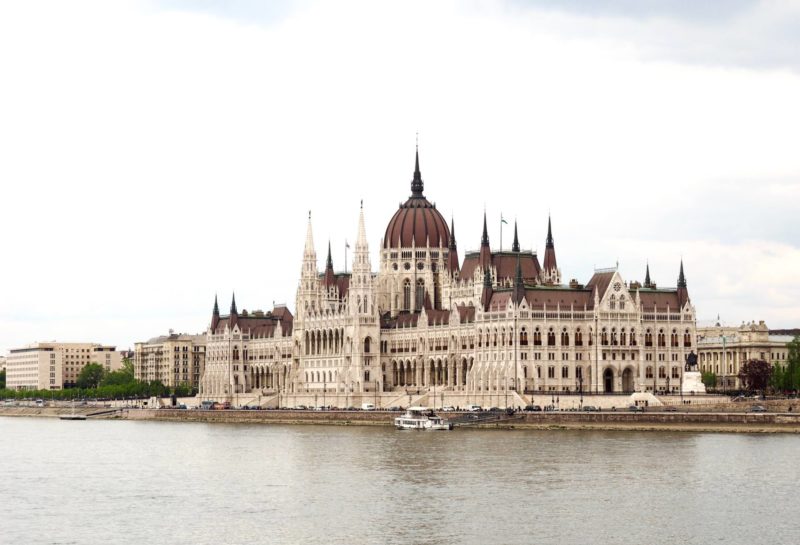 The architect behind the design apparently went blind before the building was finished.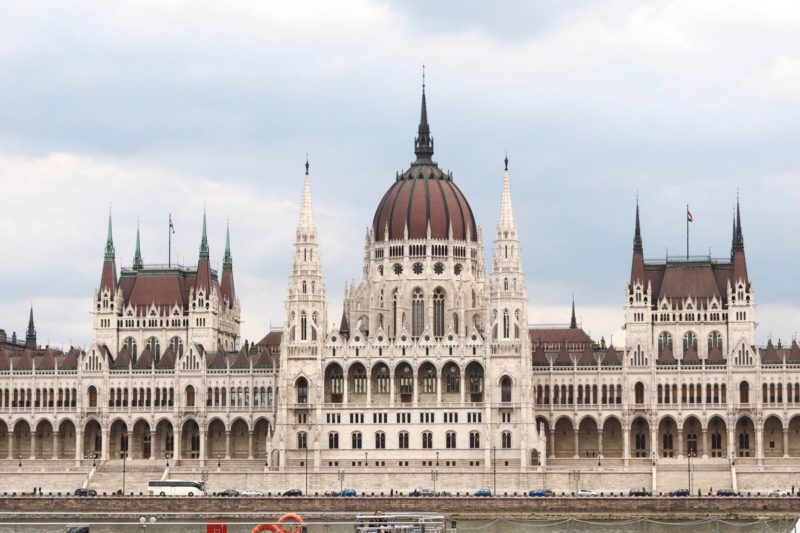 Time was of the essence so I raced across Margaret Bridge back to Pest to explore the Parliament Building and its neighbours up close. You can do a 45 minute tour of the exquisite building if you want to learn all about its intriguing past.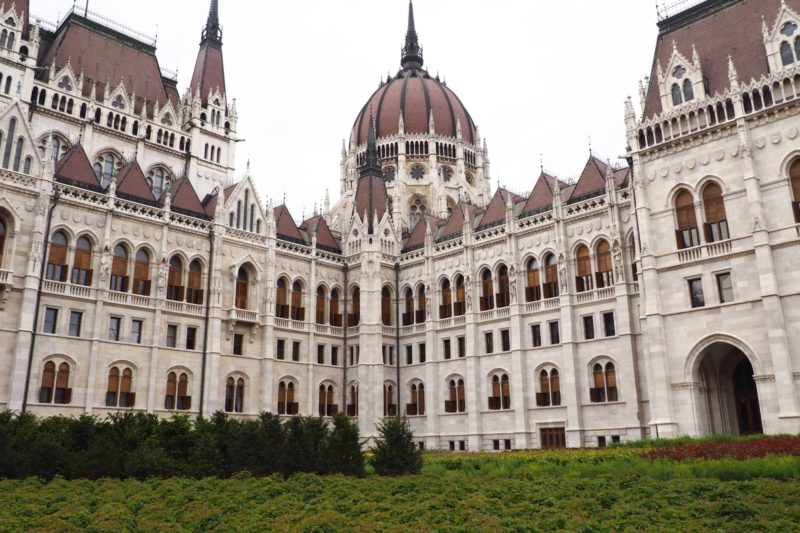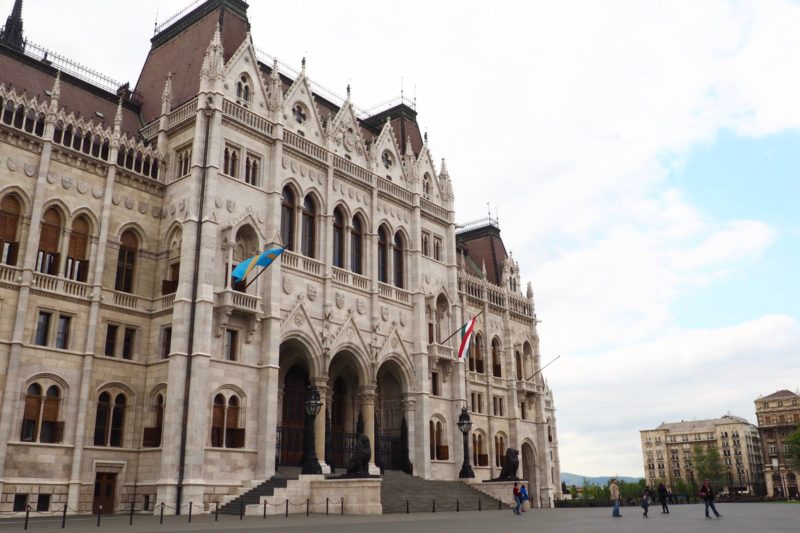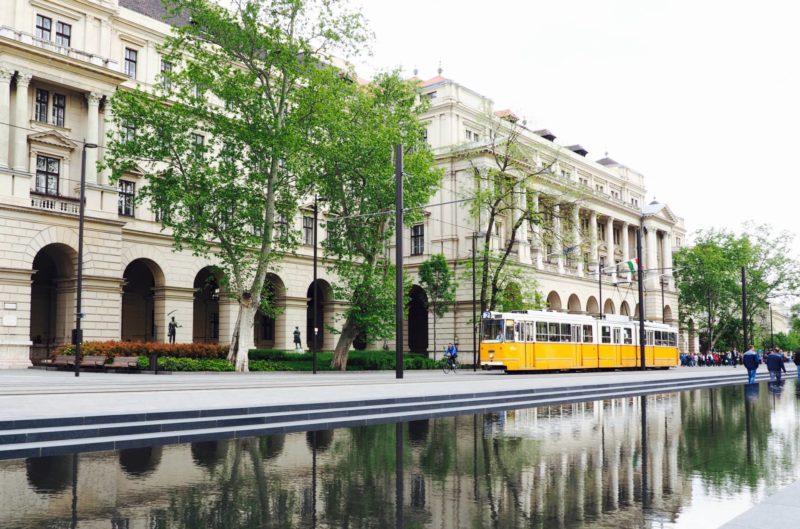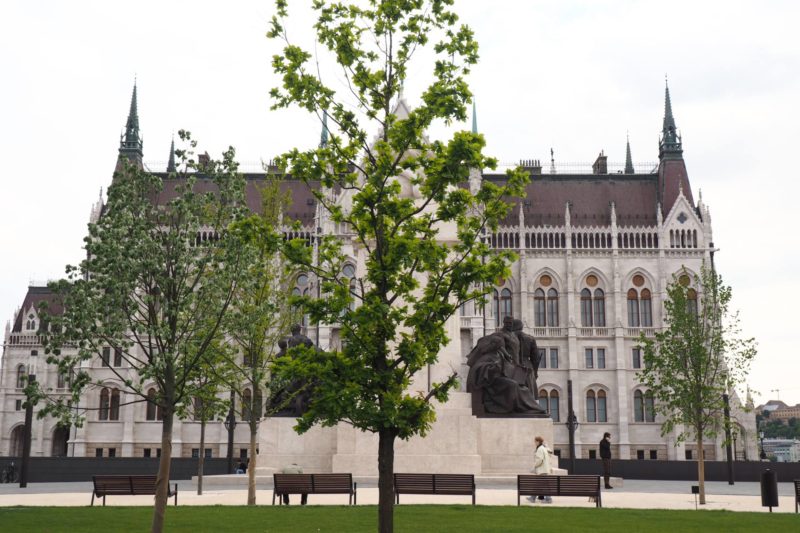 I got a tiny bit lost on the way back but made it to the hotel in time to be there for Tom's arrival. I won't lie, I felt like we were in the midst of an illicit affair, waiting for him in the room. The excitement of a long distance romance eh?
That night, we spilled from our hotel onto Váci Utca, Budapest's famous pedestrian shopping street. We stopped at Vörösmarty ter, a lively square surrounding a monument. Here, we ate dinner alfresco, bundled in blankets. So romantic!
Day 2 in Budapest: Fisherman's Bastion 
Our first full day in Budapest began with ice cream for breakfast from a truck in Vörösmarty ter because I was on holiday and why not?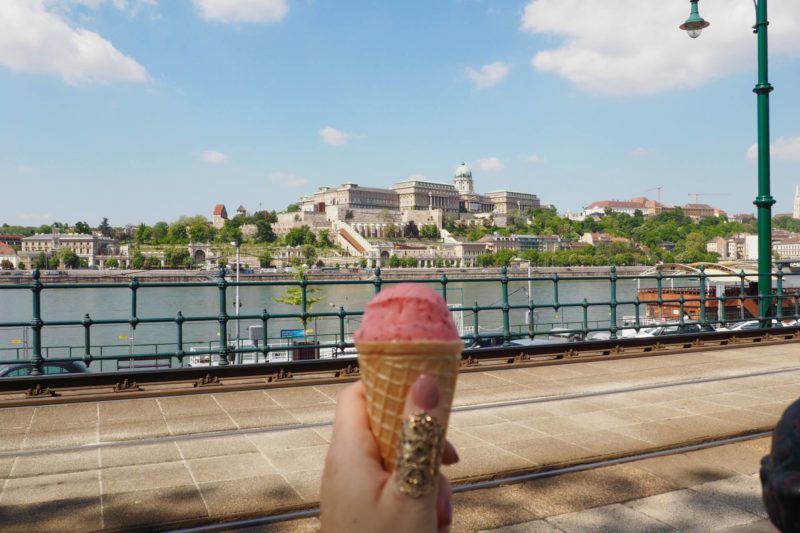 We headed back to the riverside then crossed the bridge again to climb Fisherman's Bastion, or 'Halászbástya', as it's called in Hungarian. No, I don't know how to pronounce that either. We wandered up to the neo-Gothic, net-romanesque terrace to take in the sweeping vistas of Budapest.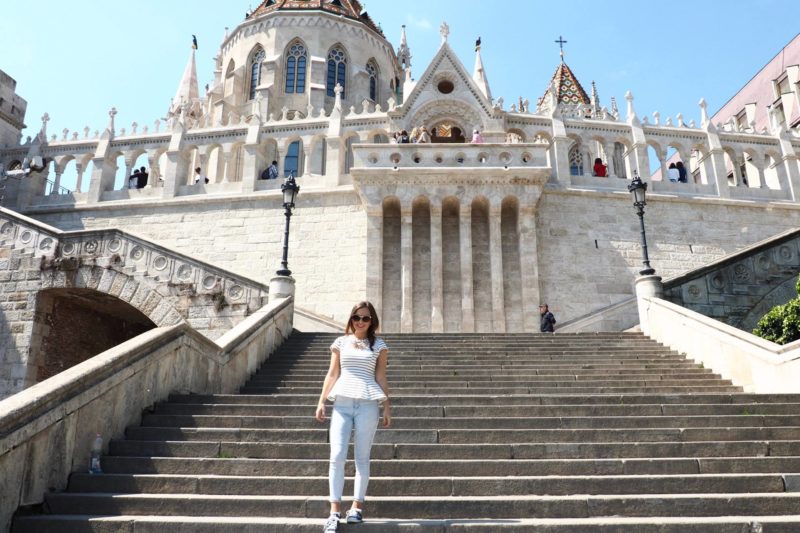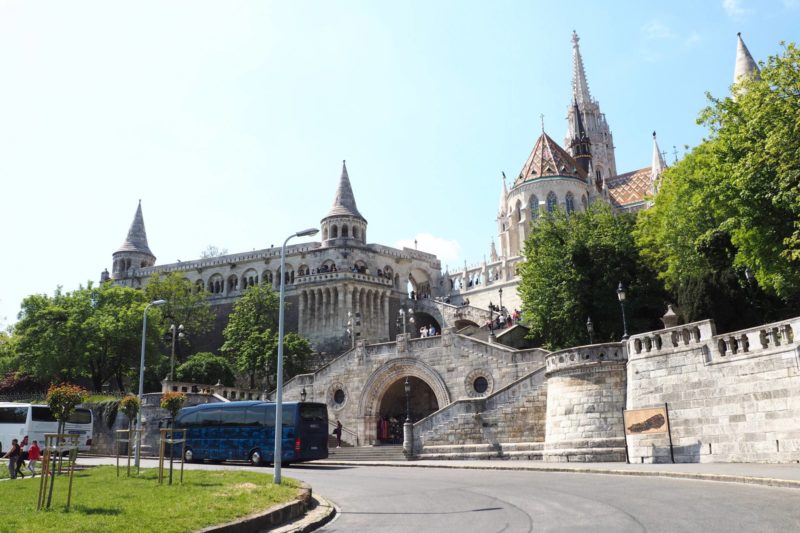 I'd quite like to make some kind of Hungarian social debut on these steps.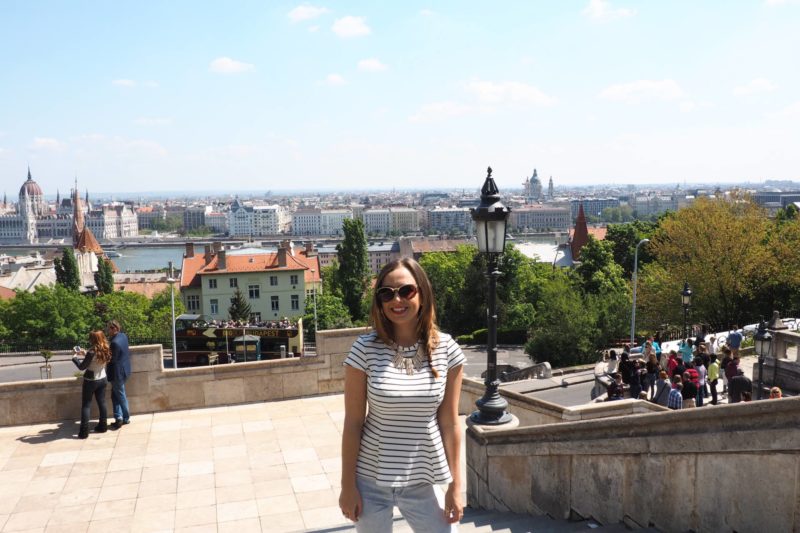 Completed in 1902, The Bastion takes its name from the guild of fishermen that was responsible for defending this stretch of the city walls in the Middle Ages. It was built to celebrate the Hungarian State's 1000th anniversary as the powers that be strived to make Budapest a liveable city by slapping up some stunning buildings. I'd say they succeeded.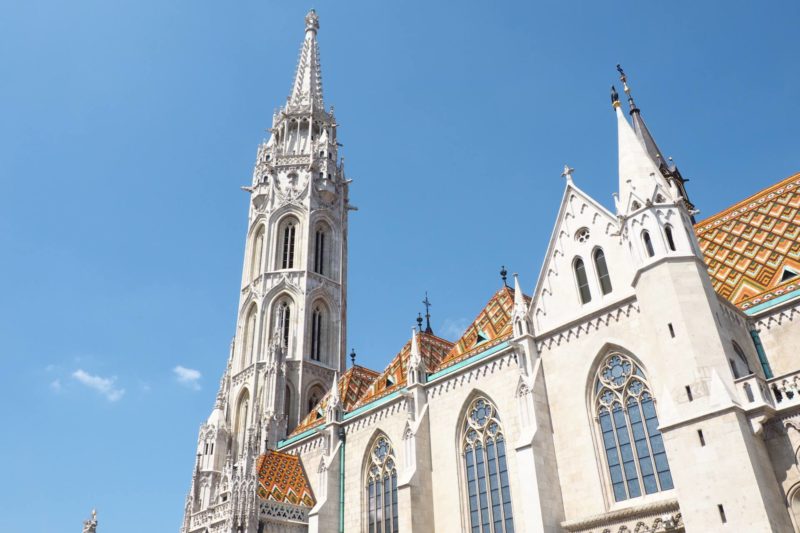 You can pay to go to the upper viewing balconies but we stuck with the cheap seats, where the view was still breathtaking. Fisherman's Bastion's seven fairytale towers are full of handy archways for posing – plus a cute Hungarian folk band!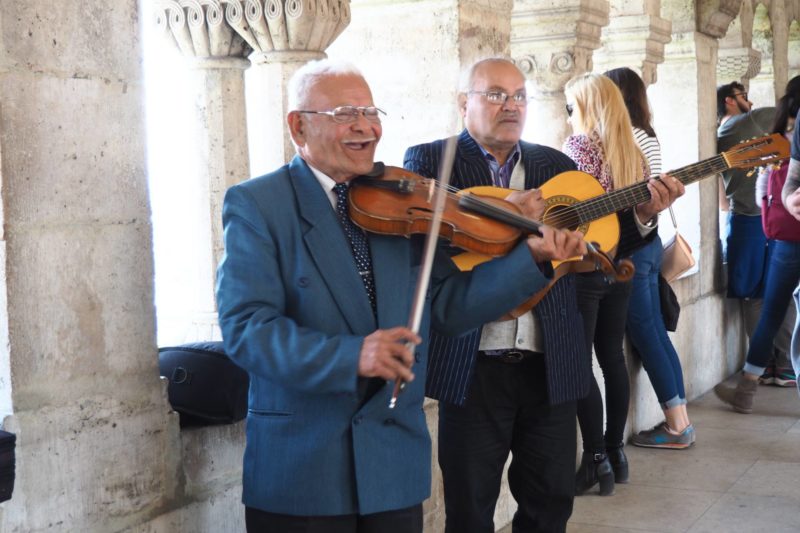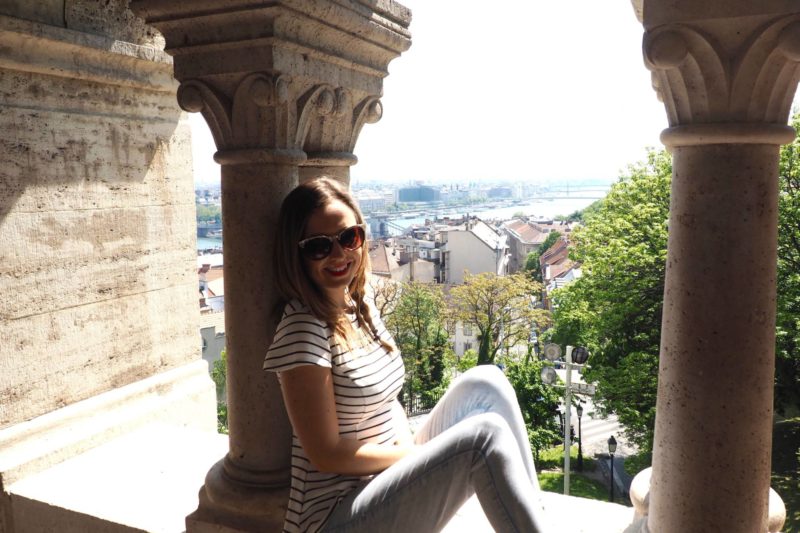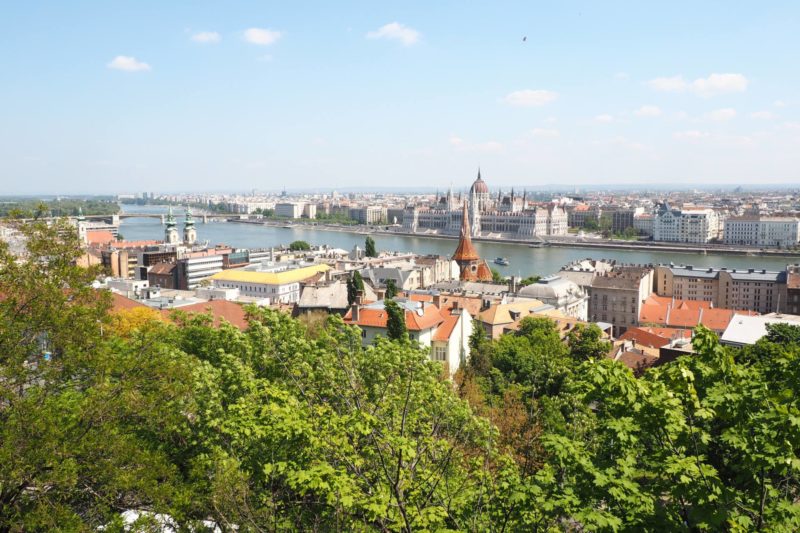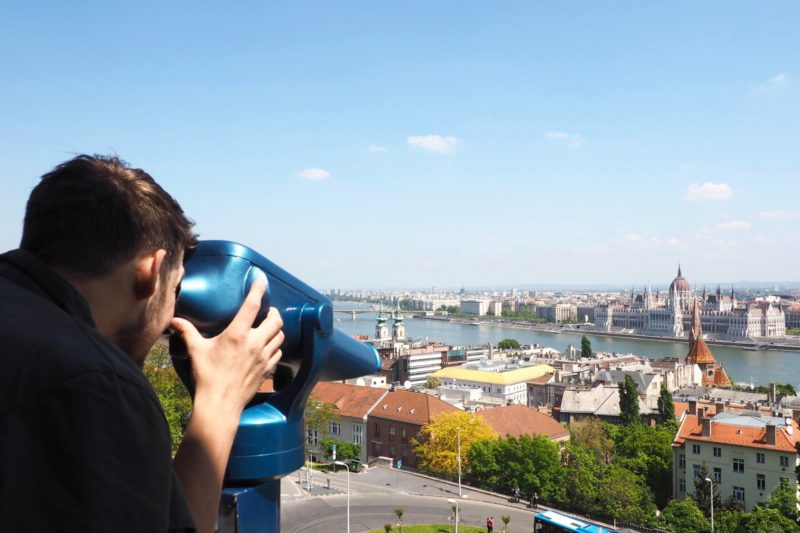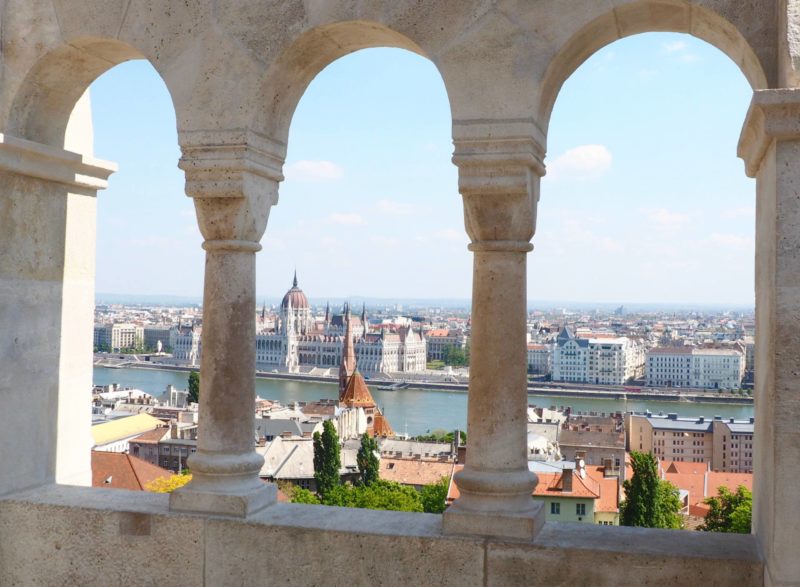 We even found a cafe hidden in one of the enclaves.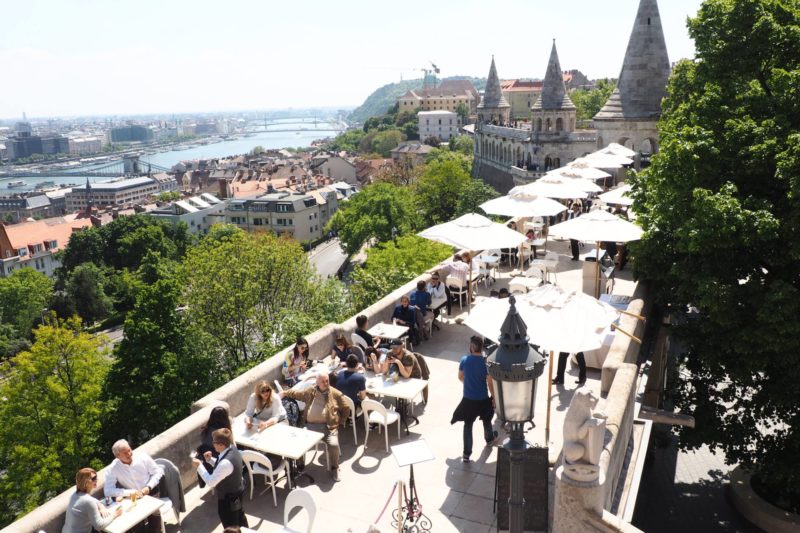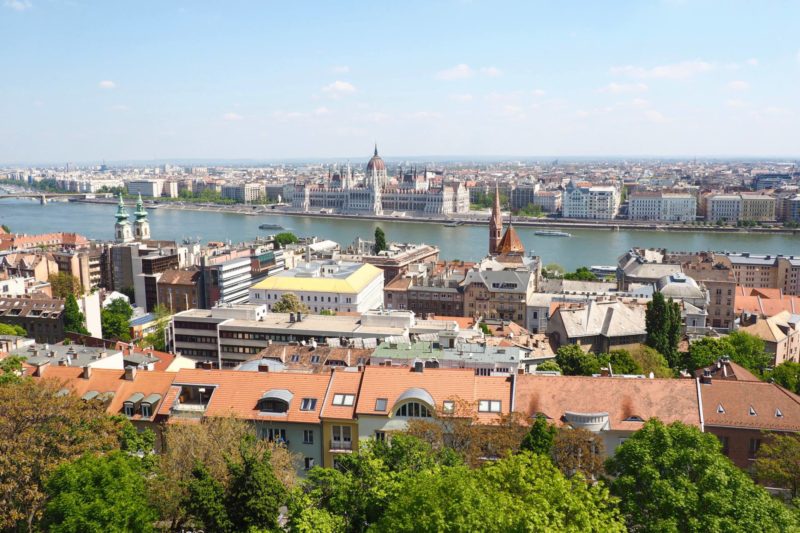 The bastion wraps around the baroque Matthias Church.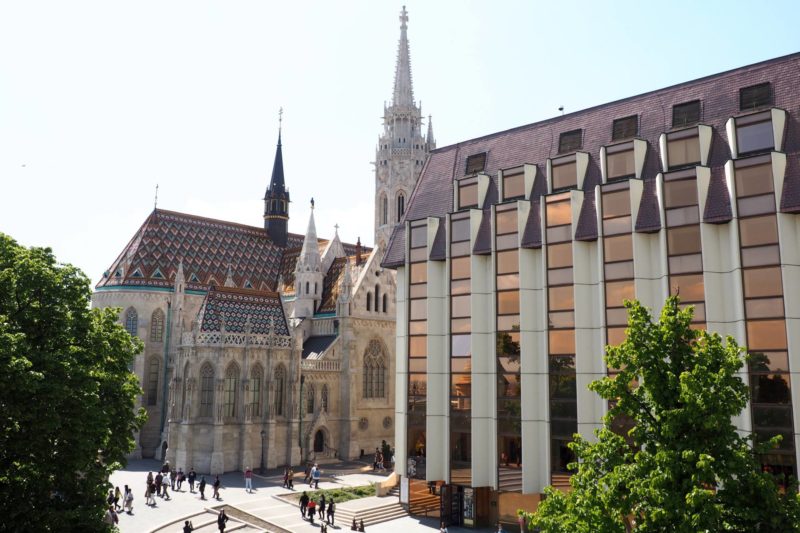 Something about the Bastion reminded me of that Disney logo that shows before every film…
We took some time to explore this side of the river on the way back down and I couldn't resist stopping every few minutes to snap some pictures of the architecture.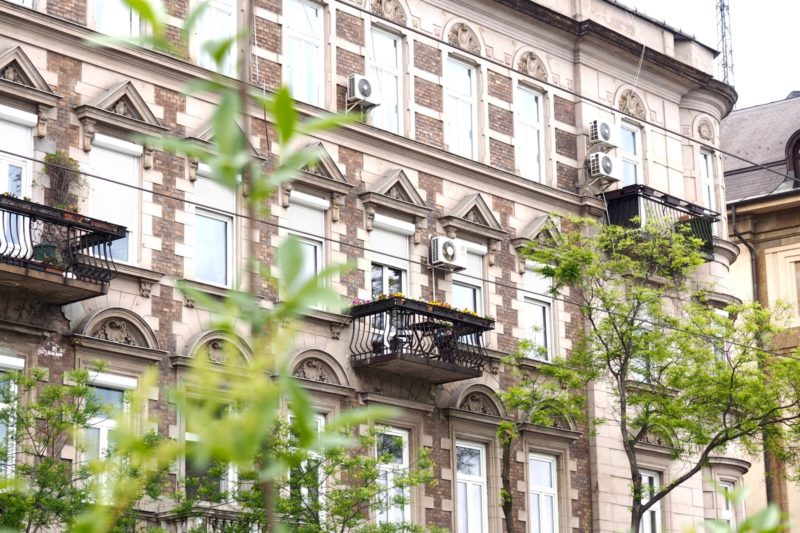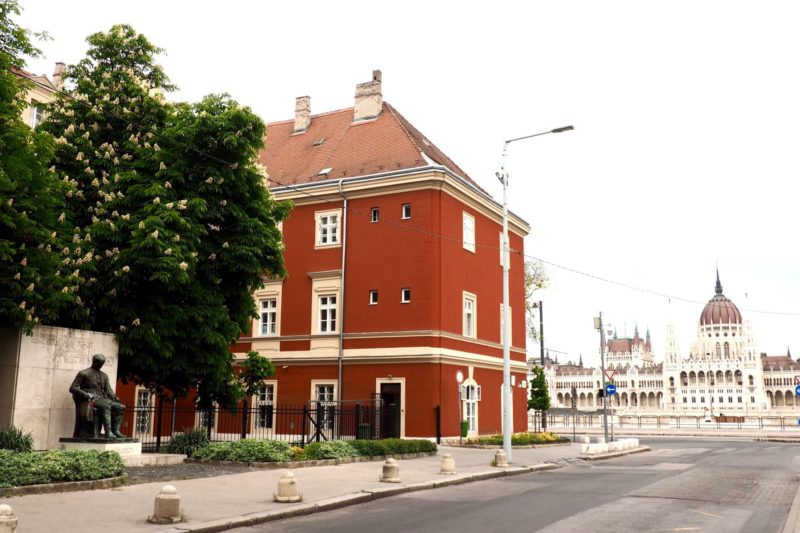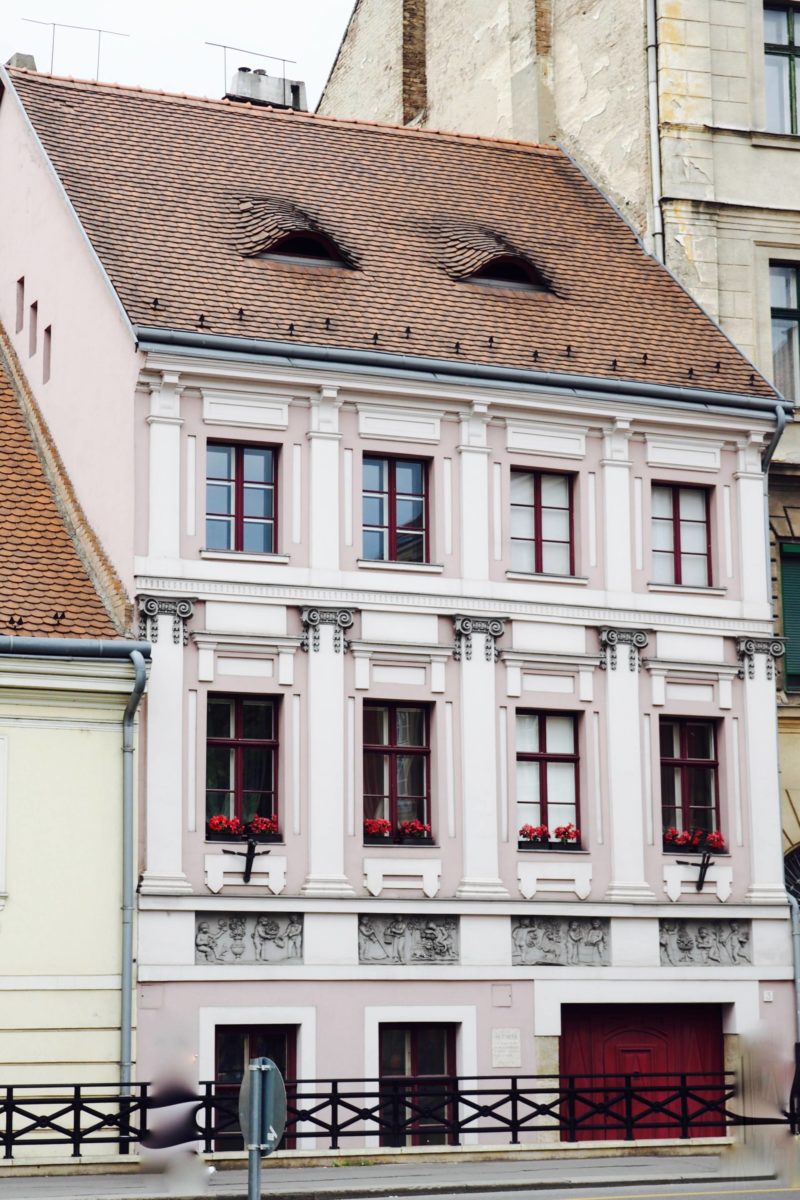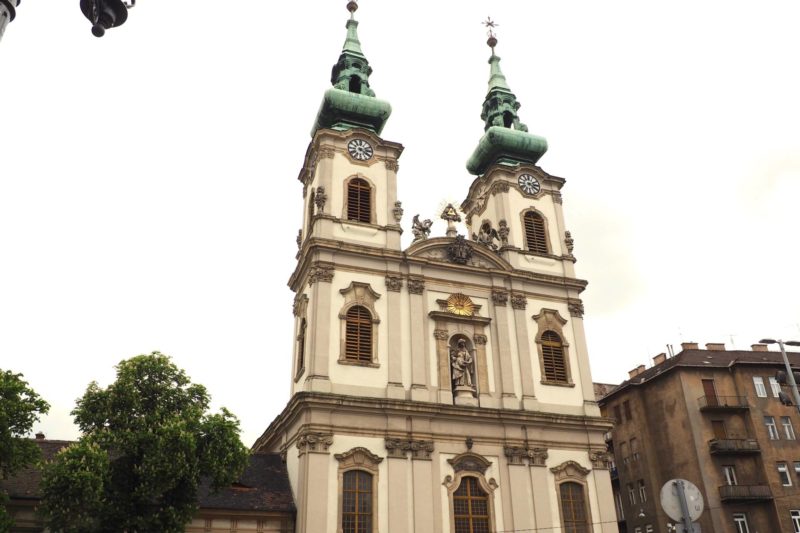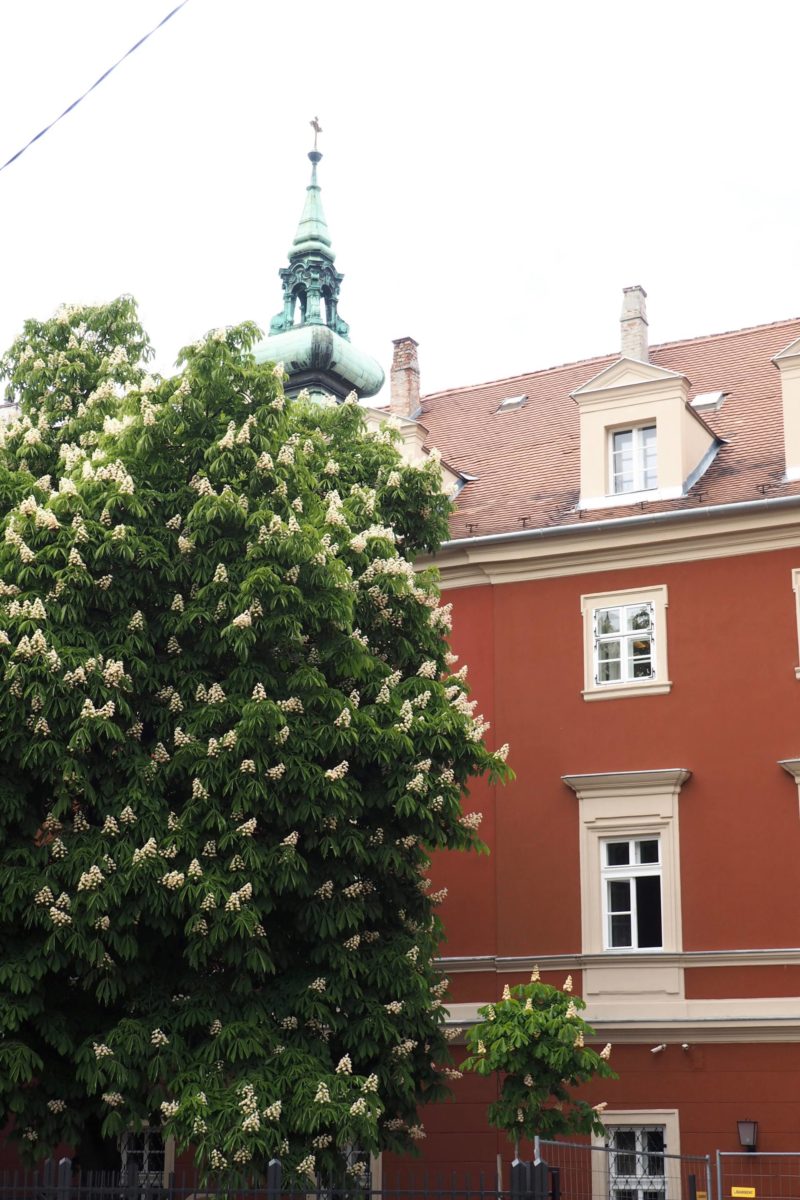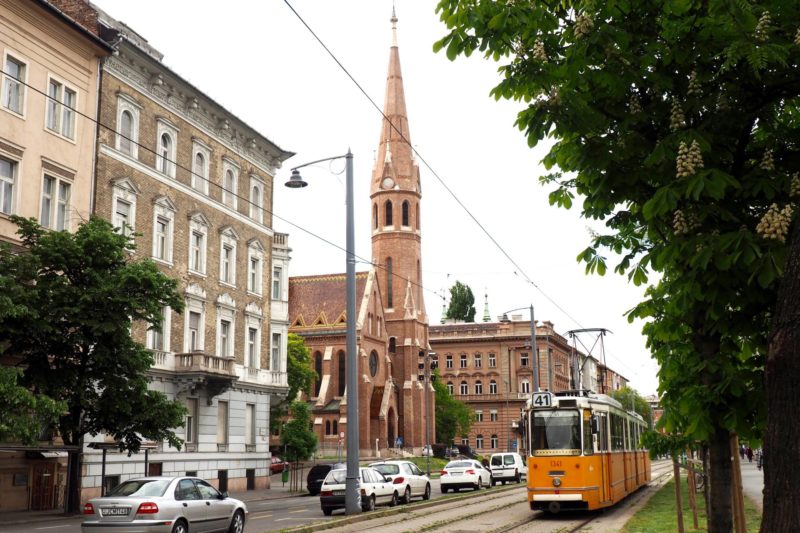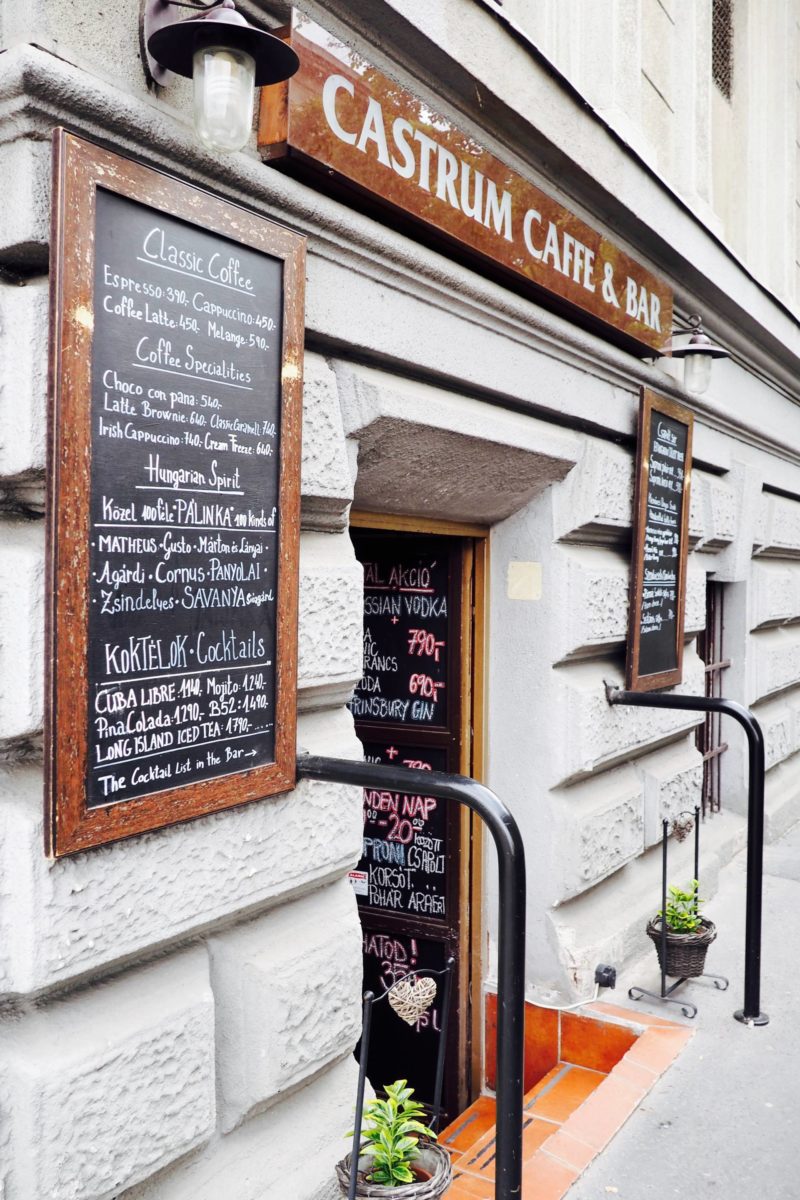 After all that sightseeing, we were ready for a pizza and a pint, and it was too beautiful a day to sit inside. Then we found ourselves at a food and drink festival, where we sampled some way too strong spirits then drank way too much Delirium in the afternoon rays.
And umm, then I accidentally got drunk and had to have a lie down followed by three espressos before I could get ready to hit the bars.
Visiting Budapest's famous ruin bars
When I'd asked friends for Budapest tips, they'd made it clear there was one place I couldn't miss: Szimpla Kert, the city's most famous ruin pub. These drinking spots are built in Budapest's old District VII neighborhood (the old Jewish quarter) in the ruins of abandoned buildings and they're the main attraction in Budapest for people who come to party.
Szimpla Kert was the original ruin pub and it opened in 2001. Stuffed full of antique furniture, a hoarder's haven worth of junk and curious objects, this bar alone gives Budapest the coolest nightlife scene in Europe.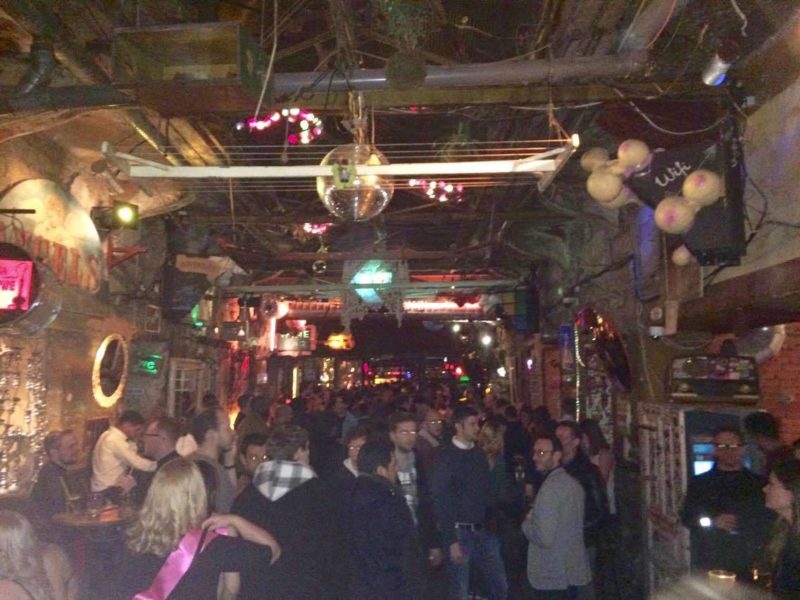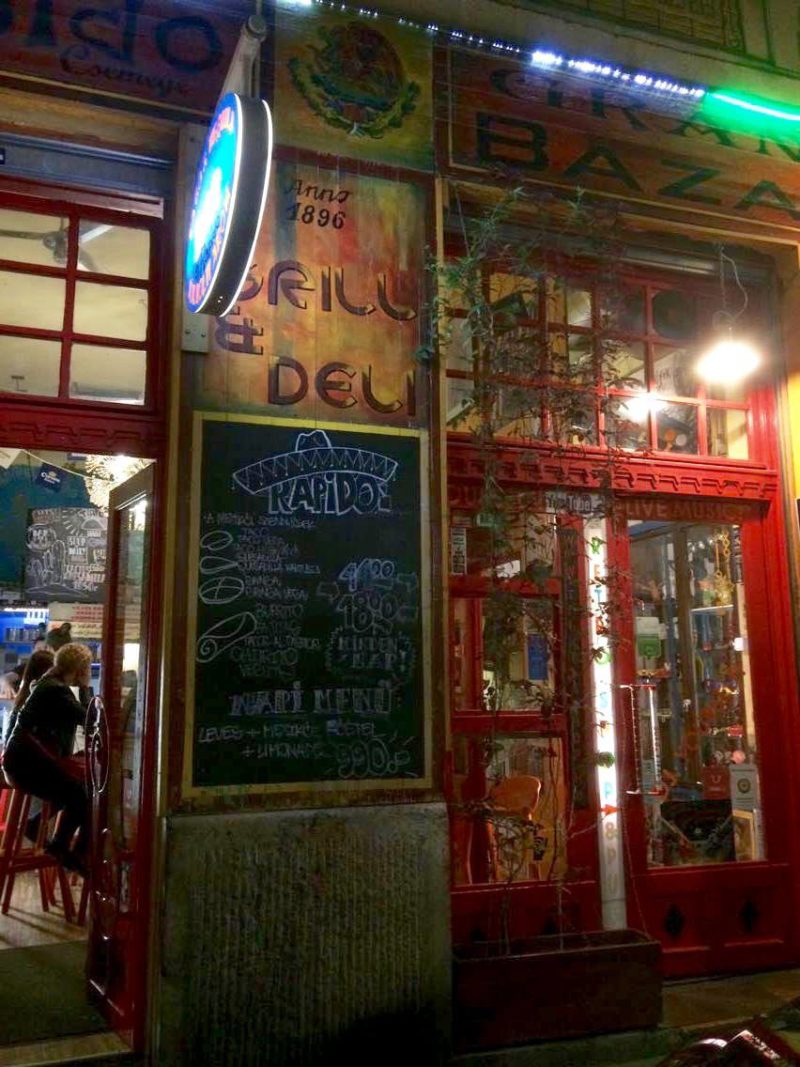 If you're travelling solo, a bar crawl would be a great way to experience Budapest's nightlife and meet fellow travellers. This one lasts for five hours and specifically crawls the ruin bars. Alternatively, if you already have drinking buddies, you can buy a card that gets you free entry and drinks in the ruin bars.
Day 3 in Budapest: St Lucaz baths, Andrassy Avenue & Sundowners in the rain
Somehow skipping the hangover, we slept in on our third day then ate pasta for breakfast at Cucina. Ok, I guess at that point it was more like brunch.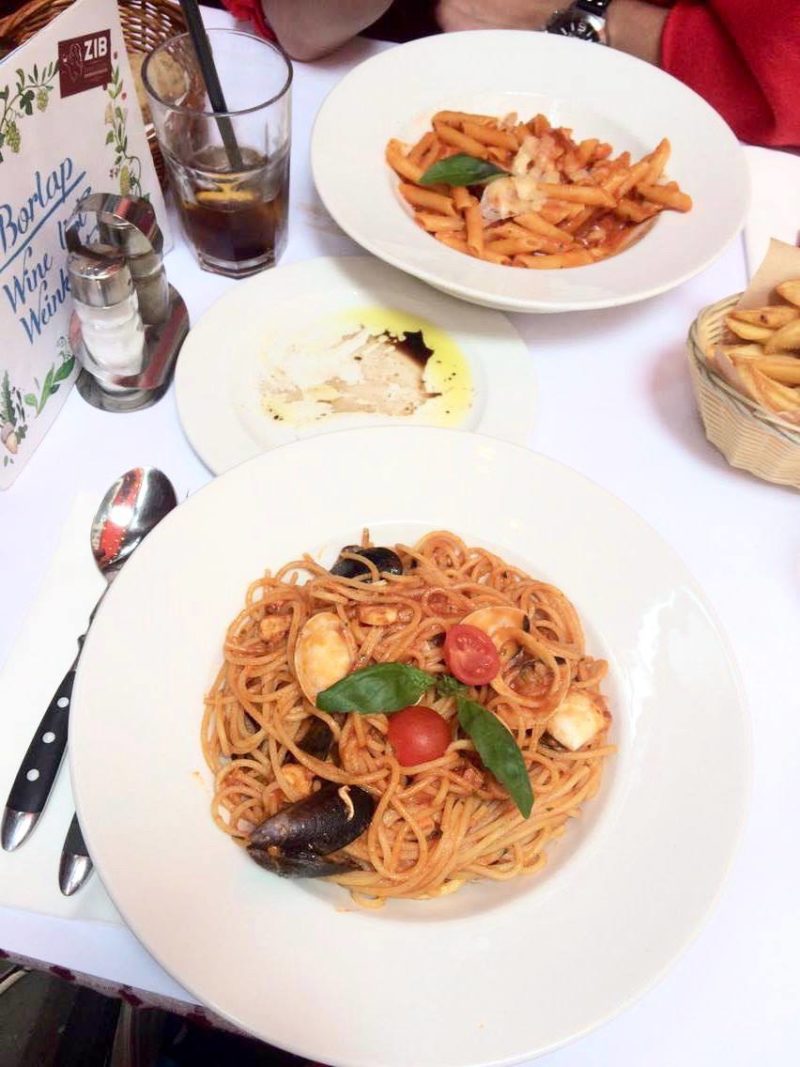 Cured, we strolled around the city and watched Hungarian chimney cake being made, the warm smell of cinnamon enticing patrons in to the old fashioned bakery.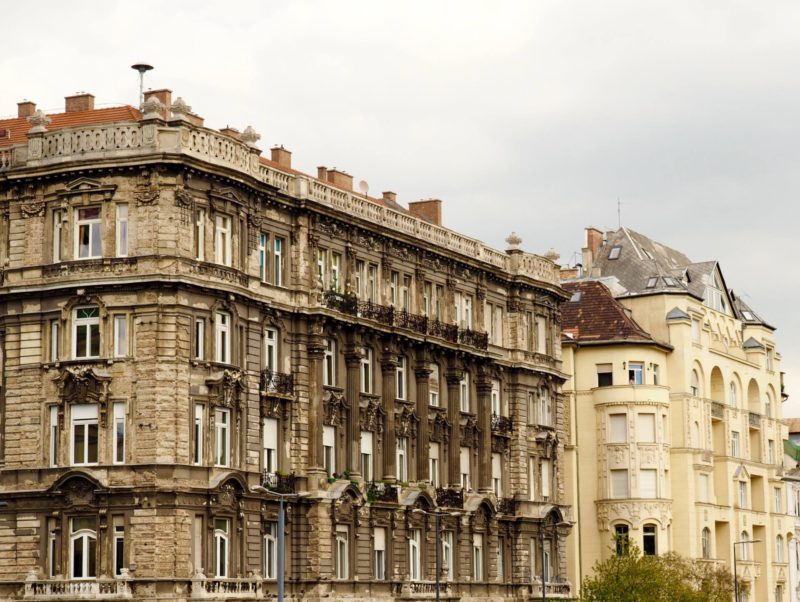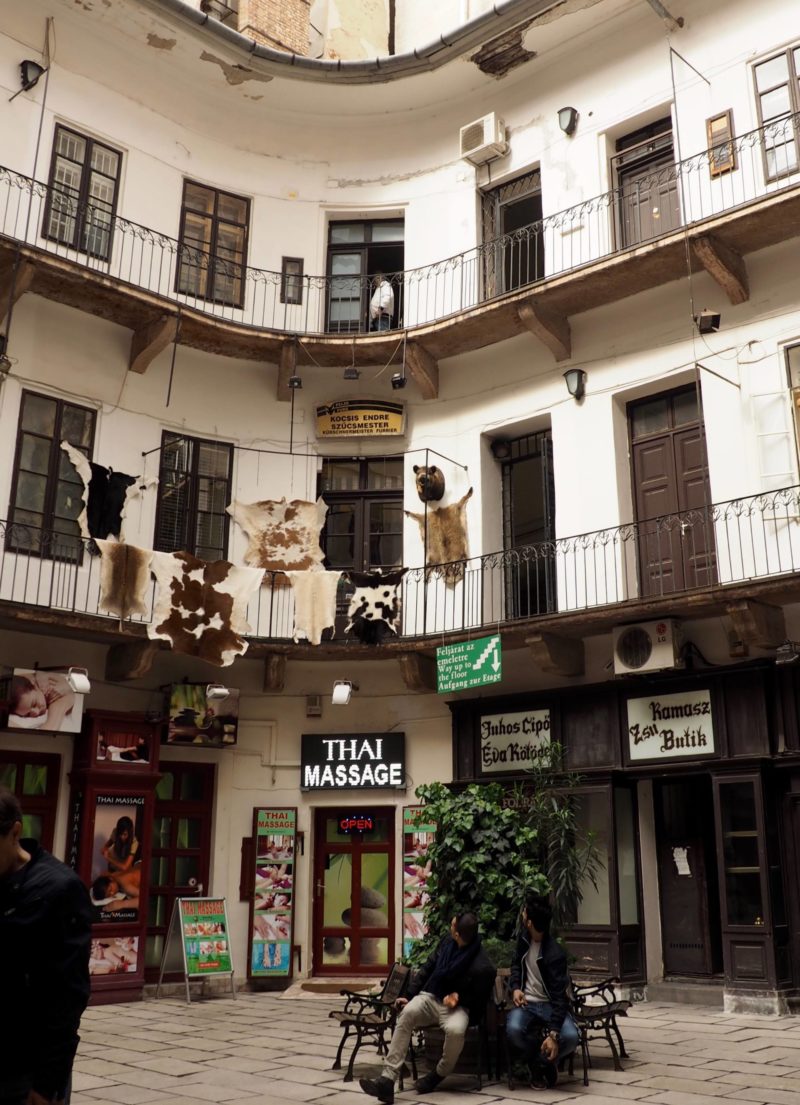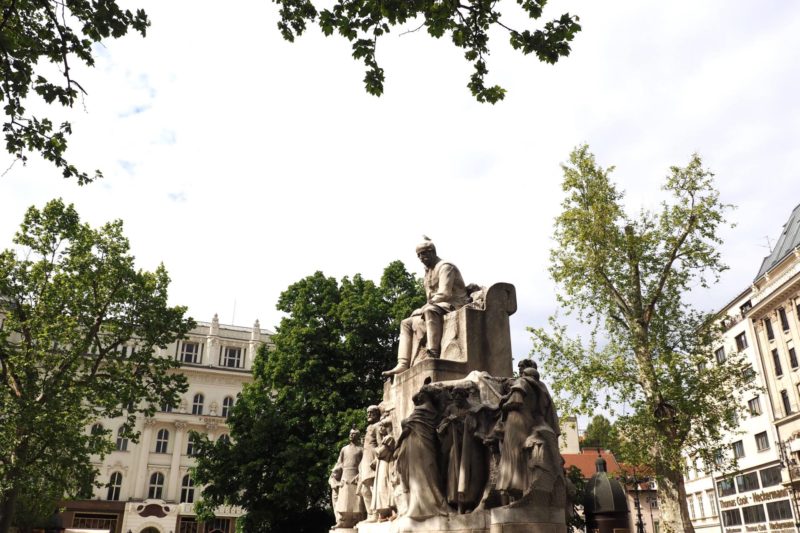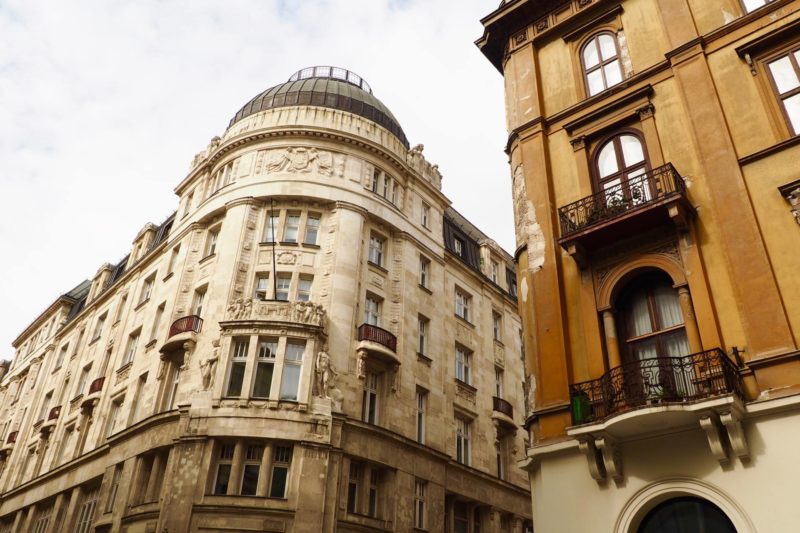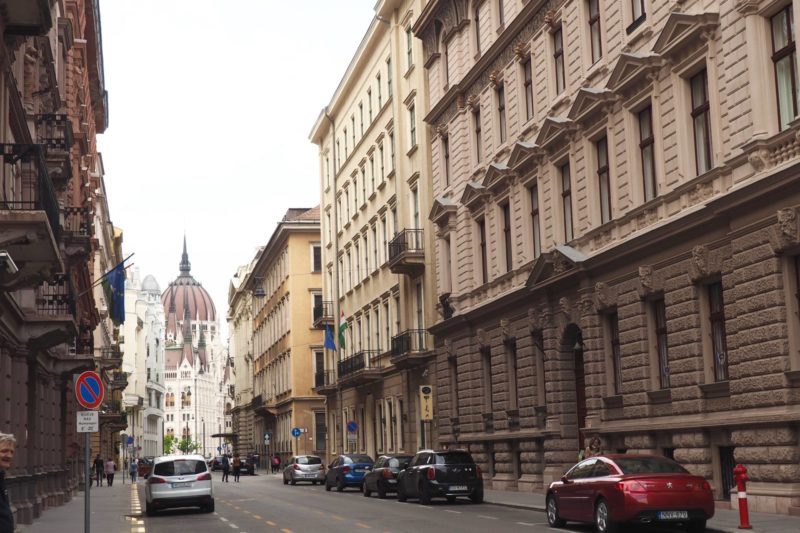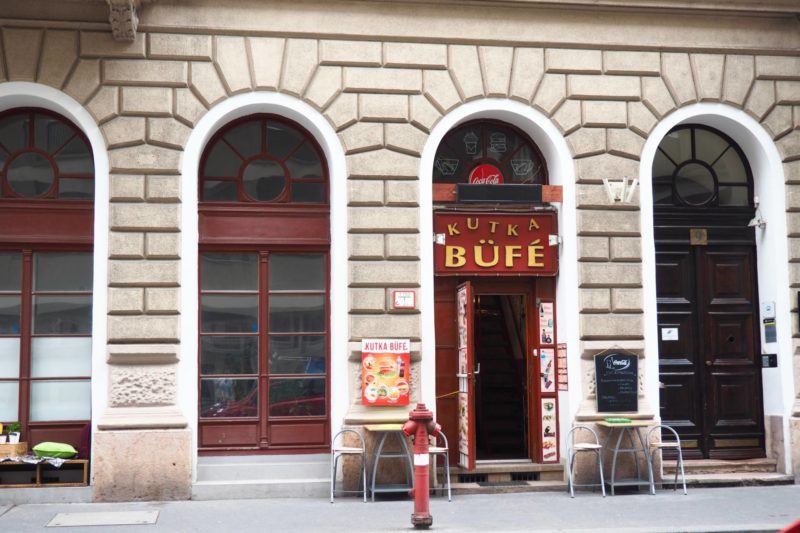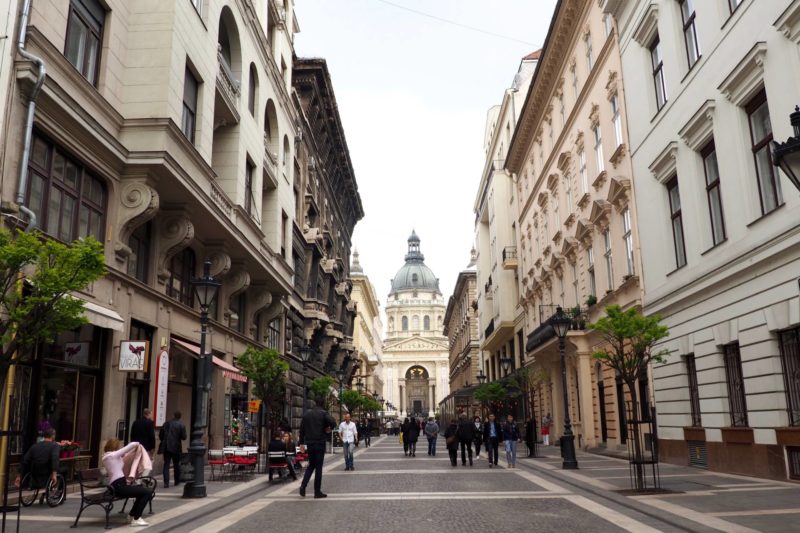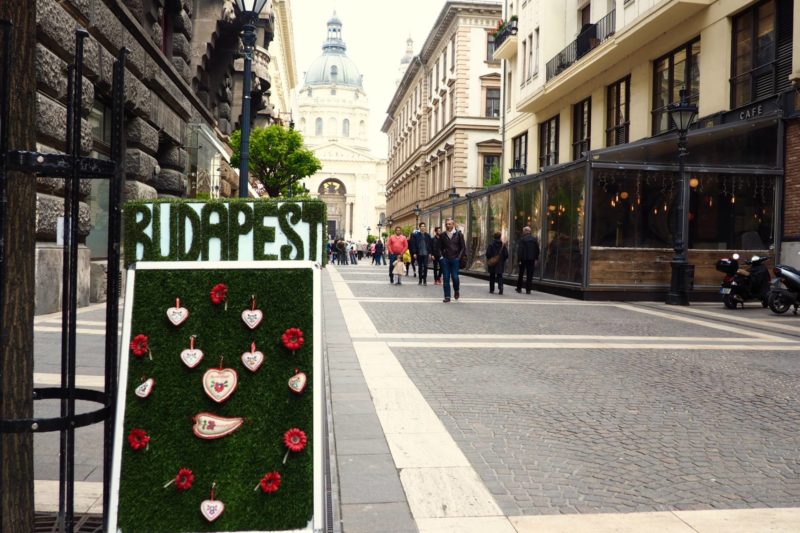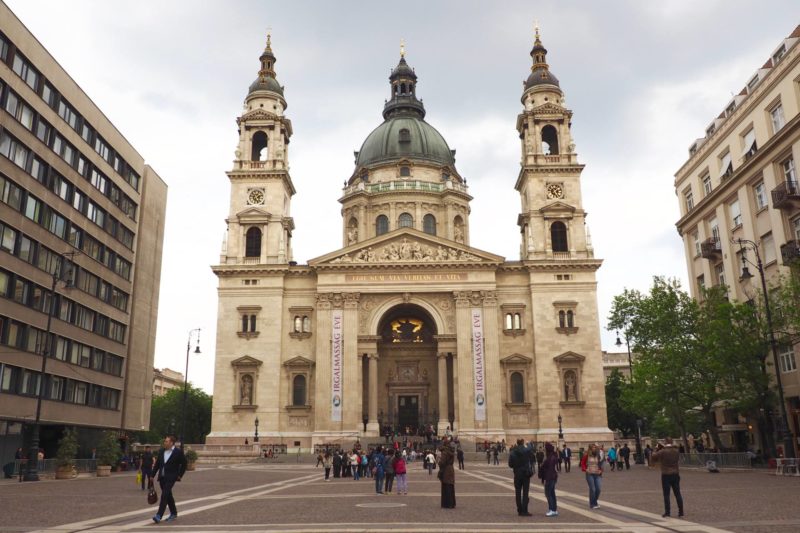 We took a walk along the Danube to see the Shoes on the Danube, a memorial which commemorates the Jewish people who lost their lives in the 1940s. They were forced to strip naked on the banks of the Danube and face the river; a firing squad then shot the prisoners at close range in the back so that they fell into the river to be washed away.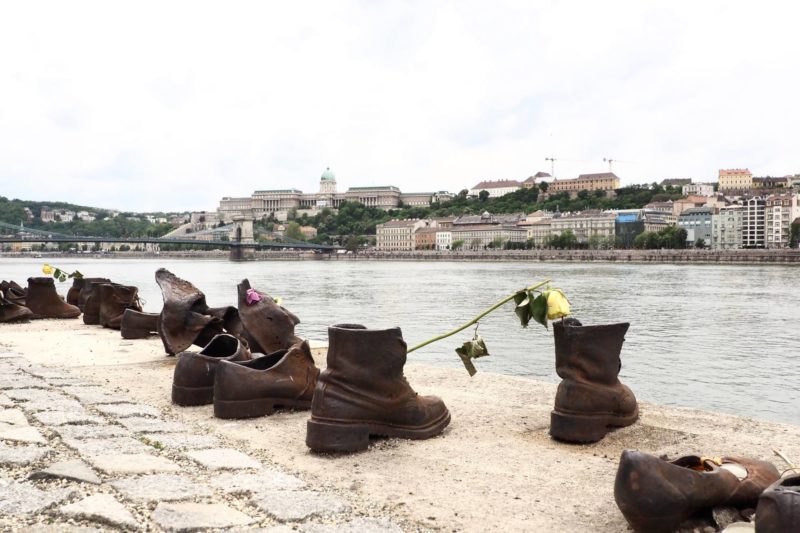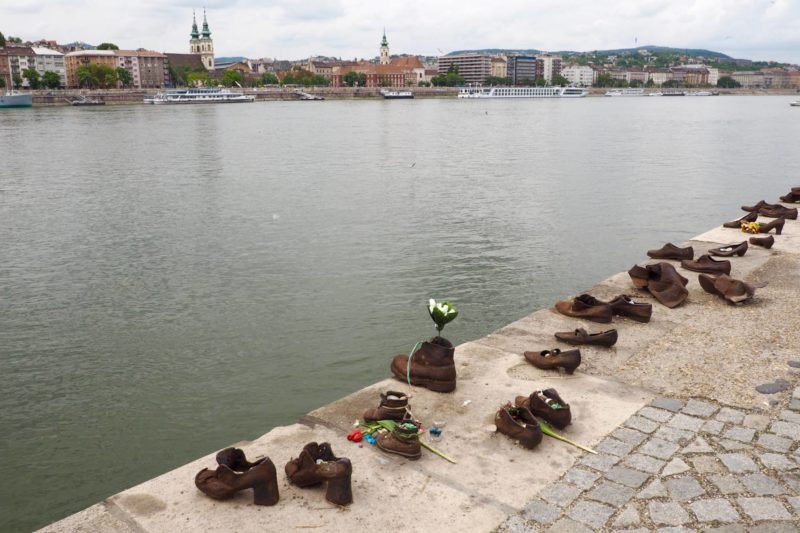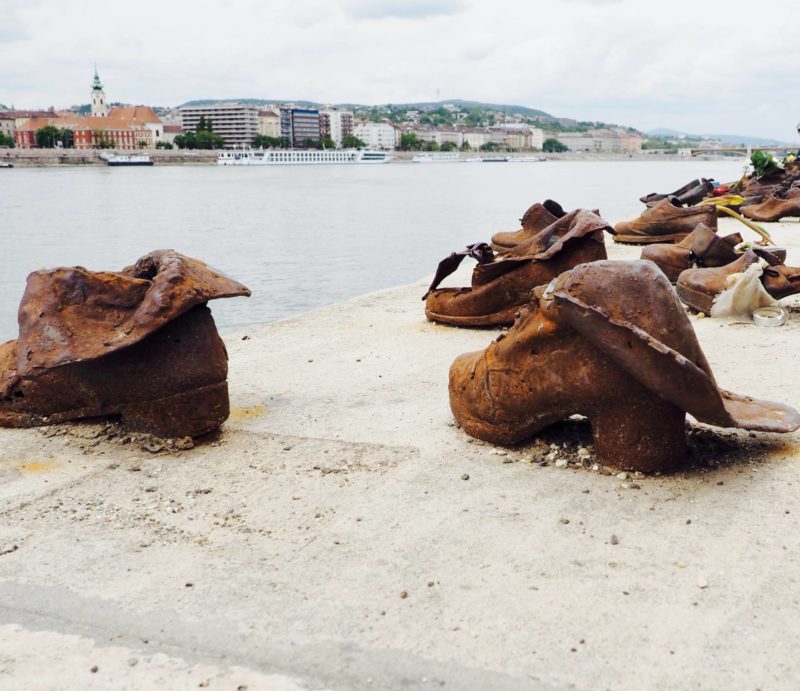 This creative memorial is a little eerie and seriously moving. It's a must-see in Budapest.
I had been looking forward to visiting the thermal baths but when we got there, we found it a bit weird and didn't stay long. If I was to go back to Budapest, I'd go to the Széchenyi Spa instead. That's the big outdoor one you've probably seen on Instagram! You can get a full day pass for £16.29 or pay a bit more for a massage during your visit.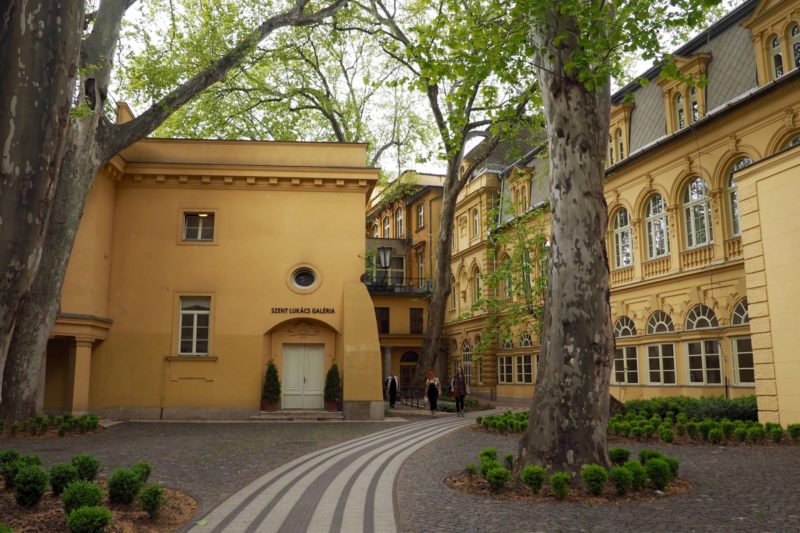 We spent the afternoon walking along Andrassy Avenue and sipped sundowners at 360 Bar.
From the rooftop bar we could see downtown from above: the State Opera House, the Old Academy of Music, the Old Art Hall and the Budapest School of Performing Arts. Even when the heavens opened and everyone else was cowering under canopies, we just enjoyed our drinks and got wet.
Day 4 in Budapest: Breakfast at the world's most beautiful cafe
We saved the best of Budapest for last. I had spotted the New York Cafe on Instagram before our trip and was determined to drag Tom there, even if he hated every minute of the fanciness and tiny portions. You can read all about our visit to the New York Cafe if you're into decadence and grandeur with your caffeine fix.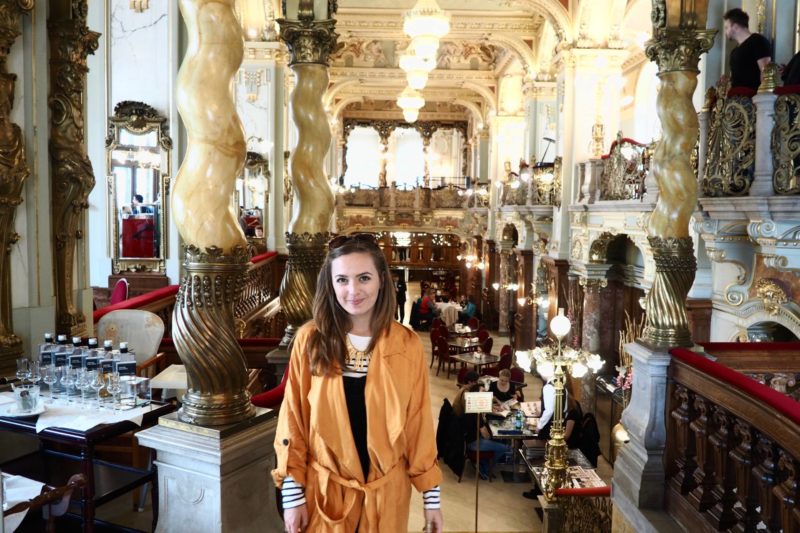 Our short break in Budapest was  packed full of exciting sightseeing, booze and good food. Whether you're in to edgy nightlife, baroque architecture or you're just trying to decide on your next European weekend away, Budapest is worth visiting, again and again. If you'd rather sit back and let someone else navigate the city for you or you're short on time, I recommend buying Hop On, Hop Off bus tour tickets online before you arrive. You can also do a quick three hour tour to see the top attractions, then spend the rest of the time relaxing.
Have you been to Budapest or is this European favourite on on your travel bucket list? Let me know in the comments! If you're planning a trip and want to use my itinerary for inspiration, you can pin any of my pictures on Pinterest. You can also like my Facebook page and follow me on Twitter, Instagram.
If you're travelling around Hungary, the Lonely Planet Budapest & Hungary travel guidebook will be a huge help.
More things to do in Budapest (See all)