Going to New York for five days? Here's an itinerary of things to do, places to see and eat. New York is best explored on foot but if you're short on time or you'd rather have someone else do the navigating, I recommend buying Big Bus Tour tickets online before you go.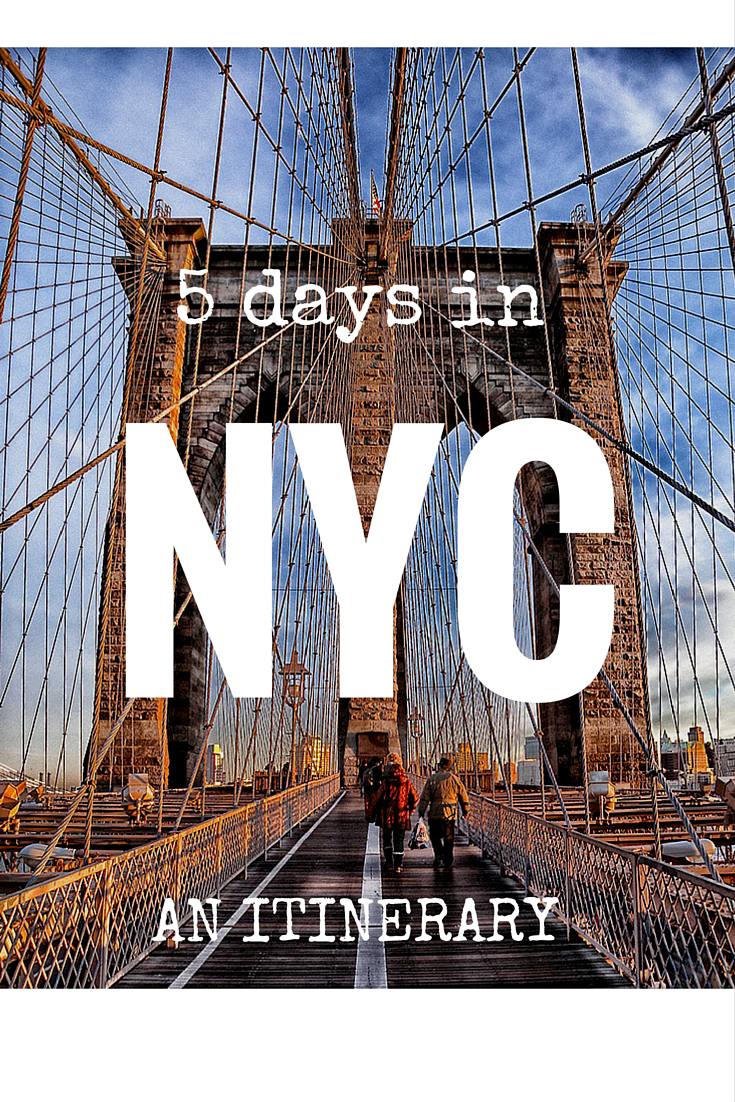 My best friend and I made a deal while we were on a plane soaring over Australia that if we found flights to NY for less than £400, we would go. So we did. It was my first trip to the States!
We flew with Delta Air, whose uniforms are so tacky compared to Emirates (we're such travel snobs now). After a two hour layover in Amsterdam and an interrogation about how we could afford our tickets at immigration, we boarded the airplane to JFK. All of the American men at the airport were wearing stone coloured slacks and saying goofy things like, "Oh pardon me Sir!" I loved America already!
We had five days in New York, and we made the most of them. If you're planning a trip to the Big Apple, you might want to steal my schedule.
First, you'll need accommodation, so check well-located hotels on Booking.com, which lets you filter hotels by price, location and more.
Five days in New York: my itinerary
Day 1: Grand Central Station and pounding the pavements
After making fools of ourselves by being very enthusiastic about yellow cabs, we got a bus into Manhattan. I will never forget my first glimpse of the Manhattan skyline as we drove towards the city where dreams come true. It's incredible that a man-made landscape can be just as moving as the natural contours of glacial mountains in New Zealand!
First stop when you arrive in NYC for the first time should be Grand Central Station, largest station in the world and the scene of many a romantic movie moment. The building itself is filled with as many stories as the 750,000 people who pass through the station every day, from the world's largest Tiffany clock to the abandoned Waldorf track.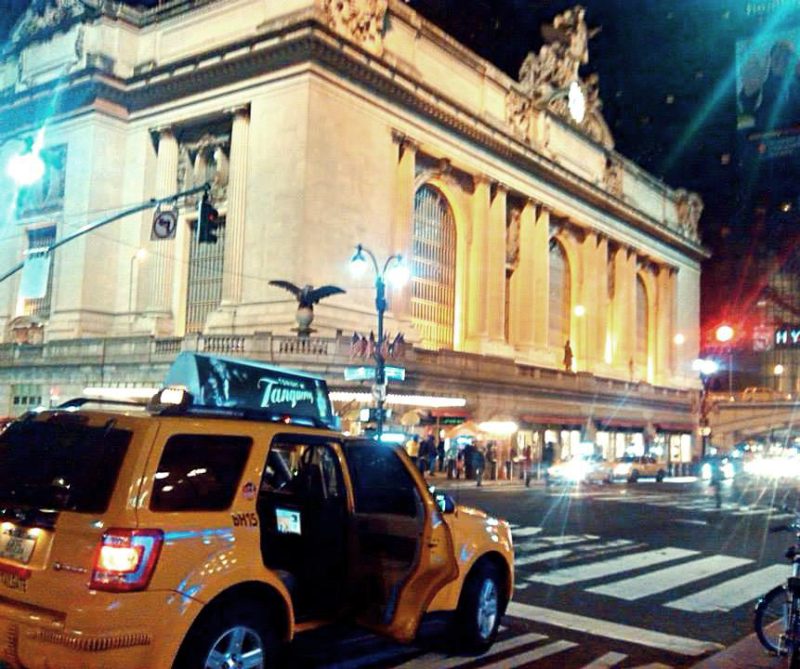 Crane your neck to take in the constellations in the ceiling and don't miss the Whispering Gallery and the hidden Campbell Apartment bar (you'll need to dress your best to get in).
New York really is the capital of the world. Everything is bigger and better than anywhere else, and you could easily spend an entire trip just walking the grid-like streets. In fact, that's the best way to experience this compelling city.
The tourist attractions are unmissable but the oddities we saw walking Manhattan's streets were priceless. From a drag queen in Chelsea covered in sequins and feathers, a couple reading each other poetry on the subway, to a guy cat-calling a girl who refused to buy coke from him on a street corner, New York is the best place to people watch!
The smell of sweet roasting nuts will always remind me of New York because there are vendors on every corner – and of course we sampled everything from pretzels to hot dogs to giant pizza slices. We were really lucky with the weather; though we would have liked snow, the air was cold and crisp, the perfect compliment to the festive vibes, and I felt just like Kevin in Home Alone.
Take a walk along Madison Avenue – at Christmas time especially, the shop windows are works of art. Head to the Rockefeller Centre for an arial view of the city at sunset.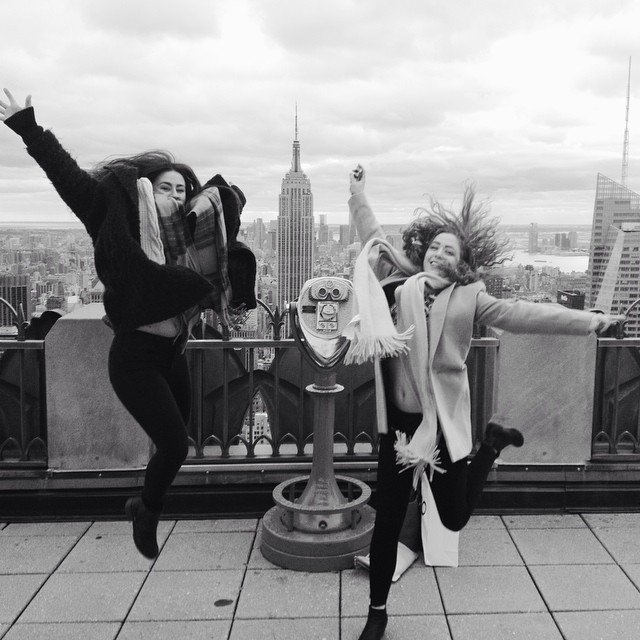 Day 2: Times Square
I didn't know when I first touched down in NYC that a year later I'd be back to live there for three crazy months, so I was still stunned by Times Square on my taster visit. Little did I know, I'd soon come to loathe it, with its throngs of slow walking tourists and disorientating buzz.
Times Square is best visited at night when the neon signs shine in all their glory. Make sure you run up the red steps for an Alicia Keys style photo op!
Shopping in Times Square's Forever 21 was an experience in itself – all the assistants were dancing around and yelling at each other over the clothes racks. Imagine that in Primark at home…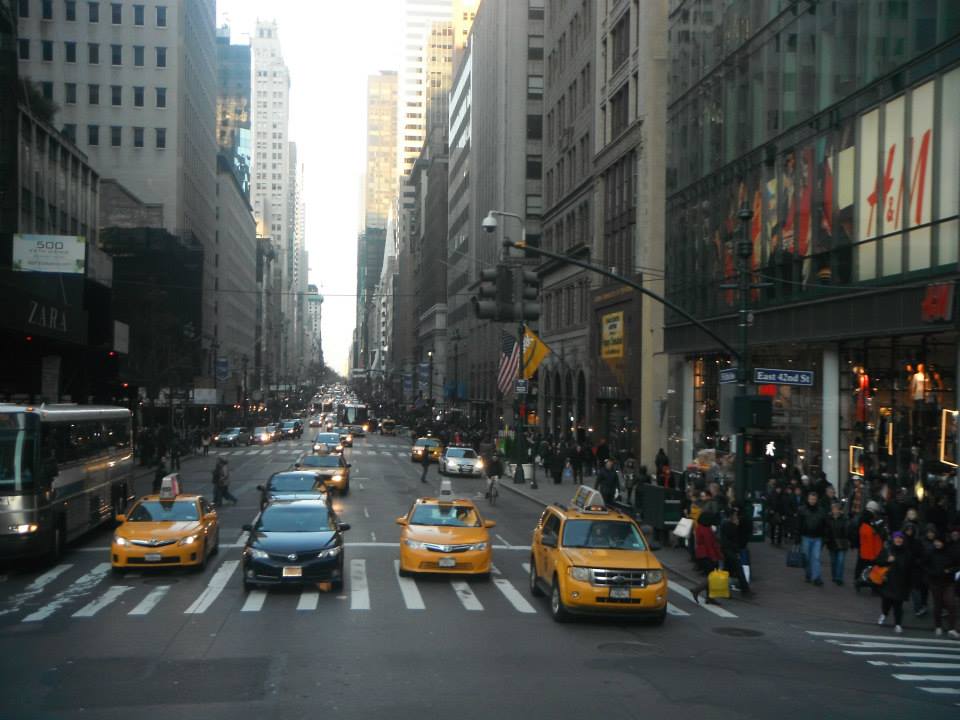 Day 3:  NYC Bus Tour
We got our tickets for the double decker bus tour a little cheaper than usual, and freezed on the uncovered top deck, but it was worth it for the views, and our guide was great. From Times Square we drove past Grand Central, the majestic New York Public Library (famous to me for that scene in Sex and The City), Radio City, Broadway, through Wall Street, SoHo, saw some nice cathedrals, the Flat Iron building, and over to Brooklyn Bridge. Definitely the best way to squeeze in all the sights.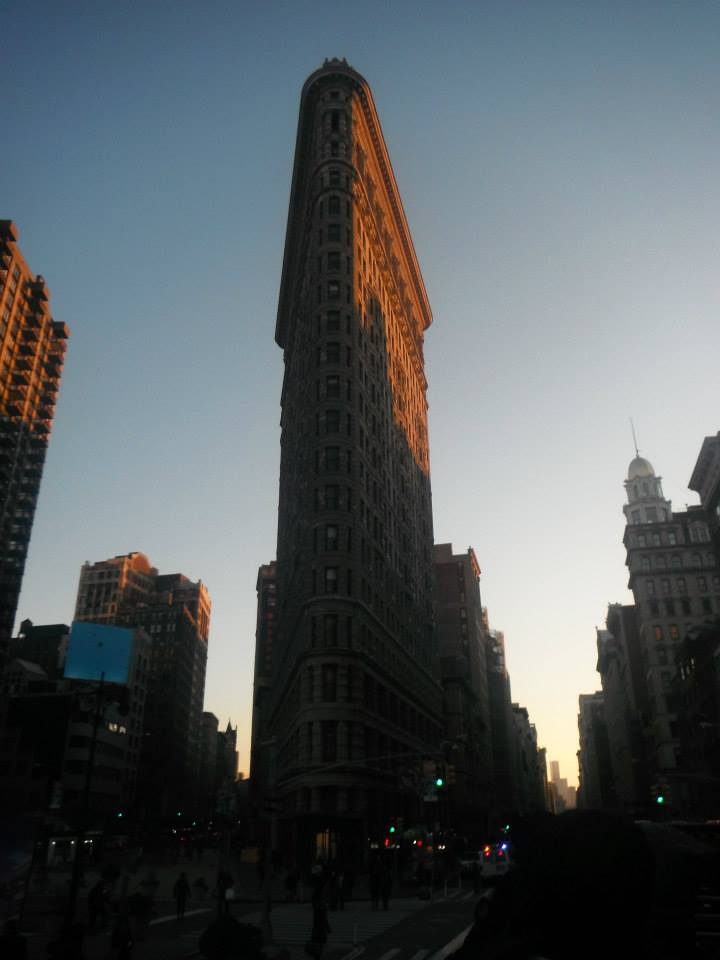 That night we went to the ice skating rink and saw the Christmas decorations and the show projected on to the Saks building, and the impressive Empire State and Chrysler Buildings all lit up. We warmed up with Italian style rich hot chocolates from Max Brenner's as we walked through Bryant Park Winter Village. We ended the night satiating our craving for chicken wings and Budweiser in Tonic, a brilliant bar near Times Square.
Day 4: Brooklyn Bridge
We got the subway to Tribeca and called in to Karl's bar, The Dark Horse, for Bloody Mary's and Eggs Benedict to start the day. From there we walked across the Brooklyn Bridge and spotted the Statue of Liberty in the distance. We got a better view on the FREE Staten Island Ferry, which we boarded as the sun was going down. Sightseeing done for the day, we shopped in SoHo then walked about a million blocks back to Union Square Market and sipped warm apple cider and ate fresh cookies while we roamed the stalls.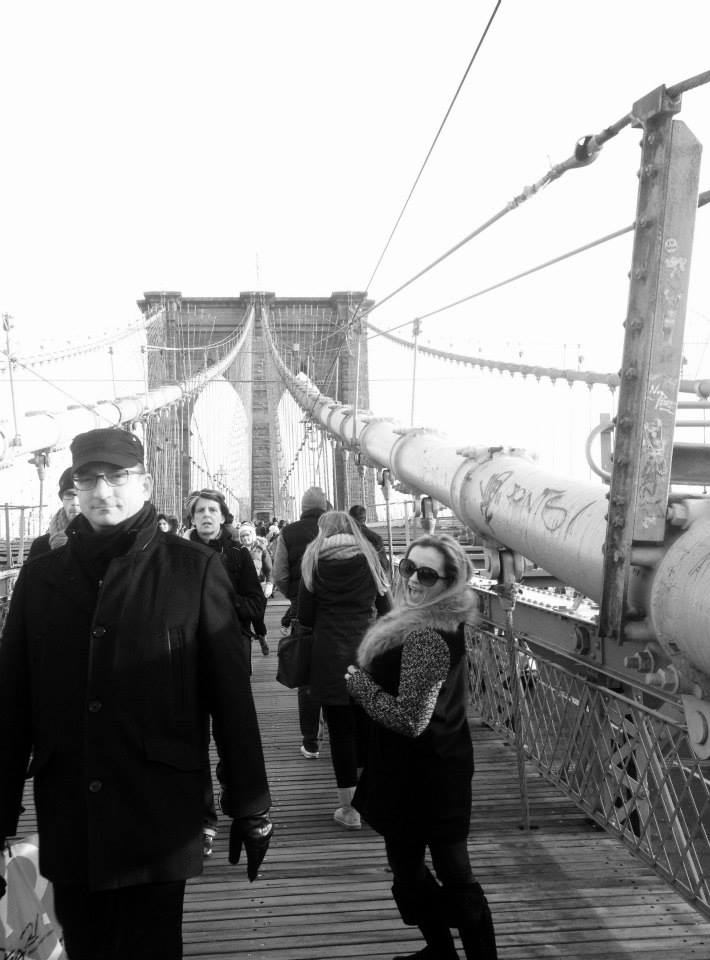 Because we were staying with a pretend local, we were able to go to edgy bars that other tourists wouldn't find easily. Karl took us out on the Lower East Side, to a bar where all the furniture was made from recycled odds and ends, then to a few more places- even a false hot dog bar, Please Don't Tell. Karl went to a phone booth in the corner, dialled a number and the wall slid open to reveal a secret bar!
Day 5: Drinking it all in
We ate brunch in Chelsea at Stecchino, where the hearty Italian food and unlimited drinks warded off our hangovers. Cured, we walked to Central Park, which was beautiful in the December light- all golden brown and red leaves and couples cuddling on benches. We saw the rose petal adorned John Lennon Imagine memorial mosaic in Strawberry Fields, and the carousel, horse drawn carriages and zoo. After the pace of the city, it was good to retreat into the park. We browsed The Strand bookstore's outdoor stalls then pretended to be rich in The Plaza Hotel, and walked back to Times Square via Tiffany's and Trump Tower.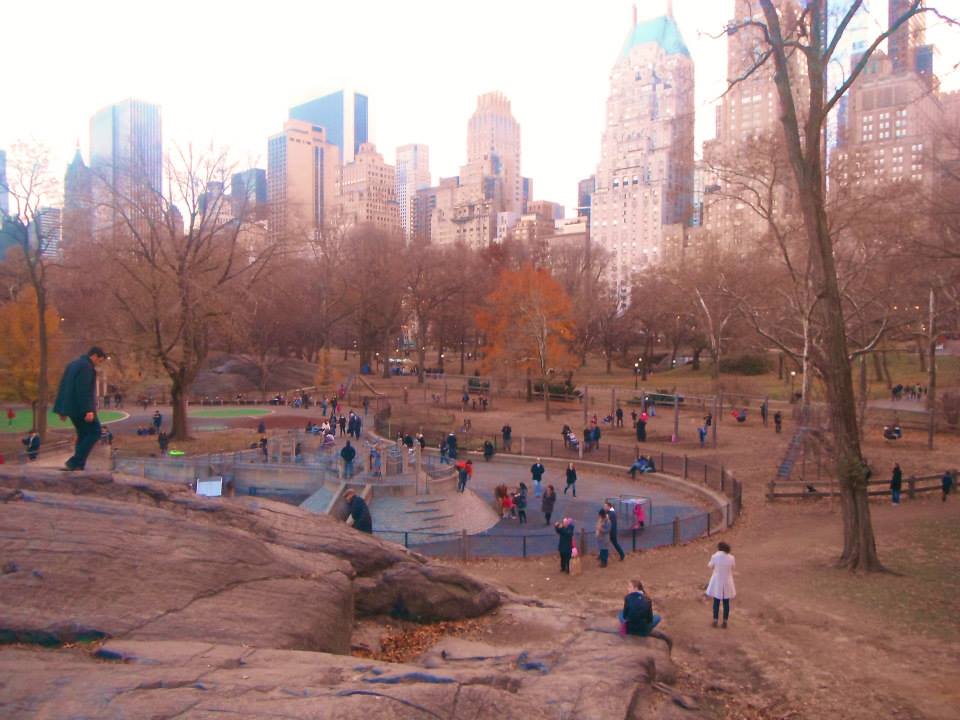 New York must-do: A Broadway show!
A great tip is to queue for Broadway tickets at the booth under the red steps in Times Square. We chanced it at 6.45pm, when there was no queue. We got $150 tickets to Chicago for $80 each. With ten minutes to spare, we ran to the theater. What a show! It really was fantastic, and we spent the entire time marvelling at the performers' figures. We spilled out on to Broadway still in awe, then bar hopped all over Manhattan to make the most of our last night in NYC.
We were so eager to pack everything in that we almost missed our flight back to Edinburgh – in fact, the kind man at KLM Air had to close his check-in and march us through security so we made it in time! To be honest, I would happily have stayed, but we had dissertation meetings to get back to.
If you've been to NYC, did you do the same things as me? I think we carved out a pretty impressive 'Five days in New York City' itinerary, and managed to see most of the main sights!
It was a year of adventure: New Zealand, Australia, Thailand, Cambodia, Vietnam, London, and New York City! I had definitely been bitten by the travelling bug, and was itching to escape again. Where next?
Like While I'm Young and Skinny on Facebook, stalk my Instagram or find me on Twitter to follow my adventures. Spoiler: I end up moving to NY!