I've always been inexplicably drawn to Croatia, so when I found cheap flights to Dubrovnik in July, I started planning our Croatia itinerary with glee. We began with three days in Dubrovnik (four nights), then took a bus to Split, where we spent one night before sailing to Hvar for our final two nights.
Visiting Croatia was a big deal for me, having been so high on my bucket list since my friends came back from inter railing years ago and gushed about how beautiful it is. I was nervous that it wouldn't live up to my expectations, but thankfully, it absolutely did. I was also worried that having never watched Game of Thrones, some of the sights would be lost on me – but I needn't have worried because there's plenty to love about Dubrovnik. The historic Old City's patchwork of red rooftops giving way to the clear Adriatic Sea were just a I'd pictured, and I loved exploring the generous smattering of sleepy islands just off Dubrovnik's coast.
That being said, I wish I'd done a bit more research about how to have the best short break in Dubrovnik before we left. With this in mind, I've put together a three day Dubrovnik itinerary detailing what to do in Dubrovnik, plus which area to stay in Dubrovnik to save money and still be near the Old City, and a few tips for making the most of your time in Dubrovnik. I hope it helps!
Three days in Dubrovnik: what to do
Day one
Your first day in Dubrovnik should be spent as you'd spend your first day in any new, unfamiliar city: exploring! We entered the Old City walls though Pile Gate and ambled around down Stradun, which is said to be one of the most beautiful streets in Europe, before delving in to the impossibly narrow cobble-stone alleyways that feed off the main stretch, grabbing brunch at an outdoor cafe when our bellies started rumbling. The entire Old City is UNESCO protected, and I can see why.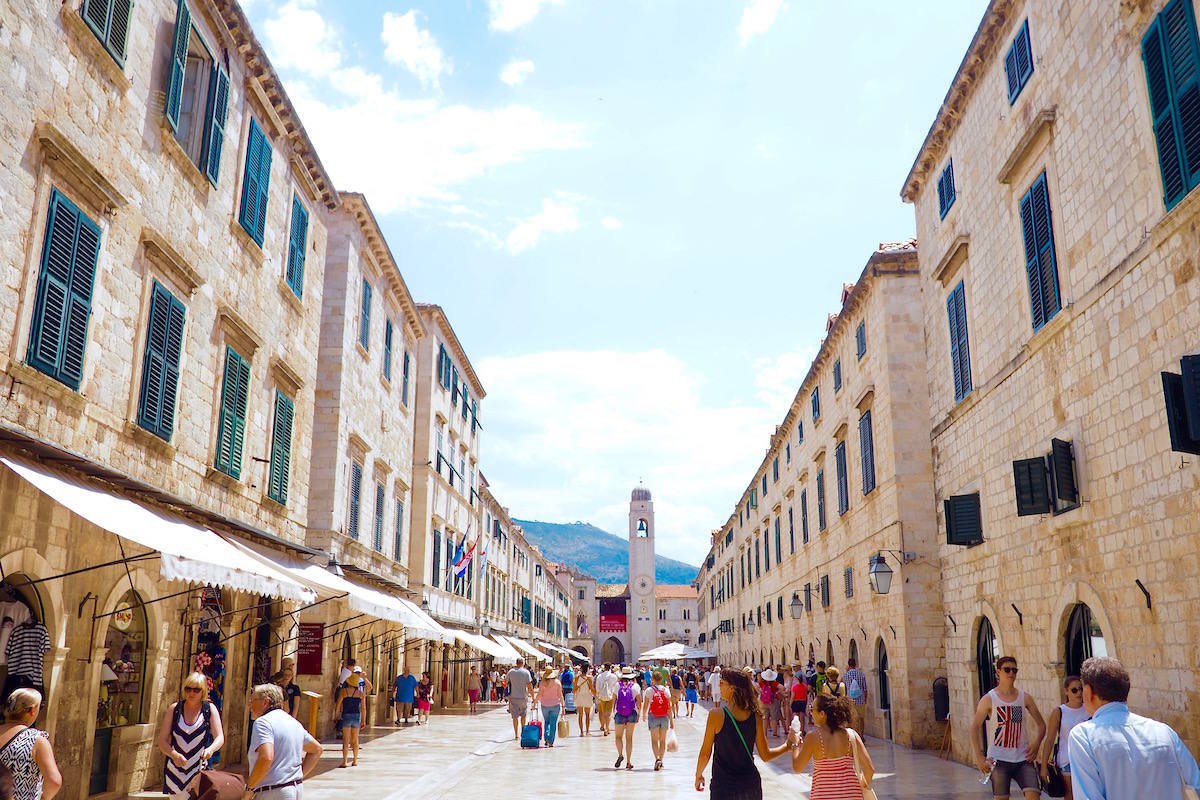 The Venetian Baroque-style Church of Saint Blaise is one of the main landmarks within Dubrovnik's city walls, as is the Church of St Ignatius of Loyola. Onofrio's Fountain is just inside the main gate, and spits out clean drinking water.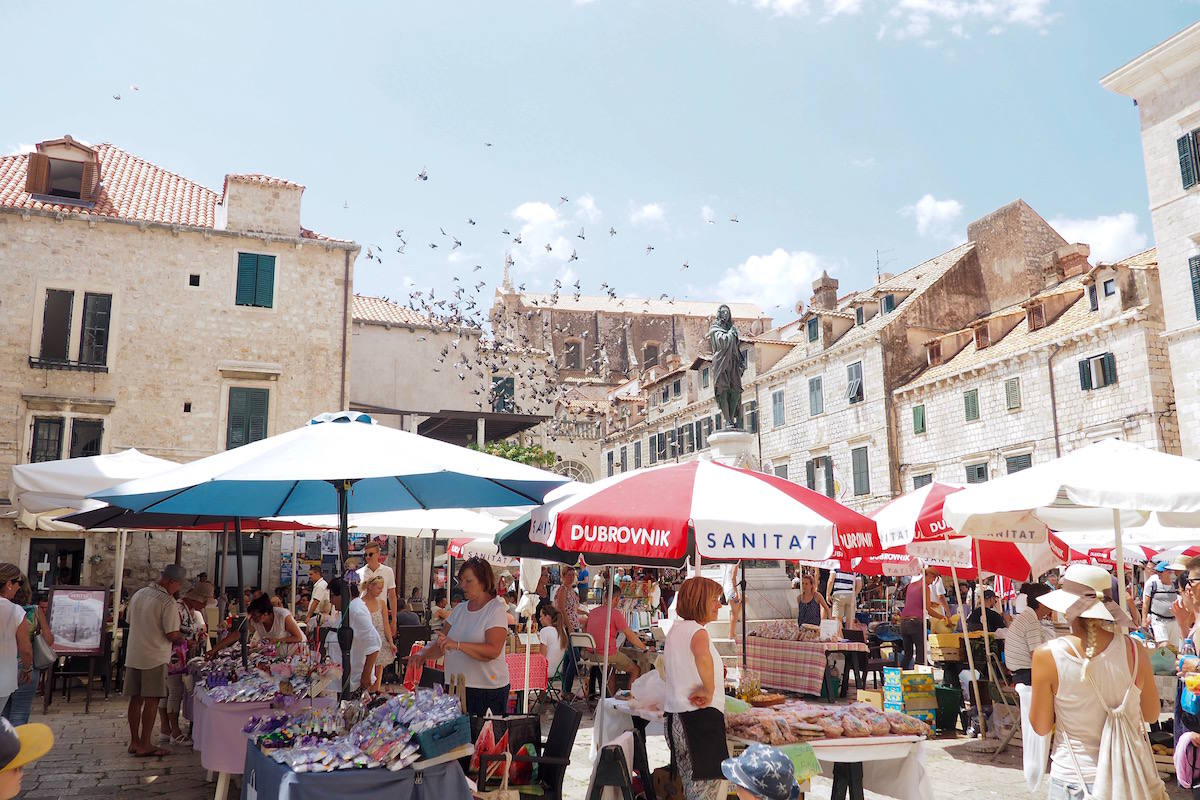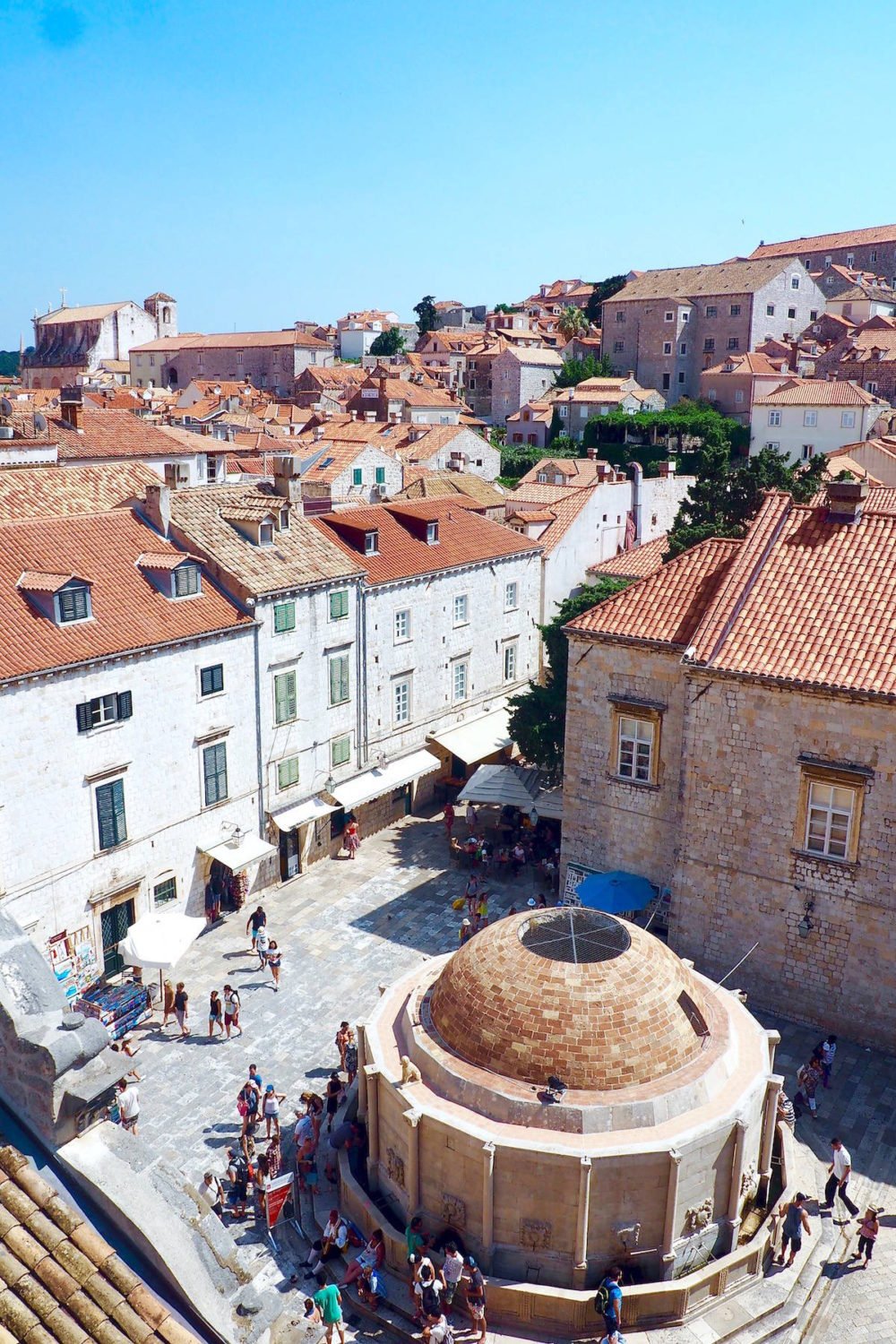 Be warned: Dubrovnik is heaving in July and walking around began to stress us out. Being a hot summer's day, there was little breeze inside the city walls so we went to cool off at Banje Beach, which is a few minutes' walk from Ploče Gate.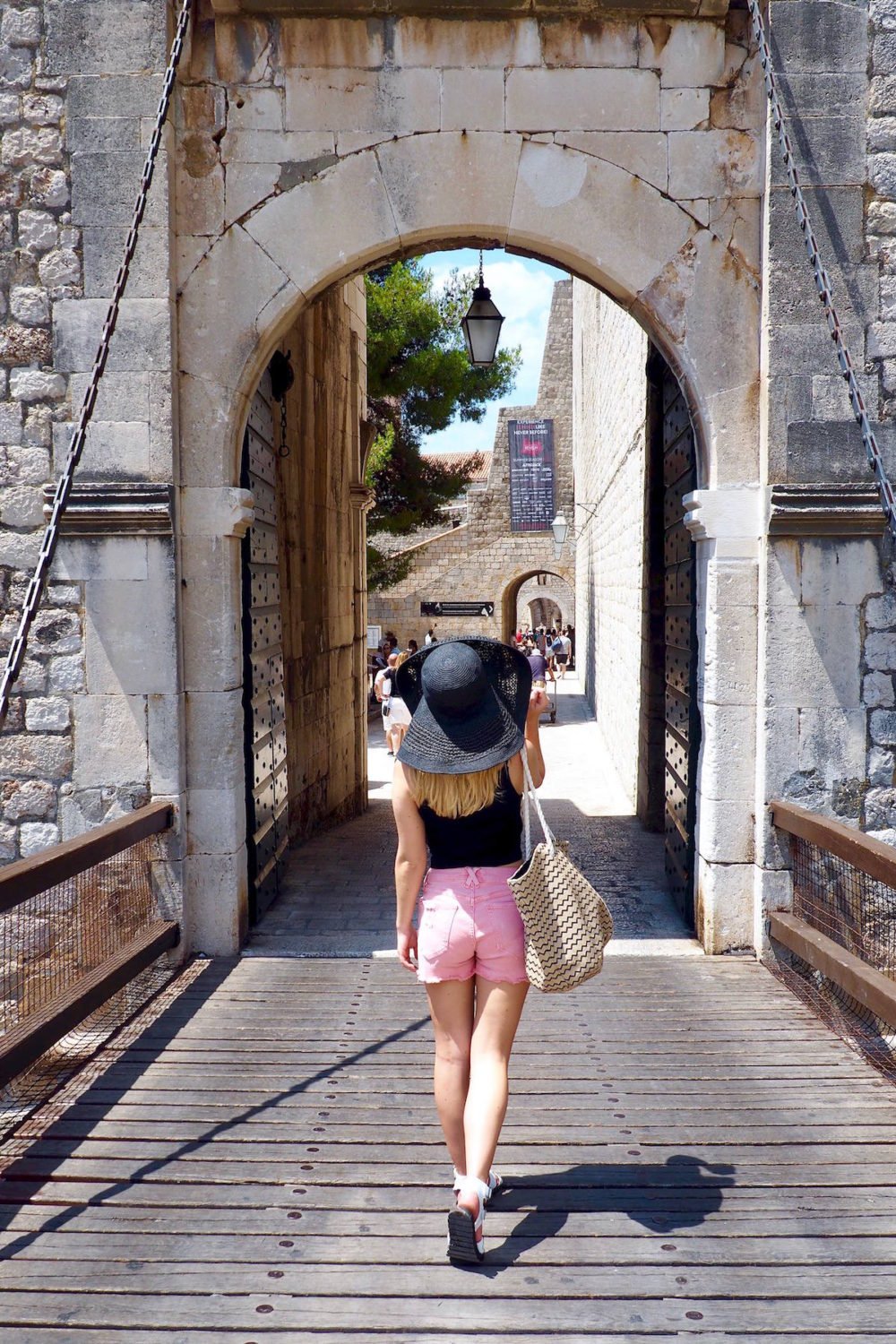 Unfortunately, everyone else had the same idea! This was also when we learned our mistake in not packing beach shoes, because Dubrovnik's beaches are all pebbly since they're just little coves in the cliffside. Take note from the locals and buy a pair, because you'll definitely need them.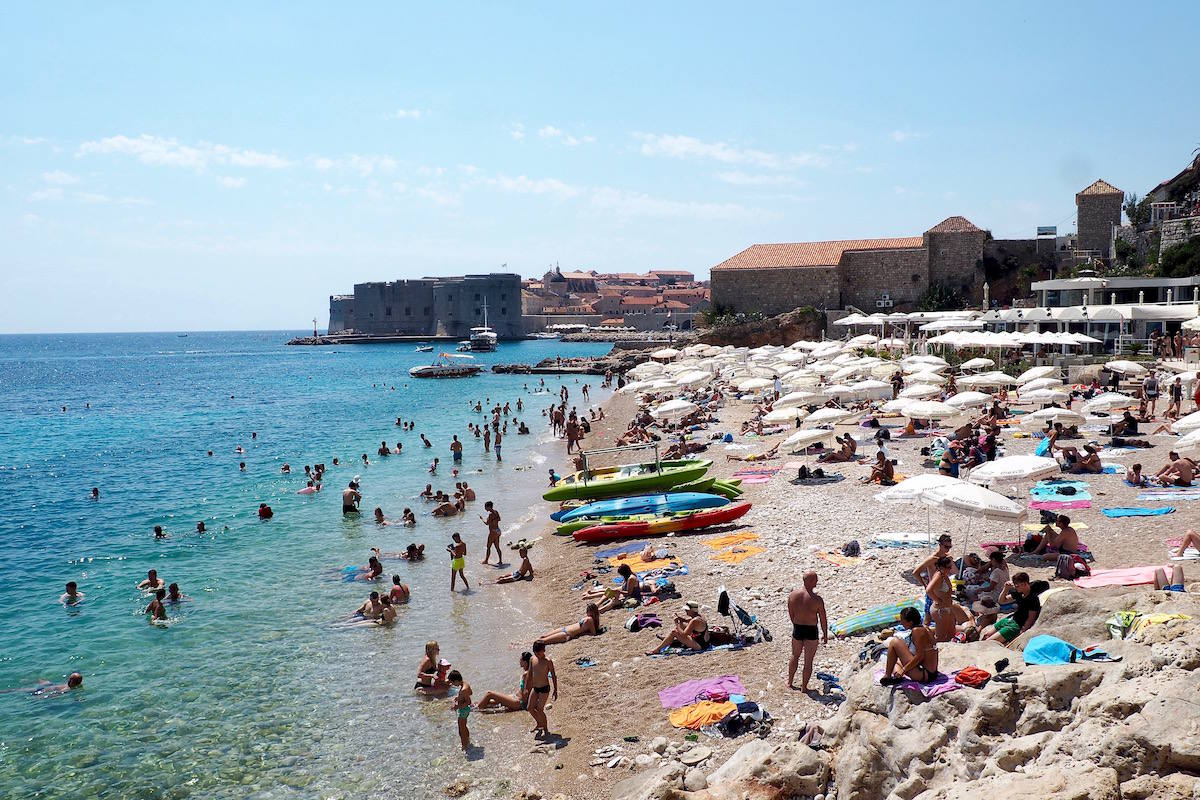 Swimming in the sea in Dubrovnik took me back to writing stories in primary school, when 'sparkly' was my go-to adjective for describing water. The Croatian Adriatic legit sparkles, its surface dancing in the sunlight. It's one of those sights that soothes the soul.
You absolutely have to eat as much gelato as possible while you're in Dubrovnik, it's delicious. After we'd dried off, we grabbed a cone each (natural fruit yoghurt flavour for me) and went to walk the city walls, which date back to the 13th Century. I was surprised to find that the cost is 150 Kunas each. Yes, it's expensive, but it's one of the things you HAVE to do in Dubrovnik if you want to see those iconic terracotta rooftops, so we bit the bullet and paid the fee. Good move, Croatia.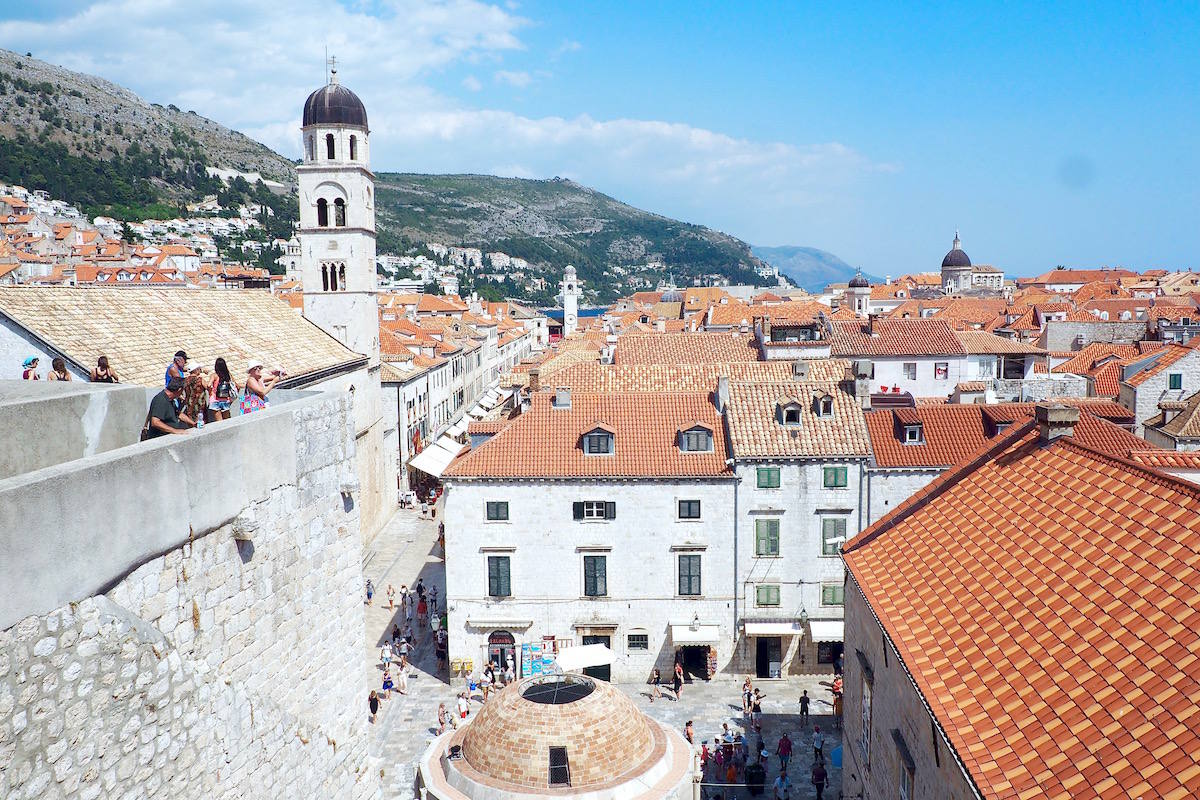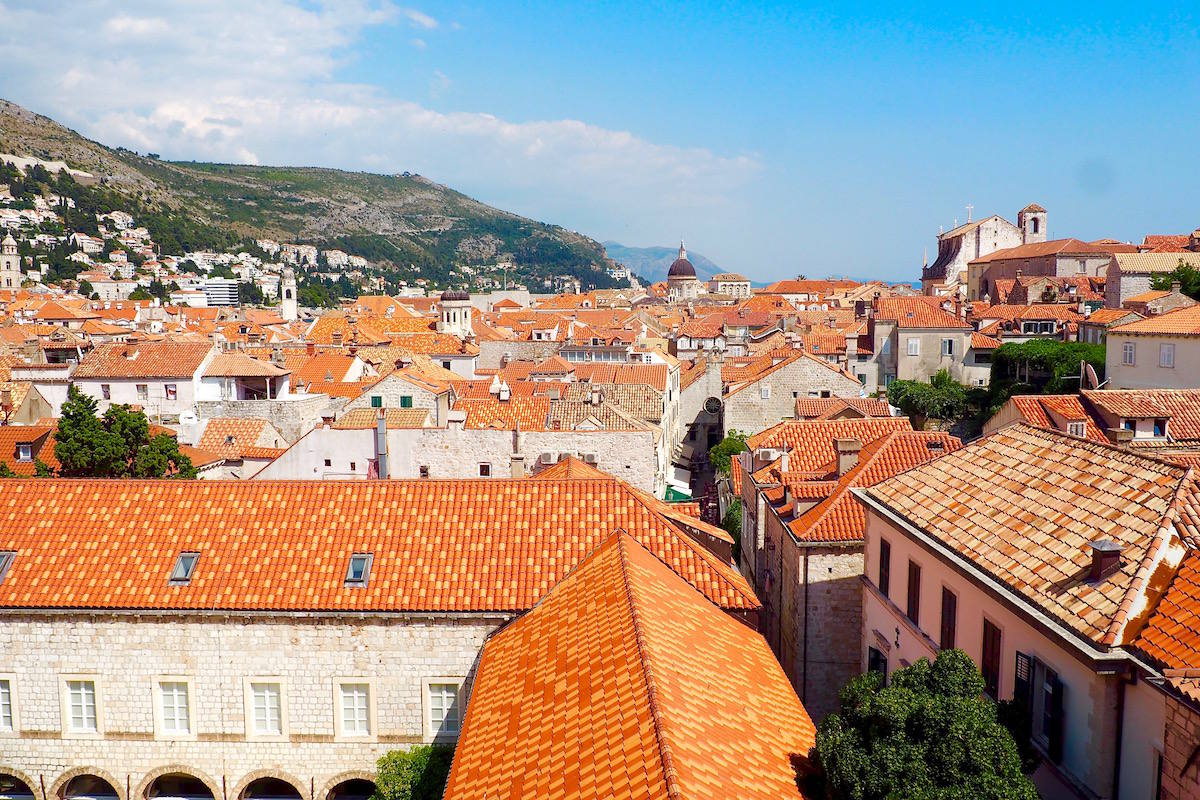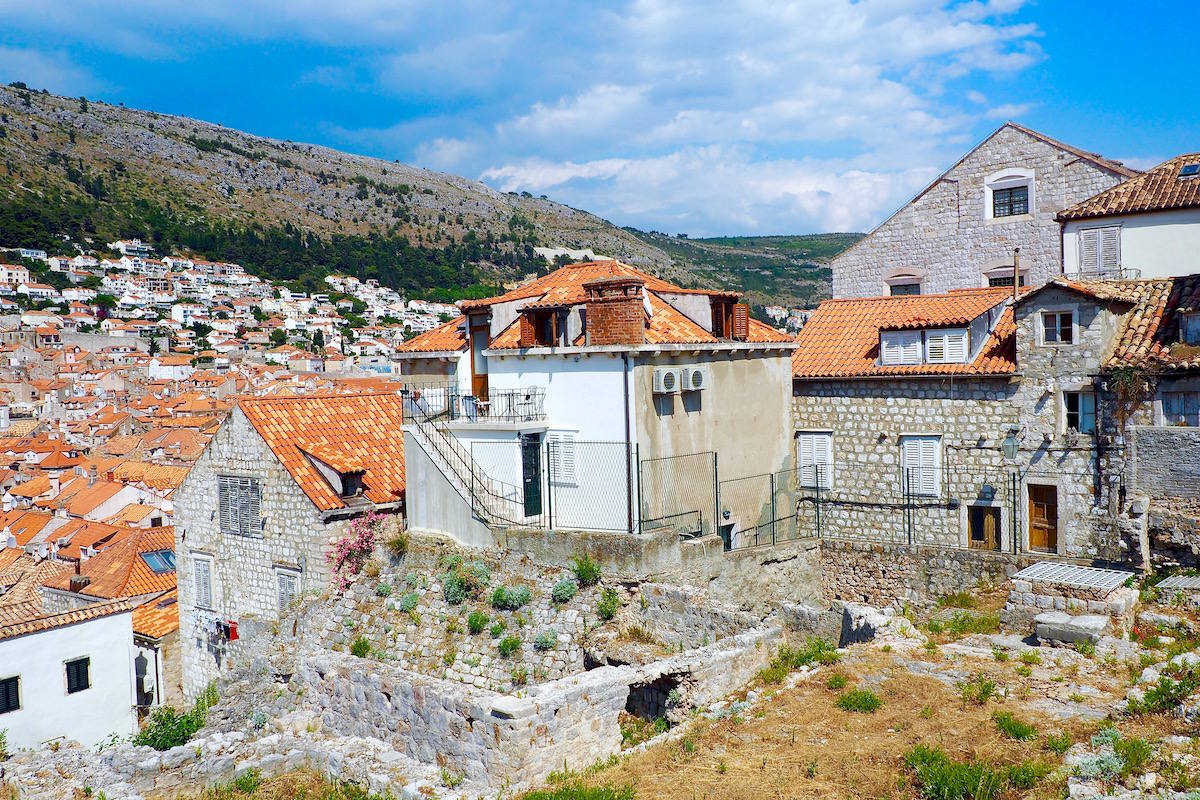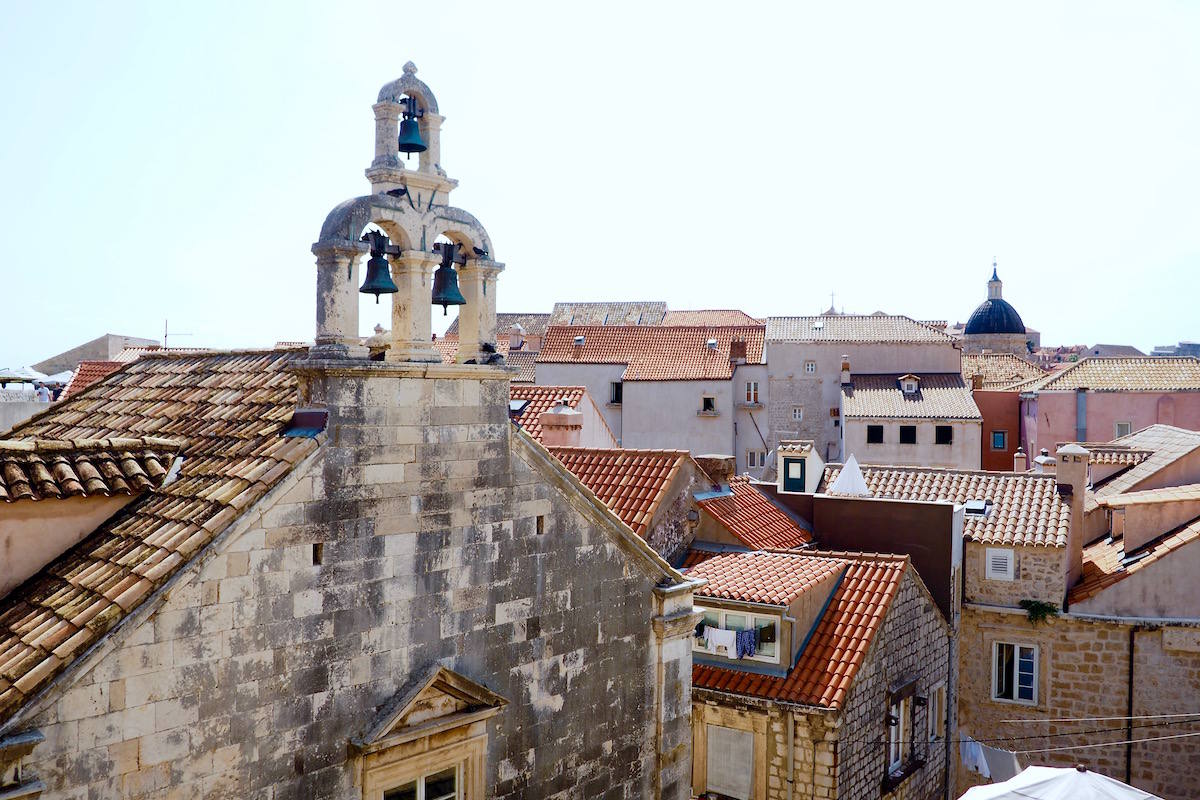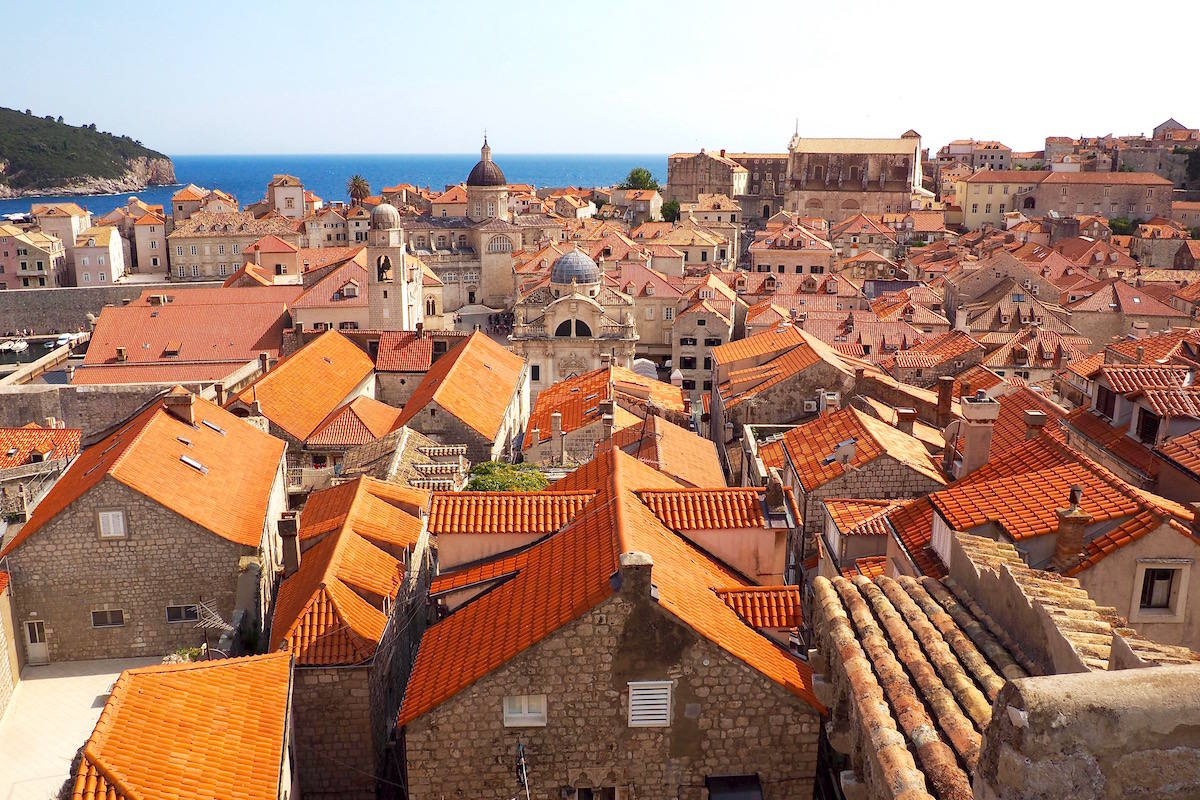 The city wall walk takes about an hour, but it was sweltering hot when we did it in the early afternoon so it might be best to wait until sunset for those gorgeous golden hour photos, or get up early and do it in the morning. The best view is from the highest point on the city wall walk, at Minceta Fortress and from Fort  Lovrijenac. The walls make a full loop, so it's impossible to miss anything.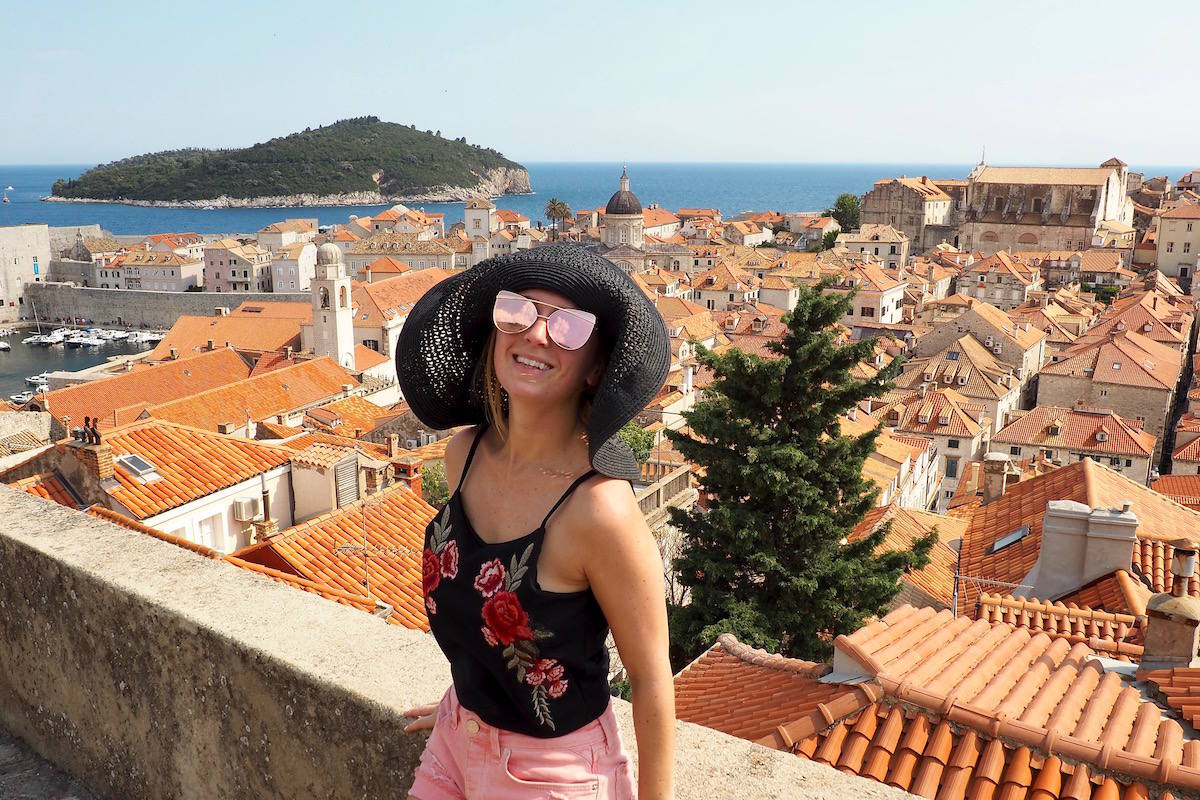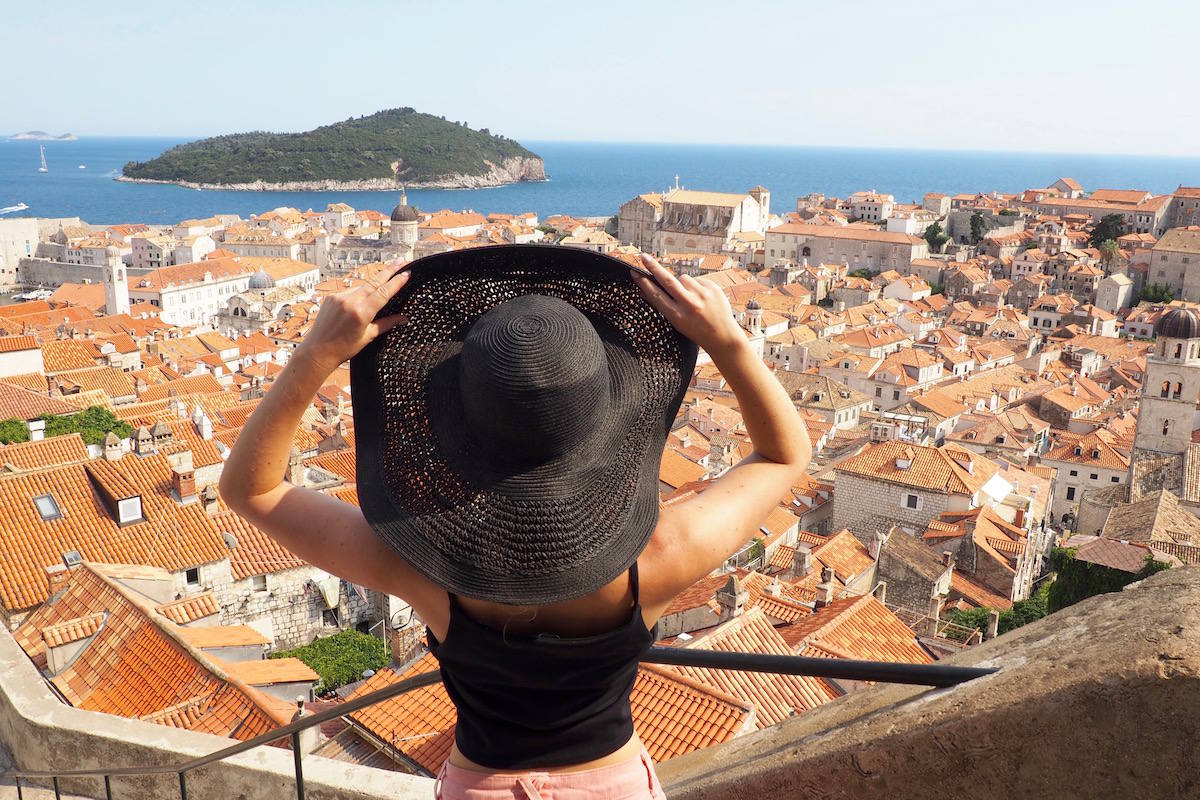 We spied plenty of cliff bars from the walls overlooking the coast, the most well-known being Buza Bar. These famous bars in Dubrovnik can be pricey, so lots of backpackers just buy beers in the shops and take them to the cliffside for sundowners.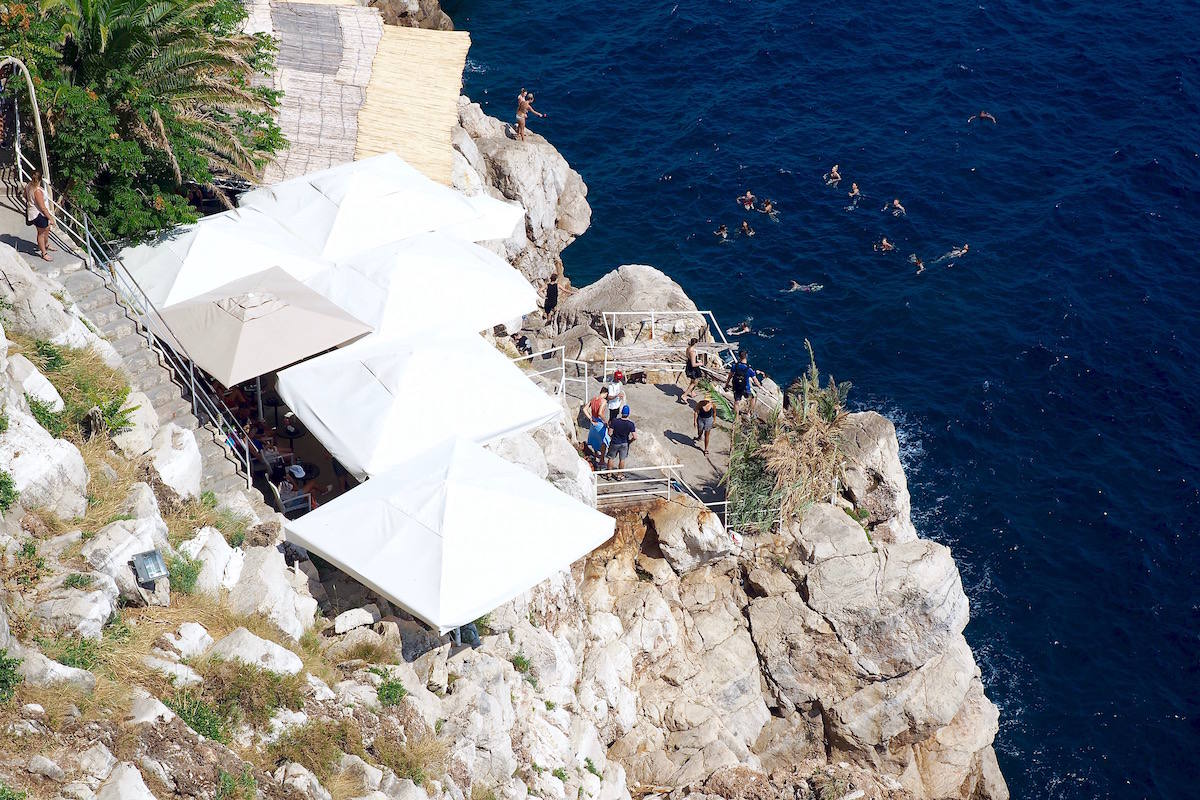 We skipped the cable car, deciding that the view from Dubrovnik's city wall walk was good enough for us. If you're trying to save money on a trip to Dubrovnik, I recommend only doing one of these things.
You'll definitely stumble upon the City Harbour at some point while you explore the Old City, and this is a good place to have dinner in the evening.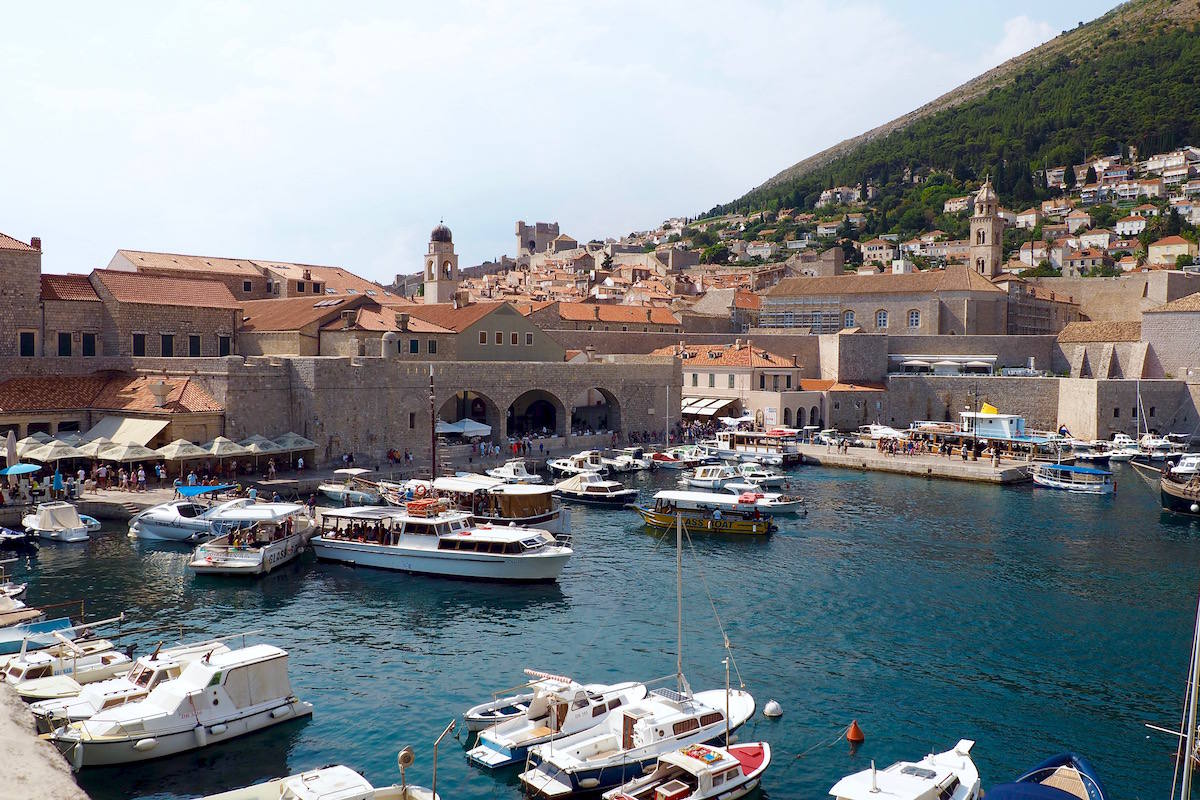 Day two
We were craving some beach time and a quick google told me that the best beaches in Dubrovnik were to be found on Lapad peninsula. We walked from our accommodation to Solotuda Beach, stopping at a small beach called Mandrac Beach. This one felt very local, with just a little kiosk selling cold drinks.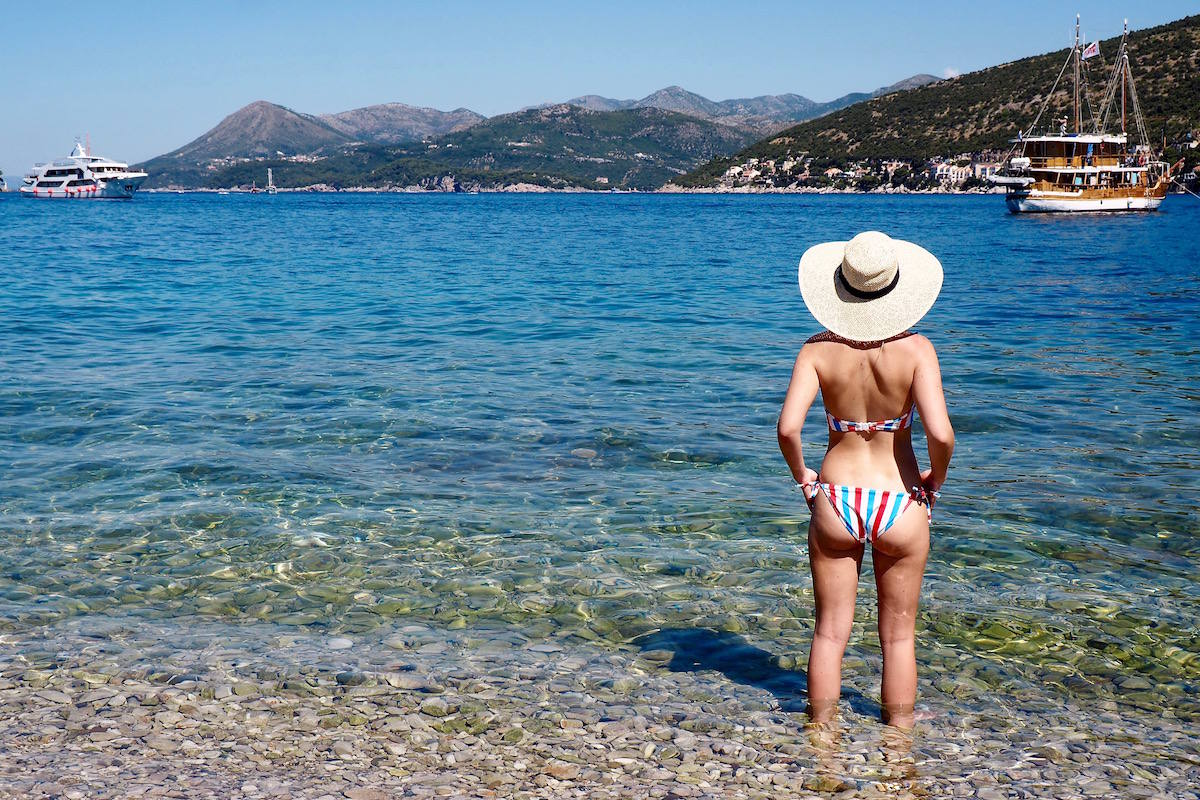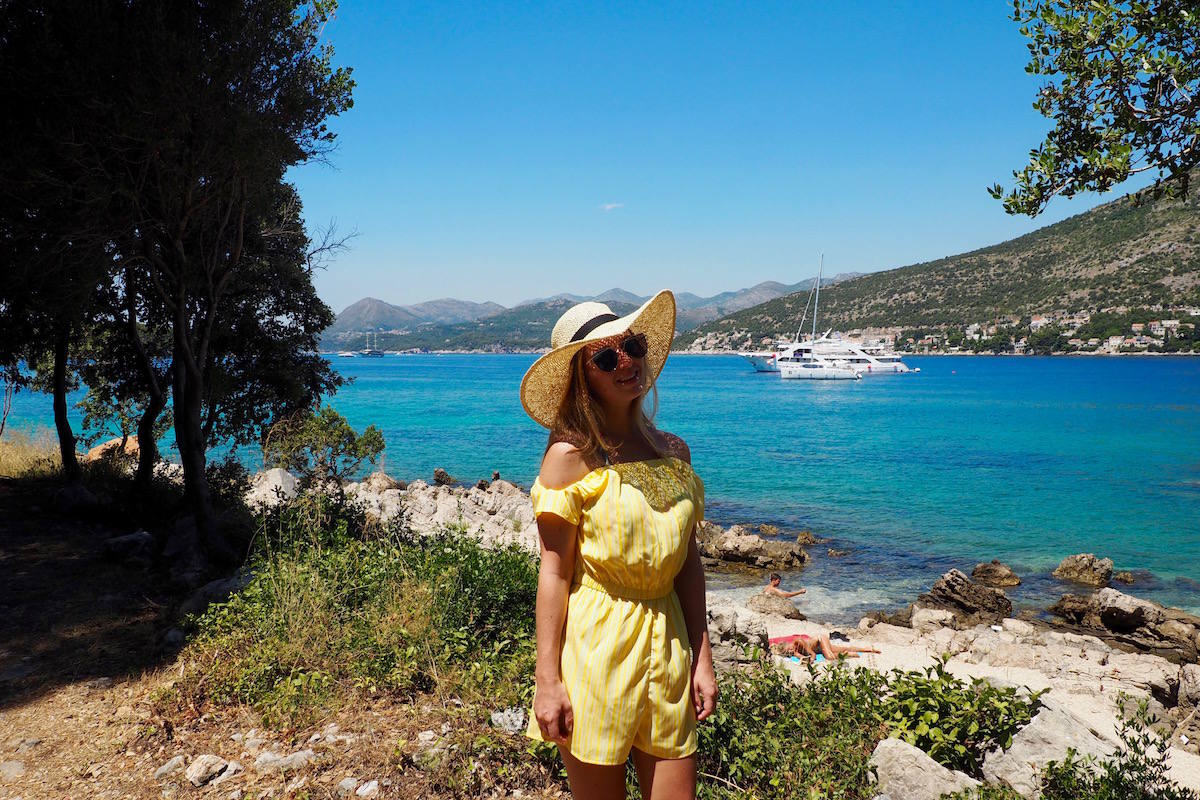 From there, we took a walking trail and passed some glam beach bars like Copacabana and Coral Beach Club, and a few fancy hotels. The unique Cave Bar at Hotel More is in this area too.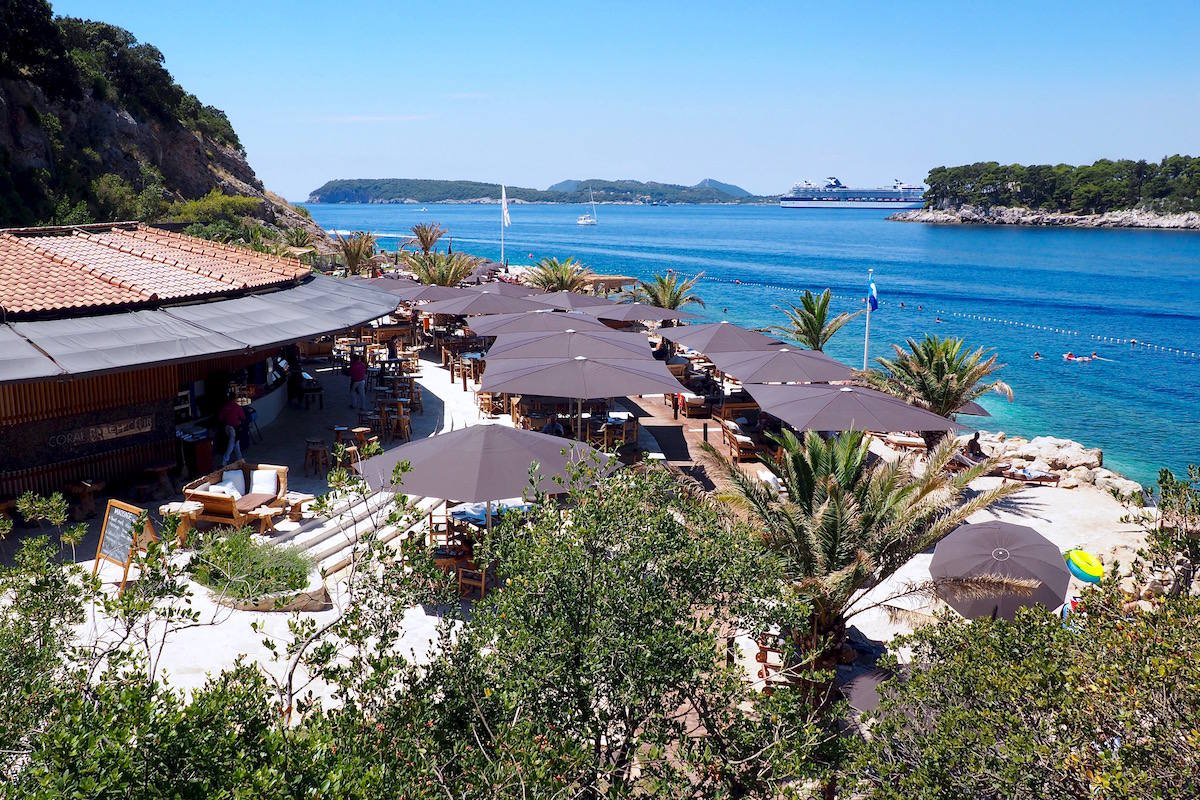 We walked right around the cliff on this side of Lapad to the small coves closer to the main 'strip', where metal steps into the sea are perched haphazardly in the rocks, turning the cliffside's ledges into popular makeshift sunbathing spots. Our patch was in front of Levante restaurant, which looked like a lovely place to eat.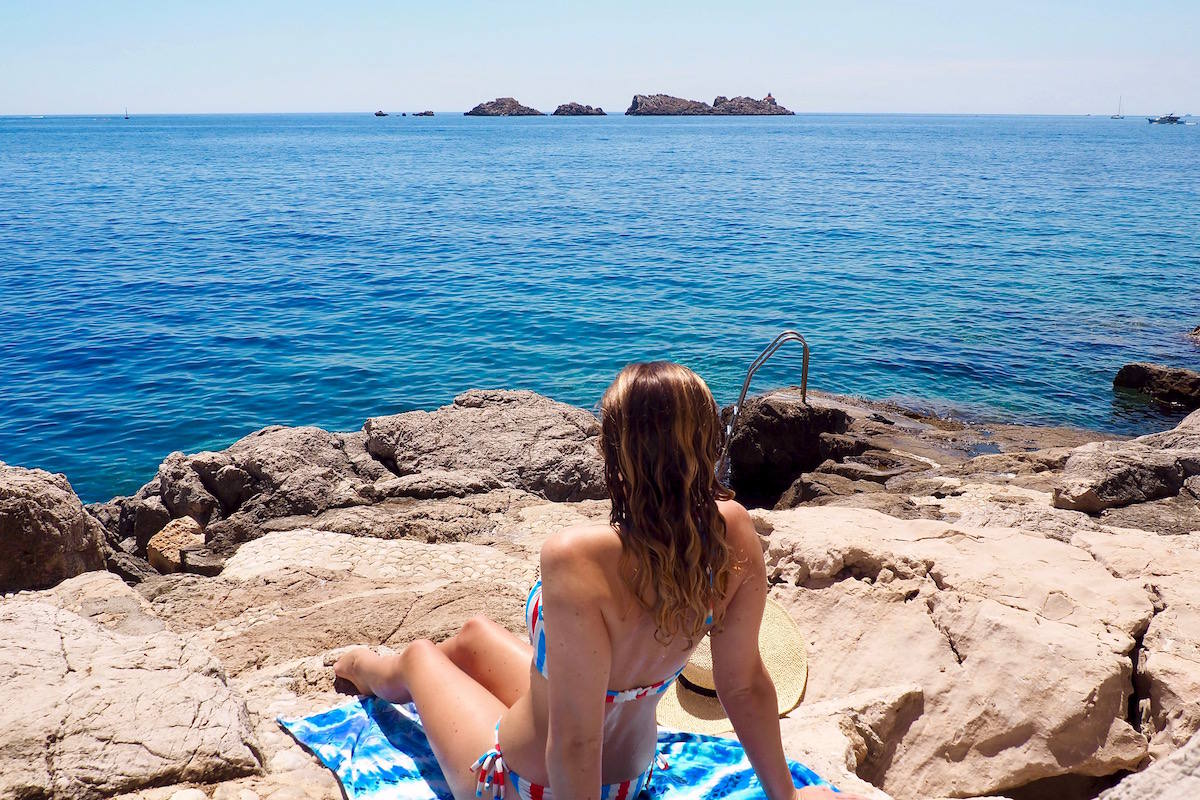 You can keep walking to Lapad's strip and get there in time for happy hour. Caffe Promenade has a huge cocktail menu, so obviously we did our best to work our way through that.
Day three
For our final day in Dubrovnik, we'd planned a cruise around the Elaphite Islands, an archipelago just off the coast. The cost is pretty reasonable for a trip that takes all day and includes lunch on the boat. We booked ours from one of the many tour companies on Lapad's main promenade.
You set sail from Gruž harbour, and visit three different islands – the only ones which are inhabited today. It was lovely to get away from the tourist rabbles in Dubrovnik and see village life in Croatia.
Koločep
On the first island, we spent some time exploring, passing fairytale houses with trays of tomatoes laid out to dry in the sun, ladies selling lavender and peeling rowing boats bobbing at the port.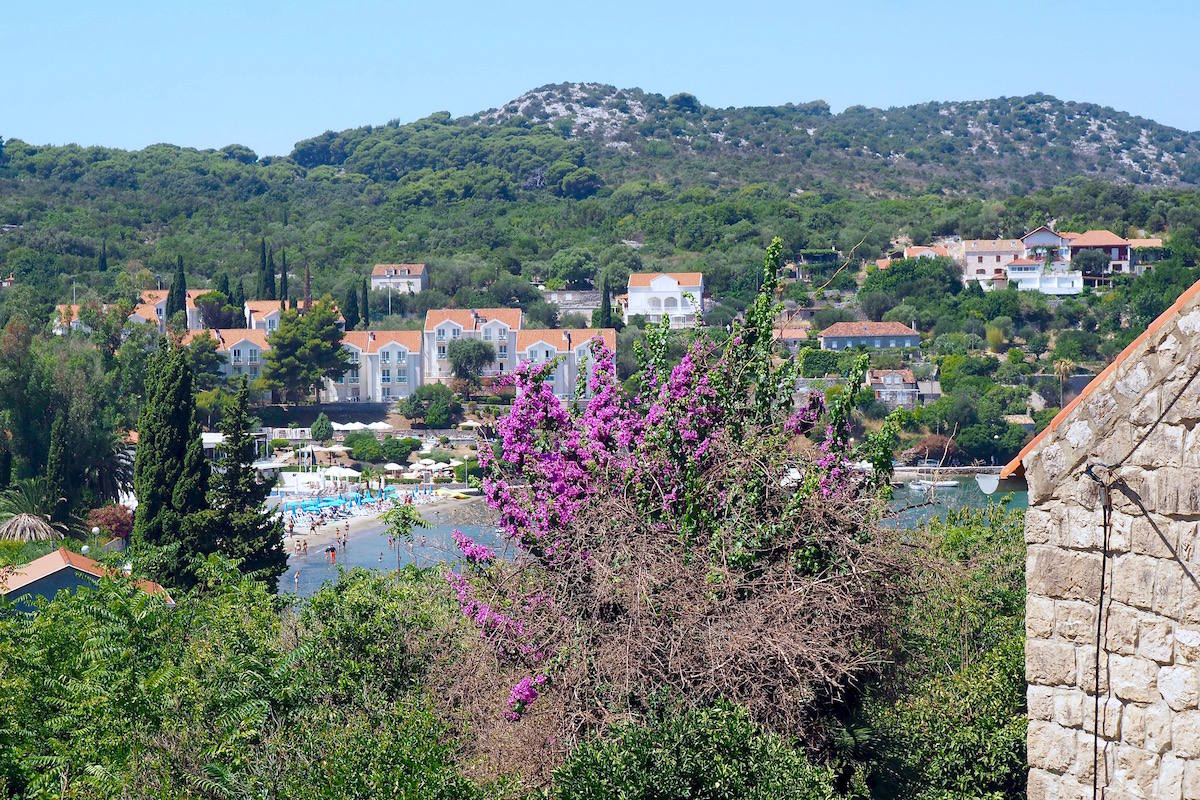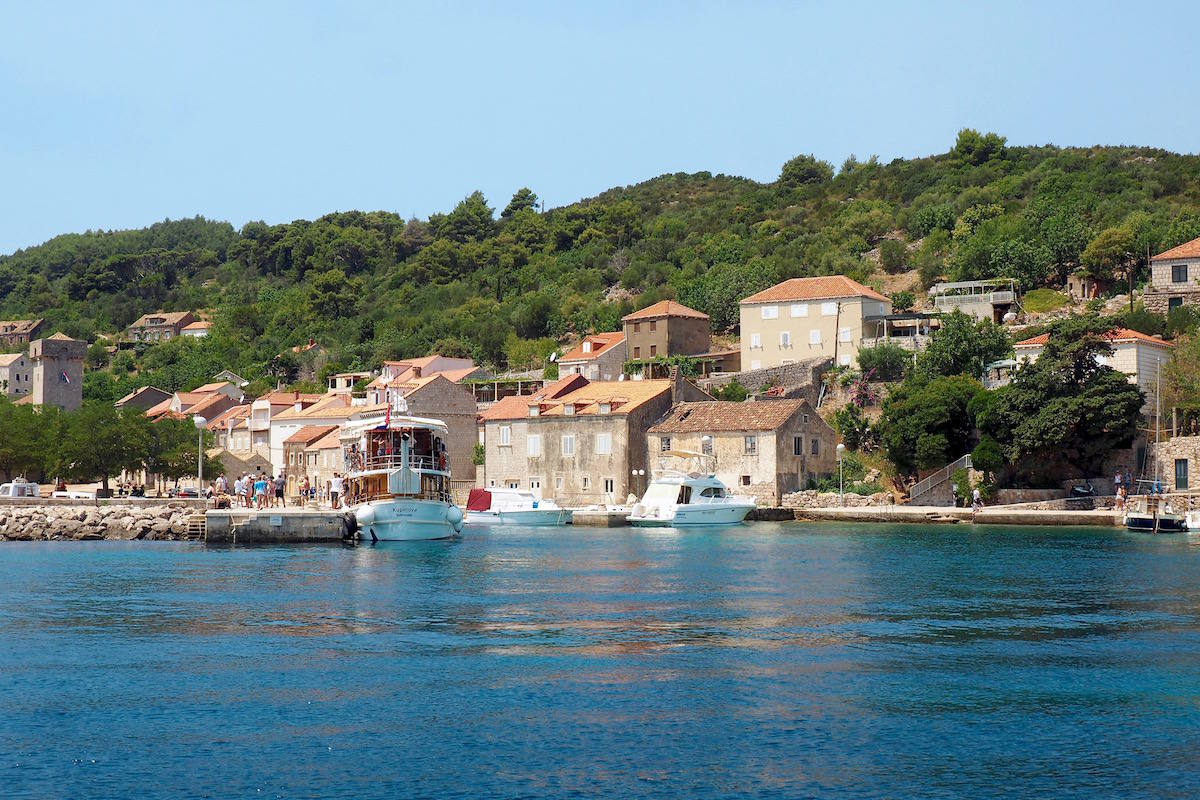 Šipan
This tiny island is full of picturesque churches and has a pretty port. I'm told the opposite side of the island is a beautiful, sleepy place to spend a few days sipping locally made wine if you really want to get away from it all.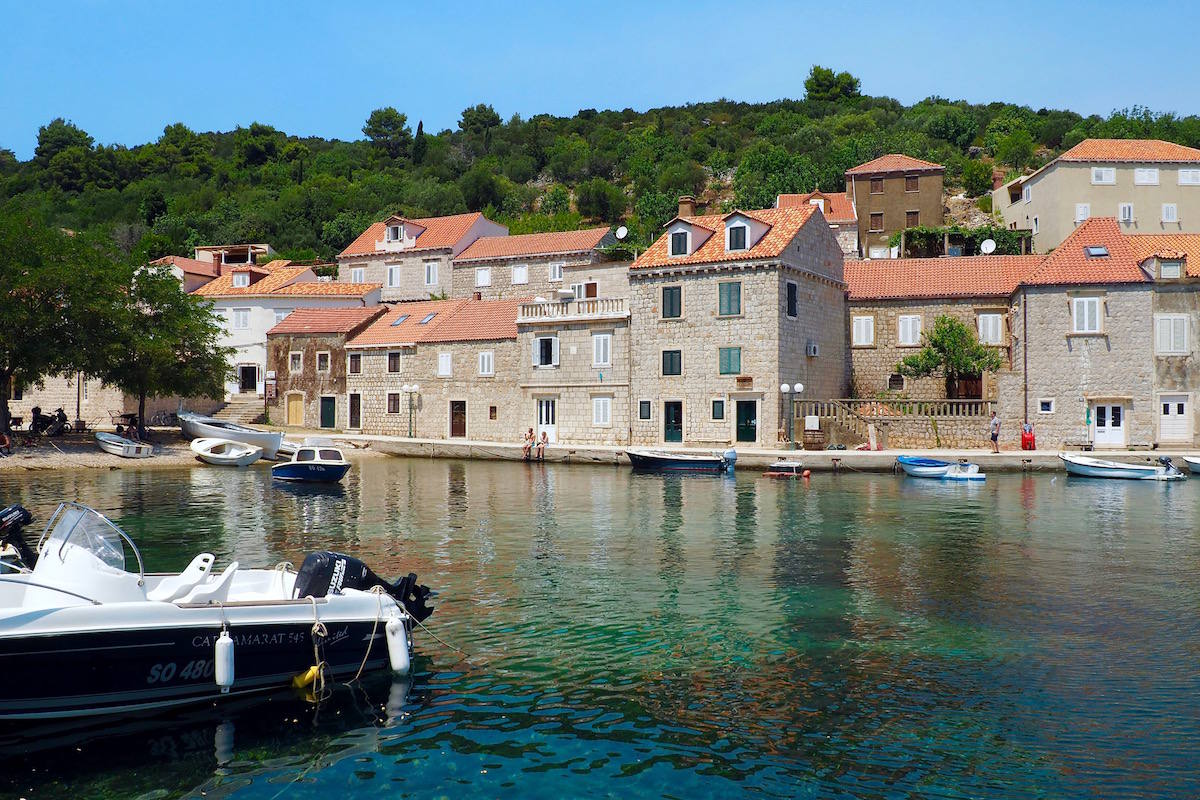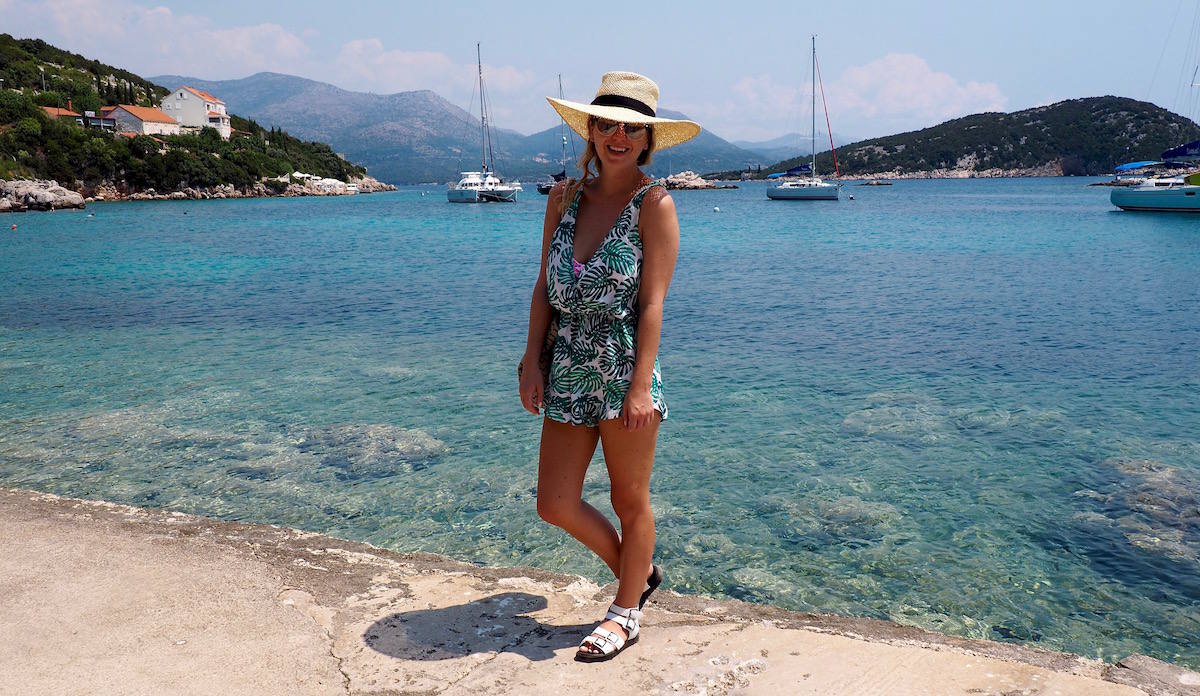 Lopud
On Lopud, which is the most touristy of the Elaphite Islands, we took golf buggy taxis to the sandy beach on the other side of the island. Trust me, after a few days hobbling over the stones on Dubrovnik's beaches, you'll happily travel for some sand!
Beware though – the left corner of the sandy beach on Lopud is a nudist beach!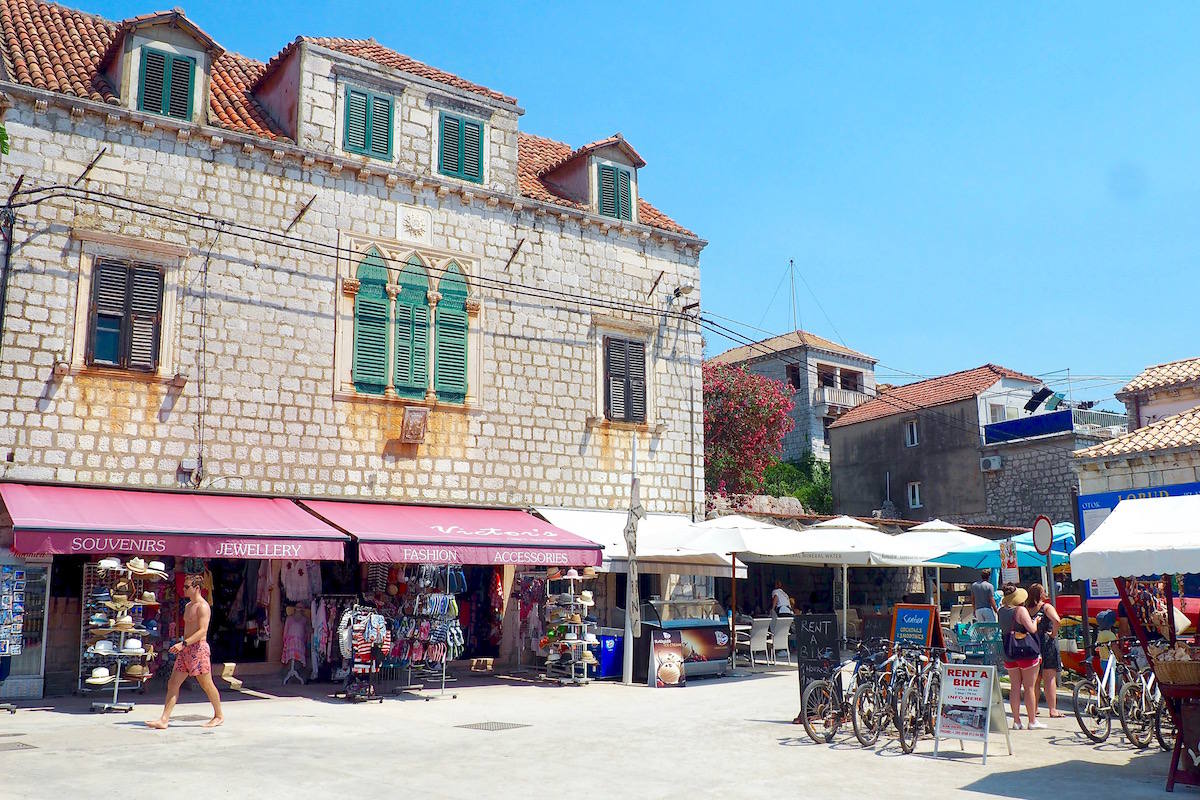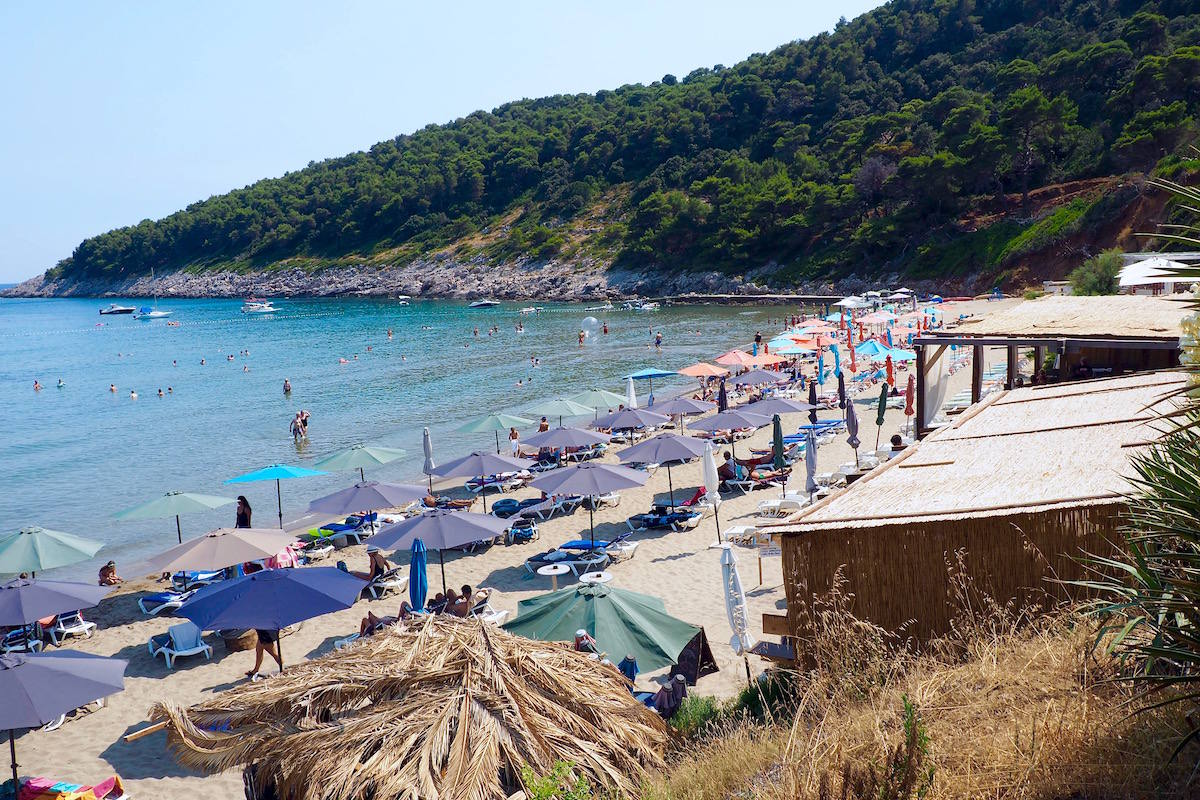 Got another day to spend in Dubrovnik? Most people catch a boat to Lokrum, the verdant island visible from Dubrovnik's city walls. Alternatively, you can easily book a tour to Montenegro or Bosnia and Herzegovina from Dubrovnik.
Where to stay in Dubrovnik – which area is best?
Staying within Dubrovnik's city walls can be crazy expensive, especially in high season, so we found accommodation in Lapad, a more residential area about 3km northwest of Dubrovnik. We stayed at Guest House Ava, which was owned by a lovely lady who had cold local beers and homemade biscuits waiting for our arrival. Her son actually picked us up from the airport for a small fee, because there's no sign outside the guesthouse so could be difficult to find if you arrive alone. The owner even gave us a lift to the bus station when we checked out to catch our bus to Split! The Number 6 bus runs in and out of Dubrovnik from Babin Kuk, it stops just outside Dubrovnik's main gate.
If you're looking for somewhere special in Lapad, Hotel Lapad is a popular choice, as is Hotel Dubrovnik Palace.
In Dubrovnik's Old Town itself, Kaboga Rooms or The City Palace Guest House offer ideal accommodation for budget travellers and you should definitely check out Villa Dubrovnik or Hotel Exelsior if you're not on a budget.
Where to eat in Dubrovnik
I hate to say it, but we really weren't impressed with the food in Croatia, although there is good seafood to be found. Our best meal was actually on the first night in Orsan Restaurant in Lapad, which is rated high on TripAdvisor so it's best to make a reservation. Their black risotto is excellent and you can watch the sun set over the marina.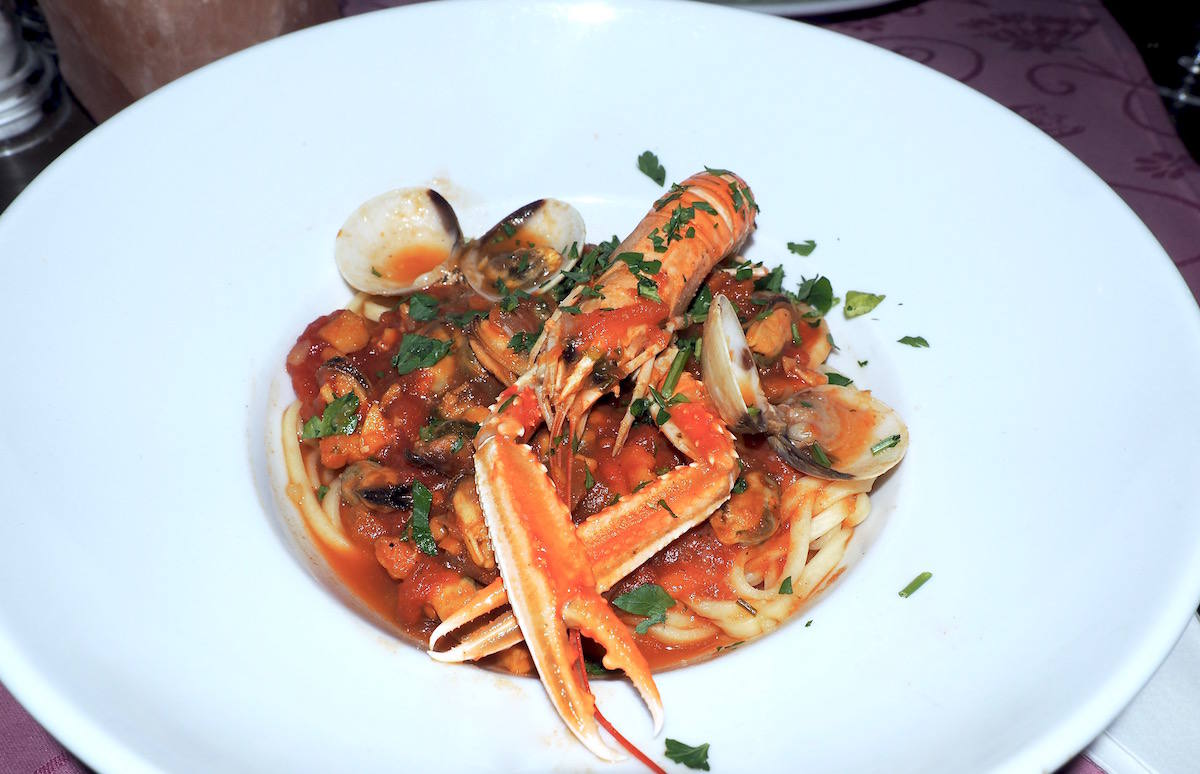 For grab-and-go food, Tutto Bene has outlets dotted around and it does great pizza slices. We also had a delicious Mexican meal in the Old City at a restaurant called Mex Cantina Bona Fide. Authentic, I know.
Price-wise, most main meals we ate cost between 85 and 180 Kuna.
Where to drink in Dubrovnik
There are plenty of bars spilling onto the cobblestones all over Dubrovnik's Old City. Lapad's main strip is a little cheaper, and there are some good happy hour deals.
Getting around in Croatia
Buses are relatively cheap, considering that Croatia in general can be an expensive place to visit. In high season, it's best to book your bus tickets in advance.
Sailing is definitely the best mode of transport in Croatia, mainly because there are countless islands just off the Dalmation coast that are begging to be explored. We took ferries and catamarans to our island destinations, all booked a day in advance. In low season, that might not be necessary.
If you're looking to book a real sailing adventure, check out G Adventures, who run small group tours around Croatia and Montenegro.
More than once during our Croatia trip, I wish we'd hired a car to get around – partly to avoid waiting around for buses and partly because the coastal drives are so gorgeous, I wanted to ask the bus driver to stop every few metres so I climb out and take pictures. If you're planning a multi-stop trip in Croatia, you should check prices for car hire.
We found that four nights in Dubrovnik was plenty of time to explore this magnificent ancient city, and were happy to head to Split on our final day, safe in the knowledge that we'd 'done' Dubrovnik. Stay tuned for my Split post, and in the meantime, you can  follow me on Facebook, Instagram and Twitter. You can also subscribe to make sure you never miss a post.
If you're planning to travel around Croatia, I recommend the Lonely Planet Guide.
Is Croatia on your travel bucket list, and what would you do with three days in Dubrovnik? Did you find any decent places to eat in Dubrovnik? Let me know in the comments!
All photographs were taken on my Olympus Pen E-PL7.
Pin this post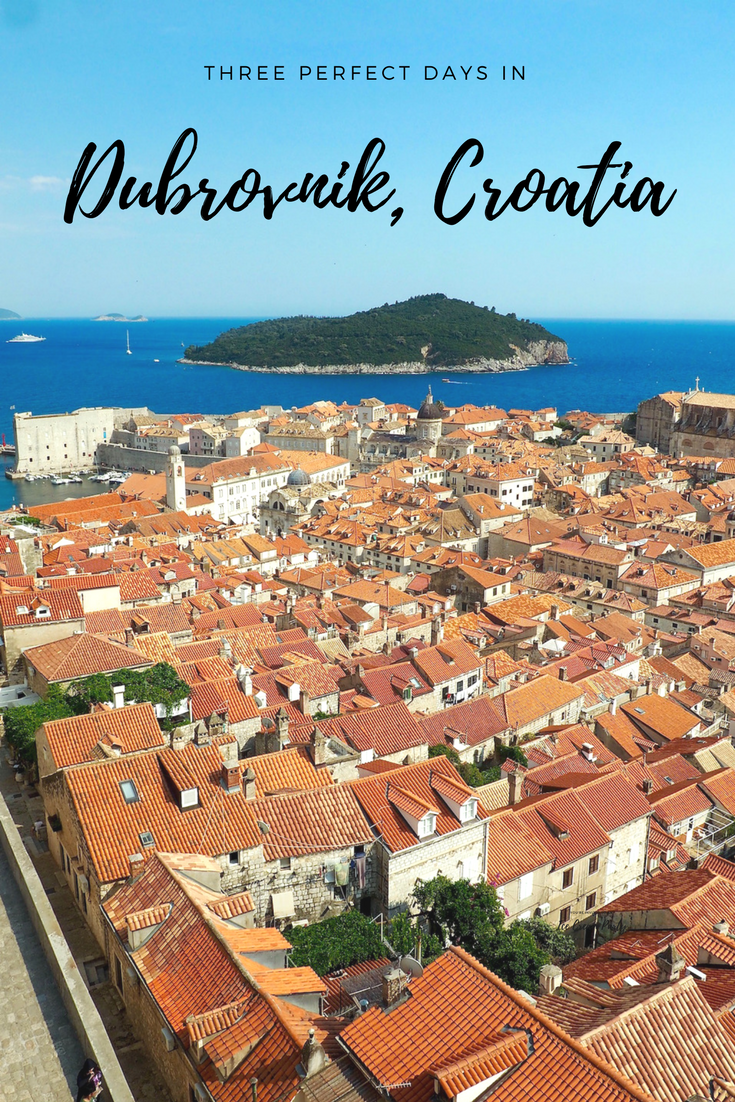 This post contains affiliate links which means that if you click and buy anything, I earn commission. It doesn't cost you anything extra!