Want to know what I hate? People telling me not to visit certain countries just because I'm female.
It's something us girls who travel have to put up with constantly; these incessant warnings to be careful because there are bad men in the world. It frustrates me because hello? Why should we be the ones to alter our behaviour?
I try not to let the bad men stop me. Until I visited Cairo with my friend Hayleye, being female had never been an issue during my travels. Egypt was the first country (out of 30 so far) that I've ever really felt unsafe.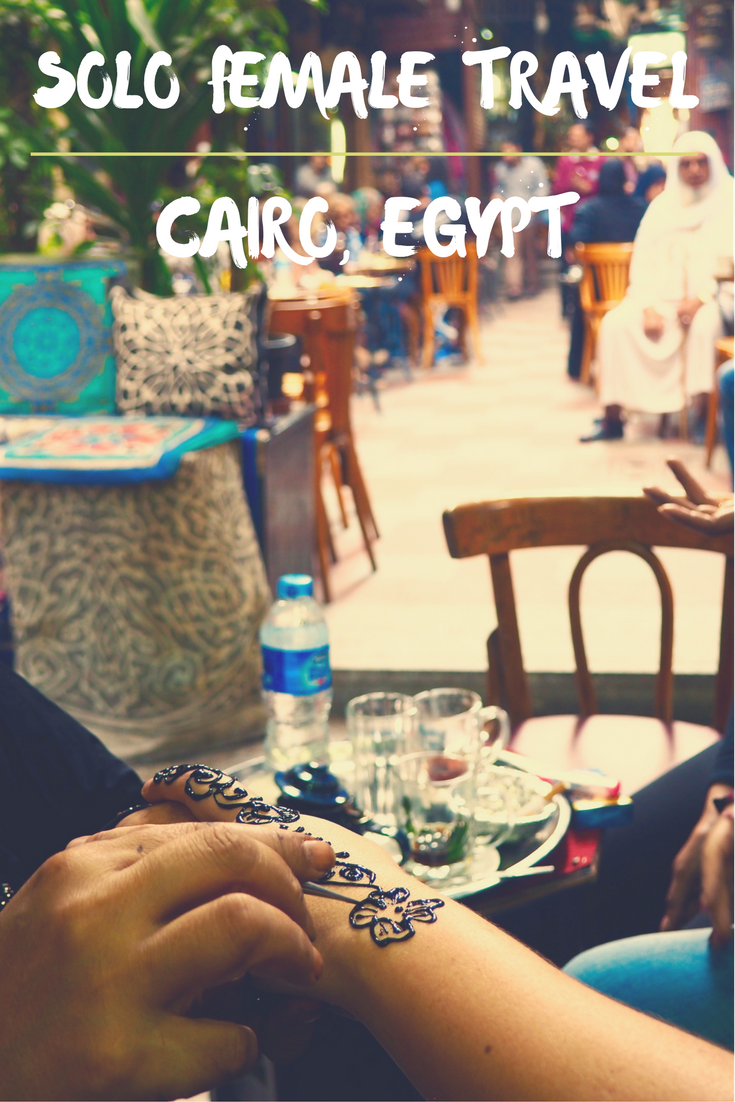 When I told people that I was going to Cairo with only another female for company, they looked at me in horror and urged me to – here it comes – be careful. I laughed at them and determined to write a post when I returned about how safe Cairo was for female travellers. Unfortunately, I can't write that post. It may have been incredibly naive of me and highlights just how privileged I am (can I call it a privilege to have grown up expecting men to respect me? That makes me sad.) but I honestly didn't expect to feel so uncomfortable in Cairo.
Can females travel to Egypt alone?
The answer is, of course, yes. We can do whatever the hell we want. Should females travel to Egypt without a male companion? My answer is still yes. Unfortunately though, Hayleye and I wish we had known what to expect before our trip. Nothing can prepare you for sexual assault, but our experience on our second day shook us horribly.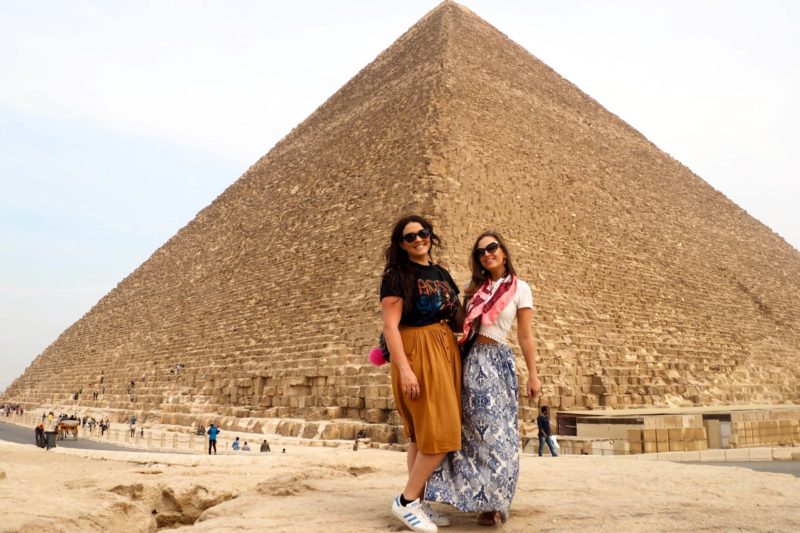 This is just two girls' experience and I'm not saying this will happen to you if you go to Cairo, or that it should stop you from going. The world is ours to explore and we shouldn't let anything stop us just because we're girls. In fact, this is what makes it important that we continue to visit these countries – because the more bold females that these creeps encounter, the less incidents like this will eventually happen.
Problems we faced as females visiting Egypt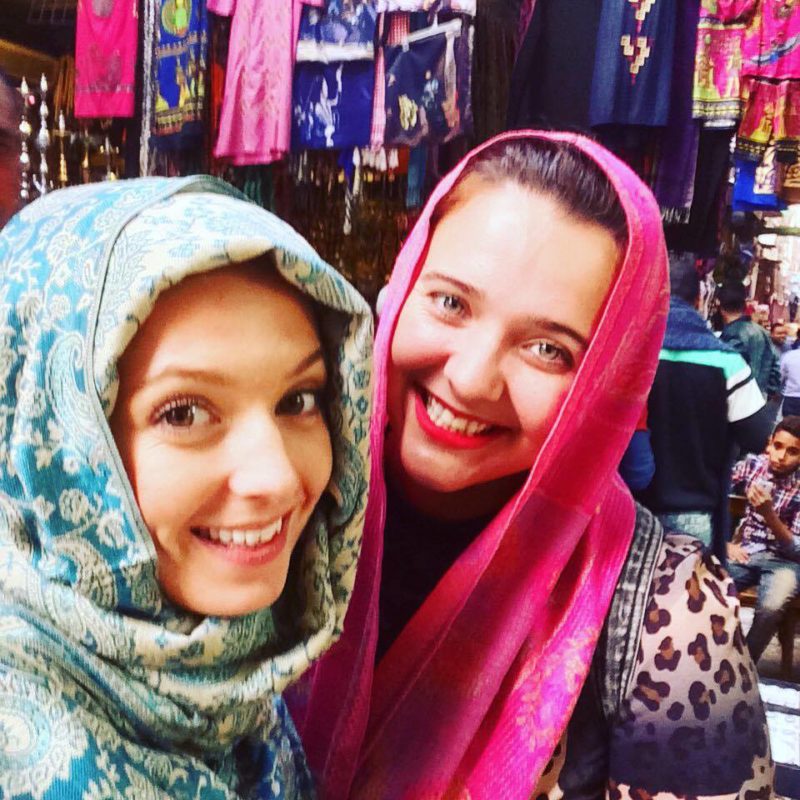 At the hotel
We stayed at Le Meridien and while it was a perfect location and the room was great – with a pyramid view – we found the staff kind of condescending towards us. They treated us like two silly girls who had no idea what we were doing in Egypt. I wanted to scream at times that this wasn't my first time in a foreign country.
With our guide
We felt we had no choice but to pay a guide to show us around, because the Egyptian hotel staff claimed we should. Usually I do a lot more research about how to see the sights before I visit a new place but this time we decided to trust the locals. Uber is the safest way to get around in Cairo but without international data, we didn't want to rely on that so we paid (far too much money) for a guide and driver. They were great and kept most of the men at the pyramids from bothering us, but it's a shame we had to pay for someone to show us around Cairo purely because it was unsafe for us to go out unattended.
The biggest attractions at the Pyramids of Giza
When at one of the Seven Classic Wonders of the World, you really don't expect to be the main attraction.
As soon as we arrived at the pyramids, we were massively aware of everyone staring at us. The guide had explained it would happen but it was still disconcerting. We made the best of it and joked about feeling famous, but it was an odd experience. We caught lots of teenage boys trying to sneakily take pictures of us, and most didn't even try to hide it. Some actually asked if they could take selfies with us, to which we shouted stern NOs.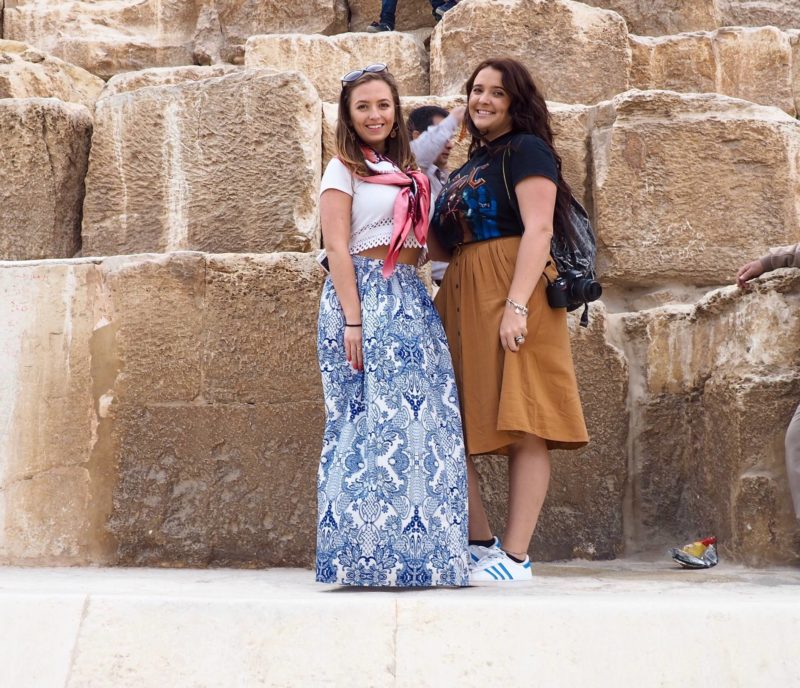 The guide explained that these boys were tourists from outside of Cairo and had most likely never seen women with uncovered hair. This made us feel ignorant for thinking that because we were at a tourist attraction, we would blend in. We definitely didn't!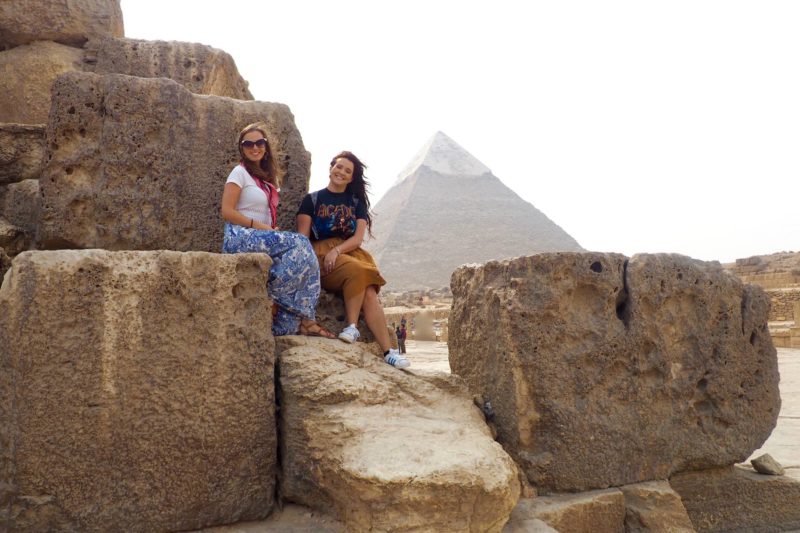 Khan Al-Khalili market
When we arrived at Khan Al-Khalili I was so excited. It's everything I imagined an Egyptian bazaar would be and I couldn't wait to dive in. As we made our way down the main stretch, we got all the usual hassle from the vendors, and brushed it off expertly. Like I said, this wasn't either mine or Hayelye's first time in a foreign country.
The shops were like treasure chests and we had so much fun haggling over prices and trying on amazing jewellery.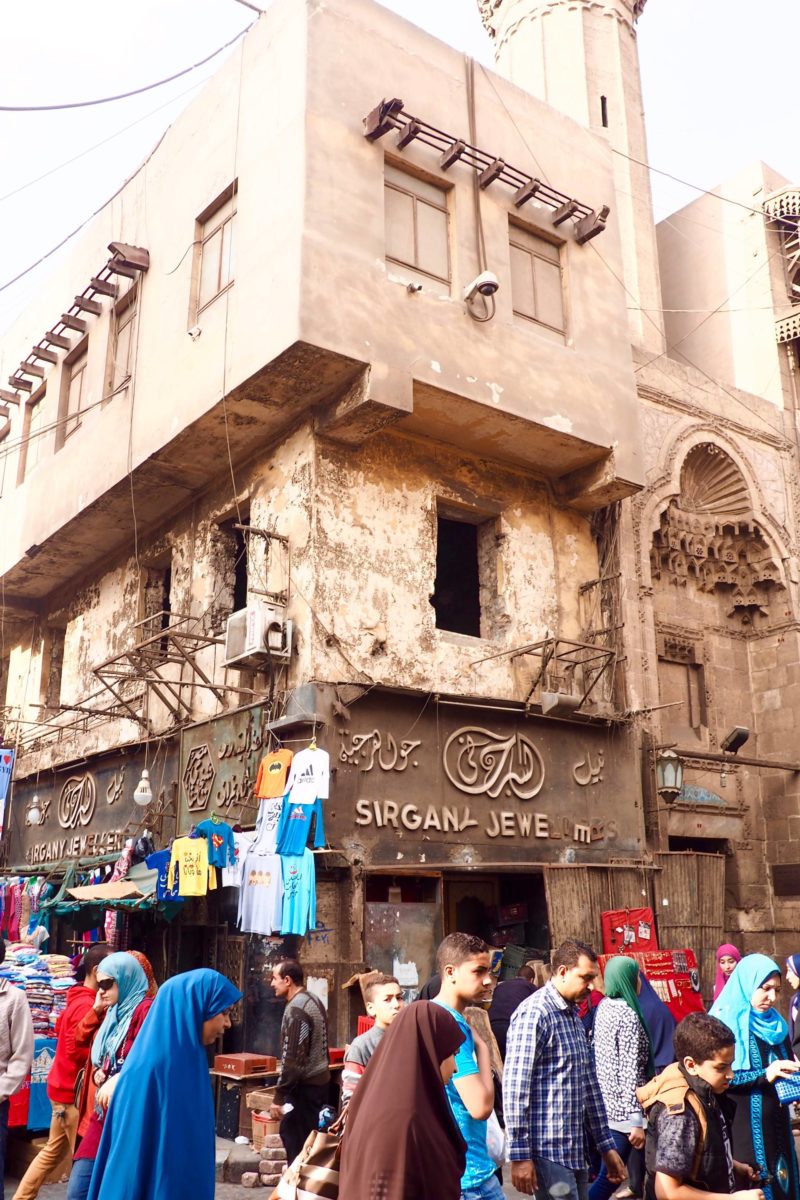 The further we progressed down the market stall-lined street, the bigger the crowds became and we moved away from one area where people were particularly unfriendly. We hadn't thought to cover our hair and that was a mistake. Stupid of us maybe, but I guess living in a tolerant country like Dubai made us forget that not all Muslim countries are as accepting of other cultures. A woman pushed me in disgust, and we realised that we weren't welcome.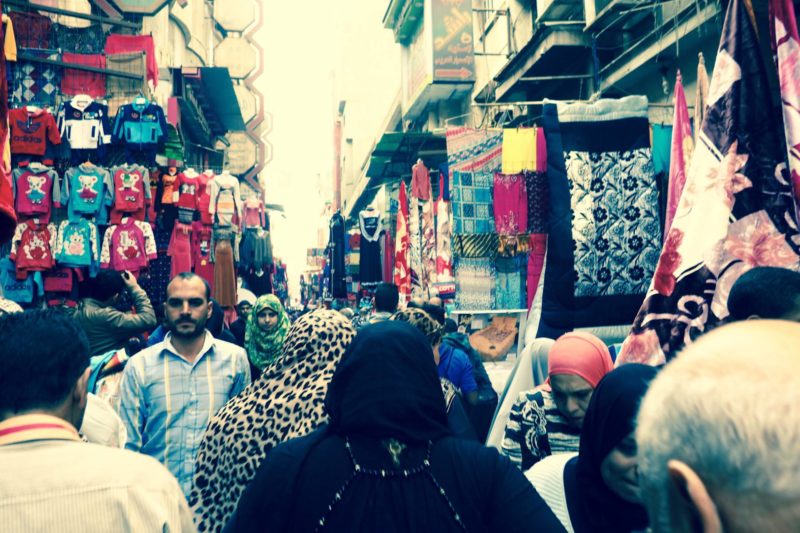 We became essentially trapped in a crowd, as local shoppers, vendors and men with loaded barrels reached a standstill. A fist fight broke out an arm's length away but we were hemmed in by bodies and couldn't move to safety. Panic rose in my throat and we latched on to a man in a leather jacket, who seemed to be carving a path.
And then the prick in the leather jacket thought it was okay to touch women inappropriately and our whole Egypt experience will be forever tainted with that horrible memory.
Imagine dreaming of visiting a destination your whole life and when you finally get there, you're sexually assaulted. It was incredibly upsetting but we still had an amazing trip – as strange as that may seem.
We need to be fearless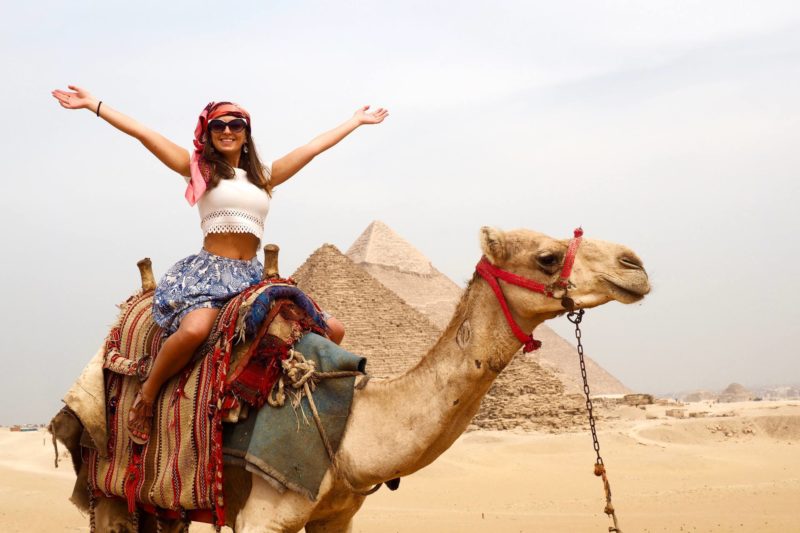 We were determined to enjoy our time in Cairo and we did, but unfortunately our girls' trip to Egypt comes with a massive caveat. I'm sharing what happened to inform other women thinking of travelling to Cairo solo, but not to scare them off the idea. We're still glad we went, but disappointed that this happened.
I've spoken to plenty of women who travelled to Cairo with a male friend or their husband and they didn't suffer any of this, so it seems that visiting as solo females in Cairo is a completely different experience.
It angers me to my core that this is a daily occurrence – not just in Cairo or Middle Eastern countries but all over the world. There are so many streets on this planet that women can't walk down alone without fear, and that needs to change. It won't happen overnight and it's a seemingly inextricable part of some cultures, but I hope that if more female travellers keep carving a path, it will become less prevalent.
There's a campaign in India that urges local women to 'loiter', and the idea is that the more common it is for women to be seen outside at night, the more men will get used to the sight liberated females. How ridiculous is it that we still have to educate men that women are equals?
Until every man on the planet is brought up to respect women, we have to be fearless and never let it stop us exploring. So as one female traveller to another – don't be put off travelling to Egypt just because you're female, but (as much as I hate to say it) be careful.
My tips for solo female travel in Cairo
Wear a fake engagement ring. Unfortunately, men respect other men (your fake husband) more than they respect a single woman.
Cover up in the market places.
Know where you're going. Don't look lost, and make sure you have international data so you can Uber everywhere. We actually got a taxi home from Khan-Al Khalili and it was fine but it's best to play safe.
Bitchy resting face, sunglasses, earphones are your go-to getup (but don't play music – you need to stay aware of what's going on around you).
Girls, wherever you travel – Be safe, but be seen.
Have you ever had a similar experience on the road?
My two day guide for exploring Cairo without fear is coming soon – sign up using the email subscription box on the right and follow While I'm Young on Facebook, Twitter and Instagram!