We all use apps and websites to make life that little bit easier and for expats in Dubai, there are a few that become a lifeline in navigating life here. I've put together a list of the must-have apps and the websites you need to know about when you move to the UAE if you want to survive in the sandpit.
Have I missed any?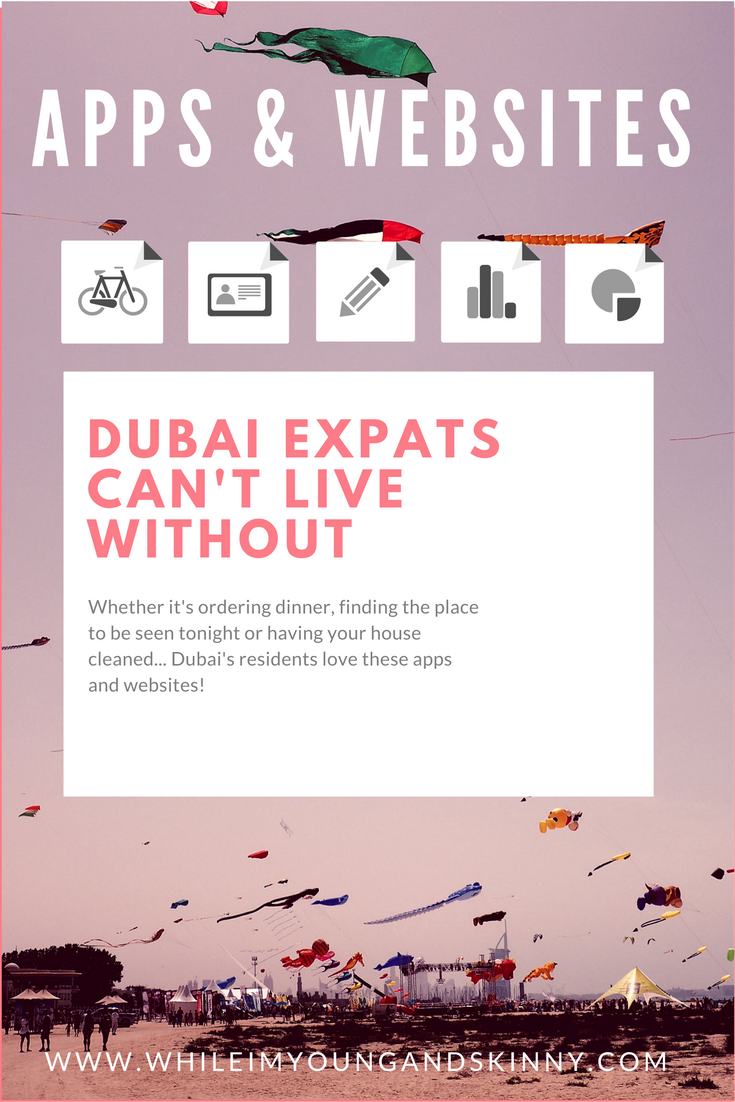 Top apps and websites for Dubai expats
It's no secret that us Dubai expats don't do our own dirty work. We're too busy hurtling down Sheikh Zayed Road towards the next fancy brunch or elaborate club night, or working until the sun goes down. Whether you can't face cleaning up after a party or you're looking for someone trustworthy to come regularly and keep your place sparkling, Helpling offer home cleaning from as little as 35 AED per hour. Their cleaning staff are all background checked (definitely a plus) and they have solid reviews. You can pick a time to suit you, which is a bonus.
Anyone who has spent two minutes in Dubai knows what a nightmare taxi drivers can be. In the off chance they do actually recognise the place you want to go to, they'll take you on a detour to Karama before they drop you off. Uber is necessary, and the reassurance that you can always get home safely is priceless. Oh, and the free Magnolia Bakery cupcakes on the brand's fourth birthday were a nice perk. But did anyone actually get one?
Btw, you can get two FREE Uber rides costing up to 40 AED each if you sign up using my code: DANNIELLEN37UAE. You are so welcome.
How else would we afford all those five star celebrity restaurants and extravagant brunches? If it aint on the Entertainer, I aint coming in. The app even tells you how much you've saved since you signed up, (an average of AED 6,280 per year!) which begs the question – what were you even doing with your life before this little ray of sunshine came into it? Dubai's worst-kept-secret is out.
The gym may bore the pants off you but you're totally going to try Aerial Yoga one day, right? And kickboxing, so you can protect yourself. It's just the classes are so bloody expensive! With GuavaPass, you can pay just 499 AED per month and this gives you access to an array of the best fitness classes around Dubai. From trampolining to spinning, you can book online via their platform, rock up, throw up (just me?) and try something completely new the next day (or umm, when you've recovered).
Use discount code 'WIYS' for 30% off your first month's GuavaPass membership!
Ah Dubizzle. If you've only recently moved, the mere name will have you rolling your eyes. Unless of course, your company provided your accommodation. Dubai's answer to Gumtree is new expats' lifeline in those sweaty first weeks, when you spend night after night trawling its pages for an apartment that actually has real walls and doesn't look too third-worldly. More seasoned expats use Dubizzle to buy and sell everything from baby clothes to unwanted concert tickets, and there's also a jobs section.
Dubai's party animal bible is the go-to for getting the details on upcoming nightlife, events and where to see and be seen. The site's 'What's hot tonight?' section will have you tempted to call in sick tomorrow, and the Ladies Night section means you'll never be short of a free drink or three… providing you're female.
It's not actually an app or a site – it's a Facebook group that I created just for female expats, new and seasoned. Ask to join if you're looking for cool ladies to hang out with. Whether you're fresh off the boat and dying to make friends or you've been here years and just want to meet new people, you can find like-minded women in our private group. We have monthly brunches along with regular Ladies Nights and you're welcome to post if you just want to grab a coffee with a new face!
Since most of us use our ovens a la Carrie Bradshaw (it's extra wardrobe space, yeah?), we tend to order food online, sit back and wait for our apartment buzzer to ring. It helps that you can get basically anything delivered to your door here, and Food On Click has a vast selection of eateries just waiting to serve you, along with customer service agents ready to save the day (and your stomach) if anything goes wrong.
This website holds an absolute wealth of essential information for living in Dubai, not exclusively of interest to women – though it is a safe place to ask and answer questions. The topics covered range from family woes and healthy recipes to financial and legal information about things like getting divorced in the UAE and property laws. Their forum is also hugely helpful, particularly for those relocating who want to chat to people who have already made the leap.
If you're looking for a job in the Middle East, Gulf Talent is your best bet. The recruitment portal features jobs for every industry, as well as offering training courses and professional networking events. Their salary section is really interesting, because you can check what you'd earn working in your current position if you moved to the Middle East.
Another go-to for Dubai's hoards of social butterflies, What's On does what it says on the tin – keeps you in the loop with everything that's happening in Dubai. From ambitious new city projects and architecture news to the newest restaurant on the Palm and which celebrities are in Dubai, you'll find it all on What's On so you'll never be lost for conversation.
Platinum List isn't just a guide to upcoming events in Dubai, it's also a platform where you can buy and sell tickets securely. You can get your seats at sports, exhibitions and music events or snag tickets to that party in the desert everyone's talking about.
Selling a vehicle in the UAE can be a nightmare, but Beep lets you sell your car in just 30 minutes. They buy any make and model and the whole process is simple – and free! You get an online valuation, make an appointment and the sale is guaranteed to be complete within half an hour. No messing about with time wasters on other sites!
Are you a Dubai expat? What are your favourite apps and websites? I'd love to hear what makes life here easier for you! 
More Dubai resources
If you found this article helpful, please share it on social media and follow While I'm Young and Skinny on Facebook, Twitter and Instagram.