January is a time for recharging, and there's no better way to relax and revive your body and mind than with a spa break, in my opinion. In keeping with this idea, my boyfriend and I enjoyed a little North East staycation at Wynyard Hall, a grand historic hotel in Tees Valley on the outskirts of County Durham. This four-star hotel is super popular for weddings and is known as the North East's most romantic destination. That'll do us!
We had a meal at the hotel restaurant, slept in the beautiful Frances Anne suite and woke up to a mouthwatering breakfast followed by a snow-kissed spa day. We were blessed with the weather that weekend, because Wynyard Hall's already breathtaking surroundings were blanketed with a thick carpet of white after a few days of heavy snowfall in the North East. The powdery silver stillness certainly amplified those relaxed getaway vibes!
A review of Wynyard Hall Hotel and Spa
Driving up to Wynyard Hall made me feel like some sort of aristocratic socialite living in another time. As we crunched over the gravel of the impossibly long driveway towards the regal building, I pretended I was a young debutante approaching my family estate, only instead of a horse and carriage I was carried by Tom's work van. Not quite so Downton Abbey.
Wynyard Hall is surrounded by 150 acres of dramatic landscape, which creates a thrilling first impression for guests. The secluded setting makes you feel like you really are hiding away from the world when you check in. Isn't that what everyone wants from a romantic weekend away?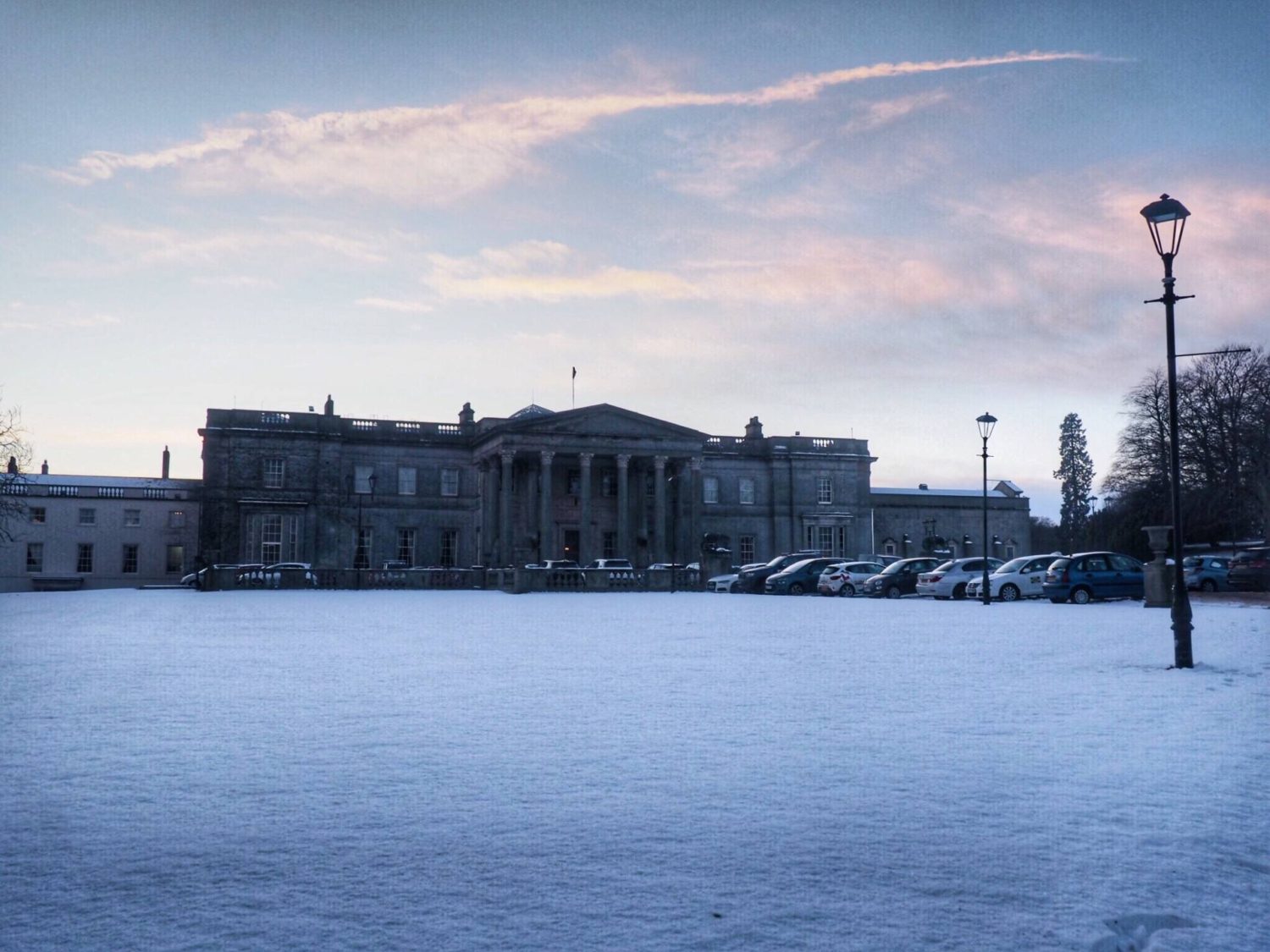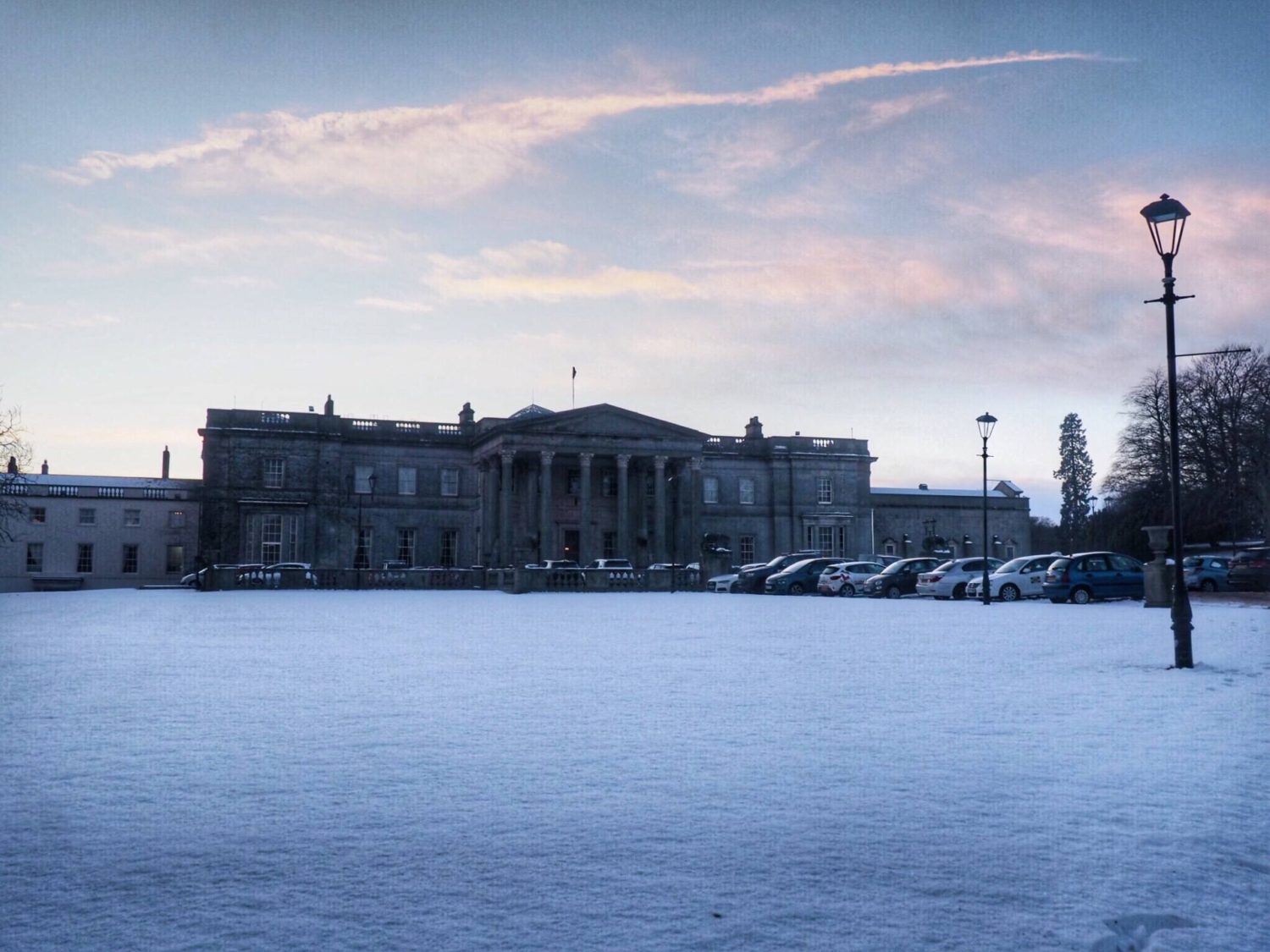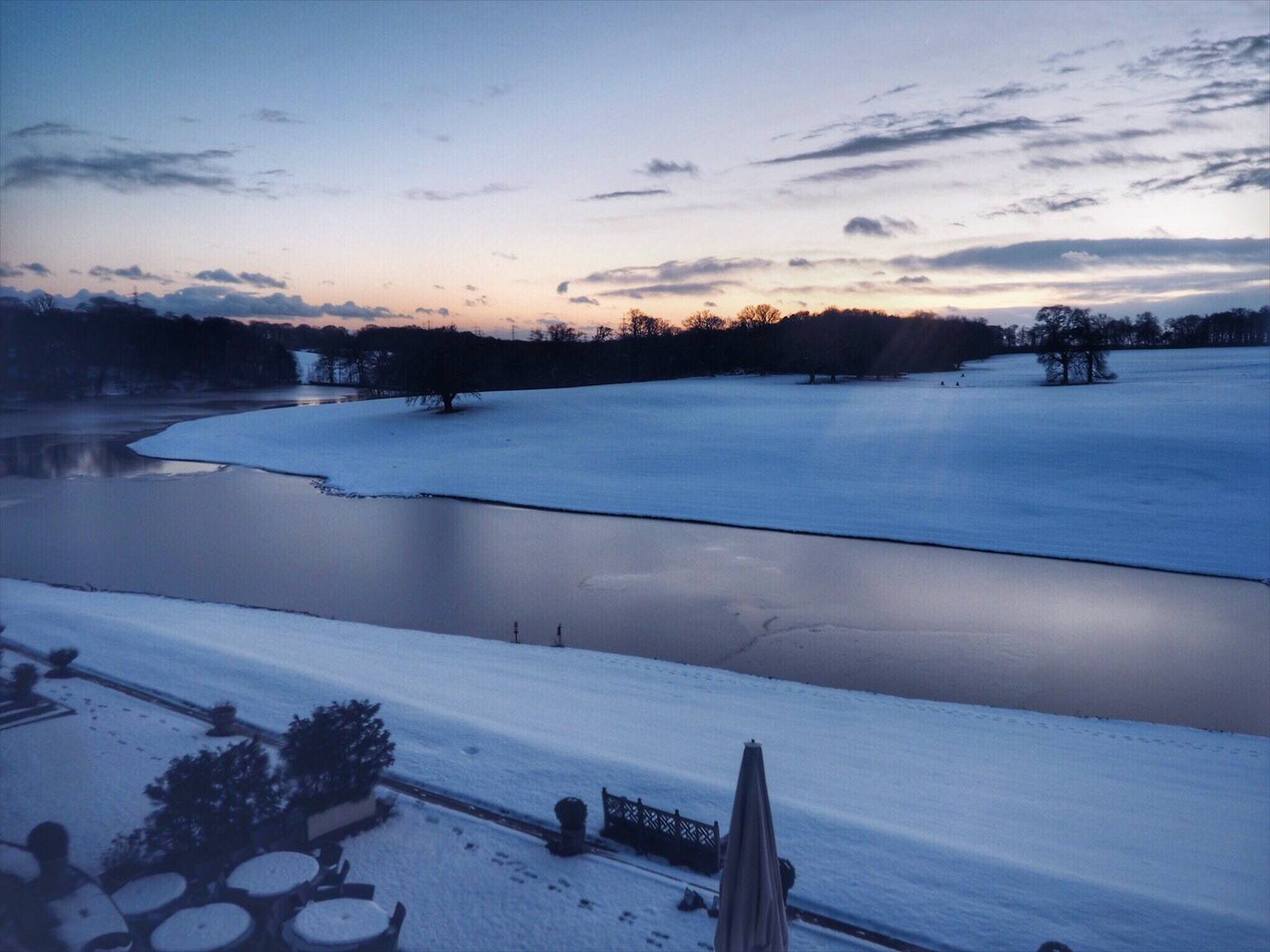 We stumbled into the reception area in complete awe. That ceiling! I almost broke my neck trying to take it all in.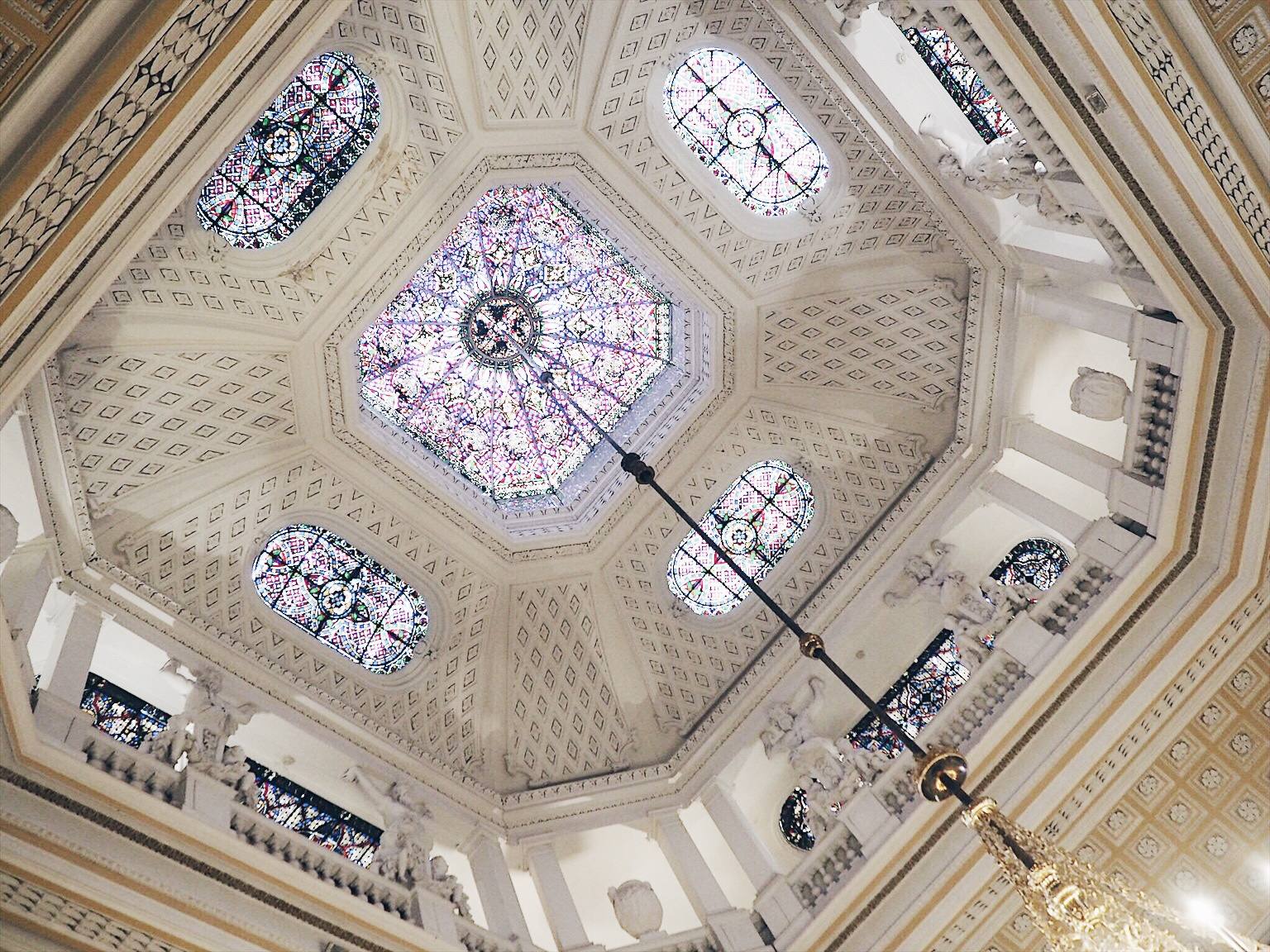 There was a wedding on the left hand side of the hotel, which looked beautiful. Wynyard Hall serves afternoon tea and though I didn't get to sample it, I did glance at the menu for the 'Gentleman's Afternoon Tea' and start drooling. I mean, not literally drooling – an elegant socialite like myself wouldn't be so vulgar.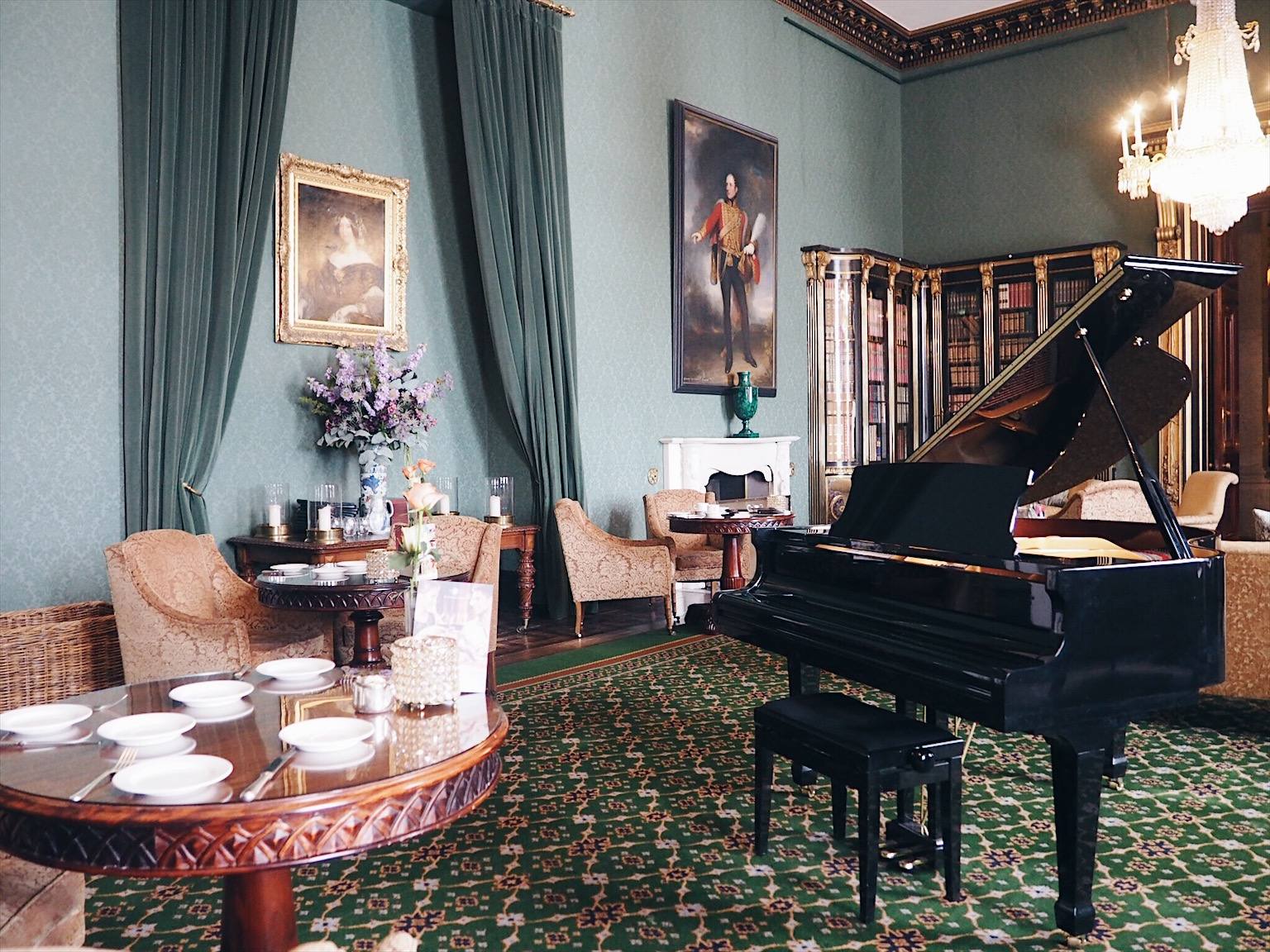 The Frances Anne Suite
Two things about our suite immediately struck me when we unlocked the door with an old-fashioned key: the sheer size of the room, and the bed. Every girl wants to sleep in a princess bed, and at Wynyard Hall I got my chance.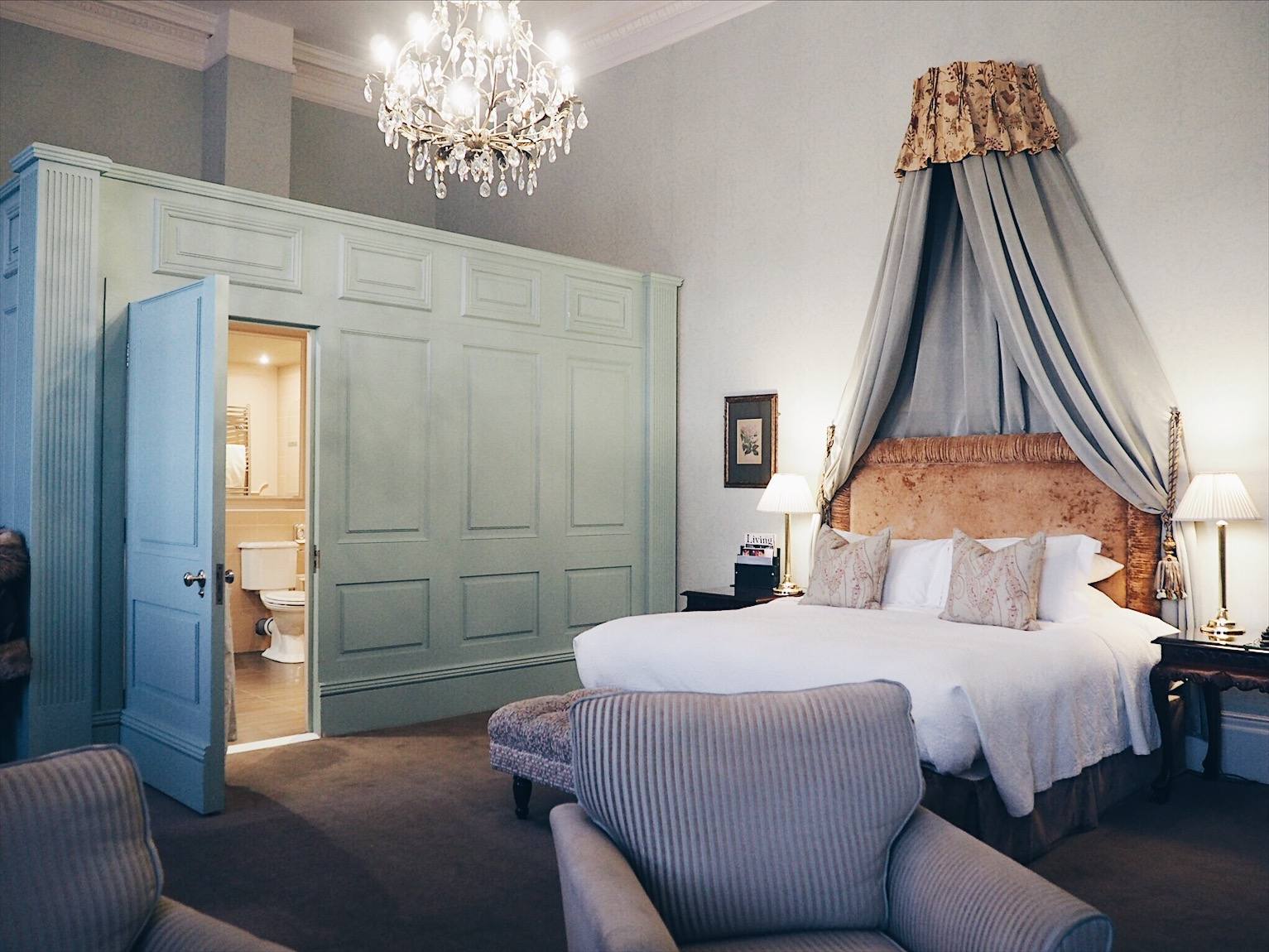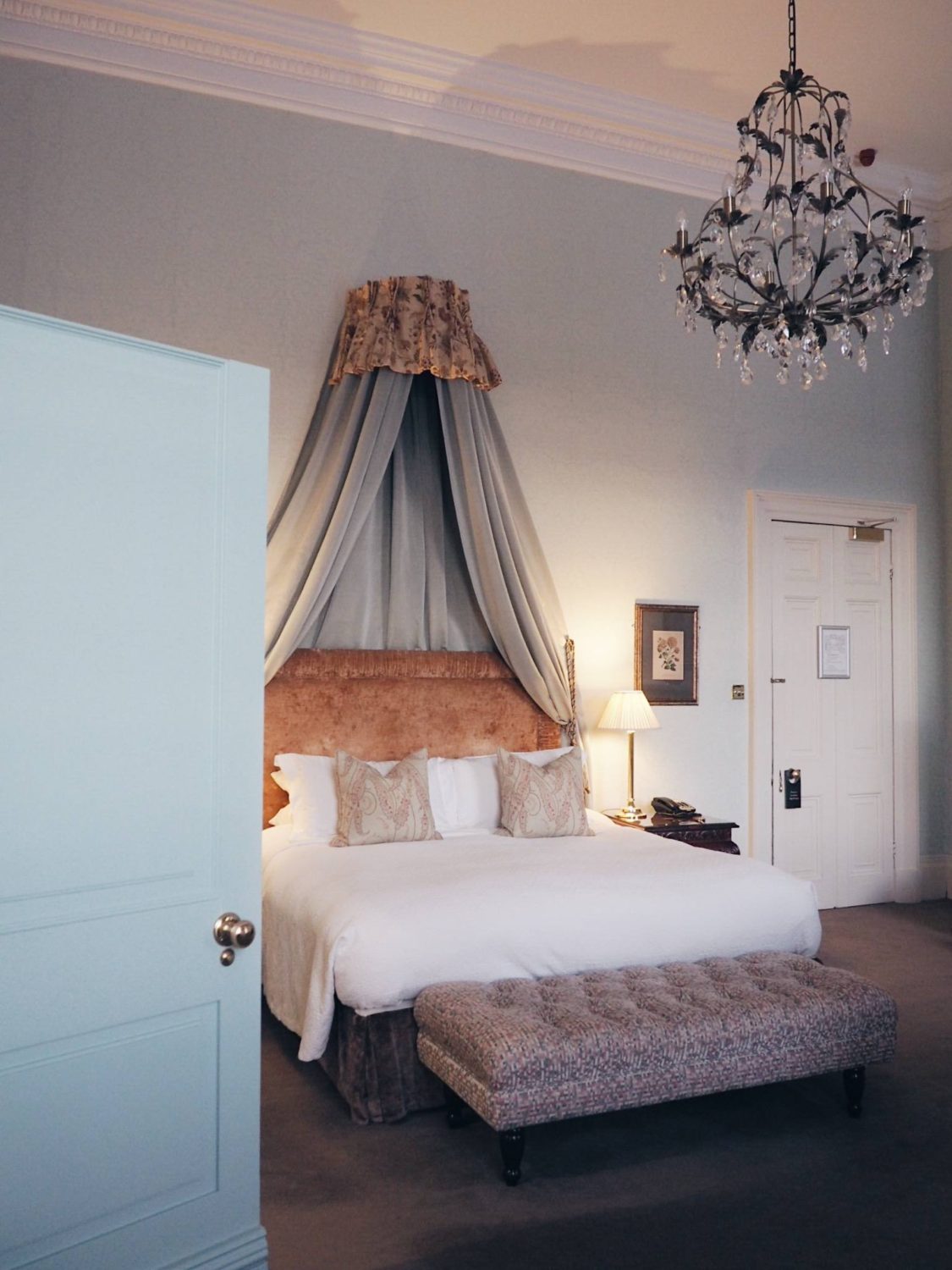 There was a comfy sitting area, a dressing table and an enclosed bathroom.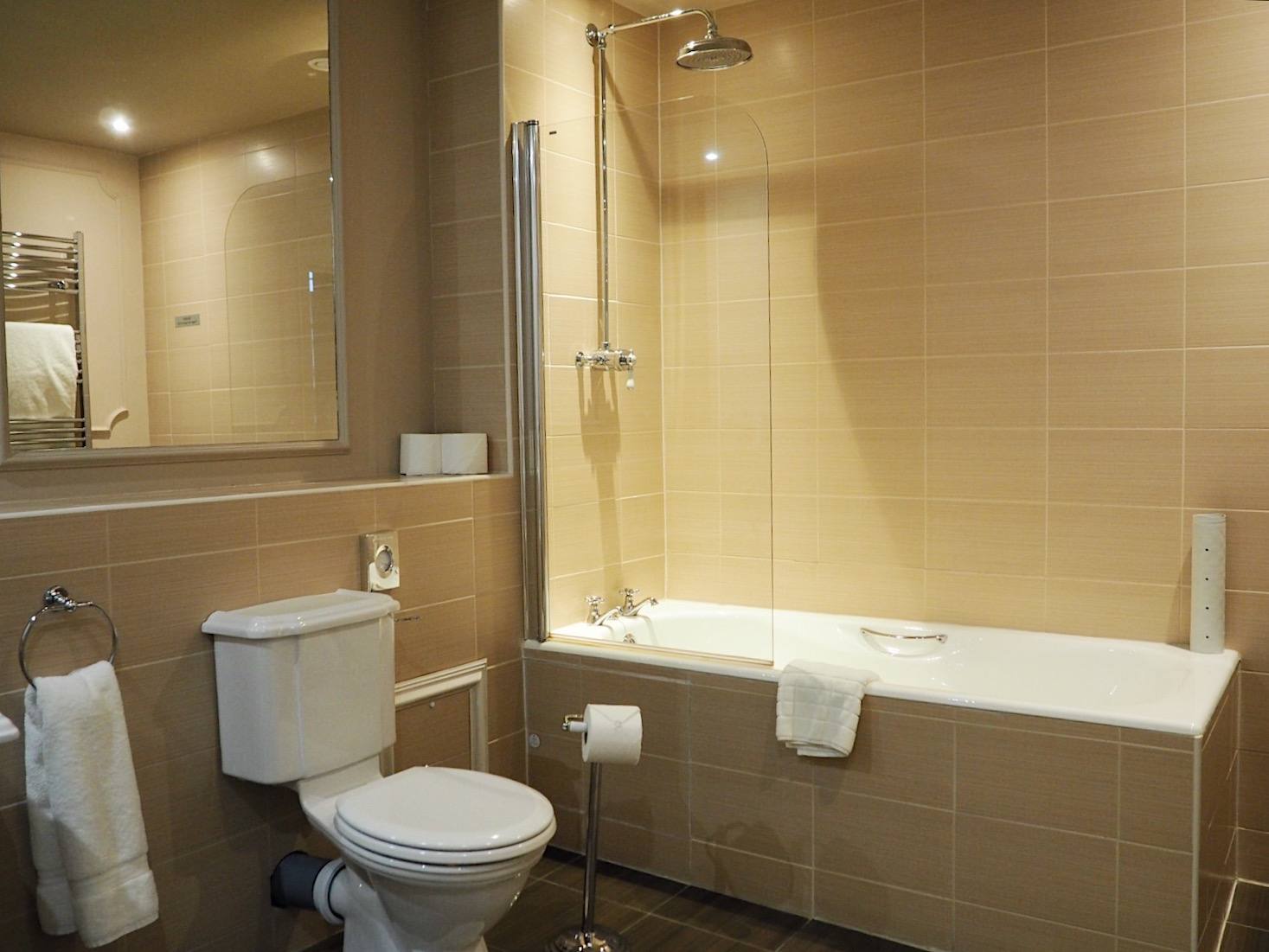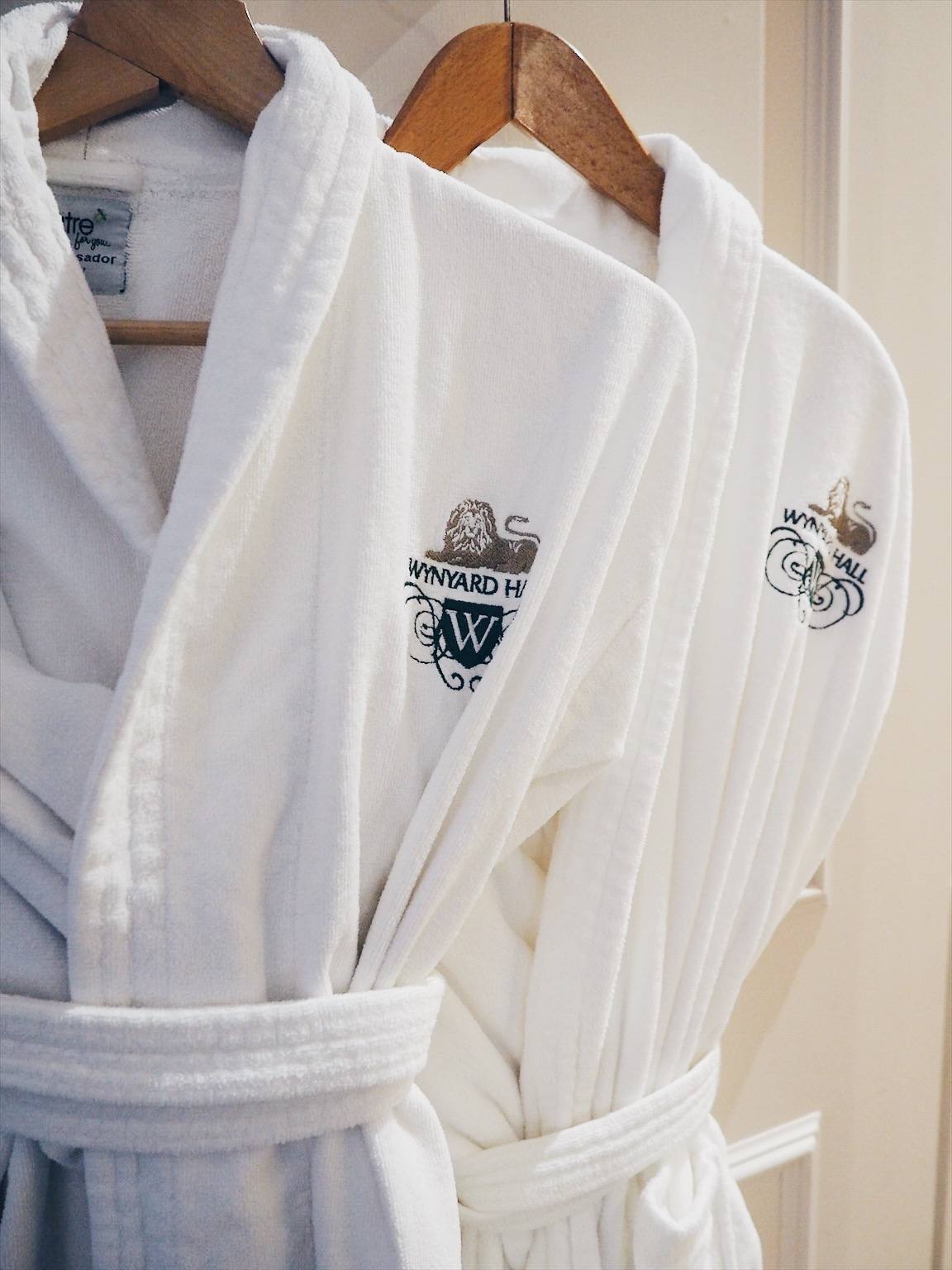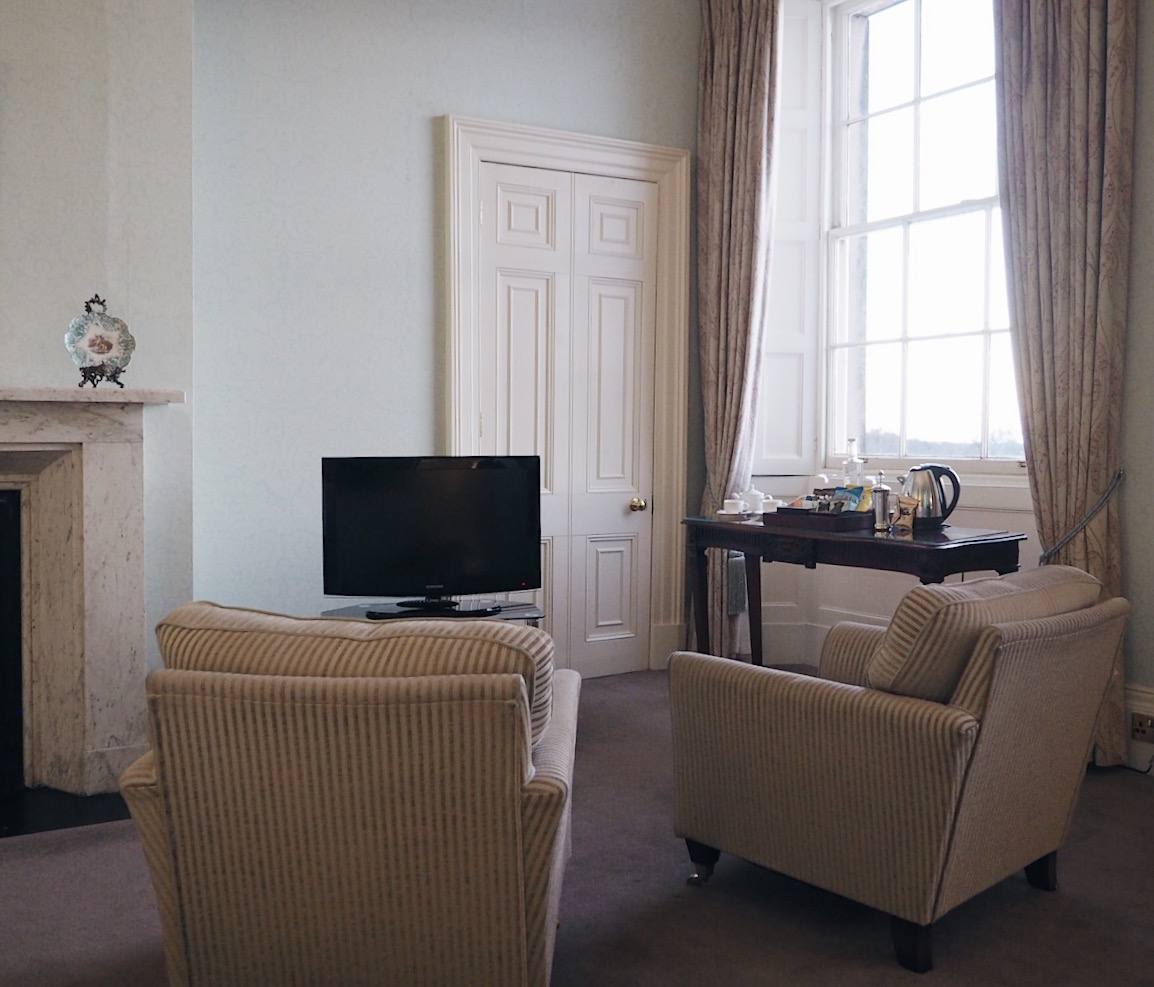 I really liked that our suite embraced Wynyard's Hall historic character while still offering modern comforts. Beneath the old-world canopy, the bedding looked and felt super luxurious. I was worried that such a vast room would be cold, but we were very warm and cosy.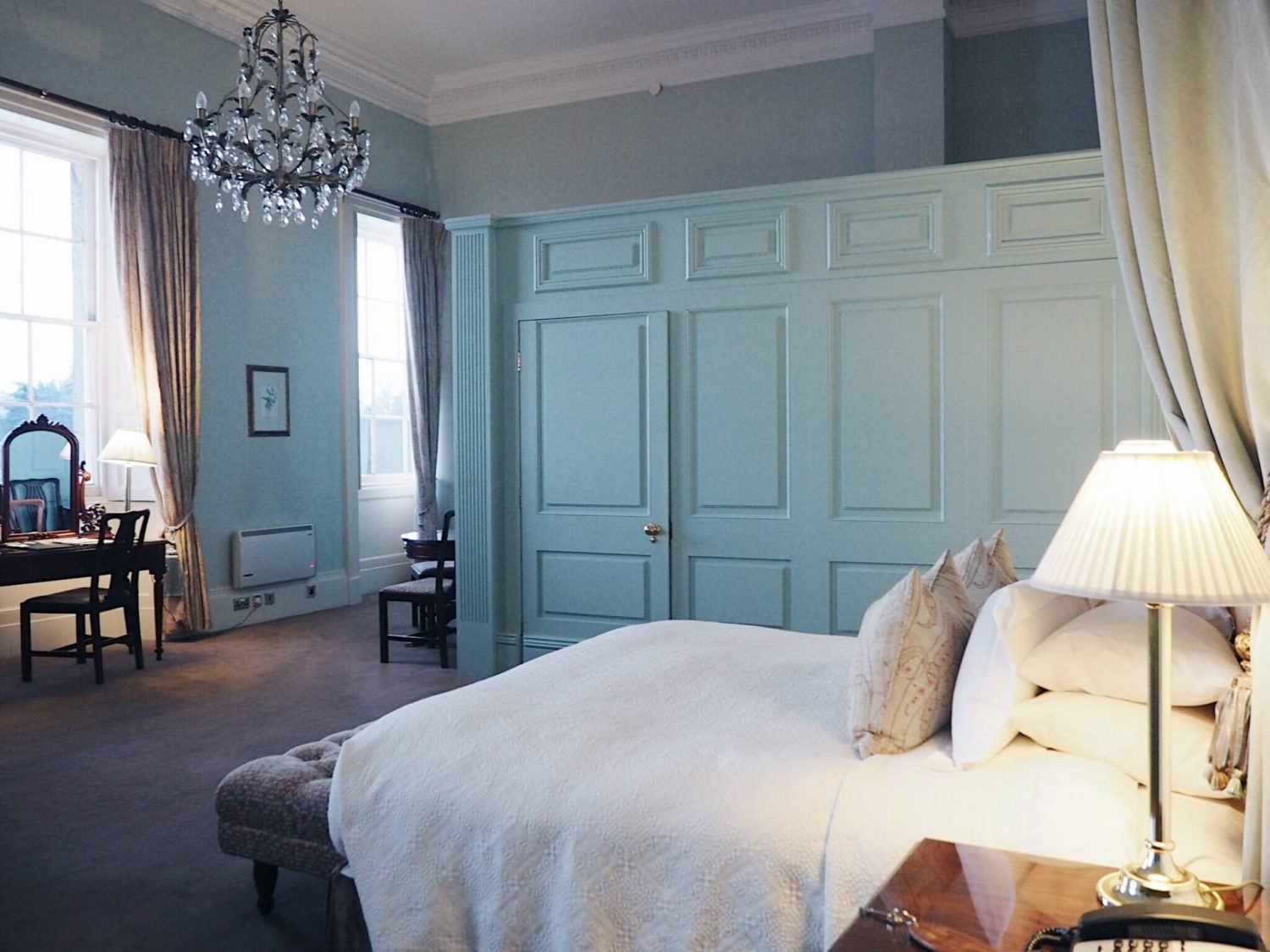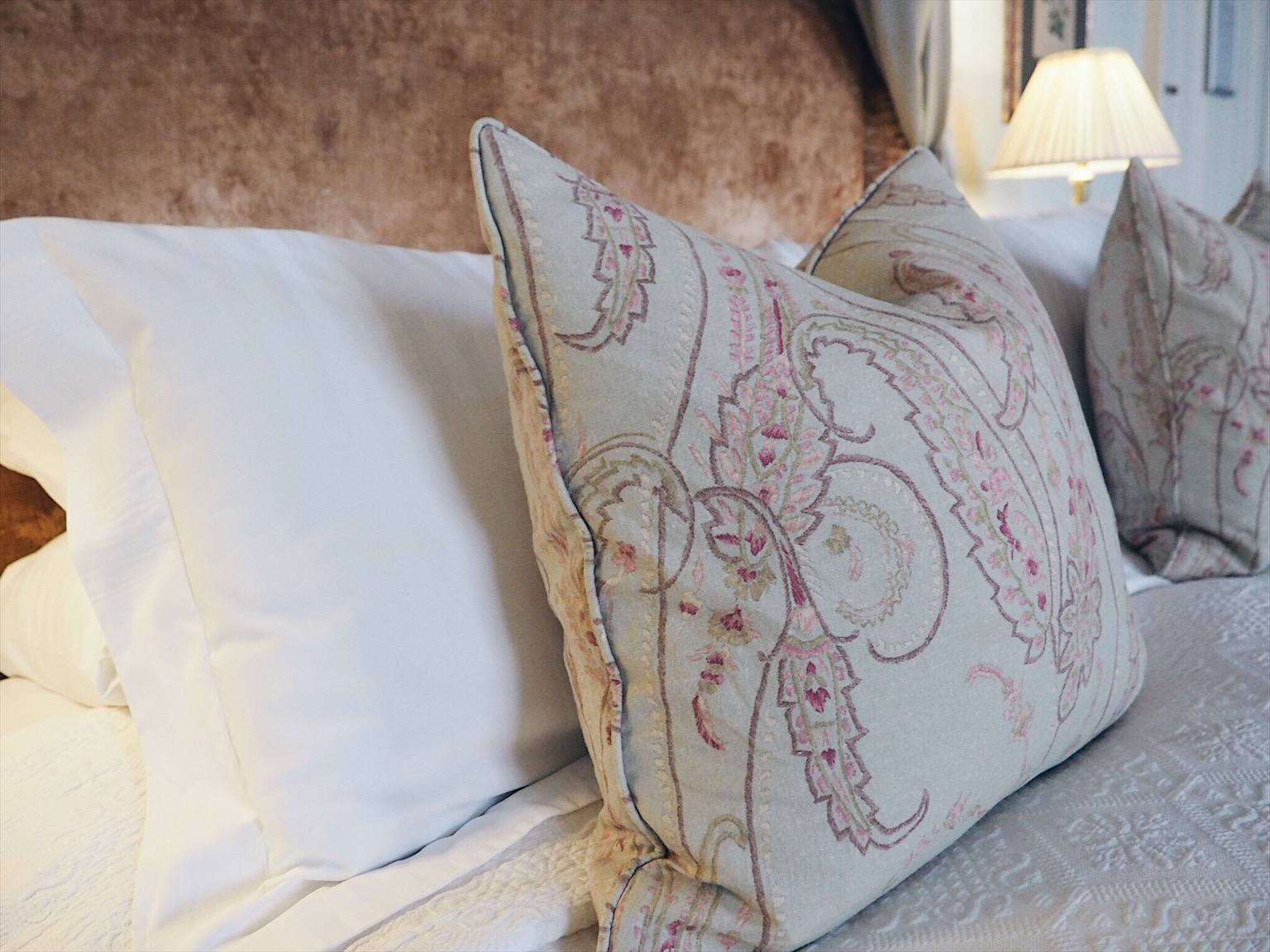 The huge sash windows flooded the room with late afternoon light from the winter day outside. Once the sky had turned from pink and white to a deep blue, I closed the shutters and drew the curtains closed, shutting us off from the outside world.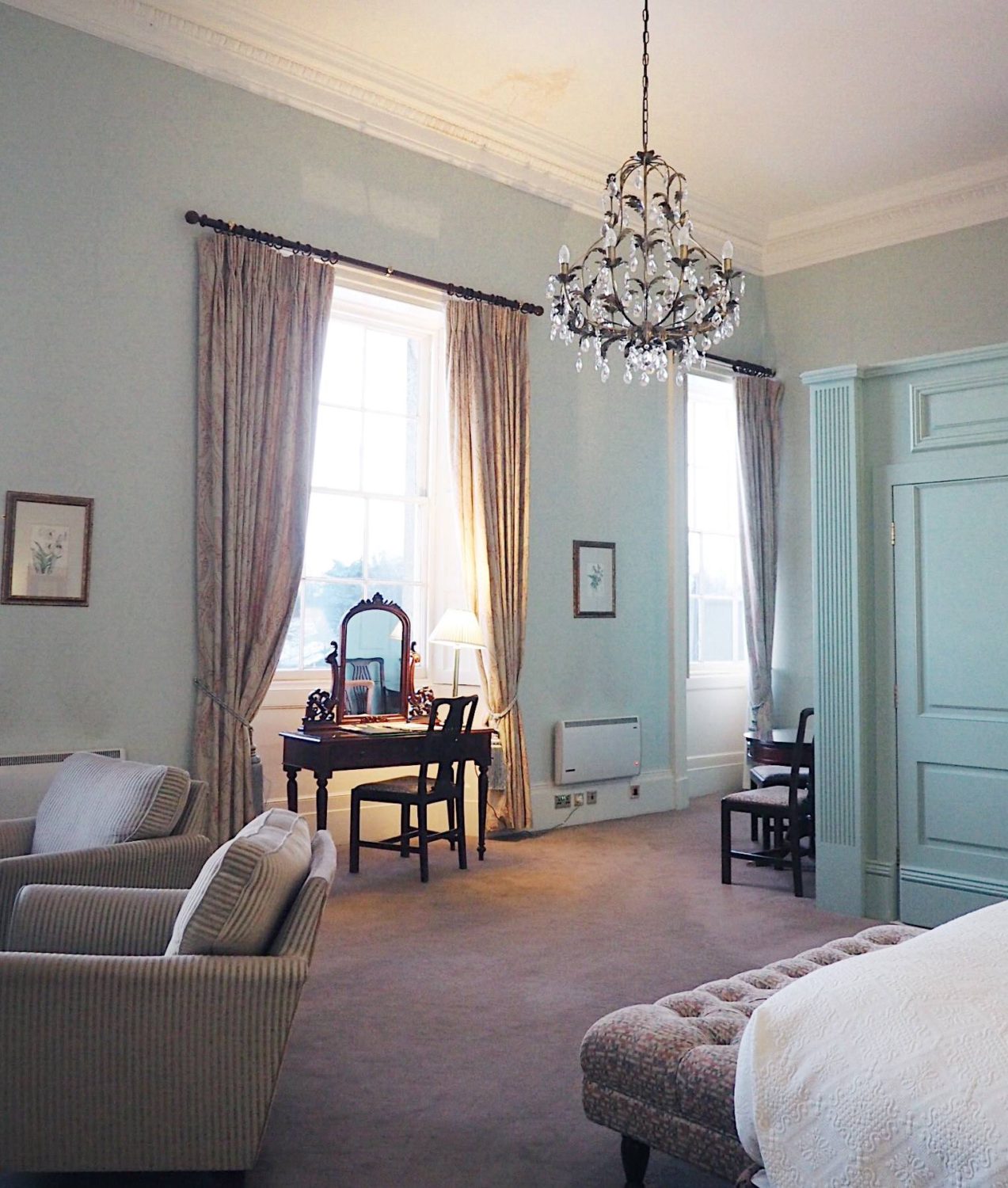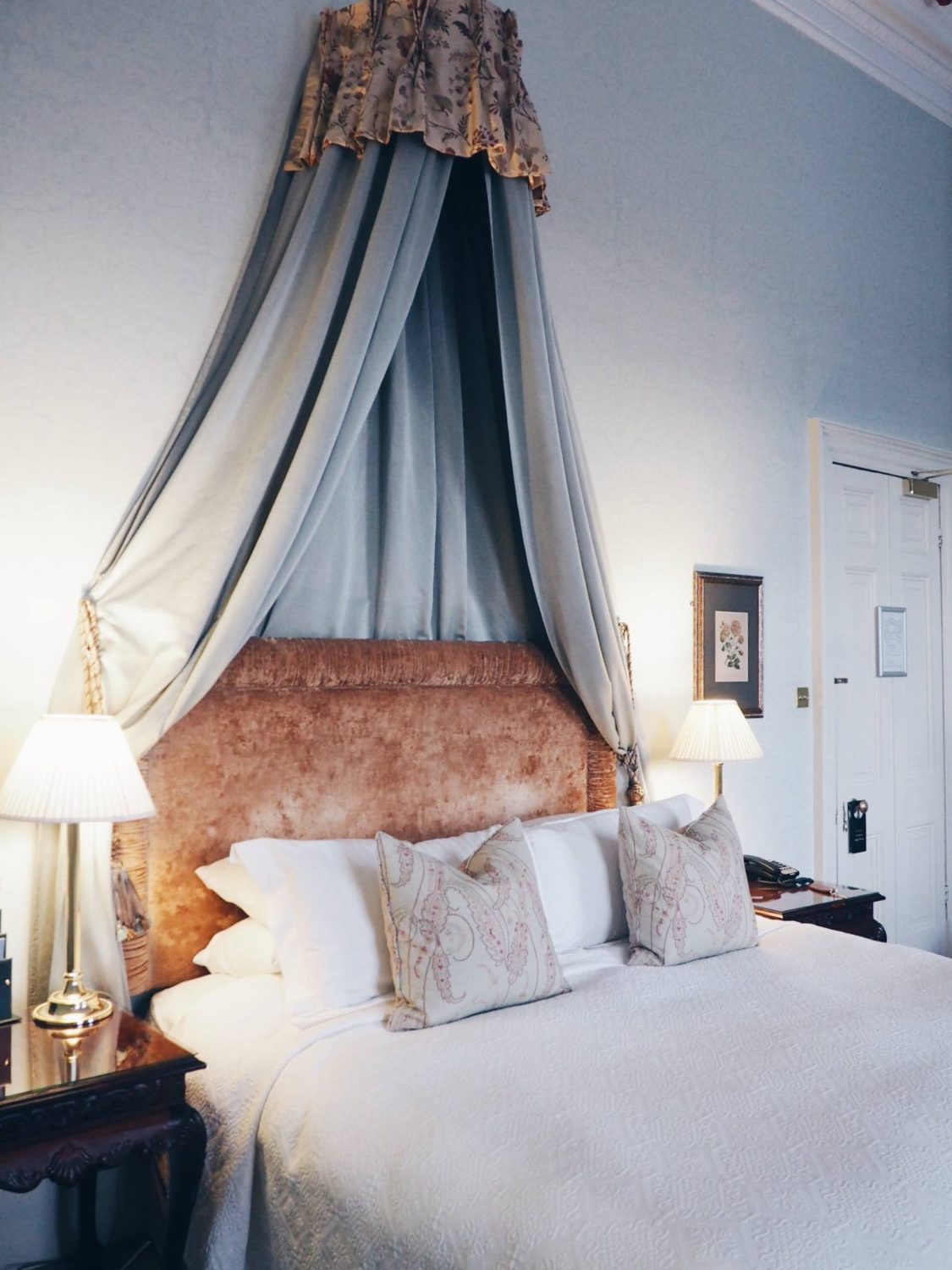 Dinner at The Wellington
The opulent restaurant at Wynyard Hall serves exquisite food with British flavours. Me being the hungry girl that I am, I had of course already checked out the menu online and told my boyfriend that we'd be sharing the Cote de Boeuf. He had no qualms.
We dressed for dinner (I'm speaking like aristocracy now, see?) a little early so went down to the bar for a drink before our meal, where we chatted to a few of the friendly bar and restaurant staff as we nibbled at a bowl of olives.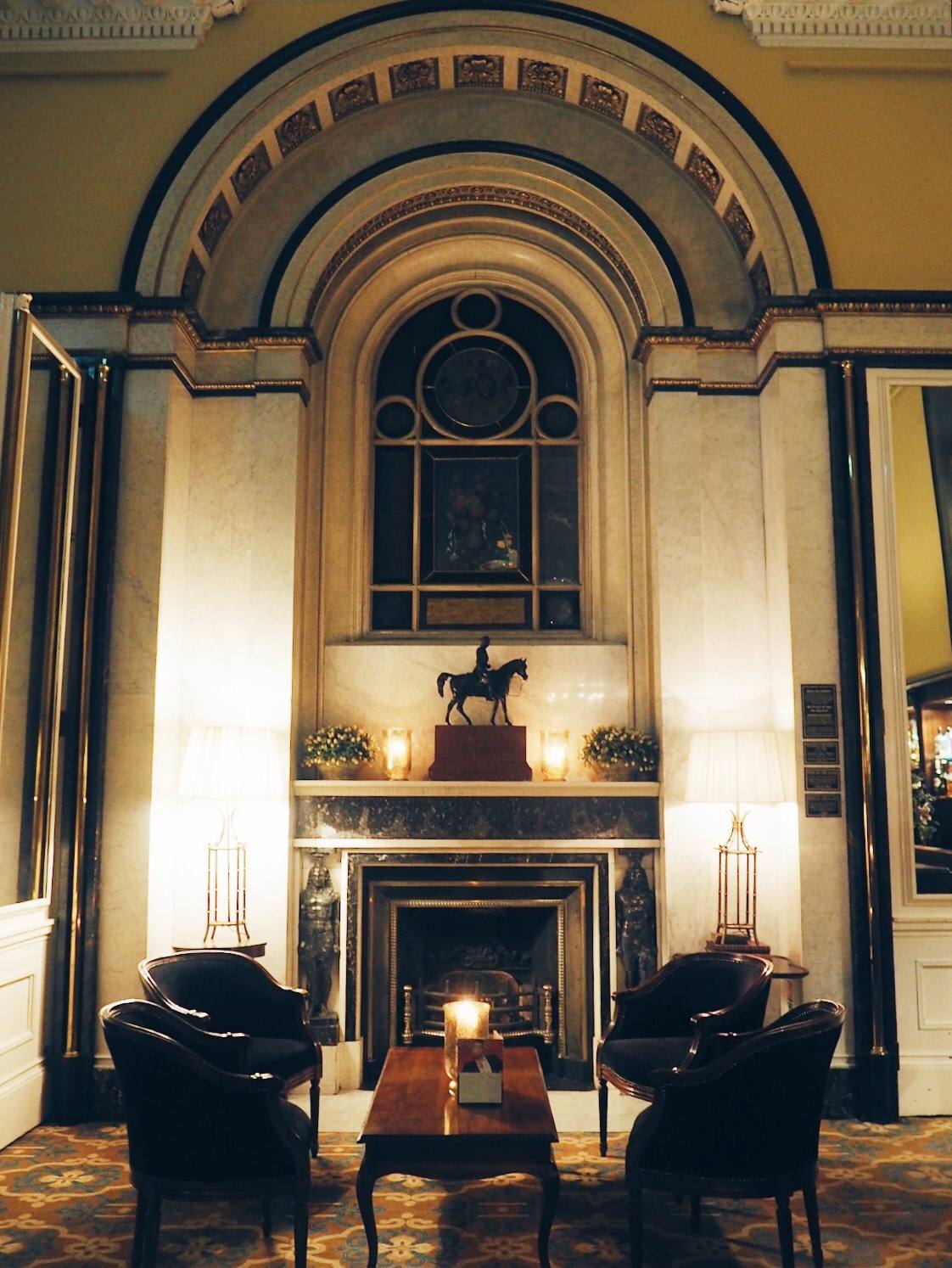 The Wellington restaurant is a sight to behold – all gold gilded picture frames that are probably larger than our spare room, high ceilings and stately furniture.
Once seated, we felt the need to review the menu again, but it was really all for show. Our waiter told us that Wynyard Hall has a new chef from London, who had prepared a little amuse-bouche for us: tiny cups of a heavenly leek and potato soup, with locally baked bread and beef dripping. I finished my soup and stole half of Tom's, it was that tasty.
Dry January had to be kicked to the kerb for the evening, and we ordered a bottle of Californian rose that was absolutely delicious. We took a photo of the label because Tom isn't a huge wine drinker, but he couldn't get enough of this particular wine.
For starters, I ordered the black pudding scotch egg and Tom went for the marinated feta cheese with rhubarb. Both were rich in flavour and beautifully presented.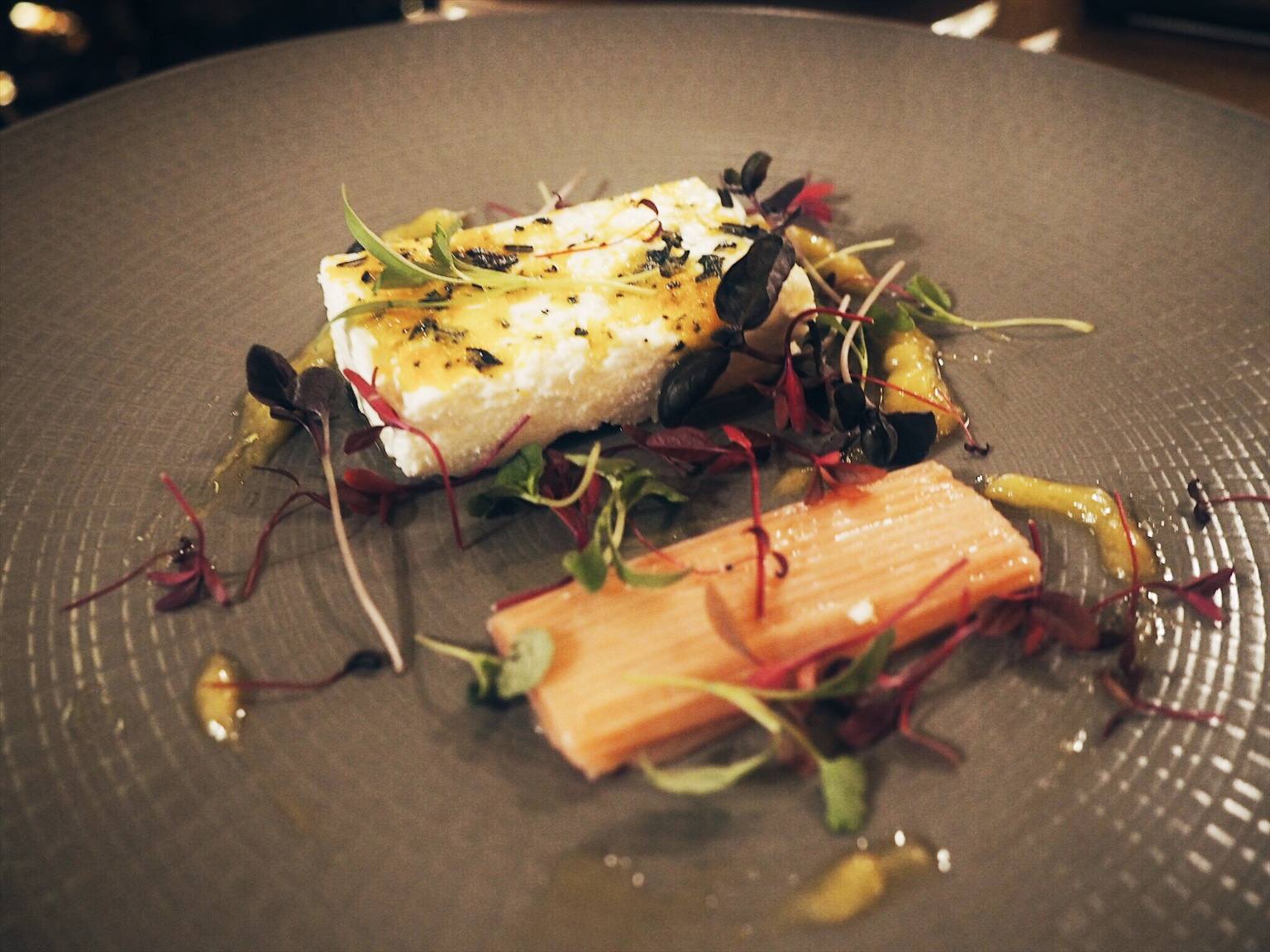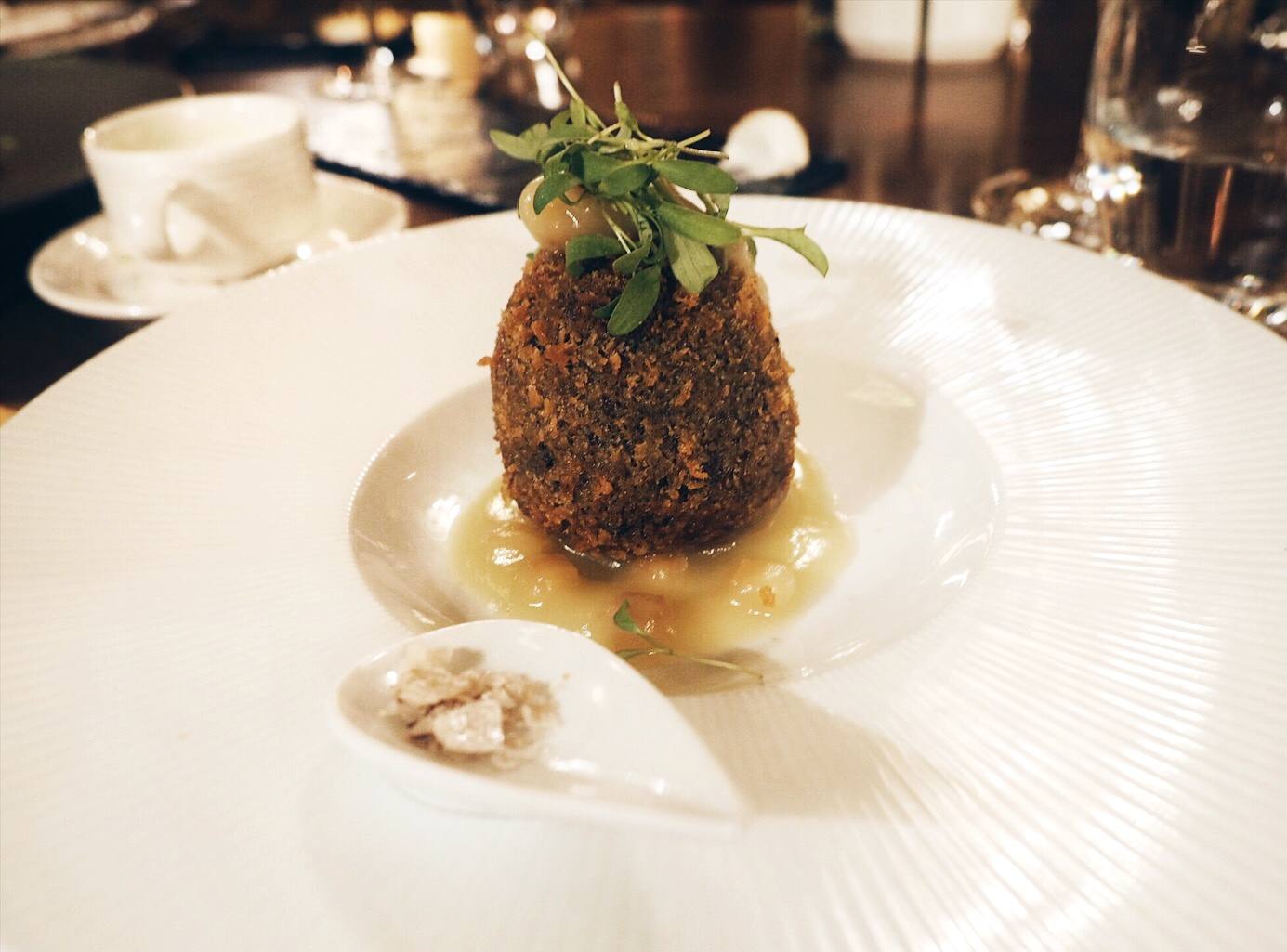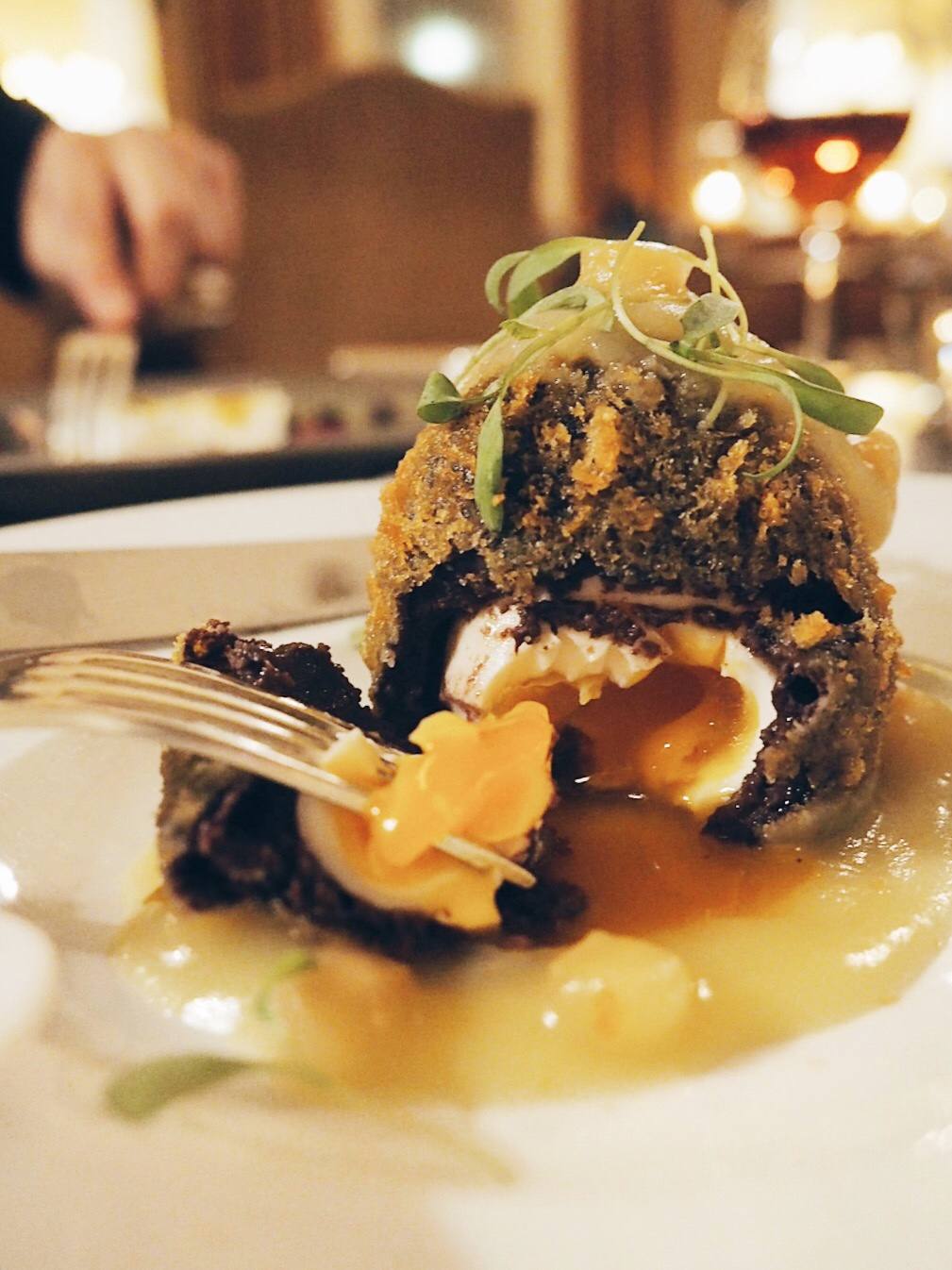 The main event was sublime: melt-in-the-mouth beef that was perfectly cooked medium-rare, with seasoned fries and delightfully crunchy green beans with shallots, accompanied by a flavourful peppercorn sauce.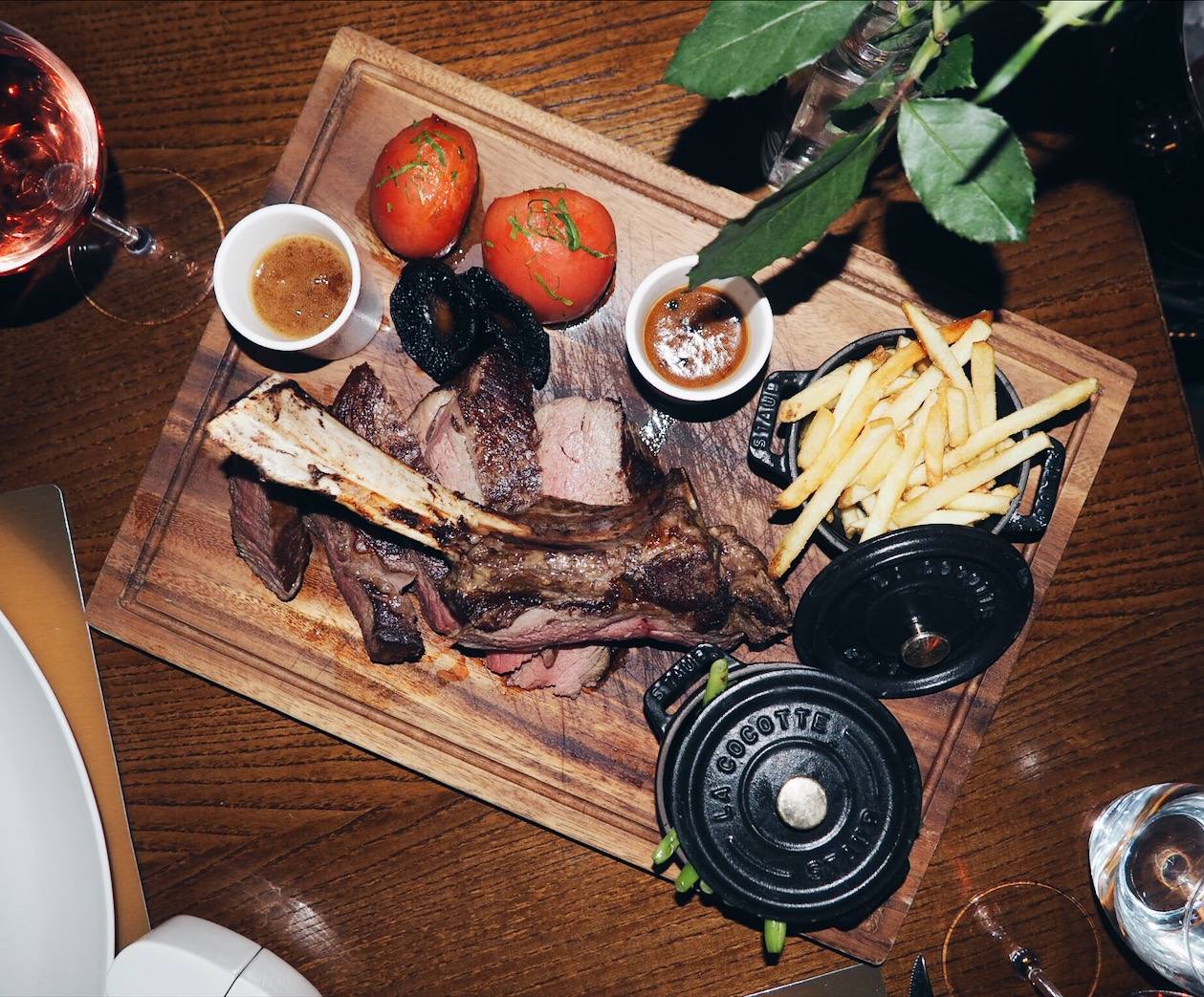 We were well and truly stuffed, but turned to our second bellies for dessert. The Wellington's dessert list was one of the more creative menus I've seen. We ummed and ahhed for ages, and finally settled on the ginger creme with blackcurrant sorbet, and a dish that reimagined the humble banana split: peanut butter mousse with a glossy chocolate layer, caramelised banana and soft banana ice cream.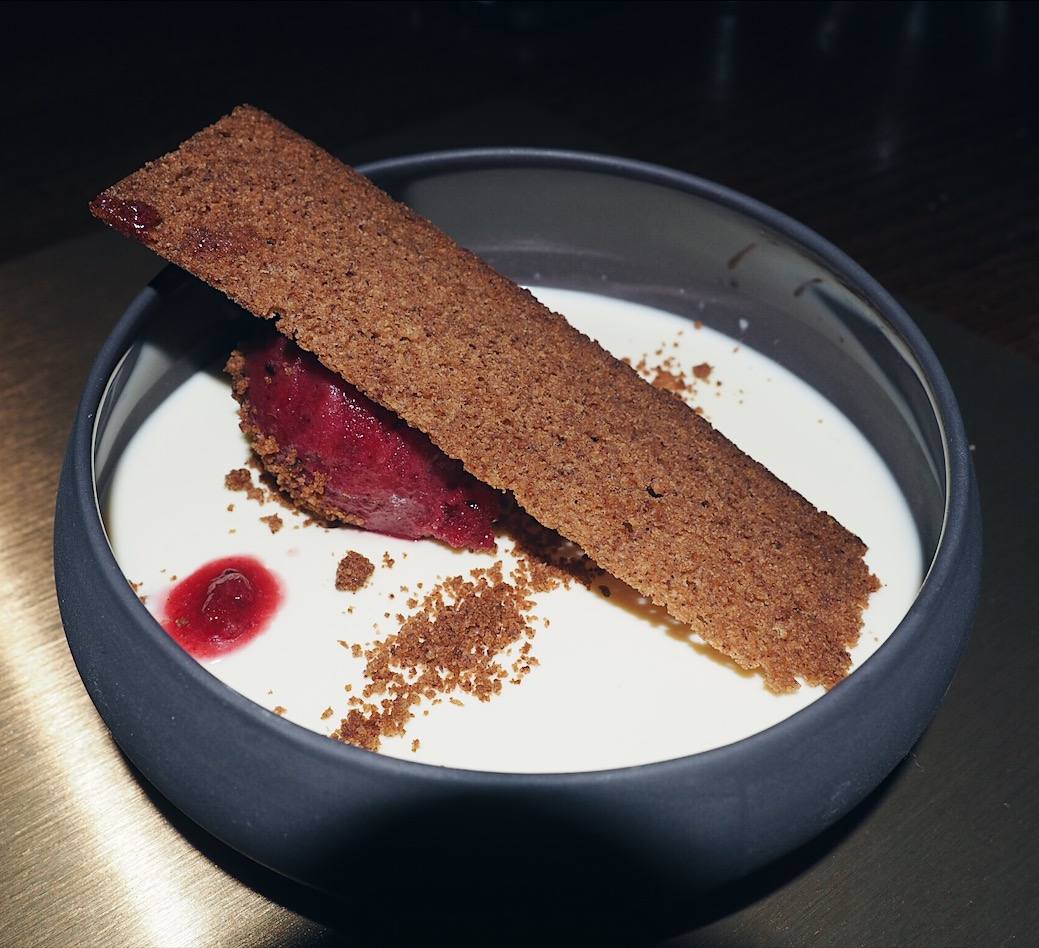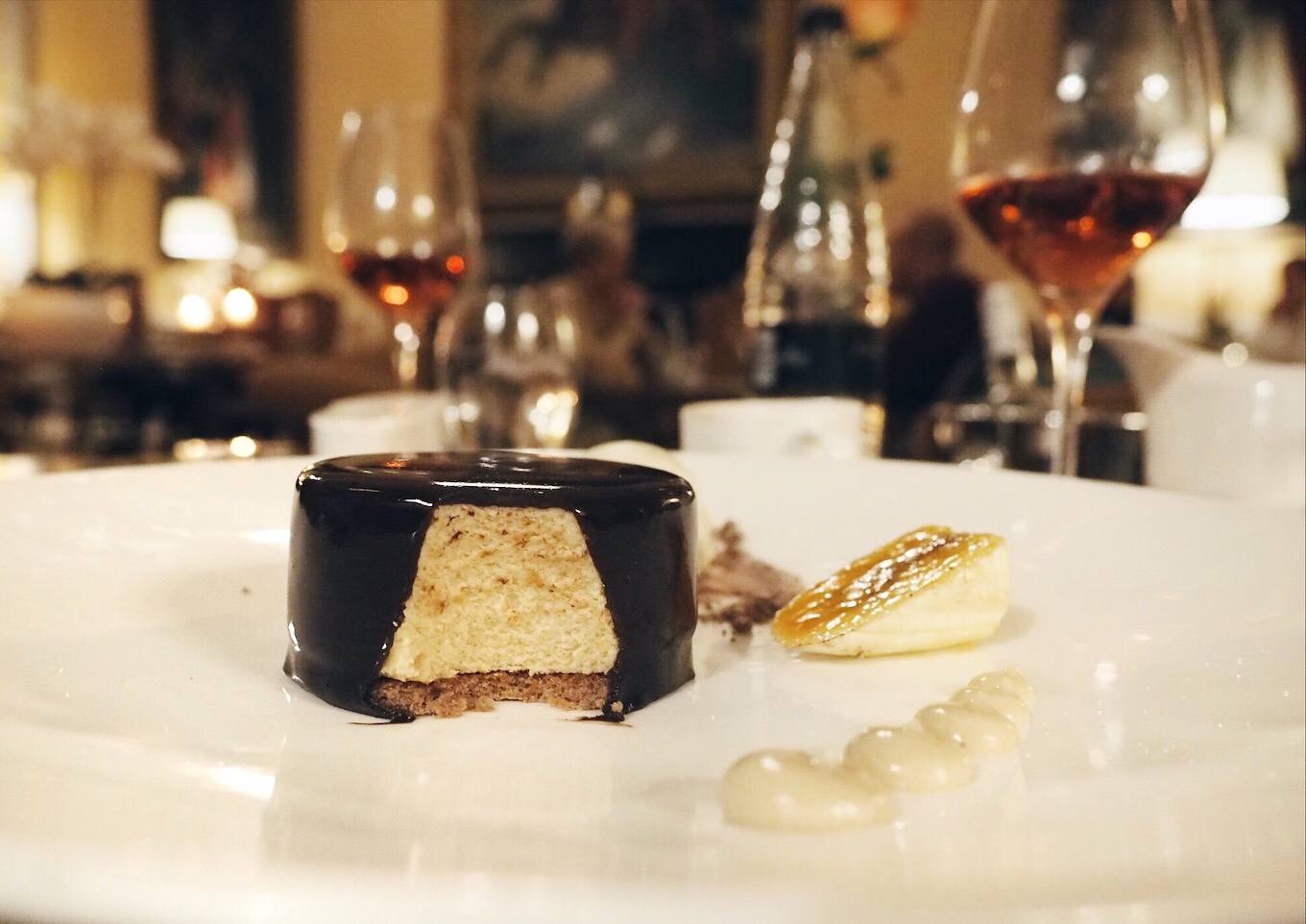 Suitably stuffed, we fell into that beautiful bed and joined the land of nod.
Breakfast at Wynyard Hall
Breakfast is also served in the Wellington restaurant, and consists of a small continental buffet and varied hot food menu. Tom had the cooked breakfast and I went for perfectly poached eggs benedict.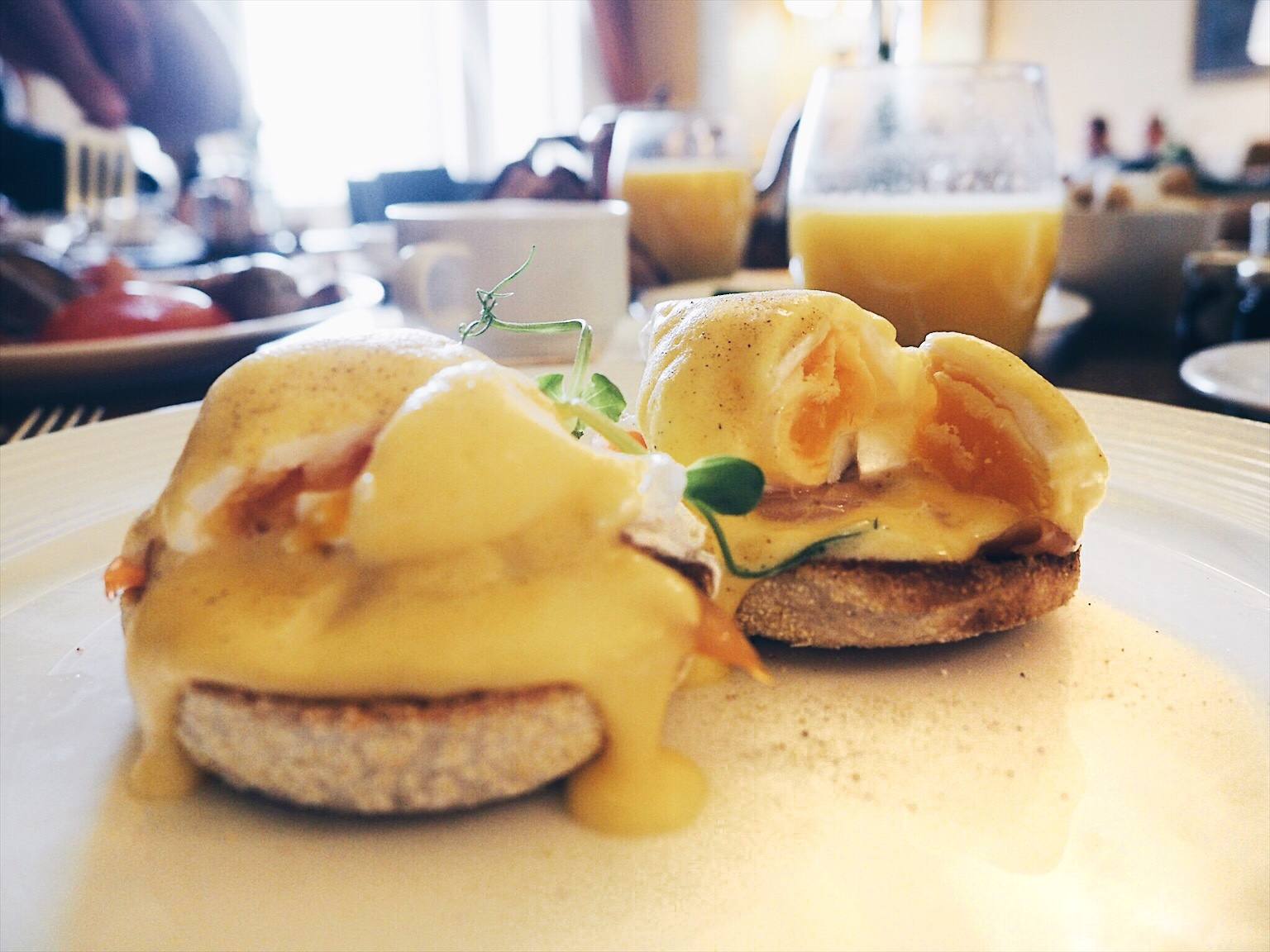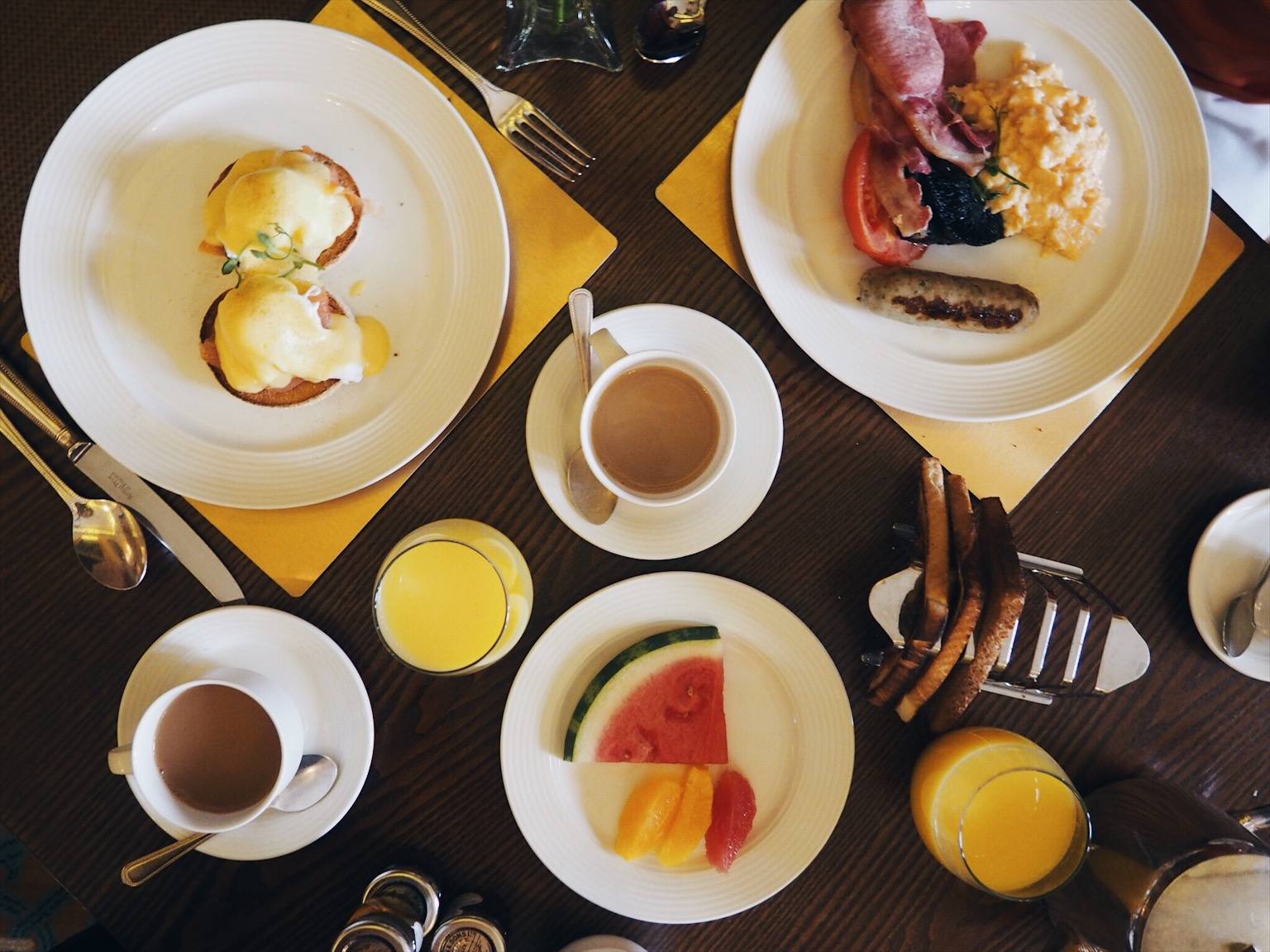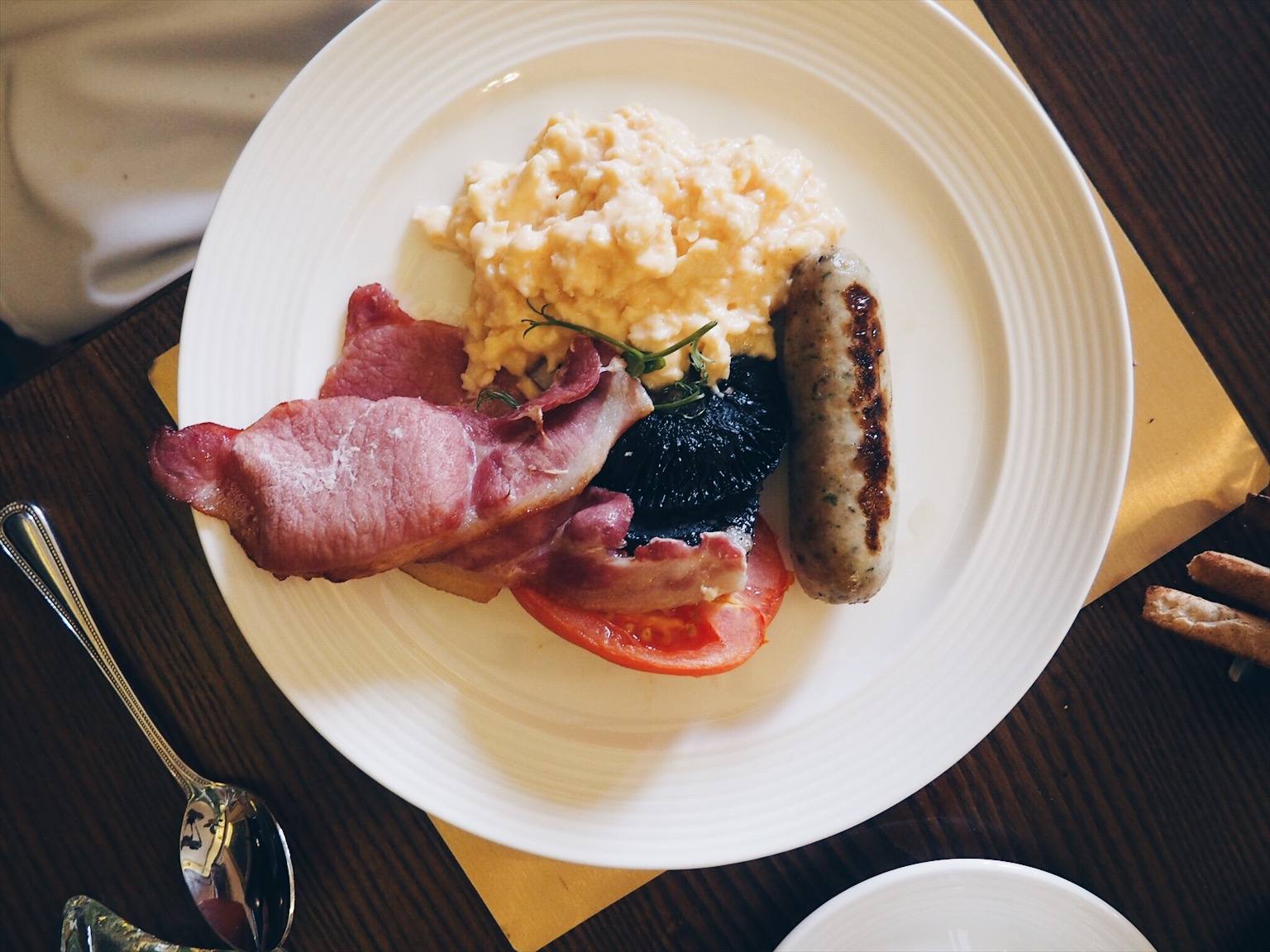 We washed our breakfast down with freshly squeezed orange juice then headed back to our suite to grab our bags. It was time to check out – but the getaway wasn't over yet.
Wynyard Hall Spa
The lakeside spa at Wynyard Hall was made even more tranquil by the fact that the lake was partly frozen into sheets of ice. The snow brought a stillness over the day that was perfect for our relaxed moods.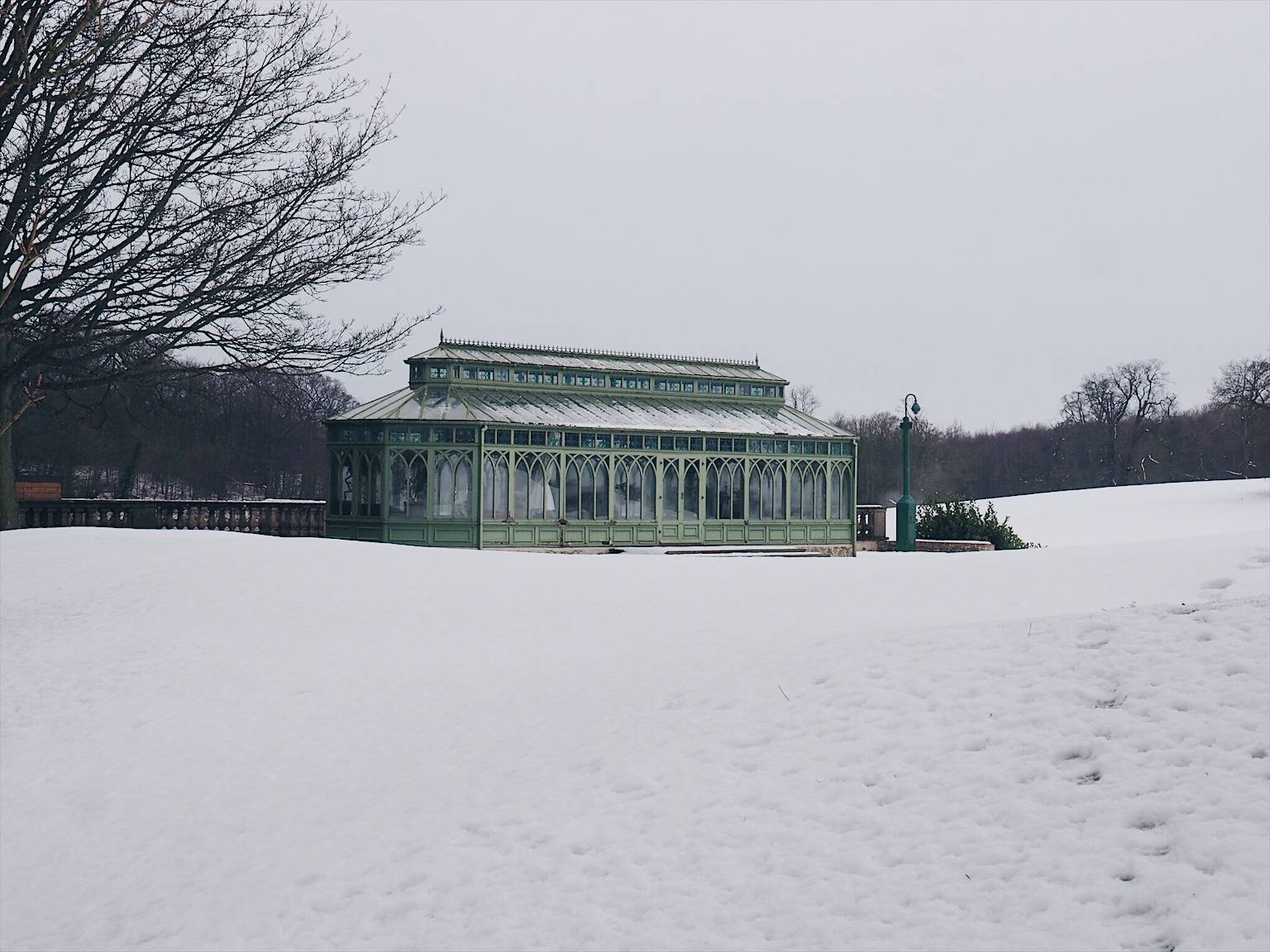 After a dip in the outdoor hot tubs, reclining in a steamy haze as we watched the resident ducks pick their way curiously over the frozen lake, we made use of the herbal sauna and salt inhalation room.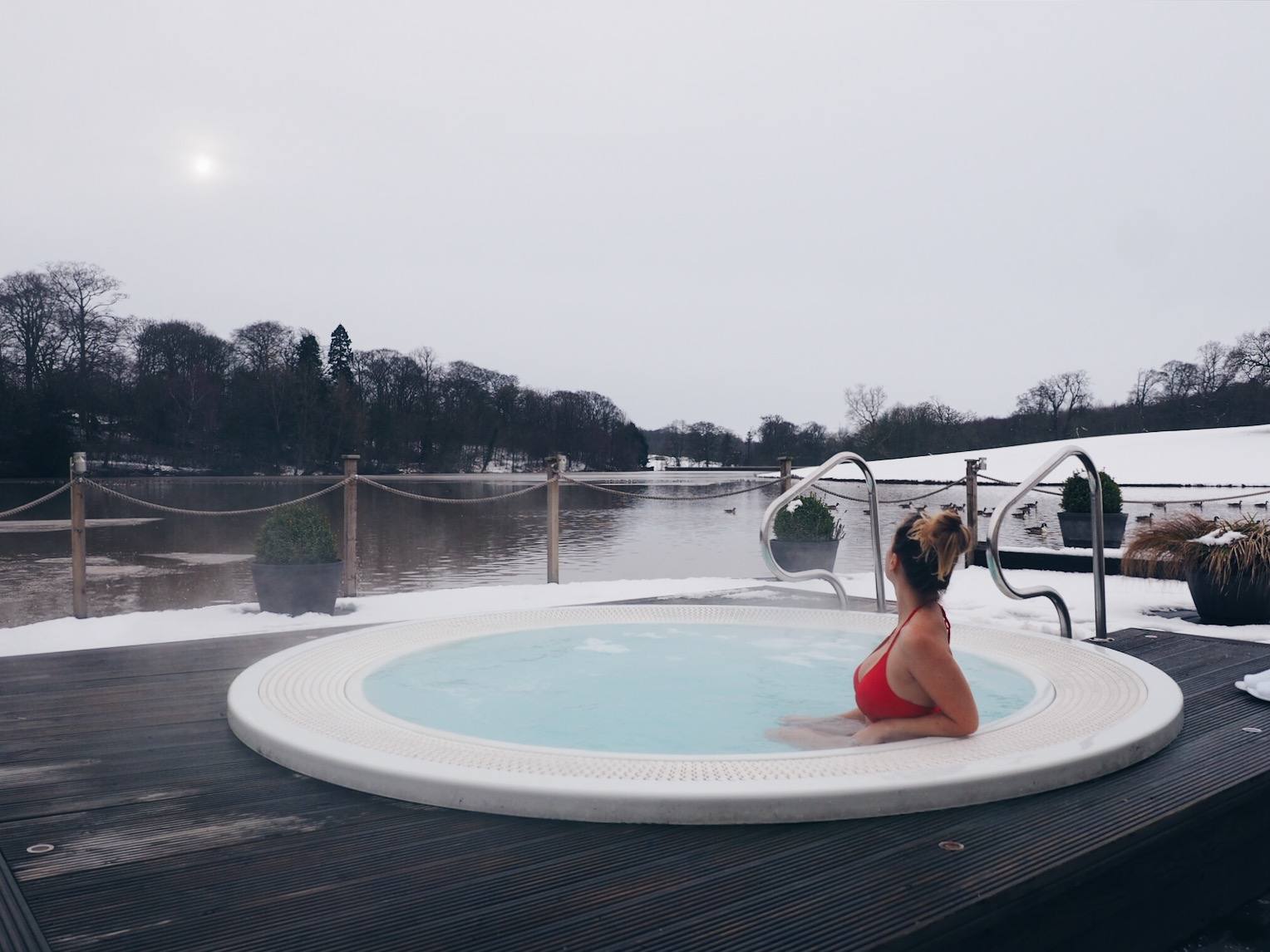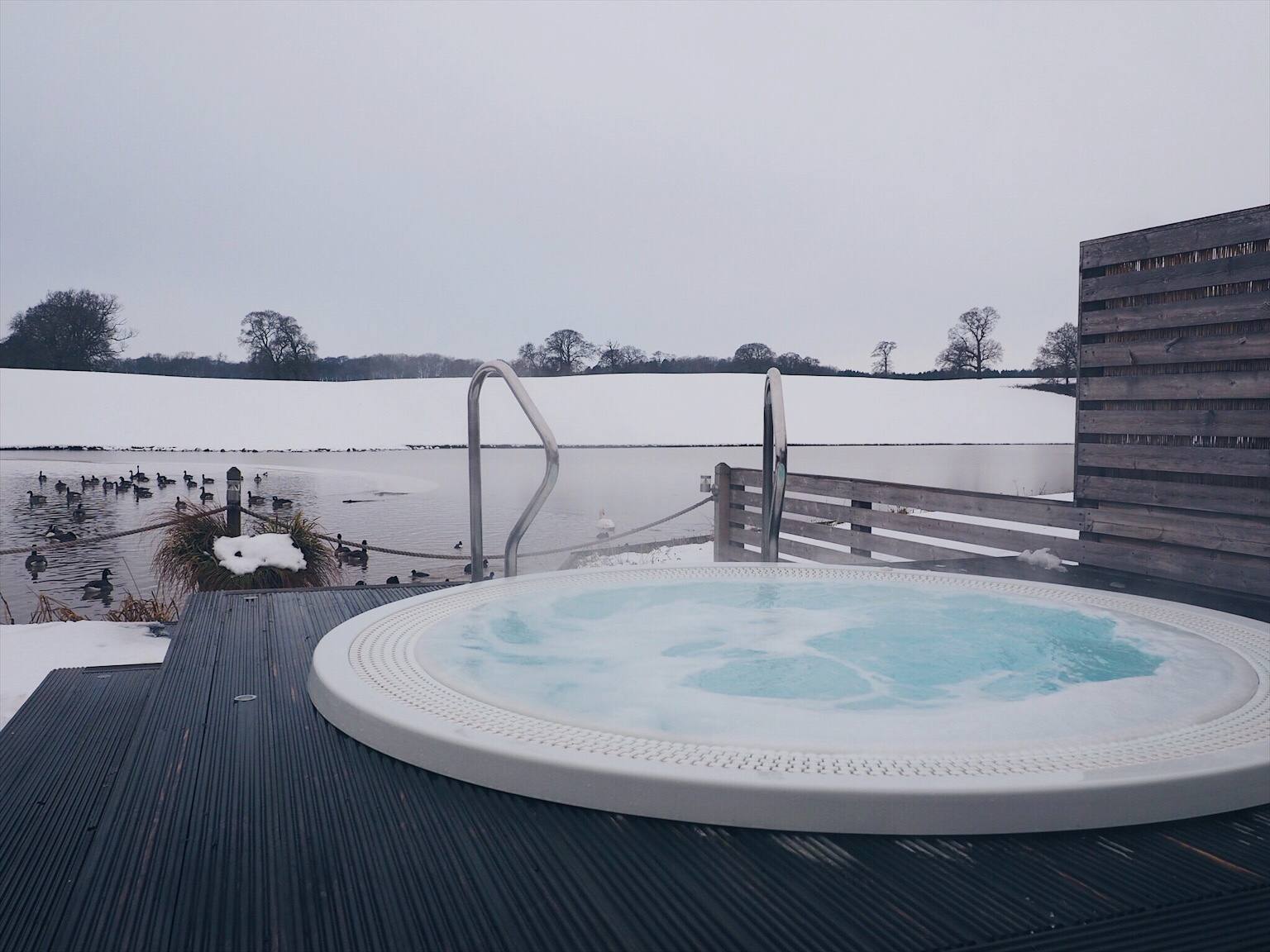 I've been to small spas before where there were just way too many people, but happily there were only a handful of other guests using the facilities that day, and it felt like we had the place to ourselves.
I was booked in for the Wynyard's Signature Treatment with the lovely Amy, who made me feel so relaxed. The treatment begins with a hot stone massage and ends with a calming aromatherapy facial. I've never had a hot stone massage before and wasn't sure what to expect, but Amy explained that it wouldn't hurt (phew, I had visions of me writhing on the table pretending to be all relaxed while my skin singed!).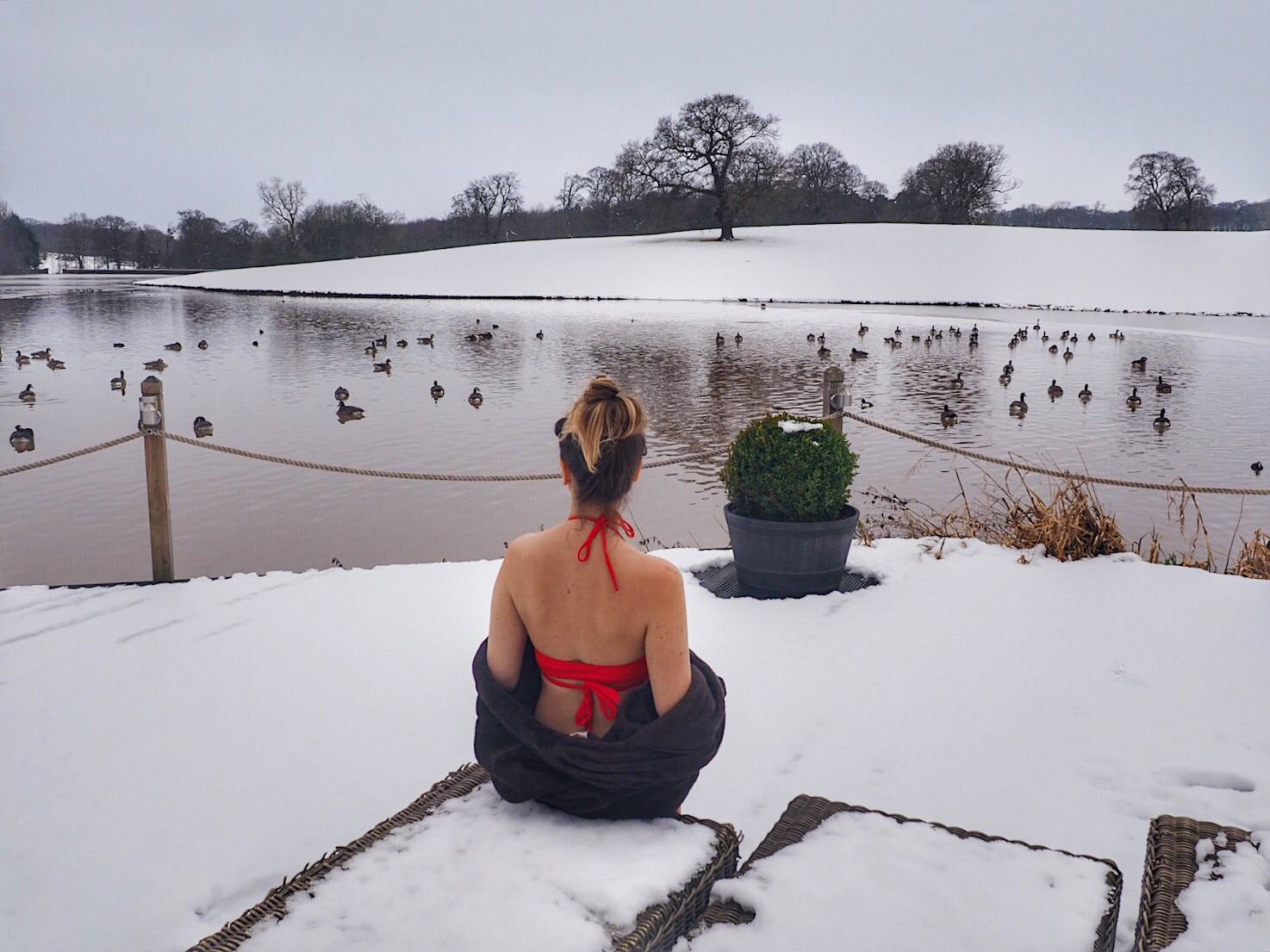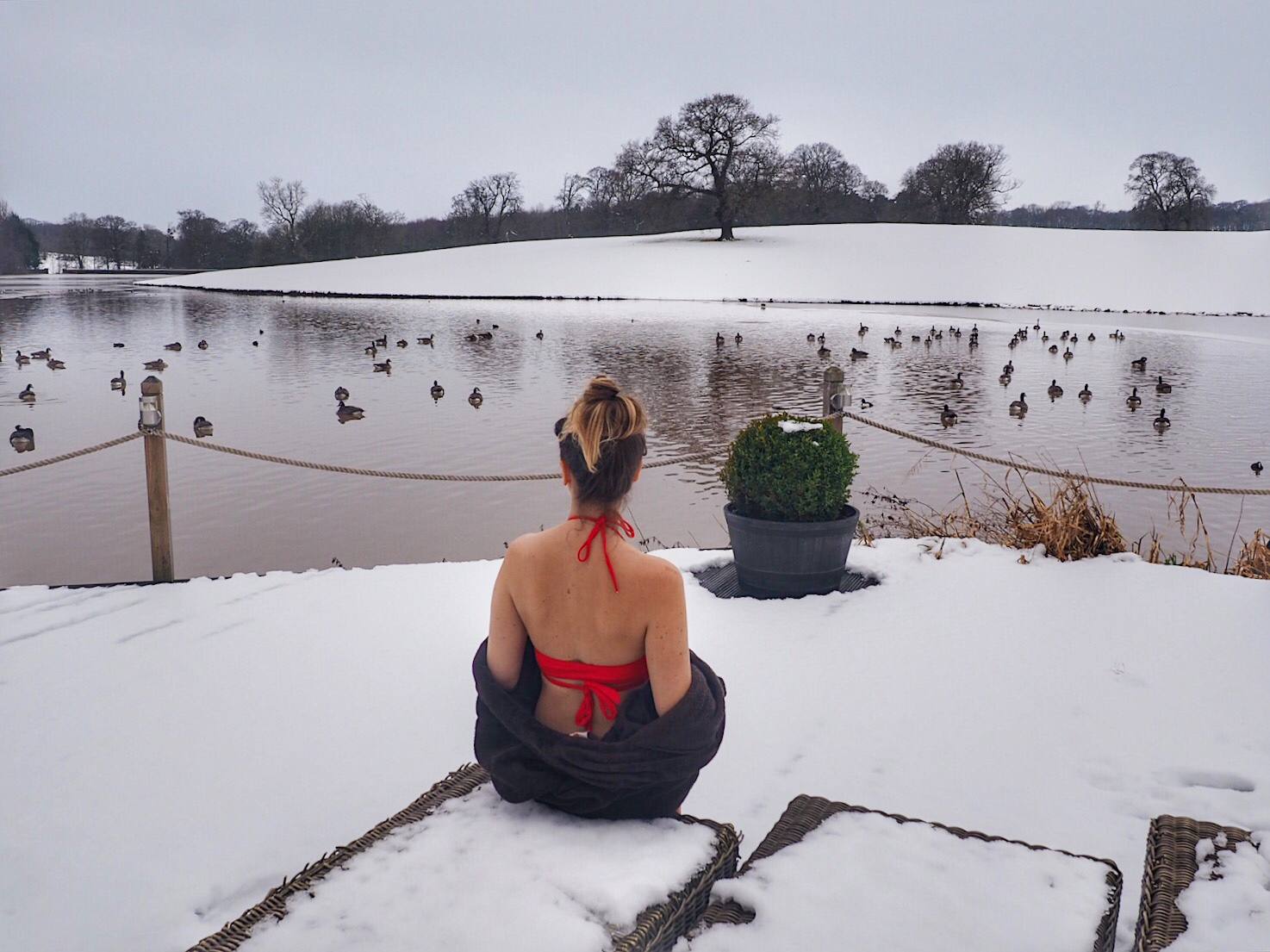 I was positively glowing afterwards, and again reminded myself to try and book a facial every six weeks. I've written a lot about my problem skin, and definitely think a good facial helps. The treatment I had costs £80, which I think is excellent value because it sorts both your body and face out.
I'd been struggling to fall asleep thanks to some leftover Jamaica jet lag, but slept like an actual baby that night. I'll have to go back to Wynyard Hall after every trip!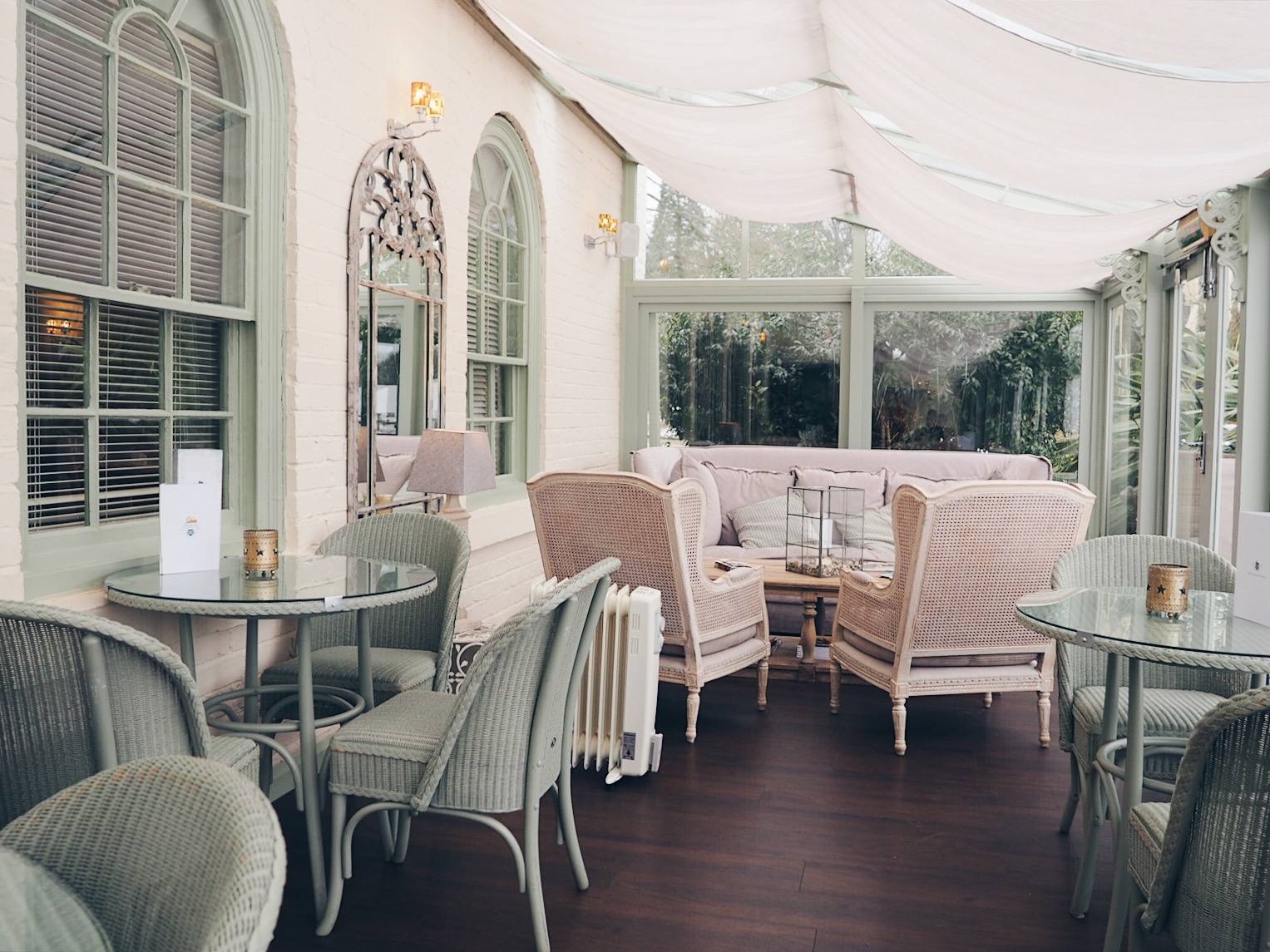 Tom also had his first ever facial – which was quite a shock for a man who doesn't use ANY skincare products on his face. It genuinely makes me stressed that he doesn't cleanse and moisturise, but he came out of the treatment room looking very smug because the facialist told him he had great skin and he should stick to whatever he's doing. Definitely poses a few questions about whether the skincare industry is one big lie! That being said, I really saw a difference in his skin over the next few days and the man in the corner shop told him he was looking young.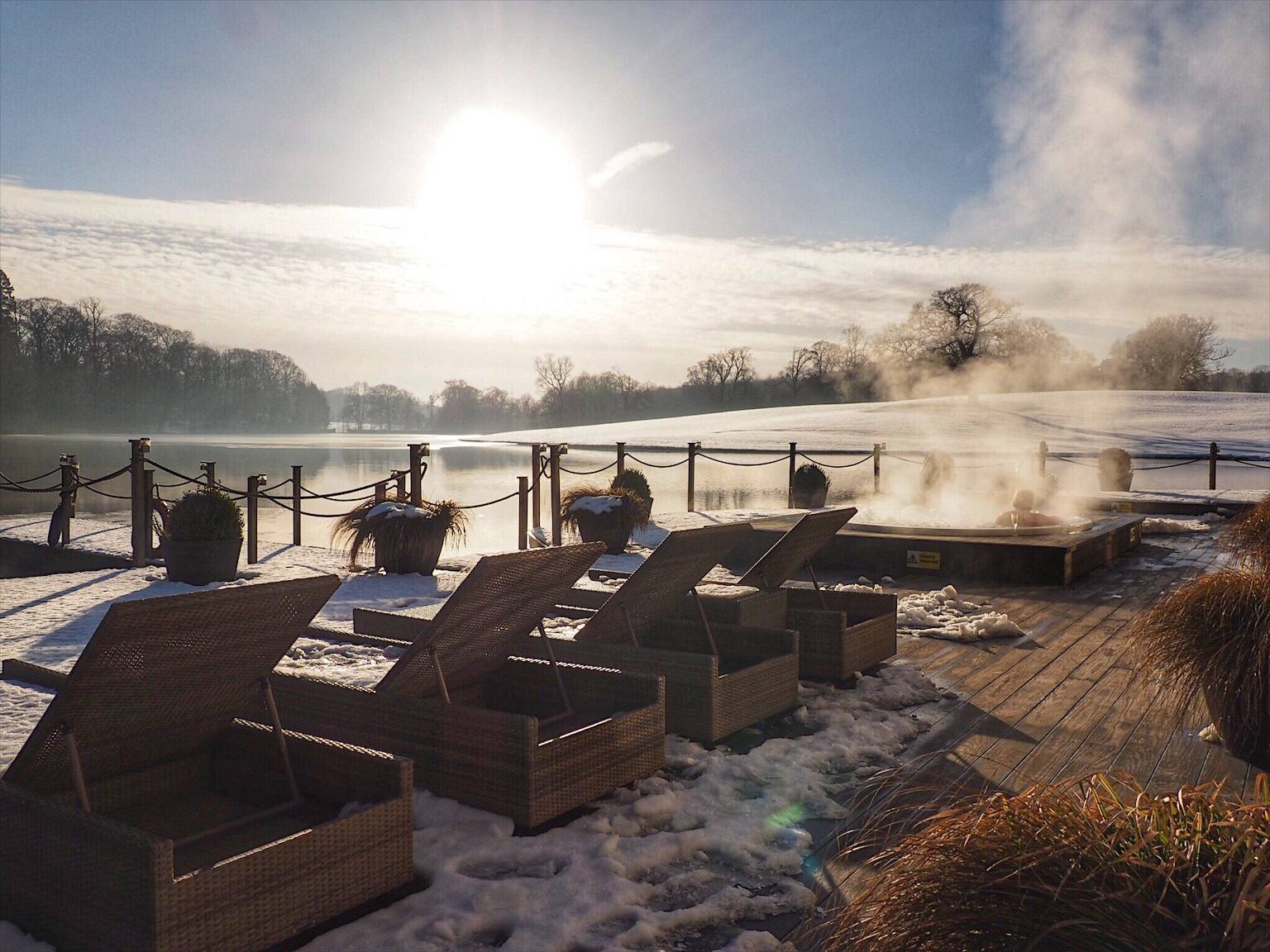 The snow made it hard for us to explore the grounds of Wynyard Hall during our stay, so I'll definitely be returning in the summer months for a walk in the gardens.
If you're looking for a romantic hotel in the North East or are planning a spa break in England, Wynyard Hall is a terrific option. With excellent food, supreme comfort and a luxurious setting, the hotel makes for an ideal place to shut the world out and relax. I'm already looking forward to our next visit.
Book your stay at Wynyard Hall
I was a guest of Wynyard Hall but views are my own.
Pin this