Australia was a blur of partying and hair of the dog hangovers, with unforgettable experiences squeezed in between. Byron Bay was no exception.
Tired and tanned from Fraser Island, C and I met Dan in a Brisbane bus station. Dan is our friend and long-suffering flatmate who had spent the past year studying in Melbourne. He brought his Danish friend Mikkel with him, and after pleasantries we boarded a bus to Byron Bay to meet Charlotte and Sarah, who are more friends from Uni of Edinburgh who were in Melbourne studying. They brought their Irish friend Paul with them, and the party was complete.
We had booked a chalet style room to ourselves at Aquarius Backpackers, and had our reunion drinks on the floor. A guy called Fran knocked on our door and joined in the drinking games. We renamed him Ian and he stayed with us because people were having sex in his room.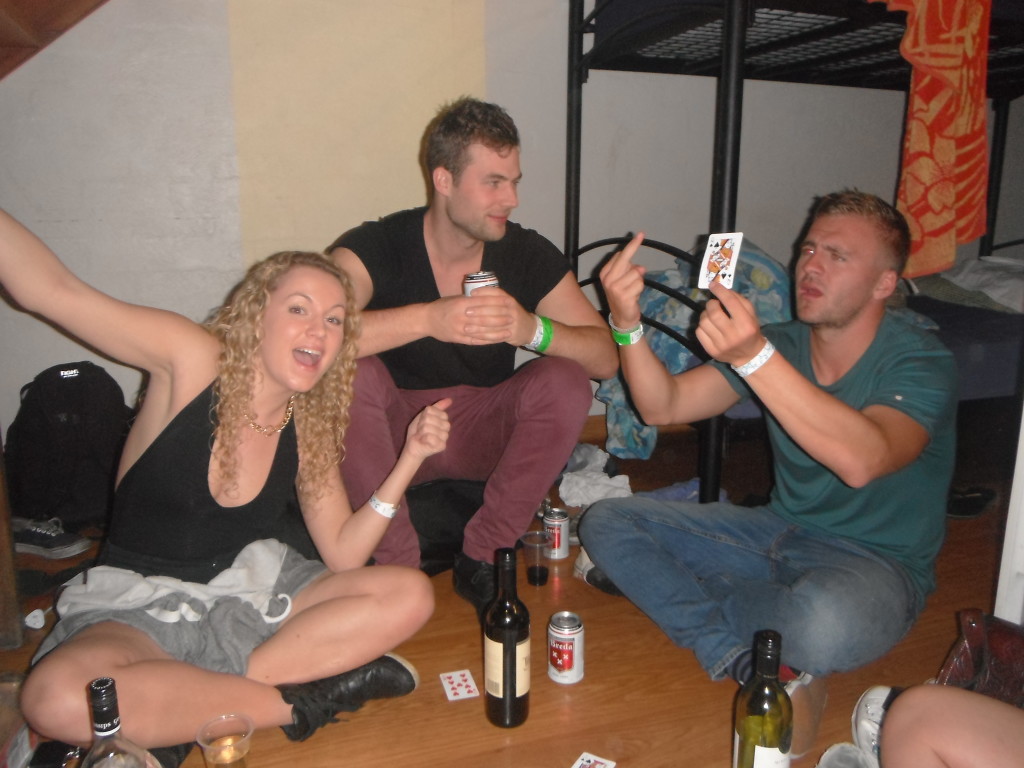 Byron Bay is a laid back beach town with a hippy vibe. It rained a lot so we couldn't really enjoy the beach, but we had a great time making fun of the boys in their wet suits when they went surfing. A quick dip in the Byron Bay sea is the best hangover cure!
We soon got bored watching them and walked around the cute shops. We all got hair wraps by a hippy lady on the roadside like we were seven year olds on holiday. I loved mine, and Char got a Virgin Mary pendant wrapped into the end of hers. The lady told us that we had to think of something we wanted to achieve before we took our wraps out.
Sarah had FOMO because she didn't get a hair wrap so she bought a necklace that had a tiny harmonica dangling from it, and spent the rest of the trip playing us songs.
We spent the days browsing the boho-chic shops, where C and Char bought rainbow ribbons attached to long sticks. From that day on, the Gay Pride flags went everywhere with us.
Byron Bay was all about the nightlife.
Cheeky Monkeys is Byron Bay's backpacker haven, with cheap meals and dancing on the benches. We all danced with boys and Char made everyone she met kiss her Virgin Mary pendant. When she flicked her hair seductively it would swing round and hit her in the face. We were all having the best time but then a girl took her clothes off next to me and C shouted, " Dannielle Be Careful!!" to alert me to the danger. Then C and Char fell off, taking a few people with them, and got kicked out. Mikkel lifted both of them up and did squats on the dance floor. They went to the bakery and got 6 pies then walked along the road with their trousers around their ankles.
On the walk home another night Sarah and C ran ahead and when the rest of us rounded the corner, they were dancing with most of their clothes off in the car park of the hostel. I will never forget the moonlight bouncing off Sarah's bare breasts.
By the end of our stay Aquarius hated us. We almost got kicked out when the guard came to tell us to quieten down for the millionth time and found C and Char literally swinging from the rafters. They had climbed over the banister of the mezzanine and were doing a performance from the roof. They had taken all the mattresses off the bunk beds and put them on the floor so everyone could sleep next to each other.
Next day, us girls headed out to drink away our hangovers while the boys slept their's off (pussies). We had passion fruit caprihinas then the boys joined us at Balcony Bar. The Vodka Fling cocktails were mouth watering- vodka, fresh watermelon, strawberry liqour and apple juice. While Sarah sipped her Lychee Martini, C ordered the same, but added, "Can you hold the fish?" Never have I met someone who mistook lychee fruit garnish for seafood.
We asked Sarah why she hadn't kissed the boy she had been talking to the night before and she replied, "He just… really didn't want to". Fair enough.
It was with great reluctance and bleary eyes we left Bryon Bay, still drunk after rolling in to our bunks an hour before. As we shoved our clothes into bags, I made the huge error of admitting I had thought we were getting a bus from Byron to Sydney. " Oh am I flying?" Good thing C planned that part of the trip.
Anyone else had a Byron Bay experience?
Like While I'm Young on Facebook and say hello!