I'm writing this at the airport, en route to Bucharest! I hope you're ready for some serious Romania eye candy. I inexplicably booked to travel from Newcastle to Edinburgh to Stansted to Bucharest and back, and now I'm regretting it. As much as I love airport snacks I sometimes feel like I'm constantly in transit, and I'm gutted that I booked such a long-winded route because I'm going to miss tonight's opening party for #ExperienceBucharest, the tourism event I'll be attending.
When I eventually get there.
For now, here's some style inspiration for the coming summer months, featuring the perfect pair of jeans and a smart/casual playsuit that works for any occasion.
My favourite day to night outfits
The jeans and tee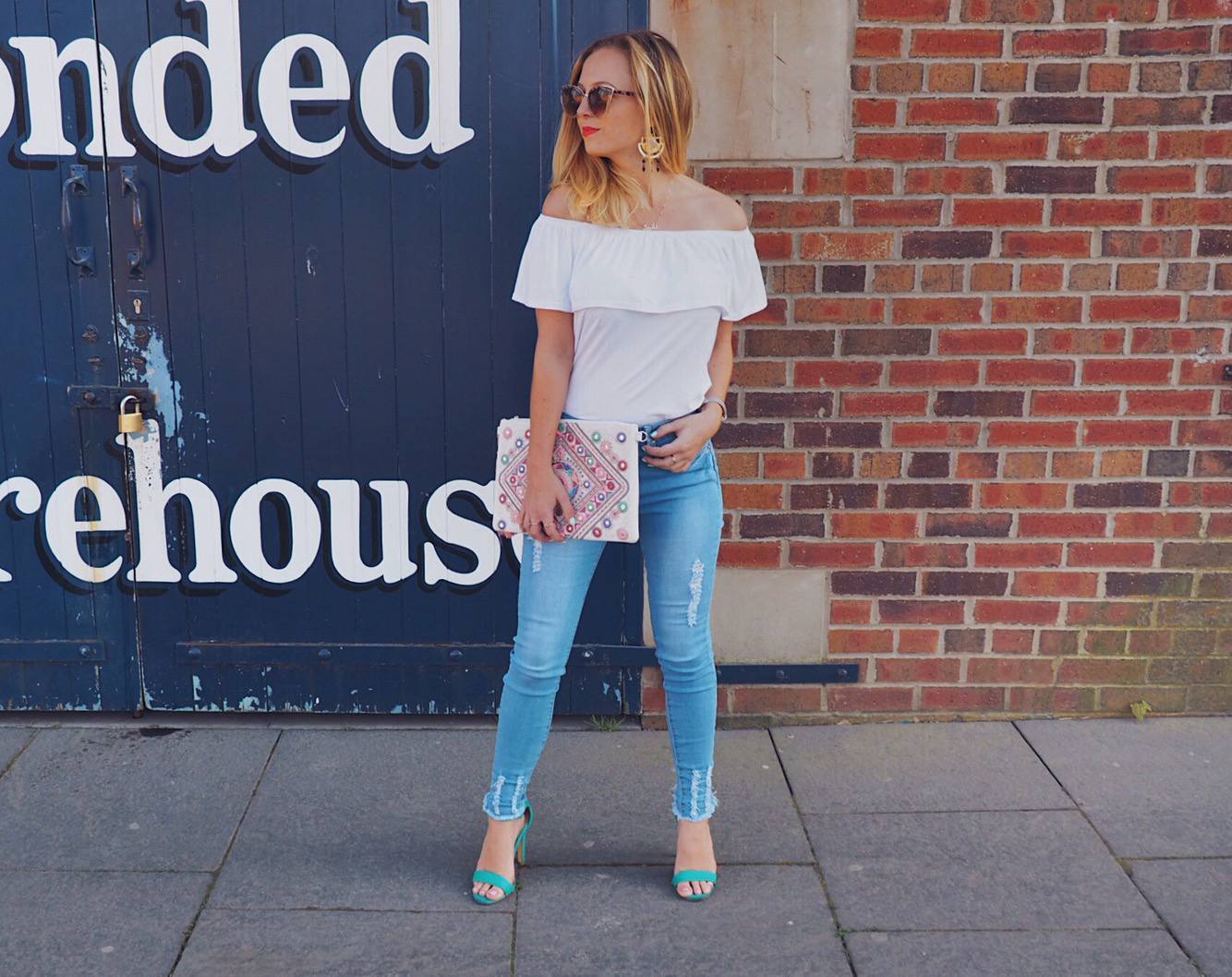 I hate shopping for jeans. I'm always concerned that without trying them on, there's a massive possibility of jeans making my bum look more like a 2 than the strong 7 it can be (on days I've done my squats). Is that just me? I don't trust sizing to tell me if a pair of jeans will do my backside justice, yet I also hate the hassle of trying them on in shops.  In fact, this Quiz pair are the first I've ever ordered online. By some Beyoncé-bestowed miracle, these distressed blue denims fit in all the right places. The rips and frayed hem are everywhere at the minute and though I was dubious about the whole trend, I loved it once I tried it. First they laugh, then they copy.
I paired them with a simple white Bardot top from Primark (I think it was £6), dangly earrings and mint green strapped heels. By day, I'd just throw on some slip-ons and a trench coat.
The embroidered oversized clutch is also from Quiz. Ok, so it won't fit anything bulky, but look how pretty.
Shop the look
The pinstripe playsuit
Can we just appreciate how handy and versatile playsuits are? All the ease of throwing on a dress and calling it an outfit, with none of the hassle of actually wearing a dress on a breezy British summer day. I was on the hunt for one that could be easily dressed up or down and actually managed to find it. The culottes-style bottom makes this outfit super comfy and the material means that even big booby b*tches like me can get away with going bra-less. I also enjoy that the tied waist clinches you in and keep things flattering.
I dressed mine up with a pink duster coat and slip ons.
Shop the look
Et voila. Two outfits that will take you from beer garden to accidental club booth alllll summer long. What are the key pieces you'll be wearing all season? This post contains PR samples but style is my own.