There are countless lists out there featuring the best travel blogs. Here's my contribution. These travel blogs are the ones I think every world-hungry, money-weary twenty something should be reading.
Some of the travel bloggers featured on this list are relatively new, or not getting the attention they deserve, in my humble opinion. Others are well established and if you haven't already heard of them, you've clearly been hiding in a rock or (the horror!), been on some kind of weird digital detox for the past year. Some of them blog about luxury experiences we can only dream of, others share their honest travel hacks and itineraries to help their readers attain the same lifestyle. They all share guides, advice and anecdotes that make their loyal readers smile.
I love travel blogs. They entertain, they inspire and they fuel my everlasting wanderlust. I love travel bloggers even more. They're the ones with the biggest smiles, biggest hearts and biggest cameras. I've been lucky enough to meet some of the people on this list, and one thing I'm always struck by is the openness and kindness that exists in the travel community. Whether it's in a hostel or on the road, people who travel are definitely the best kind of people!

My favourite travel blogs
Lucy'SmilesAway
Lucy really does smile away – and she usually is miles away. I was lucky enough to meet her at a blogging event in Leeds, and she's one of those people you want to be best mates with straight away. I went home and read her blog, and quickly realised that this girl is everywhere at the minute. She wrote a post about some creep w*nking at her in India and it went viral, showing how a female's wrath will always bring us out on top. I'm not sure I'll ever visit India, so I enjoy travelling vicariously through her stories. Give her website a read and see what else she's up to!
I didn't know glamorous travel in India was possible until I discovered Rachel's blog. For her, it's all about balance. She describes herself as 'one part dirty hippie, one part girlie girl', which I reckon any gal with a backpack can identify with. She's a big believer in working six months to travel the other six, which is just the dream really, isn't it?
Monica Scott is the awe-inspiring woman behind The Travel Hack, one of the UK's top 10 travel blogs. Proving that slumming it in a hostel isn't the only way to have an adventure, she built a bit of an empire with her luxury travel website and now has a crew of jet-setting writers. She breaks the mold by travelling with her two babies, showing us that travel and 'settling' aren't completely at odds with each other.
4. GirlvsGlobe
Sabina uses GirlvsGlobe as a progress report in her quest to make the world her home, and I use it as a source of inspiration. She's doing well in her aims so far, and aside from bubbly posts like '99 things to do instead of growing up', she's also using the platform she's built to promote social change. Sabina took part in a #EYD2015 project series where she teamed up with the European Commission to embark on a whirlwind trip around the world, to expose what life is like in different countries. This girl is unstoppable!
Sabrina is from Berlin and has been embracing travel as a lifestyle since 2008. Quite an achievement! The Philippines is her specialty but she's also blogged her way around Europe, Maldives, Bali… the list is endless. Oh, and she isn't shy about sharing how she manages it, with posts with titles like '8 Steps to Freedom: How I quit my job and traveled around the world'. #Goals.
6. Nomadic Boys
Stefan and Sebastian are two self-confessed 'greedy gayboys' travelling the world. Literally every social media update seems to be a picture of one of them tucking into a big plate of noodles or some other cultural delicacy! They left London in June 2014 and are basically living the dream, eating their way around Asia indefinitely. The lads use food and big smiles to transcend language barriers. They blog about the gay scenes they encounter wherever they go.
Drew is from Arizona and was bitten by the travel bug during his year studying in Prague. He used the year to travel to over 20 European countries… and then just kept going. He taught English in Seoul and travelled much of Asia. Now, he's visited over 250 cities and partied in every single one of them. A guy after my own heart! What's great about Drew's website is that he inspires you to get out of your comfort zone and live your best life – wherever that journey may take you.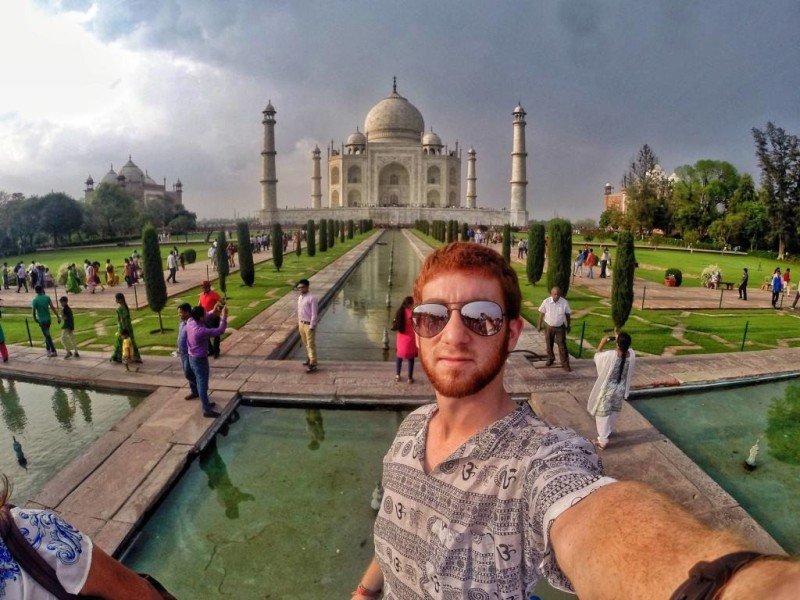 This website will definitely make you want to travel in Latin America. The couple, Andrew and Emily, write guides and share photojournals of their 'slow travel' around Central and South America. Their philosophy involves actually taking the time to really experience the culture they find themselves in, which means their blog isn't all tourist hot spots and rammed itineraries. They aim to live on around £15 each to show that budget travel is completely doable and every bit as incredible. Love on the road, embodied.
Jayne Gorman has moved from London to Sydney and writes about books, blogging, street art & sweet treats – all of my favourite things! She's an accidental travel blogger, having studied law then started a social media business, which is the money maker for many a digital nomad. Yes, Jayne turned her hobby into a career. She's already achieved her goal of blogging about 40 countries before she turned 30, and she celebrated in Thailand. Oh, and she once won Cosmo's Best Travel Blog, so I think we should all listen to her! She's been doing this for over five years and shows no signs of slowing down.
Simone and Dan are the ultimate travelling couple. She's Australian, he's English and they met while travelling in South America – can you think of a better love story? They're a bit fancy and write about luxury travel experiences, which makes for some drool-worthy posts. That's not to say these two aren't up for roughing it now and then though. Whether they're horseback riding in Bolivia or reviewing the 'most seductive lodge on the planet' in South Africa; the flashpackers will be sharing their adventures.
Who is your absolute favourite travel blogger? I bet I've missed out someone incredible, so leave suggestions in the comments. I love discovering new blogs to fuel my wanderlust.
You can like While I'm Young on Facebook and follow me on Twitter and Instagram. Don't forget to subscribe!