If you're in to golf, you'll have heard of The Belfry, a luxury hotel and golf resort near Birmingham in the UK. Tom and I stayed for one night last weekend and enjoyed a beautiful three-course dinner in the Ryder Grill, had a golf lesson at The Academy and finished our getaway with the Belfry Spa's signature Fire and Ice experience. I've put together a full review of The Belfry Hotel and all of its facilities, because I think it's the perfect place for a UK staycation that suits both of you – and there's plenty for kids as well.
My goal for the weekend was to perfect my swing, because I've got a golfing press trip to Austria coming up soon – but I was also looking forward to spending some quality time with my man and relaxing in a gorgeous hotel!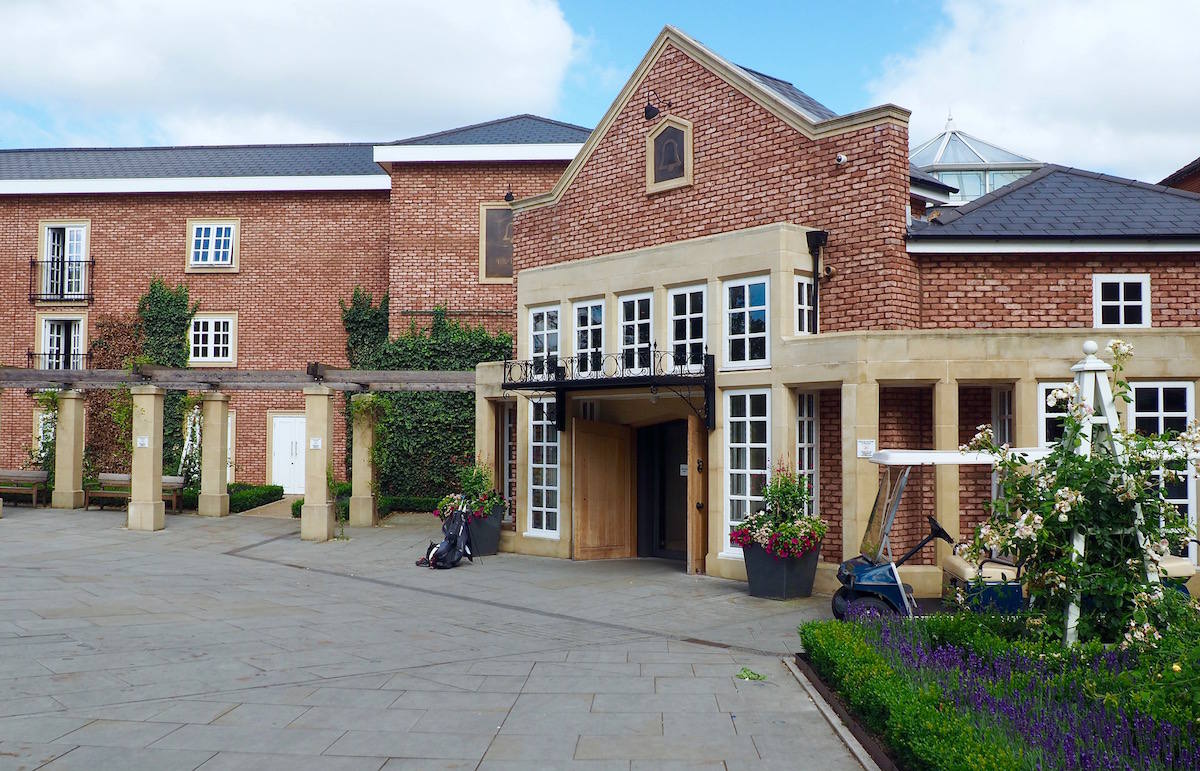 The Belfry is a huge resort, with seemingly endless event and conference rooms, lodges that are screaming out for hen and stag getaways, an on-site night club and no less than three different golf courses, as well as a mini golf course and golf shop. I would have quite liked to commandeer a golf buggy and take it for a ride around the grounds. The hotel is surrounded by 500 acres of resplendent countryside and we'd chosen a glorious summer day to visit.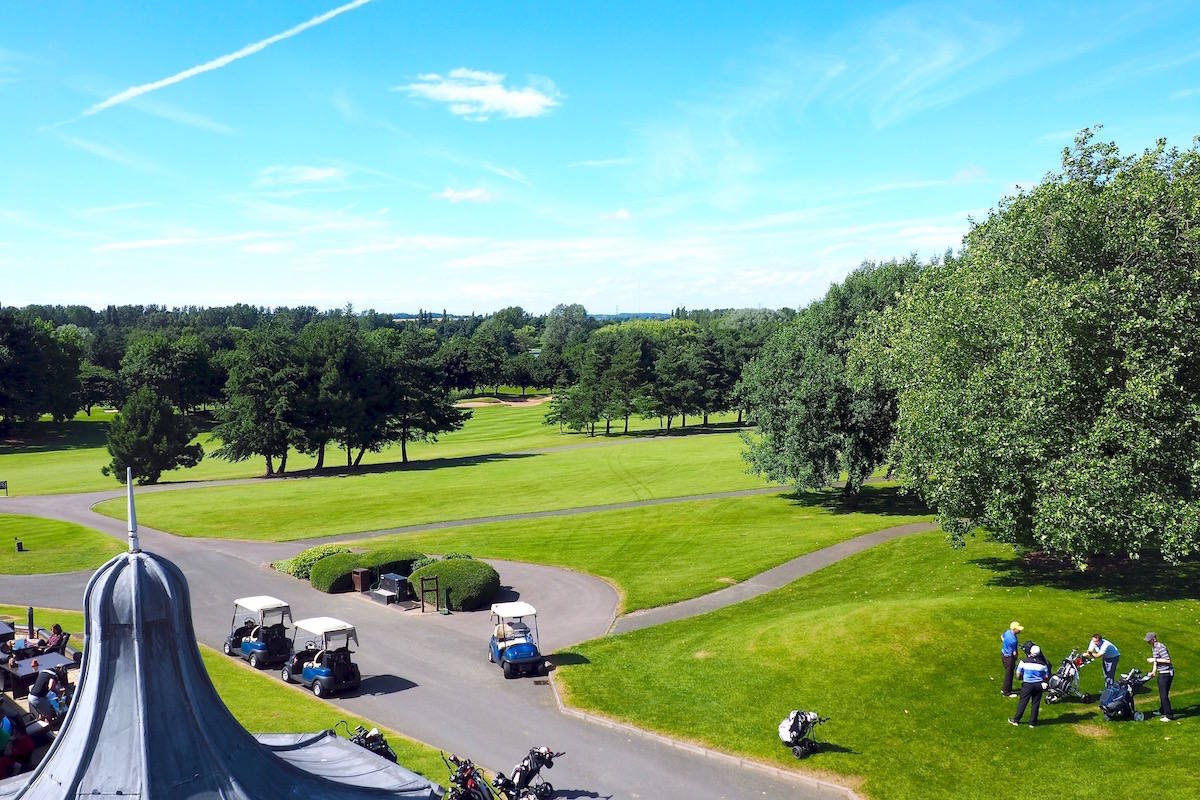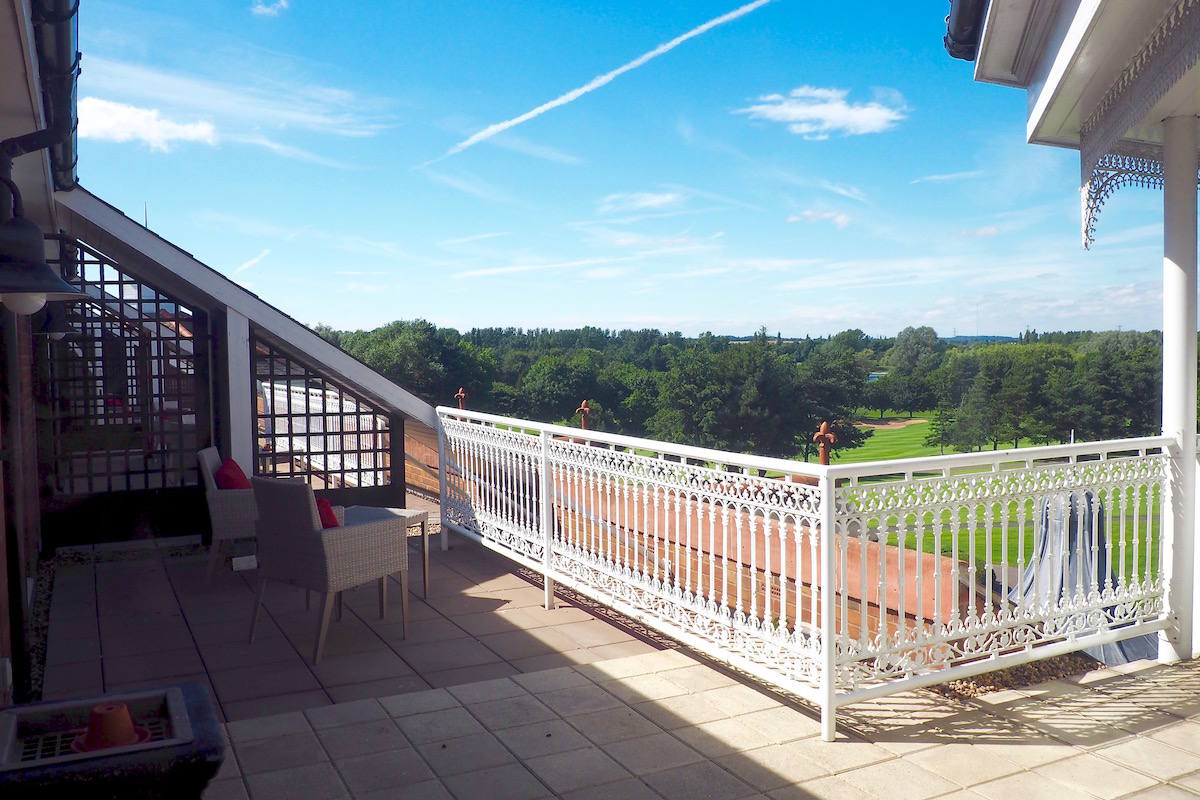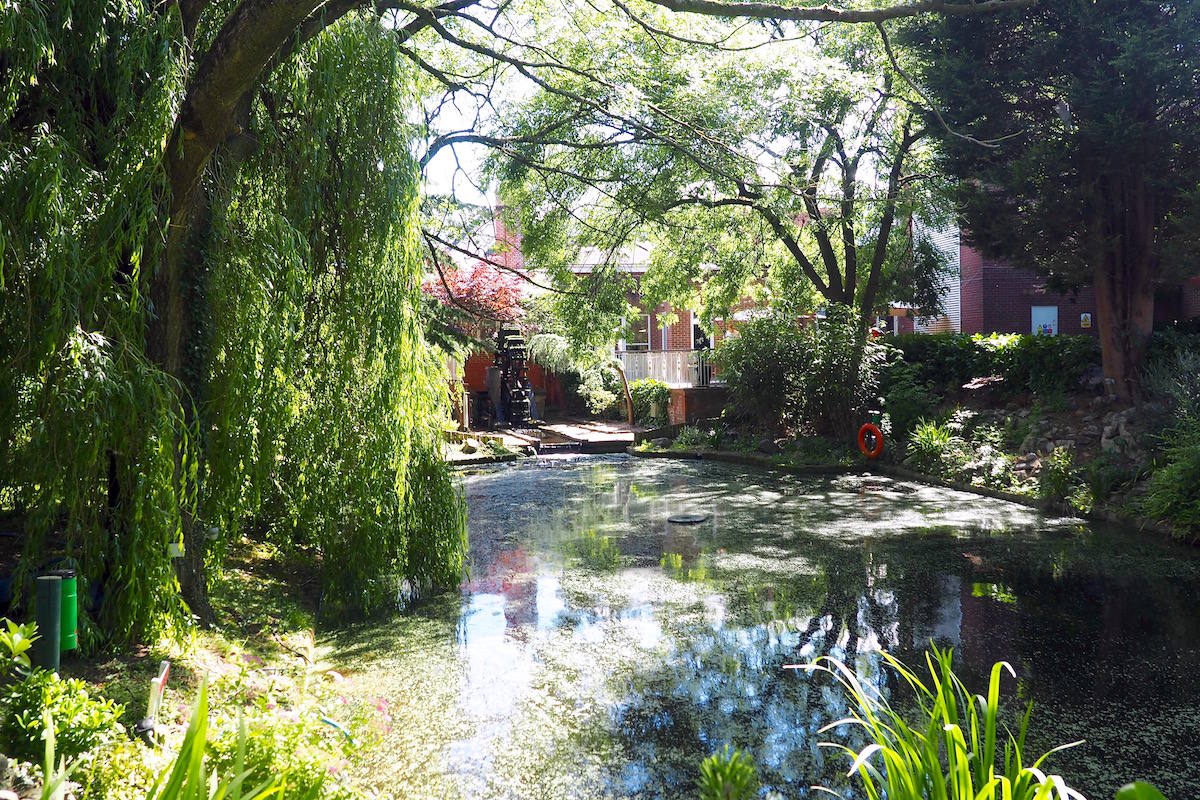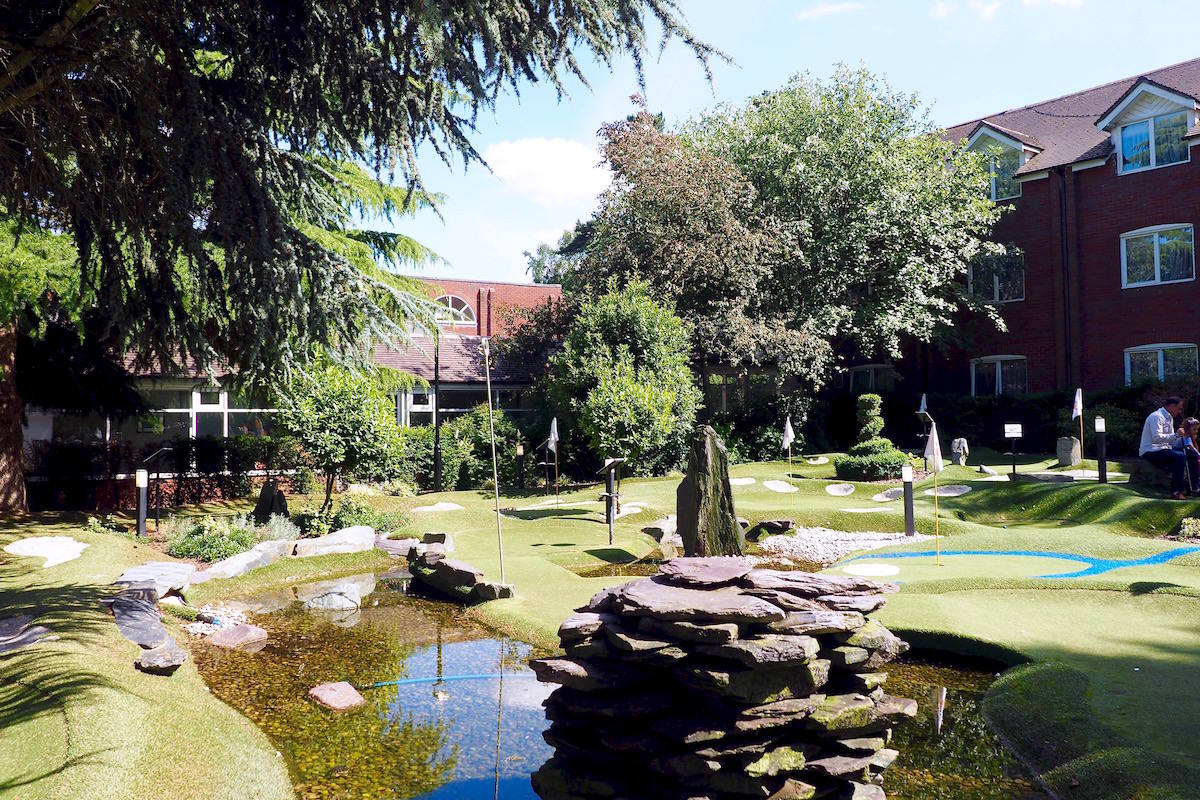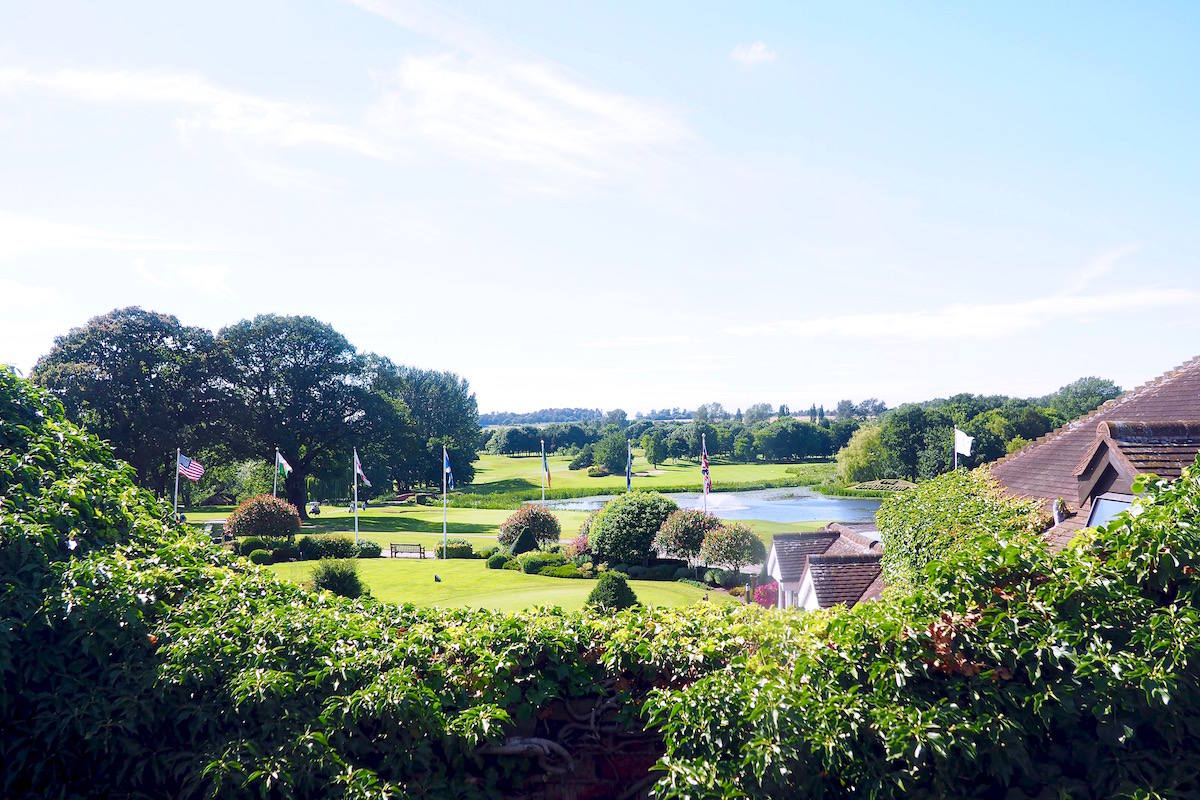 We were lucky enough to catch a glimpse of a beautiful bride getting ready to greet her wedding guests as we crunched over the gravel at the resort's entrance, so I was immediately excited for a stay filled with little delights.
Our review of The Belfry Hotel & Resort
Hotel overview: an introduction to The Belfry
In the elegant foyer, light spills in through a huge skylight. In the winter months, a log fire burns (I'll be back to sit next to this with a hot chocolate, for sure), but no heating was necessary during our early July visit.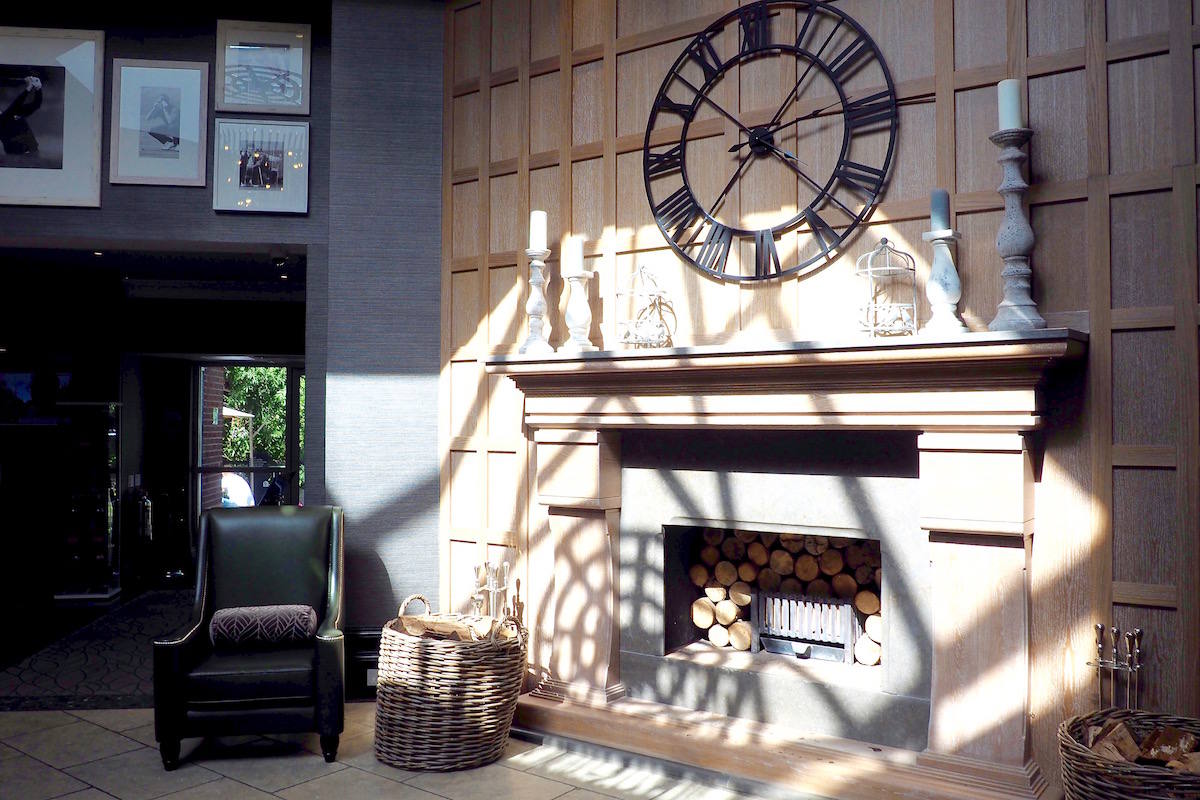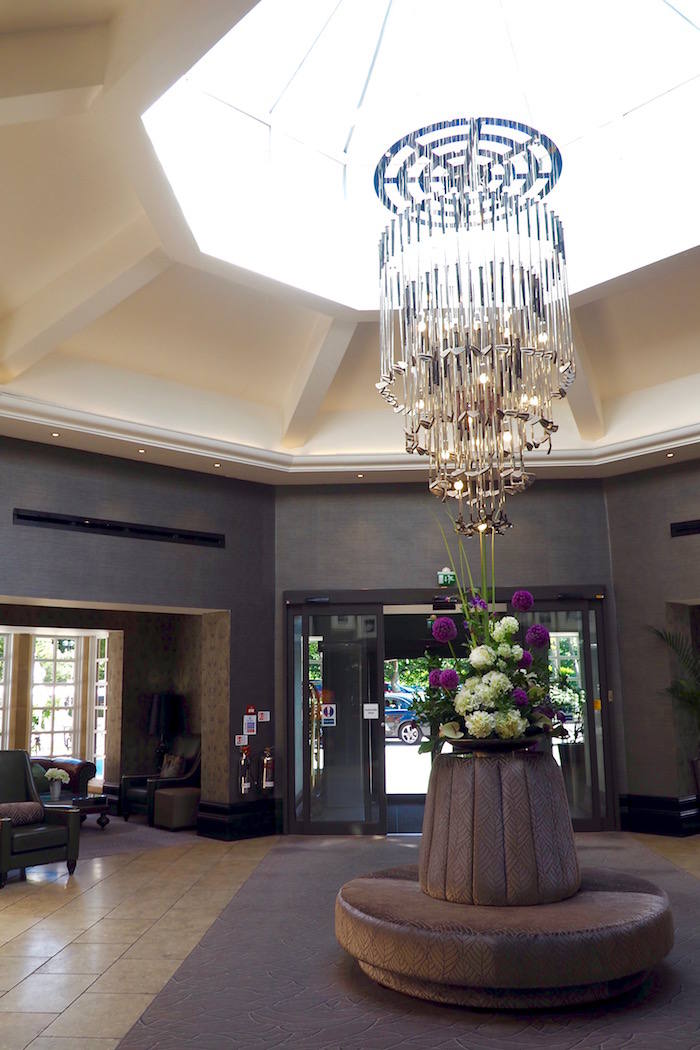 Casual dining at Sam's Club House
After checking in, I was hankering after a G&T and Tom definitely needed a pint to relax after the drive from Up North, so we headed to Sam's Club House. This is The Belfry's casual bar and restaurant, and it was packed with apres-golf drinkers (is that a thing? I hope so), who were watching the game on the big screens and commiserating over missed Birdies.
There's plenty of seating outside overlooking the final green so we took our drinks al fresco, then came inside for a light bite.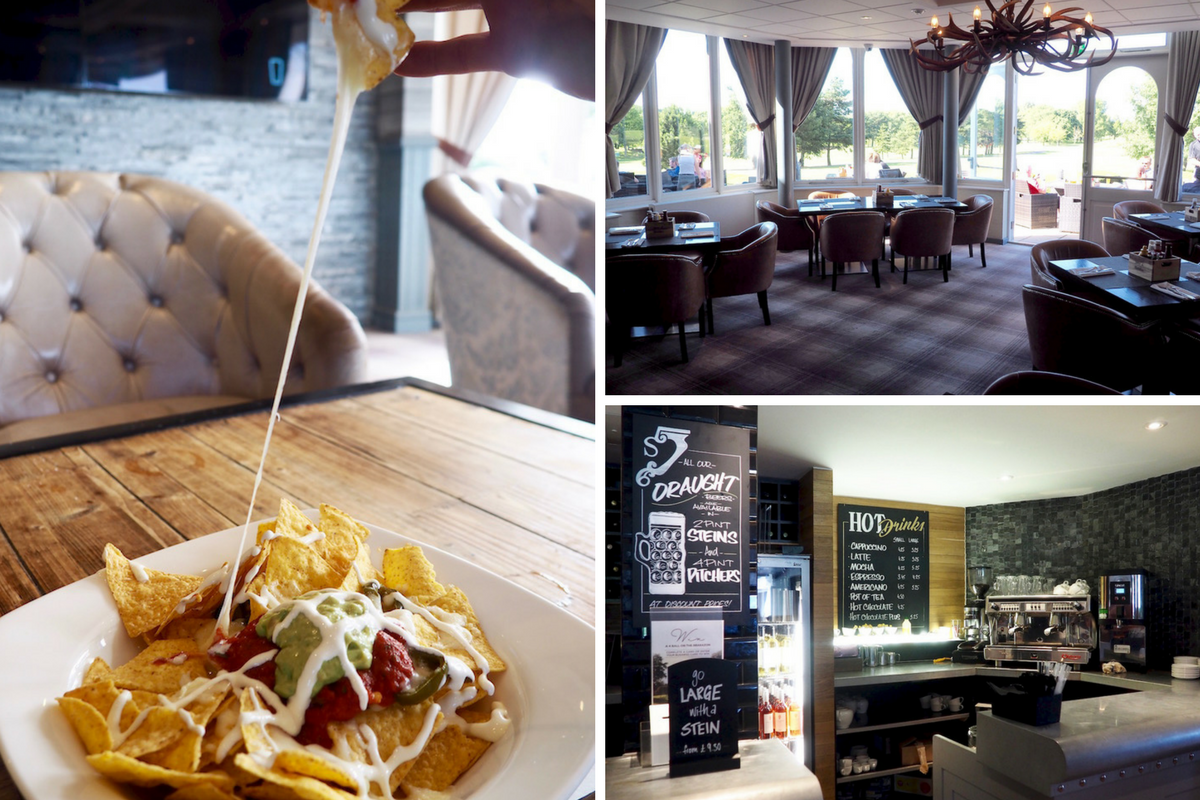 A glance around the clientele at Sam's Club House told me that I definitely hadn't packed appropriate golf attire. I'm going to have to go shopping before my trip to Austria!
Feeling fancy at Brabazon bar
Oh, that bar. The Belfry's foyer holds the very bar from my teenage dreams, when I fancied that my twenties would largely consist of sitting at bars like this one in an expensive cocktail dress, graciously allowing a dashing gent to pay for my martinis. Well, I'm 25 and I don't like martinis, but I do love gin cocktails, and the Bloom Gin & Fevertree with strawberries and mint served at Brabazon Bar go down a treat. I popped in for a pre-dinner drink with my real-life dashing man, and spent a lovely hour people-watching here. The afternoon teas looked to die for too.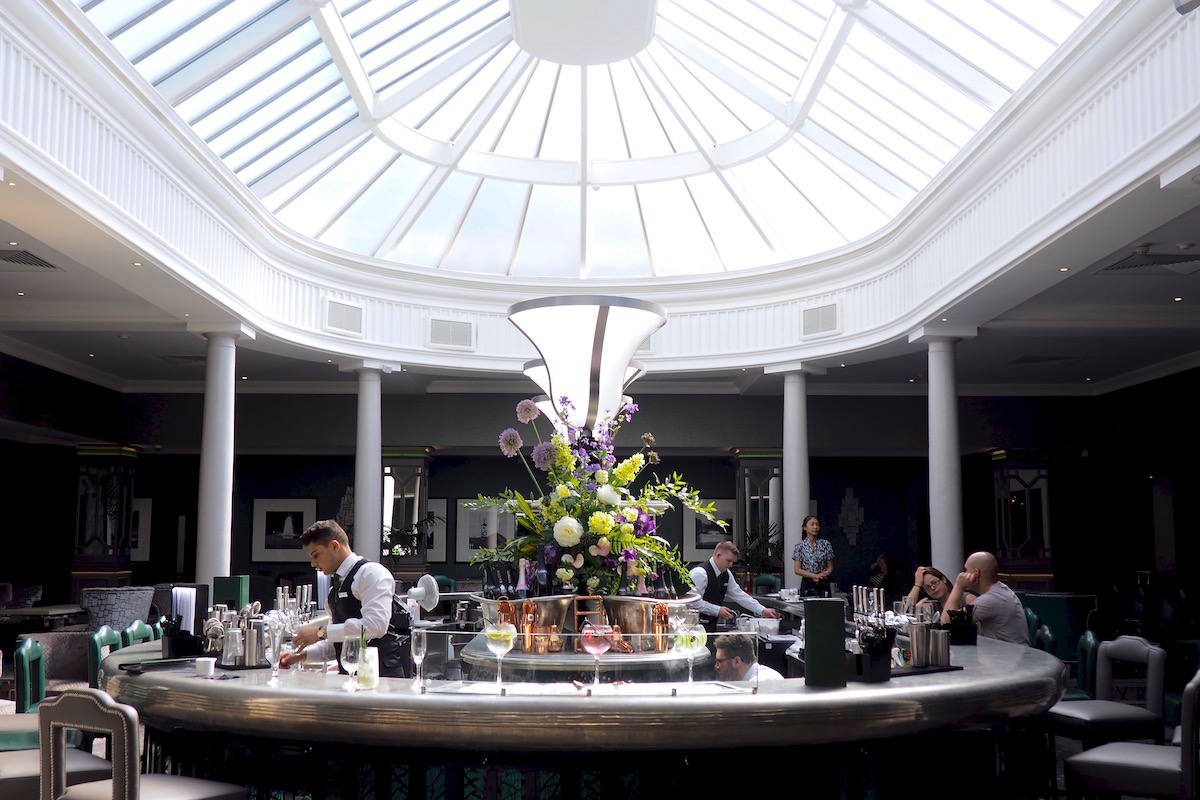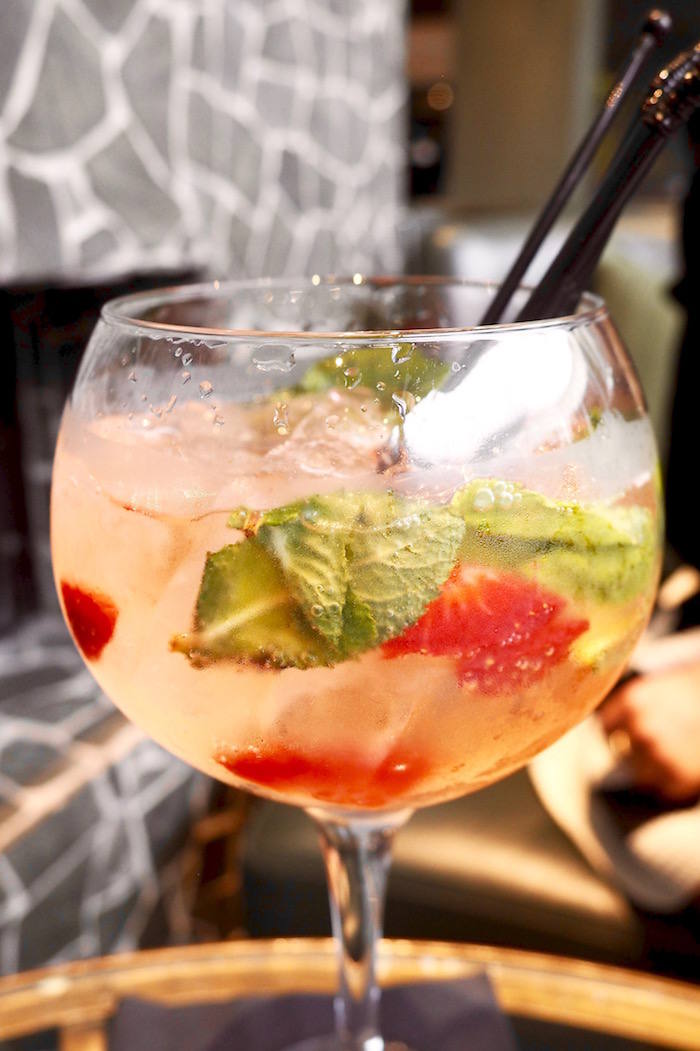 Dinner to remember at The Belfry's Ryder Grill
Dinner was a stand-out experience at The Belfry. We were booked in for a three-course meal at The Ryder Grill, and had a perfect romantic evening over some truly impressive food.
We munched on assorted breads with oil and balsamic vinegar as we perused the menu. You can choose between a la carte and the buffet for each course (see? The Belfry really do offer something for everyone) so in the interest of research, we decided to take our starter from the buffet and order our mains from the menu.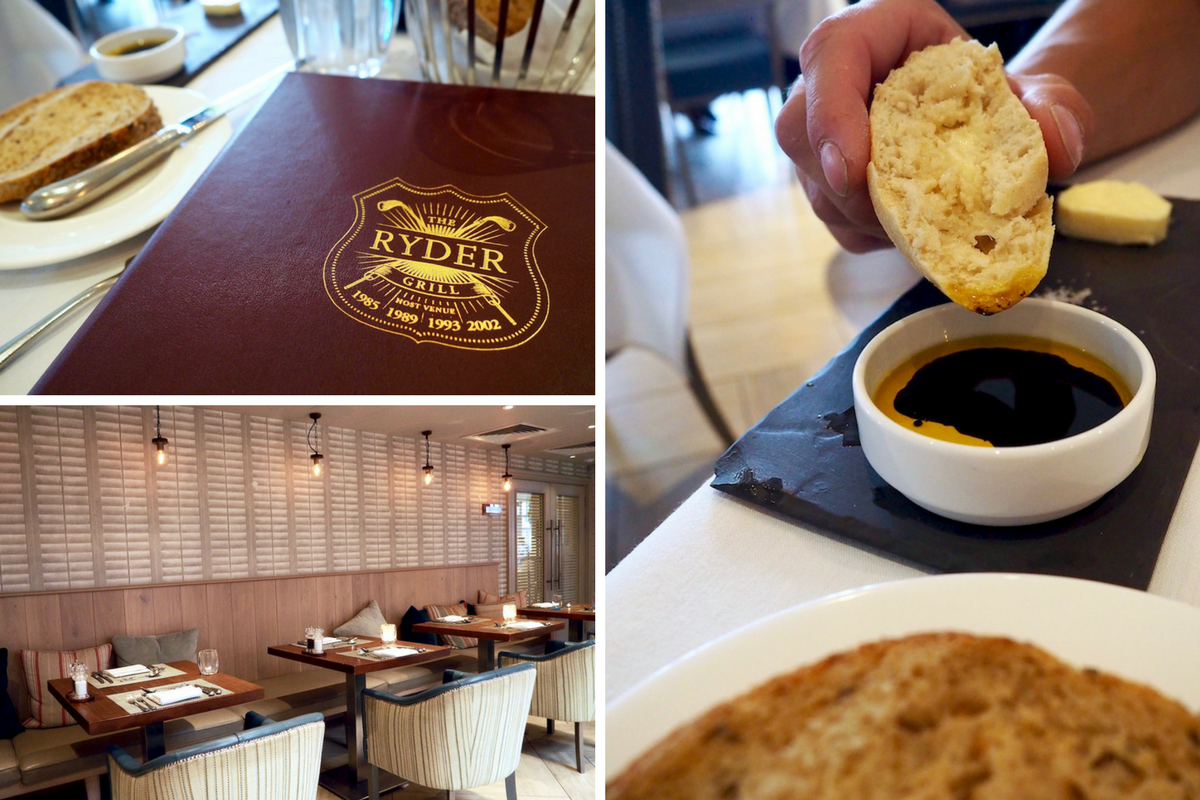 I loaded my plate with fresh salads and cured meats, all of which were delicious.
For mains, Tom went straight for the fillet steak and I opted for the surf n' turf – fillet steak with half a lobster. Well, a girl's gotta treat herself, right?
As soon as our mains arrived, it became apparent why The Ryder Grill won OpenTable's Diners' Choice Award this year. The focus was most definitely on high quality ingredients, exquisite presentation and most importantly – flavour.
Our fillet steaks were peak medium-rare, melting in the mouth, and my lobster was honestly the best I've ever tasted. It was bathed in a fragrant garlic butter.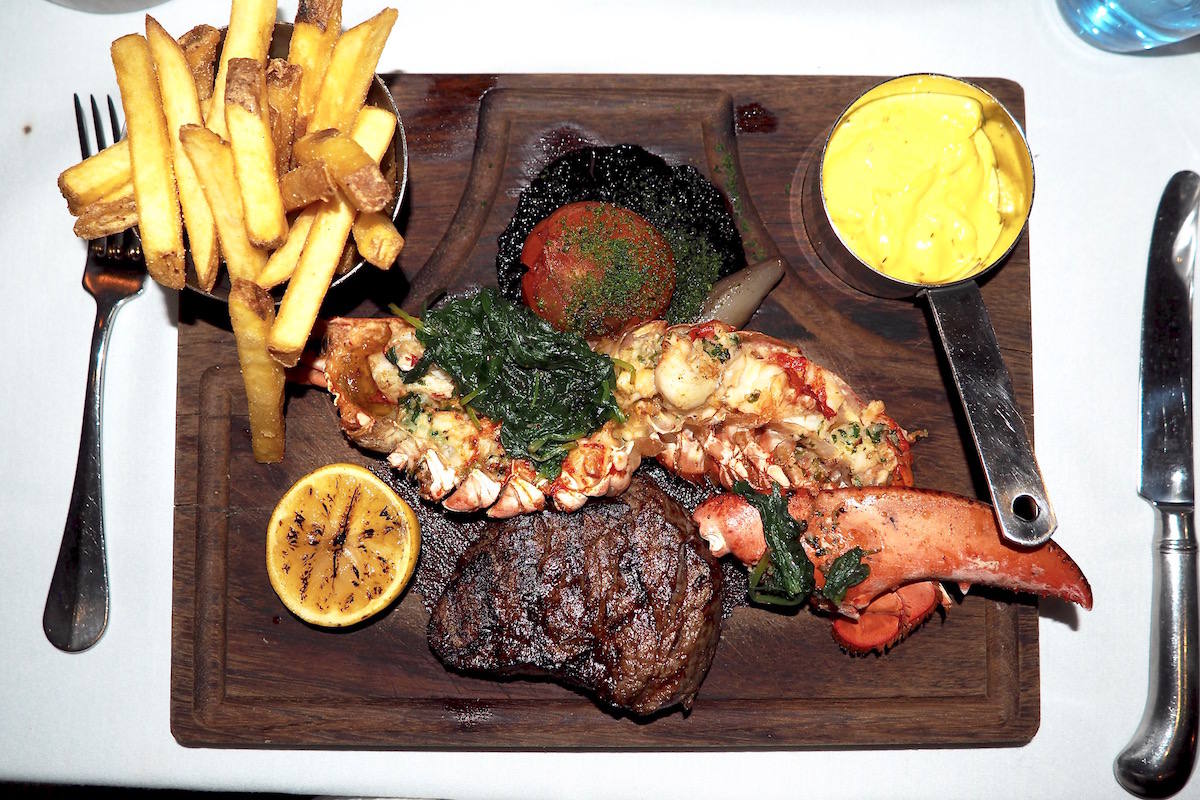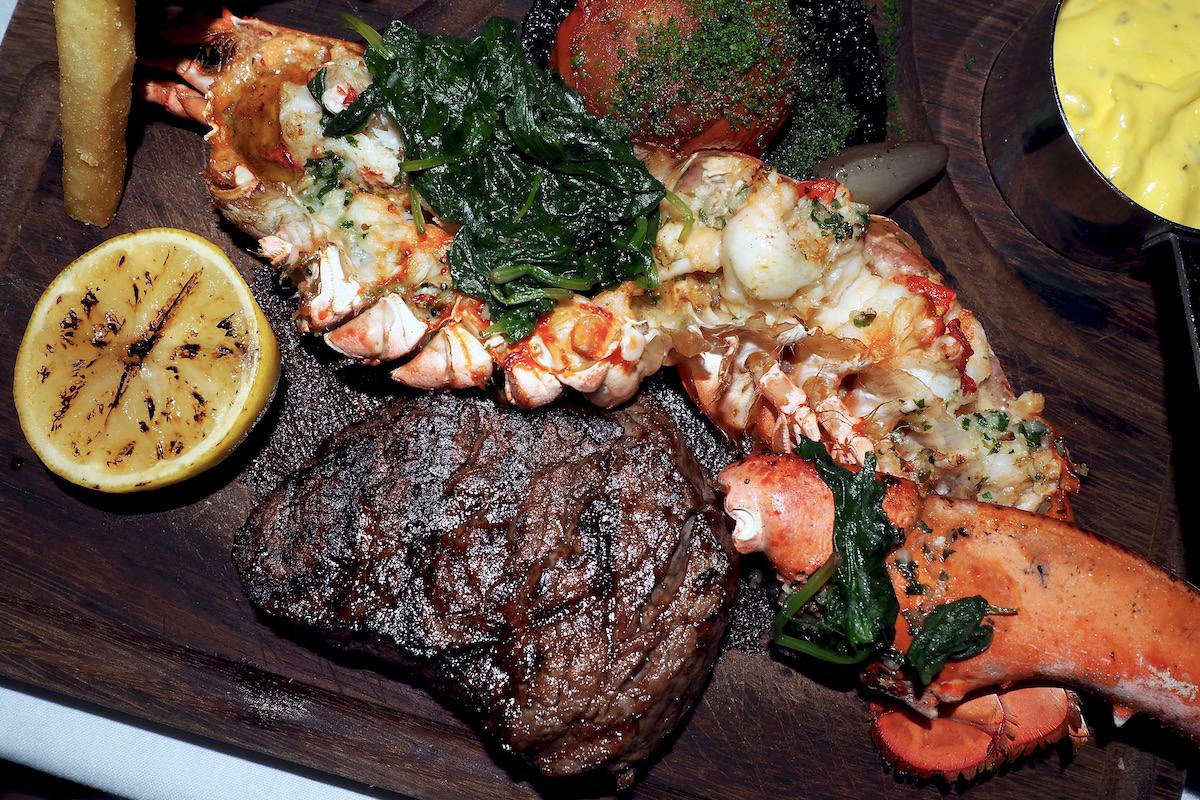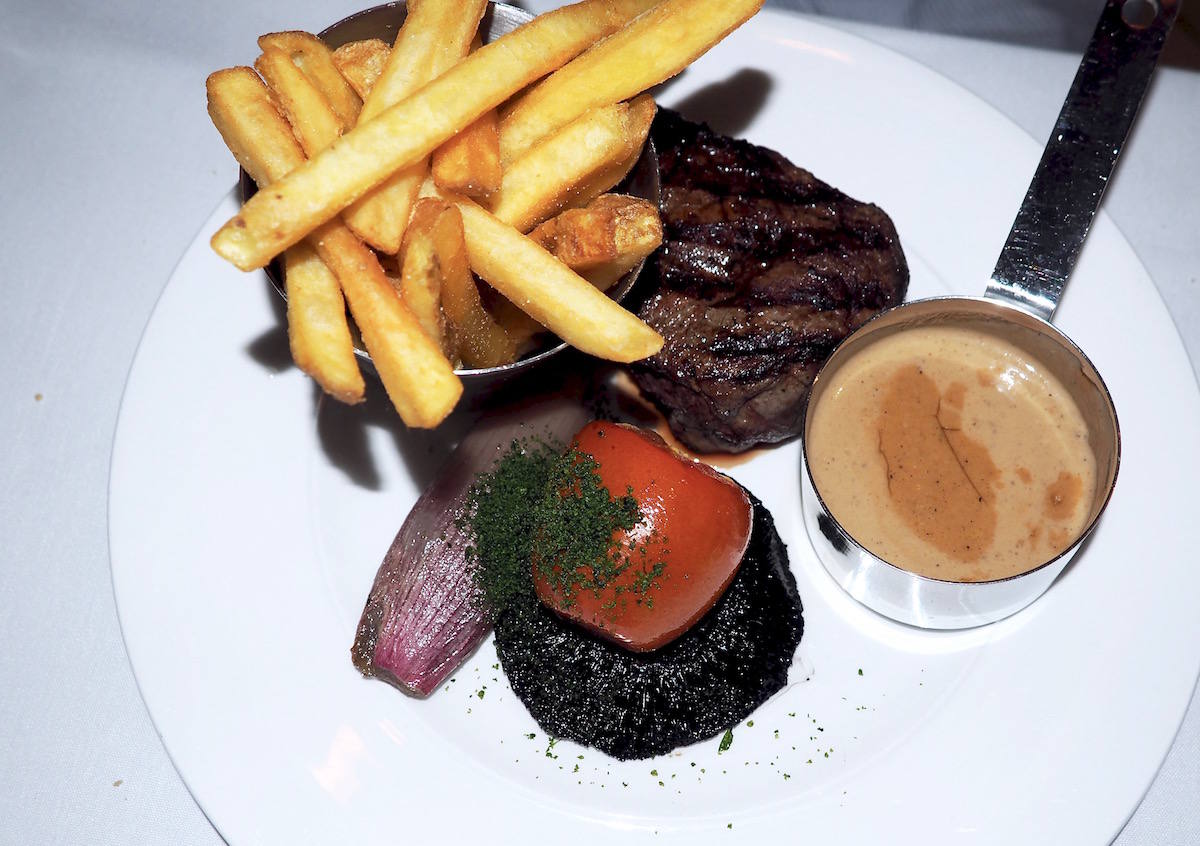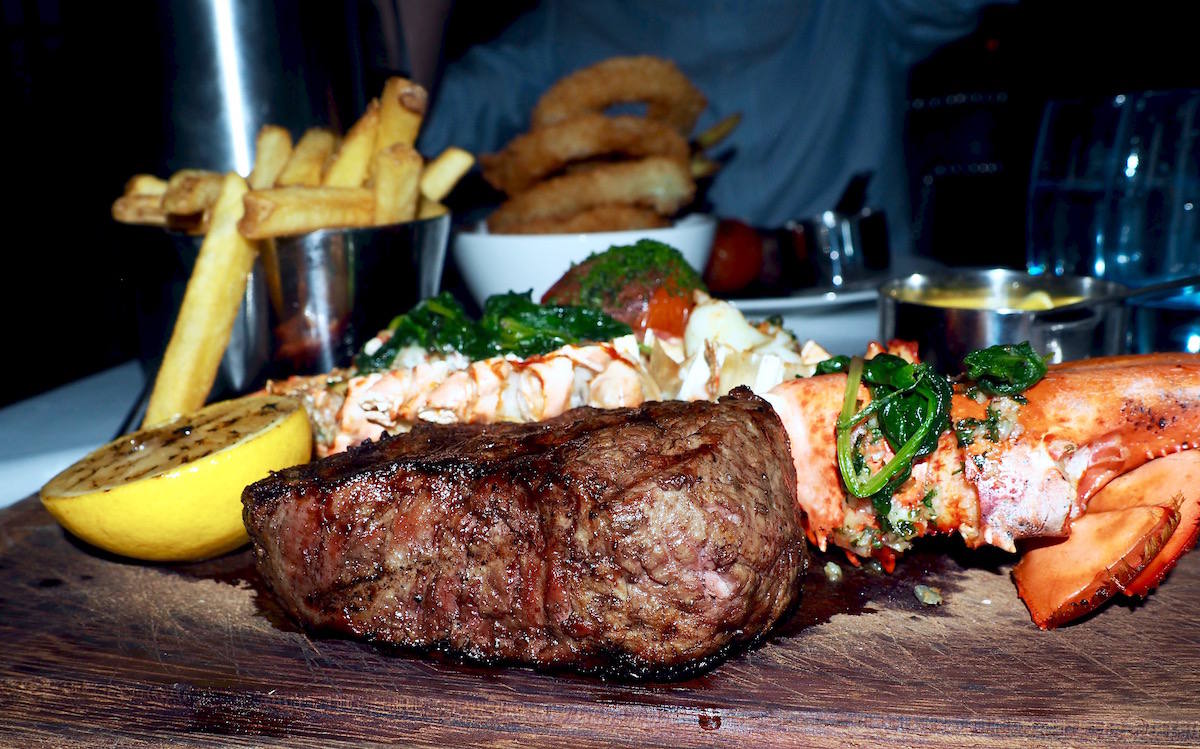 On the waiter's recommendation, I had creme brûlée for dessert while Tom, as always, had the cheesecake. We could barely finish our third course but both were hideously indulgent.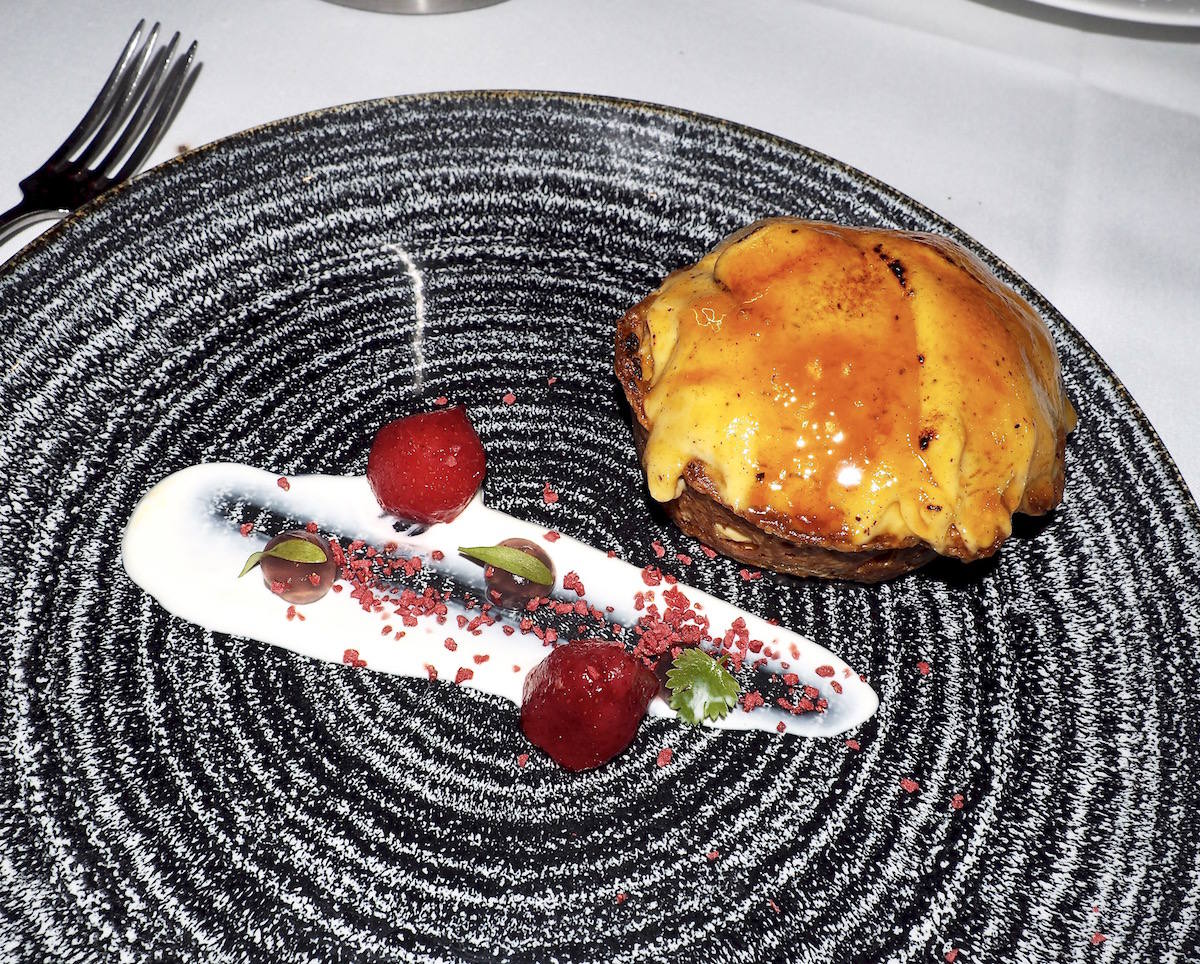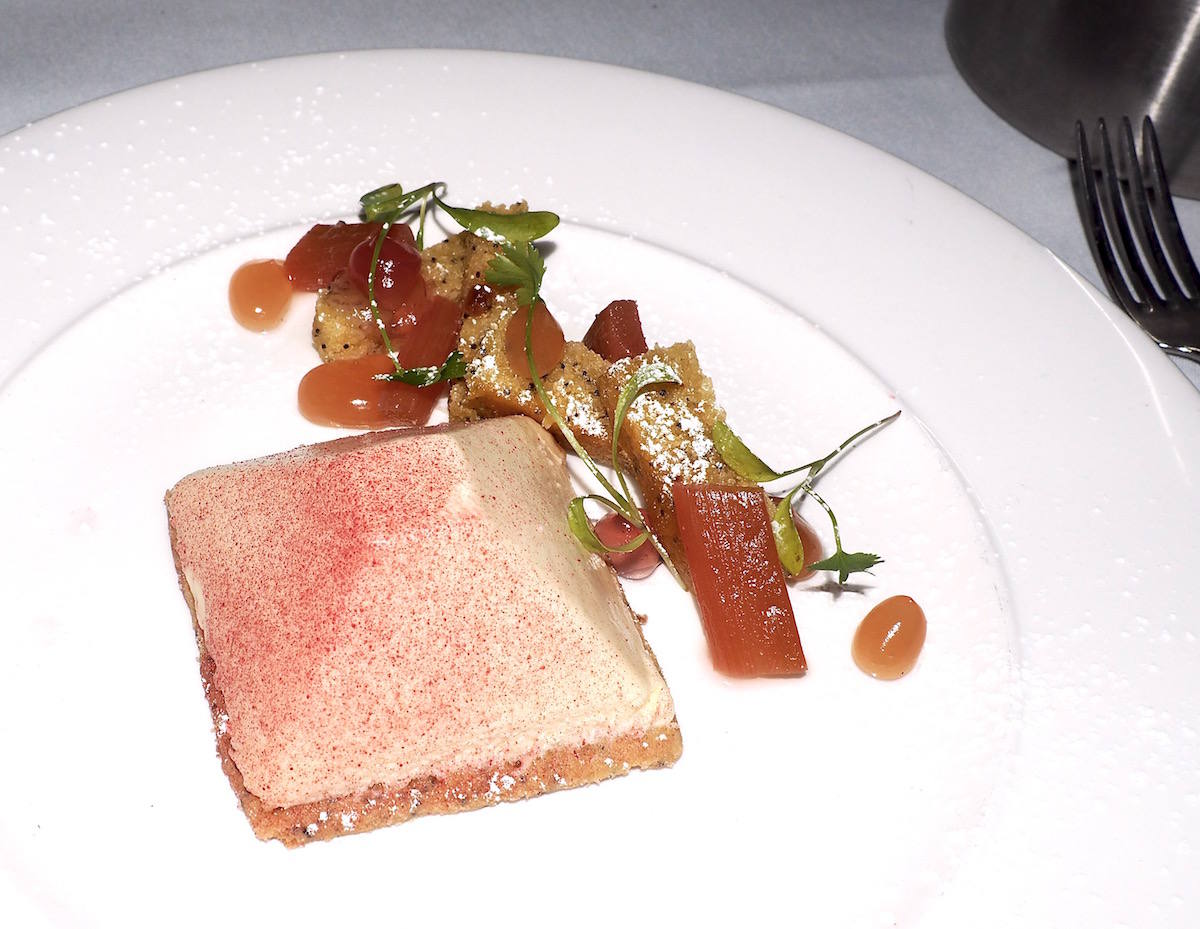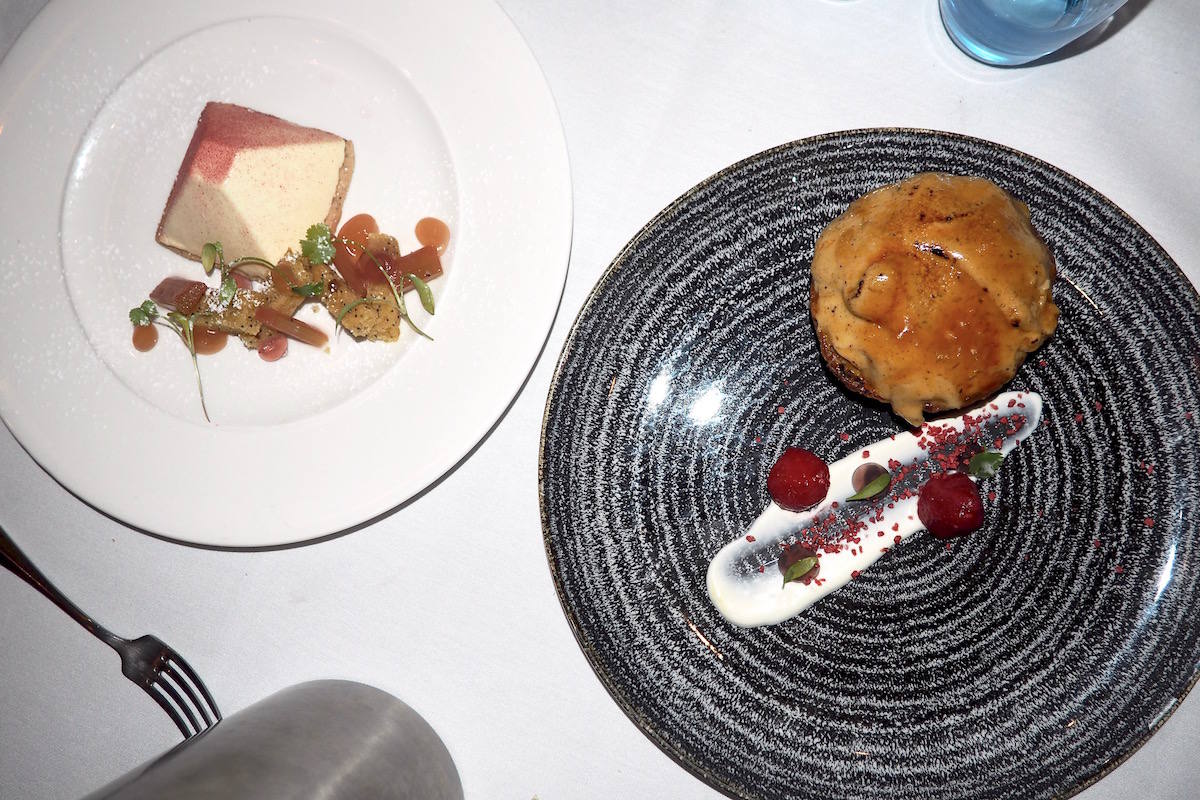 Everything was washed down with a bit more Chenin Blanc than was entirely necessary – but hey, we were on holiday. I don't usually order Chenin Blanc (I'm more of a Sauv girl), but the subtle lychee and rose flavours made this one a new favourite.
A room with a view at The Belfry
Our room 2225 was compact but comfortable, with a fantastic view over the 1st Tee. The spotless bathroom had both an overhead and detachable shower, complete with the all-important fluffy robes (is it really a hotel stay if you don't don a white bathrobe at some point?) and ESPA toiletries.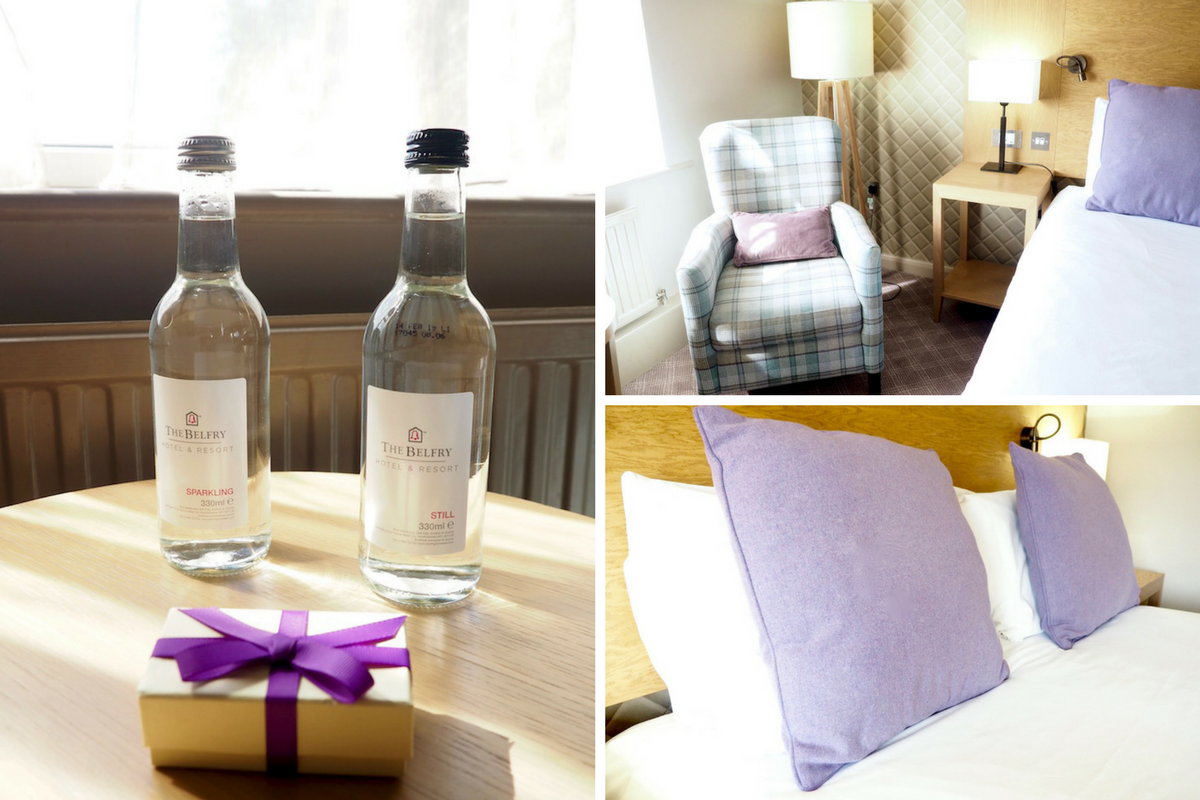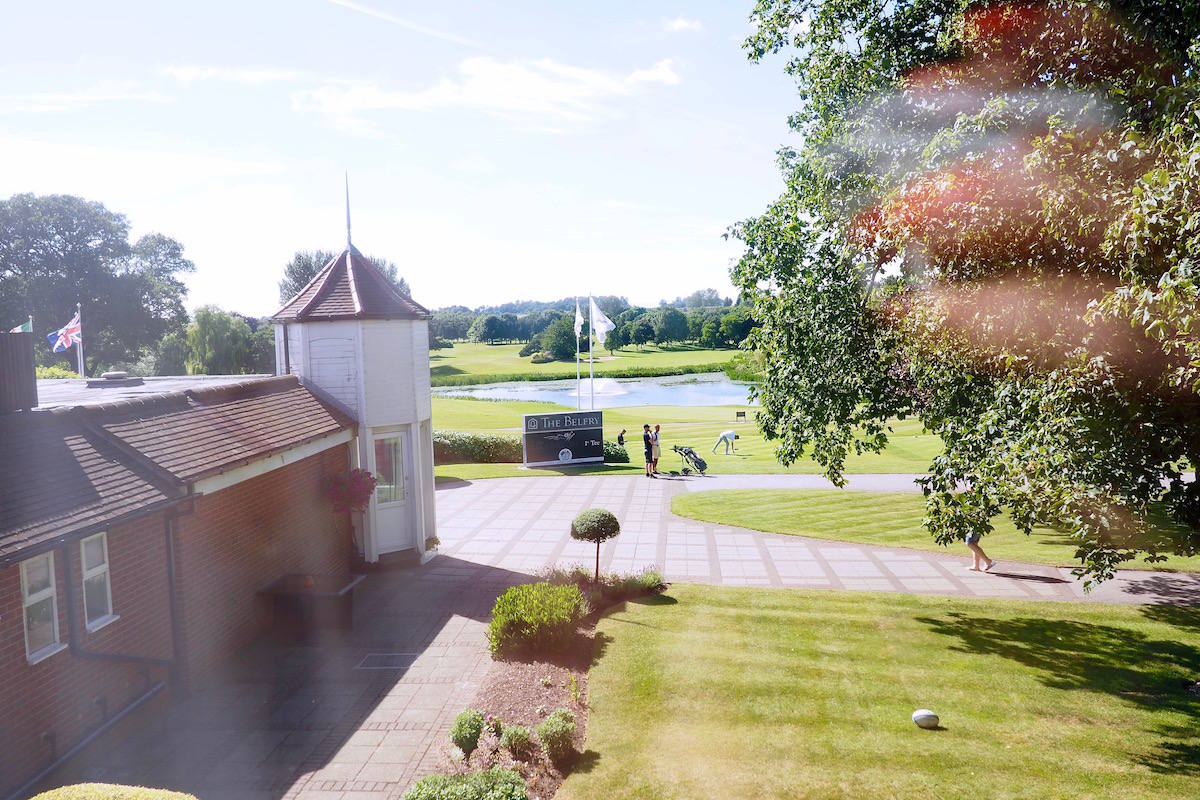 Since it was warm outside during our stay, the futuristic Dyson fan was a massive plus. Plus, the hairdryer was actually decent, which makes a nice change from most hotels!
Breakfast at the Belfry
Breakfast at The Belfry is served in the same restaurant as dinner. We grazed on the generous buffet as we discussed how amazing the night before's meal was. Perfectly poached eggs set us up for the day, along with grilled mushrooms, baked beans, pork sausages and plenty of rounds of toast. I also helped myself to fresh fruit and yoghurt.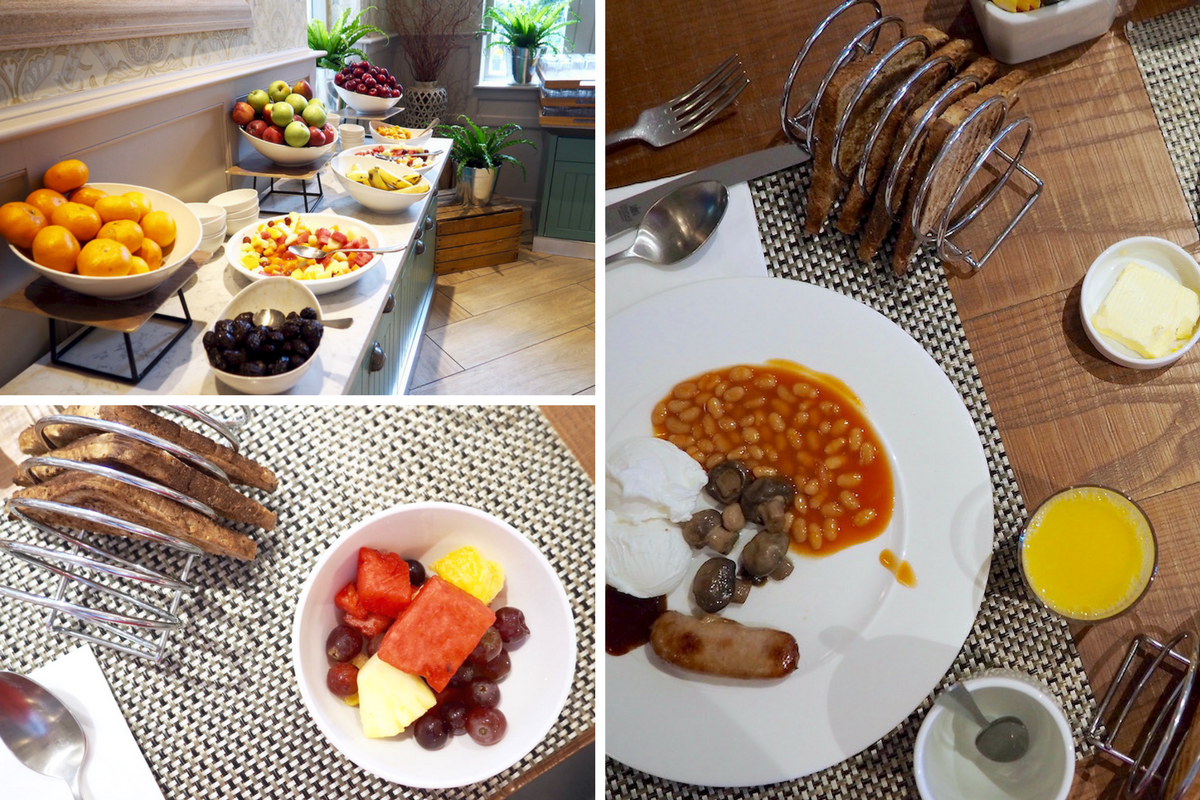 If you're in a hurry, you can just grab a fresh pastry and some orange juice from the table set up at the entrance of the breakfast room. I have no idea how I avoided those pastries so successfully!
Golf lessons at The Belfry's Academy
Fully fuelled from breakfast, we made our way to The Belfry's PGA Academy for a 30 minute lesson with Derek Simpson, a Senior PGA Coach who has been at The Belfry for 24 years. The Belfry itself is a big deal when it comes to golf, having hosted more Ryder Cup matches than any other venue. This made our stay an absolute dream for Tom, who has been a golfer for years. I think he spent a large part of our stay despairing at my choice of golf attire and lack of lingo!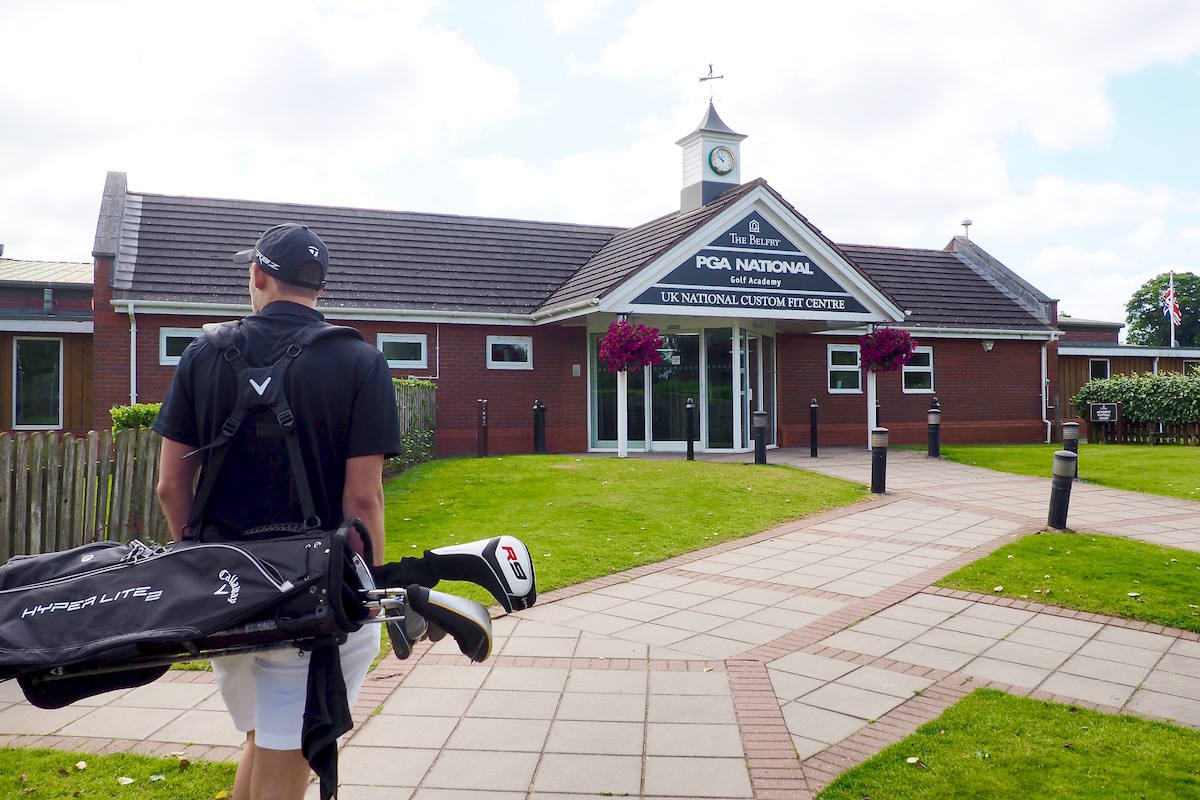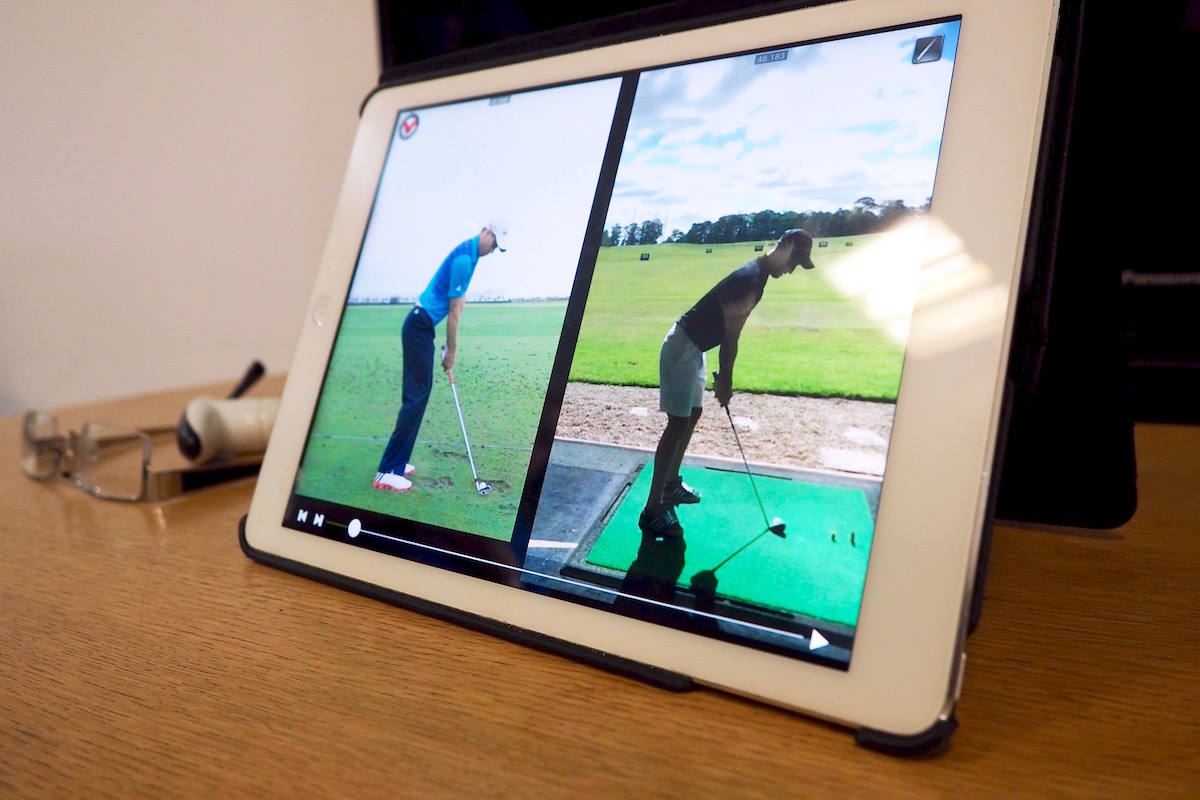 I'd only had one lesson before this one, back when I lived in Dubai, and I'd basically forgotten everything I learned there. Derek corrected my grip and posture, before expertly guiding me through my swing. I hit some pretty good straights, and left very pleased with myself!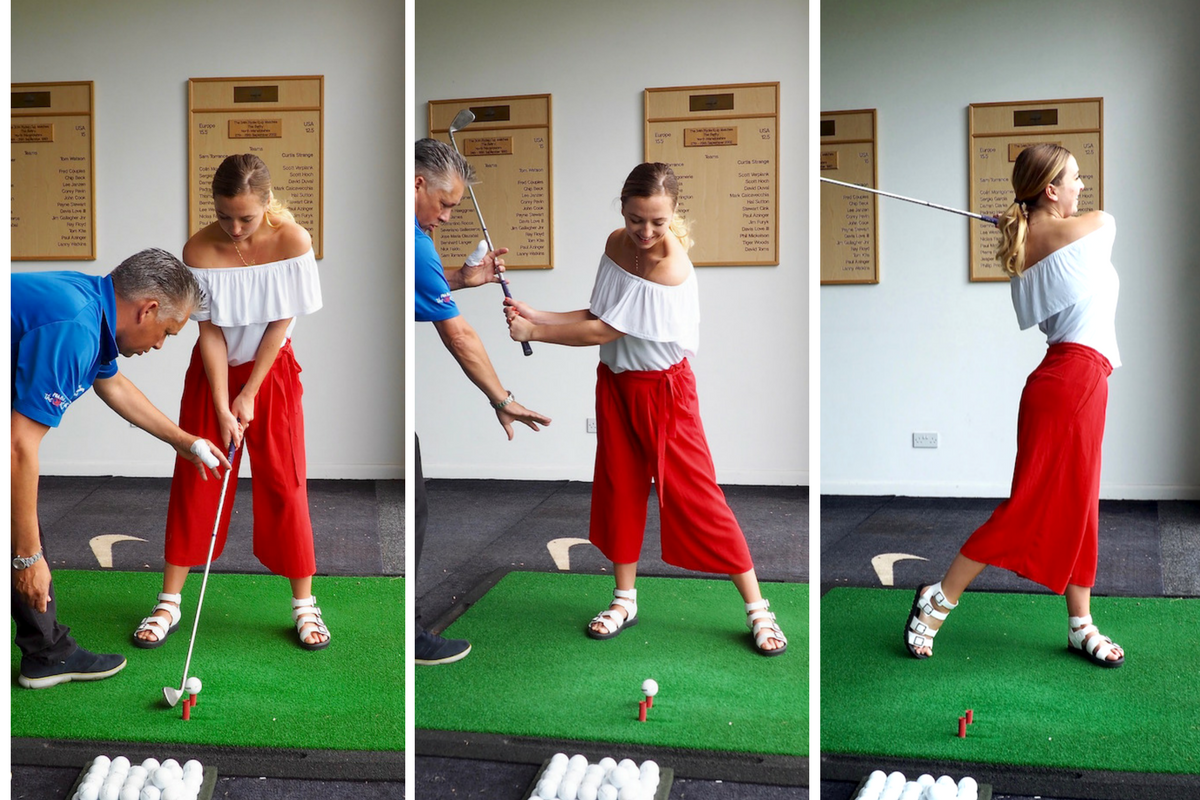 One of the most useful parts of the lesson was the side-by-side comparisons of our swings and those of the pros, which Derek took us through to show us where we were going wrong. He filmed us before and after, and it was massively beneficial. Tom also learned that he was using golf clubs that were far too short for his 6,1 height, so we'll be picking up some custom-fit clubs soon.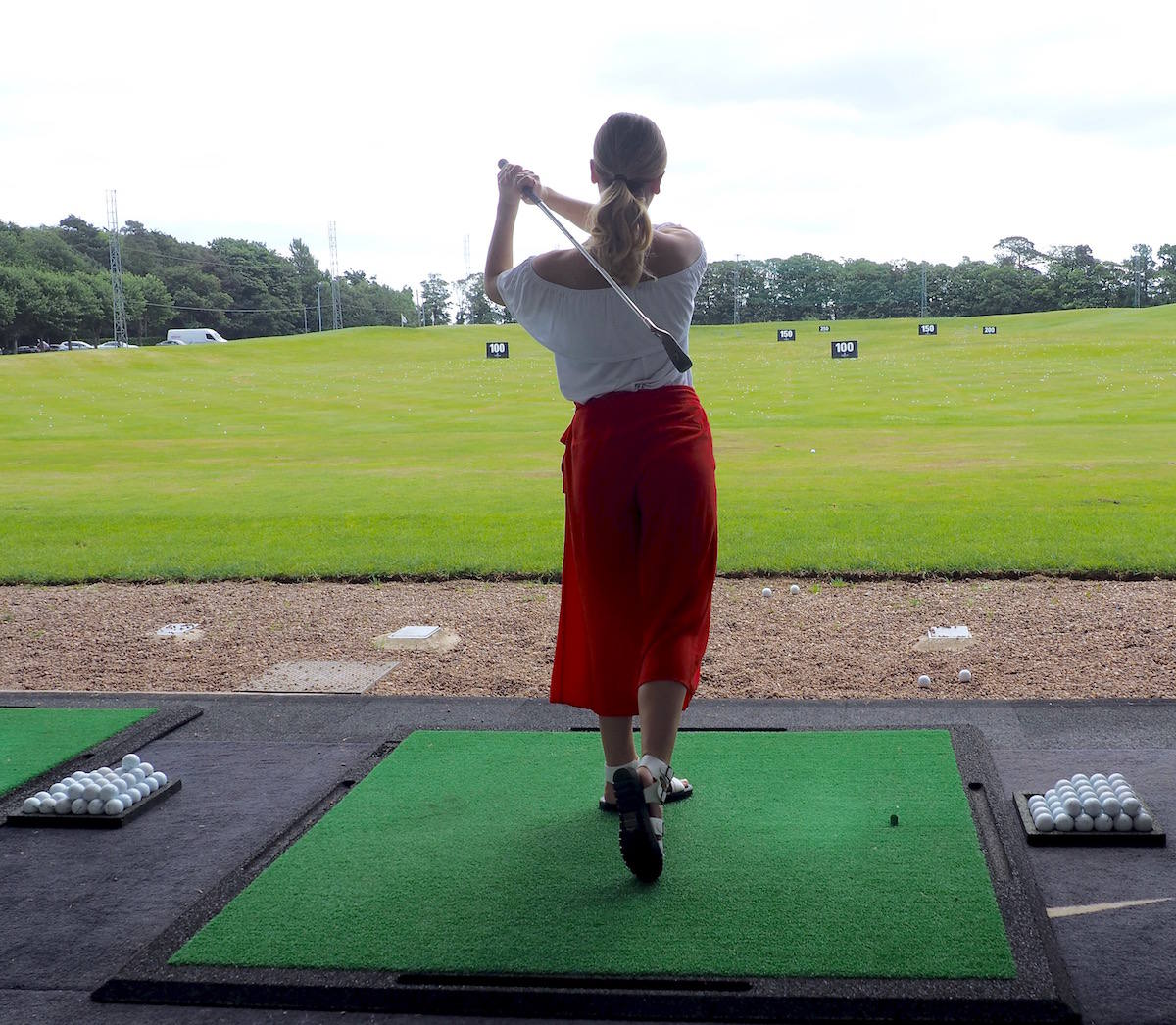 We're planning a few outings to the local driving range so we don't forget what we learned. Fingers crossed I pick it up quickly!
The Belfry Spa's Fire & Ice experience
To round off our stay at The Belfry we ventured in to their spa, where we were booked in for the Fire & Ice experience. This is a unique treatment where you journey at your leisure through 12 different bio-thermal rooms, each designed to relax and heal.
We wound our way from coconut oil-laced foot baths through a relaxing caldarium, on to a not-so-relaxing but definitely invigorating Ice Drench Shower (I have a hilarious slow-mo video of my ice drench, but I won't share it here). From there, we journeyed through the aroma cave, sanarium and crystal steam room, chilled in the igloo (yes, really!) and wound down in the hydrotherapy pool to ease any muscle strain we may have incurred in our golf session.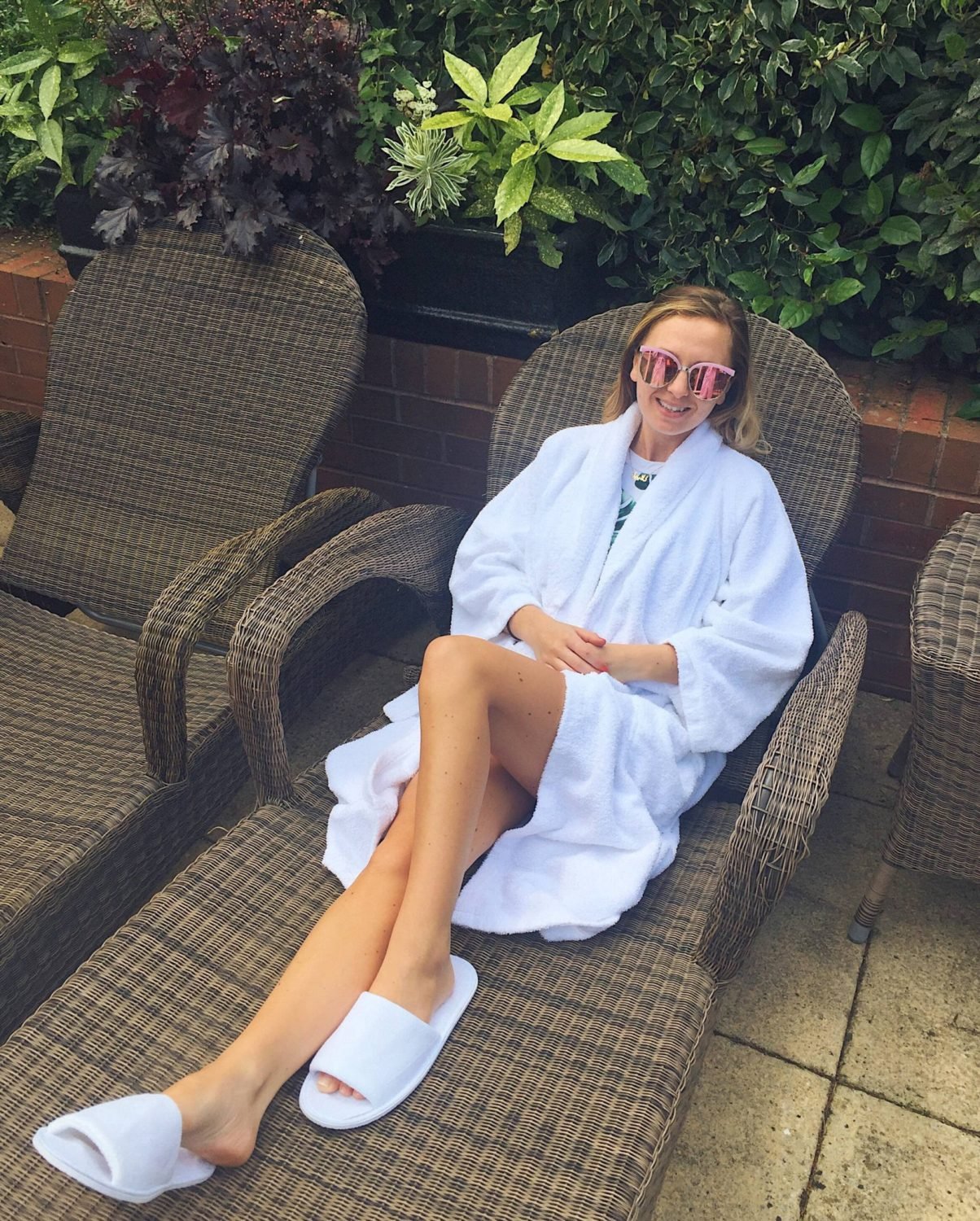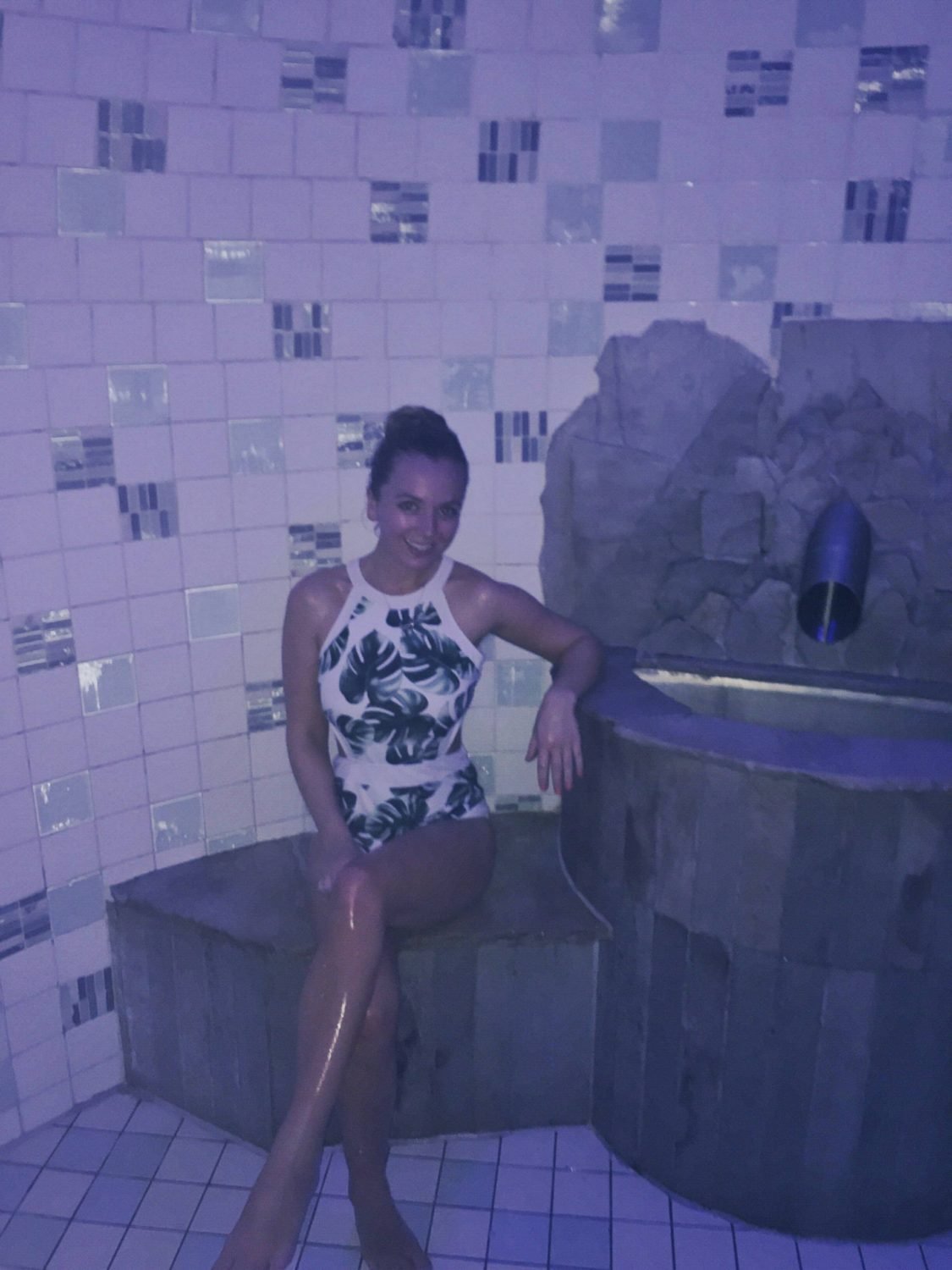 You can bet we practically floated up the motorway back to the North East!
I'd definitely recommend The Belfry, whether you consider yourself a golfing pro or you prefer to spend your getaways at a bar with a glass of bubbles in your hand. There really is something for everyone at this resort, and it's the only place I've visited in the UK so far where I've felt that I could easily spend a week there without leaving the resort. The staff are young but professional and polite, and the whole resort is very well maintained. I felt very lucky to have been able to stay there!
TELL ME, do you like to play golf? Where would you most love to play a round? And what do you think of The Belfry? Let me know in the comments! Feel free to also help me out with any tips for tricking people into believing I know my way around a golf course – I need all the help I can get!
All photographs were taken on my Olympus Pen E-PL7.
Please follow While I'm Young on Facebook, Instagram and Twitter from more travel guides and stories. You can also subscribe to make sure you never miss a post.
We were guests of The Belfry but all opinions are, as always, my own.
Pin this post