When I was invited to review dinner at Tapas Revolution in Newcastle, it brought on an immediate craving for gambas, sangria and churros. It also presented a rare opportunity to practice my Spanish – I'm off to Mexico and then Colombia next week so I could use a refresher course!
I absolutely love Spanish culture, but I have to admit that when I've been on holiday to Spain, I've felt somewhat disappointed in the food. I want to like it, but the quality of ingredients has just never been as high as I'd hoped in resort towns. With the exception of some high quality restaurants in Benidorm (yes, really) and some pinxtos in bars I sneaked into on a  school trip to San Sebastian, I've never been wowed by Spanish cuisine. In fact, if you've been to a particular Spanish destination that really blew you away food-wise, I'd love to hear about it! (Any excuse for a trip eh?)
Tapas Revolution might be located in Intu Eldon Square's Grey's Quarter instead of on a plaza in Madrid, but it serves some fantastic, authentic Spanish food. Here's what I thought of our meal at Tapas Revolution.
A review of Tapas Revolution in Newcastle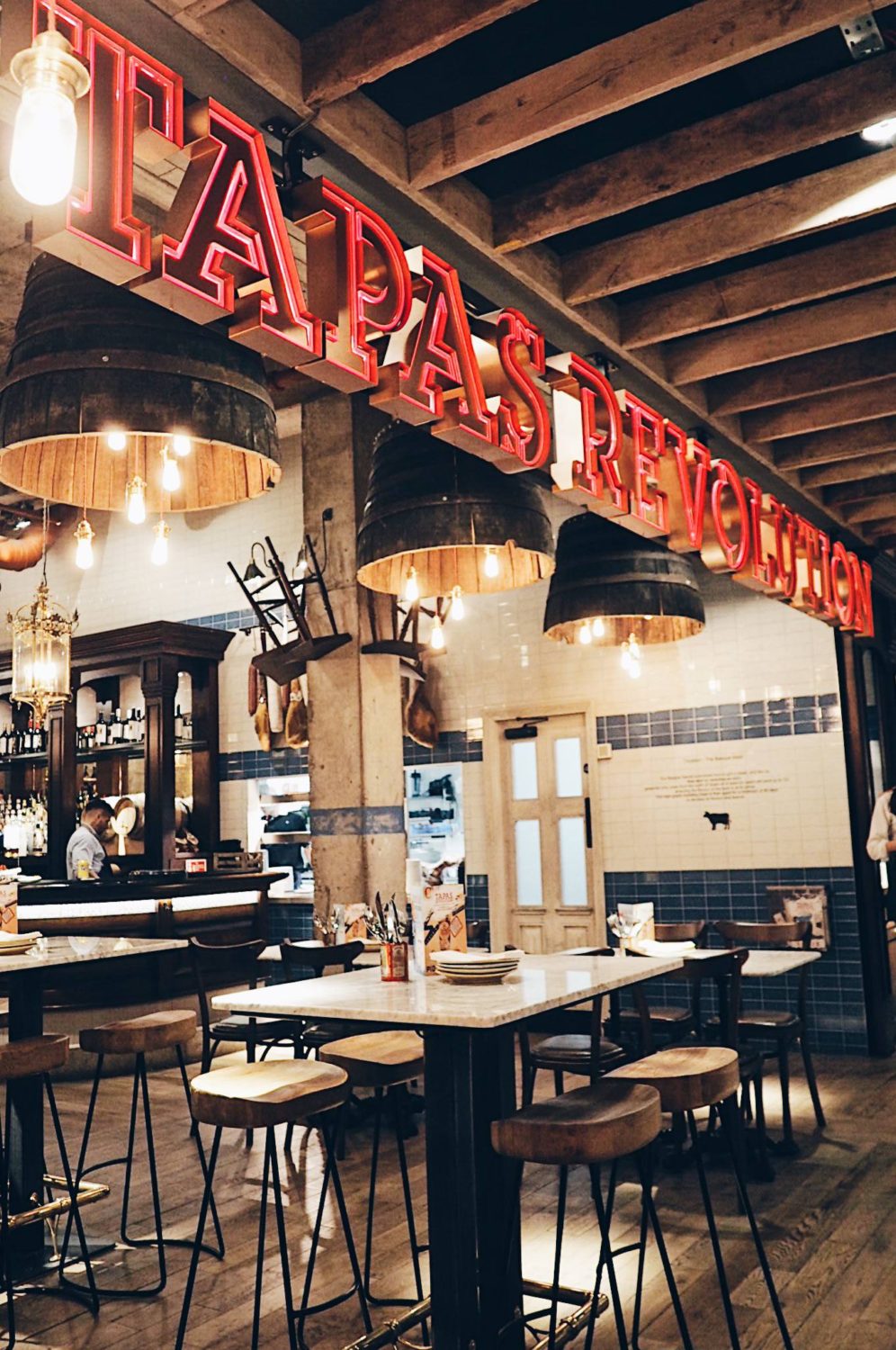 Decor
The decor in Tapas Revolution Newcastle is SO well done. The latin-style restaurant avoids looking outdated with the addition of high, marble-top tables, tastefully decorated booths, a rustic bar and ceiling lights that hang from half-barrels. It's an Instagrammer's dream!
Tapas Revolution has restaurants in London, Birmingham, Sheffield and Bath – I'd be interested to see which one has the coolest interior design.
Drinks
Our lovely camarera let us know that it was Happy Hour when we arrived. My favourite time of day! At Tapas Revolution, that means jugs of sangria are £8 between 4 and 7pm. That was what I had my heart set on, until I saw Tapas Revolution's cocktail menu. There's a large selection of gin and mixers from – get this – Spanish distilleries – to cater to us G&T-obsessed millennials, and a small but brilliantly creative, vibrant cocktail menu.
I ordered a Sparkling Rose Margarita: tequila, Aperol, rose water and lemon sherbet topped with raspberry fizz. It had a lovely zesty kick, the colour was pleasing and our drinks round came with a little portion of breadsticks and mashed chorizo – a curious way to serve the Spanish sausage but tasty nonetheless! If anyone has had this in Spain and it turns out to be a traditional nibble, I'd be keen to hear about it.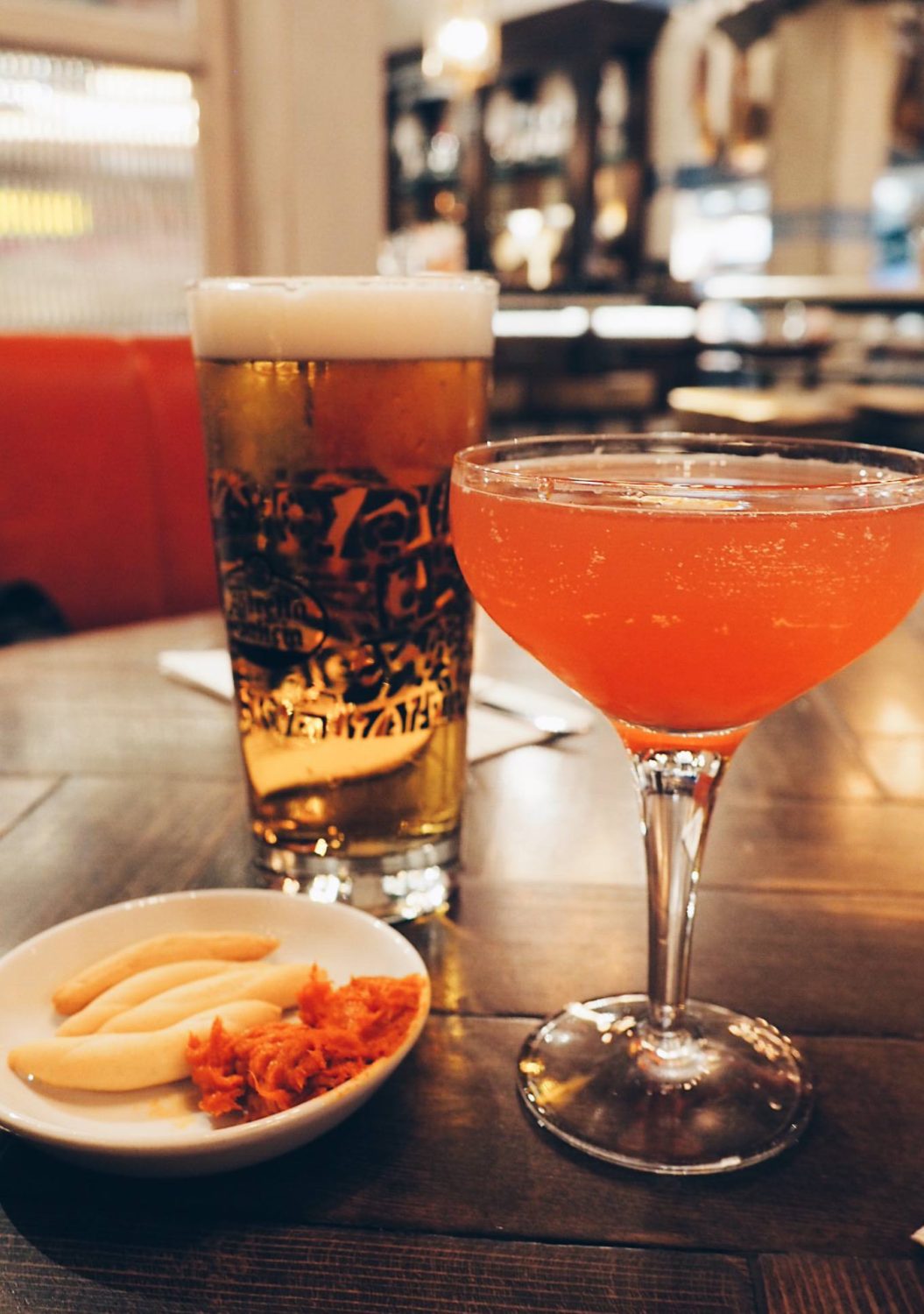 What to order at Tapas Revolution
The problem with tapas is that if you order it all at once, you can never be sure how much will be enough. It took us all of one minute to pick out what appealed to us from the menu, which is usefully broken down into nibbles, seafood dishes, meats, veggies etc. We decided upon eight dishes, which was more than enough for two people (including one hungry manual worker who had skipped lunch even though I've told him off for it a thousand times).
The first dish to land on our table was pan con tomate – toasted bread doused in garlic, tomato and olive oil. A simple dish that delivers big on flavour thanks to only the best key ingredients.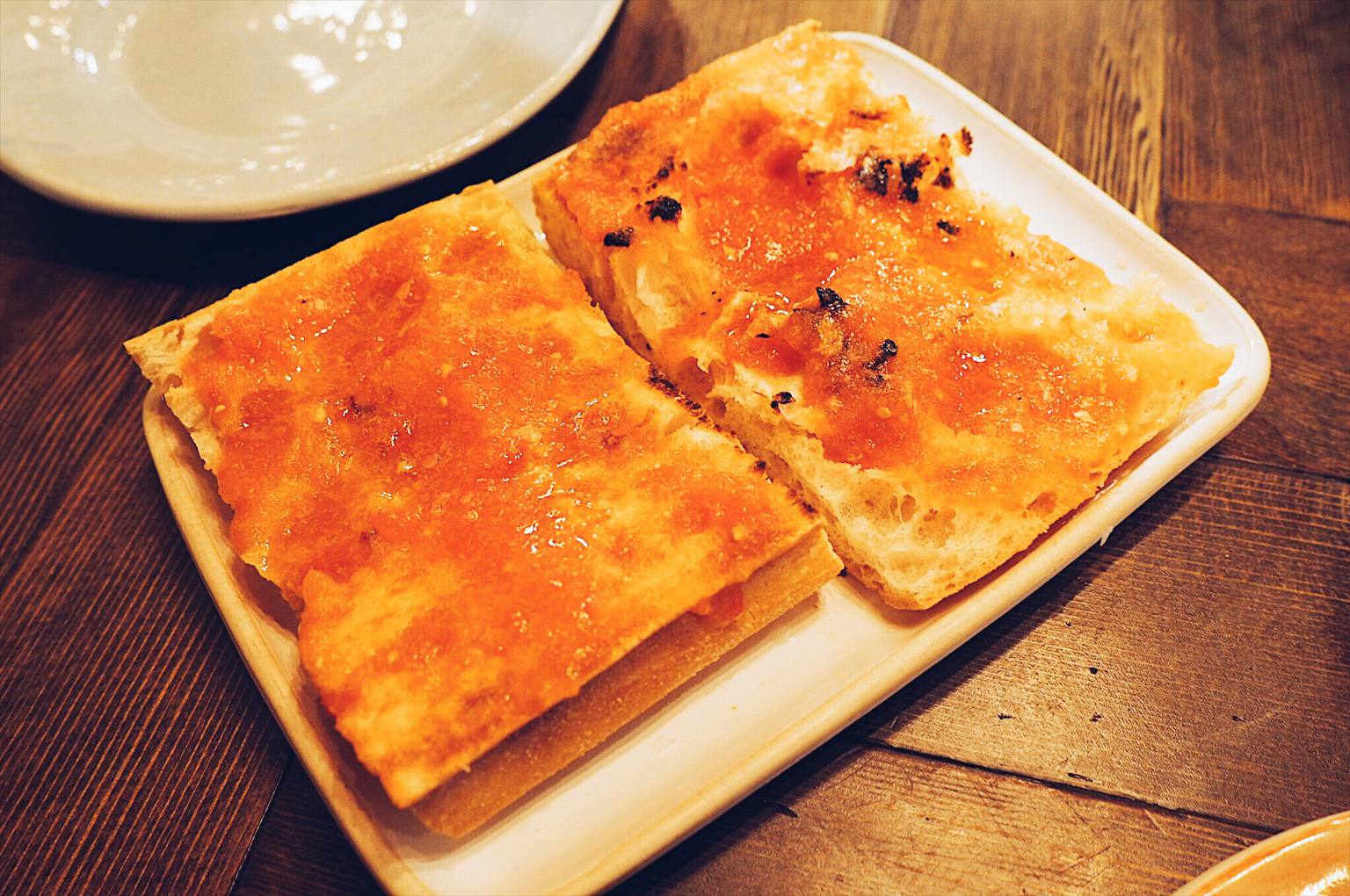 The marinated beef skewers were cooked to perfection (i.e, pink where they should be pink). We also ordered albóndigas en salsa – beef meatballs in a tomato, vegetable and white wine sauce, plus some marinated crispy chicken wings with a lemon and honey dressing. Oh, and patatas bravas – obviously.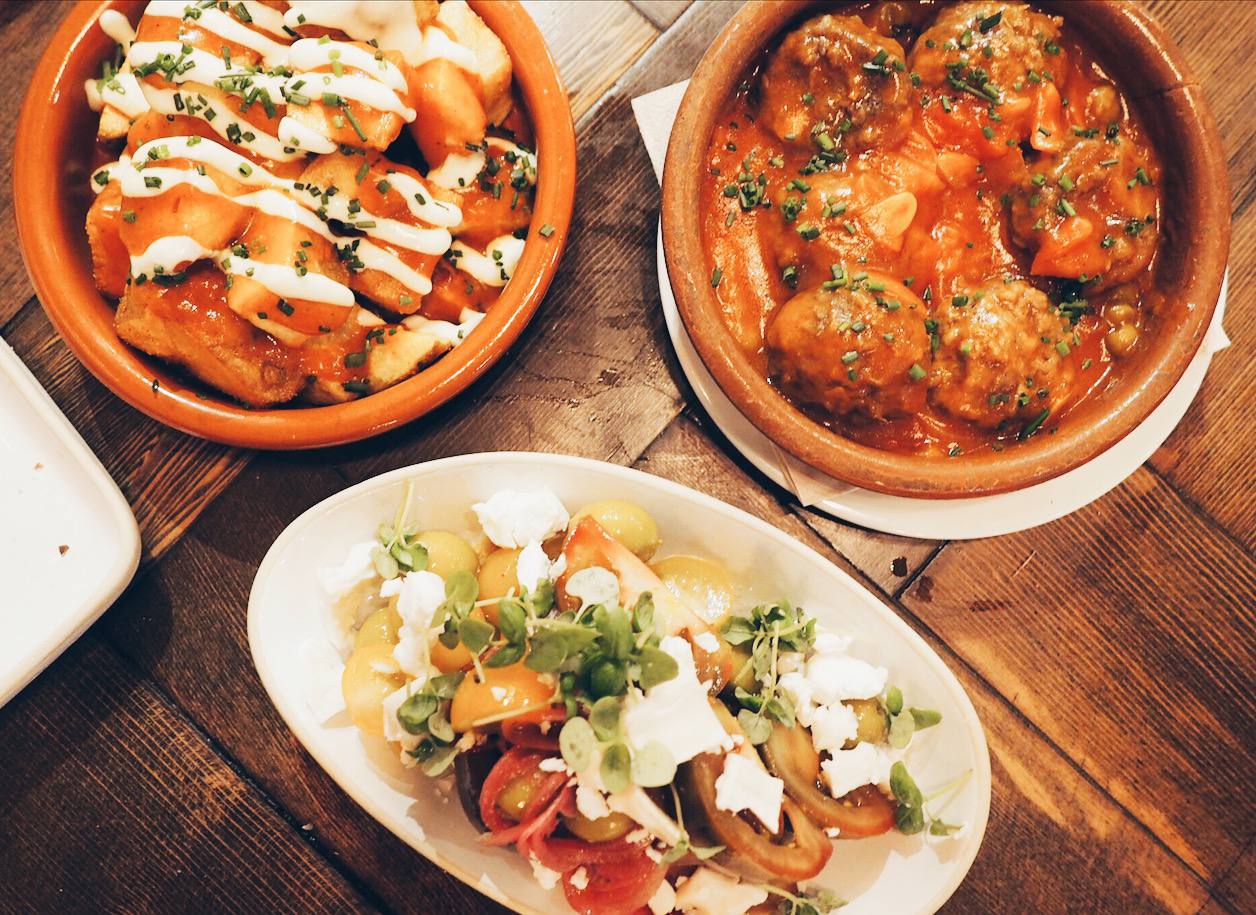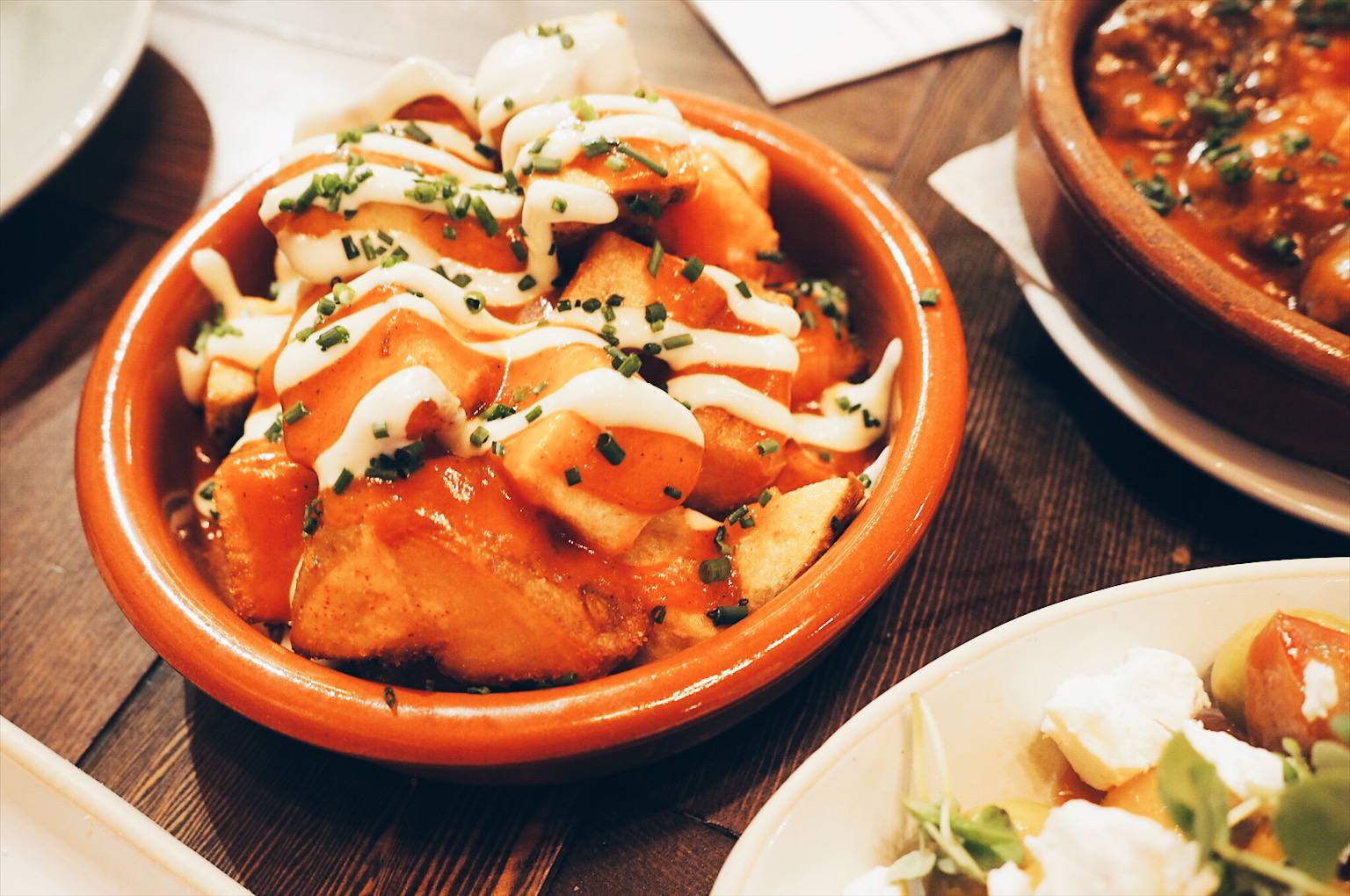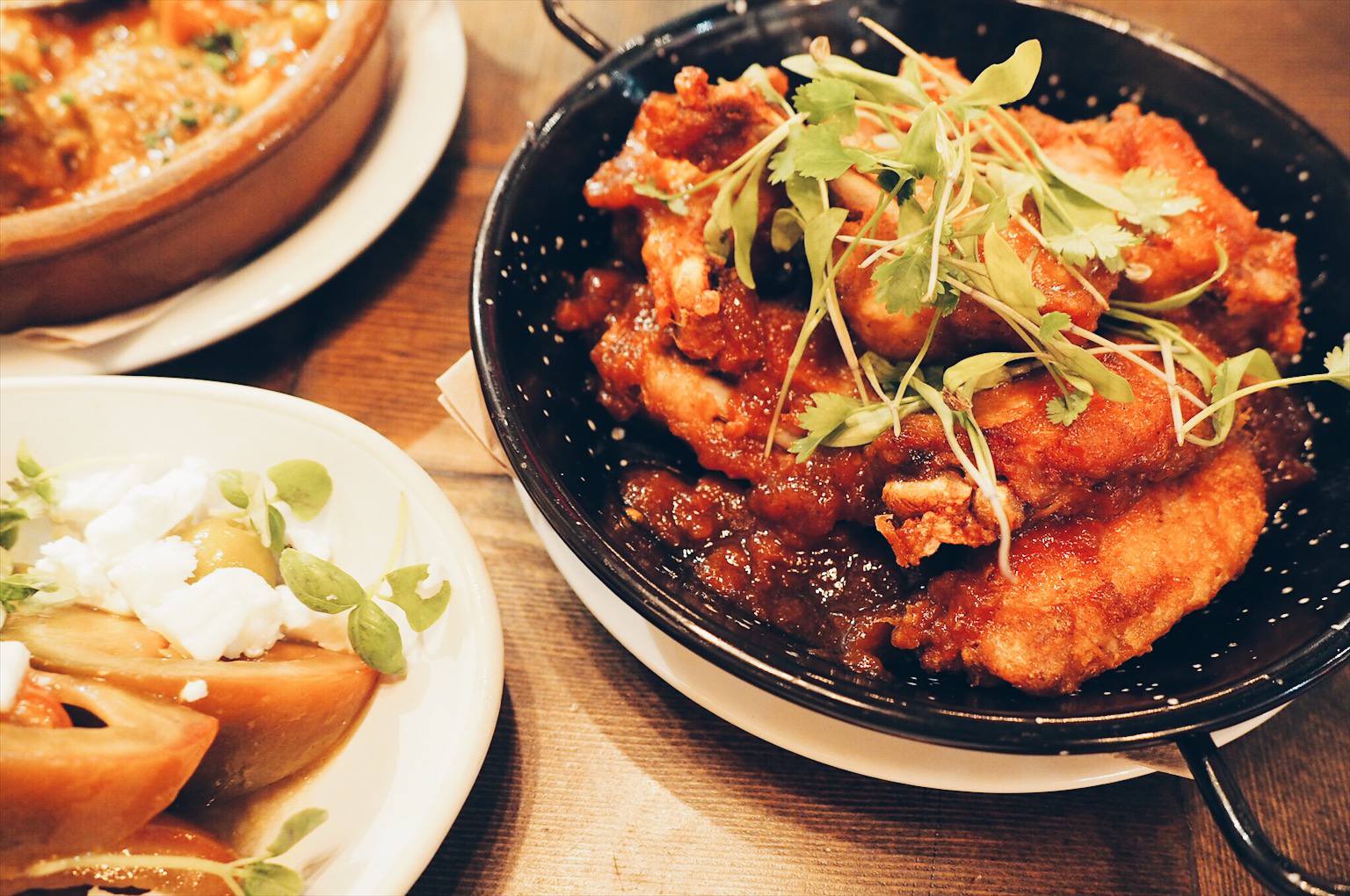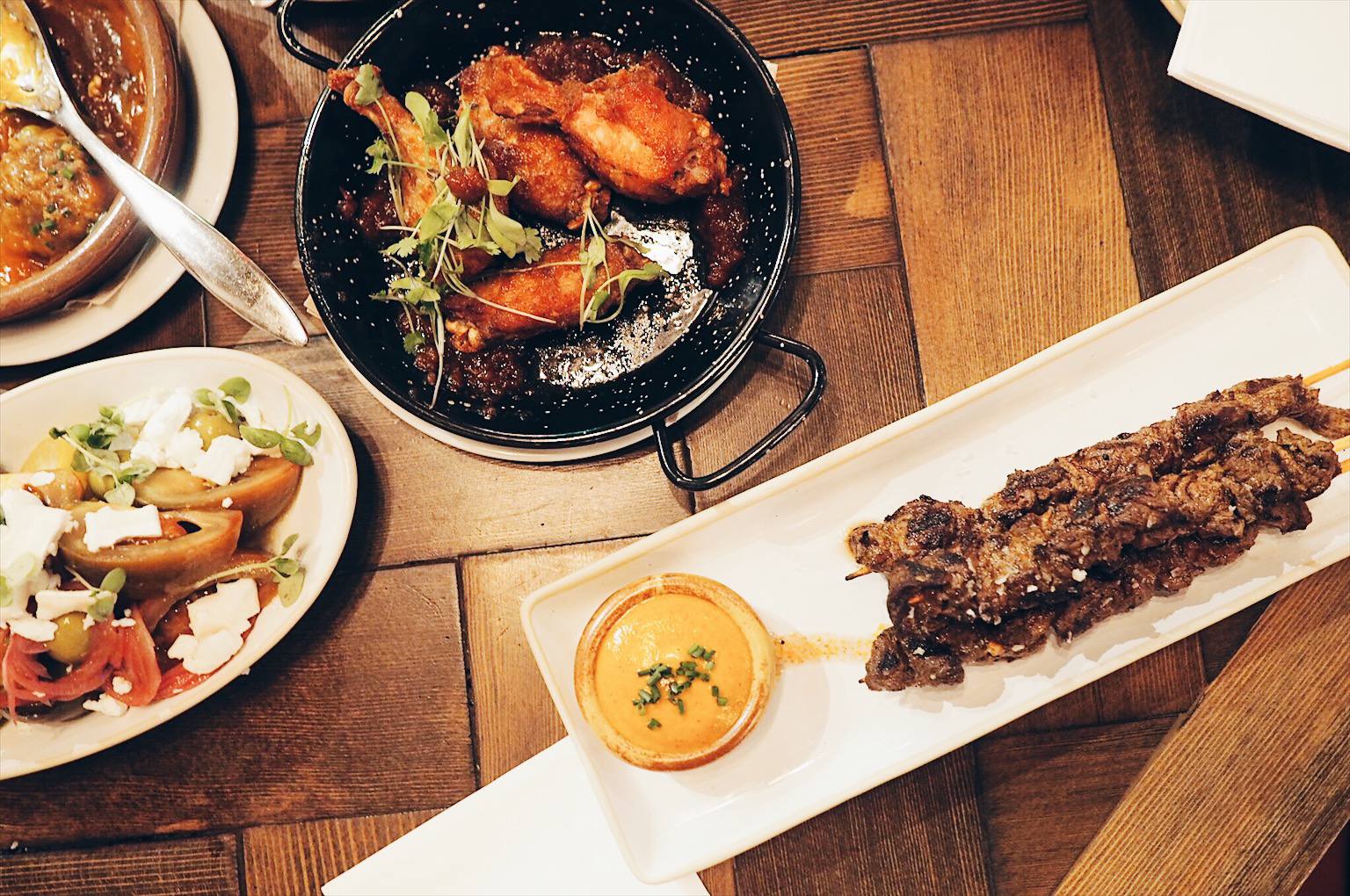 Though so simple, the paella de pollo was one of our favourite dishes. The saffron rice had a wonderfully sweet taste to it.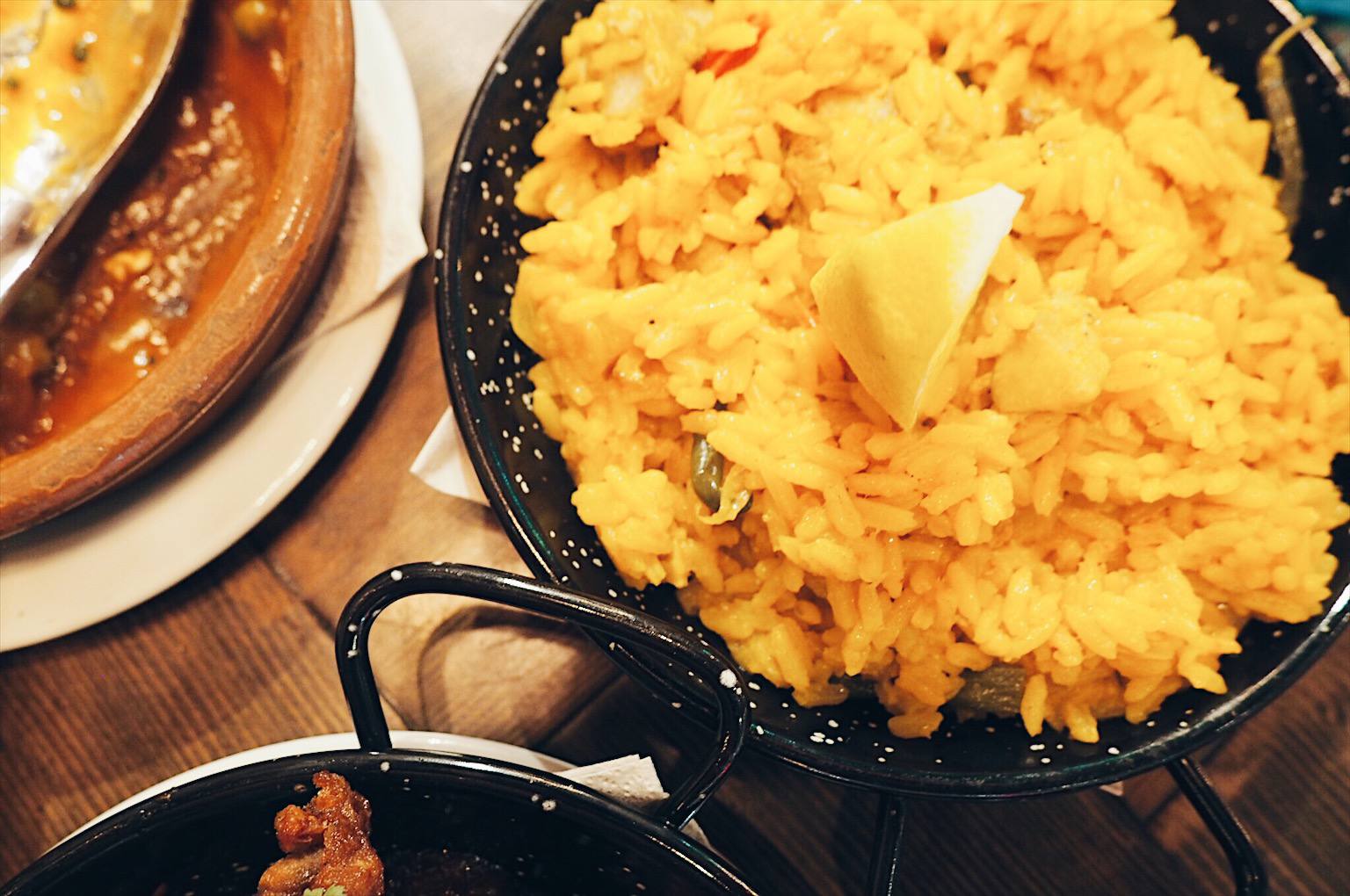 I got my gambas!  The tiger prawns arrived in a sizzling terracotta clay pot in a bath of garlic and chilli oil.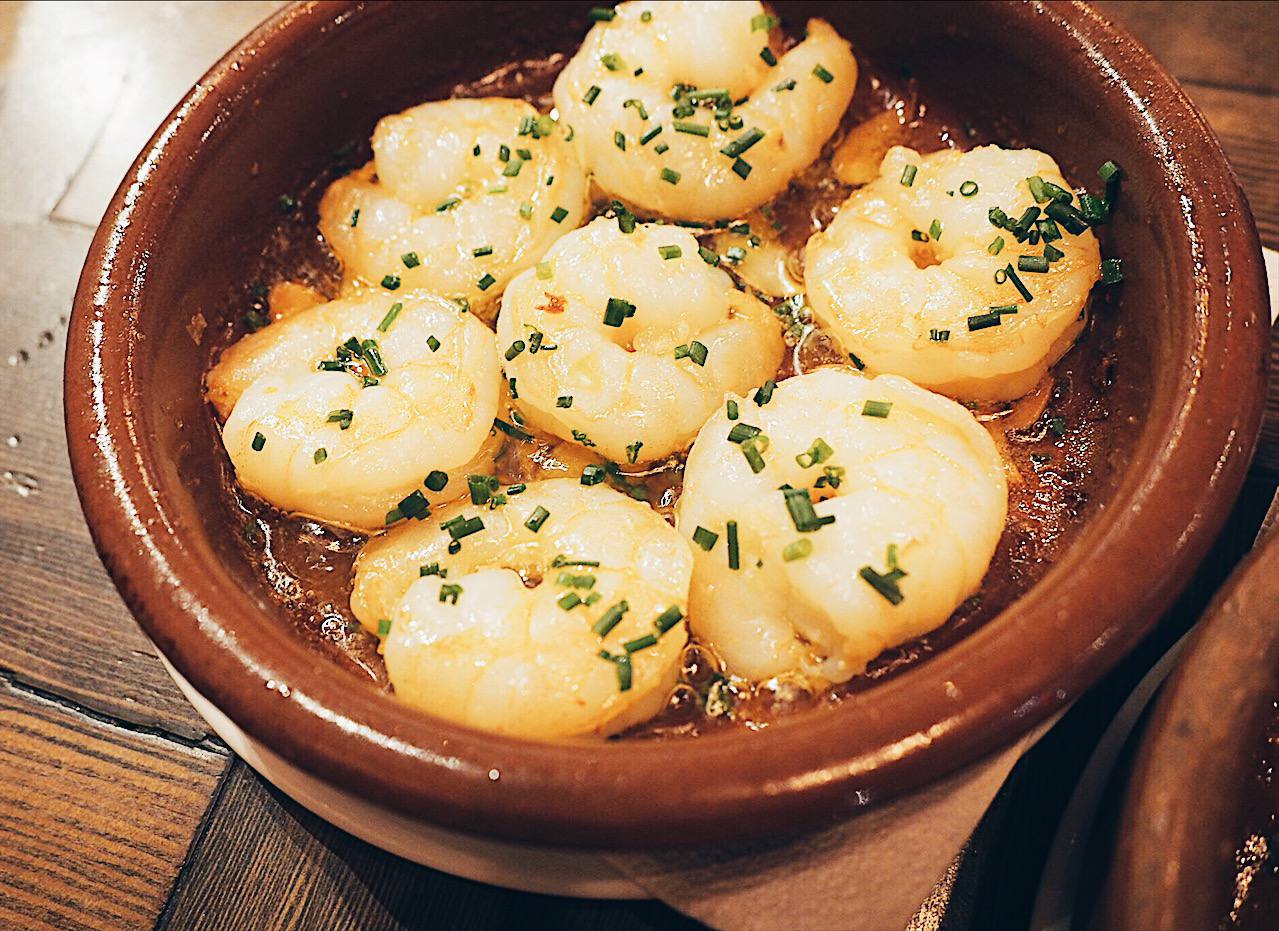 Knowing Tom wouldn't be interested in it, I'd ordered the red and yellow tomatoes, goat's cheese, olives and pickled red onion salad for myself. This is one of my favourite salad combinations and it cut through the heavy meat dishes we ordered, refreshing my tastebuds.
Now, I adore the Spanish approach to food and tapas is the best representation of that: small plates, meant for sharing. In fact, the chef and founder of Tapas Revolution began his journey by biking all over England for a fortnight, forging friendships through the food he cooked for the people he met.
I think it's wonderful how Spanish people will linger for hours over these plates, sipping a cerveza or two and picking now and then at one of the tasty bites before them. Whenever I've been in Spain, I've marvelled at how the locals spend hours and hours relishing one meal.
Us Brits however? Well, Tom and I devoured our tapas as if someone was about to take it off us! And as for the sharing concept behind tapas… we were basically fighting over who would get the last prawn.
So uncultured.
We were full as pigs by the time the plates had been scraped clean but I'd spotted churros on the dessert menu and just had to try them. I hadn't had churros since that hazy school trip to San Sebastian and they were even better than I remembered. Crispy on the outside, hot and doughy on the inside and when dipped in that little pot of melted chocolate – bliss.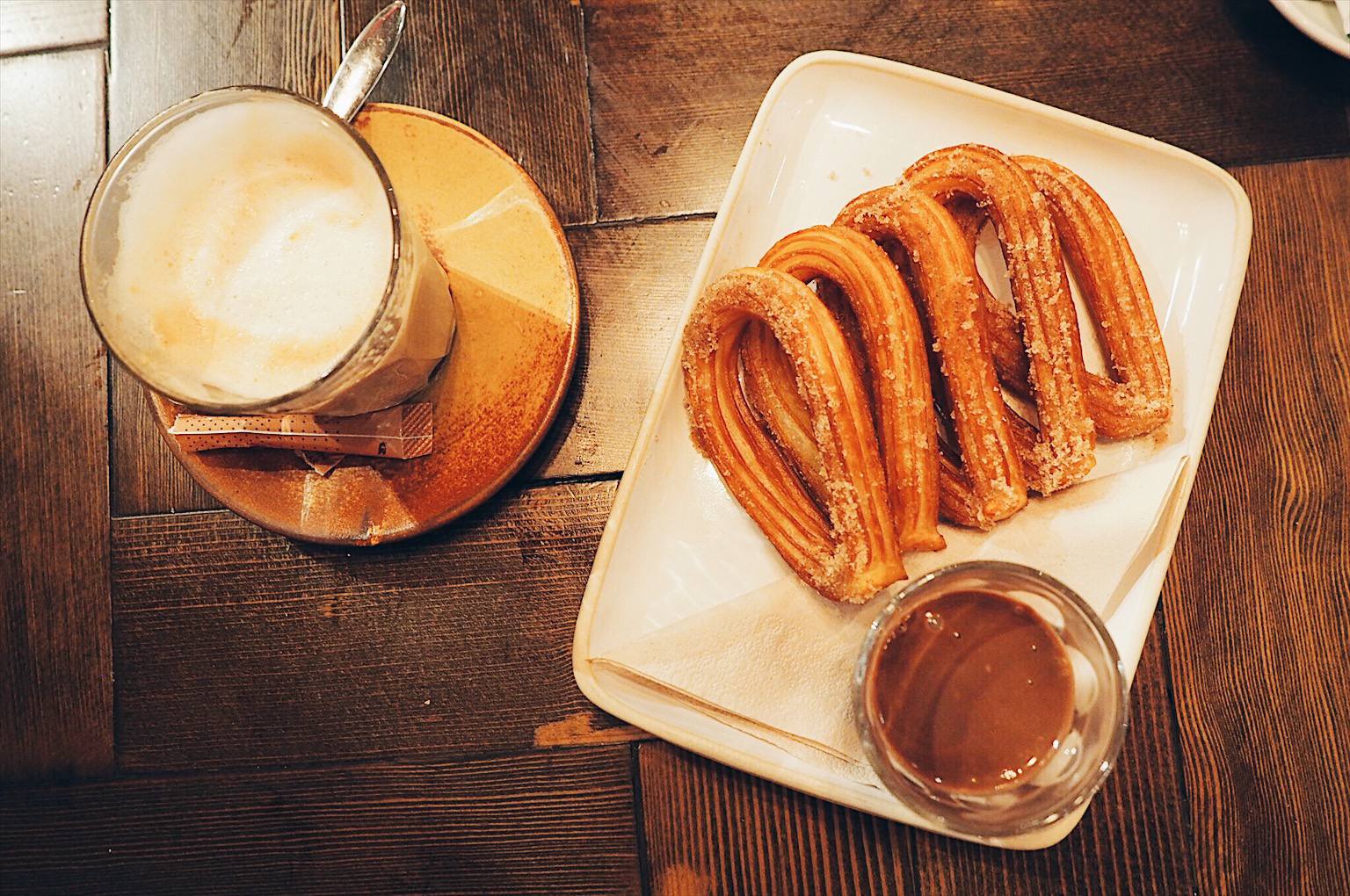 Are you a tapas fan? Tapas Revolution certainly serve some of the best I've had, and in such a fun setting! If you're craving tapas in Newcastle, check this gem out.
Follow While I'm Young on Facebook, Instagram and Twitter. You can also subscribe to my weekly newsletter, where I share the latest news and posts from While I'm Young, things I've enjoyed reading from around the internet plus beauty and style buys.
We were guest of Tapas Revolution but views are my own. All photographs were taken on my Olympus Pen E-PL7.