When Seaham Hall hotel emailed me the week before my stay to ask which kind of pillows we'd prefer in our suite, I knew our romantic break there was going to be special. After six months in Dubai, I was going back to North East England for a visit and five star Seaham Hall seemed like the perfect place to recuperate after those gruelling (not) months in the desert, immerse myself in the Great British countryside's beauty and pamper my travel-weary body.
Either I brought the sun with me or I'm missing a corker of a British summer; the weather was glorious when we crunched up the magnificent drive and into Seaham Hall Hotel's car park. We were greeted in the gleaming lobby of the Georgian country house by glasses of fruit infused water and strong North East accents. I've missed that unmistakeable twang! After the 'proper canny' porter, Kevin, showed us to our suite (more on that later), we were free to roam the hotel halls and grounds in awe. There are 37 acres to explore!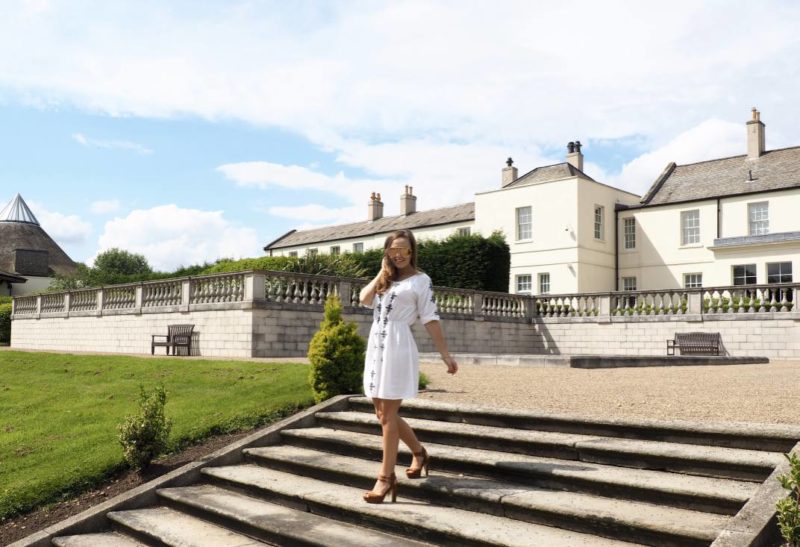 Where is Seaham Hall Hotel and what's it's story?
Like all exceptional hotels in the UK, Seaham Hall's colourful history is intertwined with the romantic past of its location in County Durham. Lord Byron got married here, and it was the centre of a whiskey smuggling operation during US prohibition!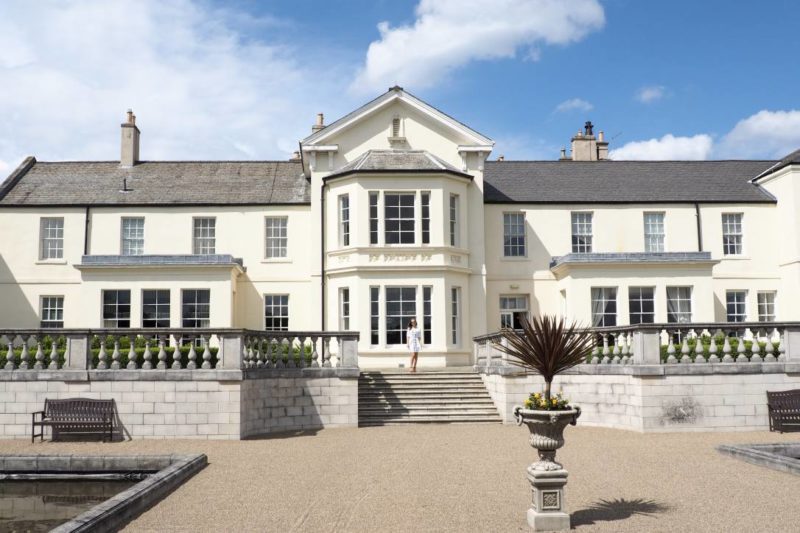 In the summer months guests can relax on 'Byron's Beach' after enjoying the outdoor games and stunning scenery.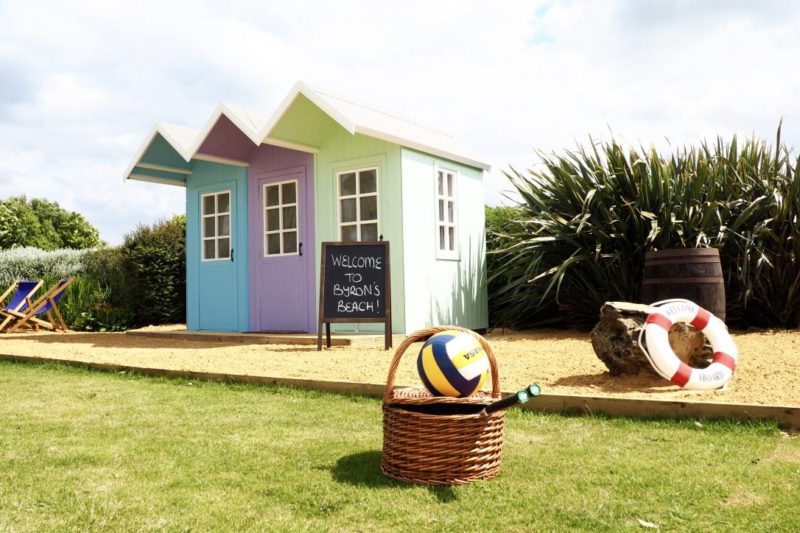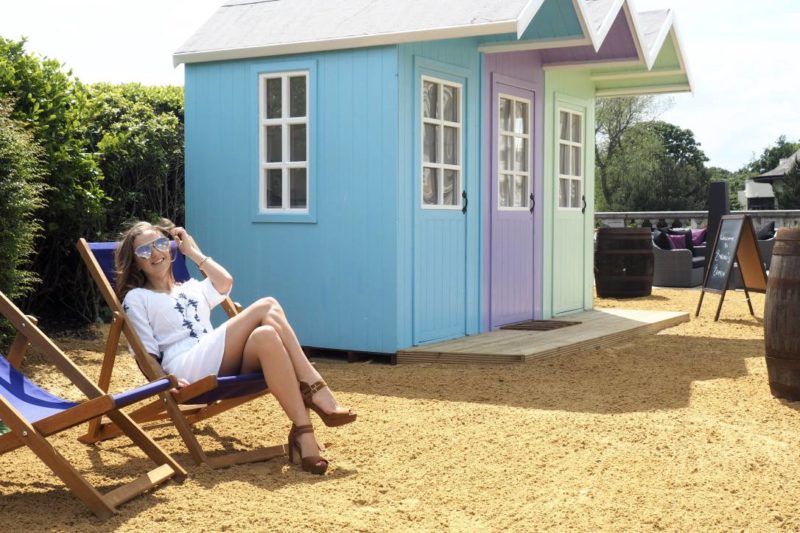 Lunch at Ozone Restaurant
We eventually tore ourselves away from the sprawling gardens and sat down to feast on the first treat of the day: a two course lunch at Ozone restaurant. Accessible from the hotel's Serenity Spa, Ozone serves pan Asian cuisine in a swanky but relaxed restaurant. You can dine inside at a table near the floor to ceiling windows, or settle on a lounger and sip champagne on the sun terrace. Best of all, clothes are optional. No, not in that way – spa guests can lounge in their fluffy white robes and slippers. Perfect attire for the restaurant's Afternoon Tea if you ask me, but we were here for a real feed.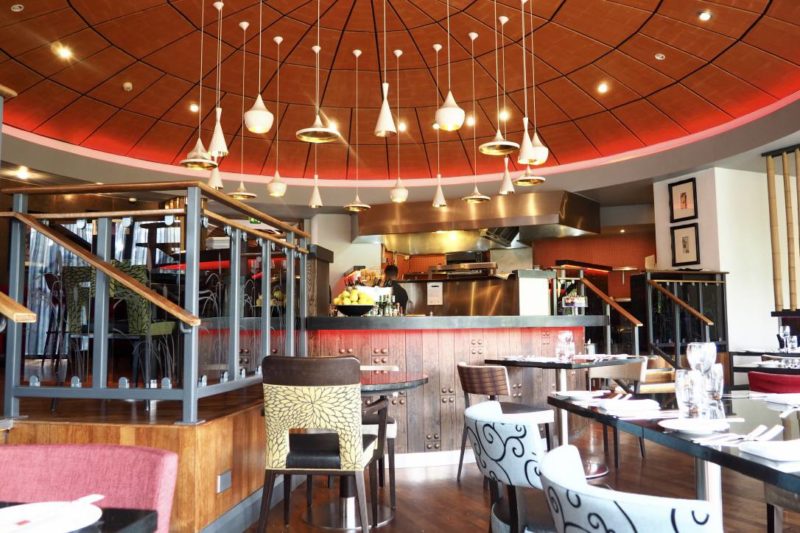 After golden brown onion bajis and crispy tempura prawns plus complimentary prawn crackers, the mains arrived. A fragrant pad thai took me back to our Thailand trip in 2013 (which featured a lot less fancy spa days and a fair few plastic buckets of booze, but plenty of authentic Thai cuisine), and Tom's pulled beef wrap had a distinctly Asian flavour. I just had to pinch a few chips too!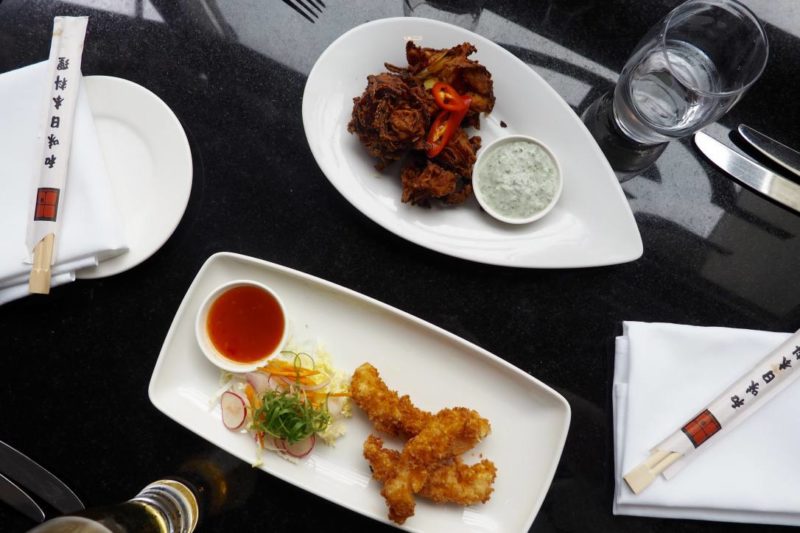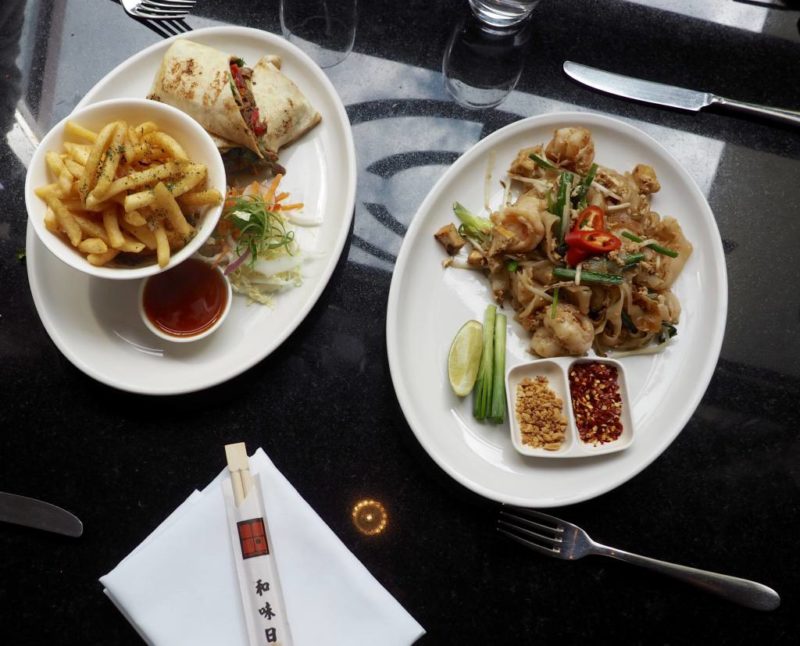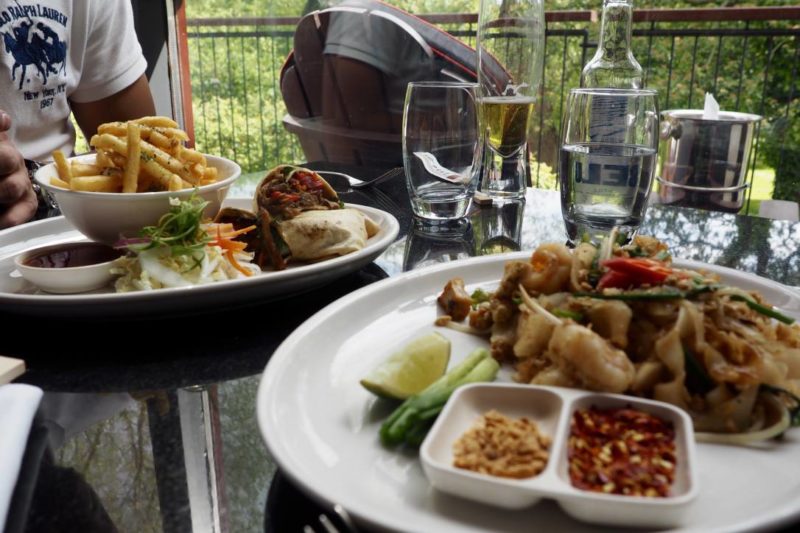 Seaham Hall Hotel's Serenity Spa
Suitably stuffed, we meandered through the verdant gardens past stone carvings lounging in the afternoon sun and into the Serenity Spa. Tom was off for a swim, while I was about to enjoy their popular 'Ytsara Manao' head and body treatment.
I was welcomed by a beaming Thai massage therapist who eased me into a foot bath filled with aromatic flowers and herbs. As she trickled the soothing water over my tired legs, she took the time to explain the ingredients of the steaming bowl, telling me about how they are used in Thailand and even sharing her own family traditions. Chatting to her put me incredibly at ease and made me smile – this was a world away from the brusque ladies at salons here in Dubai, who make you feel like you're intruding on their private jokes while they paint your nails.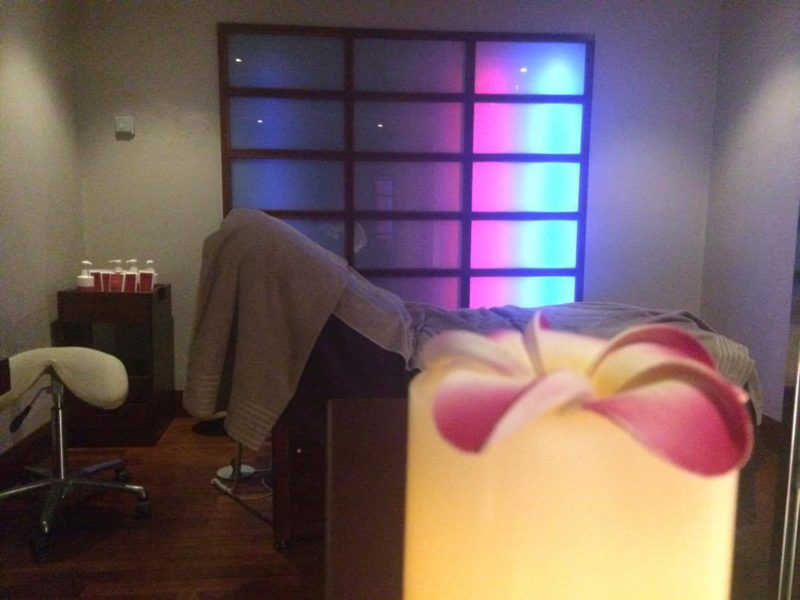 I was immediately pleased at my choice of treatment. The Ytsara Manao treatment is a full body experience designed to 'maintain purity, nurture skin and rejuvenate souls in a holistic way', and it incorporates traditional Royal Thai Massage techniques with the relaxing properties of herbal balls and oil. First, my body was massaged through towels – this comes from times when people would be sent to massage the Thai Royal Family and would have to use towels because they weren't allowed to touch their bare skin.
Next, a steamed, herbal poultice was pressed over my shoulders, neck and head to relieve tension – which it turns out, I have a lot of. This was followed by a thorough cleanse, exfoliate and hydration process on my face. I'd been really looking forward to this because the humidity in Dubai has done terrible things to my skin and I can honestly say I saw a huge improvement after my facial. I'm definitely going to try to copy the way she applied pressure to certain points on my face to encourage circulation and get rid of bloating.
I was almost asleep when the treatment was over, and I was given a glass of water, told I was dehydrated (naughty me) and given a scribbled-down skincare routine to follow, based on my needs. She also noted which products she had used in case I wanted to buy any, though there was no pressure at all.
I was led to the sun terrace to revive with a mango sorbet in the sun as I listened to birdsong. Did I really have to go back and find Tom?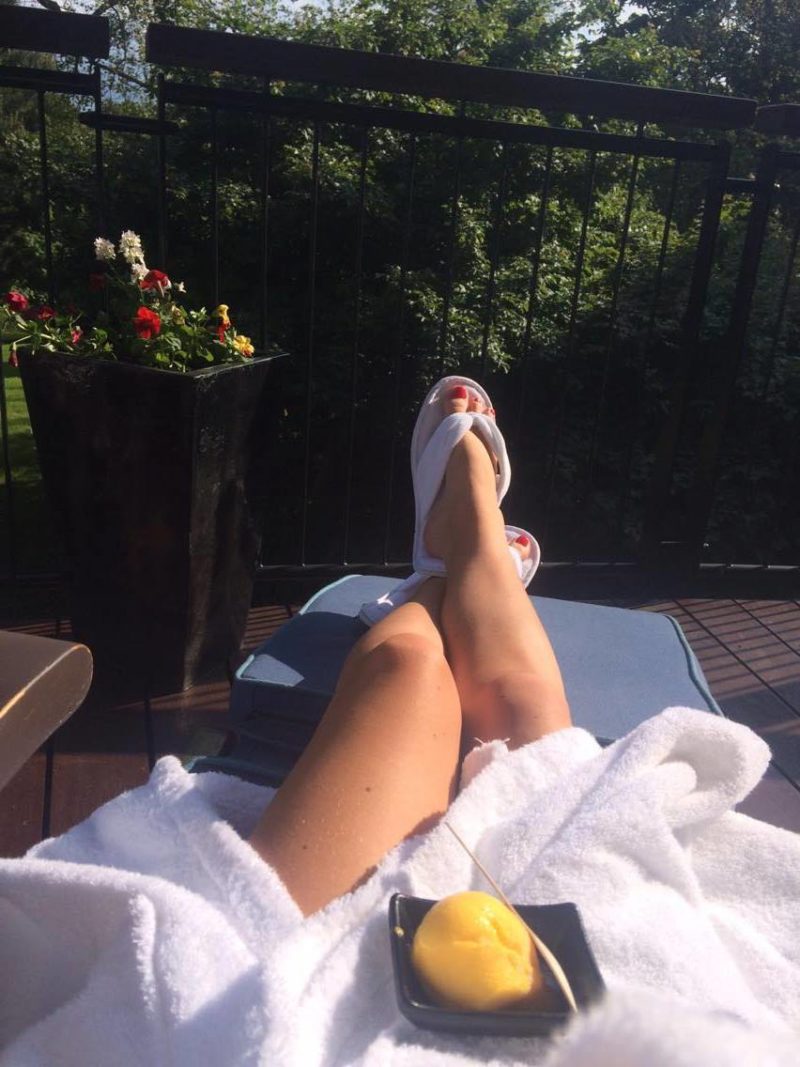 Rejuvenated, I headed to the pool area and spent the rest of the late afternoon alternating between sauna, steam room, ice cold plunge pool and outdoor jacuzzi. There's a gym too apparently – though I was here to enjoy myself.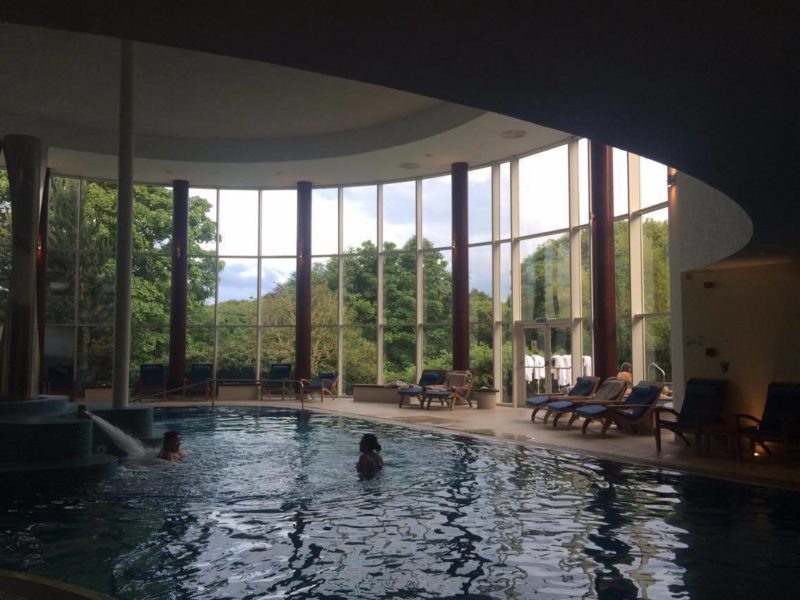 Seaham Hall's bars and restaurants
There are two restaurants in Seaham Hall; Lord Byron's and Ozone, plus plenty of plush chairs to cosy up in and enjoy a tipple. The snooker table and sports channels pleased Tom, while the swanky decor and cocktail list suited me down to the ground.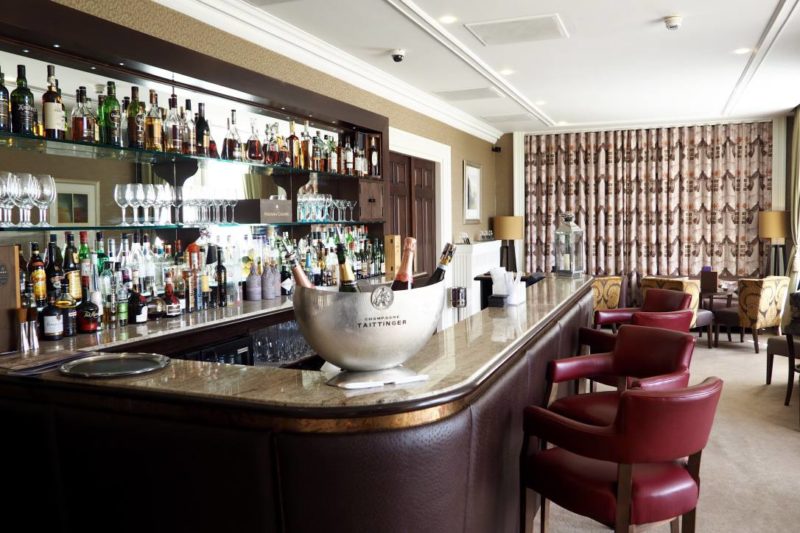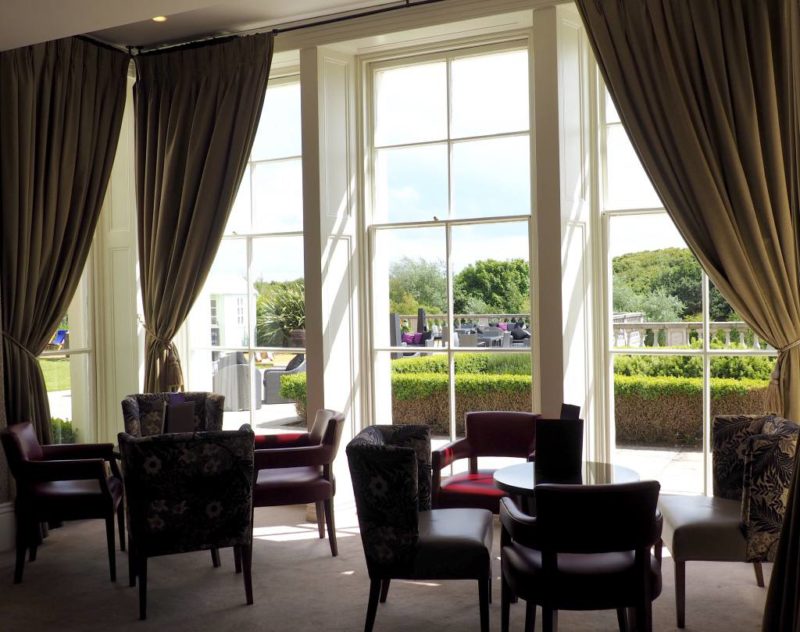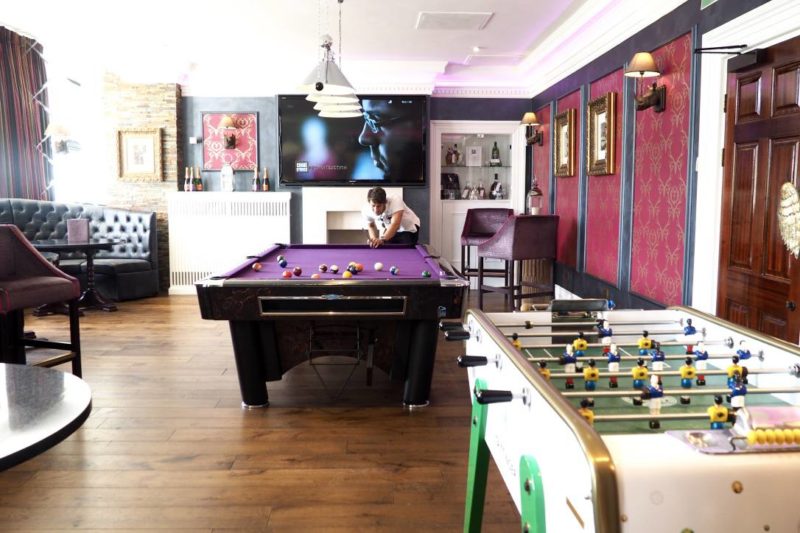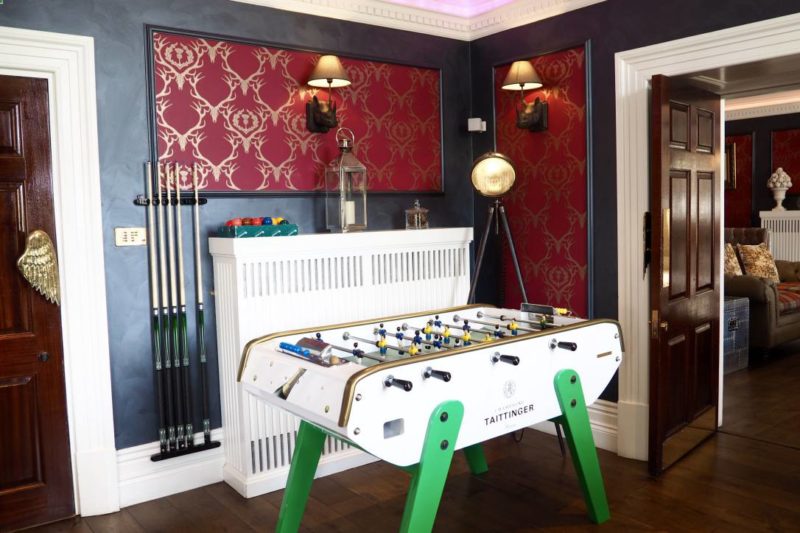 I need those angel wing door handles in my future mansion!
Our suite at Seaham Hall
I always say that it's the little quirks that make a hotel memorable, and Seaham Hall was definitely full of character, while still retaining a certain air of sophistication. Our room was bathed in sunlight thanks to the Georgian balcony doors, which looked out over lush greenery.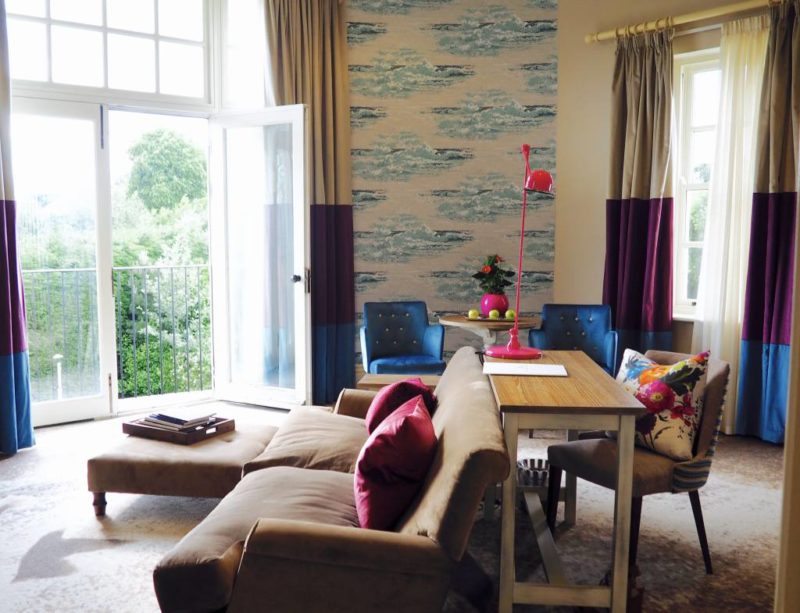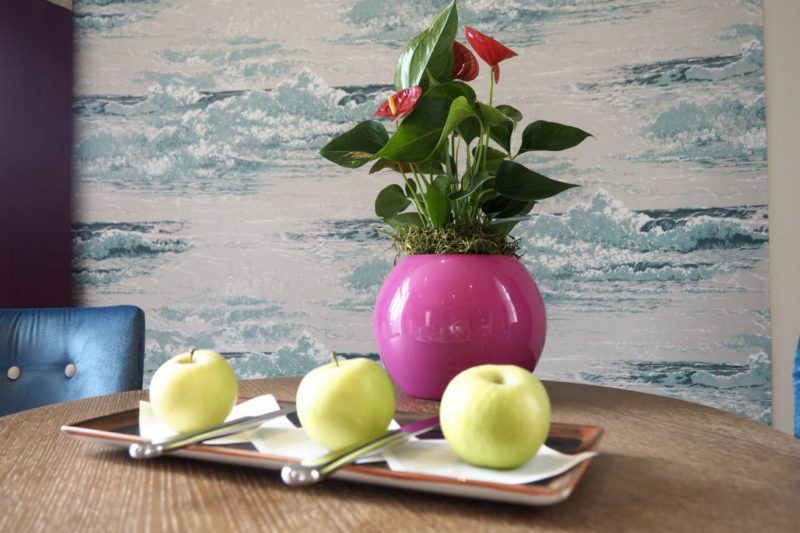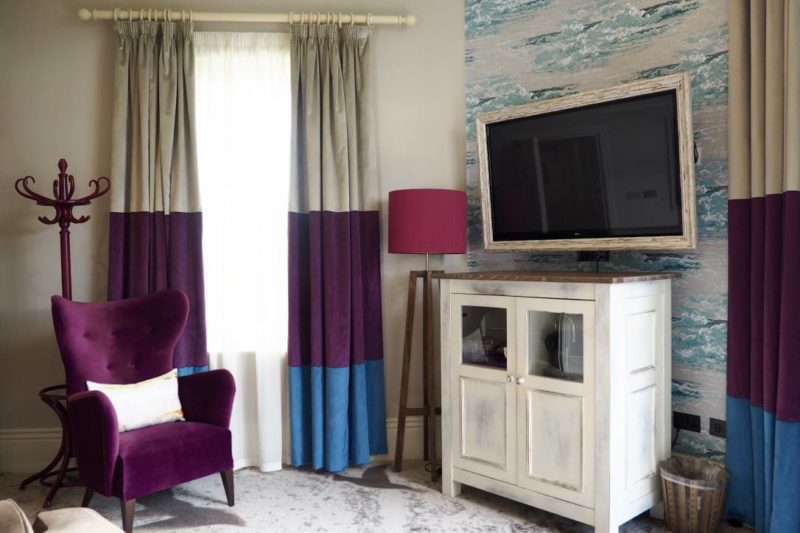 I loved all the little pops of colour throughout our suite.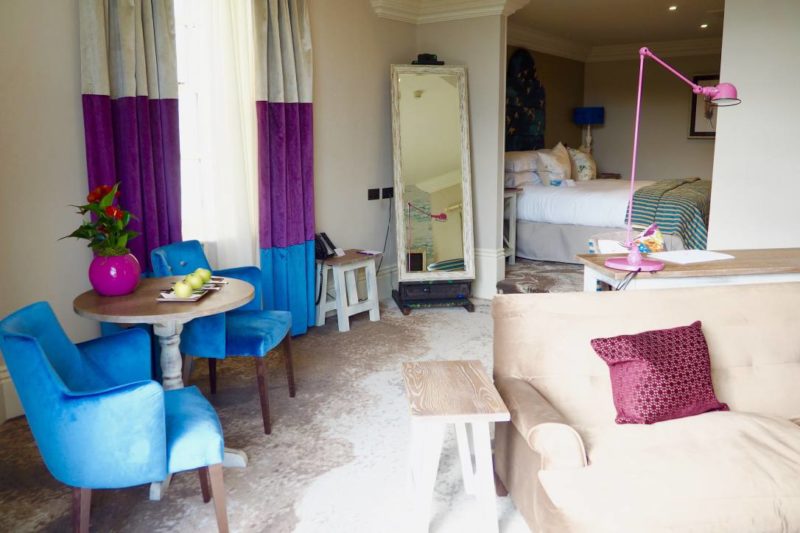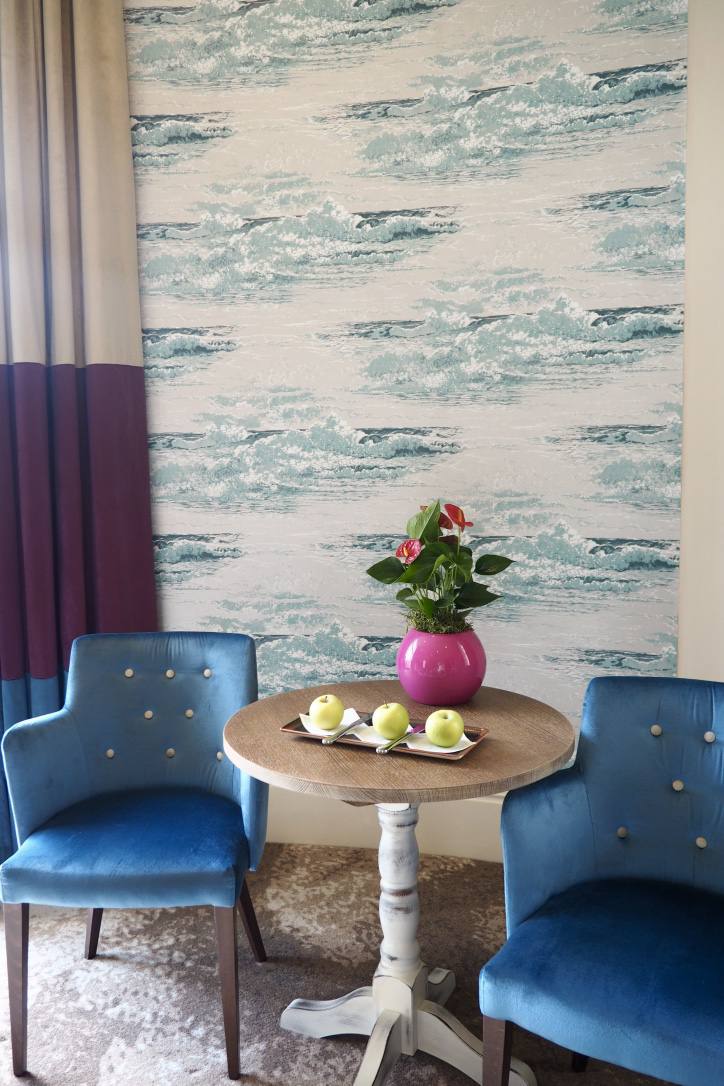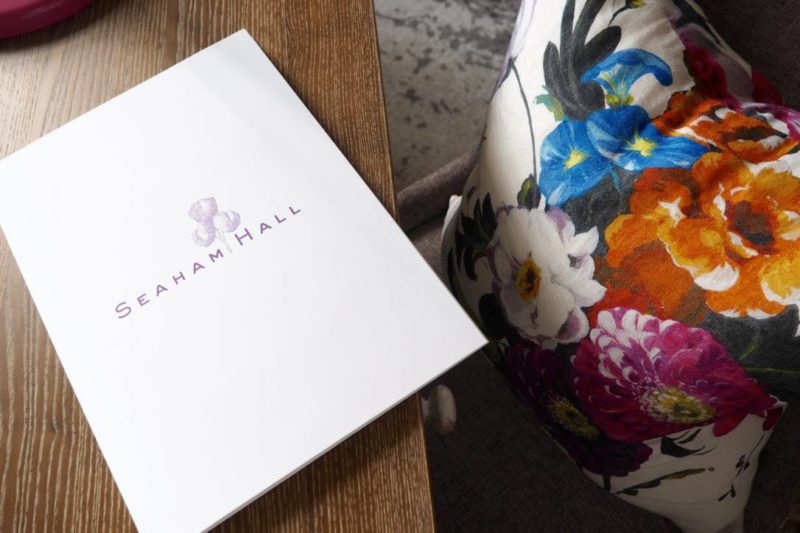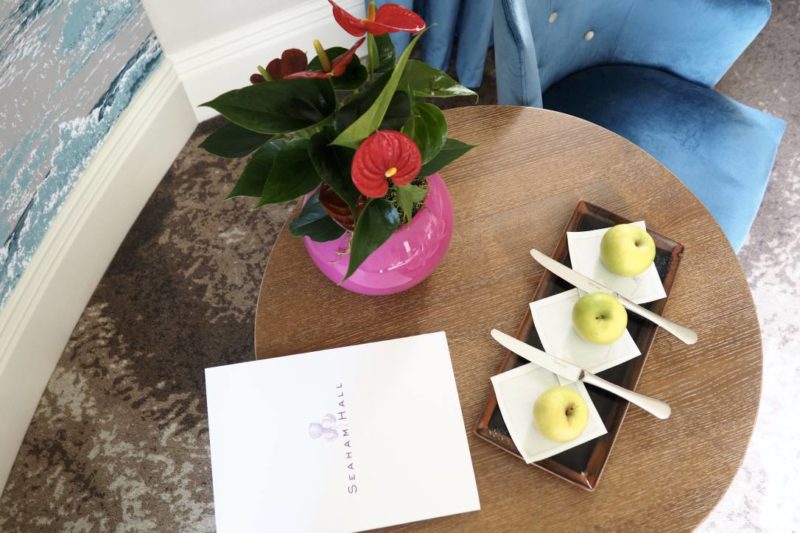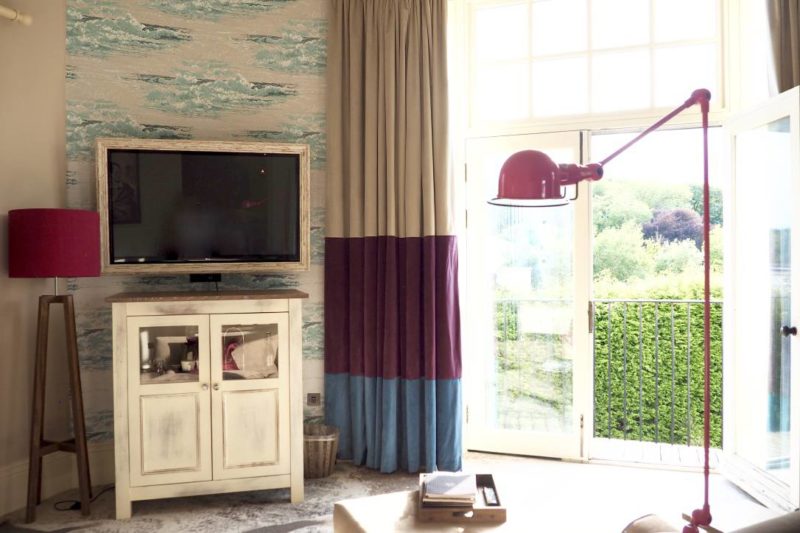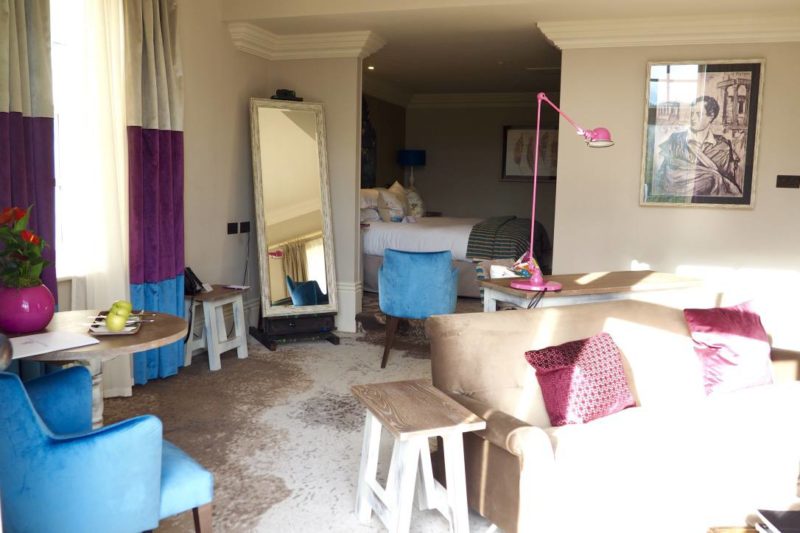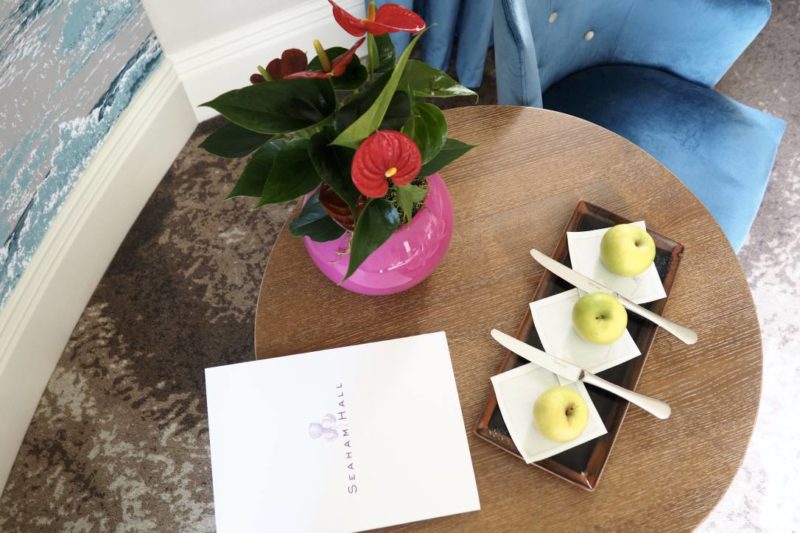 In the living area, a squashy sofa meant we could sprawl in front of the TV with a midnight feast from room service, and there were stacks of magazines to flick through while I ran the bath. Custom made wallpaper dressed featured walls – I even found some in the wardrobe!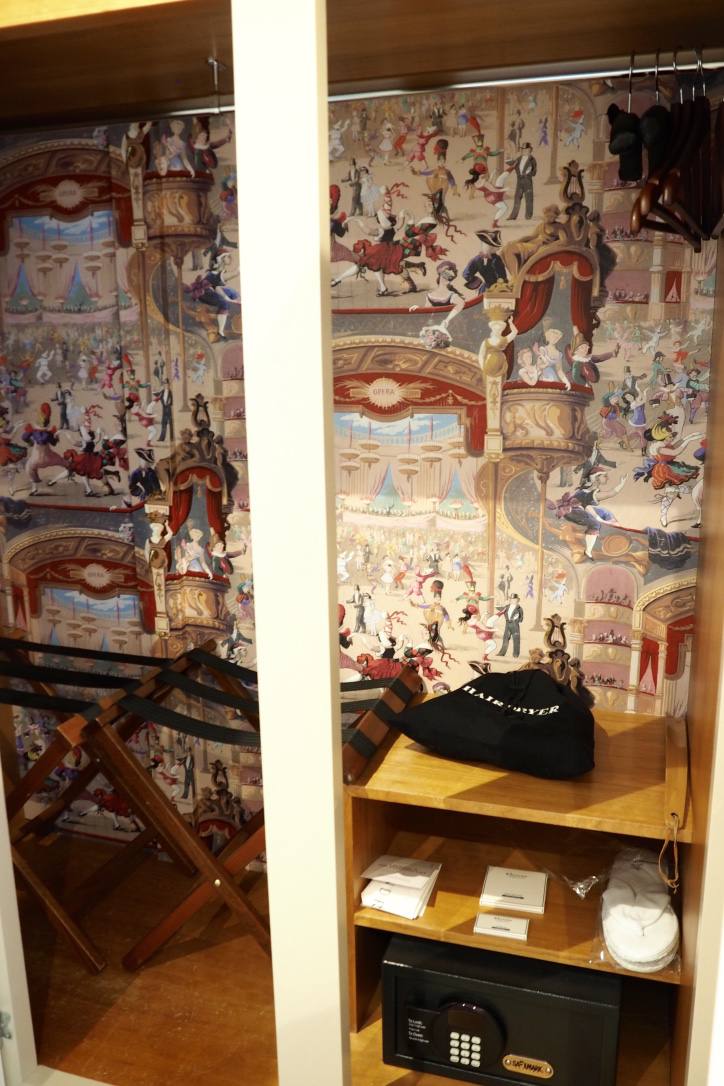 As promised, our pillow selection from the surprisingly vast menu had been supplied on the bed (which was so big I could've got lost in it – and believe me; I tried to when the alarm went off for our flight the next morning). Goose feather for Tom and water pillows for me. I'll be honest, I only chose water pillows 'cause I was curious about them and though they were a bit firm for me, they're ideal for people who like the support.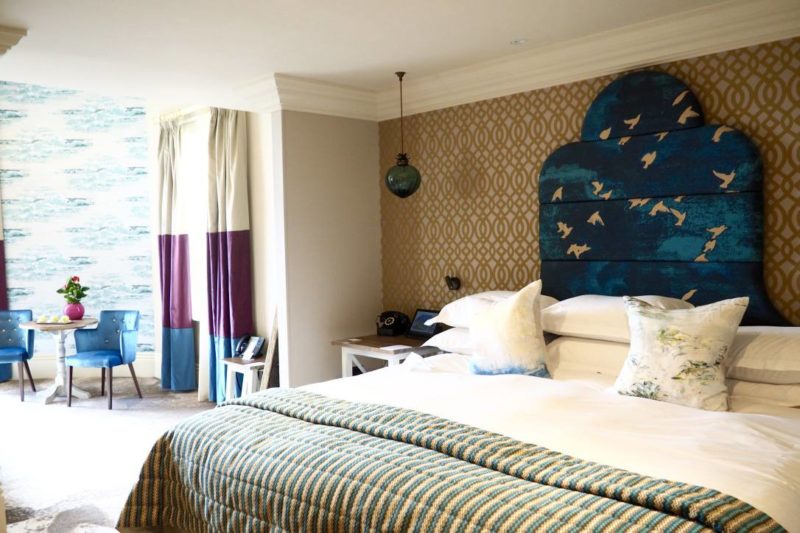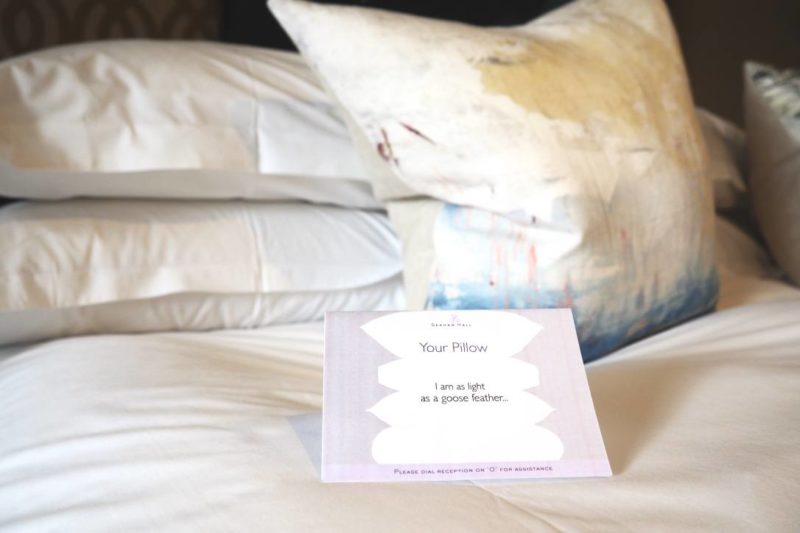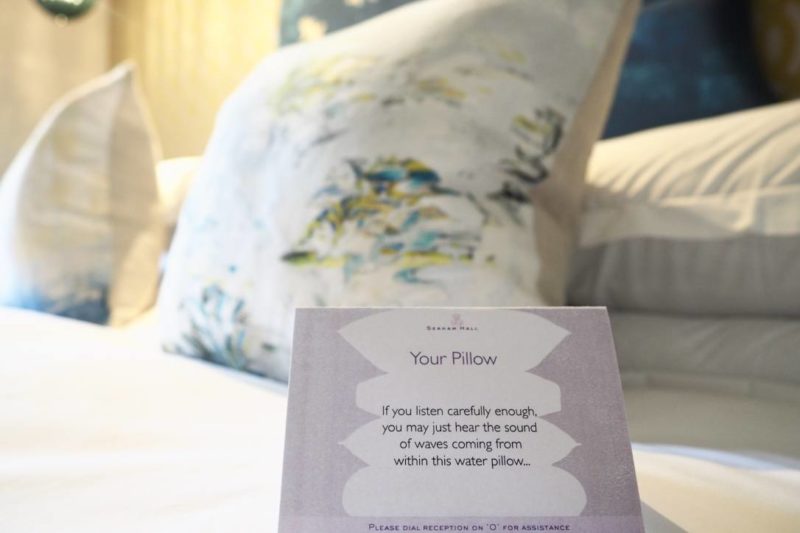 Seaham Hall Hotel knows how to delight its guests. When we returned to the room after our spa day, the cleaner had replenished the tissues while we were gone, left a note on the bed to let us know the next day's weather forecast and remind us Kevin was there if we needed anything. There was a tablet on the nightstand for us to order our midnight munchies and find out anything we needed to know about the hotel. Even more exciting (for me anyway, boys don't get it), was the Elemis sleep spray left on my pillow.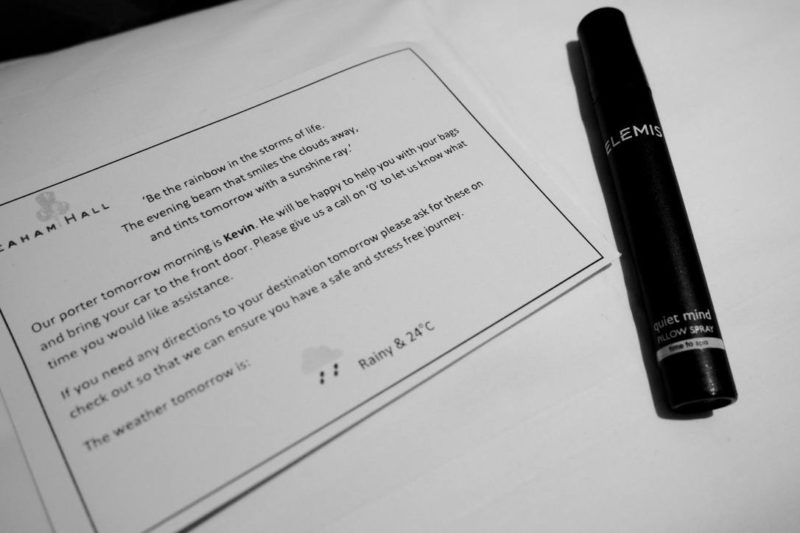 After a long soak in the free standing tub, we fell into bed like worn out kids after a day at the park.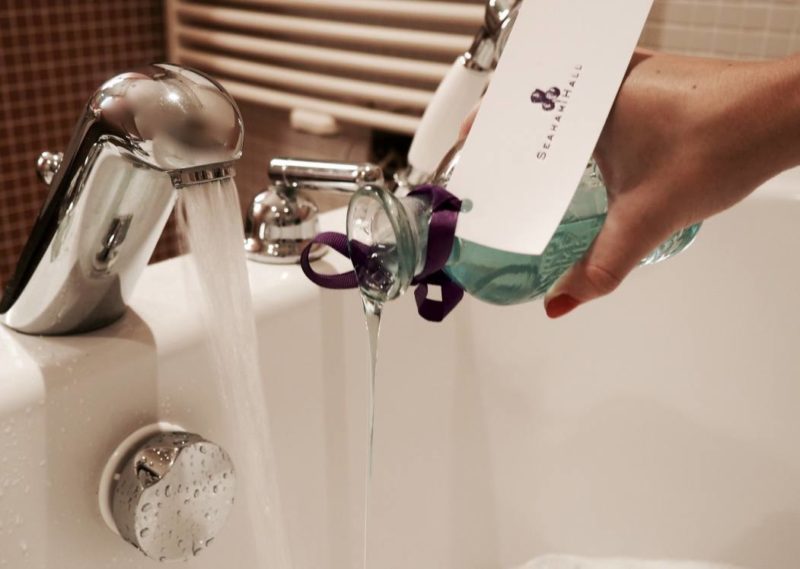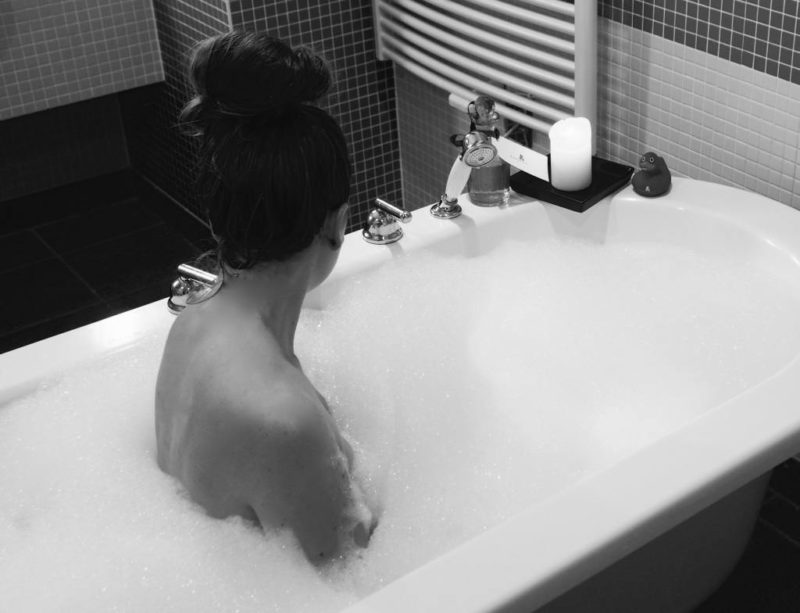 Our romantic stay at Seaham Hall Hotel was canny luxurious and I'd go back in a heartbeat. It's no wonder it won Best Small Hotel 2015, and I left feeling like I'd been on a two week detox in Bali – despite the cocktails. Sometimes you really do just have to treat yo' self… or get someone who loves you to treat you!
Beyonce was performing in Sunderland the day I flew back to Dubai and I'm pretty certain she would've checked in to Seaham Hall!
Who wants to stay at Seaham Hall Hotel now? Book your stay at the North East's most fabulous hotel today – I promise you won't regret it. Share or pin this post to go back to it later, and don't forget to follow me on Facebook, Instagram and Twitter for more lavish (and some not so lavish) adventures.