My pre-holiday detox
With only a few days until I go to Cuba (eek!), I've come over all basic bitch-y. I'm cutting down on the wine and chocolate and lovely lovely carbs and instead, doing squats in between looking at my suitcase which is already half packed, and looking at pictures of Havana. Like every woman on the planet in the run-up to a bikini holiday, I'm on a detox. I eat moderately healthy all year round, sticking with the 80% good / 20% naughty diet, so it's not too difficult. I'm also trying to shift a nasty infection before we touch down because I don't fancy ending up in a Cuban hospital.
I am so excited to see Cuba! I can't believe I'm going to the Caribbean! I'm going to drink ALL OF THE RUM and smoke a big fat cigar every day at sunset.
We're staying at Playa Pesquero hotel, which looks absolutely beautiful. Not going to lie, I'm planning on reversing this no-alcohol detox by propping up the dedicated Mojito bar for 80% of the holiday, and spending the rest of the time tanning and going on trips. All of my favourite things, really.
You've probably read about how the trade embargo with America is being lifted in Cuba, so I'm thrilled we're 'getting in before the Americans', so to speak. Sorry America, but nobody needs a McDonalds sign spoiling those streets.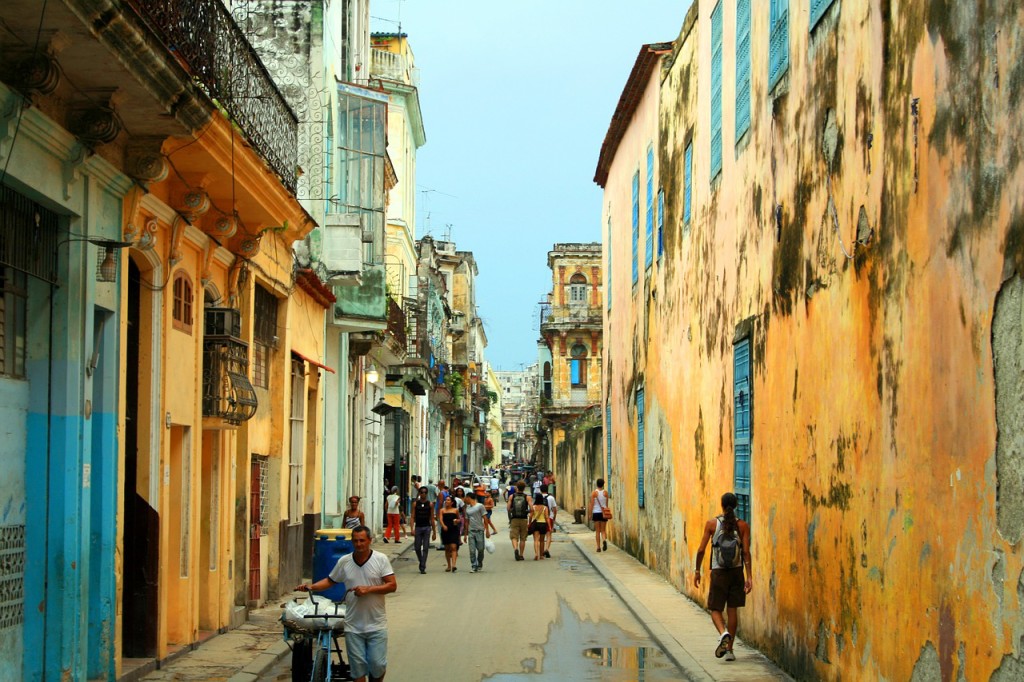 Could you do a digital detox?
We all love to hate those 'Monday aint too bad' poolside pics that our facebook friends upload when they're on holiday, and we're all 100% guilty of doing it when our two weeks in the sun rolls around. However, as a travel blogger, it's kind of my job to document every aspect of my trip. If I don't instagram every cocktail and tweet about the service at the check-in desk, I feel like I'm a bad travel blogger. It's a curse we have to bear.
This time, I have an excuse to stay offline. Internet access in Cuba is famously unreliable, and so I'm going cold turkey. No facebook, no email, no sneaky wake-up stalk of my #WCW. I'm really looking forward to it. Getting back to basics. Just the sun, the sea and my best friend.
As an English literature graduate and self-confessed bookworm, I'm also really excited about getting to bury my head in a book without any distractions. That notification popping up on my phone is usually just too tempting! I'm looking for some good beach reads so if you've read something lately that you couldn't put down, please leave me a recommendation in the comments!
Going on a digital detox is something that I think everyone should do when they go on a holiday where the main purpose is to relax, and I think it will help me really detach. For a person who hates that social media is making us all stay inside pretending we have a social life because we got 55 likes, I'm way too much of an abuser. I can't wait to lie on a beach with Tom and not look at our phones. I hope he's as excited for that as I am! He's kind of addicted to some stupid snooker game at the minute…
Balancing travel blogging with a 9-5
I work as a Digital Marketer during the week. Travel blogging is kind of my moonlight job. It keeps me up and makes me count how many days' holiday I have left, wondering if I have room to squeeze in another trip.
My blog is also one of the main reasons I got my job in the first place, and I really love what I do. Digital marketing means always educating yourself, keeping your finger on the pulse of the ever-changing digital world – and the knowledge I gain helps my blog as well as my career.
Spending 8 hours a day gazing at a computer screen in the office then going home to blog is taking its toll. I've had headaches and sore eyes but after getting my eyes tested and getting myself all excited to choose some sophisticated new glasses, I was told I have perfect vision; I just need to spend less time on the computer.
Ha. Don't they know I'm trying to build an empire from my bedroom?
The trouble with travel blogging
I do sometimes wonder if travel blogging is making me miss out on the here and now of travel. While I'm Young and Skinny started because I wanted to document my travels, to match the pictures I'd taken with the memories made in anecdotes. I still believe travel blogging is a great way to experience the world. If I didn't blog, I wouldn't be taking note of how much that massage cost or all of the new foods I'd tasted when I'm away somewhere. One of the things I enjoy most about running a travel blog is that when I sit down to write about a trip, I get to relive it. I pour over the notes I made in my travel diary, smile at the pictures I snapped and then get to share it with my lovely readers. The thing is, taking two weeks off isn't an option. Of course the prospect of going without access to my travel blog while I'm sunning it up gives me anxiety, but I'm being super prepared. I have four fabulous (I think so, anyway) blog post scheduled to be published while I'm away, and although I won't be active on twitter and facebook etc, I do have tweets scheduled so that my readers don't think I've died or given up on the often disappointing but always exciting world of travel blogging. I figured two pieces of new content per week will keep people satisfied. Being a travel blogger without WIFI access can feel like the end of the world, but I'm not going to let it. My readers are used to seeing new posts on Sundays, Mondays and Wednesdays – so that's what they'll get. I wrote and scheduled these posts weeks ago. Bear in mind I had to do that for my day job too! (Insert desperate plea to readers not to abandon me while I'm sipping cocktails in the pool bar here) The easiest way to make sure you don't miss my new blog posts while I'm on my digital detox is by signing up to receive them straight to your inbox.
My digital detox resolution
No phones, no social media and no wading into those group chats that suck the fun out of organising anything. I will take my iPhone and use it to take pictures, but I'm not blogging for the duration of my holiday. Of course, if I manage to snatch a few minutes of wifi in the hotel lobbies, I'll treat you to a snap or two…
Like my facebook page and follow me on twitter to see the posts and to read all about Cuba! Want to find out how I survived two weeks without WIFI? My digital detox diary is live!