Last weekend was one of the biggest in every Dubai expat's social calendar: Dubai Rugby 7s! This year, it was happily sandwiched between TWO public holidays (for me, anyway – sorry to those who had to work the Sunday but ermm, not sorry?).
It feels like I've been on little jaunts around the globe every weekend recently and I was starting to feel like I wasn't actually making the most of living in Dubai, so this weekend I kept my feet firmly in the sand. I  had the BEST time on my little Dubai staycation, made even better because my boyfriend was here. Here's what we got up to over the most perfect four days in Dubai.
Our Dubai staycation
Thursday
After a long, hot yoga lesson on Wednesday night I was up early to bag the best loungers at Zero Gravity with my flatmate Tay. Our other friends Meg and Melissa arrived and the poolside filled up fast. We had the loveliest of days, sunning ourselves and sipping cocktails. I've always wanted to do a glam pool day here and it was one of those days that reminds me why I moved to Dubai.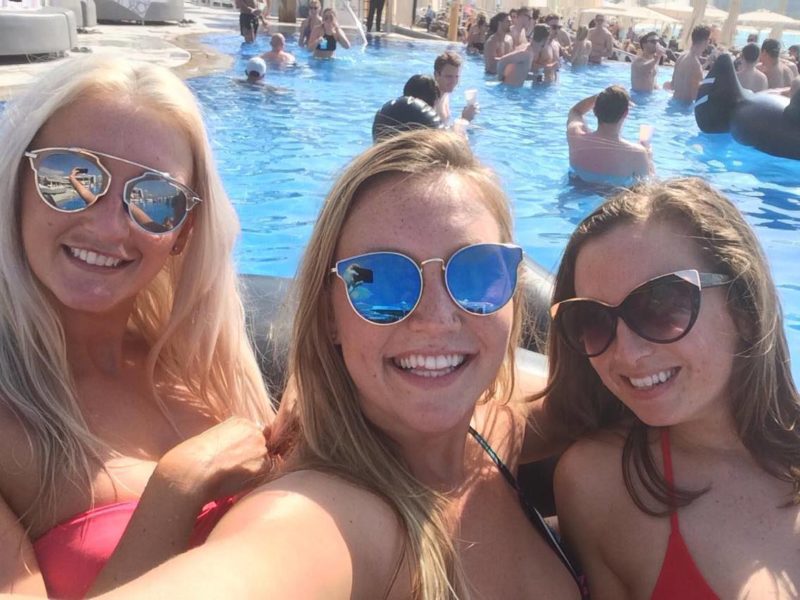 We ate lunch on our loungers: sushi and tabbouleh and quesadillas, while moaning about typical and varied Dubai princess problems like the salon not answering our calls and the sun being too strong for us to check which Snapchat filter was the most flattering.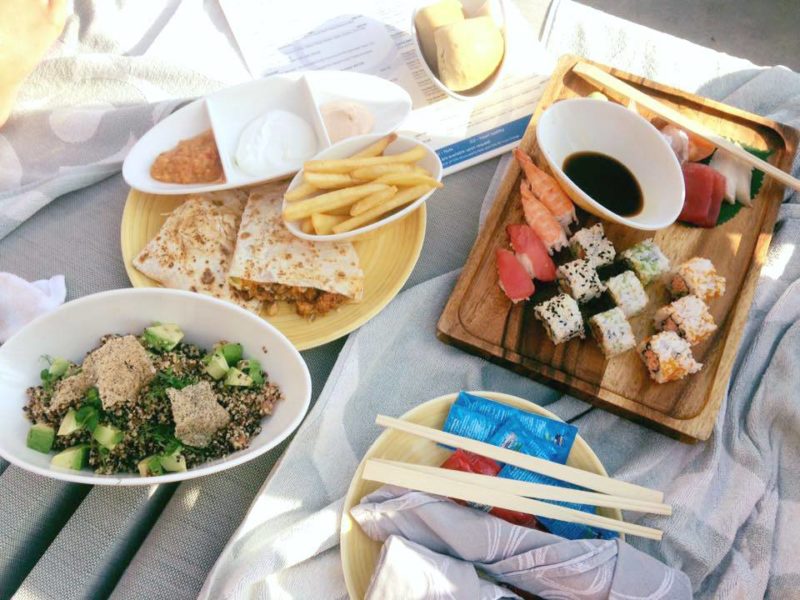 It's a hard life out here in the desert.
We had an argument with an annoying drunk guy in the pool who tried to tell us our inflatable was a penguin and not a black swan. Looking back at the pictures, I kinda think we were the ones in the wrong?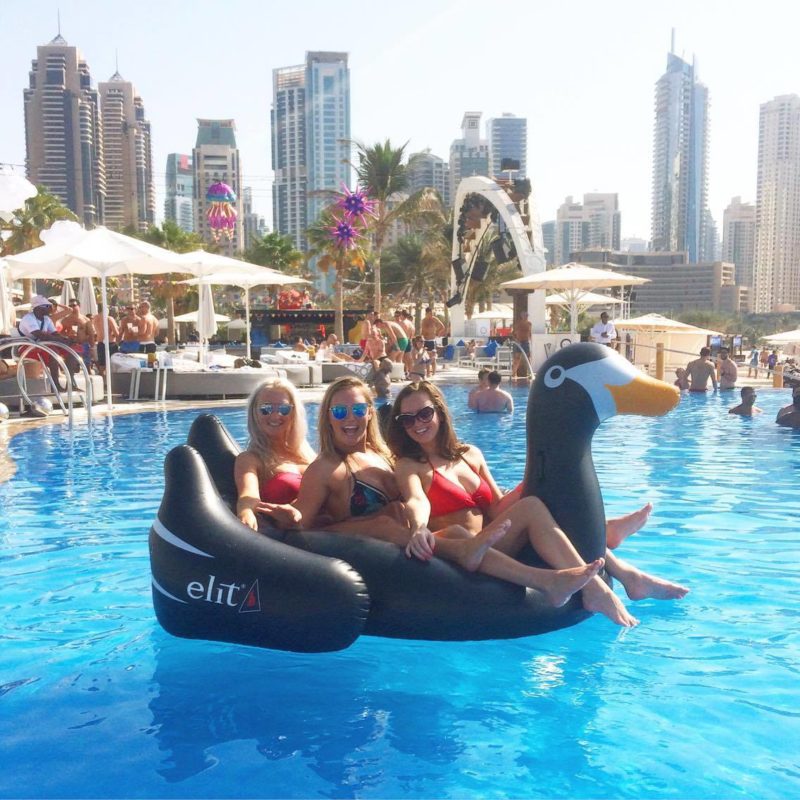 The below is another typical Dubai princess Instashot but it just had to be done. Unfortunately an older Italian couple didn't quite understand that we wanted them to move over so we could get our pic, so we ended up with some hilarious photo bombers. I've tried to cut them out of this one!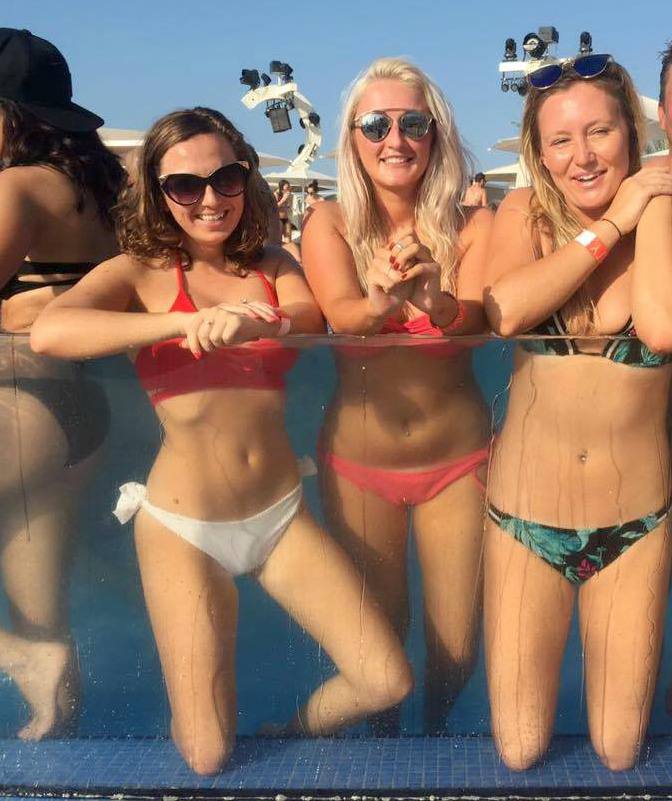 Spending the day at Zero Gravity made me envious of all those girls who have Sugar Daddies in Dubai and I went home wishing I could be a Jumeirah Jane, even if only for a week or two…
Friday
Tom flew in late Thursday night and we kicked off what was set to be long day of drinking with breakfast at Barasti with the girls. Bloody Mary's and fry ups all round! There was an England cricketer at the next table and Tom got star struck which was cute.
Barasti provided free buses to the stadium which turned out to be in the actual desert. Like, we sped past some dolled-up girls staggering through the wasteland and I wondered if they were still making their way home after last year's 7s until someone pointed out they'd probably just gone for a wee.
It was surprisingly scorching for the time of year so when we got to the stadium we headed straight for the bar and bought our first six-pack of many that day.
Fancy dress is a big thing at the 7s and we saw some fantastic outfits. My favourites were the bearded blokes dressed up as female Emirates cabin crew and my own girlfriends who went as Snapchat filters – they slayed!
I didn't pay much attention to what was going on on the pitches but it was a great day and we caught the bus back to Barasti to carry on the revelry there.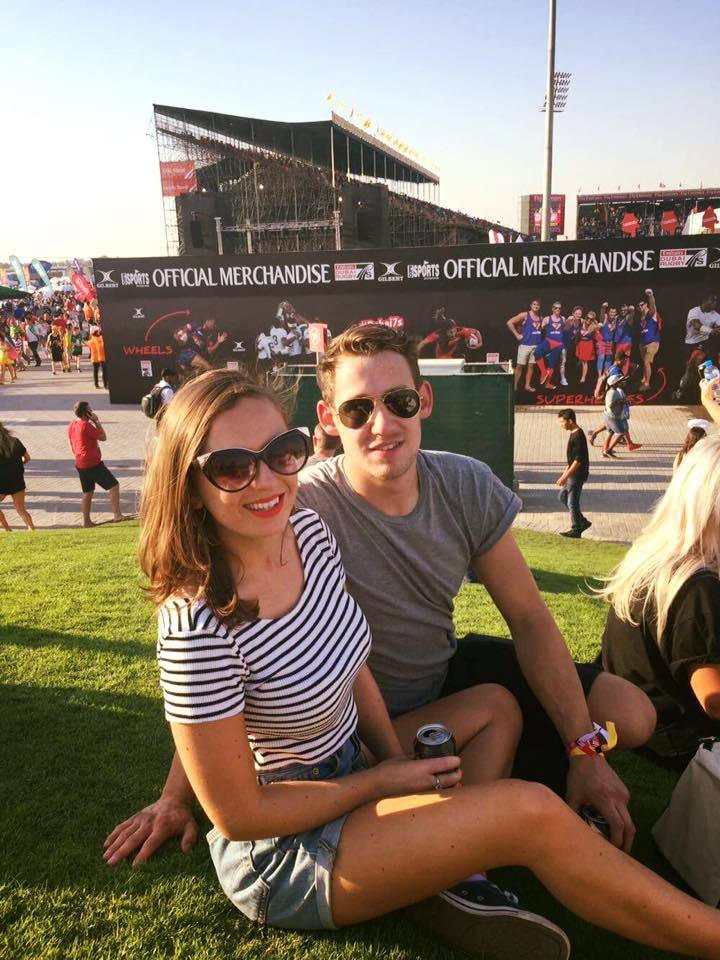 Saturday
As you can imagine, Tom and I were a *bit* worse for wear the day after the 7s. I had one of those hangovers that sneaks up on you when you're about to order at Cheesecake Factory and I had to do a quick tactical puke before I could eat, so there's a bit too much information for you.
Fed and watered, we spent the rest of the day wandering around JBR Walk and played a round of mini-golf.
I love having The Walk on my doorstep because there's always something going on, whether it's an artist takeover or a charity event.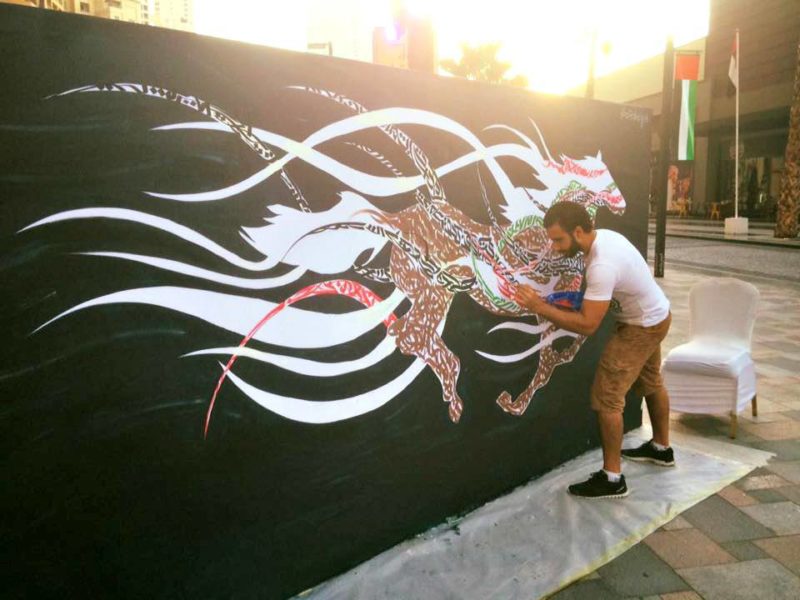 There are also plenty of supercars to lust after. Personally, I prefer making fun of the posers who drive them.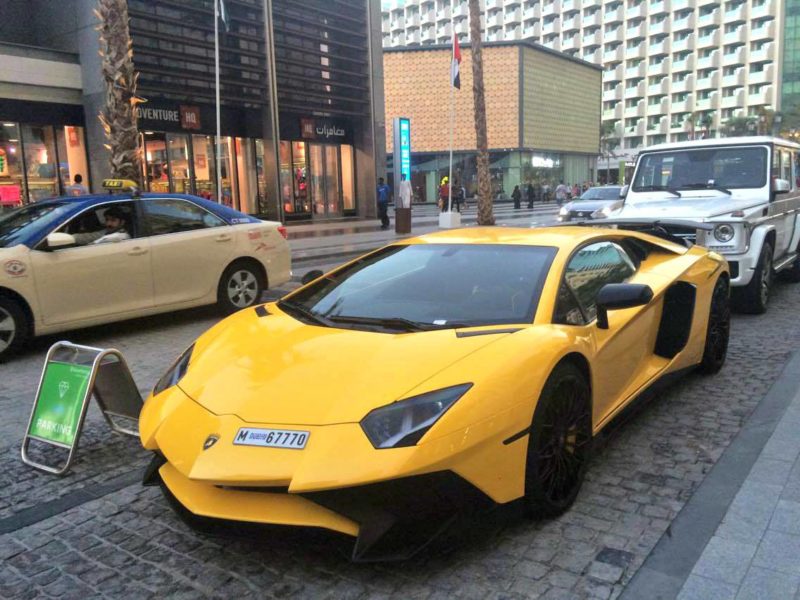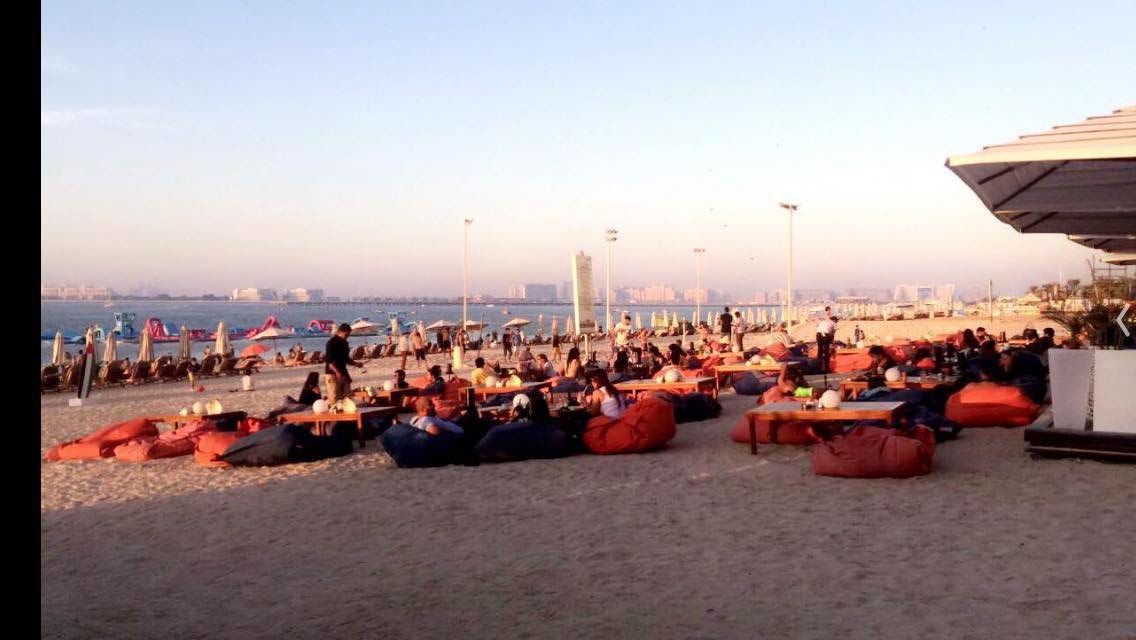 When the sun set, we headed to the outdoor cinema at Habtoor Grand to watch The Goonies. Date night goals!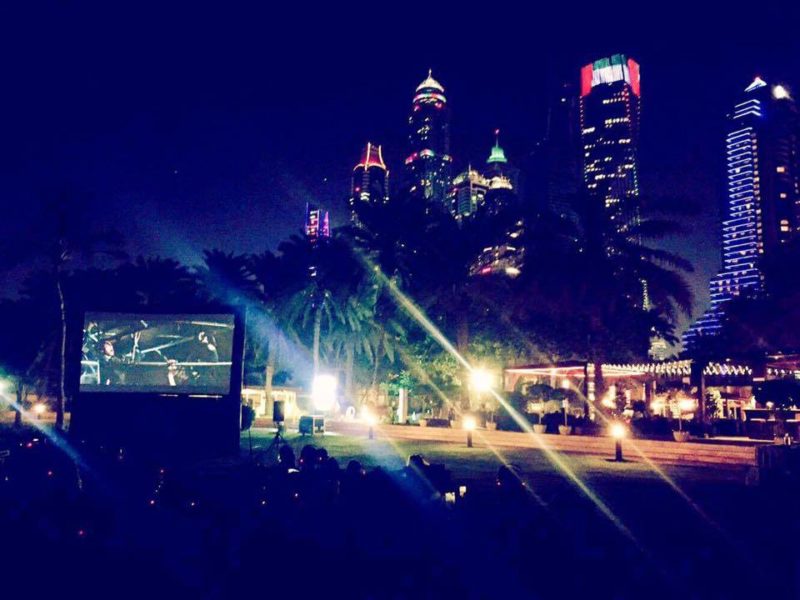 Sunday
On Sunday I ticked yet another thing off my never-ending Dubai bucket list. We spent the day at Wild Wadi Waterpark! Not everyone in Dubai had Sunday off so there were no queues. We tried all but the scariest of rides then I fell asleep on the little beach.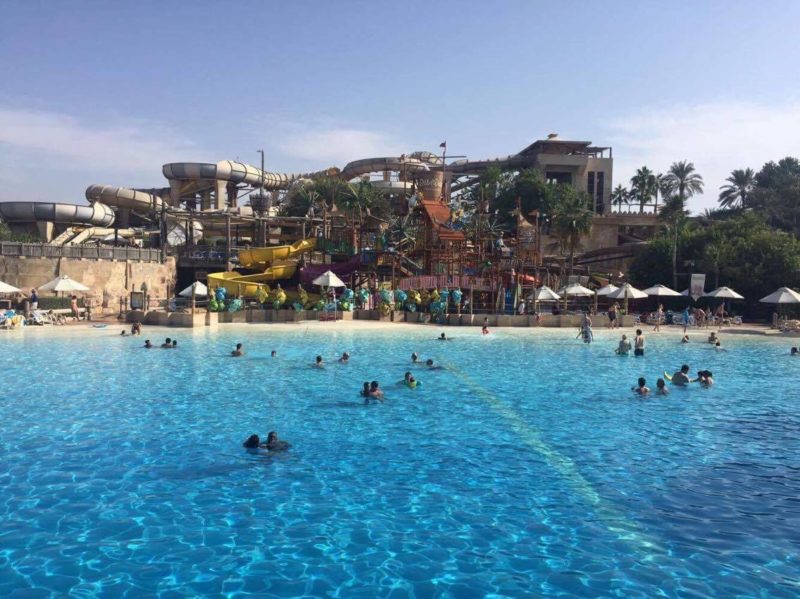 We decided to take advantage of the cooler weather and walk from the waterpark to Madinat Jumeirah. We spent a bit of time wandering the souk and the promenade, where abras glide along the river and the Burj Al Arab presides over everything.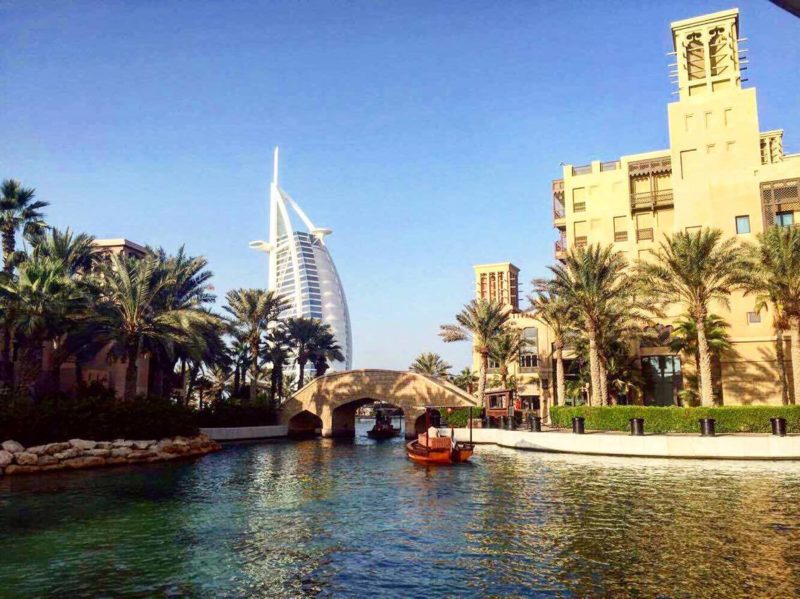 Madinat is my favourite place in Dubai and going with my favourite person was even better.
We ate dinner that night at Fume in Pier 7. It was happy hour when we arrived so we had a few drinks before our meal and I fell in to bed that night with a happy belly full of red wine and seafood linguine.
Tom left the following morning and I was back to work the next day. The only thing that got me through this week is that there's another long weekend this weekend! If you wanna have a nosy, follow my on snapchat – my name is dannielle-lily.
You can sign up to my email list using the box to the right so you never miss a post and follow While I'm Young on Facebook, Instagram and Twitter.