As much as I'm loving the whole cold-shoulder trend, I'm getting a bit sick of every single shop cutting the shoulders off their old designs and flogging them as bardot. Is it just me?
Anyway, I was in Edinburgh last weekend to check out the newly-opened Eden Locke Hotel (if you care about your Instagram grid at all, stay there when you go to Edinburgh) and I turned the trip into an impromptu visit to see my Scottish aunties, who live near Edinburgh. I'd only packed one change of clothes which meant running along George Street in search of more things to wear during my little Scottish tour. What a great excuse to shop, eh?
Outfit of the week: candy cane stripes and ripped denim
After much deliberation about what the weather had in store for me, I picked up this red and white striped shirt in H&M. I wasn't keen on this style when it first appeared in shops but well, first I laughed, then I copied.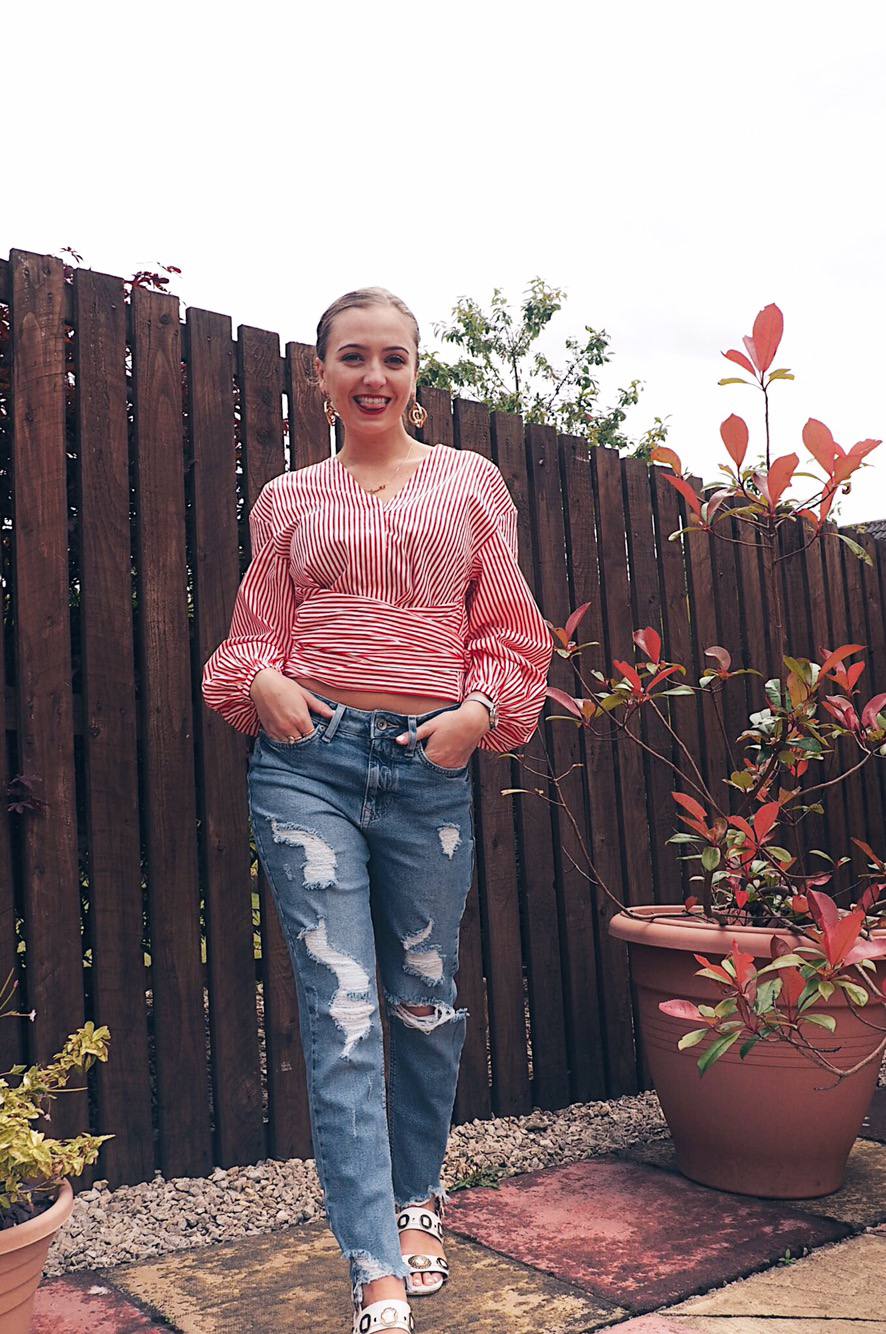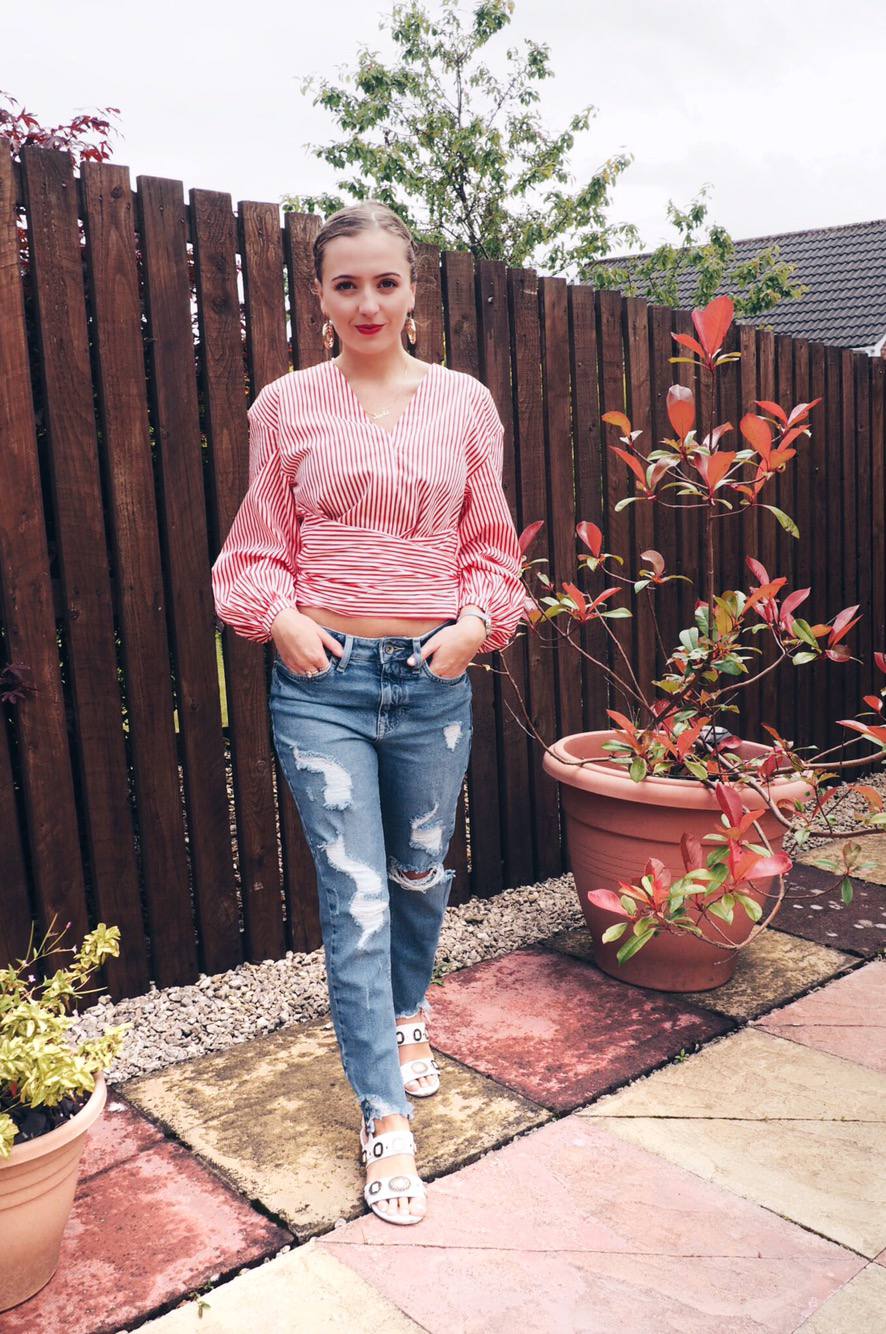 I love the puffy sleeves and big bow tie – I wore it at the back but I'm going to mix it up for my next wear and see what it looks like tied at the front and paired with culottes.
Similar tops online (blue & white and red & white)
For its first outing, I twinned the top with gold dangly earrings, white sandals and a bold red lip – this one is Clinique.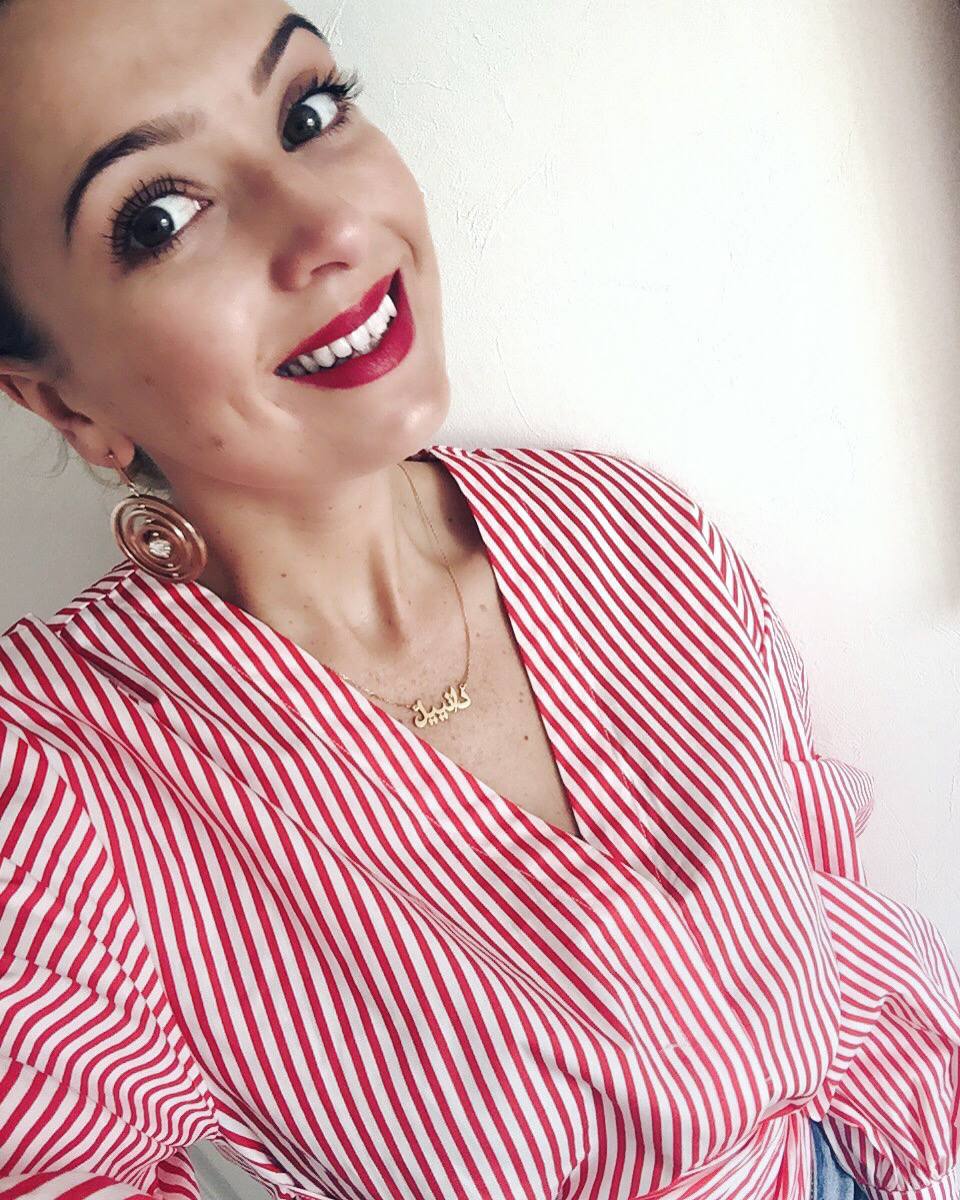 I've never shopped for clothes at Tesco before, but my auntie dragged me around and I ended up getting these straight leg ripped jeans. The label said £20 but when I got to the till they were only a tenner!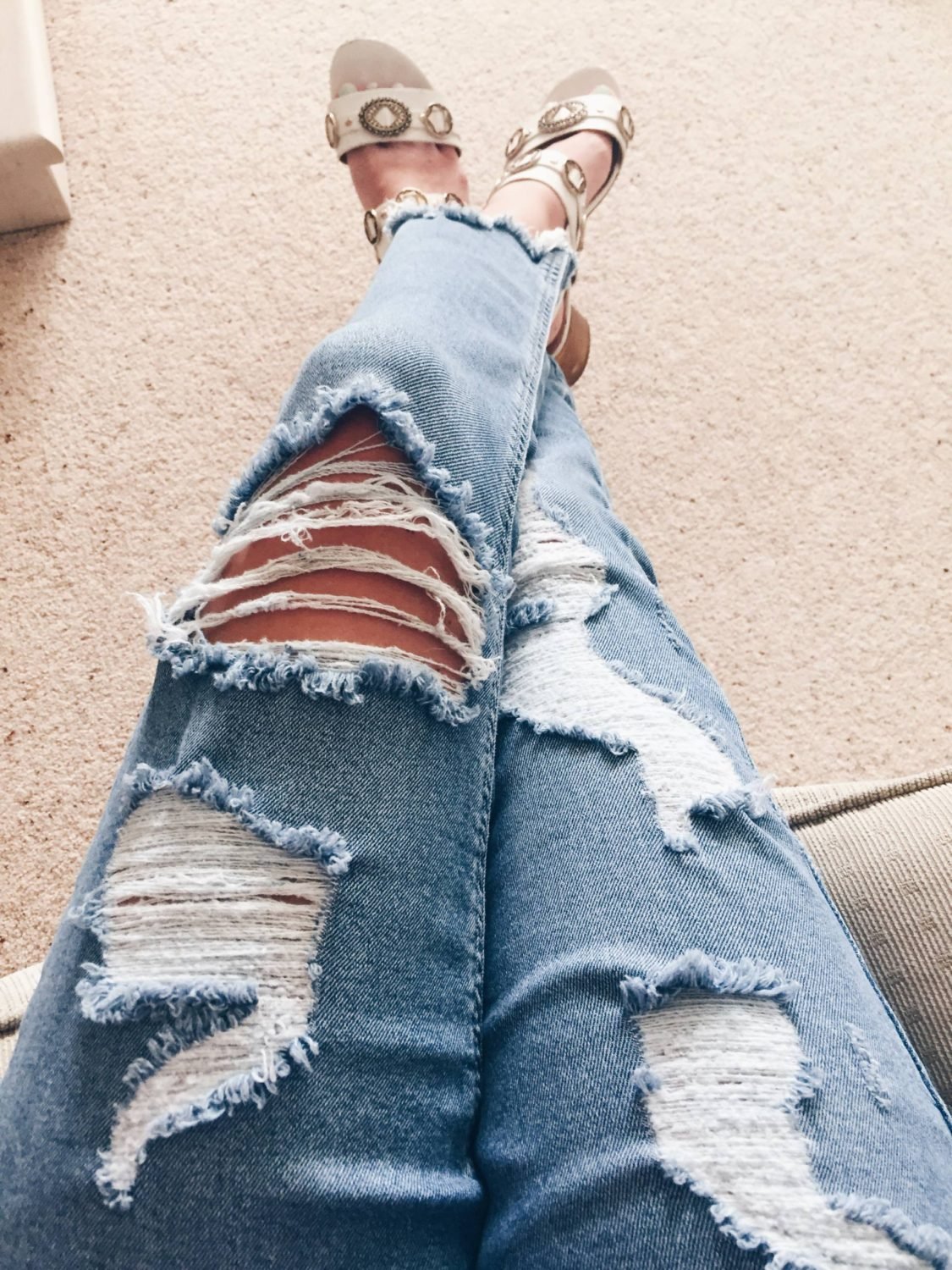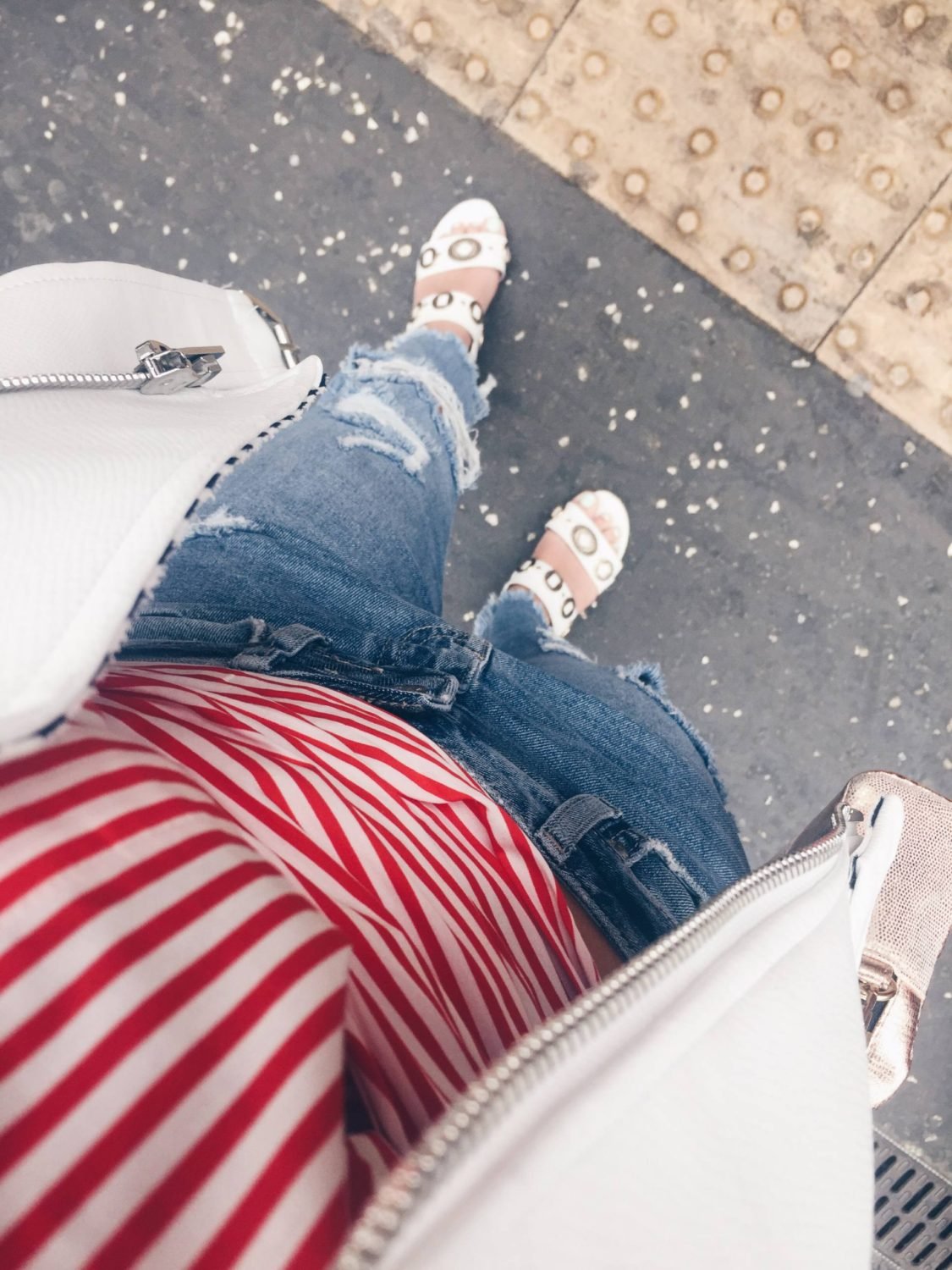 I wouldn't have been caught dead in straight leg jeans a year ago, but I kind of love these. They're the comfiest pair of jeans I own and still flattering at the bum. Since living with bare legs in Dubai, I came back with a massive aversion to anything that clings to my calf, so it looks like I'll be rocking these denims a lot more in future.
Similar jeans online
What do you think of this summer's trends? Have you found any decent pieces in Tesco's clothes section? Let me know in the comments, and remember you can follow me on Facebook, Instagram and Twitter. You can also subscribe to make sure you never miss a post.
Some of the links in this post are affiliates, which means I earn a few pennies if you click and buy anything.
All photographs were taken on my Olympus Pen E-PL7.