I was a little bit nervous about travelling to Marrakech as a solo female, I have to admit that. I've done a fair bit of solo travel and am used to looking after myself abroad, but Morocco is one of those destinations that gets mixed reviews. Undeterred, I was keen to experience the city for myself and share my own conclusions – and luckily, I feel confident urging other solo female travellers to go to Morocco after an almost completely positive experience!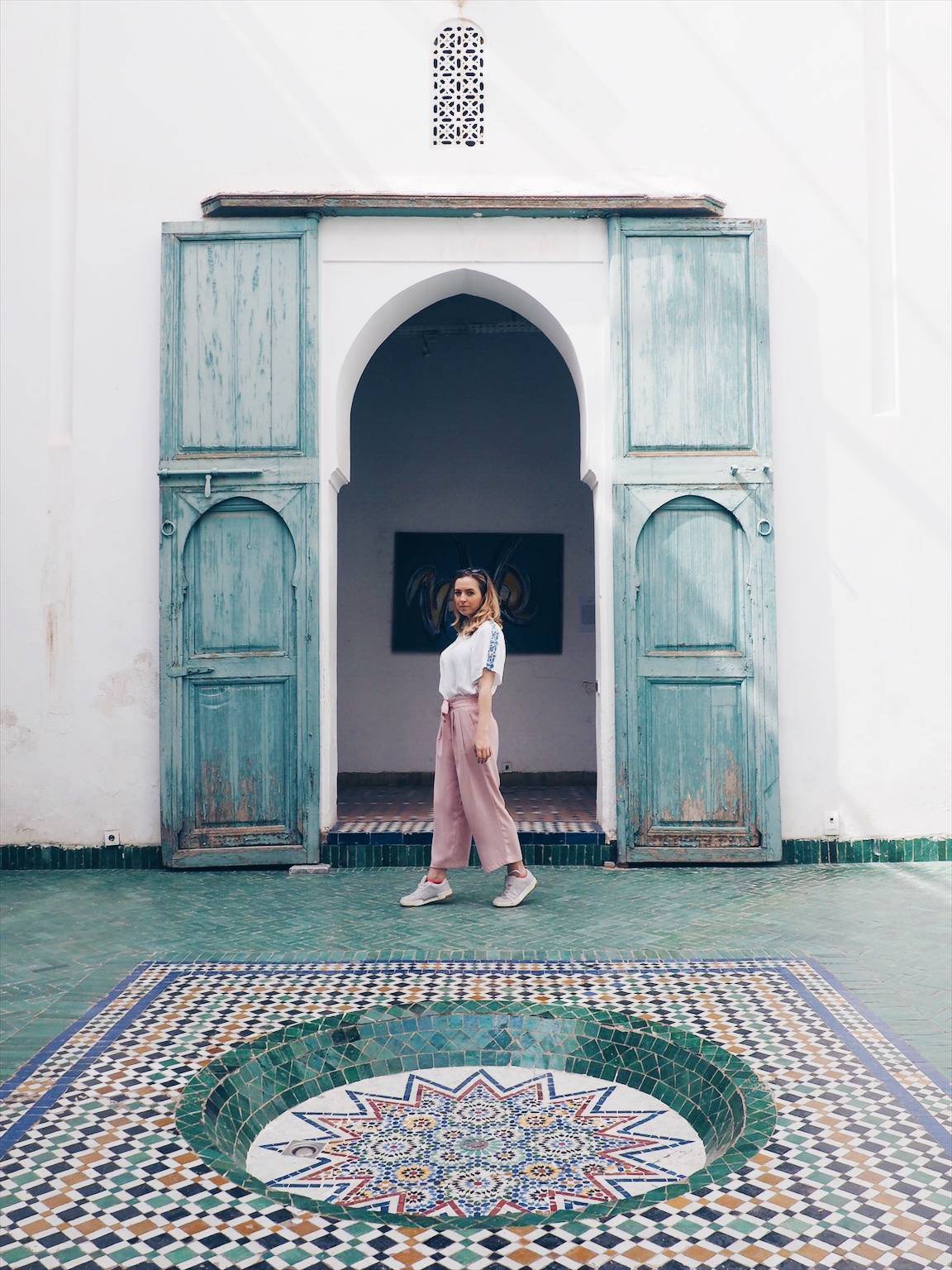 I absolutely loved Marrakech but I don't care what anyone says, the travel experience in some countries is different for women – and Morocco is one of those countries. To help other young (or young at heart) solo female travellers enjoy Marrakech and stay safe, I've put together all of my tips, gleaned from one week as a solo female in Marrakech.
Staying safe in Marrakech as a solo female traveller
For the most part, I was pleasantly surprised with the standard of female safety in Marrakech and nearby Essaouira.
I may have over-prepared myself to deal with hassle and sexism before my trip after listening to scare stories, because I really didn't have many problems. And trust me, I ALWAYS have a problem with that sort of stuff, because I have such a low tolerance for it.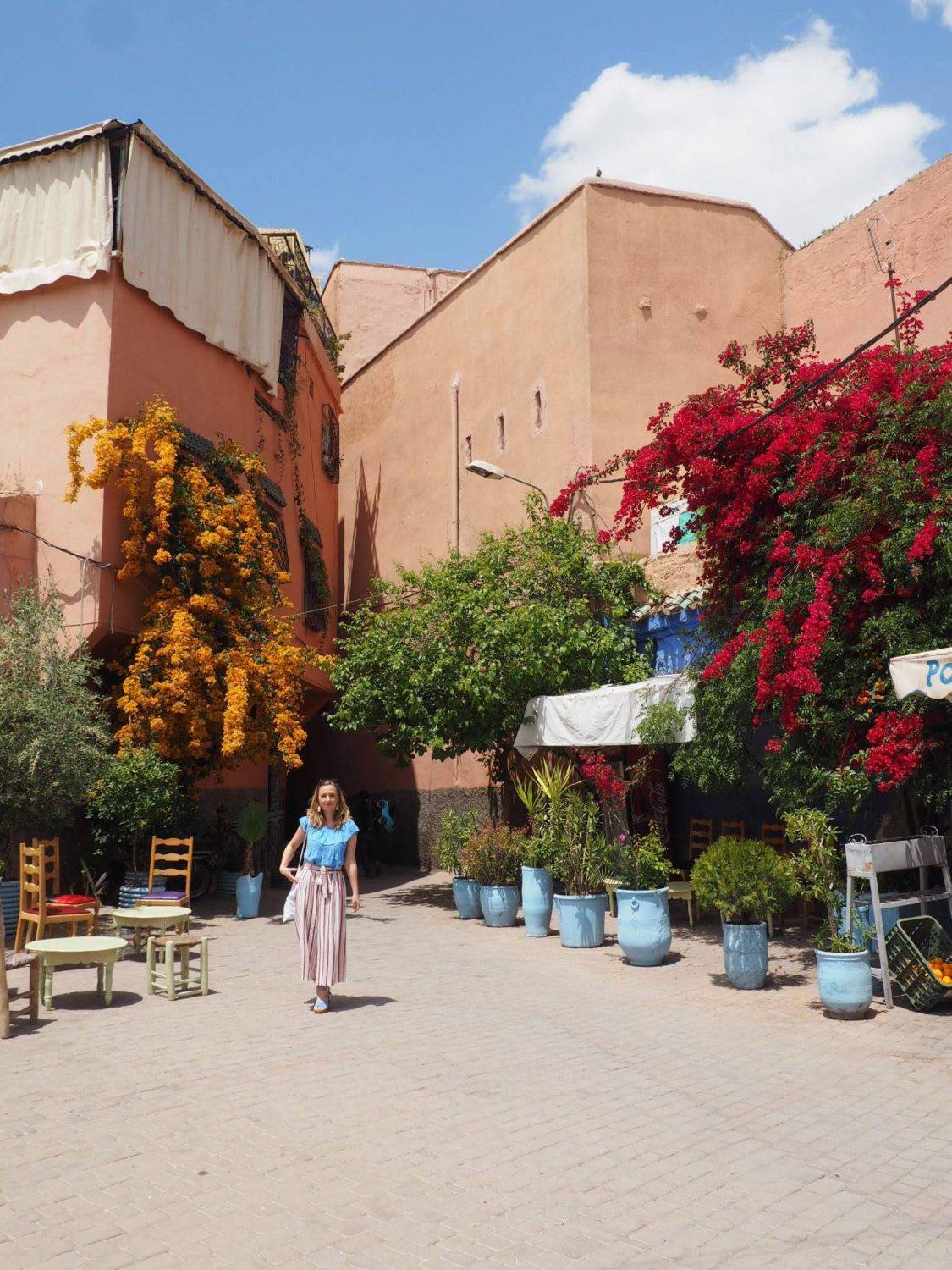 I expected Marrakech to be similar to what I experienced in Cairo in terms of safety and respect for female travellers, but it was much more pleasant in Morocco. I felt safe, welcome and respected. But if you haven't travelled to a country with a similar culture before, you'll probably be more aware of the differences than I was.
Is Marrakech safe for girls after dark?
I walked alone at night in Gueliz (the modern area) and felt absolutely fine. In fact, I think there was less staring than I'd get in a busy area in my own home town! I did notice that it's mainly men sitting in restaurants in the evenings, and to a lesser extent during the day. This made it a little intimidating to walk in and sit down by myself, but I still did it.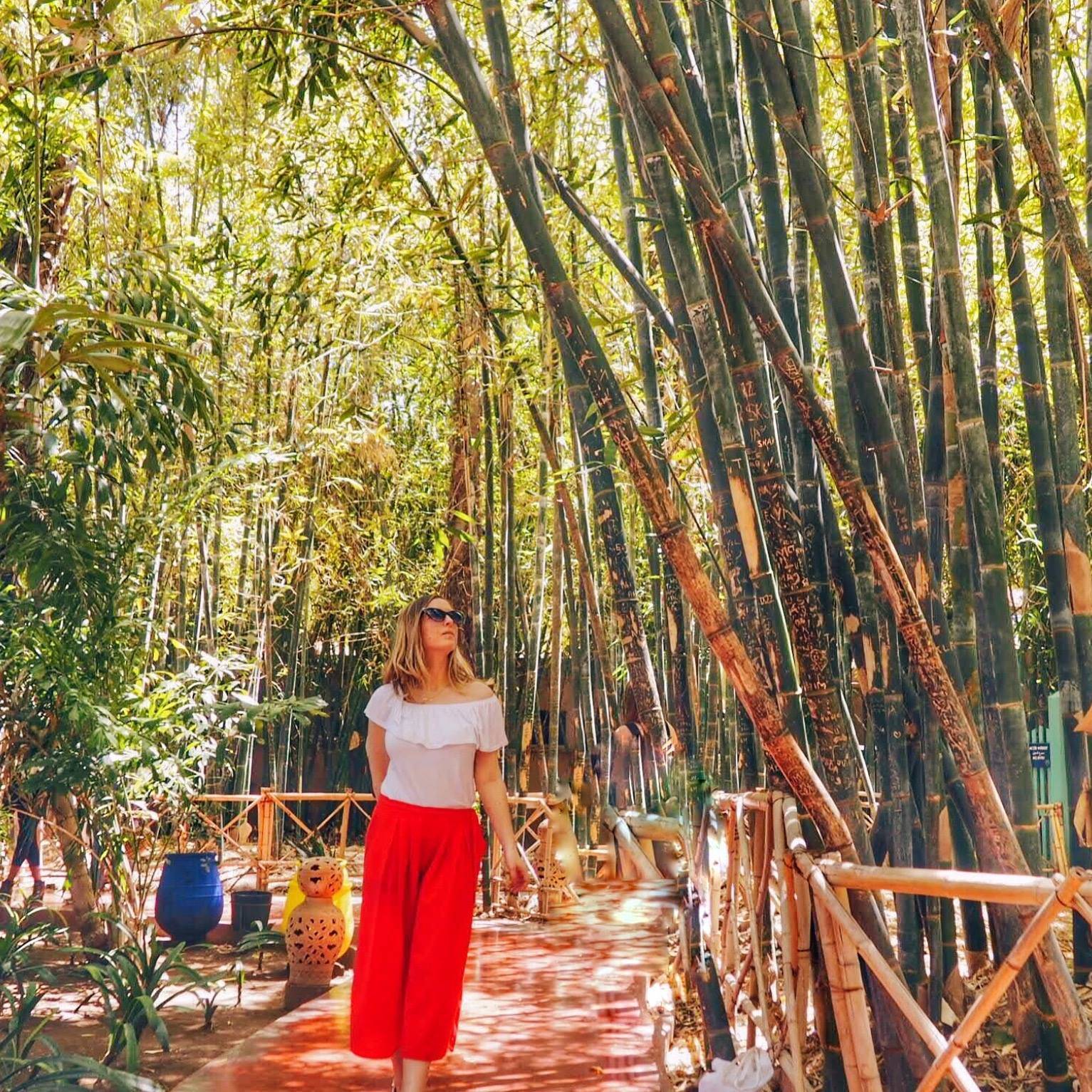 It was a bit different in the medina after sundown. I found some young men in Djemaa el-Fna making a point of walking straight into me, which was really uncomfortable. I wouldn't recommend walking there alone at night as a female – but then, that's unfortunately a rule that applies wherever you go.
Dealing with hassle in Marrakech medina
It's all part of the culture and can be lighthearted and funny, but 'hassle' in local markets can also make people uncomfortable or feel threatening, especially if you're a girl walking alone. I hate that we have to do this to protect ourselves, but I've mastered the art of the polite ignore when travelling in destinations that are infamous for hassle. Bitchy resting face and no eye contact are my coat of armour, and what I recommend donning if you're feeling overwhelmed in Marrakech's medina.
The polite ignore is useful when you're a bit lost (which will undoubtedly happen in the medina). People will try to help you when they see you stopping to look at your phone or even just walking in the direction of, for example, the tanneries – but they'll expect payment for their time. It's not necessarily unsafe but it can turn ugly, especially if you don't want to pay. I just ignored every single person who tried to direct me, so I have no idea how much they try to charge, but I've read that it can be ridiculous amounts and can lead to horrible confrontations. Not a situation I wanted to enter into.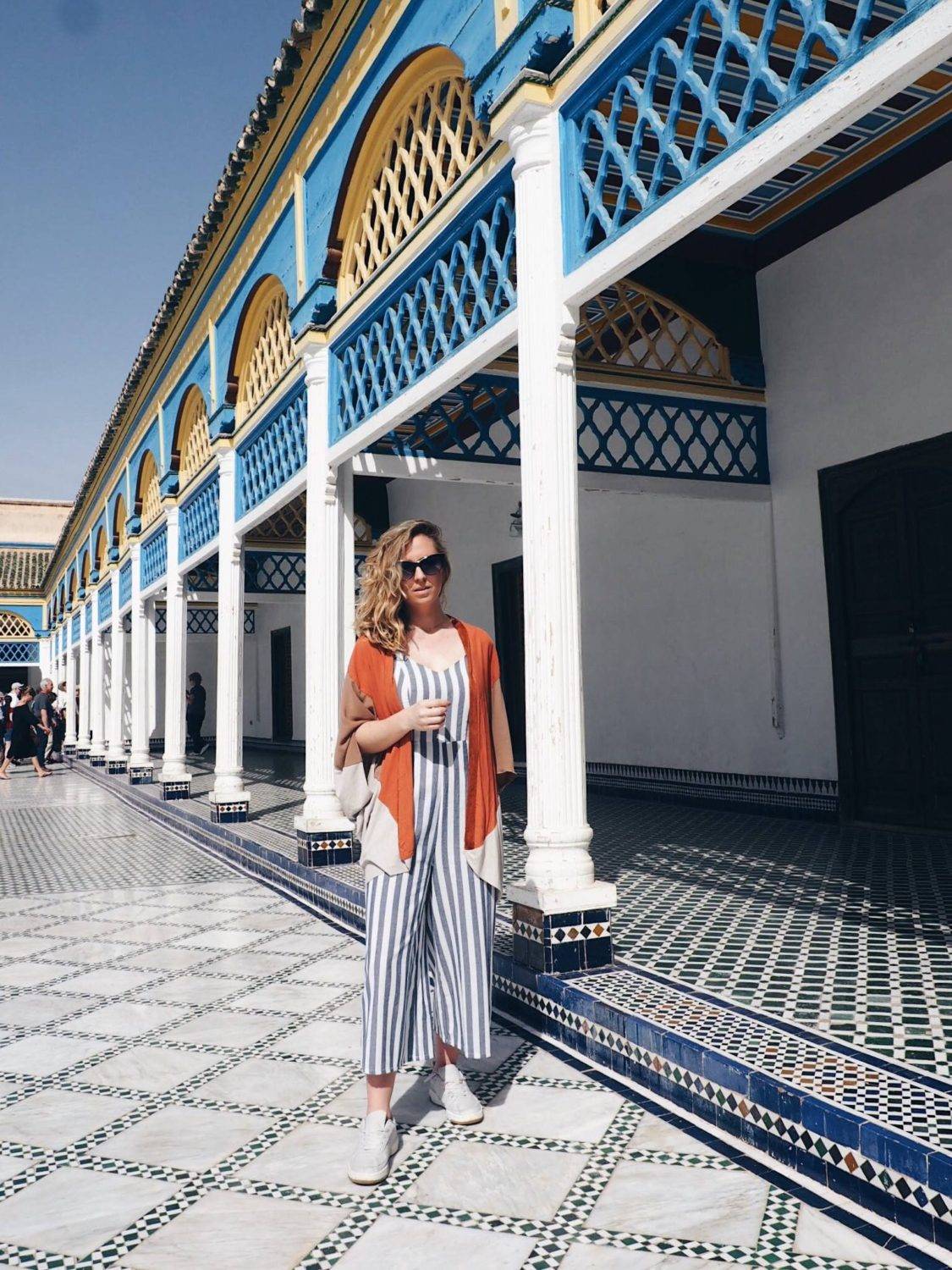 I want to stress that I don't like behaving rudely and I know it could mean missing out on great banter with locals, but it's something I've learned to do to protect myself in certain countries and to avoid getting scammed.
My best advice is to go with your gut, and remember that most people won't be offering help out of the kindness of their hearts. They'll want some dirhams!
What should female travellers wear in Marrakech?
The female dress code in Marrakech is pretty simple: cover your shoulders and knees. Having lived in Dubai, I'm used to these rules so I didn't find it especially challenging. The people in Marrakech are more used to foreigners than people might be in other parts of Morocco, so they'll be more tolerant to upper arm flesh, but try to be respectful anyway.
Note that in the photo below, my shirt had ridden up after I'd taken the camera from around my neck to pass to the photographer (@mary.osk). I didn't walk around with my midriff on show!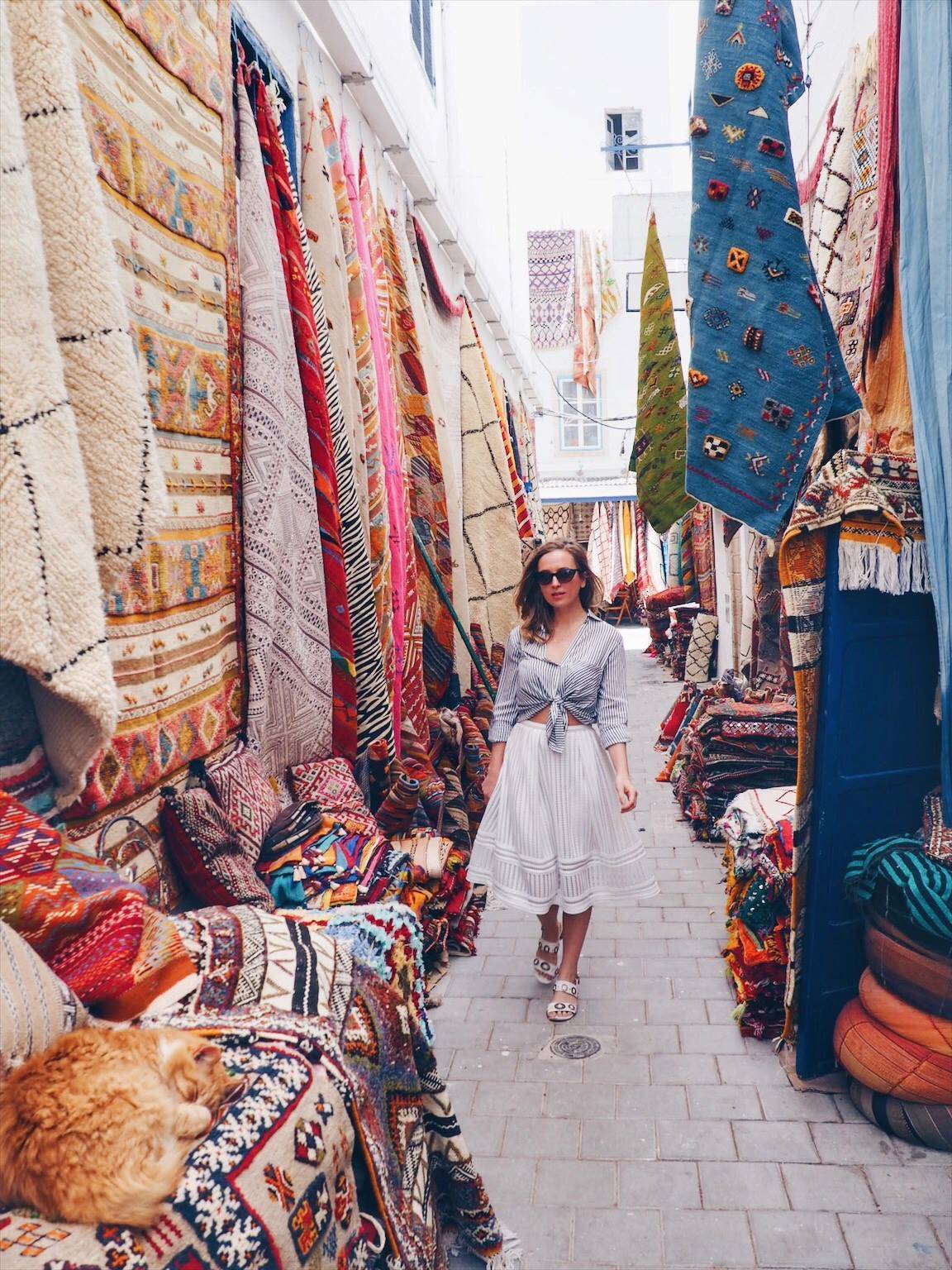 I opted for lots of light, flowing fabrics. I mainly wore culottes and midi skirts, with bardot tops and I carried a shawl to cover my shoulders. It was VERY hot while I was there and I made the mistake of not packing a hat. I definitely recommend wearing one if you're out all day.
I also made the mistake of wearing my Arabic name necklace to walk around. Cue lots of salesmen screaming, "Dannielle" at me when they caught a glimpse of it…
Getting around and asking for help
I took local taxis alone in Marrakech and felt fine – but I never sit in the front with a male driver when I'm travelling, especially in countries where local customs mean men and women don't mix as much as we do in the Western world. This was a habit I learned while in Dubai, where you could actually get in trouble for sitting in the front.
Don't be shocked if the driver stops and lets other passengers in during your ride – they take as many people as they can fit. I noticed that they didn't stop for males when I was in the car alone with them, but that could have been a coincidence.
If you get lost and need directions desperately, ask women, families or the older generation of locals. Don't ask the younger guys who are just standing around because they'll expect payment and won't leave you alone – but the ones working in shops can't exactly abandon their stuff, so they're a safer bet.
It's worth mentioning that Essaouira felt even safer that Marrakech. There was less hassle and haggling – but it's not as atmospheric!
So, is it safe to go to Morocco as a solo female?
In my experience – yes, Marrakech is fairly safe for females travelling alone. Providing you stay aware and practice all the usual precautions that as women, we have to use everywhere, you should be no less safe in Morocco than you are anywhere else in the world. Go, see and be seen! Enjoy every second of this beautiful country. Use my four day guide to Marrakech to plan your trip and don't forget to schedule in a day-trip to Essaouira, which is a lovely coastal town just three hours from Marrakech.
Obviously this post is just about my experiences as a tourist but I wanted to share my tips for staying safe as a female travelling solo in Marrakech. One of my aims with While I'm Young is to give other world-curious young women the knowledge, encouragement and inspiration they need to travel the world safely, and that's why I felt this was an important thing to write about.
I don't like to dwell on the negative when I visit a new place because for every ugly thing, I usually find a thousand beautiful ones, but I also won't sugar-coat my experiences as a solo female traveller. I loved Marrakech but I understand a lot of girls would feel nervous or concerned before they visit, so I wanted to address this topic and show that actually, a lot of places are much safer for women than you may otherwise hear. I wouldn't be a responsible travel blogger if I didn't show the dark and light in every destination I write about, right?
I hope these female travel tips for Morocco have been useful, but please leave me a comment or message me on Instagram if you have a specific question and I'll do my best to answer it! I'd also love to hear from other women who have travelled to Marrakech alone – did you have a similar experience? Let me know in the comments!
What to do in Marrakech
Where to stay in Marrakech
You can search all hotels and other accommodation in Marrakech on booking.com.
Check out the top 30 best hotels in Marrakech
Get travel insurance for your Marrakech trip