Having never lived in any one dwelling for more than a year since I was 18, I've never really had the chance to decorate my living area and make it look beautiful. I also never really cared about how my surroundings looked, because I knew it would soon be time to pack up and move on. But now that I'm settled back in the UK for good, I've been relishing the time to make our house a home.
Decorating our living room was something I'd been desperate to do since I first moved in with Tom. I spent night upon night trawling Pinterest for interior inspiration and searching for the perfect colour scheme. I eventually settled upon a calming grey and white palette, minimal designs and home accessories that match my – ahem, our personality.
Since we don't entertain much yet (I've still got to do the garden and get a kitchen table that doesn't look like something from a Sixth Form lounge before I'll happily invite people round), I figured I'd show off my interior design efforts in a little lounge decor tour. If you're decorating your own home and need some inspiration, you'll love the wall prints I've found – and I've even got a cheeky lil discount code for ya!
A tour of our living room interior design efforts
The sofa
A good portion of the room is taken up by my most prized possession: my sofa. I think I've written before about the red and black leather monstrosity Tom had in here when he first bought the house, so choosing the right sofa when I moved back from Dubai was a huge deal for me. It was also quite a funny ordeal – I wrote about what it's like to furniture shop with you boyfriend because of this – and neither of us really knew what we were doing. Thankfully, I still adore the corner sofa we (okay, I) chose.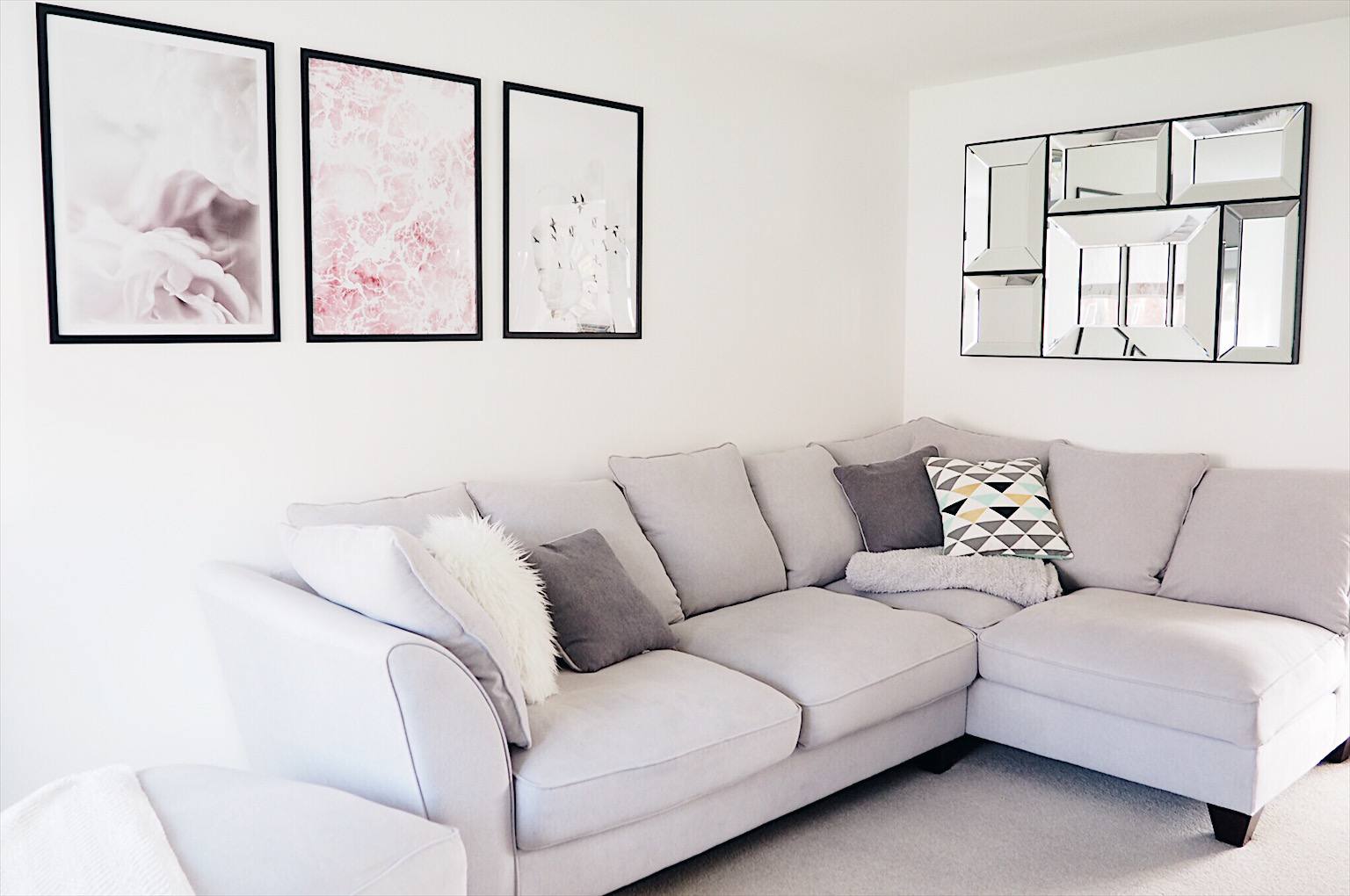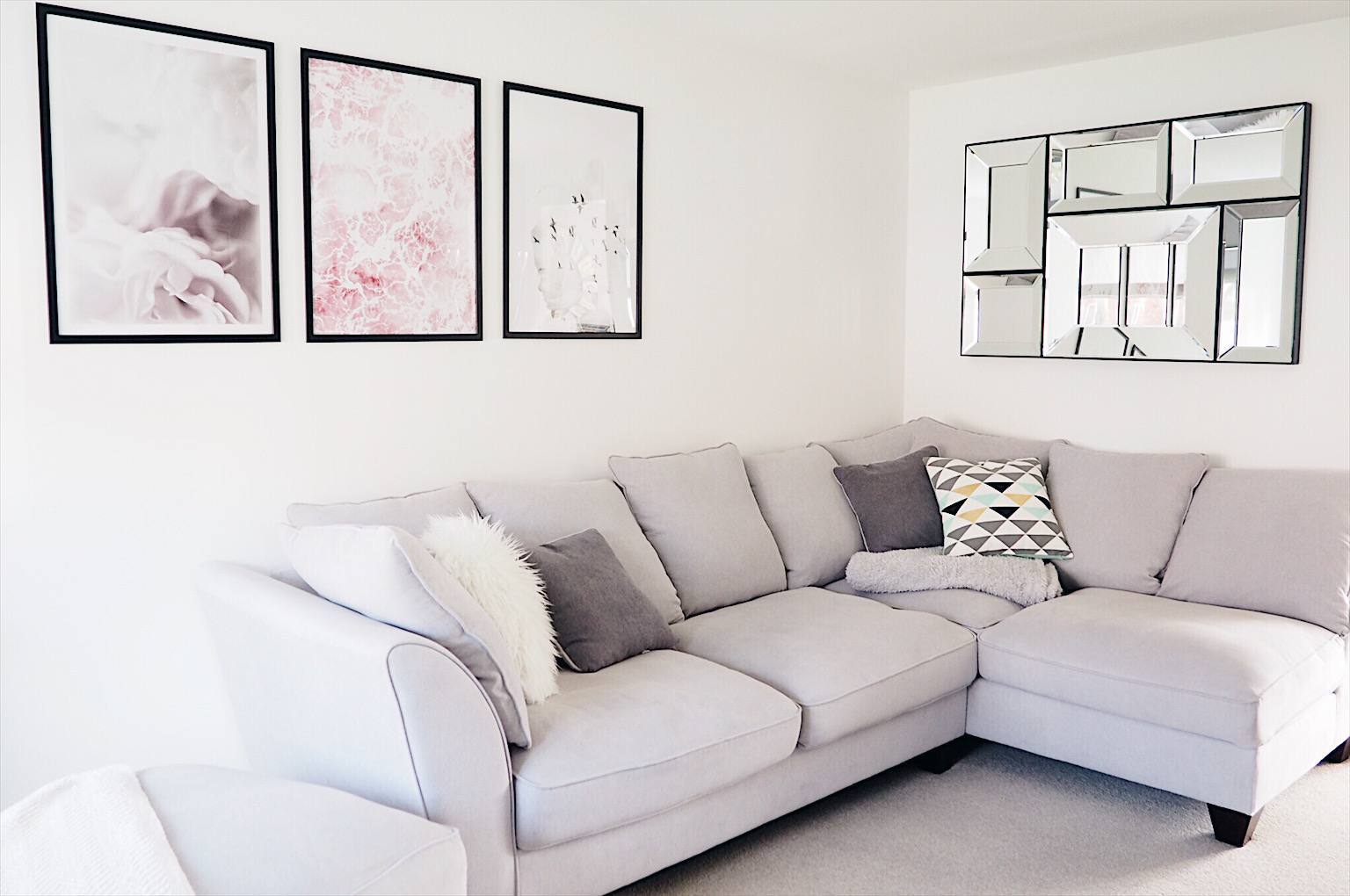 We got ours from Furniture Village, after spending a morning touring all of the furniture shops in our nearest retail park. Furniture Village give you freshly baked cookies while you decide, so that was kinda the deal sealer.
Mirror – similar available here
Sofa dressings
The boring grey cushions came with the sofa, and I picked up the white fluffy one and geometric print one in TK Maxx. I also picked up a couple of throws – one knitted and one fluffy, which I can't wait to wrap up in on Winter nights.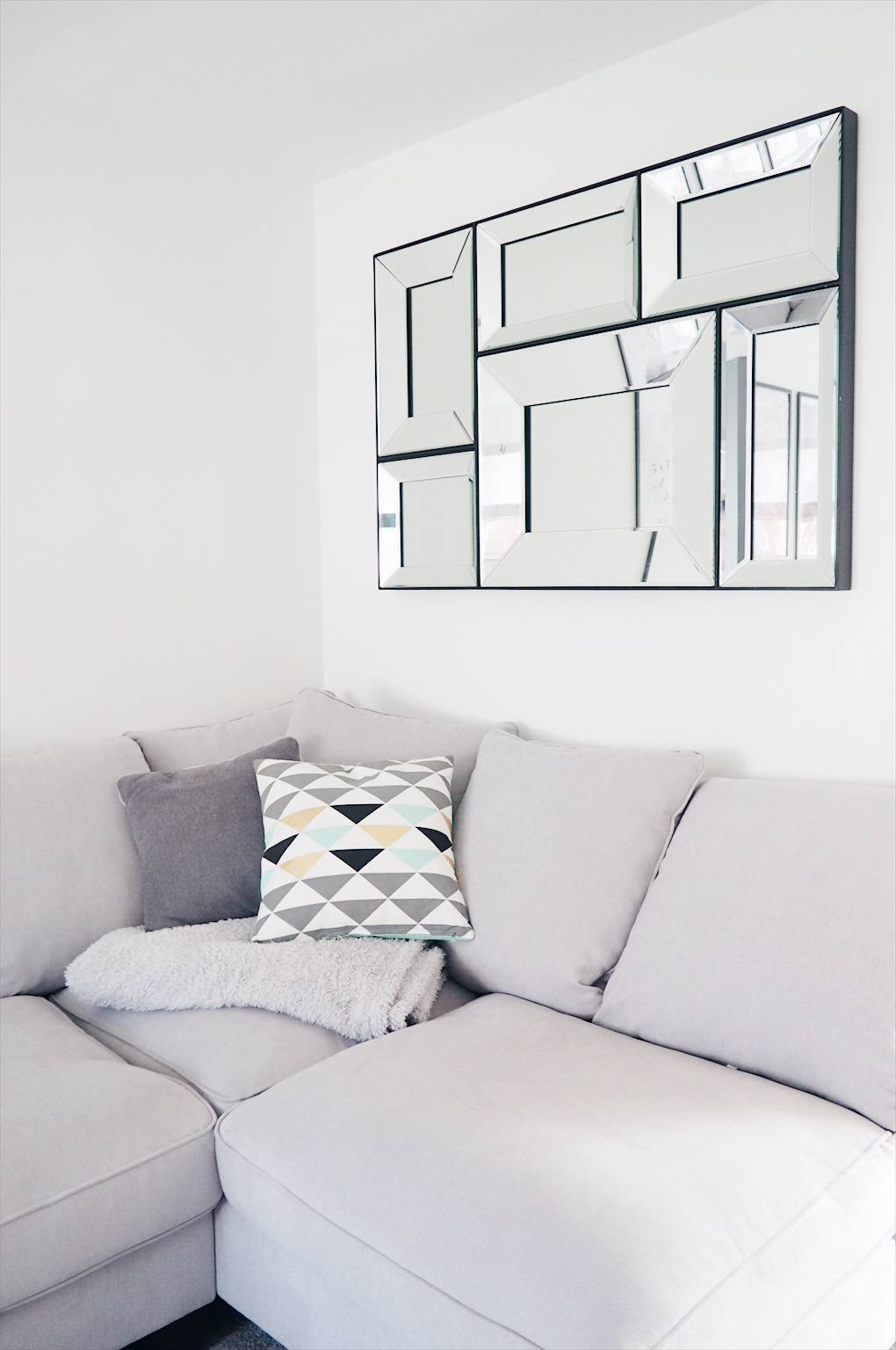 Fluffy white cushion – similar available here
Geometric print cushion – similar available here
Grey faux fur throw  – available here
Wall prints
Our posters are from a Scandinavian company called Desenio. I trawled their website for HOURS looking for the perfect three prints to hang over the sofa that had the same theme, then realised that they have a 'perfect pair' section that shows prints that complement each other. In the end, I matched up my own. These ones are 50 x 70 cm, and I'm glad I went with that size. I also can't believe Tom didn't flinch when he saw that there's a hint of pink in them!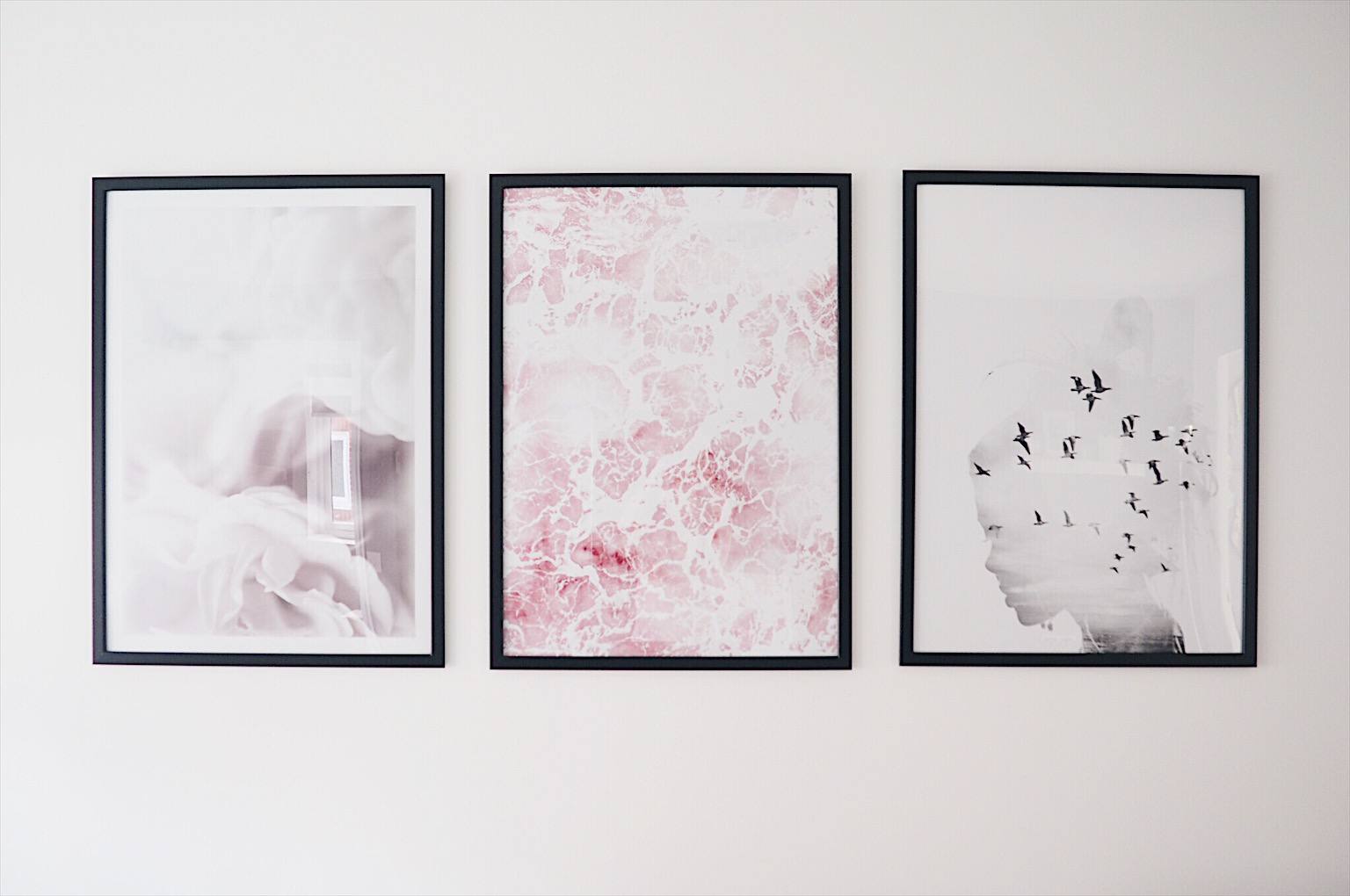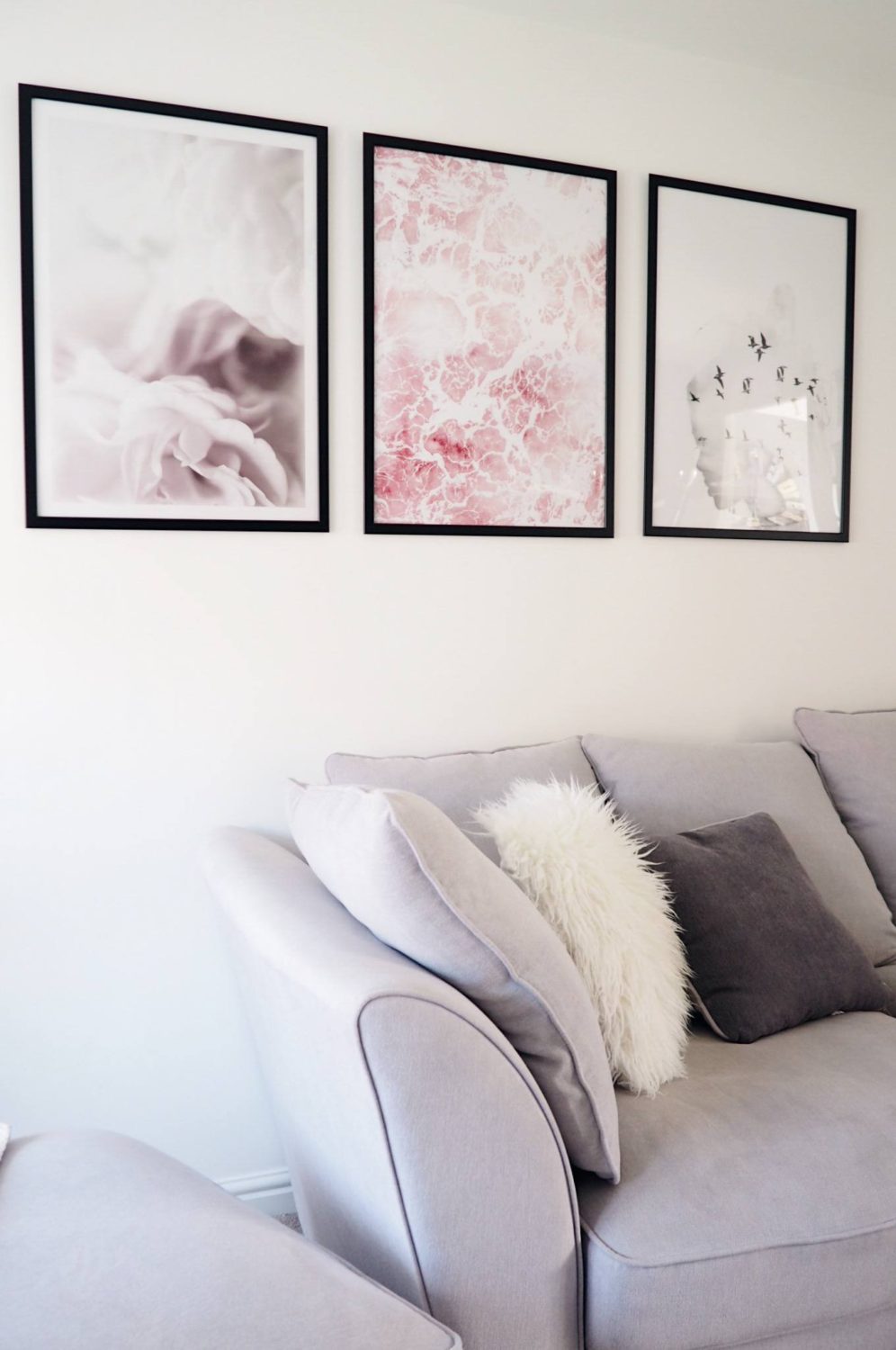 The site also has a gallery wall inspiration guide, and I'm going to use their templates to cheat-design a chic design for over our bed.
The code "WHILEIMYOUNG25" gives you lovelies 25% off posters, (except "handpicked" posters and frames), between 12th – 14th September. Go go go! And tag me in any pics you take of your new prints so I can get inspo for my bedroom 🙂 Postage and packaging is free if you spend over £29, and mine arrived within three days.
Side unit
We needed something to fill the corner by the window, so I eventually settled on this IKEA unit, which I built all. by. myself. The sense of achievement I felt was worth the hours it took.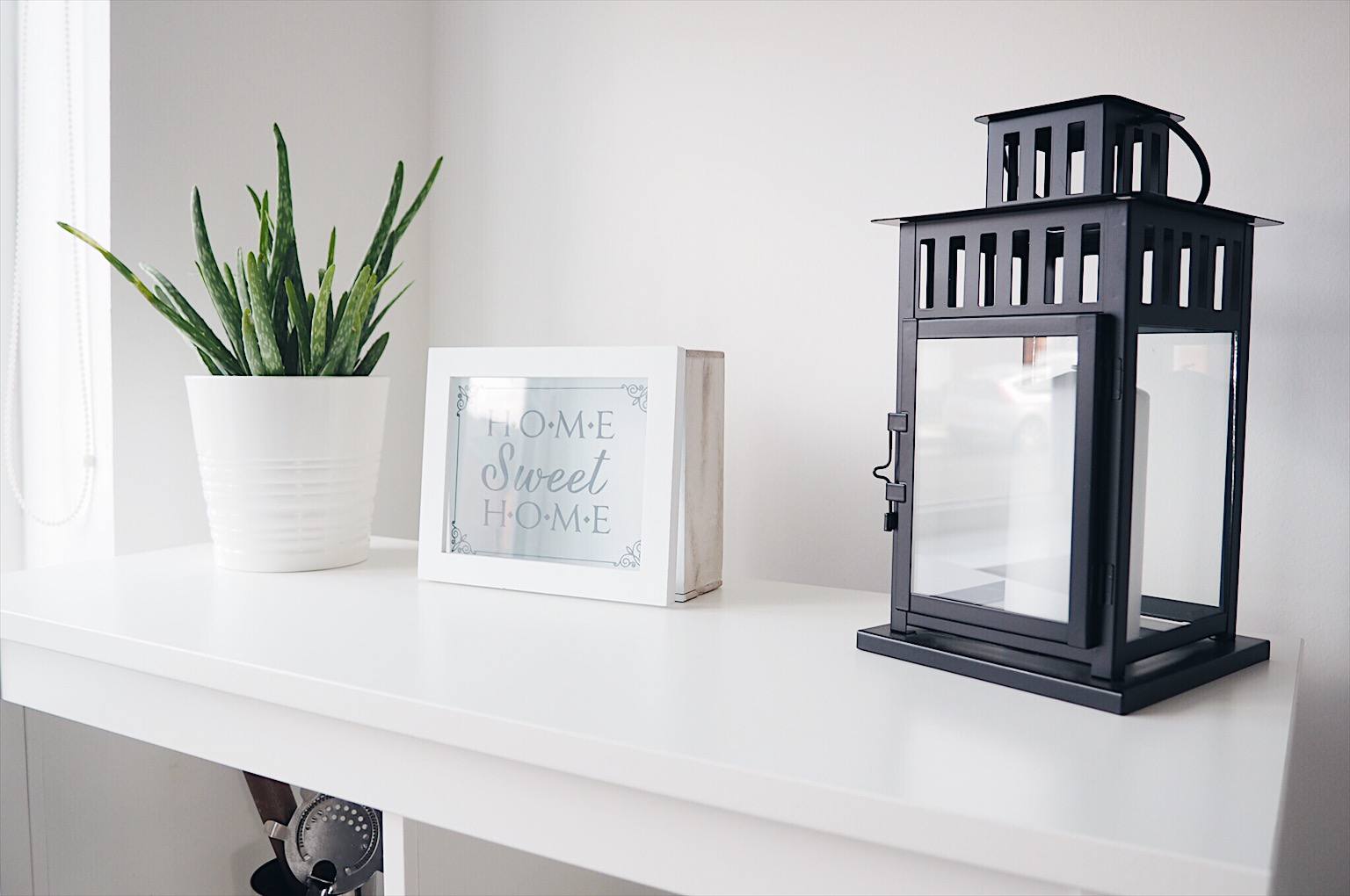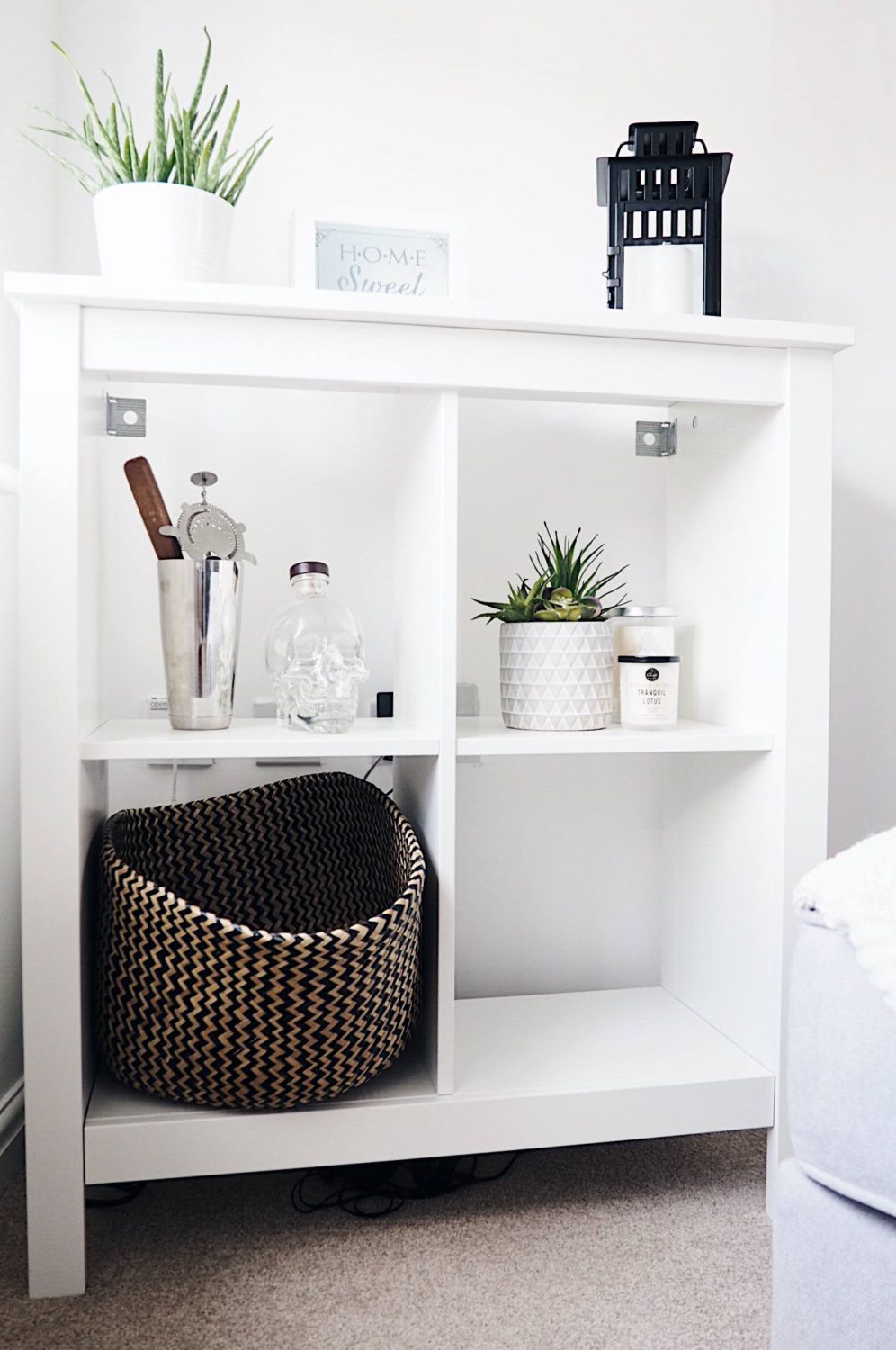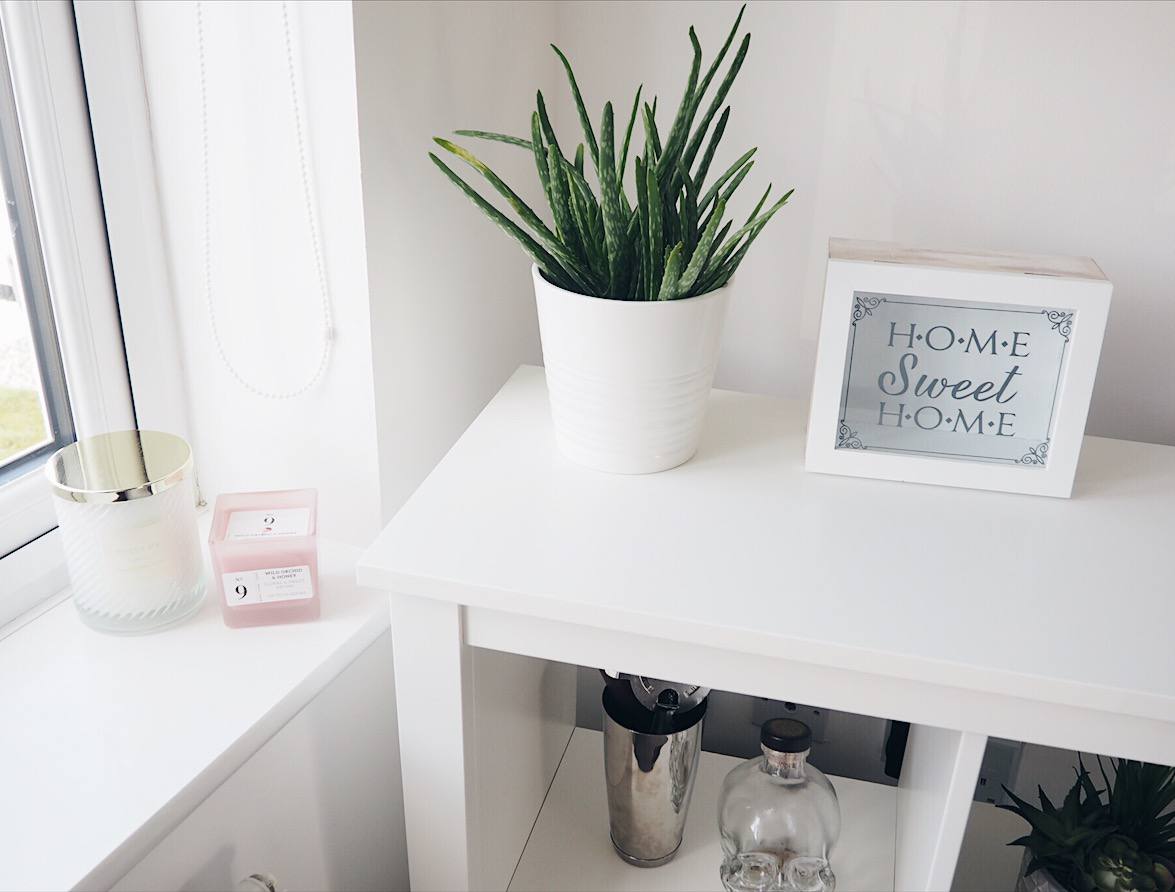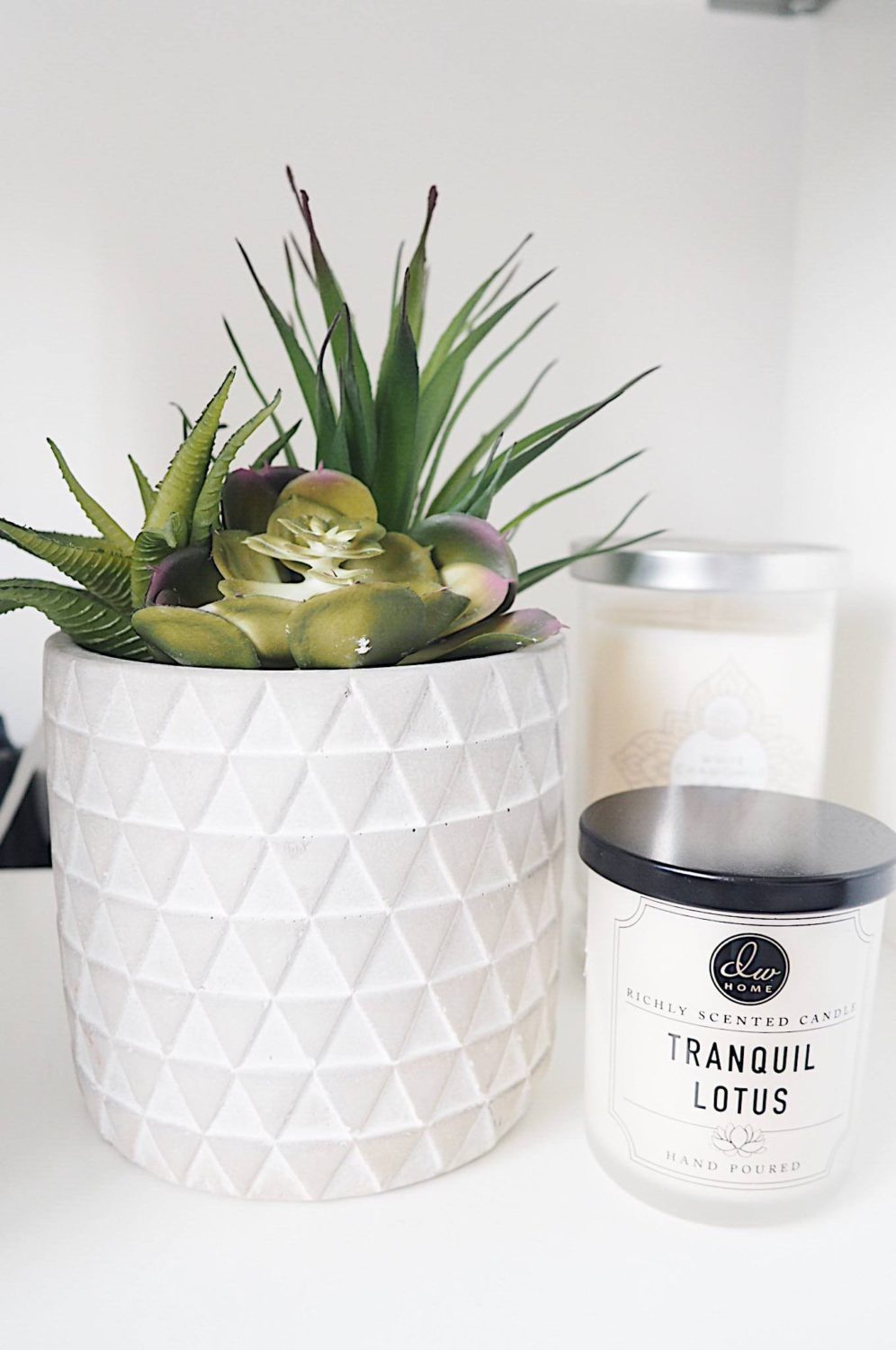 I wanted our living room accessories to reflect our passions, so this happened.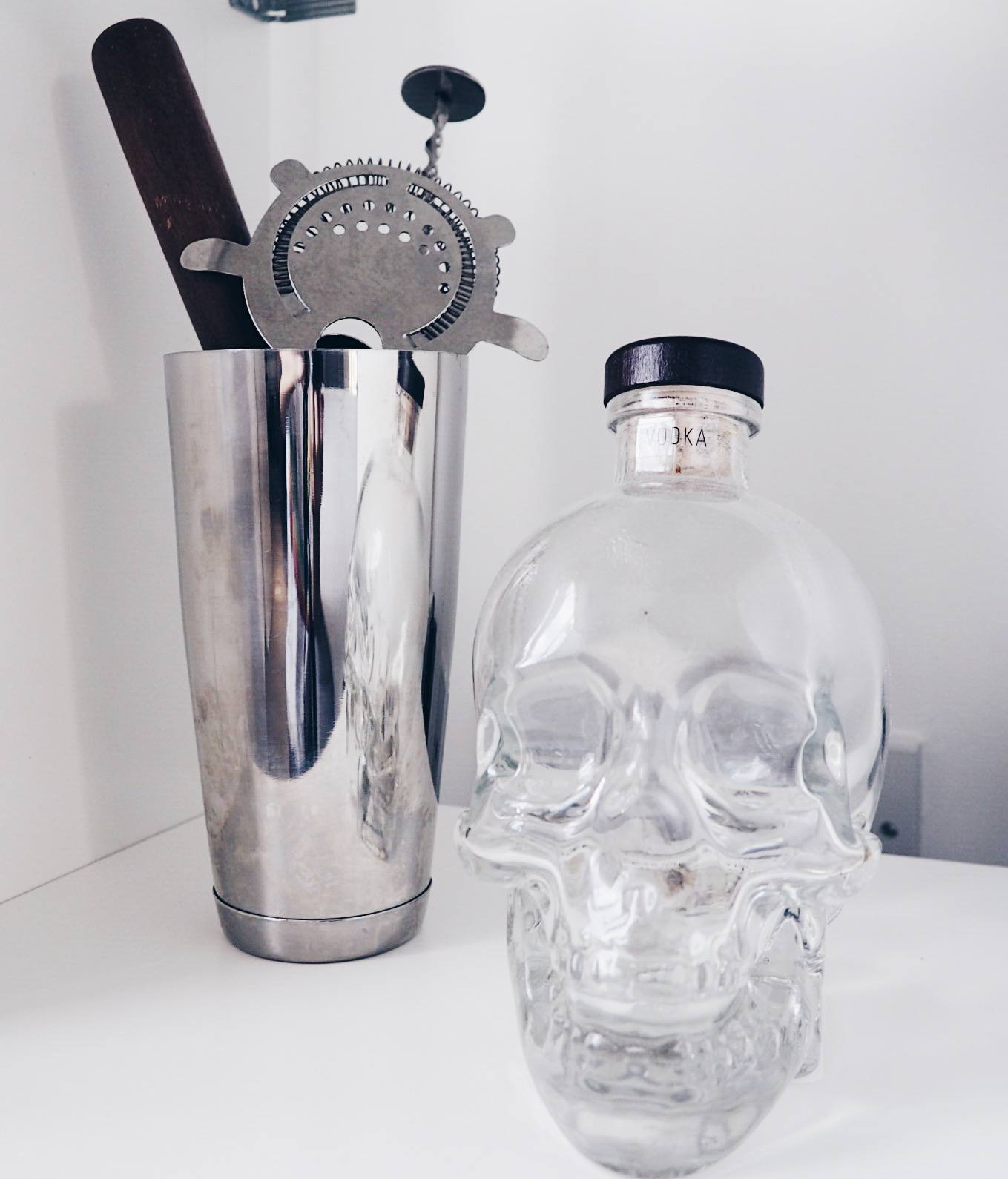 Succulents – gorgeous ones available here, here and here
Lanterns – much nicer than mine (leather!) available here
Candles – similar available here
Crystal Head Vodka available here
Floating shelf
I was determined to style up a floating shelf for the grey feature wall and picked this one up in Ikea, then dressed it with a couple of cheap succulents and coloured pots. The framed postcard is from a bar in New York, I picked it up one night on the town there because I liked the idea behind it. 'Giant Party Everything Is Free' – my youth, summed up really.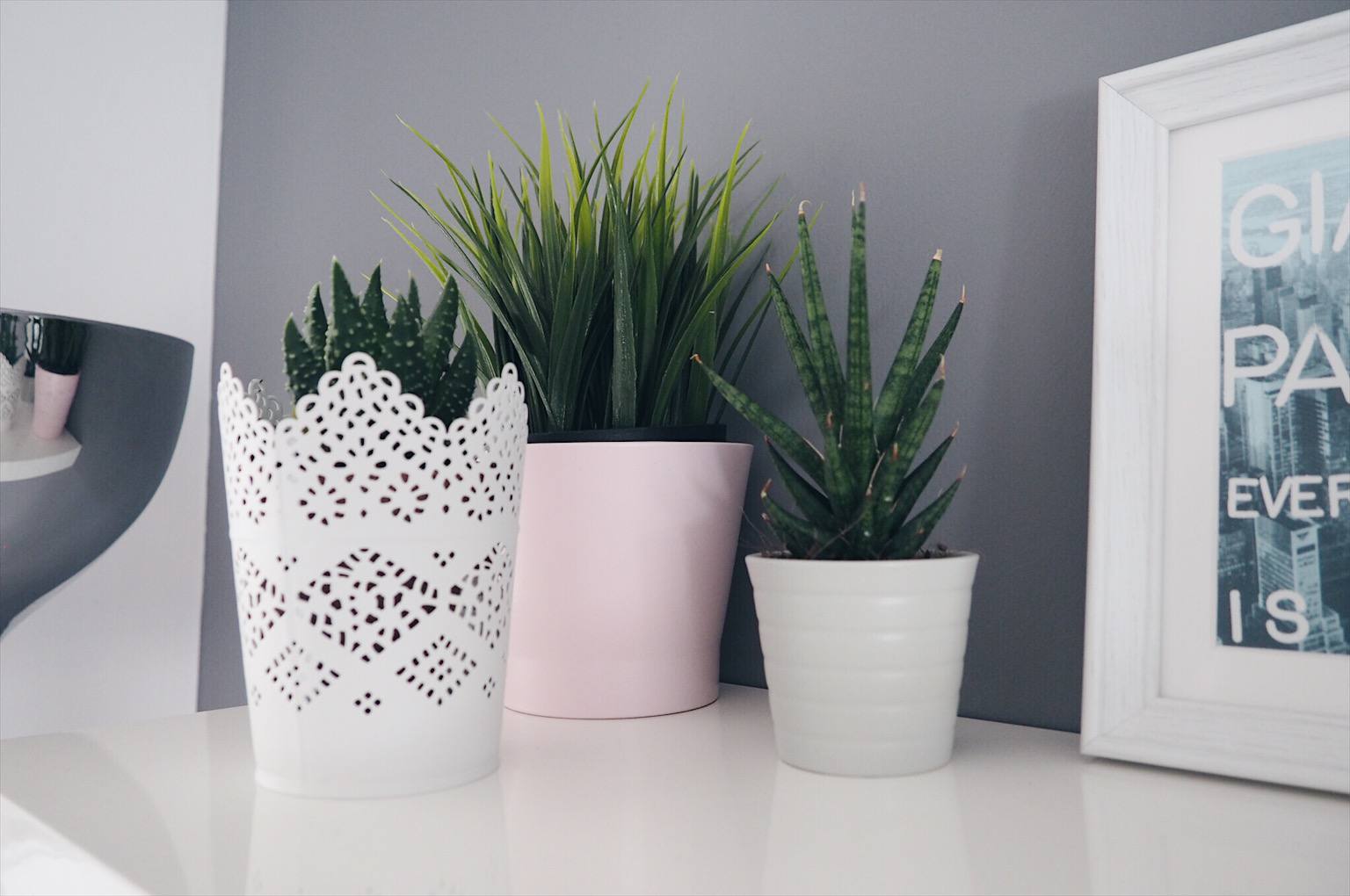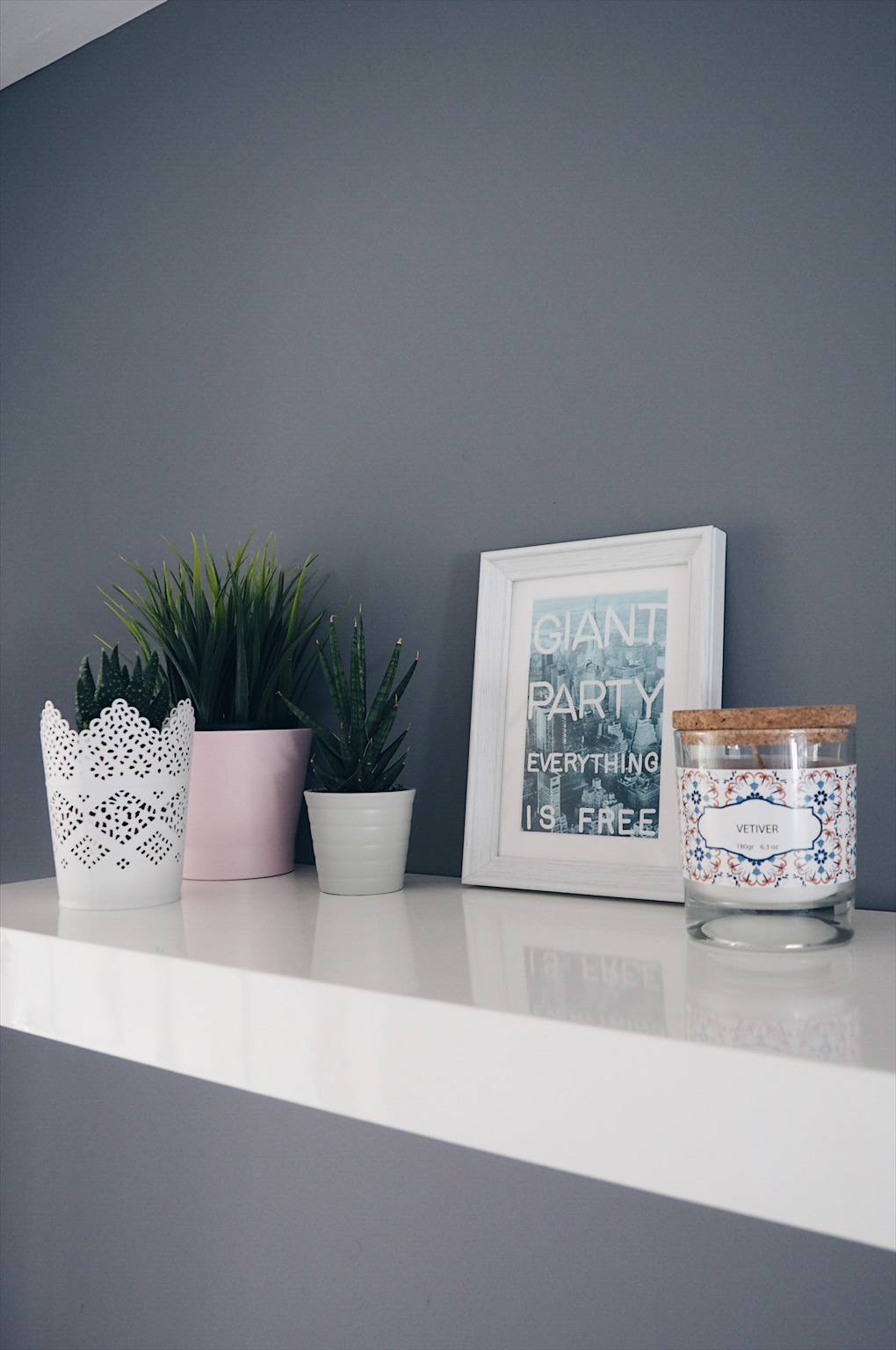 While I was shooting these pictures, Gary the cat decided to photobomb. Doesn't it look like he's posing for the camera? Little rascal!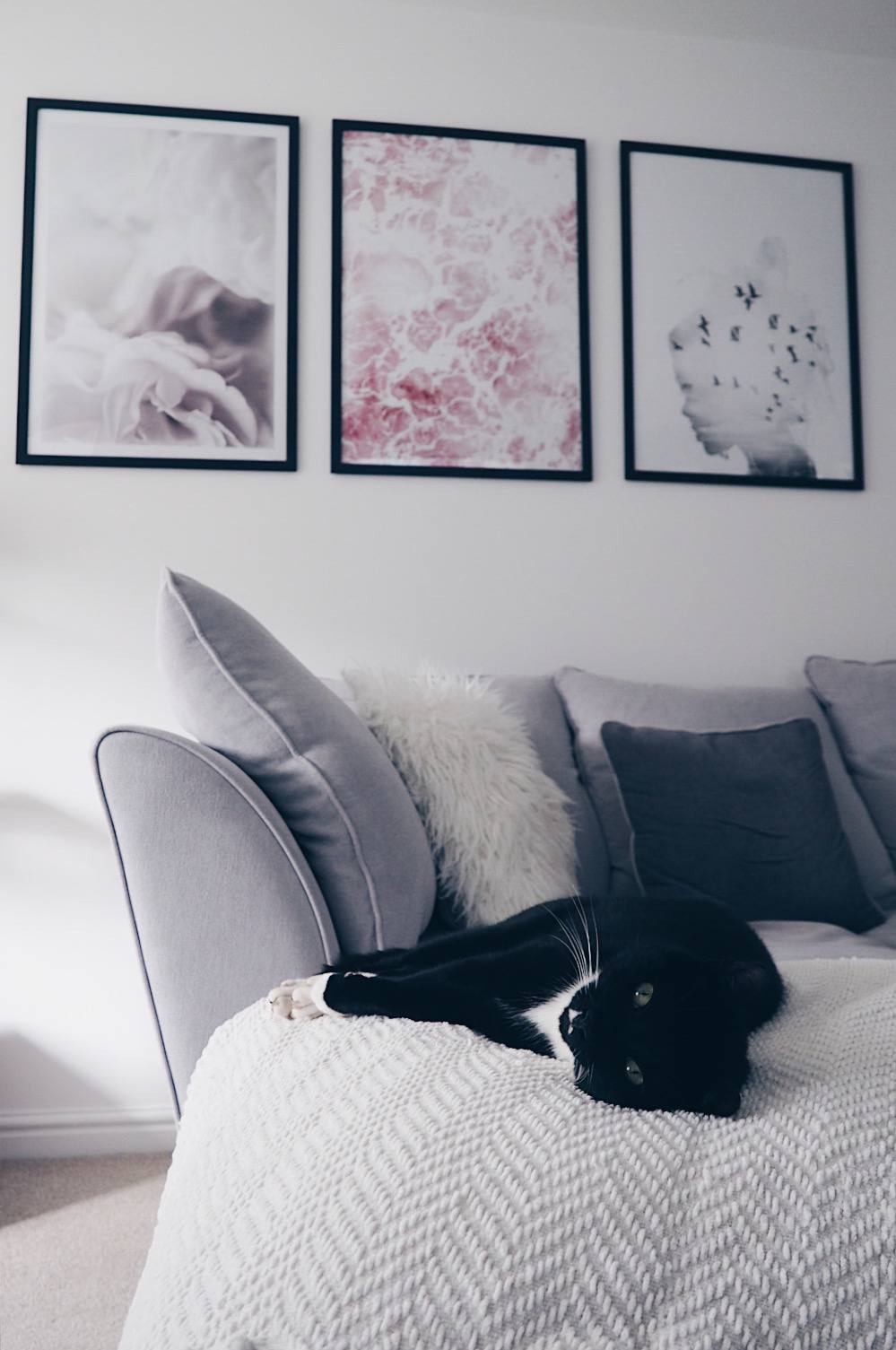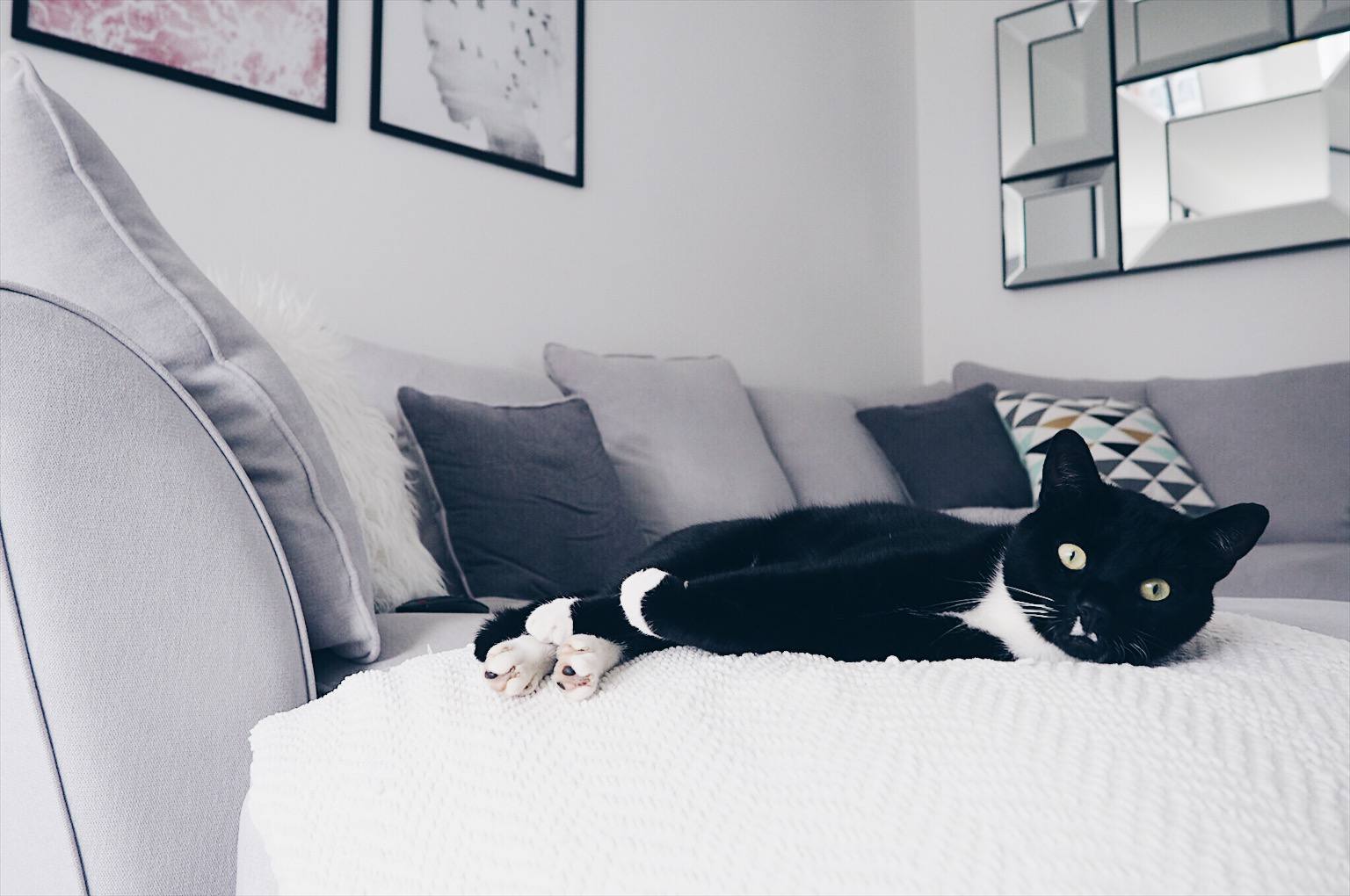 What's your favourite thing in this tour? Would you like to see more of this kinda thing from me? Now that I'm settled, I'd quite like to expand into home design and food on my blog!
This post is in collaboration with Desenio but all beautiful interior design efforts (if I do say so myself) are my own.