The Love and Lust list series is a monthly round-up of the things I'm obsessed with at the present moment. I share the things I've bought or eaten or places I've been that have made the month a little bit special. This February, it's an ode to the bits and pieces that have made my first month of living in Dubai easier and also the things that are going STRAIGHT IN MY BASKET on payday. I know I'm supposed to be saving for all the wonderful travel I'll be doing now I live in the Middle East but Dubai's having a weird effect on me – I just want so many things!
I'm currently sat cross-legged on my bed because I don't have a sofa or a chair, playing music as loud as possible because my snazzy Italian landlord is chatting to his Papi on the phone while 10000 builders drill holes in the walls.
My February love and lust list
1.Olympus Pen E-PL7

I've finally got a top blogger camera and now that I've given this bad boy a whirl around Deira in Dubai, I can't believe I didn't make the leap sooner. This toylike little camera is perfect for my adventures around Dubai and beyond. It's compact and lightweight with an all-metal finish – perfect for a clumsy gal like myself. It has a large, flip-down and tiltable high-res LCD touchscreen for selfies AND it has built in WIFI. The future is now, people.
I'm so excited to see my photography improve! Get ready for some stunning shots of me living it up in Dubai.
You can get it in black but the white is oh so chic.
2. Barry M Natural Glow Shadow & Blush Palette
Do you ever feel like your whole look is just a bit blah and you need to do something different? I suffer from shapeshifting syndrome and I'm always looking for ways to feel all sparkly and new. Sometimes it's a red lip (that gets abandoned 20 minutes in to the day because I like to actually eat and drink), other times it's splurging on that pair of shoes that were calling out to me in ALDO.
I've never been big on eye makeup but I kept seeing other bloggers' reviews of the Barry M palettes and there were comparisons to the much more pricey Urban Decay cult buys, so I decided to give this a go. I really like messing about with it for evening looks. Youtube tutorials have come in handy and for under £7, you can afford to experiment.
3. Homeware from House of Fraser
I moved in to my new apartment in Dubai last week and it's seriously bare. I miss being surrounded by aesthetically pleasing but otherwise useless objects! I haven't had a chance to kit my bedroom out yet, but top of my list are something to sit on that's not my bed, some mood lighting and about 5000 scatter cushions to offset the tiled floor. I don't spend much time at home, but all the other expats keep telling me that I won't be able to leave the house when the summer months roll around so I'd like to have a cute space where I can escape the heat. I've been lusting over everything on the House of Fraser website since I unpacked – they have so many lovely home decor things this season.
Shop House of Fraser homeware here
4. Inspirational quote posters
It's cliche, but I'm a huge fan of an inspirational quote. Before everyone was posting them on Instagram and spending actual money on pieces of paper with swirly font printed on them, I was laboriously copying quotes into my notebooks. Since I was a kid, I've had a habit of jotting down anything I come across that moves me, inspires me or makes me feel better so I can delve into my little book of strength on bad days. Now, we've all got these quotes plastered all over our walls and I think it's great to have something to look at that lifts you every day.
Shop inspirational quote posters
5. Diptyque Feu de Bois scented candle
I know I shouldn't really burn candles in an apartment building but aren't they just gorgeous? My current favourite is from Diptyque because the scent is scrumptious and it burns for ages.
6. Marble look Macbook case
I realise I also listed a fancy, hip camera in this post and now I look like I'm ballin' but I got a Macbook as a late Christmas present (cheers Dad) and life basically got 1000 times better. What I need now is a real slick case, and I've been eyeing up the marble effect ones that are so fashionable right now. Should I go for it? Probably will.
Buy it here and get 20% off using code dannielle20
7. Clinique City Block
This is embarrassing but at brunch last week my boss took a candid snap of me and when he sent the photos around work on Monday I almost died because I could see wrinkles on my face! I swear down I'm starting to show the first signs of the million glasses of wine I've consumed since (ahem) puberty. I freaked and went out to buy all of the anti wrinkle creams. Like, just take my money and give me eternal youth. I really like this Clinique product because it has a high SPF which is essential no matter where you live. Leave me alone Mother Nature you nasty b*tch.
8. Goldwell's Kerasilk Ultra Rich Deep Keratin Care Deep Smoothing Mask
If you've seen any of my older blog posts, you'll know that I went through a tragic identity crisis a few years back and dyed my hair blonde. I'd quite like to go back and punch myself in the face for that mistake. The maintenance was far too much hassle and the bleach scorched my hair to oblivion. I've considered destroying all photographic evidence of my candy floss do but I look happy in my travelling snaps and that's all that matters. Anyway, I treated myself to a Keratin hair treatment while I was back home in January and I honestly feel like a new person. I use this conditioning mask to top the treatment up and it's definitely helped keep my hair silky smooth.
9. Cavalli Daphne Tote Bag
I literally moved to Dubai with one suitcase and I don't know what I'm more excited for – greeting my first visitors from home or the extra suitcase they're bringing with them. A girl can only carry around one handbag for so long before the sight of it makes her want to run to the mall. I'm super fussy about my arm candy but I love the Cavalli tote bag in my top image. It comes in black or tan and would be the perfect addition to my work wardrobe.
10. Ralph Lauren Sunglasses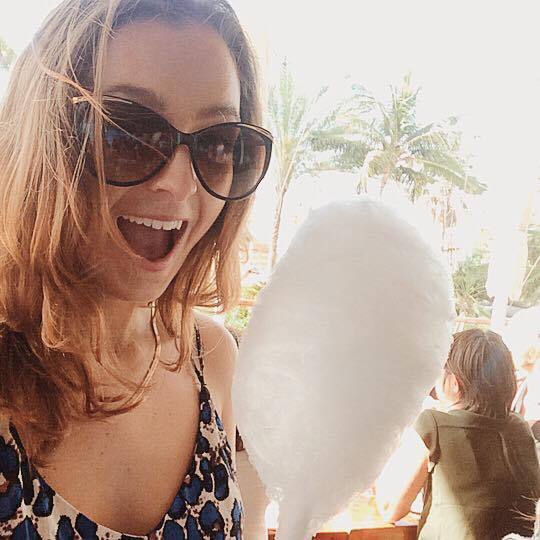 These are the first pair of designer sunglasses I've ever owned, partly because I'm terrible at keeping nice things and have always refrained from spending over £20 on SunnyGs because, well, I'll just lose them. I get so many compliments on these Ralph Lauren frames.
I woke up after a work night out a few weeks back, groped around and realised I'd left my sunglasses at the bar. It was a sad moment but life was good again when one of my colleagues dropped them on my desk on Sunday morning. She'd gone around picking up after everyone like some sort of drunk angel. Thank God for the sensible ones!
11. The Alchemist by Paul Coelho
I'm making a conscious effort to read more because after my English degree, I kind of took a literary sabbatical. I picked The Alchemist up at this cute little bookshop near my metro station and though I haven't finished it yet, it's probably going to be up there with one of those books I'll always go back to. It's just so full of life lessons that I have to keep putting it down to let the wisdom sink in every time I read a few pages. Highly recommend.
Any book recommendations? This is only the second Love and Lust list, which is something I've started because I fancied a change. Do you like them? Let me know in the comments!