Hi galentines and valentines, how are you all? I'm a bit run down and glad to (hopefully) see the back of rainy days in Dubai. The 'cloud seeding' experiment they're doing here is not only super freaky and unnatural (seriously, google it), it's also a massive inconvenience. Trust me to move from UK to a city where they're quite literally making it rain!
This is not what I signed up for. I might as well be back in Sunderland if I can't sunbathe or rock bare legs at work. The other day I basically swam home from the Metro station because it was pouring down and Dubai's streets don't cope with rainfall very well.
Silly Dubai.
Luckily, not all of February has made me want to hibernate with Netflix and a massive bar of Dairy Milk.
Here are my highlights from the past month.
A typical February in Dubai
Sometimes you just gotta treat yo'self
The month most definitely started off on the right foot, as I whisked myself Downtown for a solo two night staycation at a five star hotel.
Bloody hell, just writing that gave me a little how is this my life thrill.
You can read my JW Marriott Marquis Dubai review if you'd like to see some pics of their tremendous breakfast buffet, which I was too hungover to face on the first day. If not, here's a glimpse of the pool: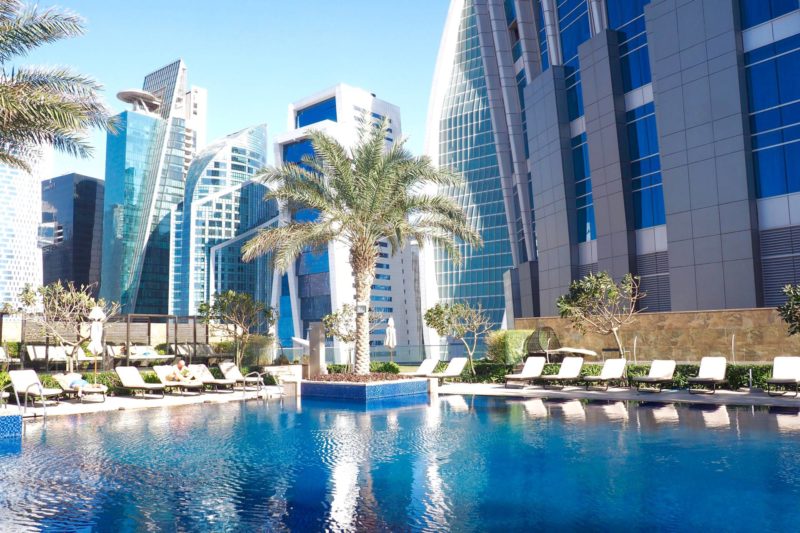 Having a huge hotel room all to myself was such a treat. I watched trashy American cooking shows, ordered room service and lived in the bathrobe. Except for when I got ready for brunch, obviously.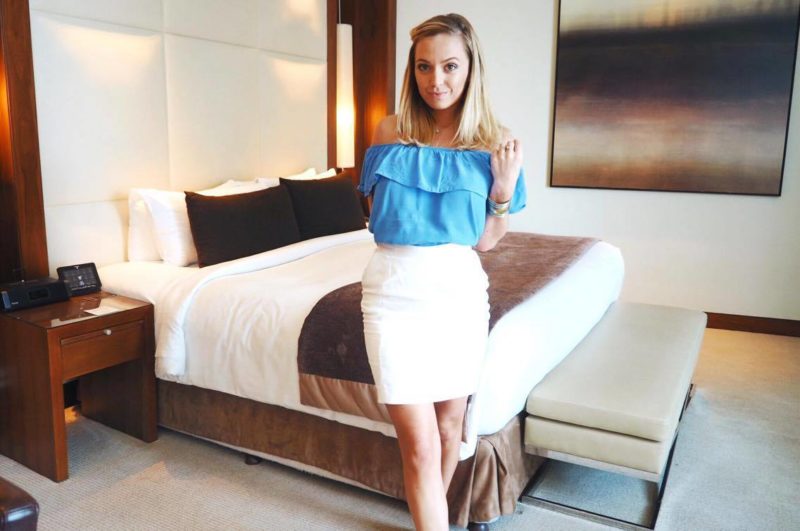 New hobbies
In January's monthly life update I told you that I'd made a resolution to try at least one new hobby per month in 2017. In February, I finally realised one of my dreams and unleashed my inner Beyonce at a hip hop dance class. I was super intimidated when I got to the studio but actually had a lot of fun, got sweaty and sort of picked up some new moves. Can't wait to practice them in da club.
Basic brunchin': Bubbalicious, Spice & Ice and China Grill
At the beginning of February I finally got myself to one of Dubai's best-loved brunches, Bubbalicious at Westin. It was a colleague's leaving party and true to form, I had to be poured into a taxi at 7pm.
Except I didn't go home, I went to meet my pals at another bar. Because clearly I never learn.
I wish I'd taken pictures of the Bubbalicious brunch buffet because it was one of the best I've been to. I know I  say that about every brunch I try, but very few have disappointed me so far. But yeah, the watermelon-rum pitchers took over. Also, I didn't want to be that annoying person hovering over the food for the perfect flatlay when everyone's trying to enjoy themselves, so my Olympus Pen stayed safely in my bag under the table. It was my first outing involving alcohol with the new, pristine white Micheal Kors, so I woke up the next day and began frantically shrieking, 'Michael! Where are you! Are you okay?!" before scrambling to the bottom of my bed to inspect him for scratches. Luckily, he survived unscathed.
Shame I didn't.
The next weekend I did the Spice and Ice brunch with the girls because it's super cheap and let's be fair, there's only so many 550 AED brunches you can do before you're not allowed to leave Dubai because of all your beautiful debt.
For just 200 AED, Spice and Ice is a good pick for brunch on a budget. The food was decent but nothing to write home about, and it's free-flowing prosecco soooo. I did actually take lots of pictures but then I got my memory card wet and now it's not my friend so I guess they'll never see the light of day. I'm just thanking my lucky stars that I'd already saved my Singapore pictures.
My flatmate Tamar's birthday was in February and we celebrated at China Grill brunch. It was decent but we spent most of our day trying to get served for drinks. I actually missed two dishes because it was taking so long to get served!
Never mind, it's the company that makes these things memorable.
After work one evening I randomly found myself at a Nando's opening, which was surprisingly fun. Free chicken and sober karaoke – who can knock that offer?!
Visiting Lebanon
I've successfully visited at least one new country per month since I've moved to Dubai and Febrary's trip was to Beirut with my workmate Emma. We had already postponed our trip once due to a foiled suicide bomber on the street we were staying, and I'm so glad we didn't let it scare us off visiting because Lebanon has SO much to offer tourists. More on that in a future post though.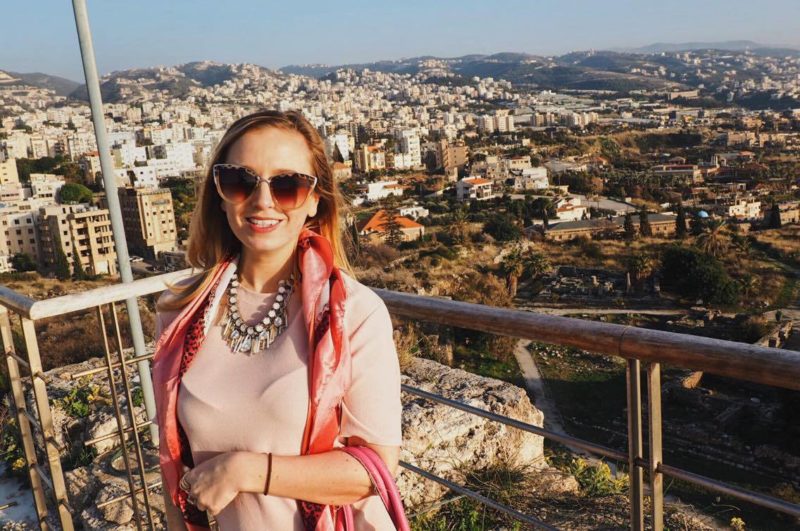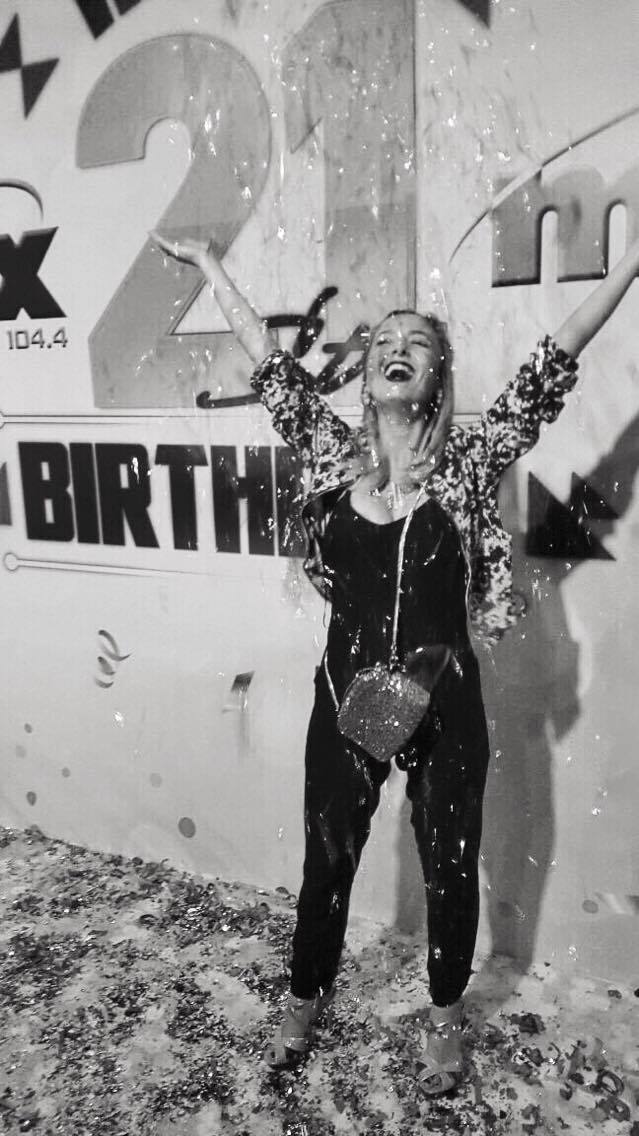 Did you travel in February? Let me know in the comments and sign up to my mailing list to get new posts straight to your inbox. I'm no tease, but I'm revealing something big very soon, so signing up means you'll be one of the first to be in the know about the future of While I'm Young.
Oh, and you can also follow my exploits on Facebook, Instagram and Twitter.