Benidorm gets a bad rep, and the TV show with the same name as the Spanish seaside resort didn't do the destination any favours. For most, Benidorm conjures images of mahogany-hued OAPs on mobility scooters with crepey necks, drunken stag and hen parties with 'Lads/Ladies on tour' emblazoned on their t-shirts and… well, a severe lack of anything authentically Spanish. Benidorm's tourism board is aware of that, and they're doing their best to change perceptions of their city. They know that the tourists with the money to spend tend are avoiding Benidorm because of the usual crowd, and they also know that the next generation of OAPs won't favour Benidorm as their preferred place of retirement or annual holiday.
Because of this, Benidorm is regenerating. The now dated budget accommodation blocks are being pulled down and replaced by modern luxury hotels. High-end restaurants are springing up everywhere. Yes, this Spanish city knows you've been nasty about her, so she's giving herself a makeover and coming back an absolute babe.
How to have a non-tacky holiday in Benidorm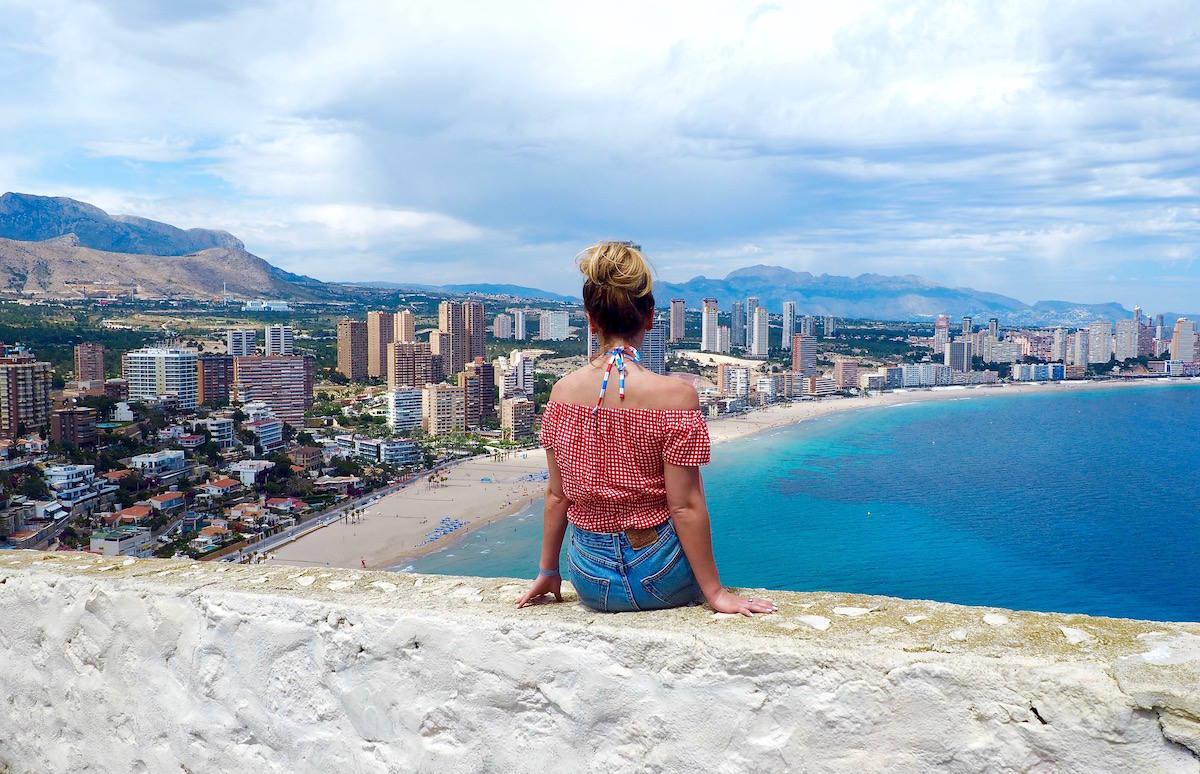 Visit Benidorm teamed up with icelolly.com to invite a bunch of bloggers to come and experience the 'other side' of Benidorm, and we found that while the construction workers do their thing, there are plenty of cultural things to see and do in the meantime – if you stay away from the British bars. Yes, the main strip definitely caters to the stereotypical Brits Abroad (ugh), but dig a little deeper and you'll see this is a beautiful place where Spanish culture is alive and well.
Authentic things to do in Benidorm by day
Go to the locals' beach
Forget battling for towel space on Playa de Levante. Avoid the lobster-red masses and head straight to the quieter stretch of sand to the west called Poniente. There's a gorgeous restaurant called Ulia on the beachfront serving paella for lunch. The sangria also goes down a treat, take it from me.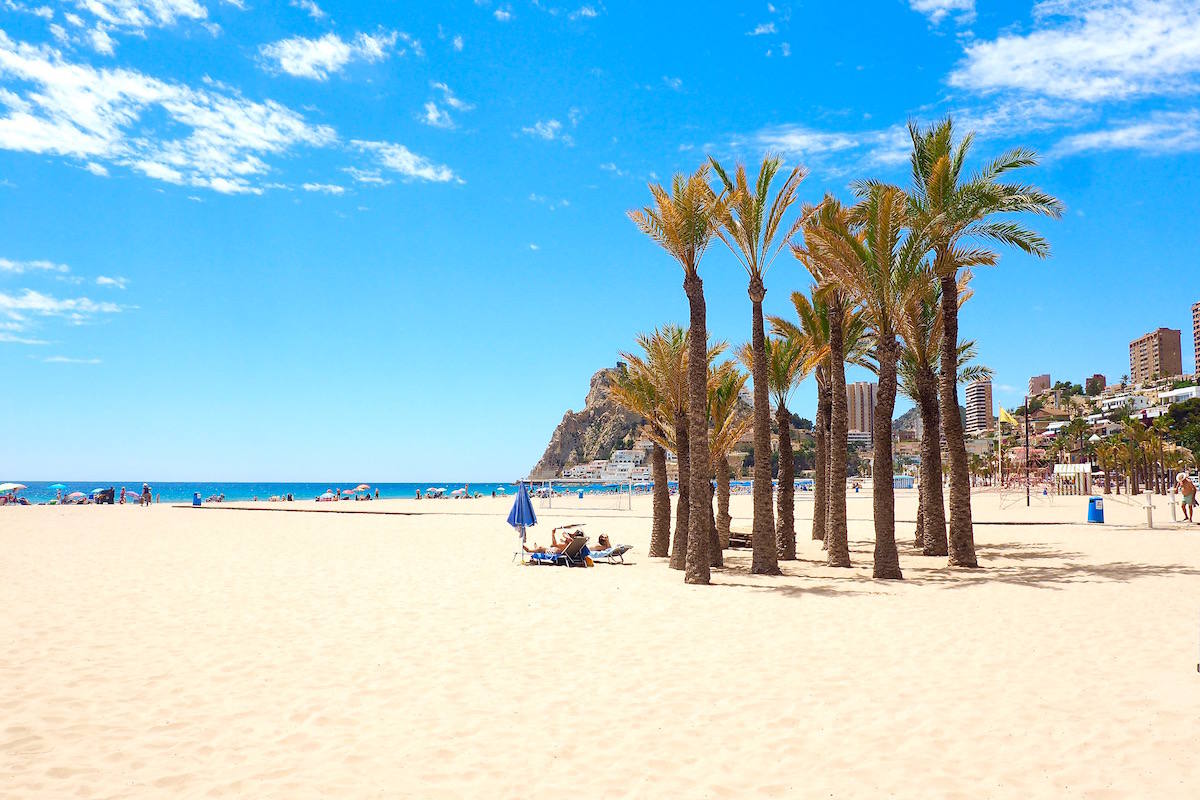 Learn more about the different beaches in and around Benidorm.
Get out of town
You can hire electric bikes from a company called Tao Bike for just 18 Euros for half a day, and they're a great way to explore the gorgeous scenery around Benidorm with little physical effort. They're also surprisingly exhilarating! We took ours along the weaving coastal path in Sierra Helada National Park and the views were fantastic, as was the pitstop at a tiny cove called Playa Cala Tio Ximo. You can hike in this 5,600 hectare park too, if you're feeling really energetic. I wasn't.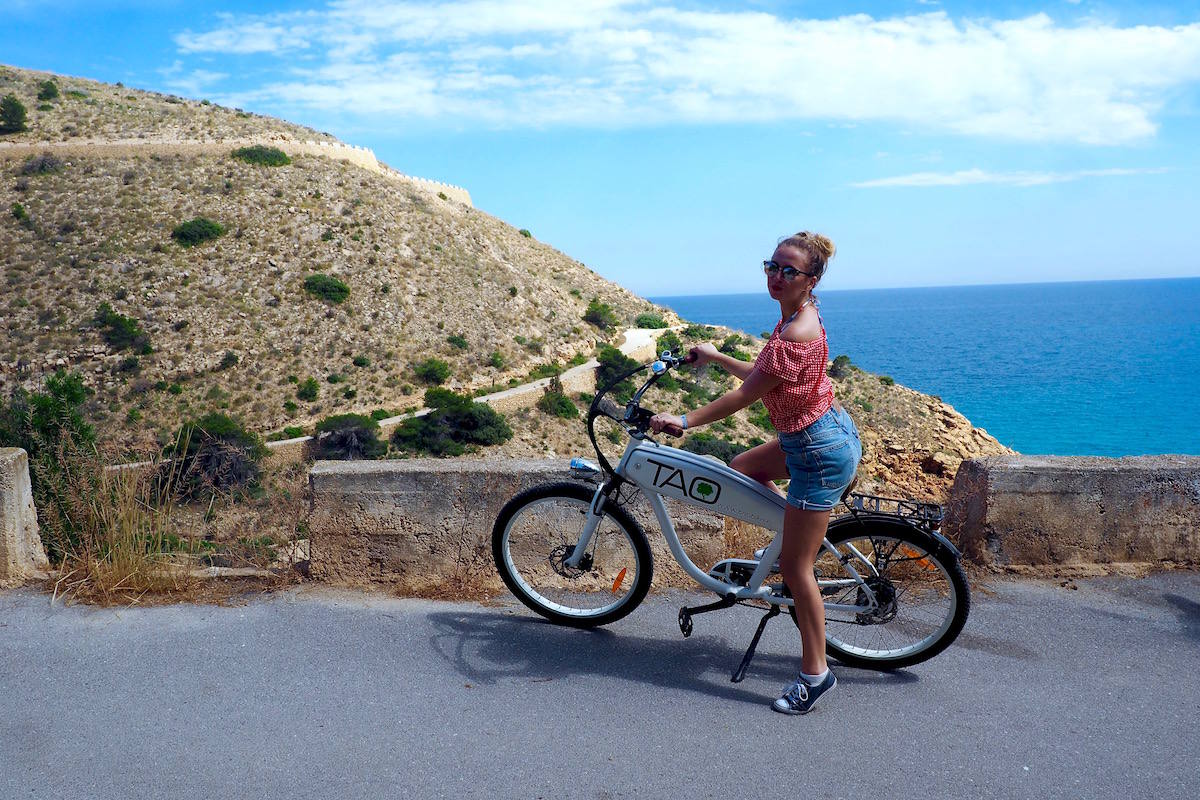 The Cross of Benidorm is located in Sierra Helada, and it's a wonderful lookout point.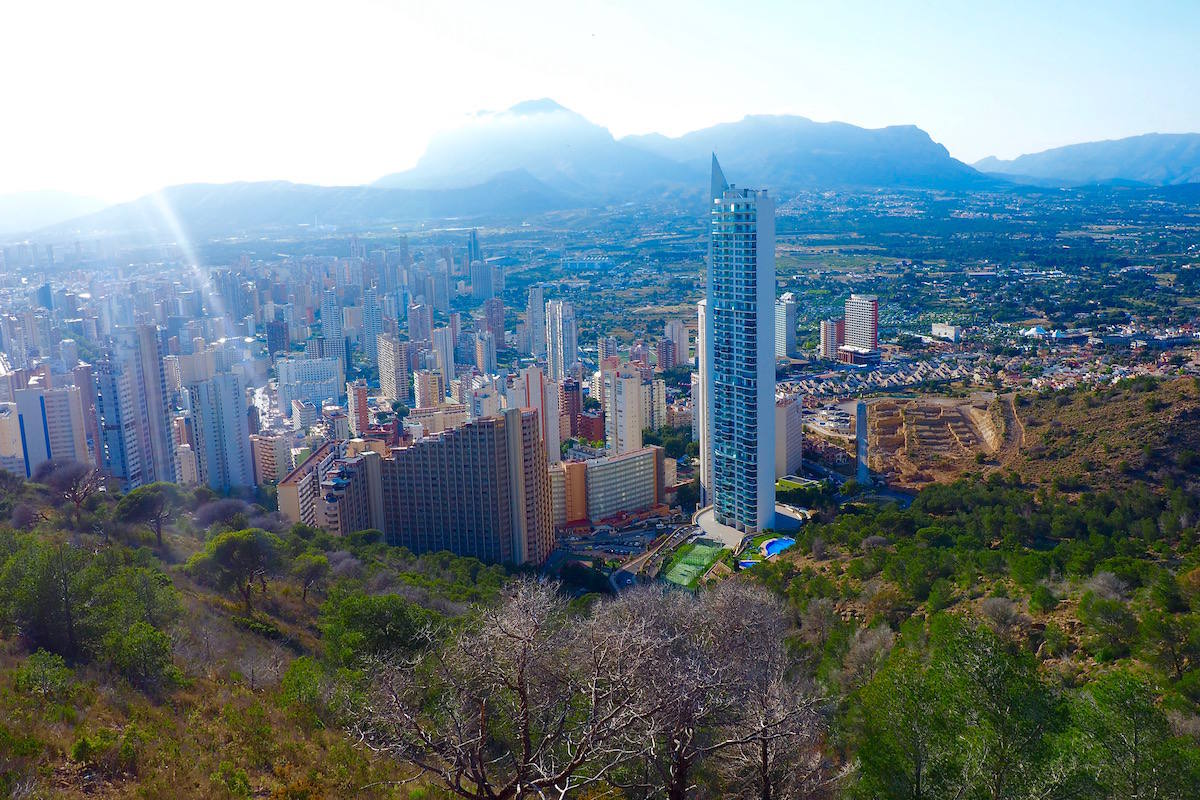 Alternatively, you can take a jeep tour with Marco Polo and go up into the mountains surrounding Benidorm. We were picked up from our hotel and did a shortened version of their full day tour in a 4×4 Suzuki jeep. Driving through the Spanish countryside with the music blaring is something I'll remember forever.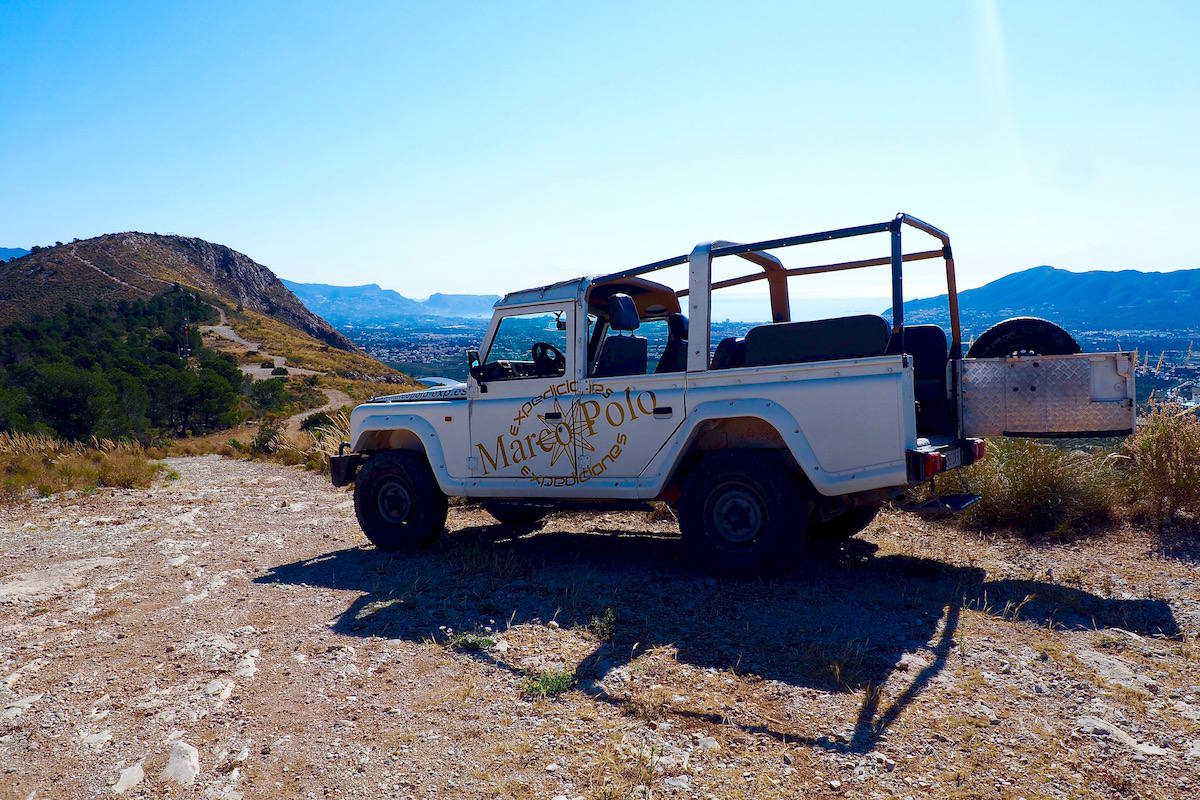 The driver knew all the best spots for photos and took us to two gloriously quaint Spanish villages – but I'll save those gems for another post.
Take to the water
There's no fear of bumping in to drunk stag dos in the sea, right? Jet ski hire costs 80 Euros for 30 minutes and it's the best fun ever! I've always been terrified of jet skis because my mum told me they're dangerous, but as soon as I hopped on the back  I realised it's actually pretty hard to fall off. I think I giggled the entire time, and practically leaped over Jordan when it was time to switch places. I can't believe I drove a jet ski! I guess I have Benidorm to thank for unleashing my inner adrenaline junkie.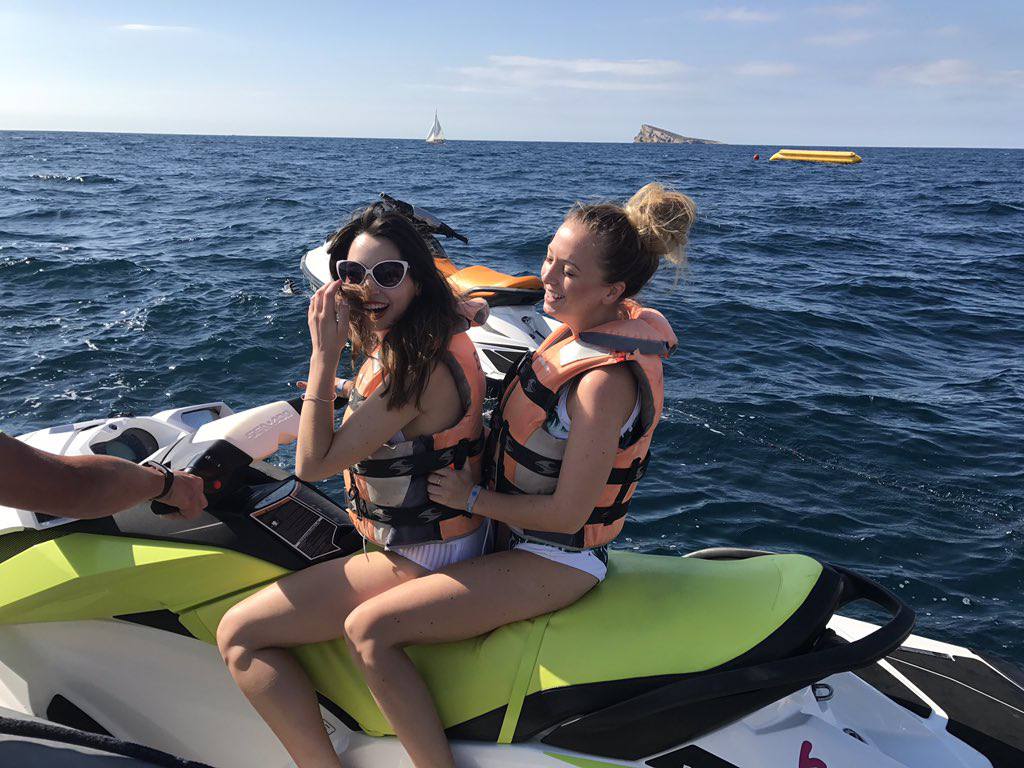 I'm pretty sure this pic was taken on Brogan's GoPro. I feel like I need one now!
We also took a boat out to the Peacock Island and snorkelled in the shallows, which was fun. I put my wetsuit on the wrong way round and everyone laughed, but it was too late to rectify the issue so I just went with it.
Authentic Benidorm by night
Eat at high end restaurants
Step away from the hotel buffet and plan at least one meal at a fine dining restaurant around town. Even if you're on a strict budget, it's nice to eat somewhere different for a change of scenery and Benidorm has plenty of lovely restaurants that you won't want to miss. I'll share my favourites in another post, because my food pics warrant their own space to shine!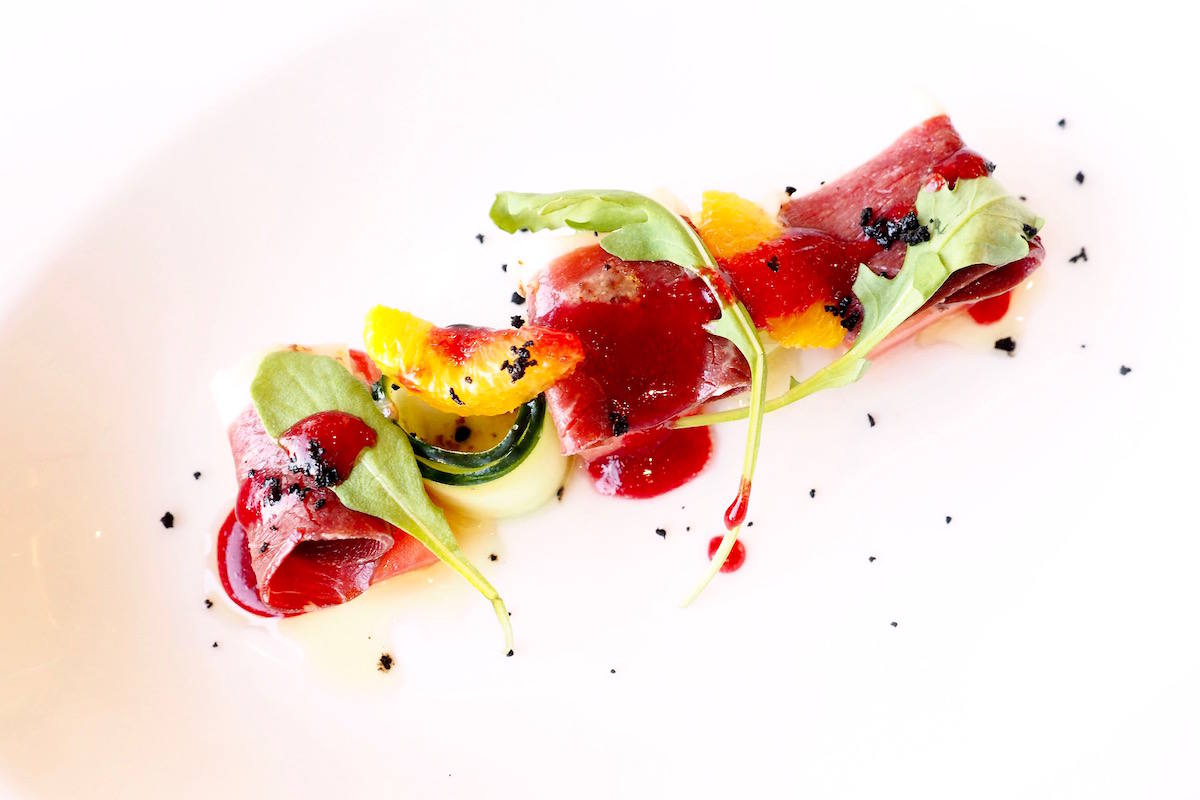 Linger over tapas in the Old Town
If you're feeling like Benidorm isn't all that umm… Spanish, spend a night (or every night) in the Old Town. This is where you'll find holidayers from all over Spain, and the cobbled streets lend a slower pace to the city. There's an entire street filled with tapas bars, and I can vouch for the fact that they don't serve anything resembling pizza or kebabs – thank God! I never liked croquettes until I tried them in Benidorm.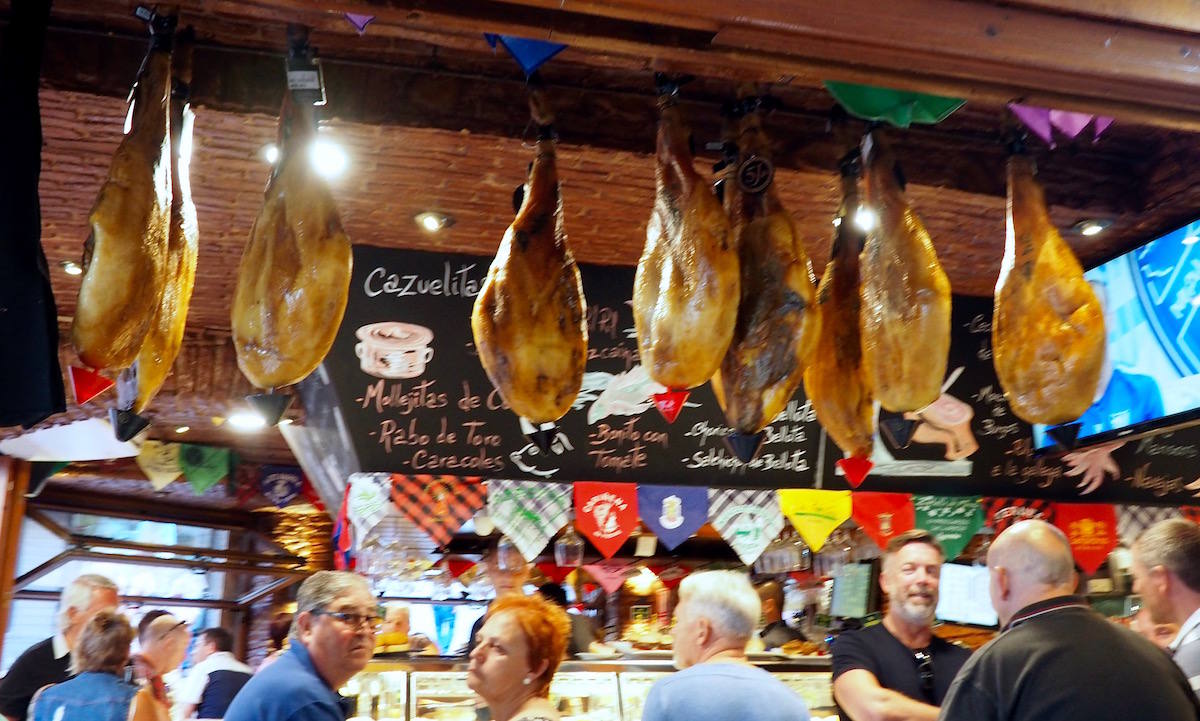 Spend golden hour at Balcon del Mediterraneo
In front of Iglesia de San Jaime y Santa Ana, there's a pretty blue-tiled plaza with a jaw-dropping view of Benidorm's coast. This is a perfect picture-taking spot and SO romantic at sunset. In fact, the 'balcony of the Mediterranean' has been named as one of the most picturesque lookout spots in Spain.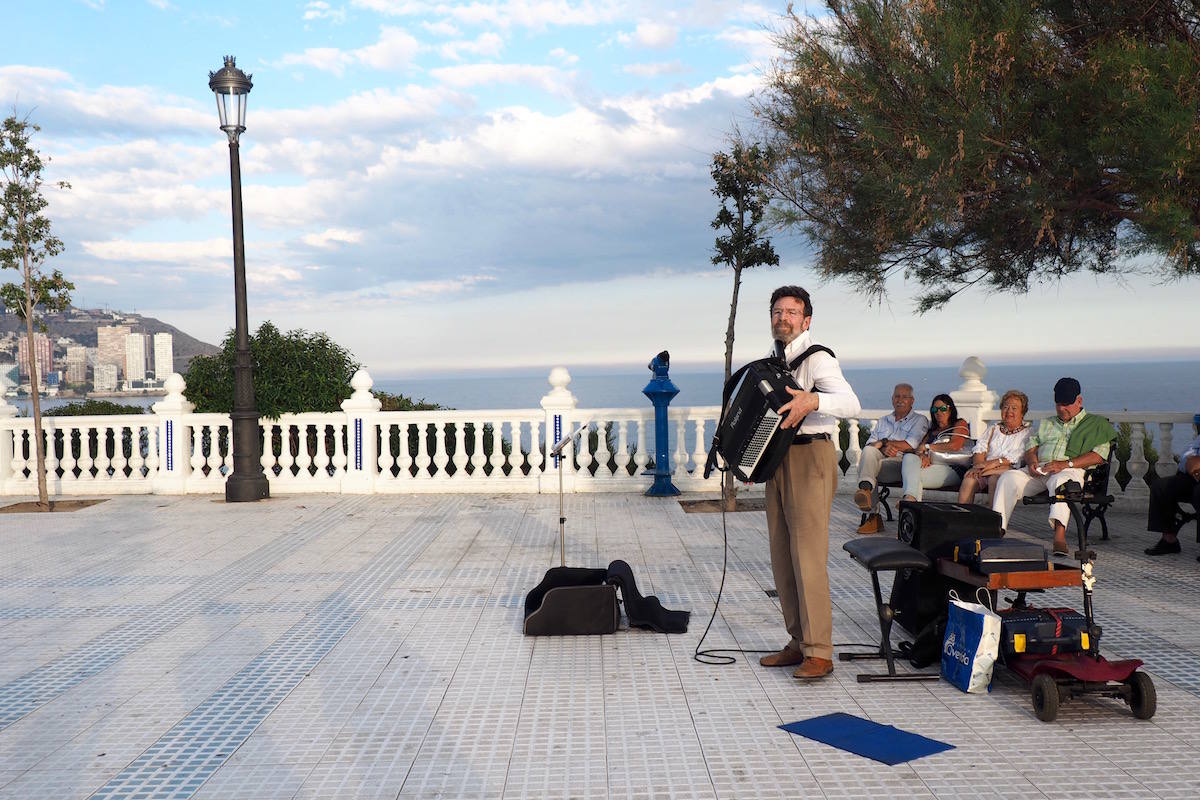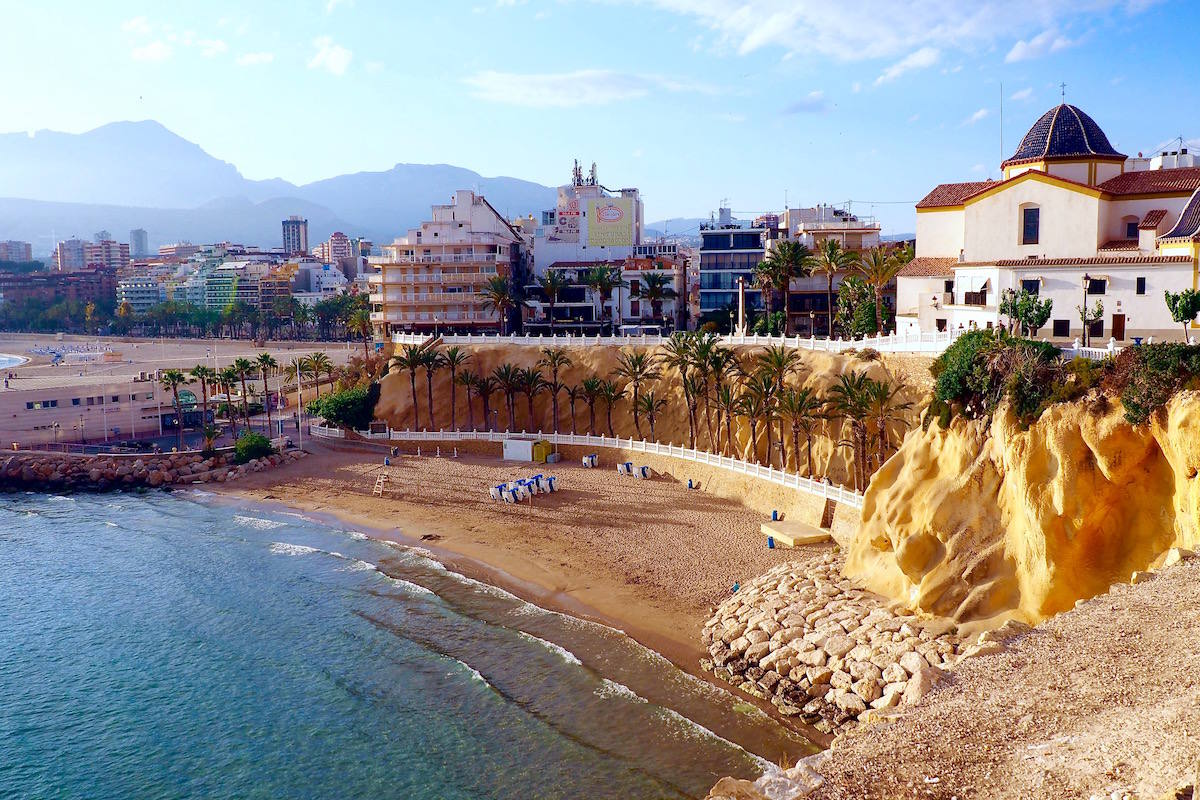 Sip cocktails at a rooftop bar
If you prefer your nightcap with a view of the city rather than a view of a stripper's pole, you'll enjoy the rooftop bar at Hotel Madeira Centro. I like to squeeze a rooftop bev in to every trip and I loved this bar's all-white decor.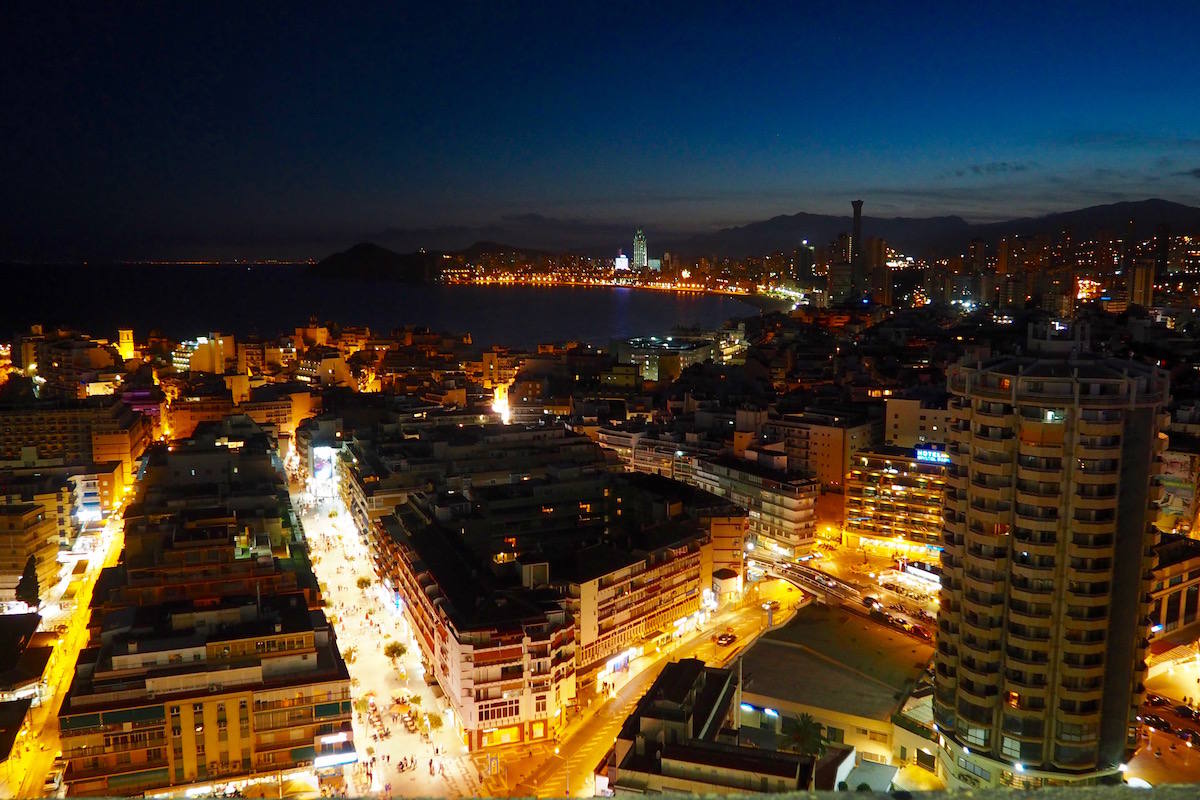 Where to stay for a different class of holiday in Benidorm
We were hosted by adults-only Sandos Monaco Hotel in the city centre, just a few minutes walk to the main beach. I liked that it was spotless, the food was varied and plentiful and there's a spa onsite.
If you're looking to escape the crowds, Melia Villaitana is a luxury hotel further inland and looks beautiful. Our guide pointed it out while we were looking over the city from a viewpoint and I got super jealous.
Our guide also told me about an amazing 'glamping' style hotel in Guadalest, one of the villages I mentioned. It's called Vivood Hotel Paisaje and is a 20 minute drive from the coast. The rooms all have floor-to-ceiling windows looking out onto the stunning mountains. I'm definitely booking in one day!
Our alternative tour of Benidorm really showed me that every holiday is what you make it. You can choose to stay anchored to your hotel, or you can peel yourself off your sun lounger and get out to see the real Benidorm. I had actually visited with my family twice before and although we always went to the Old Town at night, I had no idea of the rugged landscapes, exciting watersports and unspoilt beaches hidden just out of sight. I'm a big believer in experiencing a destination for yourself before you write it off, and I'm just gutted that it took three trips for me to discover the other side of Benidorm.
More Benidorm posts coming soon – including a peek at those gorgeous nearby villages I mentioned – so subscribe to make sure you don't miss a post and follow me on Facebook, Twitter and Instagram.
TELL ME: What comes to mind when you think of Benidorm? Does this post surprise you?
Watch my Benidorm vlog
Have I sold you? Book your own holiday in Benidorm.
All photographs were taken on my Olympus Pen E-PL7.