I am dying to go to Jamaica. Everything about the country just absolutely fascinates me; the colours, the tropical climate, the people and the culture. And of course, the food. I'll be honest though – my experience with Jamaican cuisine begins and ends with some disappointing home experiments: a bit of jerk seasoning on my grilled chicken. In fact, I haven't tried much Caribbean food at all, aside from in Cuba a few years ago. When Tom and I were invited to review Turtle Bay last weekend, I was excited to try some real Caribbean food. I'd never actually heard of Turtle Bay before, but it's a chain restaurant with outlets all over the UK. How did I miss it?
Turtle Bay Newcastle review
The Newcastle restaurant is in the city centre, just next to the Gate and we headed into The Toon for a long overdue date night, Caribbean style.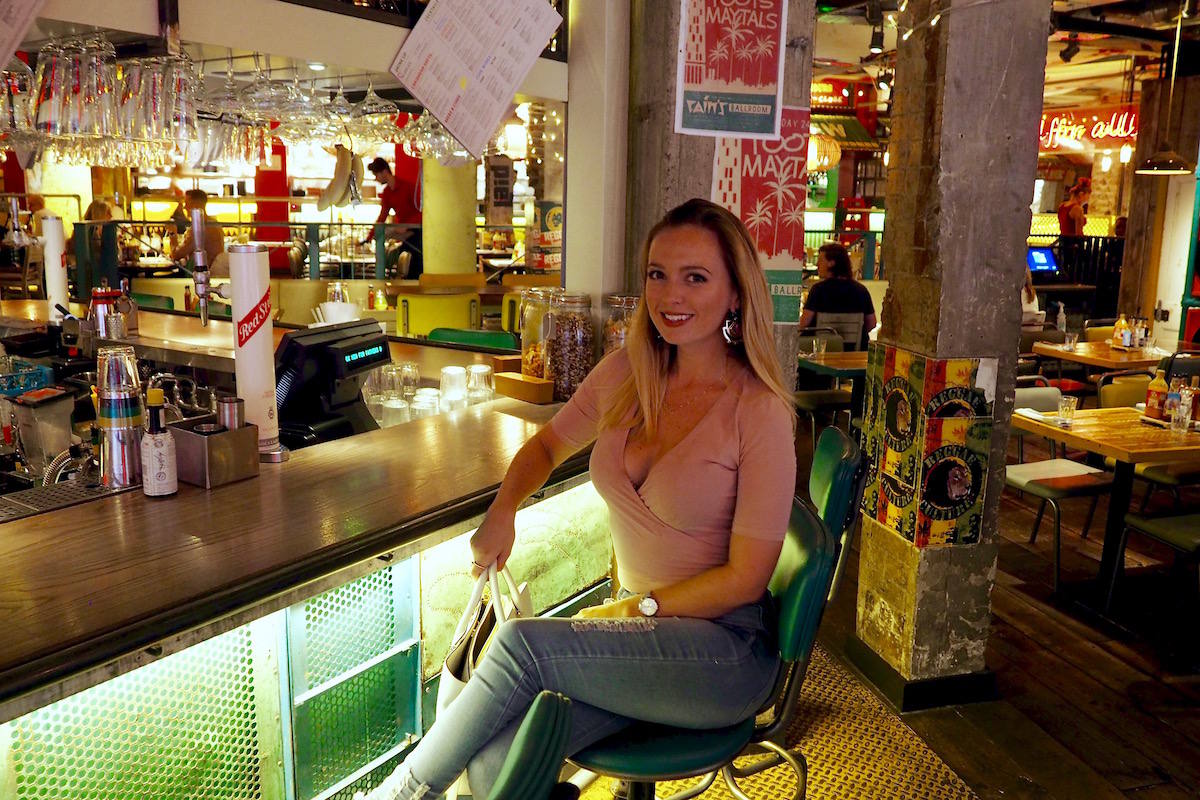 Shop the look
First of all, I love Turtle Bay's decor. The tin-can ceilings, wall art and slightly industrial feel of the restaurant make you feel like you really could be sitting in a reggae bar in Montego Bay, and the background music makes it impossible not to nod your head in time to the beat. I forgot how good reggae music is – or maybe that was the cocktails…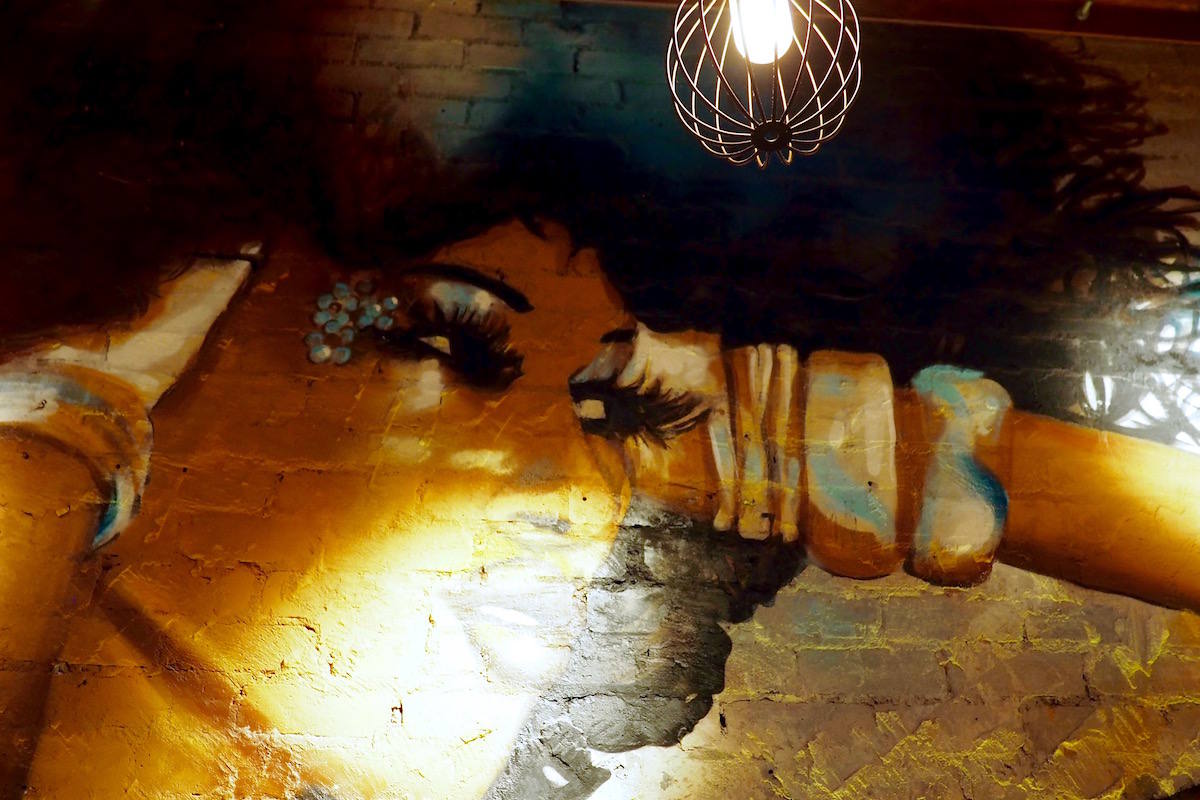 We went on a busy Friday night and Newcastle's finest were there in their glad rags, eager to be fed and watered.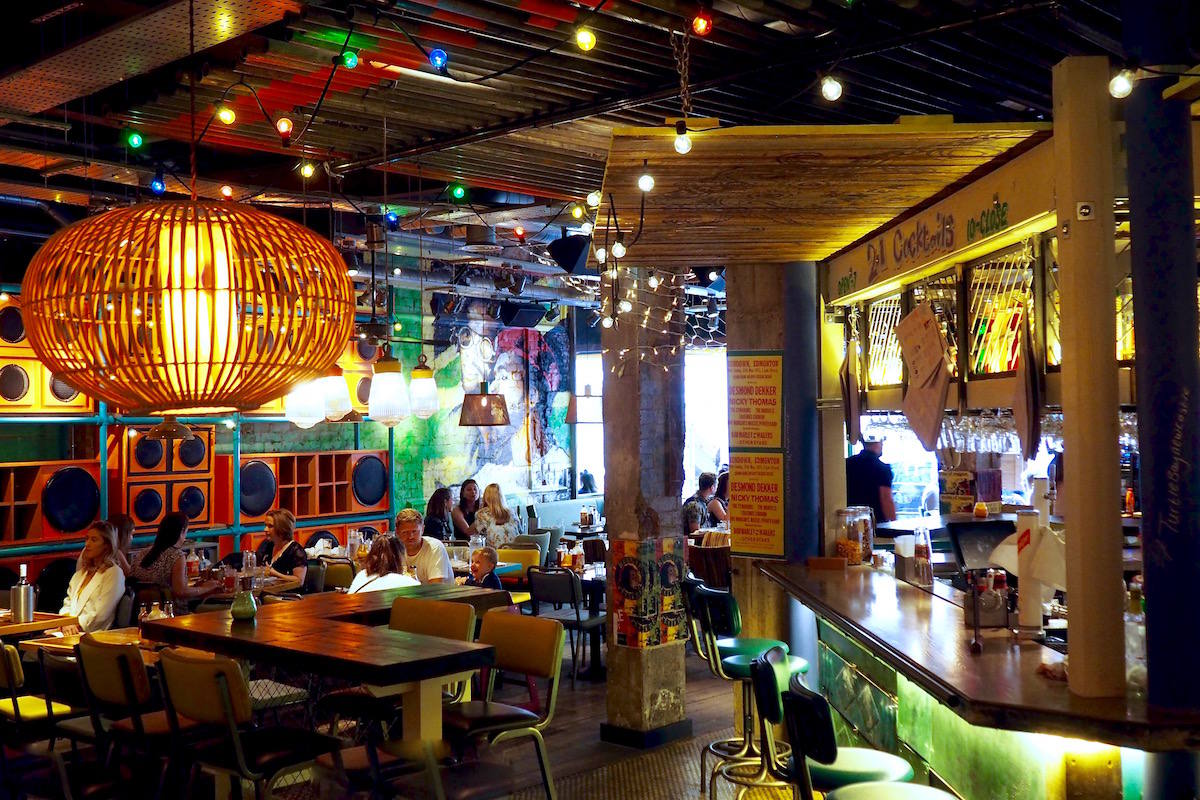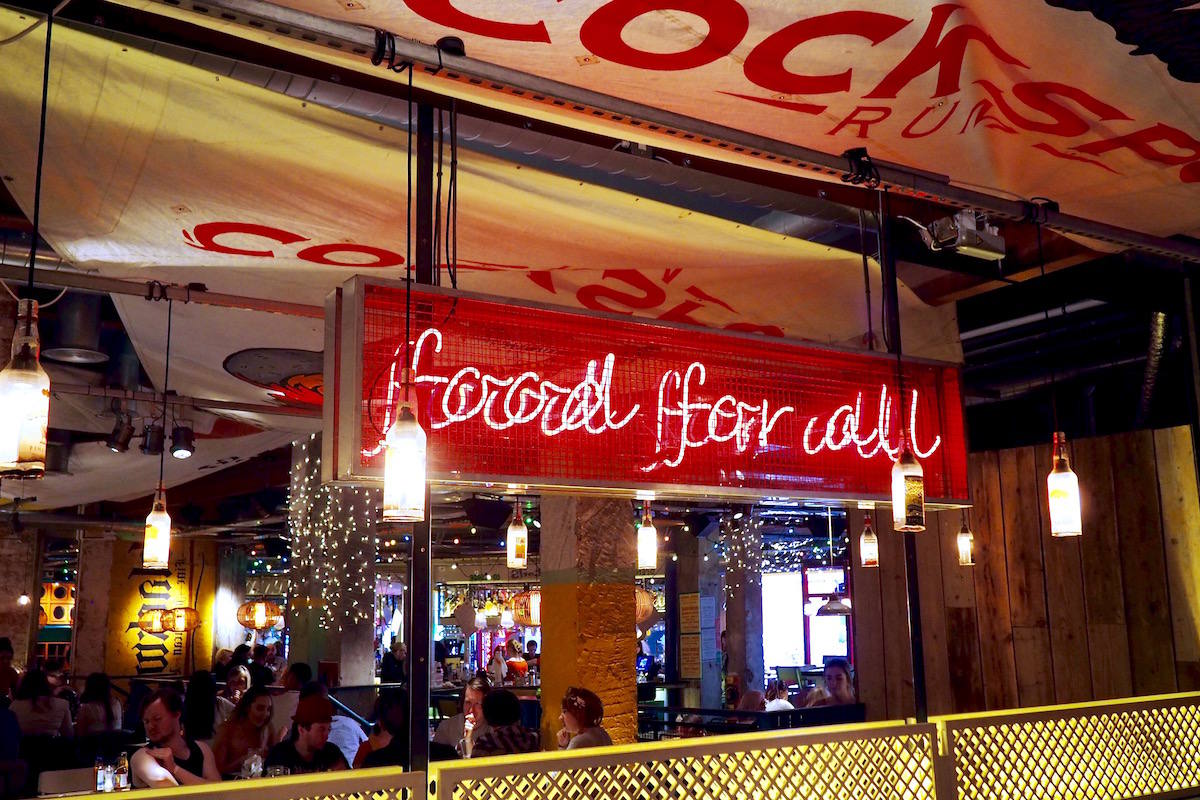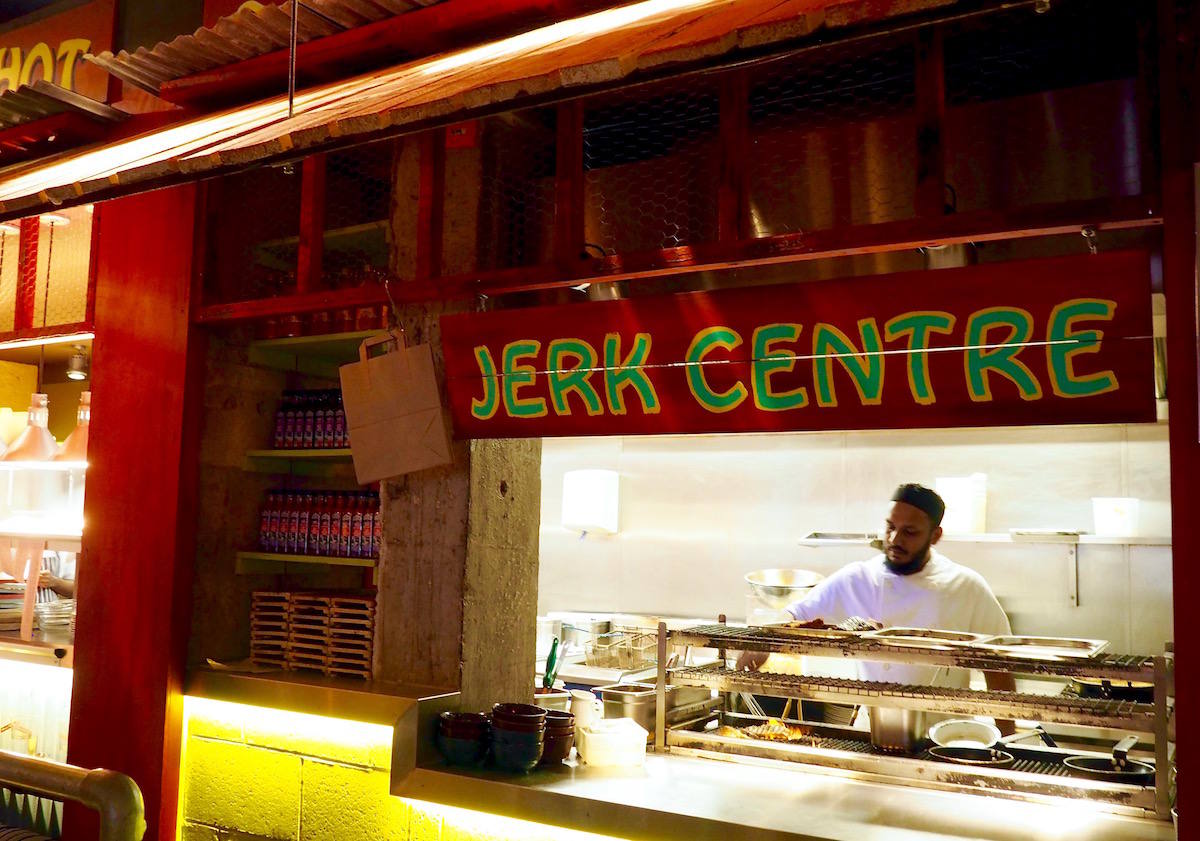 To drink
Turtle Bay's cocktail menu is right up my street. Obviously, there's a heavy emphasis on rum. Just call me Captain Jack Sparrow, because I'll drink to that. We vowed to work our way through the newer things on the menu, which were marked with a love heart. For beverages, that meant ordering the Goombay Smash, Roots Culture and Reggae Rum Punch. The last one was our favourite, and as it turns out, it's also the staff's. Our lovely waitress gave us looks of pure respect when we ordered it and said that it was her go-to post-shift refreshment. Girl, I feel ya.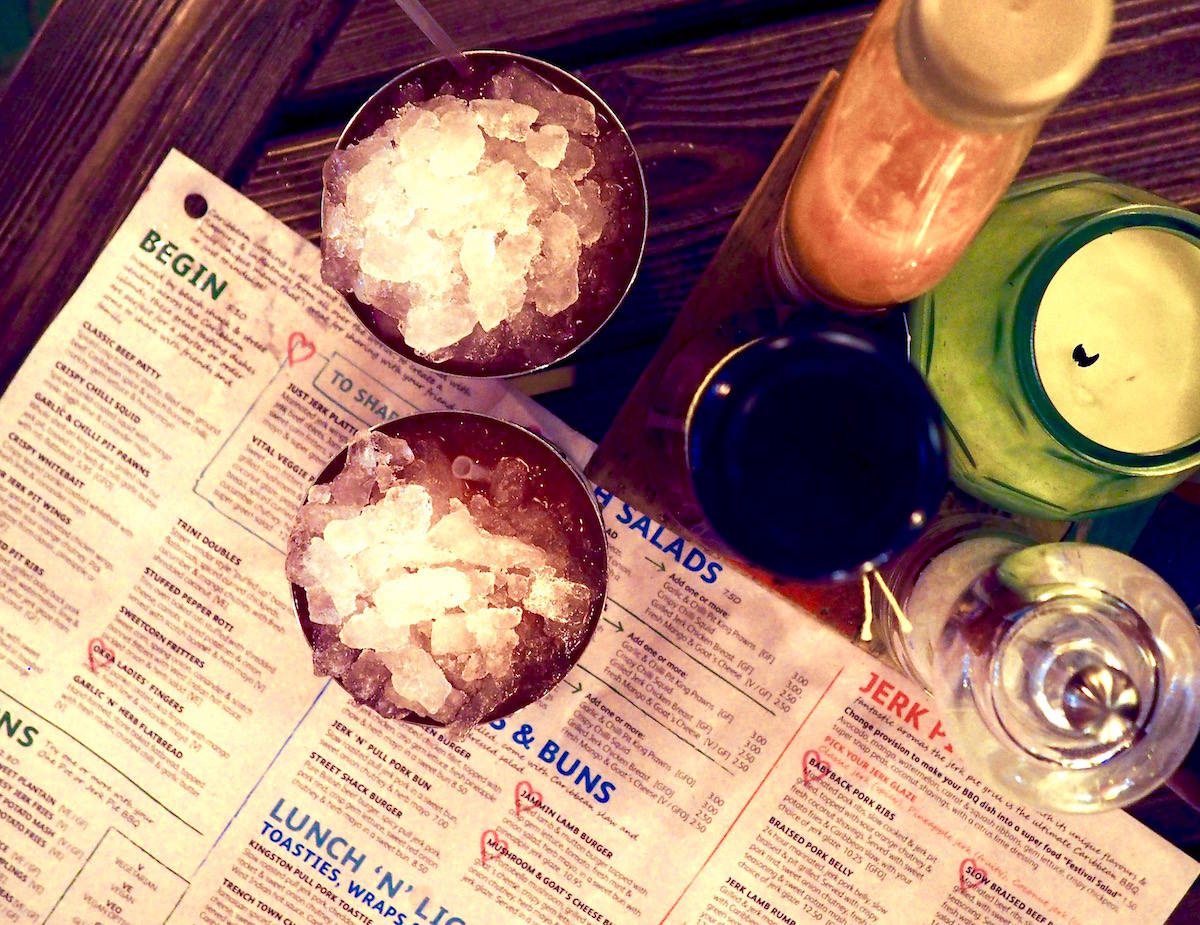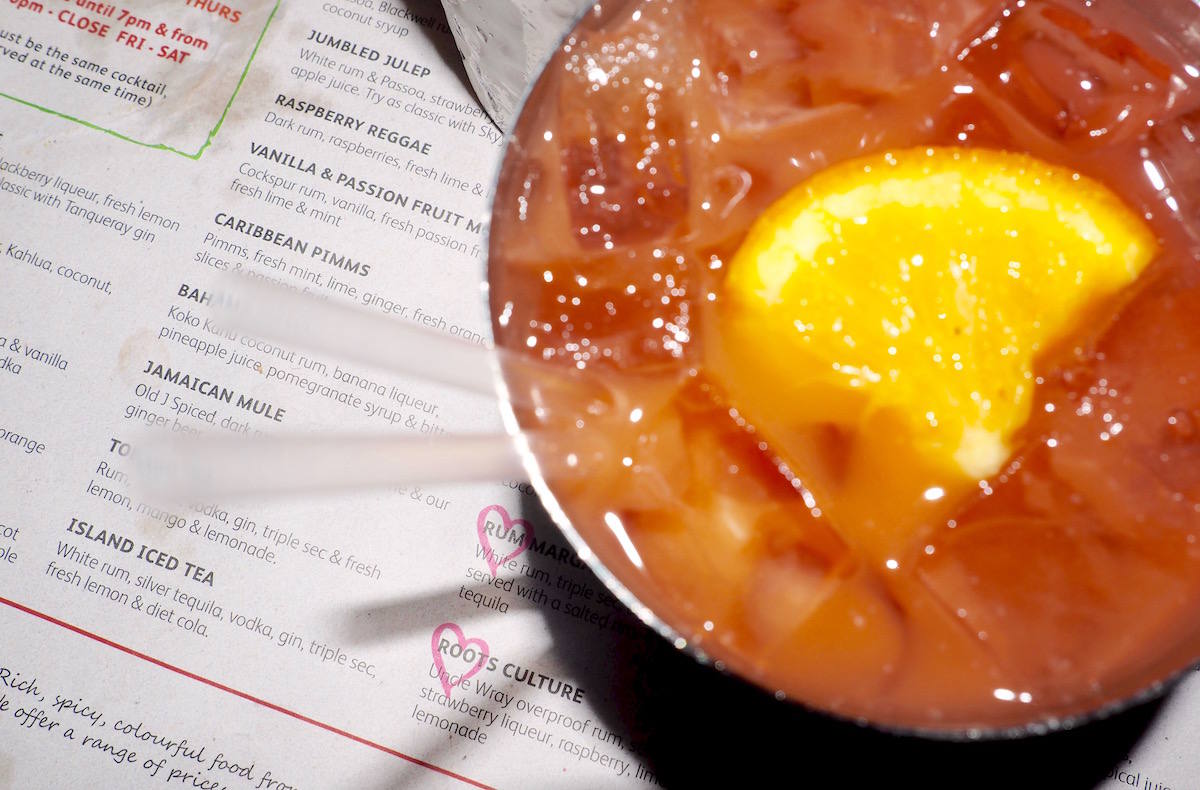 Oh, and cocktails are 2-4-1, FYI. On to the food, eh? Now, I have to warn you that the photos don't quite do our meals justice – the combination of low lighting and dark, glossy meats don't make for the most photogenic of meals – but hopefully I can get your tastebuds excited with words if my images don't hit the spot.
To begin
To start, we shared 24 hour spiced & marinated chicken wings, pit grilled with sour orange chutney and the garlic and chilli pit prawns.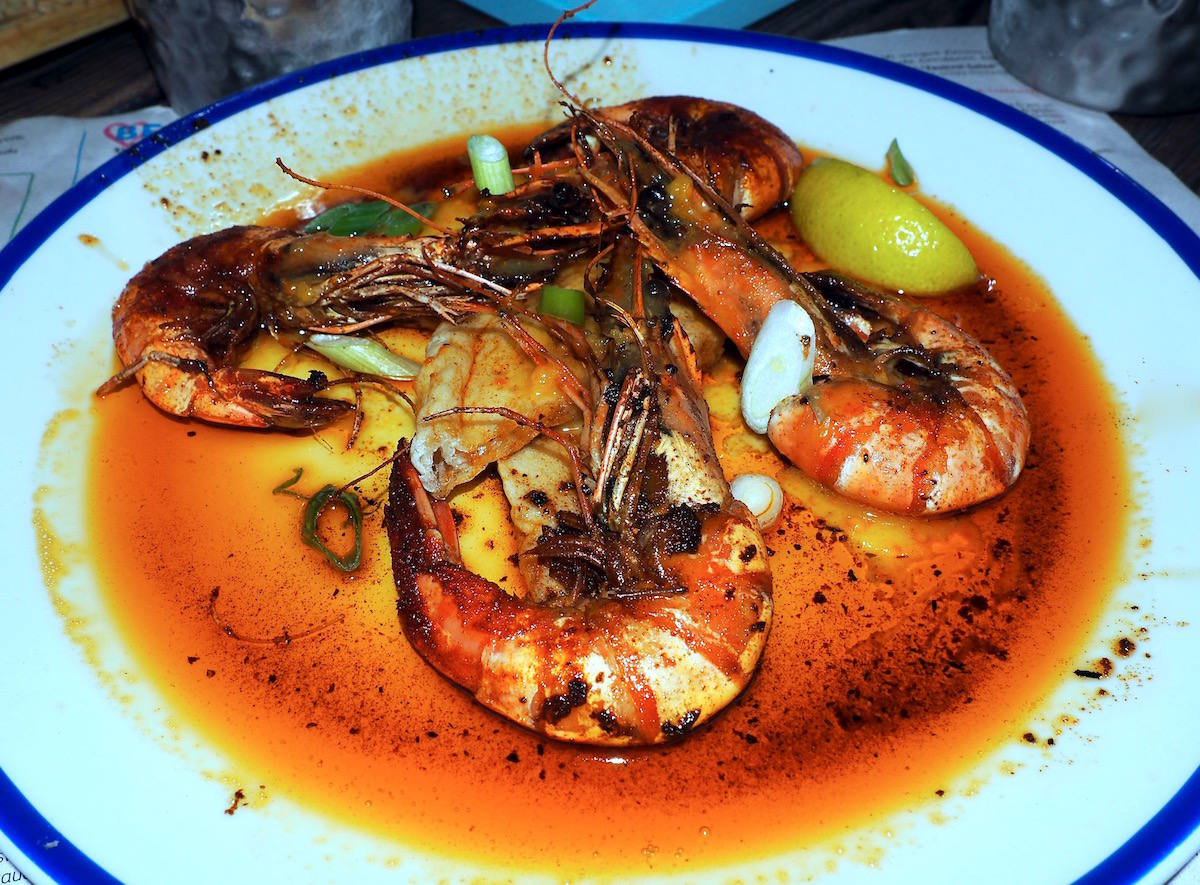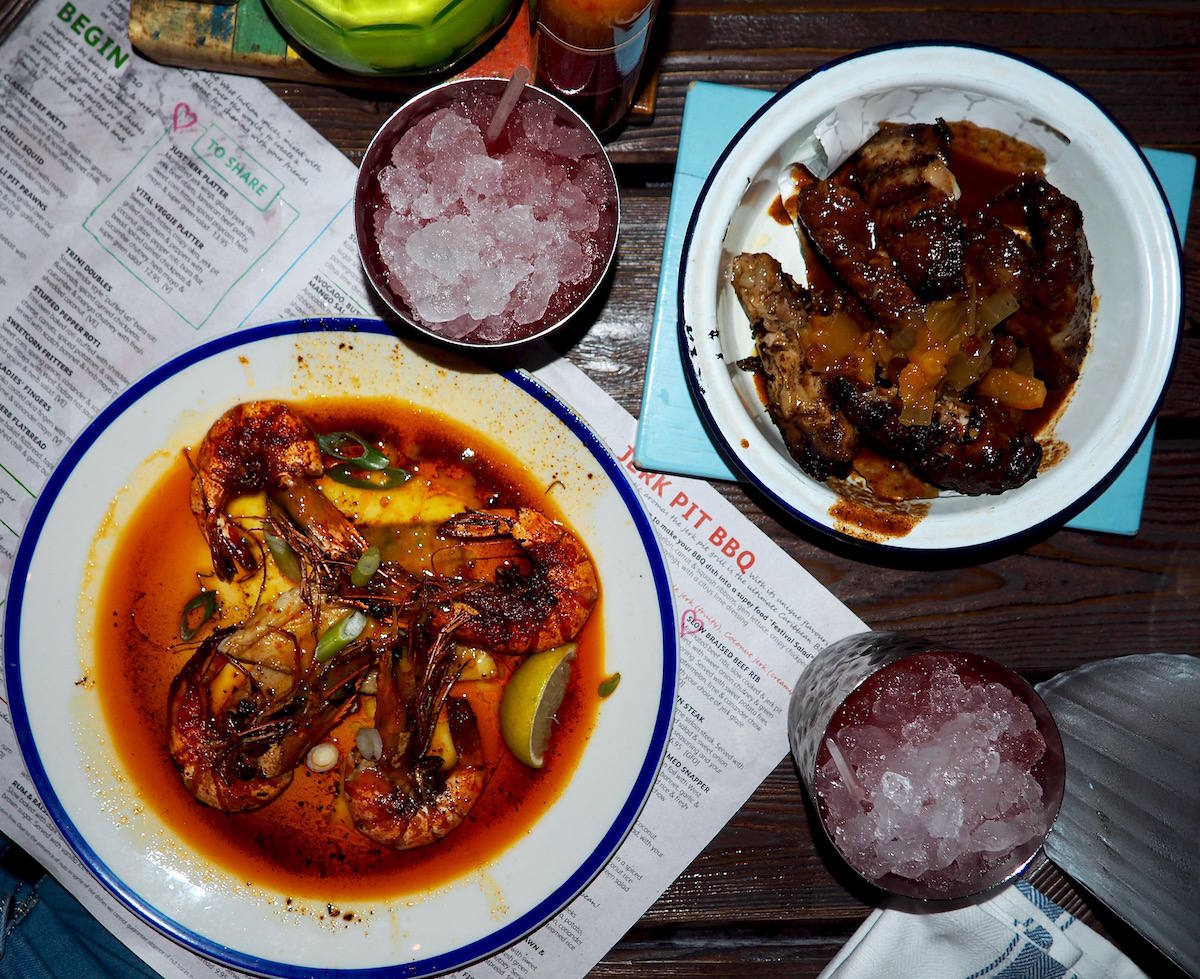 The prawns could have been plucked from the Caribbean Sea that morning. They came in their gnarly shells, bathed in a vibrant, fragrant garlic and chilli butter. We greedily mopped the juices up with the roti bread flatbread that accompanied them. The chicken wings were plentiful and tasty – and messy! I was glad we'd been given a finger bowl with our starters, because we hadn't chosen the most elegant things on the menu. I'd say don't go to Turtle Bay on a first date, but I actually think licking your fingers over piles of gloriously sticky meats would be a decent icebreaker.
The main event
Not long after our plates of gnawed chicken bones and discarded shells were whisked away, our mains arrived. We'd both ordered from the Jerk Pit BBQ section of the menu: Slow braised beef rib for Tom and Jerk sirloin steak for myself.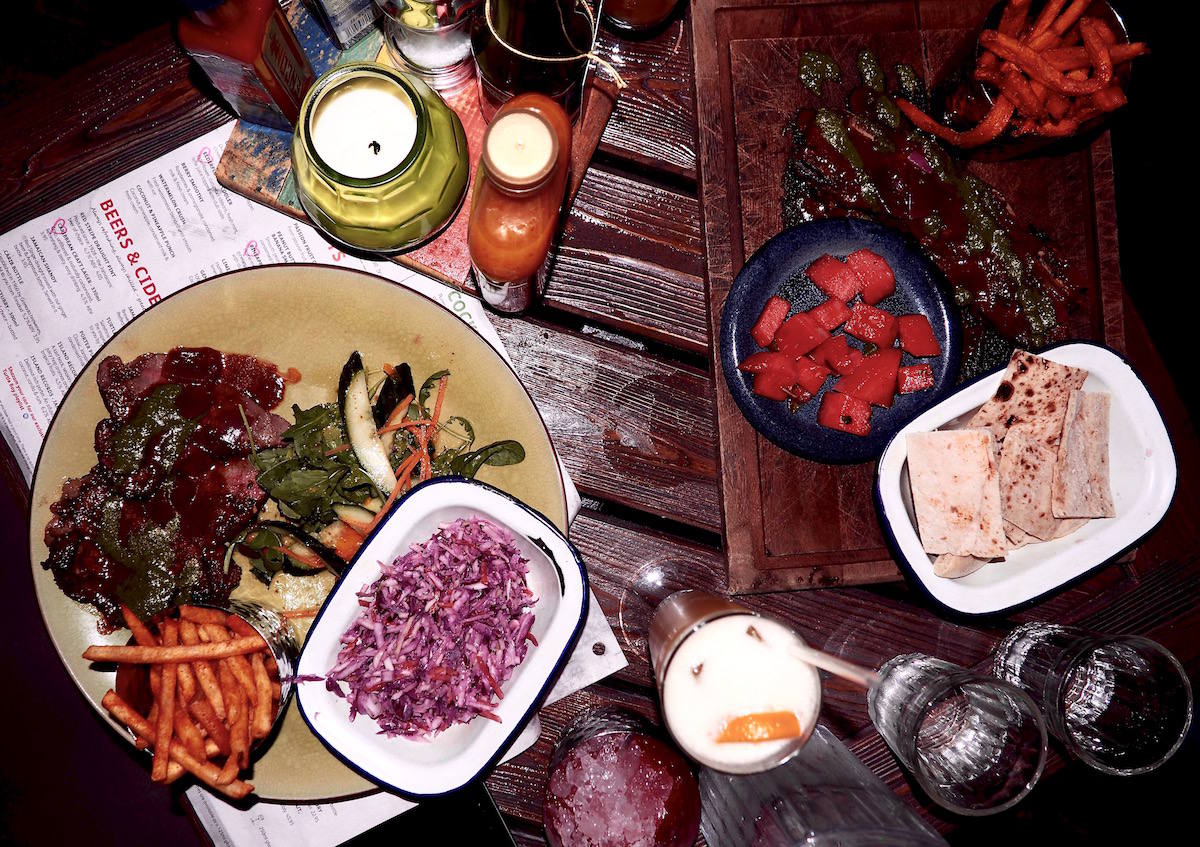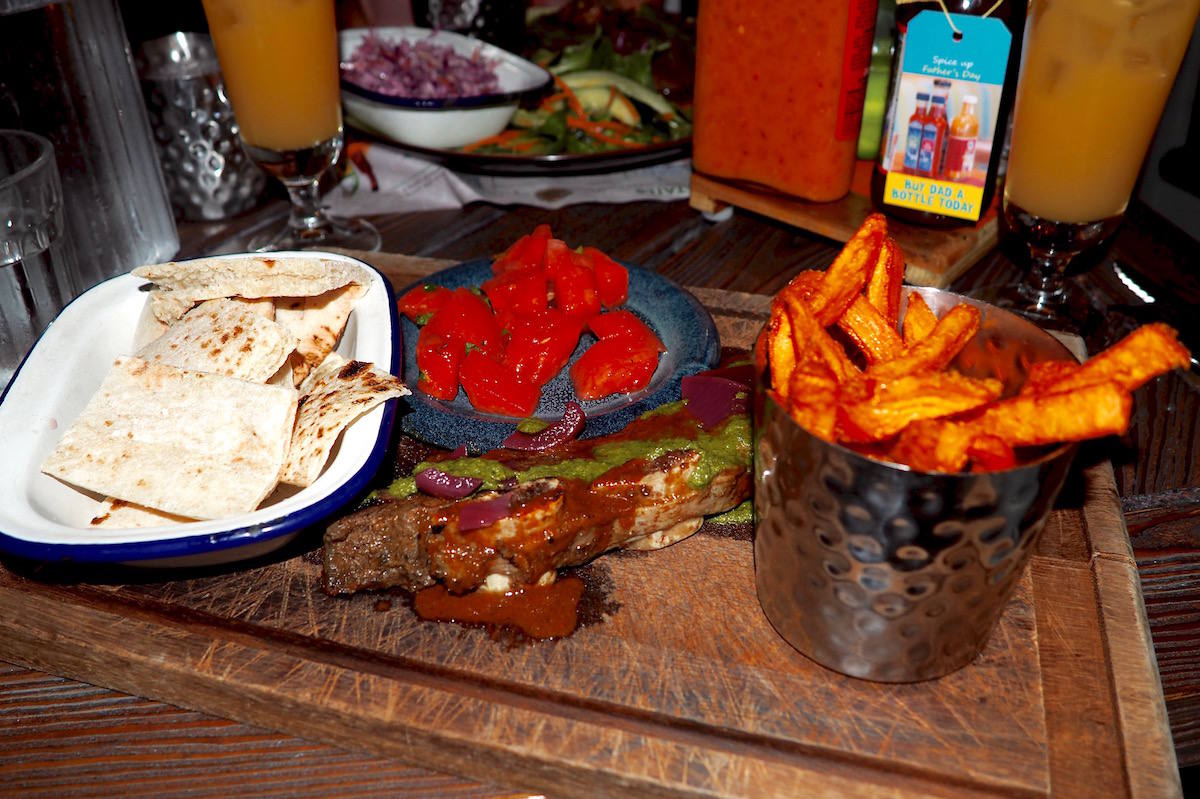 Tom's marinated beef ribs, slow cooked & jerk pit grilled, with sweet onion chutney & green seasoning were served with sweet potato fries, fresh watermelon, lime & coriander chow salad. My jerk pit grilled prime sirloin steak was cooked medium rare and served with spiced fries, dressed salad & sweet onion chutney and fresh green seasoning, plus a side of Caribbean slaw. Everything was absolutely delicious. The jerk-flavoured meat was perfectly cooked and the balance of flavours was spot-on. When I've had jerk chicken before, I've found one or more of the spices overwhelming, but Turtle Bay got it just right. The fresh, crunchy vegetables were the ideal antithesis to all that dark, glossy meat and the fries were incredibly moreish.
The grand finale
We were stuffed, but there's always room for dessert in our house.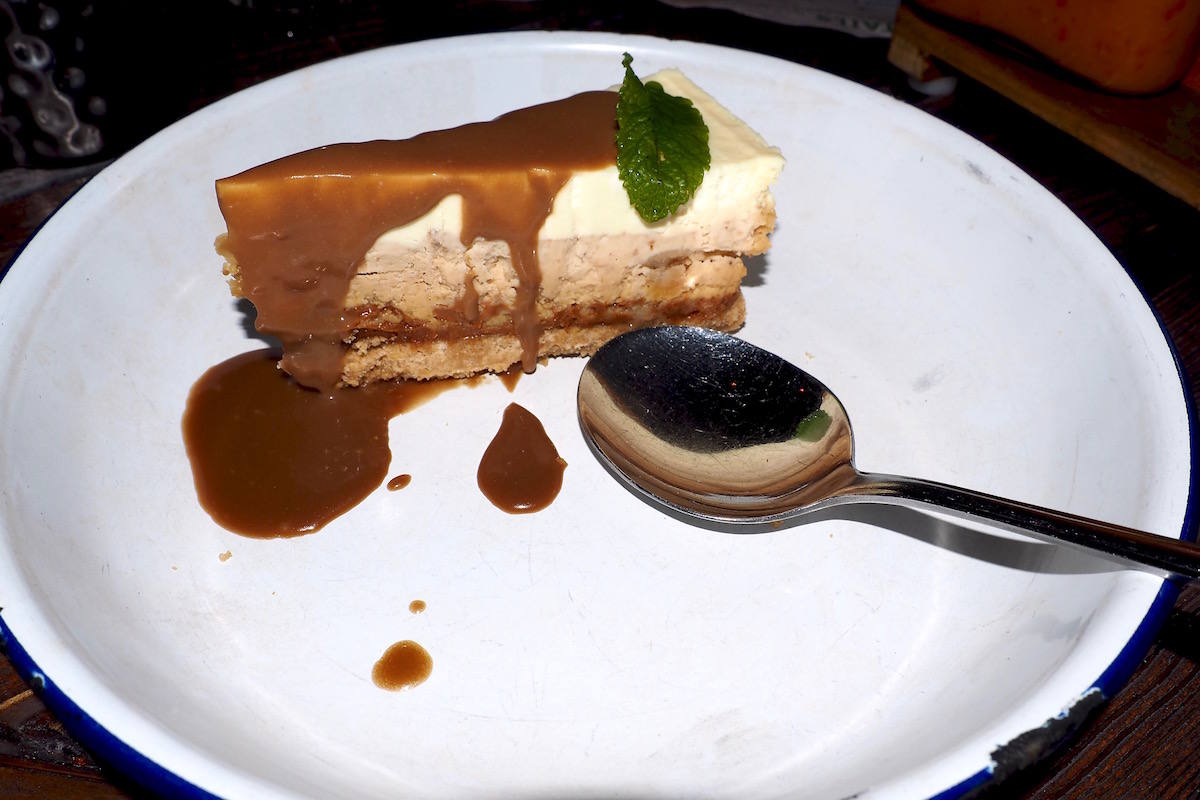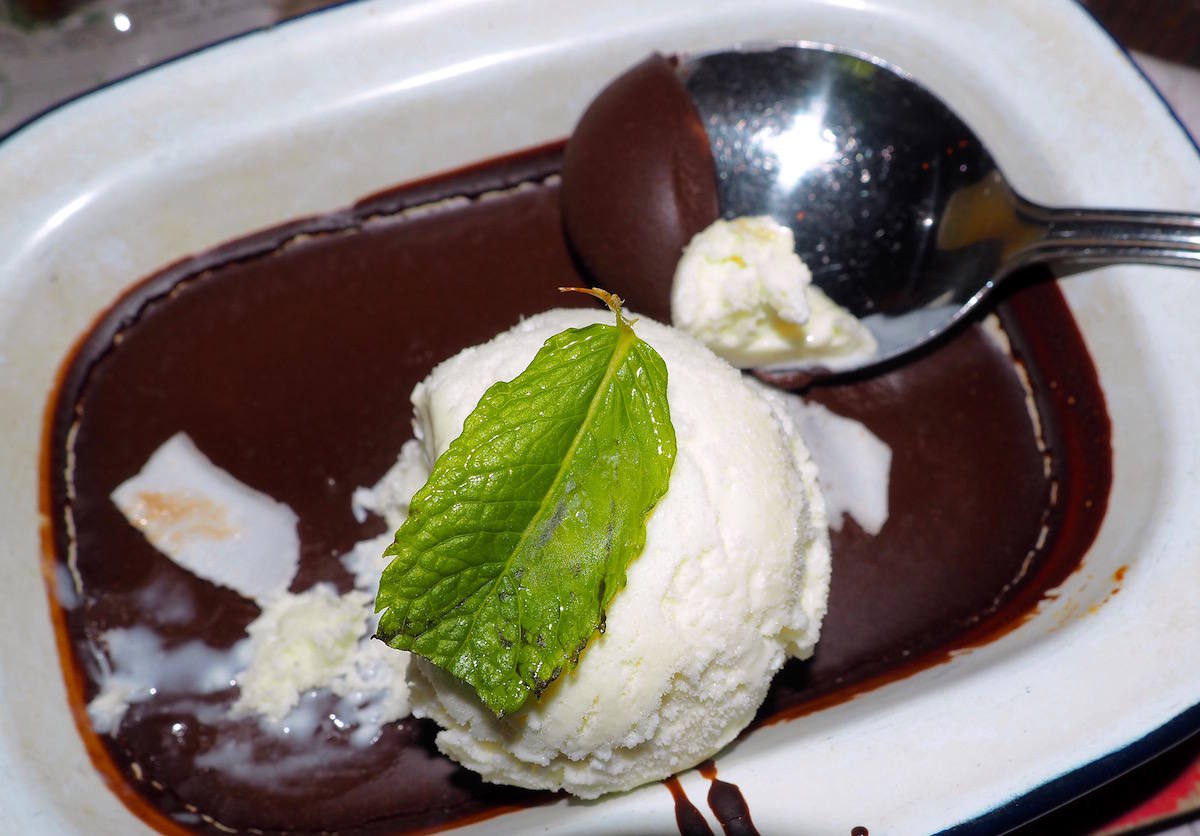 I was immediately envious of Tom's triple layered banana and toffee cheesecake. He's something of a cheesecake connoisseur (he's super predictable and orders it everywhere we go) and said it was probably the best he's ever had. I'm picky about cheesecake because I don't like too much of the cream cheese part, but I thought the layers were just right. I went for the spiced rum and chocolate pot. Undeniably indulgent, and you can definitely detect that kick so it's a good thing it's served with a refreshing scoop of coconut ice cream. I couldn't finish it, but not for lack of trying.
The verdict
The Turtle Bay menu is full of authentic Caribbean flavours and ingredients: crispy okra and street vendor style "puffed up" bara roti flatbreads, coconut and spiced chickpeas. I love that it's a bit different! We both agreed mid-meal that it was one of the best meals either of us had eaten in a long time – and that's saying something, because I just got back from a press trip in Italy where I was fed like a Queen. I always appreciate leaving a restaurant feeling like I've tasted something new, and while we didn't order any dishes we hadn't had before, the actual flavour combinations turned our chicken, beef and prawns into something unfamiliar, exciting and ultimately, delicious. I'll definitely go back to Turtle Bay, both for drinks and for a meal. Whether you consider yourself an expert on Caribbean cuisine or you're a novice, there's plenty on the menu that will leave you impressed and in the words of Bob Marley himself, 'Them Belly Full'. As Bob also asked, Is This Love? I think it might be…
All photographs were taken on my Olympus Pen E-PL7.
Please follow While I'm Young on Facebook, Instagram and Twitter from more from the North East and beyond. You can also subscribe to make sure you never miss a post.