I'm a big fan of the Malmaison boutique hotels. I love that they combine their own quirky brand personality with little local touches from the city you're staying in, and that the beds are a dream to sleep in. Staying at the Newcastle Malmaison this past weekend was a bit nostalgic for me because they're actually the first hotel I ever worked with – we slept at the Manchester Mal before our Cuba trip a few years ago and spent the whole stay running around like crazed children in our fluffy bathrobes, trying to cram everything the hotel offered in to a one night stay.
I've been eager to experience the Newcastle Malmaison hotel for a while, especially because it's so ideally located on the Quayside amid some of our favourite bars. Because of the hassle of finding parking or getting taxis home, we rarely go into Newcastle so it was lovely to stay right in the city centre for our latest date night. We were there on a Sunday night so parking only cost a couple of quid, which was a nice surprise!
The Date night package at Malmaison Newcastle: a review
Bae and I opted for Malmaison's Date Night package, so we had a bottle of champagne waiting in our room on arrival, a slap-up three-course meal at Chez Mal and a scrumptious Continental Breakfast before we left the next day.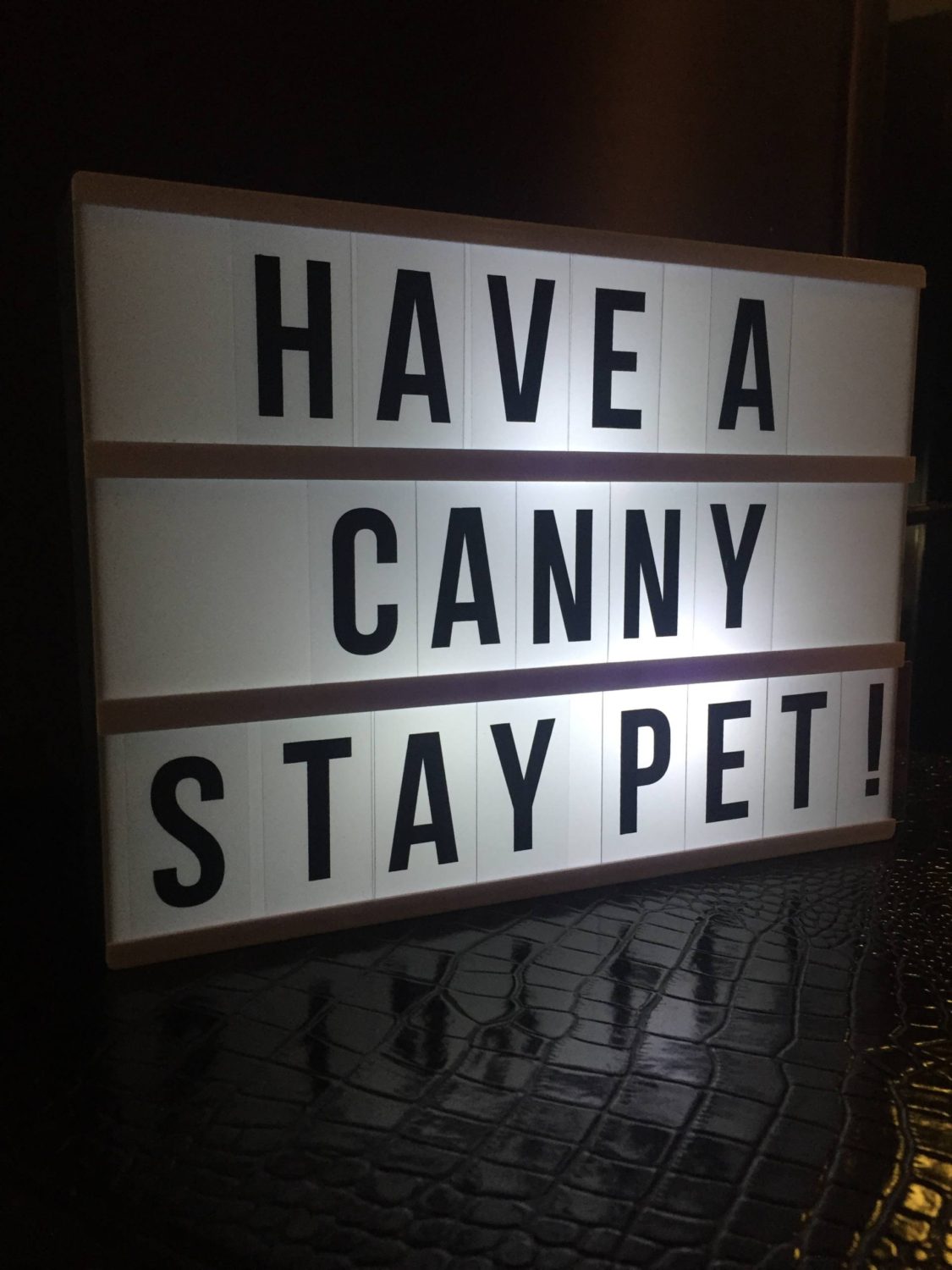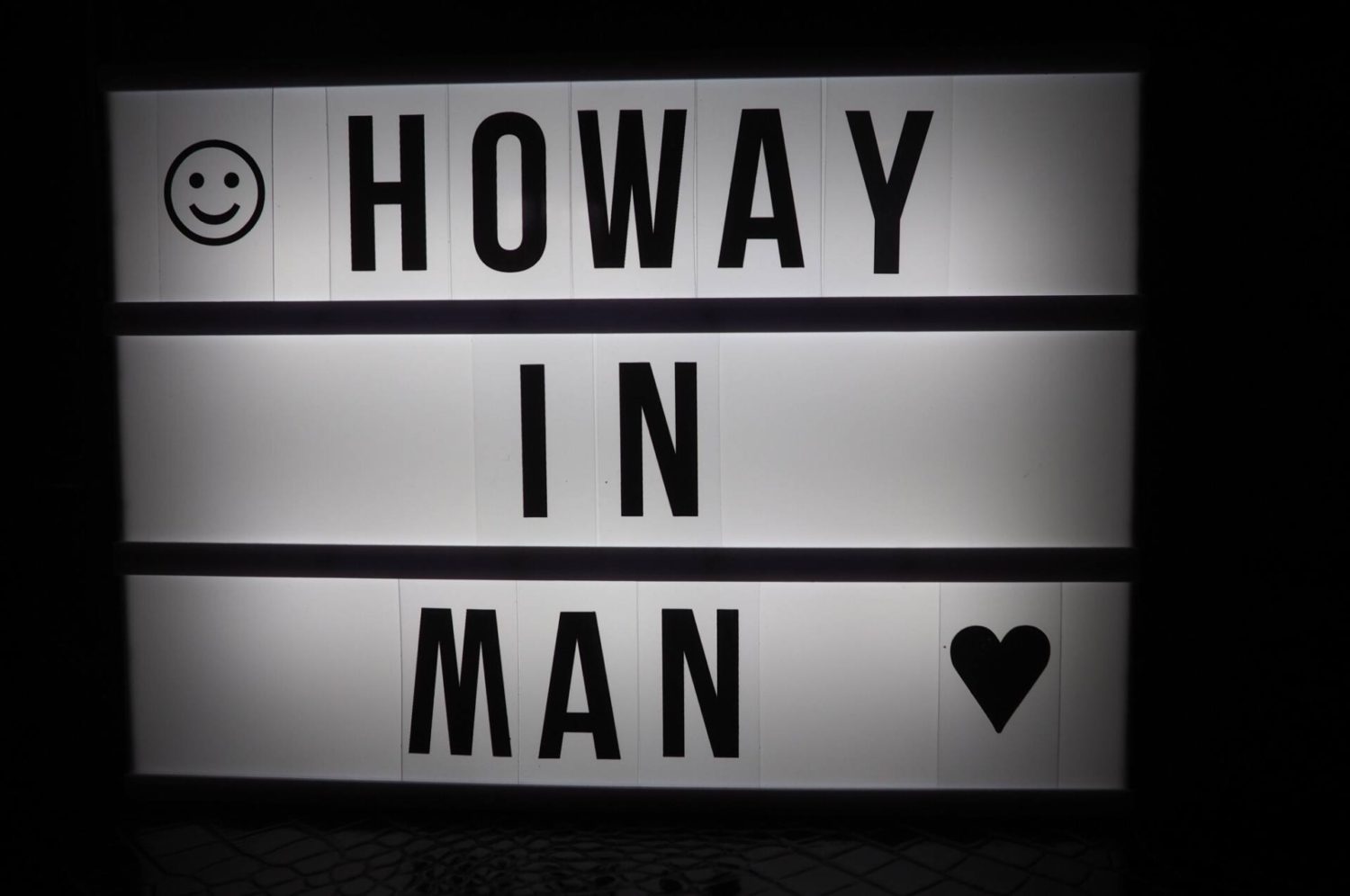 Dinner at Chez Mal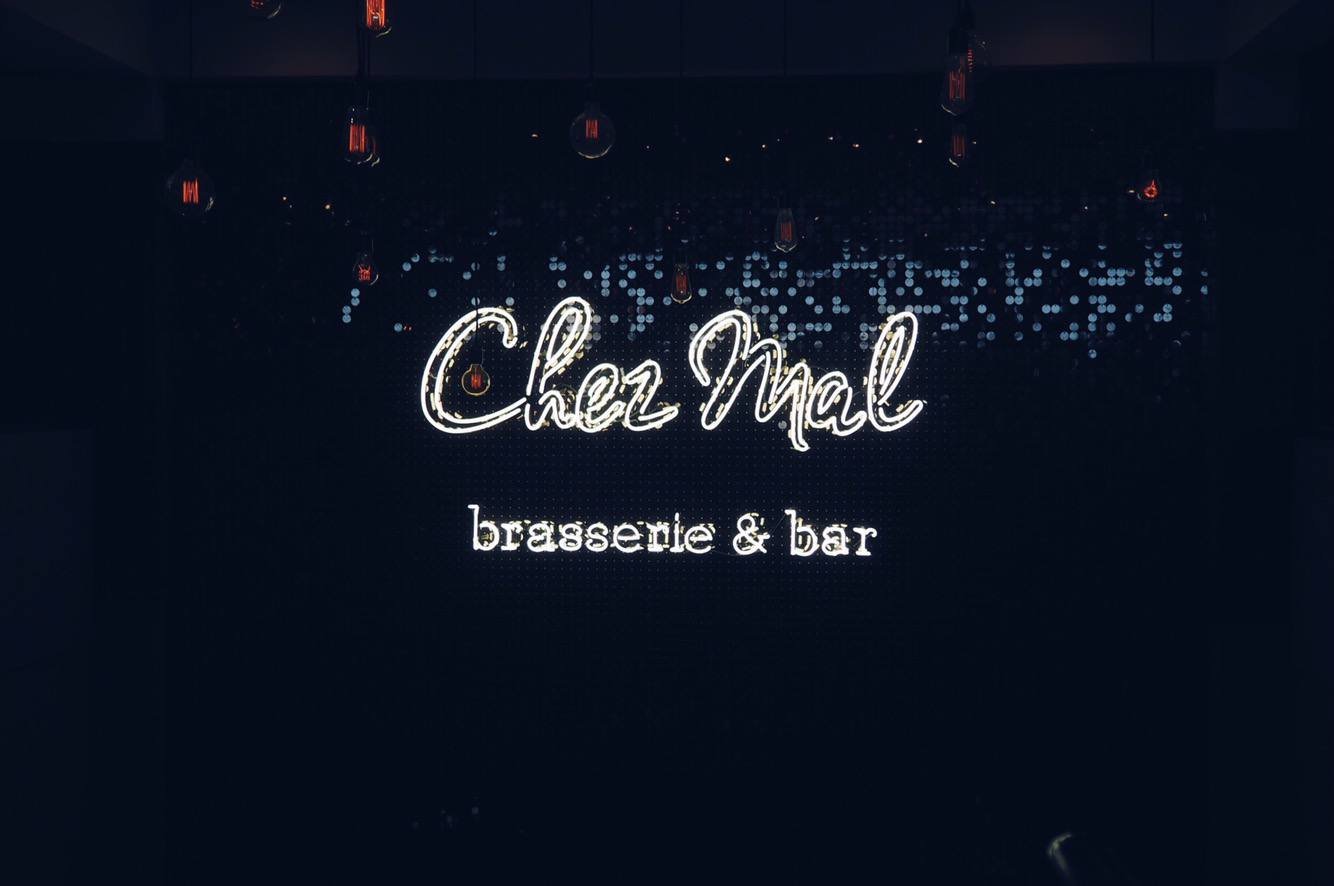 It was National Prosecco Day, so we toasted to erm, ourselves with a glass each before our meal in Chez Mal Brasserie's sumptuous surroundings. Take my advice and ask for a window seat if you're dining here; we had a gorgeous view over the Tyne and the Millennium Bridge. Watching the colours change on the Sage building as the sun went down was wonderfully relaxing.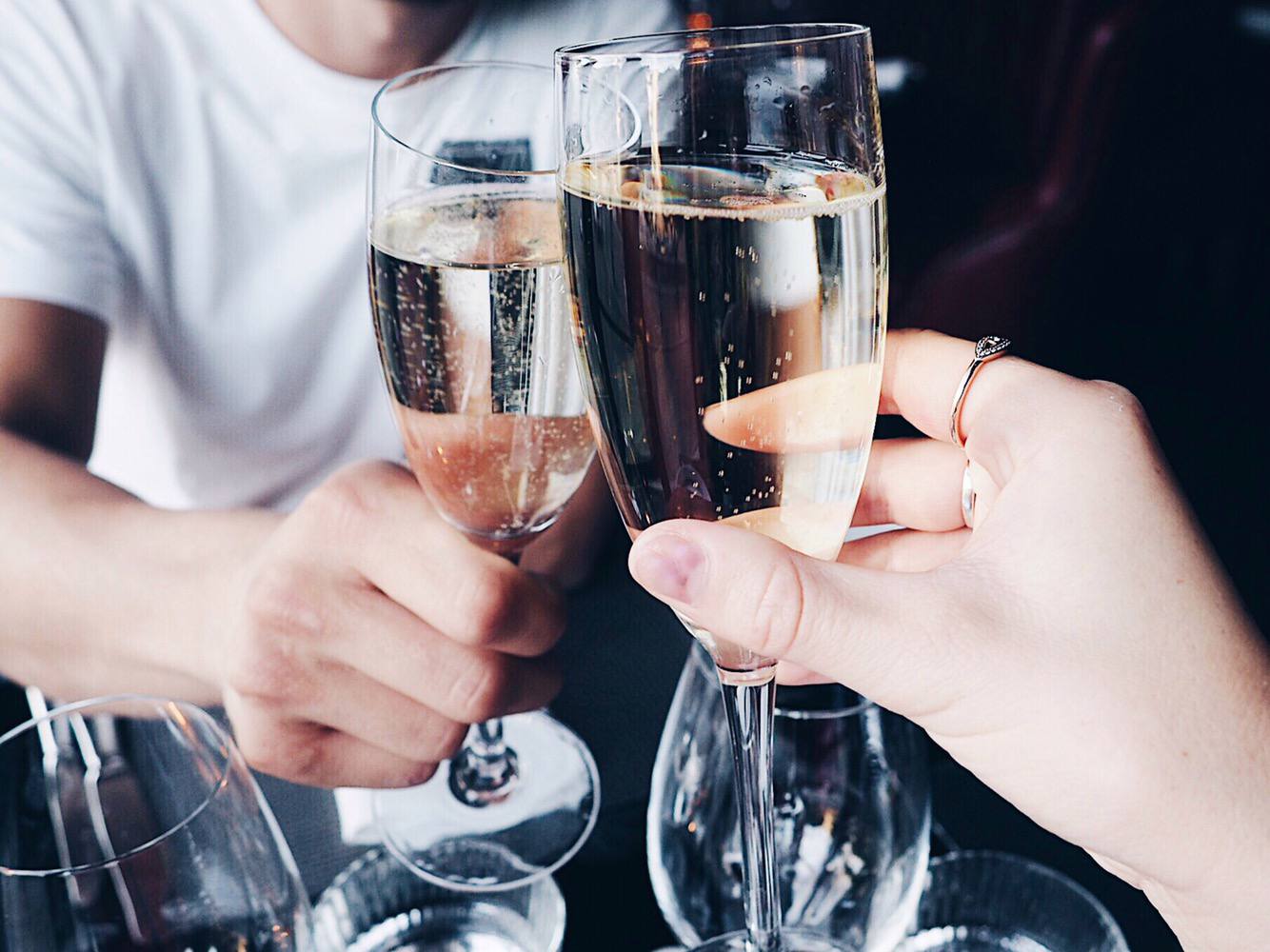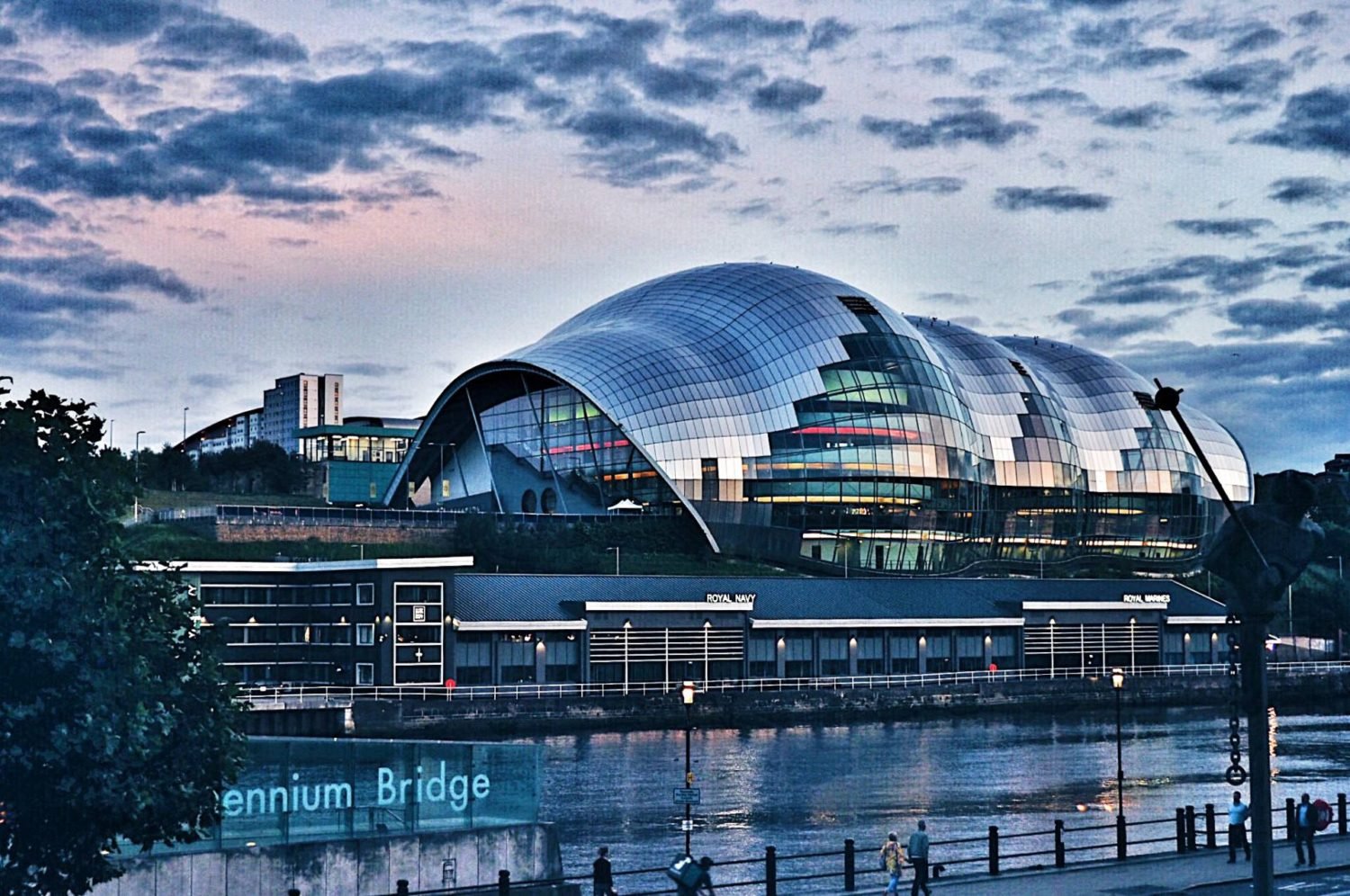 I imagine we made quite the picture from outside, clinking glasses in the arched window above Malmaison's entrance.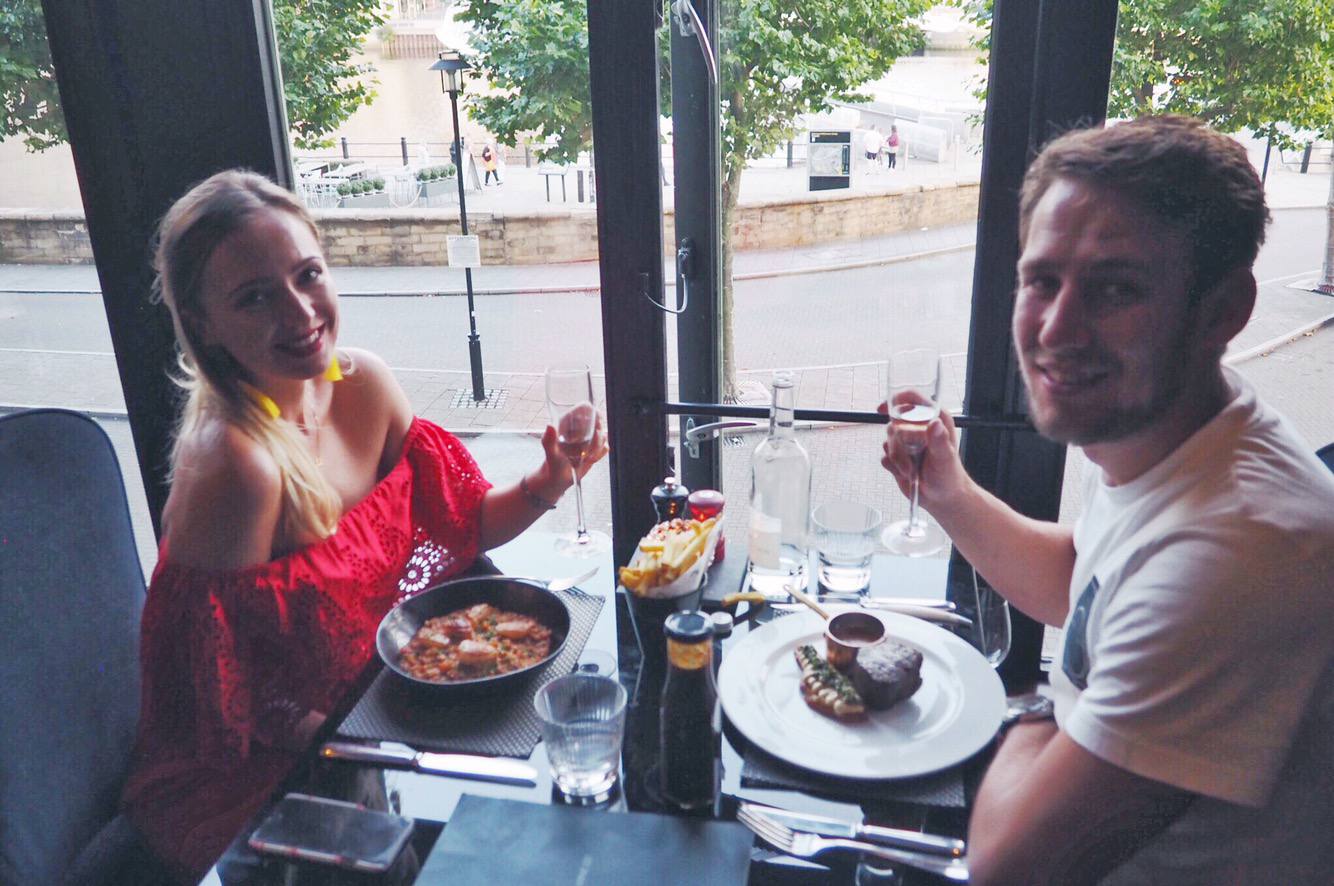 I don't know how popular the bar itself is, because it's slightly hidden away and you probably wouldn't wander in if you were just strolling along the Quayside – but it's one of those slinky, ambient bars that makes me feel terribly grown up and successful when I drink there.
Our friendly waiter, Don, led us through the menu. The Date Night package means you can choose any three courses from the Fixed Price Menu, or spend the same amount on options from the A La Carte Menu. Like any forever-hungry girl worth her salt, I'd stalked the menu beforehand online and picked what I was going to order, but Don's recommendations meant I ended up throwing all of that out the window and going for the a la carte menu!
We started with Fougasse & aioli dip. The garlic bread was fresh from the oven and dripping in delicious, indulgent garlic butter. We also shared the tiger prawns & calamari in a tempura batter with chilli jam & crème fraîche. The calamari didn't have the faintest suggestion of rubberiness – in fact, it was probably the best I've had in the UK.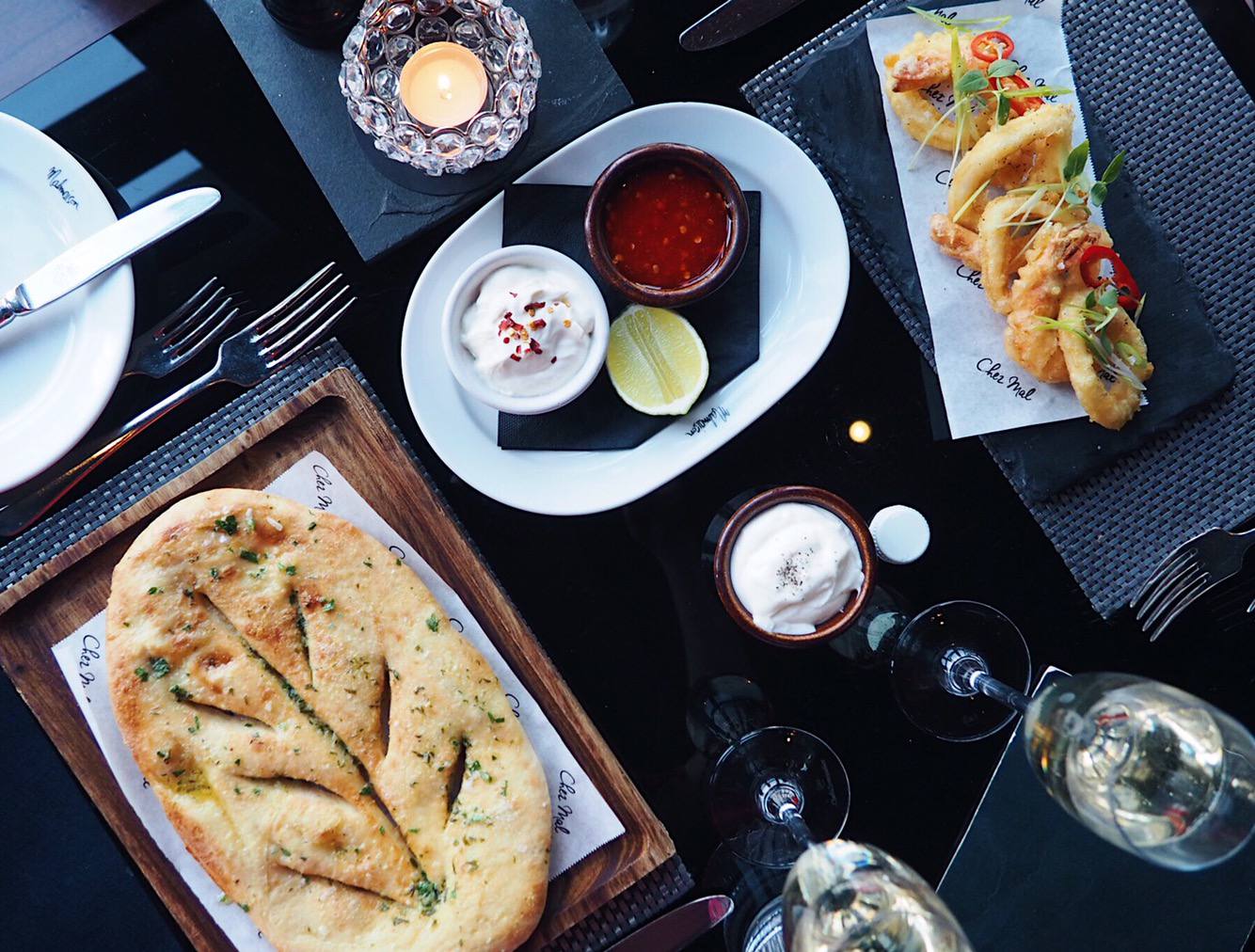 For the main event, Tom went with steak and peppercorn sauce, with whipped bone marrow croute on the side.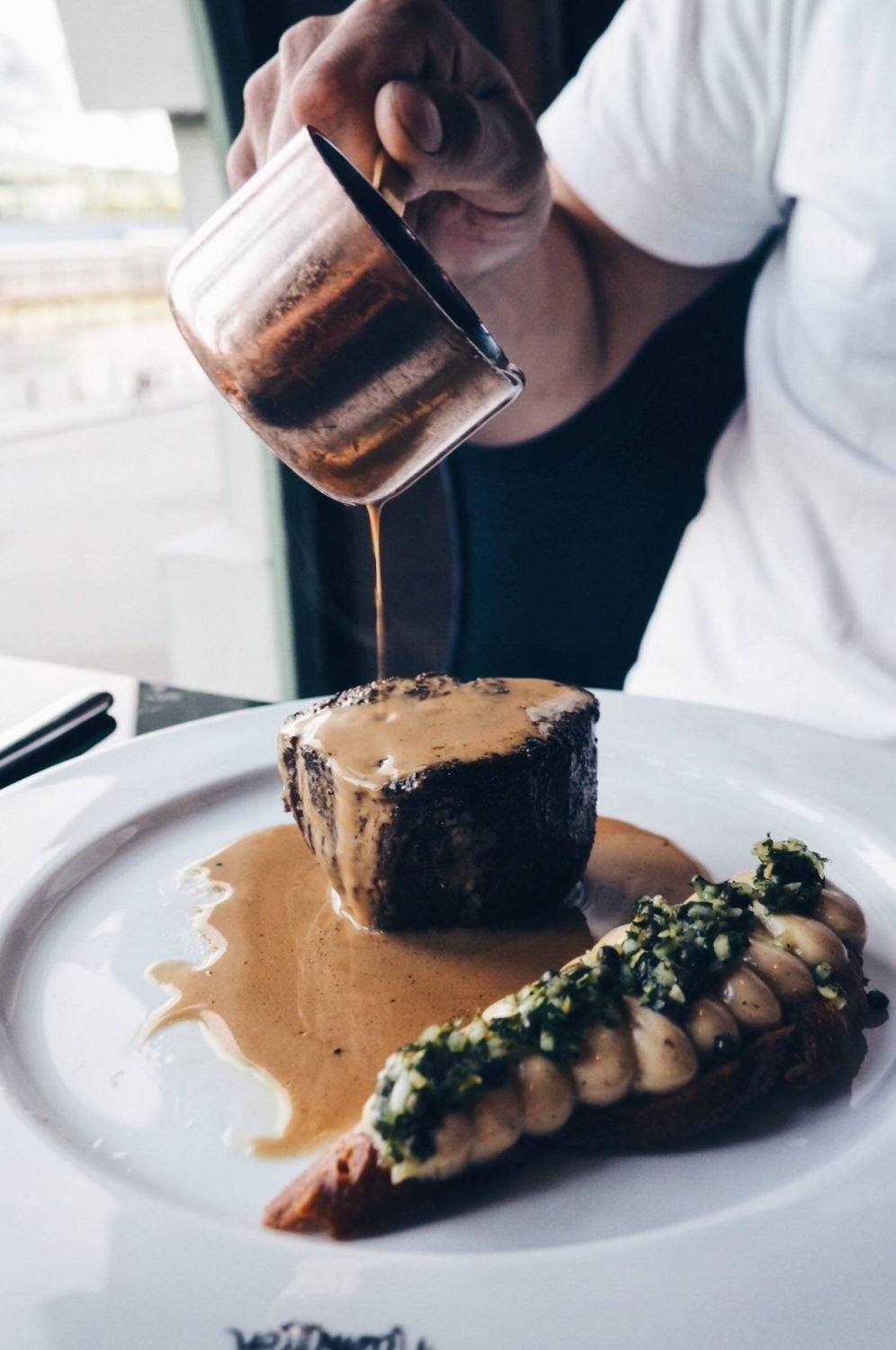 I had the seared Cornish scallop & crab risotto. The scallops were to die for!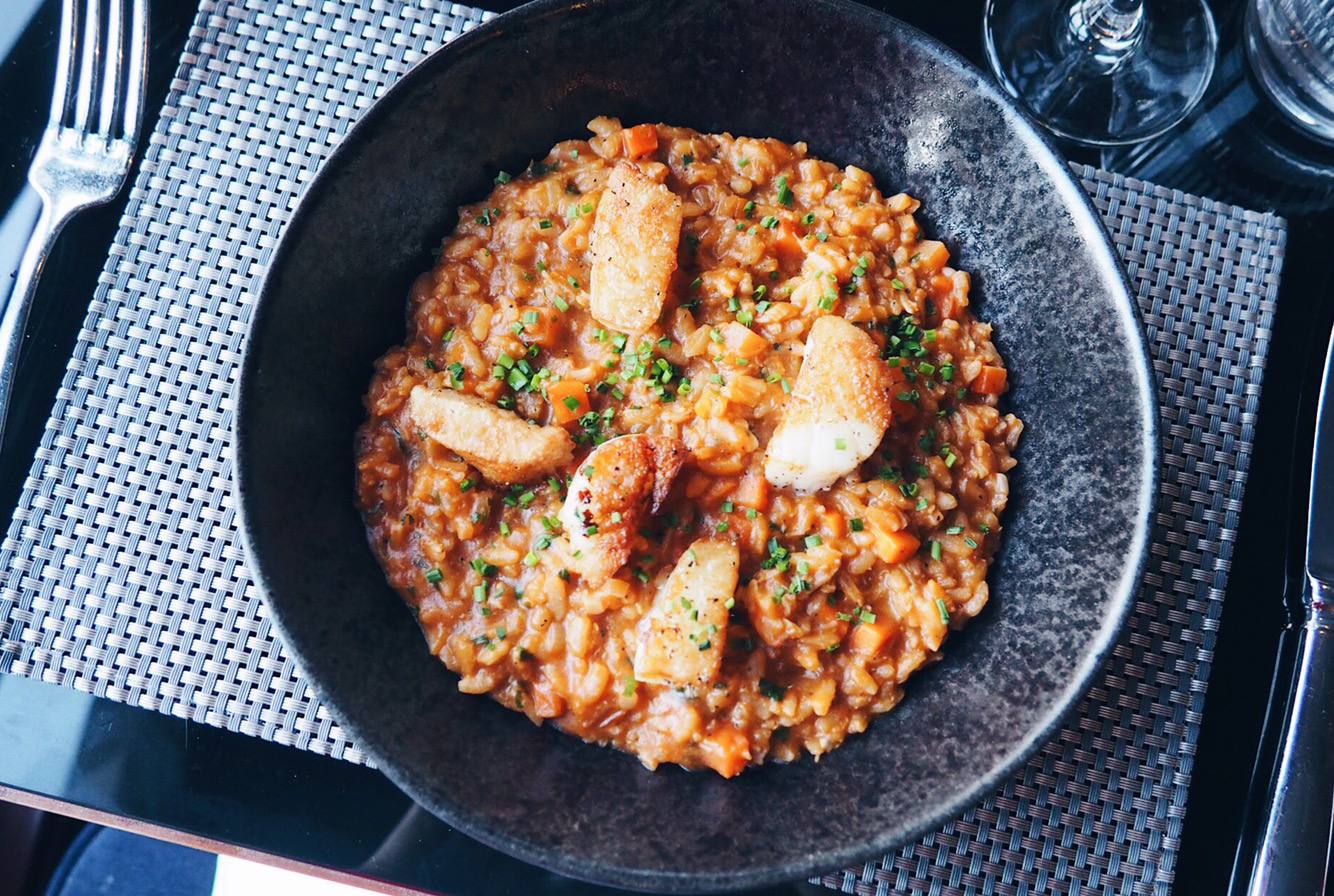 There wasn't really room for dessert but we'd walked past the cheese selection when we entered the restaurant and I'd set my sights on it. Plus, Tom's made it his mission to try every decent cheesecake in the North East. He predictably went for the banoffee pie while I chose four cheeses from the board, with help from Don. I picked two cheeses I was familiar with already and two based on Don's recommendations and thanks to him, found a new favourite!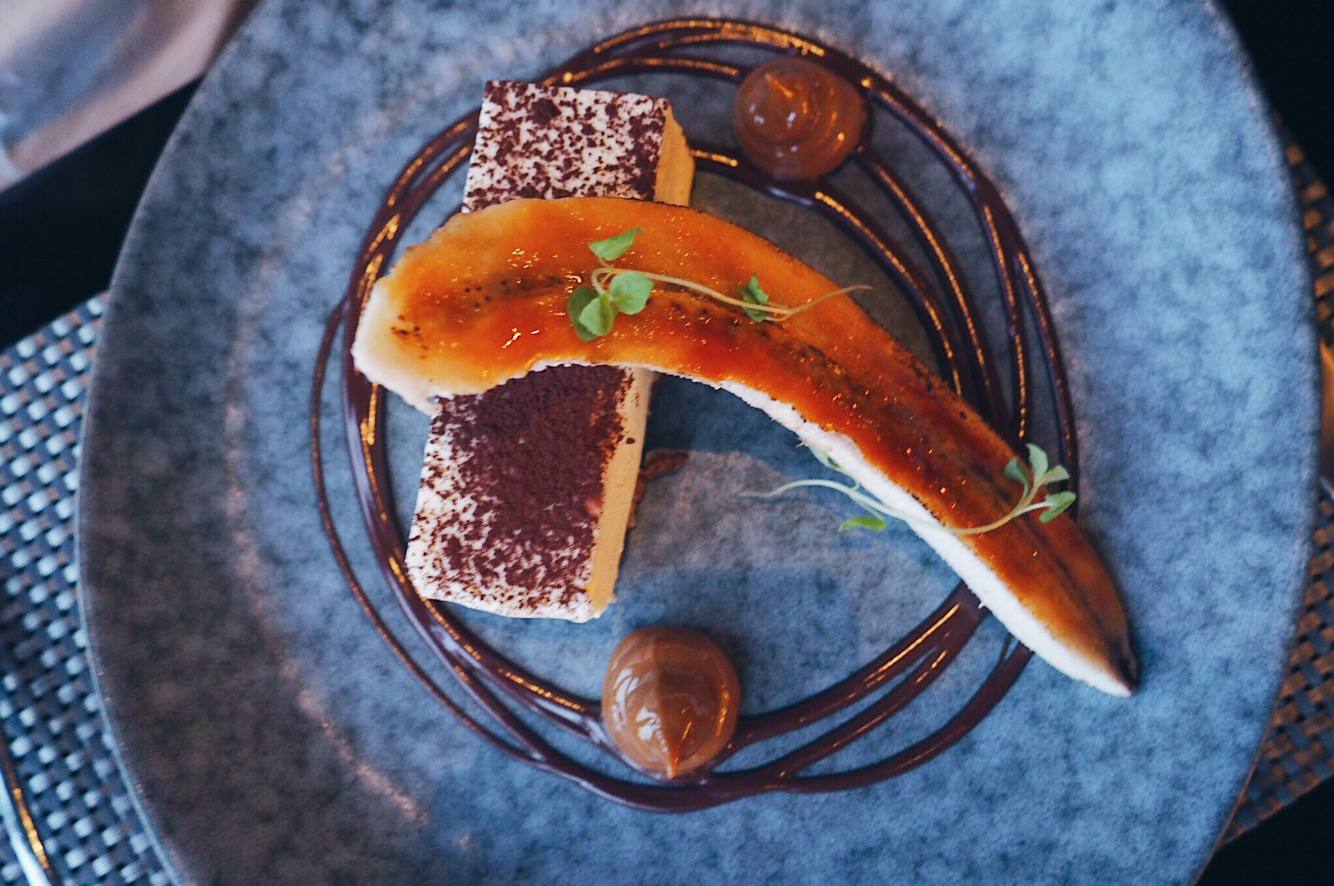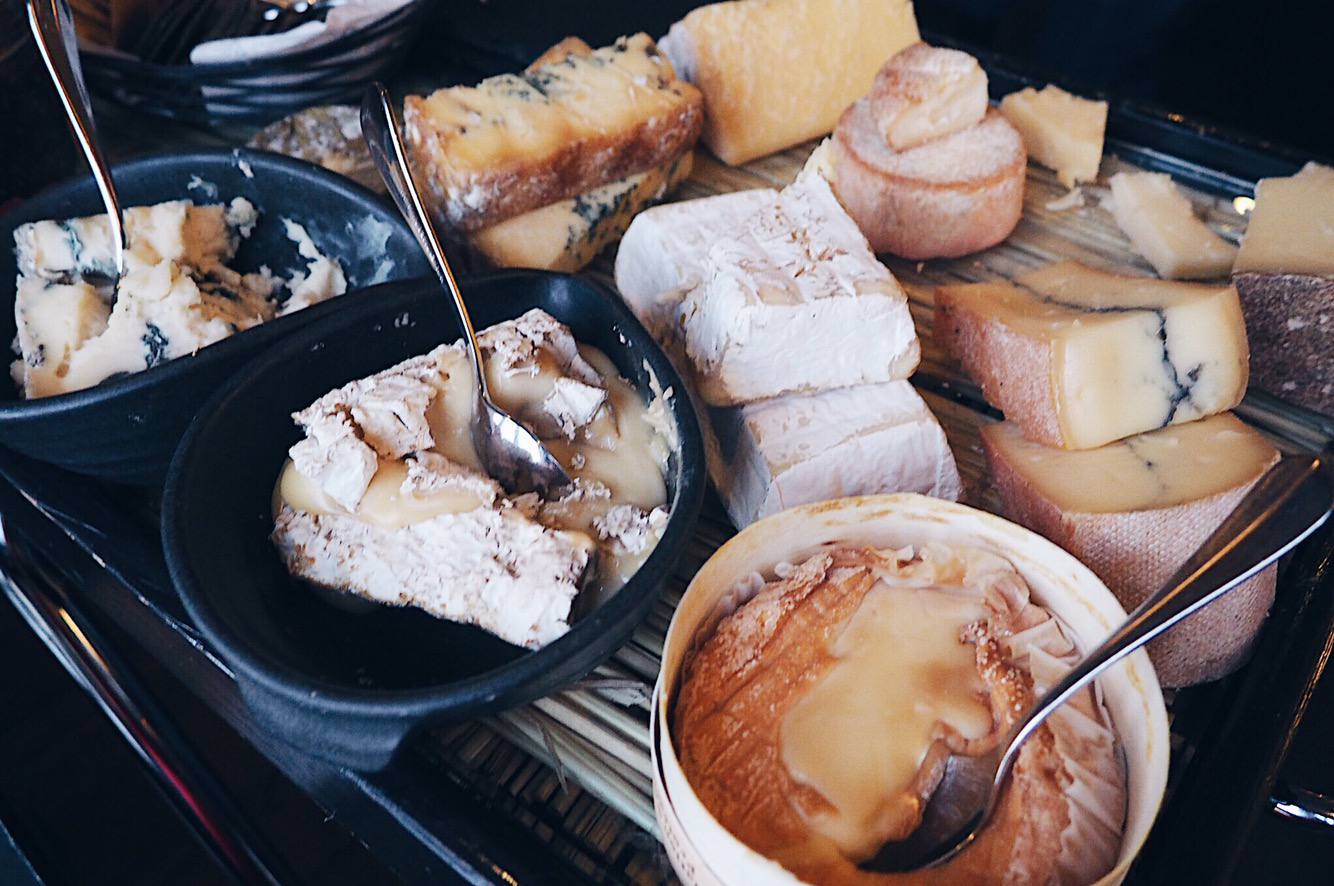 I could listen to those in the know talk about food like cheese (or wine! If I wasn't with Tom I'd definitely date a sommelier) forever, so it was great to be served by someone who knew their stuff.
Our suite at Malmaison
We'd been upgraded to the Fjord Chalet Suite on the seventh floor, meaning we had a spectacular view over the Tyne.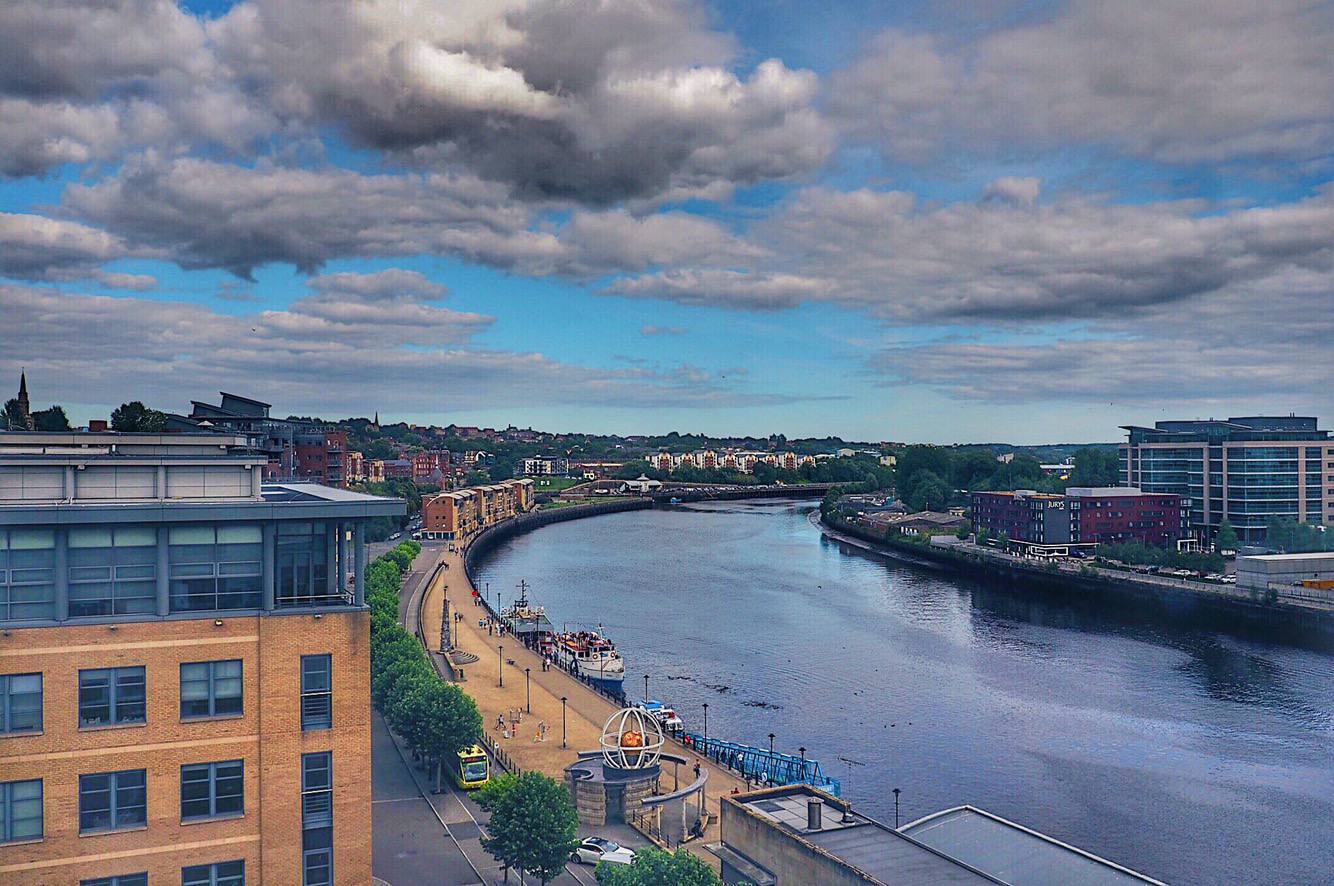 As well as our own sitting area with a flatscreen TV and plenty of magazines to read while lounging on the comfy couches, we had another TV at the foot of our massive bed, where there was also a chaise longue. The match was on when we walked in and I saw Tom's little face light up, and quickly fall when I shook my head. No pal, I didn't come to Newcastle to watch the football.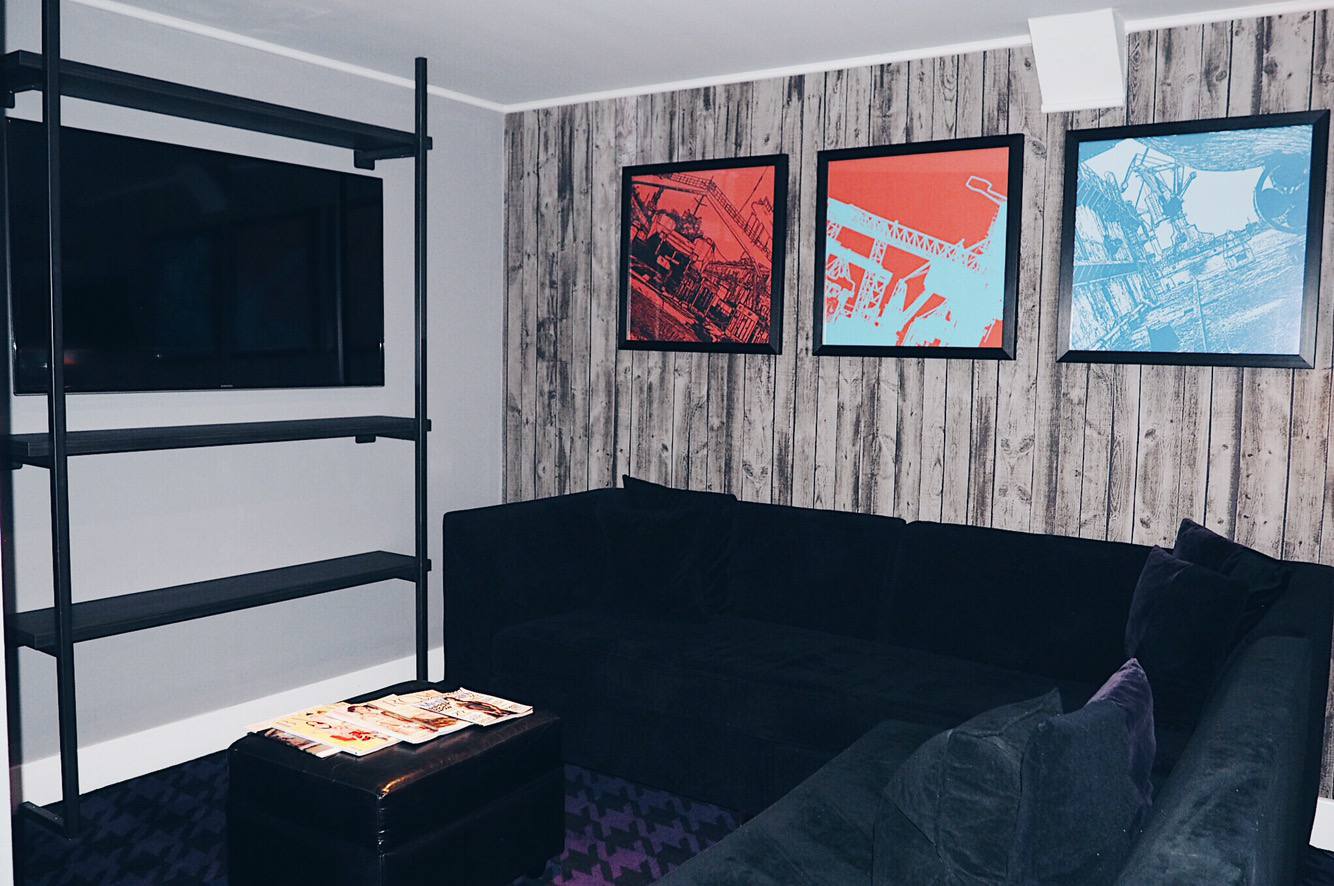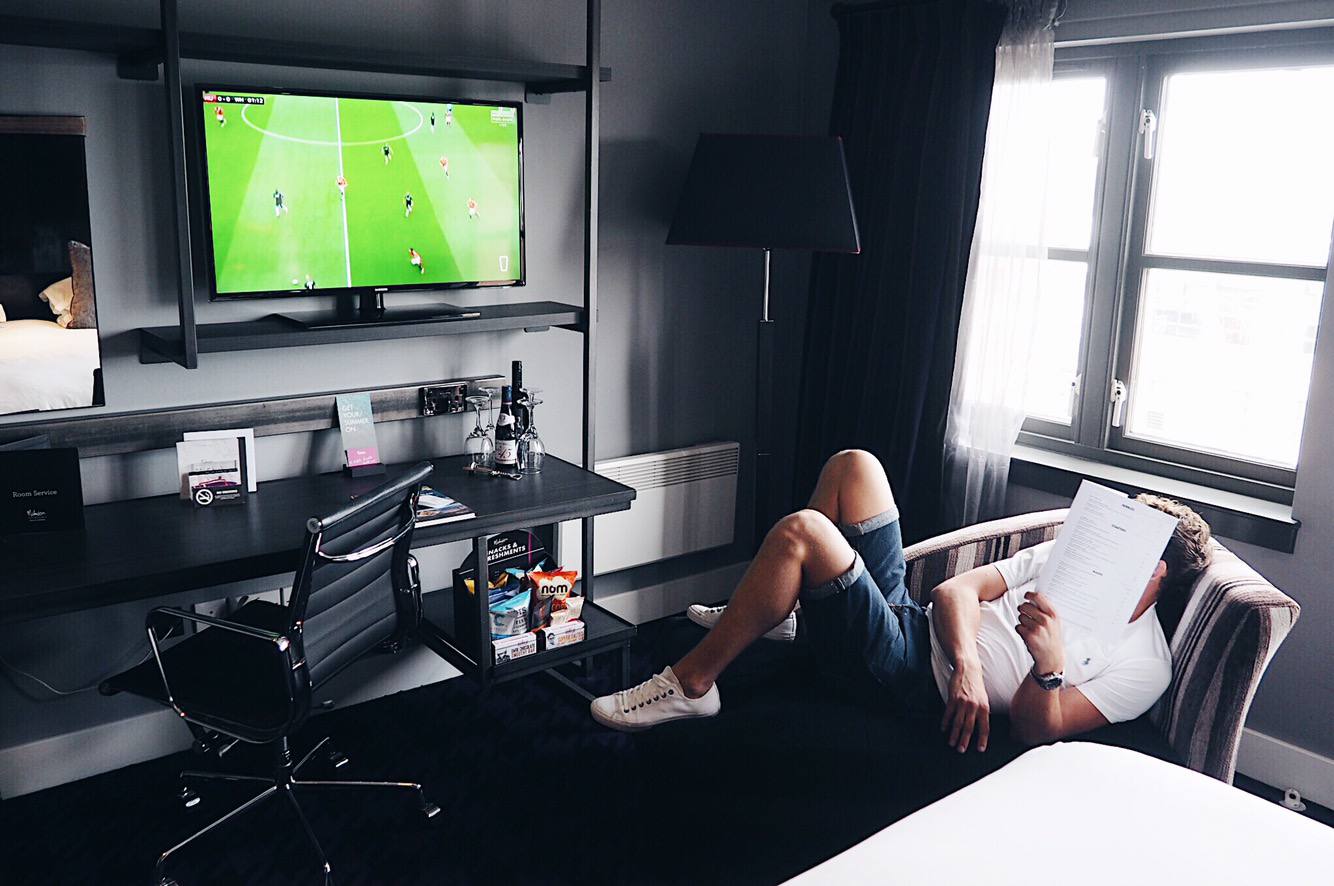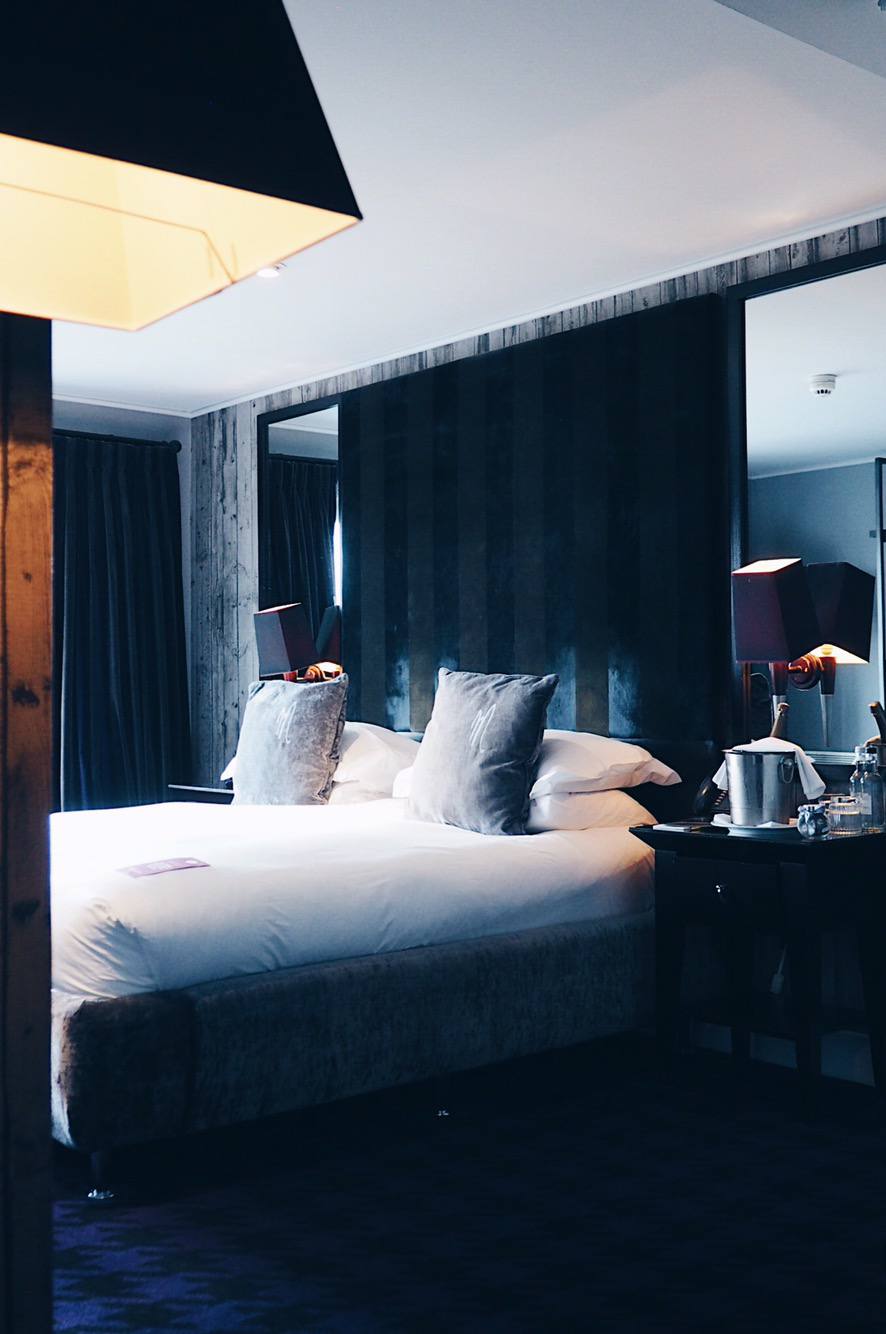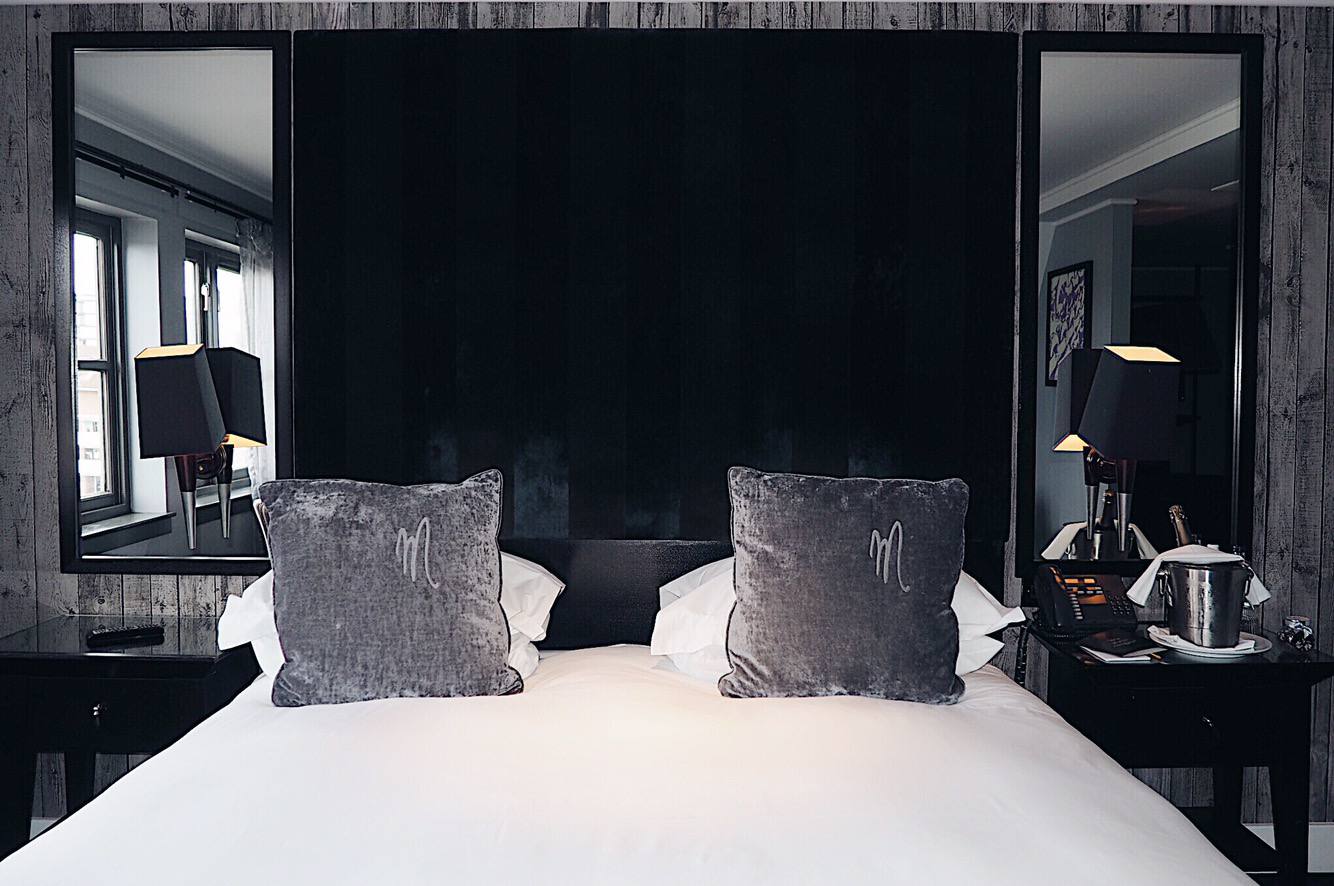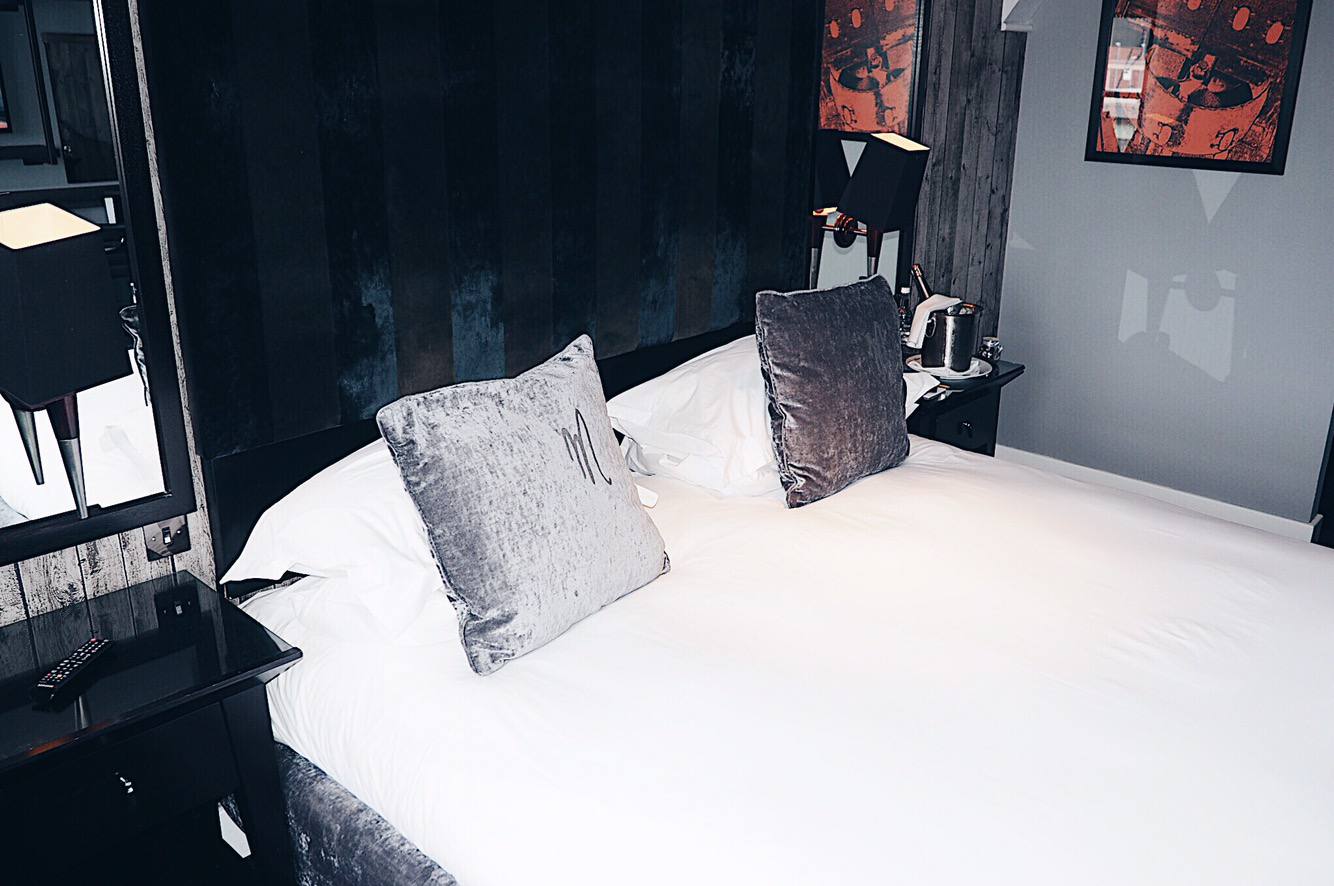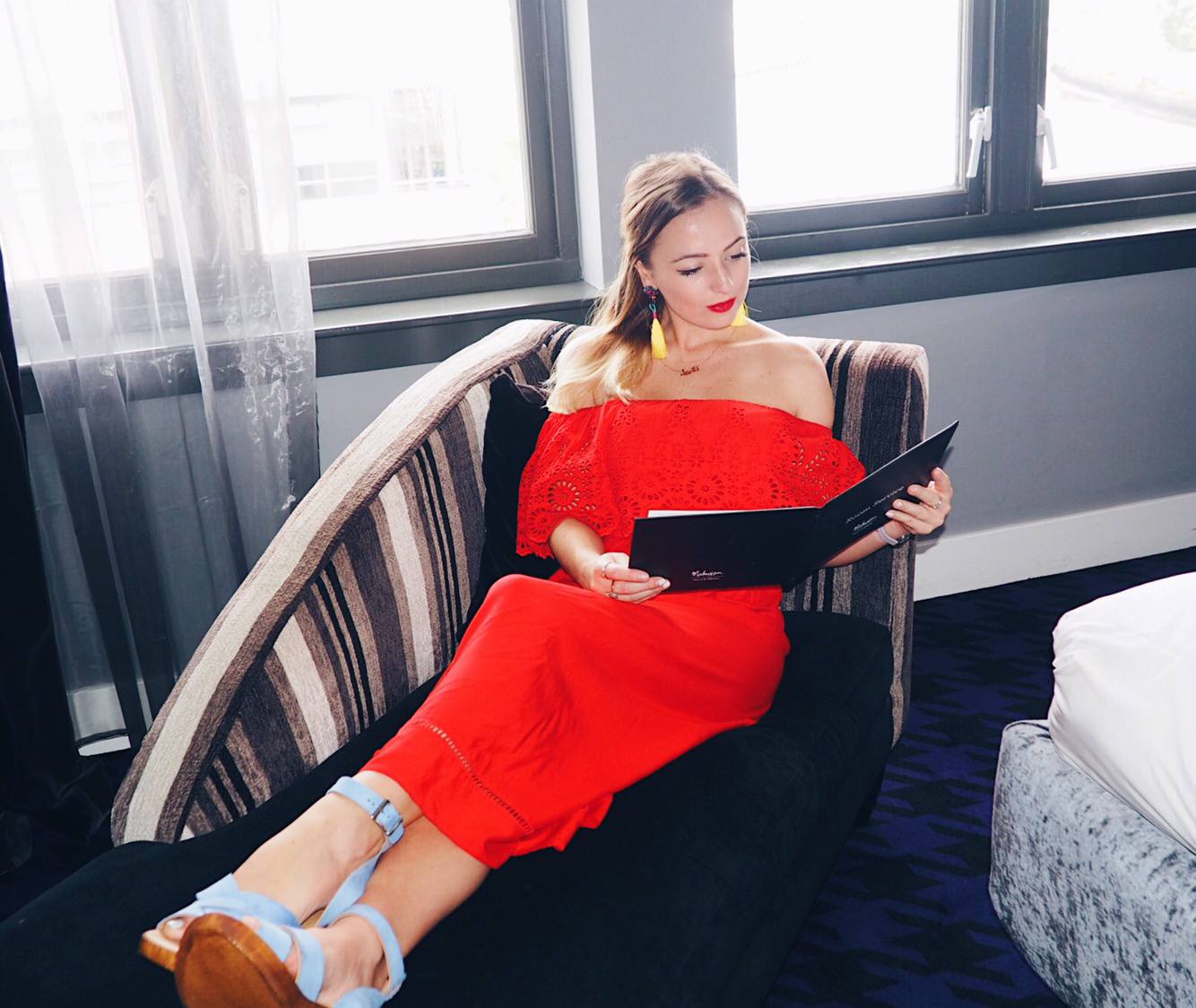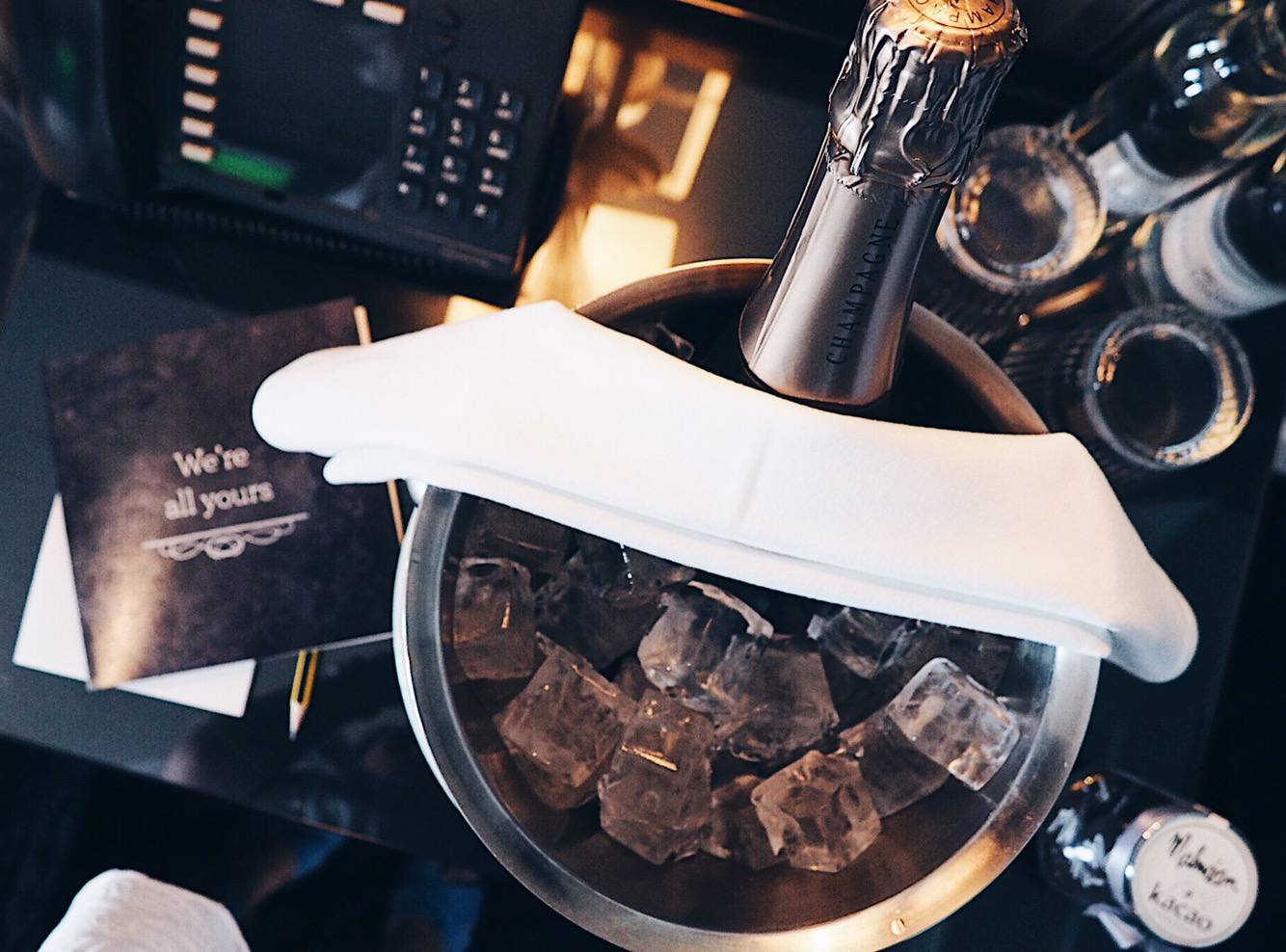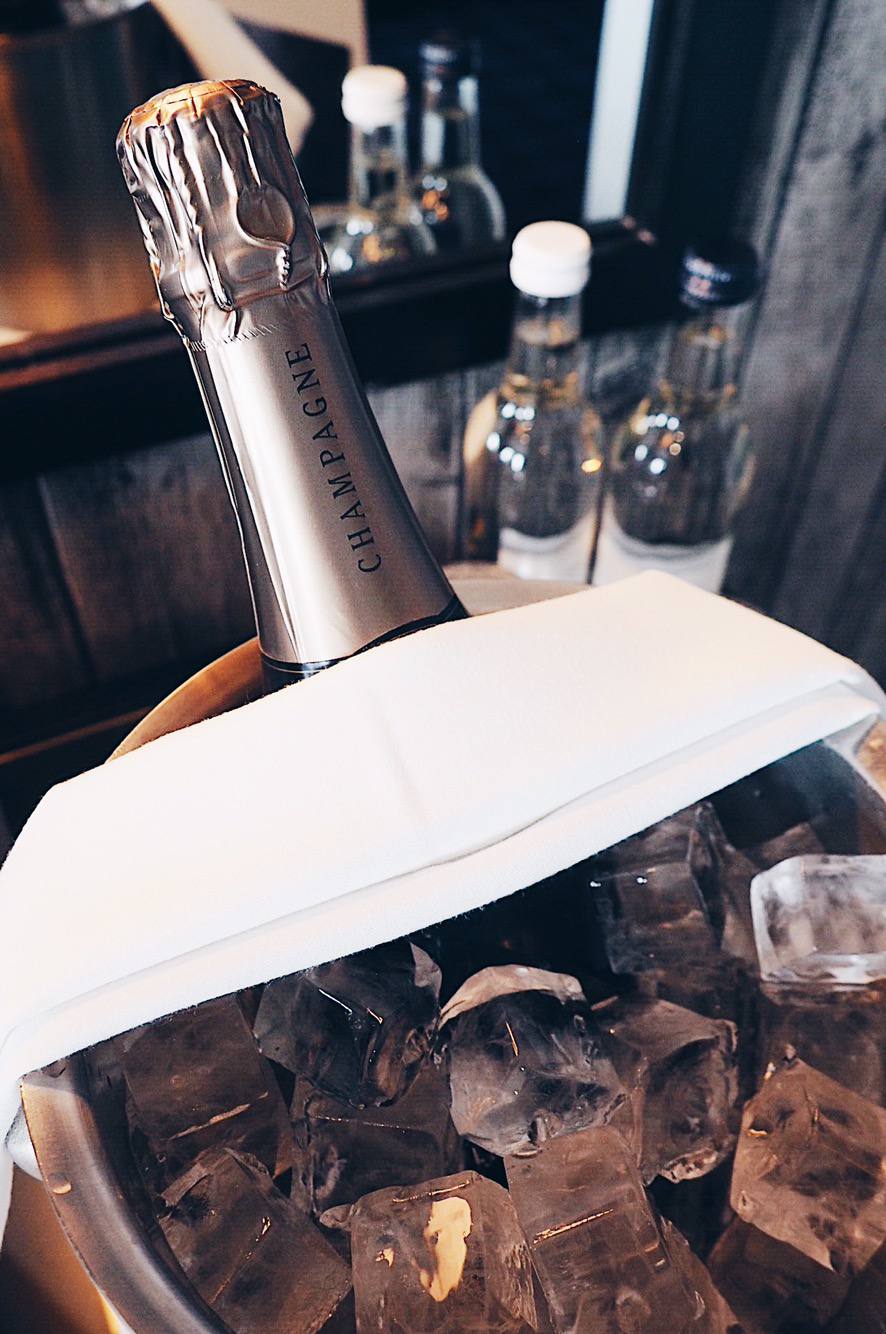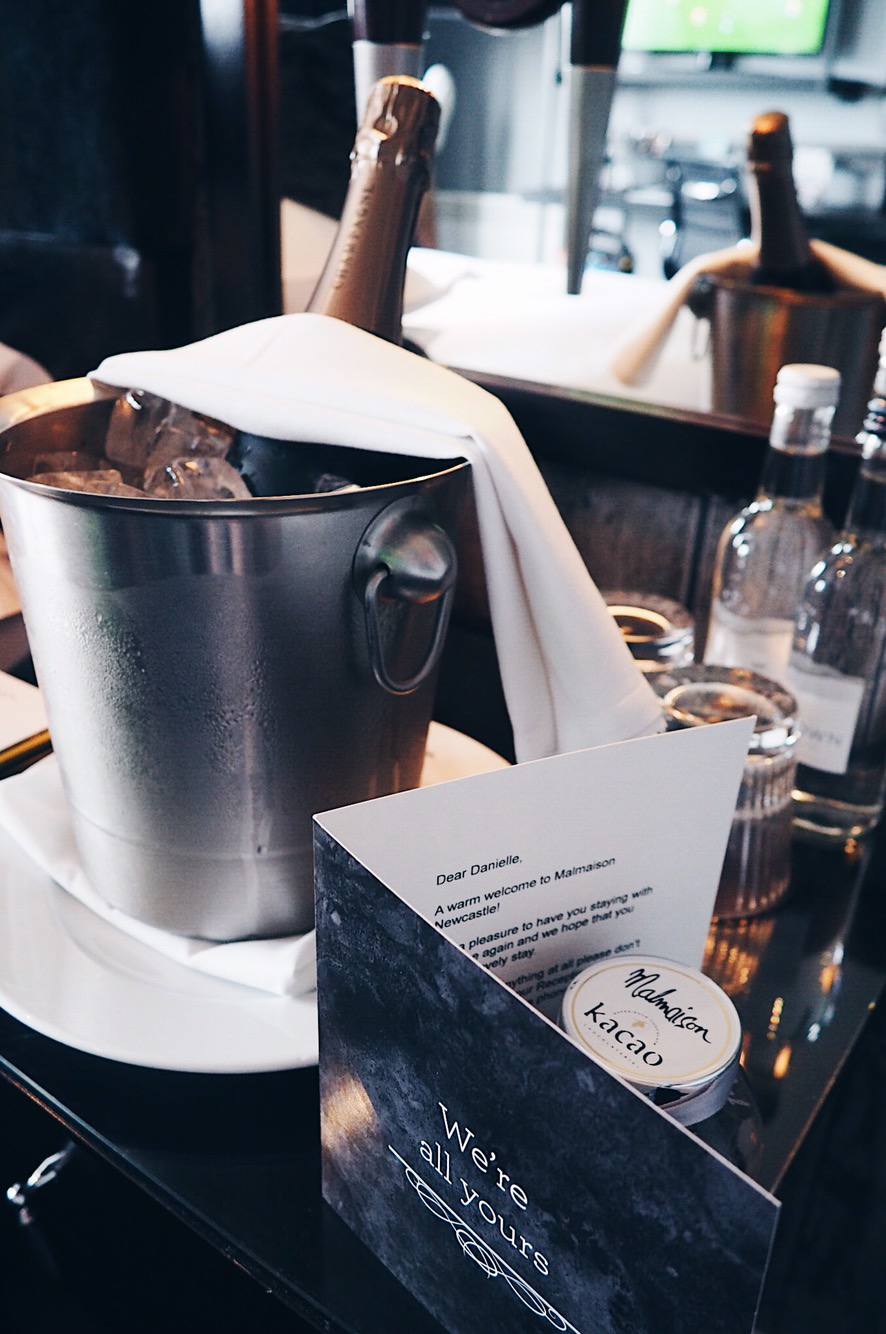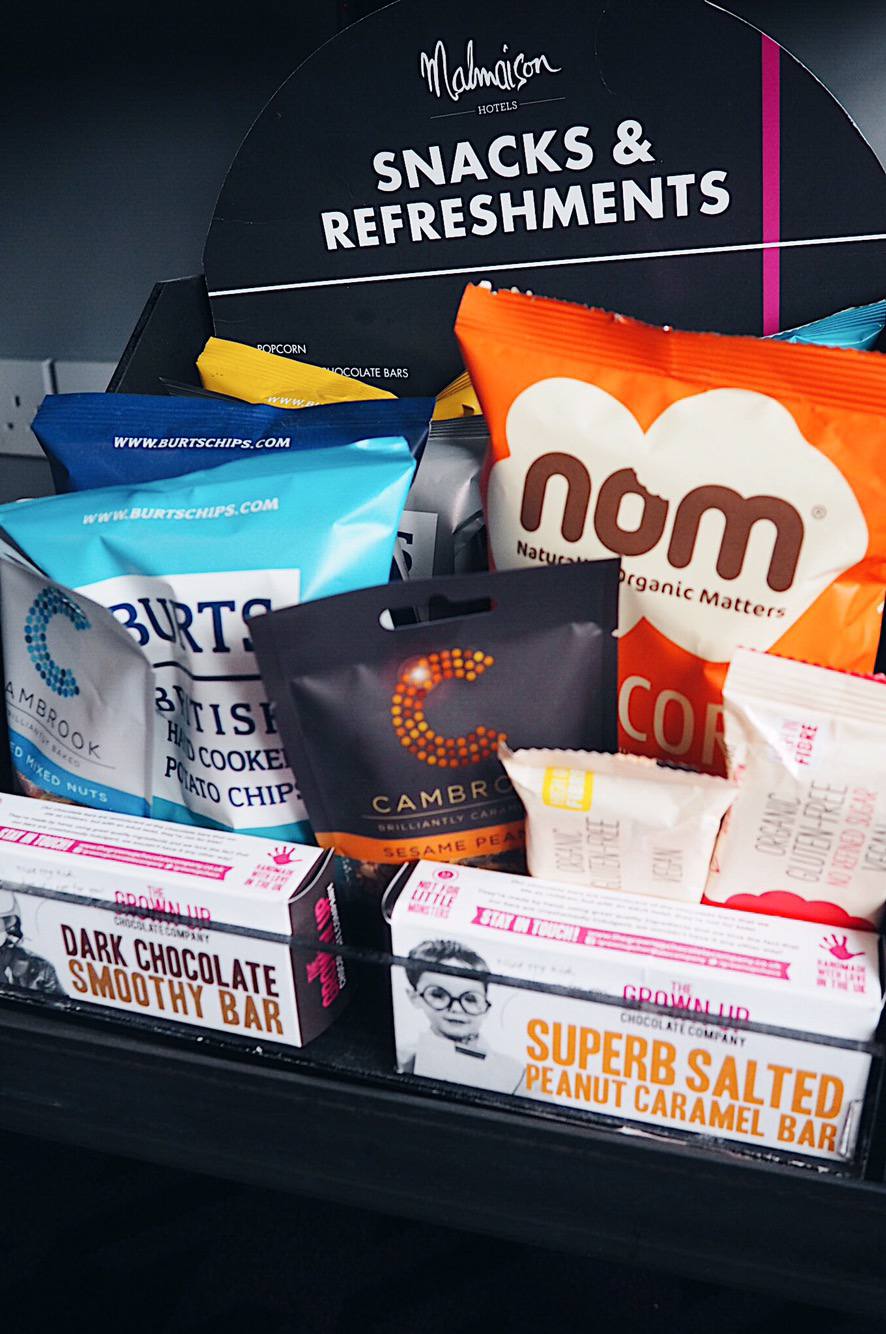 With our champagne on ice, Mal's own chocolate buttons and a fully-stocked mini bar, we could have easily cosied up for a romantic night in, but we popped out for a cocktail in The Toon. Only one though – I wasn't wasting that suite!
It must be a nightmare keeping the dark interiors at Malmaison Hotels so clean, but the cleaners do a good job. We also weren't spoiled on lighting despite the black and grey palette thanks to the large windows.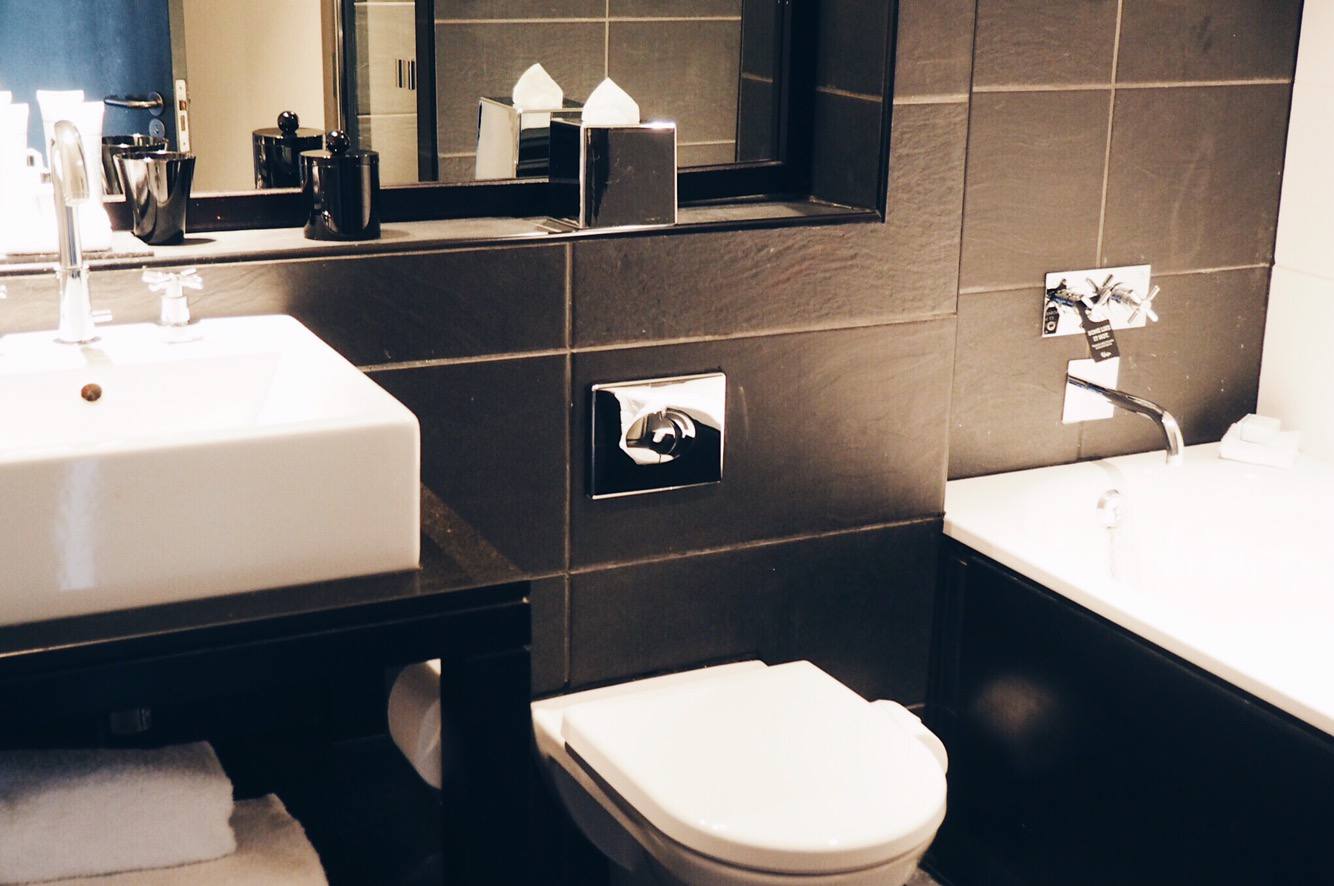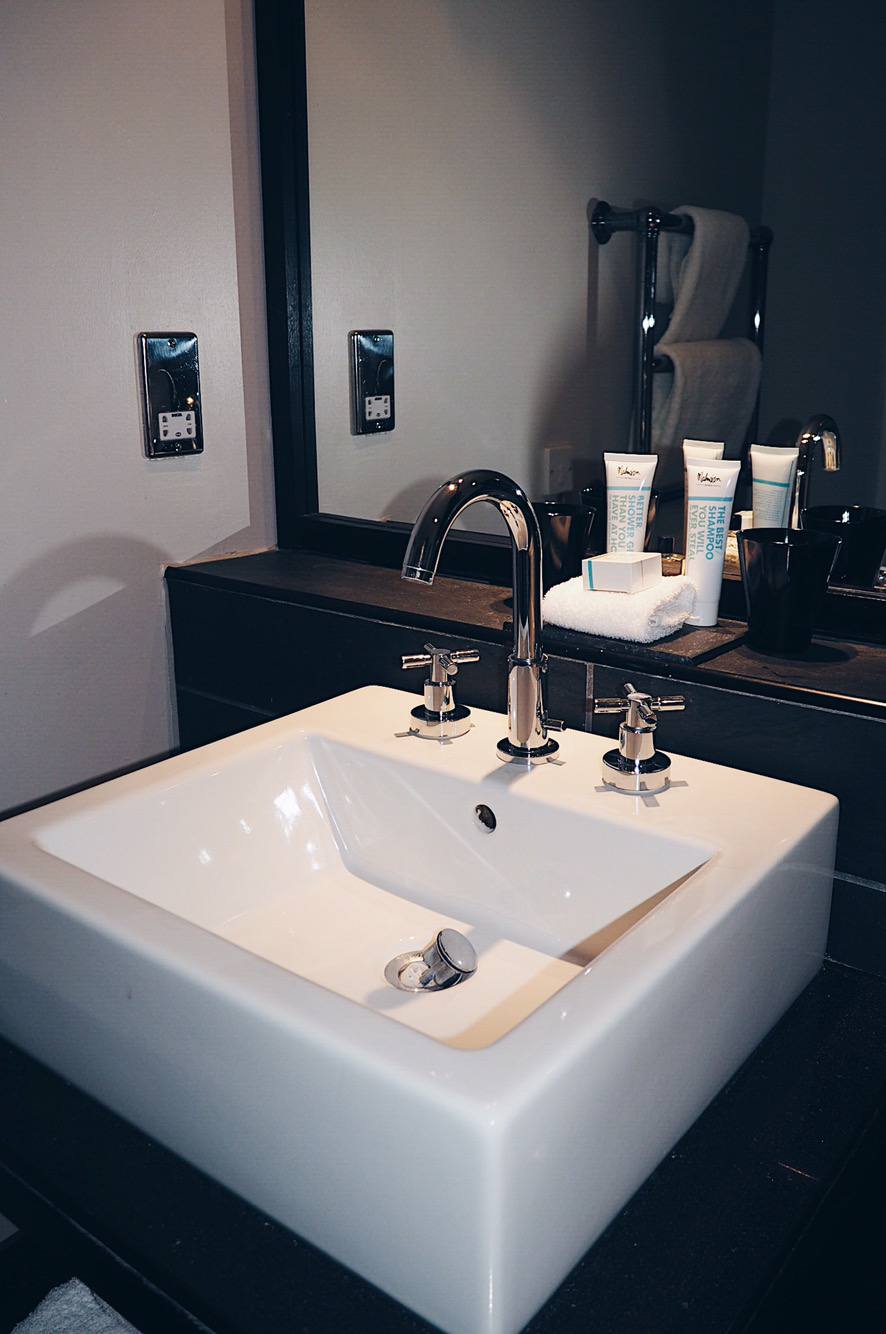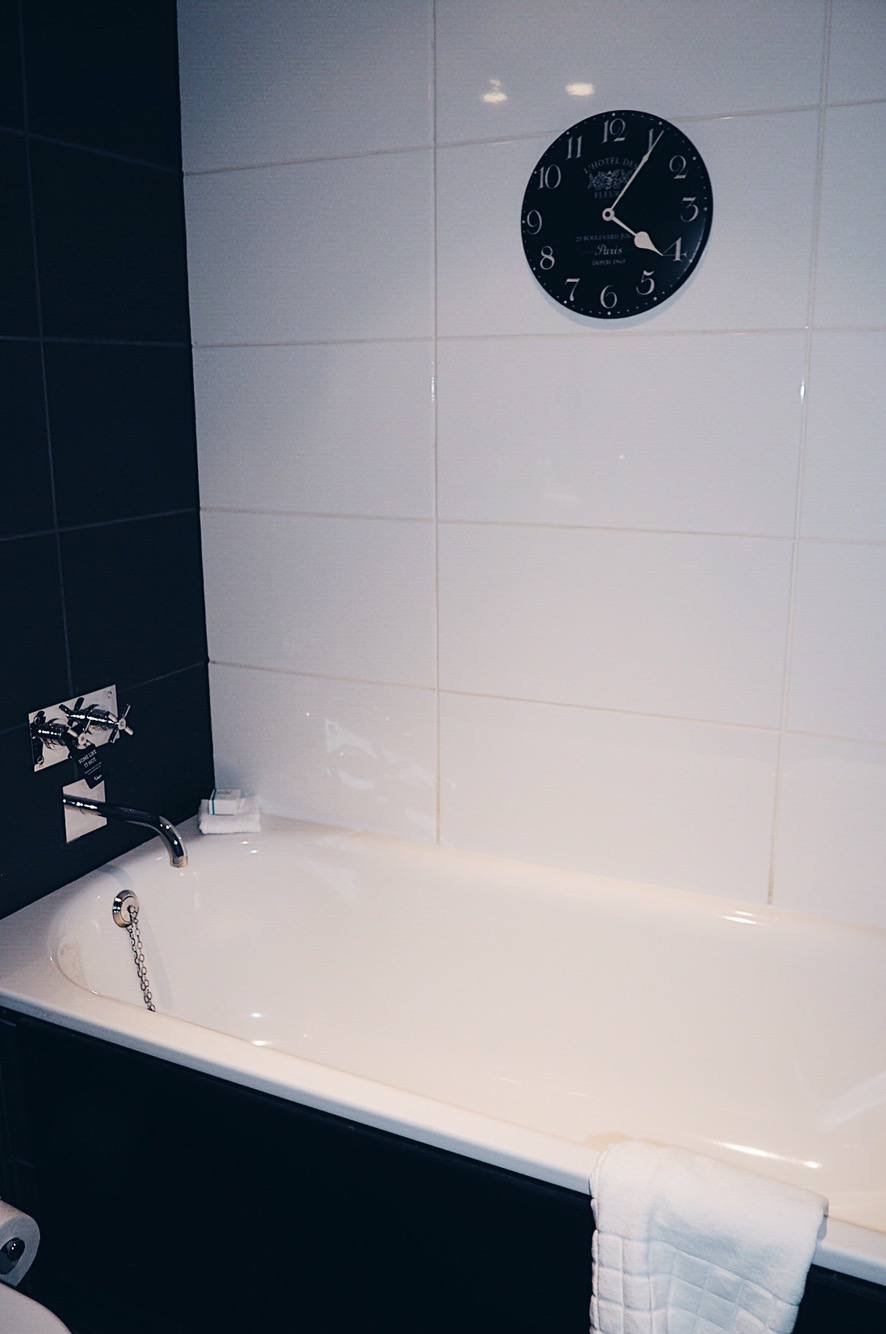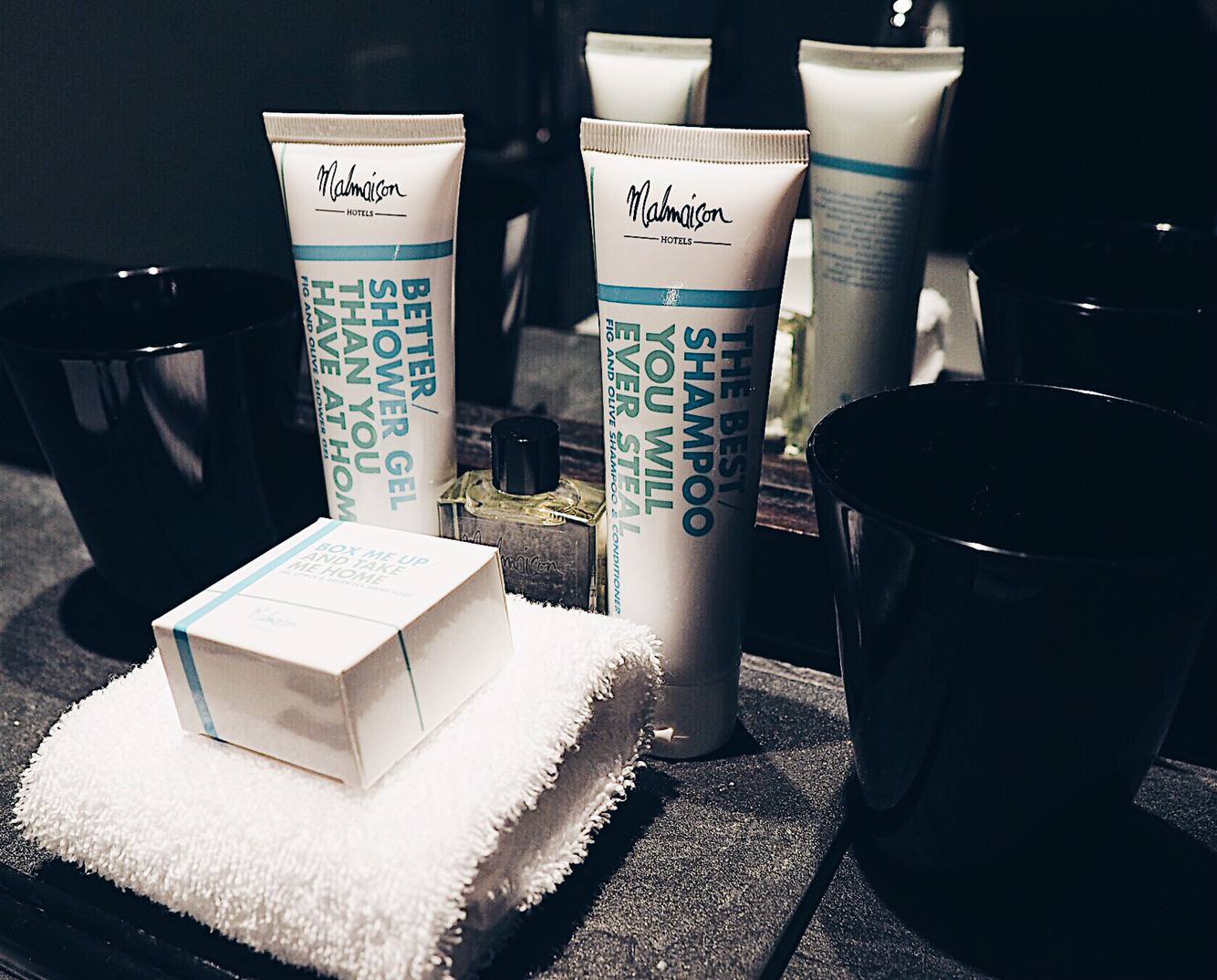 We had both a bathtub and waterfall 'storm force' shower cubicle, with those cheeky Malmaison toiletries. If, like me, you're a bit of a hotel toiletry hoarder, you'll love these ones! The massage oil is a nice touch for the Date Night theme too. You could totally do this deal with your mum or best mate – it's not like there are petals on the bed, so you could really invite anyone who you don't mind sharing your champagne with.
Breakfast at Malmaison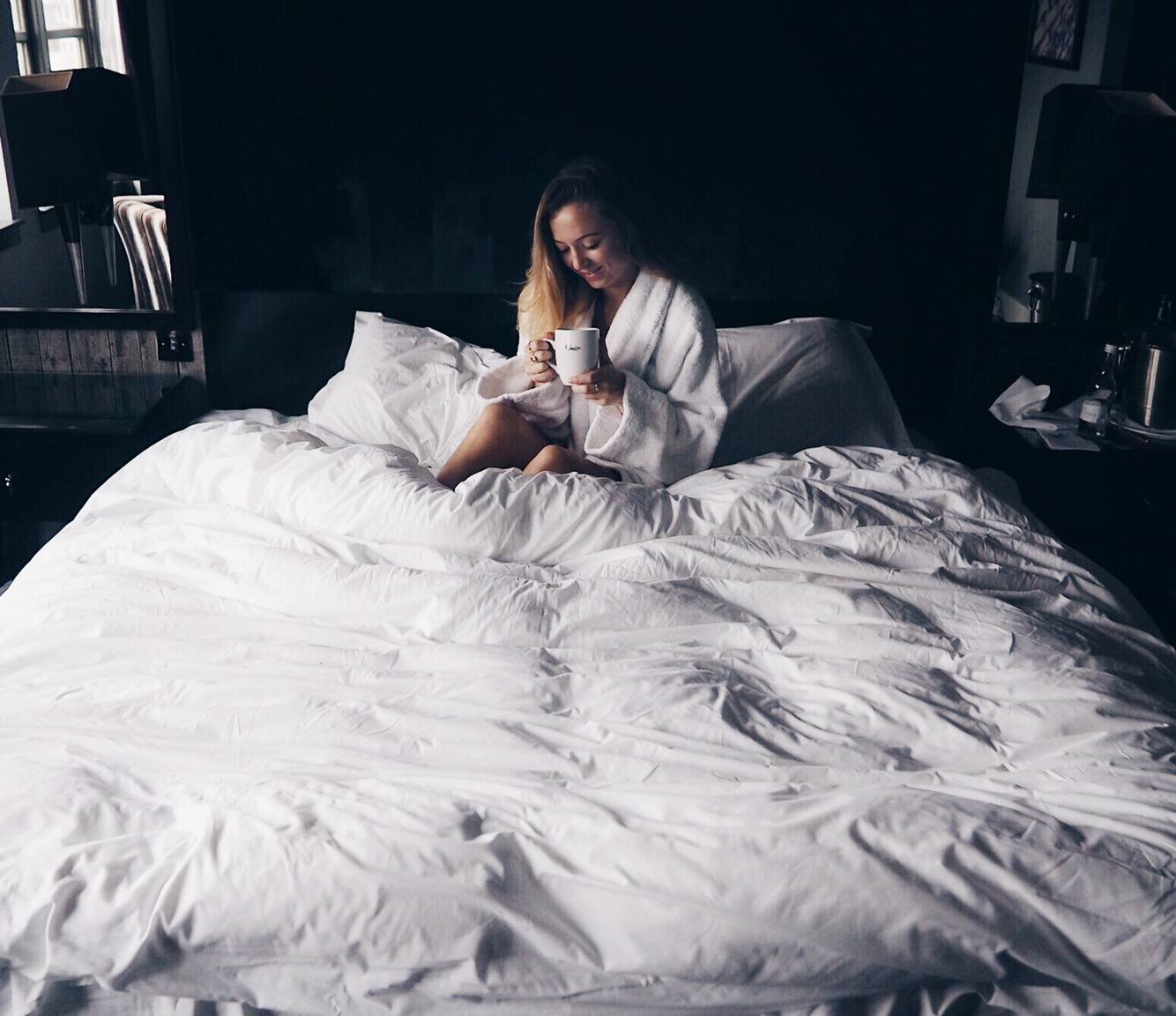 Malmaison's Continental Breakfast was everything I've come to expect in their hotels – piles of freshly baked pastries, assorted granolas and the fancy type of yoghurt with plenty of little extras. We also had tea and toast brought to our table.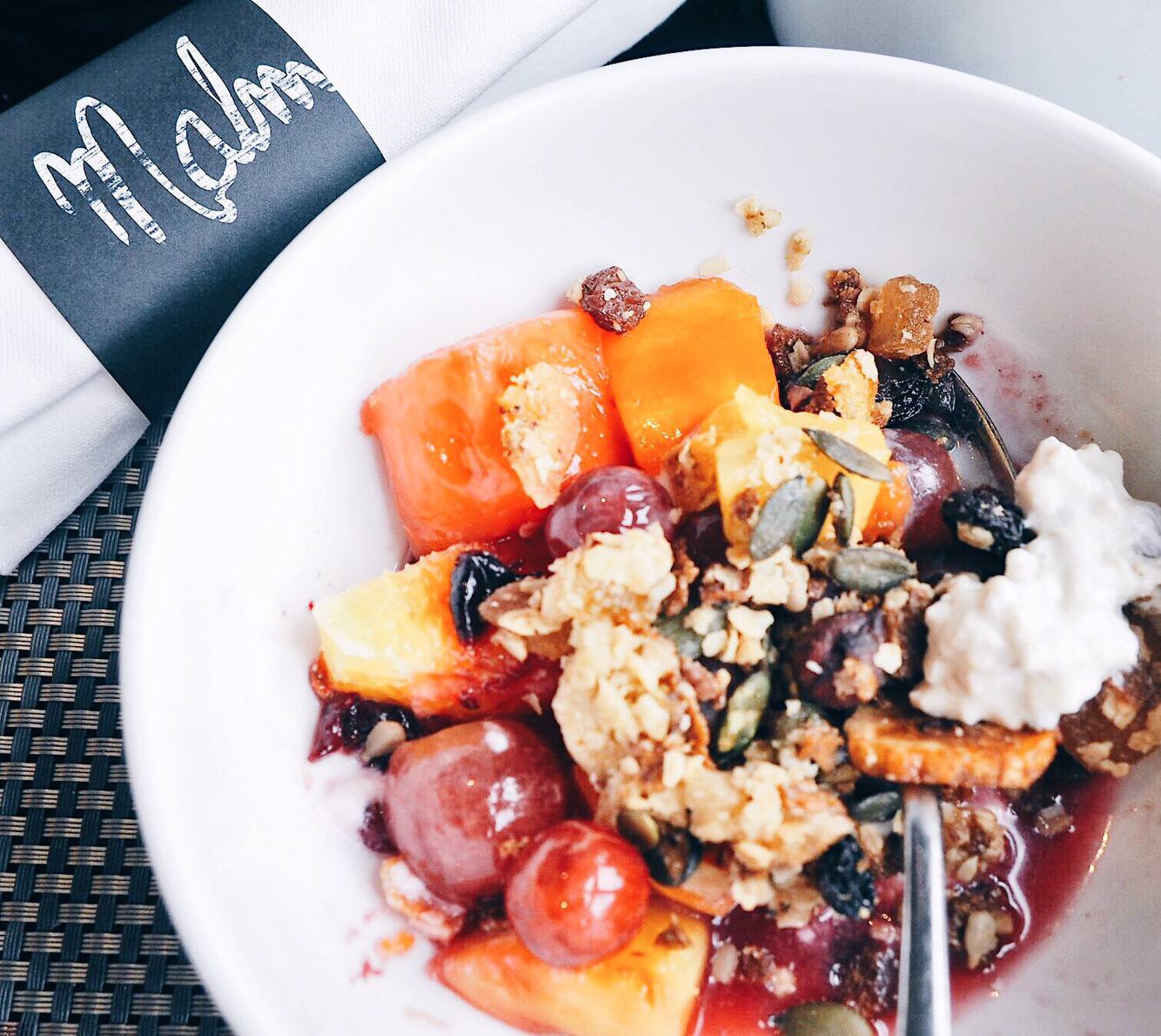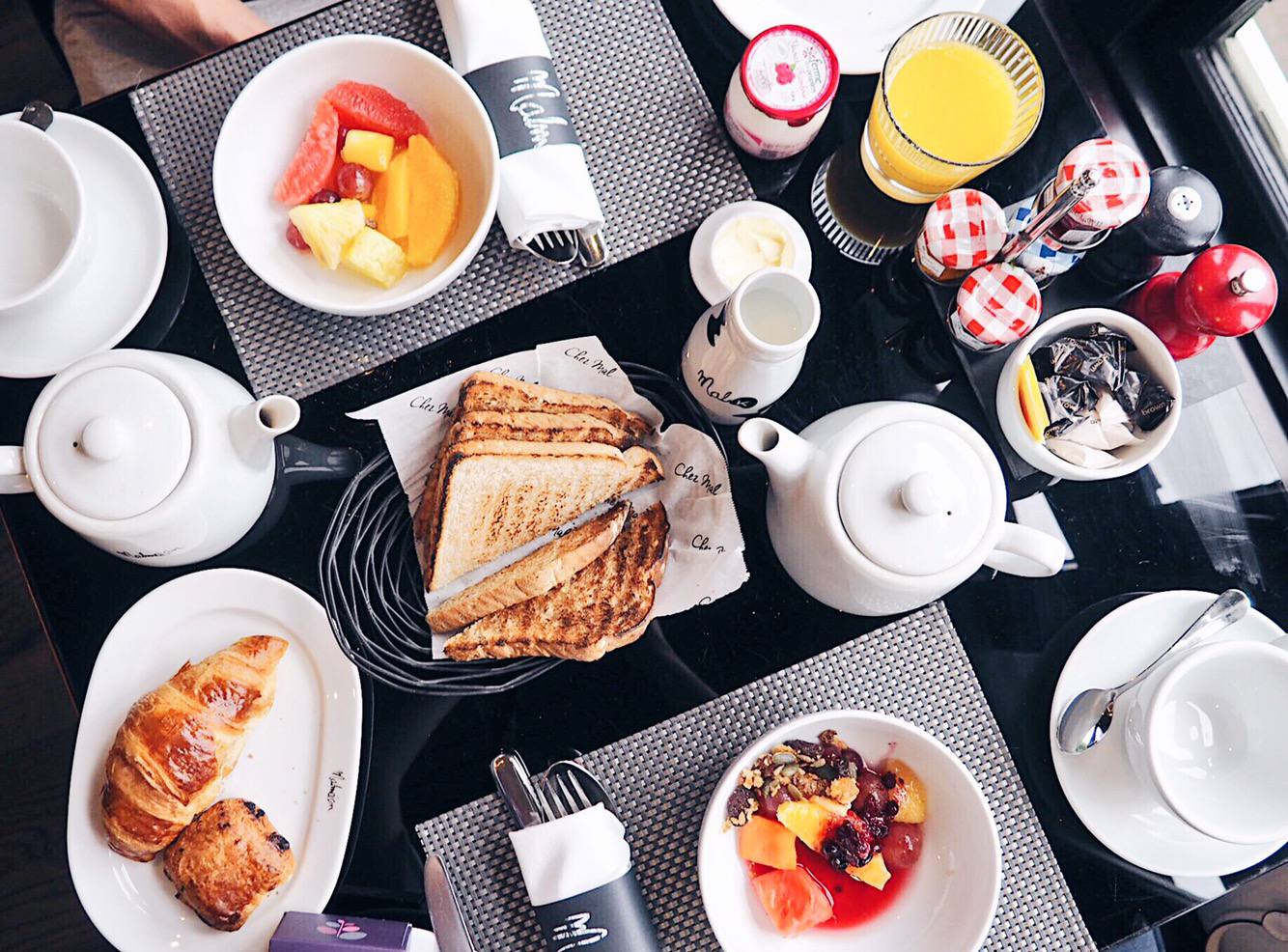 As a bit of a branding geek, the tableware at Malmaison makes me laugh!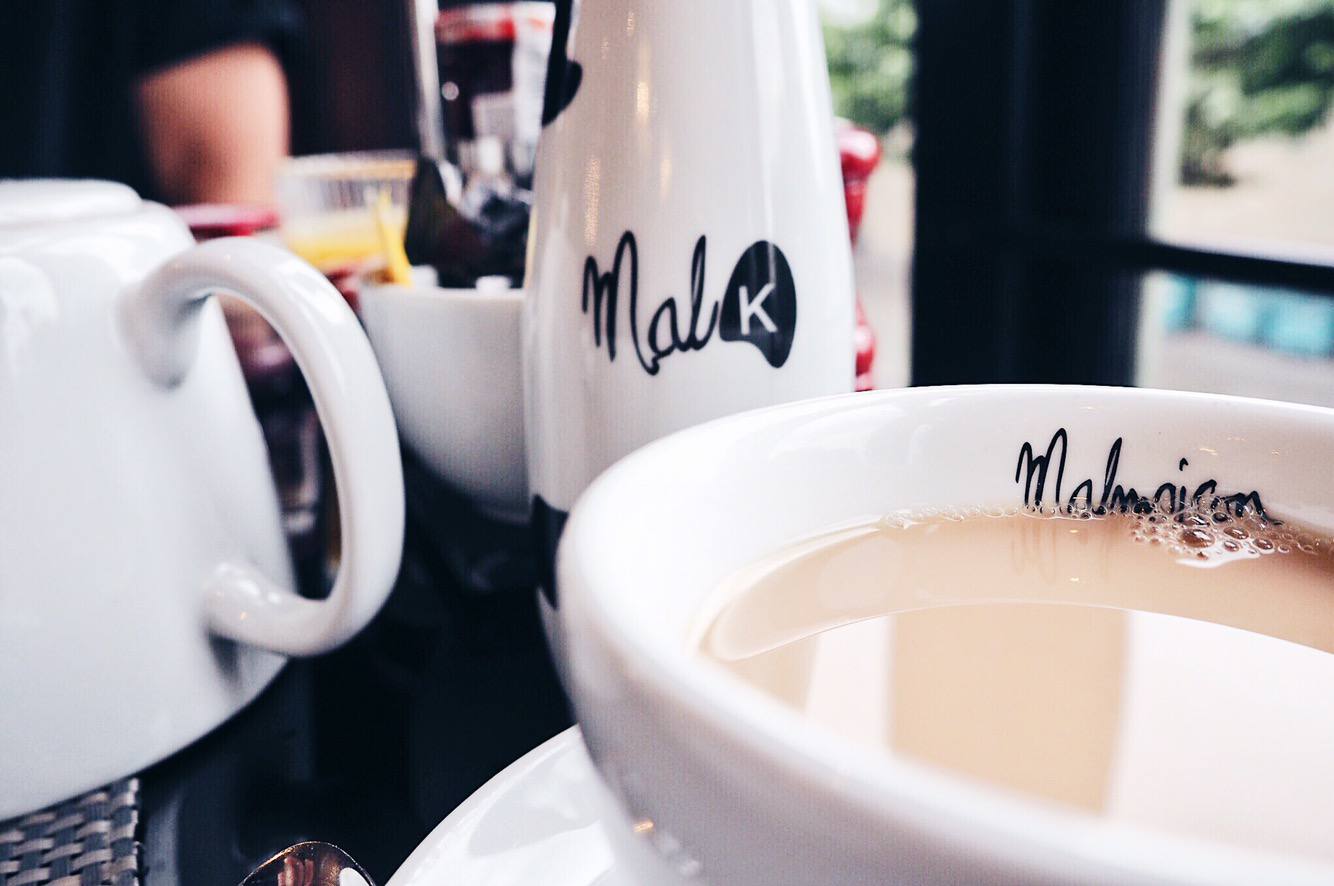 Our waiter Rhys was super attentive and friendly, checking back a few times to make sure we had everything we needed. The staff are sometimes what makes a hotel, serving as representatives for not only the hotel but for the city, and I knew the Geordies wouldn't let me down on that front.
Fully fuelled, Tom sped off to work and I soared back up to our suite in the lift. The Wi-Fi in our room was better than the Wi-Fi we have at home, so I made the most of it and got some work done. Ah, the joys of working for yourself – mondays are a pleasure rather than a chore these days!
Our little staycation was the perfect, romantic way to spend some quality time together in a luxurious setting. If you're looking to whisk someone away and there's a Malmaison near you, I definitely recommend the Date Night package.
You can  follow me on Facebook, Instagram and Twitter for more updates from my adventures in the UK and abroad. You can also subscribe to make sure you never miss a post.
All photographs were taken on my Olympus Pen E-PL7.
Malmaison's Date Night package starts at £165. You can check all of the hotel chain's offers and book your stay on the Malmaison website.
We were guests of Malmaison Newcastle but all opinions are, as always, my own.