I'm back from Croatia!
I'm currently working my way through the mountains of laundry and emails that come at the dreaded end of every holiday. I didn't think I'd caught much of a tan in Croatia but in the cold light of a rainy day in Sunderland, I'm actually looking super tangoed!
I took a break from blogging while I was away because I wanted to just enjoy my holiday without worrying about WordPress and Pinterest and all the other mundane things that go on behind the scenes, but I did share a few pics on Instagram. I've been travelling a lot for work since moving back to UK and focusing on While I'm Young full time, and it turns out that chasing my dream work/life balance is actually pretty tiring (woe is me, I know), so it was really nice to just chill on a 'proper' holiday with Tom. No laptops, no blog reviews and plenty of sun, sea and aimless adventures. We flew to Dubrovnik and spent four nights there before moving to Split, and after one night there we set sail to Hvar for the last two nights. I'd booked our flights on a whim and basically did zero planning, so that was a nice surprise for Tom and slightly stressful in hindsight for me.
Before I share my Croatia tips next week, here's a look at my outfits from the holiday. Because shopping for holiday clothes is the absolute best type of shopping, isn't it? Also, going on holiday with Tom means he can play the poor, downtrodden Instagram Husband role so I wanted to make the most of that by forcing him to take pictures of me in each holiday outfit I'd so painstakingly picked out. Bless him.
My favourite outfits from my Croatia holiday
Travel outfit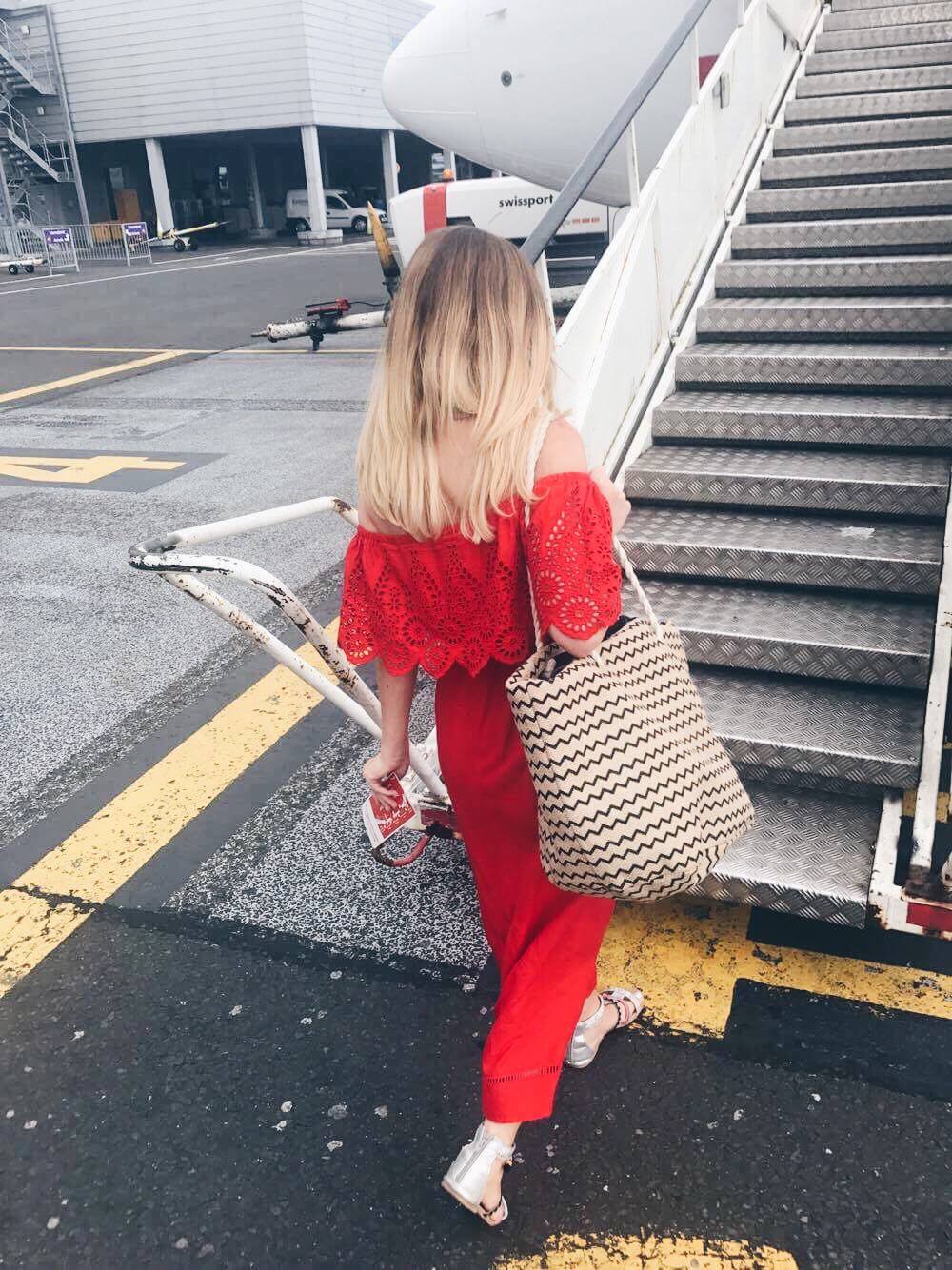 I am 102% obsessed with this red broderie maxi dress from New Look! It's SO comfy and it actually looks like you've made an effort for the airport. It's perfect for eating your weight in burgers at Departures before your flight. In fact, it even comes in a Maternity version if you are in fact harbouring an actual baby instead of a food baby.
Daytime outfits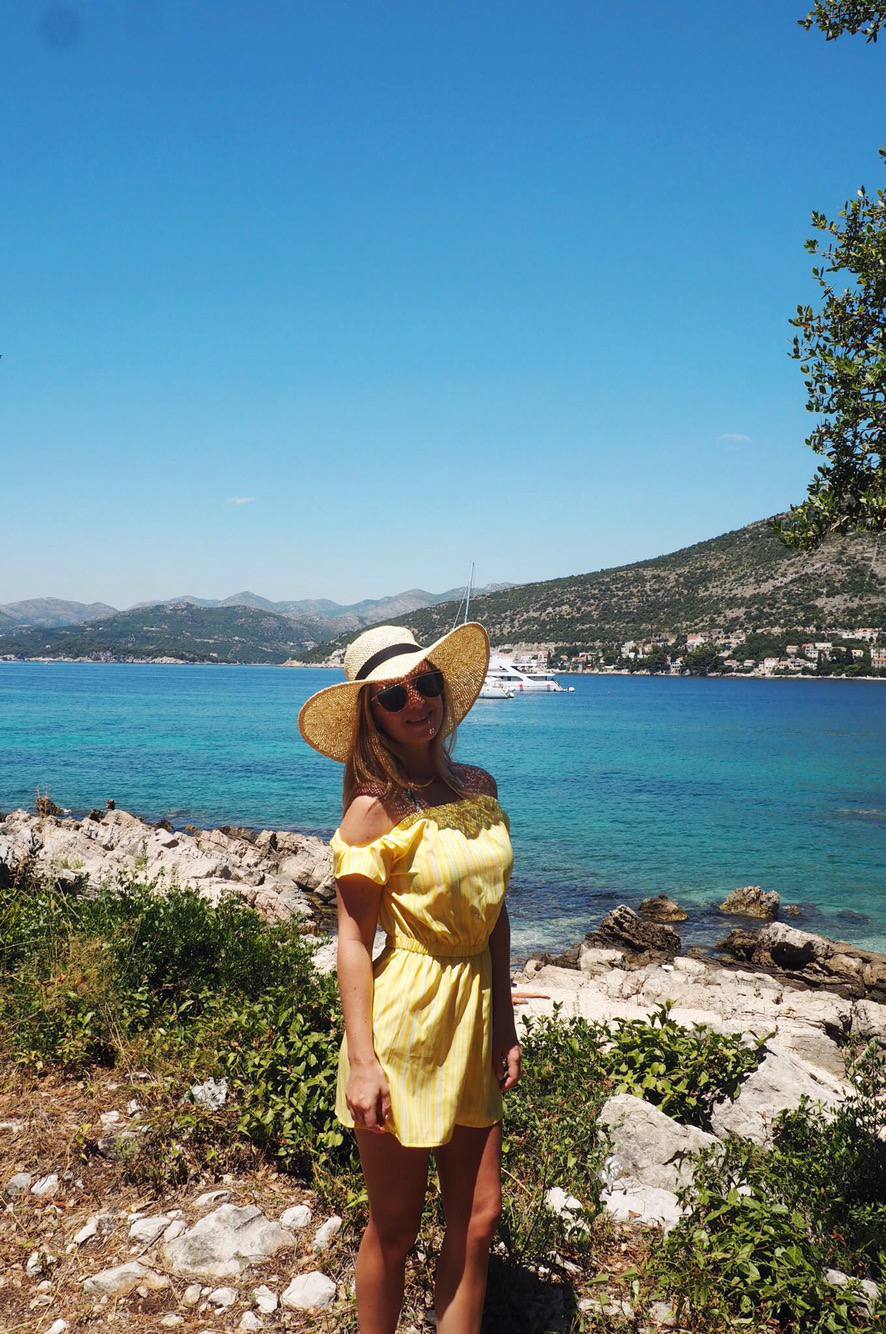 As usual, Primark's summer range has been my budget holiday outfit saviour. I wore the red and white gingham version of this playsuit in Benidorm and loved it, so I snapped the yellow pinstripe version up when I spotted it in the Sunderland store the day before my flight to Dubrovnik. They're so cheap, and for the amount of times you'll get to wear something so lightweight, they're worth the couple of pounds.
Similar playsuit here for £11.00 and here for £12.00
Hat here for £33.76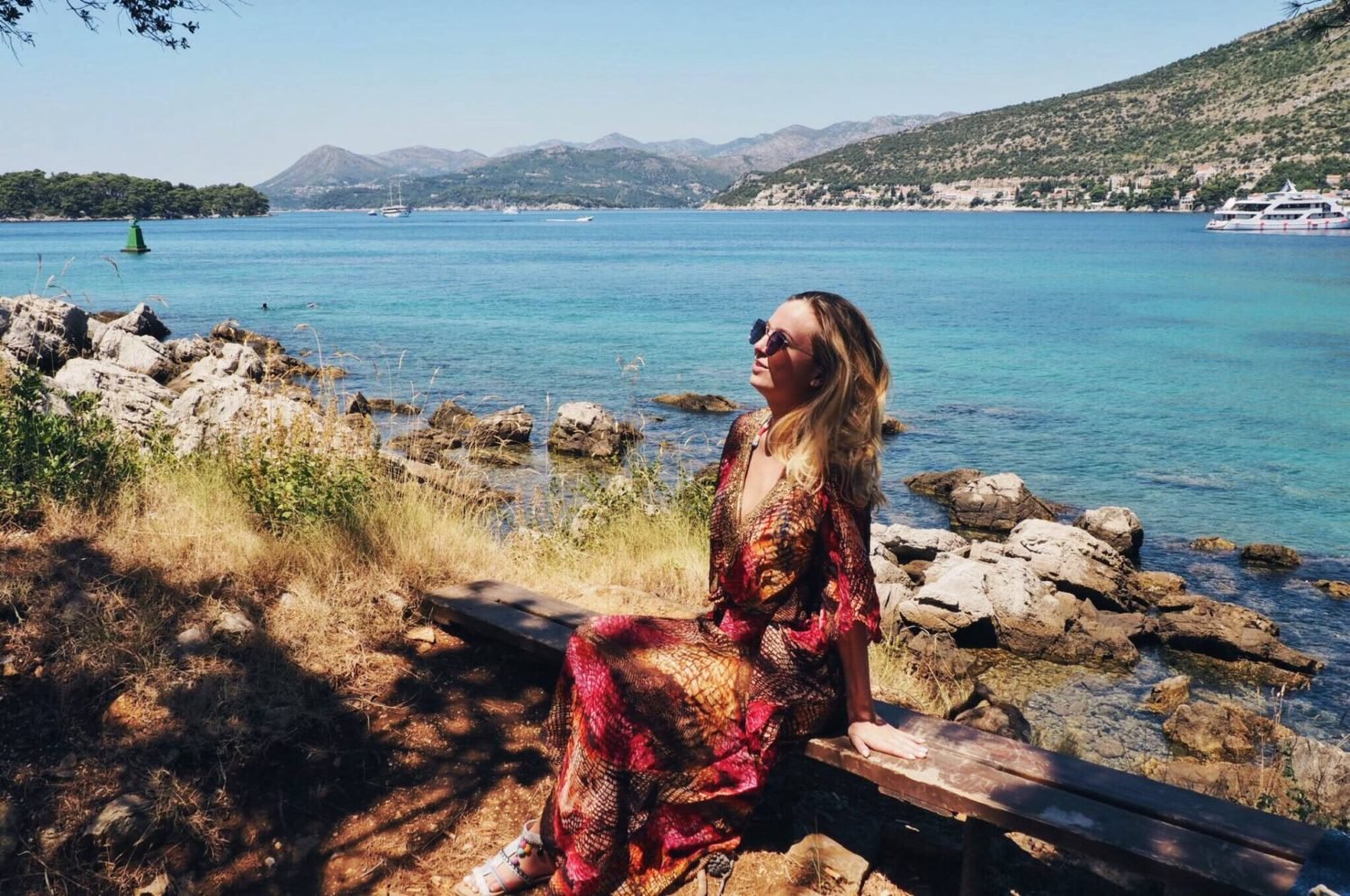 This exotic coverup is from a Swedish brand which has just launched in UK called Miss Tunica and it makes you look like the most put-together, fancy person on the beach. It can be tied at the waist to give you a curvier silhouette and comes in full length or in two different shorter versions. Miss Tunica gifted me this and I'm so happy about it! I reckon you could also wear it at night, if you just wear a very grown up slip underneath.
Buy it here for £83.00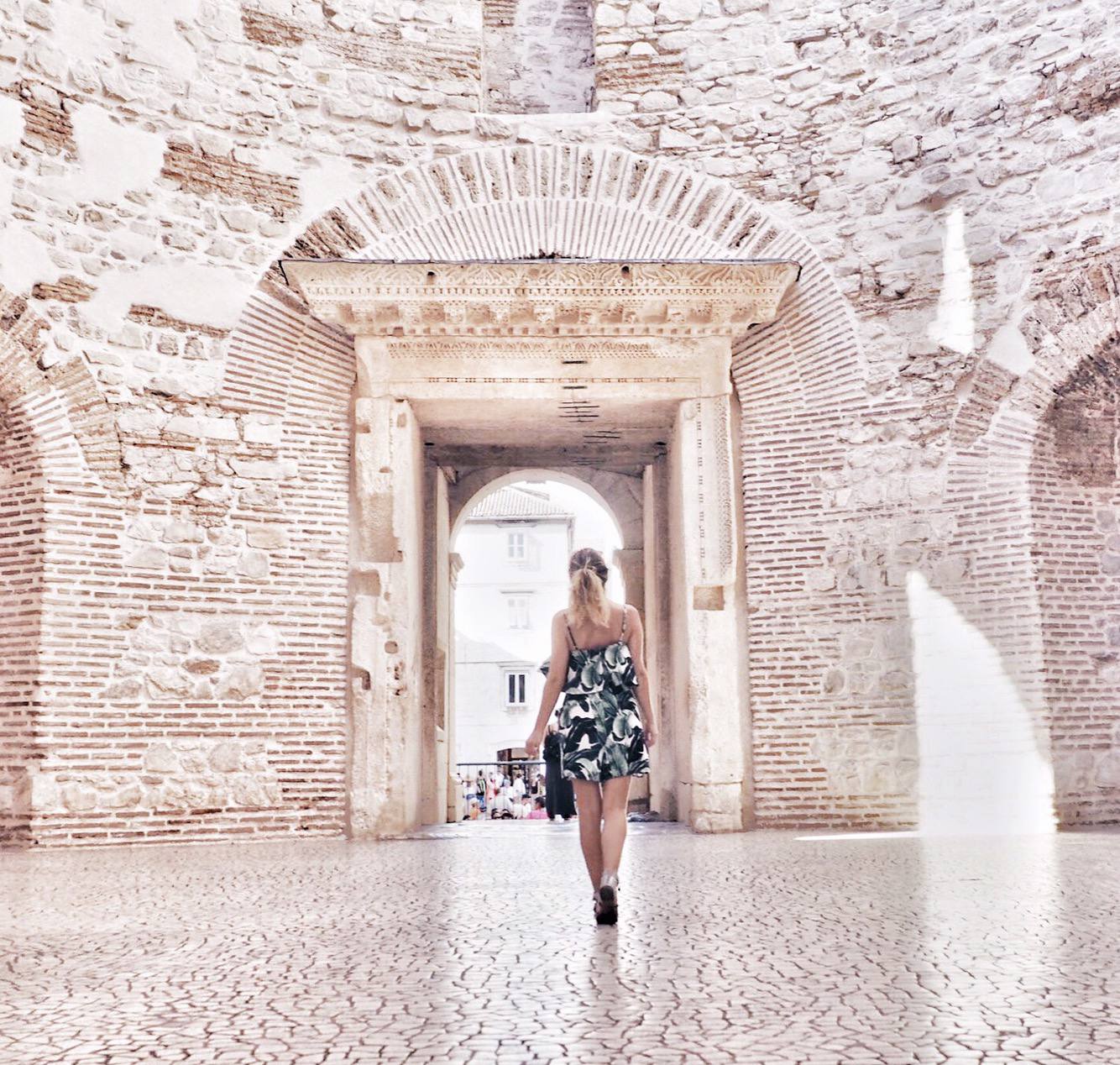 I'm a big fan of anything tropical print and I also love a playsuit, so this banana leaf print, loose fitting one was right up my street. I wore it wandering around Split, which was full of people way cooler than I am who were heading to Ultra Festival. The Dannielle of five years ago would have been among them, but I'm too old for thrashing around in a sweaty heap now. I don't even feel bad about it.
Similar here for £20.00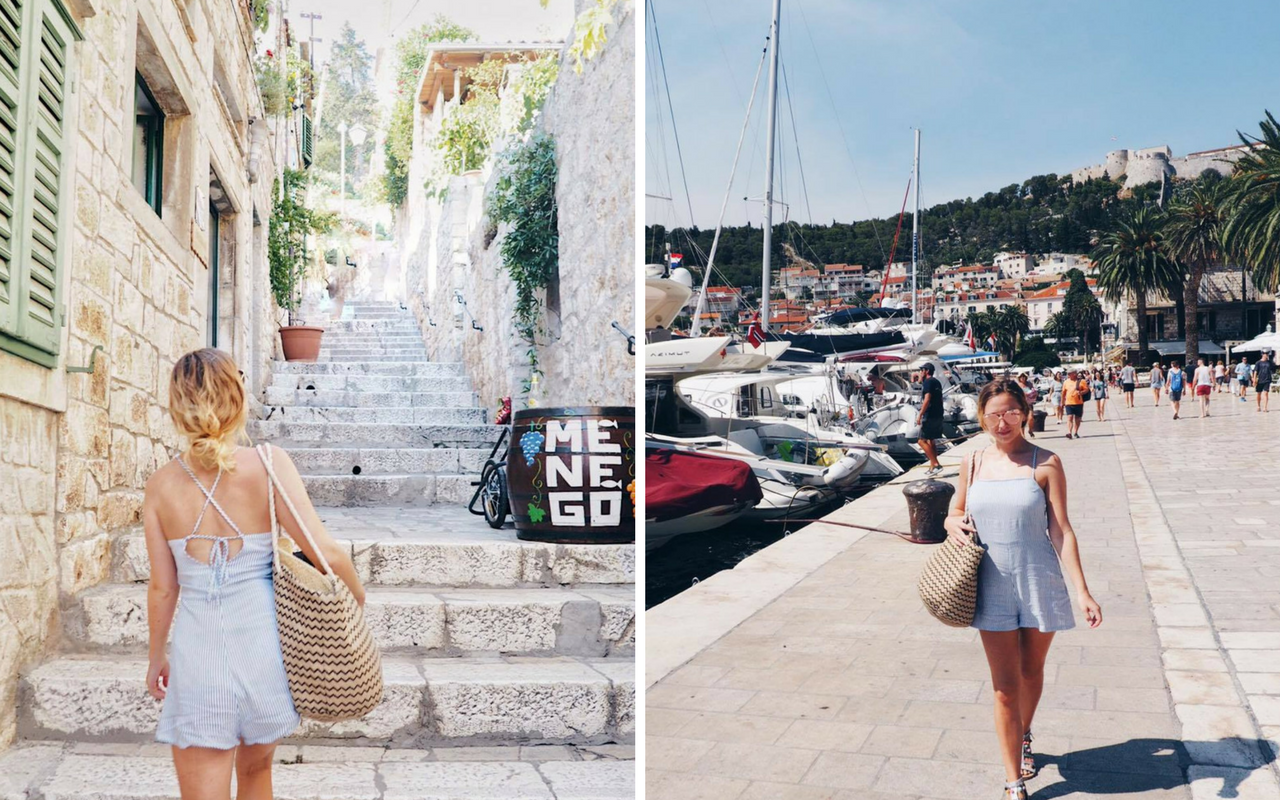 I'm also partial to a pinstripe and picked this little number up in h&m while I was getting some last minute holiday essentials. I love the way it ties at the back, but it's a bit difficult to tie on your own so I was glad Tom was on hand. I wore this in Hvar, which gave me serious French Riviera vibes. Like, I've never been to the French Riviera but I imagine it's a bit like Hvar.
Similar here for £14.00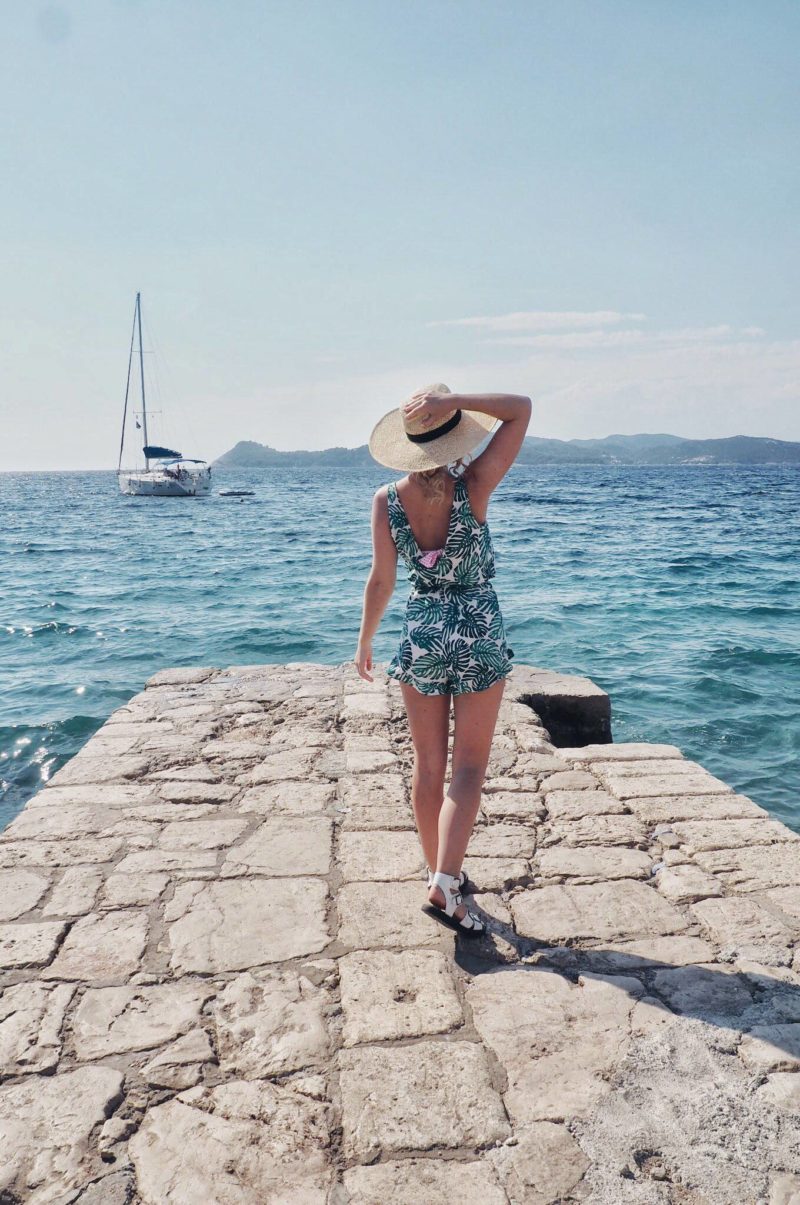 Oh look, another tropical print playsuit, also from Primark! I know this is the most cliche instagram pose ever but I actually was holding on to the hat for dear life. An Australian girl had lost hers to the sea just moments before, and the lads on the Riva made quite the show of trying to save it for her.
Similar here for £25.00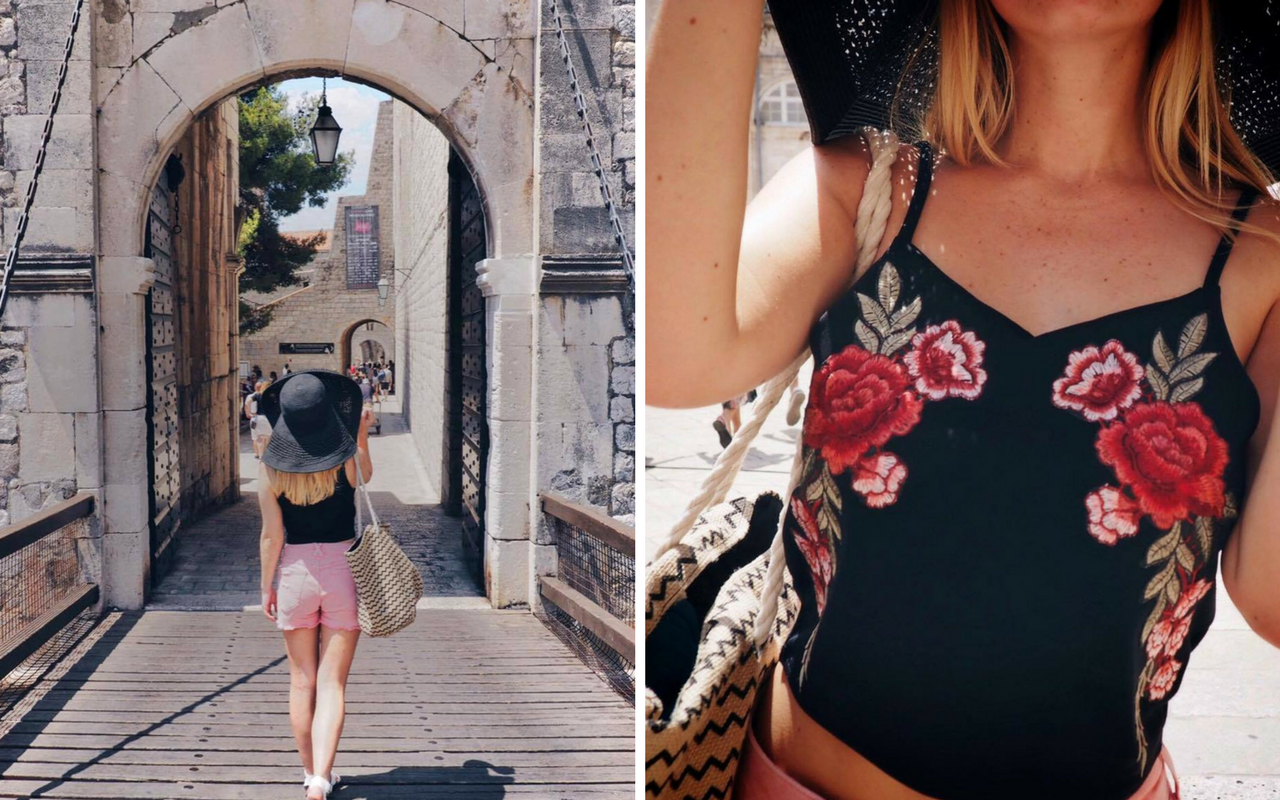 I wore this combo on my first day, exploring the city walls in Dubrovnik. It was red hot! I love the embroidered detail on the top but it's made from thick material, so perhaps wasn't the best outfit choice for such a sweltering day.
Buy the top here for £12.00
Buy the shorts here for £32.00
Buy the hat here for £28.00
Evening outfits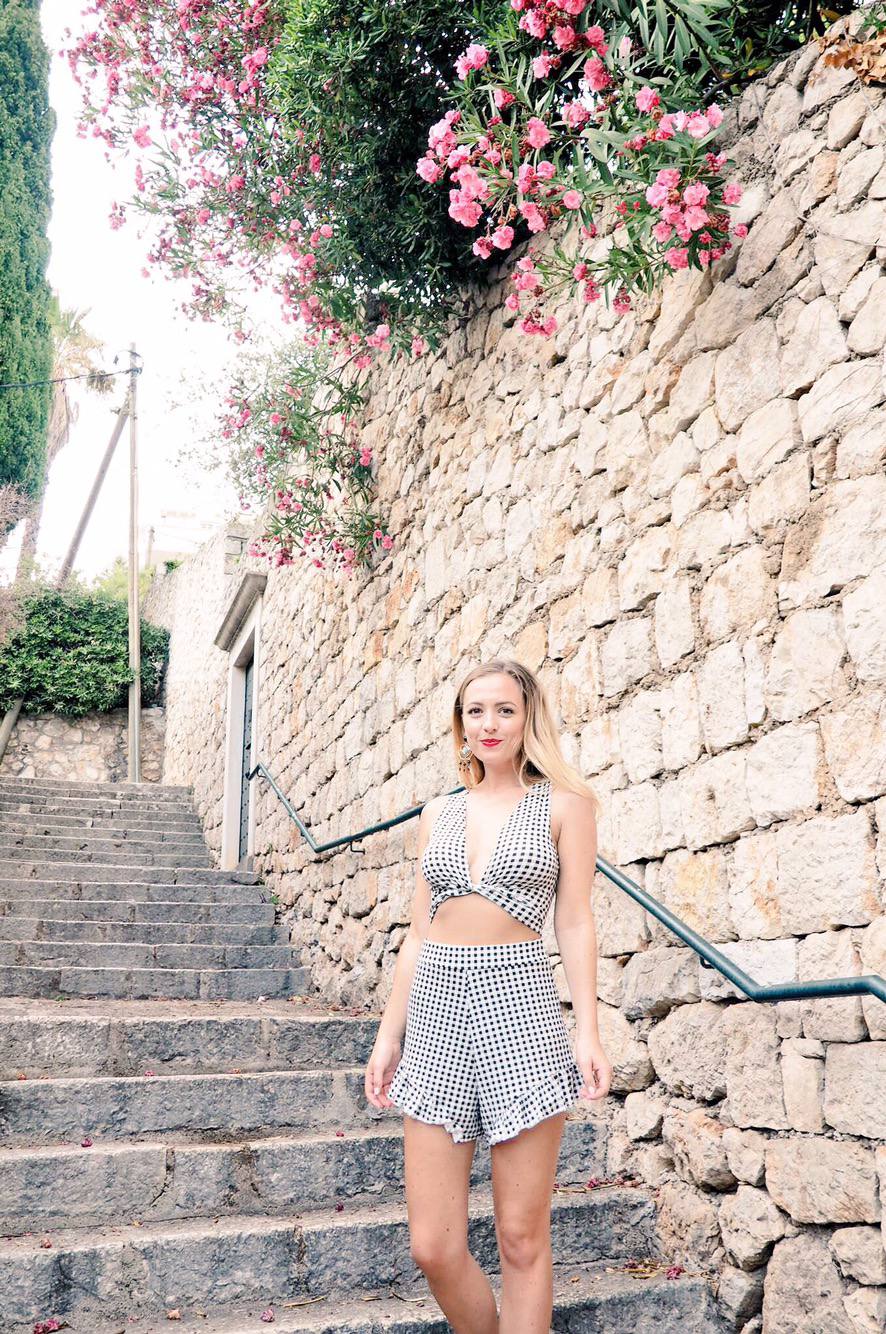 I found a lot of my Croatia nighttime outfits on boohoo.com, and this gingham co-ord set was one of my favourite finds. Co-ords make getting dressed that little bit easier, don't they? A full outfit for 18 quid isn't bad either!
Buy it here for £18.00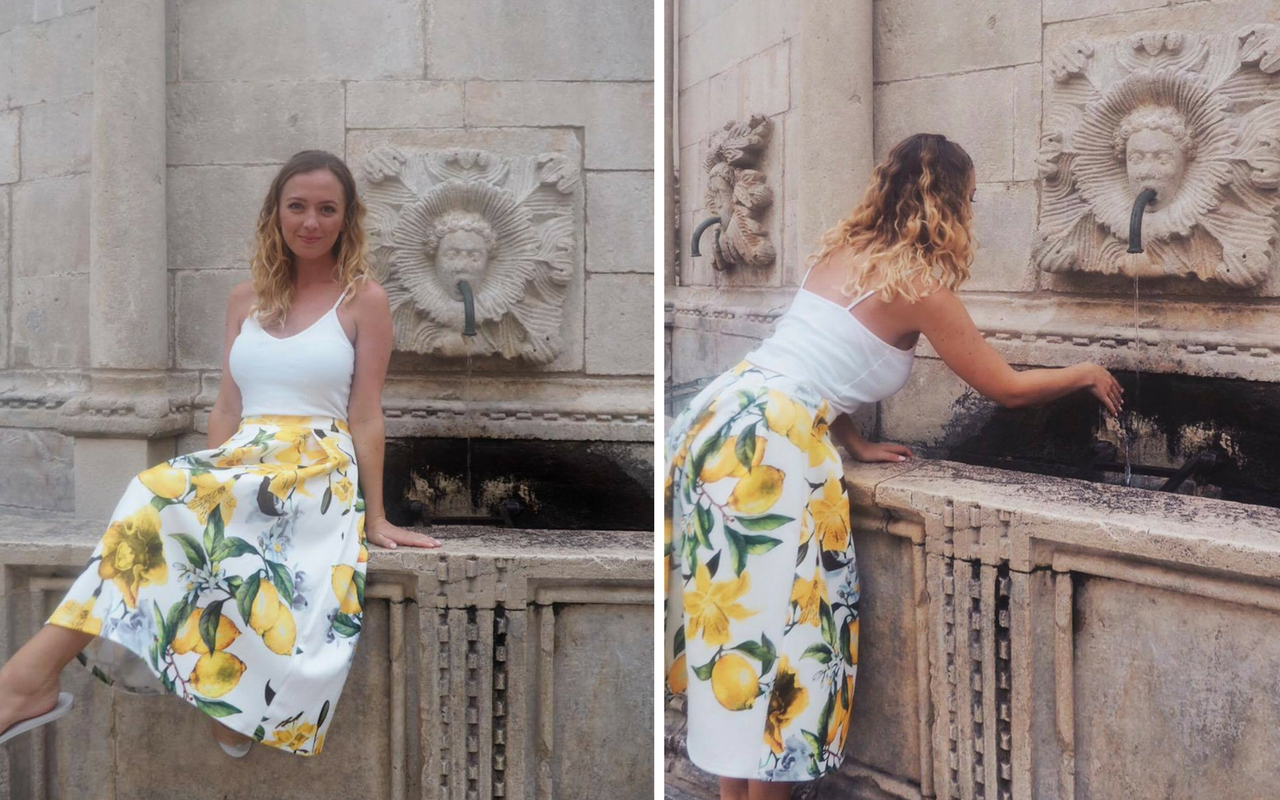 I got SO many compliments on this skirt! I'm really short so I've always shied away from fuller bodied midi skirts in case they make me look shorter, but I wore this one high on my waist so I had extra calf on show (naughty). The lemon print is oh-so-summery and makes me feel like a Desperate Housewife. Love it!
Buy it here for £18.00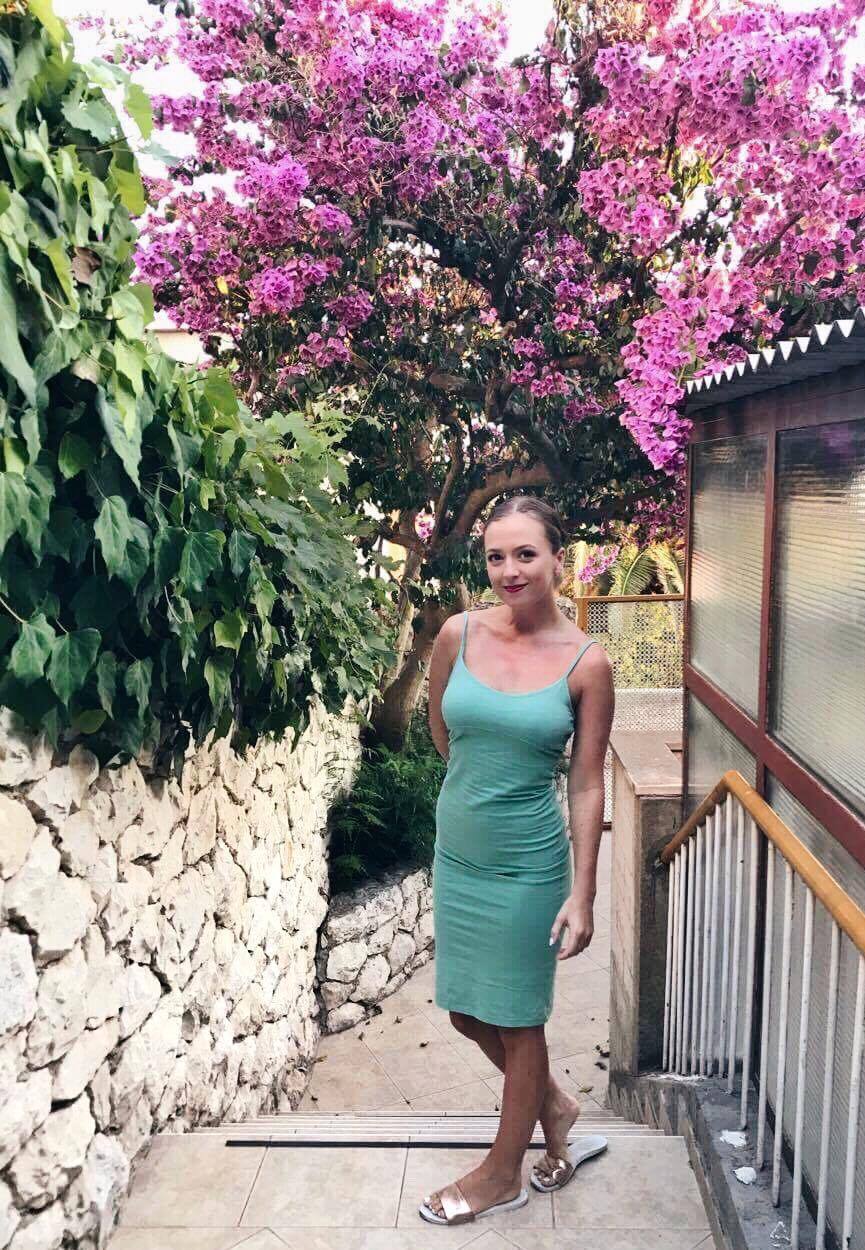 I've had this dress for yonks and always pack it when I'm going somewhere warm. It's super flattering and the mint green colour really stands out against a tan. I bought it from asos for about £12 back in the day, but can't find the same one anywhere online!
Similar here for £9.00
Rose gold sliders here for £15.00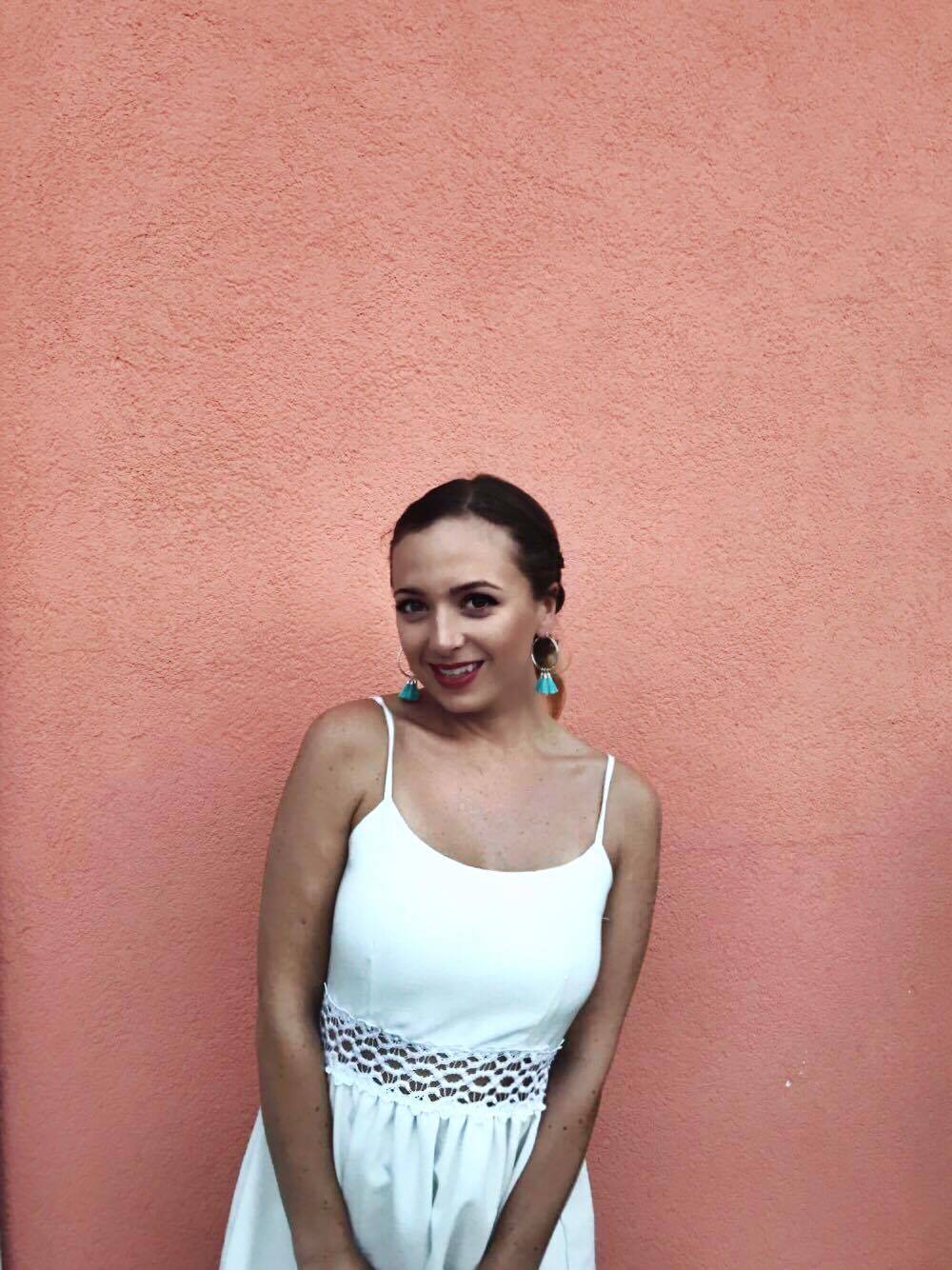 You can't beat a white sundress for balmy holiday nights, and this is another dress that's been a wardrobe staple of mine for years. I remember wearing it on my end-of-exams girly holiday to Greece when I was at uni, and it's still going strong. I don't know how I've kept it so pristine, because I'm the clumsiest person ever.
Similar white sundresses
Swimwear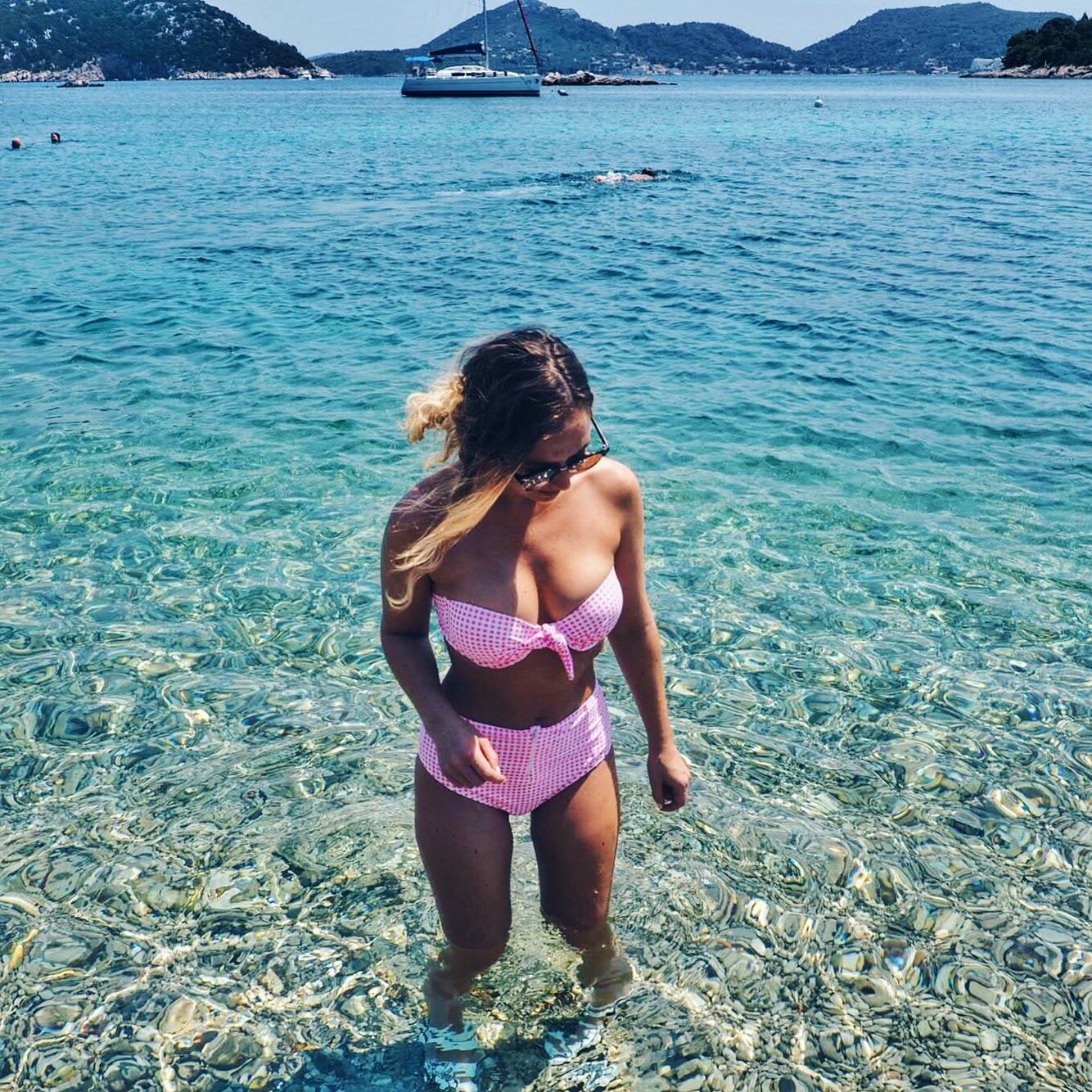 I'd never usually buy a bikini that doesn't let you mix and match tops and bottoms because I'm, umm… disproportionately blessed. Luckily, this combo from boohoo.com fit both my sizeable chest and my waist perfectly! The pink is a bit brighter than shown on the boohoo website, which I was pleased about.
Buy it here for £20.00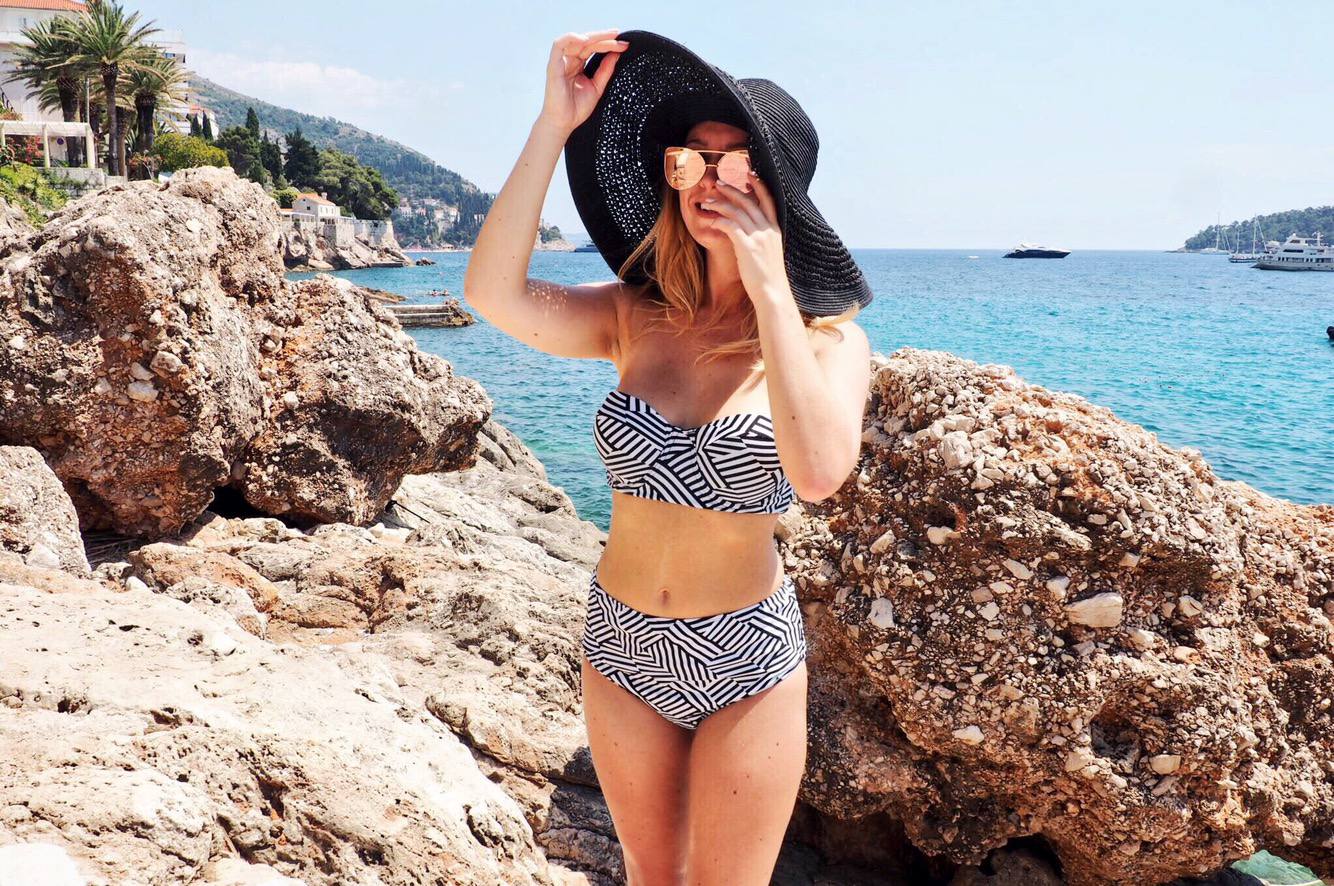 This one's another boohoo find, and as you can tell by now, I'm all about high waisted bottoms and loud prints. I like to pack one monochrome swimsuit when I go on holiday for days I don't want to be the brightest person on the beach (I usually am), and I love the 50s vibes this bikini brings to the party.
Buy it here for £20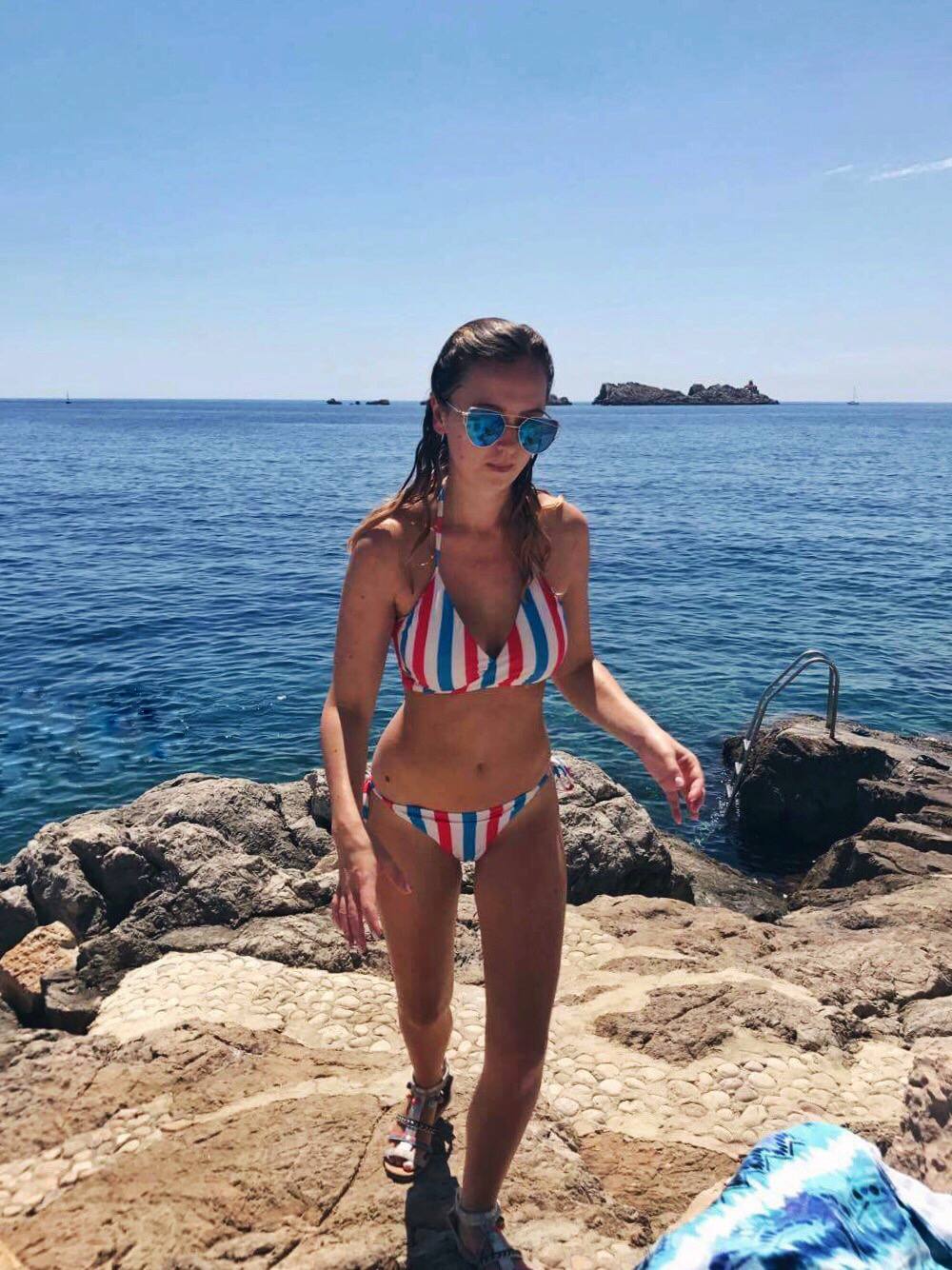 Last but not least, my candy cane striped New Look bikini, which is now sold out. The day Tom took this picture, which isn't a candid pose but an unfortunate off-guard snap, we found a secluded swimming spot and spent the most relaxing afternoon alternating between floating in the sea and lounging on the rocks.
There's only one thing that was missing from my Croatia holiday wardrobe, and that was a pair of sea socks, which you can buy here. Seriously, they might not complement your glam swimwear, but they make it SO much easier to walk on the rocky beaches in Croatia without hurting yourself! All the locals were wearing them and I wish I'd bought a pair, because there's nothing chic about stumbling into the sea like a bikini-clad Bambi on ice. You live and learn I suppose!
Where's everyone going on holiday this year? And which Croatia holiday outfit is your favourite? Let me know in the comments and don't forget that you can  follow me on Facebook, Instagram and Twitter. You can also subscribe to make sure you never miss a post.
This post contains affiliate links and items I received as gifts, but everything is selected and styled by me.
Pin this post