Things to do in Chiang Mai
Chang-ed out from the Full Moon Party and the buzz of Bangkok, the infamous five travelled North to Chiang Mai on a mission to experience the real Thailand. Authentic (aside from the abundance of 7-11s), sweet and confusing, Chiang Mai is the perfect place to experience everything the land of smiles has to offer. It was a week packed with activities; but some of my most memorable moments happened by accident in the city's charming back streets.
Getting there and where to stay in Chiang Mai
After a 15 hour coach ride from Bangkok in a coach compartment that could be mistaken for the inside of a tart's boudoir, we rolled into Chiang Mai and were dropped at the gates of our guest house, Thailand WOW! Despite the enthusiastic name, a sleepy looking young guy let us in and explained our beds weren't yet ready as it was only 5 am, so we stretched out our cramped limbs on the bohemian seating area's throw cushions for a few hours, while monks collected alms outside in the streets.
Thailand WOW! turned out to be the perfect landing pad for our week in Chiang Mai. A spotless home on the road, I can't recommend this backpackers' haven highly enough. Our hosts Kai and his big sister made us green tea in the mornings and scolded us when we forgot to take our shoes off at the door – a lesson in Thai etiquette.
My favourite feature of the unique guest house had to be the hippy girl who captured our male friends' hearts when she  floated into the seating area on a cloud one morning, spaced out from a 28 day Buddhist retreat in the hills. She went by a fake name and pulled an orgasmic face when she sipped her green tea. Of course C and I hated her, more so when she surveyed the breakfast menu and declared she, 'just wanted lettuce', as we were tucking into our eggs.
My first impressions of Chiang Mai in the early hours turned out to be wrong – there are plenty of things to do in Chiang Mai.
Chiang Mai at night
After dark we trawled the Chiang Mai night bazaar with our hostel friend Kerry, but there's only so many pairs of elephant print travelling pants and anklets you can buy so we always ended up in reggae bars or playing girls against boys beer pong. Well, beer pong happened once, and it didn't end well for most of us.
One night we stumbled upon a ramshackle little mobile pavement bar, and as we sat around it drinking mojitos surrounded by fairy lights, Kai rocked up on his scooter with a bunch of other backpackers. Though we didn't slow down on the Changs, we made sure we were fresh each day for the packed itinerary of activities we had booked through Kai.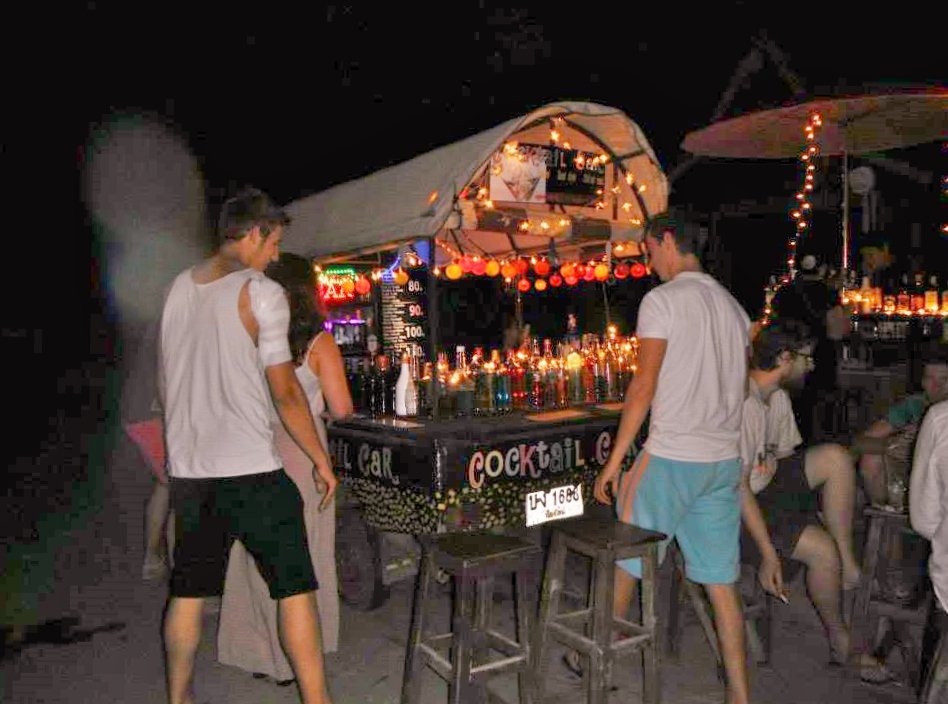 Cooking real Thai cuisine
We attended a Thai cooking course with our hostel friends the next day. The morning trip to the food market was pretty off putting for the faint hearted, but we tried to forget the rats and pungent aromas in the market as we cooked delicious hot and creamy soup, chicken and vegetables with cashew nuts, and spicy jungle curry.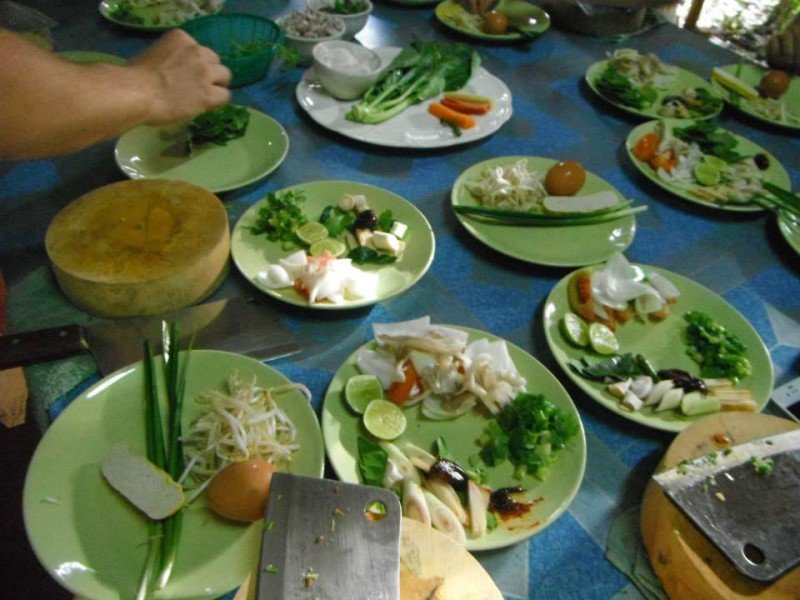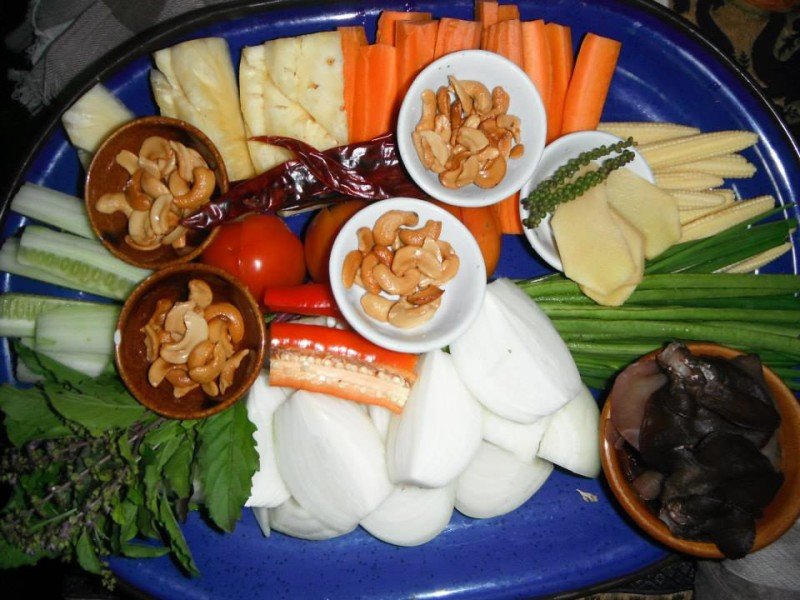 An unusual spa day
When the boys headed to a shooting range, C and I booked a spa day as a treat to ourselves after the Full Moon festivities. It was far from relaxing. The girls clearly thought we were a couple and made every effort to get us to undress fully. After a few stern NO THANK YOUs we had lovely Thai massages, hot mud wraps, and not so lovely hot herbal ball treatments. C got up and pretended she had to go to the bathroom at least four times, just for some relief from the pain her lady was inflicting.
We left feeling a little uneasy but ultimately relieved, then we got lost on the way back to the hostel.
Chatting to Monks
As we navigated our way back through Chiang Mai's old town, a threesome of young monks clad in the customary orange robes appeared in a courtyard and began beckoning us over through the trees. I had read in Lonely Planet that females weren't supposed to speak to monks, so C and I stood frozen for a minute, arguing through gritted teeth about what to do – respect Thai custom or learn about it from the experts?
Never ones to shy away from a potential adventure, we ended up chatting with these three overexcited boys while they 'practiced their English' until a chime sounded and they hurriedly piled into a car because they, 'had to go chant now'.
Had we just corrupted some monks?
A spot of food poisoning
Rejoining the boys after spotting more young monks playing ping pong and watching the Liverpool-Thailand game, we went for a Western meal as the lads were getting tired of Thai. The next morning, Ashton woke us at 6am to say he was ill and off to the hospital. Half drunk and groggy, we wished him good luck and went back to sleep. Cut to a few hours later when we were hoofing it around every medical centre in the city looking for our AWOL friend.
After practically speaking Thai to a few bemused receptionists and multiple hand-drawn maps to three different hospitals, we found Ashton in a private room, hooked up to a drip with our Full Moon friend Welsh Luke for company. They had met on the pavement outside Thailand WOW and lovely Luke had taken a vomiting Ashton to the hospital. I think this just shows the camaraderie between travellers in trouble.
Chiang Mai Zoo
One man down, we spent the day at Chiang Mai zoo where we fed hippos and a baby elephant and saw some turtles having sex. Please watch videos of this phenomenon on Youtube, it's gross.
Wat Phra That Doi Suthep  temple
From the filthy to the sublime, afterwards we negotiated a taxi up a mountain on the edge of the city to a temple founded in 1383- though its origins are shrouded in mystery. We climbed 306 steps to Wat Phra That Doi Suthep  temple, and were rewarded with a truly surreal moment. Burning incense filled the air and my every sense heightened as Buddhists on a religious retreat chanted in a procession around the decadent monastery, stuffed with pagodas and holy shrines. Mist settled around the sacred site and I was all at once calmed and moved as I was struck by the spiritual nature of what was going on around me- an unforgettable experience that words can't fully convey.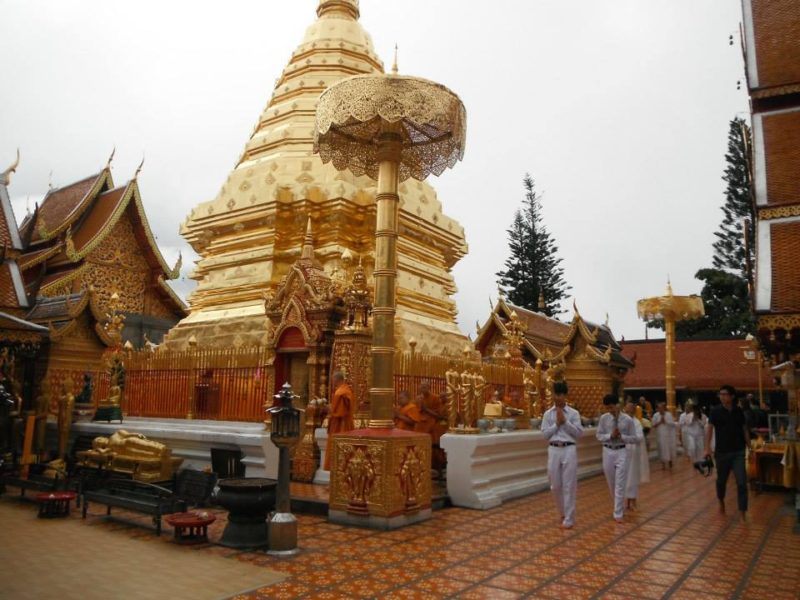 These are just some of the unique things to do in Chiang Mai, and if you're planning a visit to the Thai City you should read my posts about the Elephant Nature Park and the Tiger Sanctuary.
To get my next post directly to your inbox, follow my blog via email (to the right) or like While I'm Young and Skinny on Facebook– a shameless plea for new friends (sorry not sorry).
Read The Crazy Tourist's guide to find out more things to do in Chiang Mai.