At the weekend I met some old and new friends for brunch at Karma Kafe in Souk Al Bahar. I'm a little ashamed to admit that it was the first time I'd stepped foot inside Souk Al Bahar since my first visit to Dubai, when I had 24 hours to explore and make up my mind if I wanted to live here if I actually got the dream job I was interviewing for.
I did, and I did.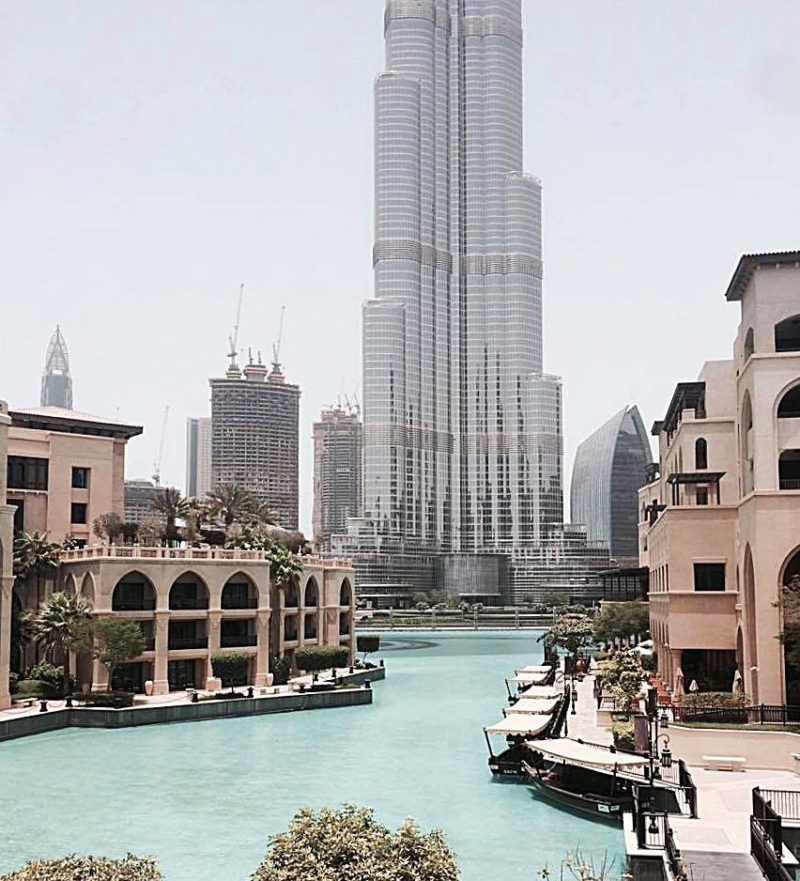 Souk Al Bahar is an Arabian style mall with over 100 shops, eateries and bars. It has a prime position in Downtown Dubai, just opposite the Dubai Mall. It overlooks the fountains and the Burj Khalifa (impossible to get the whole thing in to a shot at close range), so it's probably one of the best spots to take in Dubai's most iconic views. The 40 degree heat didn't quite afford al fresco dining this past weekend, but it's still a lovely place to dine and drink.
Here's a shot of Souk Al Bahar by night. I took this a while back while I was having dinner at a restaurant in Dubai Mall.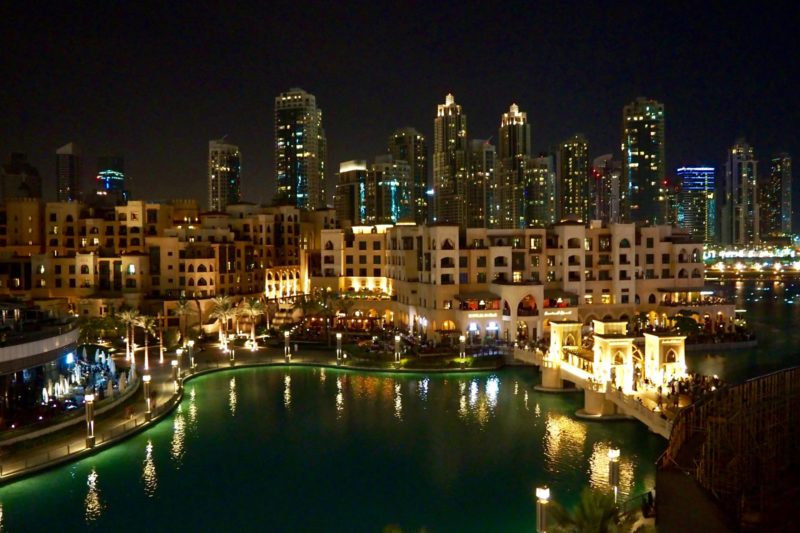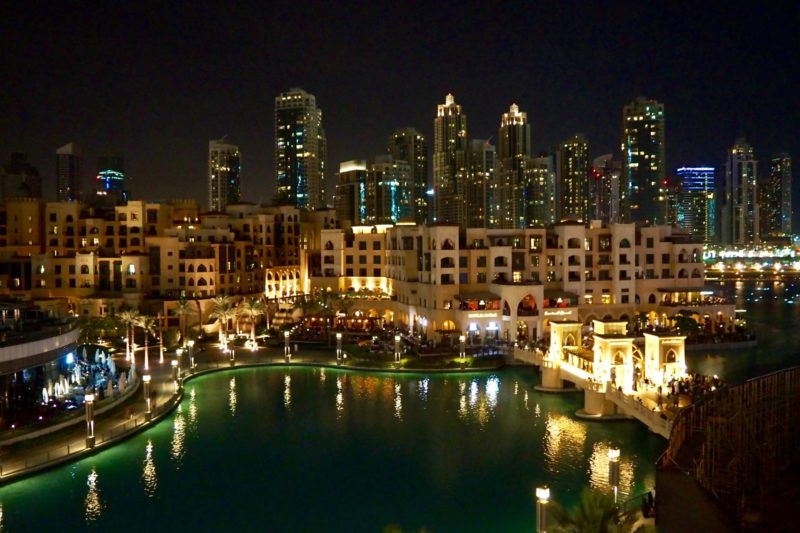 Karma Kafe is one of the souk's restaurants, with a pan-Asian menu and overall oriental vibe. A little dark for a sunny Friday lunchtime, but after a few mimosas that's probably a good thing.
I said I was meeting old and new friends – I love that it's so normal to be invited along to get-togethers in Dubai where you won't know most of the attendees. The expat community is so welcoming in its shared experience of moving here and not knowing anyone, so it's been easy to meet other women. Once the usual 'where are you from, how long have you been here, what brought you to Dubai' stuff was out of the way, our attention turned to the menu.
And the booze. I was nursing a Barasti-induced hangover so the mimosas went down a treat.
Brunch in Dubai is always excessive, and Karma Kafe was no exception. Unlike my first buffet style brunch at Latitude in Jumeirah Beach Hotel, this was a la carte dining. We ordered one of each appetiser, not wanting to miss out on anything.
Wasabi Prawn, Spiced Thai Chicken & Creamy Sweet Potato Dim Sum were delicately flavoured morsels of goodness, and the Chive, Spring Onion, Sesame Seed & Peanut Butter Chili Sauce Shrimp Tempura came in a huge, comforting portion. We had Fennel, Onion, Wasabi Tobiko, Mango, Crispy Wonton & Passionfruit Aioli Shrimp Tacos (there was a lot of shrimp, or prawn as we Brits prefer to call it), but I didn't manage to taste it. I was too busy helping myself to the Spiced Calamari and Crispy Duck Rolls.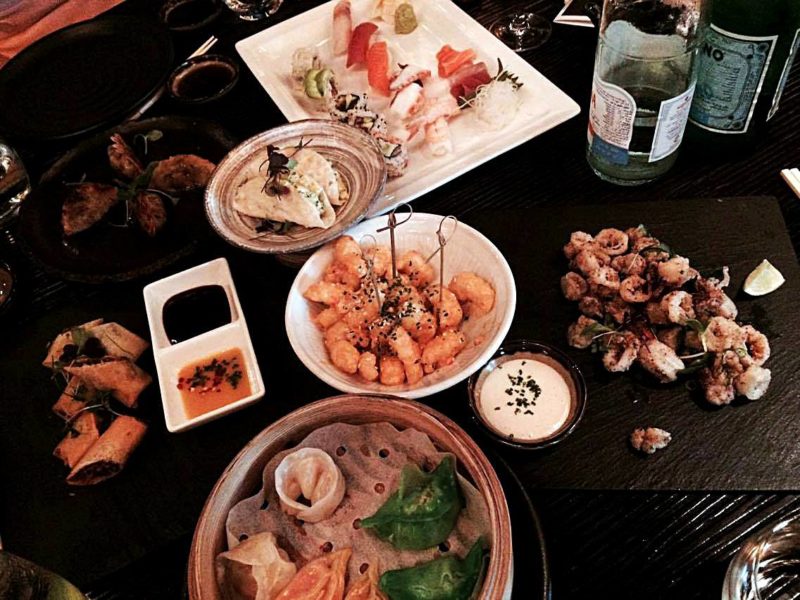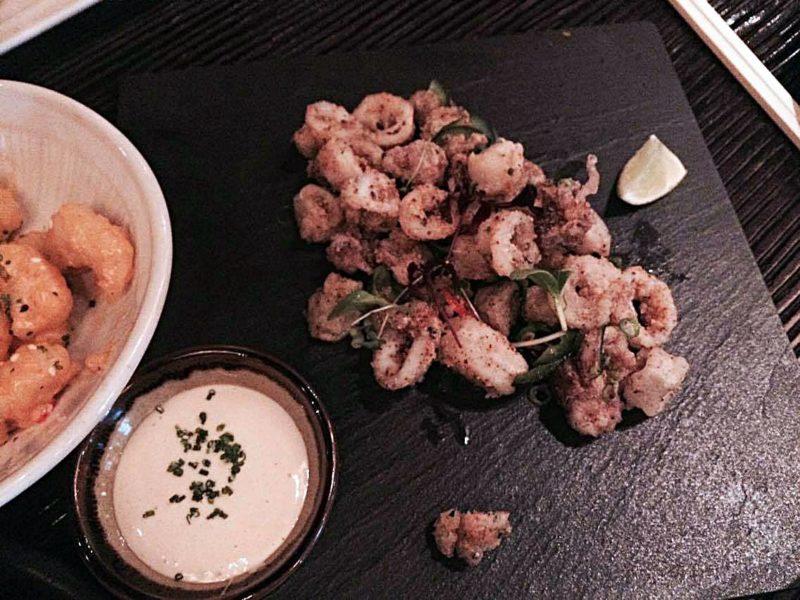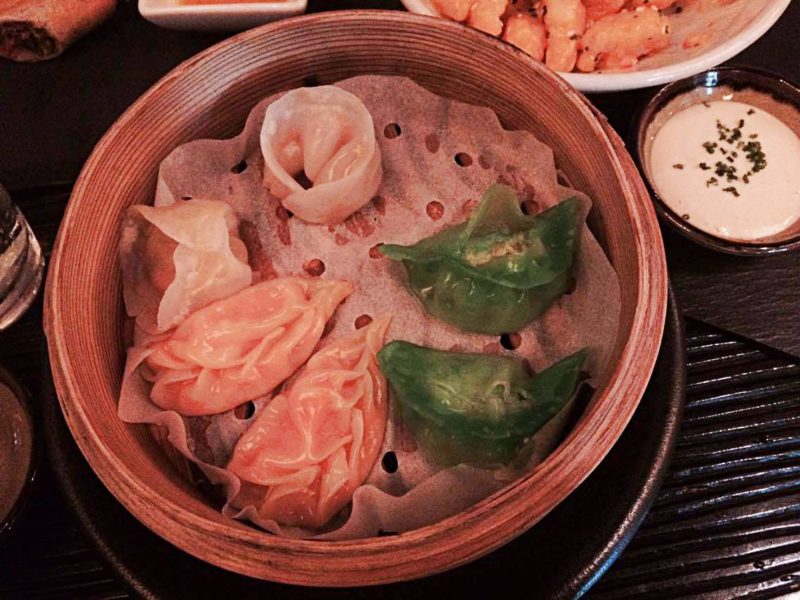 In fact, the duck rolls were so good that one of the girls who had lived in Dubai previously said that she and her husband often craved them while they were living in London. Guess it's a good thing they found their way back to Dubai!
We munched on all of this as the drinks flowed, and ordered endless Maki Rolls to pop into our mouths between sentences. Dubai has given me a real taste for sushi, and this was some of the best I've had yet.
With all these little bites, there was hardly room for main courses, and some of us didn't bother. I did order  the Ginger Mirin Glazed Salmon with Umeboshi Coulis – purely because I've been missing all of the fresh fish I used to eat at home. The Shrimps Soba Noodles and Vegetarian Japanese Coconut Curry also looked delicious.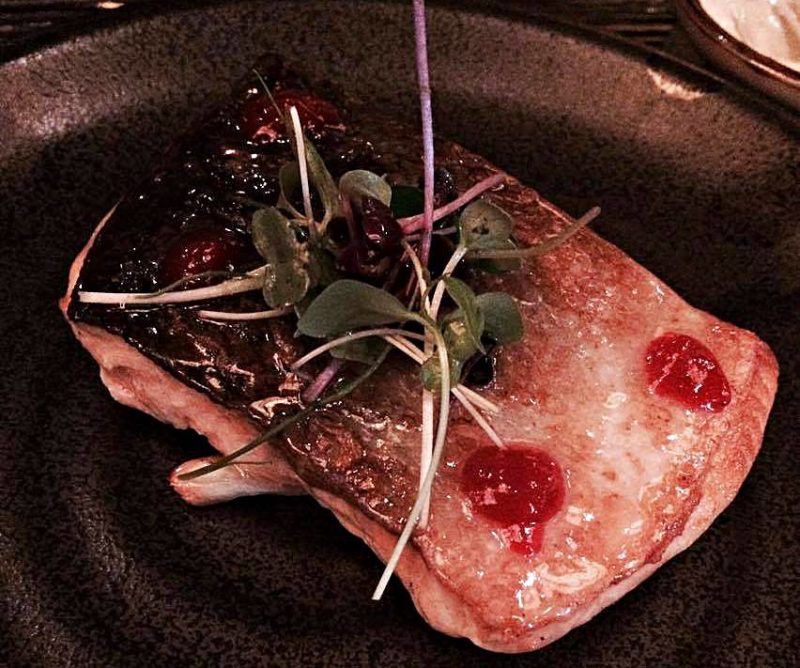 I think it was purely the cocktails that made us order dessert: Valrhona Chocolate Fondant with Vanilla Ice Cream – because we definitely didn't need any more food. Needless to say, it was glorious and some of us may have ordered second helpings.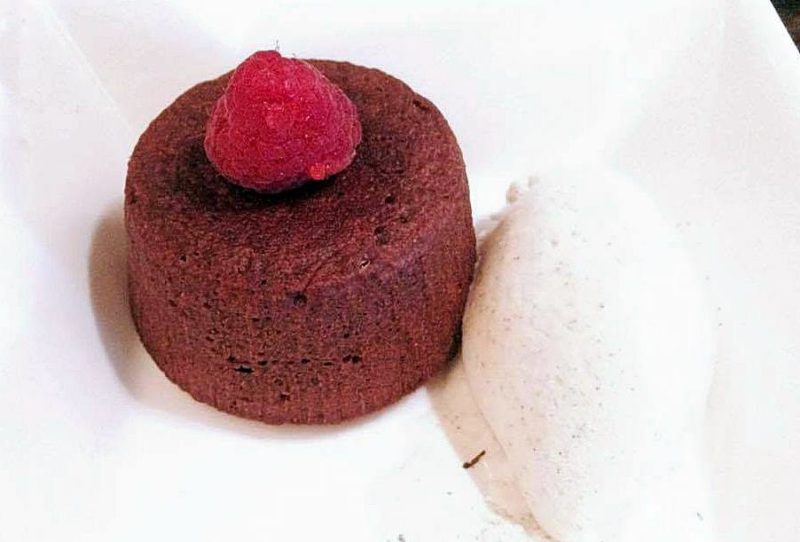 After a couple of rounds of shots sent over by some (hopefully) well-meaning men, we took a taxi over to Treehouse in The Taj Hotel for a nightcap after catching the tail end of the Dubai Fountain Show. The thing about these boozy brunches is that you're often in bed for 9pm!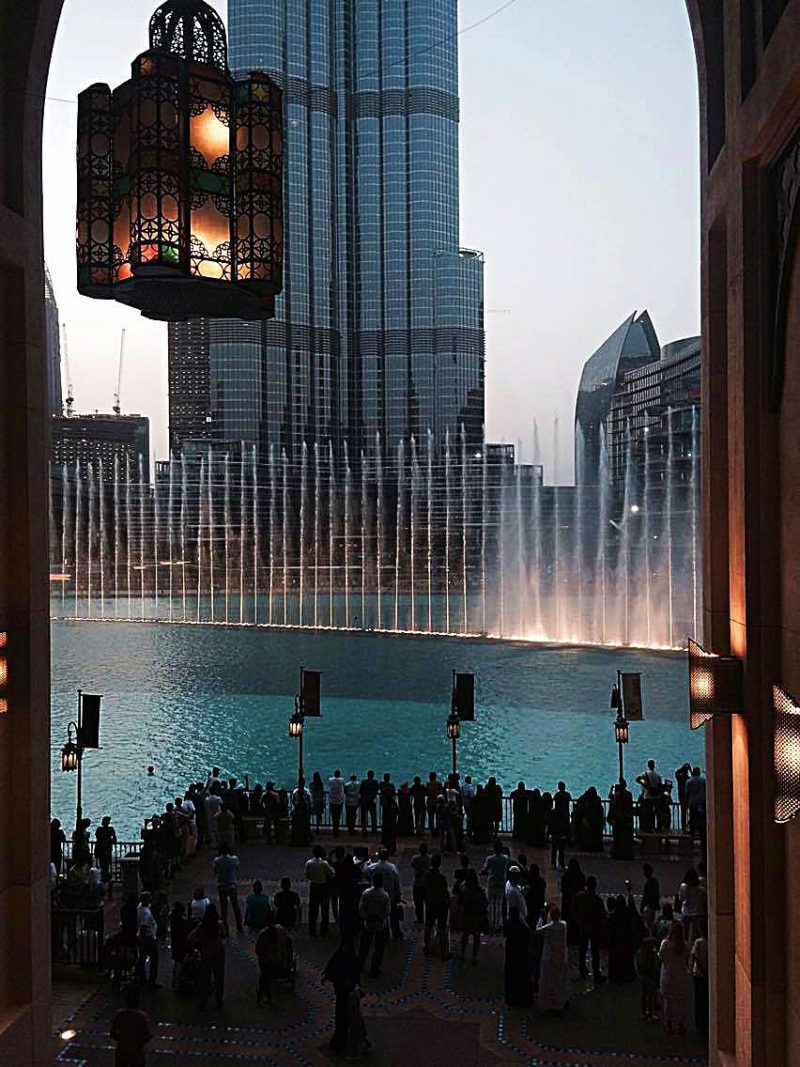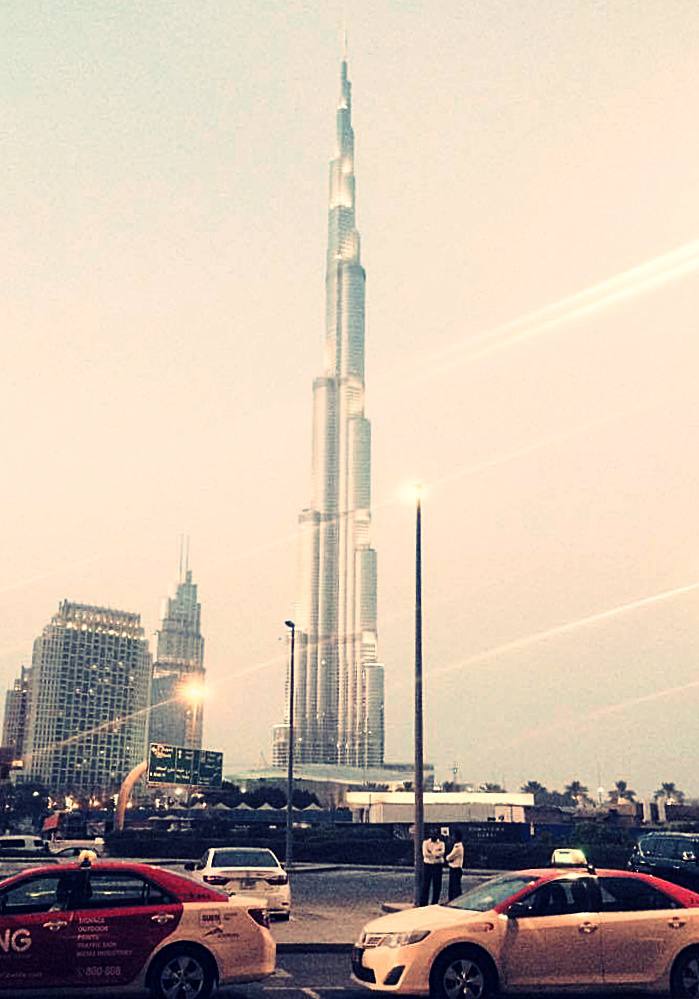 The next day there was a suggestion of a breeze in the air so I lay at the pool then spent the night packing. I'm moving to a new apartment this week. Wish me luck, and fingers crossed there are no psycho couples who attack each other / creepy fat men who somehow procure my number from the landlord / crazy girls recovering from lipo / tall men who won't talk to me / women who seem awfully like prostitutes / couples who bring ACTUAL CHILDREN to the house and let them bang on my bedroom wall at 8am on a Saturday morning. Yeah, my experience of Dubai flatmates has been a real hoot thus far.
Yalla habbibi!
Follow my adventures in Dubai and beyond on Facebook, Twitter, Instagram and Snapchat (dannielle-lily).