Hakkasan is a Michelin-starred Cantonese restaurant frequented by the well-to-do crowd in New York, London and Shanghai, among other gastronomical capitals. It's won countless accolades for its oriental cuisine, including a handful of Tatler Restaurant Awards and various recognitions for its wine list. Unsurprisingly, the Dubai edition is no exception, and I met some work friends for their dim sum brunch to see what all the fuss was about.
Hakkasan's Dubai restaurant is located in Jumeirah Emirates Towers Hotel. You're welcomed by a long, sleek bar and Hakkasan's signature oak latticing, which slices the dimly lit dining room into intimate sections.
Like all good Dubai brunches, there are a selection of packages available. We had a pregnant lady in tow so we all bypassed the cocktails and chose the package with unlimited tea for AED 199 per person.
Did you know that in Chinese culture, tea drinkers were traditionally seen as the academics and cultural elites of society? A civilised brunch in Dubai, finally!
This Friday was all about the food, but I definitely need to go back and try the Silva Leaf cocktail. Exclusive to Hakkasan Dubai, this is a heady mix of Kome to Mizu sake, Champagne, passion fruit and house-made Chinese five-spice syrup. Mmm.
Unlike the elaborate cocktail menu, Hakkasan's approach to good food is simple.
Food acts as a way of saying thanks, of celebrating, and of paying respects. Moreover, it represents different cultures and helps strengthen cultural ties.
Nowhere does this sentiment fit better than in Dubai, where expatriates from every corner of the globe are welcomed by the small local population with open arms and minuscule cups of Arabic coffee, and everybody's culture is accommodated. Since moving here in January, every outing with my workmates has looked like a meeting of the United Nations and at this brunch, we were representing Canada, Taiwan, Japan and umm… Isle of Man (little old me), over a delicious oriental spread. It got the Asians' nod of approval, so chopsticks poised, we dug in.
We were served hot aromatic tea in elegant blue china, and then rose to pick our appetisers from the manned stations in the centre of the room. Dubai's hotel restaurants have a tendency to compete with each other to offer the most live cooking stations, but Hakkasan focuses solely on what it does best. Smiling staff in chefs whites deftly wrap fresh duck in pancakes and cook lamb dumplings to order while you take your seat and wait for them to arrive.
These small bites are just to get your juices flowing.
In addition to Hakkasan signature dishes, the Dubai restaurant's menu includes some dishes created especially for an Emirate clientele. Our brunch choices spanned northern and southern Chinese Islamic cuisine: the meaty dishes of the former balanced with lighter bites featuring duck and seafood, which represent the southern tastes.
First, we selected four steamed dim sum plates from the eclectic menu.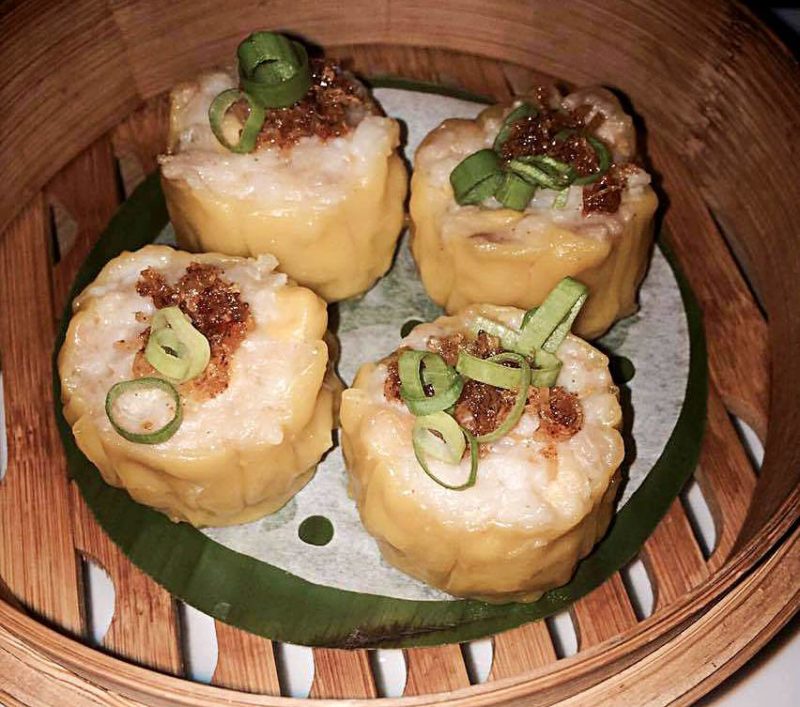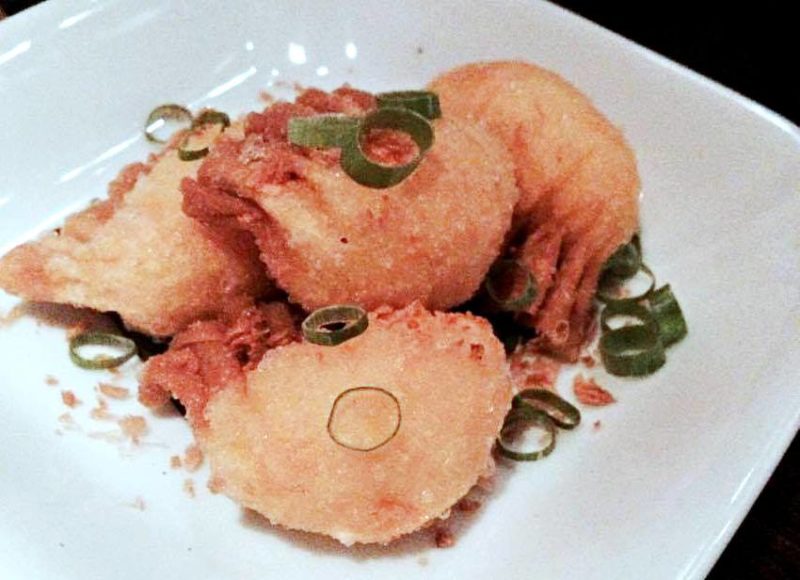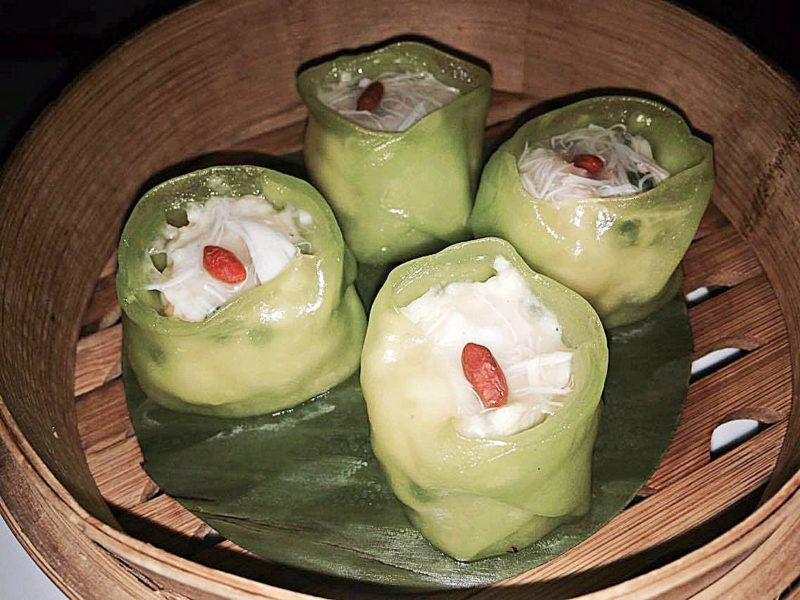 Chicken and sweetcorn shumai, Seabass shumai, Wagyu beef truffle dumpling and Satay lamb dumpling.
At the same time as these arrived, our four chosen dishes from the Fried and Baked Dim Sum menu crowded the table. We ordered Fried prawn wontons with sweet chilli sauce, Wagyu beef and mushroom puff, Grilled vegetarian Shanghai dumplings, and perhaps the most intriguing thing on the menu: the Roast duck pumpkin puff. These were a real talking point and we couldn't conceal our delight when four morsels in the shape of miniature pumpkins were placed before us!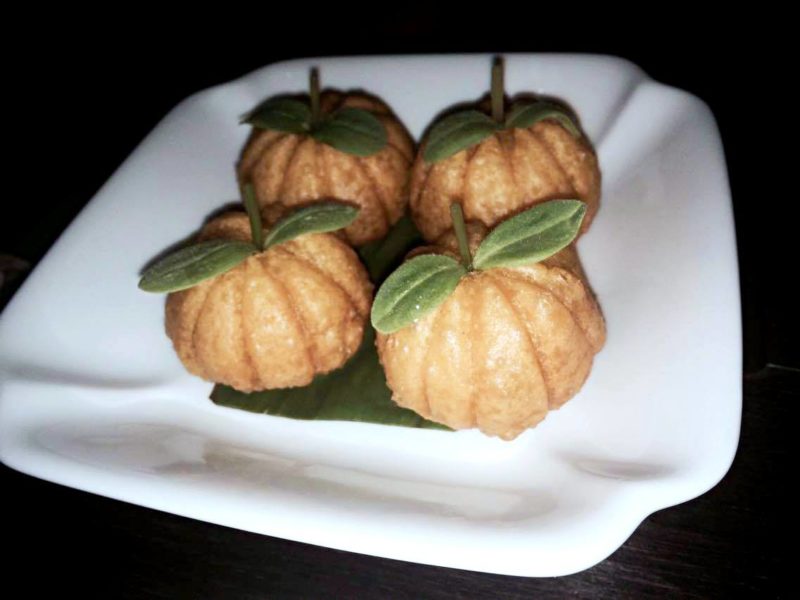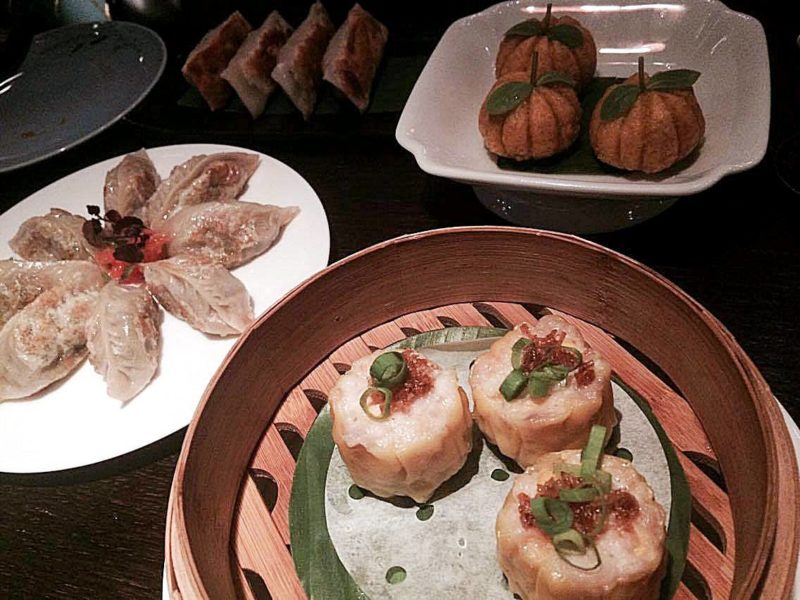 All of the seafood bites were beautiful; with elegant flavours sealed in during steaming, the fish itself melting in the mouth.
The Wagyu beef and mushroom were rich and indulgent, but the 'puff' pastry casing wasn't for me. I found the textures a little jarring, but that's just personal preference.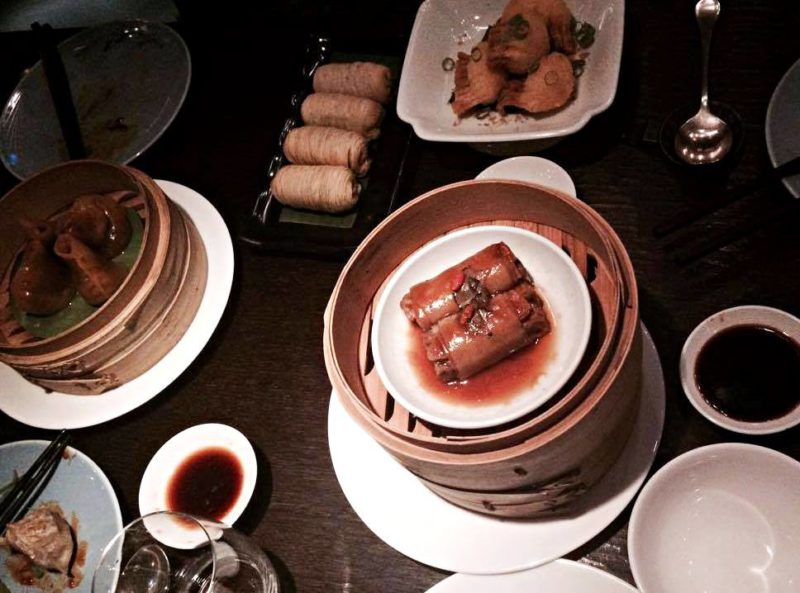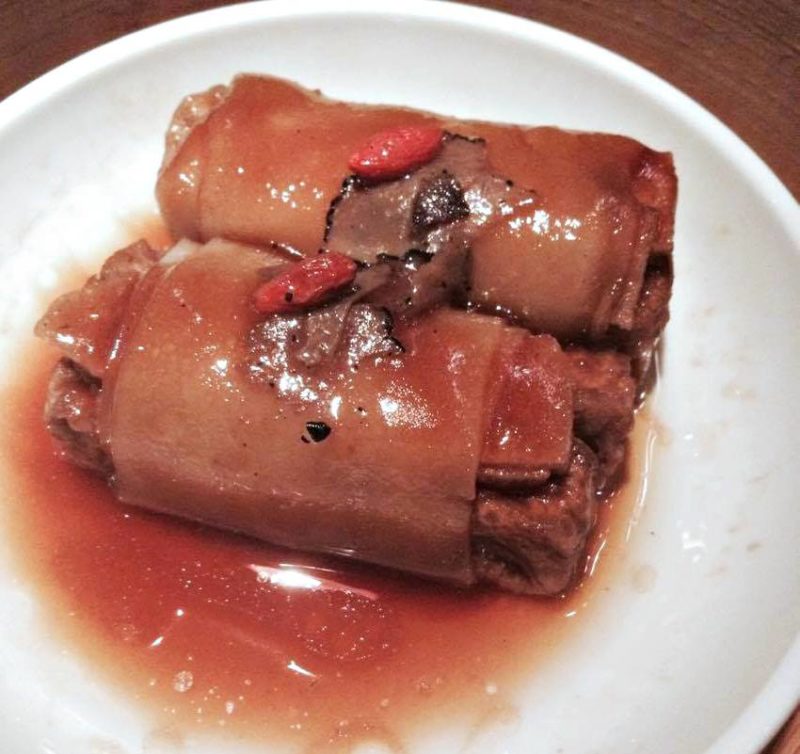 We had almost forgotten that we still had mains to conquer, but the small but perfectly formed Wok-fry rib eye beef with celery, dried tangerine zest and seasonal Chinese greens was too good to resist, no matter how satisfied we were with the dim sum feast. We all went for the red meat option, but the Sansei chicken with spring onion, dried chilli and sweet basil almost won me over first.
It was good to get up and move around after all of this rich food, but we didn't have far to go. Desserts are set out next to the live cooking stations, and they were the best I've tasted at a brunch in Dubai so far. The emphasis, refreshingly, is on quality over quantity, and though they were all gloriously calorific, I did my best to taste everything in the compact selection.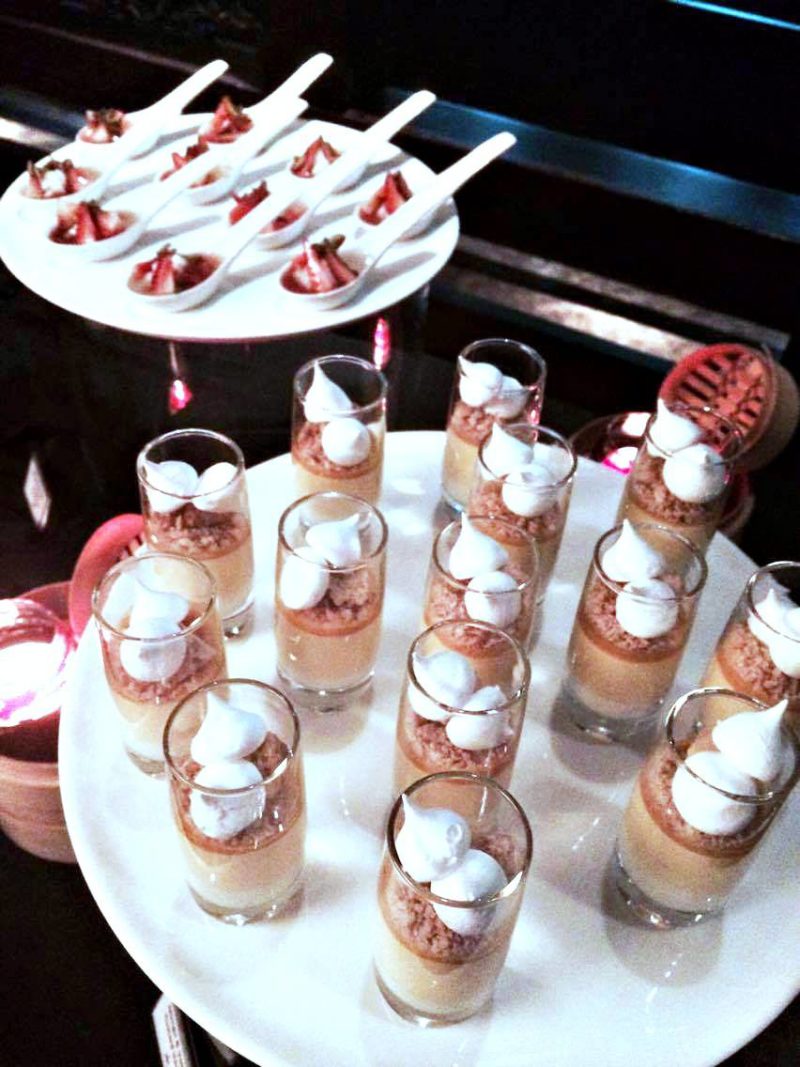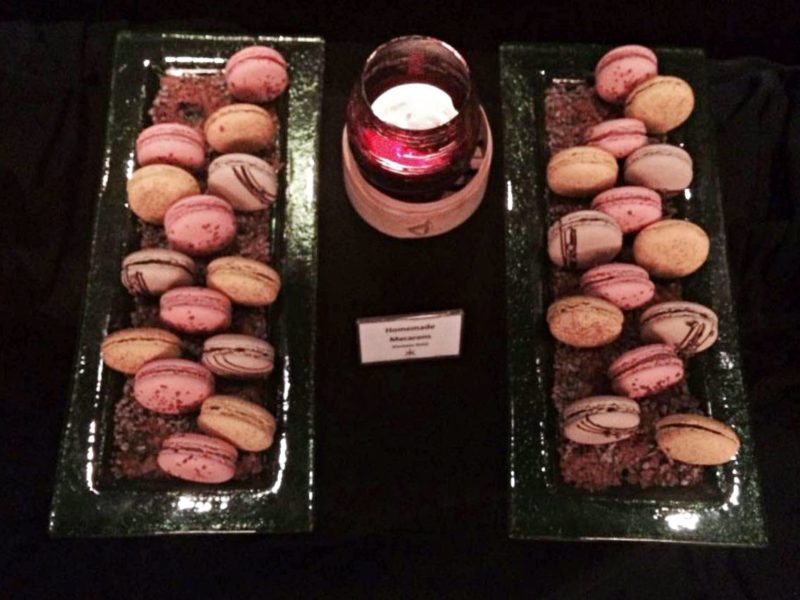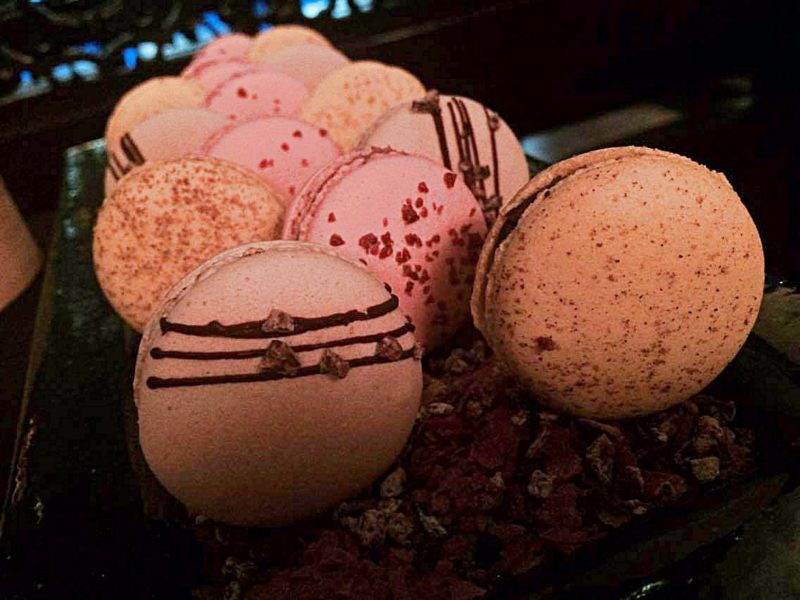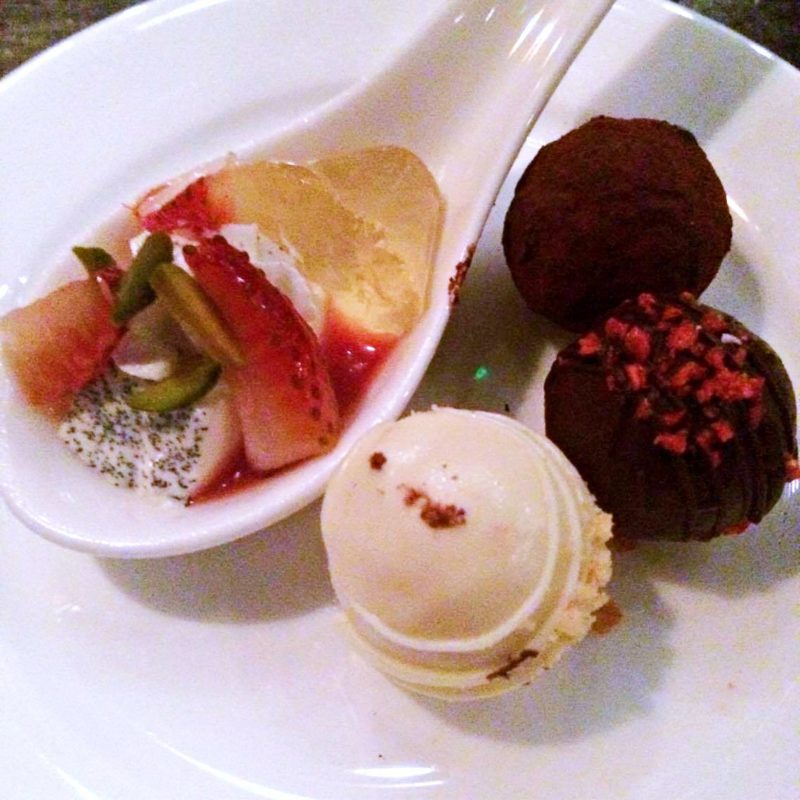 The fresh macarons were expertly made and the hand rolled chocolate truffles' lemon, chocolate and caramel centres spilled out like liquid gold when I bit through the powdered cocoa and split the hard shell.
All of this food takes time to digest, but the no-rush service and easy atmosphere at Hakkasan meant we didn't venture back into the humid outside until 6pm – and we'd arrived at 12. Testament to the quality of the food? Absolutely. I'll be back.