One of the major perks to living in Dubai is being able to casually charter a luxury yacht for a few hours at the weekend and sail around the Gulf. I've done it a few times in the past year, and it's always a guaranteed good day out. This weekend, I finally planned and executed my own yacht trip with the girls, and it was a success! And I'm terrible at being in charge of things, so I'm pretty pleased with myself.
Since I'm such a pro at living the high life now, I thought I'd share a guide to throwing a cracking yacht party, Dubai-style, so you too can pretend you're a baller.
How to throw the ultimate yacht party in Dubai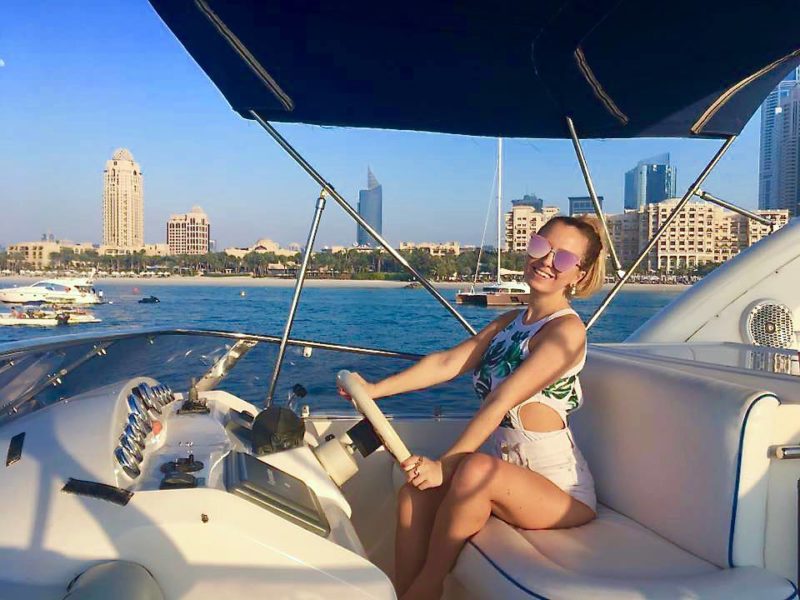 Planning your yacht party
Book your yacht
The easiest way to book your yacht is through Charterclick. Simply choose your party date, the time and the duration of your trip on their website – we chose to sail from 4.30 – 7.30 in the evening so we could catch the sunset – then select your vessel. We were on the Royal 50 which holds 15 – 20 people, and it had a perfect sitting area with a table for our buffet and drinks, a decent space to sunbathe and ample seating up top.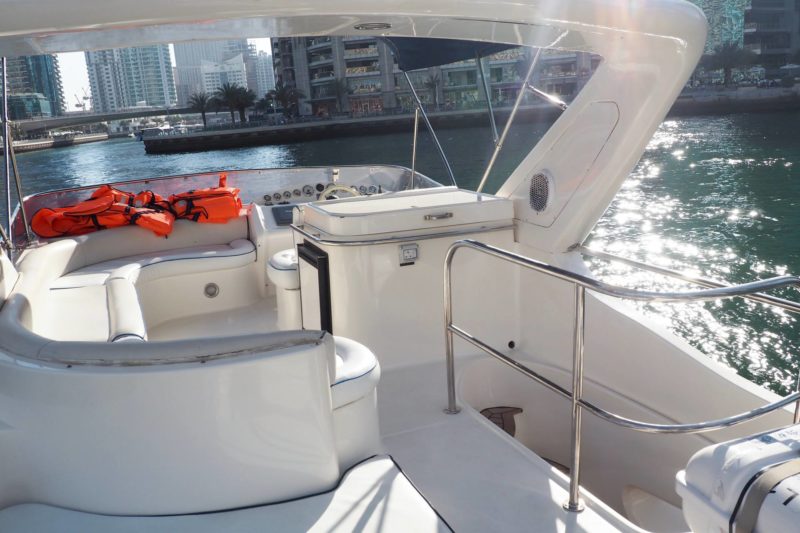 You'll receive a confirmation email and then you just turn up at the Marina on the day, call the yacht company and the captain will come and find you.
Like Uber, but for yachts. Only in Dubai, eh?!
Invite your favourite shipmates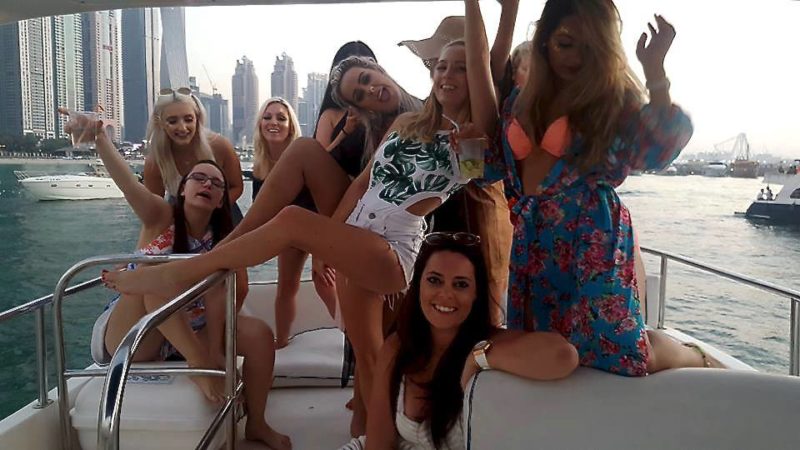 You don't need my help on this one – round up all your favourites via WhatsApp or Facebook and tell them to pencil a yacht party into their diaries. You'll be everyone's new bff.
Create a sundowner playlist


Aside from your friends, the other essential for any day out on a yacht is a decent soundtrack. We were an all-girl crew, and went to town singing along to Beyonce, Ed Sheeran, Backstreet Boys et al. I wouldn't be surprised if there were noise complaints all across the Marina thanks to us!
On the day
Get yacht party ready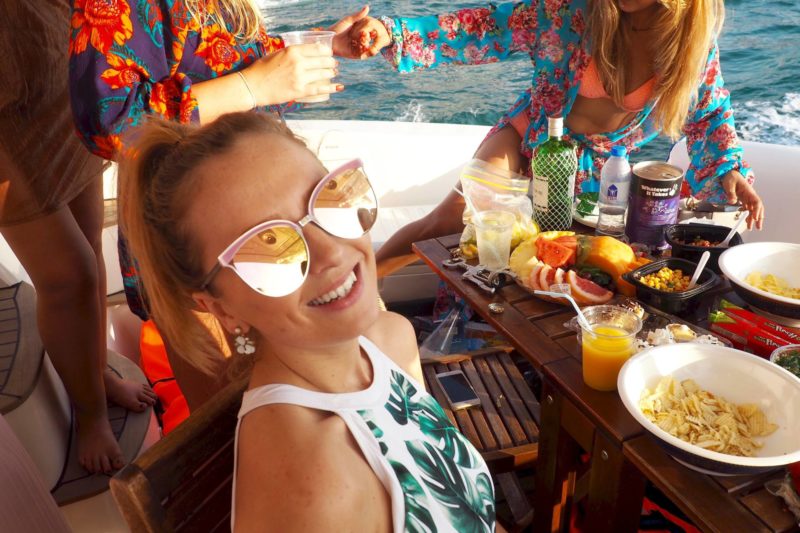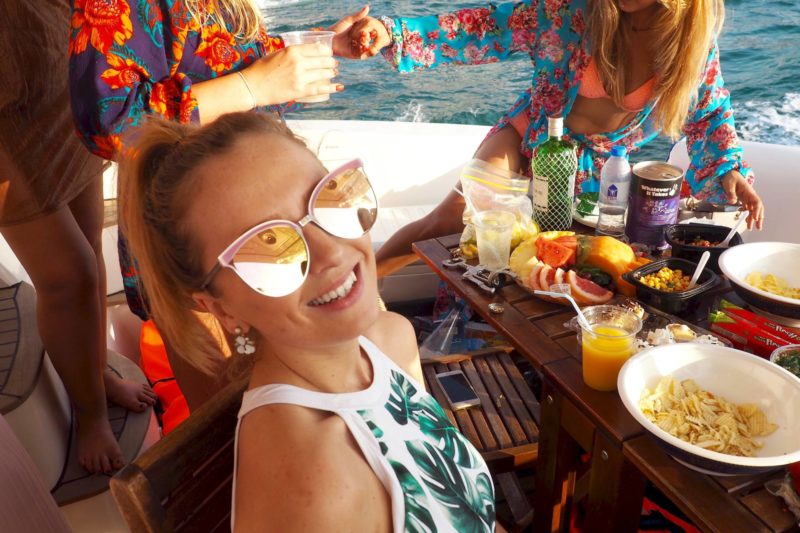 I'll do a full post on what to wear for a yacht party soon, but we favoured one-pieces, floppy sun hats, kimonos and playsuits. Oh, and lots of face glitter, because a yacht party is definitely a good excuse to sparkle like the Queen you are.
I actually had to head to the supermarket in a trench coat despite the fact it was roasting outside the morning of the trip, because my yacht party attire was a little too skimpy for the mall security.
#DubaiProblems
Don't forget your ID, to avoid issues with port control! And if like me you have a sensitive stomach or you kinda drank a lot of wine the night before, pop a seasickness tablet before boarding. Seriously.
Buy your food and drinks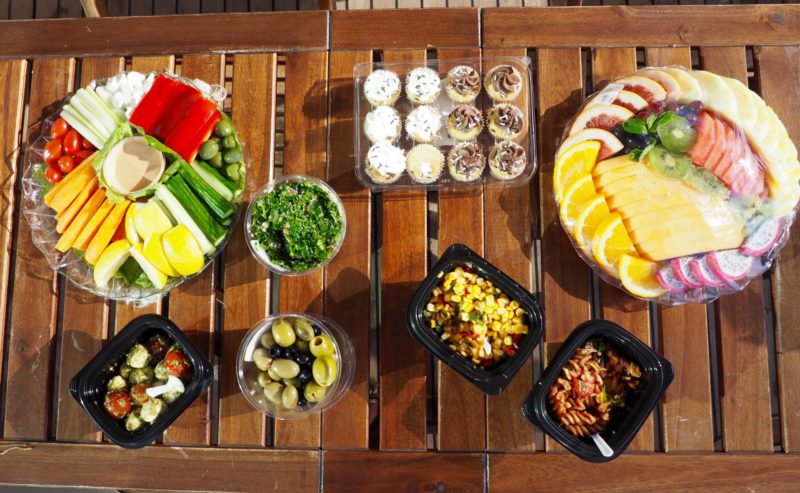 It's always nice to put on a spread, but you don't need anything heavy. Some crudités and fresh fruit platters, crisps and salads usually go down a treat.
And of course, enough booze to sink the ship.
Channel your inner tramp and just take a shopping trolley loaded with your bevs, food and ice to the pier, and get the crew to load everything aboard.
Know your route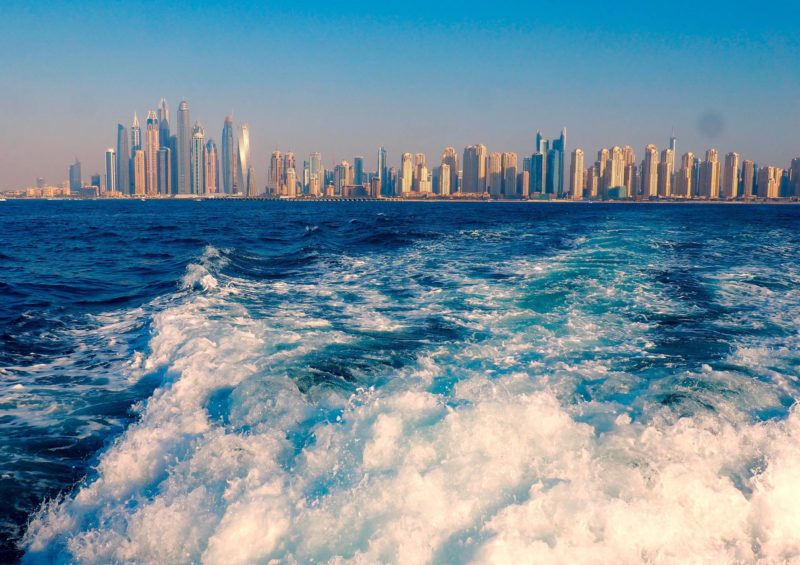 In the past, the yachts I've been on in Dubai have sailed past the Burj Al Arab and around the Palm, but for this one we stopped in the lagoon at the other end of the Marina.
Jet into the sunset
Ok, so the yacht crew aren't liable if anything happens to you and personally I'm too scared of accidents to get on one, but a few of the girls jumped on the back of the jet skis that circle parked yachts like sharks for a ride.
Strike a pose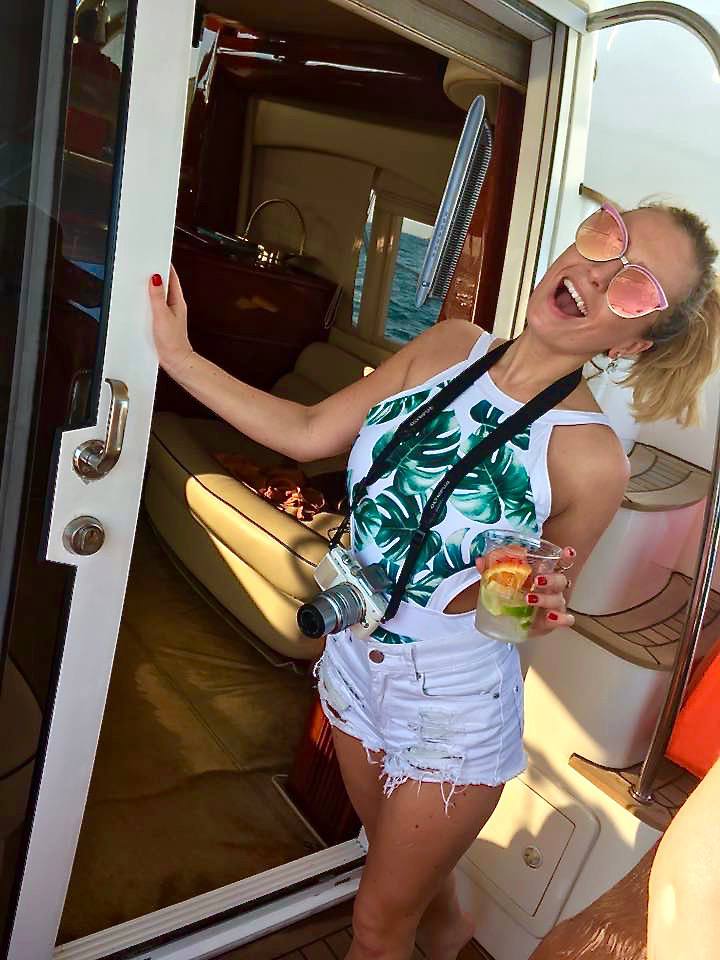 Or you know, 500 poses to plaster across Snapchat, Instagram and Facebook.
Is there any point in chartering a yacht if you don't post it all over social media with #blessed #MyDubai? Pics or it didn't happen.
Don't hate the players, hate the game.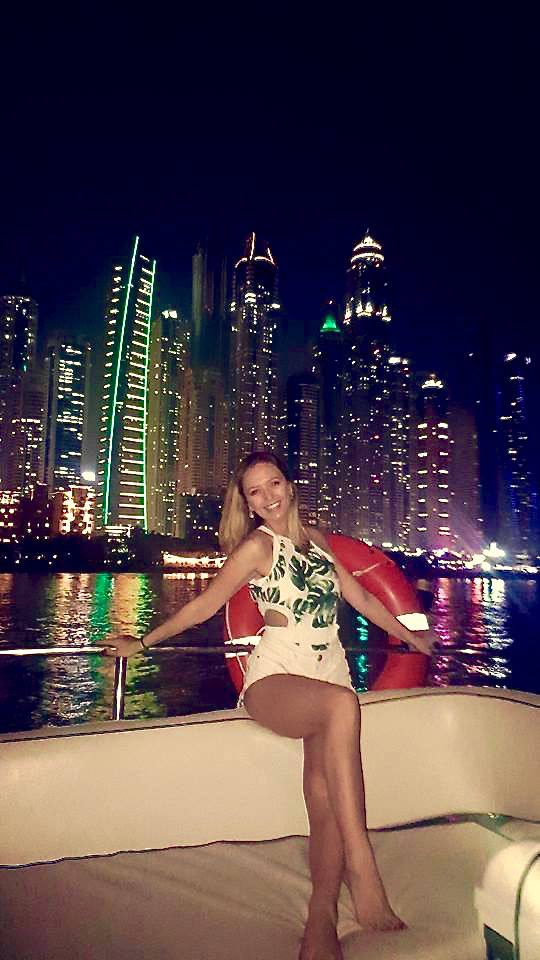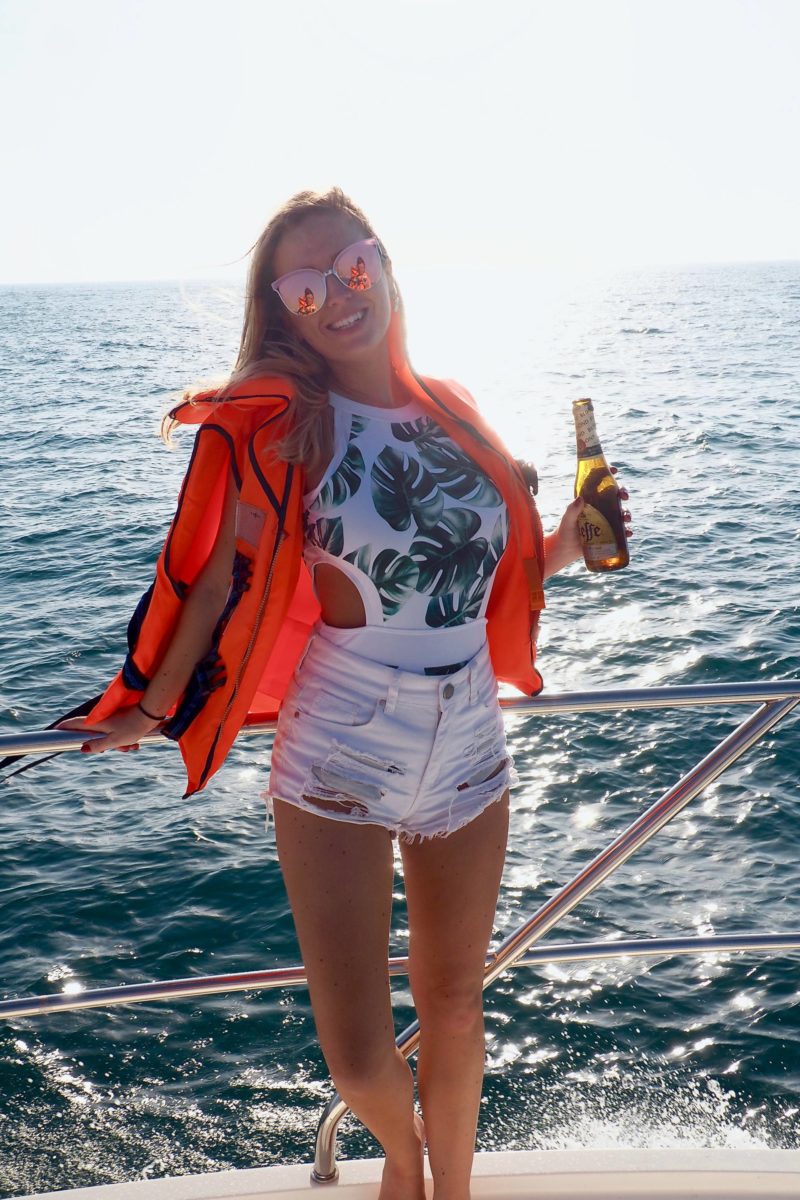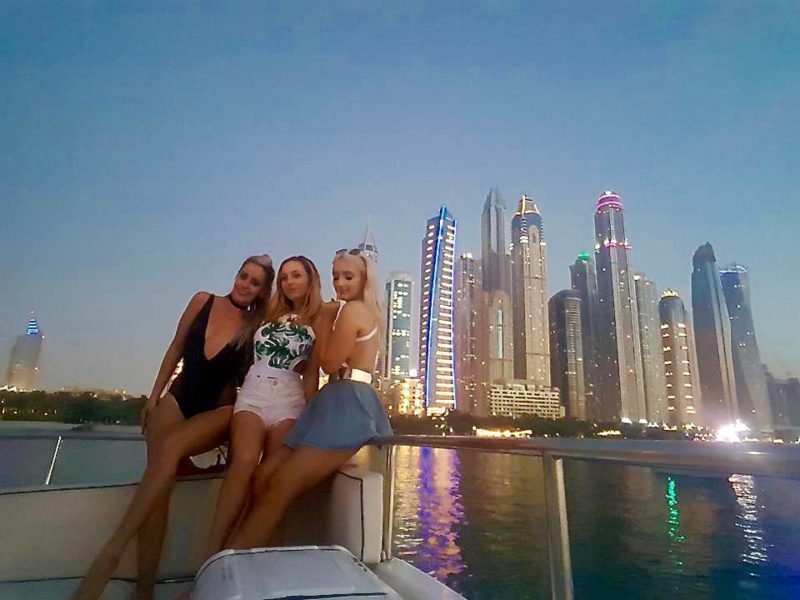 Props are also fun for photos, especially inflatable swans and the like. The life jackets the crew will try to make you wear while the coastguard is around are pretty hilarious.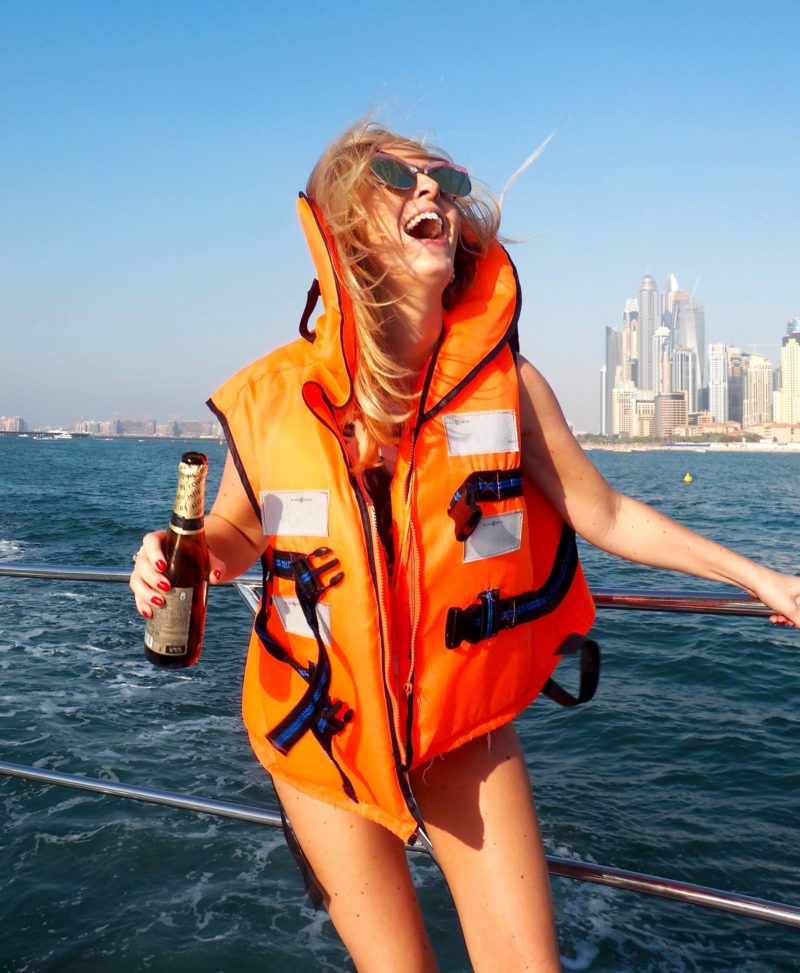 Beyond that, you bring the fun. Renting a yacht is one of my absolute favourite things to do in Dubai because it has the tendency to make you pause while you gaze out at the city skyline and think, how is this my life? 
And really, those moments make every expat struggle, every traffic jam on SZR and every killer rent day worthwhile.
Get our yacht party style
I hope you like my yacht party guide! You can follow While I'm Young on Facebook, Instagram and Twitter for exactly the kind of annoying posed photos exemplified above. And if partying on a yacht in Dubai is on your travel bucket list, you can pin this post for later!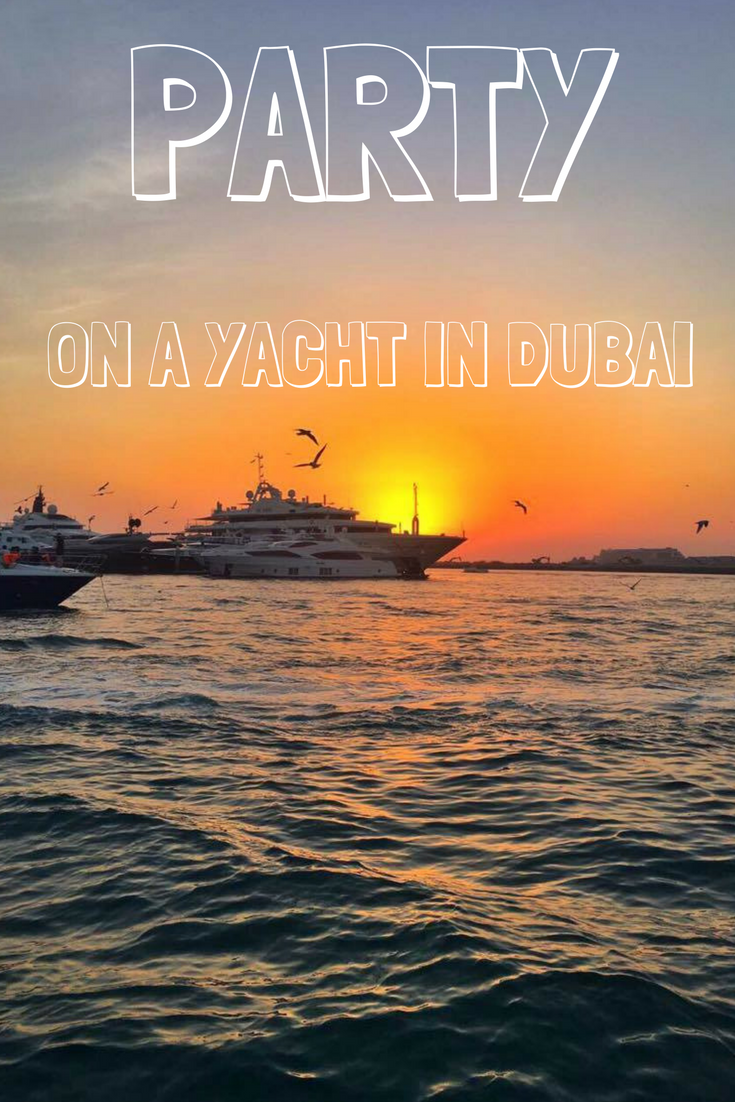 This post is a collaboration with Charterclick but do I really need to tell you that my views about acting like a princess on a yacht are my own? Nope.