We had partied our way around New Zealand's South Island and down the East Coast of Australia, and the final leg of our three month adventure had finally rolled around. South East Asia was the part I had been most looking forward to, because to me, real travel takes you out of your comfort zone and thrusts you into surroundings entirely different from those you came from. That's what SE Asia signified for me: a new experience.
It was now my turn to sleep with the folder that held our life under my hostel pillow, as C handed the reins to me. Though I had planned this part of the trip, I had only vague ideas. I'm more of a… 'turn up and see what happens' kind of traveler, which was fortunate, because we quickly realised that was kind of the only option in this crazy part of the world.
We flew from Melbourne to Kuala Lumpur, and the journey was quite eventful. On the plane, C walked in on an old man in the toilet and had to order a vodka to recover, then when we arrived in Bangkok, we realised our luggage had been left in Malaysia because the airline hadn't sent our bags on. I spoke in an assertive voice for a while but it became clear we wouldn't be getting our belongings back until the next flight came in from KL, and this set the tone for the laid back approach to organisation we came to embrace.
After a restless night's sleep on the floor in Bangkok airport, we caught a 6am flight to Koh Samui, where we were meeting the Sunderland boys; Dan (uni flatmate who had spent the past year in Melbourne), Tom (his cousin), and Ashton (their friend). It felt really surreal to be sneaking into a strange apartment on this unknown island, with only the boys' semi-useful directions to the room they were sleeping in to guide us.
Unfortunately we didn't get to see much of Samui because we were heading to the (in)famous Full Moon Party so, to put it romantically, we were chasing the moon.
After a sleep, we had our first bottles of Chang over breakfast, then we piled into the back of a truck and returned to Koh Samui's quintessentially Thai airport to reclaim our luggage. Then it was to the port to catch a ferry to the backpacker's Mecca – Koh Pha Ngan, home of the Full Moon Party.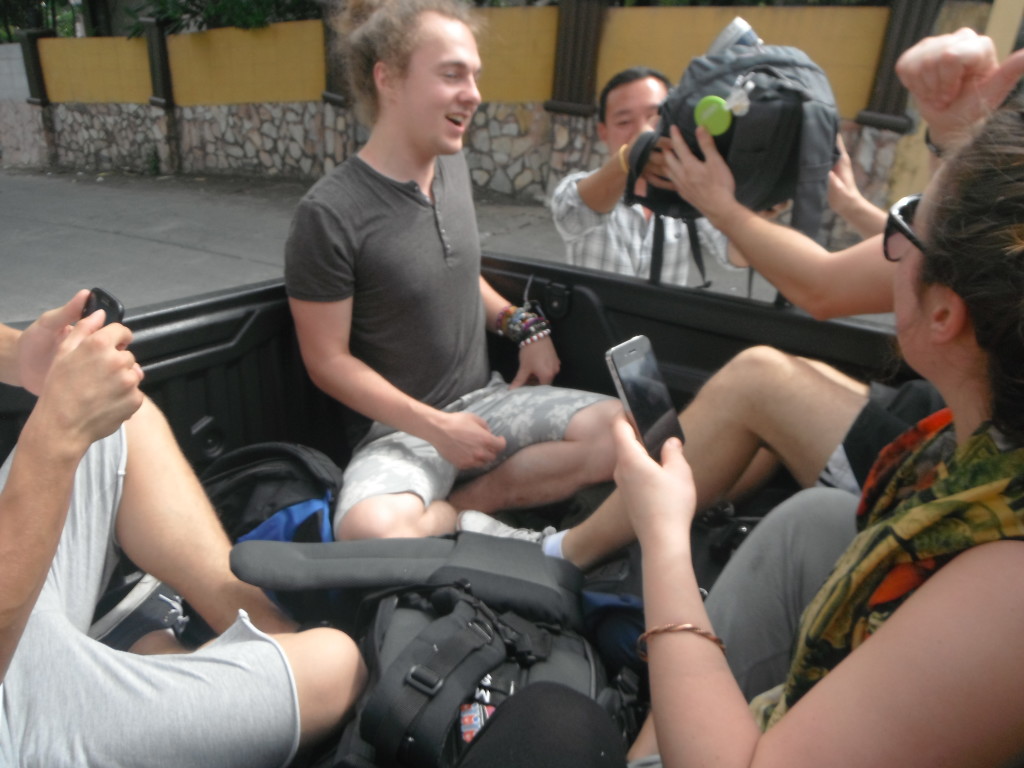 I felt a bit uneasy when the ferry we were to board unloaded a hoard of people who looked more like tanned zombies than backpackers. A boy in a neck brace was carried off the boat on a stretcher, with a lady running next to it carrying his drip. What did Pha Ngan do to people?
Undeterred, we sipped beers in the warm, sticky air as we sped towards one of the best experiences of the trip.
Next stop: Koh Pha Ngan!
Like While I'm Young and Skinny on facebook and say hello!