I've been craving a taste of home lately so decided to kickstart my birthday weekend with Afternoon Tea at Fortnum & Mason with my friend Lauren, who just celebrated her own birthday. It really was a little slice of Piccadilly in Dubai – but with a view of the world's tallest building and a balmy breeze in the air.
Please note: Dubai's Fortnum and Mason no longer exists but these photos were too pretty to delete from my site!
Afternoon Tea with a view in Dubai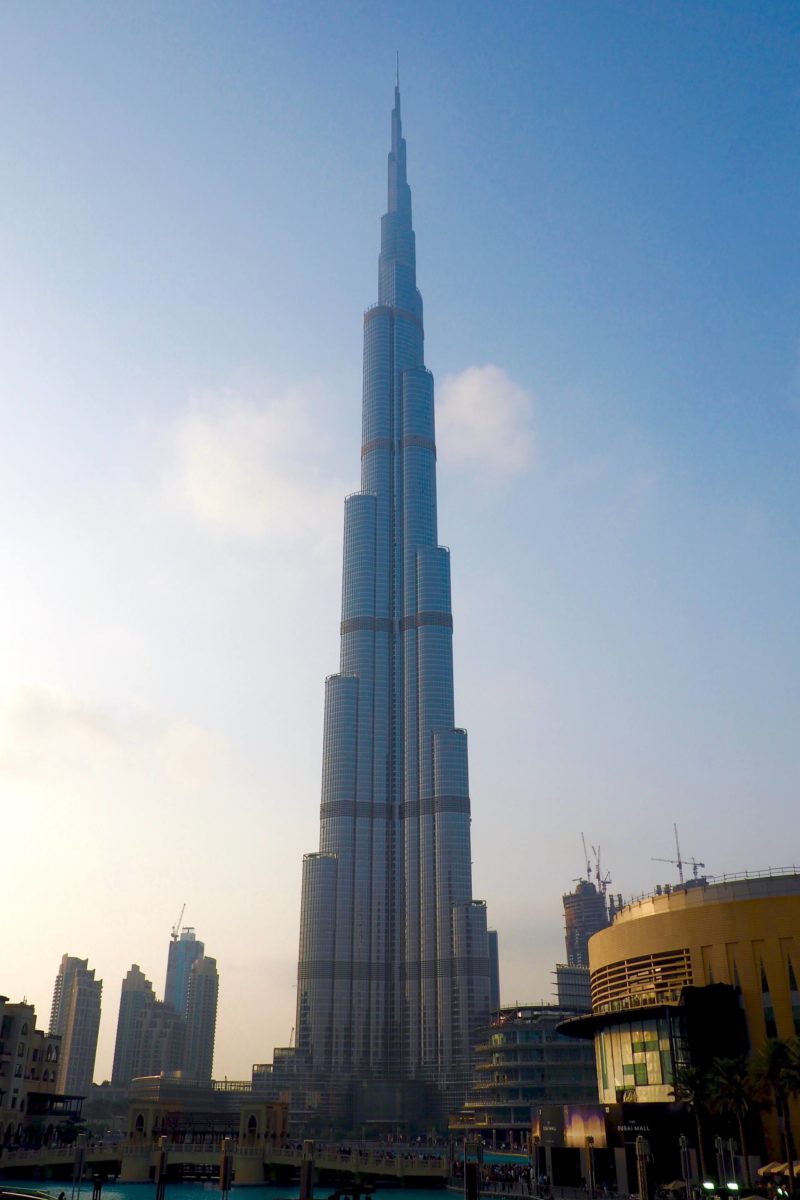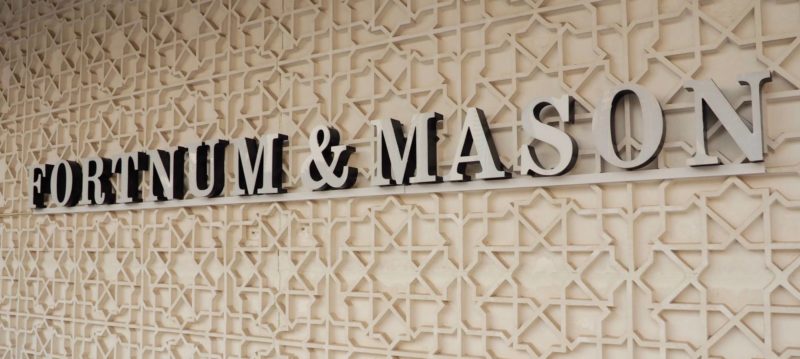 Why don't I go Downtown more often?!
A little bit about Fortnum & Mason
Fortnum & Mason is famous for it's traditional Afternoon Teas. I love an eatery with a story, and F&M certainly has a tale to tell. It first opened in London in 1707, before Dubai was even a concept! Mr Mason played a role in bringing the humble baked bean to England, and he also invented the Scotch Egg – a fact I just had to share with my Canadian colleague, who recently discovered the British snack and can't quite get her head around the idea.
I swear my colleagues and I spend more time discussing food than we do working. One of the best things about working in a multicultural office is learning about different nationalities' favourite snacks. I have to say though, nobody does tea and cake quite like us Brits.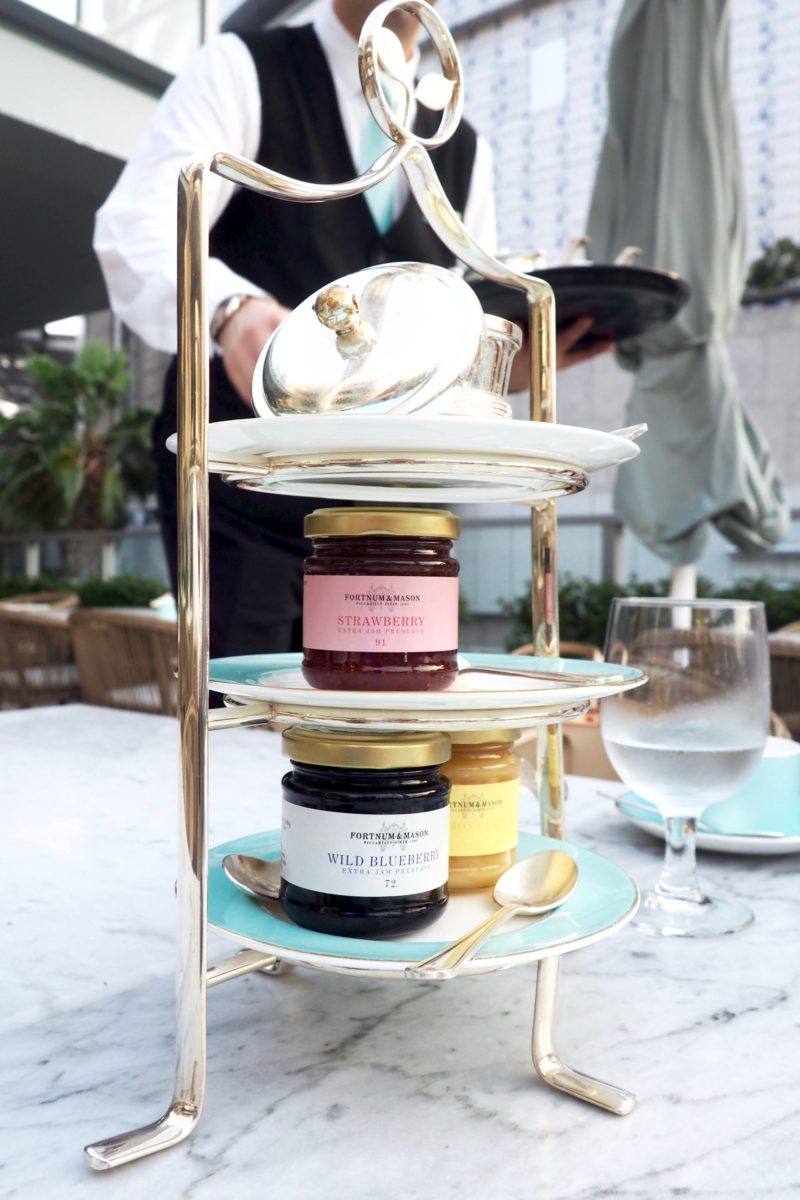 F&M's Afternoon Teas are served in beautiful 'Tea Salons' decorated in ice-cream pastels, and the Dubai restaurant, like all things here, really elevates the elegance. It's in Downtown Dubai,  right next to Dubai Mall and directly opposite the Burj Khalifa and Fountains. A pretty ideal location for a sunset Afternoon Tea, I think y0u'll agree.
Our very civilised evening
We sat out on the terrace, the Burj (or The Big Lad, as I affectionally call him) towering over us. First, we chose our tea – I've been served a subpar cup of Dilmah far too many times since moving here, but Fortnum & Mason take their cuppas seriously. We were overwhelmed by the selection, and I finally settled on a Green Earl Grey with a delicate bergamot scent. Lauren went for a refreshing Moroccan Mint. They were served in mint green teapots, complete with tea strainers.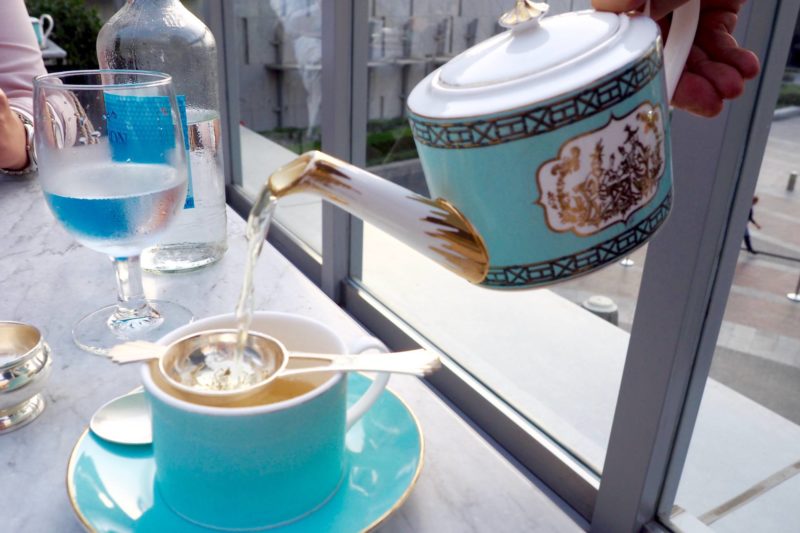 We also had champagne flutes filled with Elderflower Fizz so we could toast our lives in Dubai, our love of faking fancy, and our beautiful view.
Our lovely waiter then presented us with a three-tier cake stand laden with goodies. The bottom plate was filled with delicate finger sandwiches, perfectly cut into rectangles with the crusts off. My favourites were the Smoked Salmon with Lemon Dill Butter and the Cucumber with Mint Butter. Despite being so dainty, they really filled us up and we declined the waiter's offer to bring us more.
Next, some crumbly scones, which we loaded with indulgent Somerset Clotted Cream and F&M preserves. Quintessentially British and absolutely delicious.
Yes, I'm the girl who pops unfinished jam jars in to her handbag for midnight snacks. I'm not ashamed. You can take the girl out of Isle of Man…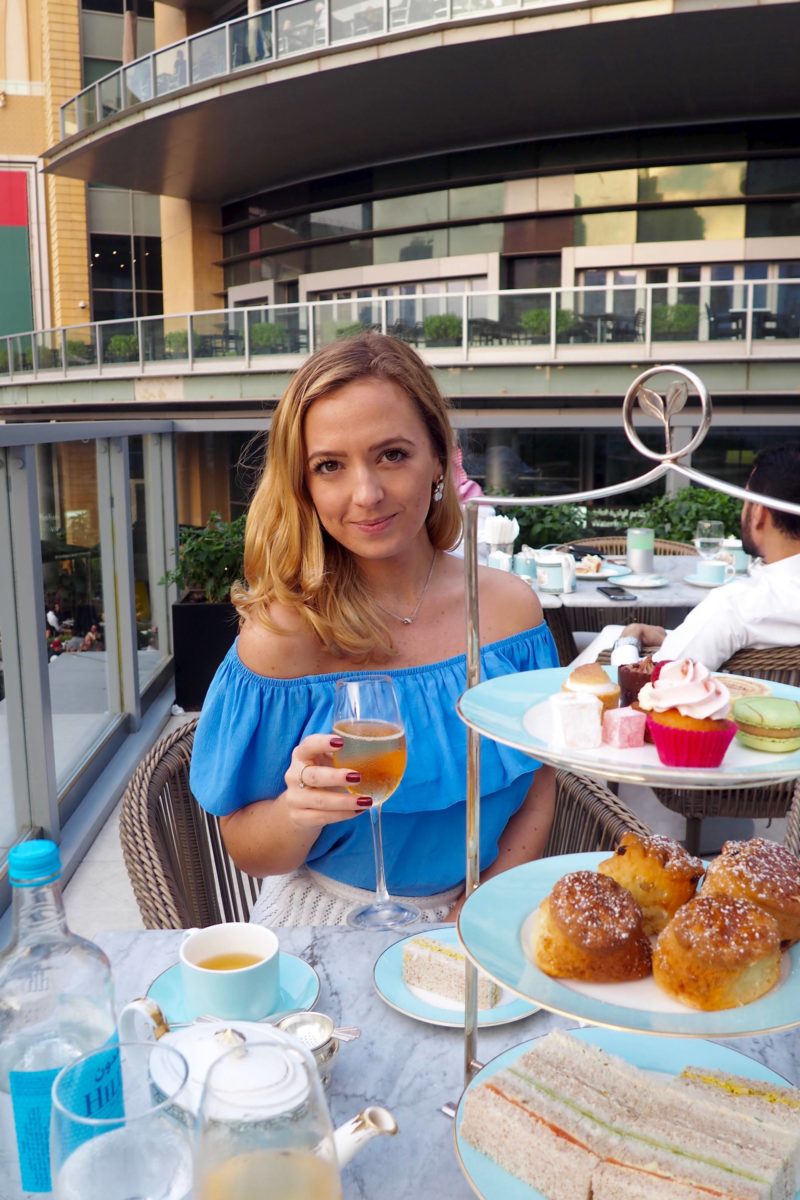 We spoke with fake Mary Poppins accents while we gossiped about everyone we knew and planned our outfits for brunch the next day. Don't you just love those friends who you can chat to for hours and never run out of conversation topics?
We could so easily have been taking our tea back in London, had it not been for the supercars parked underneath us (I just love laughing at overexcited tourists posing next to them!)
The terrace began to fill with chic locals and the sky slowly took on pink hues as the sun set over the Downtown skyline, eventually darkening to a moody blue while the Burj Khalifa glittered to life.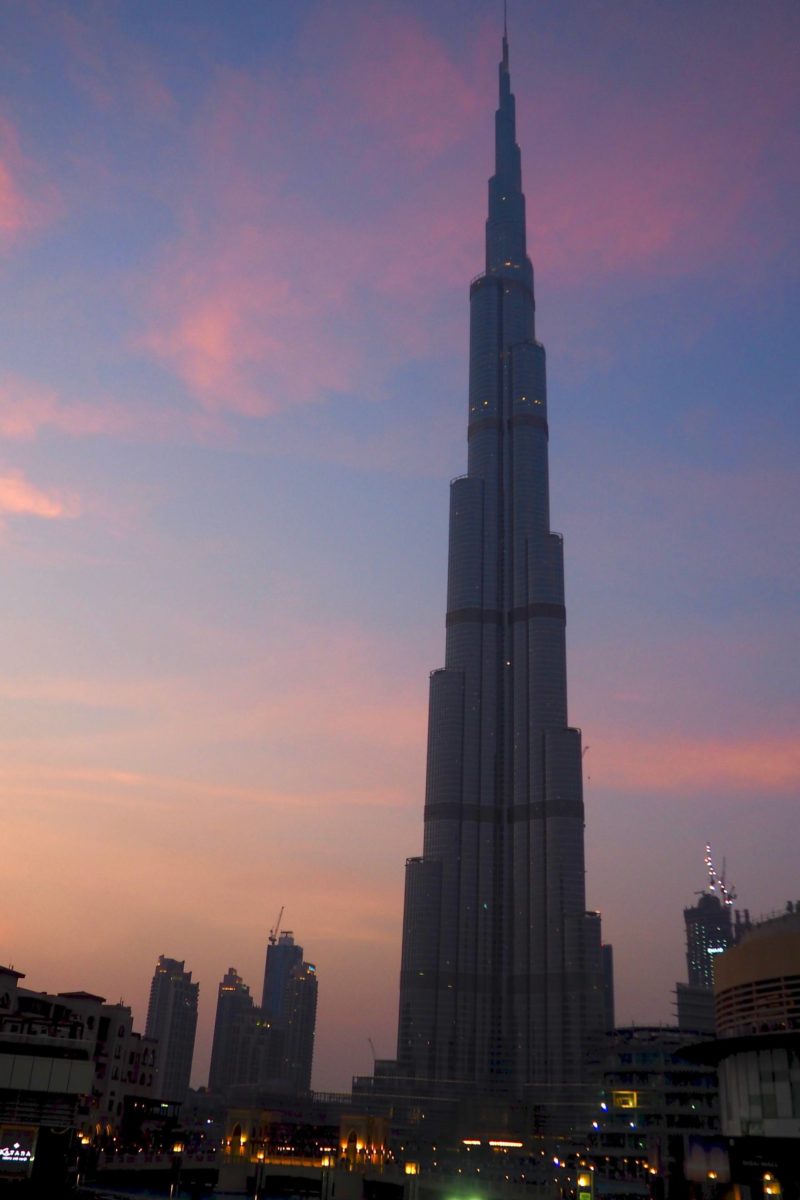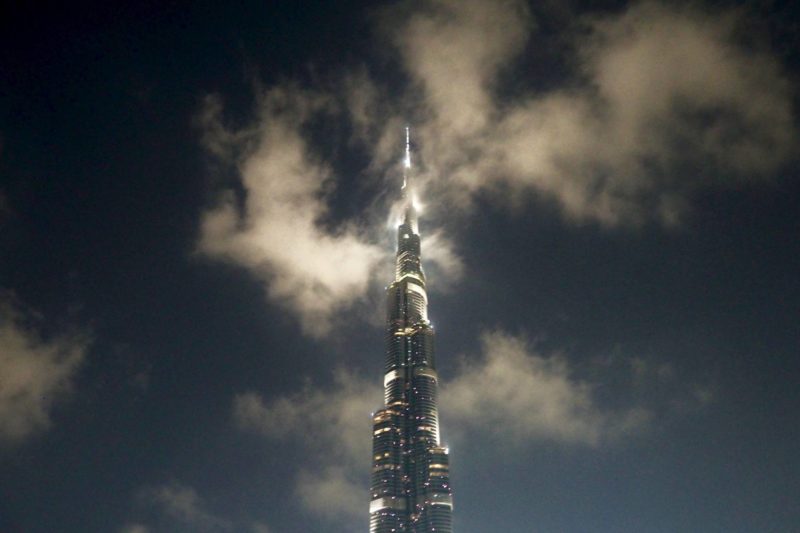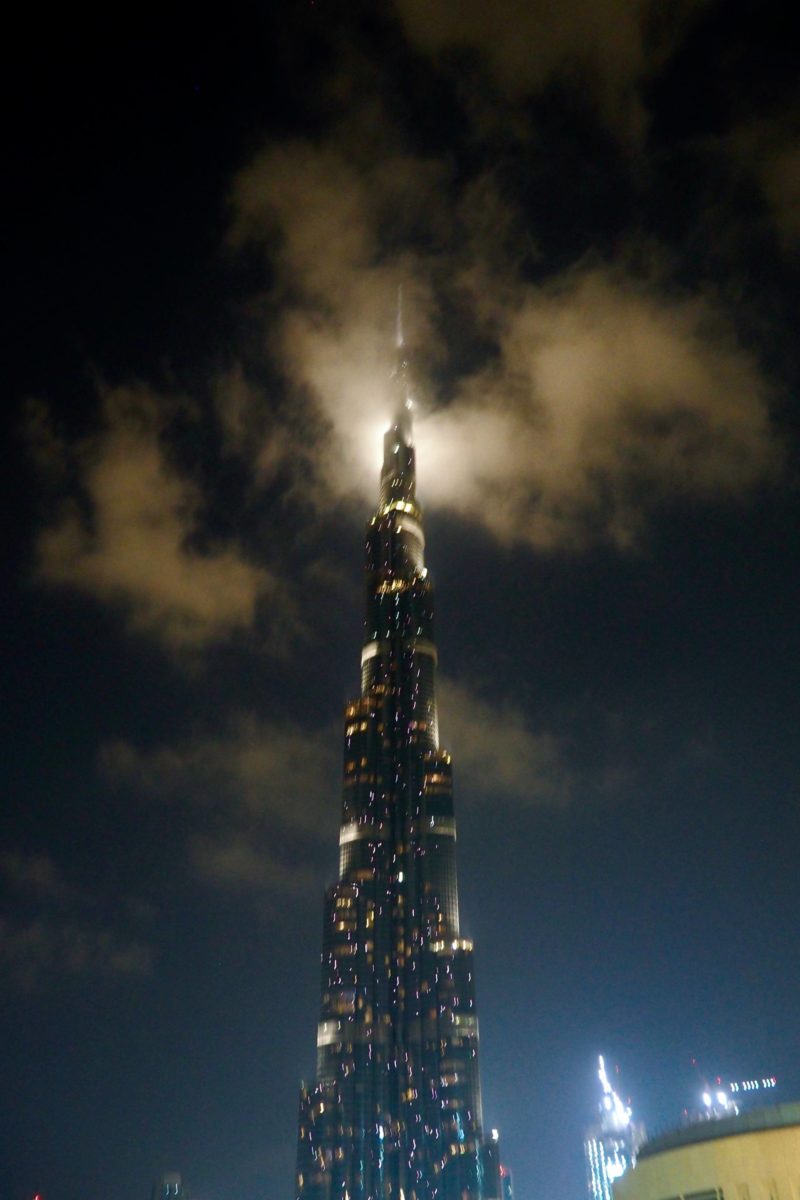 The bite-sized desserts were truly decadent: jam role poly, miniature cupcakes, squares of sweet Turkish Delight, lemon meringue, Lauren's first ever macaron (I still think macarons are overrated, but this one almost had me convinced!), and tiny chunks of moist gingerbread with buttercream and fresh raspberry.
As we left to delve in to Dubai Mall, the waiter called after us that there was more cake if we wanted it – but we couldn't have eaten another thing!
If you're looking for someplace sophisticated in Dubai to take guests or just want to imagine you're back in Blighty sipping a proper brew (you'll have to turn your back on the view, I guess), I definitely recommend Afternoon Tea at Fortnum & Mason. We could easily have sat there all night – and we didn't leave until after 7.30.
Get our Afternoon Tea look

We were guests of Fortnum & Mason but all calorie-focused enthusiasm is most definitely my own. You all know how much I luv da cake.
If you enjoyed this post, you can pin it for later and follow While I'm Young on Facebook, Twitter and Instagram.
All photographs were taken on my Olympus Pen E-PL7.