When  I went down to Manchester for the incredibly swish Northern Blog Awards ceremony, it was important to me to stay in an equally swish hotel in Manchester's city centre. Enter, ABode Manchester.
Just along the road from Piccadilly Station in a former textile factory, ABode Hotel certainly ticked the box when it came to location. We checked in, enjoyed a slap-up three-course lunch in Brasserie ABode where I ate LOADS even though I had to slip into a figure-hugging dress for 6pm (oops), and headed upstairs to get ready for the awards ceremony. Here's a look inside our 'Enviable' suite at ABode Hotel and my thoughts about what makes the hotel a lovely place to stay.
ABode Manchester Hotel review
Lunch at Brasserie ABode
We walked through the stylish bar and went downstairs to the hotel's tastefully decorated on-site restaurant, Brasserie ABode. I really love the decor here, and was taking notes to keep in mind for my own interior design efforts.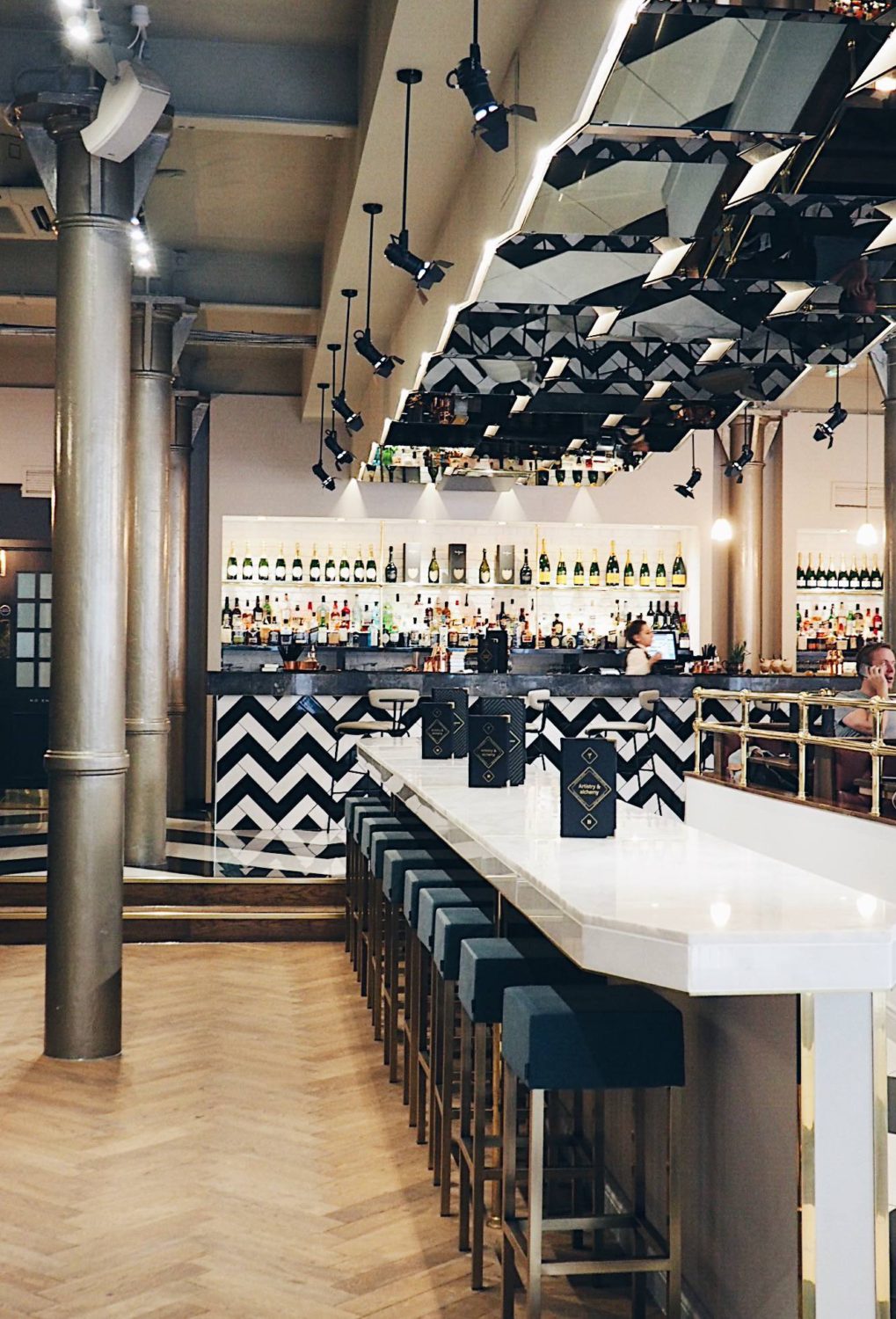 A lot of diners were opting for the Steak Frites & Bottle of Malbec for Two for £30 deal, so we decided to follow suit – but we were extra hungry after our drive from Sunderland so we added more courses!
To begin, Tom ordered smoked chipolatas with spiced onions. The Indian flavours took us by surprise a little –  but it was definitely a good kind of surprise.
I had the smoked haddock scotch egg. The crisp breadcrumb coating gave way to a wonderfully smoky haddock layer, all wrapped around a very slightly runny boiled egg. This was served in a crab bisque for extra flavour. Delicious!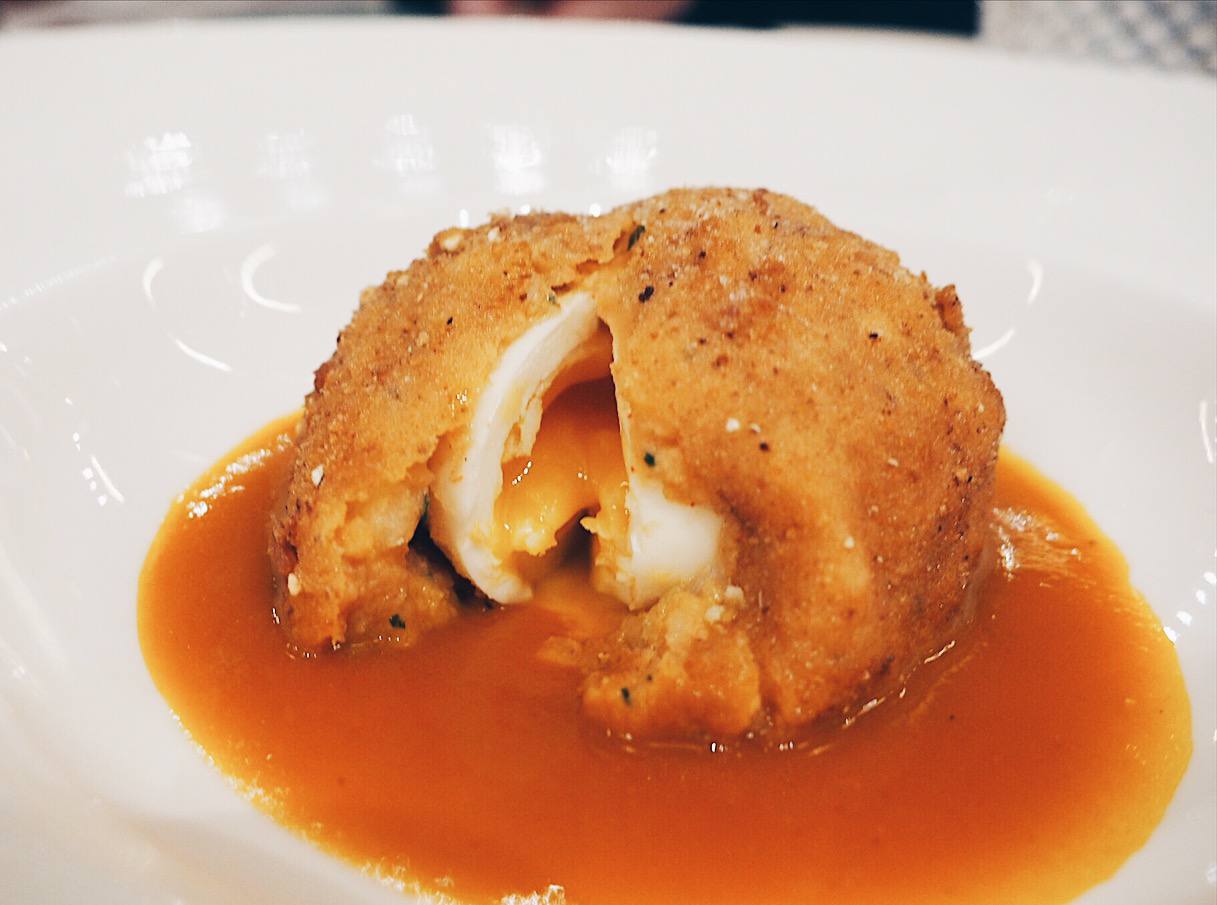 I'll be honest, our steak frites didn't look like much when they were placed before us, but it was actually a super satisfying, tasty dish. We ordered peppercorn sauce on the side.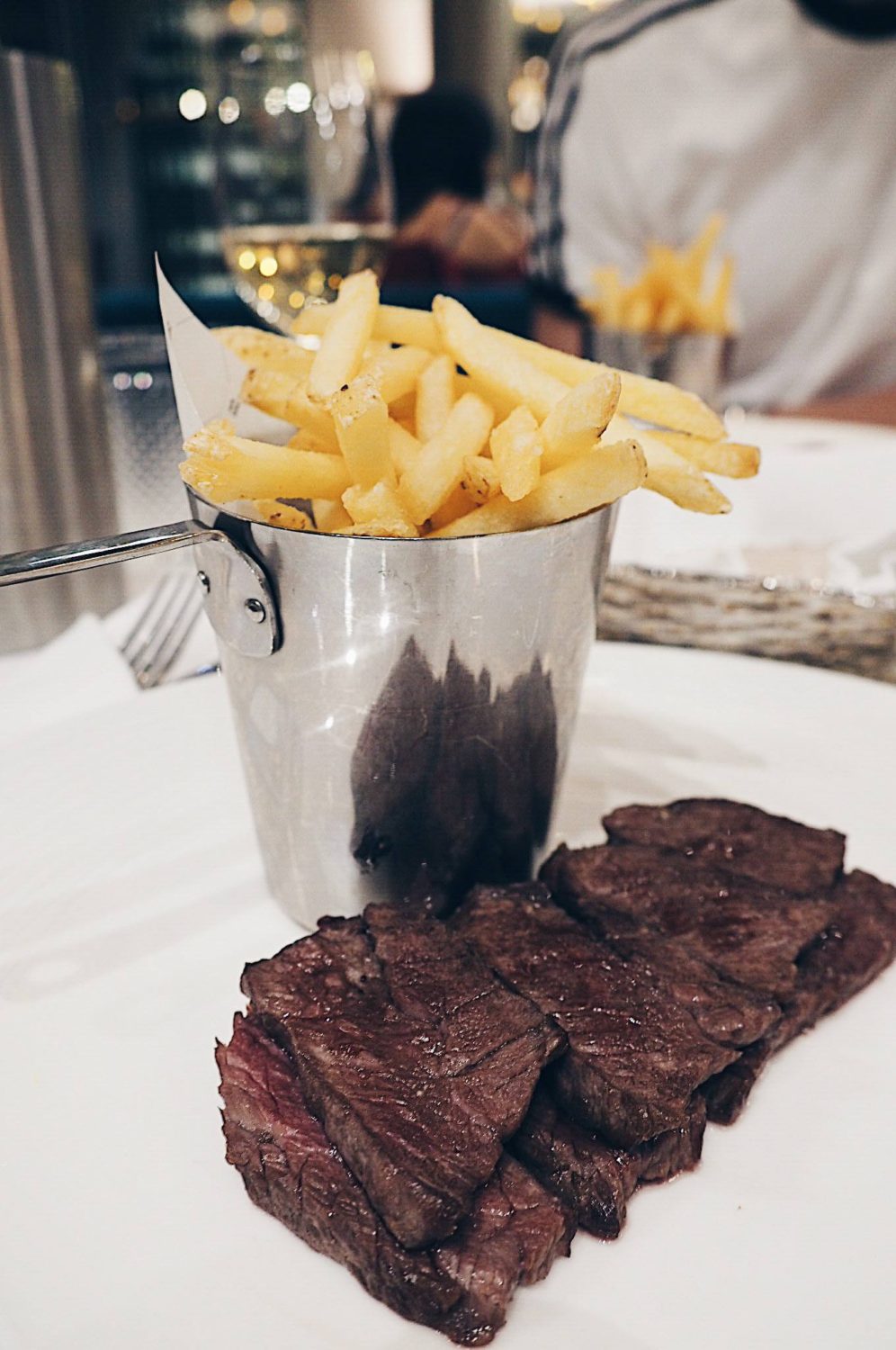 I was massively jealous of Tom's sticky toffee pudding dessert but just don't think I could have managed it after our main course! I did manage a few stolen spoonfuls though, purely for research purposes…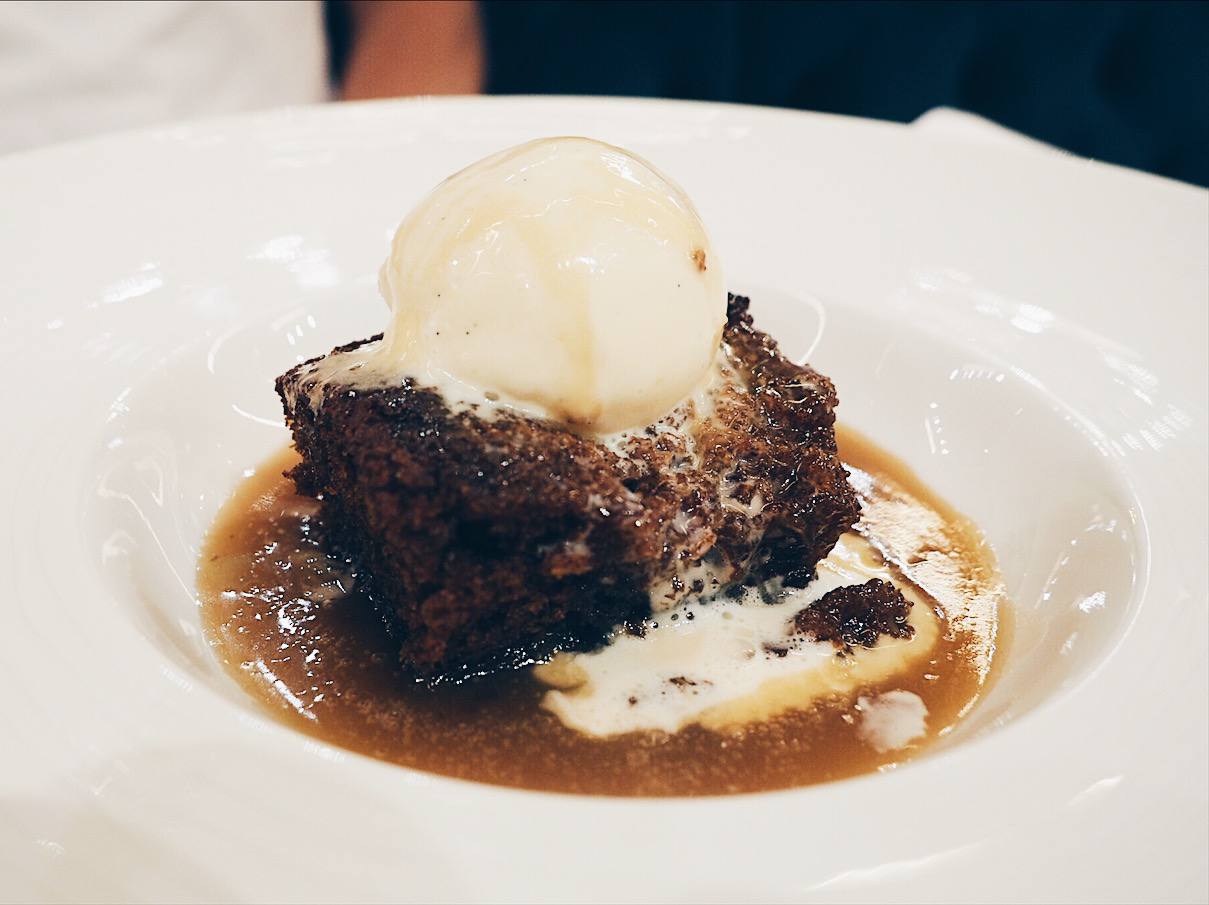 I went for the slightly lighter pineapple 'carpaccio' with coconut ice-cream, which was like a deconstructed pina colada on a plate. Yum!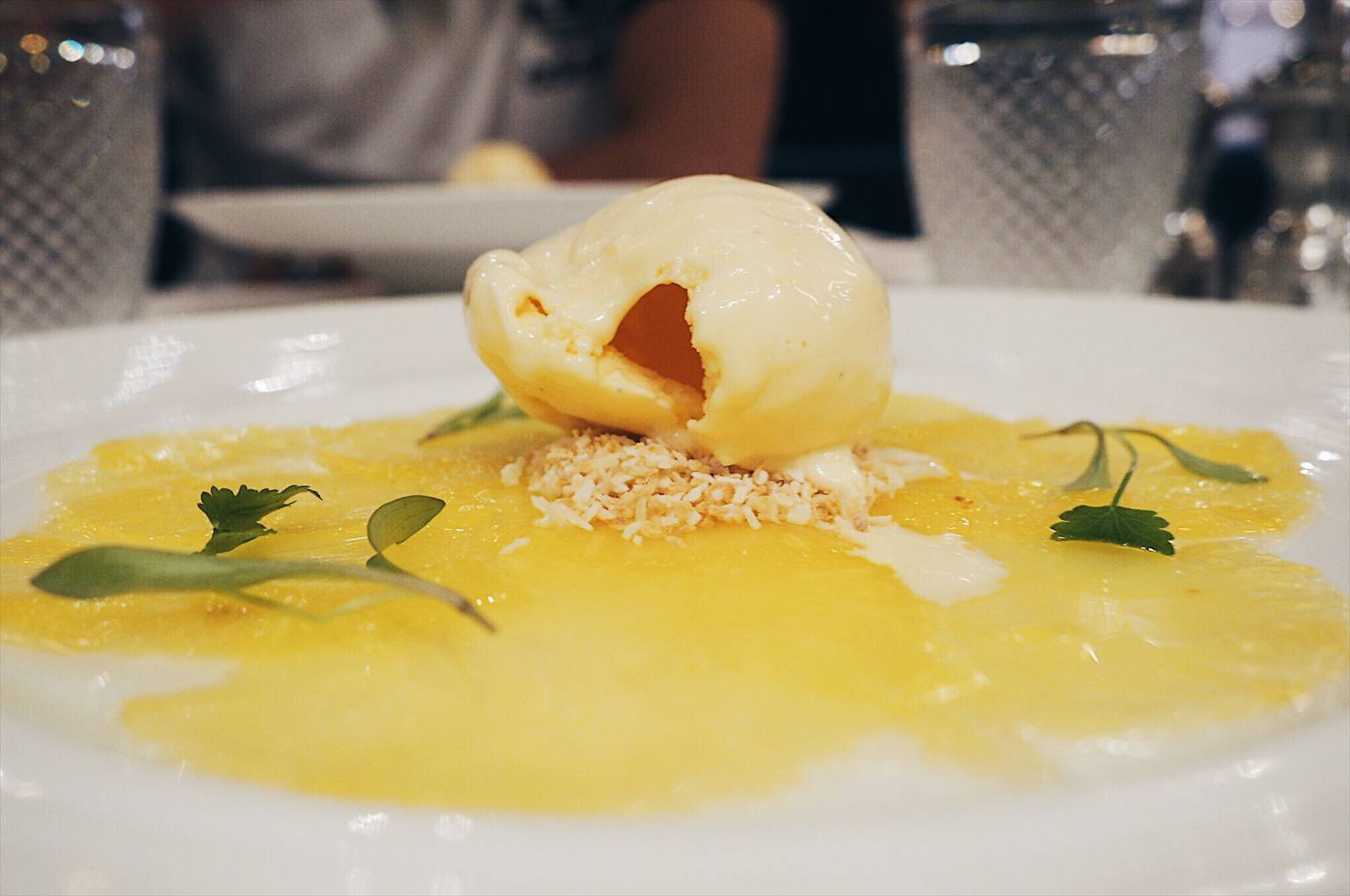 Brasserie ABode really is a lovely setting for fine dining, and I think it would be especially atmospheric in the evening. We wouldn't have hesitated to book in for dinner if we hadn't been otherwise engaged.
Our room at ABode Manchester
You guys know I love a hotel with character, and ABode Manchester's is reflected in the suites' parquet flooring, ironwork columns and high Victorian ceilings. Our room on the fourth floor had warm, earthy tones in the countryside-style armchairs and bed runner, but there was still plenty of light for that all-important make-up application.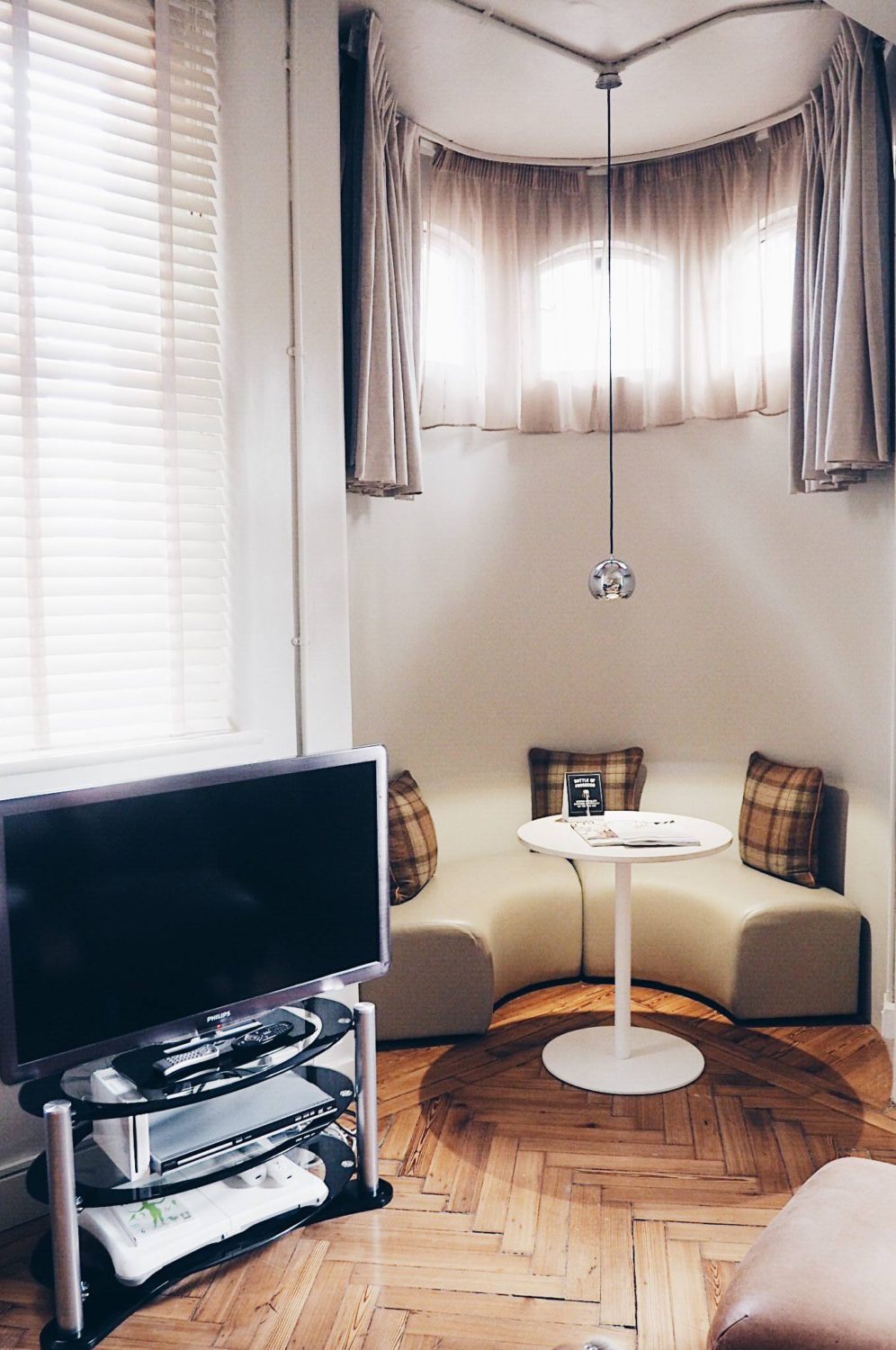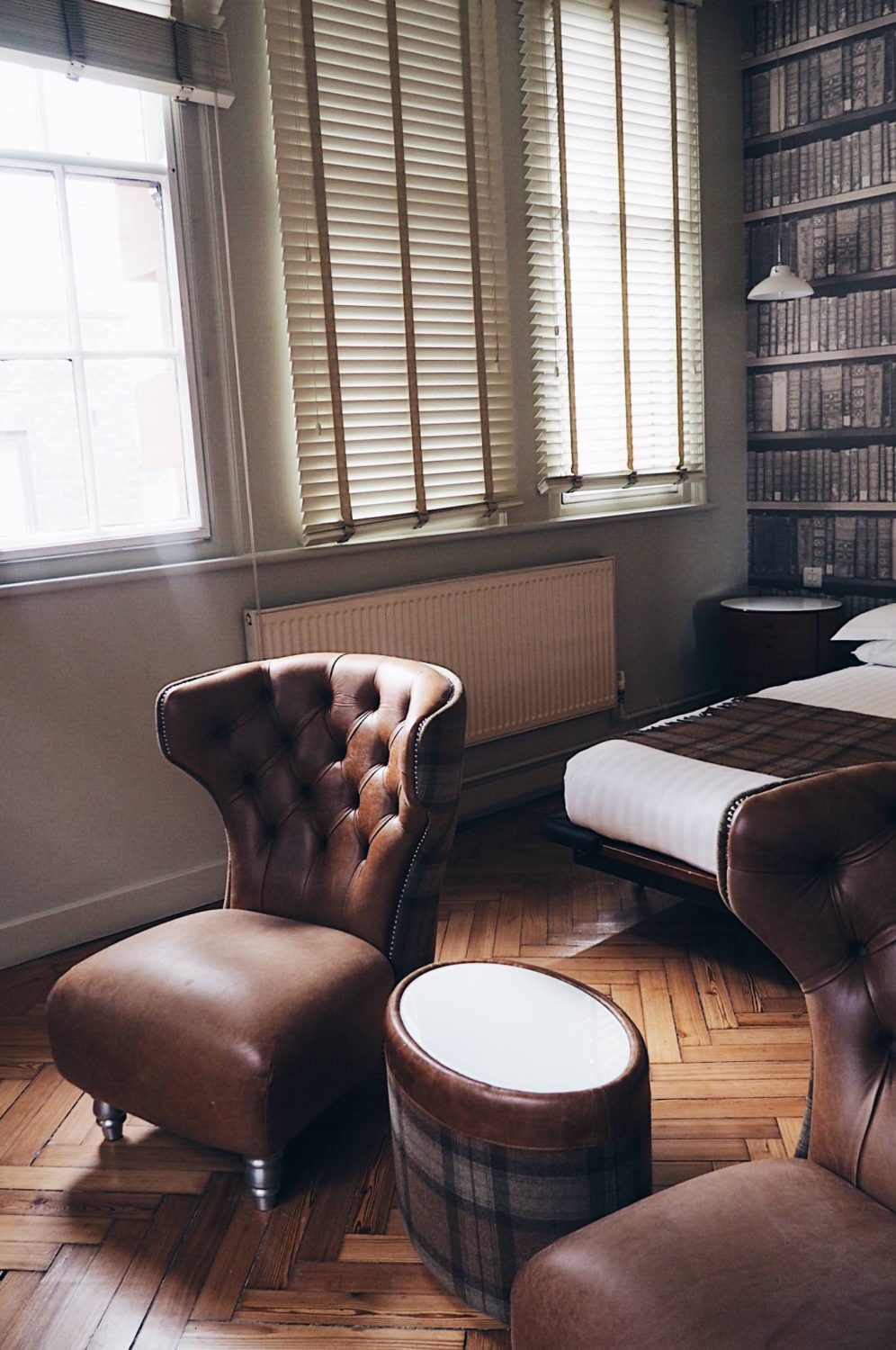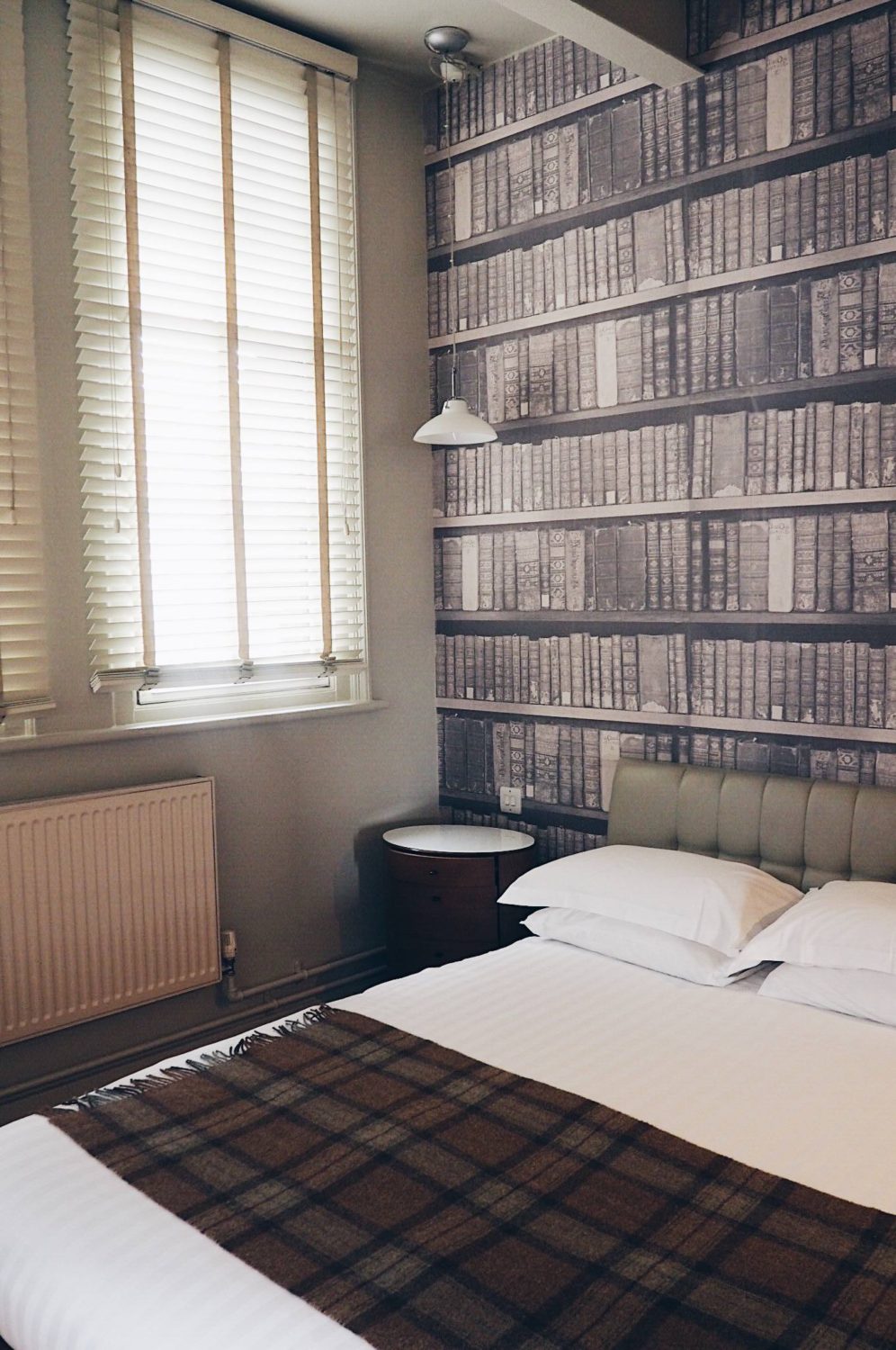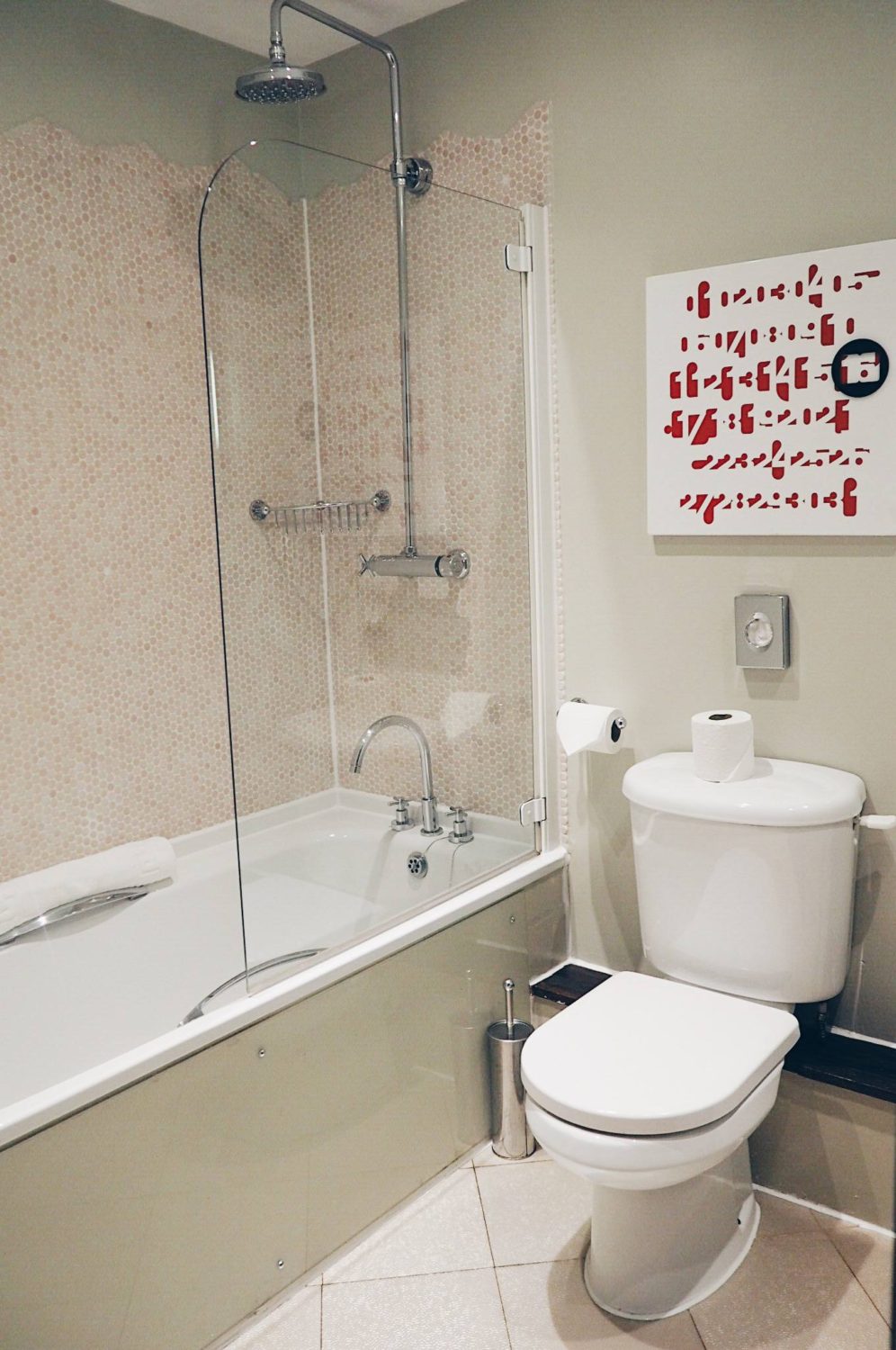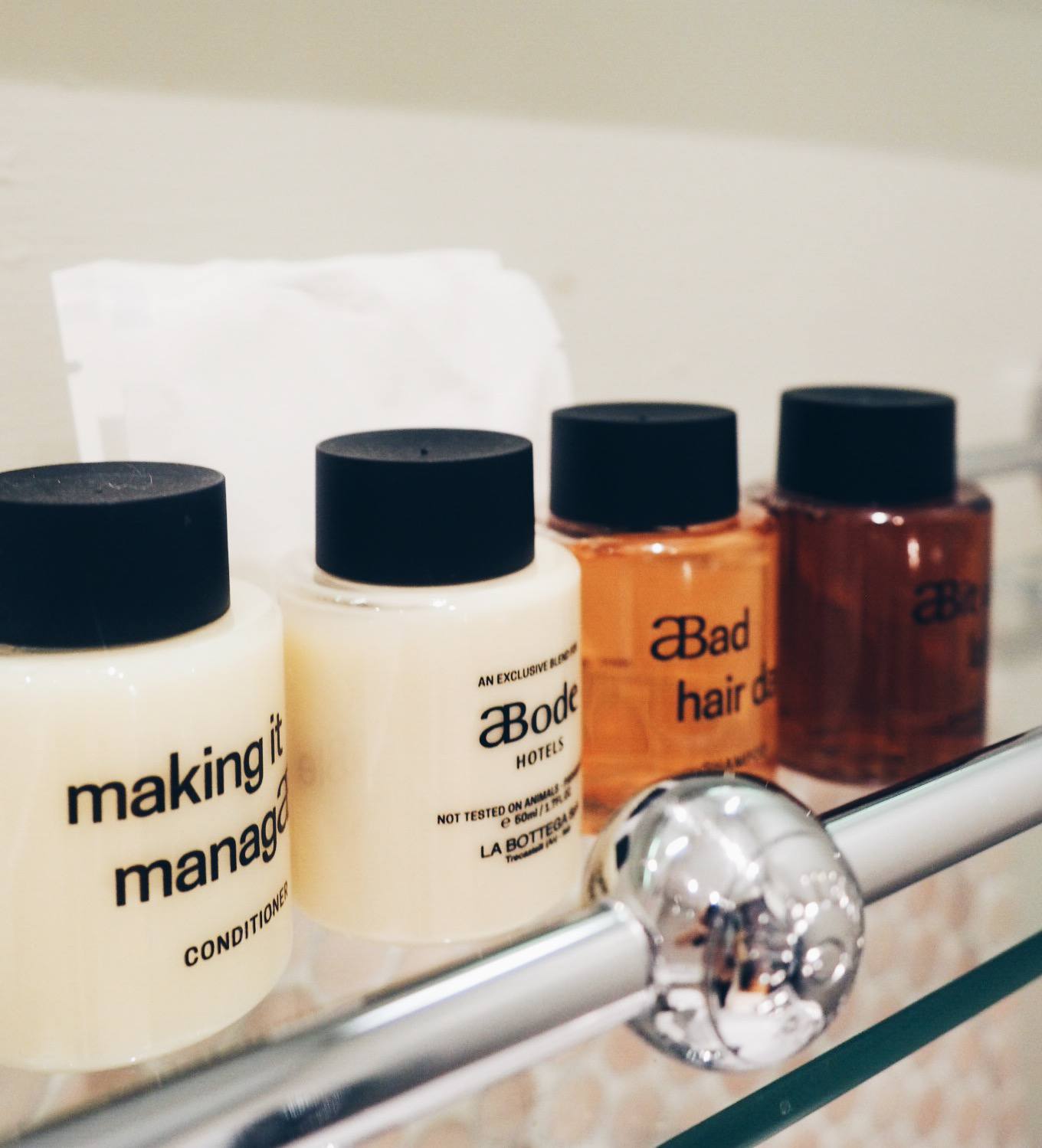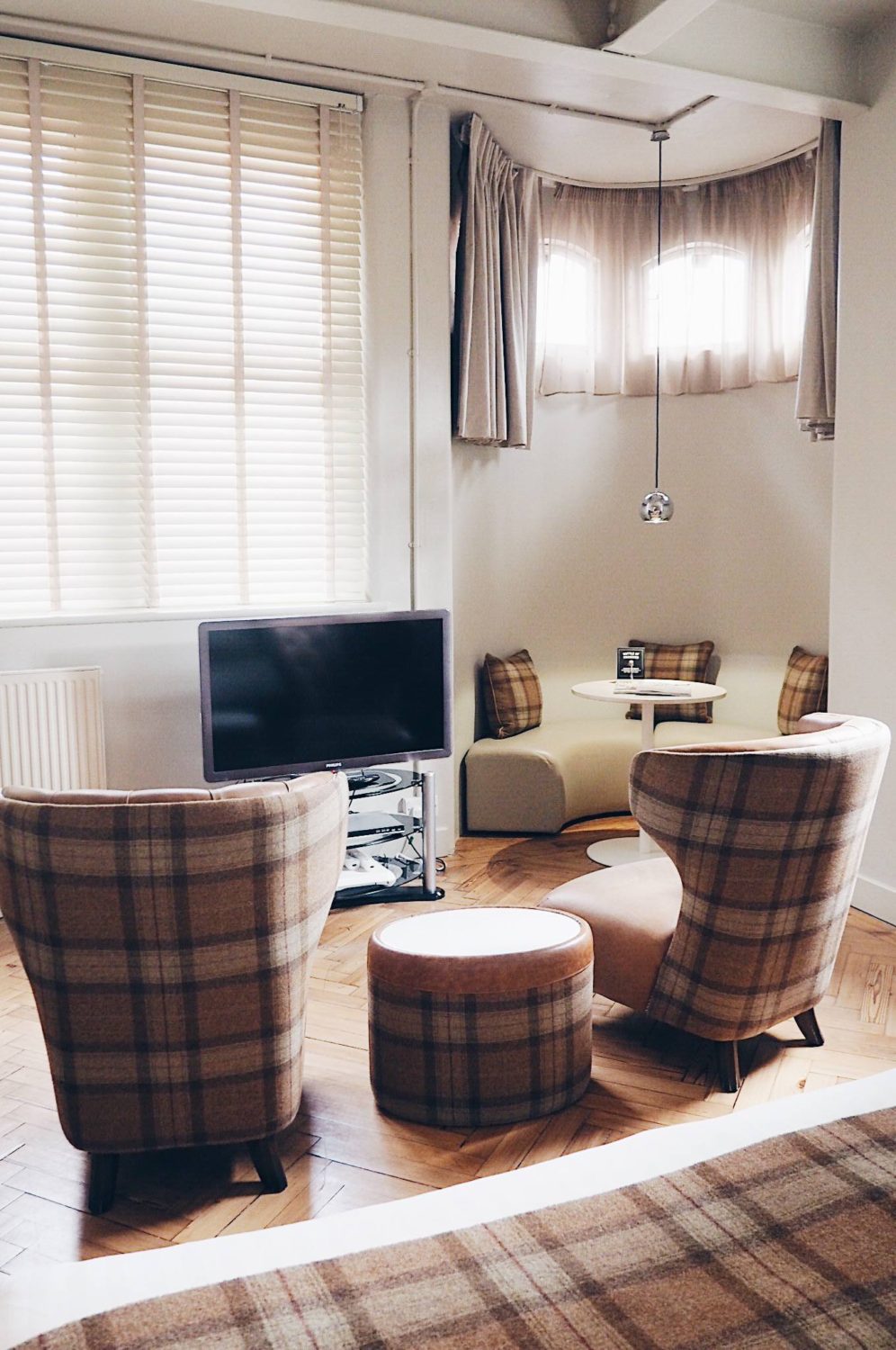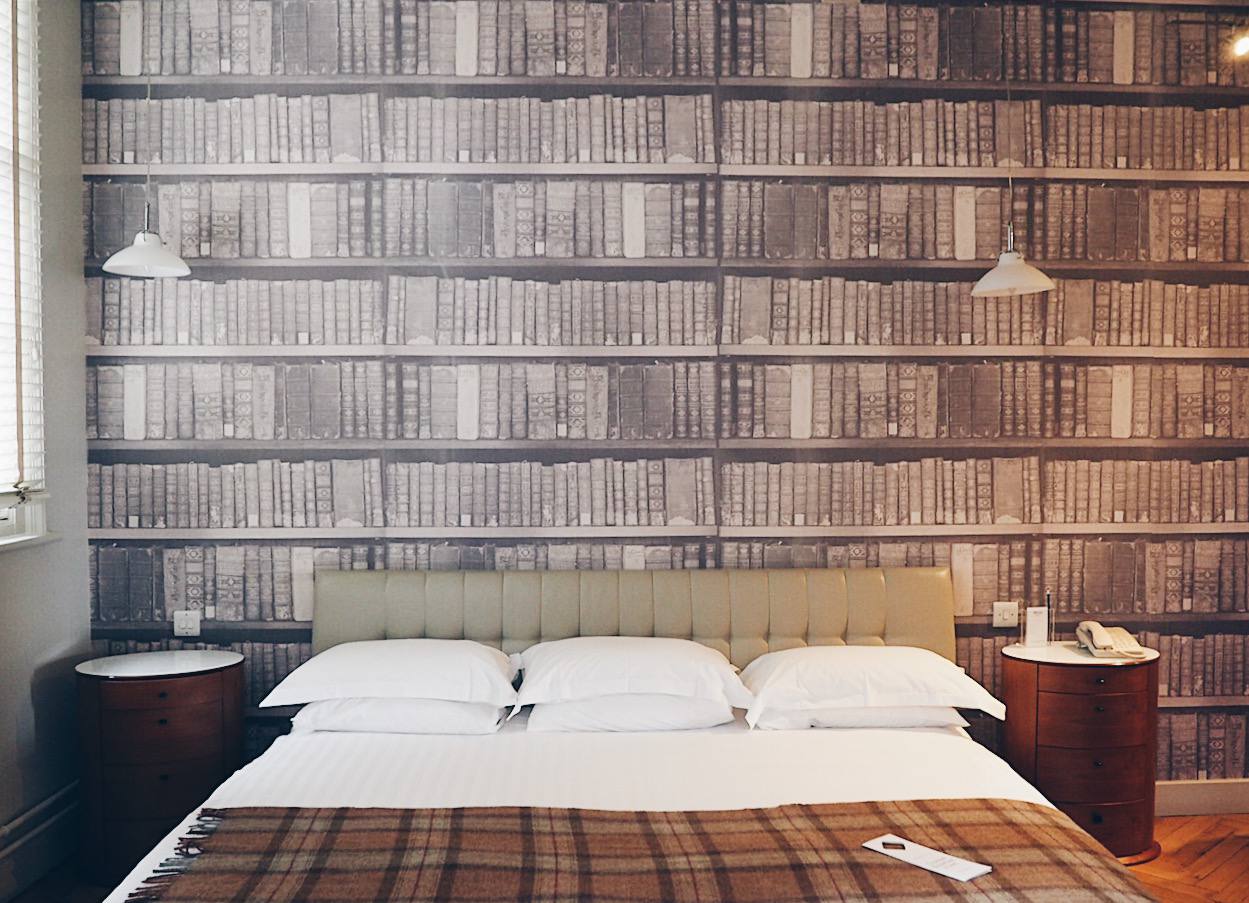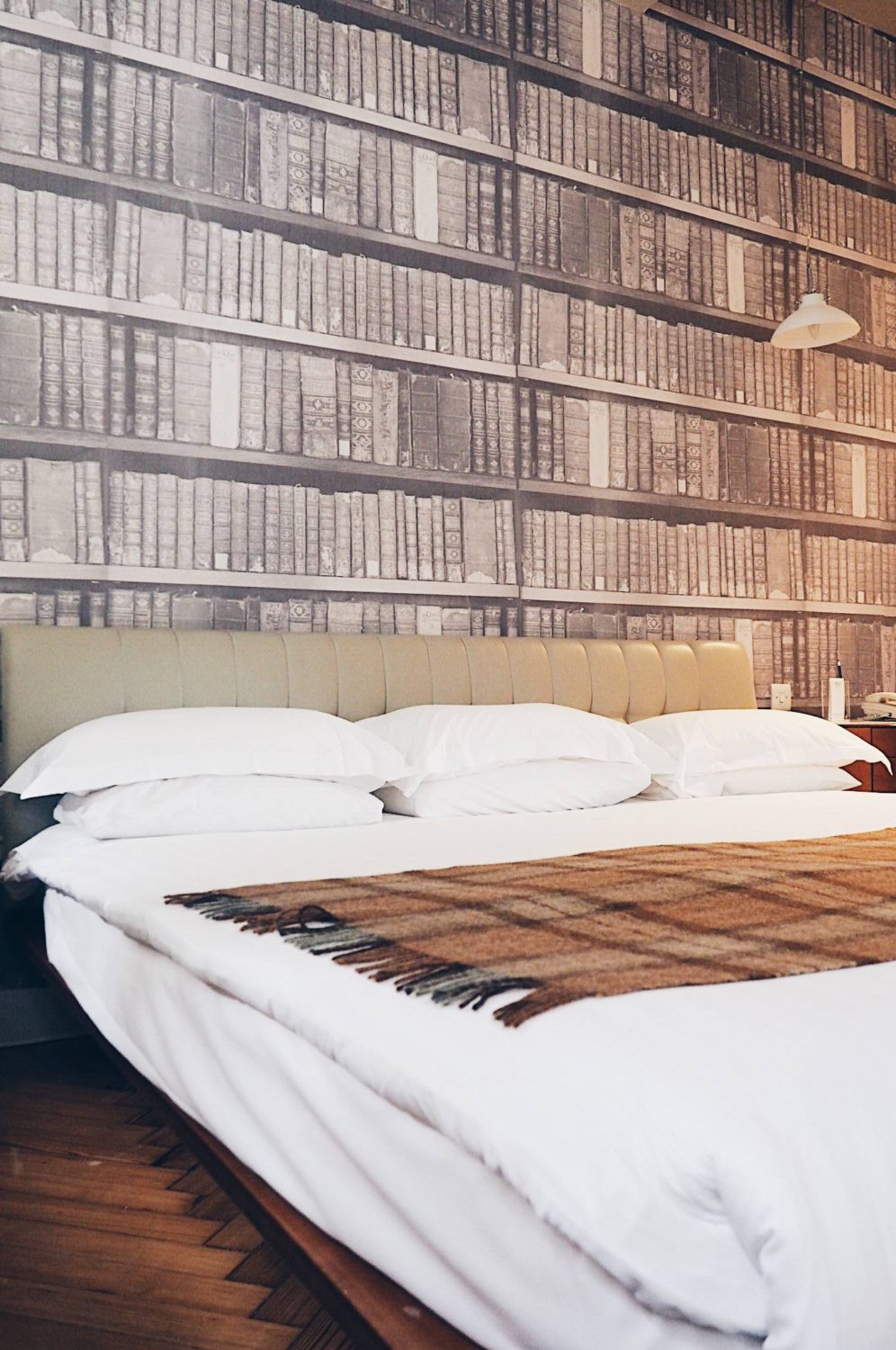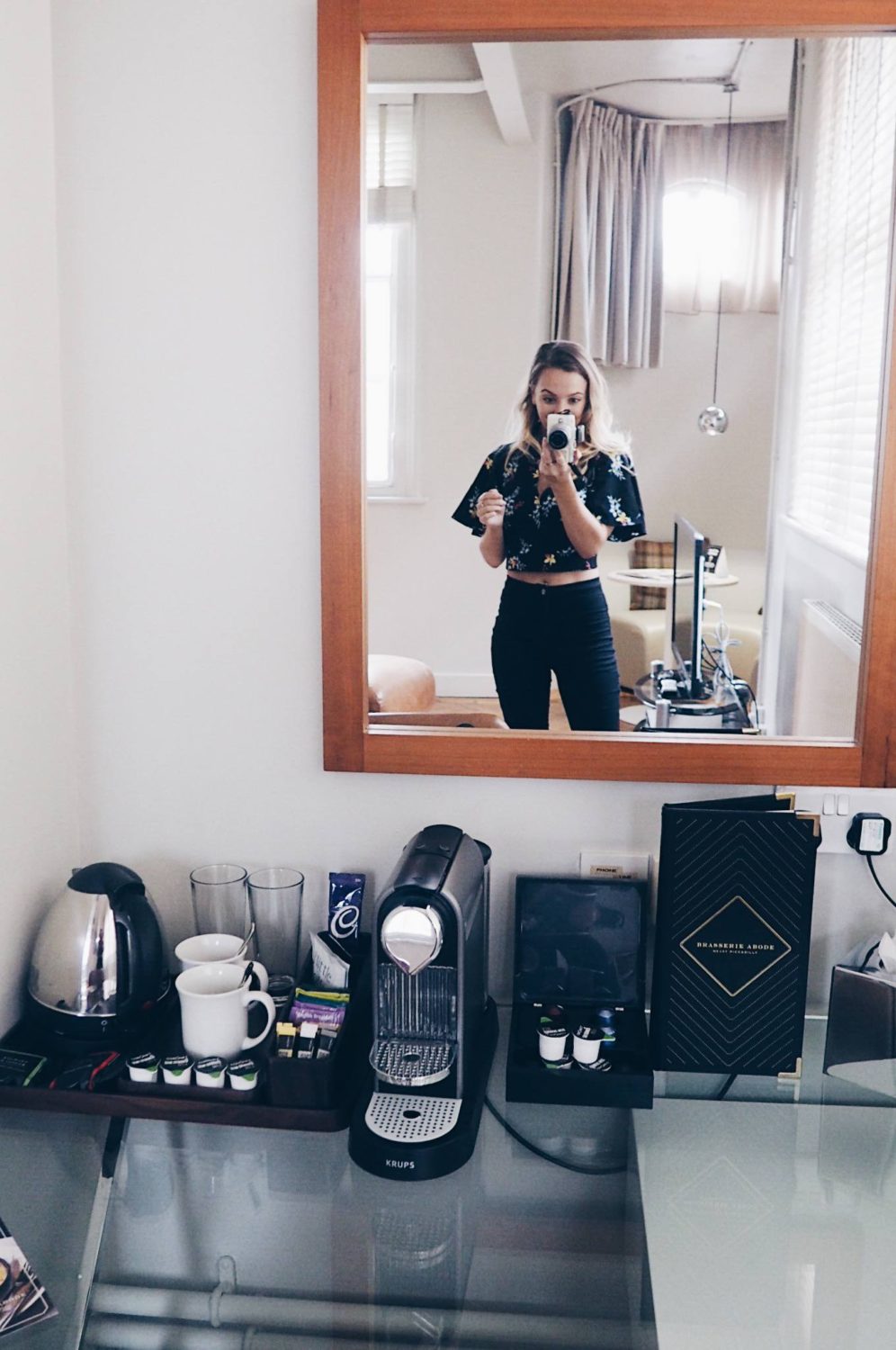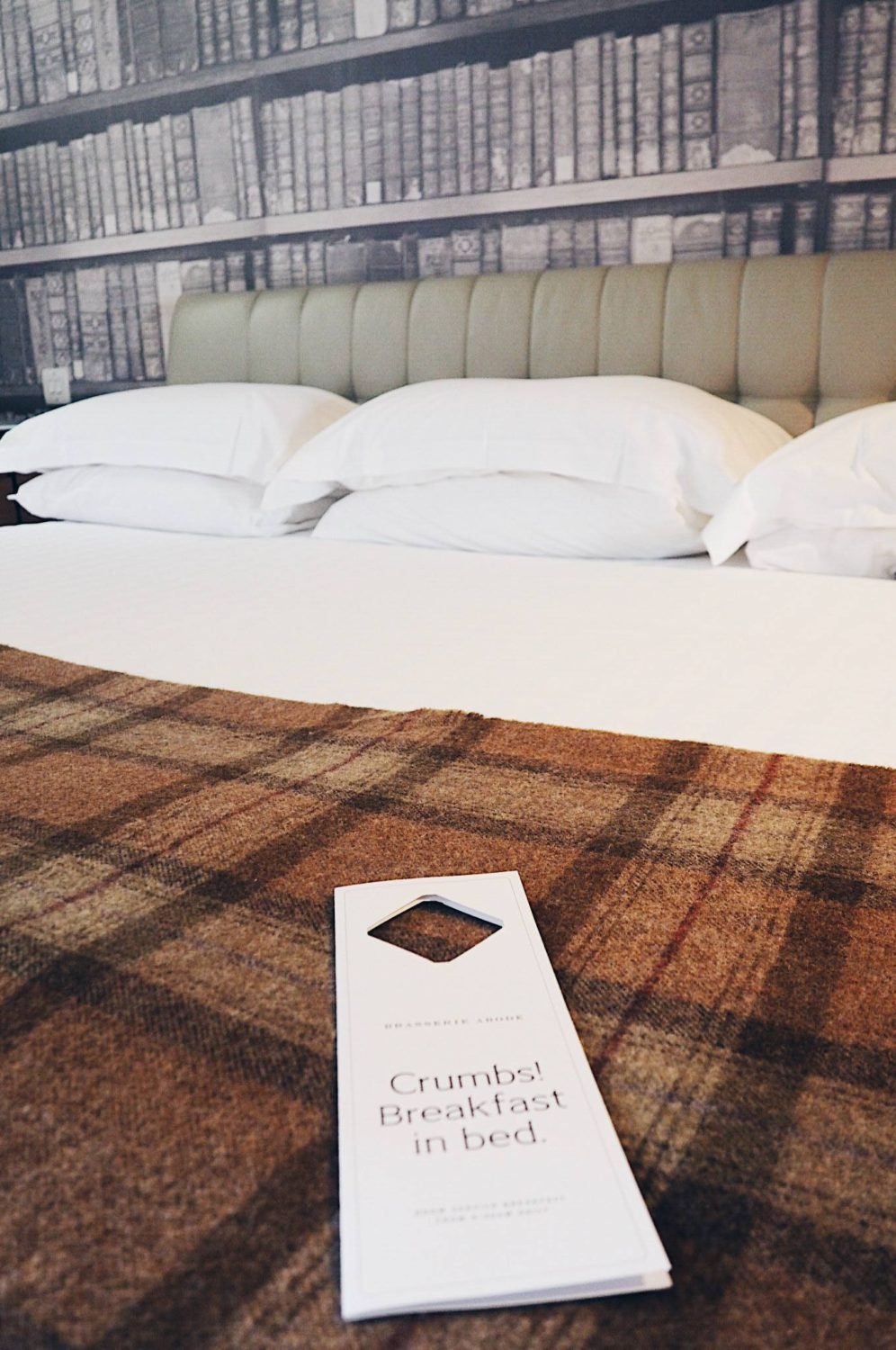 The room theme was 'Enviable' and this meant we had his n' hers bathrobes, luxury toiletries and a bed that could have slept four.  I think the highlight for Tom was that the Enviable rooms at ABode have a Nintendo Wii!
After an espresso courtesy of the coffee machine in our room, we got dolled up for the awards ceremony.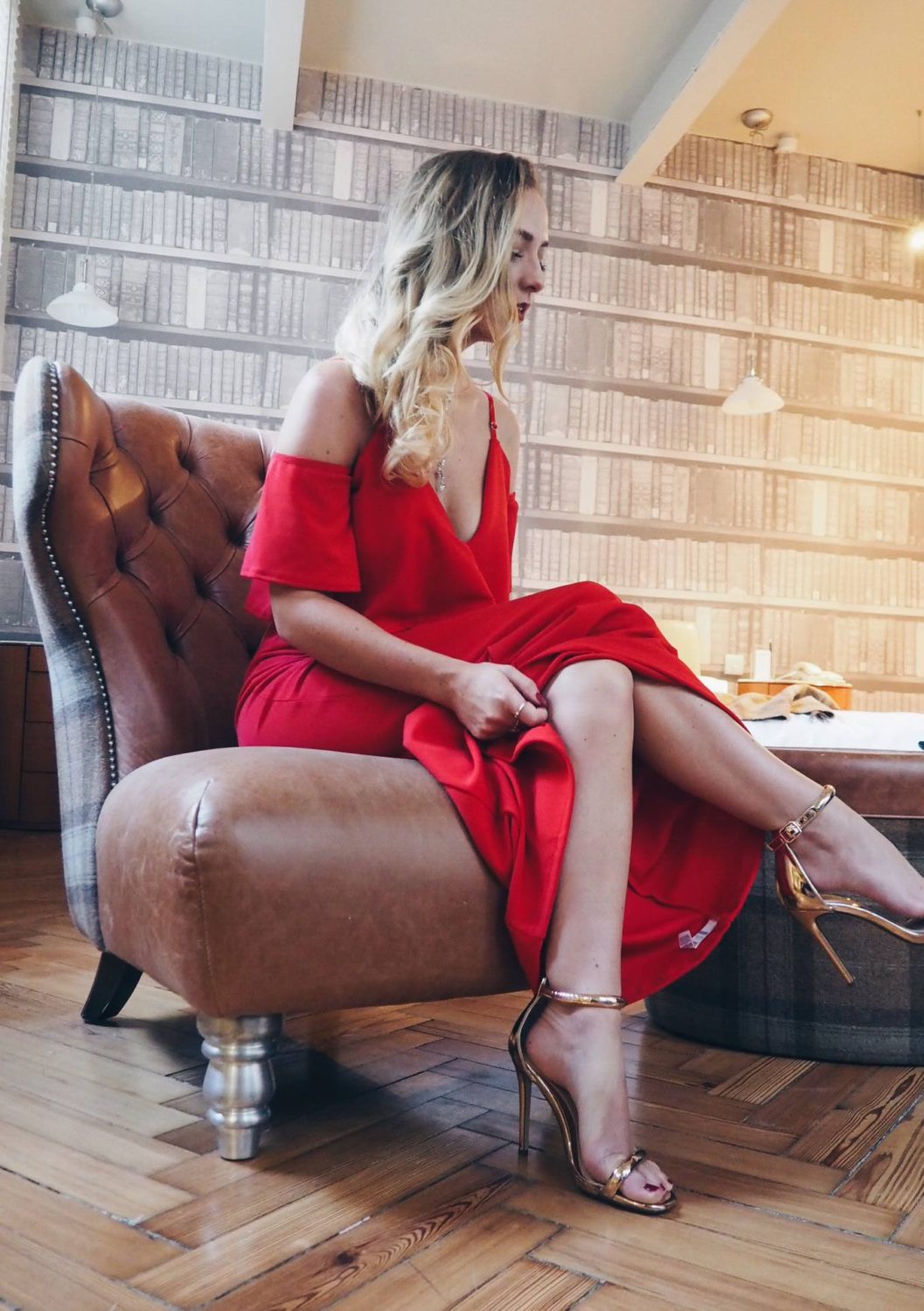 Dress £28 – available here
We had a fab night of mingling with fellow Northern bloggers, and it was so good to come back and fall in to that luxurious bed!
Breakfast at ABode Manchester
Breakfast is served from 8am in Brasserie ABode, and it was the highlight of our stay.
We may have overindulged a little at the NBAs the night before, so I was pleased to find that ABode Hotels have their own pre-made virtuous smoothies on the breakfast buffet. I quickly downed a green smoothie while I waited for my eggs, hoping to reverse the damage!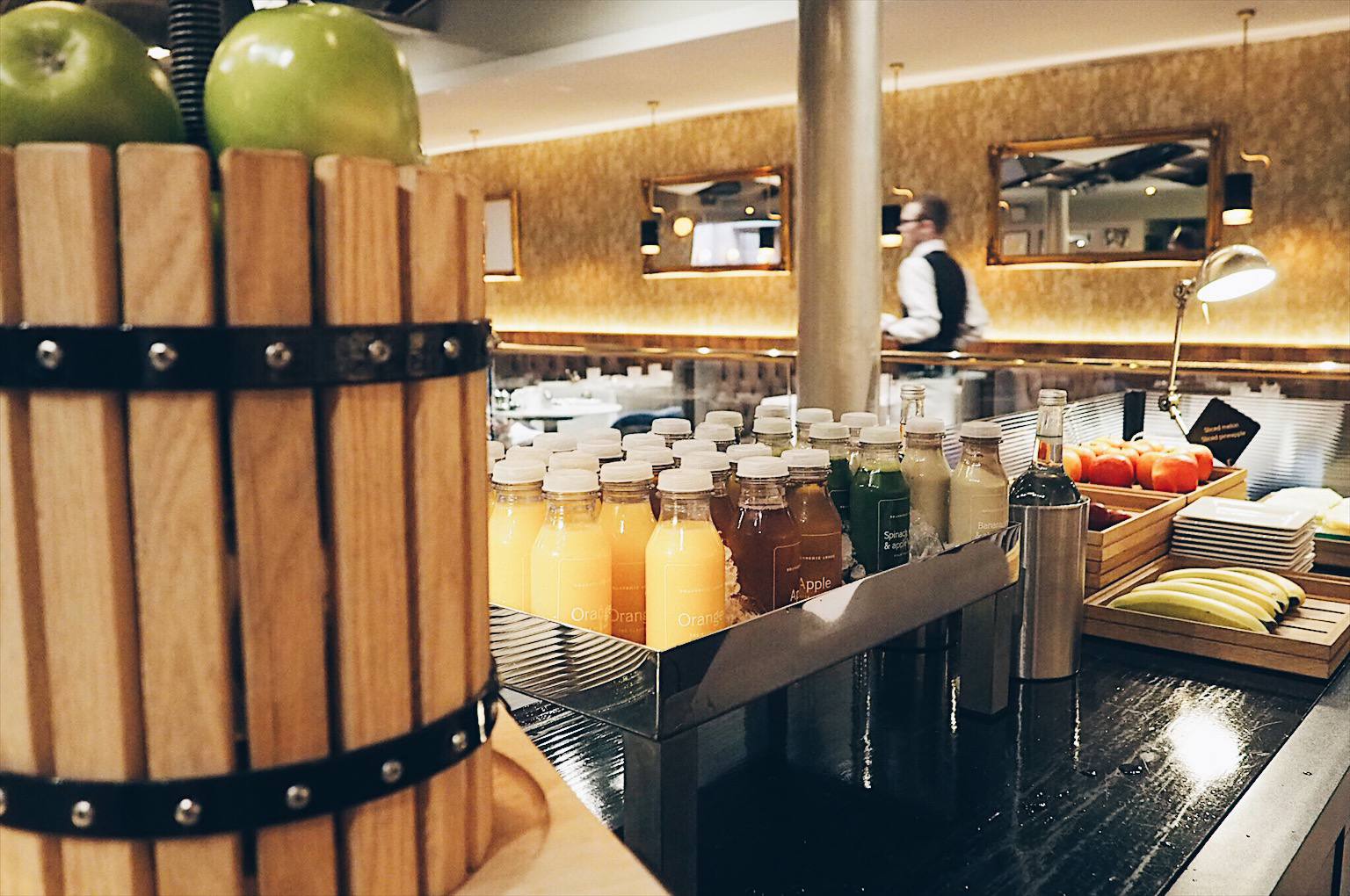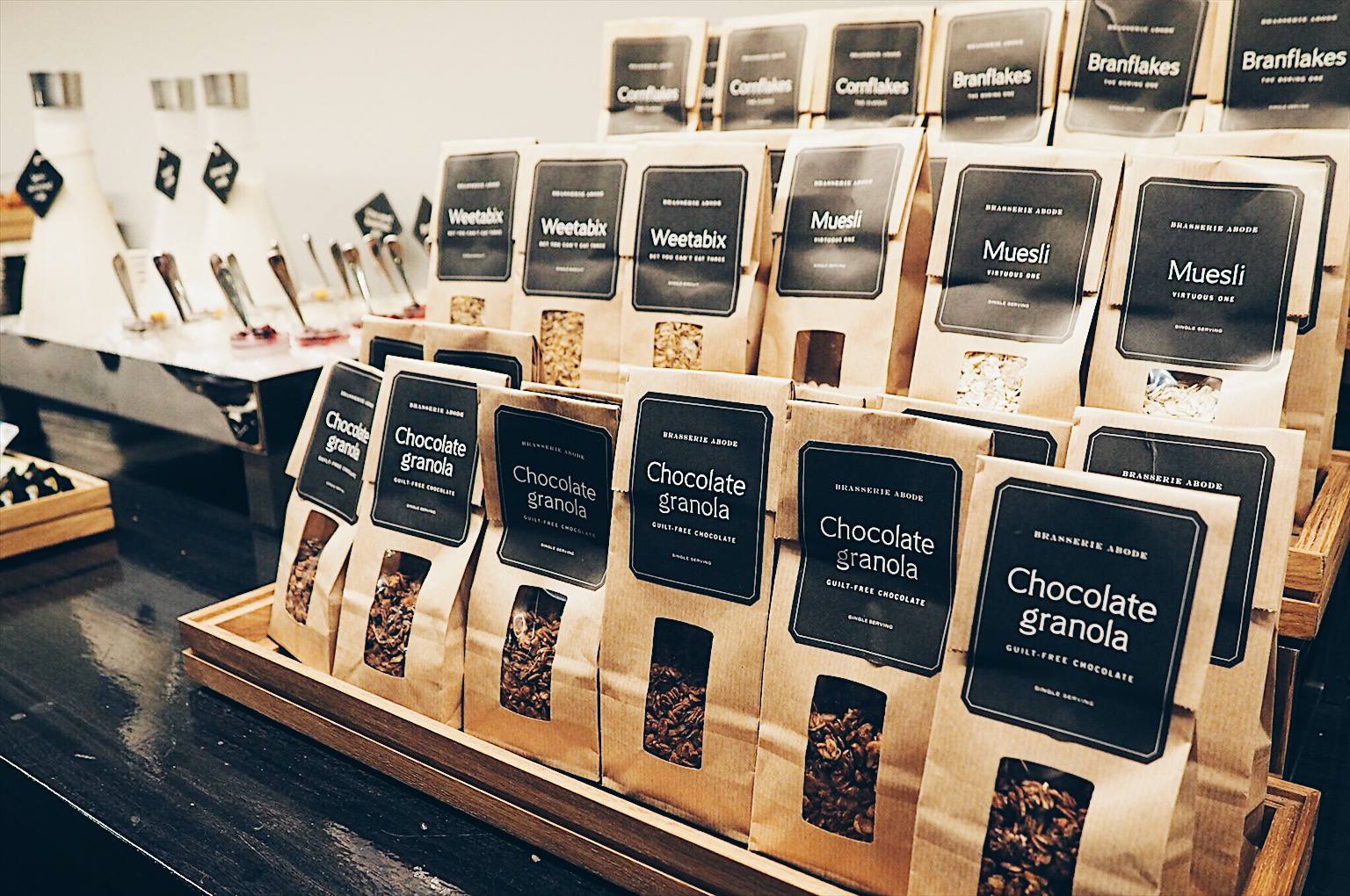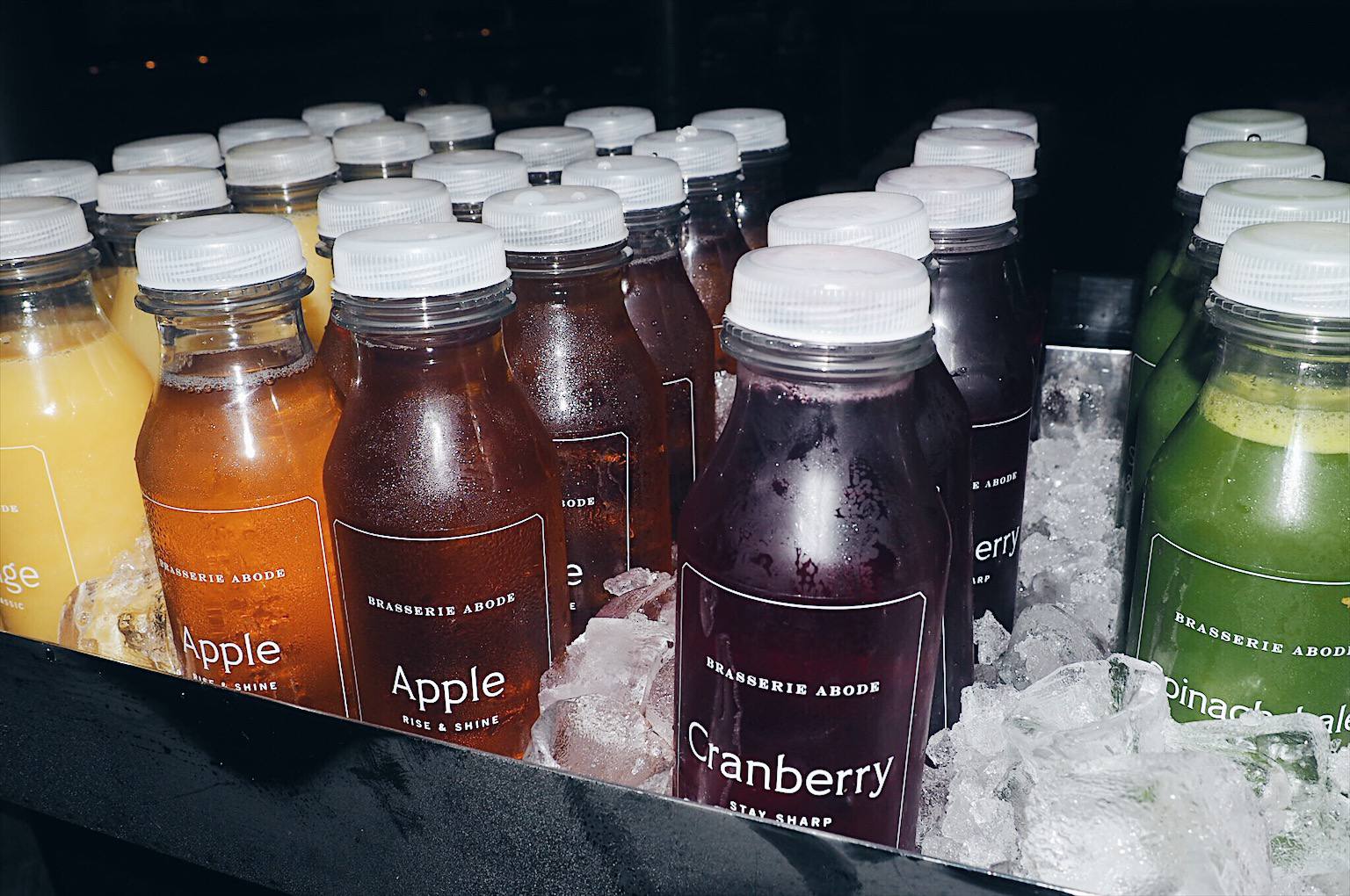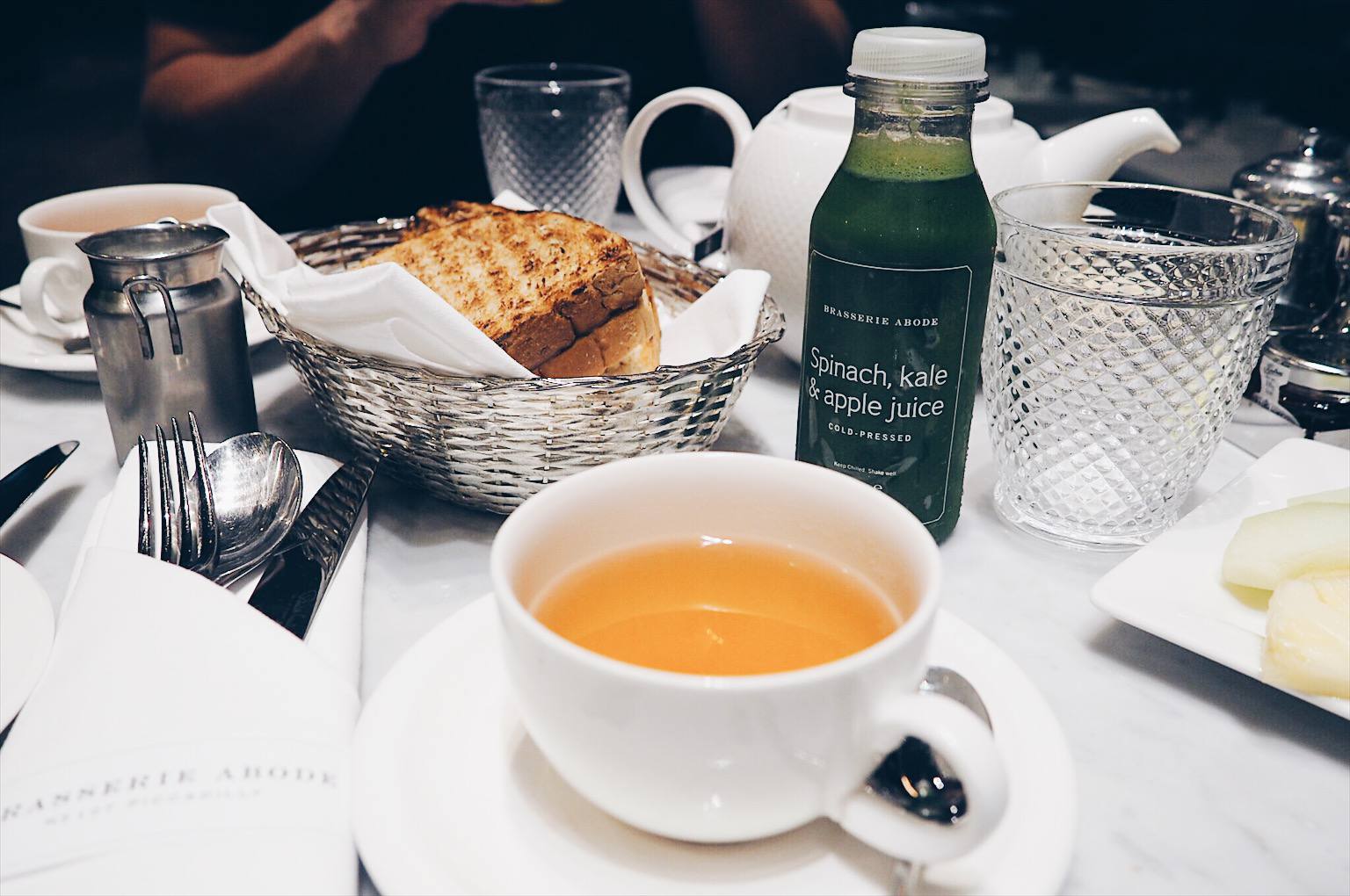 The best part of the breakfast buffet for me was the cute miniature cabinet with drawers full of superfoods that guest can sprinkle over their cereal. I amped up my yoghurt pot with chia seeds, dark chocolate nibs and acai powder. You can basically eat and drink anything you fancy as long as you add acai to your diet, right?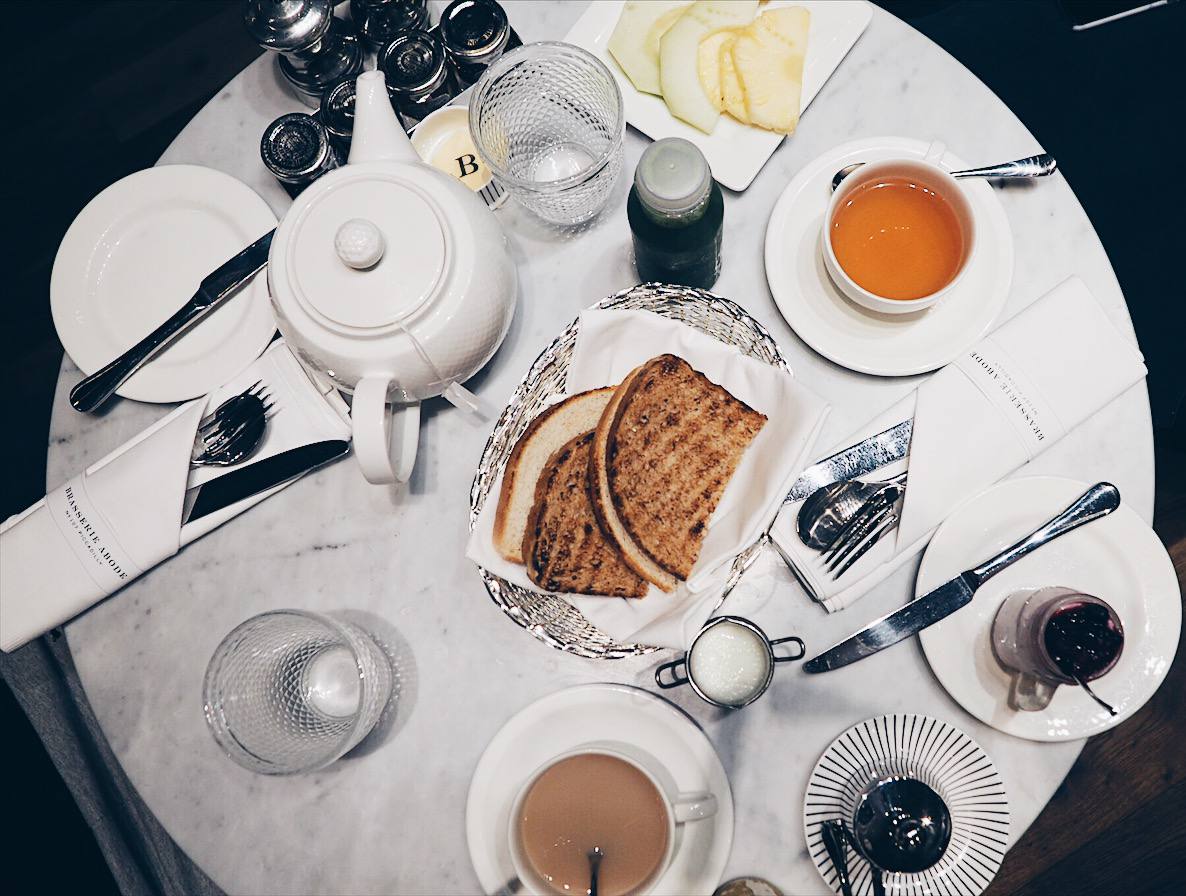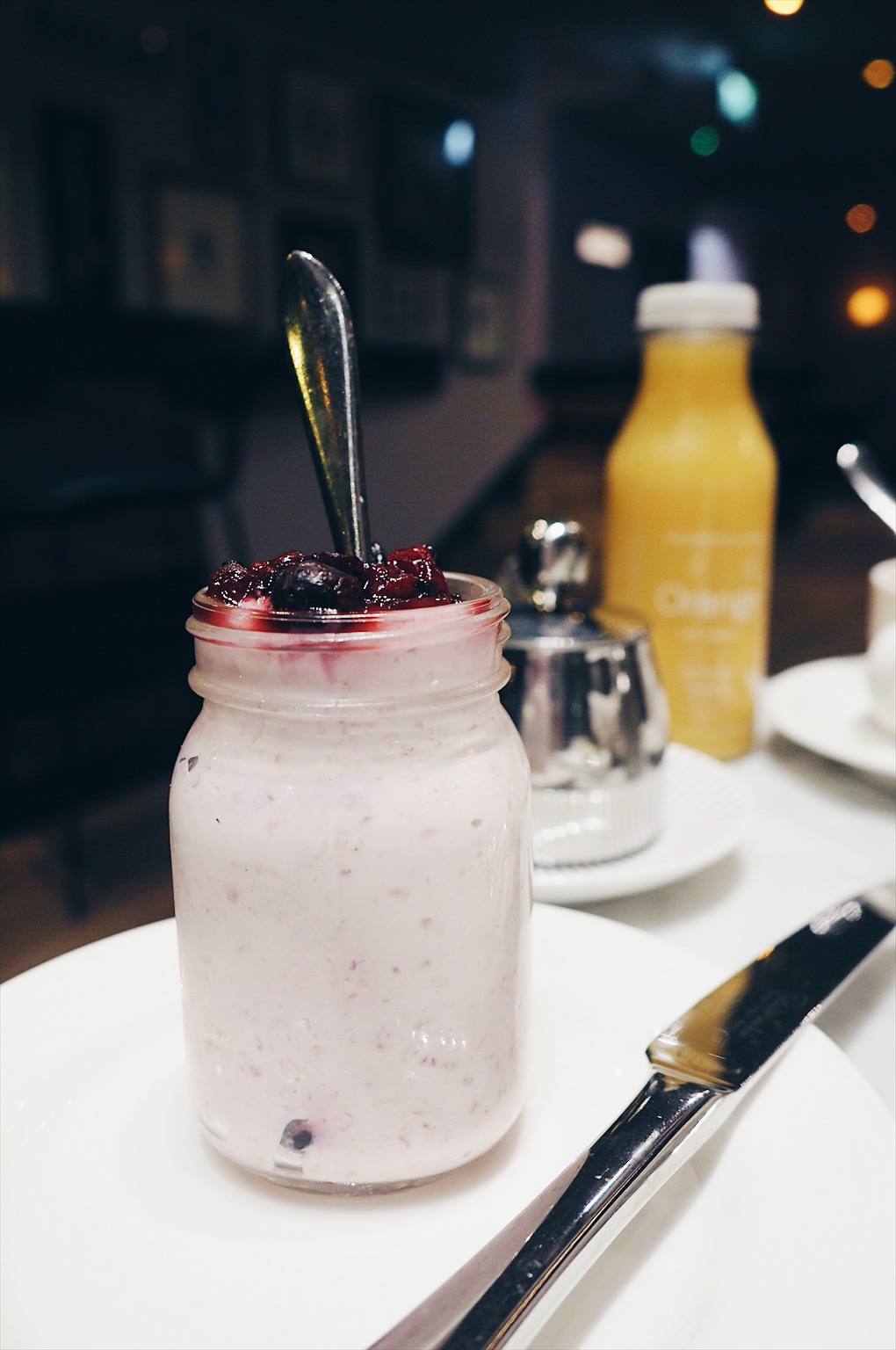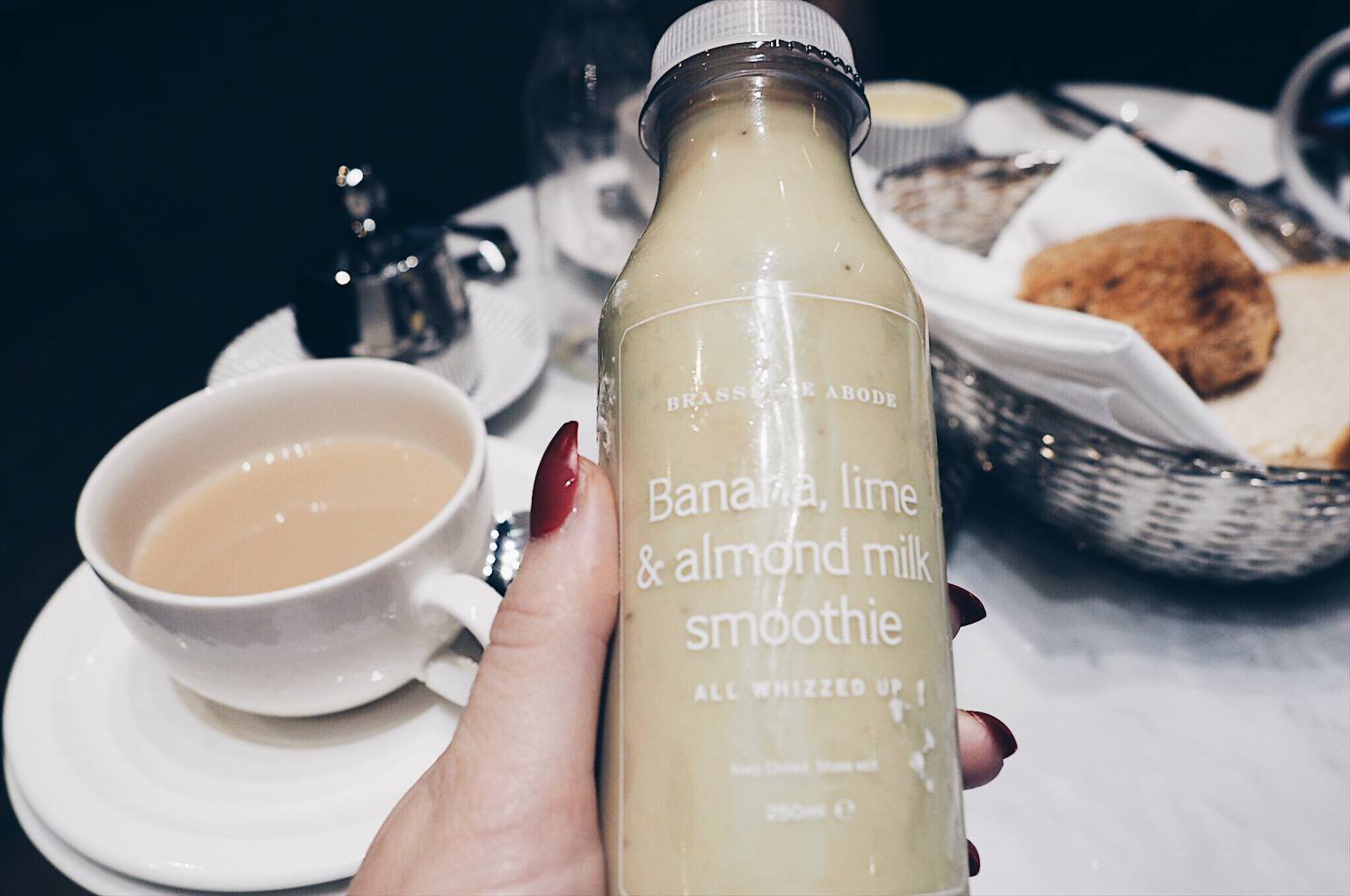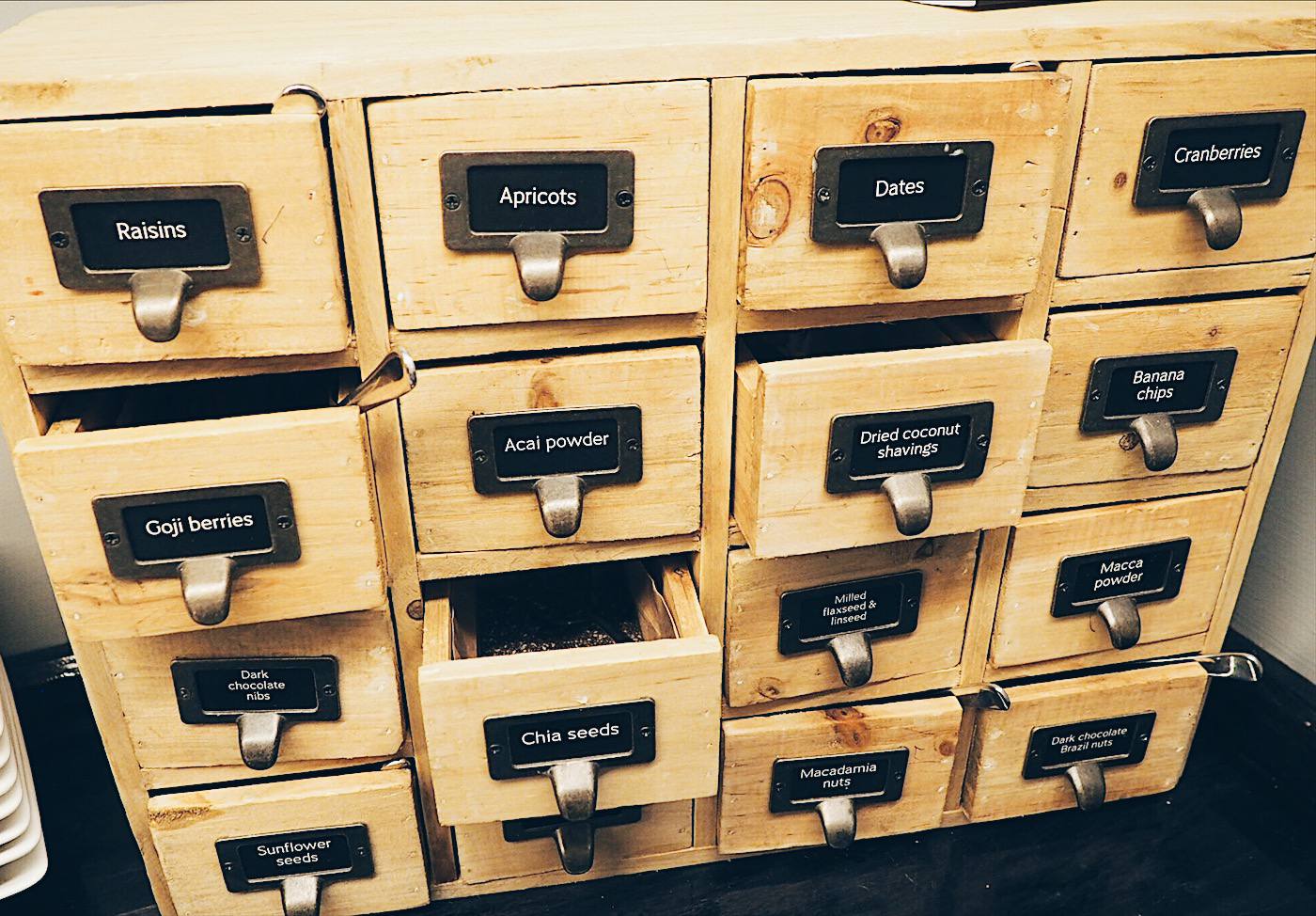 There's a lot of choice at ABode when it comes to hot breakfasts, which I appreciated. Tom had a fry up with homemade baked beans and I went for the baked eggs with chorizo for a change. Both were delicious!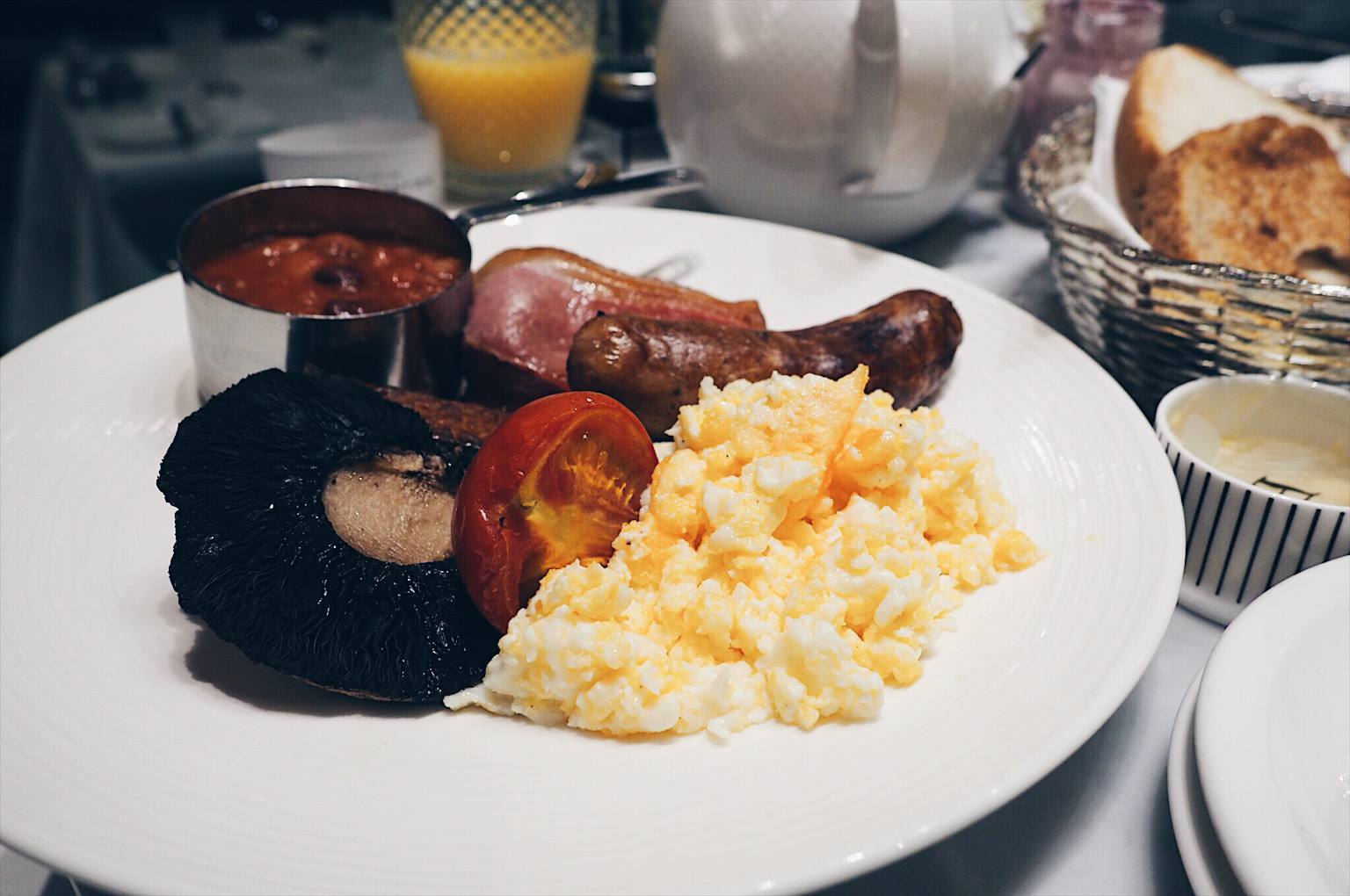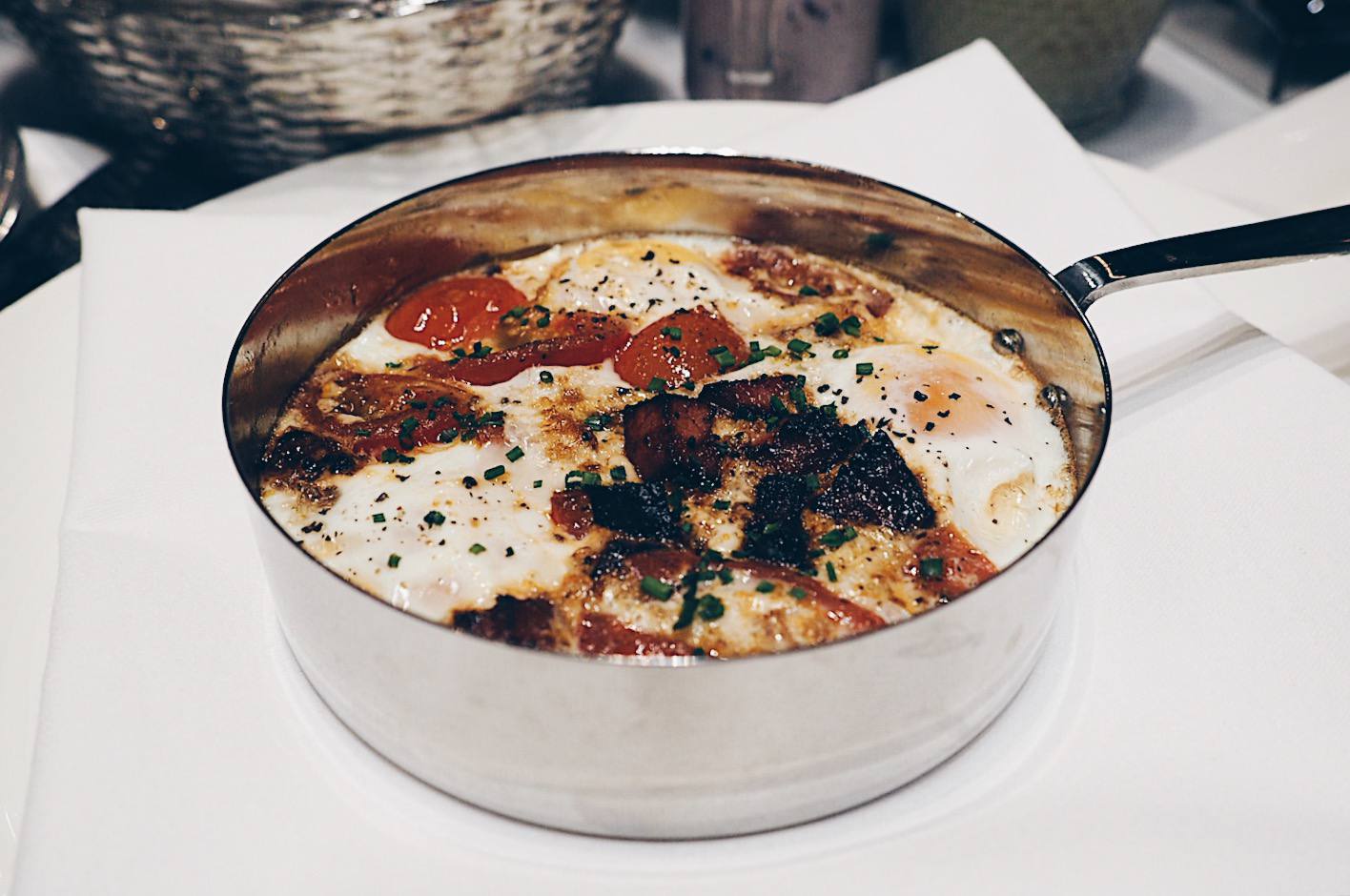 I'd definitely recommend ABode Manchester if you're looking for a luxurious place to stay in Manchester near Piccadilly with comfy beds and gorgeous decor. And that breakfast!
If you're planning a special stay, the 'Fabulous on Fifth' suites have little extras that look amazing.
Do you spend much time in Manchester? I've only been a few times but I love the city's grit and music scene. Let me know which parts I should explore more!
Book your stay at Abode Manchester.
I was a guest of ABode Manchester but views are of course my own. All images are taken on my Olympus Pen E-PL7.
ABode Manchester
107 Piccadilly
Manchester
M1 2DB0161 247 7744
Pin this