Split, with its backdrop of rugged mountains and view of the Adriatic, is the place to see Dalmatian life in action. Split is the second largest city in Croatia and while it feels less fairy-tale and whimsical than Dubrovnik, its architecture is still spectacular, with Renaissance and baroque palaces and Romanesque churches packed into its ancient walls. When I visited Croatia I used Split as a landing pad for Hvar, though if you're short on time you can go straight to Hvar from Dubrovnik. Despite being short on time, I'm glad we spent a day in Split before we sailed to the island – mainly because 24 hours is all you need to see Split's highlights.
Split is a compact, walkable destination. You can book a walking tour to ensure you don't miss any highlights, but it's easy to explore the city on foot on your own.
What to do if you have 24 hours in Split – an itinerary
Walk along The Riva
Split's palm-fringed seafront promenade, The Riva, is lined with busy bars and restaurants. Walking around The Riva's wide esplanade will give you serious Mediterranean vibes. It's the place to see and be seen!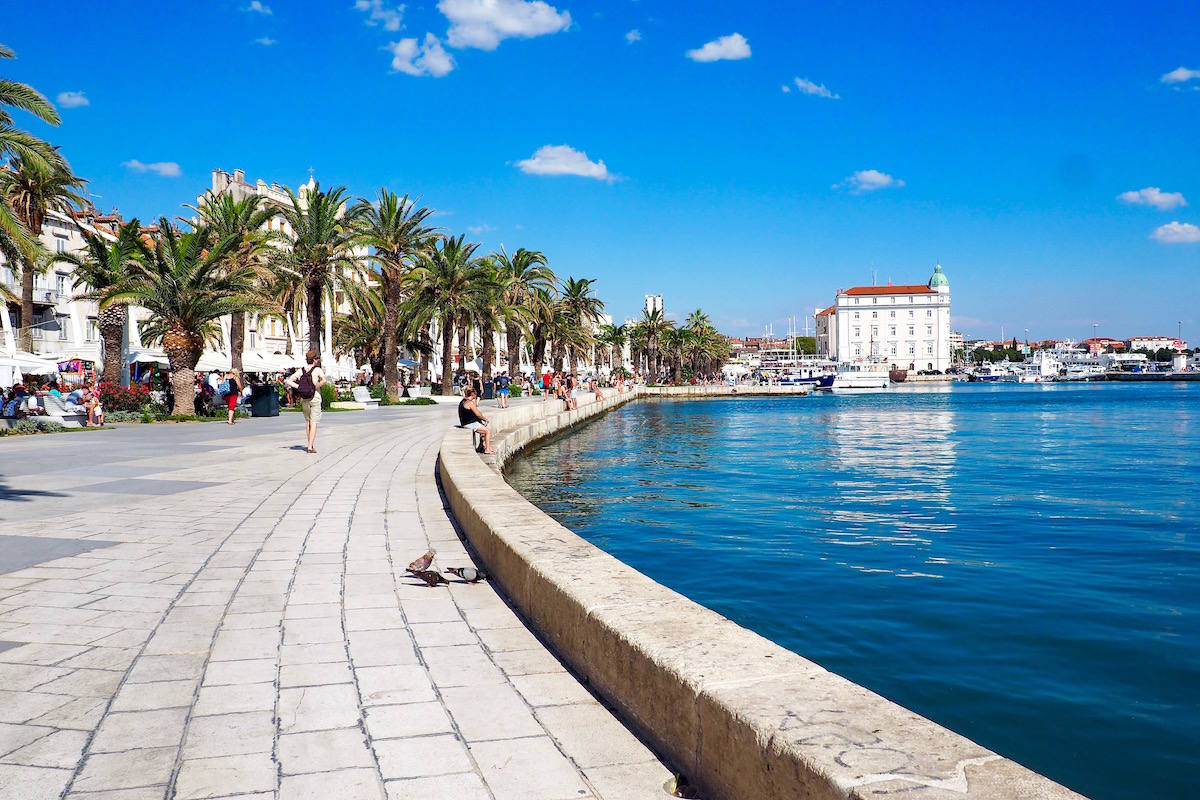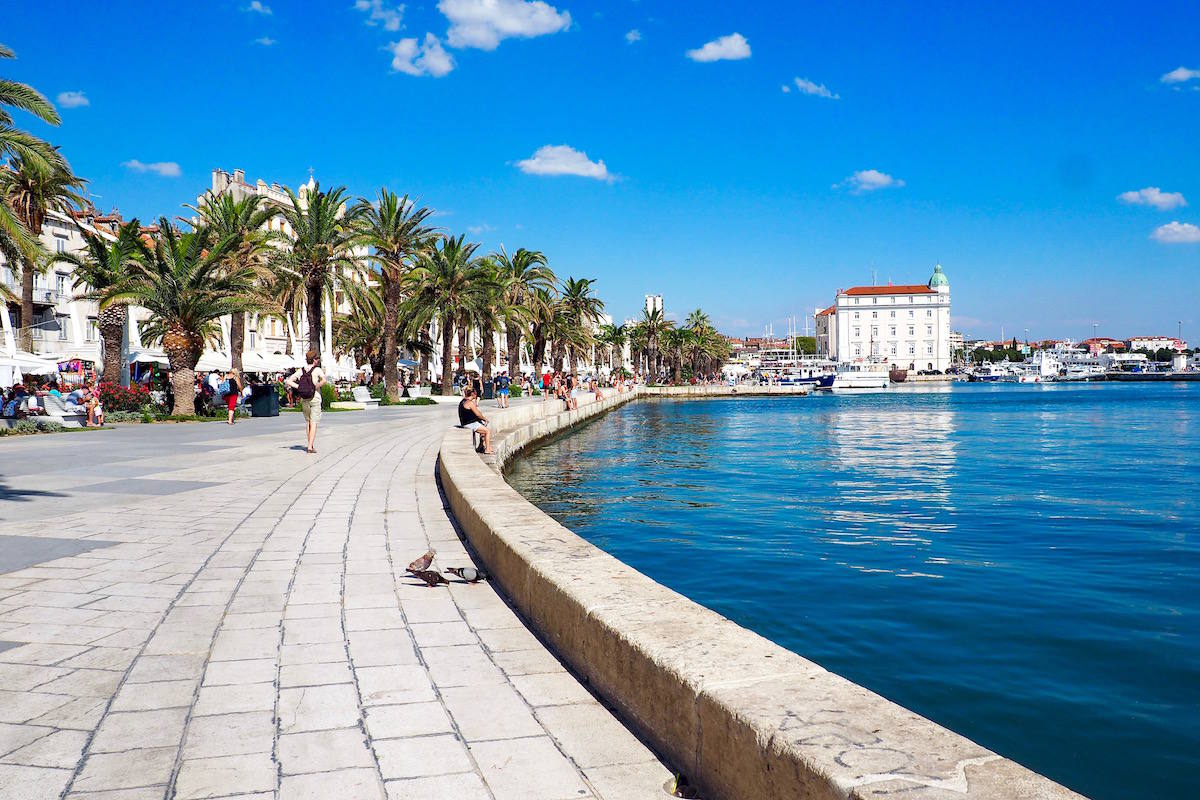 In the evening, we bought some beers from a  kiosk and chilled on a bench here, watching the world go by.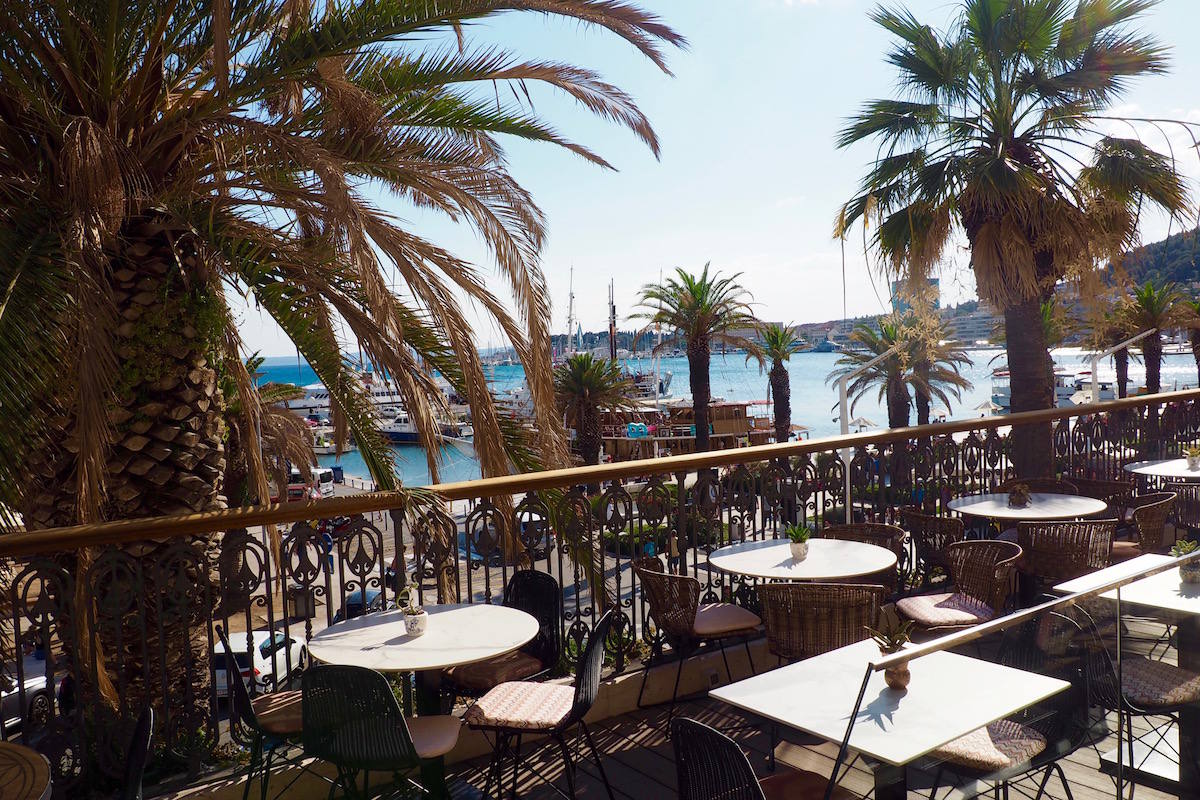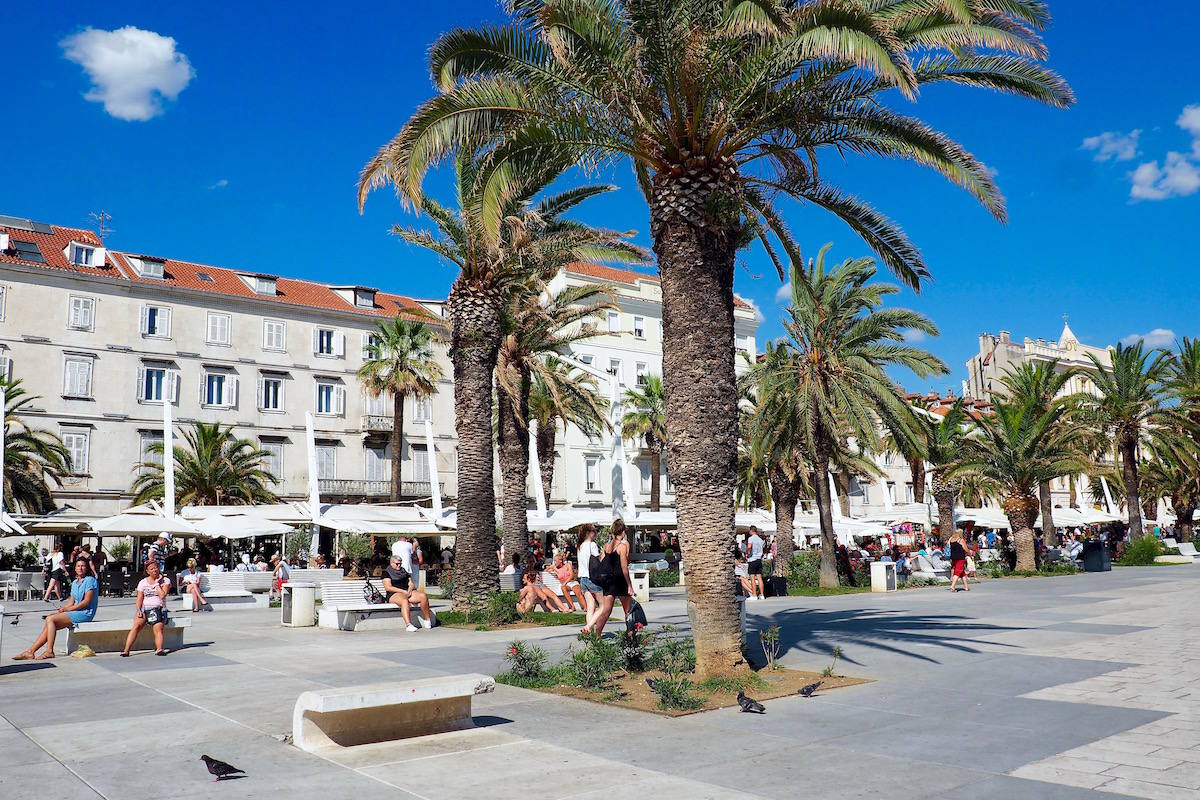 Wander around the old town
Step through the Bronze Gate on The Riva and you'll find yourself in another, darker world: the cavernous basements of the ancient palace. Once used for wine and oil-making, these shadowy halls are now filled with market vendors. I'm not usually one for buying souvenirs and general tourist tat, but there are some unique pieces to be found here – especially the music boxes!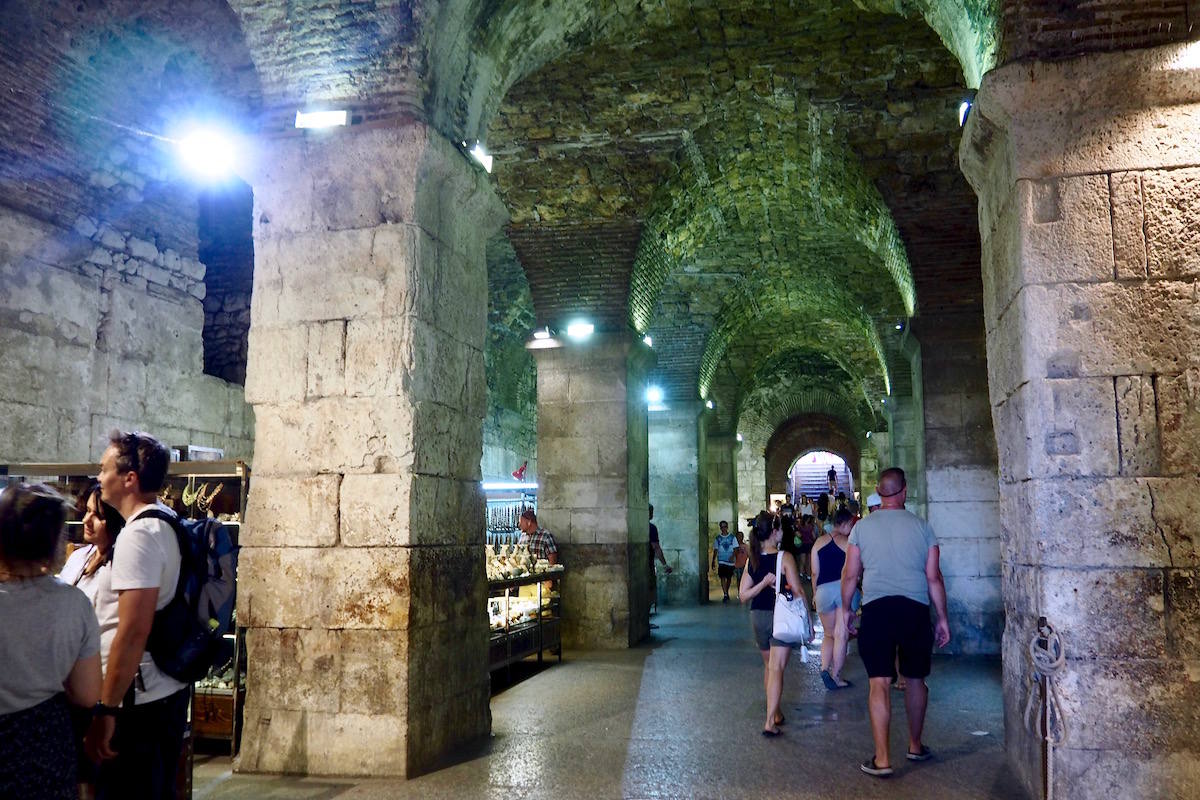 Linger in the Peristyle
Up a steep staircase, you'll find yourself in the sunlit colonnaded Peristyle. You're now inside the old town of Split, which is contained inside Diocletian's Palace! This is one of the peculiarities that makes Split such a unique city.
The Peristyle came into existence as the palace's central courtyard. It's easy to imagine the space filled with cavalry all those years ago.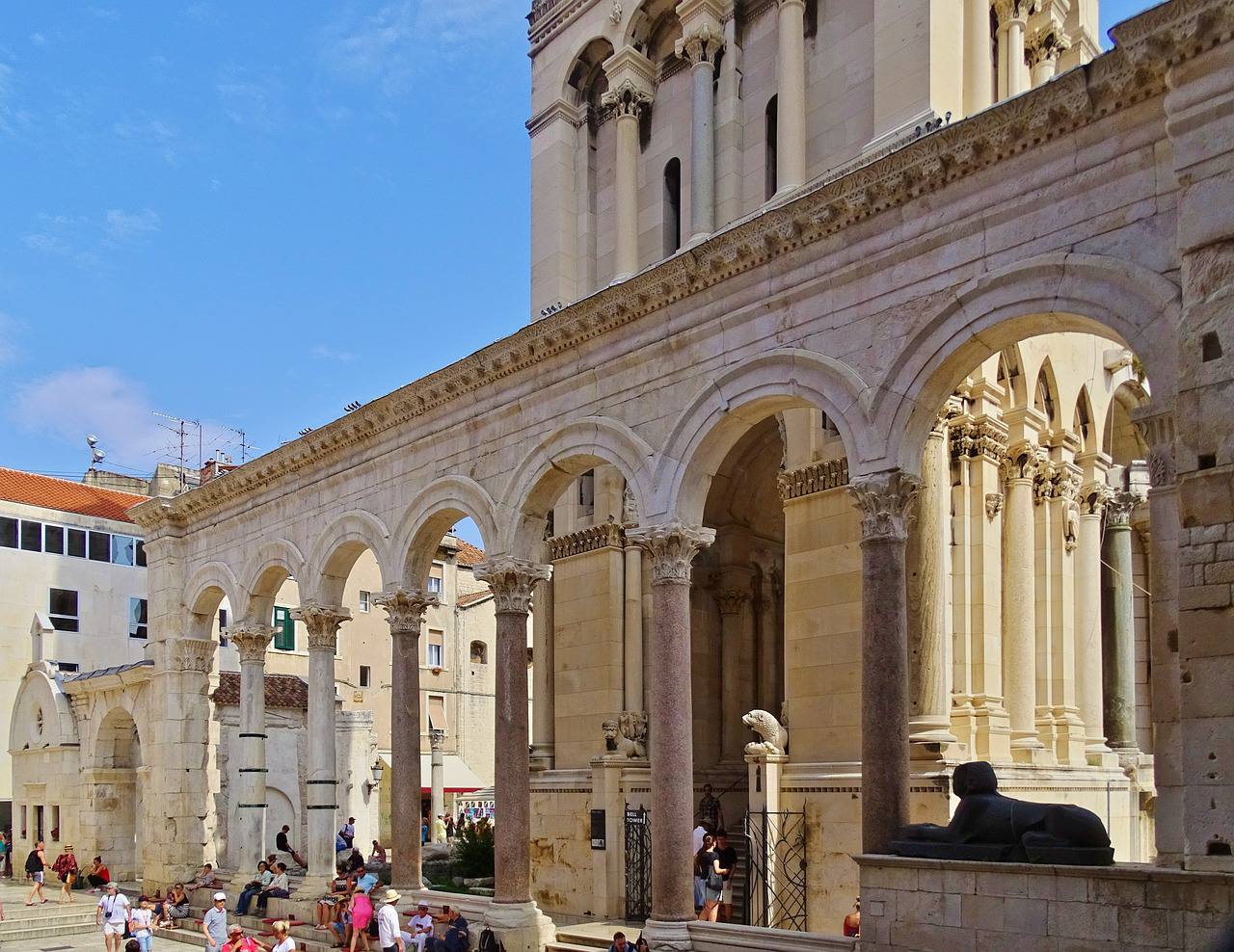 Thanks to its unique acoustics, the Peristyle was once used for theatre performances. Now, it's the perfect place to wile away a day in Split. Sipping coffee on the steps circling the Peristyle is a unique experience. It's also an expensive one, so don't fall for it if you're visiting Split on a budget.
Take in the views from the cathedral
Split's 5th century octagonal Cathedral of St. Duje (Dominius) is one of the best-preserved ancient Roman buildings standing today. Its tall bell tower was added between the 12th and 16th centuries and reconstructed in 1908 after it collapsed. You can pay to climb to the top for an awe-inspiring view over Split.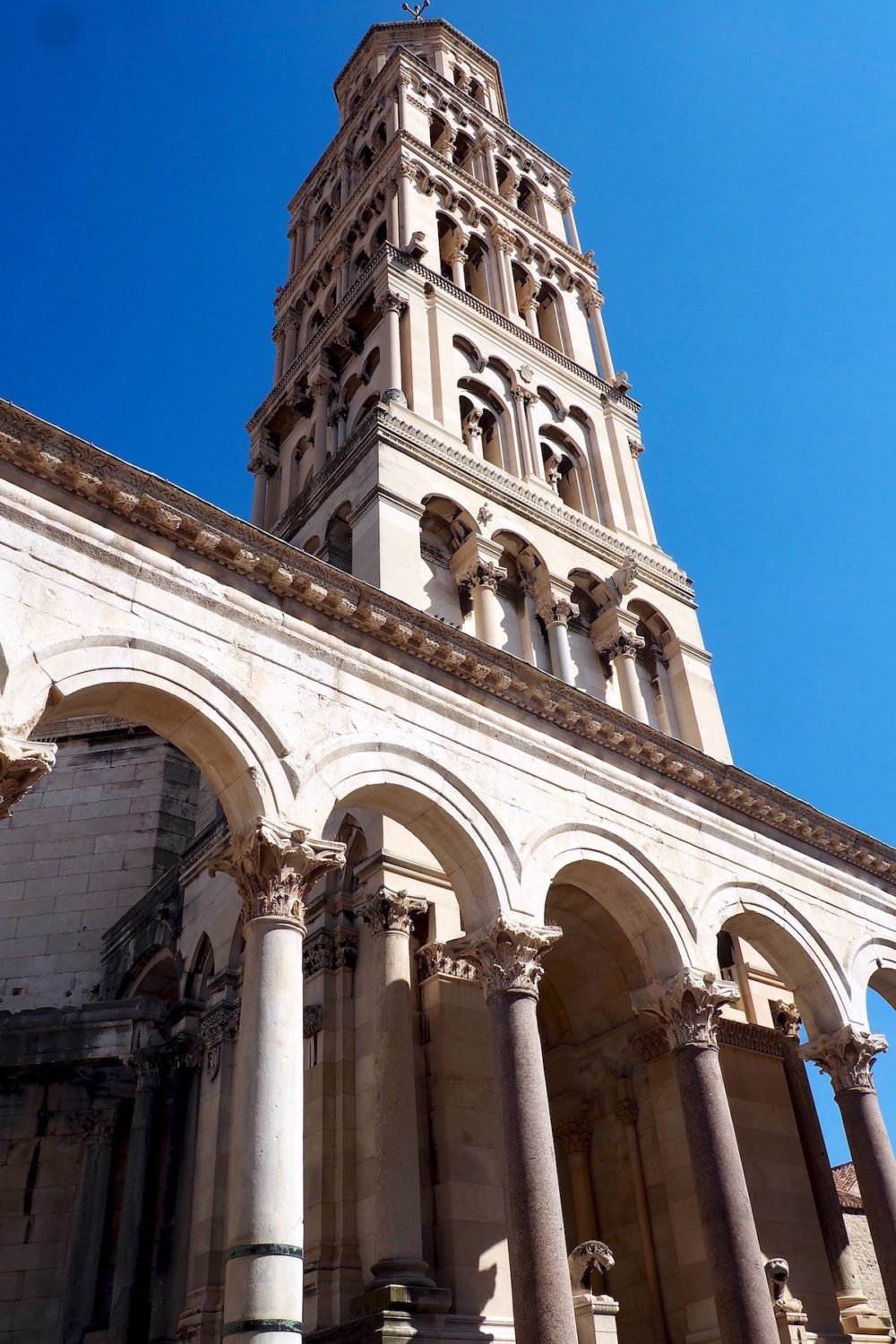 Explore the rest of Diocletian's Palace
Diocletian's Palace is a Unesco World Heritage site and one of the world's most impressive Roman monuments, dating back to 300 AD. There are dozens of bars, restaurants and shops buzzing amid the white stone walls. It's less of a palace and more an atmospheric walled complex, and this is the beating heart of Split. You can't miss it.
Diocletian's Palace spreads over 1000 square meters with four gates named after metals: iron, silver, gold and bronze. It was built as a fortress and imperial residence using stone from nearby Brač island and marble from Italy and Greece. The general public started moving in during the 7th century. Now, its 220 buildings house about 3000 people. Wandering the narrow streets here is like being transported to Rome.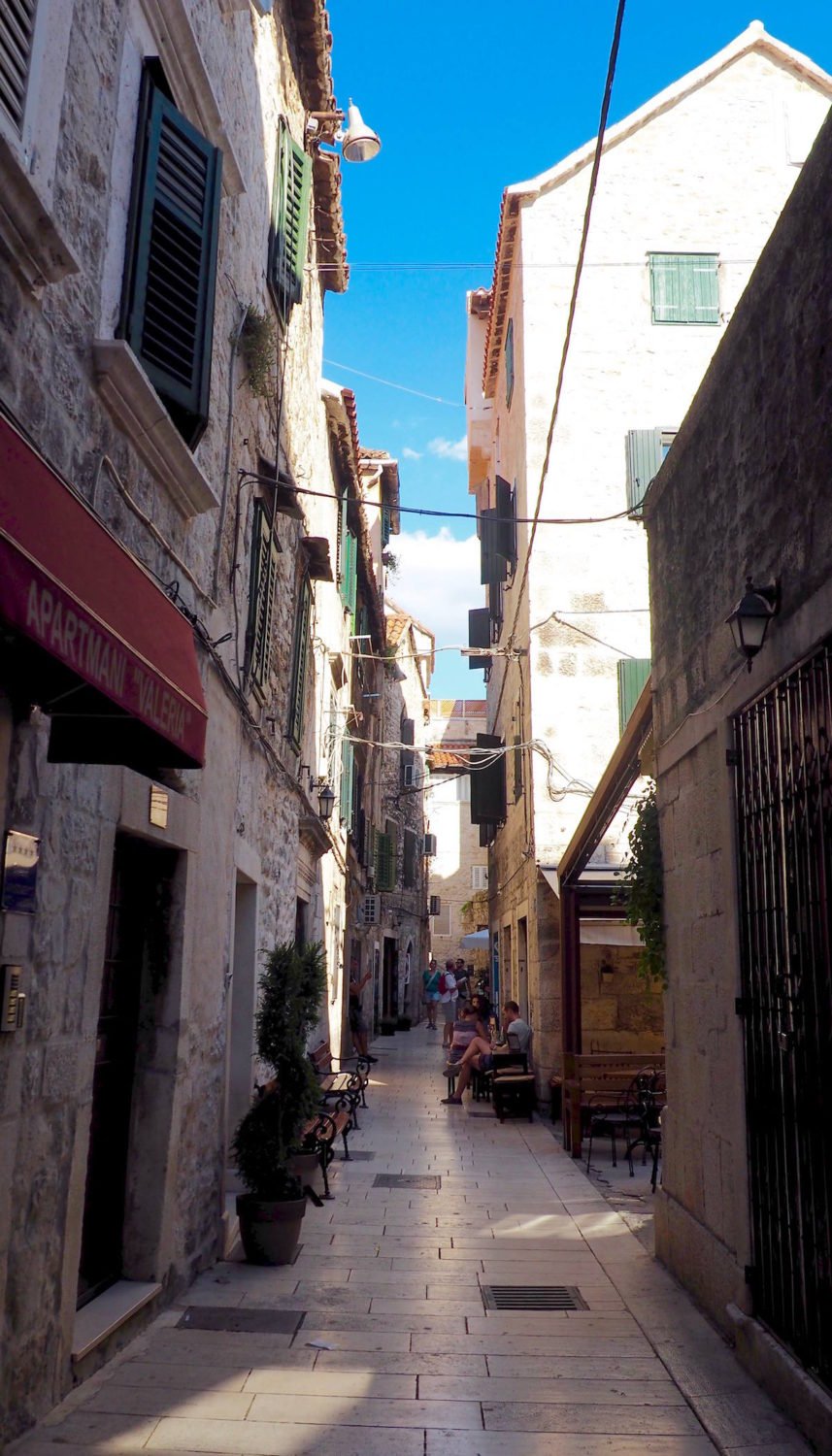 Getting lost in this rabbits' warren is the best thing to do in Split because you never know what you'll find. One of my favourite streets is strung with old boots and bloomers!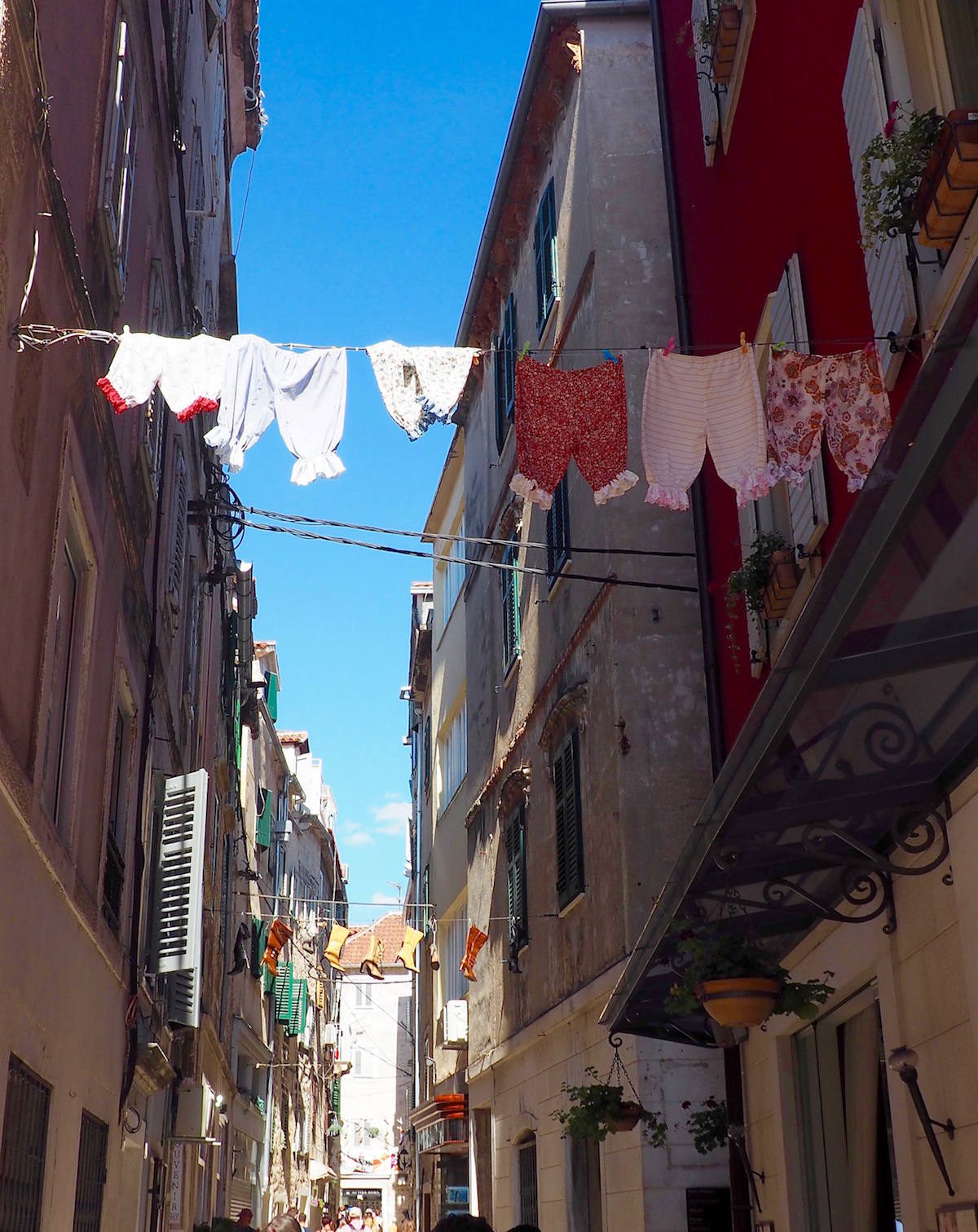 Find the Vestibule
While you walk around Split, you're going to stumble into the Vestibule at some point. It was once the entrance to the palace's residential  area, and is great for photo opps thanks to the sunlight that spills in from the top.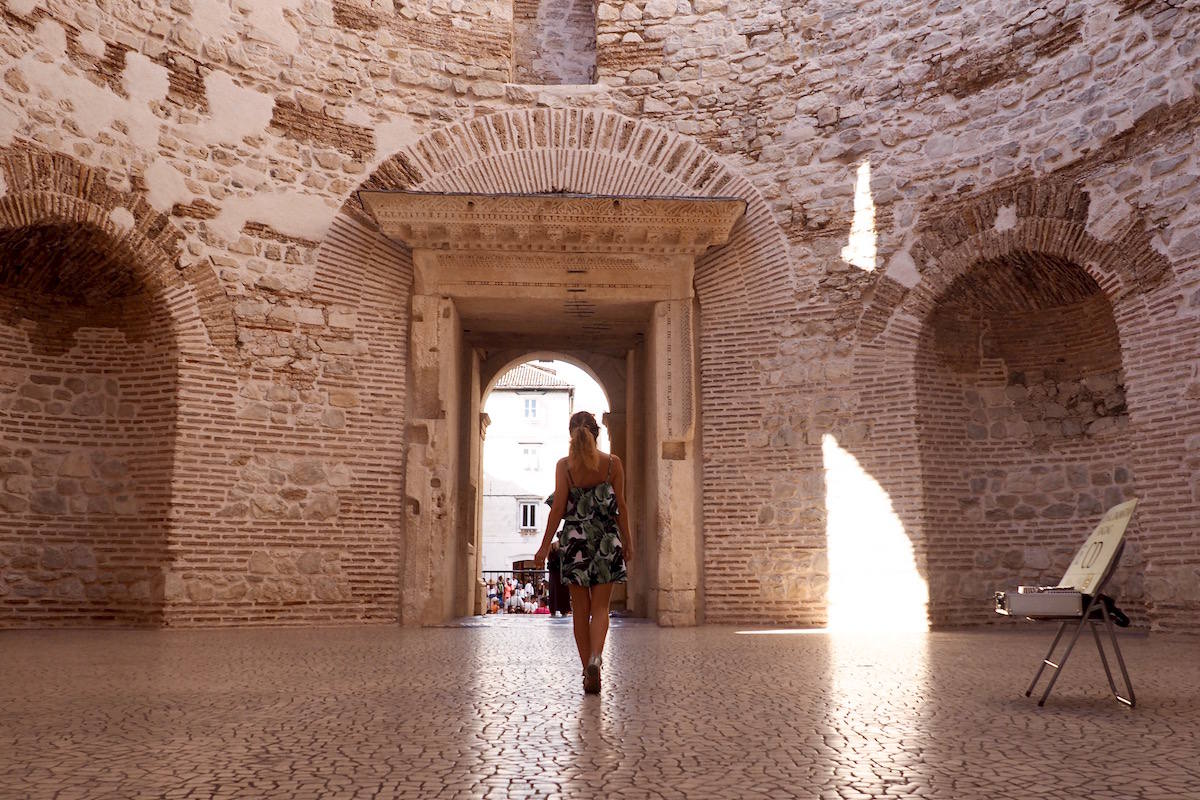 People watch in People's Square
The main square in Split isn't actually in Diocletian's Palace. It's the white-marble-paved Narochi Trg (People's Square), which has some serious Italian vibes. This is a great place to grab dinner and watch the world go by in the evenings.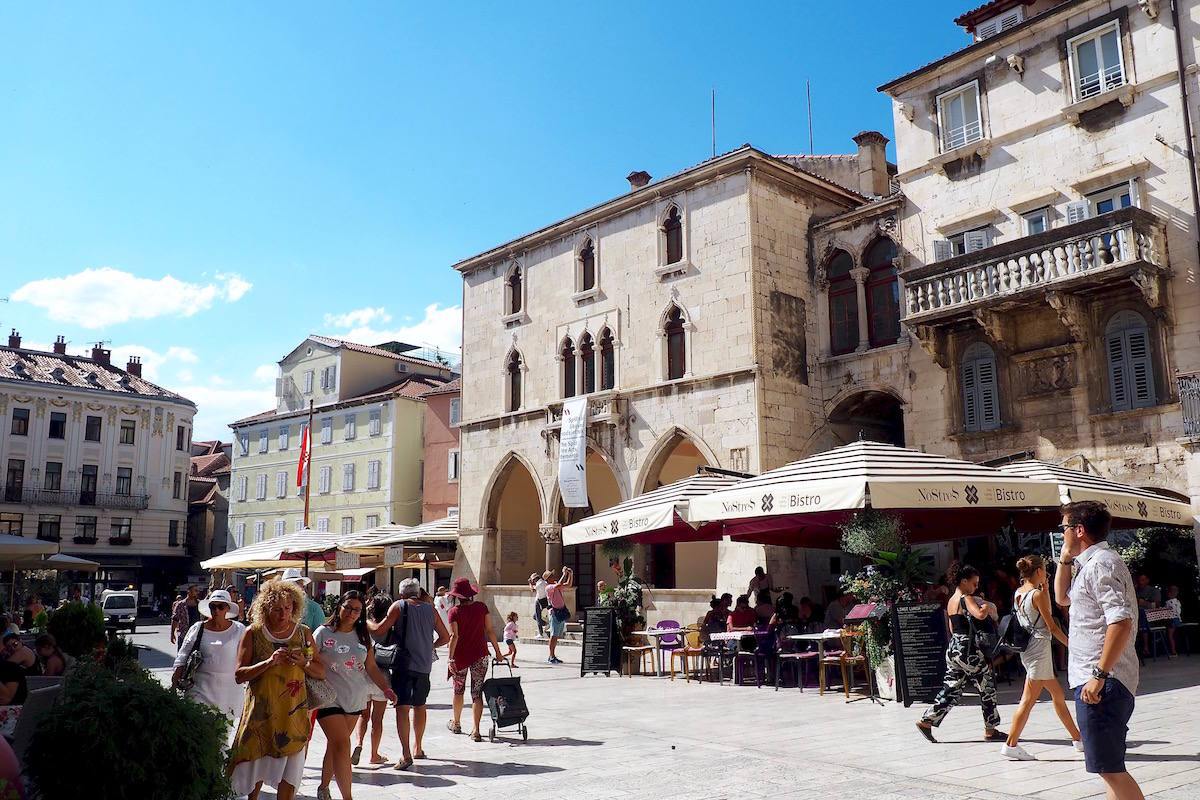 Other things to do in Split if you only have one day
Squeeze through'Let me pass street', thought to be one of the narrowest in the world.
Rub the shiny big toe of Gorger's statue, which apparently guarantees you will return to Split.
Climb Marjan Hill for a dazzling view over the city.
Visit one of the world's smallest churches, the sixth-century St Martin's.
See commerce in action at the Fish Market.
Shop at Pazar Market.
Hit the beach. Split isn't really a beach destination but if you're in need of some Vitamin Sea, head to Bačvice or the smaller Ovčice beach.
Catch a klapa show, a traditional form of a cappella singing in the area that is usually sung by men.
Where to stay in Split
We stayed at Apartment Rosse, which is ideally located a fifteen minute walk from the ferry port and adjacent to the Old Town. It was a good budget option for us.
If you have more to spend, the Radisson Blu is a good choice, as is Riva Luxury Rooms.
Getting to Split
We flew to Dubrovnik (search for cheap flights on Skyscanner) and took a bus from Dubrovnik to Split. It took a few hours but the scenery we passed was absolutely stunning. You can also get a ferry or catamaran. When it was time to head to Hvar, we got the ferry.
Is Split on your Croatia itinerary? Let me know in the comments!
If you're looking to book a real sailing adventure, check out G Adventures, who run small group tours around Croatia and Montenegro.
If you're planning to travel around Croatia, I recommend the Lonely Planet Guide.
All photographs were taken on my Olympus Pen E-PL7.
Follow me on Facebook, Instagram and Twitter. You can also subscribe to make sure you never miss a post.
Pin this to your travel planning board